Plan your visit to Lo Zingaro Nature Reserve in Sicily with my detailed hiking guide. Here you will find everything from how to get to and where to start the Lo Zingaro Nature Reserve hike from (south or north side), hiking trail tips, what to bring as well as the best beaches within the reserve to stop at.
Sicily's first protected area, Riserva Naturale dello Zingaro was a highlight of our 2-week Sicily road trip. Rightfully so the reserve topped my best places in Sicily list. 
Prior to our hike in Zingaro Reserve, we were ready for wild and beautiful nature to be explored, but we didn't expect it to be a rival to some of the most spectacular coasts in Europe. Lo Zingaro is simply a small piece of paradise on Earth. 
Shaped by the collective work of sea and wind, Lo Zingaro's dramatic coastline is characterized by orange-tinted rocks dropping into turquoise waters. With lush green mountainside rising steeply up to 1000 meters above sea level, many secluded pebbly coves, and grottoes opening inside limestone cliffs, Lo Zingaro is arguably the most beautiful untouched natural place in Sicily located on West North side of the island. 
A former smugglers' base, established as a reserve in 1981 thanks to the effort of nature activists who fought and won against the highway being built over it, Lo Zingaro Reserve welcomes visitors to enjoy the wilderness by following well-marked hiking trails. Along with multiple swimming opportunities at its finest beaches (and some of the best in Sicily as a matter of fact), Zingaro Reserve is a perfect place to combine trekking and swimming into one great day trip.
But how to visit Lo Zingaro Nature Reserve in Sicily? Where to stay when visiting Lo Zingaro? What are the most important things to know before you go?
Read on to find out all the information to help you prepare for a fantastic day outdoors in Zingaro Reserve -one of the most beautiful places in Sicily. 
Disclaimer: This post contains affiliate links, which means that I may earn a commission if you make a purchase by clicking a link (at no extra cost to you). This helps to keep my blog running and growing by creating more awesome free content for you.
How to Visit Lo Zingaro Nature Reserve in Sicily as a Day Trip
Where is Lo Zingaro Nature Reserve? 
Stretching over the northwest coast of Sicily, and located between seaside towns of Castellammare del Golfo and San Vito Lo Capo, Lo Zingaro Nature Reserve has two entrances conveniently reachable via paved coastal roads. 
The North entrance is 12km (25minutes drive) away from San Vito Lo Capo beach town. Similarly, the south entrance is 13km (20 min drive) away from Castellammare del Golfo.
How to get to Lo Zingaro Nature Reserve? What are transportation options?
By Car
The easiest and the most convenient way to reach Lo Zingaro Reserve is by a (rental) car. You could also possibly reach the reserve by scooter, or by cycling from nearby towns (note that the road is hilly). 
If you are looking for a great deal to rent a car in Sicily, I recommend checking out Discovercars which proved to provide the most competitive rates for our Sicily Road Trip.
By Bus
There is a public bus from Castellammare del Golfo (Piazza Repubblica) and from Scopello (Borgo) town to the South entrance of Lo Zingaro Reserve. From Castellammare, the bus service runs 4 times a day and a one-way ticket costs 3,2 EUR, the journey takes 30 minutes. Meanwhile, it takes 10 minutes by bus from Scopello to Zingaro, with 6 daily departures, the ticket price is 1,9 EUR. You can check up-to-date timetables and buy tickets here.
By Boat
It is also possible to visit Lo Zingaro Reserve by joining a boat tour departing either from San Vito Lo Capo or Castellammare del Golfo. This option would suit those who are not keen on hiking or prefer exploring the Reserve from the water perspective. You will be admiring the beautiful landscapes of the reserve with minimum effort, stopping for swimming and snorkeling at various coves, including those which are only accessible by the sea. Lunch is usually included in the package as well.
Which Lo Zingaro entrance (North or South) should you start from? 
The south entrance to Zingaro Reserve has a bigger parking lot and it is also a recommended starting point if you are planning on doing a full 7 km hike (14km return). The first beautiful Cala Capreria beach is reachable within 20min of the hike. 
Also, the south entrance is a closer entry point if you are arriving from Palermo or Trapani side. 
Meanwhile, the North entrance has limited parking spots and would suit those who are not interested in doing a classic 7km trek and are only looking for a relaxing beach break with that involves a minimal amount of walking. The first beach from the north side of Tonnarella del'Uzzo is reachable within 10 minutes of an easy stroll from the parking lot.
Also, if you are staying in San Vito Lo Capo, it would only make sense to start your visit to the reserve from the north side as well.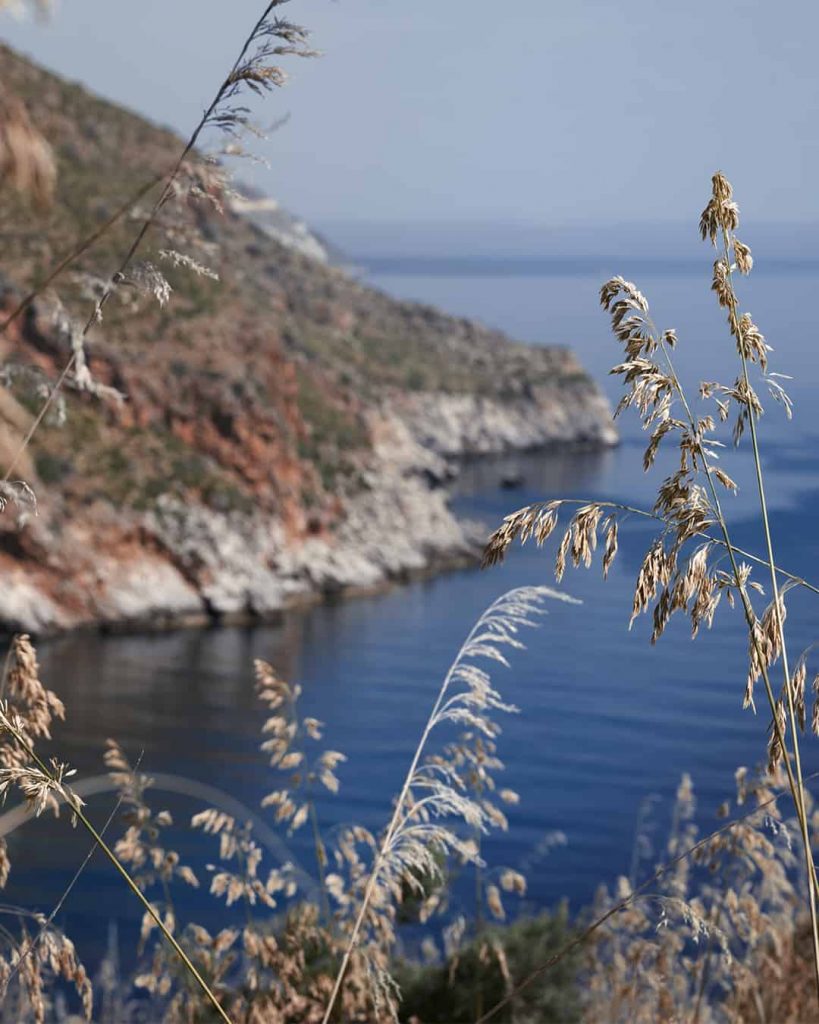 If you don't want to hike far but are curious to explore both sides of the reserve, you can drive to one of the entrances first, reach the first beach, come back, and drive to the other entrance and do the same mini-exploration. Note that driving time between south and north entrances to Lo Zingaro Reserve is around 1 hour.
There is no shortcut because, as I have mentioned above, the highway construction between San Vito and Castellammare which was supposed to run over the reserve has been stopped in a peaceful but very successful protest organized by thousands of dedicated nature activists. Thus, thanks to them today we can enjoy 4000 acres of untouched natural paradise. 
Zingaro Reserve entrance fee and timings
Entrance to Zingaro Nature Reserve costs 5 EUR for a day pass, 3 EUR for children 11 to 14 years old and free for kids under 11 years old.
Lo Zingaro Reserve's opening hours are 7 AM to 7 PM from April to September, am 8 AM to 4 PM from October to March. 
Entry tickets can be purchased at a small wooden house at the entrance to the park. Both cards and cash are accepted as payment methods. Nonetheless, I recommend bringing some cash in case the card machine decides to lose internet connection (which happens in Sicily). Cash will also be handy if you want to buy some snacks at the only kiosk at the South entrance.
Together with the entry ticket, you will also receive Lo Zingaro Nature Reserve Map indicating all the beaches and small ethnographic museums that you can visit along the way. 
Parking is included in the ticket price and there is a person who regulates the placement of the cars. 
Where should you stay if you want to visit Lo Zingaro Nature Reserve?
In my humble opinion, the best base for visiting Lo Zingaro Reserve is the seaside town Castellammare del Golfo which is only a 13km (23min) drive from the south entrance.
You can find plenty of reasonably priced accommodations and all the necessary amenities to stock up for the hike. Castellammare del Golfo itself is a pretty harbor town worth spending some time at. We stayed in Castellammare for 2 nights so we could conveniently reach Lo Zingaro reserve early in the morning. 
Where to stay in Castellammare del Golfo?
Casa di Magda– 9/10-cozy fully equipped studio apartment with terrace, offers optional breakfast for 3 EUR extra. 60 EUR per night for 2 people. Check availability and book HERE.
Le Sette Meraviglie– 9.7/10– simple and bright one-bedroom apartments with balcony and sea view, offer free parking. 94 EU USD. Find out more and book HERE.
B&B Nencioli– 9.8/10– nicely decorated spacious rooms with balconies are offered in this B&B which is also located in the historic center of Castellamare del Golfo. Continental breakfast is also included. And served at a terrace with a beautiful view, free parking included. 109 EUR per night. Find out more and book HERE.
Santina-9.5/10– bright fresh rooms, fantastic seaside views, and great terrace, free parking and breakfast included. 264 EUR per night. Find out more and book HERE.
Alternatively, you can also find accommodation in Scopello village which is only  2 kilometers away from the south entrance of the reserve. However, accommodation options are pricier and amenities there are limited compared to Castellammare. 
Where to stay in Scopello?
Tenute Plaia Agriturismo– 9/10– beautiful agricultural hotel offering seasonal private pool access, restaurant and bar, and fantastic garden. Room rates for two start at 99 EUR. Check prices and availability HERE.
Villa Gaia– 10/10– 3-bedroom villa, 2 minutes walk from the beach, private pool, and gorgeous terrace- an amazing stay for a family or group of friends. 300 EUR per night. Click HERE to check availability.
The third option which offers close proximity to the reserve is San Vito Lo Capo. It is also a good base if you want to combine some time spent at the western tip of Sicily. San Vito is known for being an ultimate holidaymaker destination offering a long stretch of white sand beach.
To us it was a little bit too touristy (although it is frequented mostly by locals), thus we preferred a more laid back Castellammare. 
Where to stay in San Vito Lo Capo?
The above-mentioned towns are the closest options to base yourself for the Lo Zingaro Nature Reserve hike. However, you can as well reach the reserve from bigger towns, only the driving time will be longer.
Below are distances of the alternative places that are also sensible bases for a day hike in Zingaro:
Trapani is approximately 50 min drive to the south entrance.
Palermo is approximately 1 hour 20 minutes drive to the south entrance
Paceco (a small town next to Trapani) is approximately 50 min drive to the south entrance.
Can I camp in Lo Zingaro?
I bet some of you may wonder if you can just spend the night in Lo Zingaro reserve. To keep the reserve untouched and limit human presence, camping in the reserve is not allowed. You should also stick to visiting Zingaro during its opening hours.
Lo Zingaro Nature Reserve hike (coastal trail) overview
Summary: scenic coastal route featuring well laid marked sandy and at parts rocky hiking trail. Access to 6 beautiful coves suitable for swimming along the way.
Distance: 7 km one way (14km return) 
Duration: 4-5 hours round trip moving time (account for at least 6 hours with stops at the beaches).
Difficulty Level: Easy to moderate (depending on your fitness level).
Maximum Elevation: 112 M (367 ft).
Mobile network and Internet connection: available.
Is a guide needed? no.
Minimum water requirement: 3 liters.
Kids friendly? yes
Dogs friendly? yes
What is the Lo Zingaro hiking trail like in terms of terrain and difficulty? How long does it take to hike it?
There are several hiking trails in Lo Zingaro, however, the most popular which the majority of visitors opt-in for is 7 kilometers one-way (14 kilometers round trip) trek above the coast with fantastic views (Sentiero Costiero). 
The firm, sandy, and, at parts, rocky path is clearly marked. You won't get lost as long as you stick to the trail. There are a few slight inclines and declines along the way but they are not technical and only lightly demanding. 
The 7 clearly signposted beaches (calas) are accessible via short steeper paths. Beaches are more or less evenly spread out throughout the trail. 
In general, the Lo Zingaro hiking trail can be tackled by almost any age group of hikers, from young kids to elder people as long as they do not have any severe mobility impairments.
We indeed saw different people from all age groups trekking.
Allocate at least 5 hours or more to complete 14 kilometers with stops at a couple of beaches. We spent 8 hours in the Reserve with time on the beaches, water, and photo breaks.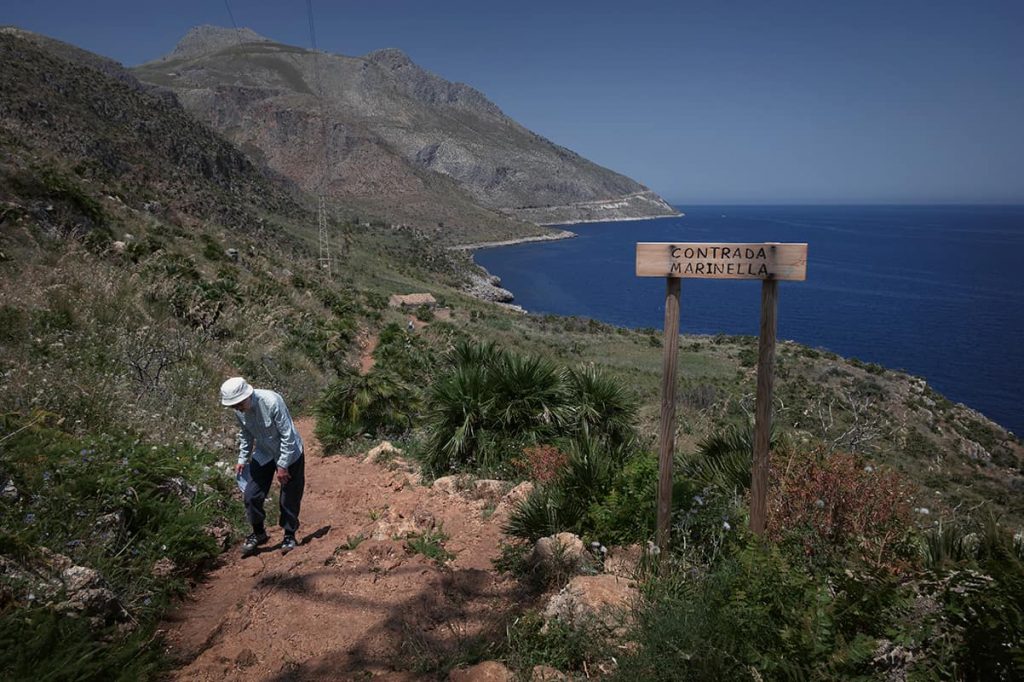 What is the best time to start the Lo Zingaro Nature Reserve hike?
If you are visiting Sicily in summer, expect the temperatures to rise over 30 degrees Celsius, and easily reach 35 Celsius or more during midday. Be ready to start hiking as early as 7-8 AM to minimize the time during the hottest hours. 
Lo Zingaro trail has very little shade along the way. The only midday shelters are a few small museums and a massive cave on the northern side of the reserve. 
What are the best months to hike Lo Zingaro? 
The best months to hike Lo Zingaro are late April, May, September, and early October. During this time, not only the hike is pleasant due to the lower temperatures but also the water in the sea is suitable to swim. Moreover, there are significantly fewer people on the trail compared to the most popular summer months (July and August especially).
You can still hike during autumn and winter but it won't be the best time for swimming unless you bring a wetsuit. 
Other hiking trails in Lo Zingaro
There are 2 other marked hiking trails in Lo Zingaro reserve. Those lead higher up to the mountains and are more difficult than the previously discussed popular trail. 
The Half Coast (Sentiero di Mezza Costa) is a 7.5 km one-way. It can be started either from the north or the south entrance of Lo Zingaro via connecting paths. Also, for variety, the lower coastal trail could be combined as a return instead of walking back the same way. The whole distance of this trail will be no less than 15 kilometers return. starting and ending at the north entrance of Lo Zingaro reserve. The Half Coast trek is rated as a medium-difficulty and it will bring you high up to the mountains. The full loop takes around 4-5 hours to complete.
The High Path (Sentiero Alto) route is around 13km long one way. Since you have to start either from the north or from the south entrance using connecting paths, the total distance of the full loop will be probably around 20 km if you choose to come back along the coastal road. Elevation gain and loss is almost 1000 meters. Accorning to the map provided by Lo Zingaro reserve, there are driveways that can bring you to this trail from both sides of the reserve. However, I do not have information about the condition of the road and where they start exactly. Thus, taking the official entrances would be the most feasible way to do this trail. Sentiero Alto is considered difficult and should only be attempted by more experienced hikers. Also, it is not advisable to attempt this hike during the hottest months (July and August). 
The beaches in Lo Zingaro Nature Reserve- which ones to choose to stop at? 
There are 6 wonderful mostly easily accessible beaches (calas) in the Lo Zingaro reserve. As a matter of fact, Lo Zingaro beaches to me were by far the best out of all we have been to in Sicily. Pebbly coves lapped by clear kaleidoscope blue waters which contrast with orange-tinted rocks and green soaring mountains, hidden grottos, and colonies of silverfish- it seems that you are in some tropical paradise. 
Staring from the South entrance, you will find these beaches in exact same sequence: Cala Capreria, Cala del Varo, Cala della Disa, Cala Berretta, Cala Marinella, Cala dell'Uzzo, Cala Tonnarella dell'Uzzo. You probably already counted 7 of them, but Cala del Varo is the only beach on this list you can reach only by boat, that is why the other 6 are the ones you can hike to.
When hiking from the south entrance, you will reach the first Cala Capreria beach in 20 minutes.
Meanwhile, it only takes around 10 minutes to reach Tonarella beach when trekking from the North entrance. Those two beaches are the busiest ones during the summer as they are also the closest ones. If you want some peace and quiet, you will definitively have to hike further to reach other coves. 
However, if you are visiting during the shoulder season or even off-season, you don't need to worry about the crowds-the trail and all the beaches are practically empty. We came in mid-May and it was perfect- there were only a few people.
Cala Capreria
A pebbly beach is located 1.2 km around 20min from the south entrance.
Gradual entrance to the wonderfully clear water with a "hidden" tiny cove on the right-hand side accessible by a short swim
It can get very busy during the peak season (June, July, and especially in August). It is also one of the biggest beaches out of all 7 (yet it's only approximately 150 meters long). 
it was one of our favorites, as we hike off-season it was very quiet and needless to say gorgeous.
Cala Varo
Located 2.4 km from the south entrance and 1.5 km from Cala Capreria, Cala Varo is only accessible by boat. You cannot dock but can jump out and swim to this tiny cove.
Cala Disa
Pebble and sand beach located 3.6 km from the south entrance and 2.5km from Cala Capreria.
Offers easy access to shallow crystal clear waters, after midday, there is a lot of shade-great if you want to hide from the sun during the hottest months.
Cala Berretta
Only 300 meters from Cala Disa, this is a tiny sand and pebble beach.
Cala Marinella
4.5 km from the south entrance (1km from Cala Berretta), and 2.8km from the north entrance parking.
This is a rocky beach with complicated access to the water via large rocks, not suitable for families, but more suitable for confident swimmers.
Cala dell'Uzzo
Located 6.4 km from the south entrance and 1.7 km from the north entrance.
A pebbly beach, also probably the longest one out of all, and extremely popular during high season.
Cala Tonnarella
700 meters from the north entrance, and 1 km from Cala dell'Uzzo.
This pebble beach, which has good access to the water is the easiest to reach when coming from the north entrance. It also has a small hidden bay on the left-hand side accessible by a short swim. 
Cala Tonnarella was our favorite, in fact. We were there mid of May late afternoon and it wasn't too busy at all. However, in summer Cala Tonnarella can get pretty packed with sunseekers arriving from San Vito Lo Capo side. 
There are bathrooms above the beach.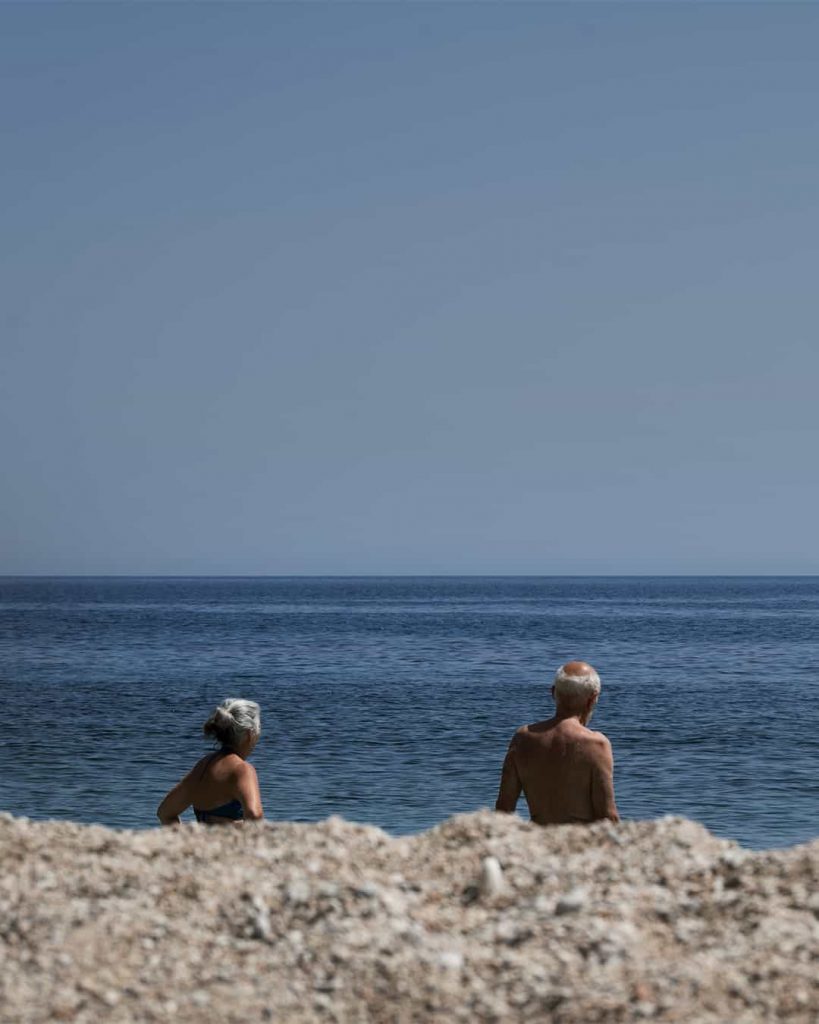 Other things to do in Lo Zingaro Reserve
Following the trail, you will also come across several small ethnographic museums where you can learn some history of the area and cool down in the shade.
Also, hard to miss is Grotta dell'Uzzo located about 1.5-2hrs into the hike, higher above the Cala dell'Uzzo beach. You will see clear indications of the grotto which is visible from afar when hiking from the north side.
Grotta dell'Uzzo is a massive orange color cave. It is not deep but very tall and offers the biggest shaded area in the reserve during the day.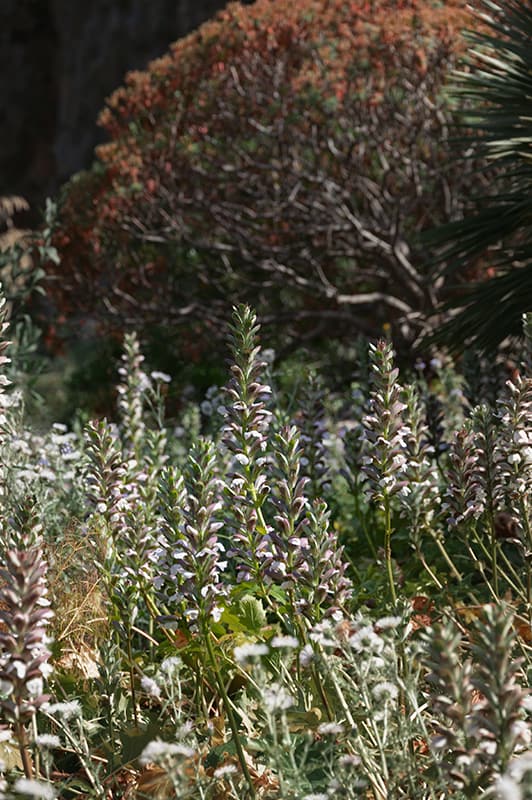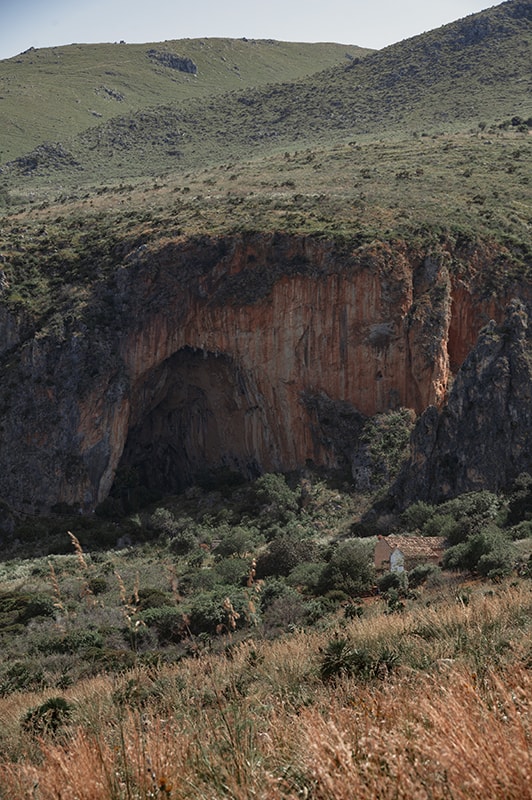 The flora and fauna in Lo Zingaro Reserve are abundant. Boasting over 650 different types of plants, some of which are rare and endemic such as sea lavender, the reserve is a paradise for botanists. Indeed, even me, not being an expert, could easily notice the variety of trees and flowers ever-changing along the trail.
Ornithologists will also appreciate the reserve as they can spot peregrine falcons, eagles, and owls.
The other wildlife which inhabits and can be seen on a hike in Lo Zingaro are lizards and even hedgehogs (if you are lucky).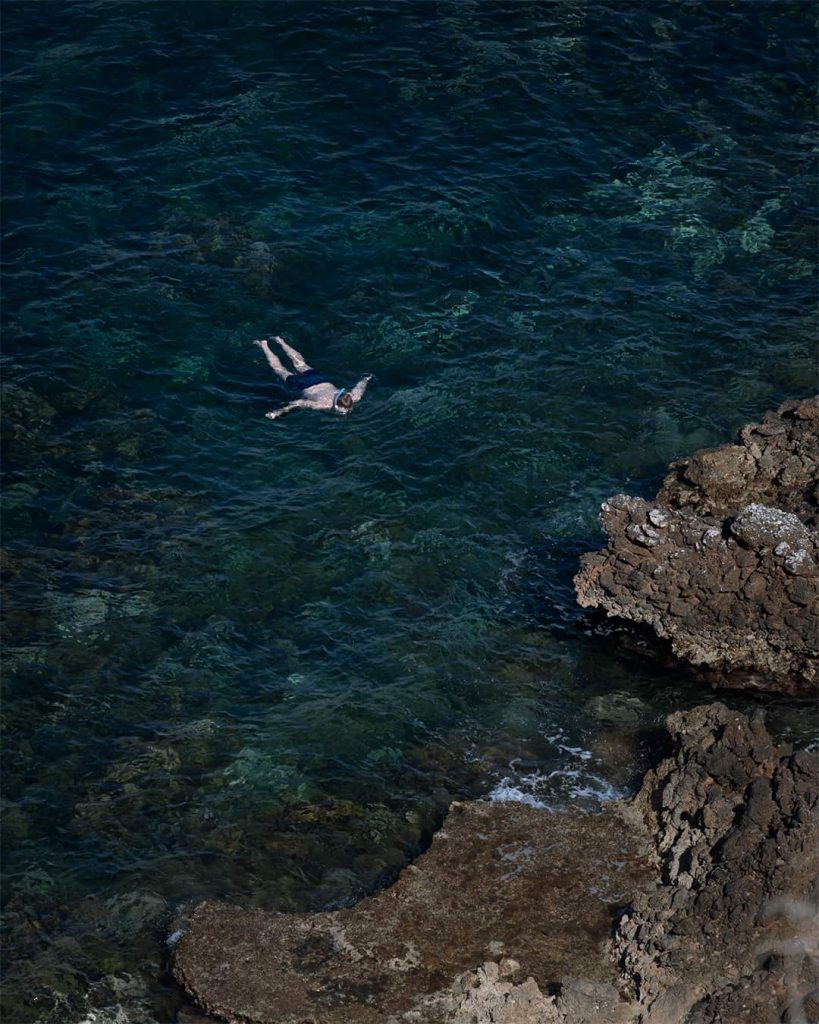 What to pack for the hike at Zingaro Reserve? 
Services at the reserve are very limited. The only places where you can buy snacks like paninis, soft drinks, lemon granitas, and water are small kiosks at the South and North entrances to Zingaro reserve. Therefore, if you are planning to spend all day in the reserve, you should stock up beforehand.
The only bathroom facility we used was above Tonarella dell'Uzzo beach on the North entrance side. However, according to the map provided above, there should be washrooms at some of the museums (which would make sense as people work there). There are bathrooms at both entrances to the reserve as well.
I would recommend taking a minimum of 3 liters of water for a full 14 kilometers hike (even more for the more difficult ones). In case you run out of water completely, you will get a chance to refill in the stations marked on the map. However, I am not sure if the water is drinkable or not (it is marked on the map as a tap, so we assumed it is fine and took a risk and refilled our water bladders with cold tapped water and we felt okay afterward).
For an easy hike, wear sturdy hiking, comfy sneakers, or hiking sandals for a comfortable walk. Please don't hike in slippers on any of the trails (although chilled and skilled locals do) you will regret it and will risk twisting your ankles.
For the other two more difficult hikes, definitely go in hiking shoes or boots. Also, amenities along those trails seem to be way more limited, so come fully prepared with plenty of water to last for the whole hike.
Wear breathable and sweat-wicking clothes when hiking in summer. Jeans are not the best idea in case you wondering. 
Make sure to take lots of sunscreen, caps, and shades. Through in a towel, goggles, or snorkeling gear if you want to explore the underwater.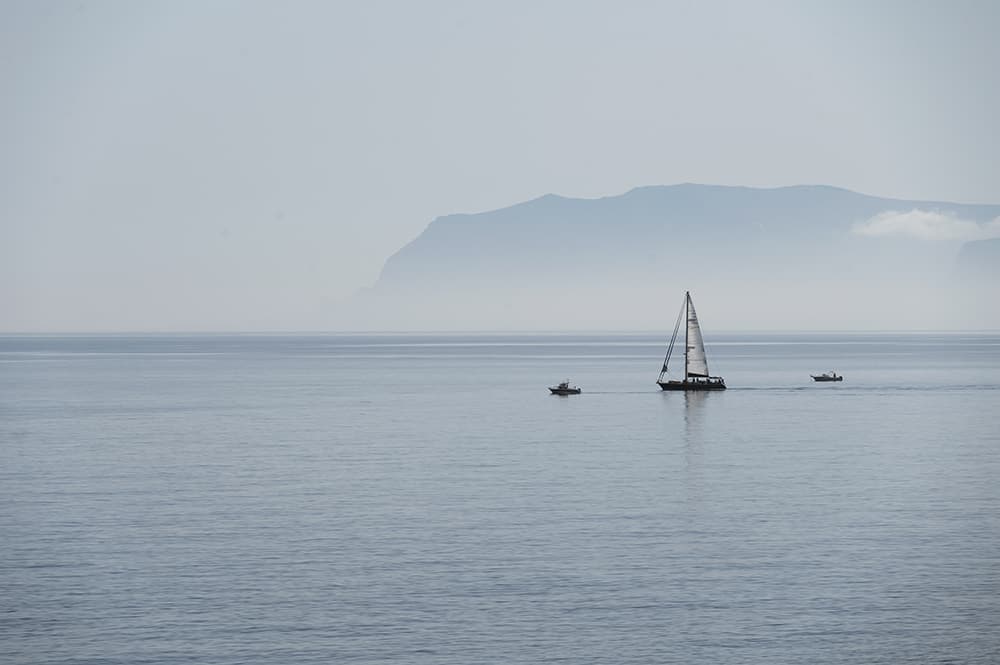 Note there are no umbrellas or sunbeds for rent in the reserve (something we really appreciated for not ruining the wild feeling of the beach). Although there are a few beachgoers who bring their own sun umbrellas. This would only benefit if you are not hiking, as it must be very impractical to carry an umbrella all 14 KM.
And that's about it-you are good to go! Oh and don't forget a camera, as it is so beautiful, you will definitely want to snap some photos. 
Do you have more questions regarding visiting Lo Zingaro Reserve in Sicily? Feel free to drop a comment and I will get back to you.
Sicily Travel Essentials
PLAN YOUR SICILY TRIP WITH MY SICILY TRAVEL GUIDES