Looking for the best areas to stay in Naples, Italy (and the ones to avoid)? Whether you are spending one night in Naples or longer, this guide will help you decide where to stay in Naples, Italy. From the top 10 neighborhoods in Napoli, you can pick accommodation in the area that will resonate with your travel style and fit your budget the best.
The capital of the Campania region, south Italy, Naples is an intensely interesting multilayered city. With its intriguing history, rich cultural heritage, irresistible pizza, and yet controversial reputation, many travelers wonder where is the safest place to stay in Naples or which is the best area in Naples to explore from.
I have been to Napoli many times and visited all the main Naples neighborhoods. Thus, to help you save time on looking for the best places to stay in Naples, I handpicked some of the best accommodation options in Naples in each area: hotels, guesthouses, B&Bs, self-serviced apartments, and a few hostels. I also share some handy tips on why you should (or should not) stay in a specific area of Naples and a map of Naples neighborhoods.
Let's make your best pick on where to stay in Naples! 
Where to stay in Naples: top 5 Naples hotels
If you are in a rush to choose the best place to stay in Naples, here are quick links to my favorite choices of hotels in Naples in the top neighborhoods:
A guide to the best areas to stay in Naples, Italy
All of Naples's neighborhoods have a distinct feel and atmosphere. That said, your travel experience in the third largest city in Italy can be very different depending on where you book your hotel in Naples.
From never sleeping Centro Storico and electric via Tribunali, characteristic Quartieri Spagnoli, romantic Lungomare Caracciolo, upscale Chiaia, and panoramic hills of Vomero, with mighty Mount Vesuvius appearing in all its glory- there are quite a few awesome places to stay in Naples Italy. The best part is that the majority of the best areas in Naples are located close to each other, and around the historical centre of Naples. That said, you can easily commute between the areas either by walking, or catching a short metro or bus ride if you are staying a little further from the main historical sights.
A map of Naples neighborhoods and the best areas in Naples overview
Centro Storico (historical centre of Naples, also called Decumani)- a perfect place to stay for first-time visitors which is close to the majority of historical and cultural attractions. My top accommodation suggestion in Centro Storico is La Casa sul Nilo.
Piazza del Plebiscito area– a nice central place to stay for everyone including first-timers, offering easy access to many historical sights. My top accommodation suggestion in Piazza del Plebiscito is Real Paggeria.
Spanish Quarters (including Via Toledo)– an authentic but laud place to stay in Naples on a budget. My top suggested (not the cheapest though) accommodation in Quartieri Spagnoli is Relais della Porta.
Chiaia – a classy and chic place to stay for an upscale experience in Naples. My top suggested accommodation in Chiaia is Poerio 25 Boutique Stay.
Lungomare Caraciolo (seafront area) – the seafront views and romantic walks in Naples, this area is great for everyone. My top suggested accommodation in Lungomare di Napoli is FALERON Santa Lucia.
Porto di Napoli (Port of Naples) – central area and a convenient stay for easy access to Naples Ferry Port and main land transport connections. My top suggested accommodation in Port of Naples is Amadomus Luxury Suites.
Vomero – a lively residential area situated uphill is great for returning visitors (families, couples) who either plan to spend longer than a day or two in Naples and prefer staying in a more polished area than Centro Storico. My top suggested accommodation in Vomero is Residenza d'Epoca Chiostro San Francesco.
Posillipo – located slightly further away from the historic centre, this is an upscale, green area suitable for longer relaxing stays in Naples, great for families and couples. My top suggested accommodation in Posillipo is LA CASA SULL' ACQUA.
Rione Sanità – an overlooked historical side of Naples for an alternative stay on a budget. My top suggested accommodation in Rione Sanità is Toto e Peppino luxury rooms.
Piazza Garibaldi (Central Station area)– convenient location to stay close to central rail and bus station, within walking distance to the historic centre of Naples. My top suggested accommodation in Central Station area of Naples is Starhotels Terminus.
RELATED POSTS:
Where to stay in Naples Italy: the best areas and accommodation options
1. Centro Storico (historical center or Decumani) of Napoli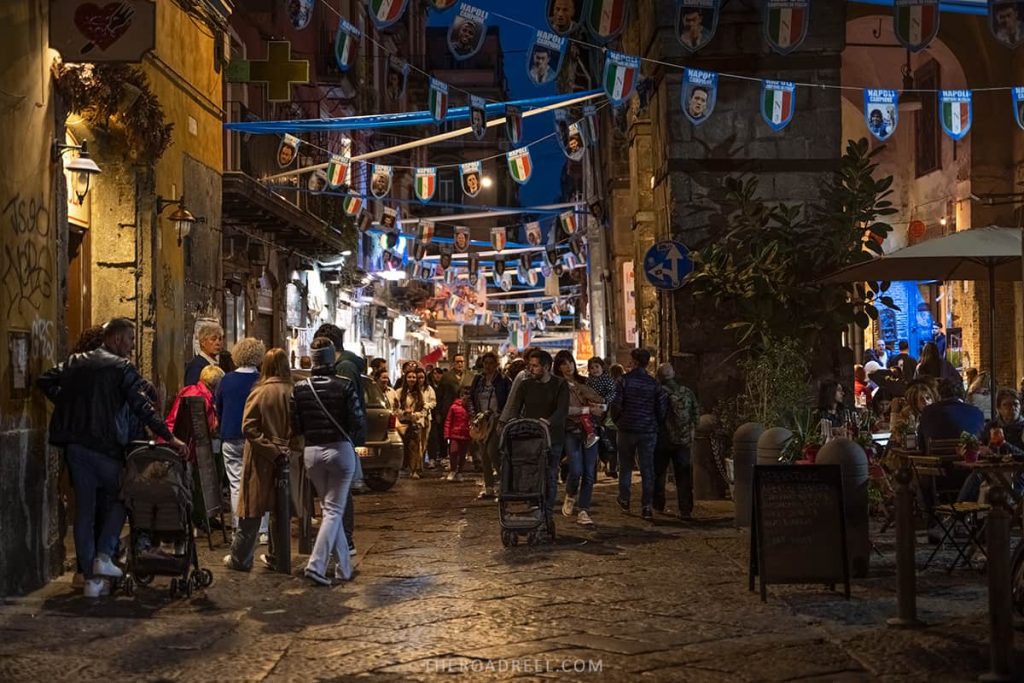 Centro Storico in Naples is a perfect area to stay for:
the first-time visitors;
if you are staying for a couple of nights and prefer to be in the closest proximity to the majority of historical sights and tourist attractions.
enjoy the vibrant atmosphere, and like to stay out late.
Note that Centro Storico in Naples may not suit those of you who are looking for a quiet stay. To be away from the city's hustle and bustle, read on as there are great options for you.
If you are visiting Naples for a couple of days, and, especially if it is your first time in Naples, Centro Storico is the best area to stay in Naples. The historic center of Naples is a perfect base to explore the highlights of the ancient city. Almost 450 historical sights are clustered between the cobbled streets of the UNESCO-inscribed Naples historic center.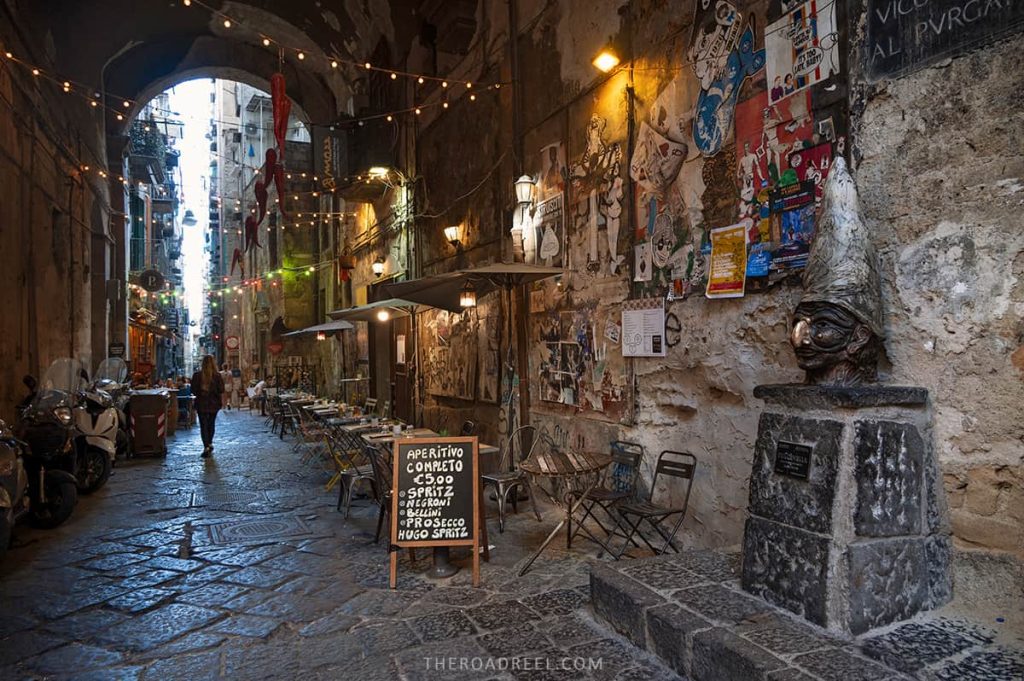 That said, staying in Centro Storico in Naples you will be just a few steps away from the majority of most important attractions, gorgeous churches, and unmissable sights such as Naples Underground, Santa Chiara Monastery Complex, Sansevero Chapel, Duomo di San Gennaro, to name a few.
Iconic lively streets of Via Tribunali and Via San Gregorio Armeno as well as Spacanopoli, the Naples splitter, are the main veins of action attracting visitors with an array of quirky shops, bookstores, bars, and cafes, as well as some of the best pizzerias in town such as Pizzeria Antica Port Alba, Gino e Toto Sorbillo or L'Antica Pizzeria da Michelle. 
Thus, picking a historic center for your stay in Naples, makes it easy to enjoy the best Naples has to offer.
The best places to stay in the Centro Storico di Napoli area: hotels, apartments, and budget options
Accommodation in the historical center of Naples varies from stylish hotels with traditional flavor, chic boutique stays, and opulent fully equipped apartments that you can make your temporary home for a few nights, to friendly hostels for those traveling on a budget.
Here are my top picks for staying in Centro Storico in Naples (for all budgets):
2. Piazza del Plebiscito area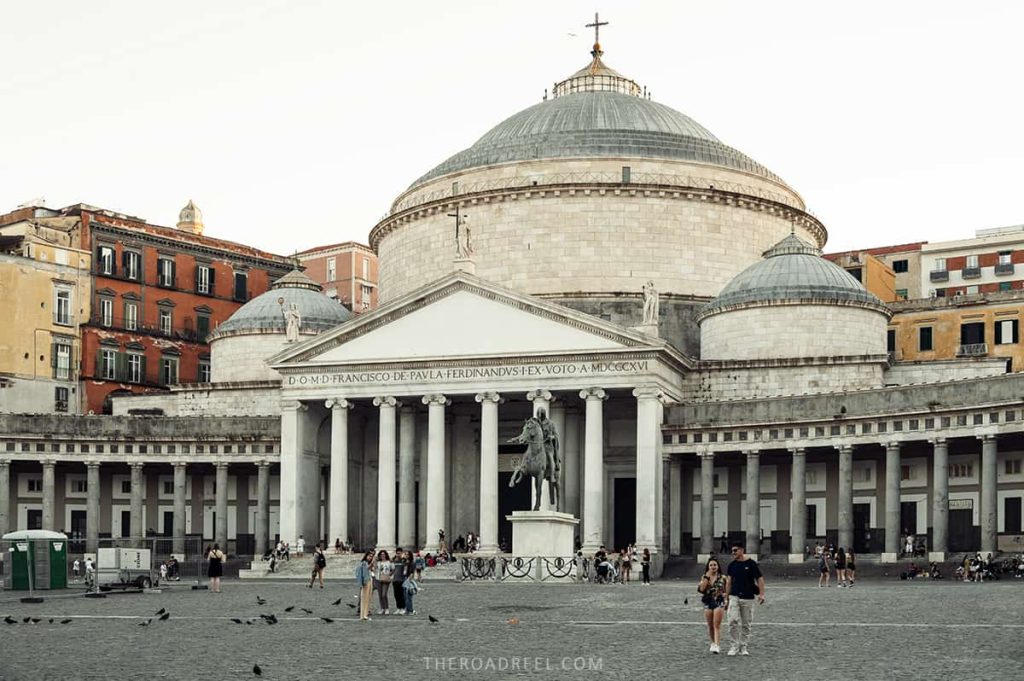 Piazza del Plebiscito is a perfect area to stay in Naples for:
First-time visitors;
Families as it is slightly quieter and a bit more polished, yet close to popular tourist attractions;
For those who like a lively atmosphere but as not overwhelmingly chaotic as Quartieri Spagnoli or super busy Centro Storico and via Toledo.
Stay close to the sea with more air to breathe compared to the narrow dark streets of central Naples.
The postcard child, the pedestrian-only Piazza del Plebiscito is the largest square in the heart of Naples and a lively social hub. Framed by some of the most important historical sites such as the Royal Palace of Naples, Teatro di San Carlo, and San Francesco di Paolla Basilica, Piazza del Plebiscito is a great central place to stay in Napoli where you will be within walking distance to all the main attractions and fantastic places to eat.
My personal favorite aspect about Piazza del Plebiscito area is that it hosts the Gran Café Gambrinus. Located in Piazza Trieste e Trento, just around the corner of Piazza del Plebiscito, Café Gambrinus is a legendary coffee shop that serves some of the most delicious espressos in the town called "caffé gege". You must try it if you are obsessed with Italian coffee.
Yet "caffe gege" is not the only reason to pick Piazza del Plebiscito neighborhood as your base in Naples. One of my favorite tours in Naples, Napoli Sotteranea, also starts from Piazza del Plebiscito.
Moreover, Piazza del Plebiscito is bordering the characteristic neighborhood of Quartieri Spagnoli, the famous state of art shopping center Galleria Umberto and the main commercial street of Via Todelo on the north side. While on the southeast side of Piazza del Plebiscito, you get quick access to the waterfront of Lungomare Caracculo and the upscale Chiaia area. Meanwhile, the Centro Storico is only 10-15 minutes walk north of Piazza del Plebiscito.
The best hotels to stay in Naples' Piazza del Plebiscito  
Piazza del Plebiscito does not have such a wide variety of accommodations as Centro Storico  but here are some great options to consider for a mid-range to high-end guesthouses and hotels:
3. Port of Naples (Porto di Napoli)- strategic point to stay in Naples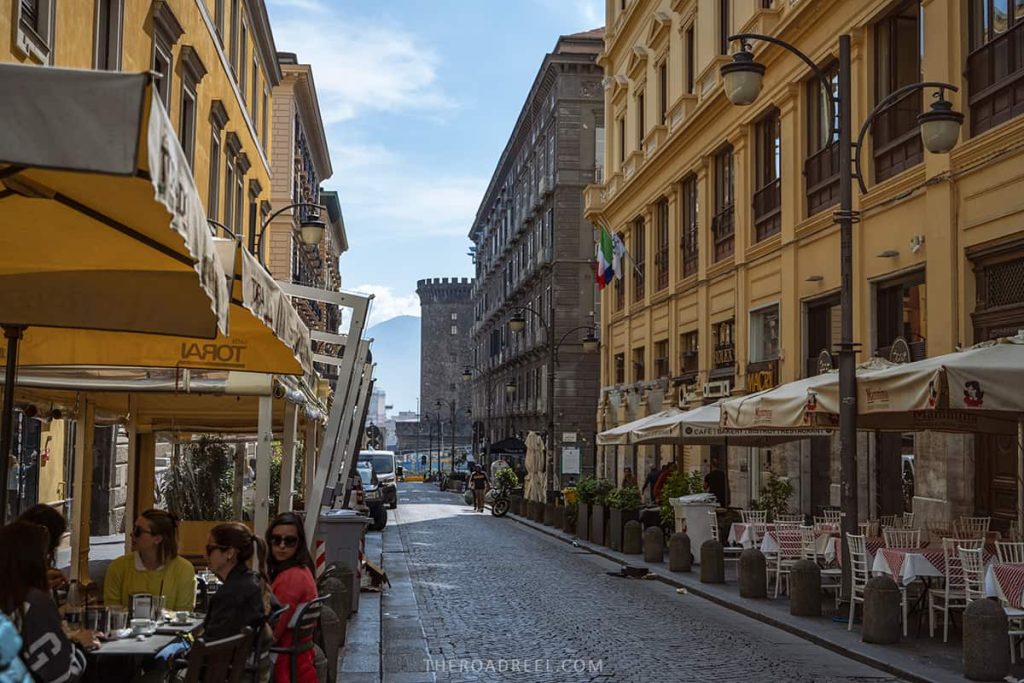 Porto di Napoli is a great area to stay in Naples for:
Everyone.
If you are arriving or leaving by sea.
Also convenient land transport connections with Naples airport, metro link to train station with departures to other important sights around Naples such as Pompei.
Upscale stay in central Naples.
Porto di Napoli, also known as Molo Beverello is an excellent strategic place to stay in Naples. It is not the most obvious choice for many travelers, but the central location of Porto di Napoli offers easy access to practically anywhere around Naples and outside.
The busy port is a very convenient place to stay for a few days in Naples if you are planning on taking day trips. Ferries depart multiple times a day to nearby islands of Procida, Ischia, Capri, and even further afield to Sorrento town on Amalfi Coast.
Meanwhile Naples Metro links you almost directly to San Genaro Catacombs and Capodimonte and also brings you to the Circumvesuviana railway station from where you can catch a train to Pompei, Vesuvius, and Herculaneum.
Moreover, Molo Bevellero is directly connected by Alibus service with Naples International Airport. Finally, the historical center, via Toledo, Piazza del Plebiscito, and Spanish Quarters are within walking distance.
Do not be misled by the term Port of Naples, that sounds quite industrial. The setting of the area is beautiful with Castel Nuovo as a central historical attraction and expansive views over the Bay of Naples.
RELATED POSTS: How to visit Procida island from Naples and the best things to do.
Top accommodation options in Porto di Napoli
Since Porto di Napoli is a strategic point in terms of both logistics and accessibility to various sights, the accommodation options are on the more expensive side and those are mostly high-end hotels or luxury apartments. Nonetheless, those on a budget will also find suitable options. My top picks for all budgets are:
4. Lungomare Caracciolo- a perfect place to stay in Naples with sea views
Lungomare Caracciolo is a fantastic and safe area to stay in Naples for:
Families, couples, friends, and solo.
Sea views and sunsets.
Quieter stays within walking distance of the historical center, Piazza del Plebiscito, and Spanish Quarter.
Lungomare Caracciolo (or Lungomare di Napoli) stretches along the Bay of Naples for around 3 kilometers, east of Molo Beverello (Port of Naples). Lungomare is a popular seafront promenade attracting locals and visitors alike to enjoy leisurely strolls or get active jogging and cycling.
The waterfront area of Naples is lined with an array of restaurants, many of which serve fresh straight-out-of-the-boat seafood. And if you are faithful to pizza while in Naples, you will certainly find a few great family-run pizzerias (Gino e Toto Sorbillo has a branch in Lungomare).  
Moreover, low-key street bars, very popular with locals for aperitivo, offer quite an exclusive view of Mount Vesuvius rising above the horizon of the Bay of Naples.
The highlight sight of the panoramic Lungomare is the Castel dell'Ovo sitting on its own island connected to the mainland by a short bridge.
With its west-facing position, Lungomare di Napoli is one of the best places to enjoy the sunset in Naples. Finally, with a few small beaches scattered around the area, you can even dip your toes into the Tyrrhenian Sea and catch some tan.
The best hotels to stay in Lungomare Caracciolo, Naples
Lungomare is a central area in Naples with easy access to other touristic areas in Naples and thus a great choice to stay for everyone. Yet, it is not the most budget-friendly option as most of the hotels in the area are upscale. Yet, if budget is not a concern, here are my top picks:
5. Quartieri Spagnoli (Spanish Quarters)- for the authentic Naples
Quartieri Spagnoli is a great area to stay in Naples for:
Backpackers, travelers on a budget.
Authentic Naples experience.
Easy access to many cheap and great places to eat and drink.
Centrally located in the heart of Naples, within walking distance to the historic center and most of the important sights of Naples.
Note, I won't recommend Spanish Quarters for romantic stays or for families. The neighborhood is loud and hectic, you may not get the best night's sleep.
Quartieri Spagnoli is one of my favorite areas in Naples, especially for street photography. It might spark your interest as a base to stay in Naples if you seek an immersive and intense experience of the Neapolitan lifestyle.
Located just a 5-minute walk across Via Toledo (the busiest commercial street in the city), Spanish Quarters is where you get the image of rough around the corners Napoli. Vrooming scooters cut through the narrow streets that divide the tall worn-out buildings interconnected with colorful laundry fluttering in the breeze. In Quartieri Spagnoli, you will also come across many intriguing murals that bring crumbling walls to life. The iconic is a house-size Maradona mural dedicated to the beloved Argentinian football player Diego Maradona.
Spanish Quarters is where you encounter and perhaps can even stay in "bassi" (typical small ground floor flats that never receive sunlight), enjoy the local spectacle at laud Pigneseca street market, sample the cheap street food and go bar hopping, or eat at great local trattorias and fantastic pizzerias.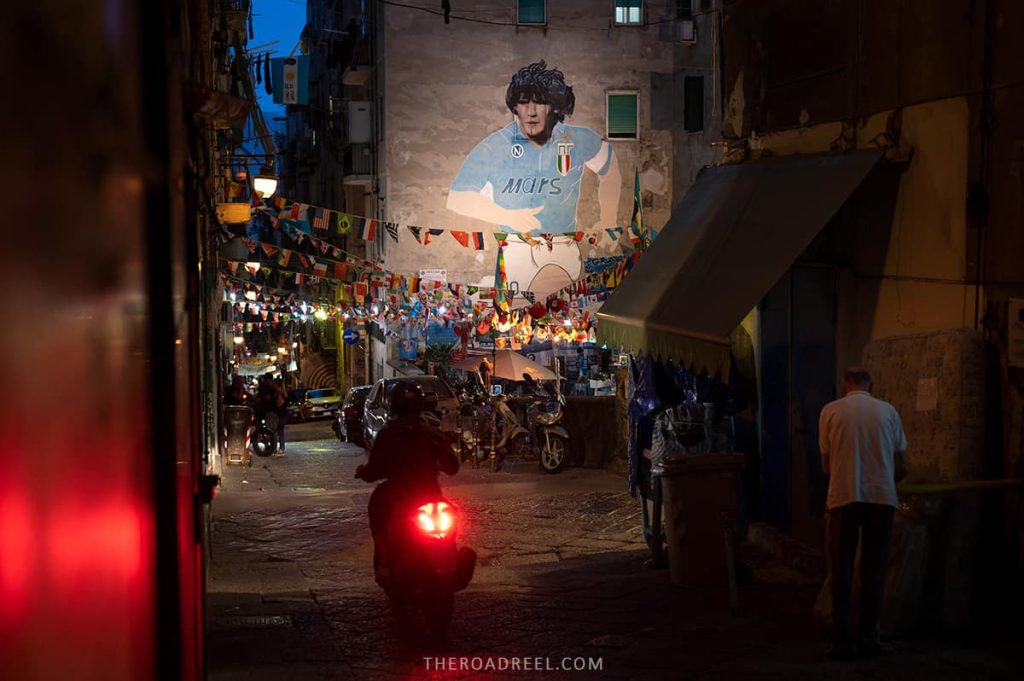 Quartieri Spagnoli neighborhood was constructed in the 16th century as a housing complex for Spanish troops. Through centuries Spanish Quarter gained a reputation as being a dangerous area and one of the main hubs for drug dealing and prostitution. That said, Quertieri Spagnoli was an off-tourist limit area for many years. However, things have changed significantly and Quartieri Spagnoli is now a very popular place to visit and also stay in Naples on a budget.
If you are wondering if Spanish Quarters is a safe place to stay in Naples, here is what you need to know. It is safe as long as you do not wander off to the darkest backstreets in the middle of the night for no viable reason. Even then, it does not mean something bad will happen. Also, be cautious when taking pictures. I was warned by a friendly local about capturing one of the streets at night. That said, Quartieri Spagnoli is not the most innocent area in Naples and there are still shady things happening. Nonetheless, this does not affect tourists who mind their own business.
The best places to stay in Quartieri Spagnoli and Via Toledo, Naples, Italy
Spanish Quartier is one of the budget-friendly areas to stay in Naples. Yet, the quality of accommodation varies greatly, and spaces are often tight.  Nonetheless, I picked some of the best places to stay in Quertieri Spagnoli for different budgets:
6. Chiaia- a trendy upscale district in Naples
Chiaia is a perfect place to stay in Naples because
It offers glamorous vibes.
It is a very safe area.
Perfect for families, couples, and solo travelers.
Close to central Naples and historical sights.
Chiaia is a sought-after upmarket district in Naples, Italy. A desirable place to live for those who can afford it. If you are looking for the safest place to stay in Naples with a flavor of glam and luxury, Chiaia is a perfect base for a few days in Naples.
Located on the west side of the city, close to the central neighborhoods of Napoli, right above the Lungomare di Napoli, and a leisurely 15-minute walk from Piazza del Plebiscito, Chiaia is a chic and affluent neighborhood. Characterized by historical palazzi, and elegant residential houses, Chiaia's most famous pedestrianized street of the same name- Via Chiaia is filled with designer boutiques, stylish shops, trendy cafes, and bars. It is a place for the golden youth of Naples and a fashionable evening passeggiata.
Chiaia is also home to the palm-tree-lined Villa Comunale di Napoli Park. It is a popular hangout spot for families and friends and a perfect place to relax and enjoy the greenery in the middle of the city.
The best hotels in Chiaia, Naples
With its picturesque surroundings over the Bay of Naples, vibrant atmosphere, and proximity to the sea, Chiaia offers a delightful experience for visitors who prefer to stay in an elegant neighborhood of Naples and do not mind spending an extra buck for upscale accommodation. Here are my top hotel picks in Chiaia:
7. Vomero District, Naples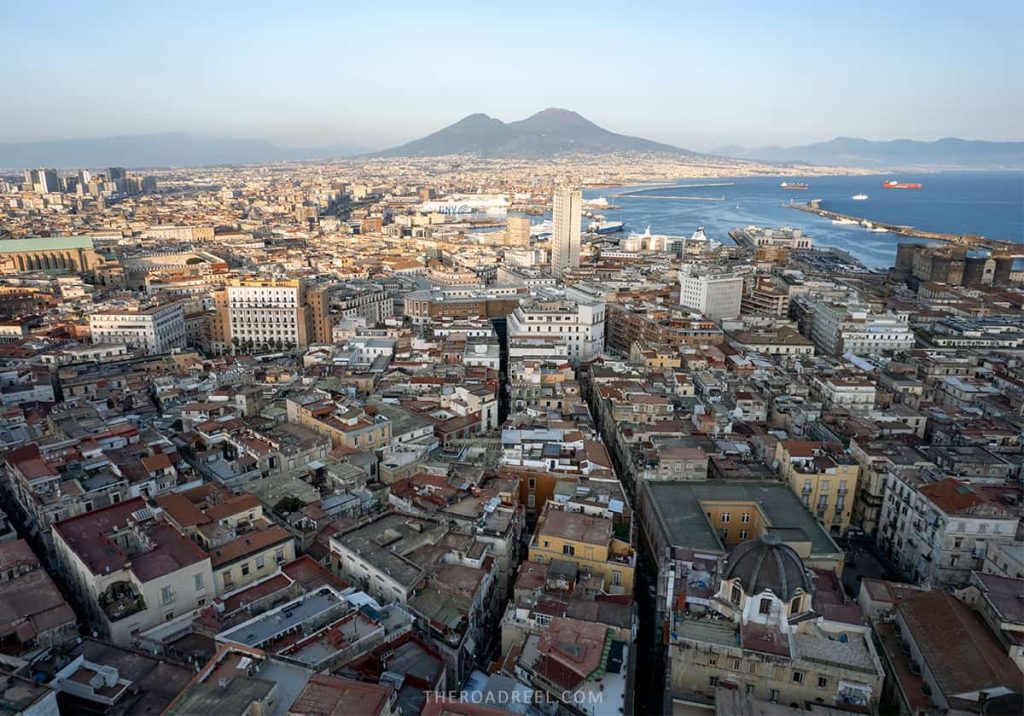 Vomero district is a great base in Naples for:
Returning visitors and longer stays.
Modern amenities mixed with historical charm.
Trendy nightlife.
Fantastic sunset views of the Bay of Naples.
Mid-range accommodation in a safe and prominent residential area with a more local feel.
The Vomero district in Naples is an elegant and lively upper-middle-class residential area located on the Vomero- Arenella ridge. Boasting elevated panoramic views over the Bay of Naples, Vomero is a very safe prominent area of Naples abundant with historical buildings, elaborated villas, tree-lined avenues, cozy squares, and lovely gardens.
Eclectic coffee shops, bars, and restaurants contribute to the vibrant social scene of Vomero. The action of the district revolves around the square of Piazza Vanvitelli– the heart of Vomero. Meanwhile, in Vomero you will also be steps away from the Castel Sant'Elmo- the imposing medieval fortress which is one of Naples' most important historical sights.
For those who would like to experience the classy Neapolitan nightlife, Vomero is a place to go as it is known for its cool nightclubs, classy lounges, and cocktail bars.
To easily get to and from the Vomero district, you can take a funicular which is a fun experience on its own right, or a metro L1. Walking is also an option if you do not mind quite a steep climb using the old stairways of Naples known as Pedamentina (it connects a former monastery complex of Certosa di San Marino in Vomero to Spanish Quarters).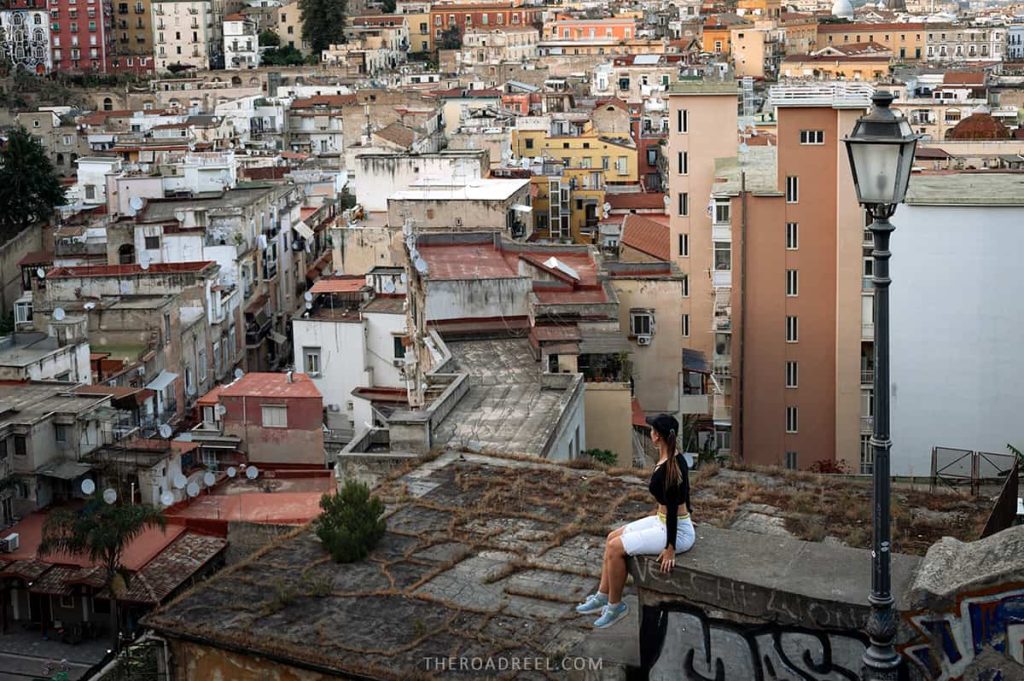 The best accommodation in Vomero, Naples
If you choose to stay in the Vomero neighborhood in Naples, you will be enjoying a pleasant and relaxed yet lively ambiance away from tourist crowds, but will still be close enough to the bustling historical center of Naples, Spanish Quarters, and Chiaia areas. My top accommodation picks for Vomero area are:
8. Rione Sanità – an overlooked historical area of Naples
Rione Sanità is a great district to stay in Naples because:
Local experience.
Good for a group of friends.
Relatively close to the Centro Storico of Naples.
Has plenty of affordable accommodation options.
The Rione Sanità area is a somewhat overlooked historic neighborhood with a distinctive local feel and character, located in the heart of Naples, Italy. It is situated north of the Naples historic center and can be easily reached either by walking for 15-20 minutes or taking a metro. It is also one of my favorite areas to explore in Naples and I suggest it as a great area to stay in Naples for quite a few reasons.
Rione Sanità is an intensely interesting area where you can get a great sense of a real Naples, filled with culture, passion, arts, and history, and also with fewer tourists. Staying in Rione Sanita will make you feel like you live in the local community.
Rione Sanità is also considered one of the most controversial neighborhoods in Naples. It went through rough times and faced socio-economic challenges over the years due to poverty and high population density. However, it has also developed a strong sense of community among its residents.
In recent years, Rione Sanità has been living its Renaissance days (similar to Quartieri Spagnoli). Rione Sanità has been actively promoting its cultural heritage and improving its quality of life. Today the area is a hub for artistic initiatives, hence you can find some really awesome murals all around the district.
One of Rione Sanità's most famous historical sights is the underground catacombs of San Gennaro. The Real Bosco di Capodimonte park and museum is also just a short bus ride (or walk if you will) away.
The neighborhood is characterized by lively street markets, authentic local eateries serving traditional Neapolitan cuisine, and active street life. Here you can also try some of the best (if not the best) desserts in Italy called il fiocco di neve (a snowflake) served in Pasticceria Poppella. Some of the best-rated pizzerias are also around the corner.
The best accommodation in Rione Sanità, Naples
9. Posillipo- an exclusive area for the luxury experience in Naples
Posillipo is a unique area to stay in Naples for:
Families and couples.
Exclusive experience of the local upper-class lifestyle.
Quiet area blending nature and history.
Steps away from the sea- a perfect area in Naples to combine beach and city vacation.
Posillipo is one of the most exclusive districts in Naples, perched on the lush green promontory that separates the Gulf of Neapolitan city from the one of Pozuolli. Squeezed between the sky and the sea, Posillipo stands out with its rocky coastline lined with bright-colored luxurious villas cascading down the hill.  Some of those historic mansions also have enviously exclusive access to the sea and overlook the Bay of Naples.
I always perceive Posillipo as that dreamy La Dolce Vita corner of Naples featured in the Netflix series of "La Vita Bugiarda degli Adulti" (The Lying Life of Adults) based on Elena Ferrante's best-selling novel.
The area dates back to the Roman times in the 1st century AD, and the name of Posillipo originates from the Greek word "pausilypon" which means "respite from worry". Indeed, the name reflects the beautiful and quiet surroundings of the area, an antidote to the raw and noisy streets of central Naples.
Historically, Posillipo has been a favorite choice for wealthy families who built their elegant villas surrounded by lush gardens providing a sense of serenity and complete privacy. Even the president of Italy chose Villa Rosebery in Posillipo as his residence in Naples.
Meanwhile, the remains of the Roman legacy can be observed in the beautiful Pausilypon Archeological Park. This archeological park not only has the most stunning location overlooking the Gulf of Naples but also the most intriguing entrance. To access the park you must walk through a mysterious 800 meters long Roman tunnel carved through the hillside of Posillipo.
Posillipo is located west of Chiaia and slightly further from the busy center of Naples. Thus, the quickest way to get to and from Posillipo is with your own car or taxi. Nonetheless, public buses also serve the area.
Best hotels and villas to stay in the Posillipo area in Naples
A place perfect for a longer stay in Naples, Posillipo will appeal the most to families and couples who are looking for a local but more upper-class experience.
In Posillipo you will find the best luxurious accommodation surrounded by serene natural settings and with the view of Vesuvius straight from your balcony. It is definitely the prime choice to stay in Naples, but you might consider it well worth the experience of staying in a residential area of the aristocrats of Naples.
Here are my top picks of where to stay in Posillipo in Naples:
10. Central station area (Piazza Garibaldi)
Staying in Central Station (Piazza Garibaldi) area in Naples is good for:
The convenience of quick access to trains, buses, and airport shuttle.
If you are visiting for one night.
Has more budget-friendly accommodation options to choose from.
Group of friends.
Walking distance to Centro Storico of Naples.
I would not recommend staying in Piazza Garibaldi and around Napoli Centrale for solo female travelers. Wandering the area at night alone, especially for a lady, could be a little scary.
If you are traveling by train, stopping just for one night in Naples, prefer a convenient and quick connection to and from the airport, or planning on taking several day trips, then Napoli Centrale and Piazza Garibaldi area may be a convenient option for where to stay in Naples.
It is also one of the more budget-friendly alternatives that are 10-15 minutes from the historical center of Naples. Thus, if you do not mind staying in an area that is often perceived as a bit dodgy, read on.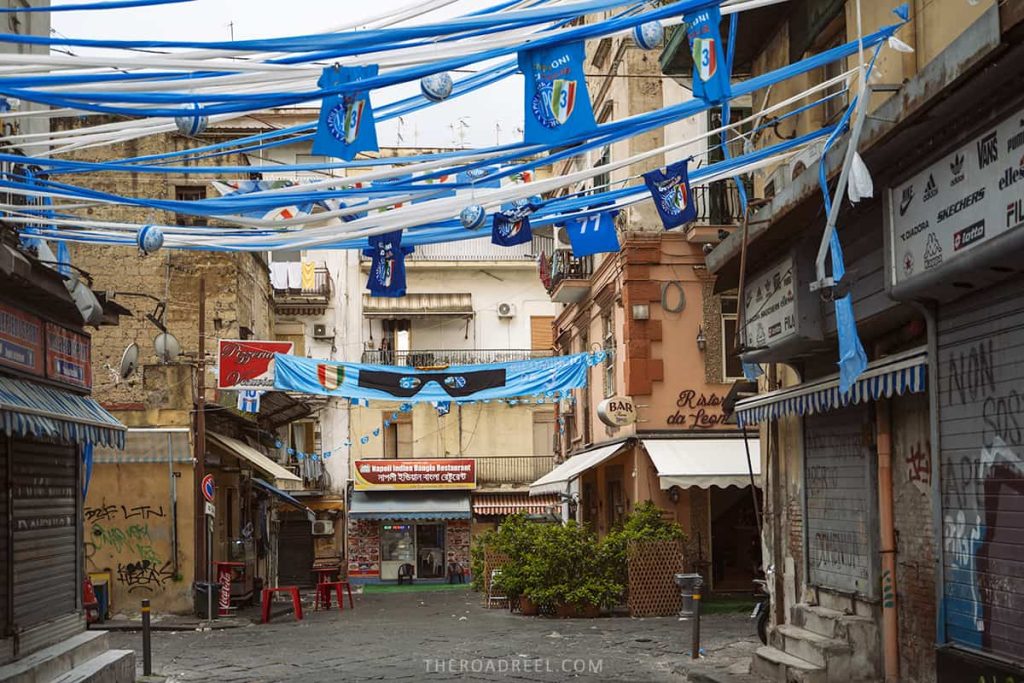 Indeed, the Central Station areas all around the world attract suspiciously looking individuals, and this applies to Naples as well. To shed some light, there are homeless people sleeping on the streets of Piazza Garibaldi Square and around. In fact, there are people who look like on drugs roaming the streets (well, I saw a few).
Moreover, armed troops are guarding the area around the Train Central station. Nonetheless, I saw the same armed forces in front of Chiesa Gesu Nuovo- one of the highlights of Naples located in Centro Storico. Apparently, it is related to past gang wars that happened on the streets of Naples and the army is there to ensure the safety of residents and tourists
However, I stayed in the Central Station area twice for the sake of convenience of being close to the airport shuttle Alibus station. As well as for a great value of clean modern and safe accommodation I found.  I wasn't traveling solo, so it felt completely safe to me to stay around Piazza Garibaldi, and even walk back home after dark.
The additional perks of the area are that you can find some great cheap pizzerias and pasticceria's. In fact, one of the most famous pastry shops "Sfogliatelle Caldo Attanasio" is located in Piazza Garibaldi and receives long queues of customers each morning.
Where to stay in the Central Station area in Naples
Regardless of the common opinion about the Central Station area, there are some fantastic options to stay in: from budget B&Bs to more luxurious yet affordable 4-star hotels. Here are my recommendations for staying in Piazza Garibaldi and Napoli Centrale area:
Which is the safest area to stay in Naples, Italy?
The following are the safest areas and the best neighborhoods to stay in Naples, especially for tourists:
Chiaia – being one of the upscale neighborhoods in Naples, Chiaia is one of the safest areas to stay in Naples.
Posillipo– an exclusive area where the majority of wealthy families live, Posillipo is one of the safest districts to stay in Naples.
Vomero– a residential area occupied by the upper middle class of Naples is also a great safe area to base yourself in Naples.
Piazza del Plebiscito– a central open space area that is always busy with people, and many tourists. It is generally safe to stay here and even be out and about late at night.
Centro Storico is considered generally safe for tourists. You can also see a lot of armed troops around Naples's historic center for safety purposes. Nonetheless, the extremely busy nature of the area means there are higher chances of pickpocketing. Thus, be aware when walking in the crowded streets of the historical center of Naples.
Where NOT to stay in Naples
The areas that are considered as seriously dangerous neighborhoods in Naples are namely Scampia and Secondigliano, both located next to each. However, those areas are around 10 kilometers away from the historical parts of Naples, and the likelihood to wander off there by mistake is very slim.
Scampia, the district that was used as a set for the Gomorra TV series, is one of the poorest parts of Naples where the population suffers from high unemployment rates and many residents are involved in illegal activities. It is even nicknamed a drug store of Europe.
I looked up the area online, and as much as it sparked my curiosity due to very strange Soviet-style brutalist buildings, I buried the idea to visit as being irresponsible. I have read online that even taxi drivers refuse to take passengers there. That says quite a bit.
Rione Forcella-this small area between the Central Station of Naples and the historical center is known as a controlled area by the local mafia. You will most like pass by as it is very central area. And one of the most distinct landmarks there is the mural of the city's patron saint Saint Januarius (yes, a mural of a saint- only in Naples!). We passed Rione Forcella many times when walking from Piazza Garibaldi through Porta Nolana (one of the historic city gates that also hosts local street markets) towards the historic center.
San Giovani e Teduccio– just behind the Piazza Garibaldi where the Central station is, toward the east side of the coast, this area is called the Bronx of Naples and should be avoided.
I have visited Naples many times and walked at night (even though some of the dark seedy looking streets near Piazza Garibaldi), and it was fine. Just be aware of your surroundings, and if something smells fishy, avoid it and change direction.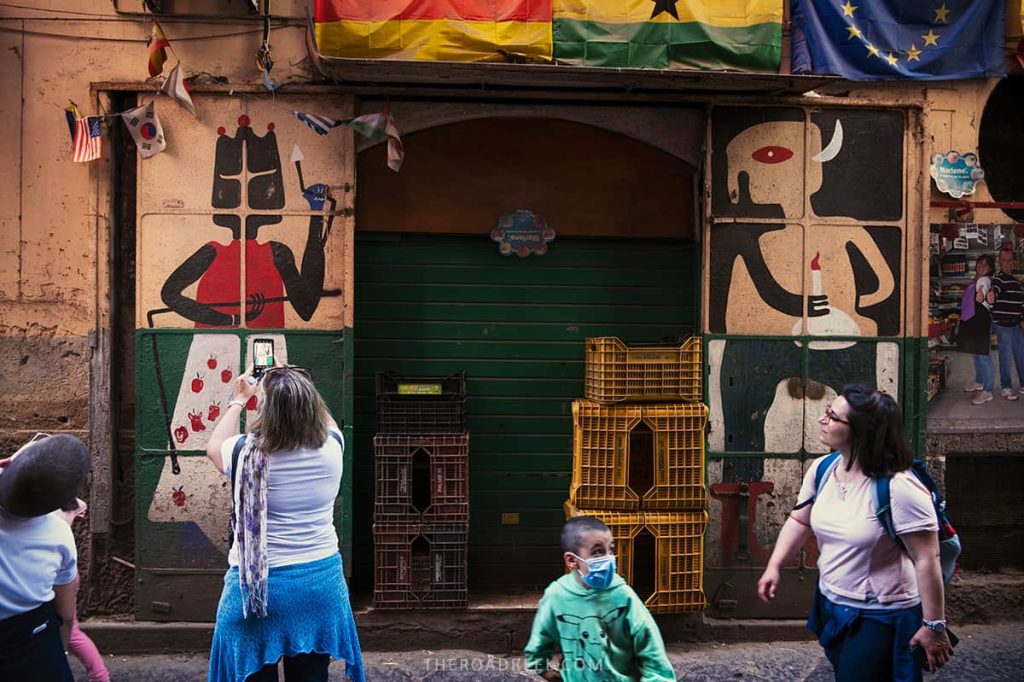 Where to stay in Naples with a rental car?
If you decided to rent a car and drive in Naples, you should be aware that it might be impossible to get accommodation that offers free parking. Nonetheless, there are many secured garages in the city of Naples where you can leave your car safely for 24 hours. Note though, that day rates range from around 25 EUR per 24 hours and up.
That said, one of the best areas to stay in Naples with a car is Borgo Orefici, which is a very central area outside ZTL zones, located by the coast, just south of Centro Storico. Borgo Orefici has ample paid parking options around.
Alternatively, the Posillipo area will have accommodation with parking, and you are better off leaving your car and taking a bus to the historical center.
Before deciding if you should drive in Naples, make sure to read my 17 Tips for Renting a Car in Naples, Italy.
Where to stay near Naples Airport?
If you are just passing by Naples and need an overnight stay to catch an early flight from Naples Airport, your best bet is to stay within walking distance from the airport. There quite a few options where to stay near Naples Airport, however, the majority are quite low-rated. Here are my picks of the best options:
Terminal 1 Guest House– a highly rated hotel is located 5 minutes walk from Naples Airport and offers self check-in which is very convenient for late arrivals and early departures. -> BOOK HERE
Bed & Boarding – capsule size rooms serve their purpose to stay close to the airport for an early flight. 24-hour reception, free wifi, a hide-away computer table, even a TV and shared bathrooms are available.
Should I stay in Naples or Sorrento?
Sorrento is a popular choice to stay for travelers to the Campania region. It is a great jump-off point to exploring the Amalfi Coast, and also the island of Capri, or even visiting Pompei ruins. Yet Sorrento is very different from Naples and is a much smaller town. It might be a great option for those who prefer smaller towns to big laud metropolis which Naples is. You can visit Naples from Sorrento by catching a train. The journey takes around 1 hour. Yet, if you are planning to explore Naples properly, it is more convenient and cheaper staying the city.
Top tips for booking accommodation in Naples
If you are visiting at the end of spring and during the summer, make sure to book your stay early in advance. The most budget-friendly and higher-quality hotels in Naples get booked out very fast. BROWSE HOTELS HERE.
Naples is not as cheap to stay in as some people say. Especially during the high season prices blow up significantly. Yet, you can still find conveniently located affordable hotels and hostels in central Naples.
The majority of hotels in central Naples do not have parking. If you have a car, make sure to pay attention if private parking is available. Otherwise, I would suggest not to drive in Naples, and pick up your rental car later.
According to my observation of the prices of hotels in Naples- all of the areas have quite similar price ranges. Even in "posh" areas in Naples you can get a reasonably priced stay.
The safest areas to stay in Naples are considered Posillipo, Vomero and Chiaia. Those are also the most "posh" out of all mentioned in this post.
The cheapest accommodation can be found in Centro Storico, Central Station area, Quartieri Spagnoli, and Rione Sanita.
If you are a solo traveler, you may want to avoid staying around Naples Central Station, especially if you are planning on returning back to your hotel late at night.
Don't be fooled by "private parking" advertised on Booking- this just means that paid parking is available nearby.
I hope that my article helped you decide where to stay in Naples. If you have any questions or want to share your experience of staying in Napoli, feel free to comment at the end of this post.
More Italy travel guides
Italy Travel Essentials & Useful Links
Here are links to essential travel resources and services I always use when organizing my trips.