Wadi Shawka hiking trail is one of the best beginner-level hikes in the UAE. Here is a detailed guide to the Wadi Shawka dam to pools hike.
Located on the Eastern exteriors of the Ras Al Khaimah Emirate, Shawka dam is only an hour-long drive from Dubai. Nestled between Moon-like Hajar Mountains, Shawka (Showka) area serves as an ideal start for a relatively easy trekking adventure. Trekking in Wadi Showka can last between a few hours to a full day of movement. Suitable for most age groups and fitness levels, this UAE hiking trail also has room for picnics and overnight camping along the way.
Although Wadi Shawka is rapidly growing in its popularity, this jaw-dropping location is mostly known by locals and hiking enthusiasts. I was awed by the vistas of the mountains on this UAE hiking trail. Moreover, I was pleasantly surprised by how easy it was to get to Shawka dam- where the trails start. Having panoramic spots that surpass those seen on more challenging trails in the region, the Wadi Shawka area is a perfect introduction to the wild spaces of the UAE – an ideal warm-up towards more advanced hikes in the future.
Sign up HERE to receive a FREE downloadable quick guide to The Best Hiking Trails in The UAE.
RELATED READS: If you are a beginner hiker, or just want to go on an easy but very beautiful trek, you might also want to check my post about other fantastic Easy Hikes in the UAE. One of the most popular is Al Rabi Tower Trail in Khor Fakkan, an exclave town of Sharjah Emirate.
Note: This post contains affiliate links, which means that I may make a small commission at no extra cost to you if you make a purchase by clicking a link. This helps to keep my blog growing and filling up with detailed honest travel advice for you. 
Visiting and Hiking Wadi Shawka in the UAE: All You Need to Know Showka Dam to Pools Trail
I have put together all the information that might be useful for you to prepare for Wadi Shawka Dam to Pools hike in Ras Al Khaimah, UAE. Keep on reading to be well-prepared for your Dubai, UAE hiking adventure.
Want something a little bit more challenging? Head to my post about the Iconic Wadi Naqab Trail. This incredible hike in the UAE features one of the most unique mountain sceneries in the UAE. You will be trekking through majestic Wadi Naqab, to wadi Koob pools and ancient Al Sanat mountain village. Download FREE Mini-Guide to Wadi Naqab Trail HERE!
Wadi Shawka Hike from Dam to Pools
With hundreds of striking photo opportunities waiting for you along the way, there are multiple hiking routes that you can enjoy around Wadi Shawka area. I have taken one of several available trails starting at the Shawka Dam and leading to the pools that are filled with water during the whole year. Also, you will get a glimpse of agricultural life and might see some wildlife (goats, camels, various birds) along the route. The parameters of Shawka hikes will vary depending on which route you select. The table below has summary details of the route I took.
Summary: An easy and scenic family-friendly hike through clear mountain bike trails with swimming in the pools opportunity.
Distance: ~8 KM from the dam to pools and back.
Duration: 2-3 HRS.
Difficulty Level: easy.
Minimum and Maximum Elevation: 235 m and 520 m respectively.
Elevation gain and loss: approx. 300 m.
Mobile network and Internet connection: good.
Is a guide needed? optional (advisable for the first-timers). Trails do not have official markings. Those are used as Mountain bike paths as well.
Minimum water requirement: 3 liters.
Kids friendly? yes.
Dogs friendly? yes.
Sign up HERE to receive a FREE downloadable quick guide to The Best Hiking Trails in The UAE.
On my last visit to wadi Shawka, it was raining heavily across the UAE. My hiking companion and I were hesitant to drive all the way to the mountains as the likelihood of being able to hike seemed really low. Nevertheless, we took a chance and to our pleasant surprise, there were only short moderate rains for the first half of the day and lots of sunshine in the afternoon while the rest of the country was facing massive storms. Certainly, it was an unusual plan that nature had prepared for us – we finished the hike after sunset and watched beautiful thunder and lightning illuminating the sky above the UAE mountains. It was a surreal experience – Shawka was probably the only area in the country that was untouched by the storm that day.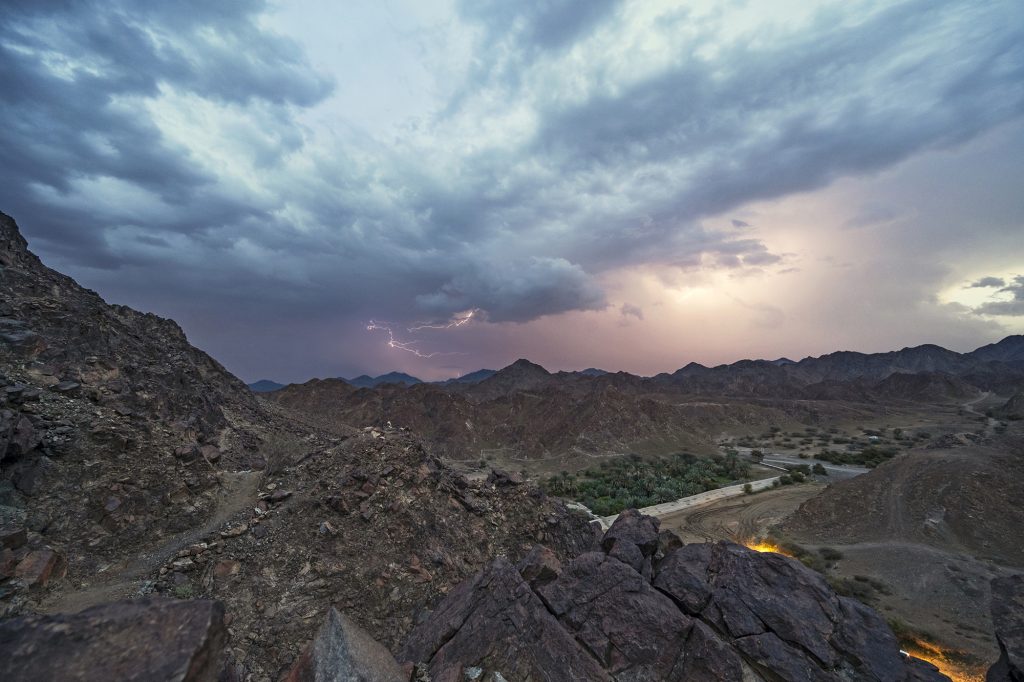 RELATED READS: Discover more UAE hiking trails by reading my post about TOP 8 EASY HIKES IN THE UAE.
The Best Time to Visit Wadi Shawka Hiking Trail
You can hike in Wadi Shawka at any time of the day from November to March. Trekking is still possible in the early mornings when the weather heats up. You would have to have a good heat tolerance and be well prepared if you choose to go hiking in June, July, or August (not recommneded). A note to somebody who has never experienced summer in the UAE – it is notorious.  
In general, all the outdoor activities in the UAE are the most enjoyable during the winter or early spring months. Wadi Shawka is highly exposed to the sun with very little natural shade. There are a few man-made shaded seating areas for the hikers to take a rest. However, all the trails are purely out under the sun. 
Watch my UAE highlights video showcasing some of the most beautiful places in the country!
Directions to Wadi Shawka Hiking Trails in the UAE
The starting point at Shawka Dam is only about an hour and ten minutes away from downtown Dubai. That is relatively close to the city compared to other dams and wadis. Moreover, if you are not planning to drive into the wadi, you do not need a 4×4 car to access the trails.  Shawka Dam location is accurately pointed on Google Maps. Otherwise aim for Sharjah-Kalba road (E102) that you can access from Dubai via major highways: E311, E611, E44, E11. On the Sharjah – Kalba road look out for the Shawka road sign. Take an exit and drive left on the roundabout towards Shawka village. Continue for a little less than 5km and take a very sharp right turn (almost 120 degrees) to the road that will take you directly to the dam. Here you will find a parking spot and begin your adventure.
Also read: 7 days Dubai itinerary planner.
Navigating Wadi Shawka Trails
Shawka Dam to Pools hike start/end points and Map
Shawka trails are accessible from Shawka dam parking lot. NOTE: currently you can't access the parking area above with your car as there is a barrier, so you have to park earlier. There is a public parking available down the hill next to family playground. Our hike starting and end point is located on the parking above. You can access this by walking from the family parking area below. I have created a map with some points of interest that you can use for navigation as well.
Start your hike by climbing up the concrete staircases at Shawka Dam
At the back of the Shwka Dam you will find a concrete staircase winding up to the top of the hill. Use those staircases to safely access the very top of the mountain. There are a couple of resting stops along the way as well with fantastic views.
This man-made staircase is where our hike begins. Your leg muscles will get a nice burning sensation while climbing up nearly 300 meters. Once you reach the top of the staircase, striking Hajar mountain views will be waiting for you. NOTE: an info board next to the dam advises visitors about available routes. However, it is not very clear where to start following them. At the time of visiting, the path winding around the dam towards the Wadi Shawka was flooded.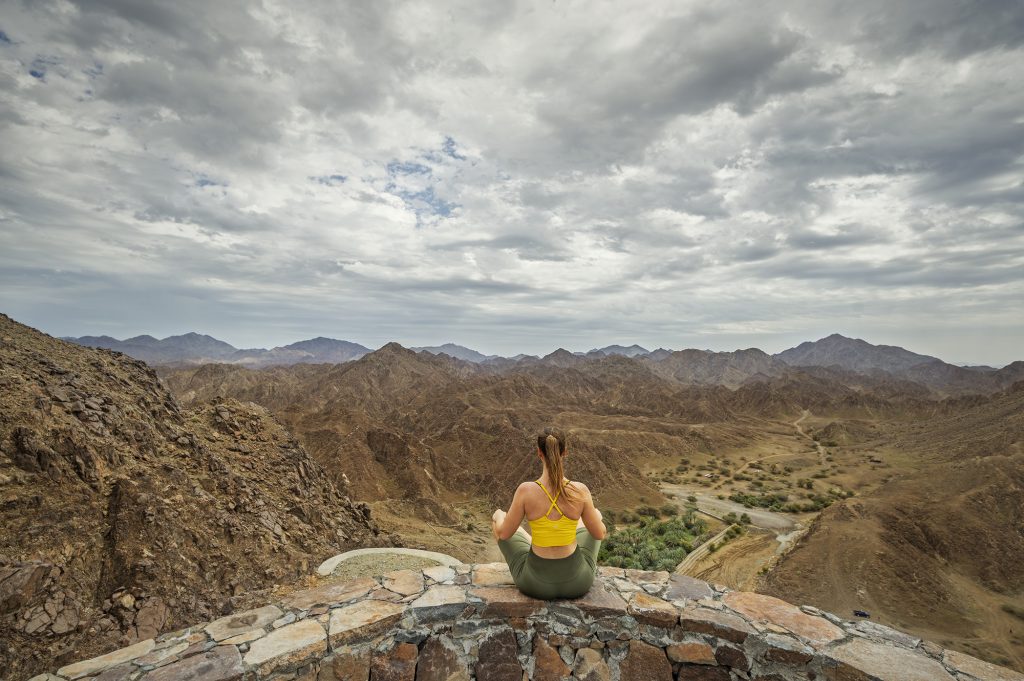 Follow narrow mountain bike tracks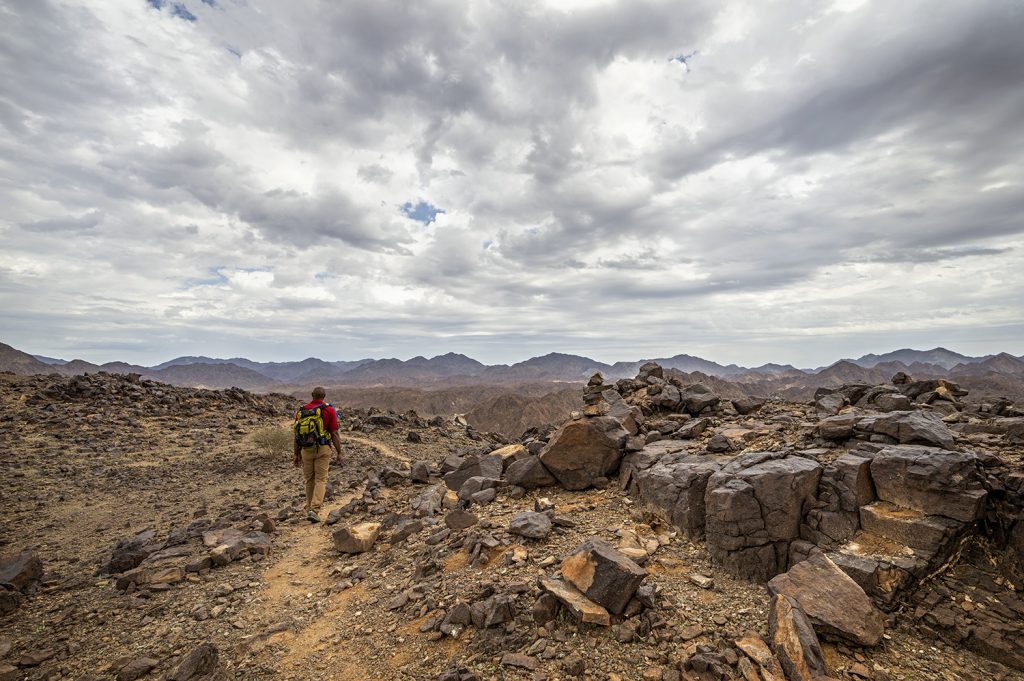 Once you are at the summit, start following clearly visible mountain bike trails until you reach the drop of the mountain.
From here we descended through the donkey path towards the valley below where we could see other trails merging together. The descending part isn't as difficult as it might look. Just be careful stepping down as there are many loose rocks, and take extra caution if it rains.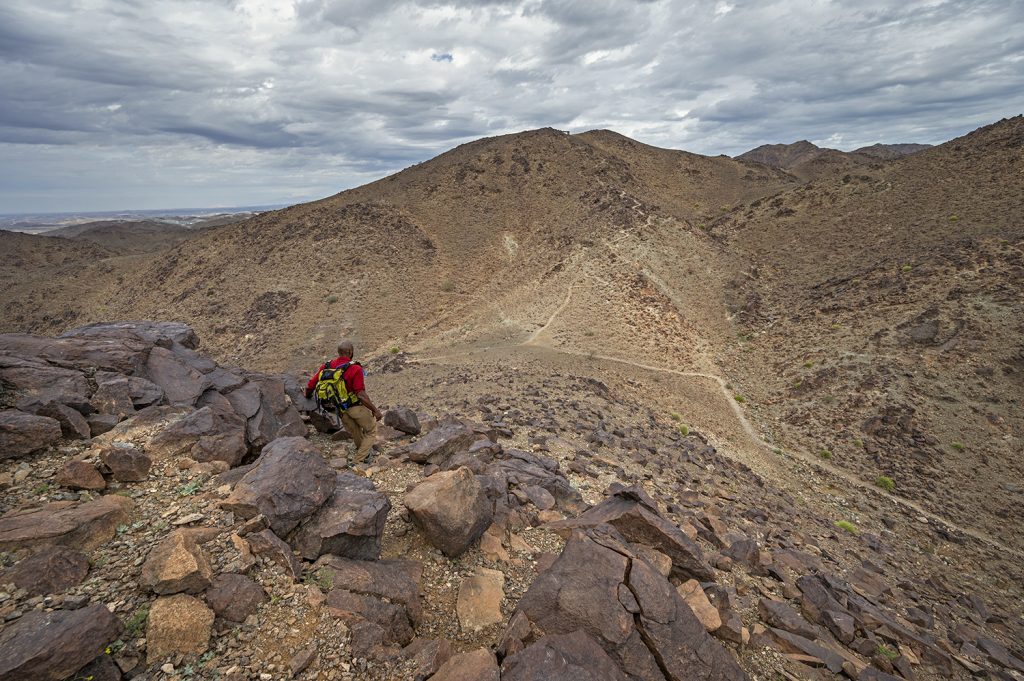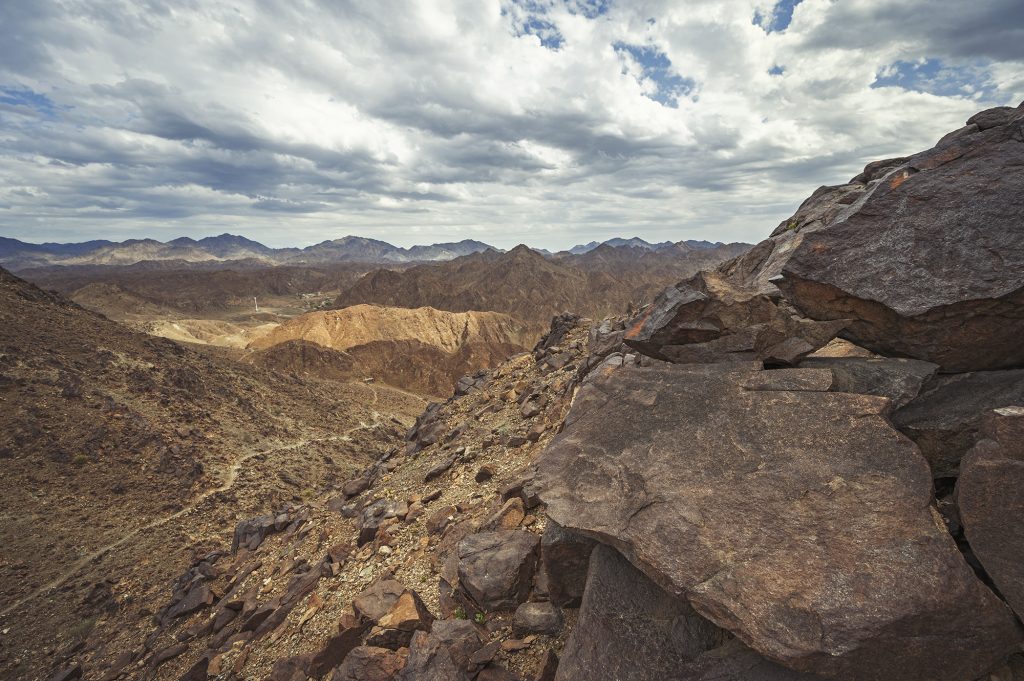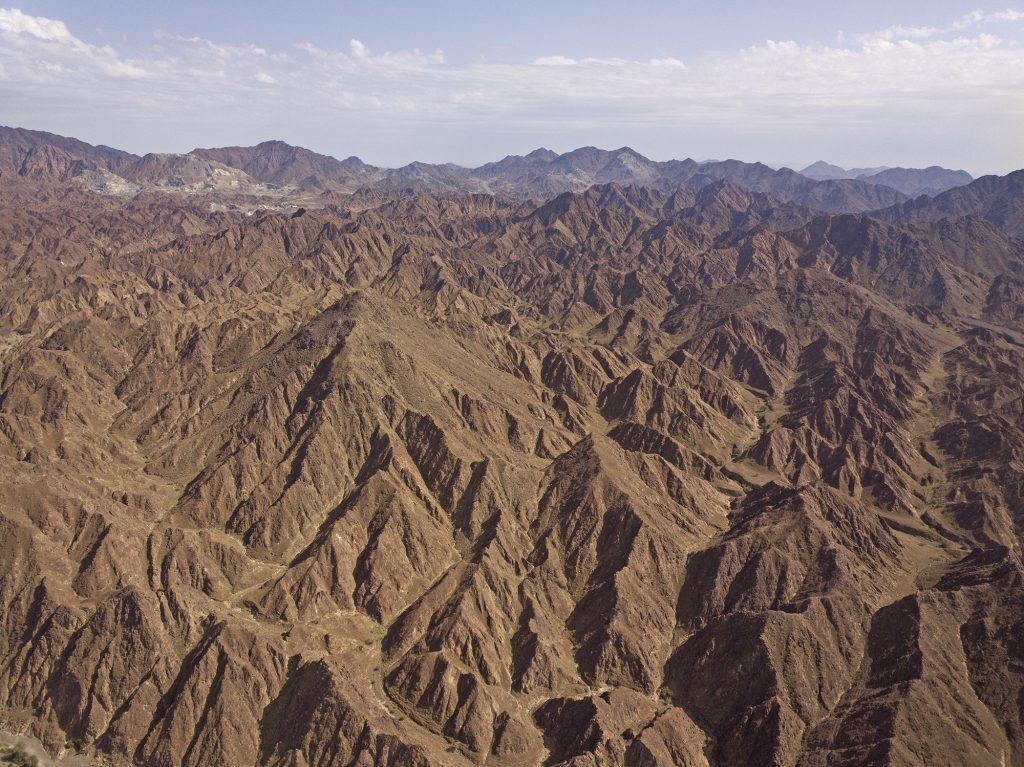 ---
RELATED READS: If you are enjoying my article about this relatively easy UAE hike, make sure to also check the post about TOP 5 Easy UAE Hiking Trails.
---
On the way to wadi Shawka and the pools
In order to get to wadi Shawka itself and the pools, we continued following the path to the right until we reached a shaded sitting area. From there we took a left turn towards the other bigger valley.
As soon as you are in the big valley, continue walking to the right aiming towards white telecommunication tower. Once you approach the tower, keep going right until you reach Wadi Shawka.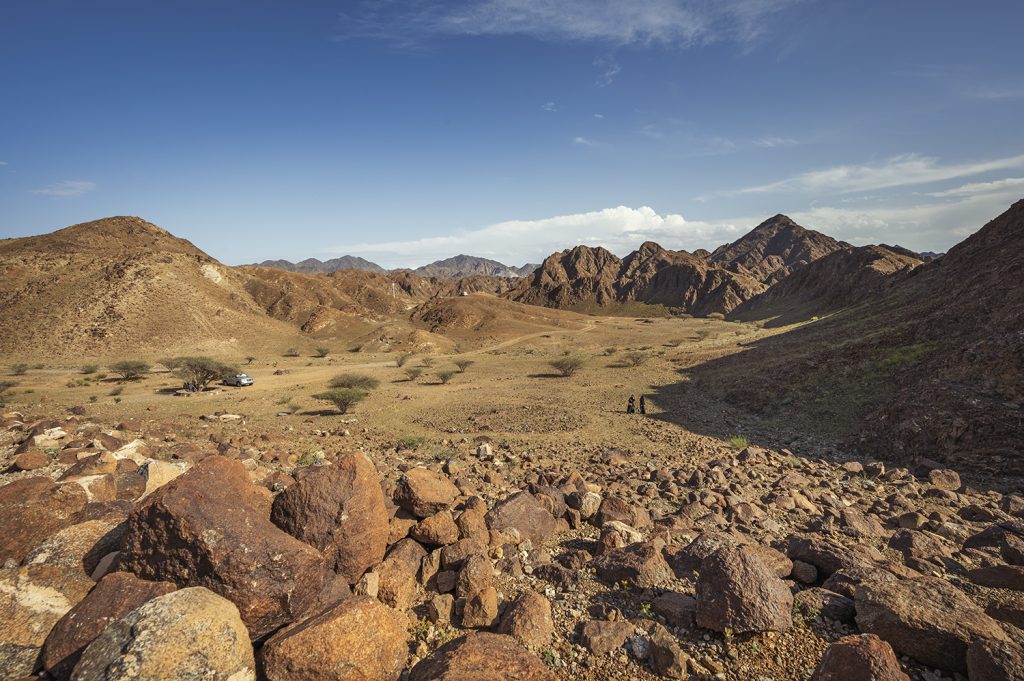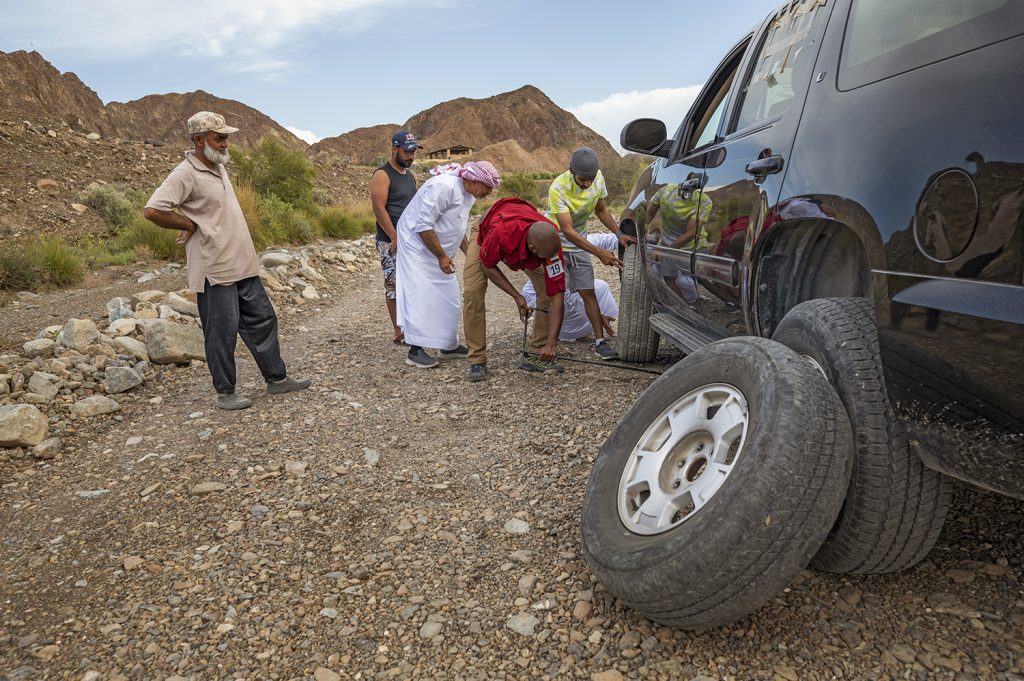 While strolling through the wadi, you should be able to see the AE Gathering Spot building and Wadi Shawka Park ahead (both marked on Google Maps). Head towards those buildings leaving Wadi Shawka on your left. Just before the AE Gathering spot, there is another smaller wadi on the right-hand side. A fence is blocking car access to it. Cross the fence and follow this small wadi. You will soon reach the famous Showka Pools which are the final destination of the hike for the day. Hikers love taking a dip in the pools on a hot day. Pools can get as deep as 2 meters, so you must know how to swim!
After the pools, there is a trail continuing deeper into the wadi and looping around back to the before-mentioned AE Gathering Spot. That trail is recommended for more adventurous and experienced hikers who are willing to take extra challenges (rated as moderate to difficult, not a beginner's hike).
Since it was getting dark, we had to head back. Instead of following the same route, we skipped going through the big valley. Instead, we took the dirt road in wadi Shawka and turned right to the mountain bike trails a bit later. We have reached the middle part of the before-mentioned man-made staircases through the trail winding around the left-hand side of the mountain.
If you aim for the same route, you would have to climb up the scree slope to the top of the mountain before you reach the staircases at the very top.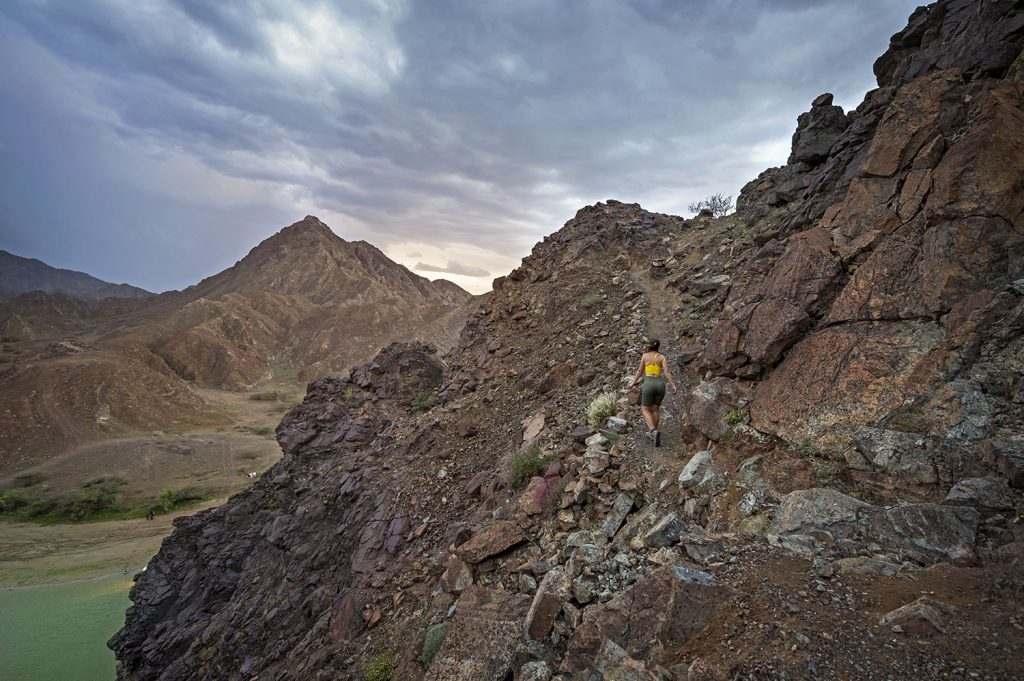 Download and follow this trail on your Wikiloc app
If you are not yet using the Wikiloc app, it is very helpful as the trails can be followed offline. I have shared this trail below. You can save it, download it, and see the viewpoints and comments to help you navigate easily. NOTE: if the map below doesn't load, you can follow this link.
How to Prepare for Wadi Shawka Hike in the UAE
There are two factors you must take into account when preparing for this hike. First is hot weather conditions. Second is unforgiving terrain- it is harsh and hard with thousands of bigger and smaller rocks. Therefore, for a perfect and safe hiking experience trekking experts would always suggest preparing as follows. I can confirm from personal experience that it does make a difference: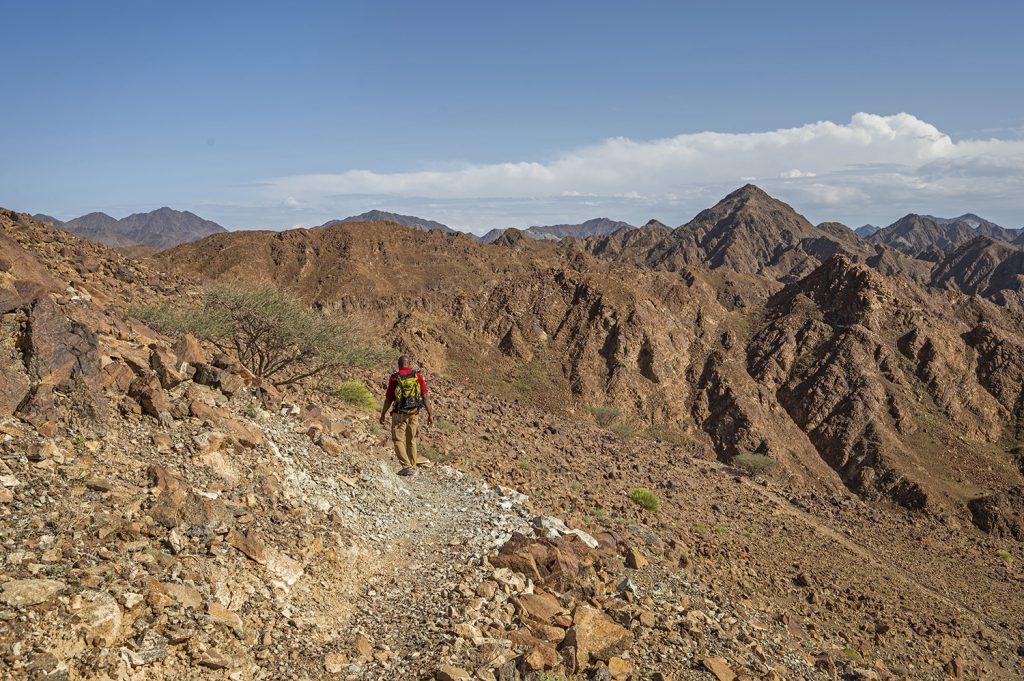 Shawka Pools- my humble opinion
Shawka pools are locally well-known and one of the most easily accessible wadi water places in UAE. That means it sees quite a bit of visitors throughout the year. Sadly, not everyone acts responsibly in nature- the area around the pools were covered with trash (plastic bottles, clothes, food leftovers). Therefore, I was hesitant to take a dip in the pools- it just did not look clean. Regardless, a man and his four dogs that were visiting the pools seemed to enjoy the swim.
The place around the pools could definitely be more pleasant to spend time at if hikers were more considerate and didn't litter the place. Furthermore, talking about the scenery- it is not as spectacular as the views we saw before reaching the pools. But this is my personal opinion only, and by no means, you should not be discouraged to visit Shawka pools. The cleanliness of the place should be addressed though. Make sure to always take collect your trash and help to keep nature clean. If you can, please pick up some litter along the way as well. 
Do you need a guide to Shawka trails?
There is no need to have a guide for this particular trail. The main points of interest are on Google Maps and navigating the Wikiloc map is very easy. Chances to get lost are very unlikely, especially if you stay on the trails. Also, there are quite a lot of people hiking in the area on the weekends.
However, if you are a complete newbie, it is advisable if you hike with somebody who has either been to the area or hire a guide.
How to prepare for hikes in the UAE?
Before you head out to almost any mountain adventure in the UAE, you must make sure to tick off a few important boxes on your hike prep list. Below is the standard UAE hiking preparation checklist:
Sufficient amount of water– crucial for any hike. For the UAE where the weather is hot all year round, take extra than you think you may need.
Lightweight power snacks like dates, bananas, protein bars. Also, electrolyte drink aside from water makes wander after long sweaty hours.
Sturdy footwear with good grip. The terrains are rough and rocky. Therefore, it is very important you are wearing shoes, ideally mid-ankle height, that has good grip, to prevent you slipping and twisting your legs. I have been hiking in my Columbia boots since I started, and I am so far happy with it.
Comfy and functional backpack. For a half-day hike you don't need much supplies to fit in. Still, a backpack with a good back support and, ideally, a space for water bladder, makes a difference. Check out this Osprey backpack chich is great for day hikes.
Get a water bladder if you are planning to make hiking a regular acitivty. Water bladder has a straw. This means you don't have to remove your backpack when you want to drink water. Also, water, when filled in the bladder, is evenly distributed in the backpack. I use my two or three liter camel backs (depending on how long the hike is). You can check prices here on Amazon.
Sunsreen, cap and sun glasses. Sun is harsh, so make sure to protect yourself.
Comfy sweat wicking clothes. I usually hike in gym or hiking leggings and t-shirts. For winter months, I through in a lightweight fleece as morning and evening can be chilly.
Hiking poles. It is not a must but very helpful for the descending part. It can be quite tough for the knees when climbing down. For the light weight foldable trekking poles check this pair at Amazon.
Basic first aid kit. Terrains are rough and sometimes mini injuries can happen. Even as simple as getting a blister. So having plaster for this type of emergency can really make or break your hike.
Power bank to keep your phone charged.
You do not need any technical equipment like ropes to hike this trail.
Other things to be aware of when hiking in the UAE
Goats are the most common animals you will see in the mountains of the UAE. Those cute animals rarely approach human beings, and most of the time run away if you try to come closer.
Also, there are snakes. They usually come out at night and hide in bushes and under the rocks. They won't attack humans unless they cause a threat by stepping on the snake. Therefore, always be mindful of your steps.
I have seen snakes only a couple of times while hiking, but they are quite common in mountainous areas, as well as in the desert.
You can also see and hear bats if you are spending the night in the mountains.
Donkeys are also common if you are passing functional mountain villages.
Running into darkness while on a hike.
To avoid running out of light, always aim to start your hike early morning. Unless you are planning to camp, estimate your abilities to come back before it gets dark.
Be aware of the sudden rain. In the UAE rain might cause dangerous flash floods. It is not advisable to hike when it is raining also because rocky terrain becomes very slippery, there is a change of falling rocks as well.
Always take extra water, even if it means carrying a heavier load. UAE climate is extremely hot and chances of dehydration are high if you don't drink a sufficient amount of water.
Amenities at Showka Dam
Shawka Dam offers a convenient paved parking lot with some basic amenities: restrooms, refreshments, and snacks' kiosk, children's playground. Local and expats families with kids choose to come to Showka Dam for a weekend. They mostly hang at the playground area and only some more adventurous ones choose to explore the trails. Be aware that parking has limited spaces and often gets double-parked. We had trouble once when we tried to leave the place around late afternoon. That is the time when most of the local people come out for outdoor activities.
There are a few shaded sitting areas at the trails. Thus grab your lunch and enjoy it with the views.
---
Sign up HERE to receive a FREE downloadable quick guide to The Best Hiking Trails in The UAE.
---
Other activities around Wadi Showka
Wadi Shawka is not limited to hiking trails only. It is a perfect area to practice your mountain biking skills, go camping, and off-road driving in the wadi. Basic canyoning is possible if you continue further crossing Shawka pools. Shawka area is locally known but doesn't get overcrowded on the weekdays. However, it is very popular on winter weekends. Still, you can wander around the trails, valleys and wadis and have the place completely for yourself if you come early in the morning.
Buraq Dam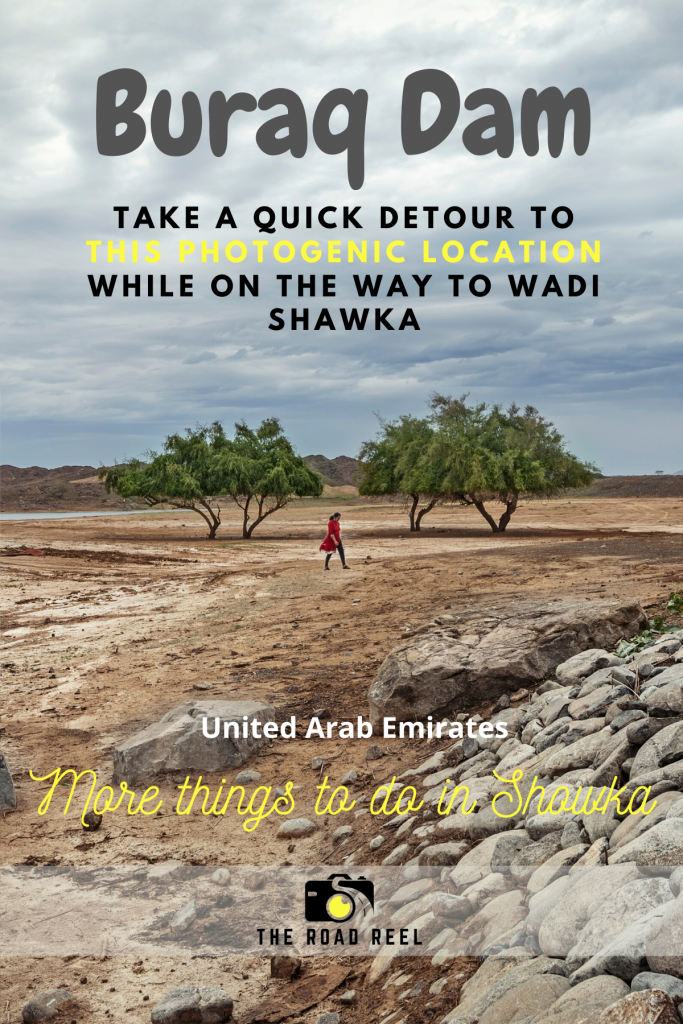 If you started and finished your Shawka Dam to Pools trail early and still feel like exploring more, you can head to a nearby Buraq Dam (sounds like my favorite Turkish pastry). Buraq Dam is around 20 minutes away from Shawka Dam. It is a very photogenic spot where local photographers love to gather for star trail photography as well as capture trees sticking out of the water during the rainy season. I had a brief stop by at the beginning of March, and sadly there was no water in Buraq Dam at that time. Regardless, a drive to the place is still a scenic and exciting detour as all you can see around is beautiful rolling hills.
If you find the information I shared helpful and would like to support my work you can simply use the affiliate links included in this post or buy me a coffee. Thank you!
Sign up HERE to receive a FREE downloadable quick guide to The Best Hiking Trails in The UAE.
MY HIKING PHOTOGRAPHY AND VIDEOGRAPHY GEAR
I often get asked about the photography gear I use during my hikes. The reality is, I do not hike very light because I carry all sorts of equipment in my backpack.
Here is what I use to capture my adventures and the beauty of the mountains:
I hope this guide inspired you to hike the beautiful UAE mountains! If you have any questions, please feel free to get in touch.
STAY SAFE ON YOUR HIKE AND KEEP THE NATURE CLEAN!
For further reading on other exciting hikes in the UAE, check the below posts:
DUBAI, UNITED ARAB EMIRATES TRAVEL RESOURCES
Planning your trip to Dubai, United Arab Emirates soon? Below are some useful links to help organize your trip.