UAE hikes: A guide to the WADI SHAH trail. | One of the most popular and diverse hiking routes in the United Arab Emirates (UAE) winds through the gorgeous Wadi Shah in Ras Al Khaimah Emirate. The trail reaches a 1095 meters summit. From there, spectacular views open up featuring North-Western Hajar mountain range and UAE's highest peak in Jebel Jais. I am happy to say that the Wadi Shah hike made it to my best UAE hikes' list!
Trekking wadi Shah requires a good fitness level and experience of hiking in the UAE mountains or similar terrains. Start early at 8 am if you aim to complete the full route before the sunset. Walking at a medium pace, it took us 10 hours with lunch breaks and photography to complete the loop.
This 13 km intermediate level hike combines many features of other UAE hikes such as bouldering, walking through a beautiful wadi with giant rocks, balconies, and narrow paths curving around the mountain edge. Also, scrambling through some screes, crossing fantastic plateaus and mysterious mountain villages. As usual in this region, you are likely to spot a few goats. The ones we came across on this hike were making weird sounds that can be associated with a possessed creature (won't enjoy hearing that at night).
---
Related: If you are a beginner hiker, you might want to start with easy but equally beautiful Al Rabi Tower Trail or a little bit more challenging Wadi Shawka Dam to Pools loop.
---
Continue reading for all you need to know about how to hike the wadi Shah trail. I am sharing my personal experiences with tips and tricks on how to get the most out of this breathtaking adventure in UAE outdoors. Or just simply scroll through the photos that will get you hooked.  
Here is All You Need To Know About Wadi Shah Hike in the UAE
I have put together all the information that I think might be useful to prepare for the Wadi Shah hike. So fasten your laces up and let's go.
Wadi Shah Hike Overview
SUMMARY / Gorgeous and diverse moderately challenging loop type of trail (depending on your fitness level). Wadi Shah trail combines many of the UAE hikes' attributes: beautiful gorge (wadi) walk, bouldering, a bit of scrambling, balconies and narrow paths around the mountain edge, plateaus, terraced fields, mountain villages.
DISTANCE / ~13 KM
TIME / ~6 HRS
MAX ELEVATION / 1194 M
MIN ELEVATION / 450 M
DIFFICULTY / moderate to difficult
CELLULAR AND DATA SERVICE / Unavailable most in the wadi, available on the summit
Wadi Shah hike in the UAE is a perfect choice if you are up for a full day or an overnight UAE outdoor adventure in the mountainous Ras Al Khaimah. This route will keep you sweating and your legs working hard both on the way up and down. It will give a sense of achievement once completed.
I would recommend Wadi Shah hike for people who love a good amount of physical challenge and aren't scared of heights, crazy sounding goats, or their corps (yeah, I know, it's creepy). 
The full 13 km Wadi Shah loop can be attempted by intermediate hikers who are confident in navigating and trekking long distances through rough terrains with high boulders, scree slopes, and narrow paths winding around the mountain edge.
Is Wadi Shah trail suitable for beginners?
Yes, the low-elevation part of the Wadi Shah trail is also suitable for beginners. It covers a beautiful canyon walk that may take a couple of hours. Expect some light bouldering and scrambling, before returning by the same route.
If you never hiked in the UAE before or have little hiking experience in general, start with one of the easy routes such as the stunning and well-marked Al-Rabi Trail, or Shawka Dam to Pools Trails.
Is it possible to camp and where to camp when hiking Wadi Shah?
If you love sleeping under the stars, the Wadi Shah trail offers a great camping ground at the top. There are plenty of spots at the terraces of the mountain villages. Please note that you won't be alone as two villages that you will pass on the top of the mountain are functional. For the sake of politeness, I would advise to ask if villagers are okay for you setting up a tent in their lands. I am sure they won't mind it. We met a very kind Emirati villager and his Pakistani housekeeper in the second village. They offered us water and guided us towards the correct path. We were asked if we are planning to stay overnight. I am pretty sure that those mountain guys see hikers on a regular basis as this popular UAE trail crosses their home land.
The best time to hike Wadi Shah
As you may know, the UAE is a hot climate country. Although, the temperatures are slightly lower in the mountains. Yet, I would recommend hiking Wadi Shah trail during the colder season which starts in mid-October and finishes in mid-March.
It will take a full day to complete this Wadi Shah hike. Therefore, even with an early start, furious midday sun will catch you up. Unless you hike at night, which is not recommended at all.
If you are like me, and love the sense of being far away from civilization, and get lost in the wilderness, choose to hike during the working days. This trail is quite popular among outdoor enthusiasts and gets pretty busy during the weekends. We met a few large groups early Saturday morning. Some of them were camping overnight.
Also, start no later than 8 am to give yourself enough time to finish the loop before sunset. We are not particularly fast hikers as we stop a lot for pictures. Therefore, it took a full day starting 7:45 am and finishing by 6:15 to complete the trail. Note: Sun sets at around 5:30 pm in wintertime.
If you are planning to camp, make sure you bring warmer clothes as nights in the mountains gets cold and windy.
Directions to Wadi Shah trail
Although it takes up to 1.5 hours to reach the starting point from downtown Dubai, it is not a remote location when compared to other Ras Al Khaimah trails. Places such as Leopard Canyon or Wadi Naqab hike that is more convenient to reach by an off-road car.
In this case, you do not need a 4×4 car to access the beginning of this trail. Parking for Wadi Shah trek is conveniently located at the Bear Grylls Exploration Base Camp which is on the same road that leads to Jebel Jais' highest point (see map below).
Navigating and Trekking Wadi Shah
The Wadi Shah hike can be divided into the following sections: canyon walk with a bit of bouldering and light scrambling, higher elevation bouldering and scrambling to the first village, walk through the village terraces and plateaus via graveyard to the summit, scrambling down to the second village, and the path down via mountain edge and later steep wadi descent.
So, you get an idea- it is not going to be an easy stroll, but fantastic views will make it well worth your effort.
Do I need a guide for hiking Wadi Shah?
If you are experienced in tracing the path in somewhat confusing rocky terrains, you do not need a guide to complete this trail. There are few tricky parts along the way though. I will do my best to point them out to you. The part that would require the most attention is the hiking down section. I came across many Wikiloc users who said they got lost when looking for the path down and ended up scrambling through the screes which you would want to avoid.
Canyon Walk, Wadi Shah
The hike starts at around 450 meters above sea level with a gradually ascending walk through the Canyon. Keep left once you reach the first road split. Soon you will start having fun as the gravel road finishes and becomes a boulder path with some impressive massive rocks decorating the trail.
Immerse into the magic views of orange-colored mountains- topography here is jaw-dropping. Literally, every corner is picture-perfect, so don't get carried away if you are aiming to complete the full loop.
Newbies can follow this part of the hike for around 3.5 kilometers and then return the same way (so total 7km).
In this section, you will see several man-made staircases that will make your life easier- enjoy it while you can. It ends up with a tree growing in the middle of the trail. This is a nice sheltered resting spot before the tougher part begins.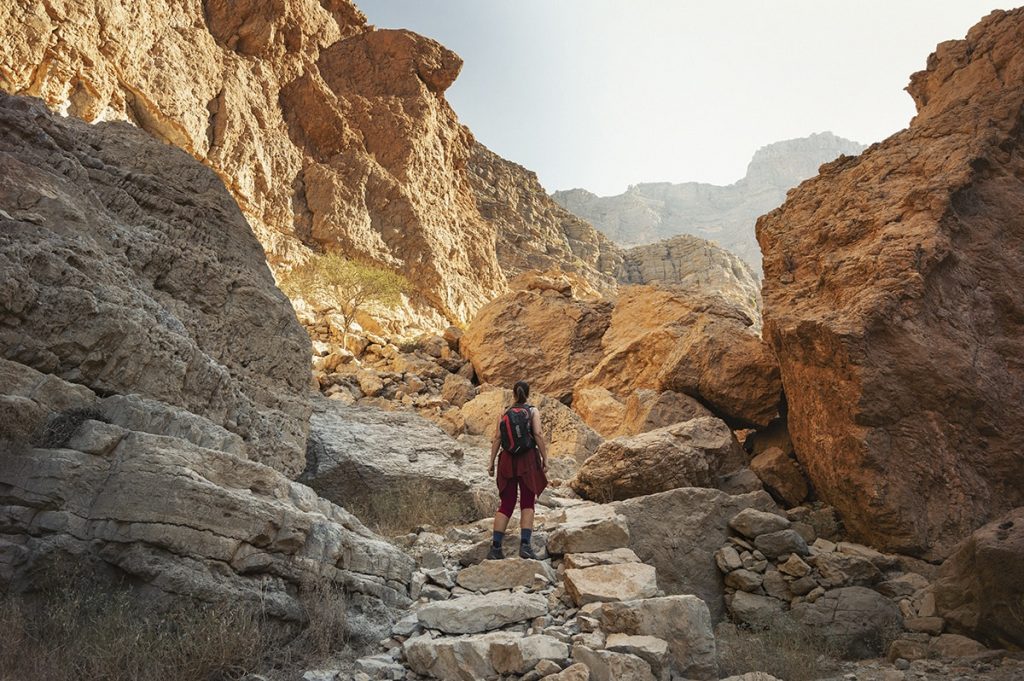 Higher Elevation Bouldering and Scree to the First Village
After the above-mentioned tree, there are two ways in this section. Continuing further you will notice that the path became rougher and narrower. At a certain point, there will be a path leading slightly left and higher up the mountain. We decided to stick to the wadi and kept following our way up. Seeing some cairns here and there indicated that this track has been walked before.  And I am happy to say it was a good choice as we passed a really nice balcony – one of the cool picture stops. 
After crossing the balcony, again, you can continue following the narrow wadi on the right side, or scramble higher-up towards the left. Choice is yours. Whichever way you decide to go with, you will soon reach a dry flat grey rock river bed (with some annoying bugs). I believe there might be some water pools during the rainy season. Note: the wadi-path is a bit more challenging as it involves some high boulders along the way. However, you can't go wrong with it and loose the trail as your only navigation task is to always keep left.
On the way forward, you will see a small date palm plantation randomly sticking out of the rocks. Aim towards the palm trees. There is no clear way, but with a bit of bouldering and scrambling through loose rocks, you will be able to get under those palm trees. From there aim more or less straight up the hill- again more scrambling to be done.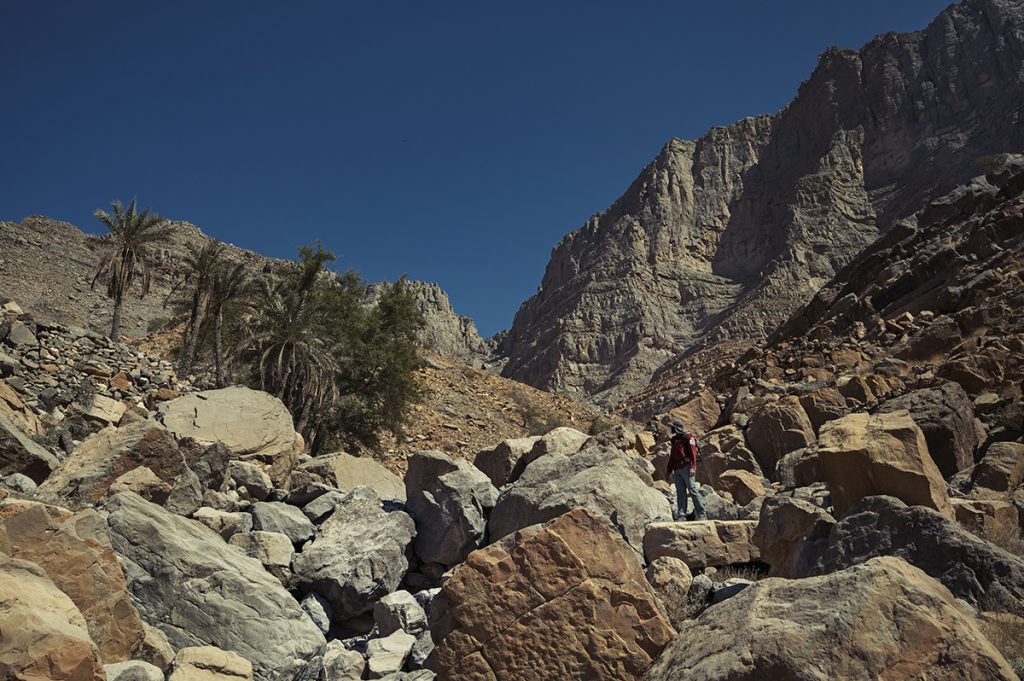 You will reach the first inhabited village at the top. The area has several terraces held up by long and high dry walks. Some abandoned and few renovated houses made from huge blocks of stone blend nicely into the rocky landscape. Also, a beautiful Hajar mountain range opens up.
Here you are already at around 900 meters above sea level and have been hiking for around 2.5-3 hours. This location is a great place for a lunch break. Find yourself a shadowed spot under the tree and admire views of the vertical mountain slopes.
To the Summit via Plateaus and Graveyards
After a well-deserved break continue heading up and keeping slightly right. The summit is less than 2km away with only another couple of hundred meters of elevation to be conquered.
There is no pre-defined path but it is not difficult to find your way up. You will reach the other plateau which, as we got to know, is actually a cemetery. It was a very weirdly looking space, and I could sense a different atmosphere around the graveyard. Muslims believe that it is a place where jinns (spirits) reside. Therefore, we continued hiking up at a faster pace and soon reached the summit.
Over the Ridge to the Second Village
Majestic 360 degree views of the mountains are waiting for you on the summit. From here you can see the highway snaking up to highest point of Jabel Jais mountain.
Continue over the ridge towards the second village that comes insight. You will have to deal with a bit of a scree slope. Make sure to keep your balance and stay focused as the views are breathtaking and distracting.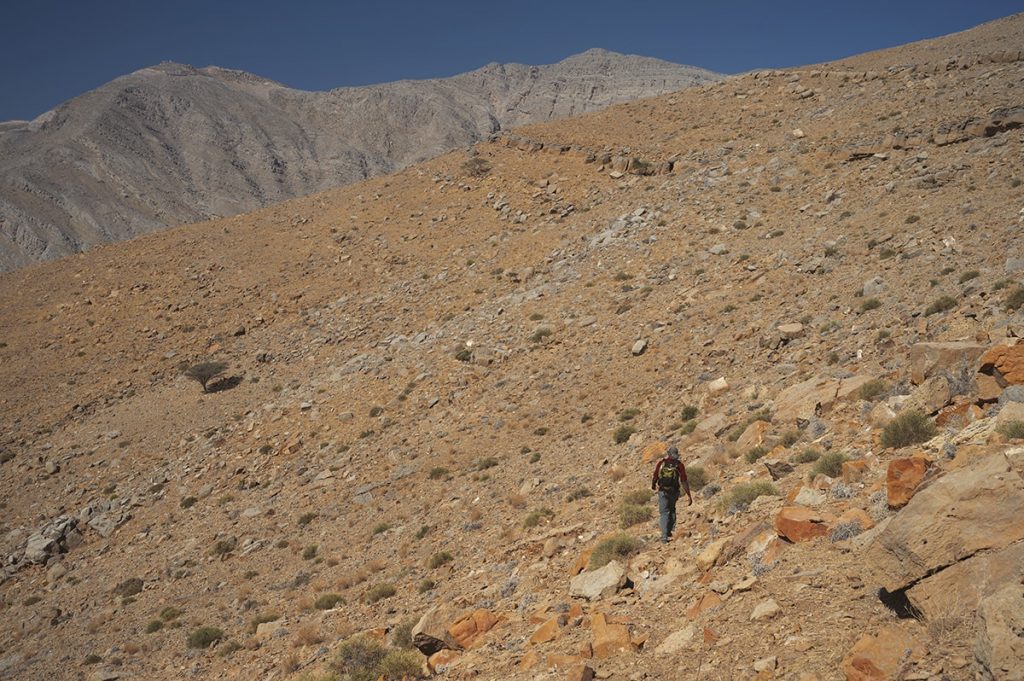 On the Way Down via Narrow Mountain Path and Steep Gorge
Once you reach the second settlement, you will have to find the path that winds around the mountain edge.
If you are lucky to see the villagers around, don't shy away and ask them for the way. They will be happy to guide you.  We have met a friendly Emirati owner and a Pakistani housekeeper who showed us the correct path. Note: there is an alternative longer option to descent after traversing the third village. However, that is the path that other hikers complained about as being difficult to follow. Many of the trekkers ended up on a serious scree slopes before they could actually merge to the so-called barely visible donkey path.  
The correct path is located behind the second village. Therefore, you are better off making your way down from here.  
At a first glimpse, the path might look a bit scary and narrow, but it is actually quite convenient to follow. Views are epic too. You will have some moments of doubt once you see the path getting even narrower. However, as you get closer, you will realize that it is a normal path. Apart from an exposed edge on your right. That is why you must leave your fears of heights at home.
The last section of descending is quite steep bouldering through the wadi. It will knock your knees out. Therefore, try using trekking poles if you have ones- your knees and the lower back will be grateful.
Once you reach a leveled gravel road (with the highway above), turn left- it will be another 10 minutes' walk to the parking lot. As soon as you start feeling good walking on a relatively flat surface (gravel reinforced under a wired net), nature will make a statement by laying off one final boulder path. It is a "little desert" to celebrate your hopefully safe end of the hike.
Download and follow Wadi Shah trail on your Wikiloc app
I highly recommend downloading Wikiloc app. It is very helpful as the trails can be followed offline. I have shared my trail below. You can save it, download it, see the viewpoints and comments to help you navigate easily. NOTE: if the map below doesn't load, you can follow this link: Wadi Shah Wikiloc Trail.
To Sum Up: Wadi Shah Trek Highlights
One of the best accessible UAE hikes where you don't need 4×4 to reach an actual starting point of the hike. 13km loop of ascending and descending, bouldering, scree slopes. The highlights of the trail are:
Spectacular scenery of the canyon
Impressing Hajar mountain range with deep canyon drops
Beautiful plateaus and terraces
Sunset at the summit is spectacular
Functional settlements at the top of the mountain
Thrilling narrow path walk around the mountain edge
Seasonal pools in the canyon
Friendly goats
How to Prepare for the Hike in Ras Al Khaimah, UAE?
The key factors you must always consider when preparing for hikes in the UAE are hot summer temperatures, possibly cold winter nights, unforgiving rough terrain, timing, and your experience hiking in a similar environment.
Taking the above into consideration, make sure you come well prepared for the hike: wear proper hiking shoes and clothing, leave enough time to complete the route in a day light, bring enough water, have a GPS device or an app that helps navigate the trail.
Here is my checklist of what you would need to make this hike more enjoyable
Water and Food for the hike
Lots of water, for this hike I would suggest taking no less than 4 liters per person. Ideally, get yourself a Camel Bak- it is a water reservoir that keeps water cool for a long time and has a readily accessible straw, so you can hydrate while walking. It also keeps water evenly distributed inside the backpack as opposed to bulky plastic bottles.
Power snacks and hydration drinks (electrolyte, sports drink, or hydration tablets). From my personal experience the best are protein bars, some salty crackers, dates, nuts, snickers chocolate (not so healthy though), bananas, Pocari Sweat and Gatorade work wonders to kill the hunger and give yourself an energy boost.
Pro Tip: freeze your Pocari Sweat (or any hydration drink of choice) a night before you go. Add some ice cubes into your Camel Bak. This will help to keep water cooler for an even longer time.
What to Wear for the Hike
Proper hiking shoes/boots with a good grip. It is arguably the most important part of your hiking attire. The best are mid-ankle boots. It will keep your foot more stable than low-ankle ones and gives more movement flexibility than high-ankle. Please don't hike in sneakers through Leopard canyon- bad idea, as your ankles might get twisted, and it can be slippery on smooth surface rocks.
Comfortable hiking bag. Your shoulders and lower back will get tired from carrying lots of water and snacks. And if you are a photographer like me with dozen lenses, a couple of cameras, tripods, and a drone, you must have a proper bag that is designed to adjust to your body and sit properly on your back so the weight load is manageable.
Hiking clothes of breathable material will make your hike much more enjoyable. All that quick-dry stuff feels much nicer than a regular cotton t-shirt that gets soaked in sweat in no time and stinks like hell. Consider wearing something with longer sleeves for better sun protection. And do yourself a favor- leave jeans for a city walk. Long hiking pants are advisable. Although, I often go wearing gym leggings.
Sunglasses and a cap– there are some shaded areas along the way, but there is a load of sunny ones too. Save yourself from sunstroke by wearing a cap.
SPF 50 sun cream, especially for your face and any areas of your body that aren't covered. Don't forget your ears- poor thing gets burned quite often.
Fleece sweater for winter months as it gets really cold in the evenings.
Slippers for after hike– your feet will thank you.
Must Have and Optional Items for a Safer Hike
Trekking Poles are highly recommended by professional hikers to ease the load on your joints, especially when descending. For this particular hike, I wouldn't see myself using them though except for the descending part. But there are foldable polls that are lightweight and fit into the hiking bag easily in case you need both of your hands-free.
Torchlight or a head-light in case you hike into the darkness. Don't compromise on a good torchlight- it can literally save your life.
Personal first AID kit (Advil, band-aid, antiseptic, hand sanitizer, wet wipes, etc.)
Power bank for your phone.
GPS devise or a Wikiloc app where you can find an accurate trail recording that will help you navigate.
Are you thrilled about your next hike yet? PIN this post for your future reference. And make sure to subscribe to receive more detailed guides to other fantastic hikes in the UAE!
ENJOY YOUR HIKE!