The Wadi Shab hike to pools is one of the best activities to add to your travel to Oman itinerary. From the boat ride to hiking to the pools and getting to the secret cave with a hidden waterfall, here is absolutely everything you need to know before visiting Wadi Shab. 
Located a 1.5-hour drive from old Muscat, Wadi Ash Shab in Oman offers not only a spectacular scenery of mountain oasis and a pleasant hike but also a unique experience of swimming in its year-round water-filled natural pools. Even more, the most adventurous of you will get an opportunity to discover a hidden waterfall in a secret cave and do some abseiling to the elevated pool. 
Yet there are some important things you must know before you go to Wadi Shab. Therefore, here I share all the tips and advice to help you prepare and fully enjoy your Wadi Shab adventure in Oman. 
Related reeds about Oman: Planning a road trip to Oman? Check my detailed One Week Oman Road Trip Itinerary (with suggested extended 10-day and 14-day routes).
Disclosure: This post contains affiliate links, which means that I may make a small commission at no extra cost to you if you make a purchase by clicking a link. This helps to keep my blog growing and filling up with detailed honest travel advice for you. 
Everything you need to know about visiting Wadi Shab in Oman
What is Wadi in Oman? 
Wadi is a popular Arabic word used to describe a narrow valley (or gorge) with a dry river bed between the mountains. Occasionally, after the rain, there might be water streams running through wadis. However, most of the time wadis in Oman are dry. 
However, Wadi Shab is one of the special gorges in Oman which has water streams and ponds all year round. It is also home to a lush mountain oasis and warm natural water pools tucked in between dramatic rock formations. 
There are 4 natural pools in Wadi Shab (most people think there are only 3, but not all are aware of the elevated pool- more on that later in the post). To reach those natural pools in Wadi Shab, you must first take a short boat ride and hike for approximately 30-40 minutes.
Keep on reading to know all the details about what to expect when visiting Wadi Shab.
Wadi Shab hike to pools summary
Wadi Shab hike distance: approximately 3 KM (1.86 miles) one way
Hiking time: approx. 40 MIN.
Trail difficulty level: moderate (easy for experienced hikers).
Terrain and features: rocky and muddy terrain with some bigger boulders along the way, water streams and pools, lush vegetation, small farms.
Elevation: approx. 350 m.
Is Wadi Shab suitable for kids? yes.
Total distance of the pools: approx. 300 meters (0.8 miles).
Time needed to visit Wadi Shab: budget minimum 3 hours, but you can easily spend 5 hours or even all day.
Where is Wadi Ash Shab located?
Wadi Ash Shab is located in Tiwi, Al Sharqiyah South Governorate, Oman. It is 140 km south of the capital Muscat and 40 km up north of the port town Sur. Wadi Shab is easily accessible as its entry is next to the Quriyat, Sur Coastal highway. 
How to get to Wadi Shab? 
The most convenient way to get to Wadi Shab is either to drive for 1.5 hours from Muscat, or 40 Min from Sur. Type "wadi Shab parking" in Google Maps, and it will show the exact location you should head to. 
Alternatively, if you do not have your own wheels, you can go on one of the Wadi Shab day tours from Muscat. 
Check this best-rated Wadi Shab day tour from Muscat which also includes stopping at the Bimmah sinkhole. Bimmah Sinkhole is another must-see place in Oman – a fantastic natural attraction in close proximity to Muscat.
Wadi Shab parking
Wadi Shab parking is located under a large concrete bridge which you will see immediately after turning off the main highway. Parking is free, however, spots are limited. If it is full, you can park on the side of the road, or on a sandpit overlooking the sea on the left-hand side. 
Looking to rent a car in Oman? You can find some of the most competitive rates at Discover Cars. It is an intuitive car rental website that compares prices between different rental companies.
The best rates for renting a car in Oman
I often use Discover Cars to find the best car rental deals.

Wadi Shab Map
What is the best time to visit Wadi Shab, near Sur? 
The best time to visit Wadi Shab is from October to March when the weather temperatures are lower.
Note that Wadi Shab is arguably the most well-known and popular natural attraction in Oman which welcomes many visitors almost daily. It gets packed during weekends and public holidays (including neighboring UAE holidays). 
Therefore, the best days for visiting Wadi Shab are weekdays (Sunday to Thursday in Oman). If you can't make it on a weekday, aim to come early in the morning, as soon as the boats start operating (from 8 am).
Please do not get discouraged if the only time you have for visiting Wadi Shab is the weekend- it is a truly amazing place in Oman not to be missed.
What should I wear to Wadi Shab?
Make sure you pack light and wear appropriate comfortable clothing and footwear suitable both for hiking and swimming.
TOP TIP: choose footwear that can be used both for swimming and hiking. This way you won't have to carry an extra pair of shoes. Hiking trail to pools involves passing lots of water ponds and streams.
On my trip to Wadi Shab, I wore swimming shoes with rubber soles that had a nice grip on slippery hiking trail sections. It also saved my feet from painful little rocks when walking in the water. 
Alternatively, you could also wear light hiking sneakers which you can use when walking in the water as well as swimming. 
I do not recommend going in heavy hiking boots or in slippers, or trainers that you do not want to be soaked in the water. The hiking path, as mentioned before, had lots of shallow water sections, some of which were unavoidable. Meanwhile, slippery rocks would make walking in slippers unsafe. 
In terms of swimming suits and bikinis, it is recommended to avoid those and swim instead in t-shirts and shorts. This applies to both men and women. There are a lot of local people coming to enjoy Wadi Shab. Therefore, with respect to the conservative culture, it is advisable to dress a little bit more modestly. 
What to bring to Wadi Shab (packing list):
Lighting trekking shoes that you could possibly swim in, or water shoes with rubber soles.
Waterproof Dry Bag. If you want to take all your belongings instead of leaving them at the pools, you will need a waterproof dry bag.
Waterproof Phone Case. Take your phone to the pools safely.
Go Pro camera. The only way to take photos of the hidden cave and waterfall is by using Go Pro or a similar waterproof camera.
Quick-Dry Towel. If you are not willing to walk back in wet clothes after your swim, take a lightweight quick dry towel.
Goggles. Those are useful if you want to explore the underwaters of the pools of Wadi Shab.
Water and snacks. Make sure you take a minimum of 2 liters of drinking water and some snacks like protein bars, bananas, or dates.
Sunscreen, cap, and sunglasses. Although there are some shaded areas on the trail, the Middle Eastern sun is rough, make sure to protect your body from it.
Hiking Wadi Shab to pools step-by-step guide
Wadi Shab boat ride
Before you enter Wadi Shab you must first take a small boat across the river. Boats are available daily from 8 am to 5 pm under the big concrete bridge where the parking is.
The boat ride lasts no more than 3 minutes and is a fun short intro and outro to this wadi adventure. 
There are several boats operating back and forth between the two shores. You will not have to wait for the boat longer than a few minutes.
The cost of the boat ride is 1 OMR (2.6 USD) round trip per person, cash only. 
Be mindful of your return time, as boats stop operating at 5 p.m.
Wadi Shab hike to the pools
To reach Wadi Shab pools you must first hike through a beautiful gorge for 3 KM for about 40 min. 
Wadi Shab hiking trail features around 1 KM of leveled walk, plenty of natural water streams and ponds, lush vegetation, a beautiful balcony walk winding around the mountain face, and some fun bouldering. 
The route is somewhat marked with sprayed arrows on the rocks to help you navigate conveniently. But don't worry, you won't get lost since the trail follows the wadi all the way to the pools.
The hike starts as an easy stroll through the muddy terrain, at parts filled with water. It winds through small farms and follows falaj- an irrigation system. 
At 1/3rd of the hike on the right-hand side, you will reach a so-called balcony walk. The trail then elevates and continues around the mountain face above the water stream. It is a scenic place, where you most likely spend some time taking pictures. Note that the stream below is not the swimming area, so keep on going.
Continuing further, after the ledge walk, the boulder section begins. This leg of the route will give you the taste of what is a rocky Middle Eastern wadi hike.
Along the way, you will come across a small waterfall. Do not stop there either, it is not the hidden waterfall mentioned before.
Soon after the waterfall, the wadi becomes wider and you will finally reach the first pool. 
Note: Since there are water ponds and streams, rocks might be slippery.
What is the difficulty of the Wadi Shab hike? 
The difficulty level of the Wadi Shab hike is easy to moderate depending on your fitness level. I have read articles that call this hike an easy stroll and some that say it is tough and demanding. Although both opinions are not wrong, the reality is that everyone will find this trail different. 
For experienced hikers, this will be indeed an easy trail, while for newbies it may appear moderate. In general, as long as a person doesn't have any mobility restrictions, this beautiful hike is doable for almost all age groups – from young kids to elder people. 
There are a few sections where you have to jump around bigger boulders but it is not technical.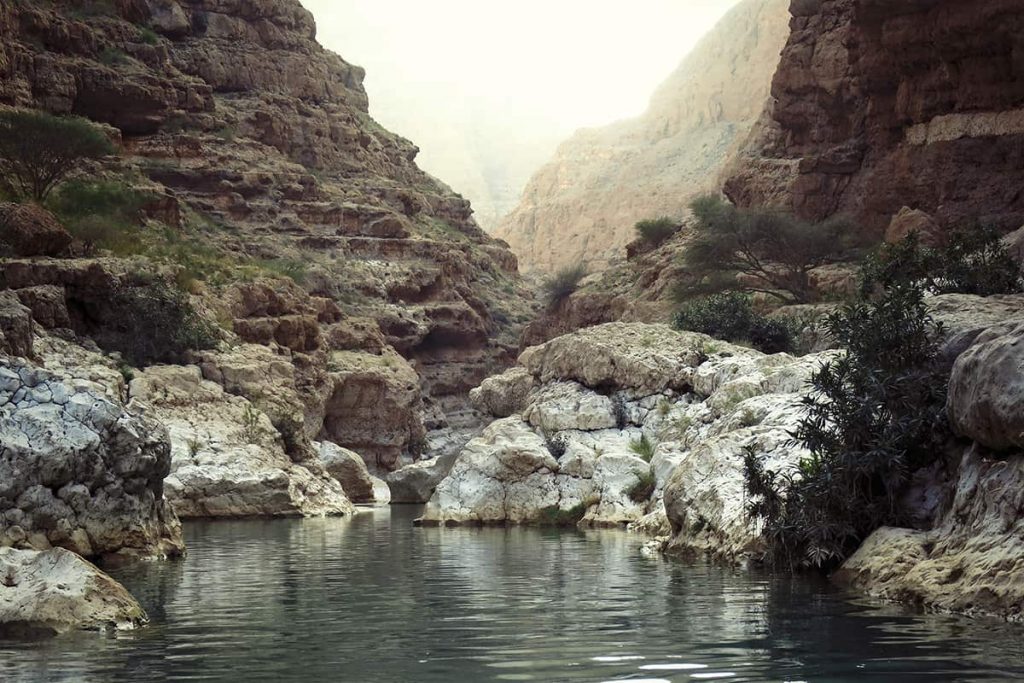 There are 4 pools in total in Wadi Shab. They are all relatively short and narrow. The total length of the first 3 pools is around 300 meters (0.8 miles) as measured on Google Earth.
The water in the pools is very nice and warm. Although it was not turquoise blue as it is shown in many pictures online, but rather muddy green when we visited (bummer). 
The first pool is the busiest and is suitable for non-swimmers as the entrance to it is shallow and you can stand there. Depending on the time of the year, and if it rained recently, pools may get deeper. Still, the first pool is a good spot for families and kids.
Note: If you are going to explore the other pools, you should leave your belongings at the first pool. Access to the second pool is through the first pool (not over the ledge of the rocks above as we thought at first). Some sections of the first pool may be quite deep and you will have to swim, while some of the sections will be walkable. Again, the level of water depends on the time of the year and when it last rained. 
Note that during the dry season the second pool dries out and the water level is very low so you can only walk. However, when we visited, the water was way above the waist. We even had to swim a little bit to reach the rocks separating the second and third pools.
The 3rd pool is the most beautiful out of all pools. It is enclosed in between smoothly curved high rocks colored in grey hues.
Note: 3rd pool is the longest and the deepest out of 4 pools. You cannot stand in the third pool. Therefore, you have to be able to stay afloat for at least 10 minutes if you want to swim there. 
Once you swim to the end of the third pool, it will look like you have reached a dead end with a high rock in front of you. However, you will soon notice that there is a crack in between the rocks. Come closer and you will see a gap that leads to the before-mentioned secret cave of Wadi Shab. The gap itself is around 1-meter in length.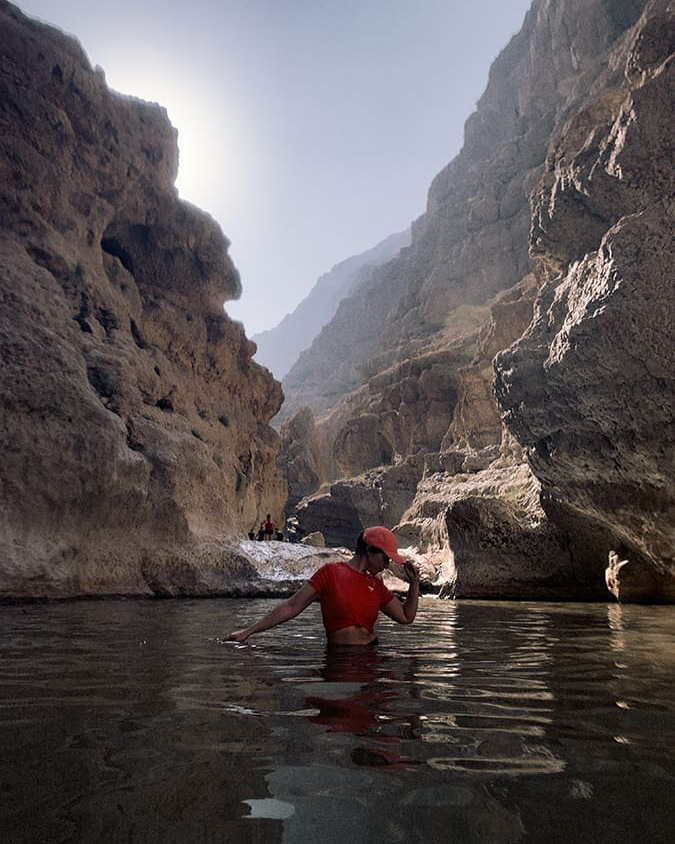 Note that the water level may be different, and the gap might be completely submerged. This would make it challenging and dangerous to get into the cave.
However, when the water level isn't too high, you can hold on to the edge of the rocks and squeeze inside the cave. The gap above the water between the rocks is literally enough only for your head. Even non-claustrophobic people find it slightly intimidating.
Initially, I didn't feel like going inside the Wadi Shab cave, but the adventurous side of me didn't let me leave without at least trying. It turned out to be not as terrifying as it may look at first. Yet, I had my heart rate racing up when moving through that tiny gap. To sum up, I am glad I did- it was an amazing experience!
Once you are inside the secret cave, you will not only find a hidden waterfall but also an attached rope next to it. If you feel extra adventurous, you can climb up the rock (roughly 4 meters in height) using the preinstalled rope. It will take you up to the 4th pool.
4th pool is very small compared to the first three. Also, once up at the fourth pool, it seems that it is possible to continue hiking further. But we haven't tried it this time.
Note: once up at the 4th pool, you will have to use the same rope to climb back down to the cave. Take extra caution as the rocks are wet and slippery. Estimate your strength when using the rope and be very careful as there is no safety equipment to protect you from falling.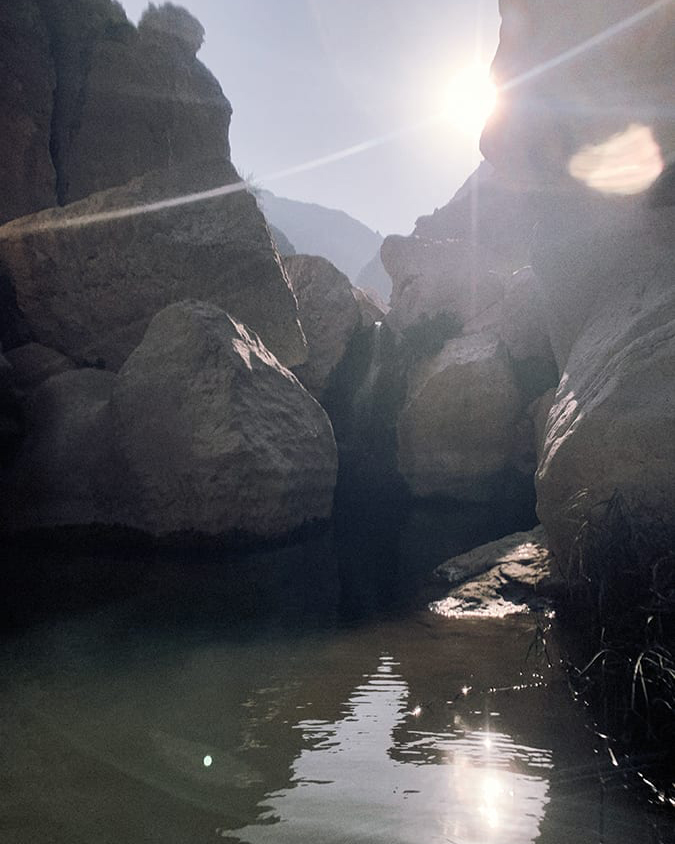 Important: you must be able to stay afloat for at least 15 minutes if you decide to swim over the third pool and into the cave. You cannot stand there. Also, holding to the rocks becomes tiring. If you have a dry waterproof bag, this can serve you as afloat.
Facilities at Wadi Shab
There is a bathroom at Wadi Shab parking. However, there are no restaurants or coffee shops in the area. Therefore, bring plenty of water for a hot day and some energizing snacks (protein bars, dates, bananas).
Where to stay at Wadi Shab?
There is no accommodation immediately next to Wadi Shab. The closest town that has hotels is Sur (a 40-minute drive down South).
If you are planning on visiting the Wahiba Sands and Wadi Bani Khalid on your Oman trip, the best is to stay in Sur.
Alternatively, you can visit Wadi Shab on a day trip from Muscat.
Sur Grand Hotel– The best rated in the area, 6 KM from the center of Sur featuring nice beach views directly from the window!
Sur Plaza Hotel– we stayed here-another decent option for the area with old-school film vibes, clean and spacious rooms. Hotel is located inland, but has a pool for those who want to refresh on a hot day. The food served at a restaurant was average though.
Al Bustan Palace -stunning coastline set against Hajar mountains, dreamy pools, a stretch of private beach- great for romantic getaways and best beachfront views.
Fort Guesthouse– superb location at the beachfront of Muttrah corniche and Fort, features a lovely terrace and humble Omani style accommodation, rated 9.4 out of 10 by travellers.
I hope you found this guide to Wadi Shab, Oman useful. If you have any questions or comments, please feel free to get in touch.
Oman travel essentials
Other Oman travel resources:
MY TRAVEL PHOTOGRAPHY GEAR