Here is everything you need to know to be well-prepared for the Valbona Theth hike in Albanian Alps.
The Valbona (Valbone) to Theth (Thethi) hiking trail is located in the Accursed (Prokletije) mountains, Northern Albania. It is a spectacular one-way day trek between two idyllic mountain villages.
Originally an old mule route, the trail winds through the heart of Valbona Valley and Theth National parks. Halfway it crosses over the epic Valbona Pass, offering the most stunning vistas of the Albanian Alps. Accursed Mountains' landscapes of snow-covered peaks and lush valleys are shared between Albania, Kosovo, and Montenegro.
Trekking over the legendary Valbona Pass in Accursed Mountains deserves to be at the top of your must-do things list in Albania. In fact, hiking from Valbona to Theth along with the Komani Lake ferry ride were the two activities that inspired me to visit this less-explored Balkan country.
Once I started planning for the hike, I realized that it is not as straightforward as I would expect the one-day trek to be. Although it only takes 6 to 10 hours, the Valbona-Theth hike, due to its remoteness and logistics, requires 3 days in your Albania travel itinerary. The journey has multiple changes of minivans and a ferry ride.
I know that at first glance it may seem a bit too much of an effort to be put into one day trek, but trust me it is all worth it. With a bit of advance planning, the journey to Albanian Alps will be one of the best experiences this country can offer you.
Keep on reading this post where I share all the practical tips, answer the most important questions and provide a step-by-step guide that will help you to get ready for the unforgettable Valbona-Theth trekking adventure!
---
Note: This post contains affiliate links, which means that I may make a small commission at no extra cost to you if you make a purchase by clicking a link. This helps to keep my blog growing and filling up with detailed honest travel advice for you. 
Valbona Theth Hike in Albanian Alps- Everything You Need to Know Before You Go
Valbona-Theth Hike Highlights Video (1-minute cinematic footage)
Before we jump into planning, I invite you to watch this video to get a little bit of a taste of what to expect on your Albanian Alps journey. I was documenting our Valbona to Theth hike from the start to finish and compiled it into a short moody 1-minute cinematic clip. Enjoy watching!
Valbona-Theth Hike Overview
Distance: 9.5 KM from Rrogam to Theth trailheads (12 to 19 KM from Valbona to Theth, depending on your starting and ending points).
Duration: 5-8 hours of moving time, depending on your speed and distance (6-10 hours with stops).
Difficulty Level: moderate to difficult (depends on your fitness level).
Minimum and Maximum Elevation: 780 m and 1800 respectively.
Elevation gain and loss: 800 m and 1018 m respectively (direction Valbona- Theth).
Mobile network and Internet connection: poor or none (weak signal available closer to the villages and at the peak).
Is a guide needed? The trail is well-marked, thus, a guide is optional.
Minimum water requirement: carry 2 liters (several refill spots available at water springs and mountain cafes).
Kids friendly? Small kids no, age 8-10+ yes.
Summary: Valbona-Theth hike features steep inclines and declines with a mix of sandy and rocky terrain, some scree slopes and a few boulder sections, forest paths, leveled walks, several water sources.
STEP 1. Albanian Alps Trip Itinerary and Map (route Shkoder-Valbona-Theth-Shkoder)
When planning the Valbona Theth hike, you should dedicate 3 days as a bare minimum, where 2 days are for traveling and 1 day is for the hike itself. You might also want to spend longer if you are planning to do other hikes in Valbona and/or Theth.
We could only spend 3 days in the Albanian Alps, therefore, our itinerary looked as follows:
DAY 1
Transfer from Shkoder to Komani Lake Ferry by minibus with hotel pick up at 6:30 am
Boarding the ferry from Koman to Fierze at 9 am
Minibus from Fierze to Valbone at 12 pm
Arriving at accommodation in Valbone at 1 pm, overnight in Valbone.
DAY 2
6 am drop off at the end of Valbona village (closer drop off possible in Rrogam)
Valbona to Theth hike
Overnight at Theth village
DAY 3
Exploring Theth village early morning
12 PM minibus to Shkoder (pick up at accommodation in Theth)
At 3 pm returning to Shkoder
If you prefer to have everything organized for you, check out this 4-day Valbona Pass hike and kayaking tour starting from Tirana which includes accommodation, transportation, and food. Click here for prices and availability.
Route Map: Shkoder-Valbona-Theth
STEP 2. When is the best time to do Valbona Theth hike?
The hiking season in Albanian Alps starts around May and lasts until mid-October, depending on the ever-changing weather.
 July and August are good months to complete Valbona-Theth hike because most of the snow on the trail will have melted by then. Also, the rainfall possibility is much lower. The downside, though, it is also a peak hiking season, hence, the trails get very busy.
I would say, September must be a perfect time to do this hike as there are fewer people on the trail and the weather is still good. While shoulder season in May-early June could be an option. However, chances are that paths will be still covered in snow and ice.
Finally, winters are known for heavy snowfalls. That means it would not be possible to trek from Valbona to Theth in winter. We hiked in July and still came across a section of snow that was a little sketchy and required extra caution to pass it.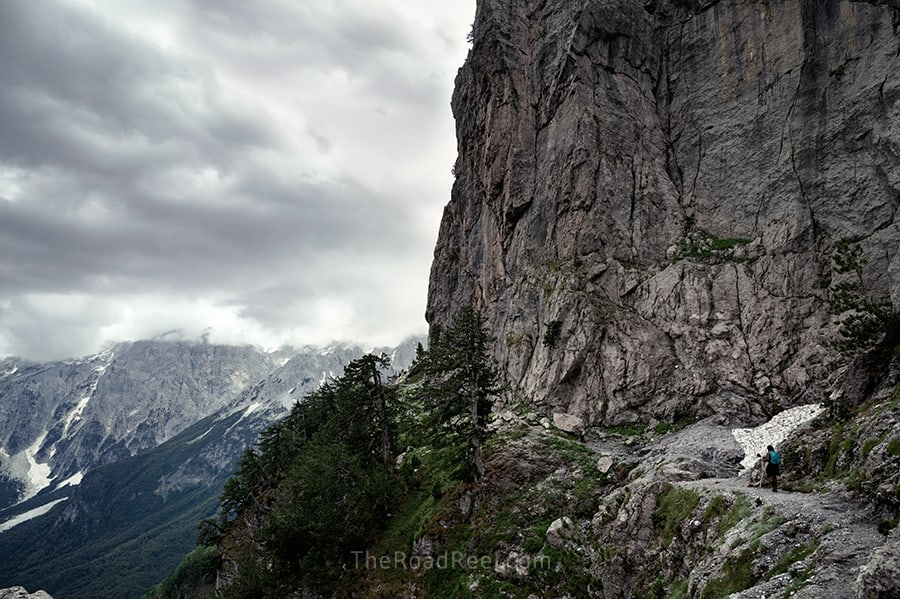 It is also worth noting that mountain weather is still very unpredictable. Even in summer, you can expect heavy rainfall to appear out of the blue sky. Therefore, it is always a good idea to constantly check weather forecasts.
As mentioned before, our girls' group hiked during the last week of July. The worst weather during the whole trip caught us by surprise while driving from Berat to Shkoder. Skies and weather forecasts predicted heavy storms and lightning throughout the next few days, including areas of Valbona and Theth. We were concerned that the hike might not even happen.
However, we had the best luck with the weather changing completely on our hiking day. Each and every weather forecast website predicted heavy rains and thunders while in reality sun was shining early morning, followed by beautiful clouds at the peak in the afternoon, and not a single raindrop ever after.  
Hence, this is just proof of how unpredictable mountain weather can be. But remember to always be prepared for the worst of it (but expect the best as we did).
STEP 3. Which Way is Better: Valbona to Theth, or Theth to Valbona?
I advise hiking from Valbona to Theth. After completing the trail, I was glad that I chose this direction rather than the opposite.
Here are the 7 reasons (in no particular order) why hiking from Valbona to Theth is by far a better option:
The journey from Shkoder to Valbona village is long with multiple transportation changes. However, you will still arrive at Valbone early enough to take a good rest before the next day's hike. Also, it is better to deal with all this long commuting at the beginning of the trip rather than at the end when you are exhausted from the long hike (trust me you will be).
The trail on Valbona side starts with a more gradual ascend and a good amount of leveled walk. Only the last bit closer to the peak is steeper, and even that still has some straight surfaces to give your legs a break.
The path from Valbona Pass down to Theth village is mostly in the forest. On a hot afternoon, it will be an advantage.
The path from Theth to the peak is a constant incline, with no leveled breaks. We saw many people coming from Theth side who looked completely out of breath and miserable.
The trail starts in Rrogam- which is around 4km or more away from Valbona (where all the accommodation is). However, you can always arrange a ride to drop you at the trailhead, or at least at the end of Valbona village. This way you will save at least an hour of walking which you most likely couldn't avoid if you were coming from Theth side (as there simply be nobody to give you a ride).
The trail leading from Valbona to the peak is more scenic, to my opinion, therefore it is great to enjoy it while you are still full of energy and driven by the purpose of reaching the peak. On the way down, once in the forest, you will most likely feel tired and willing just to get over the rest of the hike as soon as possible.
It is more pleasant to hike the exposed Valbona side early morning than in the afternoon to avoid the burning heat during the summer months.
What about trekking one way to the peak and back?
Some of you may wonder if trekking to the peak and back is feasible. I would say, not really unless you absolutely have to. Some blogs advise trekking from Theth to Valbona pass and back. However, you would be missing out on a more beautiful side of the trail on Valbona side. Moreover, you will have to hike a more physically demanding section of constant incline and decline of over 1000 meters. If you were to choose Valbona to Valbona Pass and back direction, then you would be missing out on the Theth side. Theth village is more charming than Valbona. Moreover, the ride from Theth back to Shkoder is also stunning.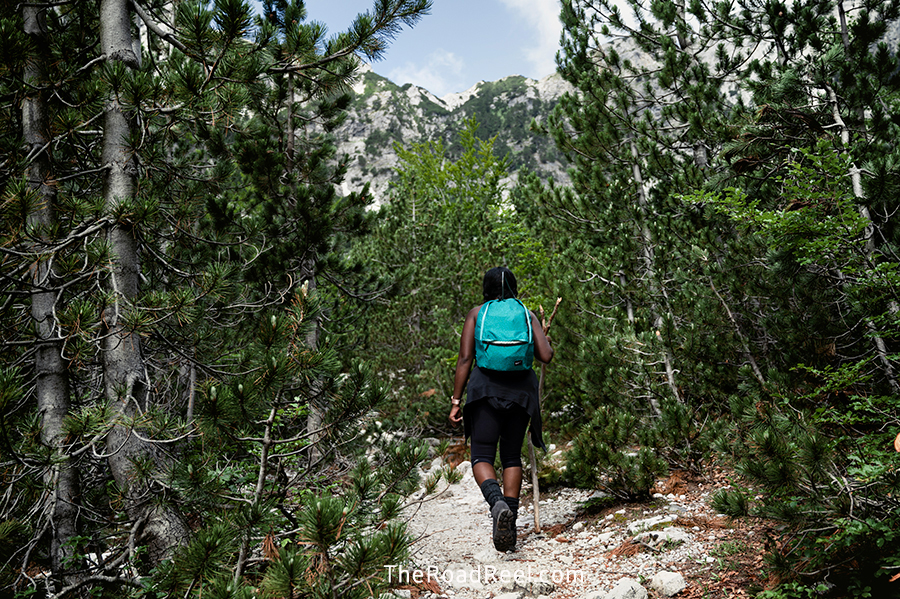 STEP 4. Valbona-Theth Transportation (how to book mini vans and Komani ferry tickets)
How to Get from Shkoder to Valbona using Komani Lake Ferry
The trip to Valbona mountain village, which is around 200 KM away from Shkoder, involves using ground and water transport: 2 minivans/minibusses and 1 ferry ride. Route Shkoder-Koman-Fierze-Valbona is by far the best way to go. 
The journey will take around 5-6 HRS starting with an early morning pick-up from your hotel in Shkoder. I advise you to pack some breakfast/lunch as there won't be many options for food on the ferry (we only ordered a cup of coffee to go along with our takeaway sandwiches).
A breakdown of the journey from Shkoder to Valbona:
6:30-7 AM pick up from Shkoder accommodation
7 AM- 9AM: minivan/minibus from Shkoder to Koman Ferry terminal
9 AM – 11:30AM: Koman Lake Ferry to Fierza
11:30 AM- 1 PM: minibus from Fierza Ferry terminal to Valbona accommodation
It is also possible to drive from Shkoder to Valbona directly for around 5 hours, but it is definitely a more exhausting way. Also, I am not sure if a 4×4 is required for this drive. And most importantly, you would be missing out on the highlight of this section- the Komani Lake Ferry ride.
Komani Lake Ferry is an attraction and a real treat on its own. It is considered to be one of the most beautiful boat trips in the world, but still is relatively unknown! A 2.5 to 3 hours long ferry ride will take you through the so-called Albanian "Fjords". Indeed, you will be surrounded by high cliffs while gliding through narrow gorges in the turquoise waters of the beautiful Komani Lake. The scenery reminded me of Thailand, and it felt like we were not in Europe anymore.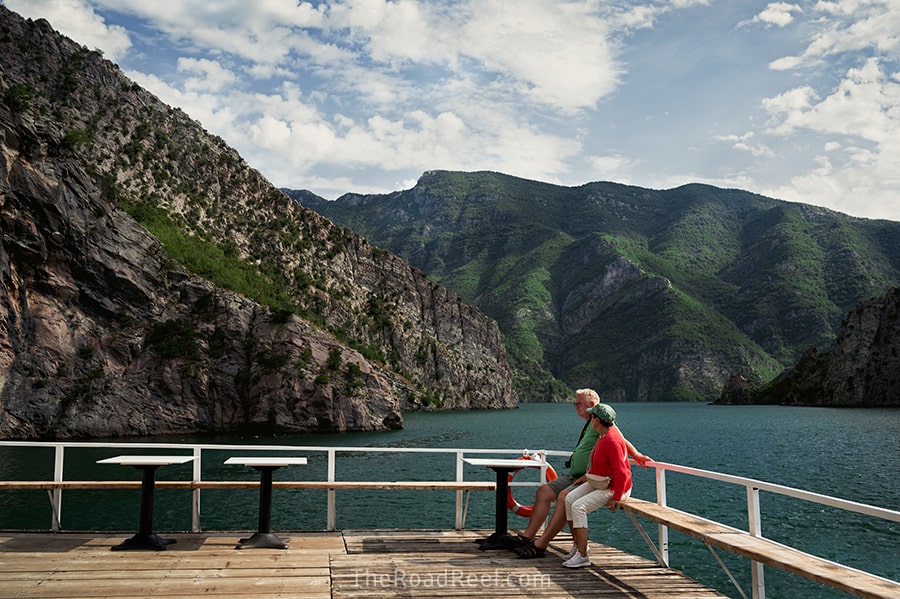 Komani Lake Ferry Itinerary and Tickets
BERISHA FERRY with minivan services
The easiest way to arrange this whole trip is to book everything (including the minivan) using one of the most popular companies Berisha. You can make reservations for both ferries and minivans on their website. Note that Komani Ferry runs daily from April to November.
The ferry ticket price with Berisha is 7 EUR (800 LEK) which will be discounted by 20% when booked online and paid by Paypal. Ferry also has limited space for cars for 7EUR per square meter (you have to measure the surface of your car to get the price-strangest thing I've ever seen).
How to book a pick-up service for the whole Shkoder-Koman-Fierze-Valbona route with Berisha?
We have reserved our journey to Valbona in advance using the Berisha website. The total cost of the journey was 18 EUR (2500 LEK) per person with door-to-door pickup and drop-off. Berisha also offers transfer services from Tirana (from the bus station).
In order to book the whole trip, you will have to fill in the form on the Berisha website here, indicating the date of travel and the name of your accommodation in Shkoder if you are going from there. The instructions and costs of all the services are provided here. You can only pay online for the ferry, while the remaining 12 EUR for the minivan you will have to pay in cash to the driver (both EUR and LEK are accepted).
USEFUL TIP: Berisha ferry is very popular during peak season in July and August. Therefore, it is mandatory to book tickets in advance to ensure your seat. We booked everything a couple of weeks before our trip.
Berisha Ferry or Boat Dragobia?
There are two types of ferries offered by Berisha company- Ferry Berisha and Boat Dragobia, both depart Komani at around the same time at 9 AM. Ferry Berisha is a much bigger 3-level boat with the capacity for cars and motorbikes. It also offers more space to move around on the "ground level" open deck, the upper deck with seats, and the roof cover. Therefore, it is much better for taking pictures. Inside seating space with the coffee shop and bathroom is also available. Dragobia, on another hand, is a long-tail passenger-only boat with seating inside only. Therefore, views from it will be different, and more difficult to take cool pictures.  
Other Komani Lake ferry options
Besides, Berisha, there are 2 other companies operating in Komani Lake: Rozafa Ferry and Alpin Ferry.
ROZAFA FERRY
Rozafa was parked next to our Berisha ferry and was much emptier than the latter. I was even tempted to make a swap as Berisha was really busy. However, Rozafa ferry doesn't seem to have such a well-developed service, and I am not sure that booking online is even possible (I tried opening their website with no luck, but they are active on their Instagram account). Nevertheless, in case you need to catch a ferry last minute, it seems like you can easily get a seat in Rozafa without any advance reservation. Rozafa also departs from the Koman Lake ferry terminal at 9:00 AM.
ALPIN FERRY
More upscale and much bigger, the Alpin ferry offers an opposite timetable than Berisha and Rozafa. It departs from Koman to Fierze at 11 AM and is slightly more expensive- 8EUR for a passenger. This option would suit those of you who are willing to go to Valbona later in the afternoon. You can make ticket reservations on the Alpin website. Note that you will then have to arrange your own ground transport from Shkoder to Koman and from Fierze to Valbone if you choose this ferry. I am certain you can organize a car from Shkoder through your accommodation, but I am not sure how it works from Fierze to Valbone. Chances are there might be minivans waiting to pick up travelers without a need to reserve in advance.
How to Get Back from Theth to Shkoder?
Getting back from Theth to Shkoder takes only 2.5-3 hours as the windy mountain roads have recently improved. You can book your seat in a minibus through your accommodation in Theth a night before the trip.
The minibus departs at 12 PM every day and will pick you up from the place you stay in Theth. We reserved seats in a minibus to Shkoder immediately after our hike once we reached Theth guesthouse. Our hosts made a quick call and it was done.
I believe there must be multiple buses operating daily, especially during the hiking season as there are many tourists and locals traveling from Theth to Shkoder. Still, once you have your accommodation in Theth booked, it doesn't hurt to email your hosts and asks them to book a minibus for you in advance.
Can I drive to Valbona or Theth?
UPDATE: the road from Shkoder to Theth village has been paved and now any type of vehicle can access the village. The same goes for the road to Valbona- you can drive any vehicle to Komani Lake Ferry station and then from Fierza to Valbona.
If you have a 4×4, you could drive to Theth or Valbona. I am not sure if you need 4×4 for Valbona though, but for Theth, I would say, you should avoid sedans as roads at some parts closer to and in the village are not everywhere paved. However, the big disadvantage of going in your own car is that you will have to hike back to either Valbona or Theth (depending on where you leave your car) or make a massive loop back to either of the towns via Shkoder. This option doesn't make much sense, obviously.  
Looking for car hire in Albania? Check Localrent which offers the best rates and conditions for renting a car in Albania!
ALSO READ: Ultimate guide to renting a car and driving in Albania.
STEP 5. Accommodation in Valbona, Theth, and Shkoder
SHKODER is the northernmost biggest town in Albania at the banks of Skodra (Skadar) Lake. It also serves as a base for trips to the Albanian Alps with a good variety of places to stay before and after your mountain trip.
Both VALBONA and THETH have guesthouses that can be booked through booking.com or other accommodation booking platforms. I always check reviews and prefer booking homestays. Hosts of which always prove to be very hospitable, often including free breakfast and homemade dinner at a reasonable rate, Moreover, they are willing to help with any logistics-related queries.
When booking accommodation in VALBONA, check the map and try staying closer to Rrogam side if you are planning to walk to the trailhead from the guesthouse. Although you can easily book a drop-off with your accommodation. Valbona village, differently from Theth, is very spread out along the long riverbed of the Valbone Valley. It also has fewer guesthouses to choose from.
For THETH, after finishing the hike, we had to walk an extra 30min to our accommodation which was close to the Theth church. I have picked this location simply because of the convenience to take some images of the beautiful church at sunset. However, you can find guesthouses that are just outside Valbona-Theth trailhead.
Do I need to carry my heavy-duty luggage with me when going to the mountains?
No, you don't. Since the Valbona-Theth is a very popular one-way trek, most travelers leave their big luggage at a hotel in Shkoder. Many accommodations in Shkoder will allow storing your main luggage (usually for a small additional 1 EUR fee) for the days you are away hiking. That means you don't have to worry about dealing with your huge suitcases and just take the bare minimum for those 3 days. Remember, you will have to carry everything with you from Valbona to Theth.
It is feasible to book the same accommodation to stay at before and after your mountain trip (taken you are staying a night in Shkoder after coming back from Theth). Also, it is always a good idea to read travelers' reviews on booking sites to see what they are saying about luggage storage at a particular hotel or guesthouse.
USEFUL TIP: if you are traveling during the peak season, I highly recommended booking accommodation in advance to make sure you get the best guesthouses to stay at.
We were really happy with our choice of accommodation in Valbona, Theth, and Shkoder. Therefore, the following are my recommendations for the places to stay in Shkoder, Valbona, and Theth:
Shkoder: we stayed in two different accommodations before and after the hiking trip. Both are very different but great places to stay, and they also allow you to store big luggage while you hike. HOTEL LEGJENDA – artsy vibe chalets with exceptional quiet surroundings, garden, pool, ground for campervans, walking distance to Rozafa Castle (go there for sunset), 4km from Shkoder city center. All Seasons Apartments – a self-contained very cozy new two-bedroom apartment in the heart of Shkoder but still on a quiet street. The owner of the apartment was extremely helpful and kind- I would stay there again.
Valbona: VILLAS JEZERCA– cozy chalets with fantastic mountain views, delicious food and amazing hospitality of the family running this accommodation. They prepared us takeaway food for the hike and dropped us closer to the trail at the end of Valbona free of charge (it added us just 3km of a beautiful walk along the river bed to Rrogam where the trailhead is).
Theth: Guest House Bec Villi– lovely traditional village guesthouse featuring a beautiful garden, serving delicious homemade food. They also can help organize minibus back to Shkoder. Guest House Marashi – a bit more upscale Instagrammer-loved stylish wooden rooms, some of which have bathtubs inside the room overlooking the mountains and/or lovely private terraces. Great homemade food is also served at this guesthouse.
Camping Valbona and Theth
As far as camping goes, there are no restrictions as such where you can pitch your tent, at least along the trail. You can also find designated areas for camping in both mountain villages for a small fee. On the trail, you may want o camp somewhere with water access. We met a lady who was planning her overnight camp in the mountains. From what we saw, water access was next to mountain cafes, one of them at the very beginning of the trail on the Valbona side, while the other one was around two-thirds into the trails closer to Theth side.
STEP 6. Valbona to Theth Hiking Trail: Terrain, Length, and Difficulty
Valbona to Theth hike is moderately challenging featuring breathtaking views of the Albanian Alps trough out the whole route. Here are all the answers to the questions I had and therefore, I believe you may have as well, about the Valbona Pass trail.
VALBONA TO THETH HIKE DIFFICULTY
Valbona to Theth hike can be rated as a moderate plus hike. The route is well-marked and features a good variety of rugged terrain, sandy mountain, and forest paths, some scree, and a few boulder areas. It has steep inclines but with portions of leveled walk allowing for rest. The decline after the Valbona pass is mostly continuous, with a very little leveled walk. That is why if you hiked from Theth, it would be a tough workout (people coming from that side looked out of breath).
The trail is not technical and does not require any special equipment (except hiking poles which could be useful to have but not a must).  
People who claim to be unfit are still successfully attempting this hike. We saw hikers of different age groups and fitness levels trekking.
Definitely, there are parts to struggle through, especially at steeper ascends and descends, however, go at your own pace, take as many breaks as you need and you should be just fine. Also, the maximum altitude is only 1800 meters, so you should not be affected by the altitude.
VALBONA TO THETH HIKE DISTANCE
The distance of the whole hike will depend on the starting and finishing points. The official trail length is 9.5 KM. It starts in Rrogam and finishes in Theth. However, it is very likely that you will be covering much more ground if you start from your accommodation in Valbona. It could easily add at least 4KM to the trail (or even 9 KM, if you stay far from Rrogam).  Also, you will definitely have to walk a little bit to your guesthouse in Theth. Some of which are situated a few kilometers away from the finish line.
We did in total 19 KM, 9.5 KM of which was part of the walk from and to the villages. Our starting point was at the end of Valbona village (that's where we got dropped off by our hosts). You can arrange a drop-off at Rrogam, which requires a 4×4 car and may be subject to additional fees. Since we didn't pay for a lift, I am not sure how much it would be, but I read online it may cost around 20 EUR.
HOW LONG DOES IT TAKE TO HIKE FROM VALBONA TO THETH
Hiking from Valbona to Theth can take anywhere from 6 to 10 hours. It depends, on how fast you go and how many breaks you take. Very fit hikers can make it in under 5 hours (but this is pure running through the trail, which is not fun to me).
Also, it depends on the distance you are meant to cover (as explained above).
According to my Wikiloc recording, it took us 9 hours to complete 15.8 KM (we started 3.5 KM before Rrogam- where the trailhead is) with 6 hours of moving time. It makes an average speed of around 2.6 KM. We spent around 1 hour at Valbona pass taking pictures and enjoying the views. A remaining couple of hours were distributed between shorter stops at mountain cafes and random breaks. Note that it took us additional 40 minutes to get to the guest house in Theth from the finish line, totaling almost 10 hours and 19 KM of hiking.
AT WHAT TIME SHOULD I START HIKING TO VALBONA PASS?
I can't stress enough- you must start early. Unless you are planning to run through the trail like an athlete, you should start trekking from Valbona as early as 6-7 AM, or  8-9 AM latest. This will give you ample time to complete the hike at an average walking pace, plenty of time for breaks, and finishing with daylight.
Also, if it is a sunny day, starting early would allow you to avoid the boiling summer heat on the exposed side from Valbona to the peak. Moreover, there will be fewer people on the trail breathing back to your neck.
We took off at 6:30 AM because we wanted to avoid big groups of hikers which usually take off later. Also, finishing before the late afternoon storm which was predicted for the late afternoon. We have successfully avoided both, except the Valbona peak crowds. Unless you leave at night, chances are by midday everyone will arrive at the peak and there will be big groups of hikers hanging around.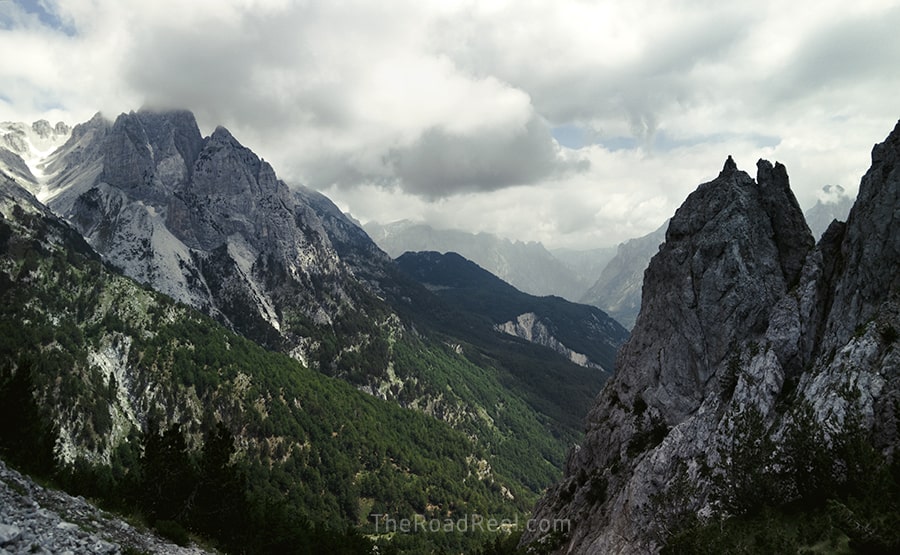 VALBONA TO THETH HIKE DIVIDED INTO SECTIONS
To give you a better idea of what to expect, and, therefore, how to allocate your time, I have split the hike into the following sections:
Section 1: flat walk over the rocky riverbed to the trailhead- 3.5KM.
This is the easiest section which starts as leveled walk for 3.5 KM from the end of Valbona village to the trailhead in Rrogam. You will be passing over a dry rocky riverbed surrounded by pine trees, and towering peaks of Accursed mountains dominating the background. There is no incline in this section.
Section 2: getting used to the incline- 2.5 KM.
During the next 2.5 KM from the Rrogam Theth trailhead sign, the path starts ascending. At first slightly, but then it gets steeper and tougher but still with good portions of flat surface walk. At the beginning of this section, you will pass some farmhouses that also operate as guesthouses, and Emanueli café (which we skipped as it was too early for a break). After the café, you will realize that the climbing business is getting serious. The trail starts to present more rocky terrain and much steeper inclines than before. Pace yourself, there is more to come.  
Section 3: steep ascent before the summit – 1.6 KM.
Let's mark the start of the 3rd section with Simoni café where you can have a mountain tea (or coke) break before the real hike begins. Immediately after passing Simoni café, you will start tackling rocky and steep terrains. Soon after a short stretch in the forest, the beautiful valley view starts to open up and you will be hiking the bare mountain face. Welcome to the toughest but extremely scenic part of the trail.
Section 4: conquering Valbona pass – 700 M.
The last bit, before reaching Valbona pass, is a narrow road winding around the side of the mountain. Here we faced a couple of minor challenges.
One was a 15 meters long chunk of snow hanging over a cliff. It was only two feet wide. Thus, it took a little bit of courage to pass a narrow slippery snow path- but I guess it looked scarier than it was dangerous.
Second, which I was more concerned about than the snow, was a pure scree slope. At that section, the path was completely gone for a distance of a few meters. We had to carefully step through it- the slope was steep, angled at around 35-45 degrees. Not to scare you off, just go slowly watching your steps and you will be fine.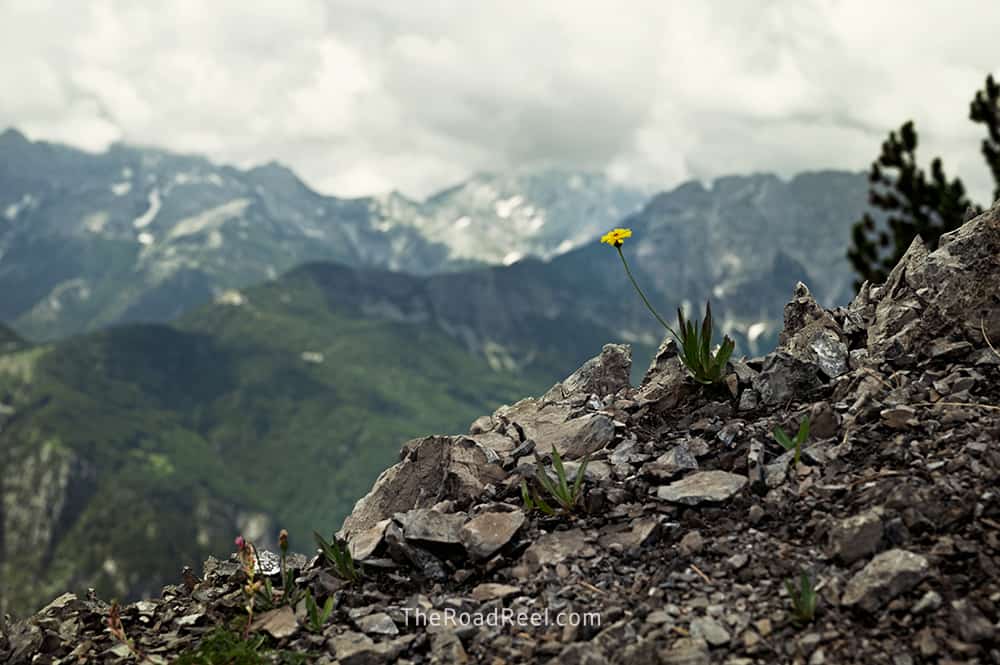 Section 5: Valbona pass and the summit- 200 M.
Once you reach Valbona pass, you will enjoy the panoramic views of the valley and Accursed mountains from two sides. Note, that the flat space at the pass is quite small, and it got very crowded shortly after we reached it.
Luckily, you can climb another 200 meters to the vantage point on the left. Not everybody is willing to go higher up because of the steep sandy path. Once at the top, you will be able to walk further to the right side or continue even higher up to the other peaks.
You might feel already tired, but it is definitely worth the effort. I went a little bit further away from the hotspot and was completely alone enjoying the glorious views of the Prokletije mountain range, peacefully flying my drone.
Section 6: steep descent through the forest to the last mountain café- 2 KM.
Path to the other side of the Valbona pass is a steep descent through rocky terrain and a beautiful forest. Views of the mountains and valleys appear sparse, but on a hot day, you will be relieved to have shade. In this section, you will reach the last café simply called- Bar Café Restaurant. Take a break here as there is still some ground to cover and your knees may not like it.
Section 7: continuing steep descent through the forest to Theth – 5.3 KM.
The last bit of the trail is the most painful. The steep descent is really hard on the knees. Moreover, there are parts with loose gravel where you should take extra caution not to slip and fall. I have to admit this bit was my least favorite- it felt long and boring. Despite going through beautiful forest and bits of alpine meadows, I was still looking forward to finally reaching the guesthouse in Theth, which, to make things tougher for us, was another 3 KM away from the trail end.
The total distance of the trail we did was 15.8 KM (from Valbona to Theth trail end). But in total, we walked around 19 KM because we chose the guesthouse which was a bit further away. No regrets though, as the location of our accommodation was fantastic.
STEP 7. HOW TO PREPARE FOR VALBONA THETH HIKE
Having done many long day treks in the UAE, I already know by heart what works best on hikes. In Valbona to Theth scenario, however, I had to plan well for 3 days because, for everything I took, I had to carry on a hike.
The most important piece of advice I can give you for this hike is to take the absolute minimum and only items you cannot survive without. Wear the clothes that you will hike in, including boots. Take only a lightweight change of outfits for the final day. Leave whatever you won't need because every, even the smallest thing you take, adds up to the weight of the backpack. 
WHAT SHOULD I BRING AND WEAR FOR VALBONA THETH HIKE?
Being well-prepared for any hike is crucial. However, you have to pack for 3 days, you have to filter absolute must-takes from the fancy additions to your trekking gear. Here are my notes on the Valbona Theth hiking essentials.
HIKING GEAR AND FOOD
Hiking Boots: I recommend not messing around with footwear and getting yourself proper waterproof hiking boots with a good grip. Although people still do this hike in sneakers, however, it is safer and more comfortable to wear sturdy hiking shoes which will protect your ankles and reduce the risk of slipping and falling.
Windbreaker/Raincoat: In Albanian Alps, rains are unpredictable and the wind on the top of the mountain is strong. Therefore, a proper waterproof windbreaker, for example, like this Colombia jacket, is a lifesaver.
Layer Up: Wear a couple of light layers of sweat-absorbing fabric tops for your own comfort: a t-shirt and a long-sleeve thermal shirt. For colder weather, especially mornings and evenings, instead of a heavy hoody, lightweight fleece is the perfect option.
Water: Luckily on this hike, there are at least 2 spots to refill your water reservoir. The first one is at Simoni Café after almost 6 KM hiking from Valbona trailhead. The second one is at the Café Bar Restaurant when descending to Theth. And I believe there were some water streams along the way too. Therefore, I only carried 2 liters of water in my Camelbak bladder as opposed to at least 5 liters which would be usually needed for this type of hike.
Food: We took our takeaway breakfast and lunch from the guesthouse in Valbona. The guys packed us so much bread that we would have survived for a few days. We also had some protein and snickers bars with us. Luckily, if you finish all your snacks early and get really hungry, the second café on the descent to Theth served some basic food.
Comfortable Backpack with Water Bladder: a comfortable backpack that fits what's needed for a day hike, and has proper padding, waist, and chest holders, goes long way on long hikes. Consider getting a water bladder with a straw instead of a usual refillable water bottle. Something like this Camelbak serves to be very useful when distributing the weight in the backpack equally, plus no need to remove it each time you want to drink (because of the easily accessible straw).
Trekking Poles: optional, but I wish I had them when descending, it would have reduced the load on the knees significantly. For a day trek, the best are lightweight foldable hiking poles, like these Cascade Mountain Tech walking sticks.
Sunscreen, cap, and sunglasses: On a sunny day you may get sunburned easily, therefore a small bottle of strong sunblock is a must. The same goes for a cap and sunglasses.
First Aid Kit: a basic plaster for blisters and some Panadol at least to be on the safe side.
Waterproof Cover for the Backpack, Gear, and Documents: rains in Albanian Alps are ruthless, so make sure you not only have protection for yourself but also a good waterproof cover for your sensitive items such as photo cameras and passports.
NAVIGATING VALBONA THETH TRAIL- IS IT WELL MARKED?
Valbona-Theth trail is marked with a red painted circle with a white dot in the middle, or red-white-red painted flags throughout the whole trail. Those markings appear very often on the trees and rocks (say every 50-100 meters or so).
Moreover, you can pre-download the trail on the Wikiloc app which also works offline. I have recorded this trail on my Wikiloc account here.
INTERNET CONNECTION ON THE TRAIL
Internet connection was weak around Valbona and Theth villages and mostly unavailable during the hike (we got some signal at the peak though).
DO I NEED A GUIDE FOR VALBONA THETH HIKE?
If you are comfortable navigating mountain trails and have done some longer hikes before, you won't need a guide, especially knowing that this trail is well-marked. I would only advise a guide for those people who have never done any long-distance hikes in the wild mountains before. Even then, this trail is very popular and you will definitely see other people trekking, which also will give you more confidence doing it without a guide.
IS IT SAFE TO HIKE VALBONA PASS SOLO?
For an experienced hiker, it is absolutely fine to do the Valbona Theth trek alone. Note that it might not be the case for everyone, especially those people scared of heights.
If I had to do this trail on my own, I would confidently go ahead. Besides, if you are on your own, you most likely will find other hikers to pair up with.
CAN KIDS HIKE VALBONA THETH TRAIL?
The hike is quite steep, with few exposed sections, and also very long. Therefore, I would say it is not suitable for young kids, but for older ones, starting 8-10+ who are used to hiking, should be fine to do it. I have to admit, we haven't seen kids during the whole hike, but we saw elderly people doing that (true inspiration to look up to).
IS VALBONA THETH TRAIL DOGS FRIENDLY?
We saw stray dogs at Valbona pass, so yes dogs can walk this trail too. The only thing that I am not sure about is if it is allowed to have your dog on a minibus or a ferry. We have not seen pets on public transport while traveling to the mountains.
Other things to be aware of while hiking on Valbona Theth route
There are wild animals in the Albanian mountains: wolves, bears, and lynxes.  We could hear wolves howling far in the mountains when we were at our Valbona guesthouse. However, wild animals don't like interacting with people and wouldn't go to the trails. That being said, make sure you stay on the marked route and don't wander anywhere far inside the forests.
What if I have luggage that I cannot/do not want to leave in Shkoder?
The only way to solve this dilemma is to base yourself in Valbona or Theth and hike halfway to the peak and back to your base. It is not an ideal option, but it is there if you do not have another choice.
BUDGETING VALBONA THETH HIKE: expenses breakdown per person
Transport from Shkoder to Valbone: 18 EUR for the whole trip, including Komani ferry.
Transport from Theth to Shkoder: 10 EUR (1200 LEK) for a minivan.
Accommodation in Valbone: 15 EUR including breakfast (45 EUR for triple chalet).
Accommodation in Theth: 10 EUR including breakfast (30 EUR for triple room).
Dinner: 8-10 EUR for 1 dinner.
Drinks at the mountain cafe: 2 EUR per drink.
Total cost: approx. 75 EUR per person
USEFUL TIP: Take cash because there are no ATMs in Valbona and Theth villages. Both LEK and EUR are accepted at transport and guesthouses.
---
To Sum Up:  the main 5 tips for Valbona Theth Hike
Choose the hiking direction from Valbona to Theth (instead of the reverse).
Leave your main luggage in Shkoder at a guesthouse or hotel and take the bare minimum because you will need to carry all your stuff with you on a hike.
Reserve accommodation and ferry tickets in advance (at least 2 weeks) if you are travelling during the peak season
Bring cash as there are no ATMs in the villages.
Account for unpredictable weather and bring a good waterproof jacket and covers for your most important items.
Last but not least, please keep the trail clean, and take your trash with you.
If you have any more questions about this hike, drop me an email. Otherwise, I wish you safe and enjoyable hiking!
A LITTLE BIT MORE ABOUT THETH (THINGS TO DO AND SEE)
The sleepy alpine village of Theth comes to life during the hiking season. With clusters of guesthouses sprinkled along the dreamy valley walled by Accursed mountains, Theth today is an ultimate hiker's base camp. Regardless of its growing popularity, Theth is very atmospheric. The time seems to have stopped here, you can see piles of hay dotted around the village, and meet herdsmen with their sheep peacefully roaming around.
Theth is considered to be the more picturesque of the two mountain towns. Therefore, it is also a good reason to spend more time there exploring other things this charming mountain village has to offer.
Theth Church- a little gem for beautiful photography
A highlight, and probably the most photographed object in the village, is a small 19th-century stone-and-shingle Theth church. It is hidden further away from the main gravel road, toward the end of the village. I advise visiting the church at dusk when it gets lightened up. Its silhouette against the tall mountains with burning orange sunset skies looks incredibly mysterious.
Lock-in Tower of Theth
Hundreds of years old historical structure which was used to imprison the deadliest criminals back in the olden days, Lock-in Tower of Theth is now one of the main tourist attractions. You may visit it as well on a guided tour led by one of the descendants of the family this tower belonged to.
Drink Coffee with a view
Opposite the Lock-In tower, we came across a simple cafe. At first, we didn't pay any attention to it as we were headed to see the tower. Soon a friendly local on a motorbike showed up and invited us to sit on the terrace, from where fantastic views of the mountains open up. It was a fantastic start to the late morning a day after our long Valbona hike. I highly recommend checking this no-name café out.
Go on Day Hikes from Theth
Although we only had time for one night in Theth, we would have loved to stay a few nights more and go on other hikes around the area.
The most well-known is the hike to The Blue Eye of Theth, which is around 17 KM (6 hours) return trek to the turquoise alpine pool. I have already added it to my bucket list for my next trip to Albanian Alps!
ALBANIA TRAVEL RESOURCES
Planning your trip to Albania soon? Below are some useful links to help organize your trip.
More Albania Travel Resources: