UAE Hikes// Sheri village trail in wadi Naqab is one of the most beautiful moderately challenging day hikes you can do in the UAE. Here is everything you need to know to successfully complete this fantastic UAE hiking route.
This A to B type trail is winding through a spectacular gorge locally called wadi Naqab in Hajar mountains, Ras Al Khaimah Emirate. The route will bring you all the way up to the remote Sheri Village perched on the top of the mountain at 800 meters in height. 
Sheri village trail is by far one of my favorite hikes in the UAE. It also offers lots of amazing photo opportunities. The surroundings are nothing less than surreal. The trail features a narrow gorge surrounded by the peaks of intensely orange-colored cliffs, impressive greyish rock formations, and dramatic views at the top of the mountain. Many turns and corners on this wadi Naqab trail would suit an adventure movie set up.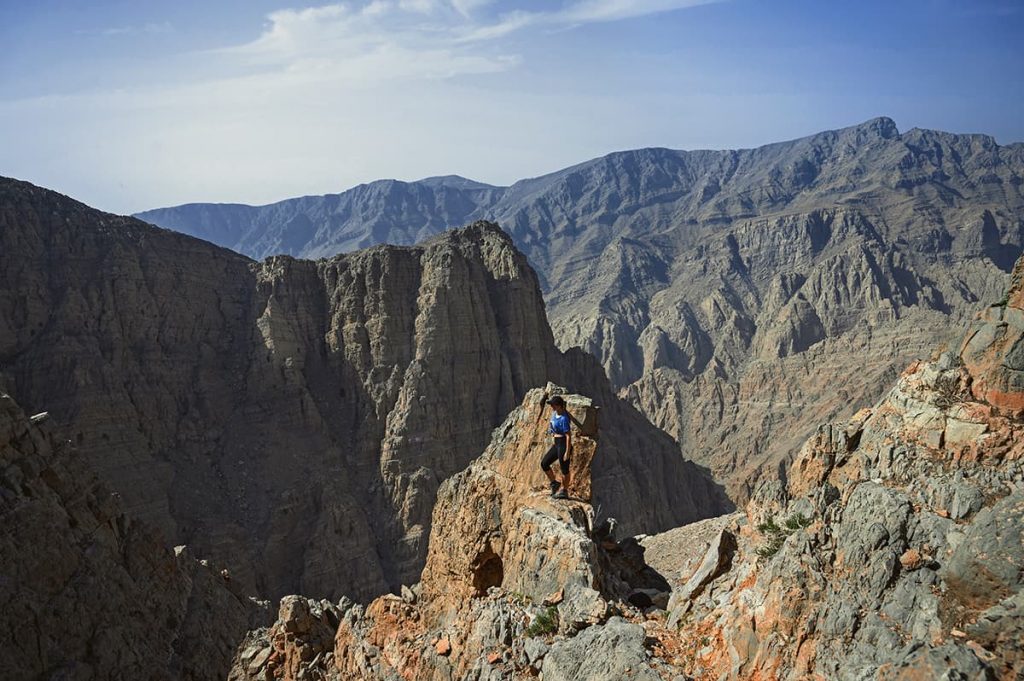 Note: This post contains affiliate links, which means that I may make a small commission at no extra cost to you if you make a purchase by clicking a link. This helps to keep my blog growing and filling up with detailed honest travel advice for you. 
How to hike to Sheri Village in Wadi Naqab, Ras Al Khaimah, UAE
SHERI VILLAGE TRAIL OVERVIEW AND MAP
Summary: features beautiful orange color Wadi Naqab canyon, bat cave, spectacular Hajar mountain range views, functional Sheri Village settlement at the summit. The hike involves lots of bouldering, some scrambling, walking around the mountain face, steep incline, and decline following manmade donkey path.
Distance: 7 KM
Duration: 5 hours (excluding breaks, and depending on fitness level, can be done faster/slower)
Difficulty Level: moderate plus.
Minimum and Maximum Elevation: 200 m and 800 m respectively.
Elevation gain and loss: approx. 800 m and 800 m respectively.
Mobile network and Internet connection: poor to none.
Is a guide needed? optional (advisable for the first-timers). The trail has no official markings. Stone cairns (piles) are the only guidance available on the trail.
Minimum water requirement: 3-4 liters.
Kids friendly? Small kids no, age 10+ yes.
Sheri Village trail was my very first hiking experience in the rugged UAE mountains. It took me 3 attempts until I finally found the correct way to the mysterious mountain settlement. Each of the tries was an adventure on its own as if I was searching for some hidden treasure. Along the way, I accidentally came across the Red Wall (it turned out to be another well-known hike in Wadi Naqab).
When I first decided to hike to Sheri Village, I was a complete newbie. I had no idea what it takes to navigate UAE terrains. My only guide back then was a short trail description from the "UAE Off-Road" book. However, it wasn't enough to easily complete the hike.
To make things easier for you, I am giving you all the important tips on how to follow the Sheri Village trail. Also, what to expect when hiking in Wadi Naqab and how to be well-prepared for your hike.
---
RELATED READS: Check also the Red Wall hike in Wadi Naqab if you are looking for an easier trail.
---
The Best Time to Hike to Sheri Village in Wadi Naqab, Ras Al Khaimah
The best time to do the Sheri village trail is late autumn to early spring (November to March). During this time temperatures in the mountains become pleasant.
Summertime it is boiling hot with temperatures reaching above 40 degrees during the day. Therefore, if you are planning to go hike in UAE in late spring or early autumn, you must start before dawn, and make sure you are back by 9-10 am latest.
I do not recommend hiking in the UAE in summer from June to August (tried it before, it was dangerously hot).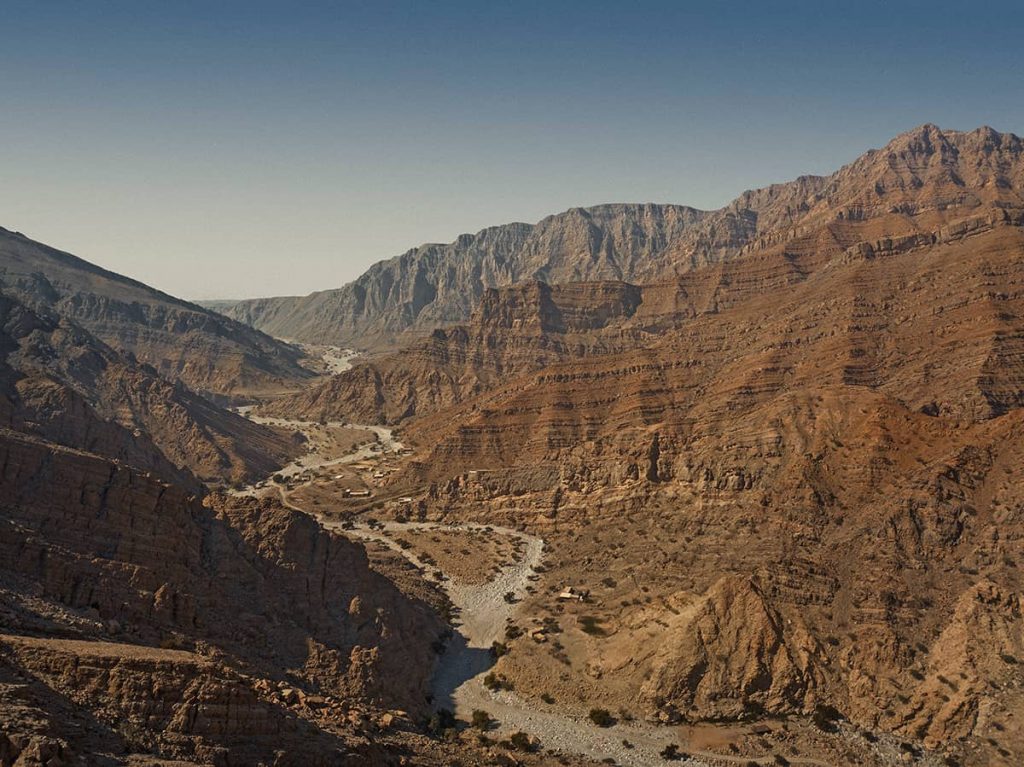 However, the advantage of Sheri village trail is that there is a lot of shade. In fact, most of the time, except on the top of the mountain you will hike in the shade if you start as early as 7am.
In winter, you do not have to start crazy early. Even if you start at around 9 am or 10 am, or later, you will be able to comfortably complete the trail. 
Note: do not attempt this hike if it rains! Floods in the UAE wadis (gorges) can be very dangerous, instant flooding may occur. Also, rocks become very slippery. 
What is the terrain like on the Sheri village route?
Sheri village route involves a good amount of bouldering over medium-sized rocks, some easy gravel road walk, man-made mountain steps and donkey path (sandy path with some loose rocks around), a little bit of scrambling may be required, and a short section of balcony walk. 
What is the distance and difficulty of the Sheri village hike?
Sheri village trail is moderately challenging, covering the distance of approximately 7 KM roundtrip. The route requires a fairly good fitness level as it has quite a steep incline and decline following the same way up and down.
Beginners with a good fitness level can also go on this hike. After all, it is not a long trail.
You have to be mindful of your joints, as the steep decline can be hard on them.
The challenges one may face are the heights. If you aren't comfortable with walking around mountain faces on a narrow path, it can be challenging at a few short sections. 
However, there is nothing in particular that can be dangerous or technically challenging on this trail. You only have to watch your steps for loose rocks, especially when descending.
The time required to complete the Sheri village hike in wadi Naqab is approximately 5 hours at a medium pace. Pro hikers have done it in 2 hours, but this is more of a trail running. I did it in around 6-7hours with lots of stops for photography.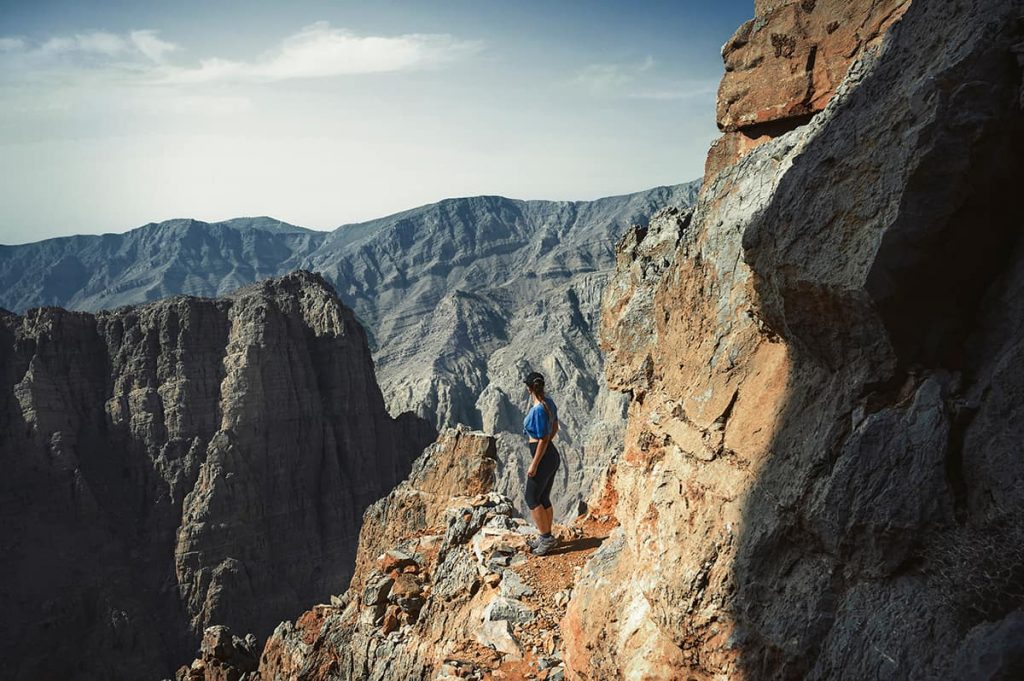 Is the Sheri Village trail well-marked?
Sheri Village trail in Wadi Naqab does not have official markings yet. The only guidance available is the cairns (piles of small stones) left by other hikers.
Cairns appear randomly every now and then, sometimes every 50 meters, sometimes more or less often. You must look out for them as they are usually blending into the surroundings. However, stone piles are really helpful to navigate this trail.
Sheri Village Trail by Sections
To give you a heads up, I divided the trail into 3 sections. This guide will help you to stay on track and be sure you are following the correct route. 
Sheri Village hike starting point
Today access to Sheri Village trailhead is much easier because the dirt road in Wadi Naqab was flattened and extended. It became passable for sedan cars as well. This also significantly reduced hiking distance by shaving off 7 KM of the monotonous flat river bed walk.
Therefore, now you can drive and park next to the trailhead. Park on the side of the dirt road. Make sure not to block it for other cars passing further into the wadi.
---
Trailhead coordinates where you can also park your car are 25.71498, 56.11308.
However, if you come on a weekend, you may not find a good safe spot next to the trailhead. In this case, park around one km earlier.
The coordinates of the alternative parking (adds up 1 KM walk one way) are 25.71488, 56.10565.
The trail starts at the right-hand side of a fork where wadi splits into two paths. It is quite easy to miss the right turn though.  If you miss it, the path will take you all the way to the red wall. 
Therefore, when reaching the starting point, you should lookout for a big rock on your left with a blue (?) dot. From here you must look for the path going right up a small hill- that is where the Sheri village route starts from.
1. Narrow gorge and bouldering section (1.5 km) 
As mentioned before, you will start your hike climbing up a small hill before descending into a beautiful narrow gorge. 
This section involves lots of bouldering through medium and bigger size polished rocks and some gravel walk. It will keep your legs busy jumping from rock to rock. 
Always lookout for the stone cairns that are unofficial trail markers left by other hikers. 
At the end of this section, you will reach a huge slanted white polished rock. There might even be a small water pool in winter. 
2. Ascend to the bat cave
After climbing up the slanted white rock, start looking for a path that ascends up to the mountain on the right-hand side of the wadi. You might have to stop and look around carefully until you spot the stone cairns displayed higher up. This will help to guide you on the correct path. 
Another good indication is a water tank under the tree on your left. That is how you will know that it is time to look for the ascending path. 
On my second attempt to hike to Sheri village, I missed this not so easily noticeable path into the mountain and continued deep into the wadi until the dead end. Only on the way back, I figured that a water tank might be serving as a refill station for the villagers, before starting climbing up.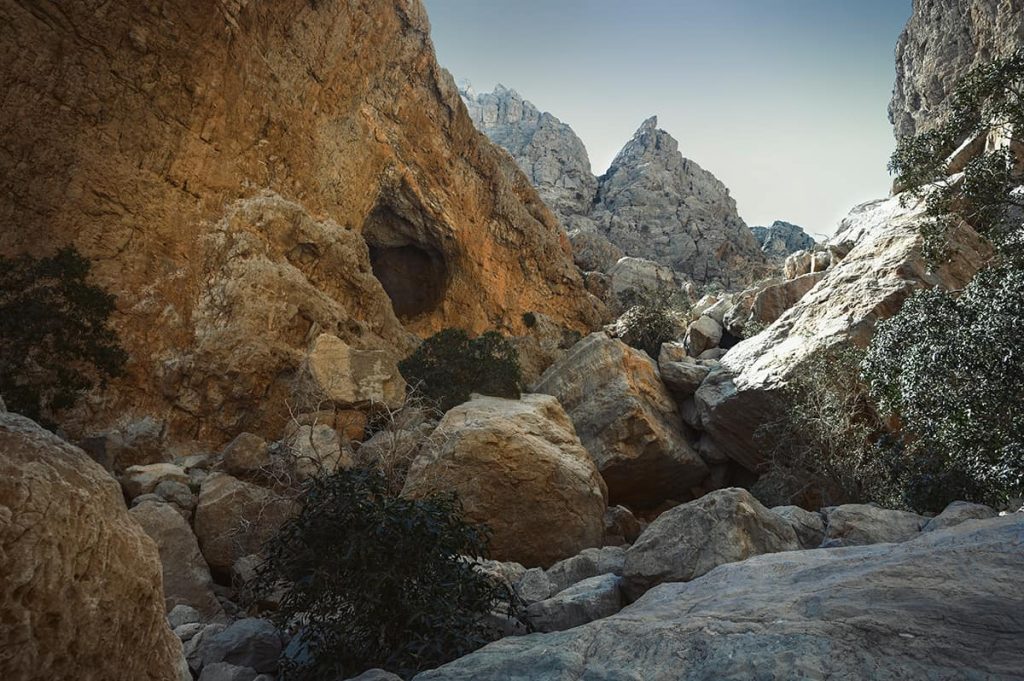 As soon as you get on the ascending mountain path, following the trail will be easy. There are a lot of cairns in this section. Also, it is only one way up with no intersections.
Here, you will climb up gradually until you reach a massive bat cave on the left-hand side. 
Some people manage to get inside it, but I haven't tried it. It looks a bit sketchy. Also, this cave has bats, if you are not keen, don't go inside. Overall, do your own judgment before attempting to explore the bat cave. 
3. Steep incline to Sheri Village with a short balcony walk. 
Continuing further up, the path becomes steeper. Here you will for sure have your heart rate shooting up. Take as many breaks as needed. 
At some point, you will reach a man-made staircase with a metal fence and railing on the side. 
Also, you will have to pass a balcony-1.5 width leveled path that winds around the face of the mountain on one side with a high drop from the other. This might be mentally challenging if you are scared of heights.
Otherwise, the balcony walk is one of the most dramatic and beautiful spots on this trail.
Not far away after, you will soon approach Sheri village. Another steep incline through the rocks, where a little bit of easy scrambling may be required.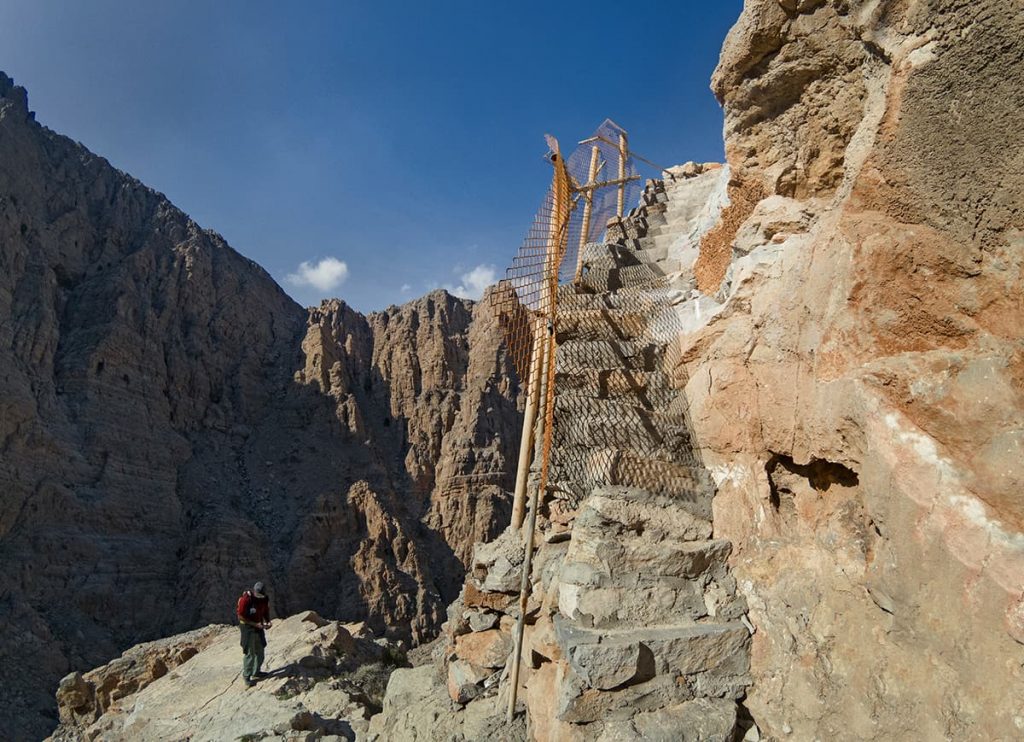 What is Sheri Village like?
Sheri village is a mountain settlement built on traditional mountain terraces overlooking the dramatic Hajar mountain range. Once there, you will feel on top of the world, it is a breathtaking feeling as well as the satisfaction that comes after completing a grueling steep climb.
There are lots of recently built stone houses and fresh water tanks which indicates the village is in use. I still wonder how people manage to bring all the construction material so high up.
Moreover, there is a beautiful grass area inviting you to pitch a tent for the night.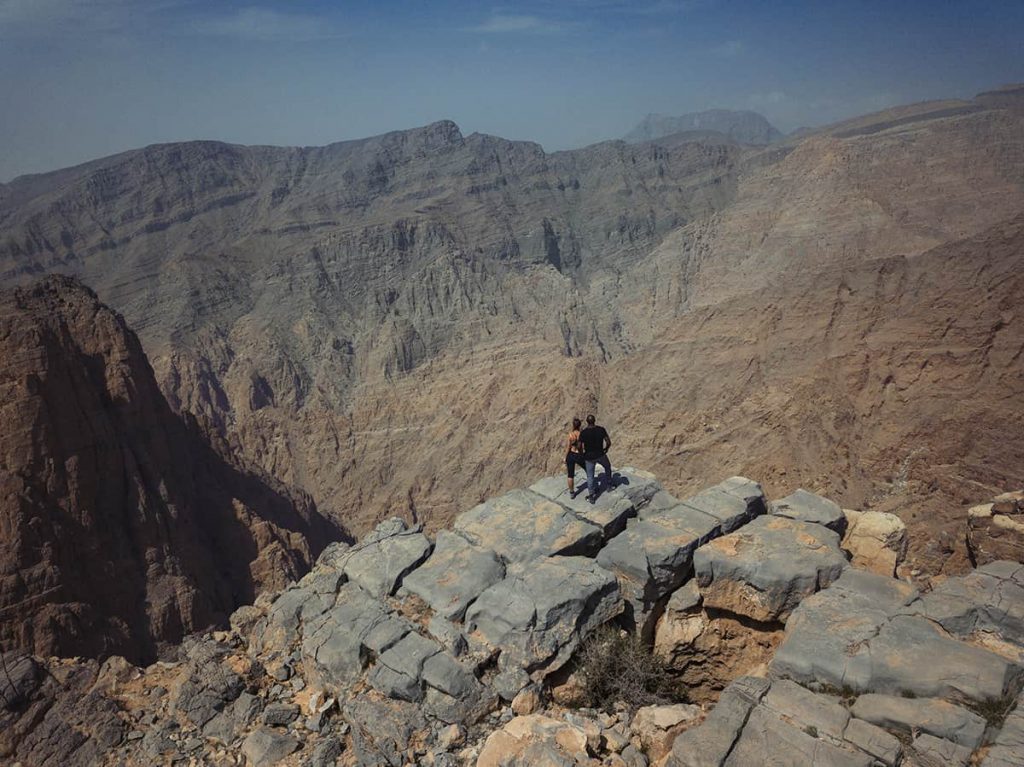 Do people live in Sheri Village?
This village is a temporary summer getaway for local people. However, it seems like it is visited by hikers more often than the owners. I have been to Sheri village several times and not once I have met a local person there. Except for many goats, chances are you will be completely alone (unless it is a winter weekend when you can expect a few other hikers to be around).
Do I need a guide to Sheri Village?
If you do not have experience hiking UAE mountains independently, especially unmarked trails, it is advisable to hire a guide, or use a local tour company that specializes in hikes, or go with somebody who knows the trail well.
However, I did this trail as my first hike in the UAE without a guide. But as I mentioned before, I managed to find the way only during my third attempt. Plus, I sometimes take more risks exploring unmarked routes, and this might not be for everybody.
Finally, if you have previously hiked in UAE and know the game, you don't need a guide.
How to prepare for hiking in UAE?
Before you head out to almost any mountain adventure in the UAE, you must make sure to tick off a few important boxes on your hike prep list. The below is the standard UAE hiking preparation checklist:
Sufficient amount of water– crucial for any hike. For the UAE where the weather is hot all year round, take extra than you think you may need.
Lightweight power snacks like dates, bananas, protein bars. Also, electrolyte drink aside from water makes wander after long sweaty hours.
Sturdy footwear with good grip. The terrains are rough and rocky. Therefore, it is very important you are wearing shoes, ideally mid-ankle height, that has good grip, to prevent you slipping and twisting your legs. I have been hiking in my Columbia boots since I started, and I am so far happy with it.
Comfy and functional backpack. For a half-day hike you don't need much supplies to fit in. Still, a backpack with a good back support and, ideally, a space for water bladder, makes a difference. Check out this Osprey backpack chich is great for day hikes.
Get a water bladder if you are planning to make hiking a regular acitivty. Water bladder has a straw. This means you don't have to remove your backpack when you want to drink water. Also, water, when filled in the bladder, is evenly distributed in the backpack. I use my two or three liter camel backs (depending on how long the hike is). You can check prices here on Amazon.
Sunsreen, cap and sun glasses. Sun is harsh, so make sure to protect yourself.
Comfy sweat wicking clothes. I usually hike in gym or hiking leggings and t-shirts. For winter months, I through in a lightweight fleece as morning and evening can be chilly.
Hiking poles. It is not a must but very helpful for the descending part. It can be quite tough for the knees when climbing down. For the light weight foldable trekking poles check this pair at Amazon.
Basic first aid kit. Terrains are rough and sometimes mini injuries can happen. Even as simple as getting a blister. So having plaster for this type of emergency can really make or break your hike.
Power bank to keep your phone charged.
You do not need any technical equipment like ropes to hike this trail.
Other things to be aware of when hiking in the UAE
Goats are the most common animals you will see in the mountains of the UAE. They are usually afraid of humans, and only sometimes you may find them approaching you because they are expecting a snack. Although tempting, it is advisable not to feed animals on the hikes so they do not become dependent on people giving them supplies.
Snakes. They usually come out at night and hide in bushes and under the rocks. Snake won't attack humans unless they cause a threat by accidentally stepping on it. Therefore, always be mindful of your steps. I have seen snakes only a couple of times while hiking, but they are quite common in mountainous areas, as well as in the desert.
You can also see and hear bats if you are spending the night in the mountains.
Donkeys are also common if you are passing functional mountain villages.
Running into darkness while on a hike.
To avoid running out of light, always aim to start your hike early morning. Unless you are planning to camp, estimate your abilities to come back before it gets dark.
Be aware of the sudden rain. In the UAE rain might cause dangerous flash floods, especially in the wadis (gorges). It is not advisable to hike when it is raining also because rocky terrain becomes very slippery, there is a chance of falling rocks as well.
Always take extra water, even if it means carrying a heavier load. UAE climate is extremely hot and chances of dehydration are high if you don't drink a sufficient amount of water.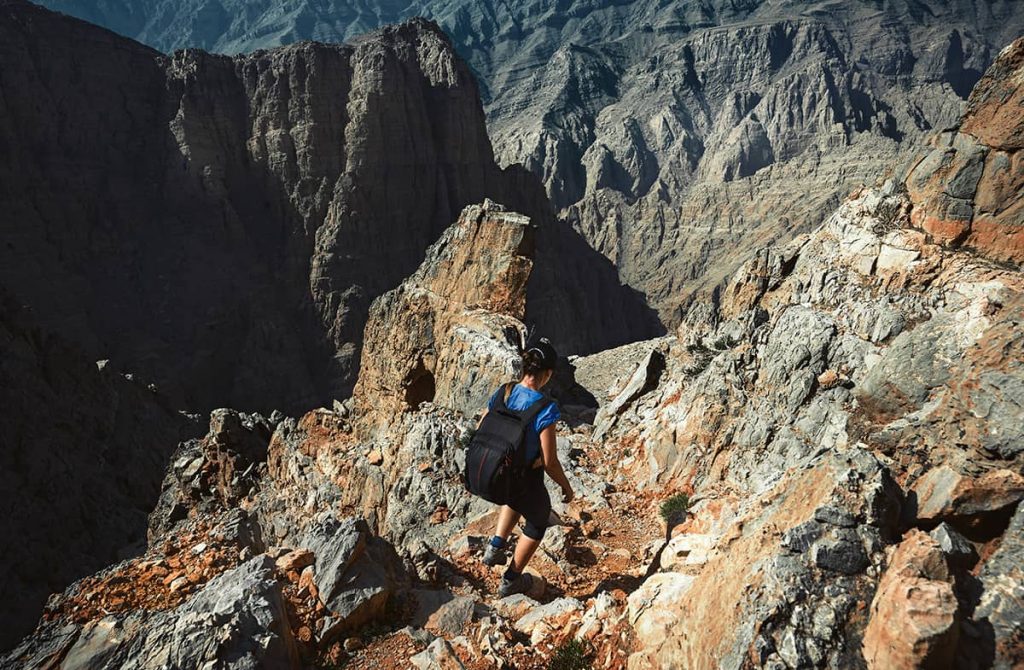 I hope this guide inspired you to hike beautiful UAE mountains! If you have any questions, please feel free to get in touch.
STAY SAFE ON YOUR HIKE AND KEEP THE NATURE CLEAN!
MY HIKING PHOTOGRAPHY AND VIDEOGRAPHY GEAR
I often get asked about the photography gear I use during my hikes. The reality is, I do not hike very light because I carry all sorts of equipment in my backpack.
Here is what I use to capture my adventures and the beauty of the mountains:
---
For further reading on other exciting hikes in the UAE, check the below posts:
DUBAI, UNITED ARAB EMIRATES TRAVEL RESOURCES
Planning your trip to Dubai, United Arab Emirates soon? Below are some useful links to help organize your trip.