Planning on visiting Salalah and Dhofar region in Oman but not sure where to start? This Salalah itinerary planner will walk you through the best places to visit and things to do in Salalah, how to get to Salalah and around the Dhofar region as well as the best places to stay for any budget, including some great camping spots. Use my Salalah travel guide to easily plan your unforgettable visit to the tropicals of the Middle East. 
Soaring peaks are rising above the clouds, majestic waterfalls are dropping into turquoise rivers gushing through the valleys of verdant rolling hills covered in fog. Wind-swept tall palm trees dot the white sand beaches with hundreds of camels freely roaming around. This is Salalah, the capital of Dhofar, Oman's largest yet most remote region. It is locally known for the Khareef season- a phenomenal tropical monsoon somewhat similar to the one in Kerala, India. 
While the temperatures are hitting up and over 50 degrees Celsius during the Middle Eastern summer, Salalah in the south of Oman is blessed with mild weather and rain from June to mid-September. This climatic wonderland is where many locals in the Gulf region seek cooler weather and rush to enjoy the lush greenery.  
Although less known to international tourists compared to Muscat and Northern Oman, Salalah is the most magical place you will find in the Middle East.
Based on my Salalah road trip experience, I share practical travel tips on how to visit Salalah and the Dhofar region in Oman. The suggested itinerary includes the best places to visit in Salalah, when to visit, how many days to spend, and other handy tips and interesting facts about the area. 
It is a long post, thus feel free to skip ahead using a table of content. But I recommended going through all of it to learn how to best plan your Salalah trip.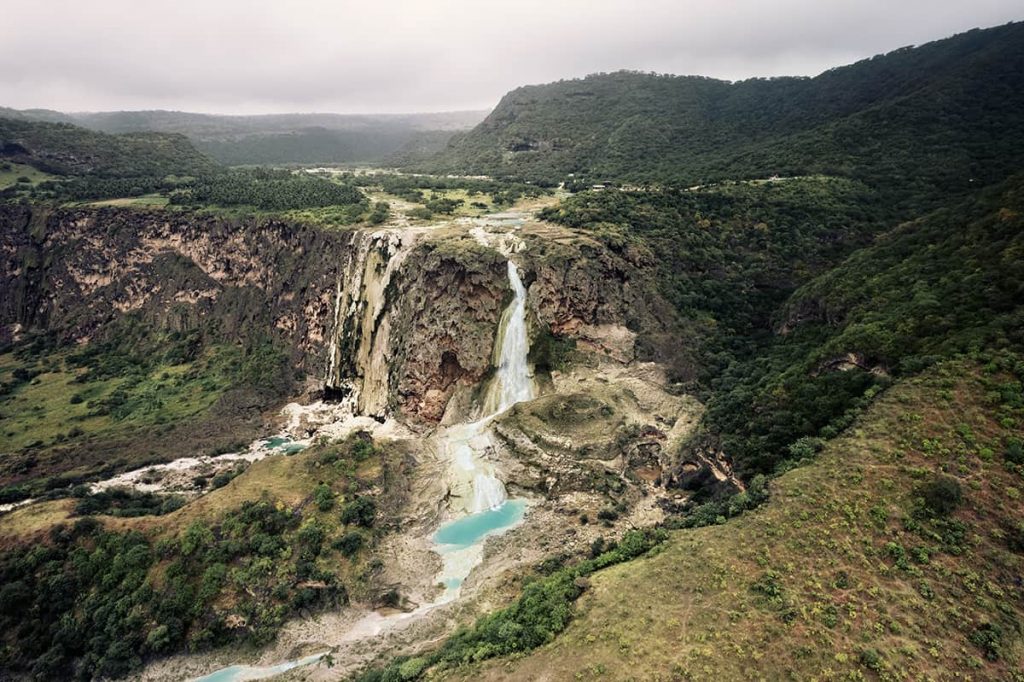 Disclaimer: This post contains affiliate links, which means that I may earn a commission if you make a purchase by clicking a link (at no extra cost to you). This helps to keep my blog running and growing by creating more awesome free content for you.
Ultimate Salalah Travel Guide: How to Visit Dhofar Region in Oman
Is it worth visiting Salalah and why travel to Salalah and Dhofar Region in Oman? 
Salalah is unquestionably worth visiting when traveling to Oman. And here is why: 
Salalah is one of the most distinct areas in Oman and the Middle East rich in the jaw-dropping scenery of dramatic cliffs, wild white sand beaches with turquoise blue waters reminiscent of the Caribbeans, lush banana plantations, and cascading waterfalls. 
Also known for the abundance of Frankincense trees, Salalah historically was a major trade center along the Incense Trail. That being said, a few important archaeological sites are present to be explored. 
However, what makes Salalah so unique is the above-mentioned tropical monsoon season locally known as Khareef. Starting in June the climate magically switches from dry to foggy and rainy. This unusual to the Middle East weather allows Salalah's landscapes to transform into a green misty wonderland which you can witness every year until late September. 
How many days in Salalah? 
When planning my road trip to Salalah, I wasn't sure how many days do I actually need to visit the area as the sights are spread out all over the place in the Dhofar region. 
There are guides suggesting 1 or 2 days itinerary for Salalah. However, after visiting it myself, I would recommend budgeting at least 3 to 4 days in Salalah. If you can, aim for a week in Salalah to travel slowly and enjoy the best of Dhofar.
The easiest way to plan the logistics is to look at Salalah city as a jump-off point for visiting surrounding areas. Thus, you would need:
A minimum of 1 day for the west of Salalah;
At least 1 day for the east side of Salalah;
1 day for Salalah city and nearby attractions;
Add 1 more day if you want to visit Empty Quarter in the north. 
3-4 days would be just a short glimpse into this wonderful region of Salalah. Stay longer if you can. 
The best time to go to Salalah?
Unlike the rest of Oman, Salalah and the south of Dhofar are year-round destinations. Thanks to the rainy Khareef season, the temperatures in the South Dhofar region average 27 degrees Celsius making it possible to travel to Salalah any time of the year.
Summertime brings Khareef and is considered the peak season attracting many local visitors and tourists from surrounding GCC countries (UAE and Saudi Arabia).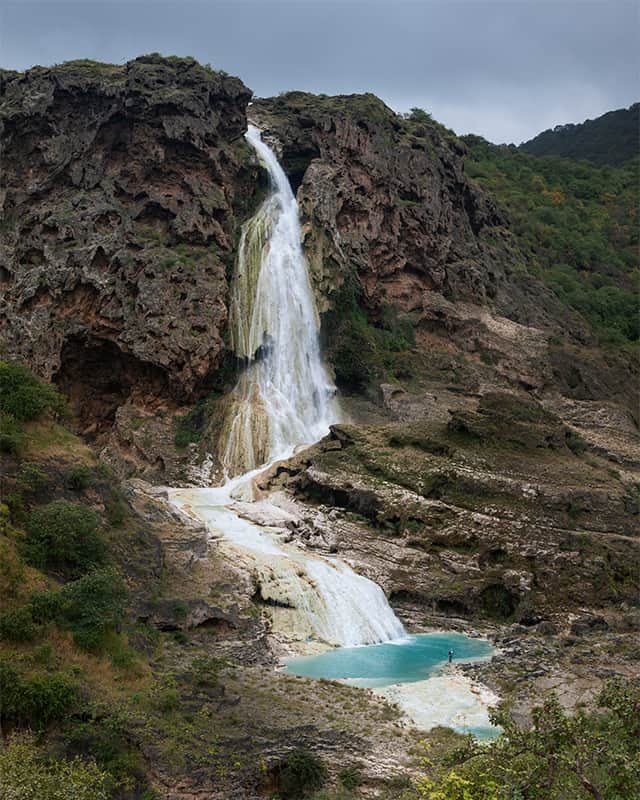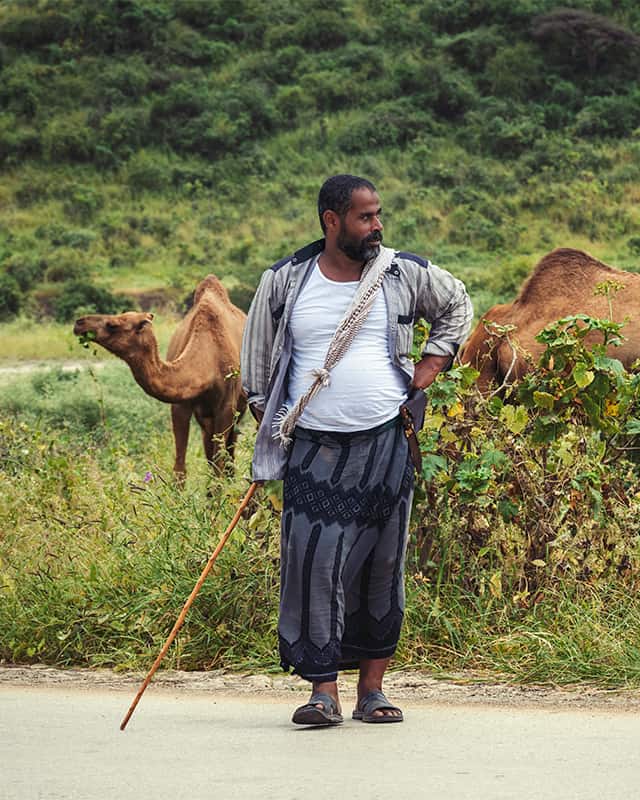 Visiting Salalah during the shoulder season
If you want to see the barren mountains turn green, and chase a few waterfalls, but avoid the Khareef crowds, the ideal time to go to Salalah is around the first week of September to the middle of September. I visited on the last week of September and I still was lucky to catch the fog, and greenery and see a couple of waterfalls (although not at their full capacity). However, this varies year to year depending on the amount of rainfall during monsoon.
The other advantage going in shoulder Khareef season is that there won't be as much rain and the fog coverage isn't too dense to be able to admire beautiful landscapes. The downside of the shoulder season is that the temperatures are slightly higher than in summer (around 30 degrees as opposed to around 26) and it is still extremely humid.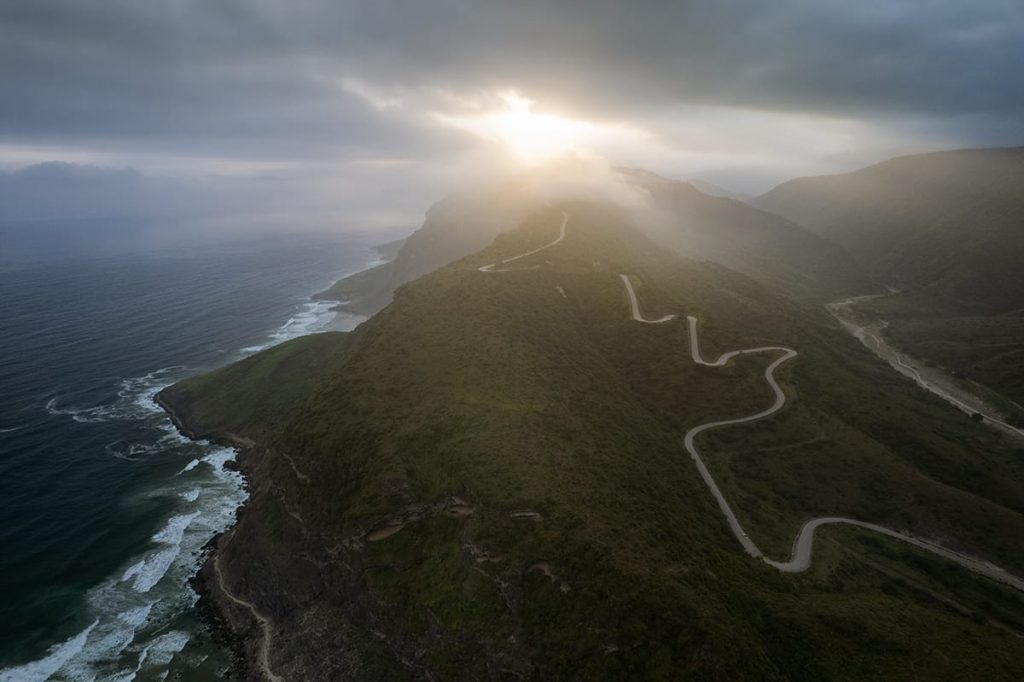 Visiting Salalah during the peak Khareef season
Unlike the rest of the middle east, late June, July, until the end of August is the peak of the Khareef season. It is also the time to see the iconic landscapes of Salalah in full bloom. This is the time when local Omanis, as well as residents and citizens of surrounding GCC countries (Saudi and the UAE), rush to Salalah in order to escape the exhilarating summer heat common for the Arabian Peninsula. 
The Arabian monsoon season in Dhofar brings light rain and thick fog. However, it is not extremely windy or stormy as the Asian type of monsoon. For this reason, Arabs really love coming to Salalah in summer. 
If you love the mysterious foggy scene and don't mind the rain and the crowds following a similar itinerary or would like to visit the yearly Salalah festival held mid-July to late August, then Khareef is a perfect time to go to Salalah. 
Note though that hotels get quickly booked out in Salalah during Khareef months.
Nonetheless, if you are planning on wild camping, this might not concern you. The only thing to have in mind is that it rains a lot, and staying outdoors overnight might not be the most pleasant experience for some. 
Visiting Salalah outside Khareef season (from October to late May) 
Although greenery stays through the autumn, come to Salalah in winter or spring and you will find barren landscapes similar to the rest of the Middle East.  The amount of greenery and prevalence of waterfalls (except for Wadi Darbat which is green all year round) depends on the rainfall during each monsoon season. 
Nonetheless, the weather temperatures in autumn, winter, and spring will be still pleasant to enjoy outdoors. Also, clear skies in winter will allow admiring of impressive cliffs and landscapes which are usually hidden in the mist and clouds during the rainy season. Wild camping, especially on the beach, is also more pleasant in winter. 
If you are planning on exploring the Empty Quarter, on the North side of Dhofar, then winter is the ideal time to do so as temperatures will be lower. 
Post and pre-monsoon times from October to November and May to June sometimes bring turbulent stormy weather to the Salalah area. This is something not to be taken lightly as there were catastrophic natural events in south Dhofar. 
How to get to Salalah? 
By plane
The fastest way to get to Salalah is to take a flight from Oman's capital Muscat or from the UAE. It takes only 1.5 hours from Muscat and 2 hours from Dubai or Abu Dhabi to reach Salalah by air. Search for affordable flights from any destination using Skyscanner.
By car
Adventurous travelers often choose to go on a long road trip either from Muscat or Dubai (UAE). The journey requires driving over 1000 kilometers for 10 to 13 hours (depending on where you start from) for the shortest but the most boring route running through the dry desert without any tourist attractions in between. 
Nonetheless, the trip can be parted with an overnight stop in Nizwa- a traditional and culturally rich town in North Oman. 
You can also choose to follow the coastal road which is more dynamic but significantly longer than the inland route. Be ready to drive over 20 hours from south to north of Oman or vice versa. Account for at least 2 overnight stops to reduce the continuous and tiring time by the wheel. 
Before you opt to drive to Salalah, make sure to also read my detailed Dubai to Salalah road trip planner. 
By bus
It is possible to reach Salalah from Muscat by bus. The journey takes over 12 hours. The bus station is located in the Ruwi area. Surprisingly, the ticket price for such a long journey is only 10-20 EUR, depending on the bus company and the quality of the bus.
Oman visit visa
As a UAE resident, you no longer need a visa to enter Oman (your residency must be valid for at least 3 months). As a tourist in UAE, you will have to apply for Oman visit visa. Some nationalities (mostly EU passport holders and the UK, US, and Canada) can also obtain a visa on arrival, although getting it online is recommended.
You can get an Oman visa online via the Royal Oman Police website. Alternatively, you can use ivisa services. Those guys will get the Oman visa sorted for you for an extra fee. 
ALSO READ: You can find detailed information about UAE-Oman visa types and requirements in my Dubai (UAE) to Oman by road post.
Do I need 4WD to visit Salalah? 
4WD is not essential to visit many of Salalah's attractions. However, it is beneficial if you want to explore more and go offroad, as well as reach some of the secluded beaches. Also, if you are visiting during the Khareef season, some places which were reachable with any car during the dry season will be accessible only in a 4×4 (like Fazayah beach, for example). 
4WD is essential if you are planning to go into the desert (granted you know how to drive in the dunes) and some secret beaches via very bumpy steep offroad. 
If you are flying into Salalah and thinking about what type of car to rent, I would recommend still getting a 4 WD for complete freedom to reach all the places. 
Looking for a great rental car deal? I use those websites to shop for the best car hire rates:
Check for the best car rental rates in Oman and UAE at Discovercars.
Also, browse UAE rental car offers with local providers at Localrent.
I also recommend cross-checking the offers with the biggest car search engine Rentalcars.
Salalah itinerary: the best things to do and places to visit in Salalah
Salalah City serves as a great base for visiting southern Oman. Most of the natural attractions lay outside the city spread in all directions and require 20 min to 2 hours of driving time, depending on the destination. 
For this reason, the best way to plan your Salalah itinerary is to dedicate different days to visit the west, east, central and north areas of Dhofar governorate. 
West of Salalah: best places to visit
Let's start with the most dramatic area of all – the west side of Salalah. If you only had one day in Salalah, I would strongly recommend heading West toward the Yemeni border. 
The stretch of the coastline to the west of Salalah is the most jaw-dropping featuring high cliffs raising above the clouds, windy roads leading to secluded beaches, and a few sleepy Omani villages which surprisingly had the best specialty coffee in the area. The scenery reminiscing of Jurassic Park in close vicinity to the barren lands is something I found very fascinating.
The most beautiful places in west Salalah that you should include in your Salalah itinerary:
Al Mughsayl beach and the blowholes (only seen in Khareef);
Fazayah beach-one of the most beautiful beaches in the area (4WD is a must during Khareef);
Shaat mountain viewpoint;
Rakhyut seaside town;
Dhalkut – the last town before the Yemeni border.
Al Mughsayl beach and the blowholes
Al Mughsayl (Al Mughsail) beach is one the well-known places in Salalah and is an extremely popular destination to visit due to the wonderful landscapes and phenomenal blowholes-the natural water fountain shooting from the ground. Kids especially find this attraction fascinating. Note that blowholes are only in their full power during Khareef season. The rest of the year you won't see much.
Tip: if you want to skip the crowds you should visit Al Mughsail blowholes first thing in the morning. Together with Al Marneef cave in the same area, Mughsail is one of the most visited places in the west of Salalah. 
Before you reach the popular spot of Mughsail, you will pass an incredibly beautiful stretch of white sand beach with soaring rocks in the distance. To me, this part of Mughsail beach was more exciting than the tourist spot with blowholes and the cave. Although you can't deny the beauty of the area, it is just too commercialized to my liking. Thus, I didn't spend there much time. 
Continuing further west, you will start ascending Jabal Qamar taking some serious hairpin roads until you reach the turn-off point to Al Fazayah beach.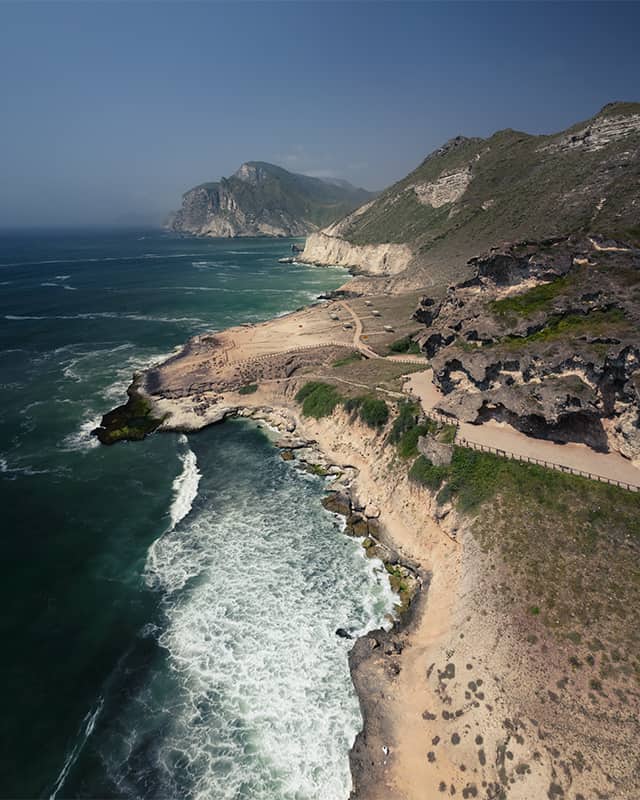 Al Fazayah beach
The wild turquoise blue Fazayah is one the best beaches in Salalah and Dhofar governorate. Composed of the main beach and several secluded coves, Fazayah is accessible through a windy dirt road with mind-blowing views all around. 
You should have a 4WD if you are visiting during the rainy season. However, sedans with stronger engines also can manage driving slowly when it is dry. 
Shaat mountain viewpoint
At 1000 meters above sea level, suspended in the clouds Shaat mountain and a village of the same name are yet another impressive sight in West Salalah. 
The Shaat viewpoint is often covered in clouds and you will need some luck to get a clear view of the far-stretching high cliffs. It is very unlikely to get an opening between the clouds during Khareef season, but during the dry season in winter you should definitely be able to see some of the most amazing coastline views. 
Shaat secret beach (4 WD is a must) 
Another adventurous spot in the Shaat area is Shaat secret beach accessible only in 4WD. It is a small piece of paradise reachable within a steep offroad drive with a 1000-meter drop in elevation. Visiting Shaat hidden beach for safety reasons is advisable only during a drier season.
IMPORTANT: there is a military checkpoint before you reach Shaat viewpoint. Make sure you carry your passport, driving license for the driver, and car registration documents. The process is quick and straightforward- you will be asked where you going and that is it-officers are friendly.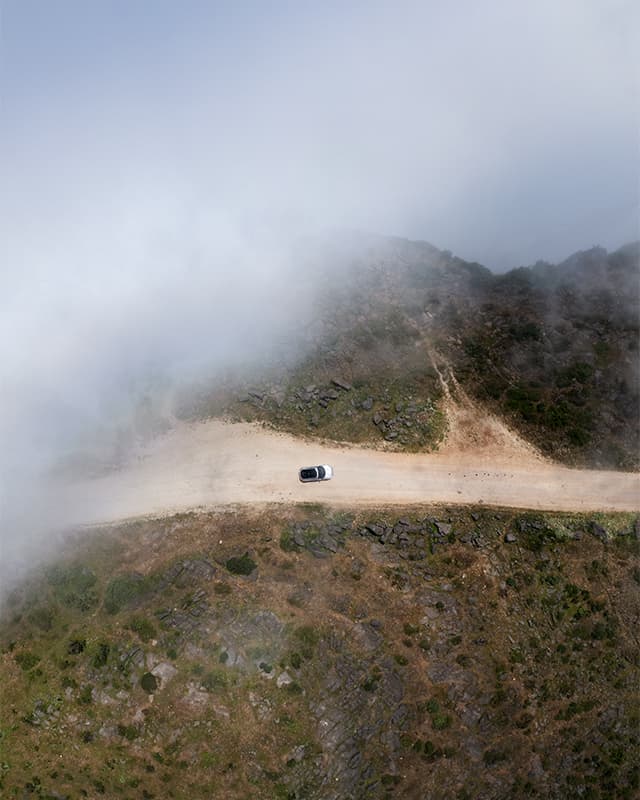 Rakhyut fishing town
A quaint Rakhyut fishing village is situated midway from Shaat to Dhalkut. The drive to Rakhyut offers some of the most scenic vistas. The village itself is mysterious featuring a large beach with high cliffs around it. Account for 45 minutes one way when descending to Rakhyut from the main road. You can stop for lunch at one of a few local restaurants and get some great coffee in a kiosk next to Rakhyut wadi. 
Dhalkut – the last town before the Yemeni border
The last sleepy village even more strange than Rakhyut town is Dhalkut. It is also the last settlement before the Yemeni border and you will pass one more military checkpoint. 
The road leading to Dhalkut is sort of trilling-windy, steep and at the same time extremely scenic. 
We found a group of camels chilling in the sea-a scene I was always dreaming to photograph, thus the long drive was definitely worth it.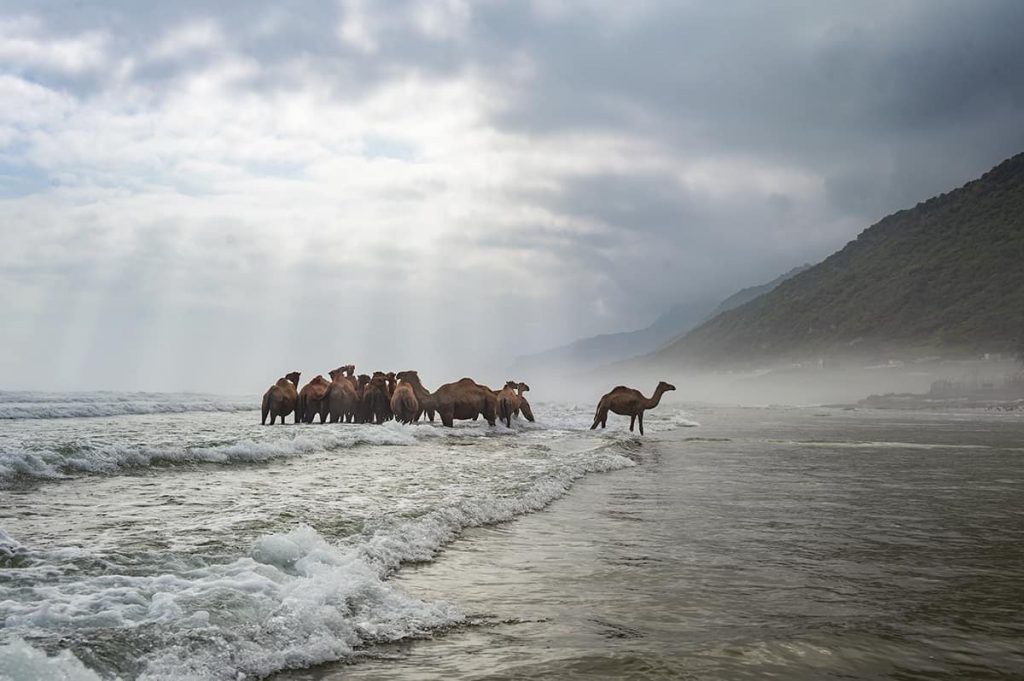 Make sure to try the yummiest pistachio latte sold in a lonely kiosk at the very end of the main street which runs along the beach.
You can also stop at the ages-old baobab tree on your way in or out of Dhalkut.
TIP: If you want to visit all the above-mentioned places as a day trip from Salalah town, you must start extremely early with the sunrise or even before, and only spend a short time in each location. Trust me I tried doing them all in one day starting late at 9 AM and had to skip Al Fazayah beach because we ran out of daylight. 
The drive to the farthest point which is Dhalkut town is 2.5 hours. Detour to Rakhyut village adds another 45 minutes one way (1.5 hrs down and back up). You would also need at least 30 minutes to go down to Al Fazayah beach (1hour round trip).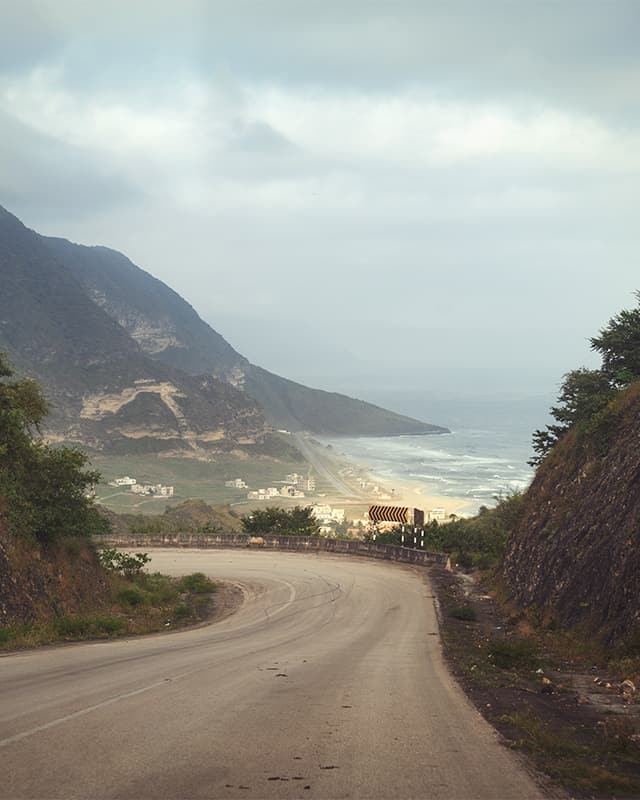 Ideally, I would recommend sparing two days for visiting the west side of Salalah. You could go to the beaches of Mughsayl and Fazayah, as well as the Shaat mountain viewpoint on one of the 2 days, drive all the way to Dhalkut, and trace back with a stop at Rakiuyt on the second day.
Or if you are planning on camping, you could start from Dhalkut and move backward towards Salalah with an overnight stop in Rakhyut, or Shaat. Camping at Fazayah beach is also a great option during the drier season. 
East of Salalah: best places to visit
None of Salalah's itinerary would be complete without visiting at least one of the wonderful waterfalls which are at full flow during the Khareef season. Some of the most beautiful waterfalls can be found on the East side of Salalah. Also, unmissable is Samhan mountain which rises above the sea of clouds, the antigravity point, and some characteristic fishing villages. 
The main attractions to visit in the East side of Salalah:
Ayn Athum waterfall;
Travertine Curtain Waterfall and Wadi Darbat;
Jebel Samhan;
Anti Gravity Point;
Mirbat fishing town;
Khori Rori (Sumhuram) archeological site.
Ayn Athum waterfall
Located in Jabel Qara, around 30 minutes drive through verdant hills east of Salalah City Ayn Athum waterfall (Ayn in Arabic means waterfall) is present during Khareef season. This gorgeous waterfall is cascading 15 meters down the rock and fills up a turquoise water basin. 
The accessibility of the Ayn Athum makes it one of the most popular waterfalls in the area. Arrive early in the morning if you want to enjoy yourself in peace. 
Travertine Curtain and Wadi Darbat waterfalls
Located in a year-round green gorge, Wadi Darbat waterfalls are the most famous in Salalah. Although undeniably beautiful but way too popular for my taste. One of the reasons is that Wadi Darbat waterfalls are easily accessible by any car. It is the most commercialized waterfalls area, where you can even find food stalls, and hire a small boat for paddling in the river. This makes it a very popular destination for families.
Note: swimming in the river is not permitted.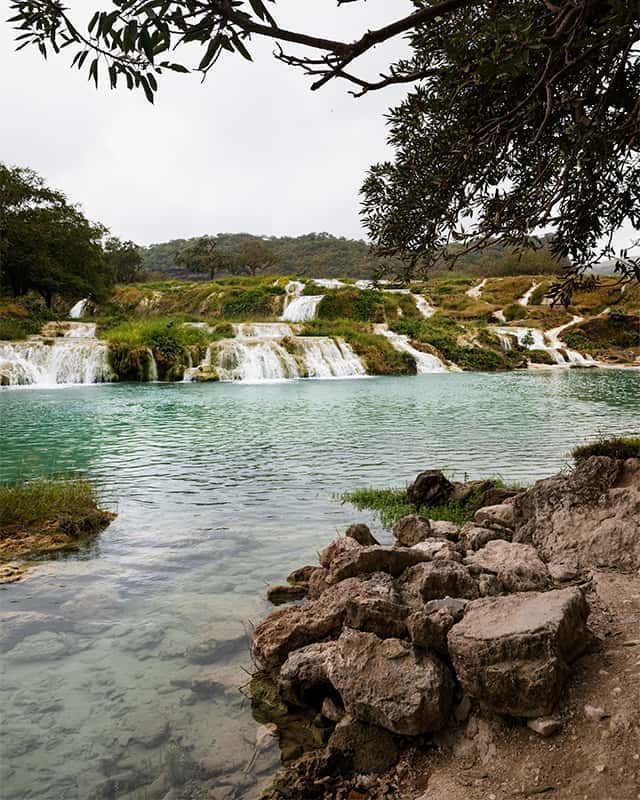 Nonetheless, the most impressive and my favorite is the Travertine Curtain waterfall or Darbat Cascading Waterfall. It is more secluded than Wadi Darbat, although can be spotted from afar when driving the main road from Salalah to Taqah.
To reach the waterfall you must hike for around 15 minutes alongside the river via a rough path, parts of which require climbing up the boulders. For this reason, only the fit visitors attempt to get there, while families choose the more popular Wadi Darbat. 
You can also access Travertine Curtain by climbing up the hill via a dirt road which you can spot before reaching the car park. The elevated views of the waterfall are also beautiful. You can then descend to the waterfall through the bushes following a dirt path.
Note that as tempting as it looks, the Travertine Curtain water basin is not suitable for swimming due to strong currents. 
Jebel Samhan viewing point
Part of Jabel Samhan Nature Reserve, Mount Samhan is a massif literally rising above the clouds. Home to the endangered Arabian Leopard, Jebel Samhan is part of the highest mountain range in the Dhofar region and also the most striking place you will visit east of Salalah. 
The viewing point of Mount Samham is accessible by 2WD. You can also stroll above the clouds following a well-laid path for around 100 meters which later continues as an unpaved narrow mountain path following the edge of the cliff.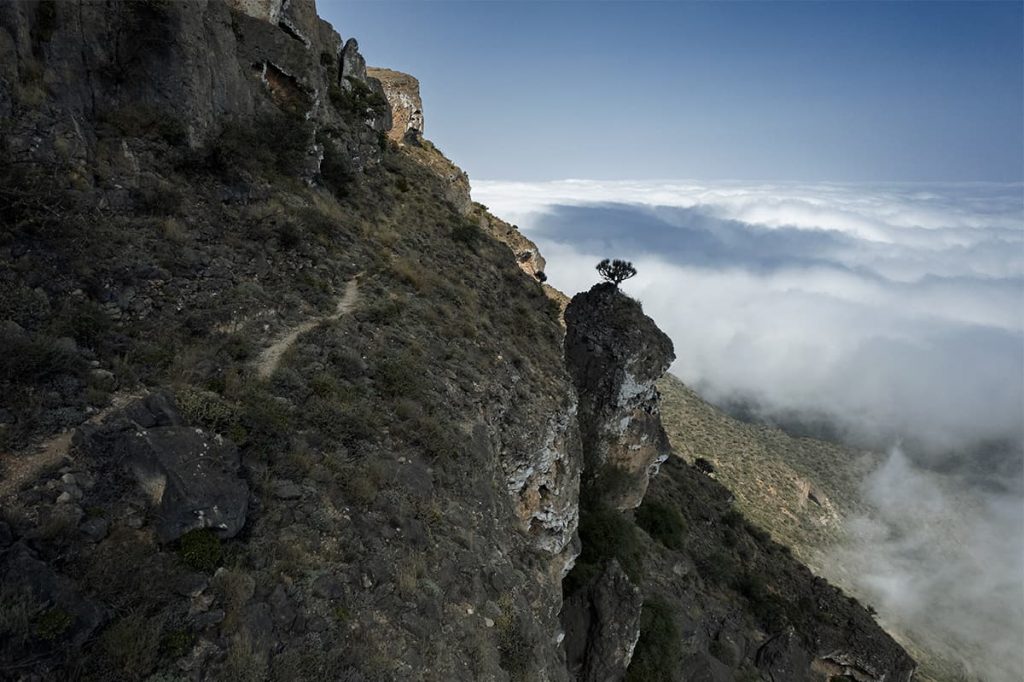 Anti-Gravity Point
Following the windy mountain road from Jebel Samhan towards Mirbat, you will come across the most mysterious place in Salalah, Oman. This is Antigravity Point or Magnetic Point. Here you can watch your car in neutral gear and see it moving uphill.  
I did not believe it until I tried it myself- indeed we set the gear to N and watch the car moving up. So, what is the science behind it, or is it really a supernatural phenomenon? Apparently, it is some sort of optical illusion. The road due to the surrounding landscape appears going uphill while in reality, it is a slight downhill. 
Mirbat fishing town
Once a prosperous frankincense port, the quiet Mirbat fishing town on the east side of Salalah is worth a visit if you love photographing local rugged places and fishermen at work. A strange town reverberating with cries of seagulls doesn't seem to see that many tourists around. Nonetheless, Mirbat offers a unique setup with worn-out houses and colorful fishing boats lining up the port. I definitely enjoyed my short evening photo journey around the area.
Mirbat is located 1-hour drive from Salalah and could be a good overnight option if you are en route back to the North of Oman via the coastal road.
Khori Rori (Sumhuram) 
A river running through Wadi Darbat makes its way to the sea at Khori Rori located near Taqah town where you will find an important archaeological site – Sumhuram. It contains ruins of an ancient city that used to be an active harbor between the 4th century BC and the 4th century AD. Historically an important frankincense trade port, Sumhuran is prescribed to the UNESCO heritage list. 
If you have more time those are the other points of interest in the area:
Ayn Tabrook Waterfalls;
Tawi Atair (Sinkhole);
Taqah Castle;
Taqah Viewpoint.
Best places to visit in Salalah city
Salalah is the second biggest city after the capital Muscat, although just a quarter of its size. Outside of less striking Salalah functional districts, the most exciting part of the city can be discovered in frankincense-infused alleyways of the old souq, palm-fringed white sand beaches reminiscing of Zanzibar and Bengali fresh fruit stalls lining up against the lush banana plantations. 
Places to visit in the city of Salalah:
Salalah City beach (Al Haffa beach);
Al Husn old Souq at Haffa;
Coconut Huts;
Al Baleed Archeological Park.
Salalah City beach (Al Haffa beach)
White sand Haffa beach lined with wind-swept tall skinny palm trees reminds more of the Caribbeans than the Middle East. 
Right at the center of Salalah City, it stretches for several kilometers east end west and offers some of the most spectacular sunsets. Locals flock to enjoy their evening at the beach. The downside is that people bring their cars as close to the sea as they possibly can. Nonetheless, it is still an interesting sight to witness in Salalah town.
For those of you keen on swimming, note that the sea is very rough during the Khareef season. However, if you come in winter and decide to have a beach day out tanning and swimming, make sure to wear shorts and a t-shirt as the beach is frequented by locals. Omani culture is conservative and it would look and feel awkward laying down on the public beach in a bikini. 
If you are aiming to suntan, the best is to stay at one of the wonderful Salalah resorts which are more tourist-oriented, or find some secluded empty beaches on the west or east side of Dhofar. 
Al Husn old Souq at Haffa Beach
A traditional Omani market just steps away from the shores of the palm-fringed beach of Salalah city is a place to wander around and shop for what Salalah has best to offer-frankincense. The Old Souq is quite small as many vendors ventured to the newer area in Haffa. Nonetheless, wandering those few alleys offers a unique cultural experience. You can even see women vendors covered in veils-something I haven't seen in any other Souqs in Oman. 
In Al Husn souq, apart from frankincense incense, you can shop for traditional Omani attire, spices, tourist souvenirs, and Arabic oud (perfume). 
Opening times: daily, might be closed from 12 PM to 4 PM.
Coconut Huts
Lush banana, mango, and papaya plantations cover a considerable area of Salalah city. Driving on Sultan Qaboos street eastwards from Al Husn old Souq, you will find many coconut huts. Those Bengali-run fruit stalls sell fresh mangoes and coconut juice, sweet bananas, and papayas. This place definitely makes you feel like you are somewhere in a jungle of Asia. Make sure to stop and grab refreshing fresh coconut juice for as little as 1 EUR (around 300 Baisas). 
You will find more of the coconut huts located around the farms and the Al Haffa area.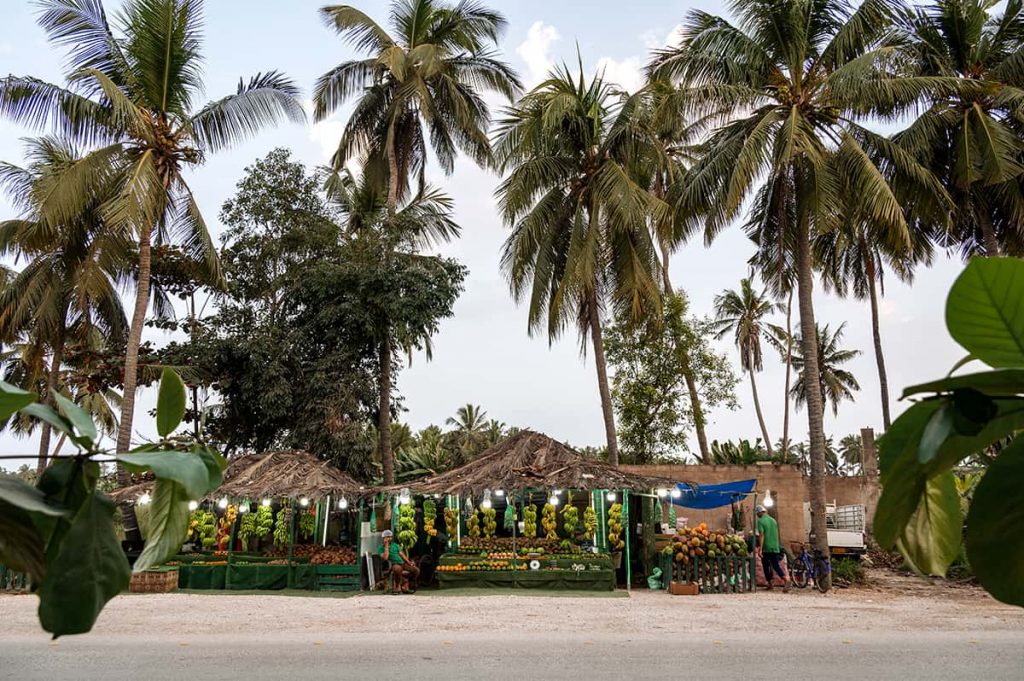 Al Baleed Archaeological Park
Another UNESCO heritage site and open-air Al Baleed Archaeological Park is what used to be Zafar-an ancient city of Salalah. It used to be an important frankincense port that flourished between the 8th and 16th centuries with the biggest trades happening between Africa, China, and India. Inside Al Baleed park you will also find the only museum in Salalah- a Land of Frankincense museum where you can grasp more information about the history of the area. 
Did you know that: Frankincense, also called desert tears, is a resin extracted from the Boswellia Sacra tree? Frankincense has been an inseparable part of Salalah's everyday life and culture since ancient times. It used to be the most valuable commodity which earned Dhofar region and Oman a fortune before the oil was discovered. Virtues attributed to frankincense are several: medicine for digestion, tooth cleanser, perfume, magical incense, and even an aphrodisiac.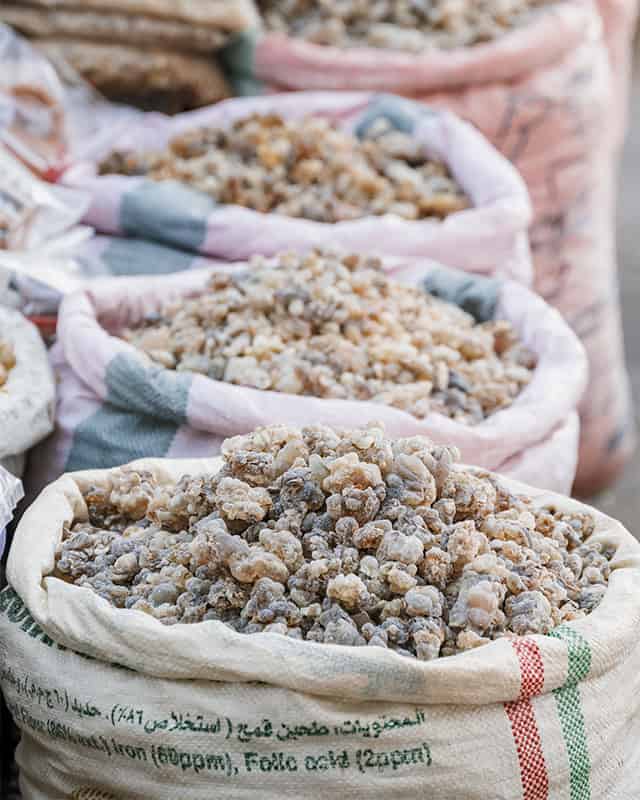 North West of Salalah City
Ayn Khor waterfall
Ayn Khor is one the most popular seasonal waterfalls located in the northwest of Salalah. It appears only during the strong monsoon season, and thus might not be present every year. To reach it, you will need a 4WD car, or you can hike through the riverbed for a couple of kilometers. Arrive early to avoid the crowds. 
Did you know that? Dhofar region in Oman has the largest camel population in the world. I have never seen so many camels gazing and freely roaming around the streets and beaches like in Salalah and around Dhofar. They are also some of the luckiest ones in the Middle East feasting on the lush green plants, unlike their brothers and sisters that live in the barren desert areas. 
North of Salalah: best places to visit
Traveling up north from Salalah will bring you back to the vast desert lands. No more greenery or Khareef here, but the desert landscape is far from flat. 
It is an Empty Quarter (Rub al Khali) – the largest sea of sand dunes in the world covering an area of no less than 650 000 square kilometers. It is shared between Oman, Yemen, Saudi Arabia, and the UAE. An important cultural attraction at the edge of the Empty Quarter is the Lost City of Ubar which you can also visit on the way to the dunes.
Dedicate a full day or, even better, an overnight stay under the stars. It takes two hours of driving to get to the Lost City of Ubar and the Empty Quarter up North of Salalah. 
Lost city of Ubar
Discovered only in 1992 at the edge of the Empty Quarter, the Lost City of Ubar used to be yet another important trade center of frankincense. Moreover, it is believed to be the Iram of the Pillars, a lost city mentioned in the Quran.
Today you can visit the unearthed ruins of the Lost City of Ubar. 
Empty Quarter
To properly explore the magnificent sand dunes of the Empty quarter you need a 4×4 vehicle and an experienced driver who is skilled to navigate the vast desert and drive over the 100 meters tall shifting dunes. If you do not know how to drive in the desert you can drive to the edge of the Empty Quarter to catch a glimpse of it.
However, the best way to experience the Rub Al Khali desert is to actually drive into the dunes. I have not visited the Empty Quarter in Dhofar because I have been to the one in Liwa, in the UAE.
Nonetheless, if you have never visited a desert with massive sand waves before, don't miss the opportunity to join a safari tour. Overnight camping will take your experience to another level. You will be able to see the desert at its best during the sunset and sunset hours. 
Click to check overnight Salalah desert tours on Viator: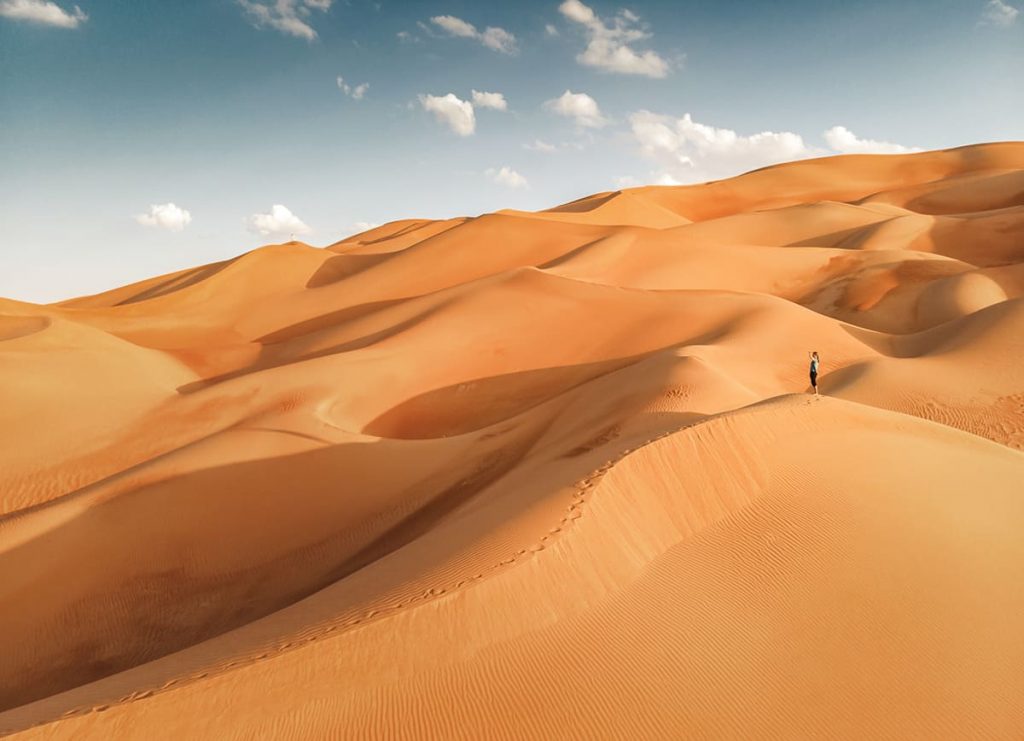 Places to visit in Greater Dhofar Region
Driving east from the fishing village of Mirbat you will be blessed with some of the most unspoiled landscapes in the area. Empty wild white sand beaches are lining the coast and are easily accessible from the main road. While on the other side of the road you have towering rugged mountains.
Note that there are no big towns or villages after you leave Mirbat. Thus, if you need to stop for a night, your only option will be camping as the next nearest town with accommodation will be Duqm (6-7hours away from Salalah). 
Hasik beach (made up name) 
We camped on this beautiful beach where the white sands meet the mountain. I called Hasik beach as the nearest town driving eastwards is a tiny Hasik village. 
Wadi Suneik (or Suniq)
A lush green oasis nestled between barren rocks and the river stream flowing into the sea-Wadi Suneik is a little miracle in the middle of the dry terrain. 
You can access Wadi Suneik from the main road. If you are traveling during cooler months, you can even choose to camp there. Otherwise continuing up north, the steep windy road will take you above the expansive canyon with several viewpoints worth stopping at. 
Note that this 150 kilometers stretch from Mirbat to Wadi Suneik is the most picturesque on the coastal road. The section from Wadi Suniq to Sur is nice but not as impressive. Thus, only if you have plenty of time, should you take this road. Otherwise, you can drive the coastal road until wadi Suniq and then come back to Salalah making it a long day trip. 
READ MORE: Dubai to Salalah road trip planner.
Best places to stay in Salalah and South Dhofar
Most of the accommodation options are clustered in Salalah City and that is where visitors usually choose to stay. Taqah has a few accommodation options, mostly self-contained apartments, while Mirbat town has plenty of choices to rent villas and apartments, which are perfect for bigger groups.
Alternatively, you have plenty of ground to camp. You can choose to pitch a tent above the clouds in the mountains, or at the beach. Wild camping in Oman is allowed and very common. Please refer to the map where I pointed out good options recommended by other travelers. 
2-bedroom apartment– simple but a new apartment in Taqa town can host up to 6 people. Price range: $
1-bedroom apartment– Very basic but spacious self-contained apartment is suitable for a group of 4. Price range: $$
Lovely Beach Apartment– located on Taqa beach, close to Taqa viewpoint, and as the name suggests this self-contained apartment (up to 3 people) offers a balcony with great sea views. $$
3-bedroom villa– massive villa in Mirbat town can host up to 6 people. Price range: $
2-bedroom chalet– this apartment is suitable for 6 people, is a few kilometers outside Mirbat town, and offers a private pool. Price range: $$
Alila Hinu Bay Resort Mirbat– this gorgeous resort a few kilometers east of Mirbat offers a 5-star experience and getaway. Modern rooms with terraces and private pools, a huge common pool area, a restaurant, and a wild beach close by. Price range: $$$.
Salalah and Greater Dhofar Map
How to use the map: Click on the map image above to open my maps in a new window and locate all the places mentioned in this Salalah travel guide. Click the tab in the top left-hand corner to open the layers (points of interest, accommodation, driving routes, etc.). You can save this map on your Google Maps account by clicking on the small star icon next to the name of the map. To open the saved map on your phone or laptop, open Google Maps, then click the menu button, go to "Your Places", and click maps where you will see this map saved on your list.
I hope you are enjoying my free travel guides & tips. If yes, please consider supporting my work by buying me a coffee so I can continue creating more useful content from my favorite coffee shop in town. Thanks!
Oman travel essentials
More blog posts about Oman