This is a quick guide to visiting Kastoria, Greece. Find out all the best things to do in Kastoria, an off-the-beaten-path Ottoman town in Northern Greece which definitely deserves more visitors than it currently receives. 
Kastoria is not a name you will find on regular must-visit places in Greece list. If not for my Greek friend who mentioned Kastoria as one of the places to take a look at when planning my Greece road trip, I would have never visited this magical and so underrated lake city. 
Nestled between lake Orestiada and Grammos and Vitsi mountains, Kastoria is a picturesque historic town. In fact, it was only one dreamy impressionistic image of its cascading houses reflecting onto the lake that convinced me to venture almost 600 kilometers north of Athens.
Impressive aristocrat lakeside mansions hidden under the shades of giant oak trees, dozens of byzantine churches, the inviting scents of myrrh and frankincense, tranquillity of the lake Orestiada, serene forest trails, millions of years old cave wrapped in legends and ages long history with pronounced dominance of Ottoman empire- there are so many striking things to be discovered on this beautiful narrow peninsula of Kastoria. 
If you are road-tripping around northern Greece and would love to see the unique side of the country not overwhelmed with the mass tourism of Santorini or Mykonos, Kastoria should spark your curiosity. 
Read my guide to Kastoria to know more about this wonderful hidden gem in Greece, and why you should visit it. 
Disclaimer: This post contains affiliate links, which means that I may earn a commission if you make a purchase by clicking a link (at no extra cost to you). This helps to keep my blog running and growing by creating more awesome free content for you.
Visit Kastoria: A travel guide to the most beautiful lake town in Greece
About Kastoria and its furrier past
Kastoria's roots date back to the 9th century. Over the centuries, the town attracted a multitude of people from the Balkans and other neighboring places. This resulted in a multicultural community eventually settling down in Kastoria. Turks, Albanians, Jews, and Greeks were living in the same town shaping its identity.
The past times of Kastoria's glory account for the once-flourishing fur industry. Known worldwide since the Byzantine era, with the highest-ever peak in the 1970s, today's fur garment business in Kastoria is virtually dead. Once you visit Kastoria, you can tell it has seen better days. Faded posters of promiscuous women in fur coats are still hanging on the peeling walls of closed-down shops. Well sorry, not sorry, it is a cruel business that never deserved to last. 
Did you know? Kastoria means "beaver:" in Greek. The animal was hunted down for the sake of, oh well, the same bloody fur business which made Kastoria so rich that in the 1970s it even had the highest per capita income not only in Greece but also in the world. The decline began in the 1980s following the global economic crisis and loss of competition for cheaper Chinese supplies. Gladly, the anti-fur movement also took part in the reduced demand for fur. Today the few remaining loyal customers who still make purchases from a few still-standing shops are Russians, mainly of the older generation.
Today, abandoned Ottoman mansions and dozens of small byzantine churches squeezed between modern buildings are the remaining testimony to Kastoria's rich history. 
As part of the former Ottoman empire, historic Kastoria was built following the same architectural style as seen in Berat, Albania. White-washed stone houses with dozens of windows are beautiful and unique to this particular region in Northern Greece.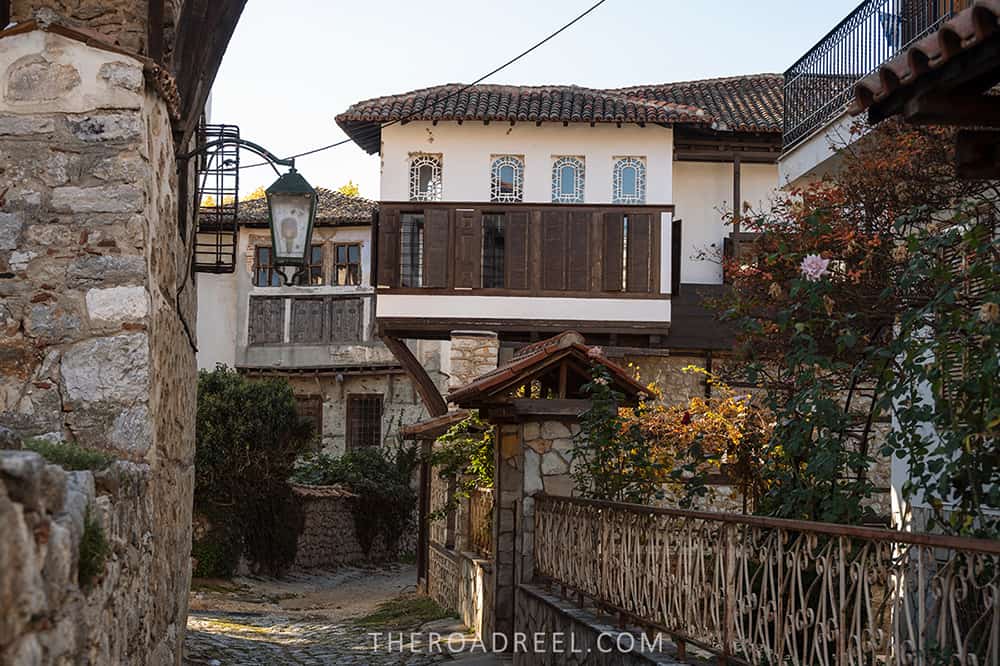 Only a few of the mansions are taken care of. Meanwhile, the future of the crumbling ones is not clear. Historians do take interest in Kastoria, but some serious funding is needed to preserve the architectural heritage. 
Wonderful things to do in Kastoria
Although small in size, Kastoria can keep you busy for a couple of days. You can get active simply by walking around Kastoria lake and the peninsula, going hiking and cycling, or even taking up some water sports. Last but not least, simply enjoy life at a slow pace in this laid-back underrated city.  
Stroll along the Kastoria lake promenade and follow the peninsula trail
The life of Kastoria revolves around the tranquil lakeside and its promenade. 
Elderly people, couples, fitness enthusiasts, and young teens are moving at their own pace alongside the lake. Meanwhile, fishermen in their flat-bottomed boats are patiently waiting for the daily catch.
There are two waterfront sides of Kastoria – northern (quieter) and southern (livelier, lined with coffee shops and bars). You should visit them both, to get a different vibe of the town.
Moreover, lined with magnificent oak and birch trees, the 14 kilometers path circumvents the perimeter of Kastoria town and the peninsula surrounded by the glassy waters of Orestiada lake. 
The picturesque trail is beloved by locals, both young and old, for slow strolls and cycling. Cars can also follow the same paved road around the peninsula.
The best way to experience the serenity of Kastoria is going for a long walk or cycling around while soaking up the crystal fresh air. Start your walk from the lively southern side promenade, continuing into the woodlands. Dedicate a few hours if you want to walk a full loop from the southern side to the northern side of Kastoria. The path is flat and easy to follow, thus suitable for people of any fitness level.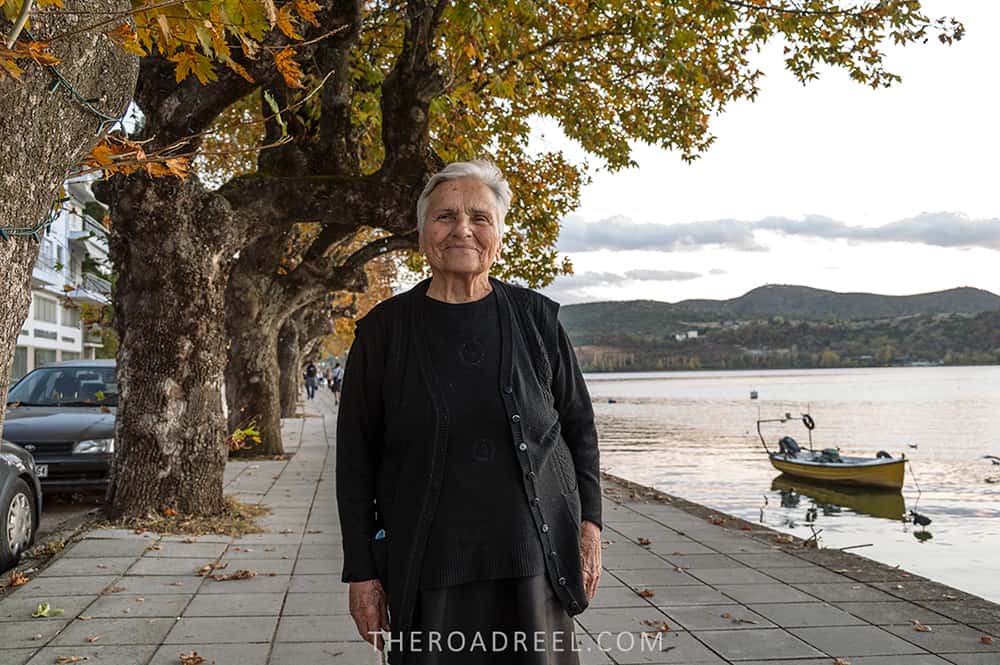 Lake Orestiada and the reflecting views of Kastoria
Declared a monument of beauty by the Ministry of Culture in Greece, Orestiada is considered one of the most beautiful lakes in the country. I cannot agree less, it is indeed a miraculous body of water. A photographic heaven, with mirrored reflections of Kastoria town and trees, the lake's beauty is simply seductive.
You can admire and photograph reflections of Kastoria either by stopping on the side of the main road before entering the town, or finding some beautiful openings when walking around the peninsula. 
As the air temperatures drop to biting – 15 degrees Celsius, Orestiada lake freezes in winter. It is generally not a common occurrence in a southern Europe country. 
The flora and fauna of the lake are particularly rich with over 150 species of birds. Some of them stop seasonally when migrating, while others are permanently based in Kastoria.
You will find silver pelicans, herons, and swans. Dozens of ducks roam around the shores of Orestiada lake or even chill on the grassy areas of the town. Ducks are used to people. Thus, I could get pretty close to them. The ducks didn't seem bothered at all and continued with their afternoon nap under the mild autumn sun.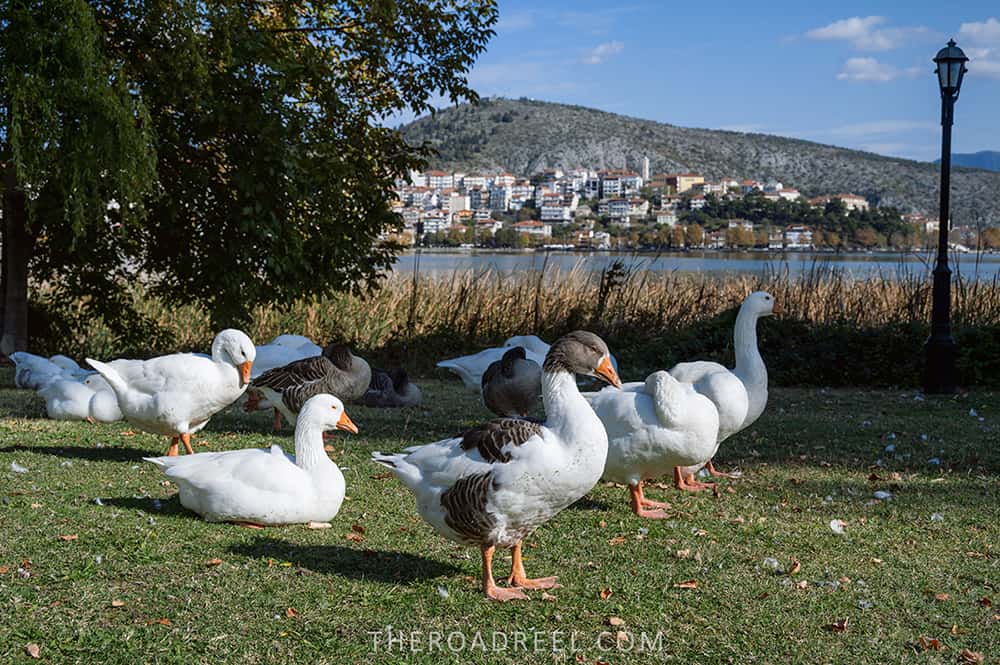 For a different experience of lake Orestiada, rent a boat and cruise around the lake. Rowing, water skiing, and sailing are also possible active pastimes in Kastoria. 
Lose yourself in Dolso and Apozari, the old town quarters of Kastoria
Dating back to the 18th-19th century, the Dolso and Apozari are the two remaining old traditional quarters of Kastoria.
Characterized by Ottoman-style fortified stone mansions with vernacular features (similar to the ones seen in Berat and Gjirokaster, Albania), the quaint neighborhoods of Dolso and Apozari are proof of the town's prosperous past during its furriest days.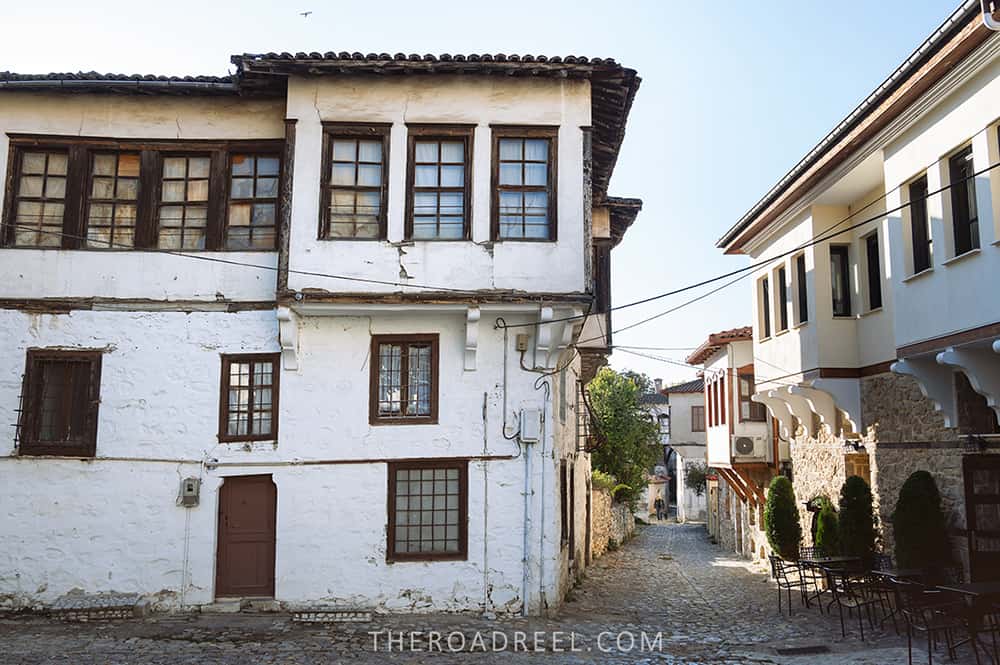 Hidden away from the main road, the old town invites you to get lost and explore its narrow streets and historic buildings scattered in between new apartment blocks. You will notice that some of the large mansions are nicely preserved, a few turned into boutique hotels, and a couple of them is now turned into museums.
You might want to pay a visit to the Folklore Museum of Kastoria. It is very well maintained and features traditional rooms with ornate décor, as well as garments and utensils used back in the day. The Folklore Museum is one of the best places to see in Kastoria if you want to take a glimpse of what the lives of the upper classes looked like back in the 18th-19th century.
Sadly, you will also notice that there are so many abandoned Ottoman houses begging to be taken care of. Hopes are there since the historic quarters of Kastoria were added to the 7 Most Endangered Programme in Europe.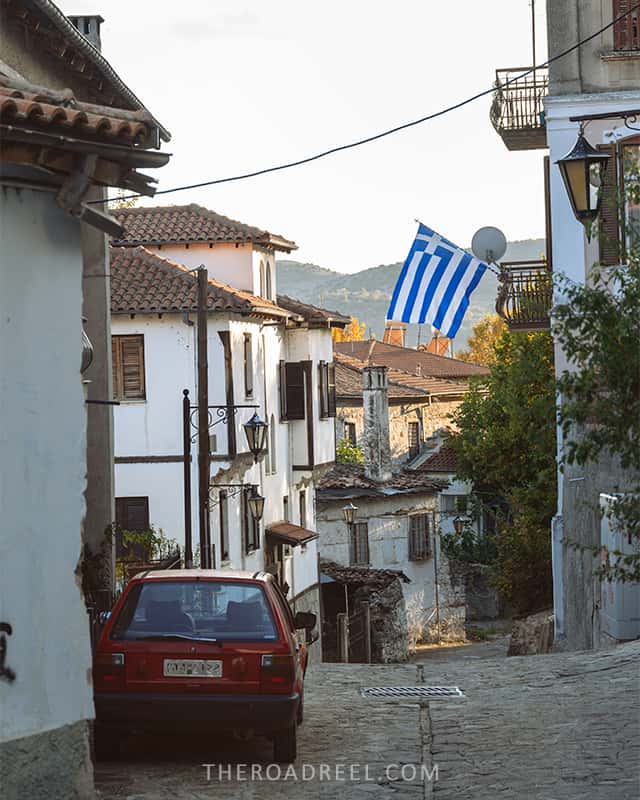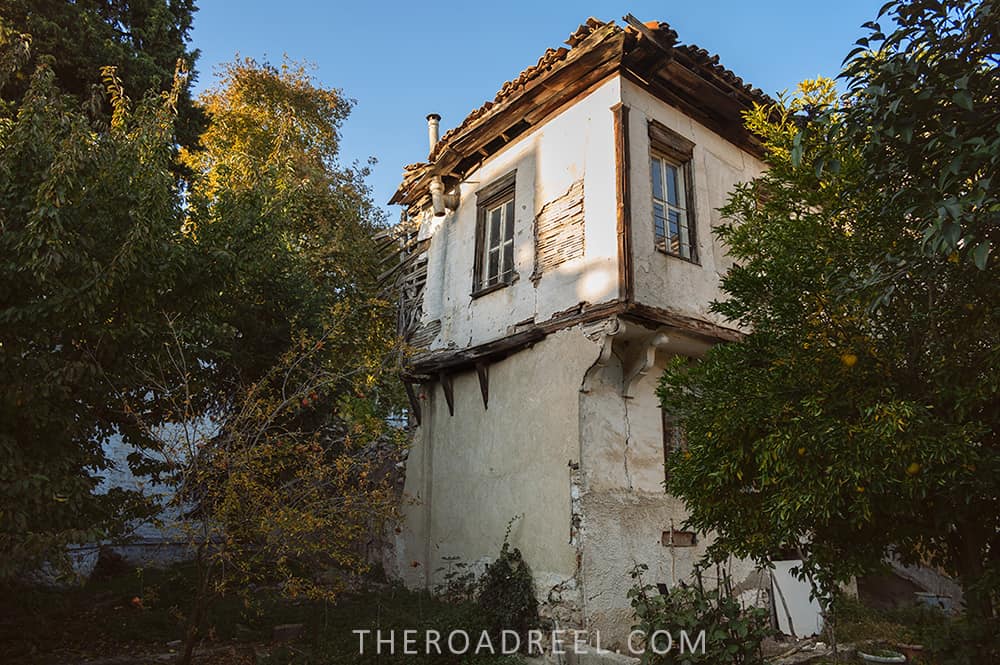 It is hard not to notice that those historic houses are kind of overshadowed by new modern buildings. It is a shame (although some may find it weirdly interesting). I wish ancient Kastoria was better preserved and followed the same architectural style and didn't mix beautiful old buildings with not-so-interesting new ones.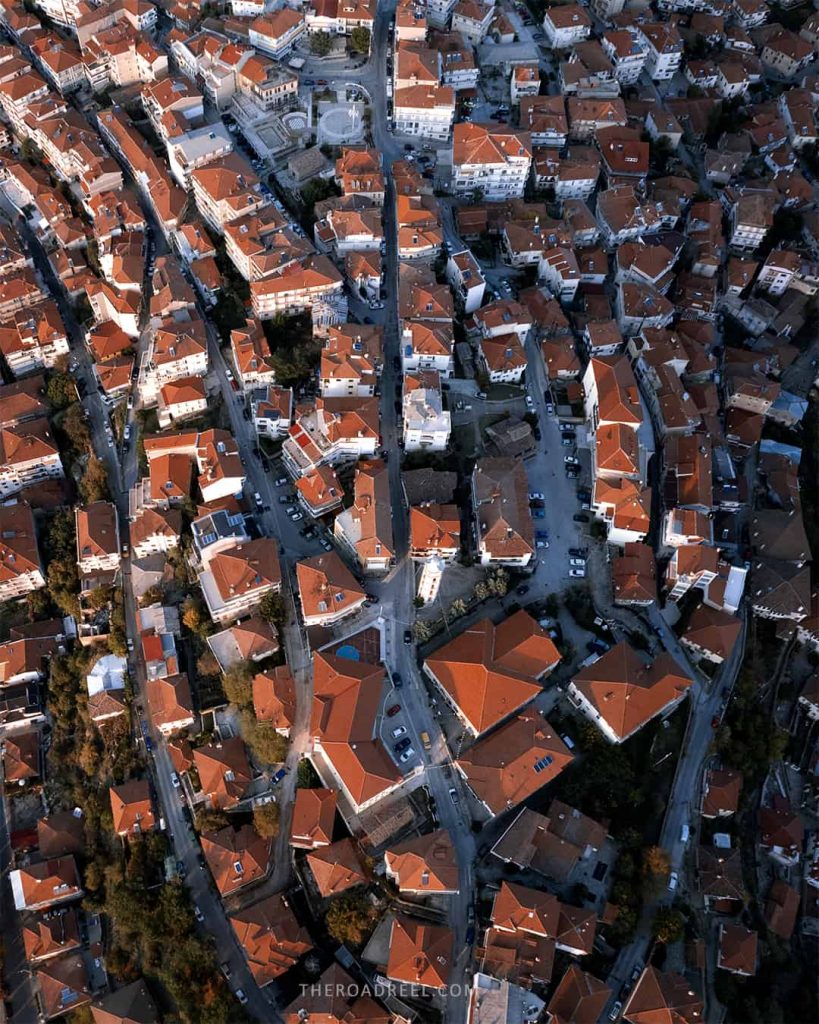 Count down the dozens of petite Byzantine churches
You will stumble upon many small Byzantine and post-Byzantine houses of worship hiding in between modern apartment buildings. There is an impressive number of 60 to 70 churches scattered across Kastoria (the town is home to less than 30000 residents).
Unlike the Ottoman mansions, the exteriors of the tiny monasteries survived the time test quite well.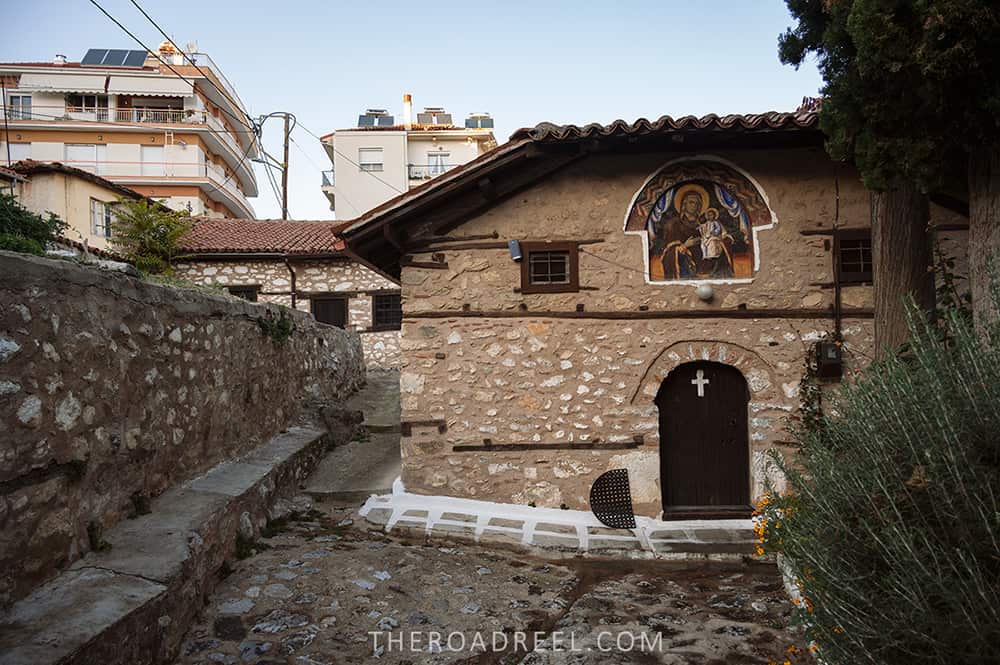 Churches usually belong to families and have some rare frescoes inside. Nonetheless, those need urgent attention as time plays its part and those artworks are fading away. Take a peek inside one or two of the petite monasteries (many of them are open).  
You will notice an inviting scent used in Orthodox churches to give a magic touch to the overall mysterious holy atmosphere. Also, notice that the eyes and even faces of Saints have been scratched out of the frescoes. This sadly was a religious vandalism act that took act during Ottoman times.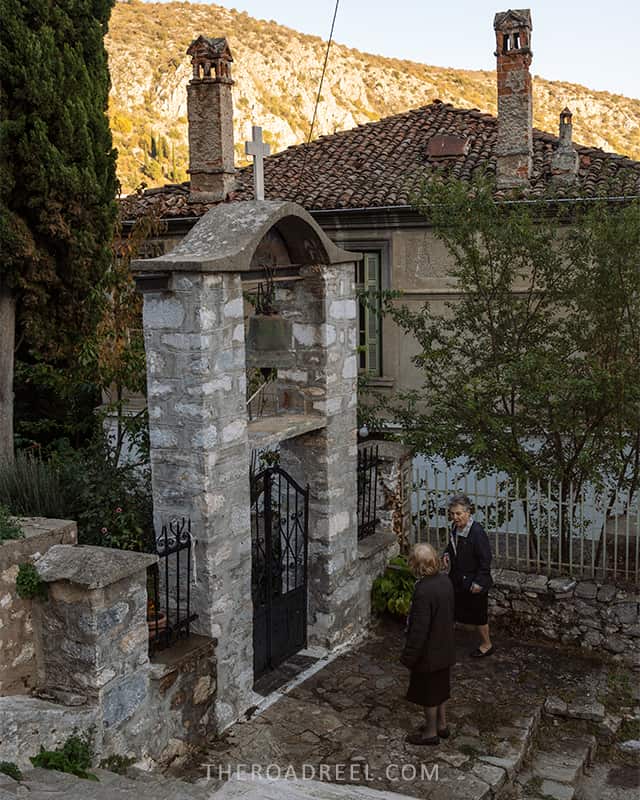 Don not miss Panagia Mavriotissa Monastery
One of the oldest and most beautiful monasteries in the area is the Holy Monastery of the Virgin Mary Mavriotissa (Panagia Mavriotissa). Dating back to the 11th century it is also one of the oldest in the Western Macedonia region of Greece. 
The most beautiful and awe-inspiring part is the frescoes on the façade of the church. Like the others seen across many churches in town, these frescoes are fading. Nonetheless, those textures resulting from the crumbling paint give the monastery even more character.
Panagia Mavriotissa Monastery is remotely located on the Eastern shores of the peninsula and is well worth the walk from the town center following the same walking path mentioned before (you can also drive to it or cycle around the peninsula).
Visit underground lakes hidden inside Dragon Lair's cave
Just a couple of minutes drive from Panagia Mavriotissa Monastery, in the woodlands of the eastern side of Kastoria, you will find Dragon Lair's cave complex featuring 7 underground lakes with an impressive wealth of stalactites and stalagmites. Those are true artwork of nature that takes millions of years to create.
Accidentally discovered in 1940, 6 million years old caves were opened to the public only in 2019. The cave was called Dragon Lair due to the legend about a fire-breathing Dragon that used to protect hidden treasures until a young brave man killed the beast.
Today visitors can explore this unique natural formation through 300 meters route that will take them through 7 lakes, 10 chambers, and 5 passageways.
Did you know that touching the icicle of the stalactite or stalagmite prevents it from growing? Thus, be mindful and don't go around stroking it.
Opening hours: April-October 10:00 -18:00, November-March 09:00-17:00
Ticket price: 6 EUR.
The time needed to visit: 20-30 minutes.
Go for a night out to experience the coffee shop and bar scene of Kastoria
For the non-touristy off-the-beaten-path town, Kastoria is a lively place. It starts buzzing towards the evening when all the coffee shops and bars lining the southern bank of the lake promenade fill up with people and loud music silences the cries of swans and ducks. 
Sunset is a great time to go for people-watching, grabbing a drink at one of the waterfront bars, and enjoying the sparkling view of the town's lights reflecting into Orestiada's waters.
The main action is happening around Meg. Alexandrou street on the southern promenade of Kastoria, where you will find many waterfront bars with cozy seating areas to have a drink at.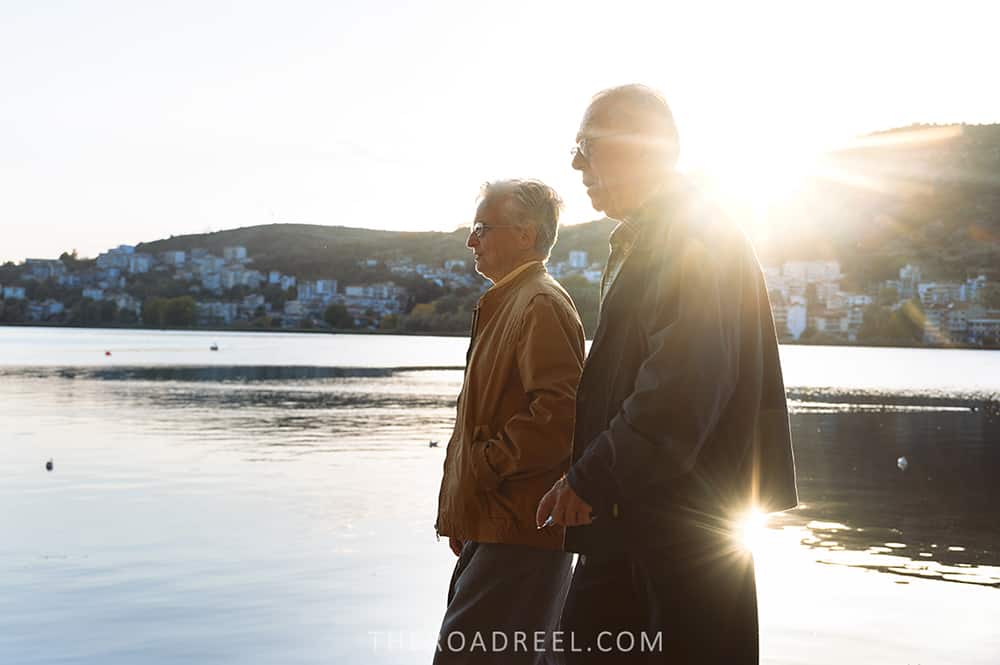 Go hiking above Kastoria lake
Kastoria is surrounded by mountains. Thus, there are quite a few great trails to be tackled. One of the nicest ones runs above the town with lake views. Check this moderately challenging 9-kilometer-old town of Kastoria and the hill loop. The trail should take 2-3 hours to complete, depending on your pace, and is also suitable for running and biking.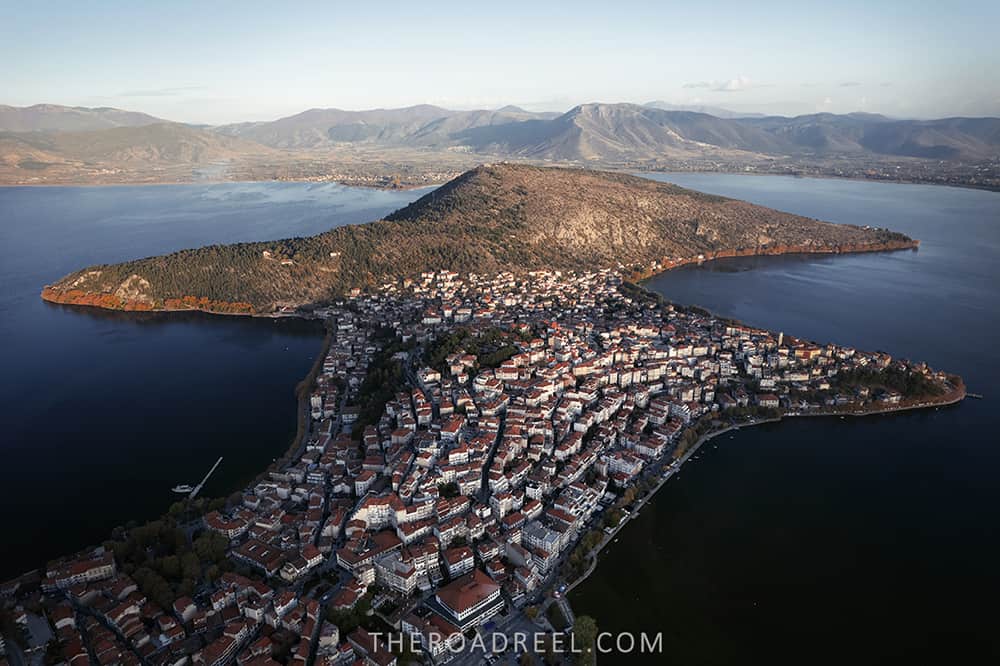 Take a glimpse at Neolithic times at Dispilo settlement
Around 8 kilometers from Kastoria city center, a Neolithic settlement of Dispilo on the shores of lake Nisi was discovered in 1932. Only the remains were found based on which the settlement was rebuilt to reflect how homes 7000 years ago used to look.
In particular, the houses are rectangular and circular shape clay huts. You can also find replicas of the utensils used back in the day. If you have time, definitely stop by this interesting historical location surrounded by nature. You only need around half an hour to explore as the area is not big.
Go skiing in Kastoria
Surrounded by mountains Grammos and Vitsi, Kastoria gets freezing cold in winter and the heavy snowfall makes it a great place for skiing. Thus, if you are visiting in winter, this is your chance to go skiing in Greece.
A small ski center Vitsiou is located around 25 kilometers from Kastoria. The skiing season starts in December/January and lasts until March, depending on the amount of snowfall. Unsurprisingly, many locals come to enjoy short-lived seasonal winter activities in Greece.
Visit nearby mountain villages and a bear sanctuary
If you are staying in Kastoria for more than a night take advantage of exploring some more off-the-beaten-path villages nestled in the surrounding mountains. One of the most interesting and prettiest is the traditional stone village of Nymfeo on Mount Vitsi. It was brought back to life back in 1995 with the help of the EU and now visitors can stay in traditional guesthouses and enjoy northern Greek cuisine at the local restaurants.
The other nearby place is Arcturos brown bear sanctuary. It is an NGO (non-profit, non-governmental environmental organization) focusing on preserving the wildlife fauna, in particular brown bears which are very common in Northern Greece (hence the warning signs along the road towards Kastoria).
Eat in local tavernas
Last but not least is traditional Greek food! In Kastoria, you will find a few fantastic tavernas where you can savor local specialties. Here are a few top picks:
Old Town (Palia Poli). We had lunch at this homey restaurant with an expansive outdoor terrace overlooking lake Orestiada and the oak trees. The restaurant serves a variety of local dishes, both vegetarian and non-vegetarian. Ask the waiter for the best seasonal dish, they will recommend something that is great that day. I had courgette skin stuffed with rice, sounds pretty exotic, doesn't it?
En Kairo. This restaurant has tables set up at the banks of Orestiada lake. They serve a mix of Greek and Mediterranean cuisine very well-reviewed by other travelers.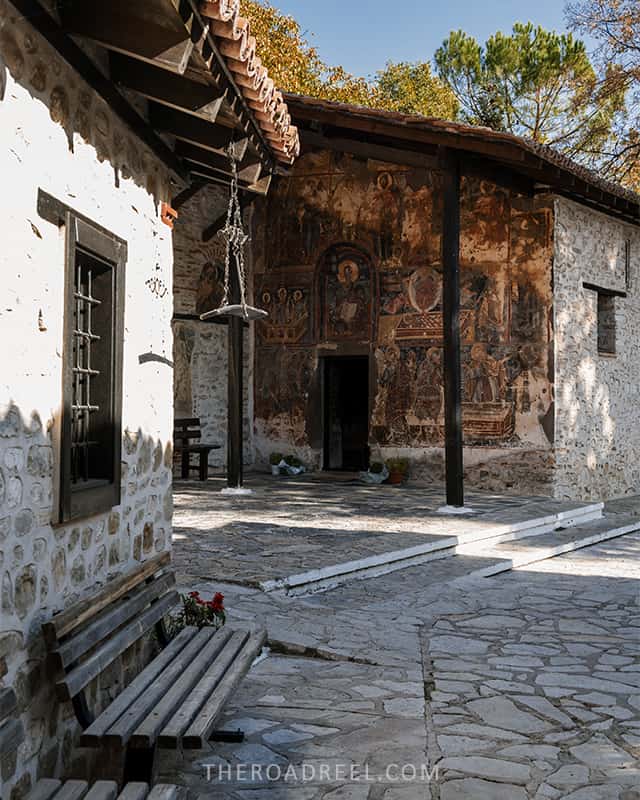 Places to stay in Kastoria
Places to stay in Kastoria are limited. Nonetheless, there are a few great options. I recommend booking a stay in one of the traditional Ottoman mansions in the old town for a truly unique experience. Alternatively, if you drive, there are some fantastic spa retreats and guest houses at a higher elevation with Kastroria views a little bit outside the city center.
Here are my best accommodations picks in Kastoria, Greece
Orologopoulos Mansion Luxury Hotel $$ Built with respect to traditional architecture, this is a popular hotel in the old town of Kastoria. Rooms are beautifully decorated, and each has an individual style, fitted with beamed and wooden ceilings, fabulous Greek buffet breakfast is also included, and so is free parking.
Hotel Doltso $$ Traditionally built of stone and wood this hotel is located in the old quarters of Kastoria, is elegantly furnished with fitted wood flooring (heated in winter), has its own rustic café, exceptional breakfast and free parking on site included in the price.
Limneon Resort and Spa $$ This reasonably priced 5-star resort is still located in town but a bit higher up and extends to the beautiful views over lake Orestiada and the peninsula. It also has a beautiful outdoor pool and all the spa treatments you may want for a relaxing stay. Superb breakfast is also included.
Guesthouse Vissinokipos $ Located in Aposkepos Village, 4 km from Kastoria and overlooking Lake Orestiada, this guesthouse features a modernly decorated bar and a lounge area fitted with artwork, fireplace, and library. It is set amidst lush gardens and provides free Wi-Fi access throughout. Rooms include balconies with views over the mountain, the garden, and the lake. A traditional breakfast, including homemade flavors and prepared with local ingredients, is served daily at the dining area.
Is Kastoria worth visiting?
Kastoria is not a classic Greek town of white-washed island houses. Yet, it still feels like an island town as it is situated on a narrow peninsula jutting into lake Orestiada, but without the excessive tourist crowds.
Kastoria is as the off-the-beaten-path destination in Greece as it can get. It is pretty but it is also forgotten and rundown. I would even say Kastoria has a sad atmosphere (apart from the lively bars and restaurants section on Kastoria's southern promenade).
If you are traveling towards north Greece, or landing in Thessaloniki and then heading south, pay a visit for a night in Kastoria. You will see a different face of Greece many tourists don't get to experience.
We went out of our way from Meteora to Kastoria (around 2 hours drive) without knowing what to expect. But I am really glad we did it as it expanded my knowledge about Greece. The Hellenic country is not only about pretty islands but also about mountains and a different lifestyle than you see in the south.
How to get to Kastoria
Kastoria is located 560 kilometers north of Athens, and almost 200 kilometers west of Thessaloniki.
You can get to Kastoria either by driving a rental car or taking a public bus. There are no trains to Kastoria.
Getting to Kastoria by bus
KTEL serves buses to Kastroia from Athens or Thessaloniki. Routes, schedules, and the latest ticket prices are on this website (in Greek only, thus might have to use Google Translate).
At the time of writing, there is a once-a-day bus from Athens to Kastoria departing at 9:30 AM, and Kastoria to Athens departing once a day at 07:17 AM. From Thessaloniki to Kastoria and back there are 5 daily connections with departure times between 6:00 and 18:30.
You have to purchase the tickets from the bus ticket office at the station.
Getting to Kastoria by car
The most convenient way to get to Kastoria is by car. Not only you will have the flexibility to arrive at your own schedule but also to visit other places around Kastoria (mountain villages for example), and also choose accommodation which is not in the town center.
 If you are planning a road trip in Greece, I recommend checking Discovercars for booking a rental car at the best rates.
Make sure to also read my guide to renting a car and driving in Greece.
Best time to visit Kastoria
Kastoria is not a touristy destination, thus you can visit any time of the year and feel like you are the only foreign visitor in a very local Greek town.
Kastoria goes through all four seasons every year. That being said, it can be particularly interesting to visit in autumn (I visited end of October) for beautiful autumn foliage, or in winter when you can see lake Orestiada completely covered in ice and mountains under the blanket of snow.
Kastoria Greece Map
Click here to open and save my Kastoria map which shows the exact locations of the points of interest mentioned in this Kastoria guide.
I hope you enjoyed reading this Kastoria travel guide and got inspired to visit it during your Greece road trip.
Greece travel essentials & useful links
Here are links to essential travel resources and services I always use when organizing my trips.
More articles on my Greece travel blog