Discover the best things to do in Tropea, Italy, including how to get there, where to stay, the best time to visit, where to eat, and where to park (for free) (if you are road-tripping in South Italy) as well as the best day trips from Tropea. Plan your visit to Tropea with my Tropea travel tips.
Titled The Pearl of Calabria, Tropea mesmerizes with its pastel shade historic buildings clinging above the steep monolith of rock that rises high above the glorious white sand beach bathed by impossibly turquoise waters of the Tyrrhenian Sea. This suggestive view can be easily mistaken for an AI-generated scene.
And yet Tropea is a very much real incredibly beautiful seaside town situated on the gorgeous Costa degli Dei (the Coast of the Gods) in the south of Italy, Calabria region, province of Vibo Viterba.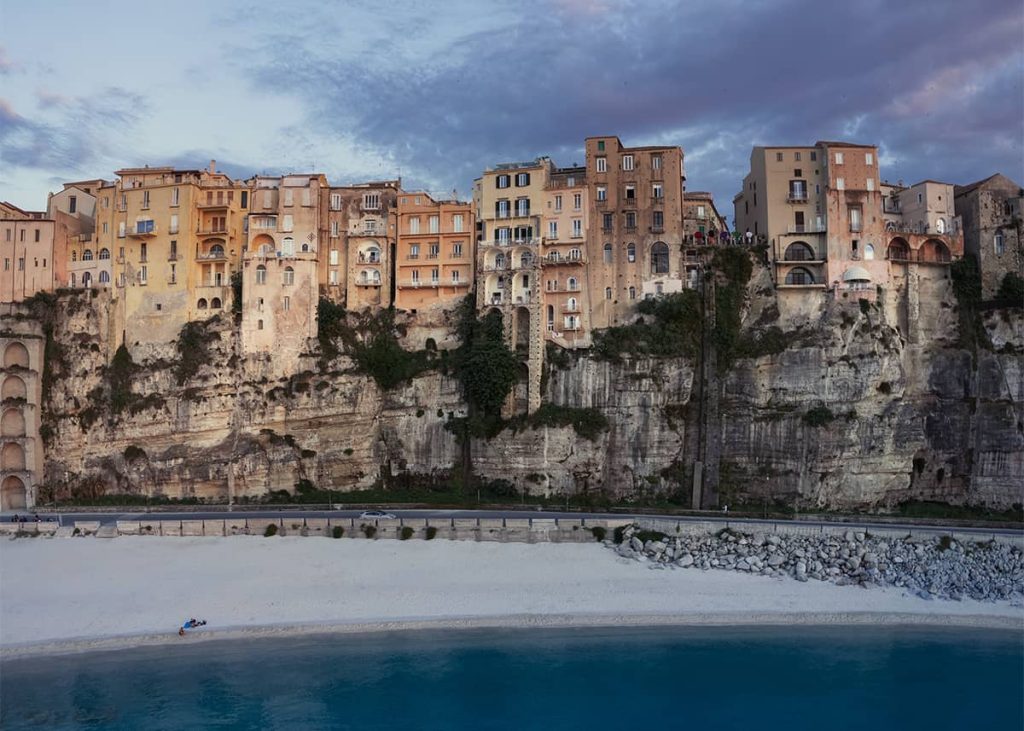 I visited Tropea during my 3-week South Italy to Sicily road trip. I have to confess, this coastal town in Calabria, South Italy ended up being one of the most memorable places and, despite my highest expectations directed towards the Sicilian coast, Tropea surprised me with the unmatched beauty of its beaches. I am even inclined to say, it was one of the best beaches I have ever been to in the whole of Italy.
If you are planning on traveling in the Calabria region, or are en route to Sicily by land, Tropea is a natural addition to the itinerary and a perfect base to explore the surroundings for a few relaxed days, sunbathe at Tropea beach, lose the sense of time at wild coves in nearby Capo Vaticano, venture to other dreamy seaside towns like Pizzo or Scilla. You can even expand your explorations and sail to Aeolian islands for a day. 
Use this travel guide to Tropea, Italy to plan your visit to the Pearl of Calabria on the Costa degli Dei. 
Disclaimer: This post contains affiliate links, which means that I may earn a commission if you make a purchase by clicking a link (at no extra cost to you). This helps to keep my blog running and growing by creating more awesome free content for you.
A Travel Guide to Tropea – the Pearl of the Tyrrhenian in Calabria, Italy
Quick links to plan your trip to Tropea, Italy
Book a car for Italy road trip
Best places to stay in Tropea
Top-rated Tropea tours
Is Tropea worth visiting and why
Tropea is a must-visit when exploring the Calabria region in the South of Italy. Laid back pocket-sized old town of Tropea with its many restaurants and atmospheric hotels is situated just steps away from the gorgeous clean beach making the Pearl of Calabria a perfect Italian seaside town to visit, especially during the swim season. Drive a few miles southeast or west north of Tropea and you will find wild coves where you can escape civilization.
Tropea is one of the most unique Italian towns I have ever visited. Although well known by locals as an ultimate summer destination, the gorgeous Tropea remains less traveled by international visitors.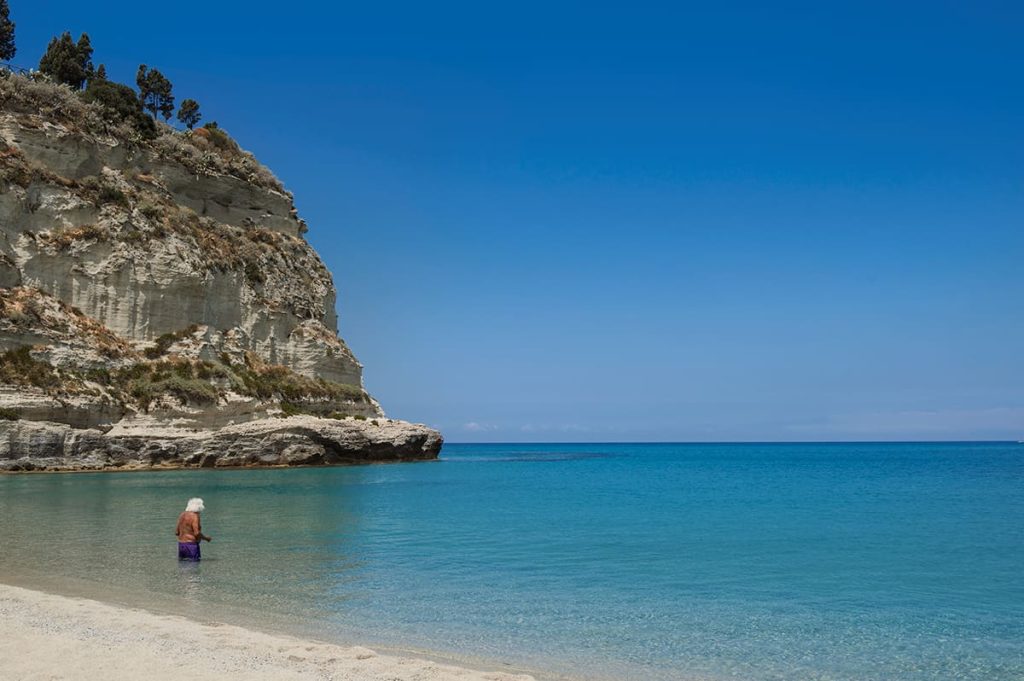 Tropea's comparatively remote position on the very south of Italy's boot means that many travelers won't make that far and choose more famous seaside destinations such as Amalfi Coast or Cinque Terre instead, or even Polignano a Mare in Puglia region (which only recently became desired not only by locals but also foreigners).
Although Tropea is not completely off the foreign tourists' radar, the lack of international craze means that services are catered more towards locals. Hence, the prices of restaurants and accommodation in Tropea are significantly lower than in many other popular seaside towns in Italy. Yet the beauty of the place and quality of facilities is up there with the more well-known counterparts.
What type of traveler will like Tropea?
A sea-loving person will definitely enjoy their time in Tropea. The Pearl of Tyrrhenian is also perfect for a romantic trip to Italy. Likewise, it is a great destination for friends and family. Traveling solo? Tropea is safe to visit. It is also lively enough if you want some people time, but also offers many quiet places in close proximity to spend time in solitude. 
Calabria region is as Italian as it gets. Thus, if you are looking for a place where you cannot escape practicing your Italian language skills, Tropea is one of them.
Overall, Tropea as a seaside town in Italy ticks all the boxes for a perfect Italian summer holiday destination and is definitely worth visiting on your Calabria trip.
Also read: 25 practical travel tips for visiting Calabria, Italy.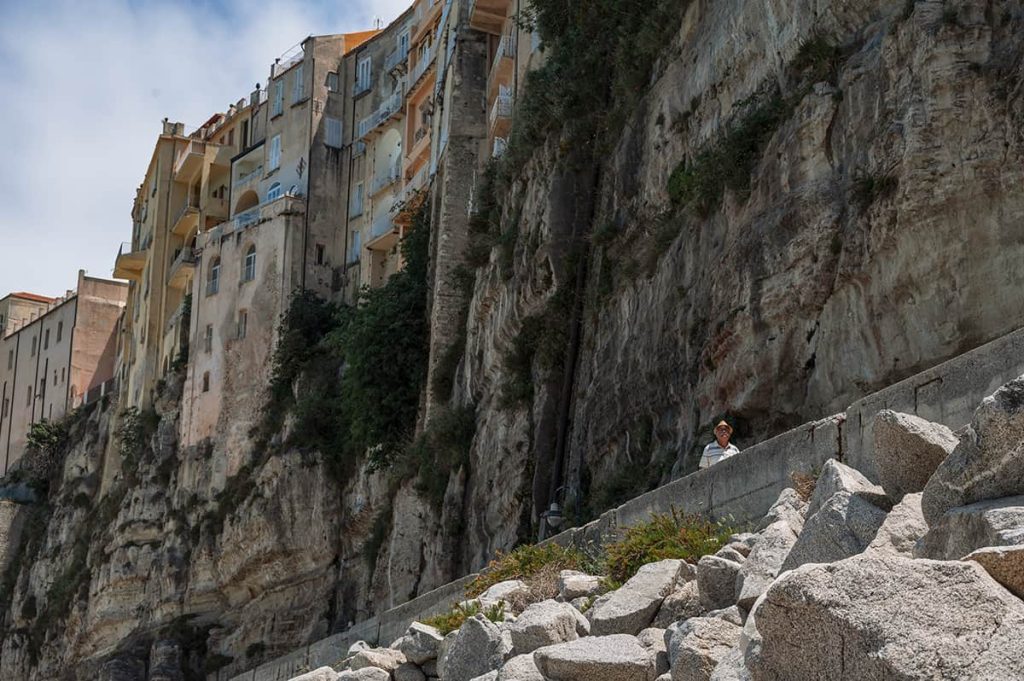 Interesting facts and useful things to know about Tropea before visiting
Here are some useful things to know before you visit Tropea, Italy:
Tropea is the most popular seaside town in Calabria, Italy as the summer holiday destination. It is mostly frequented by locals and gets extremely busy during July and August, but come during shoulder season (May, September, or even October) and you will barely find any visitors.
Tropea is situated on the Coast of the Gods – a 55 km stretch of pristine coastline resembling the Caribbean in the province of Vibo Valentia. Tropea is blessed with a Blue Flag white sand beach bathed by an incredibly vivid turquoise sea. The nomination given by the FEE in 2020 also means that the city respects the environment and takes care of it to keep the surroundings sustainable. 
Tropea was also nominated for the title of Il Borgo dei Borghi in 2021. This nomination is given to towns that excel in history, culture, scenery, architecture, gastronomy, and even hospitality – Tropea ticks all the boxes.
While the legend says that Tropea was founded by the Greek hero Hercules, in reality, Tropea has been inhabited since the Neolithic times. Historically it has been home to different civilizations (Greeks, Romans, Normans, Arabs, Byzantines, Aragonese). It resulted in Tropea's cultural diversity.
Tropea is a perfect base for visiting Capo Vaticano, and Costa degli Dei (Coast of the Gods) as well as nearby seaside towns such as Pizzo and Scilla in Calabria region, Italy.
Tropea is home to the most famous and sweetest onion in the World-la cipolla rossa di Tropea– which is creatively used in local cuisine, including jams and even desserts. Red onion flavor ice cream is possibly the most bizarre combination you can expect.
Tropea is a very artistic city where you will find many artsy details just right on the streets and corners, colorful scallas (staircases) as well as artisan shops.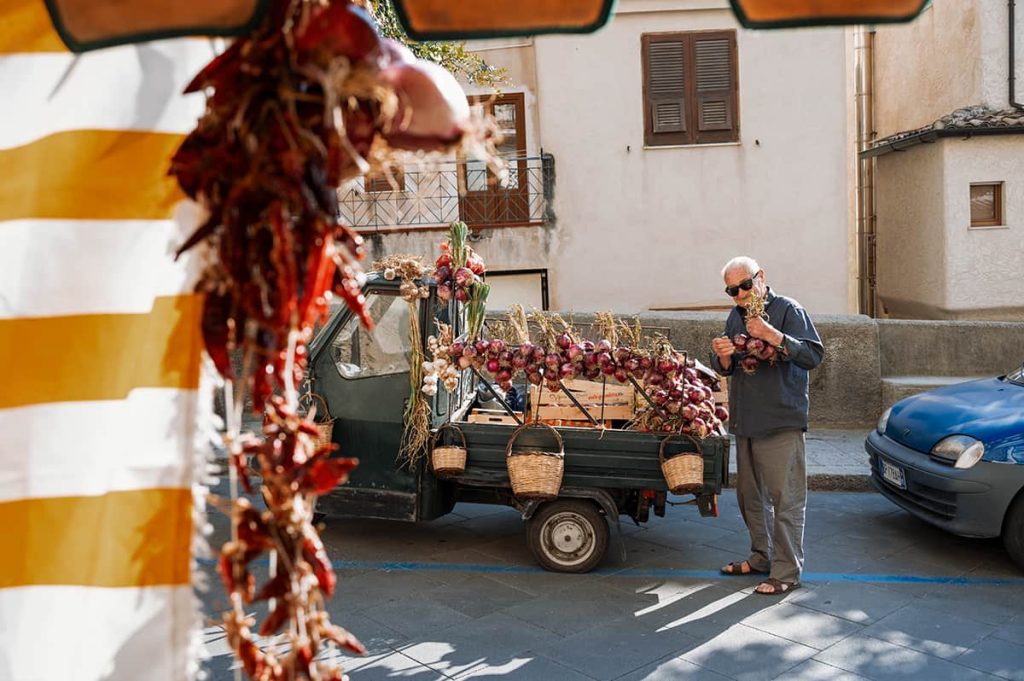 10 Best Things to Do in Tropea, Italy
Find out what to do in Tropea, including a few amazing day trips from Tropea.
1. Photograph the historic Tropea buildings growing out of the rock
Although many travelers venture to Tropea for its beaches, I felt inclined to visit this coastal town in Calabria when I saw a picture of the surreal setting of characteristic old buildings "growing" out of the rock. 
Italy always surprises with its creative approach to urban planning-why choose safe and simple when you have this mighty tall cliff on the edge of which you can stack a set of even taller buildings? And not only stack the usual way but make the houses emerge out of the rock. It almost seems that architecture was always a part of nature.
As a drone photographer and videographer, I could not ask for a more unique view to capture. Till now Tropea with its otherworldly shoreline tops my list of the most incredible historic towns in Italy (alongside such beauties as Castemezzano and Pietrapertosa, Gangi, Ragusa Ibla, or Scilla, to name a few). 
P. S. You do not have to fly a drone to appreciate Tropea's architecture. The scene of the buildings above the rock can be admired from the rocky outcrop where the town's most prominent church Santa Maria dell'Isola is situated, also by swimming out or paddling out a little further from the Tropea's beach, or from the boat.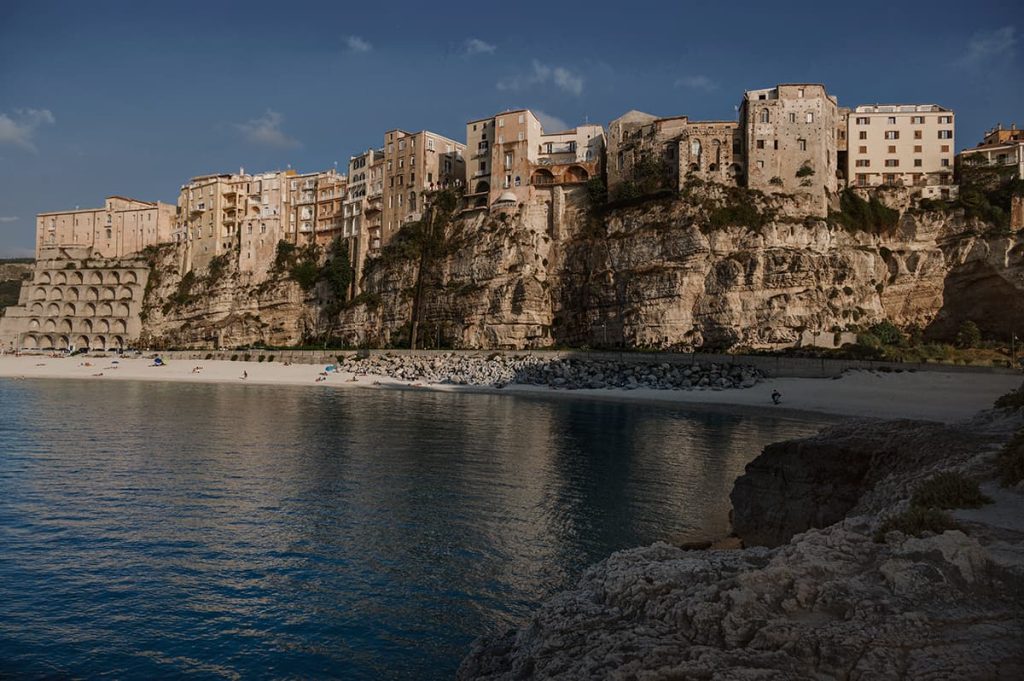 2. Enjoy wonderful Tropea beach and its crystal clear waters
Tropea and its surrounding areas are home to Calabria's most pristine beaches. The unbeatable coastline of white sand beaches and crystal-clear azure waters is a major draw to Tropea. That said, enjoying the beach is the best thing to do in Tropea. Do not forget the sunscreen, the Calabrian sun is far from mild. 
You do not need to go too far to find a slice of paradise- the town beaches of Tropea are nothing short but gorgeous. Technically Tropea has two bigger beaches and a couple of smaller coves, one of which is accessible by water only.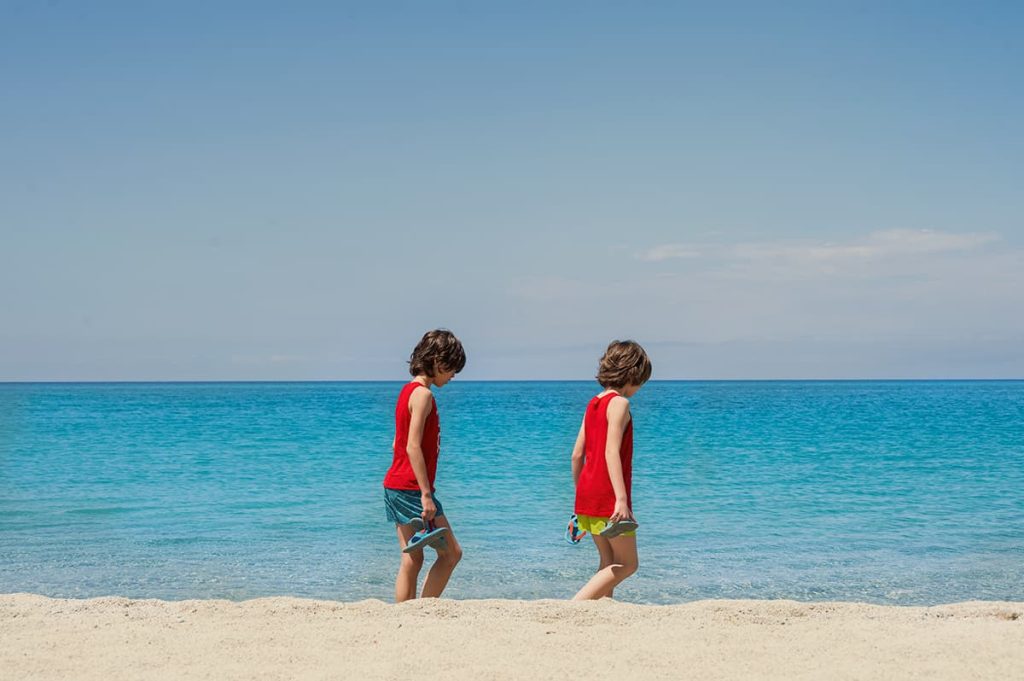 I use the rocky promontory (home for the Sanctuary of Santa Maria dell'Isola) jutting out to the sea as a reference point. The rocky outcrop splits Tropea's beaches into two parts. My favorite section was the one to the northeast of the promontory.
Beaches in Tropea, Italy
Spiaggia della Rotonda (Rotonda beach)
Spiaggia della Rotonda is situated on the northern side of the Sanctuary of Santa Maria dell'Isola rock right under those magical pastel-colored buildings which rise above the cliff. The soft white sand and the most amazing blue calm waters accompanied by beautiful views of the rocks on the left (which you can walk on to get some nice images of Tropea) made Spiaggia della Rotonda my favorite beach in town.
Most of the beach is free but there is also a lido* section at the very far end and a beach restaurant L'Ammurrata.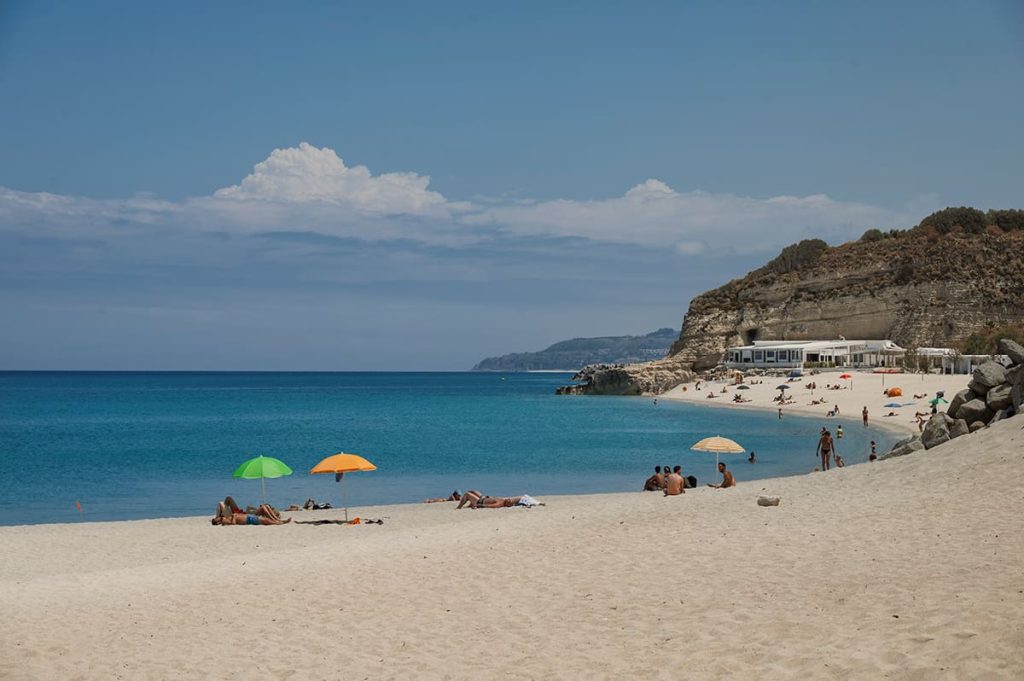 *Lido is a type of beach club where you have to rent a sunbed and umbrella- not my kind of thing but very popular in Italy. Annoyingly those lidos often occupy a significant part of the town beaches.
Note: Tropea's tall buildings and the rocky promontory blocks the sun early morning, but there is plenty of sunshine later in the afternoon as well as beautiful sunset views worth waiting for.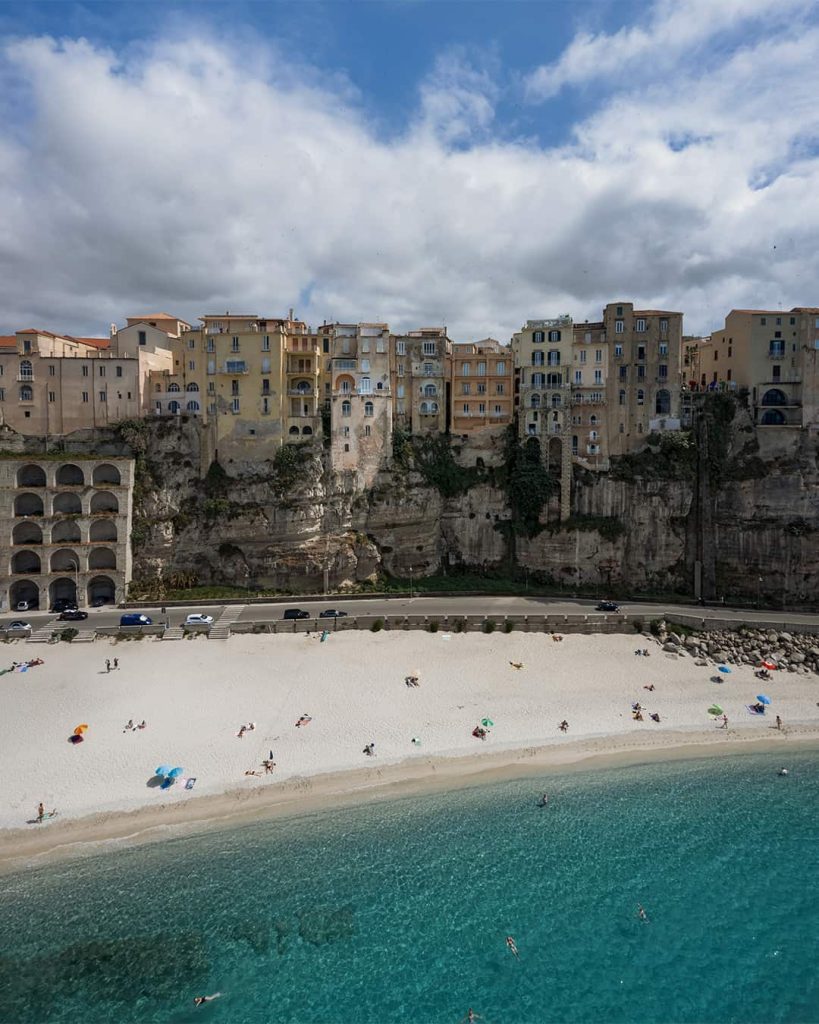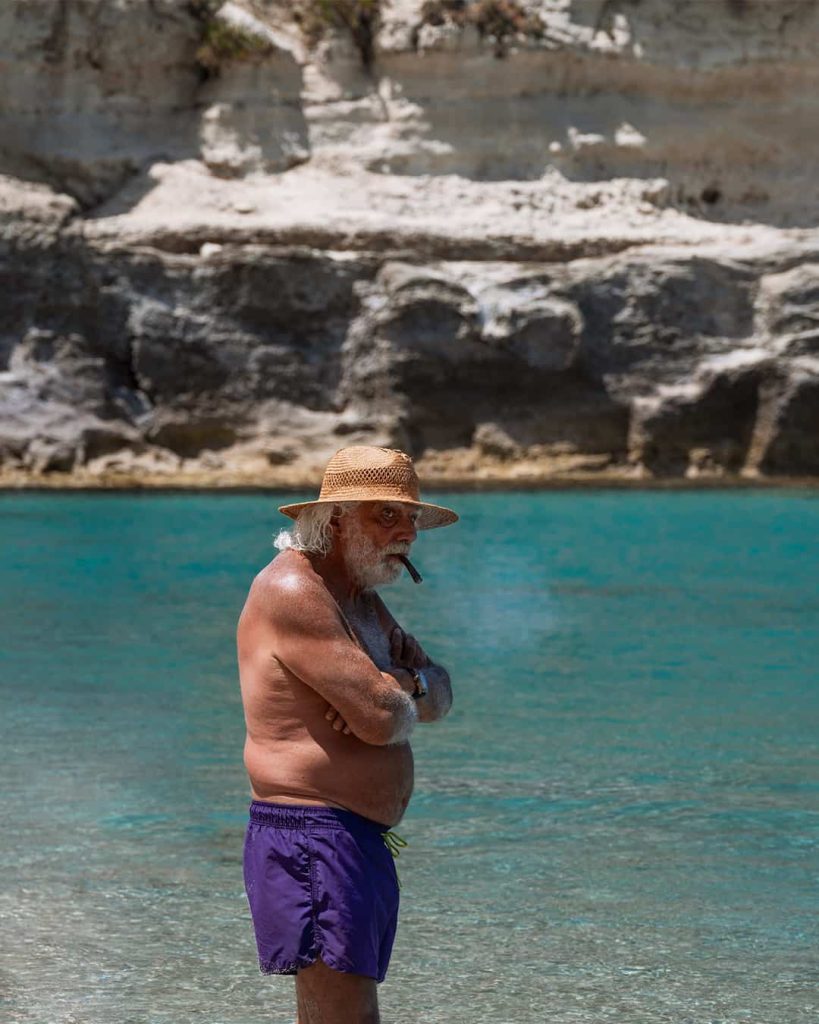 Spiaggia a Linguata
On the southwest side of the rocky outcrop, Spiaggia a Linguata is the longest sandy beach in Tropea town continuing for over 1 kilometer. Unfortunately, the majority of it is occupied by lidos, leaving very little room to lay your own towel on the sand. To me, Spiaggia della Rotonda was much more attractive to spend time at.
Grotta dell'Isola and Spiaggia di Tropea
Hidden under the rocky promontory Spiaggia di Tropea is accessible through a short cave tunnel Grotta dell'Isola. This spot is more of an instagrammable place where you just want to snap a cool photo at than a beach to spend a full day under the Calabrian sun. Yet it is a beautiful natural location worthy to pass by. The space to spread the towel is limited, arrive very early if you are visiting during the summer months.
Grotta del Palombaro
Grotta del Palombaro, hidden just around the corner from Grotta dell'Isola is a small beautiful sandy cove accessible by swimming or canoeing. It is in the shade most of the day, except late afternoon. During the summer months, Grotta del Palombaro becomes a popular spot for many curious visitors and will not appear as wild and secluded as when you are visiting during the shoulder season.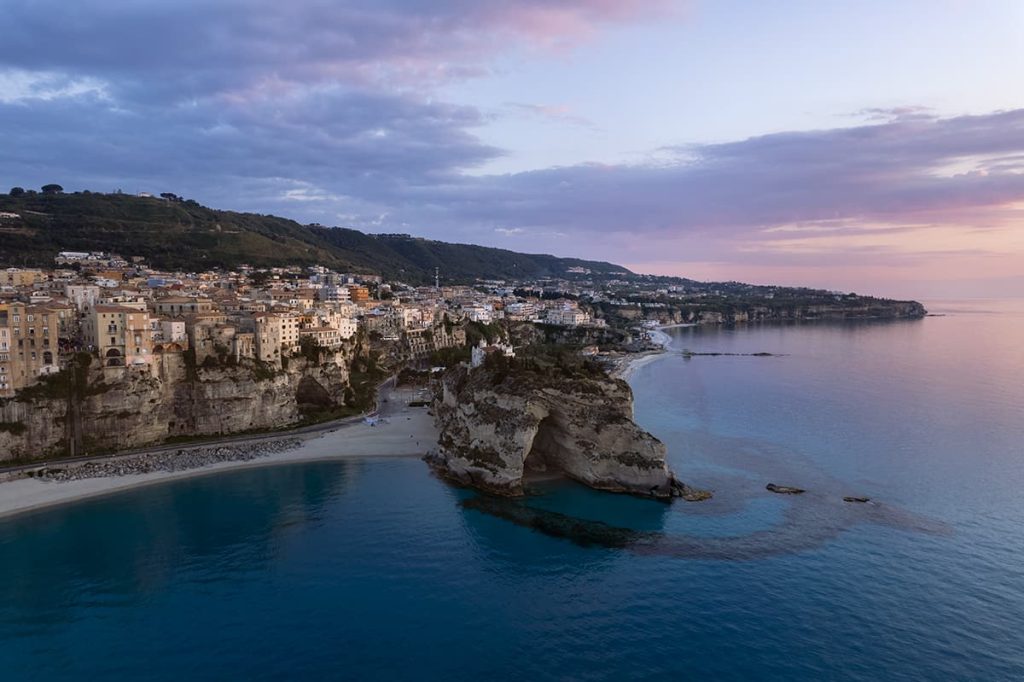 Update: somebody commented on Google that either Gotta dell'Isola (more likely due to the nature of the rock) or Grotta del Palombaro has been recently closed due to the risk of a rock fall.
Other beaches and coves close to Tropea town
If you are looking for something wilder and have a vehicle, then your options expand to a number of wonderful secluded bays and wild beaches north and south of Tropea. Just under a 20 minutes drive up north of Tropea you will find beautiful Marinella di Zambrone (accessible via a rocky path, thus wear proper shoes).
Meanwhile, if are up for a bit of an adventure and do not mind putting in a little extra effort then drive 8 minutes down south of Tropea (you can also walk as it is only 2.5 kilometers from the town), where an amazing Spiaggia l'Occhiale is hidden. A big free parking lot is nearby, then you need to take a flight of steps down to the rocky beach and follow another short but steep and narrow path over the hill to access Spiaggia 'Occhiale. Again wear proper footwear (no flip-flops).
Accessing Tropea town beaches
On foot: from the historical town's southern side at Belvedere Piazza del Canoe take a flight of steps down to the beach. There is no elevator or ramp to ease access for wheelchair users or families with trolleys.
By car: you drive down to Via Lungomare which runs along Tropea beach. Note that in summer you must come early to get a parking spot. Here all parking spots are paid 2-3 EUR per hour. At the very far south end of Linguata Beach, you can find a parking lot which a daily rate of 10 EUR**. Note that you will have to walk for almost 20 minutes to get to the Spiaggia della Rotonda.
**More about parking in Tropea at the end of this post.
3. Wander the alleyways and appreciate the old-world charm in the centro storico di Tropea, Italy
Tropea's old town (centro storico di Tropea), although beautiful, was a little less exciting than I have expected. Yes, it does have pretty corners to appreciate, but it is not one of those Italian puzzle types of towns where you get lost and never get bored wandering aimlessly while clicking pictures of every mysterious alleyway or enchanting balcony. To me, the unique waterfront of Tropea is much more memorable than the streets between the houses. Maybe because by the end of our trip around the south of Italy, I have already explored a fair share of beautiful old towns, and they all of a sudden started looking similar to one another.
Moreover, Tropea's old town is pretty small and you can familiarize yourself with it in one or two hours. The most distinct of Tropea's old town, however, are a few atmospheric restaurants set in quaint little piazzas that can be discovered outside the Corso Vittorio Emanualle– a pulsing vein of the old town.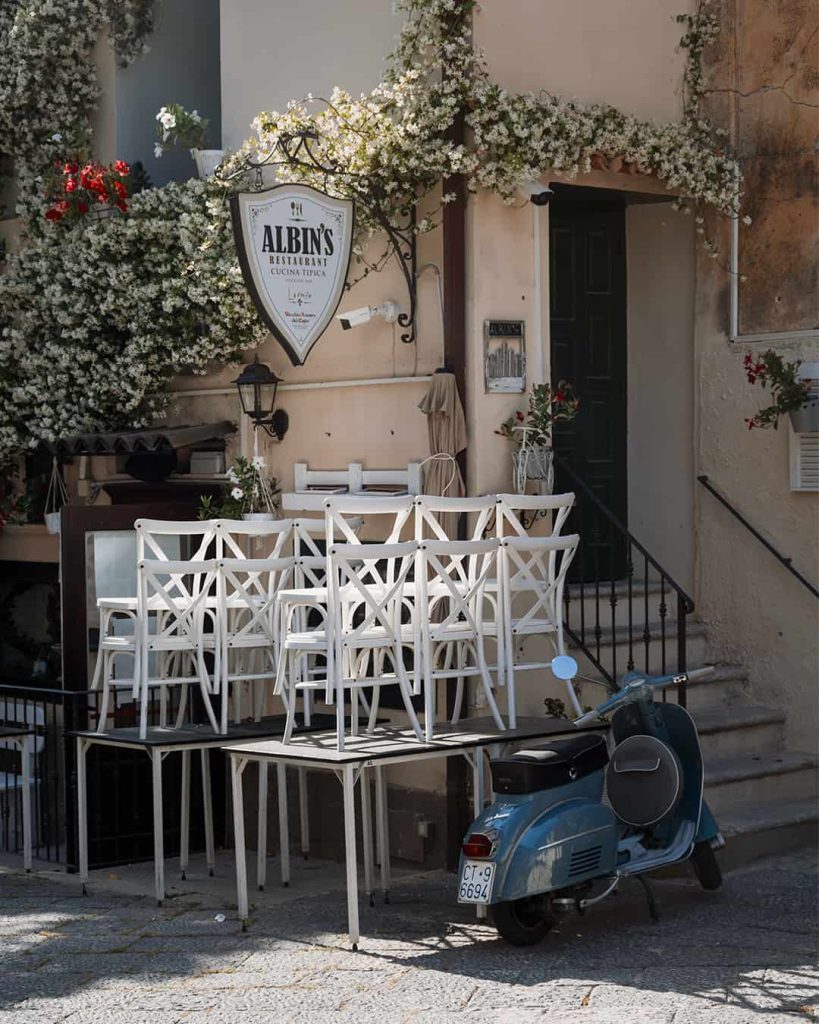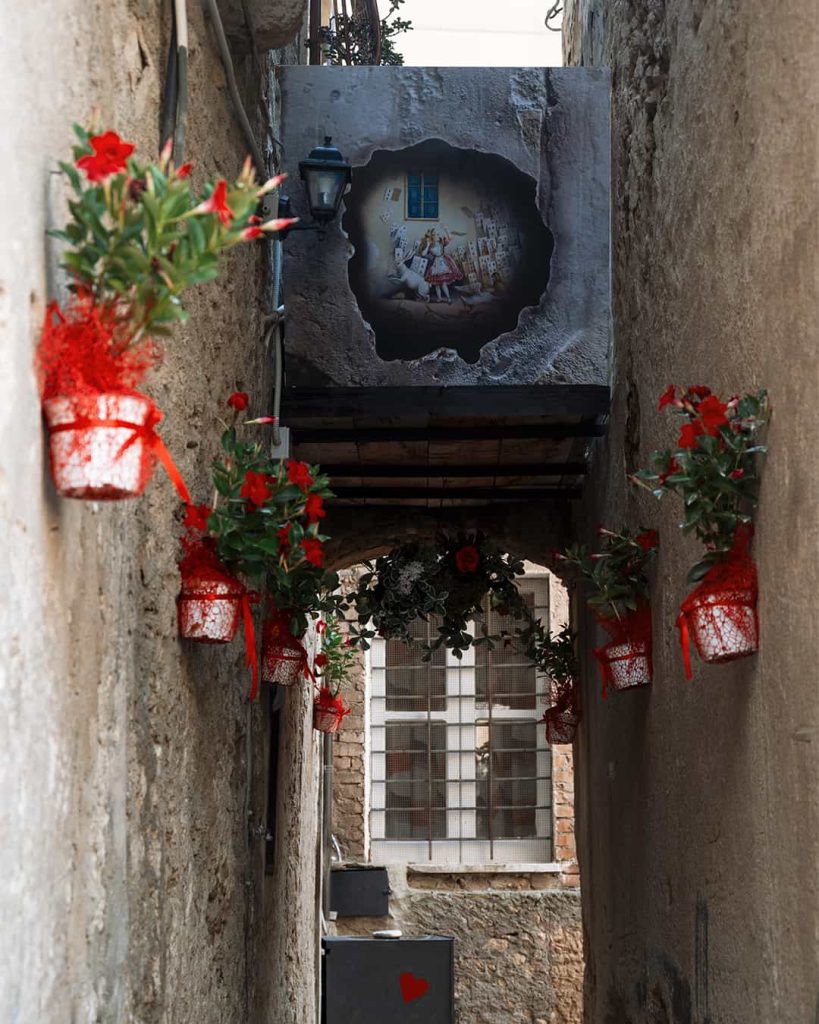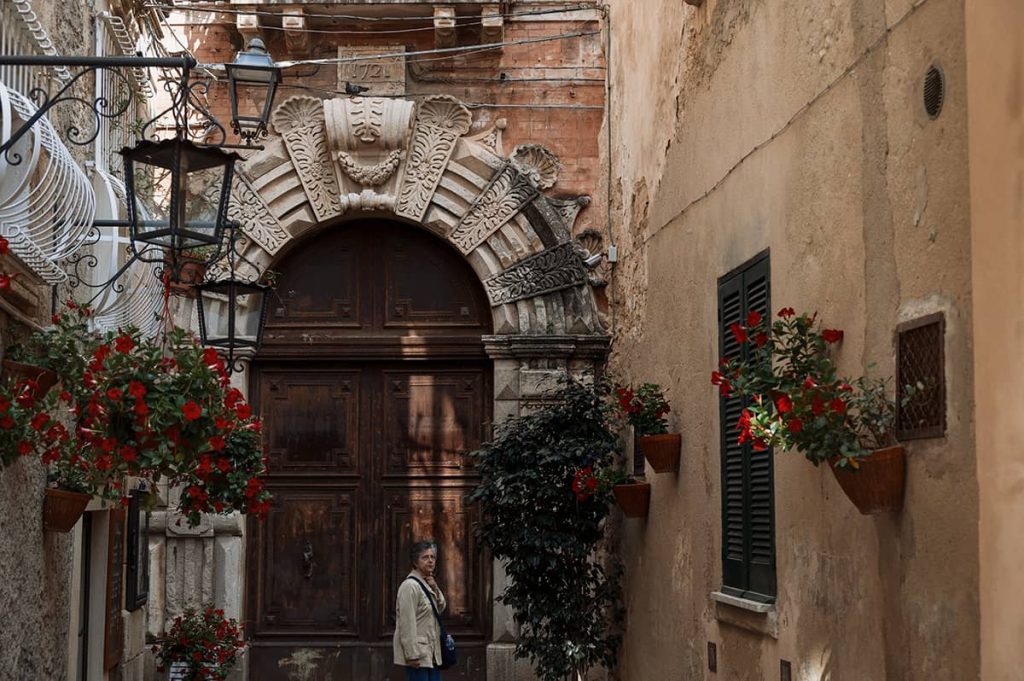 To orientate yourself around Tropea old town and find the best spots, look out for the following
Corso Vittorio Emanuele (as in many old Italian towns) is the main pedestrian street which is also the most touristic filled with souvenir shops selling bikinis and magnets. It is a place to go to for a passeggiata – an evening stroll along the main avenue where people come out to walk, chat and look at each other, it is similar to xhiro in Albania.
Belvederes -viewing points
Affaccio del Corso-possibly the most alluring feature of Tropea's old town. Affaccio del Corso is a sea terrace at the end of Corso Vittorio Emanuele. This viewing spot overlooks the white sand beach of Rotonda and a dazzling kaleidoscope of blues of the Tyrrhenian Sea.
While walking southwest of Corso Vittorio Emanuele keep an eye out for seductive tiny openings through the doorways overlooking the turquoise sea. Looking at the bright blues through a narrow hallway leading to one of those iconic cliff houses, makes you feel some way- I was wondering what it would be like to have an apartment there and see those blues every single day.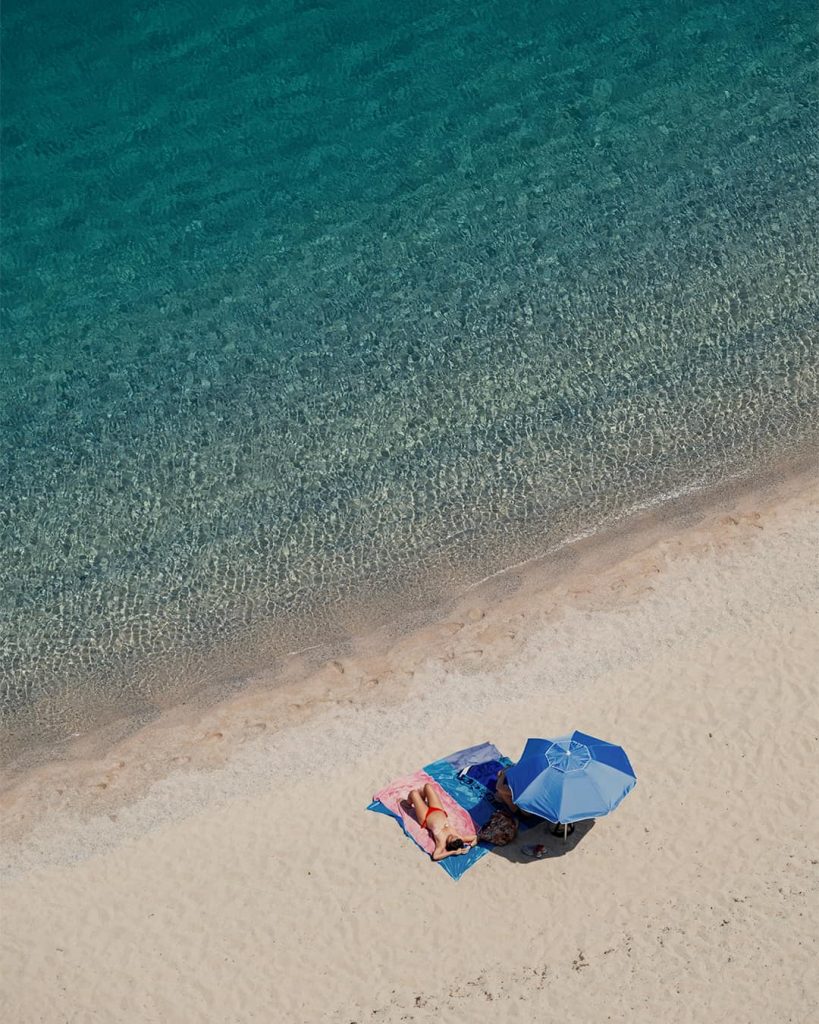 Belvedere Piazza del Canone overlooks the Sanctuary of Santa Maria dell'Isola and its imposing rock.
Piazza Vittorio Veneto– a busy square where locals like to hang out. It is located just before you go down the Corso Vittorio Emanuele and is filled with many bars. Clearly a place of action and attraction, especially for elderly folks. I found it a great place for snapping some images of local nonni (grandfathers) chilling and chatting on the bench under the trees.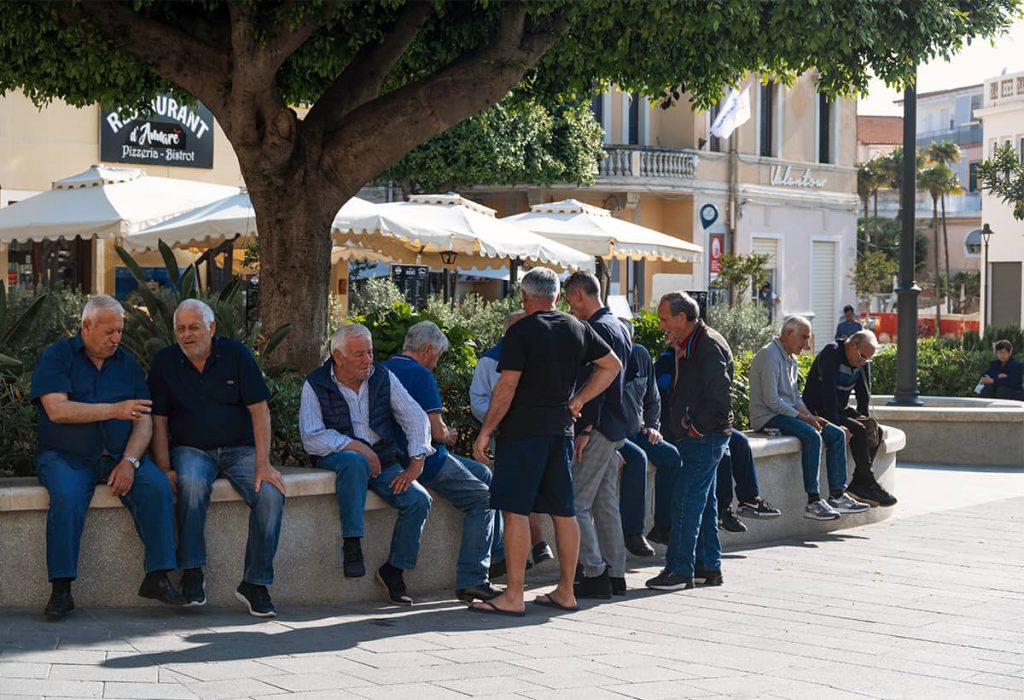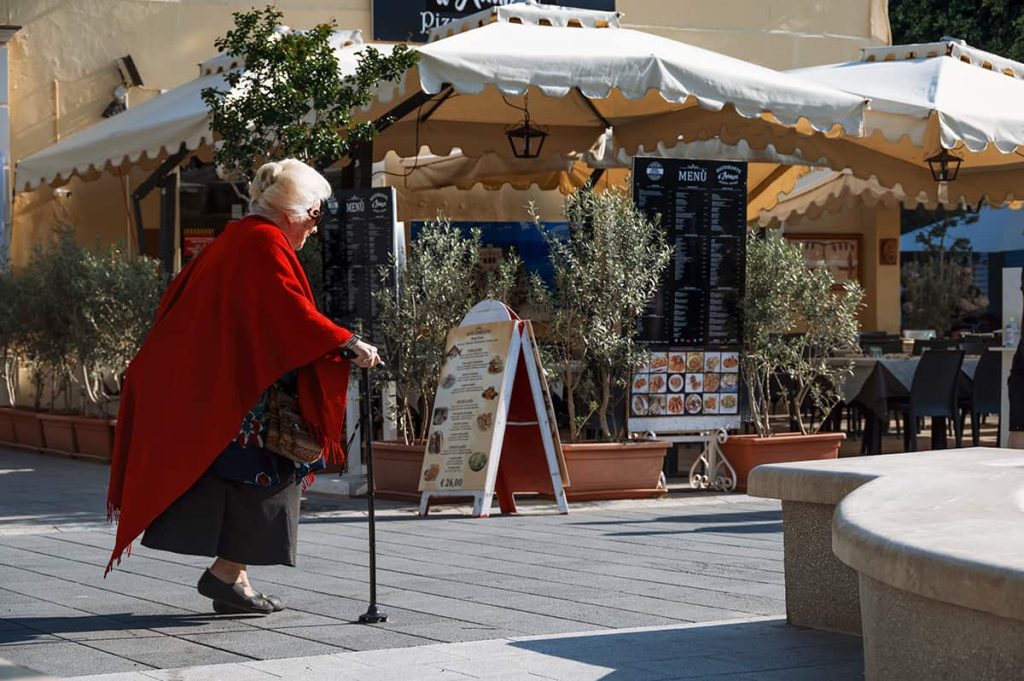 Named after Hercules, Piazza Ercole is the main old town square where Via Indipendenza and Via Roma meet from opposite sides crossed by Corso Vittorio Emanuele. It is another place to be during the Italian passeggiata.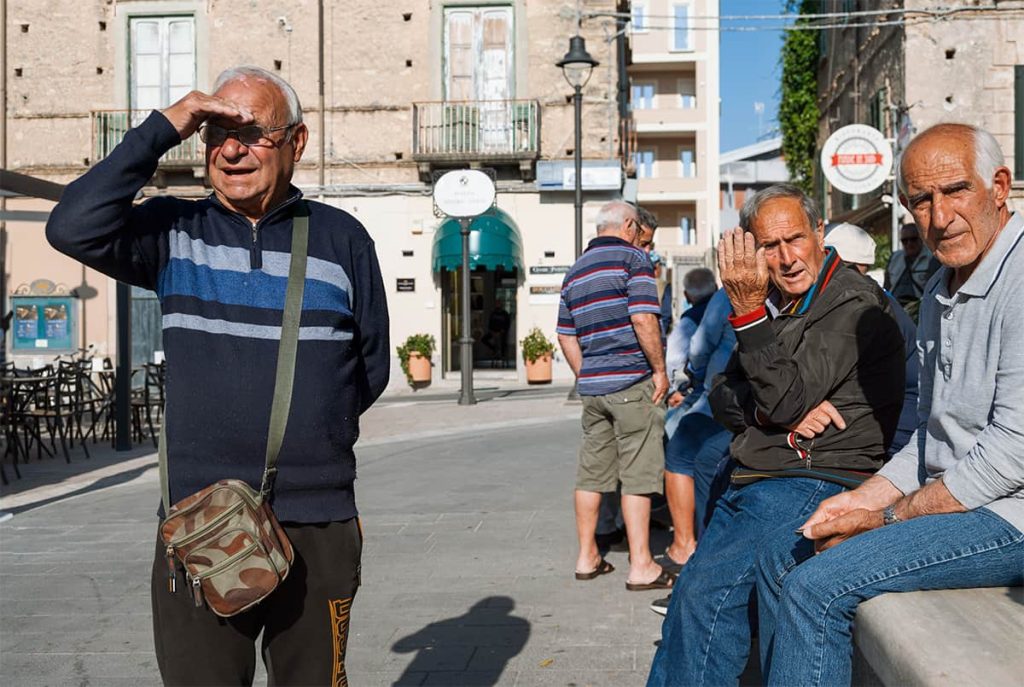 Piazza del Canone is a plaza where you can sit down and watch the sun setting behind the Sanctuary of Santa Maria dell'Isola and its imposing rock.
Cattedrale di Maria Santissima di Romania- Duomo of Tropea, Italy
Dating back to the 12th century and constructed during the Norman rule, the Duomo of Tropea is dedicated to the patron saint Our Lady of Romania who was believed to protect the town from earthquakes. Maria Santissima di Romania is tucked away on the easter south edge of Tropea's old town.
Just behind it, you will also find another belvedere and steps leading down to Contrada Marina Vescovado street that winds down and around towards Via Lungomare and Spiaggia della Rotonda.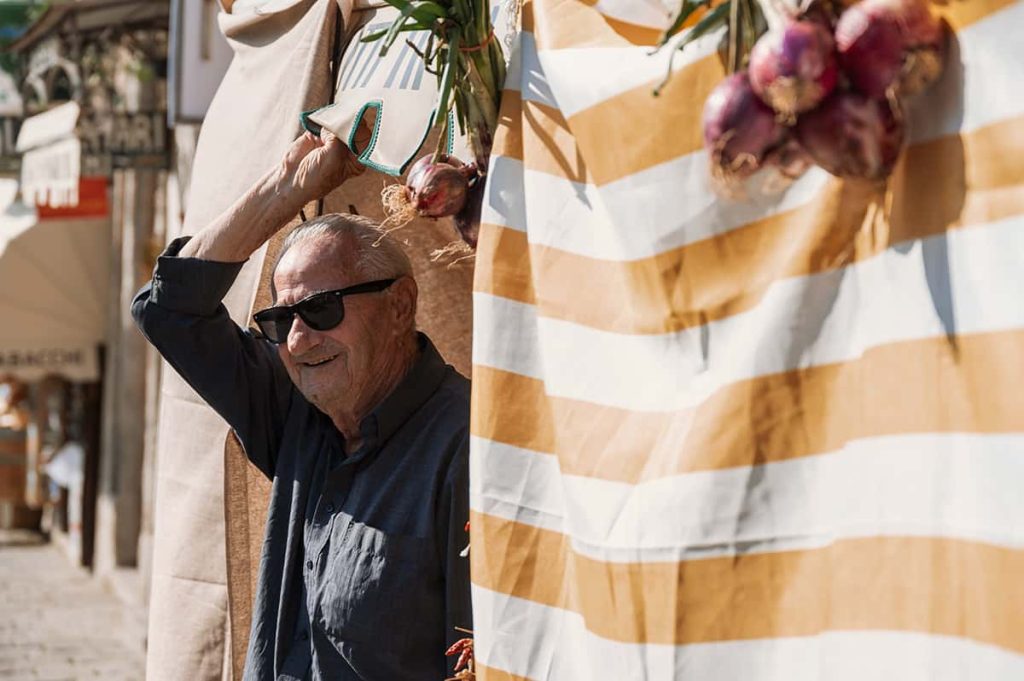 4. Indulge in red onion-flavored ice cream
One of the most distinct things in Tropea's culinary scene is the red sweet onion- la cipolla rossa di Tropea grown in the area. Locals use the red onion in their cuisine on a daily basis a few times a day and in every single dish possible, including sweets (jams and cakes), and even ice cream. As a king ingredient in Tropean cuisine, red onion of Tropea often completely replaces even garlic. Moreover, it is proudly called "the gold of Calabria".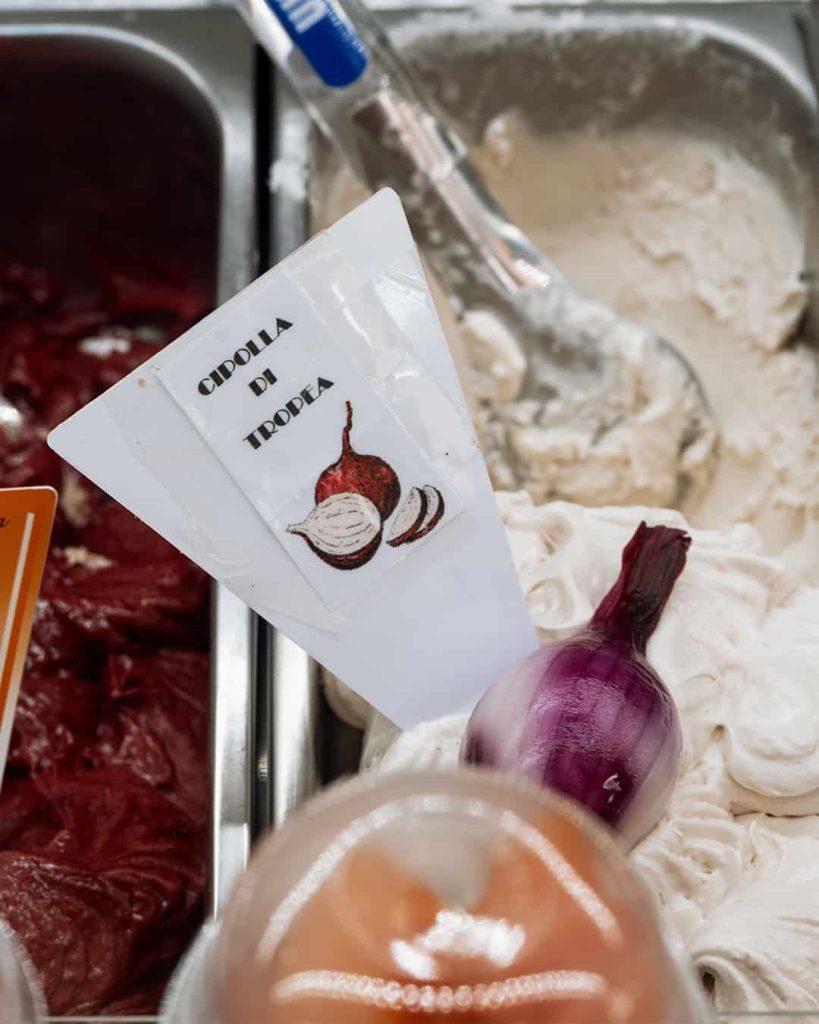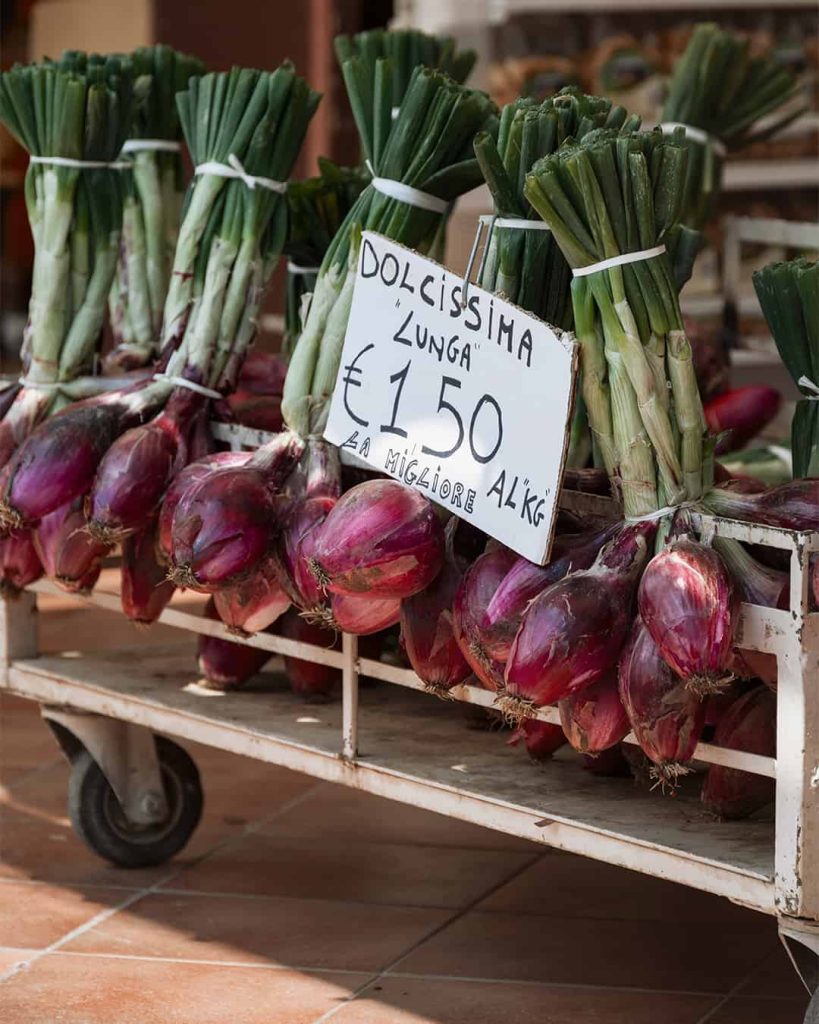 Indeed, due to its unusually sweet and less harsh flavor, this Tropean red onion is quite different from the usual red onions. Grown in the southern region of Calabria, the red gold of Calabria can even be eaten raw (almost like an apple). You will find shops of red onions on every corner of Tropea's streets, with the fresh produce creatively hanging off the stalls, and a variety of onion preserves breaking the shelves.
The most bizarre, and challenging for your taste buds, is the red onion ice cream in Tropea. You can find this flavor in every gelateria around the town. And if you love onions in your meal, you must try the ice cream.
I thought that my love for onions is unconditional – raw, fried, caramelized, used in omelets, pizzas, salads, or cakes- anything goes. But then I tasted the onion ice cream- eww…Turns out that my love for onions has some limits.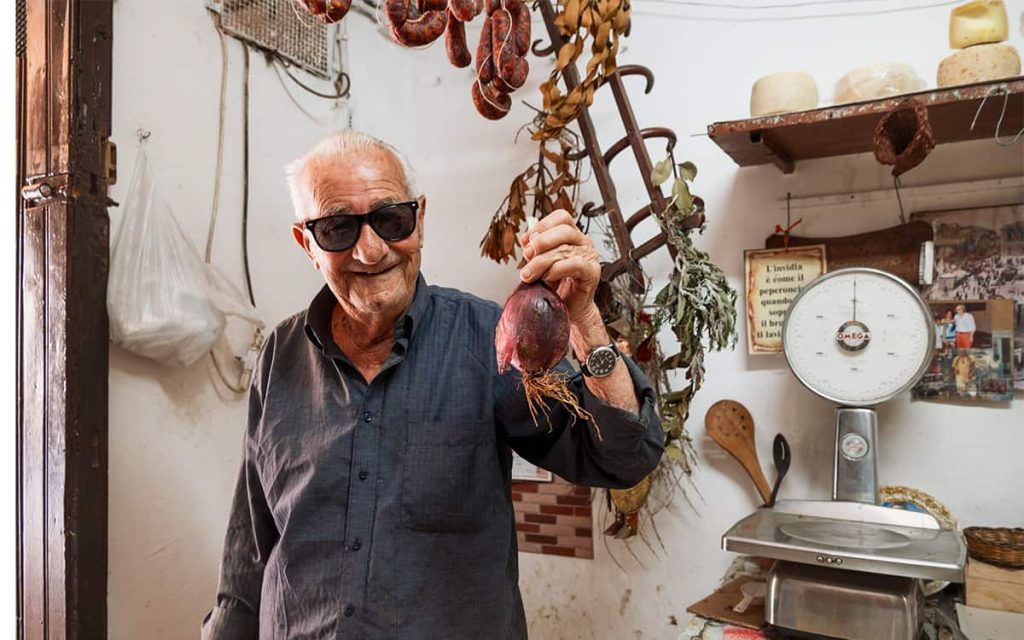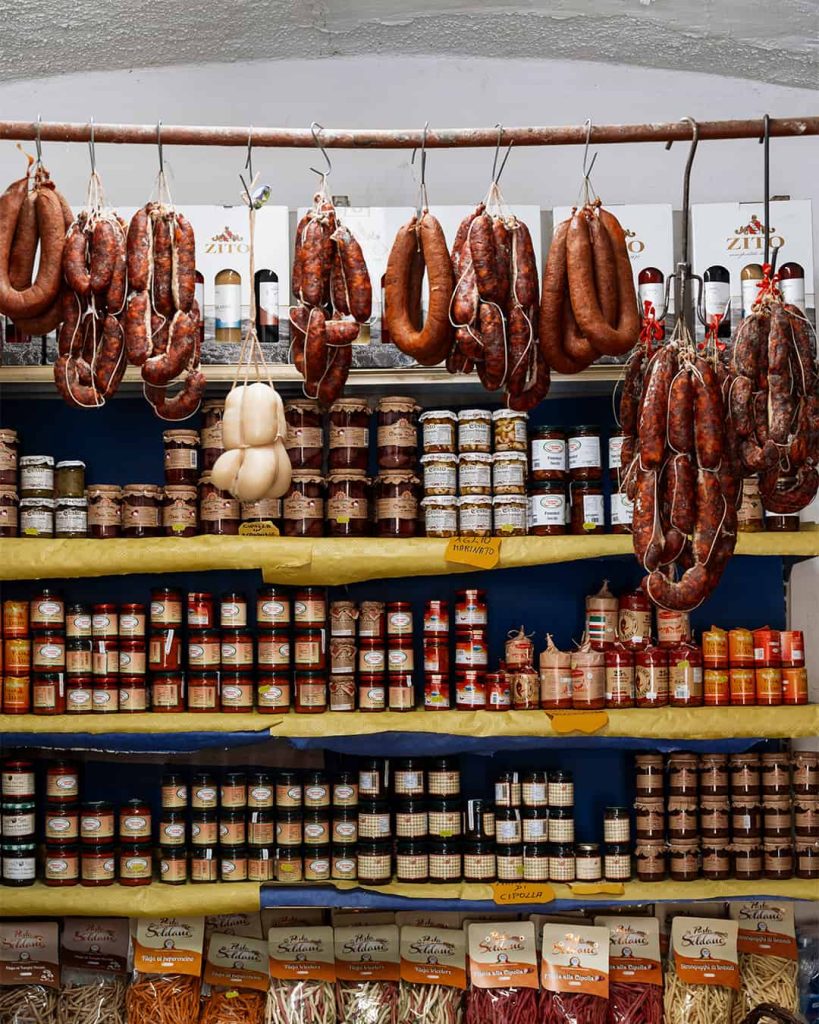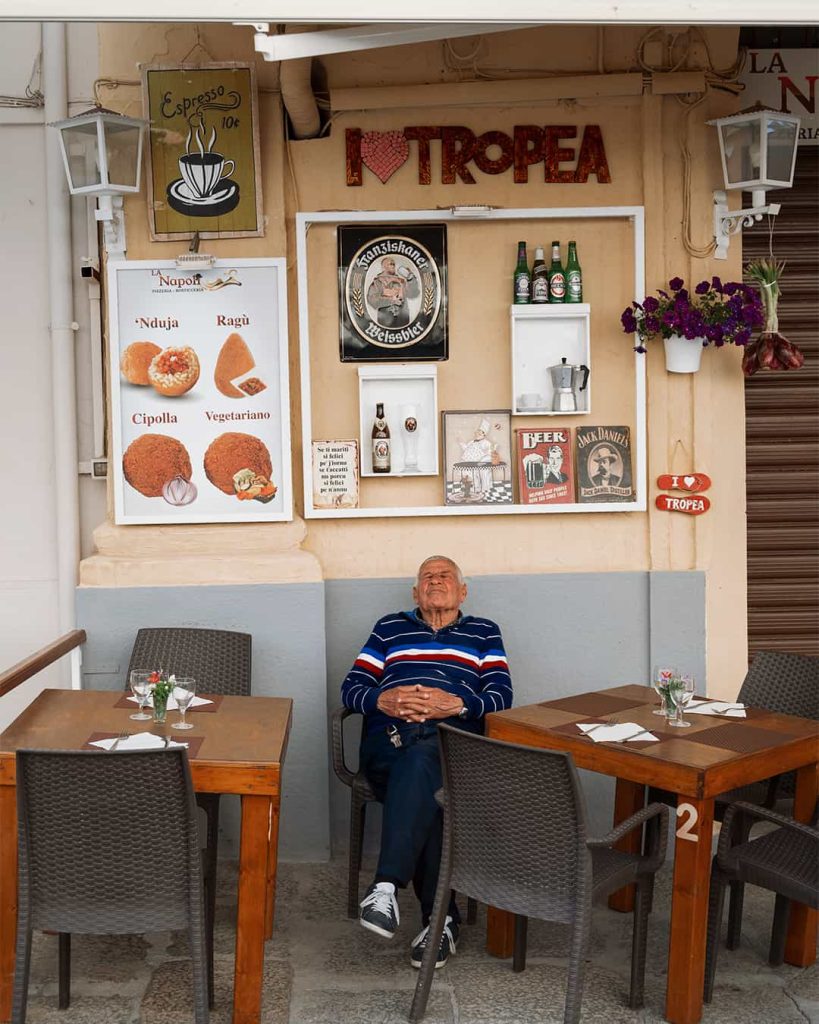 Nonetheless, I encourage you to try the famous onion ice cream found perhaps only in Tropea, just for the experience, you may be the one who will fall in love. Let me know if you do- did you like it or not?
Interesting to know: Tropea's red onions are much sweeter than the regular red onion, but surprisingly than you may think, it does not contain more sugar. The sweetness can be tasted because it is not overpowered by the usual harsh taste of pyruvic acid, the content of which is much lower than in other regular onions.
5. Sail the Coast of the Gods
55 kilometers of wonderful shoreline called La Costa degli Dei (Coast of the Gods) stretches from Pizzo in the North to Nicotera in the South.
Exploring La Costa degli Dei by boat is one of the best things to do in Tropea. During the late spring, summer, and early autumn you can rent a boat and sail for a half day or even a full day. The coastal views of white sand and rocky coves, washed by crystal clear turquoise sea are incredible.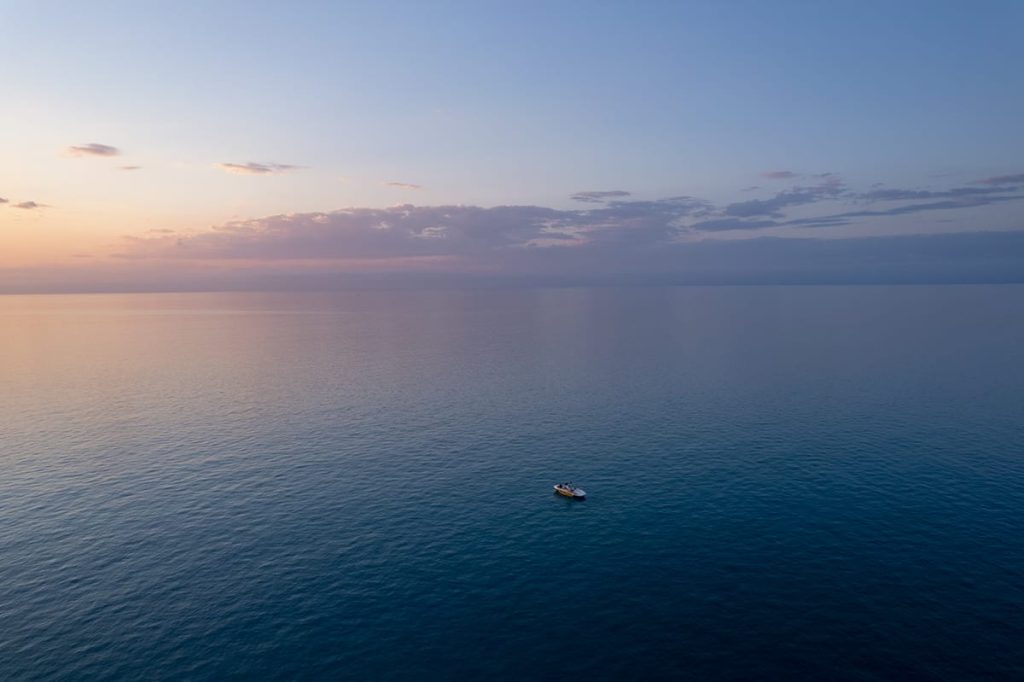 You do not need a license for a small boat and it won't break the bank to rent one (I read online that rental starts at around 100 EUR for a 4-seater boat plus petrol another 100 EUR for a full day trip). Rental companies would also suggest the route which you can follow. Note that, you might not be able to park at the coves. Instead, it is an attraction that allows you to appreciate Tropea and the Cost of the Gods from the perspective of the sea, along with refreshing jumps into the water.
If you are not comfortable driving the boat yourself, you can join one of many boat tours to Capo Vaticano, Briatico, and Zambarone, and also a nearby rocky island of Santa Maria which is home to an old church.
On my short visit to Tropea, I sadly did not have time for a boat trip (and I would definitely opt for renting out one and being a captain for a day), thus it is high on my bucket list for the next visit to Calabria. Once I do have the experience, I will update this post with more info and images. 
Top-rated guided boat tours around Costa degli Dei in Tropea:
Boat tour from Tropea to Capo Vaticano including snorkeling -> book on GetYourGuide or Viator.
Small group (up to 6 people) private tour with a skipper from Tropea to Capo Vaticano -> book on GetYourGuide.
6. Visit Capo Vaticano- for swimming in hidden bays or sunset views
Characterized by white-greyish granite rocks rising up to 124 meters above sea level, Capo Vaticano is an immensely beautiful strip of 7 km of land which is home to a number of small wild white sand coves. The majority of these are accessible either through the water or by scrambling down the steep trail. Visiting Capo Vaticano as a day trip is one of the best things to do in Tropea, especially if you are spending a couple or more days. 
Apart from renting a boat and admiring Capo Vaticano from the sea perspective you can access Capo Vaticano beaches by land, by swimming, or by canoeing.
Having your own car is necessary as Capo Vaticano. Although not extremely remote, it is not served by public transport (the nearest train station is 2 km away from the coast stopping at the village of Ricadi- not too far though if you do not mind walking).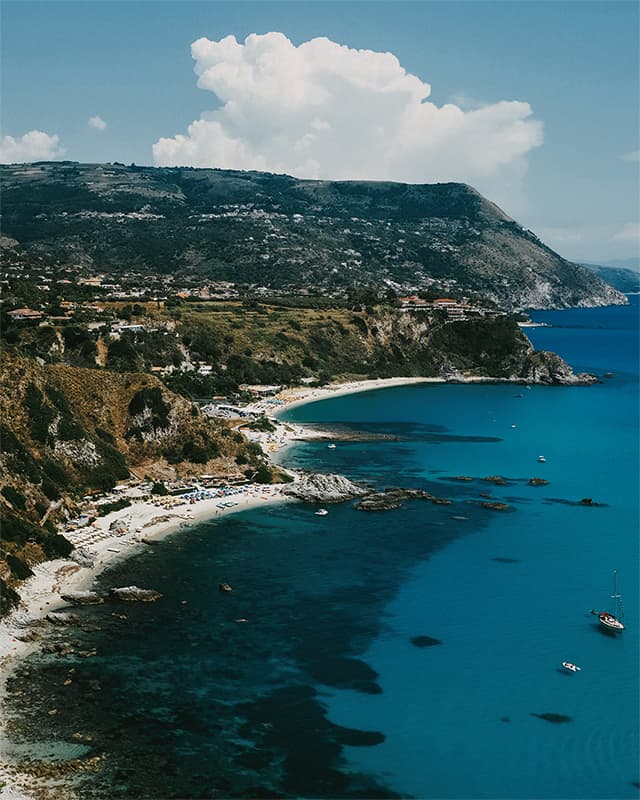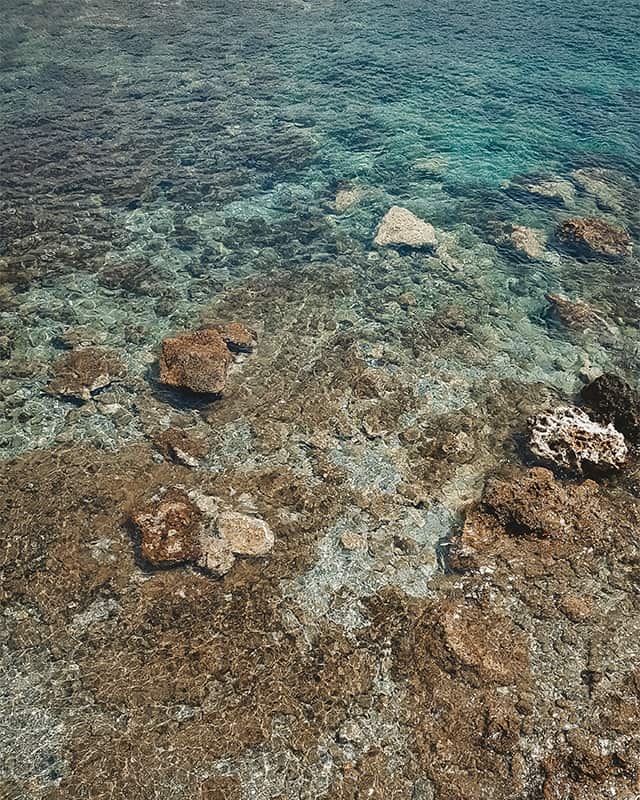 The most accessible, lined with umbrellas and backed by resorts, and also the busiest is the Spiaggia del Tono. This is the one you would want to skip if untouched natural bays are a goal of visiting Capo Vaticano.
Instead, head to Spiaggia di Fuocu and Spiaggia di Ficara (both are located next to one another)- those are some of the best coves on Capo Vaticano. Note that scrambling down a bushy path is part of the game to access those two secluded bays.
Due to its west-facing position, Capo Vaticano is also known as a romantic spot to watch spectacular sunsets. You do not need to go to the beach to enjoy the sunset. There are a few great viewpoints: Praia di Fuoco, Faro di Capo Vaticano (lighthouse), or Terrazza Panoramica– all accessible by car.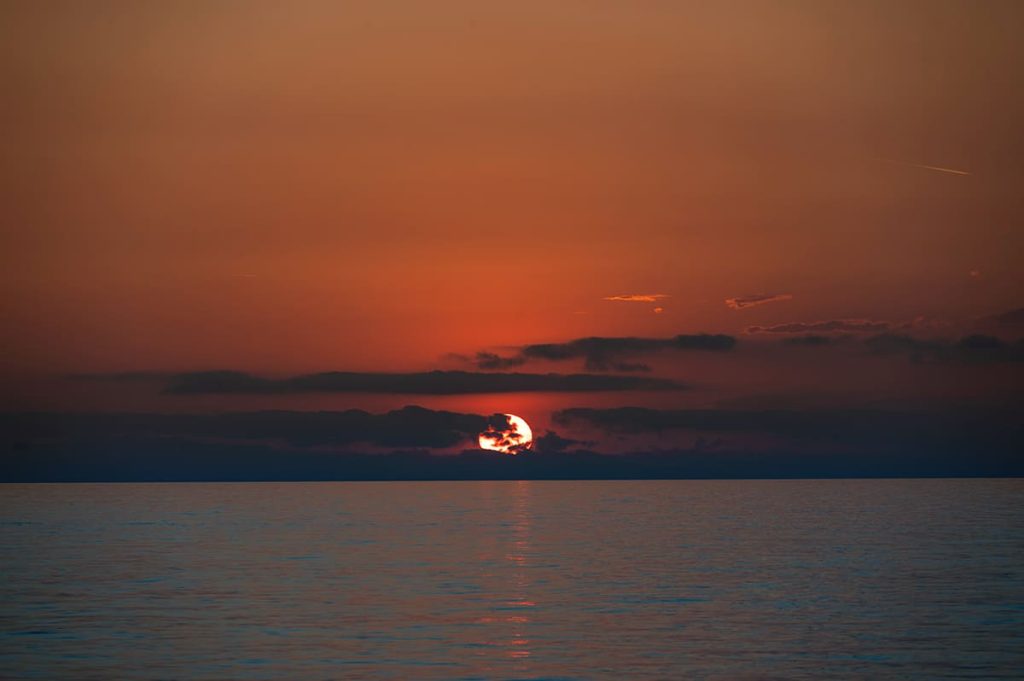 Sadly, I have not had a chance to visit Capo Vaticano yet as we were en route back to Naples and only had time to explore Tropea, but I will be coming back for more exploration of the Calabria region. Hence a more detailed update on how to visit Capo Vaticano will follow. 
7. Visit Santuario di Santa Maria dell'Isola
The most prominent historical structure and a postcard child of Tropea is the 11th-century Sanctuary of Santa Maria dell'Isolla. Visible from many viewpoints around the waterfront and from the old town, the sanctuary is located on the above-mentioned rocky promontory that separates the beaches and dominates the landscape of Tropea.
The sanctuary is a highly demanded-wedding venue and a functional place of worship.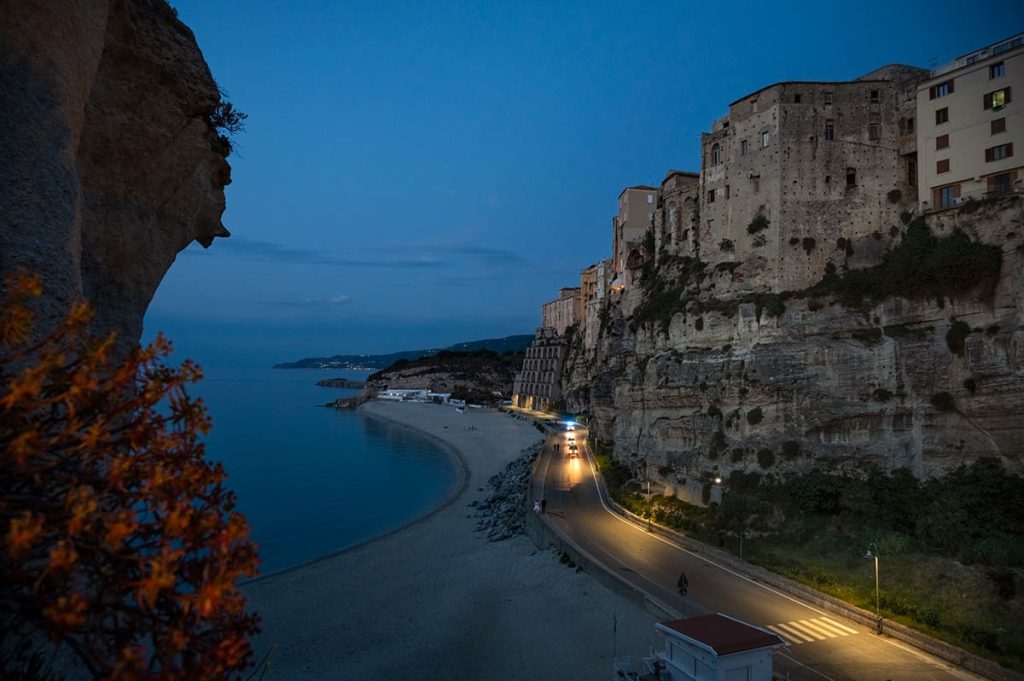 Architecture-wise, the sanctuary is not the most outstanding, however, it is worth visiting and climbing up the many steps mainly for the views over the Costa degli Dei and the cliff buildings of Tropea. Inside the sanctuary you will also find a small peaceful garden, however, a bit neglected.
Opening times: Mon-Sun 9 AM- 1 PM, 3:30 PM – 7:30 PM.
Entrance fee: 3 EUR per person to enter the gardens, free to visit the church.
8. Follow the steps of Scala Letteraria
Scala Letteraria is a colorful staircase dedicated to the greatest authors in literature (both Italian and European). It is located at the edge of the historic center on Via Liberta, close to Piazza del Canone. Scala Letteraria is a creative initiative aimed to revitalize and beautify the area that falls outside the old town borders. The art project followed Tropea's inauguration as Il Borgo dei Borghi in 2021 and is a result of a collaboration between artists, cultural associations, and individual citizens.
Each step has a different color and a title of the novel and the author. Follow the steps and see if you can find the name of your beloved literature author.
9. Tropea day trip to nearby seaside towns
Tropea is conveniently positioned as a base for several great day trips. If you are in Tropea for a few nights, you may consider visiting either Pizzo or Scilla, or both.
Scilla is a picturesque mythical coastal town with its ancient fishing district of Chianalea characterized by photogenic houses rising above the water. Due to millennia-old fishing traditions, Scilla is also known for its swordfish sandwiches. Located 1.5 hours drive from Tropea (trains are also available), Scilla can be visited in a day by car or by train but I recommend spending at least one night in this magical historic fishing town.
Read more about Scilla and Chianalea, Italy in my Scilla travel guide.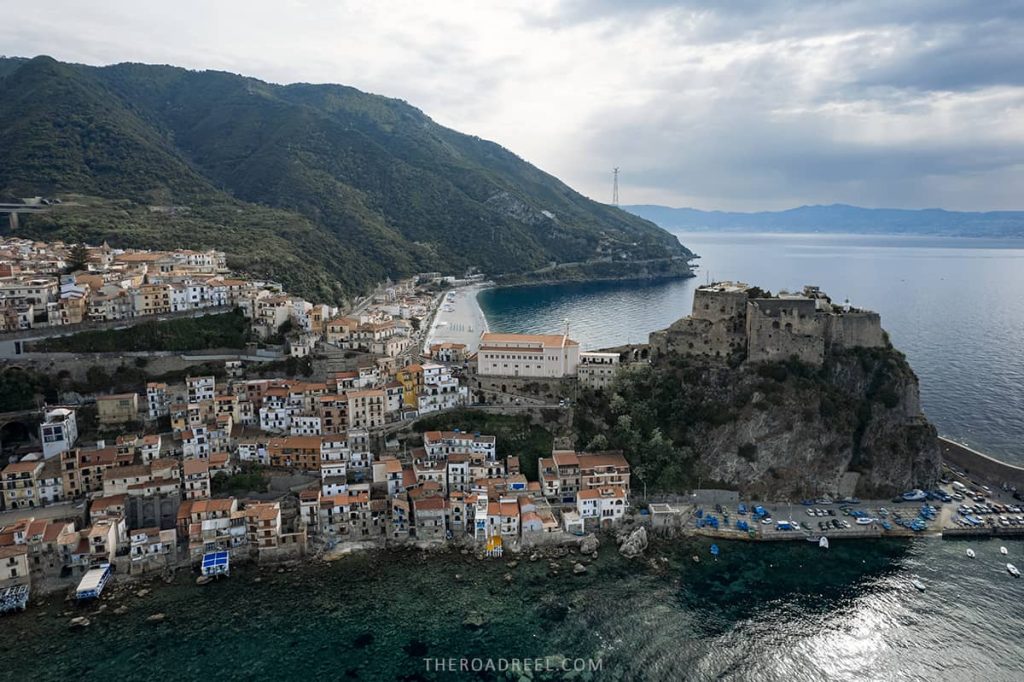 Pizzo is a petite seaside town located only around 30 minutes away from Tropea. It can be reached either by car or by train. Pizzo is best known as the birthplace of a ridiculously delicious dessert called tartufo. And no, it is not a truffle mushroom (that is what it means in Italian), however, named after it because of its look.
Tartufo is an ice cream ball filled with melted chocolate and coated either in hard chocolate shell, or cocoa (variations exist). And it tastes like heaven. You can also find tartufo in Tropea. We tried some in Tropea and they were delicious.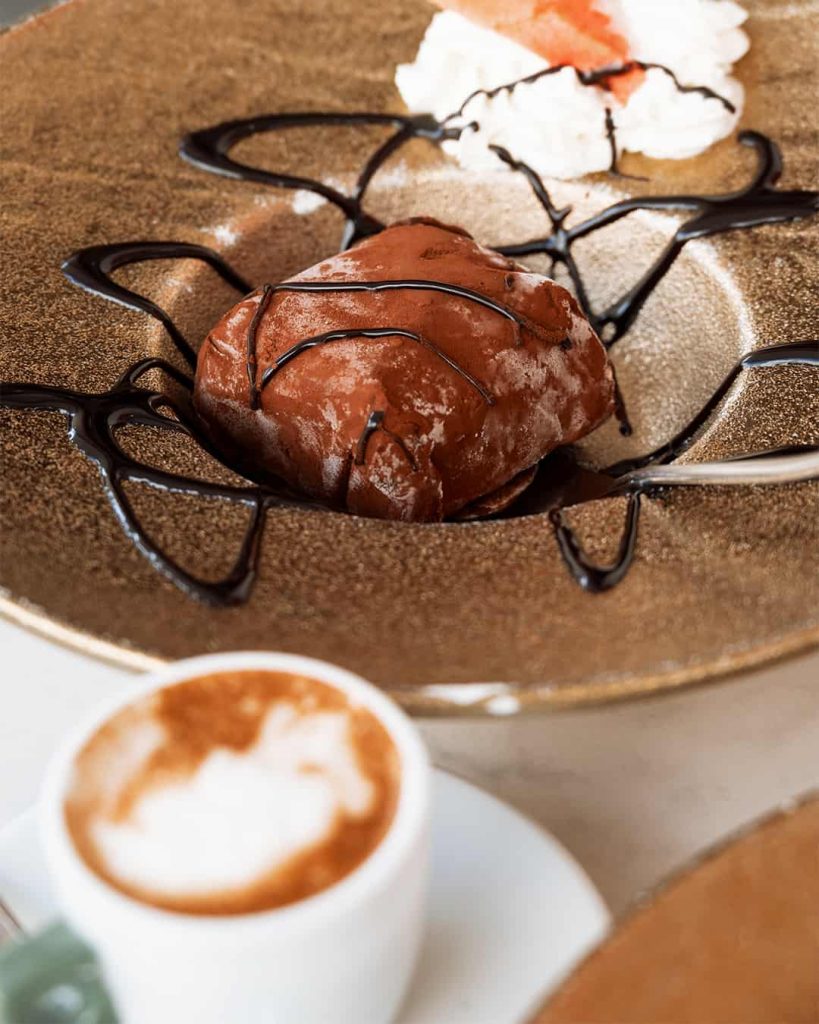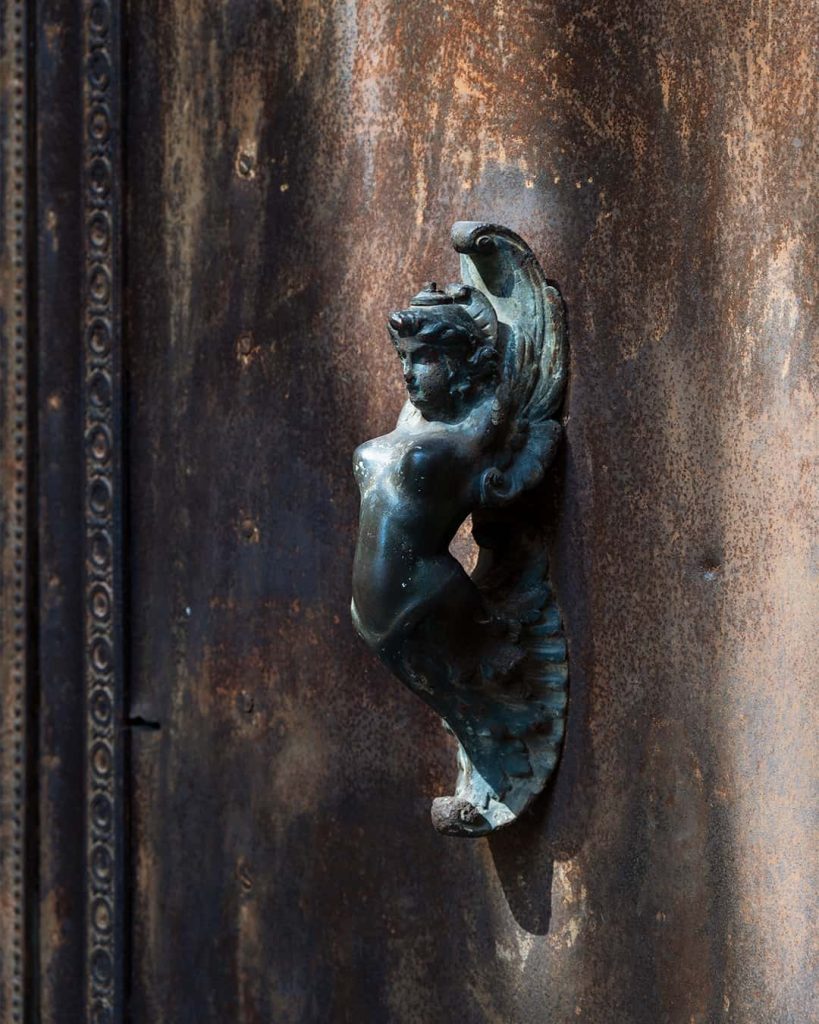 10. Tropea day trip to Aeolian islands
One of the best things to do in Tropea if you are staying for longer is jumping on a speed boat tour to UNSECO-protected Aeolian islands, located north of Sicily.
A continuously active volcano on Stromboli islands is usually the main attraction but the boat trips are usually combined with stops at a couple of more islands (usually Lipari and Panarea) on the Aeolian Archipelago.
Stromboli can be visited either during the day or by night when it is possible to witness Sciara del Fuoco spitting lava.
The below tours to the Aeolian islands from Tropea are highly rated by travelers:
Aeolian islands from Tropea tour: full-day to Lipari, Panarea, and Stromboli Boat trip-> book on GetYourGuide or Viator.
Aeolian islands from Tropea: Lipari, Panarea, and Stromboli by night when you can see an erupting volcano-> book on GetYourGuide or Viator.
How to get to Tropea, Italy
By Air
Calabria's main international airport Lamezia Terme (SUF "Sant'Eufemia") is located 60 minutes by car or train to Tropea. This airport is quite small and international flights are seasonal.
Reggio Calabria Airport is 2 hours away from Tropea but only serves domestic routes. It can be a great option if you need to get to Tropea from Milan, for example.
You can also land at Naples Internation Airport (NAP) which has flights from/to many countries around the world (we landed in Napoli). The drive or train ride is around 4 hours and 30 minutes. However, if you are road-tripping in South Italy, you can make Campania as part of your itinerary. There is a lot to see on the way down to Tropea.
Read more about Renting a car in Naples and driving in the South of Italy.
Plan your road trip from Naples to Calabria along the Thyrrheanean coast (coming soon).
Getting to Tropea by car
Driving in Calabria is a great choice to be completely independent of public buses or trains and easily access places not served by public transport (visiting those wonderful hidden coves and small towns).
Driving times to Tropea from different destinations:
1 hour drive from Lamezia Terme. Follow a scenic SS522 road.
2 hours drive from Reggio Calabria.
4.5 hours drive from Naples.
6.5 hours drive from Rome.
We drove from Naples to Sicily and back, and Tropea was our last stop for a couple of nights in the Calabria region before we headed back to Naples.
If you thinking to venture from Calabria to Sicily, check out my 2-week Sicily road trip itinerary to help you plan your trip.
Getting to Tropea by train
Direct regular trains run to Tropea from:
Lamezia Terme (1 hour of very scenic journey);
Reggio Calabria (2 hours of also very scenic journey along the coast);
Villa S. Giovanni (1.5 hours same scenic route as Reggio Calabria)–a port town on the strait of Messina where ferries connect Sicily to Italy's mainland.
Long-distance intercity trains with one or two changes to regional trains are also available from Naples to Tropea or from Rome to Tropea, and possibly other places around Italy.
Tropea's main train station of the same name is located only 1 kilometer from the historic center.
You can check the timetables and book tickets online on Omio or Trenitalia here. 
Note: I did not find any public bus services to Tropea, yet it is hard to believe that there is none. Please let me know in the comments below if there is an intercity bus serving the town of Tropea in Calabria, Italy so I can update this information for other travelers.
Where to stay in Tropea- best hotels and holidays homes
Accommodation in Tropea is abundant. If you are looking for where to stay in Tropea, centro storico (the old town), or just a walking distance outside it, is a great choice. If you are driving, it might be a bit trickier to find hotels with free parking and you may have to use street parking (most of it is paid). Otherwise, you can choose to stay just a little outside the center of Tropea and drive. This is what we did, and it was very easy for us to reach the old town (parked for free, location shared above).
To save you some time browsing, below are my top picks of hotels and homestays in Tropea for different budgets:
La Terrazze $$-set in a historic 18th-century building, this beautiful bed & breakfast in the centro storico of Tropea, features a nice rooftop terrace terrace. You can choose to rent a room or a 1-bedroom or 2-bedroom apartment.
La Dolce Vita a Tropea $$$- situated in one of the cliff houses in the heart of the old town this accommodation offers rooms with terraces or balconies overlooking the beautiful Tropea beaches. Perfect for a romantic stay. Private parking and superb breakfast are also included.
Rosa dei Venti Accommodation $– a studio apartment with a spacious balcony is located outside Tropea city center but is perfect for the ones who drive as you do not need to worry about parking. We stayed here for a couple of nights and it took under 10 minutes to drive to Tropea old town. The train station is also only a 5-minute walk. -> CHECK RATES AND BOOK
Isola Bella sea view apartment $$– set in one of the dramatic cliff houses this is an amazing fully equipped apartment with a balcony overlooking the sea. It can host up to 4 people thus it is perfect for families. It is very popular and gets booked out fast during the season. -> CHECK RATES AND BOOK
Palazzo Mottola Tropea $$$$– situated in a small palazzo, this hotel offers beautifully decorated and bright rooms overlooking the blues of Thyhrrenean. Perfect for a romantic vacation. Great breakfast and free use of bicycles are included.-> CHECK RATES AND BOOK
What and where to eat in Tropea, Italy
Tropea's culinary scene, as it is accustomed to almost everywhere in Italy, is rich and local specialties are a must-try. The places to eat in Tropea are also abundant. When it comes to the ingredients, the above-mentioned red onion is the king, but it is not the only one.
While in Tropea, you must try the following dishes:
Filleja alla Tropeana– is a local Calabrian pasta dish with fresh tomato sauce with tomatoes, zucchini, eggplant, and, of course, red onions.
Red onion gelato (ice cream)– not for everyone, but definitely an experience. Almost all gelaterias in Tropea have this flavor featuring Tropea's pride- the red sweet onion.
Spice up your dishes with pepperoncino– a red horn-shaped dried chili pepper Calabria's unofficial symbol, is also a very popular ingredient in Tropea's cuisine. If you are like me and cannot handle spicy food, make sure the dish you order in the restaurant is not loaded with pepperoncino which can be quite intense.
Nduja- for meat eaters- is a locally made spicy paste prepared from cured pork and peppers. Also, it is often used in pizzas.
Tartufo di Pizzo- the earlier-mentioned ice cream ball filled with melted chocolate is a specialty invented in the nearby town of Pizzo. If you do not have a chance to visit Pizzo, you can try some good tartufo even in Tropea.
Gift tip: Red onion preserves- goes with almost any dish, or as an appetizer on the toasted bread, is a perfect gift to bring from Tropea!
Where to eat in Tropea:
Ristorante La Lamia– is one of those atmospheric restaurants in a little piazza located out of the way of the main tourist path. The food quality here is fantastic and you can also try the local filleja alla Tropeana pasta.
Ristorante Pizzeria Il Convivo- tucked away from the main tourist track this family-run restaurant serves amazing local dishes and wonderful pizzas. If you are pescatarian, tuna pizza with red onion or pasta with shrimp and pistachio are great choices.
Koes I Kuoppi Friji e mbucca– a hole-in-the-wall type of takeaway eatery that serves fresh fish and seafood paninis (sandwiches). Deep-fried seafood in homemade gravy served in a paper cone here is a specialty.
Bar Ariston– a place to try the best tartufo di pizzo dessert in Tropea. We stopped here randomly while walking along Corso Vittorio Emanuele. We saw an attractive picture of delicious tartufo and decided to give it a shot. Later we found out, that, although a bit more expensive than elsewhere in Tropea, this bar is by far the best place to try tartufo di pizzo. Note though, it was a bit shady that the bar does not display prices, so before ordering anything, ask for the menu with prices or confirm them with a waiter.
Food travel tip: most restaurants in Tropea are open only for dinner (and remain closed even during lunchtime). The smaller eateries or whole-in-the-wall type of takeaway eateries are usually open for lunch from 11 AM to 3 PM. Many of them, however, also close for siesta. Coffee shops, pasticcerias, and bars where you can get some snacks usually stay open from early morning till evening.
Parking in Tropea
Our accommodation was a few minute drive from the Tropea's center. We found a free parking lot (marked with white painted lines) within a short walking distance (around 10 minutes) of the old town here. Since we traveled during the shoulder season in early May, it was easy to get the free spot. I can imagine it might be tricky during the busy summer months.
The paid parking lots are available throughout the town of Tropea. Here are a few recommendations:
On Viale Stazione– there is a small paid parking bay just in front of Eni petrol station and a lot of paid parking places (marked by a blue line) on the street itself which leads straight down to the Corso Vittorio Emanuele. Thus if you do not get the free spot mentioned above, continue driving under the small bridge to Viale Stazione. The location is here. The parking rate is 2 EUR per hour.
Parking along Via Lungomare – the closest parking spaces are along Via Lungomare which runs by Tropea's beach under the old town. The parking rate is 3 EUR per hour along the coast.
Parcheggio Comunale– a large parking lot overgrown by grass, not sure if free or paid here.
Parcheggio 3– located around 20 minutes walk to Tropea's Spiaggia della Rotonda, this parking lot costs 10 euros per day, o can be paid by hour, not sure of the rate but guessing should be 1-2 EUR per hour max. Location here.
Da Ciccio parking- parking located next to the beach of Linguata and right at the steps leading to the old town, dedicated to campervans, daily rate is 24 EUR. Location here.
Parking Tip 1: Always have coins to pay for parking as it is not always possible to print the receipt if you pay by card for some reason.
Parking Tip 2: download Easypark app to easily pay for parking in Italy. This saves you time looking for the parkometer and keeping heavy coins in your wallet.
Driving Tip: be aware of ZTL zones – non-residents are not permitted to drive into those zones and the fine is huge for doing so. Tropea's old town is a ZTL zone, thus watch for the signs. If you have never heard of ZTL zones in Italy before, read more about it in my post about driving in South Italy.
How many days should I spend in Tropea?
During the summer, at a minimum, you should spend one full day in Tropea to appreciate the beach, the old town, and the culinary scene. However, many travelers opt to stay in Tropea for longer and do day trips to other destinations – beaches and towns.
I would recommend budgeting 2 full days and 3 nights in Tropea if you plan to also visit Capo Vaticano and Pizzo. Stay 3 days (4 nights) if you want to day trip to the Aeolian Islands and/or include Scilla in your itinerary.
What is the best time to visit Tropea?
Tropea is undoubtedly a summer destination where holidaymakers rush to submerge their sunburned bodies into the blues of the Tyrrhenian Sea.
The best time to visit Tropea, however, is not the summer when it is the busiest and the most expensive, but the shoulder season which is late spring and early summer (May, mid-June) and then autumn (late-September, October). In spring and autumn, you can beat the crowds and take advantage of pleasant weather and water warm enough to swim in Tropea's beautiful sea.
We visited Tropea at the beginning of May and it was perfect. We shared Tropea's Rotonda beach with just a few other travelers. The sea was not the warmest at that time but already swimmable and refreshing from the quite hot midday sun.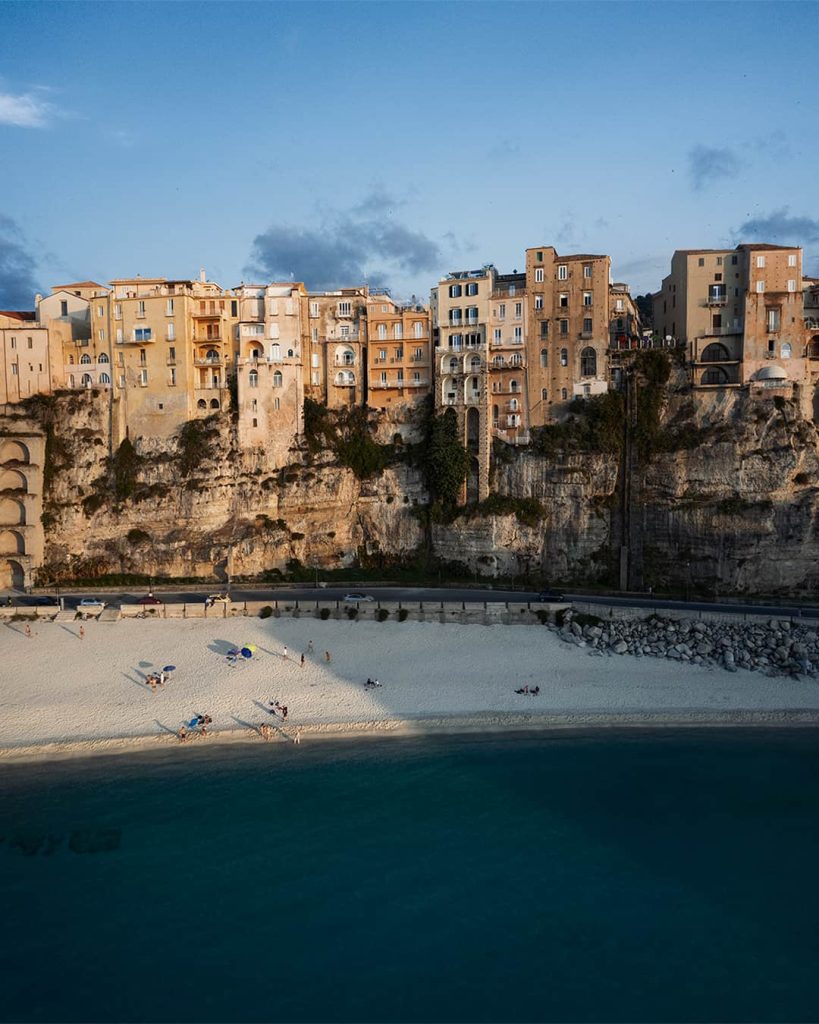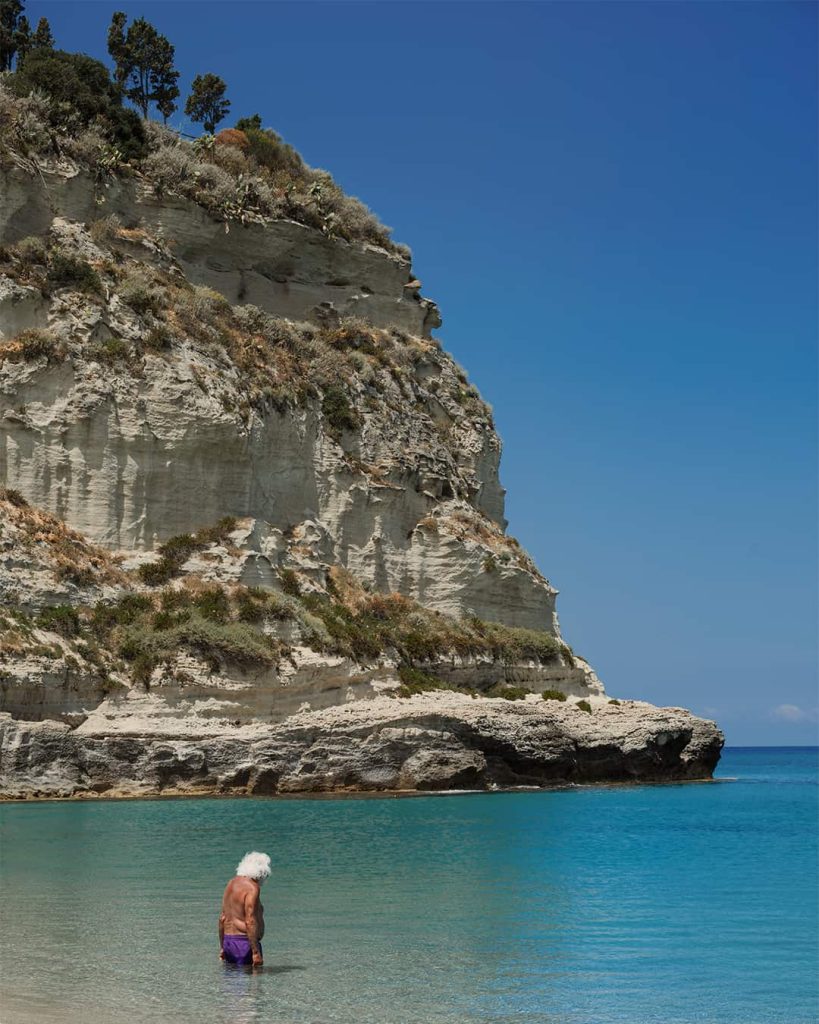 Weather temperature in late spring and early autumn in Tropea is around 18-22 °C | 64-72 °F. Yet, early autumn is better for swimming as the sea is warmer after being heated by summer sun rays.
Summers in Tropea are hot – the thermometer can easily hit 30 °C | 86 °F in July and August. Moreover, as a top destination in the Calabria region, Tropea gets really busy, especially in August and during the Ferragosto public holiday which is on the 15th of August. At that time most of Italians are on holiday and the prices also shoot up not only in Tropea but everywhere in Italy.
If you are visiting Tropea in winter, expect a completely different scene. Be ready even for stormy weather (rainfall is very likely). Yet the weather temperatures are still quite mild averaging 10-15 °C | 50-59 °F from November to April. You will definitely find yourself wandering the streets almost solo. Many businesses including restaurants are also shut, but accommodation prices will be the cheapest. Thus, traveling off-season is only for those who do not care about sunny days and spending time on the beach.
Festivals in Tropea
Visiting a destination during a specific festival can add more interest to the cultural experience. Tropea has quite a few events happening all year round, here are a few that you consider catching:
La Sagra della Cipolla Rossa– the red onions festival which takes place on the 13th of August. It is dedicated to celebrating the famous onion. Red onion race is taking place and foods with red onion are served around Tropea's little piazzas.
Festa della Santa Maria dell'Isola which takes place 15th of August.
Festa della Madonna de Romania, dedicated to Tropea's patron saint. The highlight of this festival is a parade when the statue of the Madonna is carried around the streets. I saw a similar celebration in Palermo and it was quite a spectacle to witness.
Is Tropea, Italy safe?
As a tourist destination, Tropea is a safe place to visit. Just as everywhere you go, do not leave your belongings unattended. That said, when going to swim on a busy summer day when there are a lot of people on the beach, do not leave anything expensive laying on the towel.
Also do not leave valuables exposed inside the car, as car break-ins still happen around Italy.
In Tropea, you can safely wander around the old town after dusk, even if you are traveling solo.
Generally speaking, the Calabria region, some time ago, just like the nearby Sicily, was considered as not the safest place with a questionable reputation due to "ndrangheta" (Calabrian mafia) activities. However, it is the past. Although bribery and shady things still happen in southern parts of Italy, this does not affect tourists.
I hope you are enjoying my free travel guides & tips. You may say "thank you" by supporting my work by using any of the affiliate links on this post to plan your own trip at no extra cost to you, or just buying me a coffee so I can continue creating more useful content from my favorite coffee shop in town. Thanks!
More Italy travel guides
Planning to extend your trip to Sicily? Check my Sicily travel guides:
Italy Travel Essentials & Useful Links
Here are links to essential travel resources and services I always use when organizing my trips.