Plan one or two days in Tirana with my suggested itinerary which includes 21 awesome things to do in Albania's colorful capital. This list of the best things to do in Tirana covers the most important city sights and must-sees as well as a few quirky attractions you don't want to miss. 
Due to time constraints, I skipped the capital Tirana on my first trip to Albania. However, I made sure to spend full two days in Tirana on my 2-week road trip in Albania and explore as much of this unique city as possible. 
The up-and-coming capital of Albania, Tirana has built the name of the hippiest city in the Balkans. After being suppressed under the communist regime for many years, today's Tirana has literally transformed its neighborhoods of grey facades into eye-catching rainbow-colored apartment blocks decorated with murals.
The city is filled with street art, funky coffee shops, bars, and restaurants, meanwhile, green spaces and parks offer a quick retrieve from the busy streets and traffic noise.
Although still struggling and rough around the edges, Tirana, the lively capital of cool, is destined to become soon one of the top South Eastern European cities to visit. Plus, it is one of the most affordable capitals in Europe! 
From art spaces and creatively transformed bunker-based museums, elevated city views, and vibrant coffee shop scenes to bizarre communist-era buildings and scenic funicular rides above the green peaks, this guide isn't short of interesting attractions in Tirana. 
The great news is that Albania's capital is so compact that most of the main attractions in Tirana are within walking distance or just a short bus ride away. Therefore, in one or two days you will be able to tick off the most important places to visit in Tirana. 
Read on to plan your sightseeing with my detailed Tirana itinerary for one and two days. As usual, I also share the best places to stay in Tirana as well as where to eat. 
I have marked all the places of interest in Tirana on my map, so you know where exactly to look for them. 
Disclaimer: This post contains affiliate links, which means that I may earn a commission if you make a purchase by clicking a link (at no extra cost to you). This helps to keep my blog running and growing by creating more awesome free content for you.
How to spend 1-2 days in Tirana: the best things to see in Tirana, Albania
Tirana travel essentials
Frequently asked questions about visiting Tirana
Is Tirana worth visiting and why? 
I'll be brutally honest here, Tirana is not the prettiest city in the world. 
When planning my Albania road trip, I had second thoughts if Tirana is worth a visit or better to be skipped. Why bother blistering your feet walking the gritty streets of an ex-communist city when I can better sweat while hiking the breath-taking Albanian Alps, swim in the turquoise sea in the Riviera, or wander small historical UNESCO-listed towns of Berat and Gjirokaster? 
The truth is, if you skip Tirana, you will miss that one particle to complete the puzzle. 
Tirana might not be for everyone- either you will love it or hate it. However, in my humble opinion, Tirana is absolutely worth visiting not only for its colorful districts and 70s nostalgia-infused coffee shops, "hole in the wall" type of shops selling cheap crunchy byreks, but also to better understand why Albania is what it is today. 
Definitely not a polished city compared to enchanting Italian or Portuguese towns, but its vivid roughness is what makes Tirana special. The capital city of Albania was nothing I expected and nothing I have ever seen before.
A cacophony of old low-rise buildings, brutalist communist blocks, and modern skyscrapers doesn't make any sense from the perspective of the architectural style of the city. However, at the same time, this chaotic mix seems to also be balanced and unique. It is as if Tirana's turbulent and dark past is opposing a continuously reinventing modern self-image of a vibrant and forward-looking European city. 
Thus, give it a shot and visit Tirana at least for a day. 
How many days should you spend in Tirana? 
Most of the travelers stop in Tirana only for one day. However, I would recommend spending at least 2 full days in Tirana if you want to slowly see all the main attractions and get the vibe of the city. 
Having two full days would even allow you to get a little bit off the beaten path and add some nature attractions in the nearby Dajti mountains or a half-day trip to Krujë-the old capital of Albania. 
Having one day to spend in Tirana would only give you enough time to cover the city center. If you plan to visit the outskirts where Bunkart 1 and the Dajti cable car are located, I would definitely recommend budgeting an extra day. 
What is the best time to visit Tirana? 
Tirana is an all-year-round destination. Autumn, winter, spring, and early June are definitely good times for visiting Tirana.
I would suggest avoiding Tirana in the summer (July and August) when it gets really hot. I experienced 40 degrees of heat in Tirana on my 2-week Albania trip. The heat made sightseeing in the city exhausting. 
ALSO READ: Everything you need to know before renting a car and driving in Albania.
Looking for car hire in Albania? Check Localrent or Discovercars where you can find the best deals for renting a car in Albania!
Things to do in Tirana Itinerary: Day 1
If you have only one day in Tirana, I suggest the following activities and sites. It is definitely going to be a jam-packed itinerary in Albania's capital. Nonetheless, all points of interest are located within the perimeter of the city center and are accessible on foot.
MORNING IN TIRANA: DAY 1
1. Start your day in Tirana with a great cup of coffee
Albania's capital has a flourishing coffee culture. Thus, coffee shop jumping is definitely one of the most fun things to do in Tirana. Inherited whilst under Italian occupation, espresso coffee is phenomenal, and so is corruption, as our Tirana guide joked. 
Indeed, you can find fantastic coffee in hundreds of places sprinkled all over Tirana. Coffee shops are serving everything from sharp espresso shots to fancier coffee cocktails.
You can spend a whole week just trying out countless funky, chic, and artistic coffee spots. To save you some time, here are a few suggestions for the cafes that I loved in Tirana:
Coin cafe– art deco old school movie-themed coffee shop. The decor of the place caught my attention, and the coffee pleasantly surprised me. I randomly ordered something called guarana and it was the best coffee discovery in my whole Albania trip. The cinnamon-infused sweet macchiato is so addictive I could have 5 shots in a row.
Location: Coin Cafè, Bulevardi Gjergj Fishta, Tirana, Albania (exact pin on the map at the end of this article).
Komiteti cafe– the most famous cafe on the web. The coffee shop/bar is known as a museum cafe where the decor is all about 70s nostalgia. Hundreds of communist time relicts from small analog tv sets, 3-liter kompot jars (sweet drinks made from preserves), Enver Hoxha's books, cabinets filled with dining sets like at your grandma's house, and other memorabilia fill the space.
Location: Komiteti – Kafe Muzeum, Rruga Fatmir Haxhiu, Tirana, Albania, behind the famous Pyramid of Tirana (exact pin on the map at the end of this article).
Coffee at Mulliri I Vjetër is a local coffeeshops chain (aka Albanian Starbucks but better). You can find it everywhere around Tirana. I liked their cold Mochaccino and hot cocoa drink. The lively yet cozy branch is in Wilsons Square. Meanwhile, next to Rinia park, they have a large outdoor garden-type of space. Interestingly, they also sell Lithuanian chocolate Pergale– yet one more thing in common between our countries (life during communism is the other). 
Location: Wilsons Square and Rinia Park (exact pin on the map at the end of this article).
2. Go on a free Tirana city walking tour-one of the best things to do in Tirana
I rarely join tours but having read so many great reviews and recommendations about Tirana's free walking tour, I decided to try it out. This walking tour is a fun, memorable, and educational experience.
It is a great way to get acquainted with Albania's capital and definitely one of the best things to do in Tirana, and here is why.
The 2-2.5 hours walk is led by young and enthusiastic English-speaking guides who present the most important historical facts and insights into Albania's culture in a fun and engaging way. You will be walked around Tirana's city center and main neighborhoods. The tour will give you a good intro and orientation around the city. It also covers brief stops at the main points of interest around the town (like the Pyramid, Blloku area, Bunk Art2, and others). It also includes a couple of main churches and the largest in the Balkans Grand Mosque (Namazgâh Mosque) so you don't have to look for them later. 
I did a quick research about Albania's history on Wikipedia before landing in Tirana, but reading historical facts can put you to sleep very quickly. On the contrary, joining this Tirana walking tour was an eye-opener and just the right amount of the most important information to get an idea about the past and present life in Albania.
You will also get to know some quirky and fun things about everyday Albanian life. Finally, guides are open to questions and you can ask them anything Albania-related that comes to your mind. 
The walking tour is called a free tour; however, donations of your chosen amount are very welcome. In fact, those guided free tours are led by professional tour guides who actually do it every single day 365 days a year! Therefore, it is a full-time job for them. Not sure if they are getting a fixed salary, but surely donations from travelers count up to a significant part of their income.
Starting time of the tour is at 10 AM daily. The meet-up point is at the staircases on the left side of the Opera house in Skanderbeg square (the main plaza in town).
How to recognize your tour guide– they have a badge that says "free tour". 
Group size: at my time of visit there were 2 groups split between two guides, each of the groups had around 15 people. 
If you prefer smaller guided tours, there are some great options to join a paid Tirana Walking Tour with Food Tasting (5/5 Viator).
The following nr. 3 to nr. 9 things to do in Tirana on this list are briefly covered during the walking tour.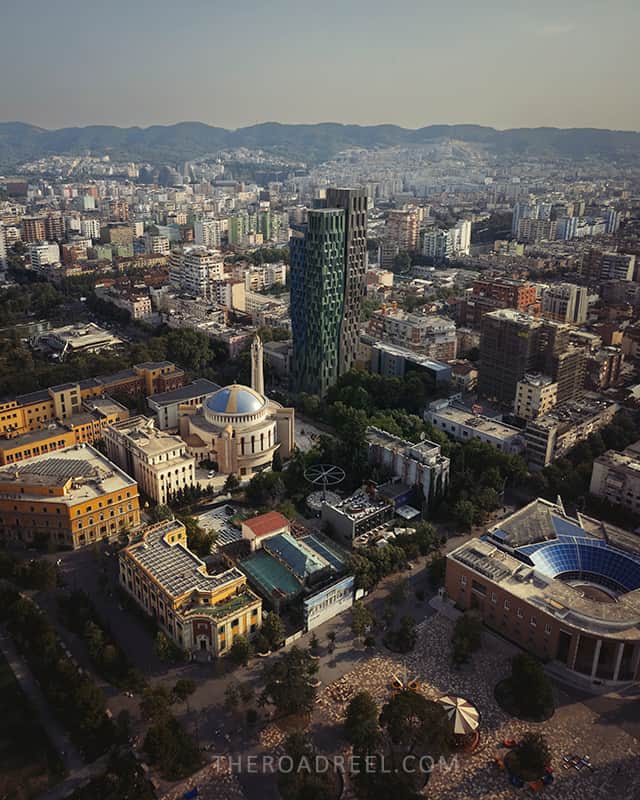 3. Skenderberg Square- the heart of Tirana
Named by the country's national hero, Skanderbeg Square is the heart of Tirana. All roads in the city lead to the massive plaza paved with various shades of stone sourced from different parts of Albania. On a hot day, you may also see a thin layer of water stripes running through the pavement of the plaza.
As our walking tour guide explained, recycled water is being pumped from the sides of the square to cool down the stone.
I was in Tirana when the sun heated up the air to 40 degrees Celcius. This cooling system comes in handy otherwise the 40000 square meter size Skanderbeg square would turn into an open-air stove. 
On the southern side of the square, you will definitely notice a statue of Skanderbeg himself. Meanwhile, many governments, historical, and other important buildings are situated around the square. 
If you pass by the late afternoon or at sunset time you will see Skanderbeg Square come to life. Locals love to hang out around the main city plaza, especially on warm summer evenings.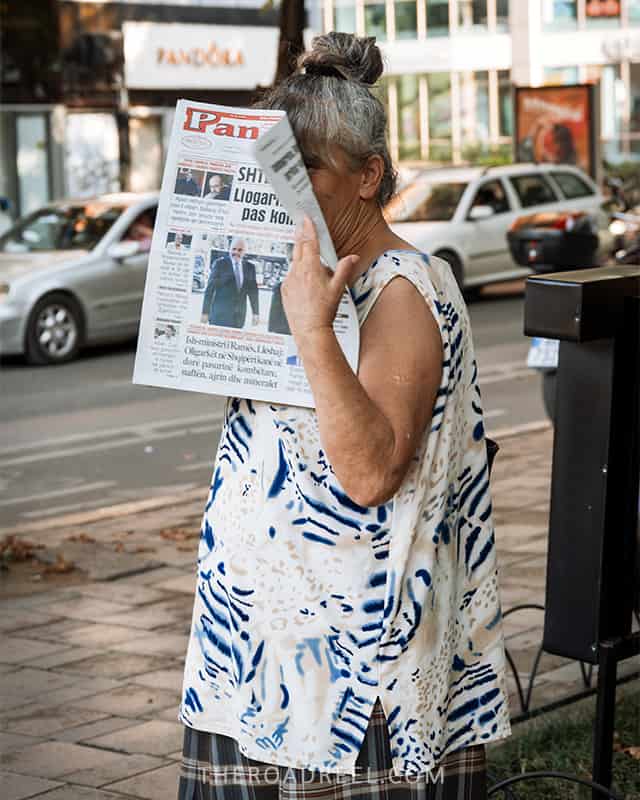 4. Peak into Et'hem Bey mosque
Et'hem Bey mosque is one of the surviving places of worship (many churches and mosques were destroyed during Enver Hoxha's rule). Part of the historical complex (together with Tirana's clock tower), the mosque holds significant importance in Islamic Art.
Mosques' facades and the portico are decorated with frescoes depicting trees, waterfalls, and bridges. In Islam, it is usually frowned upon to portray real-life objects. The decorations, if any, seen in most of the mosques, are usually abstract mosaics and arabesques. 
Before visiting, I have read about Et'hem Bey mosque and I was expecting something grand. Meanwhile, the Et'hem Bey mosque is very modest compared to what I am used to seeing in the Middle East (UAE and Oman).
Although Et'hem Bey Mosque is strategically located in the southern corner of Skanderbeg square, you can almost walk past it without realizing it is one of the most important historical buildings in the capital. The petite mosque is best appreciated up close. Non-Muslims can also visit it outside prayer times. Make sure to remove your shoes before entering and wear modest attire, including a head cover. Although Albanians are quite relaxed when it comes to religious guidelines, and nobody would probably request you to wear a scarf (if you are a female), it is still advisable to do so out of respect for the culture.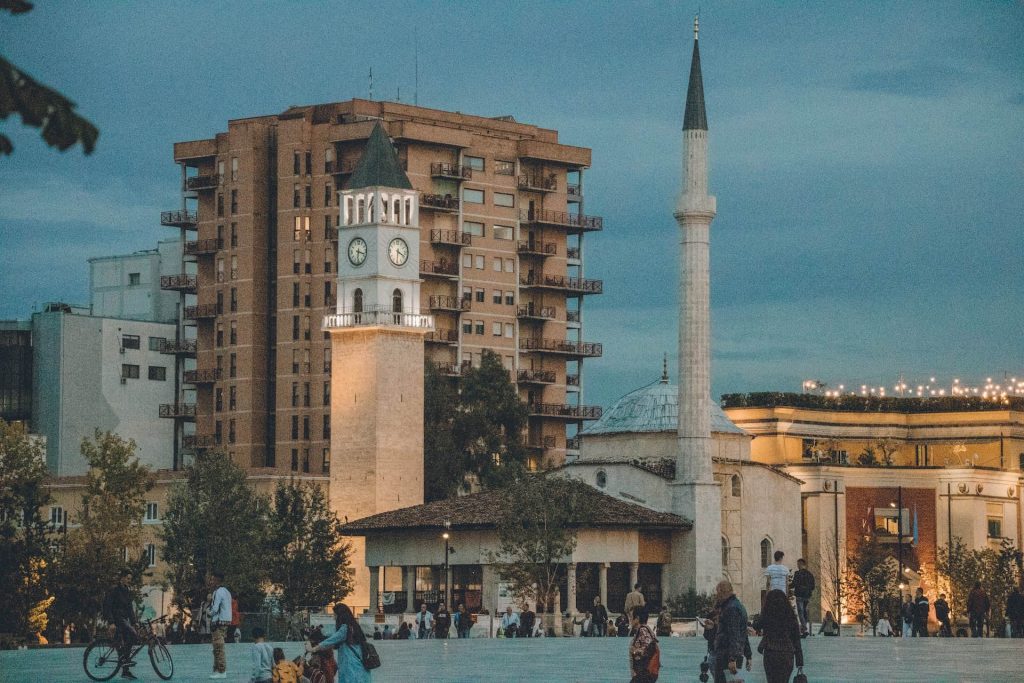 5. Climb the Clock Tower to get an elevated view over the Skanderbeg Square
The Clock Tower is located behind Et'hem Bey Mosque was also built by Etëhem Bey Mollaj in 1822 and was originally designed in Islamic style with a Venetian bell to be rung every hour. 
Today it is one of the most important historical structures which used to be the tallest building in the city before skyscrapers overtook it in height. If you have time, you can climb a 35-meter-tall tower via 90 spiral steps for elevated views of Skanderbeg square. 
6. Pyramid of Tirana
The Pyramid of Tirana is sort of a symbol of the city and at the same time, the most bizarre building constructed in 1988 and originally intended to be used as Enver Hoxha's museum. Enver Hoxha was a despotic dictator, considered one of the most dangerous tyrants in history, who ruled Albania for over 4 decades. 
The 4 million US dollars pyramid served its purpose for 3 years and then it was closed flowing the collapse of the communist regime. The building was converted into a conference center, then used by NATO during the Kosovo war, then as a radio station and finally, it turned into a nightclub until it got completely abandoned. 
Today Pyramid, after long debates about whether it should be demolished or renovated, is under construction. Gladly the symbol of Tirana will stay and will be transformed into a youth-focused cultural hub.
Our Tirana tour guide told us that the government has been promising since 2015 that it will take 2 years to complete the Pyramid. Yet the 2 years deadline has passed a while ago.
AFTERNOON IN TIRANA: DAY 1
 7. Bunk Art 2- the most unique museum in Tirana you must visit
The walking tour ends midday at Resurrection of Christ Orthodox Cathedral- a massive dome-shaped modern place of worship. It is just a few steps away from Skanderbeg Square and Bunk Art 2, the location of which you already know as the tour stops at its entrance for a brief overview. 
Bunk Art 2 is one of the 180 000 bunkers built under Enver Hohsa's rule (mad number). The tyrant was paranoid about the nuclear attack and thus decided to be prepared once it starts. Luckily, the nuclear war never commenced, and thousands of those bunkers dotting the whole country were left abandoned. 
Originally constructed to serve as a shelter for the top politicians and elite police, the Bunk Art 2 was also abandoned for many years until it was transformed into a unique museum in 2016.
Bunk Art 2 is not an art museum, but an exhibition disclosing the dark realities of terrifying Albania's communist regime.  
Tens of thousands of Albanians were terrorized and tortured by the so-called secret police. Names of over 6000 executed civilians are displayed to commemorate the victims of the communist regime.
It is hard to understand and process with a clear mind how one crazy dictator managed to lock the whole country from the rest of the world for more than 40 years and kill everyone who tried to escape Albanian borders. 
In Bunk Art 2 exhibit you will find installations, old photographs, and relics. ln depth information explaining different stages of life in Albania during the communist regime is displayed in chronological order. Short interview recordings with the survivors talking about the tortures they had to go through are nothing less than shocking. 
Also, you can see rooms left as they were originally set up to be used by the biggest shots in the government in case of nuclear war. Decontamination, isolation, prison cells, and lots of creepy underground corridors accompanied by disturbing sound effects will not leave you indifferent. 
The exhibition may feel heavy and even depressing, but it is something you shouldn't miss when in Tirana. 
Bunk Art2 is a smaller version of the main Bunk Art1 museum which is a massive bunker located on the outskirts of Tirana. If you are spending 2 days in Tirana, I would recommend visiting Bunk Art1 on the second day. You can combine the visit together with the cable car ride mentioned later in this itinerary.
Opening hours: Mon-Thu 9:30 AM – 6 PM, Fri-Sun 9:30 AM – 7 PM.
Entrance fee: 500 LEK (~4.5 EUR).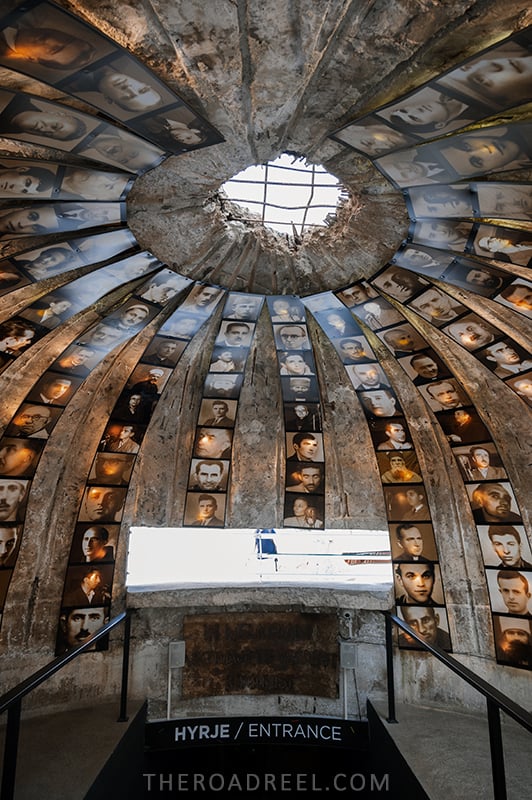 8. Head to the Blloku area for another cup of coffee or a light lunch at one of its funky cafes
If you join a walking tour of Tirana, you will touch a corner of the Blloku area. It is Tirana's trendiest neighborhood filled with colorful apartment blocks and beautiful murals.
Interestingly, Blloku used to have a completely different face during the days of communism. It was a gated and heavily patrolled compound built for the selected few.
Communist leaders including Enver Hoxha himself used to reside in the area. As our guide joked, everyone is equal under communism but some are more equal than others. Indeed, the communist leaders and their most loyal defenders lived in a secured neighborhood of Blloku and had a very different lifestyle than the rest of the hard-working and, let's face it, struggling nation. 
A random mortal person wouldn't be allowed to enter and hang out in Blloku back in the day. However, after communism collapsed, people reclaimed Tirana's district back and rebelliously transformed it into one of the coolest buzzing spots in town.
Today Blloku is filled with funky cafes, hip bars, and stylish boutiques. This is also the place where "golden youth" is hanging out at night.
Make sure to stop by Wilsons square with its internet-famous rainbow buildings. The roundabout with US Presidents Woodrow Wilson's statue at the center marks a significant historical event when during WWI America's leader stood against European leaders' plans to divide Albania's territory amongst its neighbors. 
9. Stop by Enever Hoxha's villa in Blloku
Blloku area retains some important historical attributes. Enver Hoxha's villa, although only available to see from the outside, is one of them. Ironically, Albania's first international fast-food restaurant KFC was opened in front of the dictator's villa. Locals joke that, it is capitalism smiling at defeated communism through the face of the KFC founder. 
Note: stopping at Enver Hoxha's villa is part of the Tirana walking tour.
As recommended by locals, have lunch in the nearby Terracotta restaurant. This is a small solo chef-run place serving delicious pasta. Also, has vegetarian options. The exact location is on the map above.
10. Check out Tirana's views from above from the Sky Bar 
When in the Blloku area, stop by Sky Tower Bar. As the name suggests, this bar is elevated up high above the city and it offers some pretty cool views of Tirana. 
It is free to enter and you can also have a drink while observing the birds-eye view of the Albanian Capital. At my time of visit, the Sky Bar was temporarily closed for renovation. However, you might be lucky to find it open.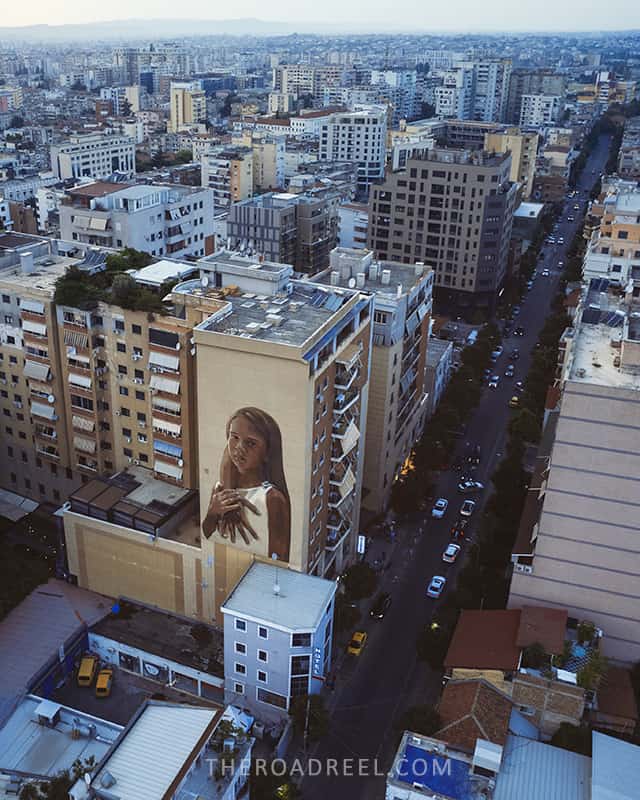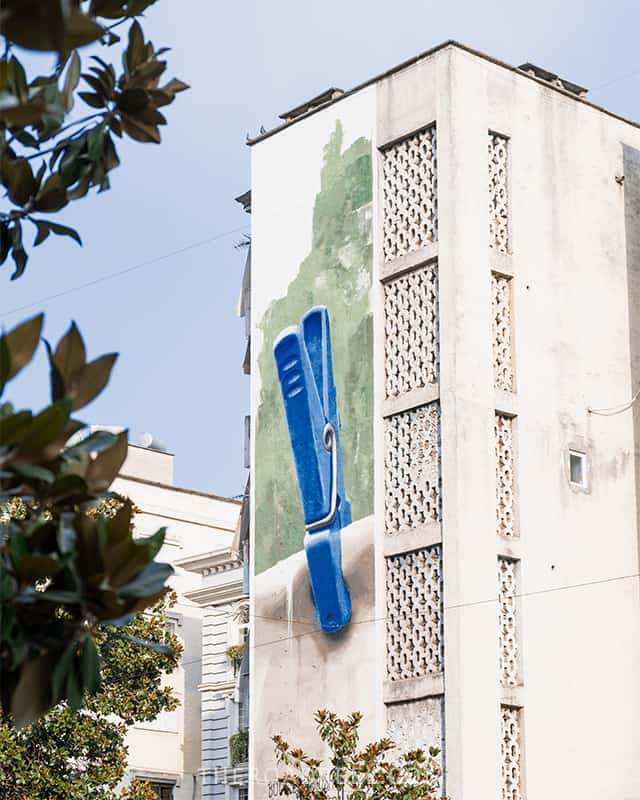 11. Spot more of Tirana's colorful buildings and murals
Tirana by no means was always called a colorful capital. The town started changing its appearance in the 90s as a result of the former mayor's and painter Edi Rama's initiative to boost some life into the dull communist buildings. 
Many apartment blocks and even government buildings in the city center were re-painted using the brightest and boldest colors available-purples, blues, greens, yellows, pinks, you name it.
Today some of the buildings still retain their vivid shade while some are slowly fading. Yet, the municipality of Tirana continues to add a touch of color to the newly constructed buildings. 
Although Tirana's colorful buildings are spread all over the city, if you want to spot some of the coolest-looking ones, there are a few spots you can walk to:
Rainbow Building at Wilsons Square which I have already mentioned above. 
Bajram Curri Boulevard runs parallel to Lana River on the south side of the city. Start walking from the Blloku area eastwards, pass the Pyramid, and in around 10 minutes you will come across the super vivid pink apartment block. Continue further as much as you feel like to see differently decorated walls of old communist-era apartment blocks.
Rruga e Kavajës and Rruga Arkitekt Kasemi are other two bigger streets where you can find more colorful Tirana facades. 
Murals at Rruga e Dibrës and Rruga Barrikadave intersecrion. Walking the North side of the Skanderbeg square, behind the Opera House can find amazing massive murals located at an intersection of Rruga e Dibrës and Rruga Barrikadave streets. 
Superman's mural. One of the nights I stayed immediately next to this cool Superman mural located on Rruga Muhamet Gjollesha street, the north side of the Lana River. This mural is also very close to my favorite Coin café in town.
Pazari i Ri (New Bazaar) is enclosed between vivid freshly repainted buildings decorated with geometric forms resembling traditional patterns seen in Albanian textiles.
Apart from looking up to the colorful walls, spot many electric boxes on the streets painted in different cartoon characters. There are literally hundreds of them.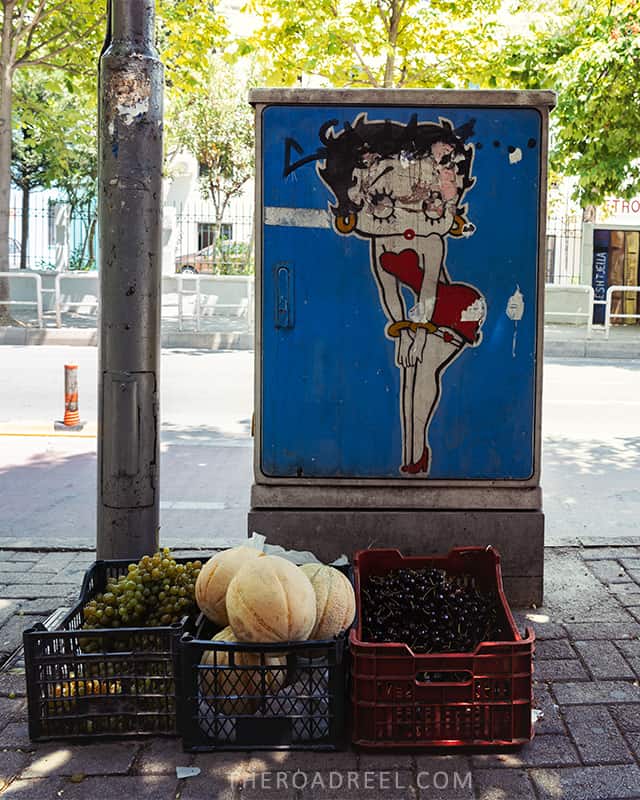 12. Pass by Tanner's Bridge- the shy monument for Tirana's Ottoman days
Tanner's bridge is a fragment of Tirana's Ottoman-era history. Formerly used by farmers for the daily livestock commute, today it is a shy pedestrian bridge. This mini-attraction reminisces on what Tirana used to be back in the 18th century before communist buildings took over the surrounding space. You can pass the bridge on your way to the colorful buildings along the Lana River.
EVENING IN TIRANA: DAY 1
13. Go for xhiro on Toptani street
Toptani street in Tirana is a pedestrian avenue dotted with bars, coffee shops, and ice cream parlors. It is also the main spot for xhiro– a traditional evening stroll that starts at dusk. Xhiro is similar to Italian passeggiata a leisurely walk along the main street, chitchatting and simply showing yourself. 
It is indeed a unique sight to witness. Toptani street, completely dead during the day, becomes a buzzing promenade as soon as the sun starts setting. 
14. Have a well-deserved Albanian dinner at Justinian Fortress or Oda
At the east end of Toptani street, the revamped ancient Justinian Fortress is a buzzing avenue to have a glass of wine or a classy dinner. It is indeed a unique solution to utilize historical space. In Justian Fortress you will find lots of restaurants to choose from, including vegetarian options. Restaurants inside the fortress walls are a bit pricier than the ones just a few steps away next to Pazari i Ri (the New Bazaar), yet still very affordable. 
A more budget-friendly option which was recommended all over the internet, and I could see why after trying their stuffed eggplant, is Oda serving classic Albanian dishes. This restaurant is set inside a traditional house and features a cozy garden with wooden dining tables.
The menu isn't huge but the food is absolutely delicious. Reservations for dinner are recommended-we were lucky to get a table when showed up on our first night without having one.
15. A night out in Blloku to finish off the day in Tirana
If you still have some energy left after a busy sightseeing day and have not been knocked out by the hearty Albanian dinner, check out the night scene of Tirana. The best way to do so is to head to Blloku's trendy bars. Some of the coolest in the area are themed Radio Bar and Bunker1944 Lounge.
On the day of my visit, our Tirana walking tour guide was organizing a night out together with the travelers. If you really want to experience the best of Tirana's nightlife the way the locals do, make sure not to miss it.
Things to see in Tirana Itinerary: Day 2
Start your day with a morning coffee and get ready for an action-packed second day in Tirana. I recommend budgeting half a day (afternoon onwards) for the below-mentioned BunkArt1 and Dajti Cable car. I purposely added those two attractions for the second day in Tirana because they are located on the outskirts of the town. 
MORNING IN TIRANA: DAY 2
16. Shop at Pazari i Ri- the new market of Tirana
No city trip is complete without checking out a local market. Pazari i Ri is one of the main tourist and local attractions and a must-visit place in Tirana. Enclosed between colorful apartment blocks, Pazari i Ri is a new bazaar- a marketplace where you can find fresh produce, homemade jams, honey, and various souvenirs. We bought a kilo of the best fresh figs I ever had in my life for just over 1 euro! 
Even if you aren't planning on shopping, the buildings decorated in geometric patterns resembling Albanian textiles are well worth snapping a photo of.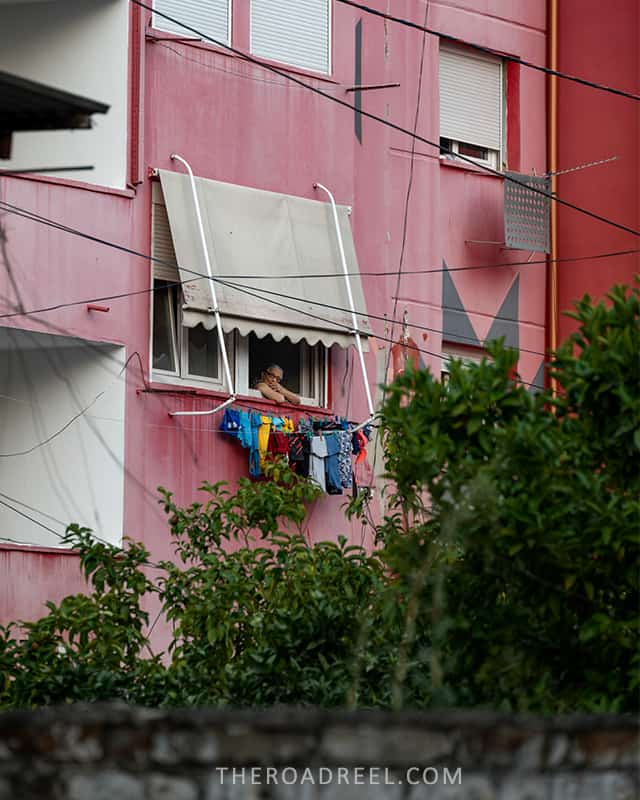 17. Explore Albanian history at the National History Museum in Tirana
National History Museum is the building opposite of Skanderbeg statue in Skanderbeg Square. Museum's facade has a huge and beautiful socialist realism style mosaic depicting Albanian history from antiquity all the way to 1944 when partisans liberated the nation and marked the start of Enver Hoxha's reign. 
At the time of my visit, sadly, the mosaic was under renovation and covered with a reproduction canvas. This is the second time the mosaic is being under renovation in 10 years. Our guide explained that this time it is European Union funding being applied which raises a question of the necessity to actually reconstruct the mosaic. 
Meanwhile, the National History Museum is the largest in the country and holds the richest archaeological collection. If you are history savvy, definitely do not miss this museum.
Opening hours: Tue-Sat 9 AM- 4 PM, Sun 10 AM – 3 PM, closed on Mondays.
The entrance fee is 200 LEK (~1.7 EUR).
18. House of Leaves or/and coffee at Opera House
If you have curiosity for conspiracy theories and what was behind the closed doors of the notorious National Intelligence Services, then you should definitely visit one of the most unusual museums in Albania- The House of Leaves. It is said to be an equivalent to the Stasi headquarters of former East Germany. Transformed into a museum and opened to the public in 2015, House of Leaves in Tirana will walk you through the worst side of the dictatorial regime in Albania, telling the story of thousands of prosecuted people who were against the regime. 
Opening hours: daily 9 AM- 7 PM.
Entrance fee: 700 LEK (~6 EUR).
Alternatively, you can grab a coffee at Opera House cafe in Skanderbeg Square.
If you are not keen on visiting the above-mentioned museums, instead spend your time in the capital's green space.
19. Get some fresh oxygen at Tirana's Grand Park
Grand Park of Tirana is the largest green space in the city with a huge artificial lake at its heart. Located in the southern part of the city, bordering the Blloku area, Tirana's grand park is a space to respite from chaotic city traffic and noise. You will see locals getting their workout done while jogging the network of the park's paved pathways or just relaxing and having a picnic and a dose of fresh air. If you are tired of concrete blocks, you will definitely find relief in Tirana's largest park. Spare an hour or two, as the park is huge. As expected, you definitely will find coffee shops to sip more espresso to keep your energy going. 
A few words about Mullixhiu restaurant.
At the edge of Grand Park, you will come across Mullixhiu- a Micheline-star rated restaurant heavily advertised online as one of the best places to eat in Tirana. I got excited to try it out after reading so many good words about this place. As advised, I made a reservation for lunch far in advance (which actually wasn't necessary as the restaurant was empty). Sadly, we did not have a good experience. Since the menu is constantly changing, maybe it was not the best selection (we tried 4 different vegetarian dishes), or maybe the chef was not in the mood, but all food we ordered for some reason had a bitter taste. The dishes were presented as one of those artsy plates you see in fancy restaurants, but the look did not match the taste. Service was far from great too. Thus, if you decide to go, keep your expectations low, and maybe you will have a better experience than we did. 
AFTERNOON IN TIRANA: DAY 2
20. Visit the largest bunker museum in the country BunkArt1
BankArt1 is the big brother to BunkArt2. BunkArt1 is based in a massive multi-floor bunker. Even the entrance leading to the museum is thrilling. You have to pass a tunnel- a real mood-setter with scary sound effects.
Budget at least 2 hours to slowly visit all the spaces and read the information displayed at the exhibition. I recommend getting an audio guide downloadable as an app on your phone (must have your own headphones though), as it will walk you through the main historical facts and stories of life during communist Albania. 
BunkArt1 is definitely more impressive than BunkArt2, but I only suggest visiting it if you have 2 days in Tirana because Bunk Art 1 is located on the outskirts of the city. 
To get to Bunk Art1 you can take a blue line bus L1 from the bus stop behind the Opera house. The exact location is on the map above. The bus ticket price is 40 LEK, and the journey takes around 30 minutes, or longer if the driver stops for a coffee break (yes it is pretty normal in Albania).
Alternatively, you can catch a taxi from Tirana's city center. You should pay an average of 7 EUR for the taxi. Use merrtaxi.com to organize a pick-up from your location. 
Opening hours: Mon-Thu 9:30 AM – 4 PM, Fri-Sun: 9:30 – 5 PM.
Entrance fee: 500 LEK (700 LEK with an audio guide).
21. Ride a cable car to the verdant Dajti mountains for elevated city views at sunset
After leaving the claustrophobic corridors of BunkArt1, take a 10 minutes steep walk uphill to yet another exciting attraction in Tirana-a Dajti Express cable car that will take you 1600 meters up to the verdant mountain peaks. 
The ride is much longer than I expected (at least 15 minutes), slowly ascending above timeworn apartment blocks and opening up panoramic views of Tirana and the beautiful surrounding mountains. 
Tirana is often sinking in smog, but if you are lucky to come on a clear day, the views stretch as far as the sparkling Adriatic Sea. 
Once at the top of Dajti mountain balcony, you can dine at the restaurant overlooking the city. To me, however, the dining space behind the glass didn't feel as atmospheric as when you are gazing at the city over the open balcony.
Outside the upper cable station you can also play mini golf, or if you feel like deserting civilization- go on light hiking into Dajti mountains. 
The best time to take Dajti cable car is either around before sunset or early morning. Mornings will be less busy than evenings. Also, mind national holidays when the queues line up for the cable car. 
The Dajti cable car roundtrip ticket costs 1200 LEK (10 EUR) for adults. The cable car operating hours are from 9 AM to 7 PM only. This means that in the summer you won't be able to catch the sunset which sets around 8 PM, however in autumn and winter, when the days are shorter, it is perfectly doable. 
TIRANA DAY TRIPS
If you are based in the capital of Albania for longer than 2 days, I recommend going on some fantastic day trips from Tirana.
Visit Krujë– the old capital of Albania
Krujë (Kruje) is a medieval hilltop town, sitting on the slopes of the misty peaks. You already heard about Albania's one and only national hero Scanderbeg. Kruje was not only the first capital of Albania but also a base for Scanderbeg's operations while fighting against the Ottoman empire. The hero, initially taken as a hostage and trained to serve in the enemies' armies, acquired the knowledge that he used against Ottomans years later. 
Things to do in Kruje:
Kruje Castle and Old Bazaar are the main attractions. Wander the complex of old castle ruins and make sure to stop by Skanderbeg's museum to get further aquatinted with the story of the nobleman.
Walk the cobbled lanes of countries oldest Bazaar dotted with souvenir stalls, have yet another cup of coffee, and finally, have lunch or dinner at one of the restaurants within castle walls. Few of them offer tables with fantastic panoramic views stretching as far as the Adriatic sea.
Getting to Kruje from Tirana by bus
Frequent buses and minibusses (every 30-60 minutes) are available from the South and North Tirana Bus Terminal (Terminali i Autobusave të Jugut dhe Veriut), to Kruje the exact location pin is on the map at the end of this article. Ticket price 100-150 LEK.
Visiting Kruje on an organized tour
You can also join an organized tour offering pick-up from your hotel in Tirana. This 8 hours tour visits Kruje and Mount Sarisalltik with traditional lunch and hotel pick up in Tirana. Click here for prices and availability.
Go off-the-beaten-path to the turquoise lake of Bovilla
Bovilla lake lies 10 kilometers northwest side of Tirana between two mountain ranges and is part of Dajti National Park. Bovilla is actually a reservoir providing most of the drinking water to Tirana.
Bovilla views can be admired by either doing a light trek to the viewing balcony or hiking Gamti Mountain. The latter is slightly more challenging yet still a relatively short 40-minute hike through the rocky terrain leading to the impressive viewpoint.
Although in close proximity to the capital, Bovilla lake stays an off-the-beaten-path destination due to its accessibility. The mountain road leading to the lake is off-road and requires a 4WD. Also, there is no public transport going to Lake Bovilla.
The easiest way, if you do not have 4WD, is to join a day tour from Tirana which offers convenient pick-up from your hotel, and a guided hike.
Head for a swim in Durrës
If you are visiting Tirana on a hot summer and want to take a quick dip into the cooling Adriatic sea waters, the closest beach town to head to is Durrës. It only takes 30 minutes by public bus to reach the sandy shores of over 10 kilometers long Durrës beach.
Summertime is naturally the busiest, attracting holidaymakers from the capital. Nonetheless, it can be a fun local experience if you just want a quick city break by the water.
Frequent buses and minibusses (every 30 minutes) are available from the above mentioend South and North Tirana Bus Terminal (Terminali i Autobusave të Jugut dhe Veriut), to Durres, the exact location pin is on the map at the end of this article. Ticket price 100-150 LEK.
Where to stay in Tirana: accommodation options
Tirana city center is small and walkable. There are plenty of accommodation options to fit any budget and taste. Here are my recommended places to stay in Tirana for different types of budgets:
Places to eat in Tirana
Here is a list of some great places to eat in Tirana- from quick byrek snacks to lunch and evening dining options. All of them are pinpointed on my map at the end of this article..
Byrek Te Castit– a local pastry shop selling fresh baked cheap byrek (like 40 LEK per piece) with various fillings (classic cheese, tomato onion, meat, spinach, etc.).
Oda -Traditional Albanian Cuisine. Located next to Pazari I Ri this traditional Albanian restaurant is beloved by locals and travelers for great Albanian food and low prices.
Era Vila– recommended by a local, a little fancier yet still very reasonably priced restaurant next to Air Albanian Stadium.
Terracotta Restorant- located close to Blloku area and run by one enthusiastic chef, this restaurant serves fantastic pasta dishes and is known for its fantastic service.
Te Dhuri– it is a small casual place to eat traditional Albanian food. Very low-key, cheap, a little out of the way at the northeastern edge of Grand Park of Tirana, yet still easily reachable on foot.
Golosa Pizzeria Restorante– located inside Galeria Mall, this pizzeria has some great Italian pizza made in the traditional oven, take away, or dine-in.
Justinian Fort– the historical castle transformed into a lively hangout place compactly filled with many restaurants, cafes, and bars, as well as souvenir shops.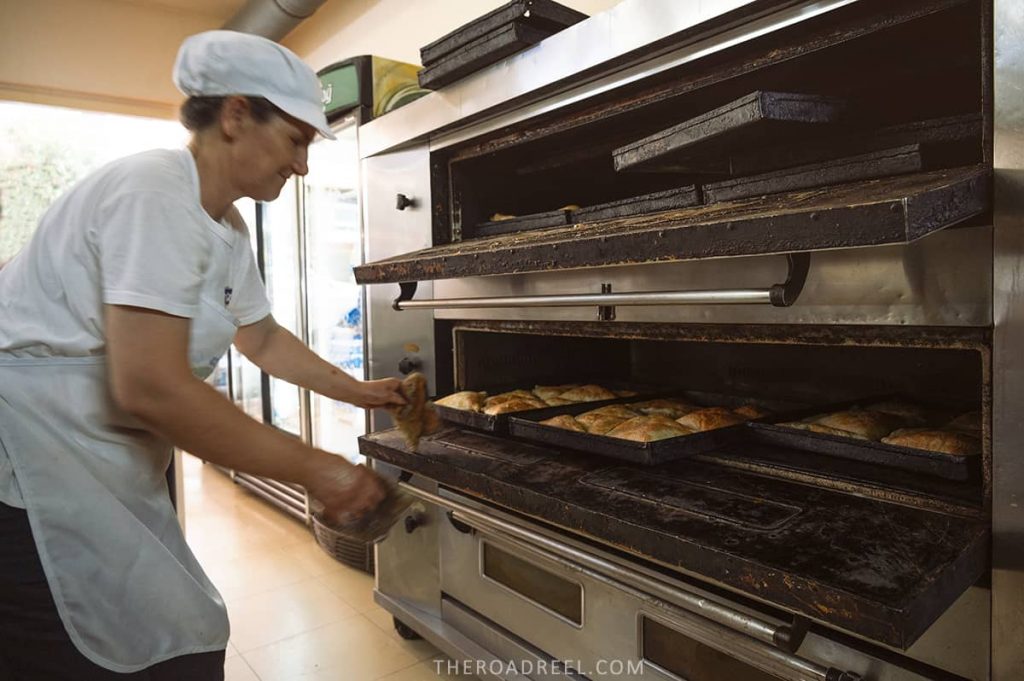 Tirana Itinerary Map
*Click on this map to open it and locate all the places mentioned in my Tirana travel guide. Click the tab in the top left-hand corner to open the layers (points of interest, accommodation, driving routes, etc.). You can save this map on your Google Maps account by clicking on the small star icon next to the name of the map. To open the saved map on your phone or laptop, open Google Maps, then click the menu button, go to "Your Places", and click maps where you will see this map saved on your list.
Tirana, Albania Travel Essentials
MORE ALBANIA TRAVEL RESOURCES