This is your travel guide to visiting Scilla seaside town and its fishing harbour Chianalea– a magical place in Italy's less explored Calabria region. Discover the best things to do in Scilla, Italy, including how to get there, where to stay, where to park, and where to dine for a romantic dinner. 
Named after a fearsome monster, the characterful seaside town of Scilla sits at the tip of the toe of Italy's boot on the Costa Viola (Velvet coast) of the Tyrrhenian Sea. Relatively unknown to international tourists, Scilla remains a truly authentic seaside village that strongly holds to its two millennia-old fishing tradition. 
A highlight of our Calabria road trip in Italy, the incredibly picturesque Scilla is a town of two worlds divided by the rocky promontory with an imposing fortress overlooking the sea.
On one side you find the marvelous Chianalea di Scilla fishing district characterized by weathered pastel fishermen's houses springing out of the shimmering water. On the other side of the castle, is the Marina Grande area where you can spend warm sunny days on the beautiful velvet coast.
Although small enough to be visited as a relaxed day trip from Tropea, Scilla is worthy of spending a night or two. Especially so, if you are en route to Sicily, like we were, or exploring the Calabria region further afield.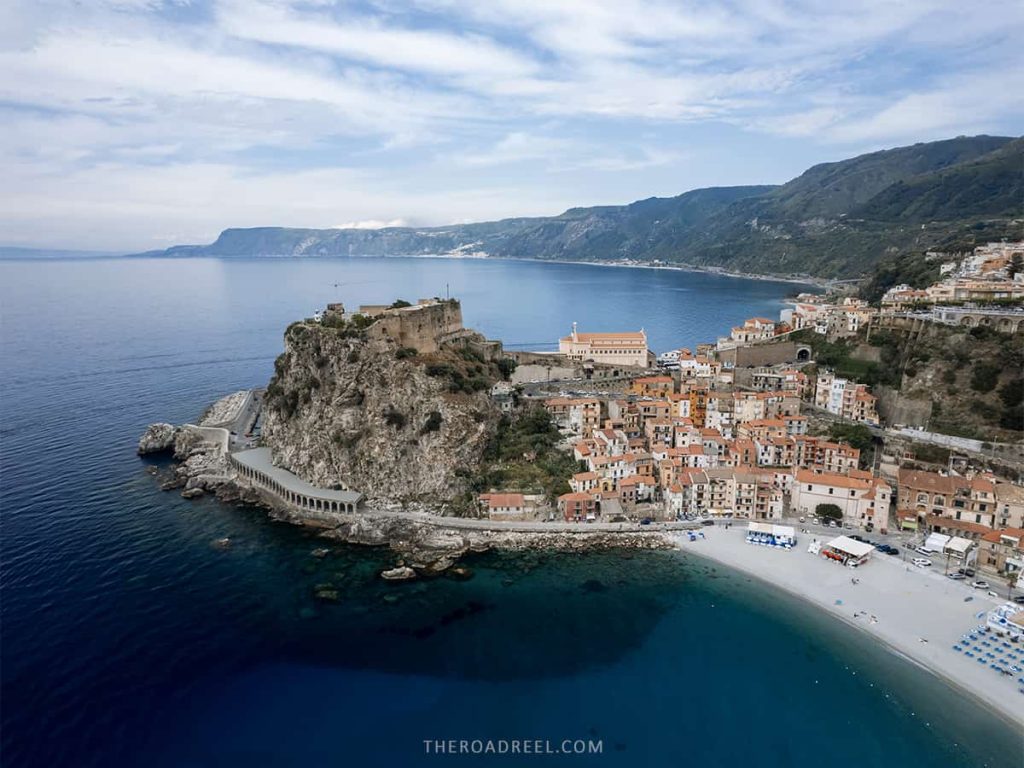 Illustrated with many pictures to inspire you to visit, this Scilla travel guide shows you the best places to see and fantastic things to do in Scilla- the most beautiful coastal town in Calabria, Italy.
Disclaimer: This post contains affiliate links, which means that I may earn a commission if you make a purchase by clicking a link (at no extra cost to you). This helps to keep my blog running and growing by creating more awesome free content for you.
A Travel Guide to Scilla & Chianalea- the Most Beautiful seaside towns in Calabria, Italy
Quick links to plan your trip to Scilla, Italy
Rent a car for your Italy road trip
Best places to stay in Scilla
Why you should visit Scilla and Chianalea, Italy
Positioned on the Strait of Messina that separates mainland Italy from Sicily, the myth-wrapped Scilla is named after a once beautiful nymph who was turned into a fearsome 6-dog-headed monster Scylla. Together with Charybdis (who was an unlucky beautiful girl and a daughter of the sea god Poseidon before she was turned into a whirlpool monster), Scylla would sink ships passing the Strait of Messina. Odysseus was the only one known to survive when crossing the waters of Messina. 
While the monsters are now long gone, the magical fishing village of Scilla squeezed between the sea and the mountains offers a glimpse into the raw southern Italian lifestyle.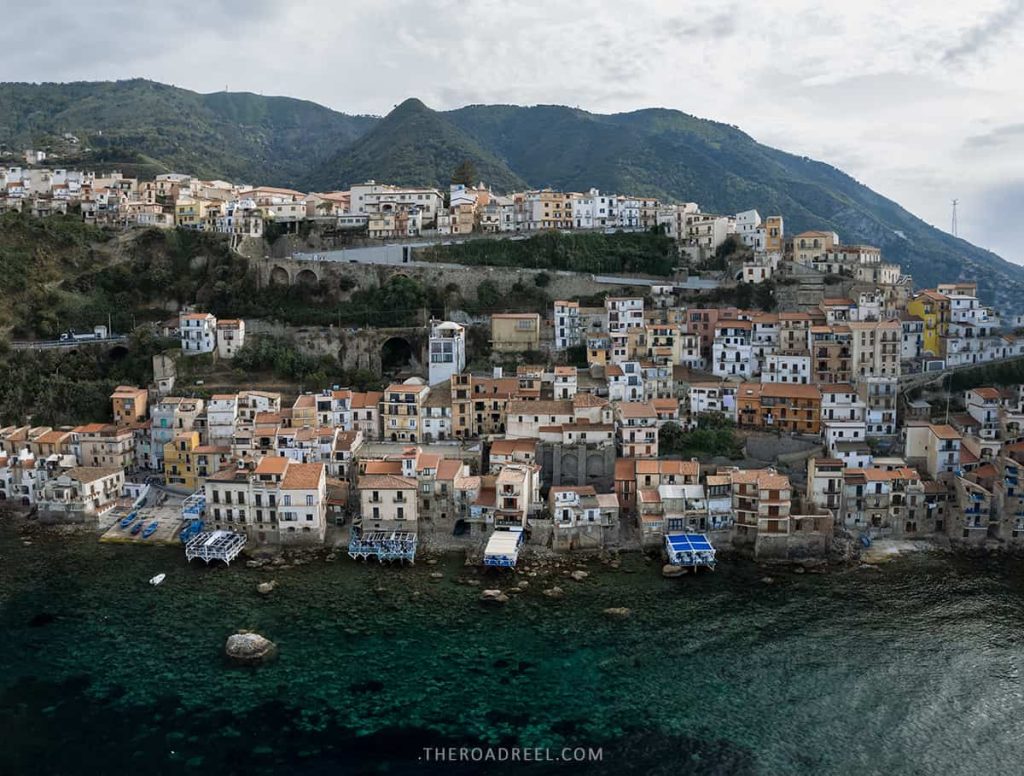 If you are looking for an off-the-beaten-path place in southern Italy, that has not been overrun by tourism like Cinque Terre or Amalfi Coast, but has similar qualities to offer for a fraction of the price, then you will fall in love with Scilla, and especially its ancient fishing harbor of Chianalea. Crystal clear sea, the mountains, mesmerizing old houses clinging over the water, delicious food, relaxed vibes, and zero crowds, Scilla in Calabria is a rare jewel to be found. 
Hurry up though, as Scilla was already noticed by larger travel publications like CNN which included Chianella of Scilla in the most beautiful villages in Italy list.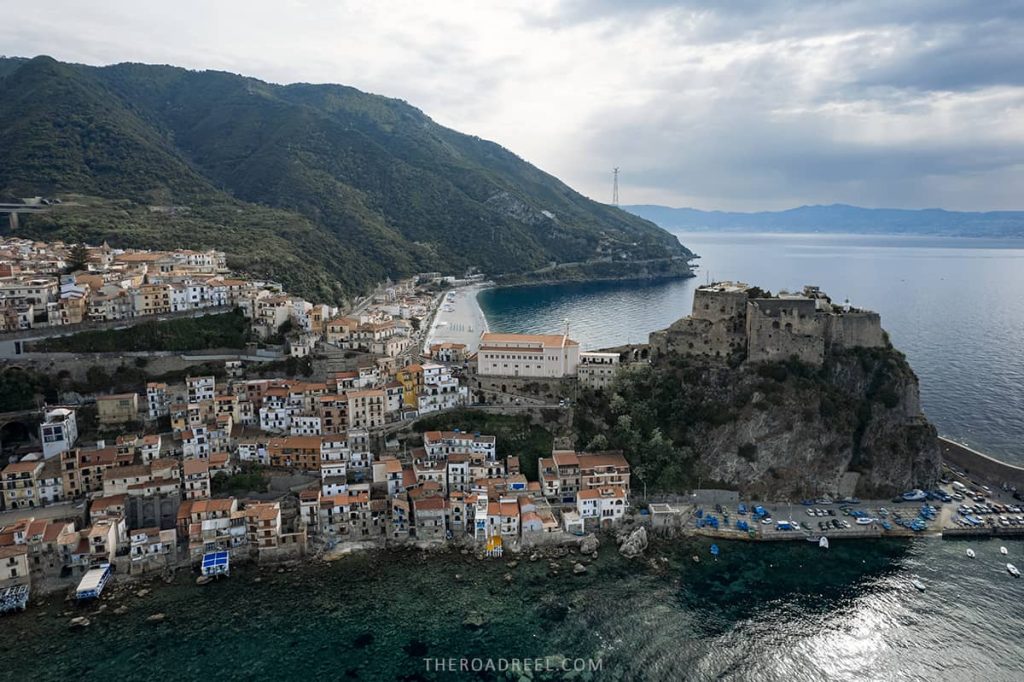 Read more: 15 most romantic road trips in Italy.
10 fantastic things to do in Scilla, Calabria, Italy
1. Admire the charismatic waterfront of Chianalea fishing harbor – a must-visit place in Scilla, Italy
Chianalea is the oldest historical district and fishing port of Scilla, and arguably the prettiest part of the town. Thus, visiting Chianalea's waterfront is one of the best things to do in Scilla.
Sprinkled with blue wooden gozzo boats and layered with bright sandstone facades touching the edge of the water, Chianalea took my heart and filled my camera's memory card.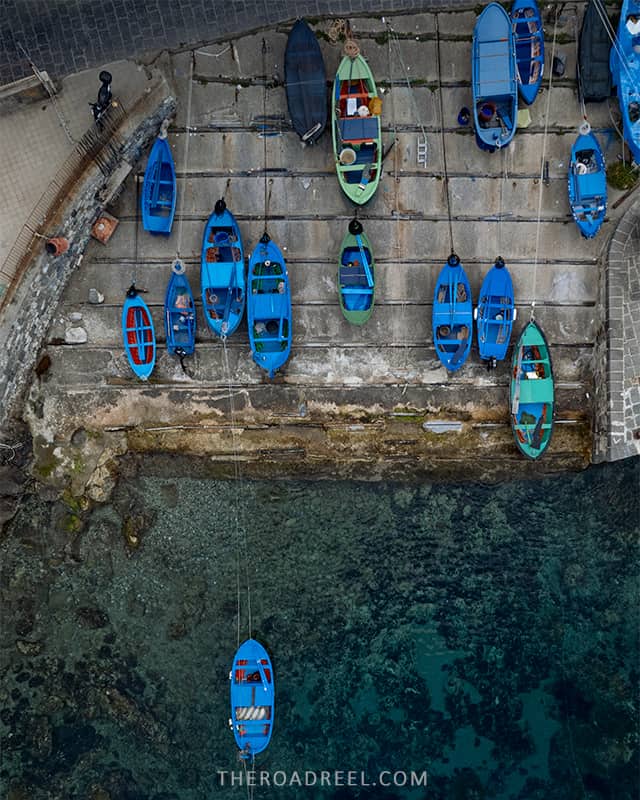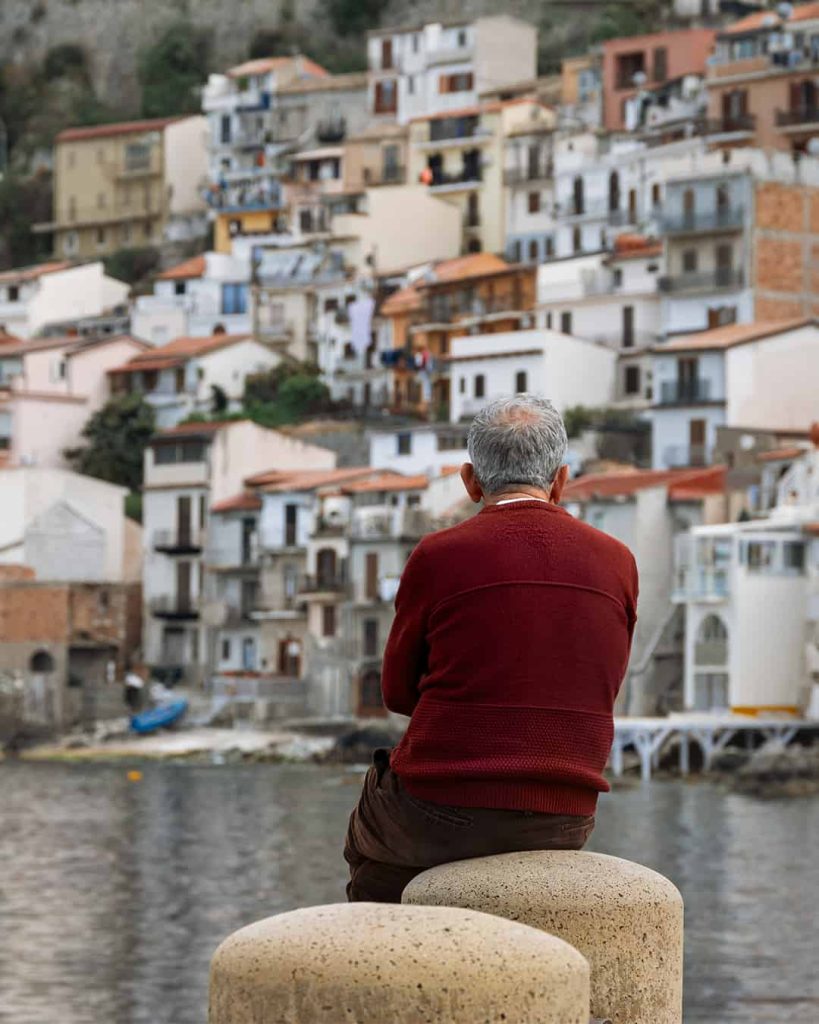 The painters' brush-worthy waterfront of Chianalea can be admired and photographed from the concrete promenade jutting into the water on the opposite side of the village. The mall is frequented by elderly locals who spend their slow afternoons contemplating in solitude, fishing, and playing cards.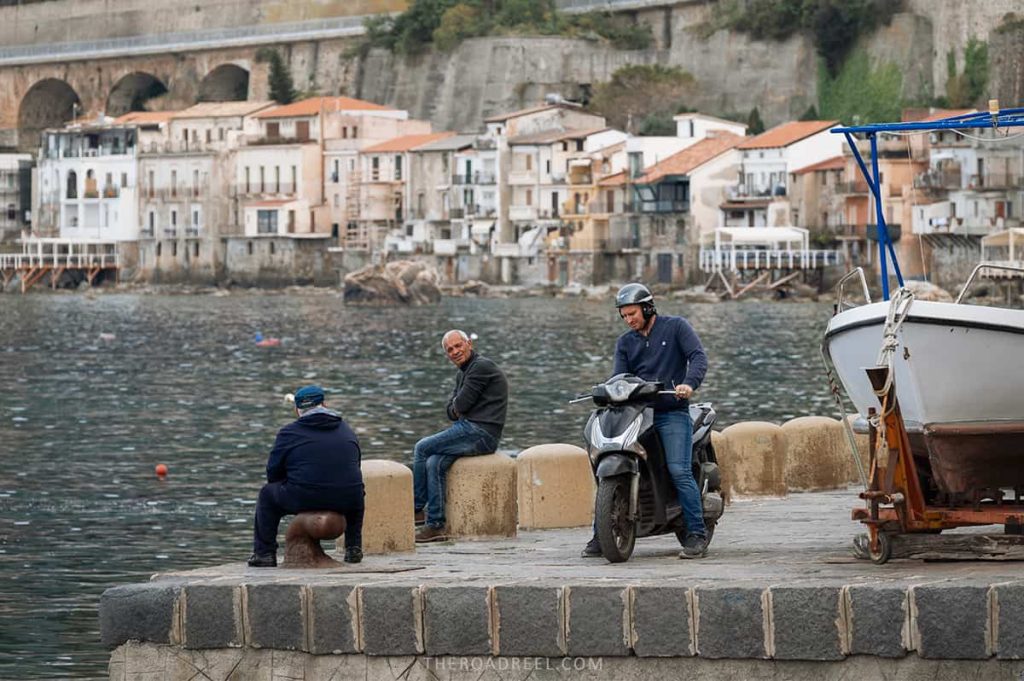 2. Continue to wander the streets of Chianalea
Chianalea is tiny and getting lost there is virtually impossible. Yet when following the streets of Via Grotte and Via Annunziata, you will encounter many tiny slipways cutting between houses down to the water where the wooden boats are parked.
Meanwhile, atmospheric waterfront restaurants invite you to dine on stilt terraces above the waves lapping against the walls of the houses.
While slowly wandering the cobbled streets of Chianalea take a deep breath of the salty air and listen to the sound of waves – the experience is meditative. 
The narrow streets lead to one of the most distinct parts of Chianalea – Scaro di Alaggio. This is a small concrete deck where the wooden fishing boats are anchored.
It is not a surprise that Chianalea is called the Venice of the South just a much smaller version and unique on its own. Thus, exploring Chianalea is one of the wonderful relaxing things to do in Scilla.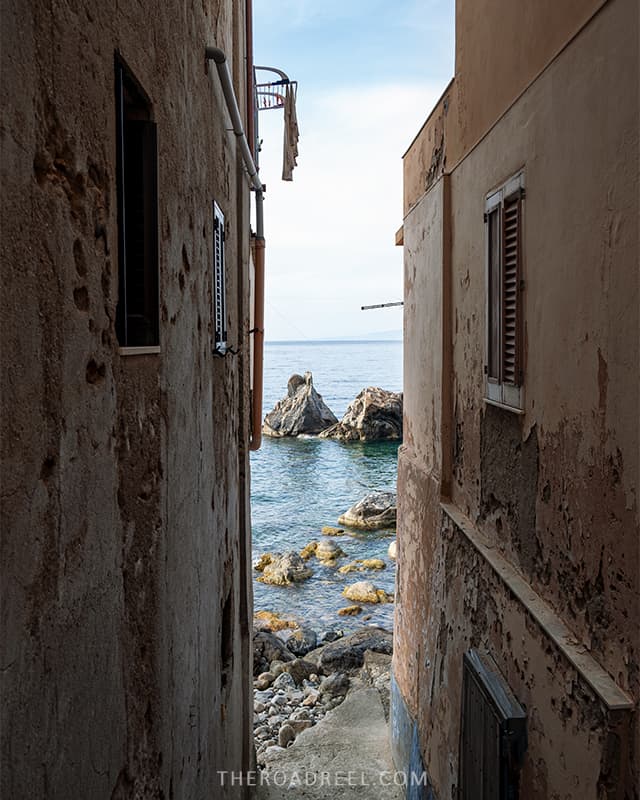 Also read: 10 best things to do in Tropea, Italy | The Pearl of Calabria.
3. Walk around Castello Ruffo walls and learn about Scilla's history
Perched on the rocky promontory jutting out to the sea, the Castello Ruffo takes the dominant position in Siclla's landscape. Castello Ruffo is a focal point of the town dividing the Chianalea and Marina Grande neighborhoods. 
Visible from any angle of the town, Castello Ruffo dates back to the 5th century B. C. and has worn many hats through its long transformative existence. It used to be a defense fortress protecting the city from Tyrrhenian pirates, a monastery, a home for state officials, and even a youth hostel, and now it is a cultural center of the town welcoming visitors for seasonal exhibitions and learn more about Scilla's history.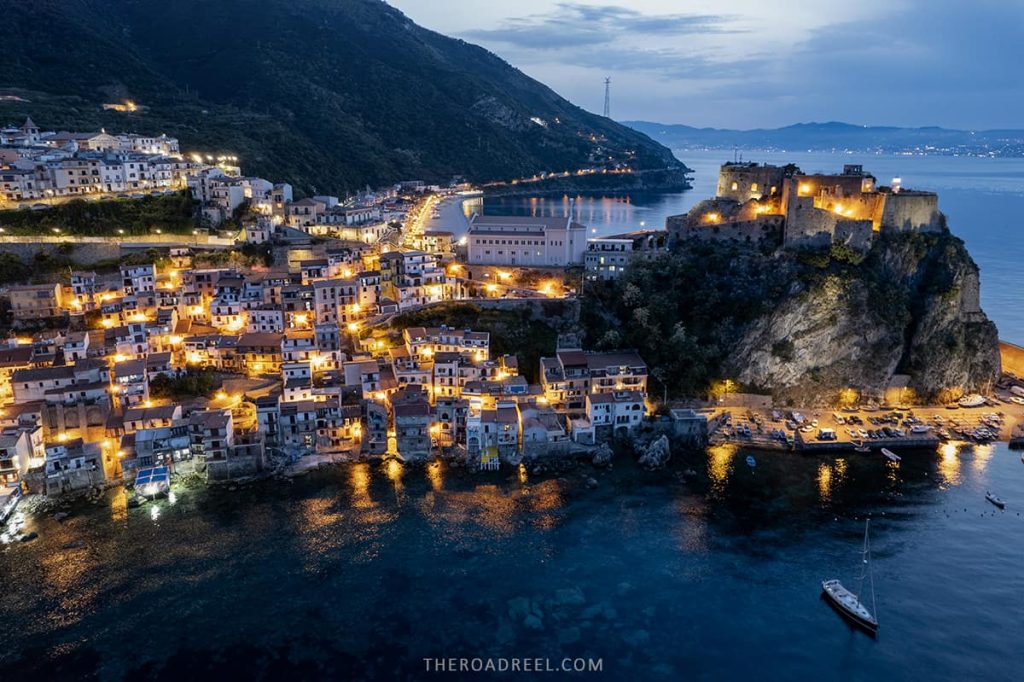 The oldest remaining walls of the castle that you can see today date back to the 9th century. As the castle went through many demolitions and even earthquake devastations, it has been restored in the 20th century to represent its original form as closely as possible. 
While the exhibition inside the castle is not the most interesting or informative, walking along the Castello Ruffo walls and appreciating the sweeping views of red terracotta rooftops contrasting against the blue sea is one of the nicest things to do in Scilla. 
Opening times: 9 AM- 6 PM daily.
Entrance fee: 2 EUR.
Related article: The most charming seaside villages in Calabria, Italy.
4. Wander around Marina Grande – the historical center of Scilla
Situated on the steep hills, on the south side of Castello Russo, Maria Grande is the historic town center comprised of pastel houses and steep alleyways cascading up and down to Spiaggia di Scilla beach. The prettiest part of the Marina Grande district is clustered just above the beach and around Piazza San Rocco. Take your time to also explore Marina Grande's little maze of streets and find pretty corners begging for the picture. 
5. Sunbath at Spiaggia di Scilla, the best beach on Costa Viola
Located on the Marina Grande side, the generous 800-meter-long Spiaggia di Scilla is blessed by crystal clear waters and gorgeous surroundings. Stretch your towel over the yellow sand mixed with small gravel and admire the views of imposing Castello di Rufo, colorful homes climbing up the lush green hills, and, on a clear day, Sicily and Aeolian islands on the horizon.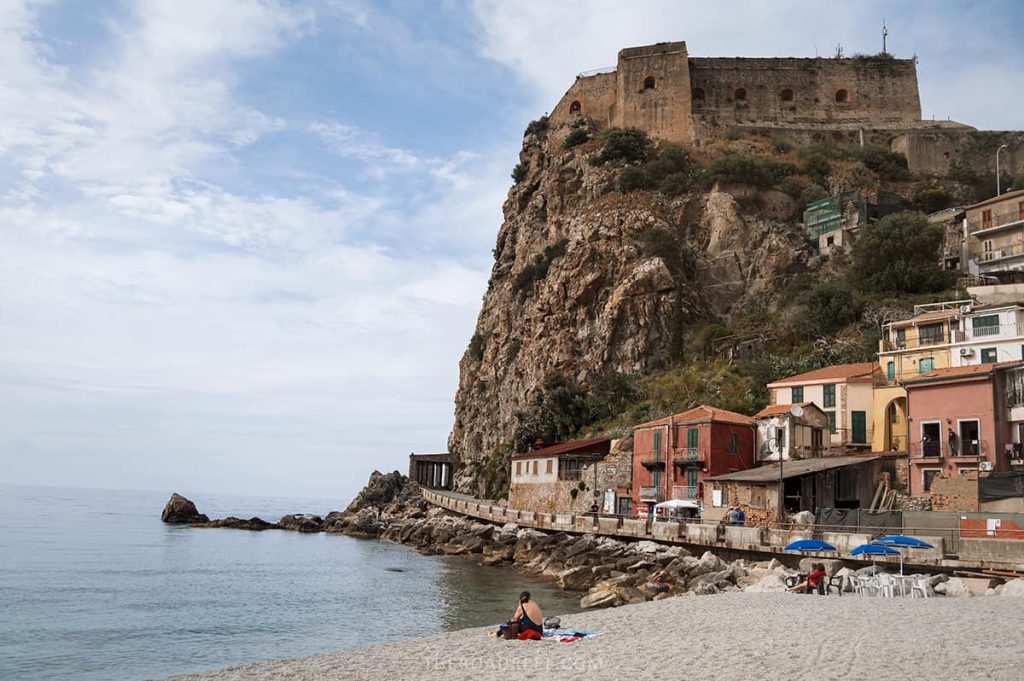 During the summer months a few bars and cafes located at the back of the beach, are serving beachgoers with snacks and refreshments. Sunbeds and parasols are also available for rent at a dedicated section (luckily sunbeds and umbrellas are not covering the entire beach as it is common in other Italian lidos).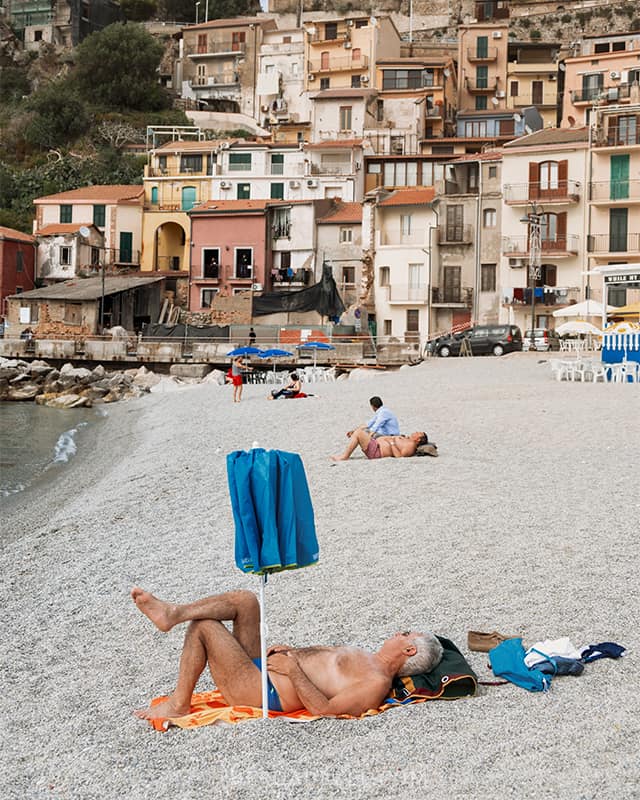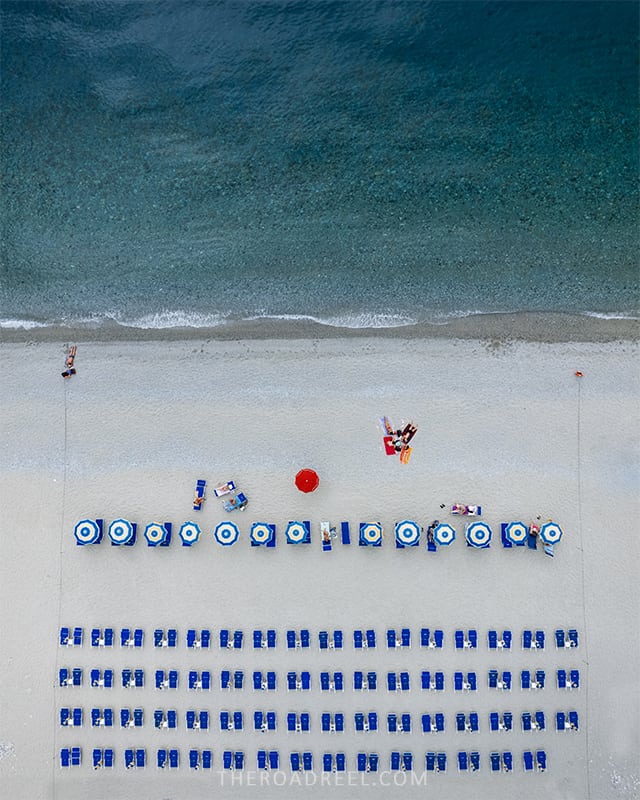 During winter months the Tyrrhenian sea goes wild spilling over the whole Spiaggia di Scilla. The crashing waves sometimes flood the nearest street and reach the first line of houses. I saw the images of this seasonal occurrence, and I have to admit, it looks beautiful from the perspective of photography.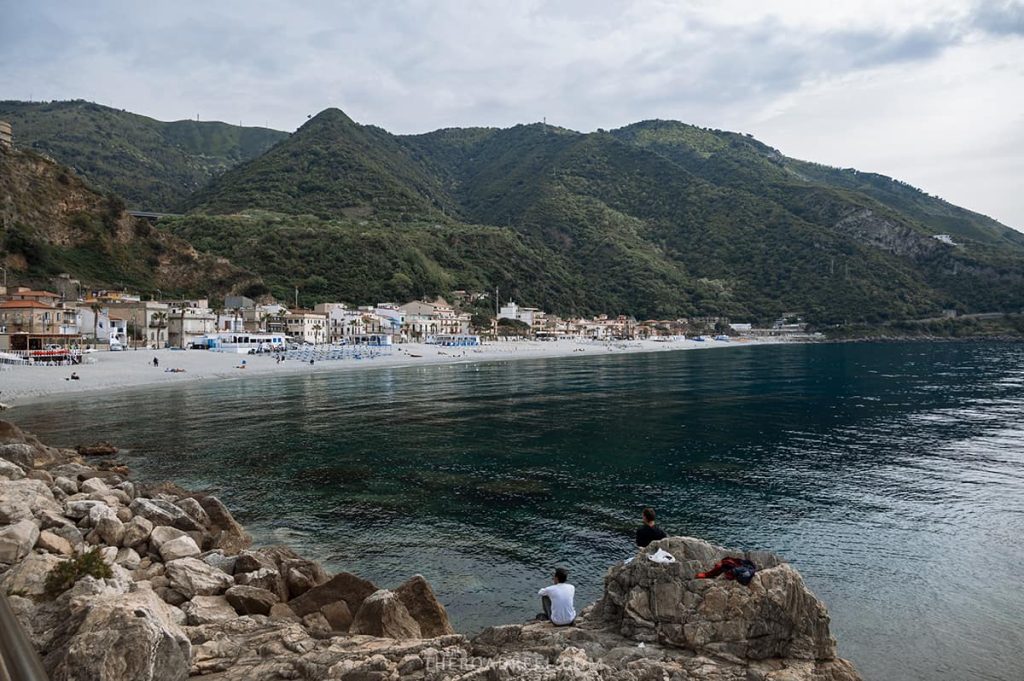 Beach Tip: bring sea shoes as the entrance to the water is covered with small pebbles and is painful to walk on. Yet these small pebbles are the reason water appears crystal clear and irresistible to enter even on a cooler spring day. 
Good to know: Spiaggia di Scilla is considered the best beach on the Costa Viola-the Violet Coast. The 35-kilometer-long Costa Viola is named so due to the water reflecting in a purple shade at certain times of the day. 
Travel Tip: to quickly get to and from the port of Chianalea and Spaggia di Scilla beach, follow the underpass that bends around the promontory of Castello di Russo.
6. Photo hunt the panoramic views of Scilla
Scilla is amazing when looked at from the sea level but even more so when you climb the steep hills up and discover magical belvederes-the viewpoints overlooking the sea of red rooftops and different perspectives of handsome Castello di Ruffo.
Get your camera ready for the below viewpoints of Scilla, Italy:
Belvedere di Piazza San Rocco viewpoint
On the right-hand side of Marina Grande and immediately above the beach, Piazza San Rocco is Scilla's main square which opens up to some fantastic views overlooking the Velvet coast, pastel houses cascading down the rock, Castello Rocco and Chiessa Maria Santissima – the main church in Scilla.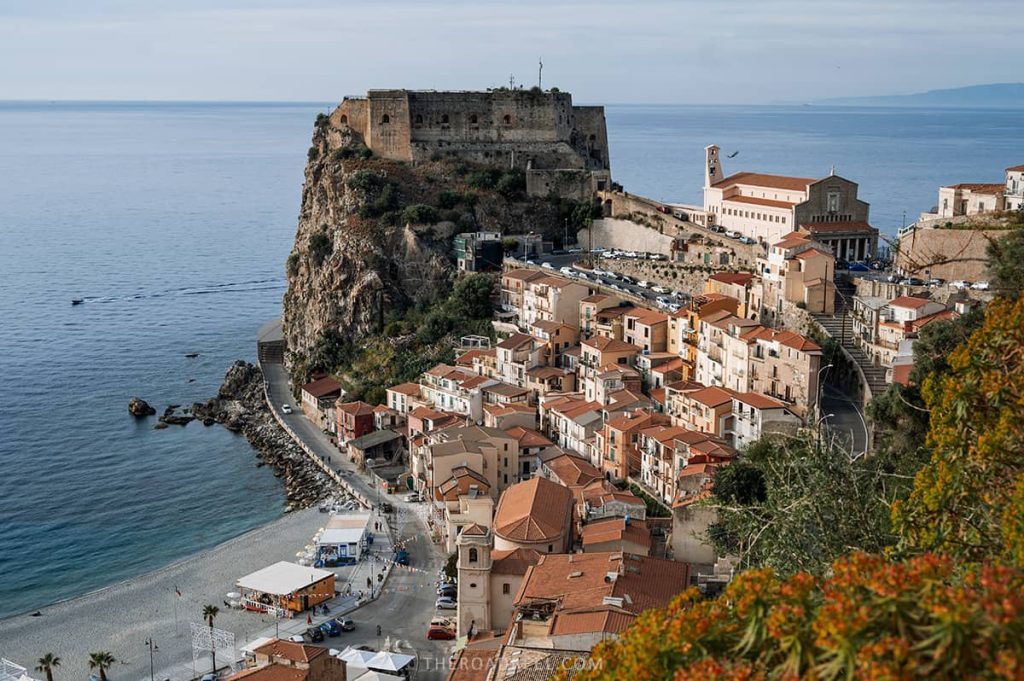 The spacious plaza is also beloved by locals who gather in the evening to chitchat.
Tip: Piazza San Rocco can be quickly reached from Lungomare of Marina Grande by taking an elevator (Ascensore Pubblico) which costs 1 euro to use. This way you can avoid climbing steep streets up.
Another popular hangout spot is Via Panoramica Alley which extends to the left-hand side from the San Rocco plaza. Following the balcony walk you will bump into Monumento Uomo e Pesce Spada-a sculpture dedicated to the town's symbol-the swordfish hugged by a naked fisherman. 
Tip: Piazza San Rocco is also great for watching the sunset.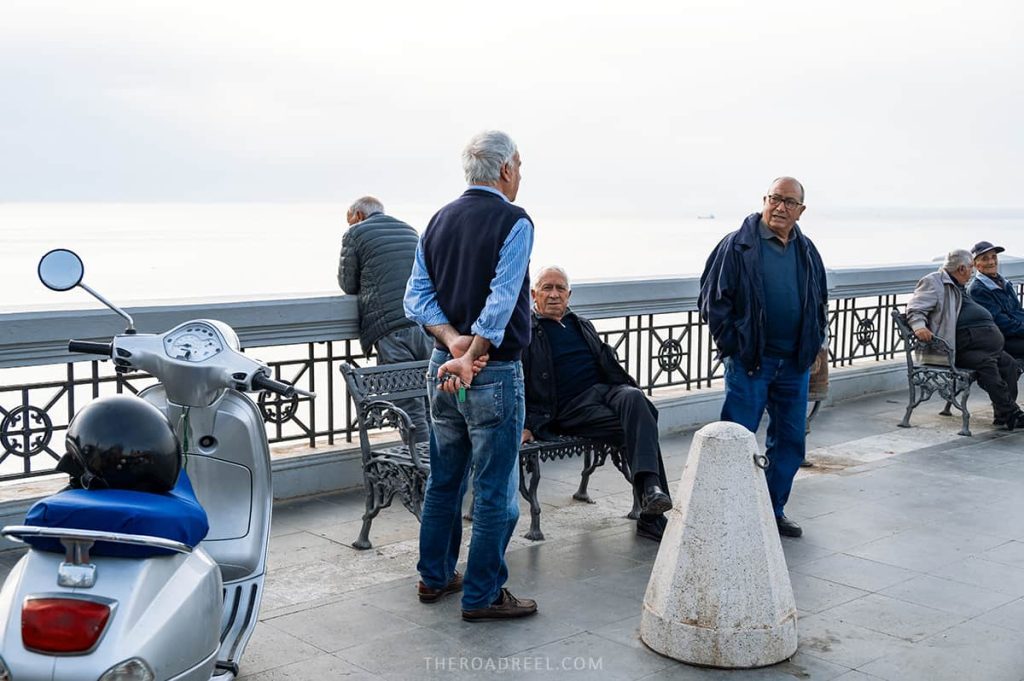 Just above the Chianalea district, the Scalinatta del Serro stairway leads up to Via Nucarella. Continue ascending up north to discover some beautiful perspectives of  Chianalea rooftops rising above the sea and the main road snaking alongside the vibrant green hills, as well as Castello di Ruffo peaking above the town.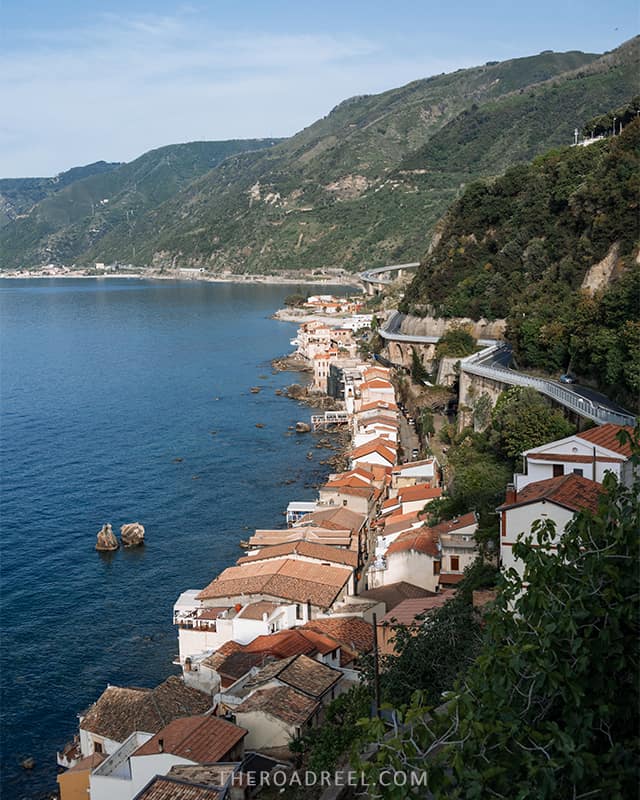 The other great viewpoint overlooking Marina Grande and the castle at a distance is Belvedere di Punta Paci. It is located on the far south end of the town. The viewpoint can be reached in 20 minutes on foot or in 5 minutes by car when following the SS18 road. Note that there is no parking, and walking is along the main road which means you should watch out for the cars passing by. 
ALSO READ: 25 Super Useful Calabria Travel Tips.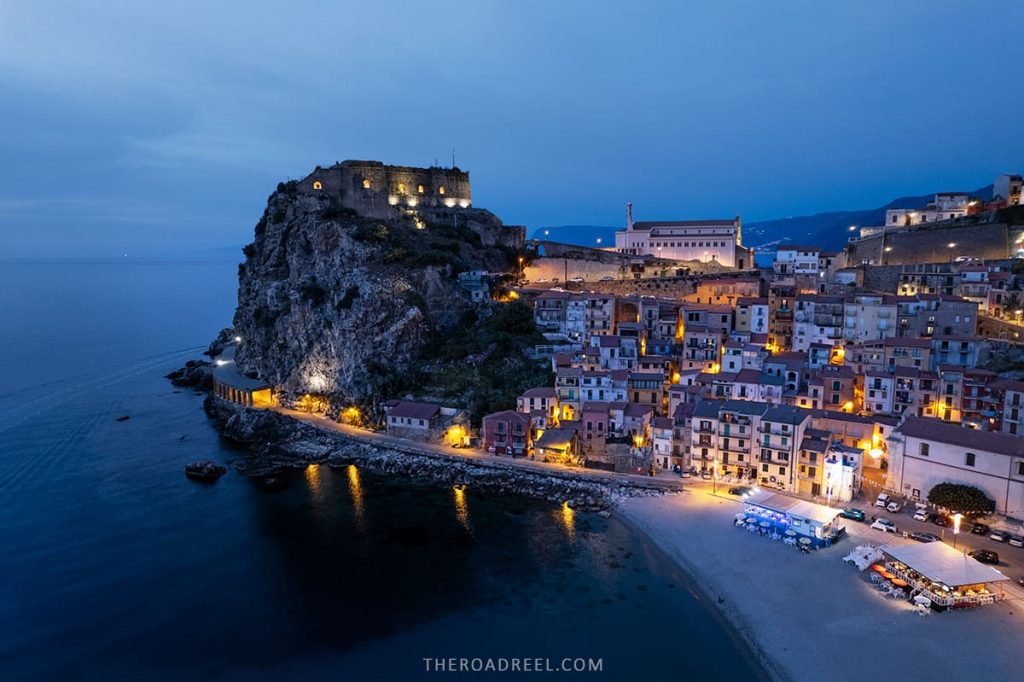 7. Paddleboard in the bay in front of Chianalea
If you love water activities that are not only swimming, paddleboarding might spark your interest. You can rent a paddle board in Spiaggia di Scilla and paddle around the castle to the waterfront of Chianalea.
Note that good balance is crucial. During our visit, the small bay in front of Chianalea was filled with colorful jellyfish so densely it looked like a seafood soup. Beautiful to look at but painful to touch, that is why we decided not to test out balance that day.
Despite the number of jellyfish quite a few confident paddlers were enjoying themselves.
8. Swordfish – the symbol of Scilla, Italy
Swordfish is a big deal in Scilla and also Costa Viola and Messina, Sicily. The gigantic over 100kg fish with a nose like a sword passes the Strait of Messina seasonally from May to August. Scilla is therefore known as one of the few places in Italy that still keeps over 2000 years of swordfish fishing tradition alive.
During the season, fishermen resort to their hunt in traditional boats called 'spadare o luntre' with a 25-meter high mast which is used for spotting the swordfish from above. 
9. Explore the coastline of the Costa Viola
Scilla is a perfect base to explore the southernmost part of the Calabria region and the 35 kilometers long Violet Coast which stretches from Palmi to San Giovani. Going on a boat tour or kayaking is one of the most amazing things to do in Scilla allows exploring small coves and grottos accessible only by water.
Diving enthusiasts will also be glad to know that there are some wonderful spots to explore underwater. One such is Seminara Cove.
10. Hike the verdant hills above Costa Viola
If you are visiting Scilla for a few days, you can go hiking the verdant hills above Costa Viola. One of the most well-known trails is Sentiero del Tracciolino. It is a moderately challenging 8-kilometer loop-type of the path that starts in Palmi and runs over Monte Sant'Elia.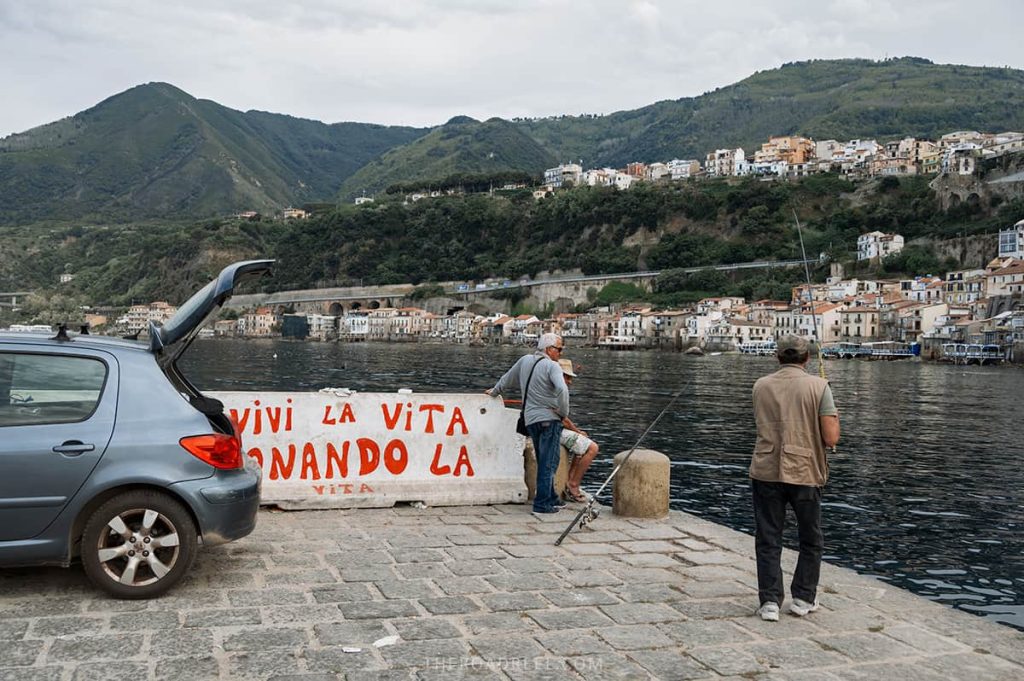 Where and what to eat in Scilla
The swordfish panini sandwiches are a very popular street food in Scilla. If you are not vegetarian, that is the speciality of Scilla you might want to try. 
There are a few eateries and restaurants worth to take a note of. The most romantic tavernas and restaurants are located at Chianaleas waterfront. Note that those are also the priciest places to dine at.
Molo 72-After reading many reviews about all the waterfront restaurants, we ended up at Molo 72 which has the lovely terrace above the water overlooking Chianalea. The service is kind and they serve the famous swordfish sandwiches. Paired with apperol spritz is a perfection. 
Street Good-a low-key family run eatery in Marina Grande district serves amazing swordfish sandwiches. They only have a few places to sit on the street but you can also do takeaway.
Nautilus Taverna is one of the atmospheric restaurants with a terrace above the water. Fantastic service and great homemade type of food prepared with lots of care.
The best time to visit Scilla
The best time to visit Scilla is mid-May to mid-June and September to early October, when it is quiet, weather is pleasant and sea temperatures suitable for swimming. 
Nonetheless, if you visit November to April, you may still enjoy the tranquillity of the town. Meanwhile winter brings dramatic waves which rolls over the streets of the lower part of Scilla. 
July and especially August is definitely the busiest time with local tourists and even few international ones taking the summer break from work. 
How many days to spend in Scilla, Italy
Scilla is tiny and can be visited as a day trip from Tropea. However, you would be missing out on magical evening that you can spend at one of the waterfront restaurants or just walking under the stars on Spiaggia di Scilla. Thus, I suggest spending at least one night in Scilla, although longer would give you more time to embrace the slow-paced lifestyle just as the fishermen of Scilla do. 
Travel Tip: Scilla is a perfect overnight stop if you are travelling to Sicily. We spent one night before jumping on Messina ferry while road tripping from Naples to Sicily.
How to get to Scilla, Italy
The nearest airport to Scilla is the one in Regio Calabria, the capital town of Calabria region, Italy. The other airport is located in Lamezia Terme which is served by many low-cost airlines. We arrived to Scilla from Naples by a rental car.
Located on the western coast of Calabria, Italy, Scilla is connected to the rest of the country via two coastal roads.  One of them is a E45 highway which runs higher along the cliff, while the other regional road SS18 makes its way along the sealine bringing you directly to the historical part of Scilla. 
Distances to the nearest towns:
A 30 minutes' drive from Regio Calabria- the regional capital;
A 1.5 hour drive from Tropea.
Getting to Scilla by car
Given town's fairly remote position, driving is the easiest way to reach Scilla. Hiring a car is also the most cost-effective way to travel if you want to explore Calabria region beyond the main towns and not rely on public or private transfers.
Getting to Scilla by train
If you are not driving, you can get on a train to Scilla from either Reggio Calabria, Tropea or  from Villa San Giovani which is a port town connecting Sicily with mainland Italy via Strait of Messina. The train station in Scilla is conveniently located in Marina Grande just across the road to the beach. You can check the timetables on Omio or Trenitalia here. 
Note: I did not find any public bus services to Scilla, yet it is hard to believe that there is none. Please let me know in the comments below if there is an intercity bus serving the town of Scilla in Calabria, Italy so I can update this information for other travelers.
Parking in Scilla, Italy
We have booked accommodation in Marina Grande and there was a convenient parking lot on Via Ponte Livorno, just in front of our hotel and next to the train station. 
We were advised by hotel staff that paying for parking was not necessary as the parkometers were not working at the time of our visit (but worth checking just in case they already do). 
Other parking options:
Parcheggio Custodito San Giuseppe Chianalea- a small parking lot in Chianalea, just before you hit the ZTL zone (read more about ZTL zones in Italy).
Alternatively, on Google Maps, I also saw a free quite spacious public parking lot, that looks like a massive sand pit (Parcheggio Publicco Gratuito Comunale) which might be a great option to park your car. However, it is located around 30 minutes walk from Chianalea and Marina Grande. In the Google comments people say that there is a free shuttle bus running between this parking lot and Marina Grande.
We visited in May and the town of Scilla was very quiet. However, it gets busy in July and August, when locals are vacationing, thus parking might be trickier in a small town like Scilla. 
Tip: download Easypark app to easily pay for parking in Italy. This saves you time looking for the parkometer and keeping heavy coins in your wallet.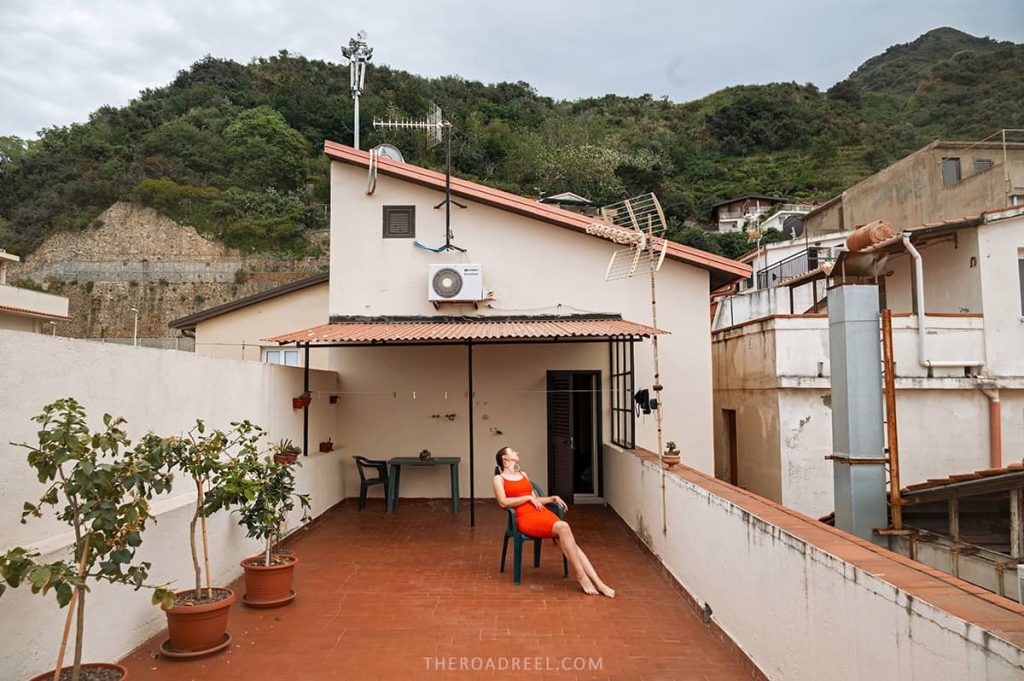 Where to stay in Scilla- hotels and holiday homes
Stay in Chianalea for the most atmospheric experience or at one of the low key hotels or homestays at the Marina Grande Spiaggia di Scilla (Scilla main beach) to be steps away from the sea. 
For easier parking, Marina Grande side of the town is more convenient. 
Below are my suggested accommodation options in Scilla: 
U Catoiu $$- my favorite choice- located in Chianalea fishing district this is a very atmospheric and unique fully equipped apartment in historical stone house with the balcony right above the water in Chianalea. It also offers free canoes and parking on site.
Il Borgo $$$- located in ancient Chianalea district, this hotel offers rooms with balconies above the water and great views over Chianalea. Fabulous breakfast is also included.
B&B La Filanda $$- we stayed here. Located steps away from Spiaggia di Scilla, this bed and breakfast offers some rooms with terrace (we got one), filling Italian breakfast and convenient free parking. Rooms are spacious and nice. Great choice for a night or two in Scilla.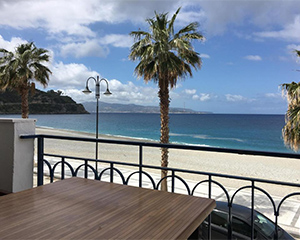 Mareblù $$$- right in front of Scilla beach, this self-serviced fully equiped apartment can host up to 5 peopleand is a perfect choice for spending longer in Scilla, especially during the summer months
Loft Costa Viola Scilla $$- secluded right on the shores of Costa Viola, this two bedroom loft type of house is perfect for an escape vacation. For those who driving, it is located nearby Scilla but far enough to feel like an escape from civilization.
Map of Scilla, Italy
Use this map to find all the points of interest mentioned in this Procida travel guide. Click HERE to open it and save it to your Google Maps.
I hope you are enjoying my free travel guides & tips. If yes, please consider supporting my work by buying me a coffee so I can continue creating more useful content from my favorite coffee shop in town. Thanks!
More Italy travel guides
Planning to extend your trip to Sicily? Check my Sicily travel guides:
Italy Travel Essentials & Useful Links
Here are links to essential travel resources and services I always use when organizing my trips.