Wondering what to do in Muscat, Oman's capital? Whether you are planning on visiting Muscat in one day or staying a little longer before starting the Oman road trip, here is my perfect 1 to 3 days in Muscat itinerary. It will show you both the best places to visit in Muscat and unmissable things to do in Muscat. 
A humble capital of the Sultanate of Oman, Muscat is strategically positioned on the shores of the Gulf of Oman on an ancient trade route dating back to the days of Mesopotamia. Scenically wedged between the craggy Hajar mountains, shimmering sea, and dreamy desert, the capital Muscat has always played a significant role in the Middle Eastern world and attracted the interest of many powerful empires like Ottomans, Portuguese, and Persians. As a result, influences of which are still present in Omani culture and cuisine. 
Today's Muscat, Oman is just as wealthy as its neighbor's UAE cities Abu Dhabi and Dubai, or Doha, Qatar. Yet in Oman's capital, you won't find glittering skyscrapers rising above the clouds as in Dubai. In fact, there is a rule that limits high-rise buildings and defines landscaping, color code, and architectural style retaining uniformity of long-lived traditional Middle Eastern style. Domes, arabesque windows, and balconies still decorate even functional buildings and new villas.
The ancient forts and watchtowers, low-rise white-washed houses, and mosques characterize the skyline of Muscat, the city with ages-old traditions deeply rooted in daily life. One of the easiest to notice is the local dress code-Omanis still wear white dishdashas and embroidered kummas (traditional embroidered skull-caps) as daily attire. 
Muscat's authenticity, simplicity, and kindness of local people are what keep me coming back to Oman's capital (it is only 5 hour's drive from Dubai, in case you are also based in the UAE). 
In this in-depth Muscat travel guide, you will get acquainted not only with the top places to see in Muscat but also with its hidden corners and fantastic viewpoints over the city. 
From Muttrah corniche, and lively souks to stunning Sultan Qaboos Mosque and Portuguese Forts, immensely beautiful beaches, and even city hikes, there is plenty of great things to do in Muscat. 
Apart from points of interest in Muscat, I also share tips on how to get around Muscat, the best time to visit Muscat, the best places to stay in Muscat for any budget, where to eat, and some miscellaneous interesting facts and handy tips. Last but not least, plenty of my travel photos of Muscat, Oman.
Disclaimer: This post contains affiliate links, which means that I may earn a commission if you make a purchase by clicking a link (at no extra cost to you). This helps to keep my blog running and growing by creating more awesome free content for you.
1 to 3 days in Muscat itinerary: what to do in Muscat, Oman
Muscat quick links
These are useful links to the best accommodation, cheap car rental in Oman, and top guided experiences and interesting day tours from Muscat, sim card tips.
Top-rated guided Muscat experiences
How many days in Muscat? 
Most of the main attractions in Muscat can be visited in a day or two.  However, if you want to explore at a slower pace and also visit the outskirts of Muscat, or go on a day trip to visit Daminiyat islands or spectacular old forts, choose to stay for 3 or 4 days.
Best time to visit Muscat, Oman
Winter is a perfect time to visit Muscat, Oman. The temperatures in Muscat are pleasant during the months of December, January, and February staying between 25-30 degrees Celsius during the daytime. You can even encounter some clouds and rain.
Late autumn and early spring are shoulder seasons in most of Oman and also Muscat. Temperatures are still quite high but bearable in mid-October to November and March to mid-April ranging between 30-35 degrees Celsius during the day.
Summer months and early autumn as well as late spring should be avoided due to the heat. Temperatures can go up as high as 40-50 degrees Celsius making it physically very difficult to do any sightseeing in Muscat during the day and even in the mornings.
Also, traveling during the holy month of Ramadan is a bit trickier as restaurants shut down during the day when locals are fasting and only open after sunset. Everything is significantly slower, even some attractions might be closed during Ramadan. Moreover, Ramadan lasts 30 days, and its timing is not fixed but shifts every year. 
Related reads: planning a road trip to Oman? Check my one-week Oman itinerary (with options to extend to 10-14 days in Oman).
Where to stay in Muscat
Muscat is a very spread-out city. Thus, picking the right location is crucial. Here are my suggestions for the best accommodation in Muscat in the most popular areas.
Muttrah
The old part of Muscat is ideal if you want to stay within walking distance from the most interesting part of the capital (the famous old souk is located in Muttrah as well).
Fort Guesthouse $$–highly rated by visitors, superb location at the waterfront of Muttrah corniche and Fort, features a lovely terrace and humble Omani-style accommodation.
Ruwi
Located 10 minutes from Muttrah, the Ruwi area offers a lot of cheaper but decent accommodation options, with a good range of budget-friendly Indian and Pakistani restaurants all around.
Haffa House Hotel– a decent four-star hotel for very reasonable prices. Although it is an old hotel and needs a bit of revamp, it is clean, has polite service and the location is convenient to drive to any direction for sightseeing. Make sure to request a non-smoking room (if that applies to you) when booking.
Qurum
A polished area, popular among ex-pats, offers a range of more upscale accommodations, many of them with direct access to Qurum beach (known as the cleanest beach in town).
Intercontinental Muscat– located on the beach of Qurum this resort offers you a comfortable stay in rooms with sea or mountain views, access to the pool, gym, green gardens, saunas, in house restaurants. The popular waterfront-muscat area with trendy shops and nice restaurants is also close by.
Al Khuwair (near Sultan Qaboos Mosque)
High-end accommodation in Muscat for a luxurious stay
Al Bustan Palace -located on the eastern side of the city, with a stunning coastline set against Hajar mountains, dreamy pools, and a stretch of private beach- is great for romantic getaways and the best beachfront views.
Chedi Muscat– located closer to the airport side, one of the most beautiful hotels in Muscat featuring modern Arabic architecture, a beachfront, a 100-meter long pool, yoga, and pilates classes- a perfect place for relaxation.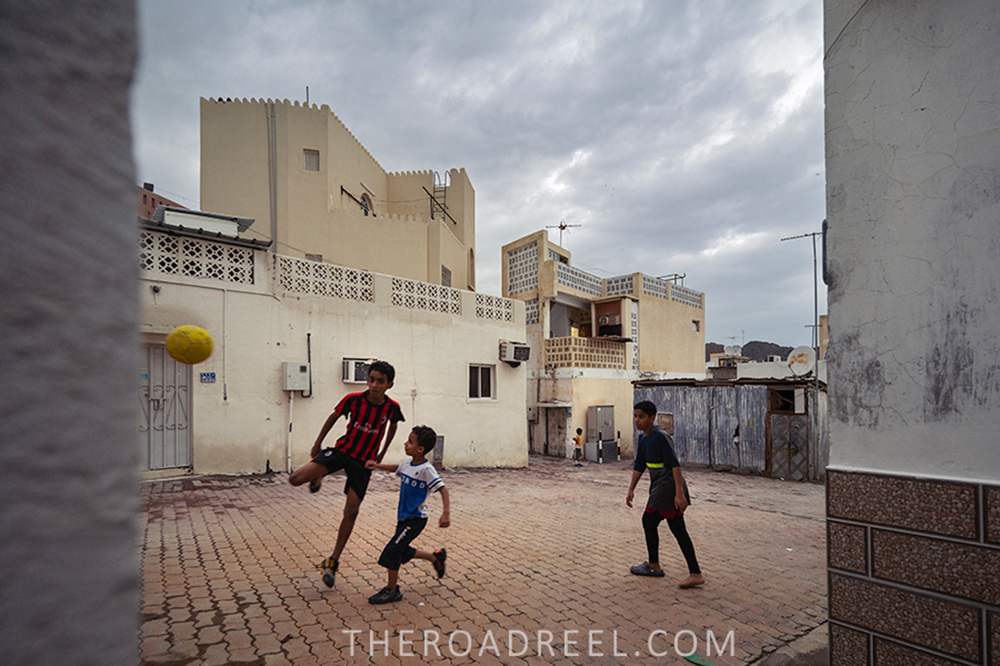 Getting to Muscat
By Air
Many travelers will enter Oman's capital through Muscat International Airport. 
If there is no direct flight from your destination, you will definitely find one from Abu Dhabi or Dubai, UAE. Sometimes it will be even cheaper to fly through Dubai or Abu Dhabi. 
Check the best flight combination from your destination using Skyscanner. Airlines like FlyDubai, OmanAir, and Emirates are very good and trustworthy.
By land
One of the most popular ways to travel to Muscat, Oman is driving from Dubai, UAE. It takes 4.5 hours to reach Muscat from Dubai by car. Account for 30 minutes to an hour at the UAE-Oman border.
Read more about Everything you need to know when traveling to Oman from Dubai (or anywhere elsewhere in UAE). 
By boat
You can get to Muscat from Musandam by boat. Musandam is an exclave Governorate of Oman, separated from the mainland of Oman by the UAE.
Read more about traveling to and from Musandam on my Musandam travel guide.
Getting around Muscat, Oman
Muscat stretches along the coast for over 50 kilometers. Thus, it is a very "long" city if I can say so. Thus, commuting from one side of the town to the other can take up to 30 to 50 minutes by car, and on average around 15-20 minutes in the central areas.
Muscat may appear chaotically planned. It is composed of several different districts, all spread out quite far from each other. While you can easily walk around one area, you cannot walk between different areas due to the long distances or/and mountains separating them.
You need transportation to get between districts. The main artery of the city is Sultan Qaboos Street, a highway connecting all the districts in Muscat.
In this Oman itinerary, you will be visiting the following main areas: Muttrah, old Muscat, Ruwi, and Qurum, and Sultan Qaboos Grand Mosque which is situated in a different area next to the main highway. 
Thus, what is the best way to get around Muscat? Below are the options you have, thus pick according to your travel style/time you have.
By car
The best, easiest, and most efficient way to move around Muscat is by car. Muscat is one of those capitals where driving actually makes sense and is advisable to be able to quickly reach different locations. Traffic, although exist at peak time, is not too bad as, for example, in Dubai. Google maps work just fine to help navigate, and parking is fairly easy. 
Thus, if you are landing at Muscat Airport, I recommend picking up your car there and being completely independent for the rest of the trip. And did I mention, petrol in Oman is one of the cheapest in the world?  
If you are still looking for a great deal to rent a car in Oman, I recommend checking Discovercars which offers some of the lowest rates in the market.
I also crosscheck with the most popular car rental search engine Rentalcars if I cannot find a car, I am looking for Discovercars.
Top tip for parking in Muscat: you can find many places to park your car in Muscat for free. Even in Muttrah which can be a little harder to park at (especially free of charge), I found a convenient free spot in one of the backyards and kept on coming back there to park my car (refer to the map for exact pin location). 
By taxi
Taxis are also a popular option for tourists to move around Muscat. However, if you are planning to drive around and see more than just one place, renting a car will be cheaper. 
Note that street taxis in Oman are unmetered and you have to negotiate the rate beforehand. In Muttrah you will be approached by local taxi drivers offering to take you to the main points of interest like the Grand Mosque or Royal Opera House.
Tip: if you are planning to use a taxi, the best way is to download Mwsalat or OTaxi app (aka local Uber) so you know the correct fare.
By bus
City buses are available, and also very cheap (200-500 baisas per ride, depending on the distance). Their network is covering the main areas around Muscat, which include the most popular tourist attractions (Grand Mosque, Opera House, Alam Palace, Muttrah, Ruwi).
You can also catch a bus from the airport to the Ruwi area in Muscat.
However, commuting by bus is significantly slower than by car. The frequency might be around every 20-30 minutes, and you might have to also change a few buses to get to your desired destination. For this reason, you must also be familiar with areas of Muscat and stay within walking distance of the bus stop if this is the way you plan to visit the capital. This travel method would best suit those who either have more time and/or are on a budget.
The bus system in Muscat is operated by Mwsalat company. You can check city timetables and bus stops with bus numbers here.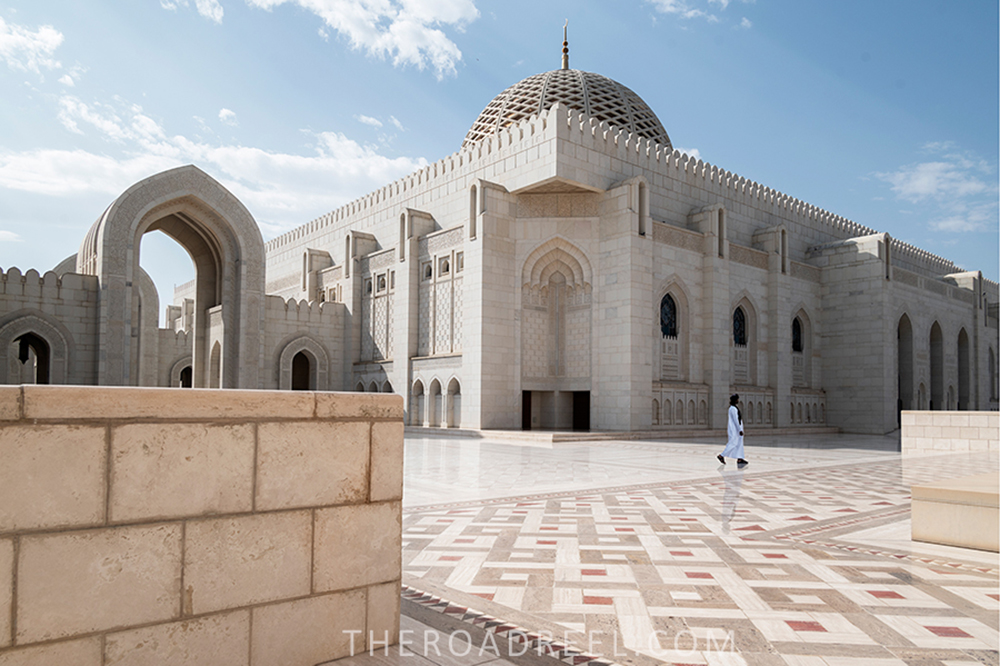 Places to visit in Muscat: 1 Day in Muscat Itinerary
1. Sultan Qaboos Grand Mosque
A fine example of incredible modern Islamic architecture, the Sultan Qaboos Grand Mosque is a must-visit place in Muscat, Oman.
The Grand Mosque is the largest mosque in Oman. The beauty of Sultan Qaboos mosque is simply unmatched. Defined by perfectly symmetric arrays of arches, elaborate latticework, intricate mosaics, and ornate carvings of flowers, the Sultan Qaboos mosque is one of the most impressive modern mosques I have ever visited.
If you love architecture, you will go crazy photographing its beautiful corners and intricate details, light and shadow game is also fantastic.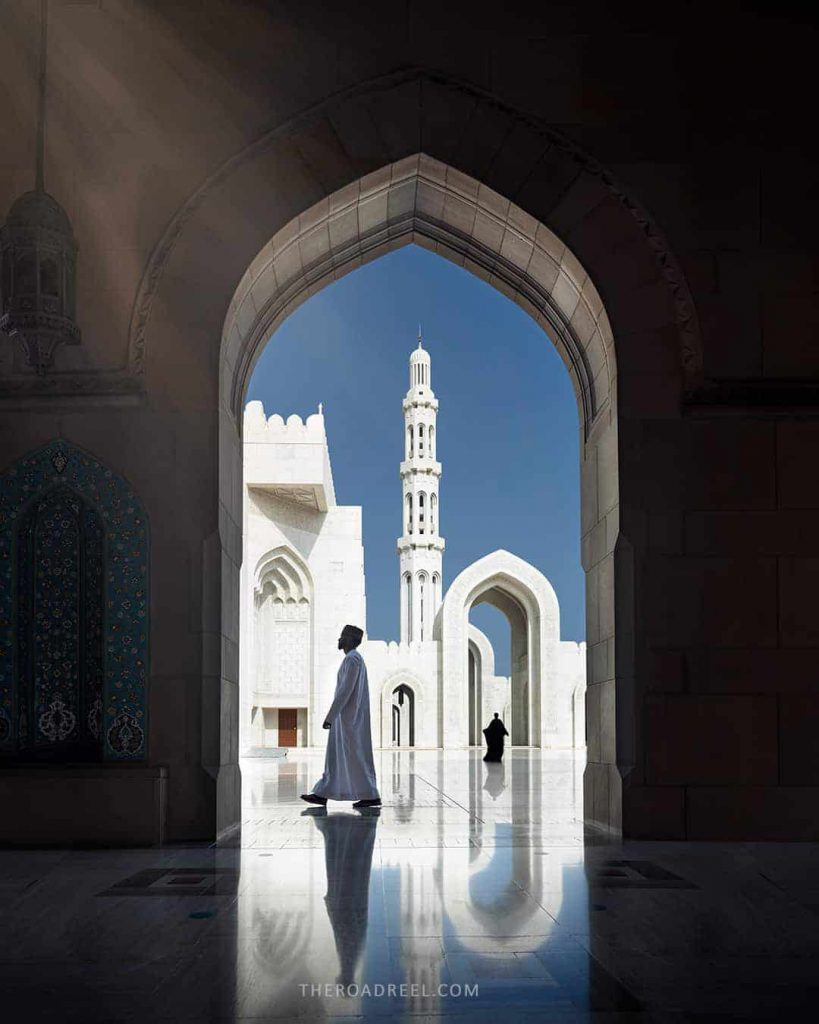 Interesting facts about Sultan Qaboos Grand Mosque
It took 6 years to complete the mosque and it can host up to 20000 worshipers. The 24-karat gold-plated chandelier inside the men's prayer hall holds 600,000 Swarovski crystals and is surrounded by 34 smaller versions found across the mosque.
Equally impressive is the hand-made prayer carpet weighing 21 tons. It took 600 Iranian artisans to complete in 4 years. The only prayer carpet that is even larger belongs to Sheikh Zayed Grand Mosque in Abu Dhabi, UAE.
Moreover, one of Gran Mosque's 5 minarets (together they represent the 5 pillars of Islam) is 90 meters tall, making Sultan Qaboos Mosque the country's tallest structure. As mentioned before, Oman has strict architectural guidelines, especially when it comes to the height of the building.
Top tip: Visit Sultan Qaboos Grand Mosque as early as 8 am and head directly to the main prayer hall. It is impossible to beat tour buses during the winter season, but at least you will be able to get a picture of the main prayer hall unobstructed by the crowds.
Allocate 2-3 hours if you love photography. The territory is huge and there are so many beautiful areas and corners to take pictures of. However, there are also lots of visitors and it is tricky to get a shot without a tourist in it. Your best chance is to wait until 11 AM when people start leaving and then (quickly) photograph the mosque (almost) tourist-free (guards will start asking you to leave from 11 AM, but you can "buy" some time).
Photography Tip: Bring a wide-angle lens to capture the grandness of architecture. I used my 14-30 mm Nikkor Z lens to capture the images shown above.
Things to know before visiting Sultan Qaboos Mosque in Muscat
Opening hours for non-Muslim visitors and photography are from 8 AM- 11 AM every day except Friday.
Entrance fee: FREE
How long should I spend here? 1 hour is a minimum, but you can easily spend 2-3 hours.
Dress Code: ladies must cover head to toe (including wearing a head scarf), men are not required to wear head cover, but must also wear long pants and long sleeve shirts.
Etiquette: leave your shoes at the door when stepping into the prayer halls.
Have lunch or late breakfast at Dukanah restaurant
After visiting Grand Mosque, if you feel hungry, I recommend heading for lunch or late breakfast at Dukanah restaurant, located in the Qurum area where most of the ex-pats live. The restaurant serves Omani food, more like breakfast, or lunch type of options are available. It is situated in a nice traditional mud house, making a visit a pleasant experience.
Dukanah is located next to Qurum beach. Thus take an opportunity to walk and see one of the best beaches in Muscat, lined with tall palm trees it is reminiscing of Salalah vibes. 
Planning on visiting the south of Oman, Dhofar region, and Salalah? Check my Salalah travel guide.
 2. Explore beautiful Muttrah- the heart of Muscat
If you only have one day in Muscat, visiting Muttrah is a must. Muttrah is where you will find a very old part of today's Muscat. It is often called the heart of Muscat, although used to be an independent seaport town centuries ago before Muscat was formed of several villages.
Muttrah is an important ages-old port and a center of commerce until today. It is characterized by a beautiful Muttrah corniche lined up with white-washed tightly packed traditional houses, minarets of petite mosques, and 17th-century Portuguese watchtowers perched on top of the dark brown craggy hills of the surrounding area.
Muttrah is my absolute favorite part of Muscat. The unpolished district of Muscat, home to one of the oldest markets in Oman, Muttrah is where you can see poor Omani, Bengali, Indian and Pakistani residents running their daily errands.
I recommend dedicating at least half a day to exploring this unique quarter of Muscat. 
Things to do in Muttrah, Muscat
See the real face of Muttrah by losing your way in its tangled alleyways
Although Muttrah has its pretty corniche, to me as a photographer, more interesting are the hidden corners of the tangled Muttrah's alleyways. At a first glance, Muttrah appears as a tiny quarter of Muscat. Don't be deceived though, once you wander behind the front houses of Muttrah corniche, it is easy to get lost.
Yet, this is a fun part of exploring and discovering the most interesting parts of any old town of this sort. What surprised me though is how worn-out and dirty is Muscat's old town.
One can immediately understand that this is a poor part of the capital. A large number of houses are now either crumbling down or have fallen in disrepair. Yet arabesques seen on the balconies and windows, and ornate details on some of the front doors show that this part of Muscat saw the days of glory. 
Nonetheless, many of those worn-out homes are still inhabited by local families. Moreover, you cannot pass a single street without noticing dozens of stray cats living in survival mode.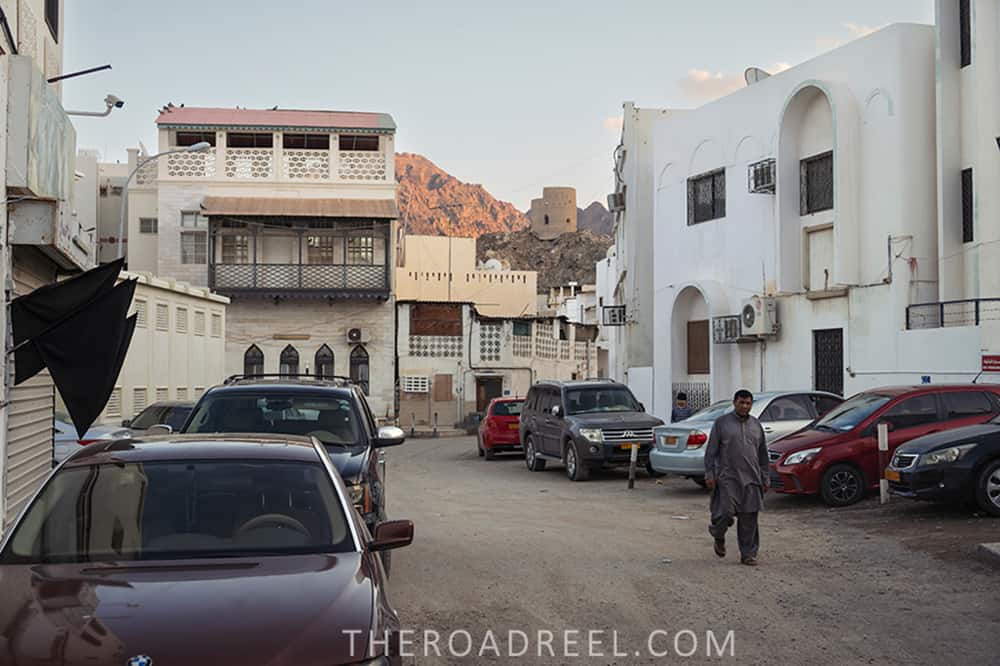 While wandering around the maze of tiny streets you will get to see simple local people, kids playing football in the small courtyards, cozy mosques, many small shops ranging from groceries to mini gold factories, as well as hundreds of local ladies tailoring "boutiques" selling essentially exact same dresses made of sparkling colorful fabric.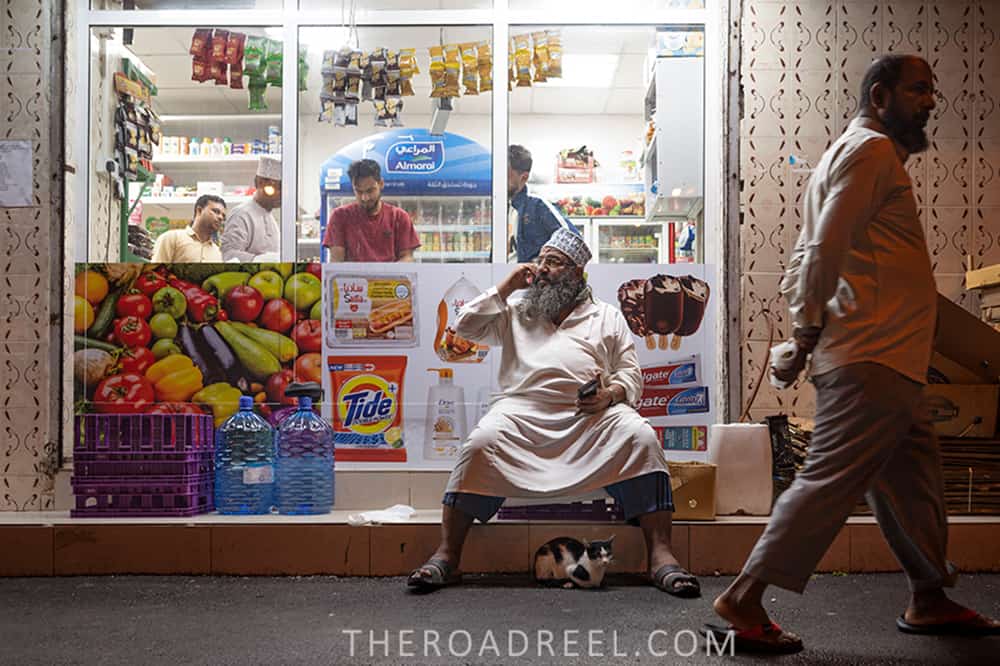 Meanwhile, the most random detail yet fascinating at the same time are the watchtowers which are not on the hill but rather on the street, hidden between the buildings. I come across at least two of them.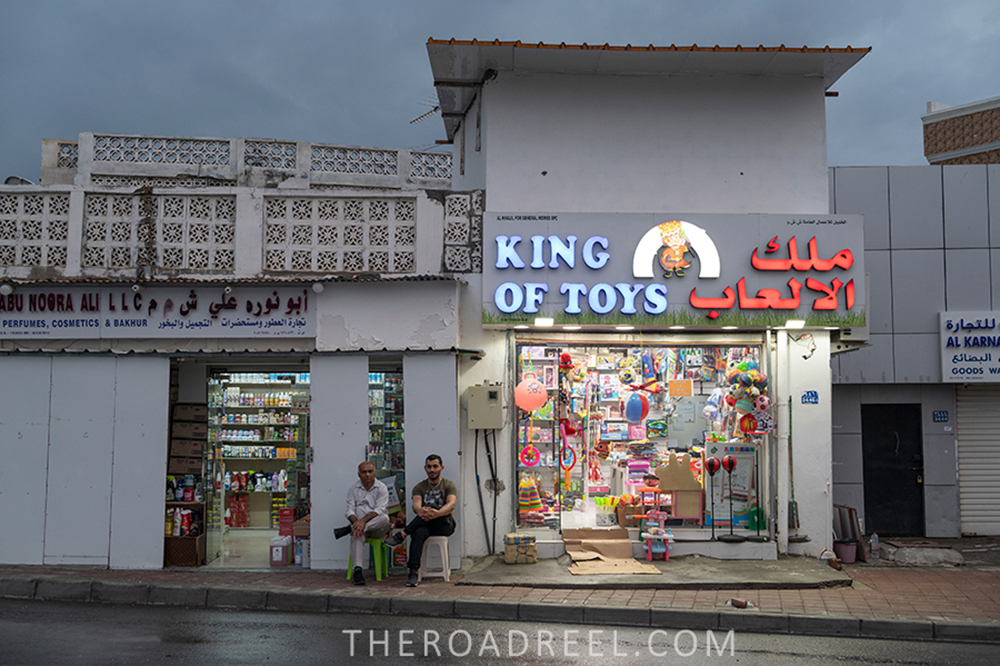 The forbidden Shia quarter (Sur Al Lawatia) 
A part of the front row of well-preserved buildings on Muttrah corniche belongs to the secretive quarter of Sur Al Lawatia. This gated corner of Muttrah is inhabited by a closed community of Omani Shias. They are not keen on visitors wandering around their residential area the entrance to which is an arched open gate, yet guarded. 
The reason why this closed community doesn't welcome visitors is not completely clear but some say because they want their women to be free walking around unveiled. 
I tried to take a peek inside and the guard allowed me to have a brief glimpse. No photos though. To be honest there is nothing that special about the place in terms of looks, it is more about it being forbidden that fascinates outsiders.
Haggle and then find your way out of Muttrah Souk
The number one attraction for all the tourists visiting Muttrah is its over 200 years old market (Muttrah Souk). Muttrah Souk sells everything from traditional garments, souvenirs you don't really need, Arabic perfume, frankincense incense, magic lamps, colorful lanterns, fabrics, local outfits, traditional Omani knives, and kummas (Omani skull hats you see all the local men wear), lots of silver and gold jewelry, some of the really horrendous size and design but apparently very popular between wealthier locals.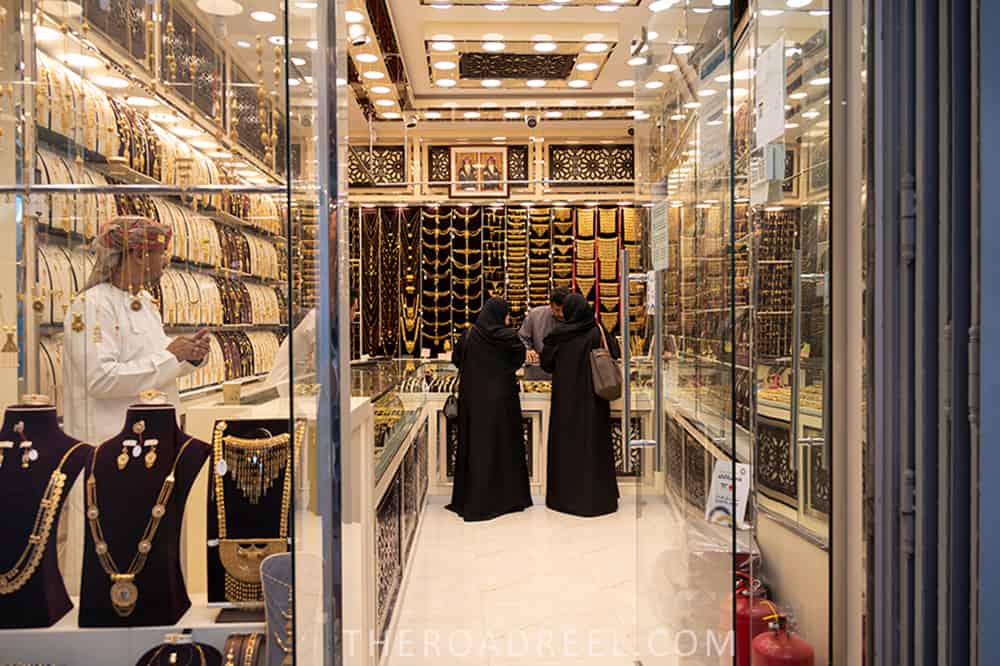 Muttrah Souk is a maze made of hundreds of very tiny alleyways, occupying a significant area of the old town. Naturally, the market is confusing for the first-timer. Ironically, the souk is practically unavoidable even when you try to skip walking through it while finding your way to other parts of Muttrah. 
To me, Muttrah Souq wasn't the most interesting part of the old town. I much prefer Nizwa Souq in Nizwa town, north of Oman. The sellers in Muttrah can be irritating trying to talk you into buying scarves and perfumes. It reminded me of those seen in the Dubai textile market except they don't apply funny and at the same time annoying methods of calling you Maria Shakira. 
For that particular reason, I was trying to avoid walking through Muttrah Souq when exploring parts of the town. However, it was virtually impossible as the market hugs the rest of the Muttrah old town from all directions. 
Yet if this is your first time in Muscat, you should still check Muttrah Souk out. It is a good place to get some gifts, but make sure to negotiate the price. 
Muttrah Souk Opening times: 9 AM-1 PM, 4 PM-10 PM daily.
Watch the sunset from Muttrah Fort
Taking up the dominating position on the hills, Muttrah Fort is a historical building founded during Portuguese occupation in the 16th century. The fort itself is small and today the main charm of this defense building is the viewpoints over Muttrah corniche and old town.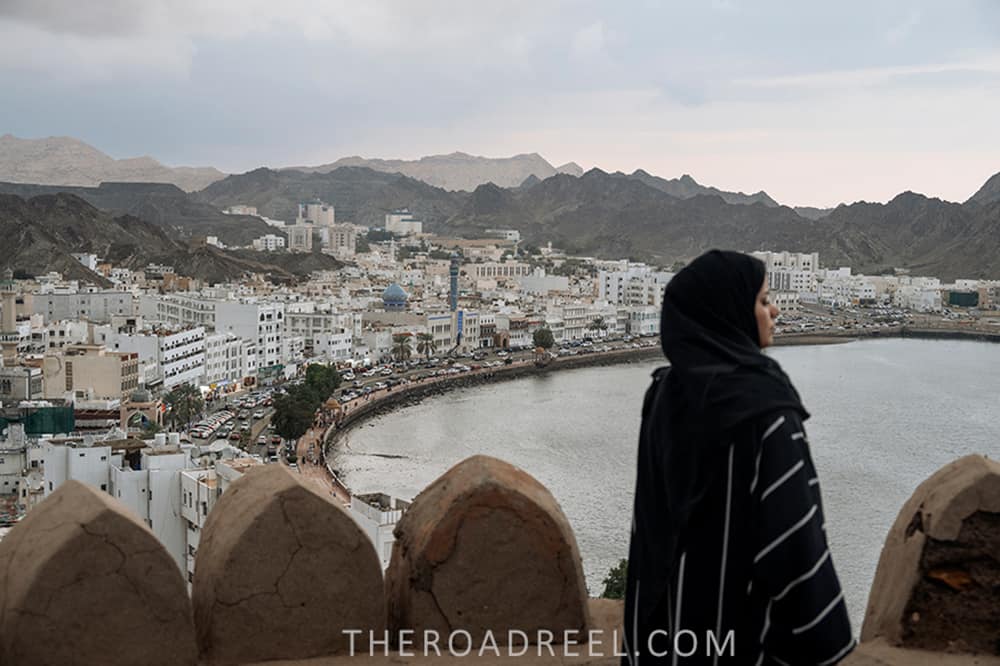 I recommend climbing up its 200 stairs before sunset to see the town glowing in golden light. 
There is a cozy specialty coffee shop upstairs. You can grab an iced mocha and have a seat outside with a wonderful view over the corniche.
Muttrah Fort opening hours: 8 am-9 pm daily. 
Entrance fee: once free Muttrah Fort now costs 2 OMR for non-Omani visitors. 
P. S. I have negotiated for paying for 1 ticket only. Omanis will often surprise you with their hospitality. Once they even offered to pay for the entrance to one of the historic forts when none of my credit cards worked (cash was not accepted). 
3. Have dinner at a local fish restaurant
End your day with a heartful dinner at a local fish restaurant Aroos al Bahar. This is a low-key eatery serving fresh grilled fish and seafood. You have to pick up the fish over the counter and then take a seat inside the restaurant or on their humble terrace. The prices are really good for simple but quality food. Expect to pay around 3-5 OMR for a fresh grilled fish (can be shared between the two). 
A word about Bait Al Luban restaurant
Bait Al Luban is more of an upscale restaurant in Muttrah corniche (just next to the above-mentioned Aroos Al Bahar). It serves Omani food and different curries. This is a heavily advertised restaurant (if you have read more blogs, chances are it was mentioned in 90 percent of them).
However, to me, it was a disappointment. Tourist flock to this restaurant like sweets on a conveyer in a factory. First of all, you need to book at least a day in advance. The food is okay, but nothing extraordinary for the price charged. I ordered prawn curry for almost 8 OMR and was served 6 small prawns in a large bowl of curry sauce-pretty unfair deal. I was told that meat dishes were quite dry. 
The only nice thing is the beautiful interior and the terrace seating with a corniche view (if you reserve well in advance).
Where to have great coffee in Muttrah
If you are like me, picky with your coffee, then I recommend the below coffee shop:
Bella Vista Café– it is a cozy cafe serving great specialty coffee. It is located on the corner of the roundabout at Muttrah Corniche. It was our go-to coffee shop during our 3 days in Muscat. 
Things to do in Muscat: Day 2 itinerary
1. Wake up early for a fish market in Muttrah
If you like local markets, then Muttrah fish market offers an interesting experience. Located in a new building on Muttrah corniche, this fish market is a place where locals go to buy fresh fish and fruits. The sellers are locals as well. Mainly old charismatic Omanis. If you love people photography, you will definitely find interesting characters to photograph.
Wake up early to visit the market which opens at 7 AM. By 9 AM stalls are almost empty.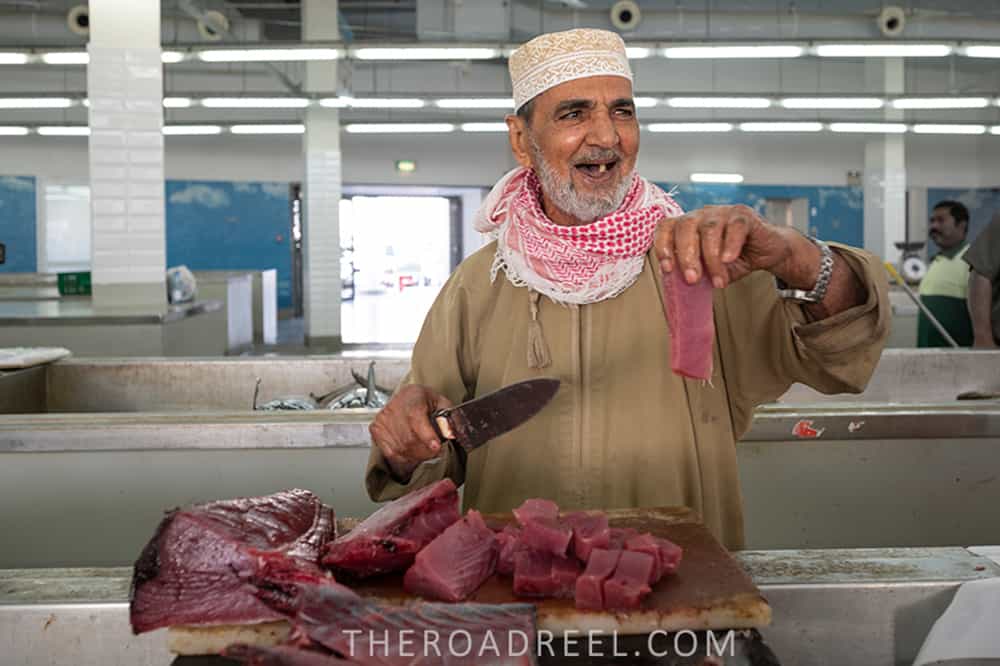 2. Visit the royal part of historical Muscat- a walled old town
Just a 5-minute scenic drive east along Muttrah corniche following Al Bahri road you will reach the other part of what is also known as an old Muscat which once used to be a separate walled town. It actually continues all way to Al Bustan beach where the beautiful Al Bustan Palace resort is located.
Leaving Muttrah, and entering through what is known as Muscat Gate, you will immediately notice that buildings here are more polished, streets are cleaner, and architecture is grander. It is expected as Al Alam, Sultan of Oman palace, and the ministry of Finances are based in this area. 
Here you will also find all the museums dedicated to history and culture, including the above-mentioned Gate of Muscat, and a few big forts which you can only see from outside.
Dedicate up to 1.5 hours to walk around the area, or up to 3-4 hours if you are planning to also visit a museum or two. 
The main things to see and do in old Muscat:
Sultan's Palace is possibly the second most famous building in Muscat after Sultan Qaboos Mosque. It used to be a home for the late Sultan Qaboos, and I believe now is a home (or one of the homes) for a new ruler of Oman, Haitham bin Tariq. You can only admire outside its gates.
The area in front of the palace is an eerie ceremonial boulevard. The grand empty space feels very different from the tiny streets of Muttrah.
Tourist buses come directly to Al Alam palace after visiting the Grand Mosque in the morning. If you come before 11 AM chances are you will have the space for yourself.
Nonetheless, to me, Al Alam palace was not the most interesting point on this Muscat itinerary, yet still a memorable one more for the contrast to Muttrah old town. I spent no more than 5 minutes in front of Al Alam Palace and took one or two pictures just to tick off the box. 
Al Mirani Fort and the waterfront harbor
The waterfront area on the left of Al Alam Palace used to be home to the old harbor. Here you will also find the impressive Al Mirani Castle, also built by the Portuguese in the 16th century. Sadly, the fortification was undergoing renovation during my visit, so I could only see it from outside. I bet it will be interesting fort to visit when the renovations are done. 
Another notable Fort out of reach to the public (and it has always been so as far as I am aware) is Jalali Fort. It is visible in the distance when walking along the waterfront. 
The waterfront itself is relaxing and a pleasant place to go for a stroll.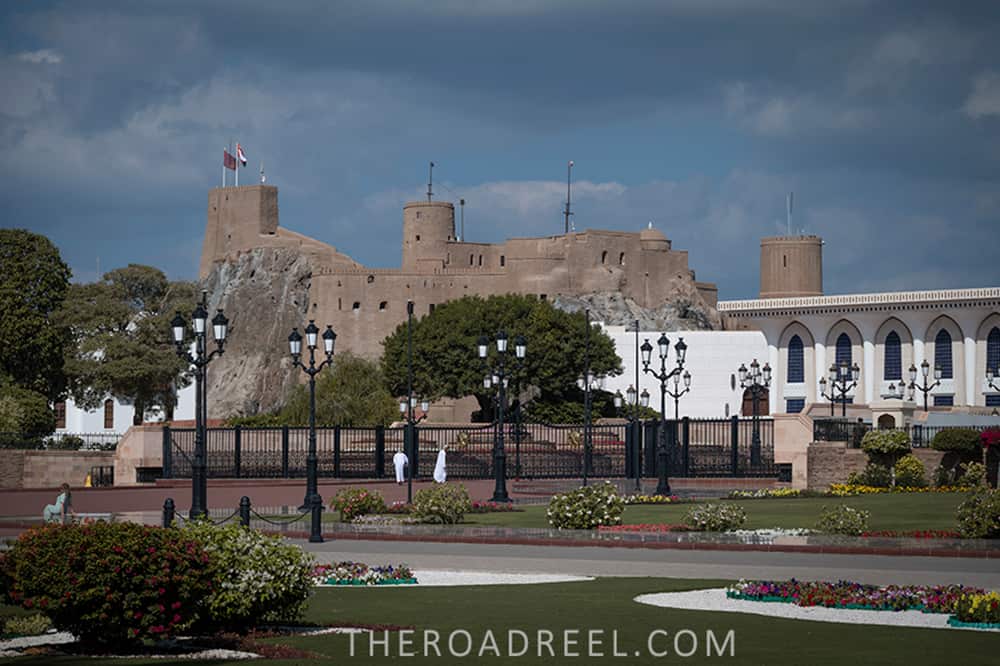 The National Museum of Oman
National Museum is Oman's flagship cultural institution which showcases the cultural heritage of Oman from the first evidence of humans around 5 million years ago until the present day. I have not visited it yet, but the exterior of the Museum situated on the opposite side of Al Alam palace looks impressive, no less than a palace I would say. 
Entrance fee: 5 OMR. 
Opening hours: 10 am to 5 pm Saturday to Thursday, and 2 pm to 6 pm on Fridays. 
Muscat Gate Museum (Al Bab Al Kabir) 
Recently renovated, Al Bab al Kabir used to be a gate separating Muttrah corniche and the walled city of old Muscat. Today it has been turned into a museum that shows how Oman has evolved through the years. Although the exhibition is small, the views from the terrace are pretty. 
Opening hours: 8 am-1:30 pm, closed on Fridays. 
Entrance fee: 1 OMR (foreigners), 500 baisas (Omanis), free for kids below 10 years old.
Bait Al Zubair museum opened its doors in 1998 by the Zubair family. It houses the largest private heritage collection of various Omani artifacts and walks the visitor through Oman's rich cultural history. The museum is formed of 6 buildings which are just as interesting as the collections inside. Bait Al Zubair is said to be one of the best museums to visit in Muscat.
Entrance fee: 2.5 OMR.
Opening hours: 9:30 am – 6 pm, closed on Fridays.
3. Head to Ruwi viewpoint for sunset
Ruwi is a little India of Muscat. Formerly a separate village, it was later connected to Muscat. If you have ever been to Dubai, the closest equivalent is Deira, Bur Dubai, and Satwa quarters.
Most of the Indian, Bengali, and Pakistani population live in Ruwi. In terms of location, Ruwi is very central- just 10 minutes by car from Muttrah. Also, a bus station connecting to other towns in Oman and also Muscat airport is in Ruwi.
Travelers on a budget can find some simple but decent accommodations and also bargain places to eat as there are countless West Asian restaurants around. 
I loved rough and messy Ruwi, mainly for street photography opportunities. However, my favorite spot is Yiti street viewpoint above Ruwi. A short but steep and windy road brings you to the craggy rock from where you can see the best, to my opinion, elevated view of Muscat. It is a unique sight of numerous white houses spilling between the brown rocks. 
It is a perfect place to watch both sunset and sunrise. Refer to the mao at the end of this post for exact coordinates.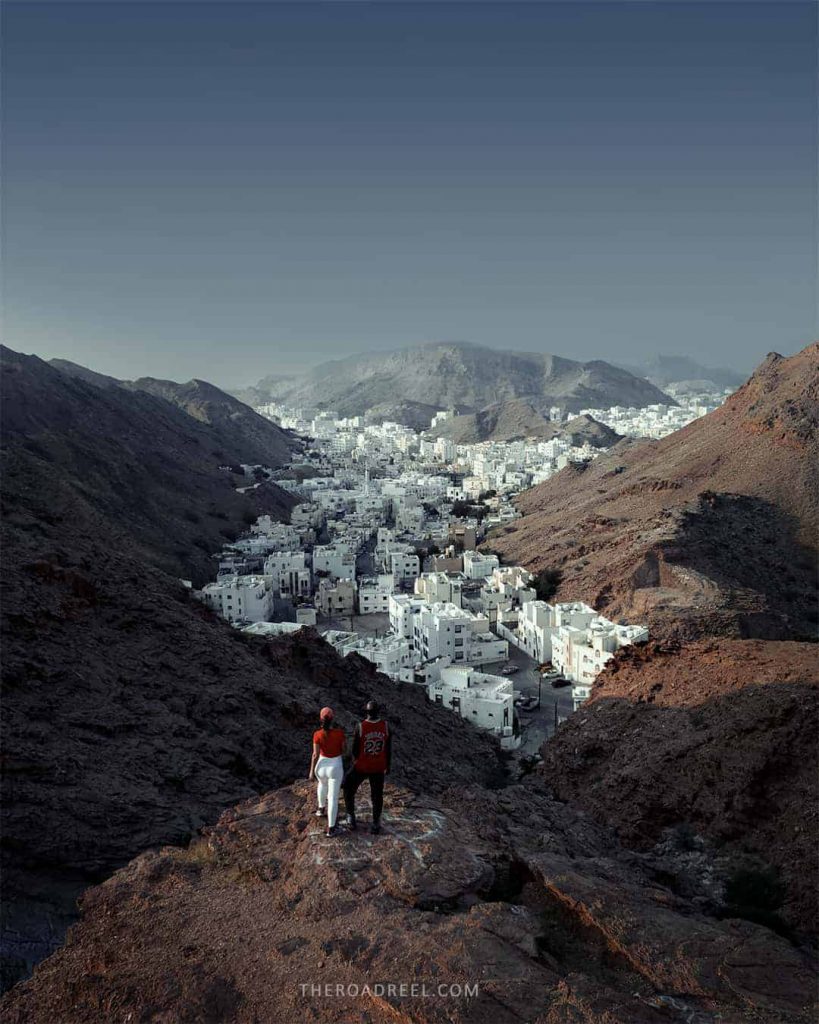 Places to see in Muscat on Day 3 itinerary
Since the first 2 days covered the most popular places to visit in Muscat, day 3 in the Muscat itinerary is a bit of freestyle. I have included several sightseeing options to pick from, depending on your liking. 
Muscat is stretched over the beautiful coastline. A trip east along the coast to the capital's outskirts will bring you to some wonderful secluded beaches surrounded by dramatic fjord-like landscapes. Meanwhile going up north of Muscat, you can sail off to pristine islands located within an hour from Muscat. Thus, for the first part of day 3 in Muscat, I suggest picking one of the below nature escapes.
1. Swim and snorkel around Ad Daymaniyat islands
Ad Daymaniyat is a Nature Reserve formed of nine pristine islands located 20km off the shores of Barka- a coastal city up north of Muscat. Islands are known for their crystal-clear waters and as a great spot for snorkeling with their bright-colored fish and sea turtles.
From May to October visiting Daymaniyat islands is prohibited due to marine life protection.
Since a special permit is required to enter the islands, the easiest way to visit Daymaniyat is by joining a day tour. Tour operators will handle all the logistics, permits, and food on your behalf.
2. Visit Fjords of Muscat- Bandar Khairan (Khayran)
If you prefer something more off-the-beaten-path, then head to Bandar Khairan, located 30 minutes drive from Muttrah. This natural wonder in the outskirts of Muscat is known for its Fjord-like landscapes (somewhat similar to Musandam).
Although you can get to the area with any car, accessing the small secluded beaches requires either hiking, a boat, or a 4WD. There are several coves dotted around the Bandar Khairan peninsula.
One of the easiest to access is marked as Bandar Al Khairam Beach for Tourism on Google Maps. Although to get to the shores 4 WD is required, you can also hike down the steep windy dirt path. The distance must not be more than a kilometer. There you will find some water activities to take on. You can go snorkeling (might have to bring your gear), while kayaking and boat paddling are available for rent.
NOTE: The are no food stalls or drinking water at the beaches, thus bring your own supplies. 
Recommended stops on the way to Bandar Khairan
Haramil Fishing Village
The road to Bandar Khayran is very scenic, winding through the mountains. On the way, you can stop at Haramil fishing village-a quaint tiny town. There is not much to see but the views with many fishing boats lining the shore are beautiful. It is a very small local community, and locals are pleasantly surprised to see visitors.
Qantab Beach
Following the scenic road, another worthy detour is Qantab beach where you can either chill or go on a short boat ride with a local fisherman. 
The beach at Qantab fishing village, 30 minutes away drive south of Muscat, was one of the unexpected discoveries during our Oman road trip. Once we reached it, we were pleasantly surprised by the quiet beach featuring beautiful rock formations. It was one of those wild-type beaches with just a few local fishermen hanging around. I would have easily spent half a day reading a book and chilling on the sand.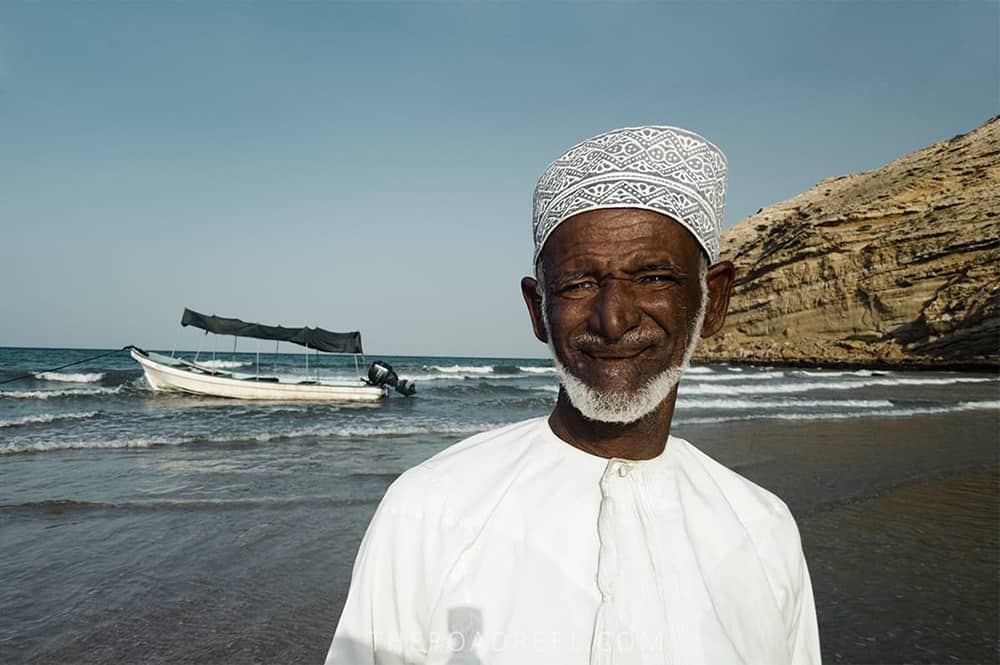 We were approached by an elder Omani sailor named Solomon. He offered us to go on a private boat ride. We agreed. And it was a pleasant 30 minutes ride in a traditional motorized boat. We had a chance to see a natural stone arch and admire the beautiful coastline.
The private 30 minutes boat ride costs 10 OMR.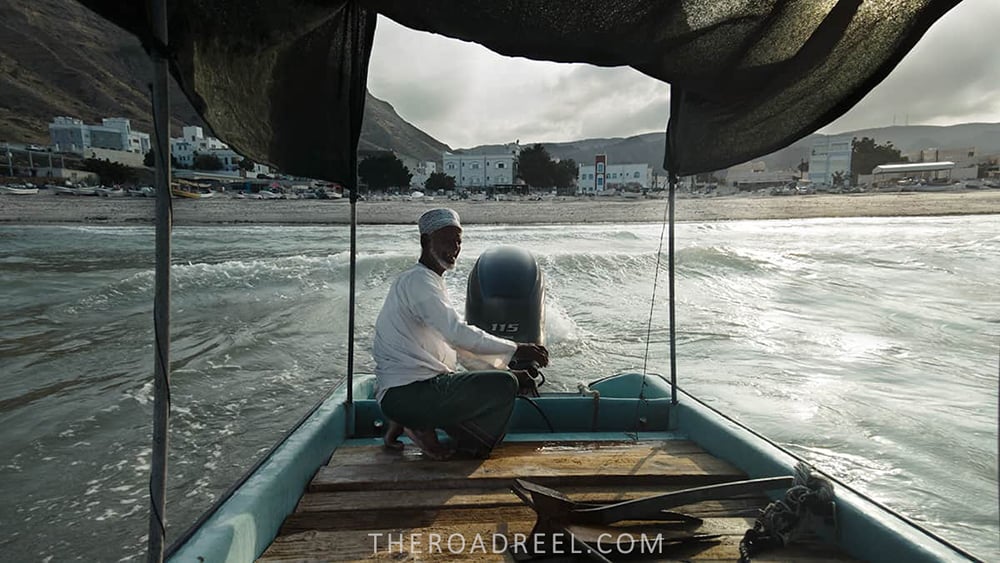 Once you are back in Muscat, there are other attractions I would like to suggest (depending on the time you have left, you may have to pick one).
3. Sunset Hike above Muttrah
Love hiking? Then you should definitely try at least one of several city hikes in Muscat. There are a few trails around the capital of Oman. One of the easiest and most scenic ones is the Muttrah-Riyam Park hike. This easy to lightly moderate marked path winds through the craggy hills starting in the parking lot near Riyam Park and finishing on the corniche of Muttrah. You will be surprised that hiking in town actually allows for a brilliant escape from the town and opens up to some great views over the Muttrah town and its corniche. 
Trail distance: 3.7 KM
Hike duration: 1.5 hrs
Difficulty level: easy to moderate
The trail is well-marked with yellow white and red line flags
Proper hiking boots are recommended as the rocks are very slippery
Kids-friendly (we saw families with young kids doing it).
Trailhead coordinates: type in Google [C38 Mutrah to Riyam Park Hike] to get to the start of the trail. The starting point is behind one of the houses. You will see a stone staircase on the left-hand side going uphill-follow it to begin the hike.
4. Sunset stroll on Qurum beach
Alternatively, to hiking, you can visit Qurum beach during the sunset. It is said to have a beautiful atmosphere and you can also watch locals hanging around. 
5. Visit or watch a performance in Royal Opera House Muscat
Royal Opera House of Muscat is another grand modern architecture example in Oman and a venue for musical arts and performances. The building itself is a popular tourist attraction. Tours to visit interiors are also available. But probably the best way to experience the Royal Opera House is to actually go and watch a performance.
If you are curious about the architecture, you can definitely pay a visit. Still, if you have limited time, I suggest skipping it.
More activities around Muscat
Have more time in Muscat? Then I would recommend going on a day trip to visit Oman's finest forts located fairly close to the capital.
1. Rustaq Loop
Rustaq Loop is a nice one-day road trip from Muscat that covers stops at 3 beautiful historical forts of Oman dating back between the 13-18th centuries (each built and renovated during different eras). In general, Omani forts are brilliant. Although they all follow similar architectural styles and have identical beige-hue colors, I never get bored visiting Omani forts. Each fort is unique in its own way and offers something awe-inspiring to see.
In Rustaq Loop (drive literally in a loop starting and finishing in Muscat), you will see the following forts: Al-Hazm, Rustaq, and Nakhal (or vice versa, depending on which side you start your drive from).
I recommend starting your day early to slowly visit them all. The full loop drive will take up to 3 hours, plus you need a couple of hours or so to visit each fort, depending on how much exploration you are keen to do. Omani forts are known for their many rooms and labyrinth type of planning, and they are really interesting to wander around. Moreover, being inside the fort offers a perfect escape from the hot Middle Eastern midday sun.
Forts' opening hours are usually from 8 AM till around 5 PM daily. Opening times might be shorter on Fridays. However, on my recent visit to Al-Hazm Fort, it was open all day on Friday. The entrance fee depends on the fort. We paid 1 OMR for entering Al-Hazm fort, for example.
Update: currently Rustaq and Nakhal Forts are under renovation. Nakhal fort will be open for visiting in 2023 spring, while Rustaq is supposed to be finished by the end of 2023.
Tip: if you are traveling from Muscat to Dubai by road, Al-Hazm fort is on the way and is worth stopping by for an hour or two.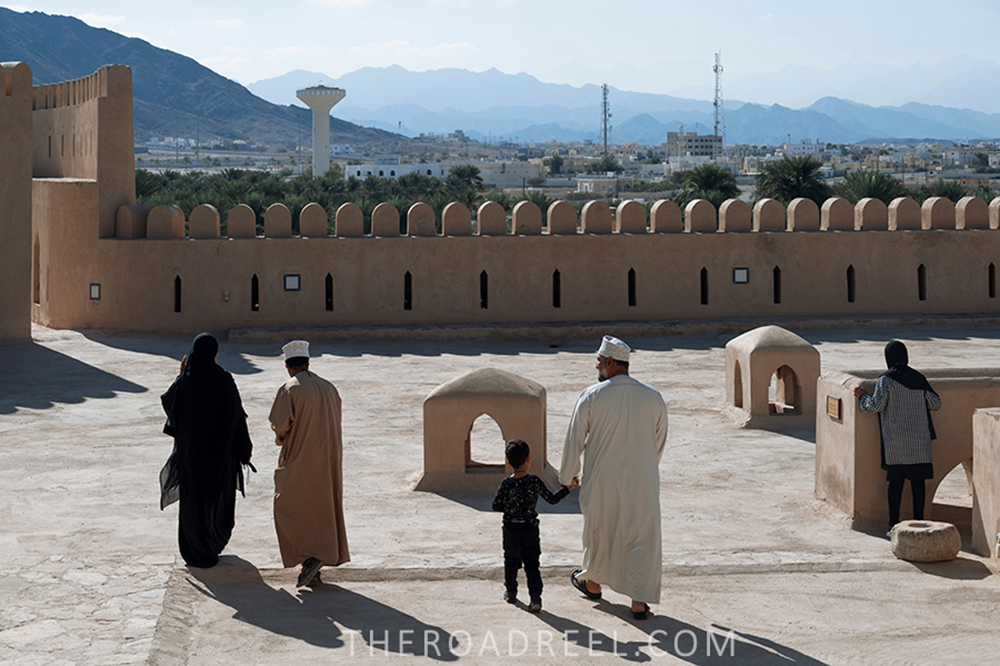 2. Nizwa Fort and Souk
17th-century Nizwa Fort is located in Nizwa mountain town. It is one of the most famous if not the most famous fort in the country. Adjacent to the fort is Nizwa market which is cozier and less touristy than the one in Muttrah. Although you can visit Nizwa Fort and Souk as a day trip from Muscat, I strongly suggest staying at least one night in Nizwa or around to see a different side of the mountainous part of the Sultanate.
Nizwa Fort opening hours: Saturdays to Thursdays: 8 am – 8 pm / Fridays: 8 am – 11:30 am, 1:30 pm – 8:00 pm.
Entrance fees: 5 OMR ($13 USD) for adults / 3 OMR ($8 USD) for children.
Final thoughts about visiting Muscat
Is Muscat worth visiting? And why visit Muscat? Is Muscat a safe city to visit?
Many people treat Muscat as a jump-off point before they start their road trip around the Sultanate, or just as a layover between flights to other destinations.
However, underrated Muscat is not only a great place to visit for a city break filled with interesting sights but also a perfect introduction to the Sultanate of Oman. Historically and culturally rich Muscat is a very different and unique capital. It is laid back and relatively slow-paced, something you wouldn't expect from the largest city in the country. 
Muscat is a huge contrast to flashy Dubai in UAE (although Dubai also has an old part hidden under the shades of skyscrapers).
Oman's capital is a real city where you will find worn out charismatic old houses, locals driving taxis and serving people at restaurants, or haggling in the ages-old markets. 
Muscat also serves as a base for day trips to nearby destinations in Oman, like Bimah Sinkhole and wadi Shab, Daymaniyat islands, or Nizwa, for example. 
The not-so-obvious luxurious side of Muscat can be experienced by treating yourself to a stay in one of the wonderful resorts located on the idyllic shores of the Gulf of Oman. 
Thus, there are so many things to do in Muscat and it is a must-visit place in Oman for longer than just a day. 
Safety in Muscat
Last but not least, Oman is one of the safest countries to visit not only in the Middle East but also in the whole world. Even if you are a single female traveler, visiting Muscat, or Oman on your own is easy. Men pay respect to women and never ever did I feel uncomfortable or in danger wandering even the most remote corners of Oman and Muscat.
Accommodation in Muscat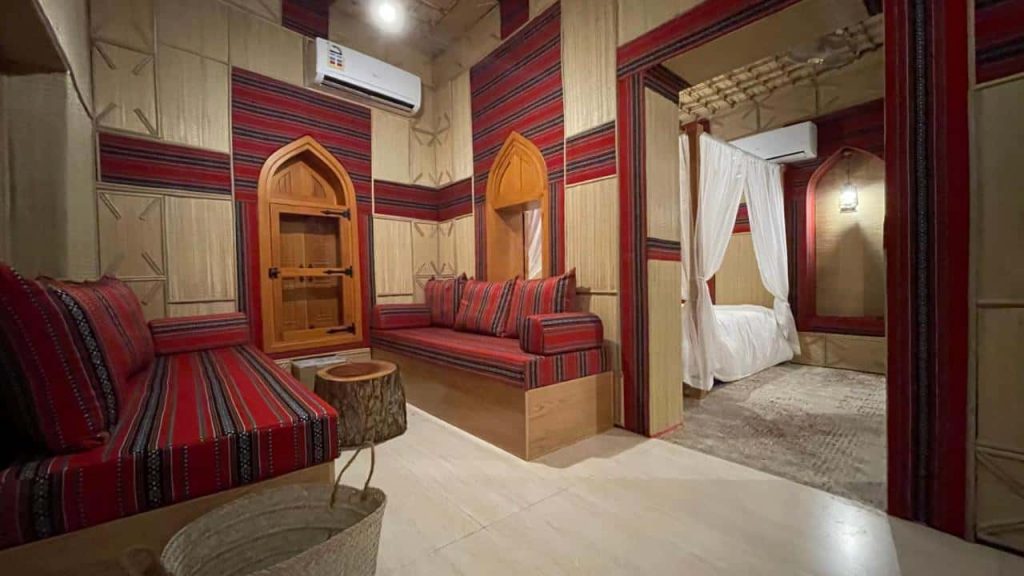 Fort Guesthouse $$–highly rated by visitors, superb location at the waterfront of Muttrah corniche and Fort, features a lovely terrace and humble Omani-style accommodation.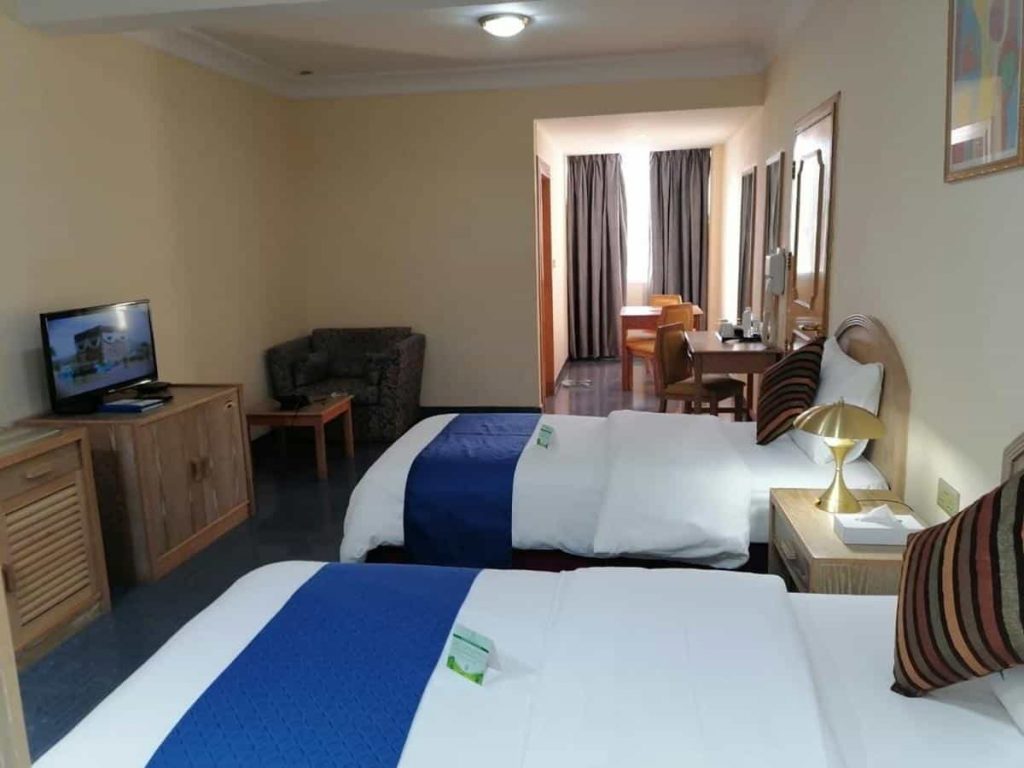 Haffa House Hotel $-a decent four-star hotel for very reasonable prices. Although it is an old hotel and needs a bit of revamp, it is clean, has polite service, and the location is convenient to drive to any direction for sightseeing. Make sure to request a non-smoking room (if that applies to you) when booking.
Intercontinental Muscat $$$- located on the beach of Qurum this resort offers you a comfortable stay in rooms with sea or mountain views, access to the pool, gym, green gardens, saunas, in house restaurants. The popular waterfront-muscat area with trendy shops and nice restaurants is also close by.
Muscat, Oman Map
Click here to open and save my Muscat itinerary map which shows the exact locations of the points of interest mentioned in this Muscat guide.
I hope you are enjoying my free travel guides & tips. If yes, please consider supporting my work by buying me a coffee so I can continue creating more useful content from my favorite coffee shop in town. Thanks!
Oman travel essentials & useful links
Here are links to essential travel resources and services I always use when organizing my trips.
More Oman travel blog posts