Plan a perfect Dubai to Musandam road trip with my detailed Musandam, Oman travel guide. Here you will find: how to go on a Musandam trip from Dubai by car, UAE-Oman (Musandam) land border procedures and Oman visa requirements (for tourists and UAE residents), places to visit and the best things to do in Musandam Peninsula, including Khasab dhow cruise tours through Fjords of Arabia, the best beaches in Musandam, hiking and camping opportunities, places to stay in Khasab, as well as where to eat. 
Musandam, an exclave governorate of Oman, sits on the very northern tip of the scenic Arabian Peninsula. Bordered by the UAE and separated from the mainland of Oman, Musandam is known for its dramatic jagged coastline, desolate mountain range, and fjord-like inlets (khors). Peninsula's unique topography is why people often refer to Musandam as the Norway of Arabia, Fjords of Arabia, or the Norway of the Middle East.
Meanwhile, Governorate's capital town Khasab serves as a visiting base and a harbor for iconic Musandam dhow cruise trips.
Musandam road trip from Dubai is one of the best things you can do while in UAE. Thus, I am excited to share all the essential tips and things you must know before visiting Musandam, Oman.
Disclaimer: This post contains affiliate links, which means that I may earn a commission if you make a purchase by clicking a link (at no extra cost to you). This helps to keep my blog running and growing by creating more awesome free content for you.
Musandam from Dubai road trip guide: 15 best places to visit and things to do in Musandam
In this post, I focus on the Musandam-Khasab area. This northwest side of the Peninsula offers the widest range of activities and attractions in Musandam. Meanwhile, Musandam-Dibba on the eastern side is mostly visited for Zighy Bay Resort, overnight diving, and dhow cruise trips to Lima village. 
Musandam Travel Essentials- Quick Links
Where exactly is Musandam in Oman? 
It often comes as a surprise to many travelers that Musandam actually belongs to Oman but is completely enclosed within the borders of the UAE.  Projecting into the strait of Hormuz at the northernmost part of the Arabian Peninsula, Musandam is bordered by Ras Al Khaimah Emirate from the west side and the Sharjah Emirate exclave from the east side of the UAE. 
It is relatively easy to go for a day trip from Dubai to Musandam, making it one of the most beloved weekend getaways for UAE residents. It takes only a couple of hours of driving from Dubai before you cross the UAE- Oman border in Ras Al Khaimah Emirate, and appear in a completely different world.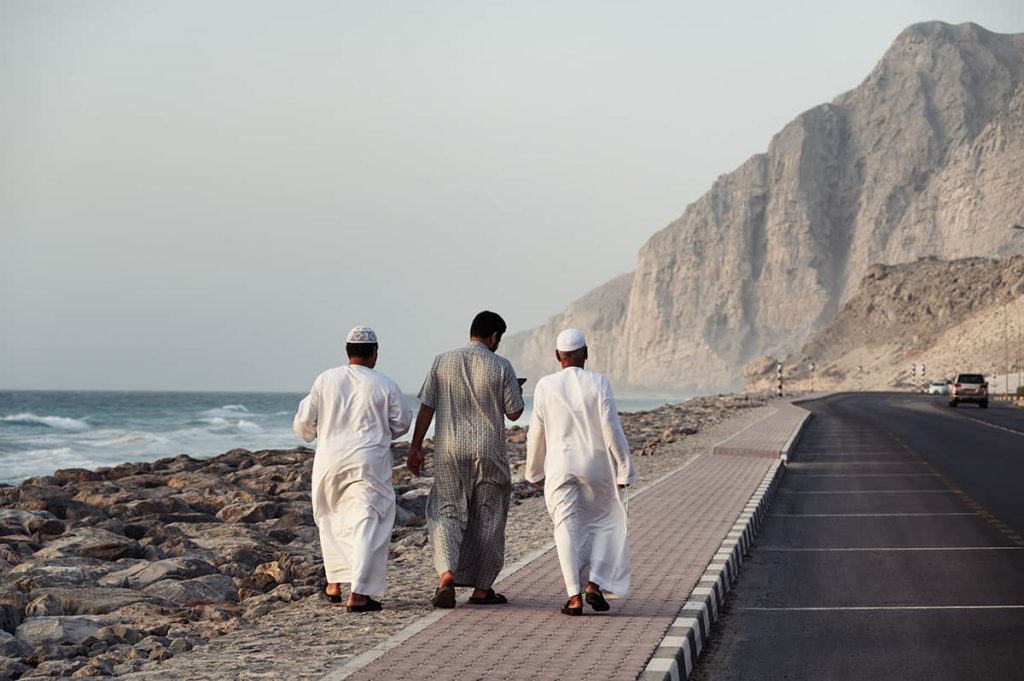 The scenery transforms instantly from an industrial dusty highway to one of the most scenic coastal roads you can imagine.
You will be driving a perfectly smooth Khasab highway winding between soaring rugged orange hue cliffs and unspoiled seaside. Every now and then you will see traditional low-rise pastel-colored villages and old forts nestled at the foothills of the mountainside. You may find yourself wanting to stop quite often as the road offers countless scenic viewpoints and beach breaks. 
RELATED READS: Renting a car and driving in Oman tips.
Musandam Map
Use this map to locate all the places mentioned in my Musandam travel guide. Click the tab in the top left-hand corner to open the layers (points of interest, accommodation, driving routes, etc.). You can save this map on your Google Maps account by clicking on the small star icon next to the name of the map. To open the saved map on your phone or laptop, open Google Maps, then click the menu button, go to "Your Places", and click maps where you will see this map saved on your list.
Why is Musandam worth visiting? 
The Musandam Peninsula is one of the most spectacular destinations in the Middle East. Musandam is a must-visit for its gorgeous landscapes composed of beautiful wild beaches and mighty mountains, as well as abundant marine wildlife. If you are travelling to Dubai, or live in the UAE, make sure to visit Musandam at least for a day. That being said, driving Khasab coastal road alone is worth the journey. 
IMPORTANT: Going to Musandam Khasab involves a UAE-Oman border crossing. Therefore, a passport and visa (for tourists and UAE residents) are essential (more on the border crossing details later in this post). 
How many days in Musandam?
Although the majority of visitors choose to go only for a day from Dubai (UAE), you can easily spend 2 days in Musandam or even longer. There are plenty of amazing outdoor sights and things to do in Musandam ranging from popular dhow cruises, wild beaches, snorkeling, and diving, to hiking, off-roading, and camping in the Musandam mountains, as well as historical places to explore in this secluded peninsula of Oman. 
The best time to visit Musandam
The best time to go to Musandam is October to March. The weather temperatures are lower, making it pleasant to stay outdoors.
You can still visit Musandam during the shoulder season which is March-April or September. However, it going to be quite hot, humid, and hazy, with temperatures hitting above 35 degrees Celsius during midday.
June to August are the hottest months with the weather heating up to over 40 degrees Celsius. Thus, it is not advisable to travel to Musandam in the summer.
Instead, you can look up for a perfect opportunity to escape the heat in the Middle East by heading to Salalah, south of Oman.
Where to stay in Musandam
Unless you are planning on overnight wild camping in the Peninsula which is a legal and very common activity in Oman, accommodation options in Musandam are very limited. You can only find less than 10 hotels in the town of Khasab on the northern side of the Peninsula. Meanwhile, on the eastern side, the only accommodation is Six Senses Luxury Resort which is mostly visited as a retreat destination.
The best hotel choices in Musandam, Khasab for slightly different budgets: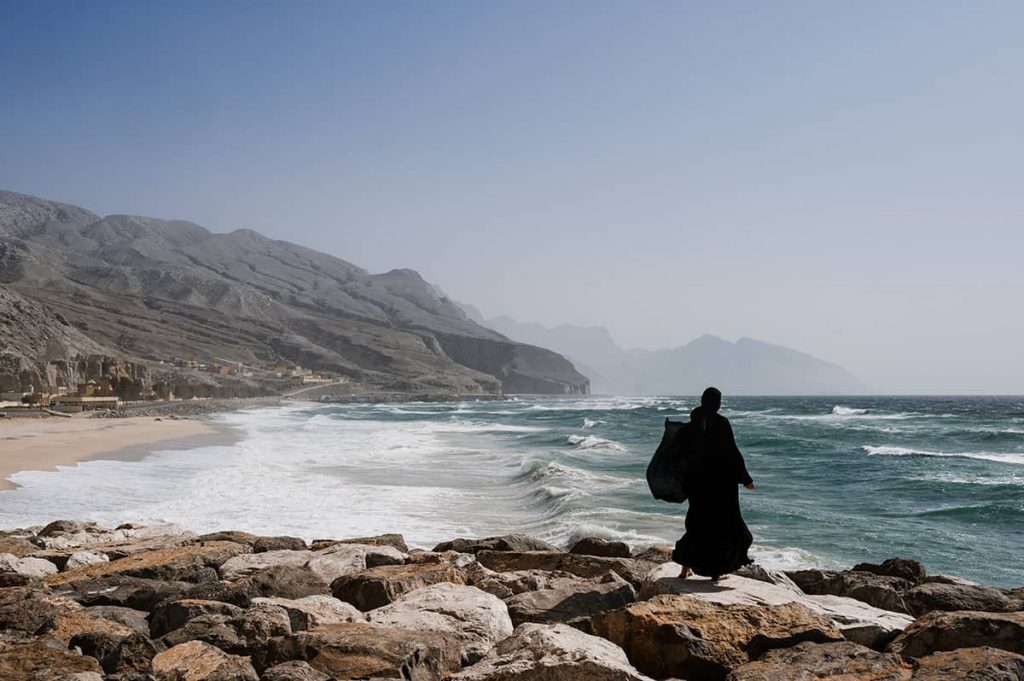 How to get to Musandam from Dubai by road
There are two land entrances-border crossings from UAE to Musandam: 
Musandam (Khasab) from Ras AL Khaimah through the al Dhara border.
Musandam Dibba from Fujeirah/Sharjah exclave through the Dibba checkpoint.
IMPORTANT: for the scenic road trip along the Khasab coastal road, you must enter Musandam from Ras al Khaimah emirate. You cannot drive from Dibba-Fujeirah to Khasab (more on that later). 
Musandam from Dubai by car 
The most convenient and exciting way is to self-drive to Musandam. You will have the freedom to stop along the beautiful coastline and visit attractions outside Khasab town. 
Since the majority of visitors are coming to Musandam from Dubai, I will use it as a starting point. However, you can drive to Musandam from any other Emirate of the UAE. 
Driving from Dubai to Musandam (Khasab) 
When driving from Dubai to Khasab (the regional capital town of Musandam), take Mohamed bin Zayed Road E311 all the way to the end of Ras Al Khaimah Emirate. It is literally a straight way on the highway to the border. 
It takes approximately 3 hours to drive from Dubai to Khasab: 2 hours to reach the border, around 30min for crossing the Al Dhara border post, and another 30-40 minutes to Khasab. If you are coming from Abu Dhabi, add another hour to your driving time. 
Note: border crossings may take significantly longer on weekends and public holidays. The visa and border procedures are explained in detail below in this post.
Getting from Dubai to Musandam by tour
Many visitors to the UAE opt for one-day or overnight camping trips using organized tours departing from Dubai. This option will suit those of you who do not have your own transport. Some of the tour companies offer pick-up from the hotel service and some have a designated meet-up point in Dubai. 
An easier way is to choose a tour that offers a pick-up service so you do not need to hire a taxi to the meet-up point.
These Musandam tours are recommended by UAE visitors and have hotel pick-up options:
Getting to Khasab, Musandam by public bus
Unfortunately, there is no direct public bus service available from Dubai or anywhere in the UAE that can take you all the way to Khasab, Musandam. The furthest you can get by bus from Dubai is Ras Al Khaimah bus station. Then you would have to hire a taxi to Khasab. This option would not be sensible for visiting Musandam from Dubai as it is complicated, time-consuming, and costly. 
Getting to Musandam from Oman's mainland
You can visit Musandam from Oman by car. If driving from Muscat, you will have to first enter UAE from the Al Wajajah border in Hatta or Khatmat Malaha border on the East coast of the Gulf of Oman. Then you will have to drive to the Al Dhara border in Ras Al Khaimah. It is a long journey that takes around 6 hours from Muscat.
Looking for a good rate to hire a car in Oman or UAE? Check Discover Cars search aggregator which offers some of the most competitive car rental rates in the market.
Entering Musandam by air from Oman
It is possible to reach Musandam by taking a flight from Oman's capital Muscat to Khasab airport. The flight takes just over an hour and there are daily departures between Muscat and Khasab. 
Search for the best flight deals in Oman using Skyscanner.
Entering Musandam from Oman by ferry
Reaching Khasab, Musandam by ferry is probably the most adventurous way. There is a twice-a-week ferry from Shina's town in Oman (3 hour drive up North from Muscat). It also transports vehicles. You can book ferry tickets here. 
Musandam, Oman Visa Requirements at Al Dhara (Khasab) border
To visit Musandam when entering from the al Dhara border in Ras Al Khaimah to Khasab, you must obtain Oman visit visa.
UPDATE: All GCC citizens and residents (including UAE residents) do not need a visa to travel to Oman. UAE residency must be valid for at least 3 months before entering the Sultanate of Oman.
Which type of Oman visa should you apply for when travelling to Musandam:
If you are a UAE resident, you will need to apply for a 29A visit visa. It is recommended by the Royal Police of Oman to apply for a tourist visa online for a faster procedure at the border. However, a visa on arrival is also available in case you could not apply online. 
A single entry visit visa for UAE residents costs 5 OMR (50 AED)*.
*Note that in order to get a 29A visit visa to Oman, your UAE residency should fall under the approved professions list.
If you are coming to Musandam from Dubai by road holding a UAE tourist visa, and fall under G1** countries list, you can get a visa on arrival for 10 days which costs 10 OMR (100 AED). If you intend to stay longer, then you should apply for a 26B visa online valid for 30 days which costs 20 OMR (200 AED).
Travelers who do not fall under the G1 countries list must either be a spouse or a child of the G1 countries national to be able to apply online for an e-visa. Otherwise, they should obtain an Oman visit visa via the Oman embassy in their country of residence. Alternatively can use visa application services on ivisa.
IMPORTANT: Passport holders who do not qualify for a UAE visa on arrival, must have a multiple-entry UAE tourist visa. Single-entry UAE tourist visa holders will not be allowed to enter Musandam. 
**G1 countries as per Royal Oman Police. Europe: Andorra, Austria, Belgium, Bulgaria, Croatia, Czech Rep., Cyprus, Denmark, Estonia, Finland, France, Georgia, Germany, Great Britain,  Greece, Hungary, Iceland, Ireland, Italy, Latvia, Liechtenstein, Lithuania, Luxembourg, Macedonia, Malta, Moldova, Monaco, Netherlands, Norway, Poland, Portugal, Romania, San Marino, Serbia, Slovakia, Slovenia, Spain, Sweden, Switzerland, Vatican, Ukraine. South America: Argentina, Bolivia, Brazil, Chile, Colombia, Ecuador, Paraguay, Suriname, Uruguay, Venezuela. Other Countries and Regions: Australia, Brunei Dar al-Salam, Canada, French Guiana, Hong Kong, Indonesia, Japan, Lebanon, Macao, Special Administrative Region of China, Malaysia, New Zealand, Seychelles, Singapore, South Africa, South Korea, Thailand, Taiwan, United States, Islamic Republic of Iran, Russian Federation, People's Republic of China, Republic of Kazakhstan
Passport validity
All passports must be valid for at least 6 months during your visit to Oman. 
If you are a UAE resident, your residency must be valid for at least 3 months (90 days) before entering Oman. 
Apply for an Oman visa online
If you are eligible, you can apply for an Oman visa online on the Oman Royal Police website here. It may take an hour to up to a week to receive an e-visa. Usually, e-visa will be issued within 24 hours. However, I suggest applying at least a few days before your trip.
You can also get an Oman visa sorted for you for an additional fee using ivisa. This is particularly convenient for those travelers, who are not eligible for Oman visas on arrival. 
UAE Exit Fee
When exiting UAE by land, at the border you must pay a 35 AED exit fee per person. This is separate from your Oman visa cost. There is no exit fee for leaving Oman. If you are traveling from Dubai to Musandam with a tour, the exit fee is most of the time already included in the tour package.
Car documents requirements when entering Musandam from Dubai, UAE
When driving a car to Musandam from Dubai, UAE you must have the following documents:
Up-to-date car registration (mulkiya) documents.
An orange card that acts as driving in Oman car insurance. It can be requested to be issued by your car's insurance company. If your car insurance covers the territory of Oman, it will be free of charge, if not it costs around 50 AED. Alternatively, you can get Oman car insurance on the border and it costs around 80-100 AED. 
A non-objection certificate (NOC) if you are driving a rental car. Request it from your car rental company. Most car rental companies permit driving from UAE to Oman. 
You will also need NOC if you drive someone else's car. The owner must issue that for you.
Valid driver's license. 
RELATED READS: If you are planning a trip to Muscat or Salalah, read my full guide about traveling to mainland Oman from Dubai (UAE) by road here.
Musandam Al Dhara (Khasab) Border Crossing Procedure
Arrival to Musandam
When arriving at the UAE-Musandam border you will first pass the UAE checkpoint. If you are not a GCC citizen, you must first visit the departure hall, show your passport, pay an exit fee of 35 AED per person, and get a UAE exit stamp. You will be also given a small sheet of paper which you must show at the UAE checkpoint. This piece of paper is your exit fee payment confirmation. 
The next step is the Oman border post crossing. Again, you must park your car and visit the arrival hall to show your passport and get an Oman entry stamp for electronic visa holders. Or get a visa on arrival (you must check in advance if your passport is applicable for it).
Once your passport is stamped, head to the checkpoint, show your passport and proceed to the car inspection section. 
Musandam border control officer will inspect the interior of your car and will give you a small sheet of stamped paper which you will have to show at the last checkpoint before entering Oman. After that, welcome to Musandam! 
Border procedure on the way back to Dubai, UAE
When leaving Musandam your first stop will be at the same Oman arrival/departure hall where you received your Oman visa. Here you will have to show your passport and get an exit stamp.
Next, you will drive through an x-ray gate which will scan your car (no stopping there).
Then you will have to park your car and head to the arrival hall on the UAE border side for a passport check and entry stamp. You will get another sheet of paper, which you have to give to the officer at the car inspection point.
Proceed further to the car inspection point, get the small paper stamped, and proceed to the final checkpoint to hand it to the officer. After that, welcome back to the UAE!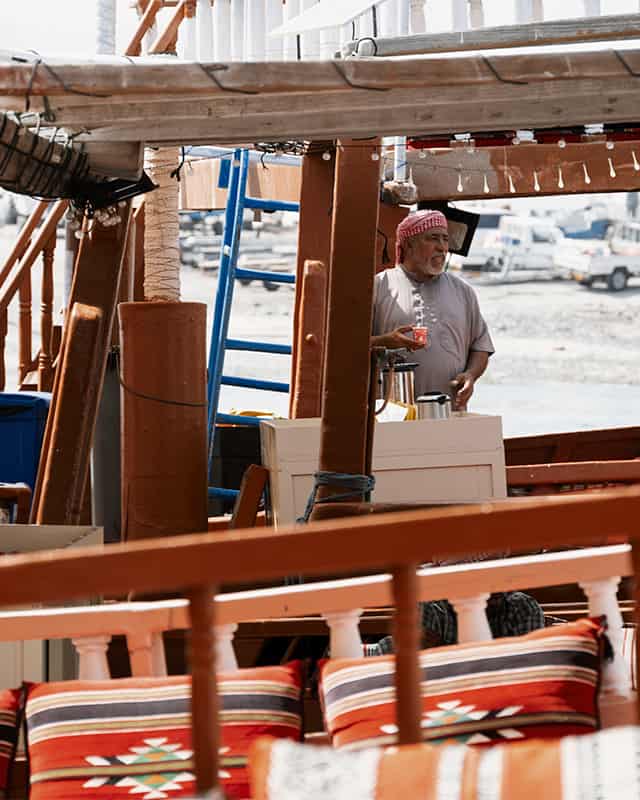 Visiting Musandam through the Dibba border
Dibba border is located on the east side of Musandam, in Dibba town, an exclave of Sharjah emirate. This border shall be used if you are going for a staycation to Six Senses Resort in Zhigy Bay, or if you are taking one of the dhow cruises in Dibba Oman, or any other tour in the area. 
The Dibba border is more like a checkpoint than an actual border. If you are visiting Musandam for the above-mentioned purposes then you will not need an Oman visa. 
The hotel or tour operator will be able to provide you with a permit to enter Dibba, Oman. 
Note that you should not attempt driving to Musandam through the Dibba side over the Wadi Bih. It is an off-road that requires a 4WD vehicle and also it is not permitted for ex-pats of UAE or foreigners. Only UAE citizens and Omanis can use that road. 
Nonetheless, if you are planning on hiking in Wadi Bih independently you can do so. We entered Dibba border a day before it was shut for lockdown back in 2020. It was the only border open at that time and we used it to visit Musandam. Originally, we planned to go to Khasab, but since the Al Dhara border was already closed at that time, we ended up hiking in Wadi Bih, camped, and came back hours before lockdown started. We did have Oman visit visa though, and it might be required if you are not using tour operators or hotel services. 
15 Best Things to Do in Musandam, Oman
Here you will find the best places to visit and things to do in Musandam.
1. Sail through Arabian Fjords in a traditional dhow cruise in Musandam
Sailing Arabian Fjords in a traditional dhow boat is an absolute must-do activity in Musandam allowing you to truly appreciate the beauty of the peninsula. In fact, most of the visitors are specifically coming for the boat tour in Musandam as it is the best way to see beautiful khors – inlets that characterize the Arabian Fjords landscape. 
There are plenty of tour companies to join for a half-day, full-day, and even overnight cruise experience. The sailing-off point for all cruises is Khasab Harbor.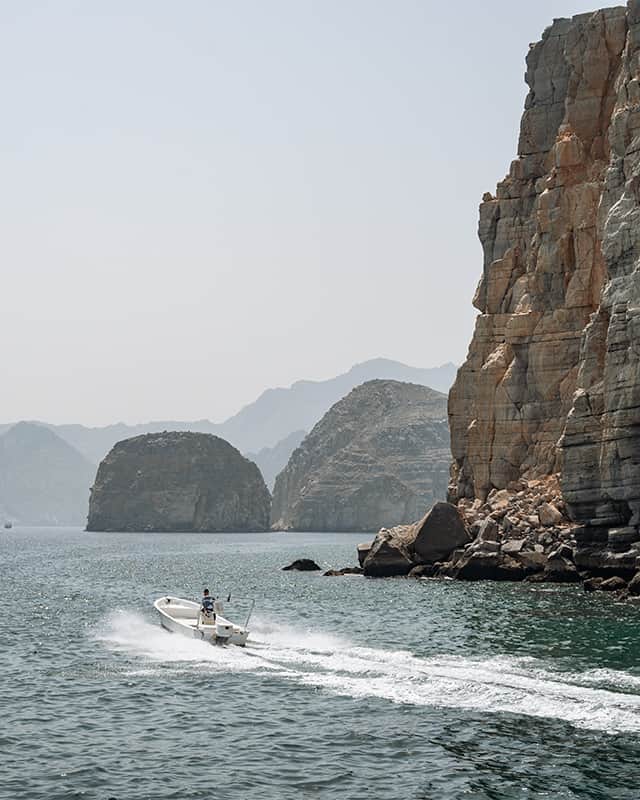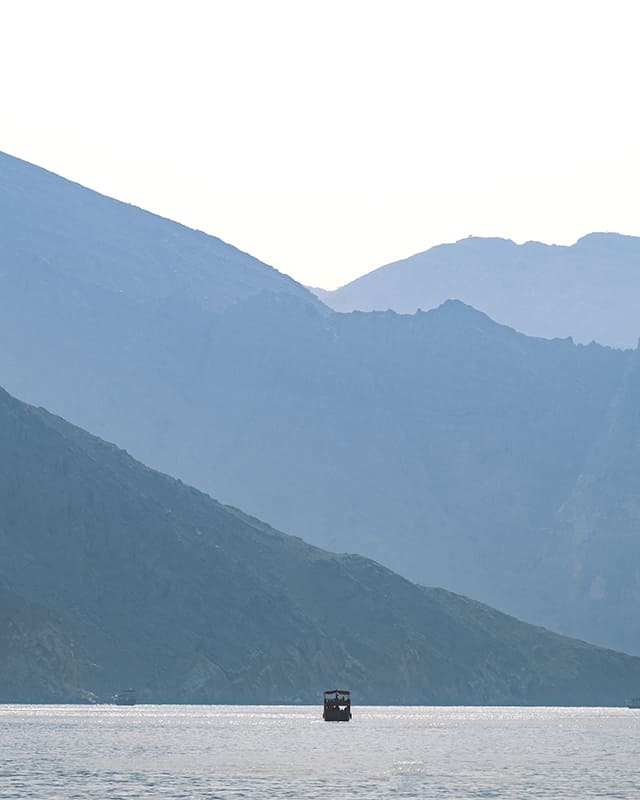 The route and activities on a dhow tour are essentially almost the same- cruising around the fiords with 1 or 2 stops for swimming and snorkeling in the pristine waters, spotting the dolphins, lunch, and refreshments along the way. 
You will be sailing in a traditional open-deck boat shaded with a roof cover.  Some of the boats are multi-level which is great for slightly elevated views. Decorated with traditional textiles and pillows for lounging, those old dhows are also very photogenic. Many of them are still used for finishing throughout Oman. 
I would recommend joining a full-day tour for a more relaxed experience. Moreover, if you are doing a full-day cruise, you can also request to be taken for a short hike "between two seas" for panoramic views of the fjords! This has to be prearranged as you will be picked up from the dhow and transported by the speedboat for a short hike. I haven't done this hike yet, but somebody posted amazing pictures on Instagram. I asked the person if they had to pay extra, but they confirmed that drop-off for a short hike was included in their dhow cruise rate.
Booking dhow cruise in advance is recommended for the winter months and on the weekends. You have two options to do the cruise: 1. Arrive in your own car to Khasab and take join the tour from there. 2. Join an organized tour from Dubai with transportation included. 
If you are wondering which dhow tour to take, here are suggestions for well-rated tours available to book online: 
Overnight dhow cruise with camping experience: this is a unique way to experience the Musandam Peninsula. This tour includes lunch, dinner, and breakfast, as well as all campsite equipment. Click here for more details, prices, and availability.
Browse all Musandam dhow cruise tour options on Viator.
2. Hit the beach: where to find Musandam's best beaches. 
Musandam peninsula is dotted with some insanely beautiful beaches. Thus swimming at least at one of those wonderful beaches is one of the best things to do in Musandam.
While driving along the Musandam coast you will see wide sandy beaches suddenly appearing just next to the road. You can stop, park your car and go take a dip in the sea.
If you have a 4×4 vehicle, you are in luck as it allows you to access Musandam's wild beaches that are just a few kilometer's drive down to the coast from the main road via an offroad path. 
The best Musandam beaches
Jeri beach (or Al-Jirri beach) 
Jeri Beach was my favorite beach in Musandam. It is located a 25-minute drive from Khasab-UAE direction. The coastline of Jeri Beach reminded me of the wild coasts of Alentejo in Portugal. 
The beach is around 1 km long, clean and empty. Most people just drive past with a short stop for a picture at most. We found this gem just steps away from the main road and had the beach completely to ourselves. Although Jeri Beach is located in front of the small village and fishing pier of the same name there are no amenities or shops close by. 
Beach Park Hil Oman
For a more family-friendly beach with playgrounds, washroom amenities and even a coffee shop drive to Beach Park Hil following UAE direction for another 3.5 km. It is a beautiful beach with a dedicated parking lot, less wild than Jeri though. 
Bassa Beach
Located in Khasab, just a 10-minute drive from the town center, Bassa is the most frequented beach in the area. However, it only gets significantly busier on the weekends. During weekdays it is just as quiet as any other beach on the Musandam Peninsula. 
Bassa is suitable for families with kids and friends, parking campervan as there is a lot of space, and doing barbeques at sunset. The sea in this spot is calm and good for swimming. When I visited, Bassa Beach was undergoing some construction work, probably they are building a park with more amenities. This slightly obstructed the mountain view, but hopefully, the works are either already done or will finish soon.
Al Jadi Beach
6 km south of Jerri beach, Al Jadi is a small settlement and home to a more popular than Jerri but also beautiful beach close to the soaring cliff. Offering convenient parking space, it is beloved by families and friends as a spot for relaxation and barbeque during the winter season.
Secret or Rocky Beach
Accessible by 4WD only (or a few kilometers hiking), Secret (Rocky Beach) is an amazing spot to camp and swim. Chances are you will be the only visitor there, especially on the weekday. As it is a wild beach, there are no amenities around, thus bring your own water and snacks. 
3. Visit Khor Najd a postcard child of Musandam
Khor Najd Lagoon is a postcard child of Musandam. A switchback road winds down towards the secluded beach overlooking the striking landscape of layered cliffs jutting out of the water.  A work of nature at its finest, beautiful Khor Najd is located a 25-minute drive inland, south of Khasab.
The famous viewpoint of the lagoon is accessible by 2WD. Following the sign indicating a left turn to the Khor Najd, you will have to drive through a rocky twisty, and breath-catching gravel road the last few kilometers. This road can be accessed by any car as long as there was no rain.
Meanwhile descending to the shores of Khor Najd can only be attempted by 4×4.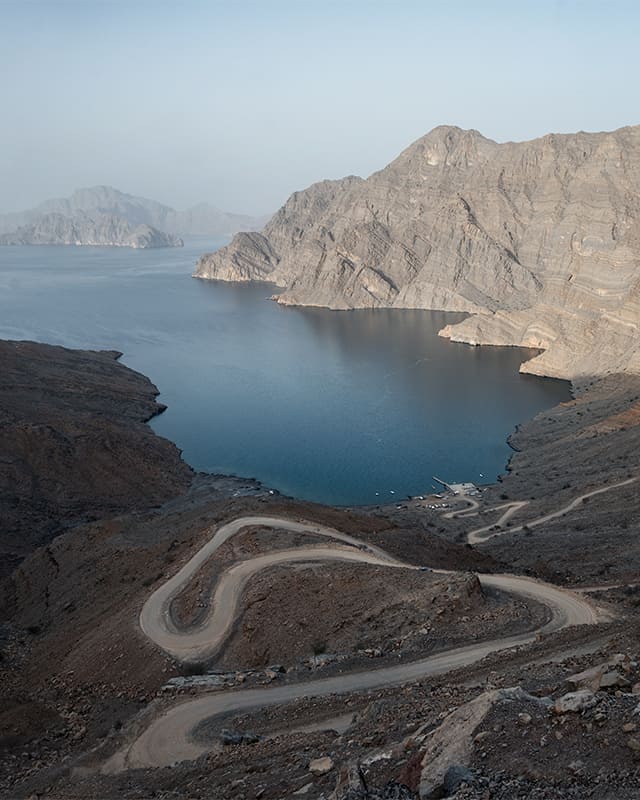 Khor Najd is a very popular spot for families doing picnics and camping overnight. It gets quite crowded during national holidays (Oman and UAE) and on winter weekends when the weather is cool. 
4. Explore Musandam mountains- Jebel Harim and surroundings
Musandam mountains offer another array of wonderful outdoor activities. The only downside, if you want to reach certain places, a 4WD is a must. If you don't have one, you can still join an organized tour that will take you to the main spots in the mountains.
South of Khasab town, the road continues towards Dibba. This is an offroad snaking through Wadi Bih. As previously mentioned, it cannot be crossed all the way to the Dibba side because of the military checkpoint which only permits Omani nationals.
Nonetheless, there are plenty of areas to visit before the checkpoint. 
As Sayh Plateau
As Sayh Plateau is a small fertile valley surrounded by barren mountains on the way to Jebel Harim. The plateau is situated at 1000 meters above sea level and turns into a lush green oasis after the rare rainfalls. It has a few farms with goats roaming around and feasting on the green grass under the date palms.
Jebel Harim
Jebel Harim is the highest mountain soaring at 2087 meters above sea level and a must-visit place in Musandam. After As Sayh plateau the road steeply continues up for another 11km until you reach a military checkpoint at 1600 meters. You cannot continue all the way to the peak, however, the views are already spectacular enough.
Ar Rawdah Bowl
Reaching the military point you can either turn around and go back to Khasab or continue your journey deeper into the mountains. The route continues south past the military checkpoint for another 25 kilometers until you reach Ar Rawdah Bowl.
Account for at least 45 minutes to reach it via the offroad. 
Ar Rawdah Bowl is known as the area with the largest concentration of acacia trees in Oman. Around 10 families live in the remote Rawdah village. 
To visit Jebel Harim and Khor Najd via organized tour, check those tours available to be booked online:
Browse more Musandam mountain tours on Viator.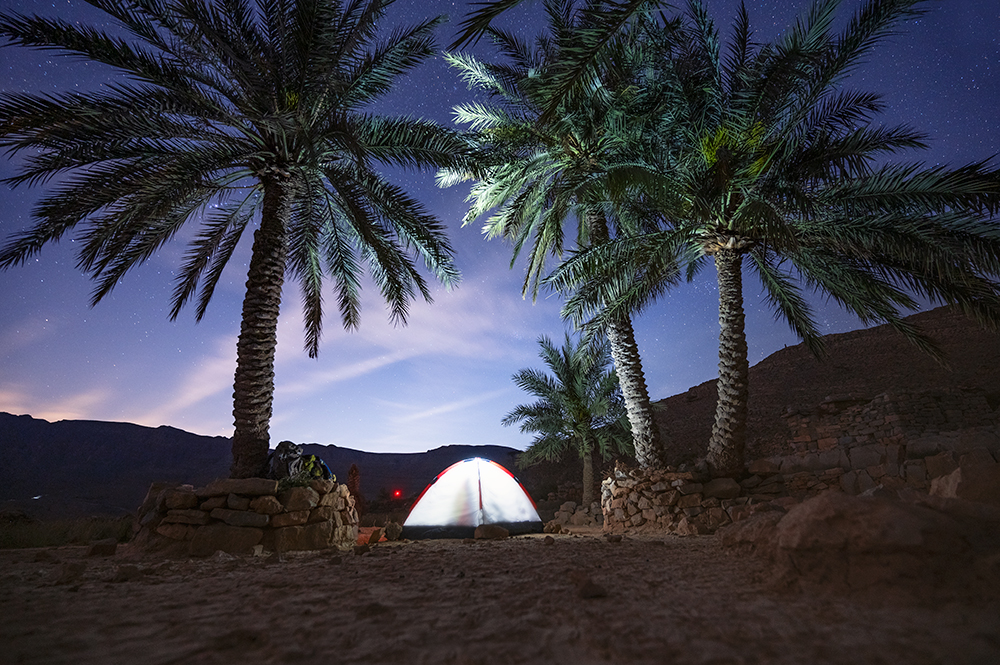 5. Seek shade in Sal Ala Acacia forest in Musandam
Just 7 kilometers drive from Najd Khor going south till almost the end of the paved main road, you will find Acacia Forest. This is a unique place in Musandam which is mysteriously sprouting in the middle of the dry rocky terrain. 
The place ruled by goats has lots of shade and is a perfect place to have a picnic. It is worth a detour if you are spending more than a day in Musandam. The area offers some hiking opportunities as well. 
6. Stop for the views along Khasab coastal road in Musandam
At some points sheer cliffs are dropping straight into the water, making the coastal views nothing less than spectacular. Don't miss the opportunity to stop at dedicated viewing points to admire the beauty of the coast. 
Al Harf Park overlooking a dramatic cliff is situated on the side of a very twisty road turning from the coast inland on the way from Khasab to UAE. A couple of tables with umbrellas and swings are set up there. Parking space is limited to a couple of cars only. Also, be careful as the road is bending and there is no clear visual sight of oncoming cars. 
Hana viewpoint. Driving out of Khasab town stop at a dedicated viewpoint on the right side of the coastal road. It overlooks the strait of Hormuz and many khors in the distance which gives a beautiful photo opportunity. 
Cliff View Point on Khasab Coastal Road just a few kilometers before Jeri Beach has a convenient parking lot. It is a beautiful stop to take a short break from driving and just enjoy the breaking waves and high cliffs just above you. 
7. Explore the authentic Tawi village and find ancient petroglyphs in Musandam
Visiting Tawi village was one of my favorite things to do in Musandam. Tawi village is a small traditional settlement inside Wadi Qida accessible off the main Khasab Coastal road, driving west of Bassa Beach. You can drive inside the Wadi with 2wd via a paved road for up to 3km until you reach the dead end of high cliffs. 
Carved out on large boulders which are located on the left side of the road, within 2.5 kilometers drive into the wadi, Petroglyphs are not that straightforward to find. They aren't visible until you come close to the rocks. We would have missed them if not for a local person who kindly pointed them out to us even without asking.
Petroglyphs are thousands of years old and depict various daily life subjects-animals, people sitting on horsebacks, and similar. They are pretty basic but still, it is cool to see them, especially knowing that it is an ancient art surviving thousands of years. I marked the exact location of petroglyphs on the maps. 
More petroglyphs can be found in Jebel Harim mountain, which is accessible only by 4×4.
However, what I loved the most about this place is the Tawi village itself. Set between steep cliffs, the village is frozen in time with old local people slowly getting about their quiet life while youngsters run around playing football on the self-invented sandy pitch. It makes me wonder if the village will survive the test of time and if this old-school lifestyle will be passed to a new generation or completely disappear.
8. Khasab Castle/Fort
Established by the Portuguese in the 17th century Khasab Castle is the main historical attraction in town. If you are keen to know more about Musandam's history and culture, visiting Khasab Castle will give you a good overview. The museum inside the fortress holds various historical items specific to the region, rooms set in a traditional manner, and courtyards with traditional boats. The highlight of the ancient fort architecture is the circular tower which you can climb as well. 
Opening hours: Saturday to Thursday 9 am – 4 pm, Friday 8 am-11 am. Entrance fee: 2 USD.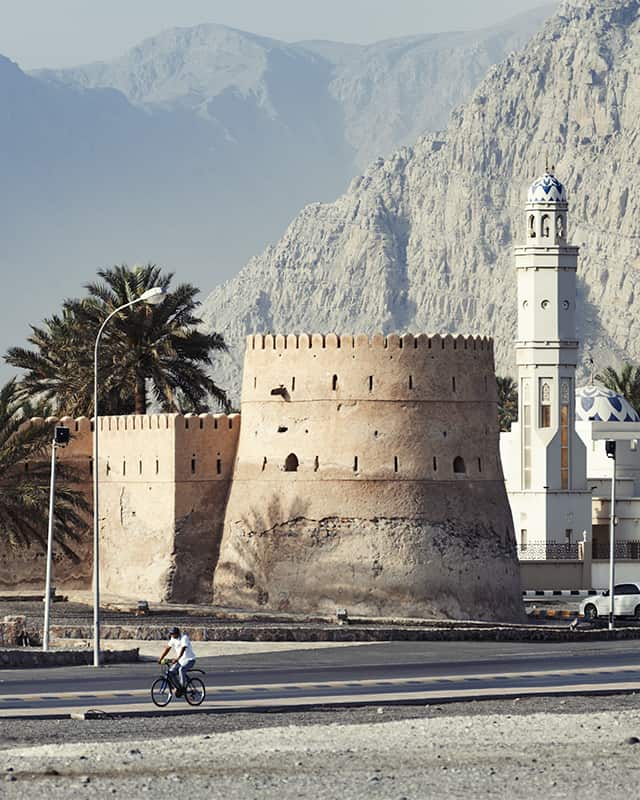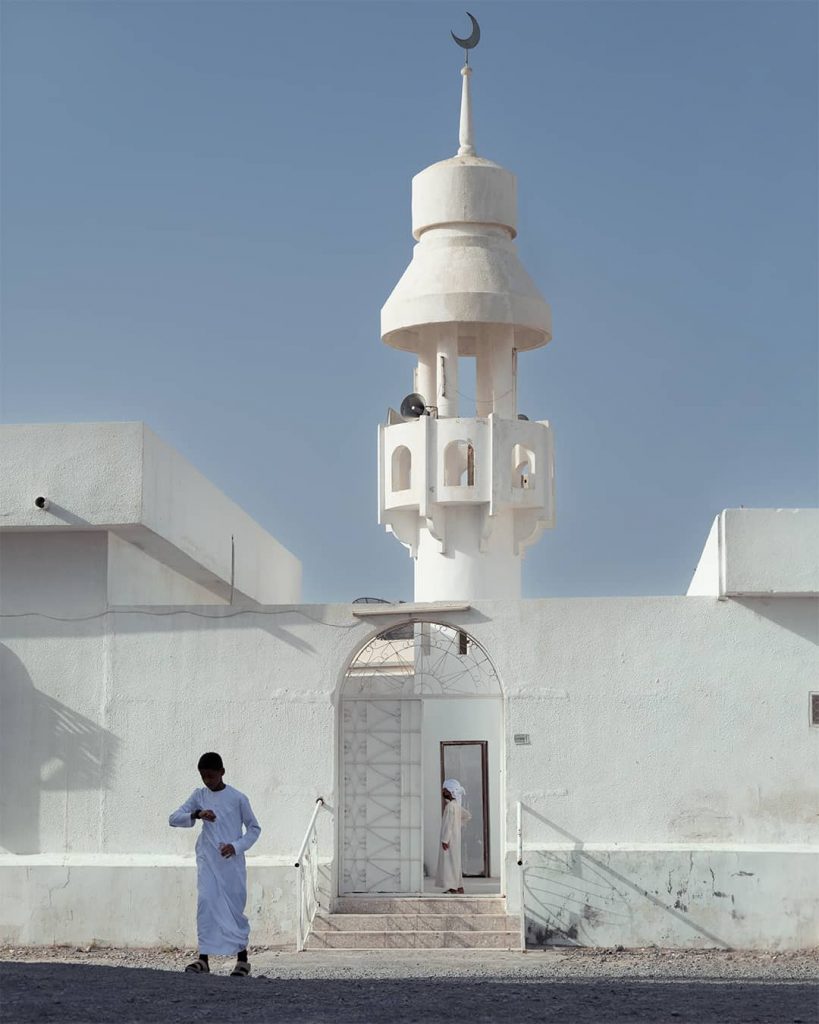 9. Watch or even join the locals playing Qubbah
One of the most authentic and fun experiences we had in Musandam. Is watching locals play qubbah. It is a local baseball-like game. The game is played in two teams using the seed of some fruit (probably mango) as a ball and a frond of the palm tree as a bat. The difference is that there is no pitcher. The seed is lifted off the ground by hitting it with the palm frond and then stroked as far forward as possible. 
The game is mainly played by elderly men, who joke that it is a retired footballer's game, as it doesn't involve running. 
After taking hundreds of pictures of Omani men playing qubbah in their dishdashis, I decided to try it out as well. With beginners' luck, I managed to hit the seed off the ground and strike a couple of meters forward. It is way more difficult than it looks and requires some practice and skill. 
If you want to catch the game, I have pointed on the map a spot where you can find locals playing qubbah. The spot is next to a white mosque on the big road running parallel to Airport Road.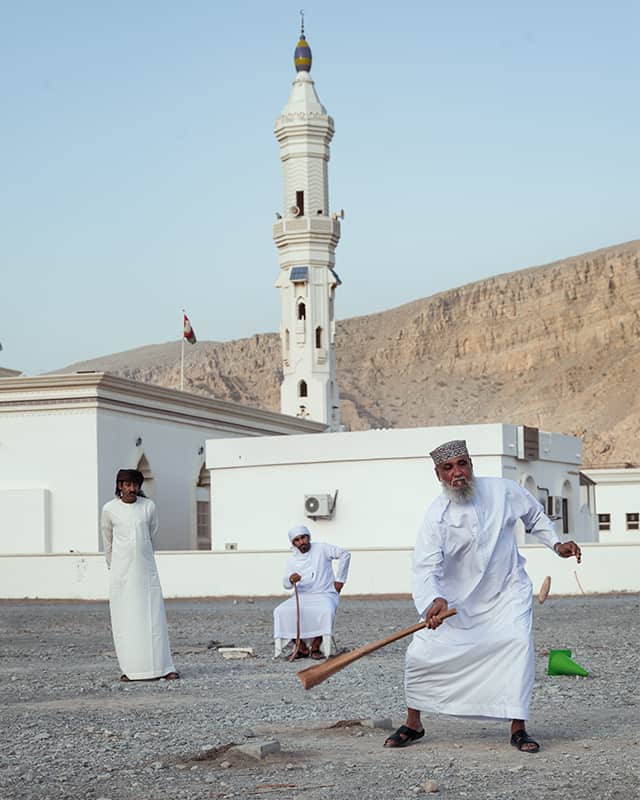 10. Hike in Musandam
Having mountains all around, hiking enthusiasts are offered some wonderful trekking opportunities around the Musandam Peninsula. Note that most of the trails in the area are not marked. I usually use Wikiloc in the UAE and Oman to find some great trails recorded by other hikers.
Near Khasab, you can try Khasab Heights (also called Khasab-Bassa, or Khasab-Qadah heights) route starting near Atana-Khasab Hotel where you can conveniently park your car. The moderately difficult route is signposted and offers wonderful views of the Musandam Peninsula. Allow 3 hours to complete the 6-kilometer route. Also, make sure to wear proper hiking shoes, and carry at least 2 LT of water.
Follow this trail on Wikiloc here recorded by one of the hikers.
RELATED READS: If you are looking for some great hikes in the UAE, check my post about those wonderful trails here.
11. Visit ancient Masjid at Masjid Beach
Masjid is a centuries-old mosque and a tomb built of white clay in a traditional manner. It is a very mysterious site set on a wild beautiful beach. Only accessible by 4×4, or by hiking for a few kilometers offroad, Masjid is definitely off the Musandam visitors' radar. Although the place is known by locals and can get some small crowds during public holidays and good winter weekends.
12. Diving in Musandam
For underwater enthusiasts and professionals, there is no better place close to UAE to go diving than Musandam. If you want to learn scuba diving, you can take classes in Khasab and Dibba. If diving is planned as part of your Musandam adventure, then you can join a few diving sessions with an operator in Khasab. However, if you are planning a diving-only trip to Musandam, then Dibba might be a better choice. Some operators also offer overnight diving experiences. 
Note that diving season in Arabian Gulf waters is considered September to January for shark-free waters and the best visibility. February and March due to the very volatile sea and limited visibility should be avoided, just as April to September for the shark season. 
13. Have a special seafood dining experience in Musandam
There is nothing better than a heartful dinner after a long day of activities. For the most local dining experience head to a local fish market in Khasab, get a fresh catch of the day of your choice, and have it grilled for you in one of the nearby restaurants. Note that this is not fine dining, and places are very basic but trust me food is great.
Check my map for the exact locations of the fish market and Amjad restaurant where you can get it grilled immediately after purchasing.
14. Visit the remote village of Kumzar
Kumzar is the northernmost isolated village in Musandam. The only way to access it is by taking a speed boat ride which lasts up to 1 hour. The inhabitants of the village are of Iranian origin with a distinct culture and language native only to the Arabian Peninsula.
The picturesque village of Kumzar nestled between the cliffs dates back more than 500 years when it first was noticed on Portuguese maps.
A few tour operators offer half-day trips to the village. The tour is not the cheapest and costs 1000 AED for a group of 2-4 people. Also, it has to be arranged a few days in advance. 
I have not been to Kumzar yet, but as soon as I have more enthusiasts wanting to join me, will definitely go visit this mysterious remote village of Musandam.
15. Stop at Bukha fort
On the way to Khasab or when returning to the UAE from Musandam, stop at a beautiful Bukha Fort located in Bukha fishing village. This 16th-century fortified castle was built by the Portuguese and played an important role as a defense building in Musandam's history.
Bonus Activity in Musandam: go paragliding and parasailing to Zighy Bay
For adrenaline seekers who love adventure high in the sky, Zighy Bay in Dibba, Musandam is the place to go for paragliding. The jump-off point is 300 meters above sea level from the Zighy Bay mountain. The flight will definitely take your breath away. The views of the bay surrounded by rigged mountain peaks are simply gorgeous.
The paragliding experience is organized by Six Senses Hotel in Zighy Bay with a pilot who will take care of the flight so you can just enjoy the views. As mentioned before, if you are coming to Musadnam from the Dibba side and joining a tour, experience, or stay in a resort, an entry permit will be sorted for you by the hotel or tour operator.
Recommended places to eat in Khasab, Musandam
Some of the best options to eat or have good coffee/tea in Musandam. Note that none of them are fancy restaurants, but more like simple eateries loved by locals.
Amjad Restaurant- this is the restaurant we got our fish grilled. If you are too tired to go shopping, you can still order other fish dishes in the restaurant. The only difference with bringing your own fish is that it is going to be guaranteed fresh.
Yemen Village Restaurant– is a well-rated place to have Yemeni food, and also grilled fish.
Khasab Castle (Wadi Qada) Iranian Restaurant– this place serves meat mostly. We came here for the special tea served in a really cool pot. We consumed countless cups of this freshly brewed Iranian tea served on a traditional type of dining podium.
Fanr Musandam Turkish Restaurant– located just outside the harbor where dhow cruises depart from, this place serves great takeaway kebabs.
Dote Café– for coffee lovers like myself, I recommend driving a bit south of the Khasab center for this modern coffee shop that offers specialty coffee (cold chocolate moca was my favorite). Surprisingly we met a guy from Poland working there.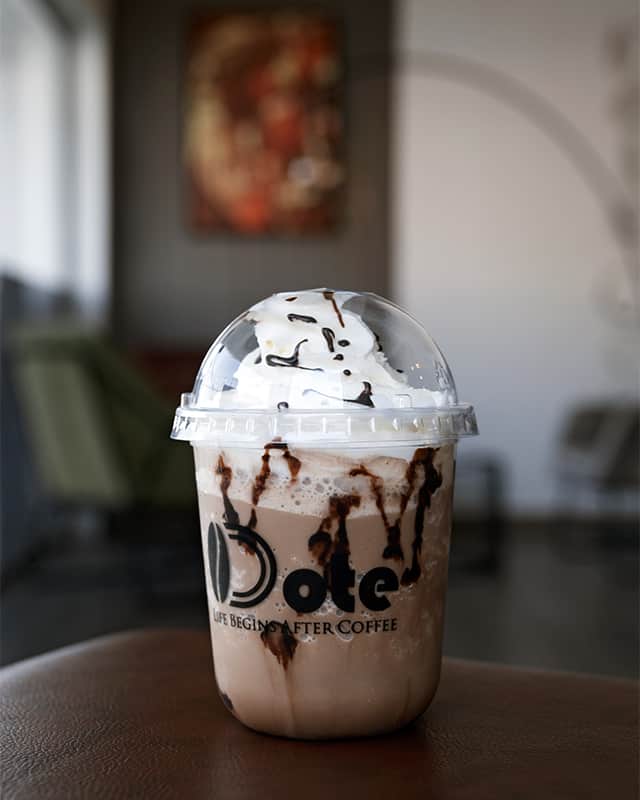 And that's a wrap for this Musandam from Dubai road trip guide. Hope you found useful information which helps you plan your journey as well as try some of the best things to do in Musandam. If you have any questions or suggestions please feel free to leave your comment at the end of this post.
I hope you are enjoying my free travel guides & tips. If yes, please consider supporting my work by buying me a coffee so I can continue creating more useful content from my favorite coffee shop in town. Thanks!
Oman Travel Essentials
More Oman travel resources