This is your complete guide to Castelmezzano and Pietrapertosa, arguably the most beautiful mountain towns in South Italy, Basilicata region. In this post, you will find the best things to do in Castelmezzano and Pietrapertosa, including one of the most exciting activities- Volo dell'Angel (Angels' Flight)-a zipline between Castelmezzano and Pietrapertosa. Practical information on how to get to Castelmezzano, hotel options, and the best places to eat in each town and map is included as well.
If you think you have seen all the prettiest towns in Italy (in person or in pictures) and nothing can make your jaw drop anymore, take a look at Castelmezzano and Pietrapertosa mountain villages. 
Characterized by fruit and pastel-colored red-roofed houses glued to the face of magnificent jagged limestone rocks, Castelmezzano and Pietrapertosa are twin mountain towns so unexpectedly unique that it is hard to believe they are real.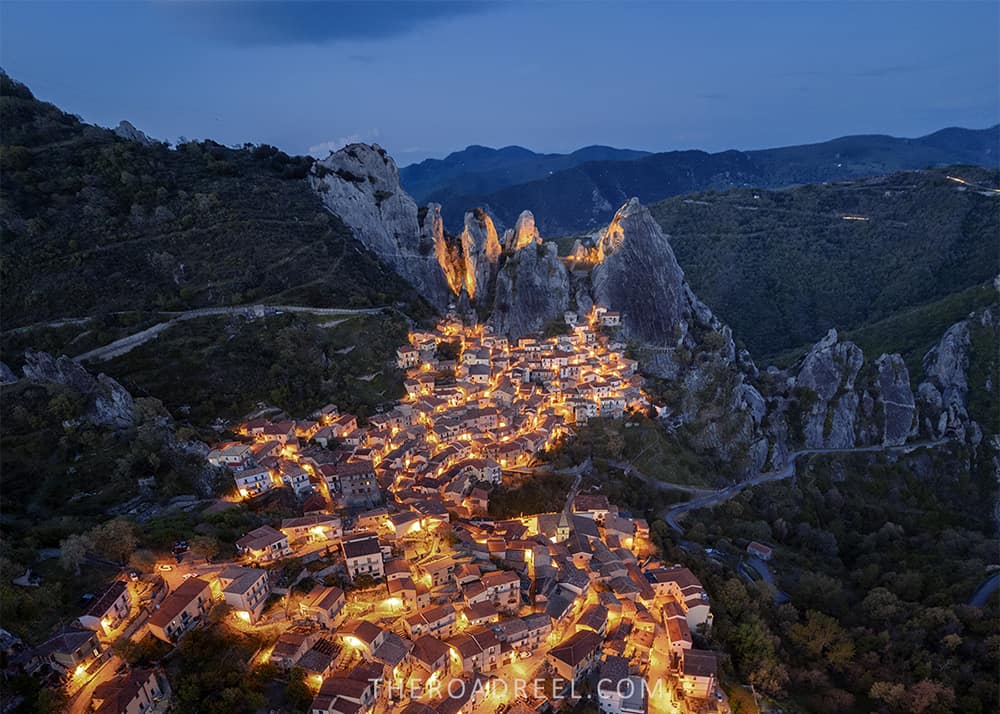 Despite their unparallel beauty, the names of Castelmezzano and Pietrapertosa have not yet landed on a classic South Italy itinerary. That being said, forget the overcrowded Positano, and drop that pizza you are now eating in Naples, Castelmezzano is a place to go before it becomes too famous. 
Located just a couple of hours drive from Naples, in Dolomiti Lucane mountains, Potenza province of less visited Basilicata region in South Italy, Castelmezzano and Pietrapertosa mountain villages are undiscovered jewels waiting to be explored by those of you who are seeking authentic and rather unusual experience in Italy away from the crowds.
So far, Castelmezzano is my absolute favorite small mountain town in Italy (and I have visited a fair share of them). The only place which shares similarities to Castelmezzano, Italy, is Gagliano Castelferatto in Sicily, Enna region. 
Pietrapertosa (a non-identical twin) is located 20 minutes drive via wriggling rural road or a just few minutes fly by a zipline (yeah you read it right) from Castelmezzano. Equally scenic Pietrapertosa is often overshadowed by Castelmezzano. Thus, make sure to visit both towns as each of them has a different mood.
Let us start exploring what to do in Castelmezzano and Pietrapertosa and around!
Disclaimer: This post contains affiliate links, which means that I may earn a commission if you make a purchase by clicking a link (at no extra cost to you). This helps to keep my blog running and growing by creating more awesome free content for you.
Complete Guide to Visiting Castelmezzano and Pietrapertosa in Italy
Castelmezzano and Pietrapertosa Quick Links
Are Pietrapertosa and Castelmezzano worth visiting and why? 
Castelmezzano and Pietrapertosa, Italy, offer unique travel experiences in less-seen rural parts of Italy. From dramatic views of dreamy little houses clinging on forbidding crags, hiking the green rolling hills of Dolomiti Lucane, to one of the fastest zip lines in Europe, there are plenty of surprising things to do in Castelmezzano and Pietrapertosa, Italy. 
If you love photography, especially landscapes, you will go crazy. Castelmezzano and Pietrapertosa are possibly the most scenic mountain villages in Italy! Both towns were granted the Most Beautiful Villages in Italy (Borghi più Belli d'Italia) title.
If you are starting your journey in Naples and heading to Matera in Basilicata or Polignano A Mare in Puglia, or even to Regio Calabria, you can easily include those gorgeous mountain towns in your Italy itinerary. 
To me, Castelmezzano and Pietrapertosa are must-visits when traveling in South Italy. So far, I have visited twice, and I feel more visits are awaiting. This is how much I loved the place!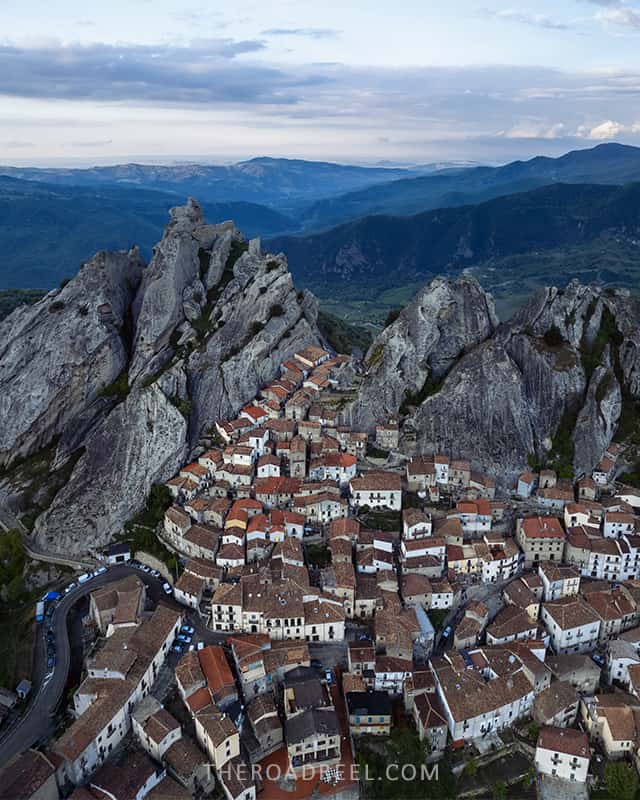 ALSO READ: How to spend 1 day in Naples: an easy Naples itinerary.
How to get to Castelmezzano and Pietrapertosa, Basilicata, Italy
Castelmezzano and Pietrapertosa are located around 2.5 hours drive from Naples, and 2 hours drive from Bari. Naples and Bari are the two biggest towns with International airports which are closest to the Basilicata region in South Italy.
By Car
The most convenient and fastest way to get to Castelmezzano and Pietrapertosa is by car. In general, going on a road trip in Italy is a fantastic way to get around when your goal is to visit remote locations (mountain towns, small coastal towns).
We rented our ride from DiscoverCars which offered the lowest rates in the market. Make sure to reserve early to get the best rate. I also always cross-check with Rentalcars. But in the case of south Italy, DiscoverCars has the best deals.
By Train and bus
Public transport is somewhat complicated as there are no direct connections to the villages. You will have to either take a train and bus, or a couple of buses. Here are your options.
From Naples
Frequent connections from Naples central train station to Potenza (the biggest town in Basilicata) central station are available daily, the journey lasts around 2 hours
From Potenza, you can catch SITA bus to Castelmezzano or Renna bus to Pietrapertosa
From other locations
It gets more complicated if you try getting to Castelmezzano from other places. I did a little bit of research and it appears that you would always have to first reach Potenza and then catch a local bus to Castelmezzano or Pietrapertosa. This brings me back to the suggestion of having your own car.
Best time to visit Castelmezzano and Pietrapertosa, Italy
Both Pietrapertosa and Castelmezzano in Basilicata, Italy can be visited any time of the year. Located higher up in the Dolomiti Lucane mountains, those twin towns have a milder climate during the summer months than the coastal towns in the area. Yet temperatures can reach up to 30 degrees Celsius in July and August. Winter, on the other hand, can be cold with temperatures dropping below 0 degrees Celsius. Snowfall is common, covering the towns and mountains in a beautiful white blanket.
If you seek great weather with fewer chances of rain visit Castelmezzano and Pietrapertosa from May to October. This will guarantee you can hike comfortably, do Via Ferrata and fly on a zipline (one of the best things to do in Castemezzano and Pietrapertosa, more about it later).
Come in November for beautiful autumn foliage.
Note that restaurants and activities can be closed off-season, which lasts from December till the end of April. We visited in May, shoulder season. Even then most of the activities and family-run restaurants in Castelmezzano were fully operational only on weekends, and most of them closed on weekdays.
Also read: 15 Most Romantic Road trips in Italy (+Car Rental in Italy Tips).
Interesting facts about Castelmezzano- the birthplace of the Italian Mafia
The mountainous location of Castelmezzano and Pietrapertosa back in the 10th century AD was strategically chosen for defense purposes. The population of nearby Maudoro village was forced to find a safer place when running from Saracens (Arab invaders). By settling closer to the jagged peaks, the local inhabitants were in an advantageous position to battle the enemies by rolling the stones down onto them. 
Castelmezzano and Pietrapertosa have been continuously occupied through centuries and were ruled by Normans, Lombards, and Aroganese. 
What I found as a surprise was that Castelmezzano is considered the birthplace of what is today known as the Italian Mafia! And here is why. In the 19th century, the political situation in Italy was completely out of control. Without proper formal governance, the rule of land was in the hands of bandits who used to choose mountainous places as perfect spots for hiding in the bushes and rocks.
The bands of brigands pushed the locals out of their town and took over their homes. Later on, the wealthier residents in order to retrieve their stolen property would send young men to negotiate with the bandits. The negotiation was usually bribing and pardoning the thieves. This is believed to be the beginning of the Mafia in Italy and became a common occurrence in all of south Italy and Sicily. 
Things to do in Castelmezzano and Pietrapertosa, Italy
1. Enjoy the views in Piazze Emilio Caizzo- the heart of Castelmezzano
Piazze Emilio Caizzo is the central square of Castelmezzano featuring an airy terrace where you can enjoy the surreal views of the stacked bright houses against the weirdly shaped rock. Much of the town's life revolves around the square, it is a hang-out spot for locals and visitors. Make sure to also come at sunset and stay till dusk to see the view with the town's lights turned on.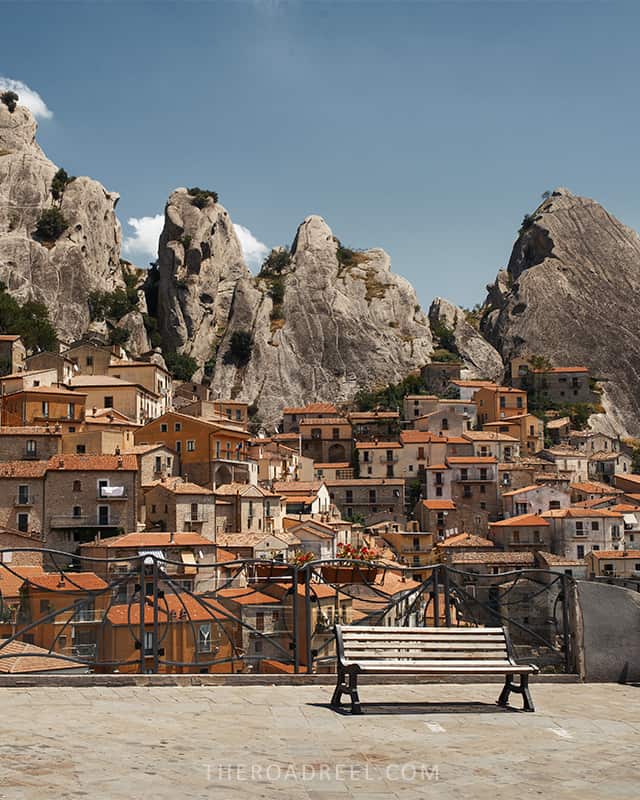 2. Explore the twisted cobblestone streets of Castelmezzano
Behind those postcard-perfect houses of Castelmezzano, there are a lot of hidden corners to be discovered. Castelmezzano is one of those atmospheric medieval towns with a network of intertwined twisted steep alleyways. One of the most wonderful simple things to do in both Castelmezzano and Pietrapetrossa is to wander around purposelessly and get lost in the maze of streets and find cute hidden corners. To me, it is also a perfect way for encountering locals to photograph.
3. Pay a visit to beautiful local churches
As accustomed to any Italian town, churches are always cornerstone buildings. 
Mother Church of Santa Maria dell'Olmo is the main house of worship built following romanesque architecture and is situated right next to the Piazze Emilio Caizzo.
The Chapel of Madonna dell'Annunziata is also worth a visit. It is situated within walking distance close to the trailheads of the surrounding hike trails.
4. Fly between the twin towns on Il Volo dell'Angelo (the Flight of The Angel) 
One of the most surprising attractions in such small and relatively remote medieval towns like Castelmezzano and Pietrapetrossa is a zipline connecting the two of them. Il Volo dell'Angelo is considered one of the fastest ziplines not only in Italy but also in Europe. You can fly in a few minutes between the two towns at 120 km per hour speed. The 1.4 km long zipline extends above Dolomiti Lucane valley at an elevation ranging from 800 to 1100 meters.
If you do not have fear of heights, The Flight of The Angel zip line is one the best things to do in Castelmezzano and Pietrapetrossa. I would strongly suggest not missing this extraordinary activity. The adrenaline will surely be pumping but the breathtaking views will make you forget that you are flying at a highway speed tied up horizontally one kilometer above sea level. 
Note that opening hours of the zip line might vary in summer and winter, and also depend on the weather. On my second visit to Castelmezzano, the zip line was closed because it was not yet the season and they only operated on Sundays. 
The zip line ride price is 30 euros for one person and 60 euros for a couple (you can actually fly in a couple). The return flight is included in the price. Thus you go two ways. A great thing is that you can choose to return a bit later after exploring Pietrapetrosa.
For opening times and purchasing online tickets check the official website.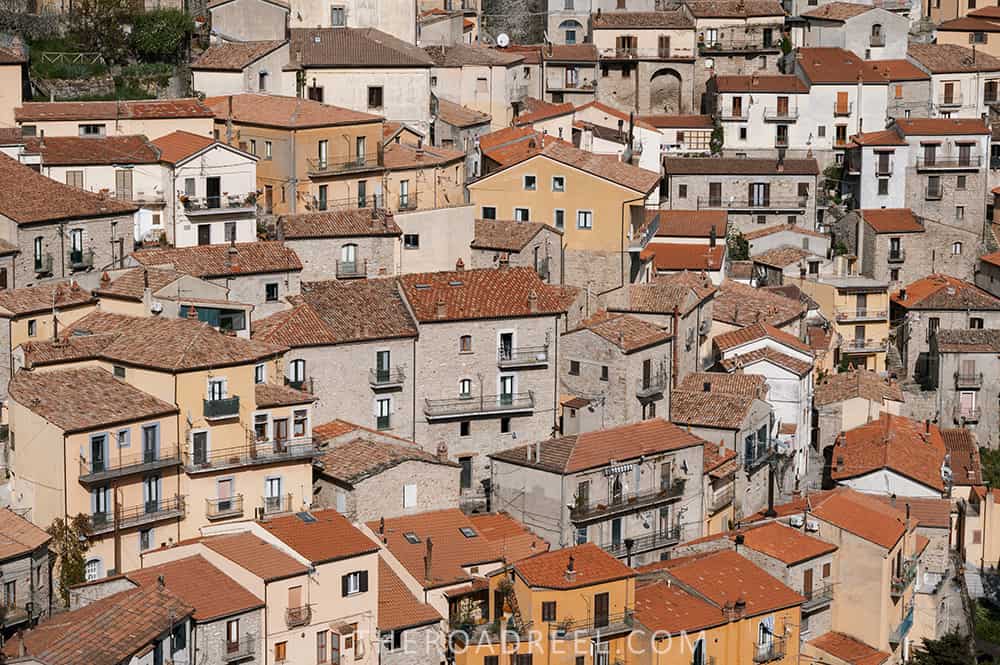 5. Climb for the views – the Gradinata Normanna (Norman Stairway) in Castelmezzano
Fancy seeing more incredible elevated views but with having your foot on the ground? The other fantastic thing to do in Castelmezzano is to climb a set of 54 stairs carved into the rock of one of the Dolomite Spiers. Called the "Norman Stairway" (Gradinata Normanna) those stone steps lead to the lookout post on the walls of the ancient castle of Castrum Medianum. Today only the ruins and wonderful views over Basento valley remain.
You can visit Norman Stairway individually on weekends. The safety equipment will be provided by an expert operator for a safe climb. The ticket price is 8 euros for one person or 13 euros for a couple. 
6. Hike the Path of the Seven Stones and unfold a tragic love story
Castelmezzano and Pietrapertosa make it a perfect base for exploring Piccolo Dolomiti mountains and surrounding valleys. There are numerous hiking trails you can follow.
One of the most unique hikes is the Path of Seven Stones. This trek not only connects Castelmezzano and Pietrapertosa via the scenic path but as you follow, it reveals a legend-a tragic love story between a poor farmer and a witch. Witches and witchcraft were a huge part of South Italian folklore and many people did believe in them. Interesting to know, that in the days when doctors were a luxury only the rich could afford, ordinary residents would seek assistance from the witches. The requests would not be limited to medicine only but also attempts to manipulate human emotions, like making someone fall in love with a person and similar. 
The length of the return trek of the Path of The Seven Stones is around 7 kilometers, and it is an easy to moderate hike suitable to people of almost any age group and fitness level. 
7. Via Ferrata and the Nepalese Bridge
For those of you who prefer more physically engaging activities and especially rock climbing, one of the best things to do in Castelmezzanoto and Pietrapertosa is going on Via Ferrata.
The Via Ferrata is an equipped route for climbing the Lucanian Dolomites. Following this moderately challenging route allows you to reach otherwise inaccessible points and truly discover the great beauty of the area.
There are two routes that are divided along the rocky ridges of Castelmezzano and Pietrapertosa:
The Via Ferrata Salemm on the Castelmezzano slope. It is 1,731 meters long with a vertical drop of 249 meters.
The Via Ferrata Marcirosa on the Pietrapertosa side. The length is 1,778 meters and the vertical drop is 331 meters.
The highlight of this activity is the Nepalese Bridge of the Lucanian Dolomites which connects the two starting points of the Via Ferrata Salemm (Castelmezzano) and Marcirosa (Pietrapertosa). 
To complete Via Ferrata, you must use safety equipment and have at least some experience if you are planning to go on your own. The Via Ferrata equipment is available to rent at the Flight of The Angel offices both in Castelmezzano and Pietrapertosa. Note that this activity is subject to weather conditions. Thus suitable times are between May to November. 
8. Climb Castello Saraceno in Petrapetrosa for sweeping views
In a much better shape than Castelmezzano's Castrum Medianum, Castello Saraceno is an ancient fortification founded by the Saracens in the 9th century and extended by the Normans during the 11th century. The castle which was designed to protect the city from invaders, today is a delightful place to marvel over the sweeping views above Pietrapertosa.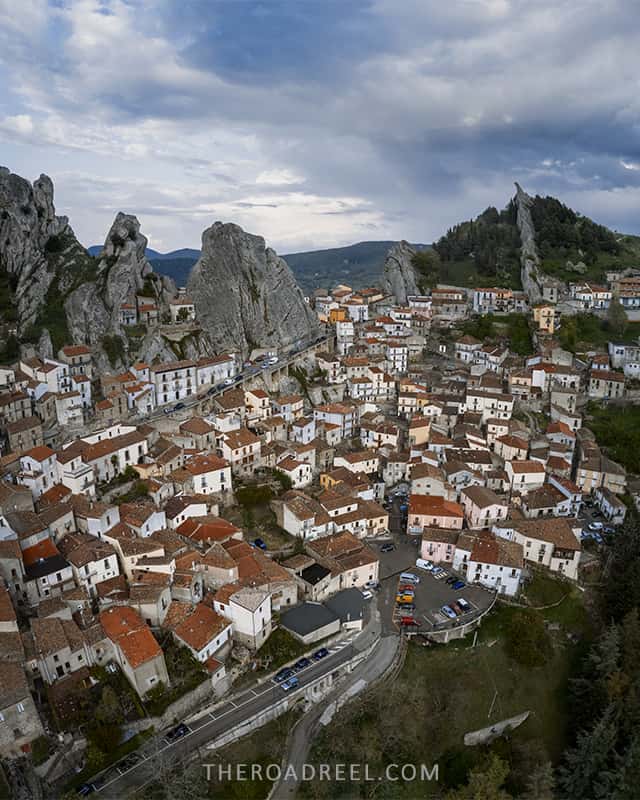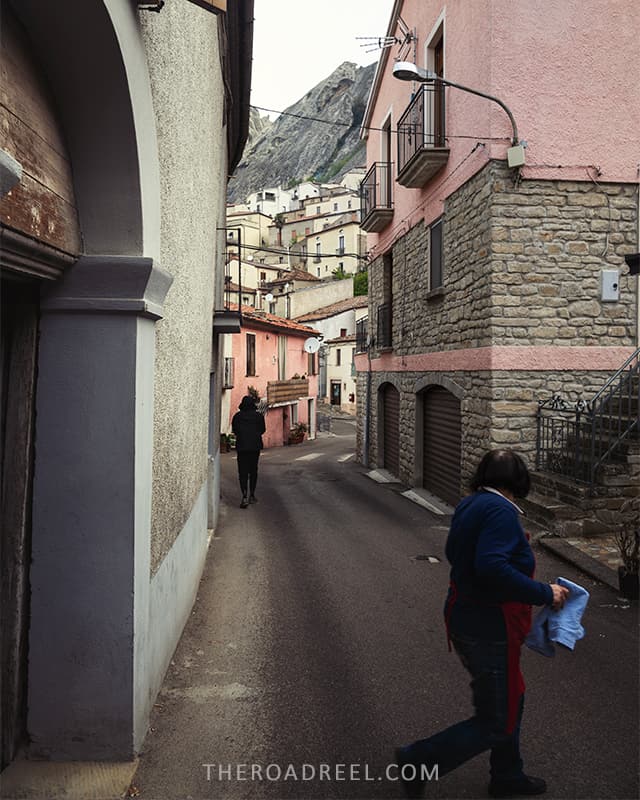 9. Explore Rabatana quarter in Pietrapertosa
Pietrapertosa is located around 20 minutes drive via a windy rural road from Castelmezzano. Although it might appear as a twin town, by no means it is identical. In fact, Pietrapertosa has a completely different mood. To me, it appeared moodier (maybe because of the rain at the time of the visit) and darker compared to its sister town Castelmezzano. Also, it is interesting to note that part of Pietrapetrossa is built on bare rocks. 
As common to small medieval towns, one of the best ways to get acquainted is by exploring them on foot. Thus, do wander around the labyrinth of alleys in the old Arab quarter of Rabatana. 
Here, the steep narrow streets often end in a dead end, close to a cliff. You will also notice small pieces of land used to create vegetable gardens. 
10. Madre di San Giacomo church 
Right at the heart of Pietrapetrossa, Madre di San Giacomo church is worth visiting for its 14th-century frescoes.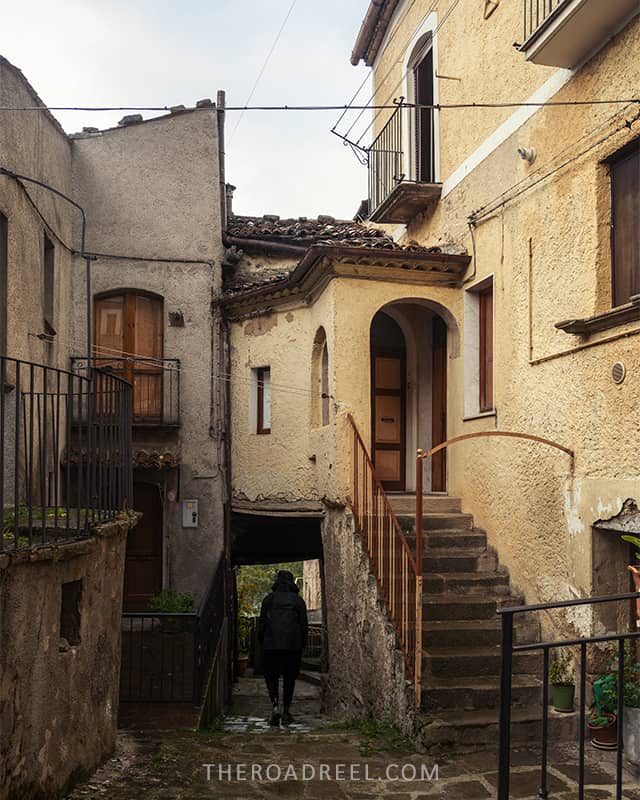 11. Explore the regional park of Gallipoli Cognato
If you travel around the Basilicata region in Italy beyond Pietrapertosa and Castelmezzano, you will notice that the surroundings they are situated in are very different from anywhere else. Both towns are part of the Gallipoli Cognato Regional Park (Parco Regionale di Gallipoli Cognato).
Located halfway between Basilicata's two major cities, Potenza and Matera, in the Dolomiti Lucane mountain range, the park is home to the region's highest peak reaching 1,455 meters. Although part of the Southern Apennines the mountain range was nicknamed il Picollo Dolomiti (small Dolomites) due to the resemblance to the well-known northern Italian Dolomites. The karstic craggy peaks of Picollo Dolomiti have formed fifteen million years ago. 
To explore more of the area, you can choose anything from leisurely hikes to more strenuous treks suitable for experts. Start your visit at the Caserma Palazzo, the park's visitor center which will provide you with maps and all the necessary information about available trails.
Some of the most fun activities in the regional park is exploring the area on a quad bike. You can book this top-rated 1.5 hours quad bike tour on Viator.
12. Visit a nearby village of Accetura and attend Maggio Festival- the tree wedding ceremony
The village of Accetura is the other mountain town within the borders of Gallipoli Cognato Regional Park. It is locally well known for the ancient ritual il Maggio (Maggio Festival) which takes place every spring. The festival begins the first Sunday following Easter. This is actually a pagan celebration symbolizing fertility and prosperity, also considered one of the most beautiful ones in the Mediterranean. The ceremony celebrates the union between specially chosen trees takes. You can read more about this unusual festival here.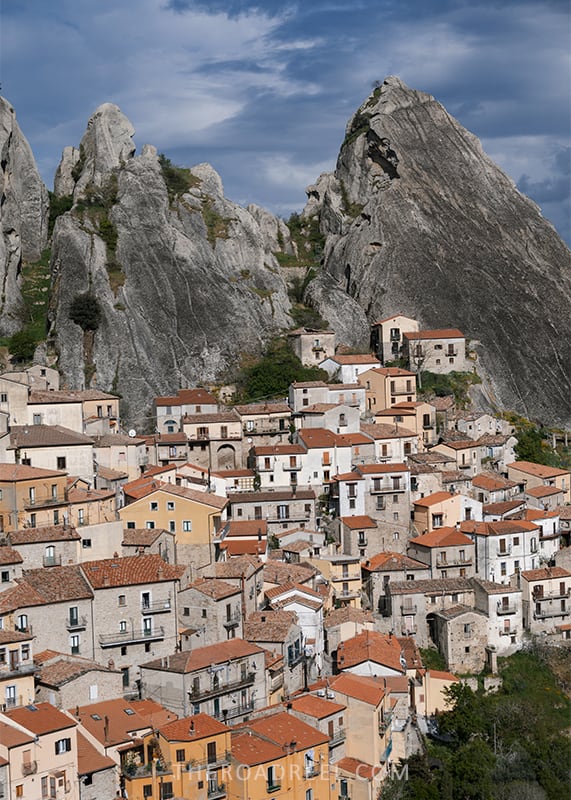 Where to eat in Castelmezzano and Pietrapertosa, Italy
There are a few wonderful trattorias in the towns of Castelmezzano and Pietrapertosa. 
My choice is always to go for a family-run trattoria where you can taste local specialties at reasonable prices. But for those of you who prefer fine dining, there is a Michelin-star restaurant also available. 
It is worth noting that if you are traveling off-season, trattorias might be closed on weekdays, and open only on weekends.
Places to eat in Castelmezzano, Italy
Trattoria al Vecchio Scarpone -a family-run restaurant with courtesy and simplicity, also budget-friendly. 
Pizzeria Rosticceria 2T-pizzeria that serves amazing and cheap pizzas in Castelmezzano. 
Peperusko-known for great views but mixed reviews. Some people say it is overpriced for the quality of food but a good place to have a drink with the view.
Restaurant al Becco della Civeta-this is the Michelin star-winning restaurant mentioned above. It does serve a fancier version of local specialties presented in a nice artistic way as you would expect from an upscale place. We had dinner there as all the family-run trattorias were closed. One of the ravioli dishes was truly delicious but tiny in portion size, the rest of the food we did not enjoy at all, and the prices are the highest in town. Meat lovers though, said it's really good. 
Places to eat in Pietrapertosa, Italy
Piccolo Ristoro Le Rocce– a cozy family-run restaurant in Pietrapertosa serves Italian specialties including homemade pasta and yummy tiramisu. 
Pizzeria Ristorante Baronetto-serves all delicious Italian goodies from pizza to pasta in generous portions. 
Gv9 Bistrot-a great bar serving fantastic coffee and good quality croissants, and other snacks. 
Where to stay in Castelmezzano and Pietrapertosa, Italy
There is a fair share of Hotels and B&B in Castelmezzano and Pietrapertosa to choose from. Most of them are family-run bread and breakfast or self-contained apartments equipped with kitchens. Note that private parking is rarely available and you might have to park in the public parking, but special discounted 24-hour rates as low as 3 euros per day are available for the guests (owners will explain how to obtain those tickets or organize it for you). Some of the places to stay in Castelmezzano and hotels and b&b in Pietrapertosa look old-schoolish, thus I made sure to pick the nicest ones. P.s. prices start from around 80 euros per night and this is the average rate in both villages.
My top picks for hotels and B&Bs in Castelmezzano
Casa Delle Stelle $$ -a one-bedroom duplex beautifully decorates the apartment with unbeatable views from the balcony. We stayed in this gorgeous fully-equipment apartment in Castelmezzano and would come back in a heartbeat.
B&B Sud e Magia $$ studio apartment is located in the maze Castelmezzano alleyways. It is tastefully furnished and includes breakfast and free private parking.
Hotel Dolomiti $$$- a modern and stylish hotel in Castelmezzano also offers a spa. Their packages include options to book a room with breakfast, breakfast, and dinner, or a full board with breakfast, lunch, and dinner. An onsite bar is available, and pets are allowed too.
My top picks for hotels and B&Bs in Pietrapertosa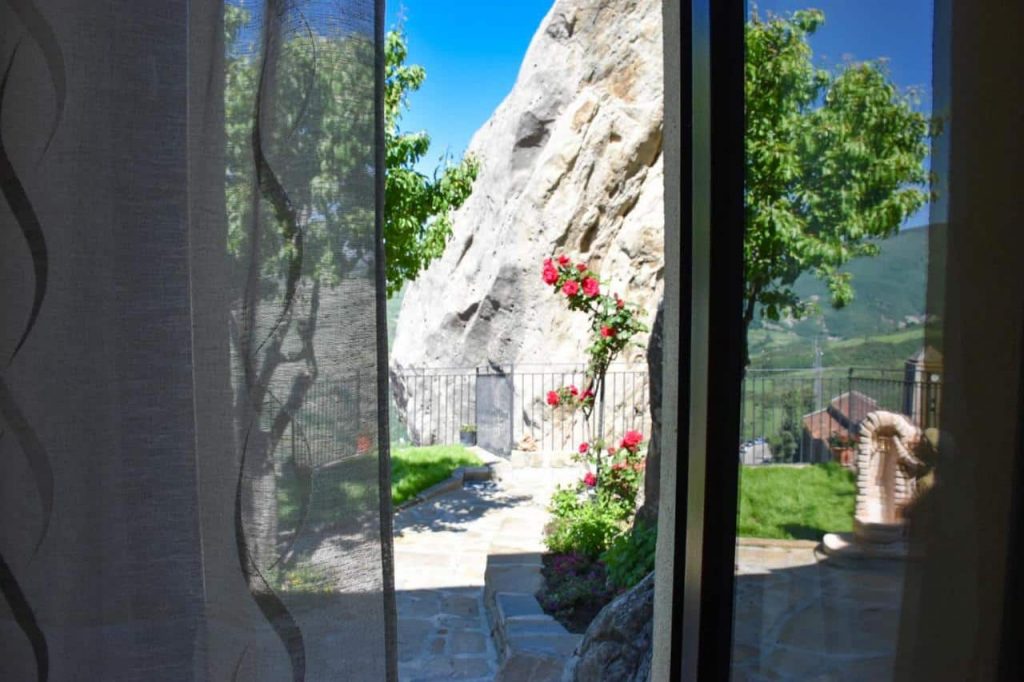 B&B L'Arenaria $$$- A beautiful stone house in Pietrapertossa perched on top of the Lucanian Dolomites. The beautiful garden with the view is the selling point. The host is accommodations and breakfast is also included.
Al Vico Primo $$- a boutique two-bedroom apartment in Pietrapertosa with a character. Stone walls and wood, rooftop window, and breakfast included in the price
Map of Castelmezzano and Pietrapertosa
Use this map to locate all the places mentioned in my Castelmezzano & Pietrapertosa travel guide. Click the tab in the top left-hand corner to open the layers (points of interest, accommodation, driving routes, etc.). You can save this map on your Google Maps account by clicking on the small star icon next to the name of the map. To open the saved map on your phone or laptop, open Google Maps, then click the menu button, go to "Your Places", and click maps where you will see this map saved on your list.
Italy Travel Essentials & Useful Links
Here are links to essential travel resources and services I always use when organizing my trips.
More useful blog posts on my Italy travel guide