Surrounded by beautiful Hajar mountains, Hatta is an ultimate nature lover's escape from the glassy facades of Dubai, UAE. Here you will find the best things to do in Hatta, Dubai mountain town.
Best known for its pristine blue Water Dam, Hatta has been rapidly growing in popularity among adventure seekers. Beloved by hikers, mountain biking enthusiasts, camping and glamping fans, families, and friends, this exclave town of Dubai also holds a wealth of history and still follows laid laid-back rural lifestyle.  
When you are traveling to the United Arab Emirates, make sure to include this charming Dubai mountain town in your itinerary. Hatta, just like the desert gem MLEIHA, is perfect for a day trip from Dubai. This small historical town is filled with ample outdoor activities that will keep you busy all day or even longer.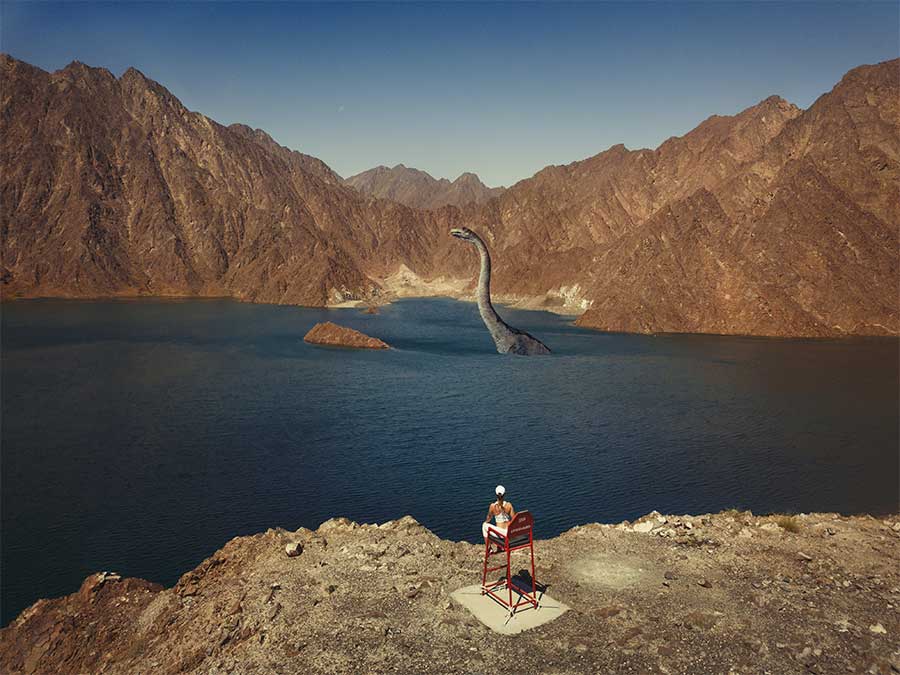 Disclaimer: This post contains affiliate links, which means that I may earn a commission if you make a purchase by clicking a link (at no extra cost to you). This helps to keep my blog running and growing by creating more awesome free content for you.
The Best Things to Do in Hatta- Your Ultimate Guide to Dubai's Mountain Town
This post is your ultimate guide to Hatta, covering information from how to get to, when to go, what to do in Hatta as well as where to eat. Keep reading to know more about all the amazing things to do in Hatta (including tour suggestions for those who love it all organized).
Useful things to know when planning your trip to Hatta
Where is Hatta?
Hatta is located 130 km southeast of Dubai city center next to the Oman border. It takes approximately 90 minutes to reach Hatta by road. The main highways to take are Emirates Road E611 and Sharjah-Kalba Road E102.
Driving to Hatta is a scenic road trip you can add to your Dubai itinerary. As soon as you reach Mleiha on E102, you will pass by an impressive FOSSIL ROCK that is surrounded by rich orange color dunes. Soon the scenery transforms into the views of brown craggy mountain cliffs that form the Hajar mountain range. This dynamic panorama will accompany you all the way to Hatta.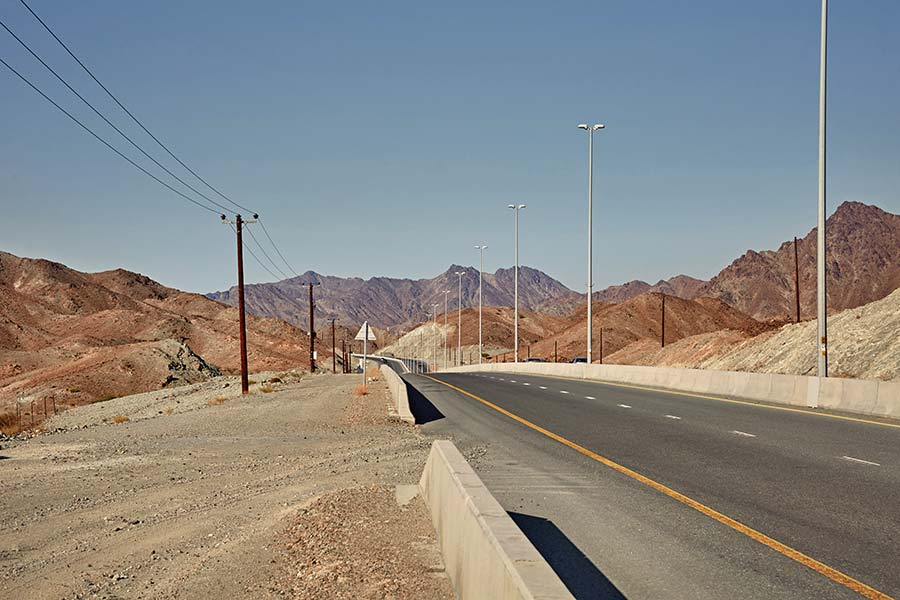 4 ways to get to Hatta from Dubai
By Car: The fastest, most flexible, and easiest way to get to Hatta from Dubai, or any other emirate, is by car. If you are visiting UAE, the best option is to rent a car (petrol in UAE is cheap: approx. AED 2 per liter). That being said, a one-way ride will cost as little as 19-27 AED. You can get a great deal on a rental car using a reliable Discover Cars booking site.
By Bus: Public buses are a less common means of transportation across the UAE, and not many people use them. However, if you have extra time to spare and are not willing to drive, a super cheap option is to take around 2.45 hours bus ride for AED 10 one way. You can check the schedule on RTA website. Bus E16 is operating daily from Sabkha Bus Station in Deira, Dubai to Hatta Bus Station. You must have NOL card to use public bus and metro services in Dubai. Note that in Hatta, you may need to catch a taxi to get to some of the locations such as Hatta Dam, or Hatta Wadi Hub as they are a few kilometers away from the bus station.
By Taxi: This is by far the costliest option out of all (unless you are coming in a helicopter). It will leave you AED 230- AED 290 short for only a one-way ride.
Tour operators: If you are short on time, and also want the trip to be fully organized for you, covering all the major sights in Hatta, then you can confidently book yourself a guided day trip. There is plenty of great half-day and full-day Hatta tours available to conveniently book with VIATOR and Tripadvisor (they also offer 24-hour free cancelation policy and hotel in Dubai pick-up).
The best places to stay in Hatta
Hatta is perfect for a day trip but if you want to immerse into nature for a little longer, you can book a comfortable overnight stay as well.
TOP 10 things to do in Hatta, UAE
1. Go hiking in Hatta, Dubai (a guide to the Hatta sign)
Hatta is the largest national park in Dubai. Therefore, one of the best things to do in Hatta is to trek the clearly marked beautiful trails winding at the foothills and wadis of the Hajar mountains.
Both beginners and experienced hikers will find their perfect route by following color-graded Hatta's hiking trails which span a total of 32.6km. Currently, this is the longest signposted trail network in the UAE.
The starting point of the trails is at Hatta Wadi Hub. From here you can choose your preferred route. Signboard maps are displayed at Hatta Wadi Hub and indicate the distances and difficulty level of each trail. The shortest trek is only 1km, while the longest one is 7.5km with an elevation gain of almost 800 meters above sea level.
If you are a complete beginner, start with the easiest leveled walks across green trails. Then, when confident enough, you can progress to the blue and red routes. The most experienced hikers have the more adventurous option of exploring the black trails.
Note that Hatta hiking trails intersect with each other. This allows you to create your own route that covers each level of difficulty. In my humble opinion, green trails are super easy, and suitable even for little kids as it is a simple walk without any elevation gain. Therefore, even without much hiking experience, one can still head directly to the blue trails.
The views along the trails are impressive. You will enjoy the scenery of the laid-back town of Hatta surrounded by gorgeous Hajar mountains. Those views can be seen better while trekking at higher elevation sections. While at other parts of the trails you may feel far away from civilization as you will be completely surrounded by mountains.  
Finally, when approaching Hatta, you will definitely spot a famous sign, called the "Hollywood sign of Hatta". A couple of trekking routes can take you up there if you are curious to check it out from up close. I was keen on getting up there, therefore I am sharing a couple of options on how to hike to the Hatta Sign below.
---
Sign up HERE to receive a FREE downloadable quick guide to The Best Hiking Trails in The UAE.
How to hike to Hatta "Hollywood" sign?
Option 1- a loop. Distance ~7.5km, time 2.5 hours, Max elevation 385 M. Highlights: views of Hatta town, farms, donkeys, goats, narrow mountain trails, some scrambling over the rocky hill, Hatta sign.
When I hiked to the Hatta sign, I did not start at Hatta Hub where most of people do.  Instead, after passing the Hatta roundabout with a fort in the middle, I took the first right to a side road that leads to Sheikh Maktoum Bin Rashid Al Maktoum Dam. I parked on the road next to the bridge crossing over the earlier mentioned dam and water ponds. Google coordinates 24.814433, 56.143075.
I made my hiking route a bit more adventurous, as I skipped some sections of the marked trails. I approached the Hatta sign from its front (a usual way is reaching it from the back). Once I got close enough to the Hatta sign, I just took a shortcut and climbed the rocky hill up. On my way back down from the sign I took the dirt road which is used for carts. This dirt road is behind the Hatta sign.
My route covers bits of red, blue, and green sections of the Hatta trail network. Therefore, advisable for intermediate hikers.
The waypoints to follow:
Cross the bridge and then you can either go left or right. On your left, there is the gate to the farm. If it is open, you can just take the path crossing the farm. Alternatively, you can take the right and follow the fence of the farm until the end.
Look for a signpost called Asaf, Google coordinates 24.807194, 56.139144. Then head left – look for a narrow mountain trail which you have to follow. It will gradually take you higher.
Always keep left when following the trails. You will come across some signposts reminding you are on the marked trails. Soon you will be able to see the Hatta sign.
Continue walking until around this point: 24.805310, 56.146623. From here, you can just climb up the hill directly towards the sign. The climb is a little steep, with an instant elevation gain of 70 meters. However, it is not technical, just mind the loose rocks.
You now reached Hatta Sign. To go back, go behind the sign. You can follow the signposts of the trails- those are very scenic mountain paths. Aim toward the left-hand side, as you need to come back down. Alternatively, just take a wide dirt road used for carts- easy option but not as beautiful as the first one.
Once down the hill, continue straight until around this point 24.811389, 56.156569. Then turn left and follow green trails by walking parallel to the mountain. On the way, you will pass some water ponds surrounded by very high grass, as well as one smaller bridge (you have to go under it). Continue until you reach the starting point.
I have recorded this trail on Wikiloc here.
Option 2- one way. Distance (return) ~5 KM, time ~2 hours, Max elevation 385 M. Highlights: farms, donkeys, goats, narrow mountain trails, Hatta sign.
If you prefer to keep it simpler and easier, a shorter way is to start at Hatta Hub. The waypoints to follow:
From Hatta Hub head towards the hiking trails and start with the Green 1 trail. Continue until the signpost that says, Reem.
From Reem, follow the direction of the sign towards Thamaam, still on the same green 1 route.
Once you reach the Thamaam signpost, head left in the direction of Washq. Now you are on the green 4 route which goes through a dry river bed (wadi) but it is still an easy walk. You will soon reach a signpost called Ja'ada
From here follow the blue 1 route towards Qa'taa signpost. From Qa'taa you start heading uphill.
Once you reach Qa'taa, take the right and follow the blue 2 route towards the Dhabi signpost. You will be able to see the Hatta sign from the back when hiking. Always keep right.
From the Dhabi signpost continue following the blue 2 route all the way up to Wa'el– HATTA sign spot.
This route has a steep incline; however, it is not difficult. Pace yourself and you will soon reach the famous Hollywood sign of Hatta with fantastic views overlooking the mountains, bits of Hatta town, and farms.
Come back to the Hatta Hub following exact same route.
---
RELATED REEDS: Keen on more adventurous hikes in other emirates of the UAE? Check this epic hike to Wadi Naqab and Al Sanat mountain village HERE.
---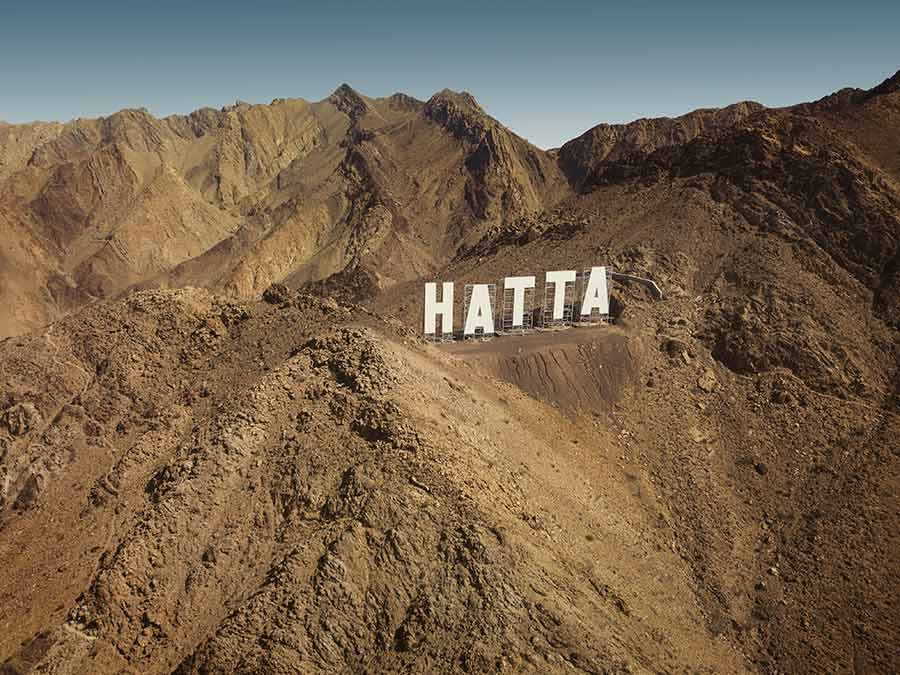 What is the best time for hiking in the Hatta mountains?
During the winter months from November to March, you can hike at any time of the day as the temperatures are mild and nice. However, in summer you must wake up as early as 4 am to reach the starting point before the crazy heats kick in. Therefore, if you are heading out for a hike in Hatta anytime from May to September, it is advisable to start very early (5 am-6 am) in the morning and stick to the shorter routes to avoid the heat. October and April are the shoulder seasons for hiking in the UAE, therefore morning and late afternoons are suitable for trekking in Hatta.
How to prepare for the hike in Hatta?
The key factors you must always consider when preparing for any hike in the UAE are hot summer temperatures, cold winter nights, the possibility of rain, unforgiving rough terrain, and your experience and knowledge about a similar environment.
Therefore, being well prepared for the hike will make your experience much more pleasant.
Here is my checklist of how to be prepared for hiking in UAE
Sufficient amount of water– crucial for any hike. For the UAE where the weather is hot all year round, take extra than you think you may need.
Lightweight power snacks like dates, bananas, protein bars. Also, electrolyte drink aside from water makes wander after long sweaty hours.
Sturdy footwear with good grip. The terrains are rough and rocky. Therefore, it is very important you are wearing shoes, ideally mid-ankle height, that has good grip, to prevent you slipping and twisting your legs. I have been hiking in my Columbia boots since I started, and I am so far happy with it.
Comfy and functional backpack. For a half-day hike you don't need much supplies to fit in. Still, a backpack with a good back support and, ideally, a space for water bladder, makes a difference. Check out this Osprey backpack chich is great for day hikes.
Get a water bladder if you are planning to make hiking a regular acitivty. Water bladder has a straw. This means you don't have to remove your backpack when you want to drink water. Also, water, when filled in the bladder, is evenly distributed in the backpack. I use my two or three liter camel backs (depending on how long the hike is). You can check prices here on Amazon.
Sunsreen, cap and sun glasses. Sun is harsh, so make sure to protect yourself.
Comfy sweat wicking clothes. I usually hike in gym or hiking leggings and t-shirts. For winter months, I through in a lightweight fleece as morning and evening can be chilly.
Hiking poles. It is not a must but very helpful for the descending part. It can be quite tough for the knees when climbing down. For the light weight foldable trekking poles check this pair at Amazon.
Basic first aid kit. Terrains are rough and sometimes mini injuries can happen. Even as simple as getting a blister. So having plaster for this type of emergency can really make or break your hike.
Power bank to keep your phone charged.
HAVE A SAFE HIKE AND, PLEASE, KEEP THE NATURE CLEAN!
2. Explore Hatta on a mountain bike
If you love mountain cycling, Hatta is a place to go! Starting from the same before mentioned adventure park of Hatta Wadi Hub, the mountain bike trail network covers 52 km. It is color-graded according to difficulty (green-easy, blue-intermediate, red-advanced, black- experts). Note that mountain bike trails are in the same area as the hiking trails but they aren't the same trails and have different markings. Just be aware of the hikers when riding.
On a bike, you will be able to tackle even larger grounds surrounded by beautiful landscapes of the Hatta mountains. Needless to say, it is a faster but by far more extreme way than hiking. UAE mountain terrains are rough and full of rocks to watch out for. Mountain bike trails at more advanced sections are steep, therefore, you must be experienced in maneuvering your two-wheel ride. If not, start warming up at the easiest green trails.
Highlights of the mountain trails in Hatta: along the way, you will pass farmlands, rocky hills, and natural pools, and you might even discover a few hidden oases.
Can I rent a mountain bike in Hatta?
Yes, if you don't have your own, then you can rent a mountain bike starting at 65 AED per hour (the price depends on the size of the bike) from The Bike Shop located at the Hatta Wadi Hub complex.
RELATED REEDS: Go on one of the most scenic hikes or mountain bike rides in Wadi Shawka (only an hour's drive from Dubai). Check this detailed Hiker's Guide to Shawka Dam to Pools.
3. Enjoy serene nature while kayaking at the spectacular Hatta Water Dam
Hatta is home to the photographer's beloved gorgeous Hatta Dam which is built over a teal color lake. The fascinating water dam welcomes you to glide through its waters in a kayak. Kayaking is one of the best activities in Hatta and a great refresher from boiling desert heat during the summer months.
You can rent your single or double kayak at the Hatta Kayak rental kiosk next to the dam at a price of AED 60 (single) or AED 120 (double). You can also rent different kinds of water vehicles like water donuts and pedal boats.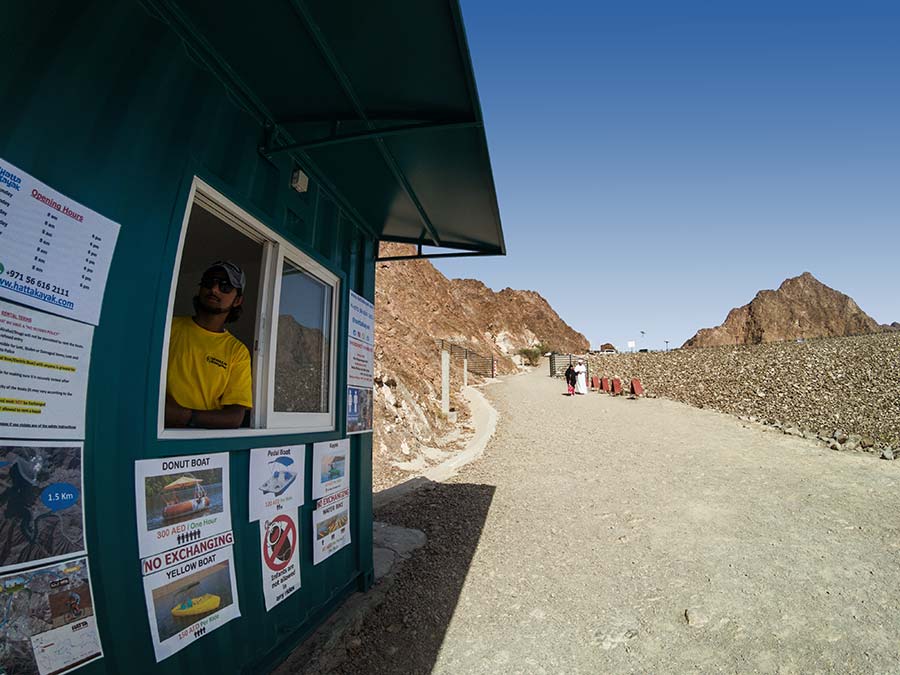 Usually, there are plenty of kayaks available at Hatta Dam, but if you are going on a Friday, you may want to secure one in advance. The contact number for Hatta Kayaks is +971566162111.
Hatta water dam, also called Hatta Lake, is a spectacular sight on its own. Therefore, even if you are not planning to kayak, it is worth stopping by. Come during the sunset or sunrise to witness this spectacular panorama of calm teal waters set against the rough-hewn mountains.
4. See the World's Largest Inclined Mural at Hatta Dam
A very unexpected sight in Hatta is a massive graffiti of the founding fathers of the UAE- the late Sheikh Zayed bin Sultan Al Nahyan and the late Sheikh Rashid bin Saeed Al Maktoum. The huge mural was painted for the occasion of the National Day of the UAE some years back. Today it is a little faded due to the sun (hopefully it will soon get some freshen up). The mural is located at Hatta Dam parking.
Parking at Hatta Dam
There is plenty of free parking space available at the bottom of Hatta Dam where the mural is. Sometimes, in the case of a busy weekend, or events happening at the Dam (such as National Holiday), you might not be allowed to drive all the way up to the Dam's bridge (this is where the wonderful views are revealed from). It is something to take into consideration as the road leading up is quite steep (good leg workout though).
For those of you who love it all organized, I recommend a half-day guided tour at Viator. It includes a kayaking and sightseeing tour of Hatta town (with hotel pick up from Dubai). Or, spend a great full day in Hatta, and see it all with Full Day Hatta Tour which includes kayaking and offers Dubai Hotel pick-up.
5. Camp under the stars in Hatta
Hatta qualifies as one of the best camping locations in the UAE for multiple reasons. There are plenty of great overnight camping spots surrounded by beautiful landscapes. Some of them are closer to civilization and even offer the convenience of having washrooms and food within reach of a hand, while some are pure wild escapes for the real nature adventurers. Another advantage is that Hatta has an access to the body of water (the dam and multiple smaller artificial lakes), which makes camping here more refreshing that just a completely dry desert.
It is advisable to camp at designated spots in Hatta. That being said, you might not be completely alone at those spots. However, you can always get a little bit more adventurous and head deeper into the mountains to find your solo pitch.
Let's explore our options below.
Free camping at designated spots. Although there are quite a few places dedicated to camping, some of the popular ones get pretty crowded.
However, you can still find great places a little bit out of the beaten path. One great option is by the lake, which is further away from the mainstream places but still close enough to civilization. It is called BBQ and Cap Site. You can park there and pitch your tent by the lake. Note that there are no amenities like washrooms and no food trucks or shops within walking distance. Therefore, you must come prepared with your supplies. Note: this place still can get busy during the weekends.
Paid camping with amenities. If you do not fancy it too wild, there is an option to have a golden middle between being in the wilderness and having all the amenities a few steps away. Hatta Wadi Hub offers a paid campsite from AED 129 to AED 199 to pitch a tent, and AED 299 to AED 399 for a campervan at a designated camping area which allows you to use their BBQ spots, washroom, and have a few food trucks close by as well. Note: this camping spot is next to an adventure park, therefore, suits those who want to combine their stay in nature with some fun activities and do not mind a bit of a crowd as many families love to come there.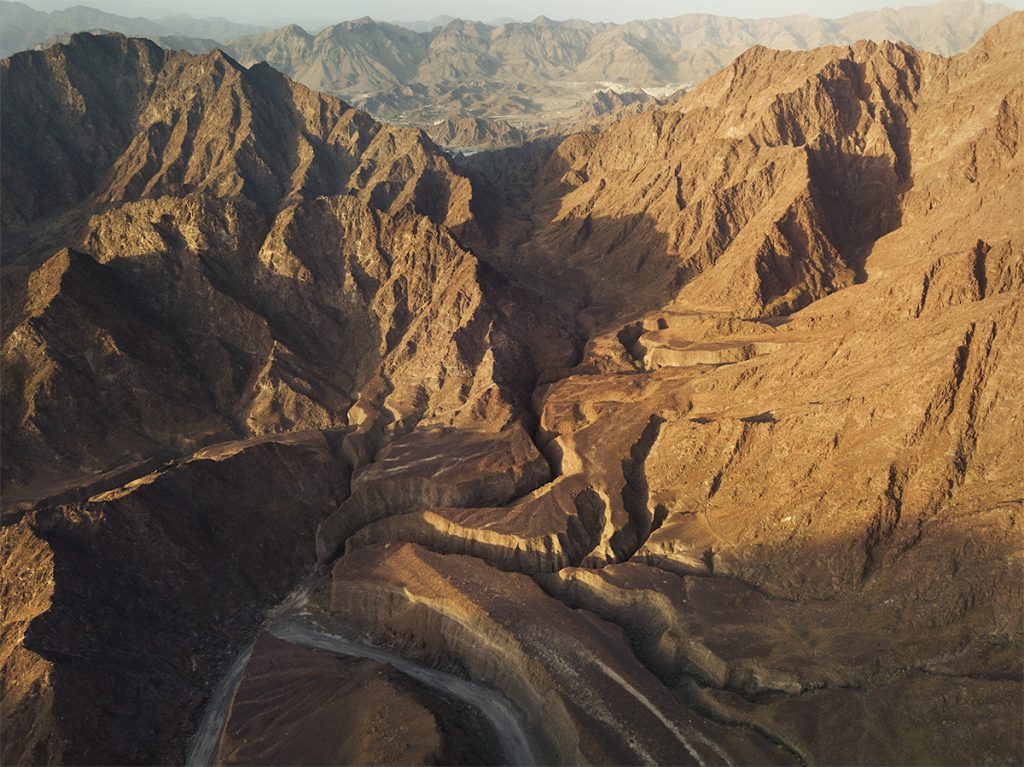 Camping in the mountains. Those of you, who are more adventurous and love the raw wilderness, can always explore your own options inside the mountains. Note that the terrain is very rocky, so you will definitely need an extra mattress for a more comfortable sleep under the stars.
Is it safe to camp in Hatta, Dubai?
The UAE being one of the safest countries in the world makes the camping experience very attractive as well. The only things to watch out for are snakes and scorpions. Although those do not attack people as many may often think, you need to watch out for your steps, especially at night when they are out and about.  
6. Go glamping at the foothills of the Hatta mountains.
For those of you who want more comfort but still stay surrounded by nature, a luxurious glamping experience with a fantastic outdoor setup would be a perfect solution. Therefore, going glamping is yet another awesome experience in Hatta, Dubai.
One of the best spots where luxury meets outdoors and does it in a uniquely stylish way is the first region's "trailer hotel" The Sedr Trailer Resort. Nestled in the Hajar Mountains right at the banks of the mesmerizing Hatta Dam and tucked away from the streets of Hatta town, The Sedr Trailers are the perfect staycation in nature.
The resort is comprised of a selection of 13 gleaming trailers parked around a huge area amidst the mountains. Each trailer is fully equipped with the most important tools and facilities: kitchen, shower, beds, living area, and private BBQ area where you can have a bonfire under the stars.
7. Have an adrenaline-filled day at Hatta Wadi Hub adventure park
Nestled into the foothills of Hajar mountains, Hatta Wadi Hub is an adventure base camp. It is quickly growing in its popularity among residents of Dubai and other emirates who are eager to have a day full of fun.
Hatta Wadi Hub not only serves as a starting point for the marked hiking and mountain bike trails, but it is also a place to go to if you want to experience various adrenalin-filled activities.
Suitable for family and friends, Hatta Wadi Hub will keep you busy all day long as there is something for all age groups.
Here you will find a mixture of adventure activities such as wall climbing, archery, ax throwing, zorbing, a drop-in slide, downhill carting, free-fall jumps, adventure rope courses, and even a cannon (this is a catapult that can slingshot you at speeds of nearly 100KM per hour- not for a faint-hearted).
Note that many of those activities come at a fee, except hiking and mountain biking with your own bike. You can pay for a single activity (price range 30-100 AED) or get a bundle (price range 100-300 AED). Park entrance is free, you are welcome to come and have some great specialty coffee with fantastic views of the Hajar mountains.
That being said, Hatta Hub has all the necessary facilities- parking, washrooms, and the most important one- food trucks and a coffee shop to chill at during/after your active day.
Hatta Wadi Hub opening Hours are from 07:00am to 22:00pm daily between October 1st  to April 30th. During the summer, only the Wild Café coffee shop is open.
Contact information: Wadi Hub 0458522200, Whatsapp +971 (0)50 437 4237, Hatta Horses: +971 (0)52 446 0322.
Where is Hatta Wadi Hub located?
Hatta Wadi Hub is located around 3km from the main Hatta Fort roundabout in the Sufayiri neighborhood. Exact location here. Note: Google Maps says that it is closed, but it is actually open.
Are there age restrictions for the activities at Hatta Wadi Hub?
Most of the activities at Hatta Wadi Hub are suitable for the age of 6 and above. A few more extreme activities require visitors to be above 16 years of age.
Is it worth visiting Hatta Wadi Hub?
Hatta Wadi Hub offers multiple fun outdoor adventures in one spot which makes it a great place to spend your day with friends and family actively. Rides and attractions are suitable for almost every age.
What else can I do at Hatta Wadi Hub besides outdoor adventure activities?
Apart from outdoor activities, Hatta Wadi Hub also offers options for camping, dining, and lodging. There is a common fire pit area and BBQ as well. Note that camping at Hatta Wadi Hub is not free. It costs around AED 199 to pitch a tent and AED 299 for a camper in the designated area.
---
Check this Full Day Hatta Tour at Viator which includes a visit to Wadi Hub and offers Dubai Hotel pick up.
8. Go back in time to Hatta's Heritage Village and explore Hatta town
Apart from beautiful scenery, Hatta has something to offer for the history buffs as well. It has one of the oldest preserved heritage areas in the UAE.
If you want to see what the old rural Emirati lifestyle was like, take a cultural tour and visit Hatta Heritage Village. It consists of 30 traditional reconstructed buildings, many of which have interior furnishings typical to the older days of the UAE.
The Heritage Village also features the Bait Al Wali which used to be a ruler's residence.
Moreover, while walking around the village, you can also explore two round watchtowers built in the 1880s overlooking the mountain town of Hatta.
Make sure to take a short walk from the heritage village to a palm tree farm known as the Al-Sharia site.
9. Step into the bee keeper's shoes at Hatta Honey Bee Garden
Until today Hatta is leading a laid-back rural lifestyle. More than 550 farms operate across the Hatta area and cover 10 percent of its land. People are still cultivating palm trees and dates for their livelihood.
Moreover, mountain honey is also produced in Hatta. If you ever wondered what the bee keepers' life is like, you can step into their shoes (with the protective gear) and have a day as a beekeeper at Hatta Honey Bee Garden.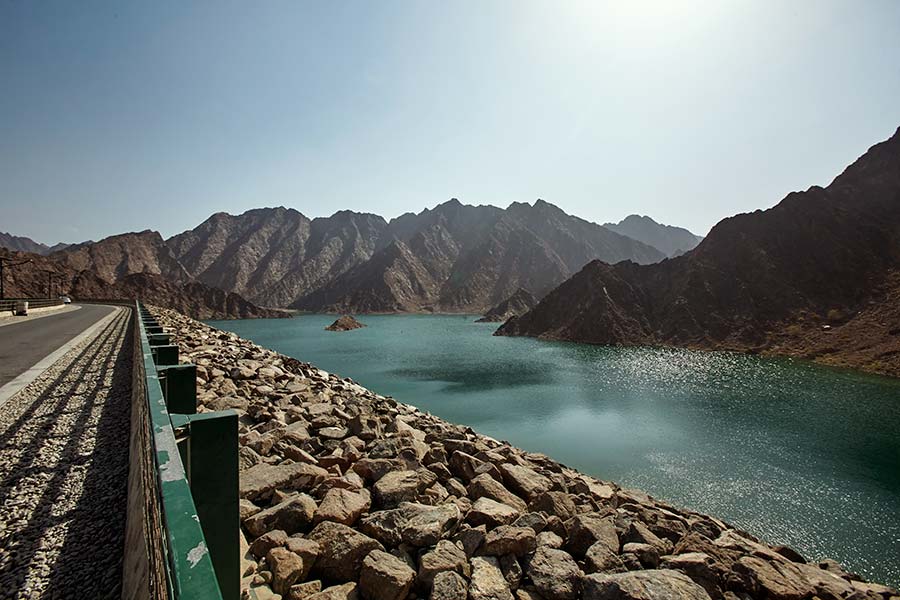 10. Observe the scenery from the bird's eye view while paragliding in Hatta
For the most adventurous and fearless, tandem paragliding in Hatta is probably the most thrilling activity you can sign up for. Led by an experienced instructor, you will be briefed on paragliding basics before setting off for soaring the skies. For more information about this adventure, click HERE.
What is the best time to go to Hatta?
Due to its higher elevation and mountainous setup, Hatta enjoys a cooler climate than its coastal counterparts. Therefore, not only the winter months which last from November to February but also early and late summertime is still nice enough to hang out outside. However, June, July, and August are extremely hot, and only mornings and evenings would be suitable for outdoor exploration in Hatta.
Remember that during the winter season, it can get pretty chilly in Hatta at night. Therefore, make sure to bring a sweater.
Where to eat in Hatta?
None of the trips is complete without savoring the best local foods. One of the best places to try Emirati food is Alhajarain Restaurant. Located at the Hatta Heritage Village, Al Hajarain restaurant offers a tranquil setting within the foregrounds of the historical Shari'a. This restaurant brings the best of local Emirati cuisine. It uses fresh ingredients harvested in the town of Hatta and is a must-do experience while visiting the mountain town of Dubai.
Check this highly rated Full Day Hatta Tour at Viator which includes all the most important sites in Hatta, and offers Dubai hotel pick-up and 24 hours free cancelation.
MY HATTA PHOTOGRAPHY GEAR
This is the photography gear I used to capture the images used in this guide.
Discover other interesting things to do in the United Arab Emirates and Dubai!
Before you go: useful Dubai, UAE travel recourses