Visiting charming small mountain towns in Sicily is the best way to immerse in Sicilian lifestyle and culture. Here I share my list of some of the most unique and beautiful mountain towns and hidden villages in Sicily. 
While the majority of visitors head to the coast for the most famous tourist destinations such as Taormina, Palermo, Agrigento, Catania, and Syracuse, the less traveled hilltop towns and villages remain Sicily's best-kept secret.
The wealth of atmospheric small Sicilian hilltop towns dotted across the hinterlands ("entroterra") are often overlooked. That is why those tiny villages remained wonderfully true to their roots and are a perfect place to catch a glimpse of typical Sicilian life.
Some of the most charming medieval towns like Gangi, overlooking Etna volcano, are perched atop verdant hills of the Madonie National Park (Parco delle Madonie), West Sicily. Meanwhile, baroque architecture masterpieces like Ragusa and Modica are scattered across Vali di Noto in the Iblei Mountains, East of Sicily. And if you are traveling the west coast of Sicily, you are still bound to discover the fairy tale town of Erice.
I would like to encourage you to go off the beaten path by including a few unique small towns in Sicily in your travel itinerary. To help you make your pick, I will walk you through the prettiest mountain towns in Sicily you should visit. Some of which you might not have even heard of before, and will be surprised to know they were used as a set for world-famous movies such as Godfather. Also, in this Sicily's mountain towns list, you will also find a few useful travel tips, accommodation suggestions, and a map.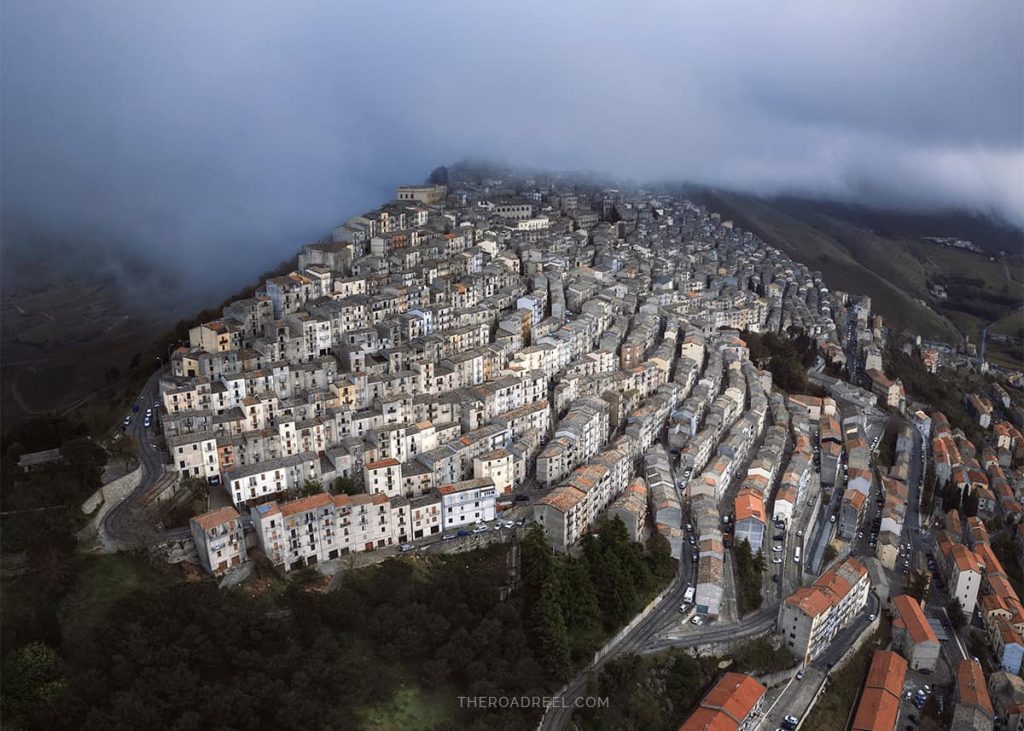 Disclaimer: This post contains affiliate links, which means that I may earn a commission if you make a purchase by clicking a link (at no extra cost to you). This helps to keep my blog running and growing by creating more awesome free content for you.
How to visit Sicily mountain towns and hilltop villages
The mountainous hinterlands of Sicily are less frequented than coastal towns because of their accessibility. I would recommend renting a car to easily explore hilltop towns in Sicily. Public transport to those remote places is limited and schedules are often unpredictable. That being said, it would require much more time to get from place to place should you choose to go by busses.
In general, the best way to visit Sicily is by car (unless you stick to the main big cities like Palermo or Catania where you can get around without it). On my 2-week Sicily road trip, I rented a car using the Discovercars search aggregator. So far it is one of the best car search engines I use for my trips as it offers the lowest rates across international car rental companies.
READ MORE: 21 Tips for driving in Sicily Stress-Free.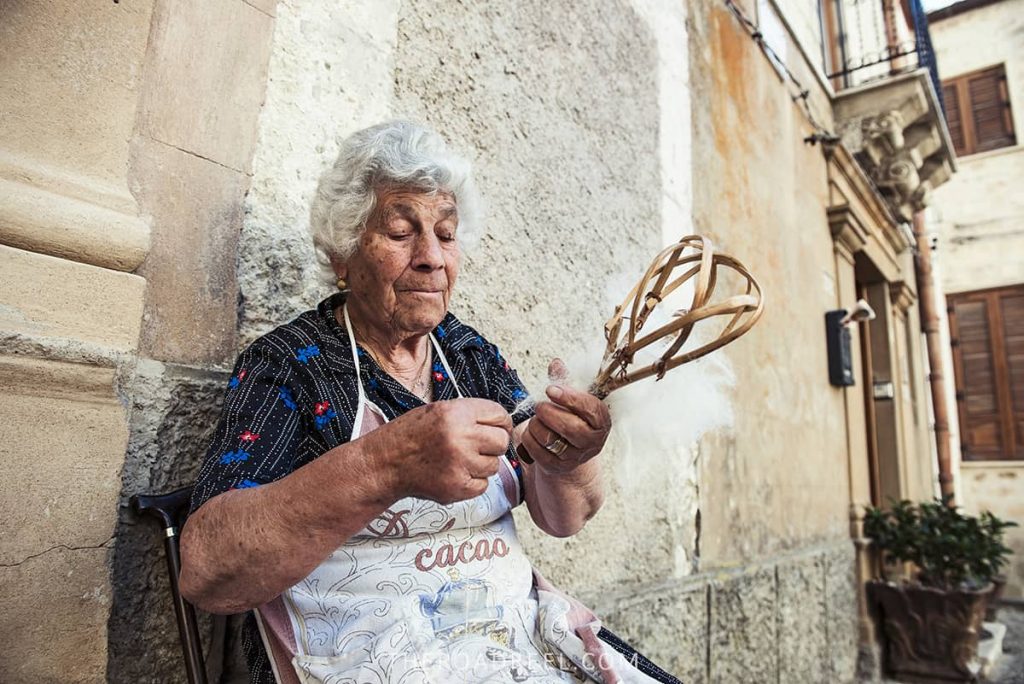 17 Most Beautiful Small Mountain Towns and Villages in Sicily
1. Gagliano Castelferrato- undiscovered jewel of Sicily
Sicily's best-kept secret and one of the most beautiful places in Sicily is the hilltop town of Gagliano Castelferrato in the province of Enna. Completely out of tourist radar, this magical ages-old settlement made it to the top of my list of the best small mountain towns in Sicily.
Coincidentally I came across the image of an eye-catching colorful town nestled at the foothills of a looming rock. In a heartbeat, I included Gagliano in my Sicily Road trip itinerary. Gagliano Castelferrato is a true definition of a hidden gem. It doesn't even have a single guesthouse to stay at yet. Locals were pleasantly surprised to see a couple of foreign visitors roaming the old streets of their town.
Having a bit of similarity to Castelmezzano in the Basilicata region (the other mind-blowingly beautiful town in South Italy), Gagliano's most prominent landmark is the barbarian origins stone fortress of Castello Rupestre. Hiking up and exploring the old cave castle is one of the best things to do in this town.
Gagliano Castelferrato is located in the hinterlands of Sicily on the east side of Mount Etna, above of more well-known Enna town. The nearest town to stay at is Agira (another wonderful town on this Sicily mountain villages list).
How to get there: even if a local bus exists, it would be a difficult mission to reach Gagliano without your own vehicle. Thus, driving is the best way to visit Gagliano Castelferrato.
Where to stay: Casa al Borgo-Agira. Click here for more accommodation options.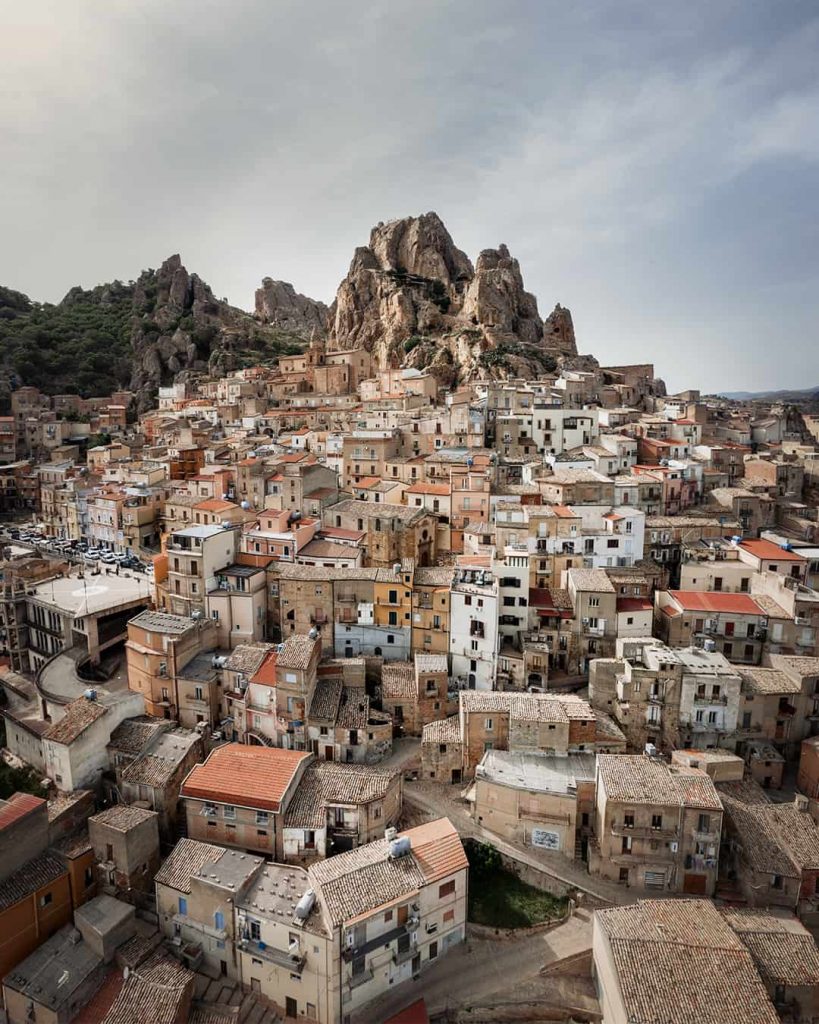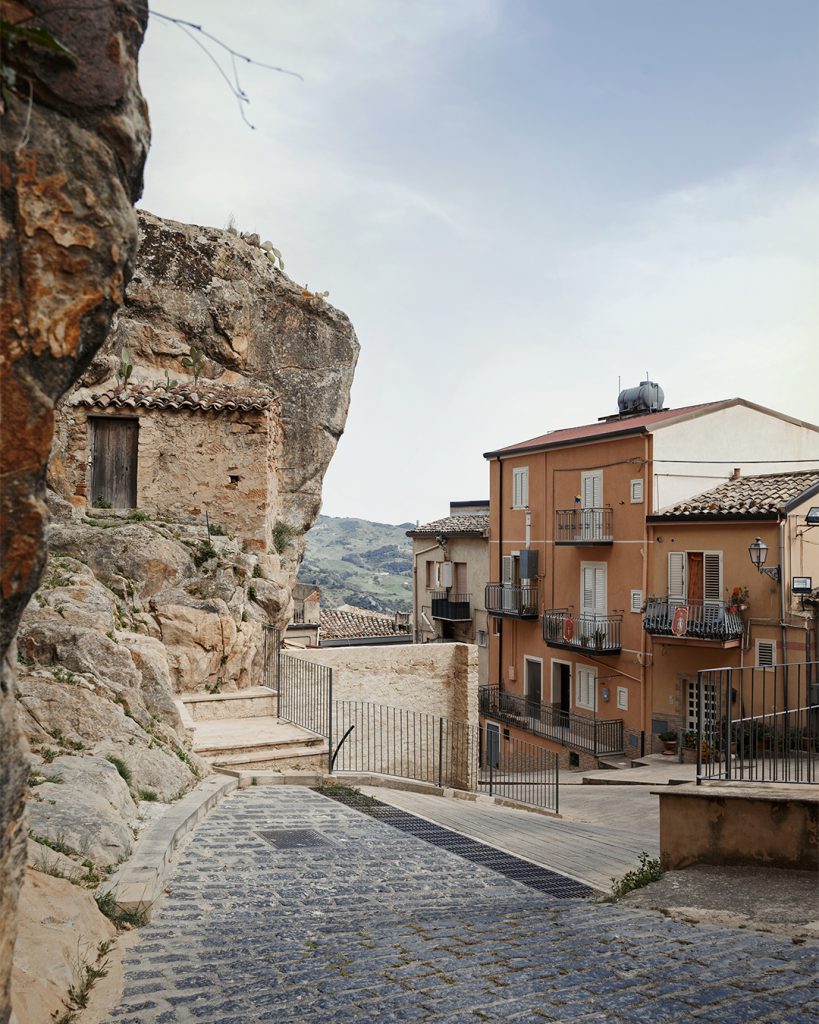 2. Gangi- the pearl of the Madonie Mountains in Sicily
Just an hour and 20 minutes drive from Palermo, Gangi has been officially selected as one of the most beautiful mountain villages in Italy (Borghi piu belli d'Italia). Gangi first made it to international headlines and fell under foreign visitors' radar when the Italian government introduced the 1-euro houses project.
I got fascinated by this surreal hilltop town in Sicily when I saw aerial images of the Lego-like arrangement of tiny houses with rust-colored rooftops. This view literally made me book tickets to Sicily for my second road trip on the island. 
Gangi is surrounded by verdant Madonie mountains and is characterized by an impressive view of a pile of medieval houses with the mighty Etna volcano in the backdrop. Dating back to the 14th century, the town of Gangi hugs the slopes of Monte Marone at 1011 m (3317 ft) above sea level and is abundant with architectural heritage. The charming narrow streets of Gangi will take you to the gorgeous viewpoints. Meanwhile one of the most interesting cultural attractions in town is the catacombs of mummified priests at Saint Nicola's church.
Getting there: the easiest way to get to Gangi is by car. However, you can also find direct bus connections from Palermo.
Where to stay: Residence Ventimiglia. Click here for more accommodation options.
ALSO READ: A complete guide to visiting Gangi mountain town in Sicily.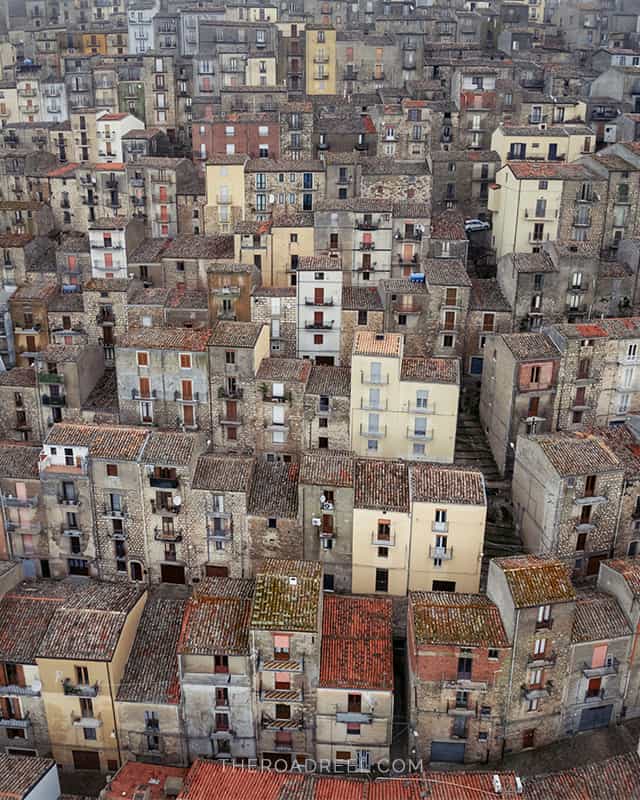 3. Sperlinga- the rock mountain village of Sicily
Sperlinga is a village in the rock- a truly unique mountain town in Sicily. Known as "a royal cave-dwelling" it is also officially titled one of the prettiest towns in Sicily. 
Located 20 minutes away from Gangi, between Madonie and Nebrodi mountains in central Sicily, Sperlinga is a tiny town literally carved into living rock. For that reason, Sperlinga is quite different from other mountain towns in Sicily.
Characteristic houses are built into the rock with masonry facades of windows and balconies being the only architectural element visible from the outside. 
Above the facades of singular houses, a steep staircase leads to the overhanging rock village. Numerous "caves" are interconnected by corridors and staircases inside the rock. Surprisingly, it used to be inhabited by farming families until the 1960s. Today some of the houses are turned into a museum and some are still used as warehouses. 
Meanwhile, the most prominent landmark is the medieval Sperlinga Castle. It is a rare example of a fortress excavated on single monolith sandstone above the caves of sacred temples that date back to 4,000 years BC.
Getting there: a public bus from Palermo is available daily, however, the easiest way to reach is by car.
Where to stay: La Casa del Sarto. Click here for more accommodation options.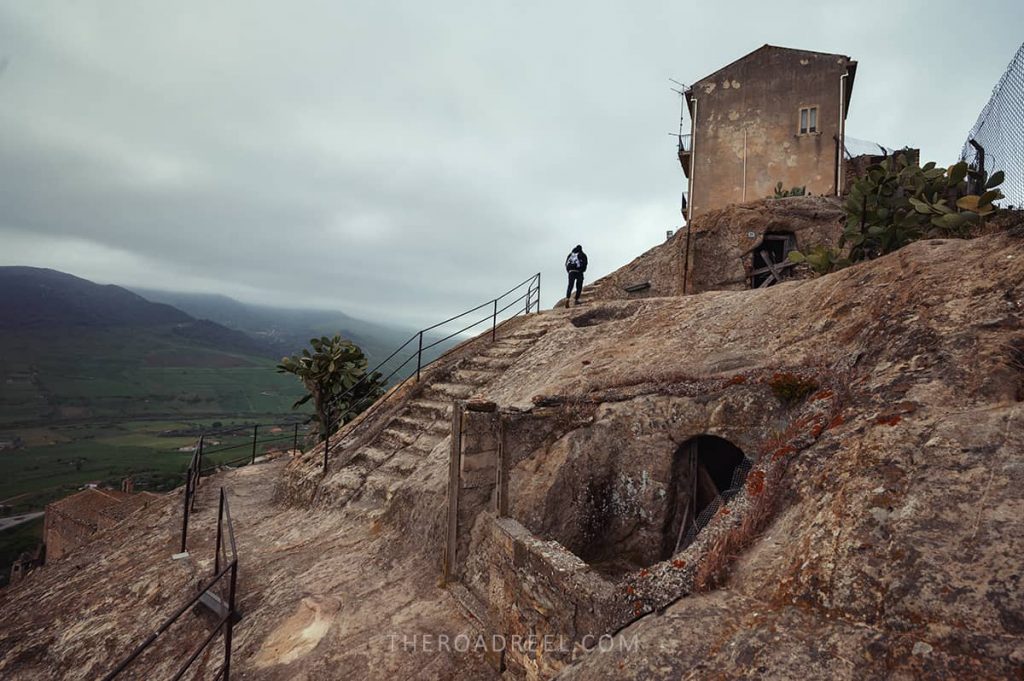 4. Piazza Armerina and the famous roman mosaics of Villa Romana del Casale
Perched 725 m above sea level, the lively local town of Piazza Armerina is mostly known for Villa Romana del Casale mosaics-the most comprehensive and well-preserved Roman mosaics in the World. One of the most famous mosaics is "bikini-girls" depicting women dressed in what looks like a modern-day bikinis.
Also called a town of mosaics and art, Piazza Armerina holds archaeological, cultural, and historical significance. A fusion of medieval and baroque architecture characterizes this charming mountain town.
Piazza Armerina is a convenient base for visiting Villa Romana del Casale mosaics and other nearby mountain towns like Caltagirone, or Enna. The charming Sicilian town is truly pretty and the best to be explored by foot wandering the medieval streets of its Il Monte district. Make sure to wear comfy shoes as winding cobblestone streets are steep. 
The beauty of the town reveals itself at sunset hour. For the best views head to the Belvedere -a viewpoint overlooking the town. 
Getting there: located in central Sicily, Piazza Armerina can be reached within a 1 hour and 15 minutes drive from Catania, or a 1.5 hrs drive from Agrigento or Ragusa Ibla. There are public bus connections from Catania as well.
Where to stay: B&B L'Angelica. Click here for more accommodation options.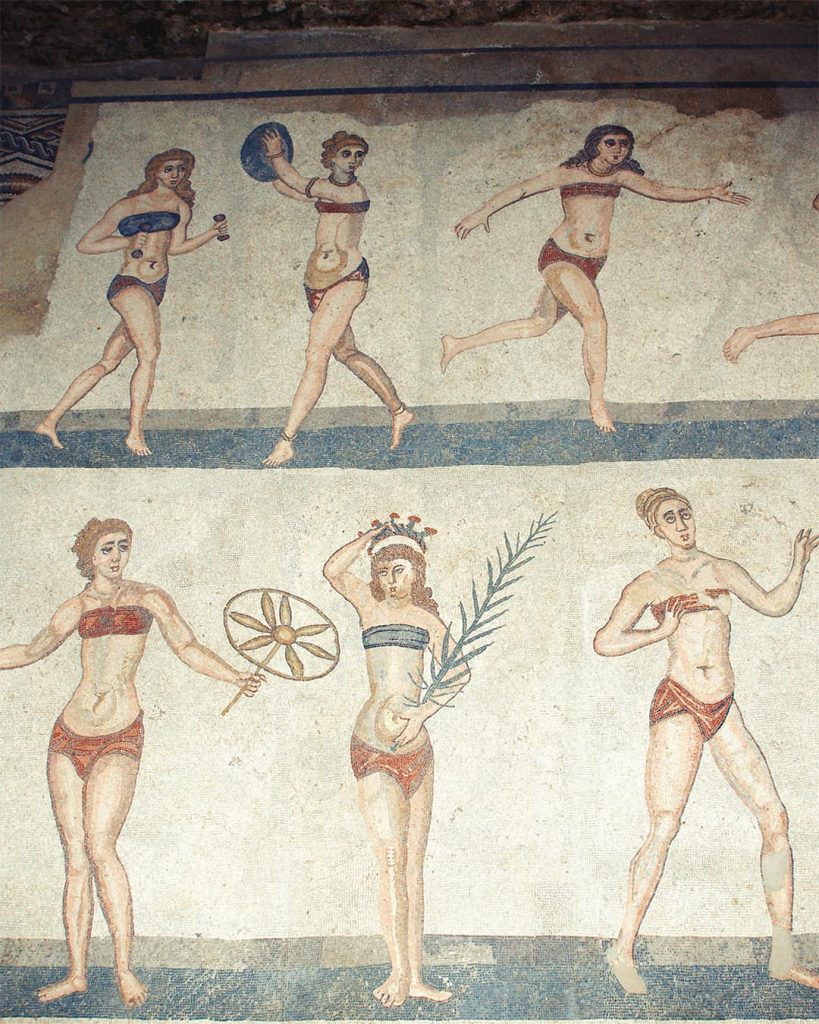 5. Ragusa Ibla- a baroque gem of Sicily
One of the most gorgeous mountain towns in Sicily is Ragusa. Called a town of two souls, Ragusa is formed by the old baroque part called Ragusa Ibla and the new modern part Ragusa Superiore. The split between the two happened after the infamous earthquake in 1693 when the upper part (Superiore) of Ragusa was rebuilt following a more modern practical approach while the lower (inferior or Ibla) part was restored with Baroque works of art and impressive monuments. 
Today Ragusa Ibla (the lower part of Ragusa town) is considered as one of the baroque masterpieces that form the Unesco heritage-listed Val di Noto complex in East Sicily.  
There are countless of world heritage monuments in the old town, with Duomo di San Giorgio at its heart. Narrow cobblestone streets rise and fall in the old part of Ragusa creating a maze of interwinding roads that takes the curious traveler back in time. 
To admire the gorgeous panorama of Ragusa Ibla, head to the viewing point up at the upper Ragusa. In the evening, the beautiful central square comes to life when locals and visitors fill many of Ragusa's elegant bars and trattorias. 
Getting there: Ragusa is located in the hinterlands of Sicily on the southeast side of the island, a 1-hour drive from Noto or 1.5 hour drive from Catania or Syracuse. The easiest way to reach it is by car. A public bus connection is available from Catania.
Where to stay: A.D. 1768 Boutique Hotel. Click here for more accommodation options.
Read my full Guide to Visiting Ragusa: Sicily's Town of Two Faces to find all the best things to do in Ragusa.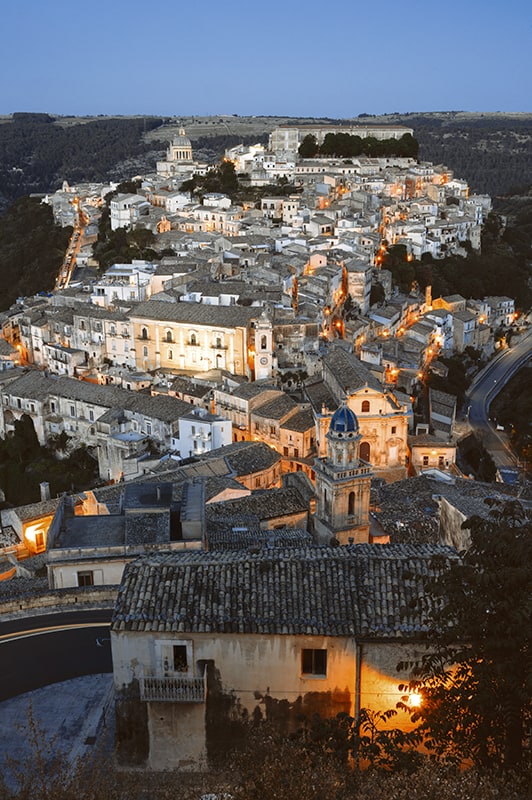 6. Savoca- the Godfather's film set
Savoca is a tiny medieval hilltop town overlooking the Ionian sea which belongs to Messina province in eastern Sicily. Named one of the most beautiful small villages in Italy, Savoca became well known because of the Godfather movie. Some of the scenes were filmed in the church of San Nicolo and at Savoca's Bar Vitelli which preserved the same looks as seen in the movie. 
Surrounded by lush vegetation filled with citrus and olive groves, and vineyards, Savoca is best explored on foot. The charming medieval town makes a great pit stop on the way to or as half day trip from Catania or Taormina. The Bar Vitelli capitalized well on the fame it got as the set of the iconic movie. Thus, expect to pay double for anything you order in the café.
How to get there: by car from Catania or Taormina. A public bus connection is available from Taormina.
Where to stay: B&B Il Padrino. Click here for more accommodation options.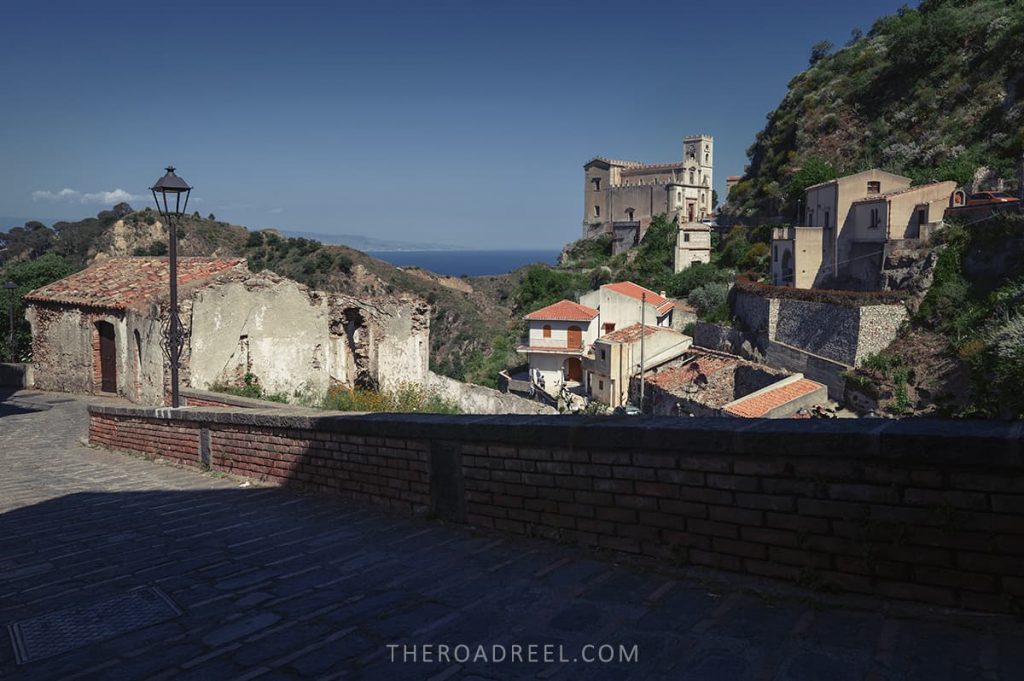 7. Caltagirone-the town of Sicilian ceramics
Caltagirone is the city of ceramics in the heart of Sicily, 70 km southwest of Catania. 
The highlight of the town is 142 steps of  Scalinata di Santa Maria del Monte vibrantly decorated with colorful ceramic tiles. The steps connect the lower and the upper parts of the town. And yes, Caltagirone is yet another hilly town in Sicily but so different from the others because virtually every building in the old town is delightfully adorned with ceramic titles.
Indeed, the culture of ceramics has been passed through millennia of generations and has been influenced by Normans, Romans, Arabs, Spanish and French.
Just like the other baroque towns of Val di Noto and Catania, Caltagirone has also raised from the ashes after the fatal 1693 earthquake and became an aristocratic town brimming with splendid churches and palaces. 
One of the best times to visit Caltagirone is during the last two weeks of May during the Inflorita festival when the Scalinata di Santa Maria steps get covered by an enormous amount of flowers. Alternatively, end of July on the 24th and 25th and mid of August, during the Illuminata celebration, the steps undergo another transformation by being illuminated with thousands of candles- a truly magnificent sight to witness. 
How to get there: 40 min drive from Piazza Armerina, 1 hour 15 minutes drive from Catania. A public bus connection is available from Catania.
Where to stay: Maremoro casa barocca – zona piccola. Click here for more accommodation options.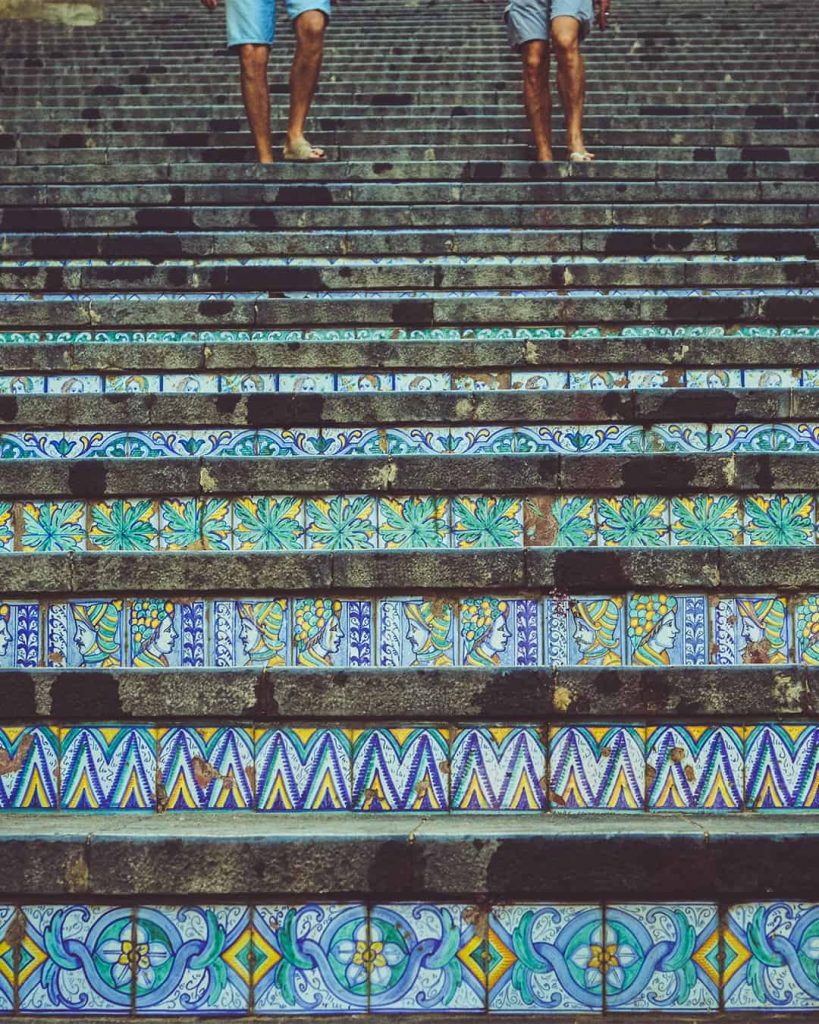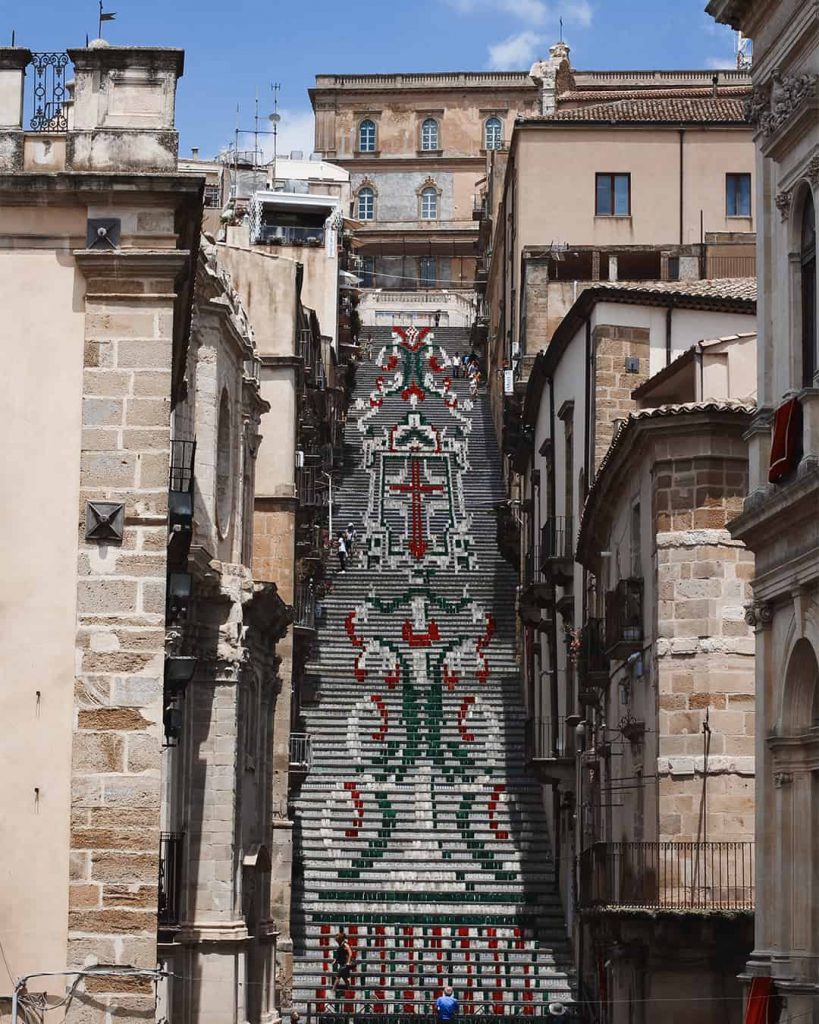 8. Centuripe-a starfish town or a balcony of Sicily
Centuripe is a mountain town in Sicily that resembles a human body or a starfish when looked at from the sky. It is yet another Instagram discovery that looked so surreal that I just had to include a detour to Centuripe for our 2-weeks Sicily road trip. Unfortunately, the strong wind on the day of the visit stopped me from flying my drone high enough to be able to capture this phenomenal urban landscaping.
The town is located in eastern Sicily in Enna province at an elevation of 732 m. Also called the balcony of Sicily, Centuripe is an ancient town with a history that dates back to at least 5 century BC. 
The town is spread across multiple hills which creates an interesting shape. Indeed it is a fantastic urban planning-a piece of art of its own and therefore deserves to be on the unique small towns in Sicily list. Although not frequented by tourists, the village has many cozy alleyways to stroll through and is very attractive for aerial photography. 
While on the ground, you can find some notable points of interest like a defence wall surrounding the town, beautiful churches, and spectacular views of Mount Etna which is only 20km from Centuripe. 
Getting there: Centuripe is definitely a detour that requires your own transportation but can be combined as a road trip to Agira and Enna towns from Catania.
Where to stay: Sciacca's House. Click here for more accommodation options.
9. Modica-the baroque town of chocolate
Modica is one of the baroque towns that belong to the UNESCO heritage list of Val di Noto. Modica is not only known for its beautiful architecture but also is famous for its special locally produced dark chocolate. Located in Southeast Sicily, just 20 minutes away from Ragusa Ibla, Modica is filled with incredible baroque churches, cathedrals adorned with intricate facades, piazzas, and red-roofed houses, making it one of the most beautiful mountain towns in Sicily that are worth visiting. 
Modica, similarly to Ragusa, is divided into two parts-Modica Alta (the higher part) and Modica Bassa (the lower section) connected by numerous steps. It also suffered from the fatal event of the 1693 earthquake but luckily was rebuilt into yet another baroque masterpiece. 
Tip: Take a route that goes from Ragusa via SS115 crossing 300 meters high Guerrieri bridge. You will be astounded by the reveal of the Modica town nestled at the bottom of the gorge. The houses and churches are kind of stacked on top of each other which creates this extraordinary architectural sight. 
Tip for chocolate fans: the oldest in Sicily chocolate shop is the Antica Dolceria Bonajuto located in Corso Umberto I, 159. You may even get a chance to watch the chocolatiers at work. If you are lucky to be in Modica in April, take part in the Willy Wonkeresque Eurochocolate festival.
Getting there: best visited by car as a half-day trip from Ragusa or Noto.
Where to stay: Dimora Birullà. Click here for more accommodation options.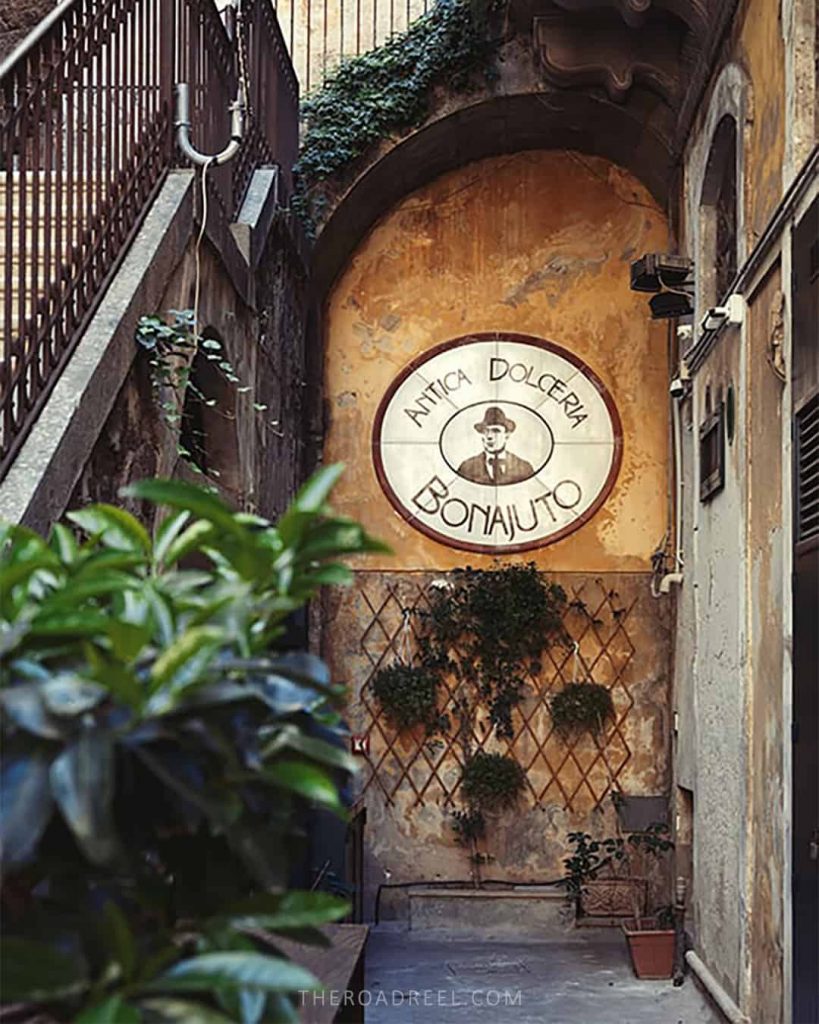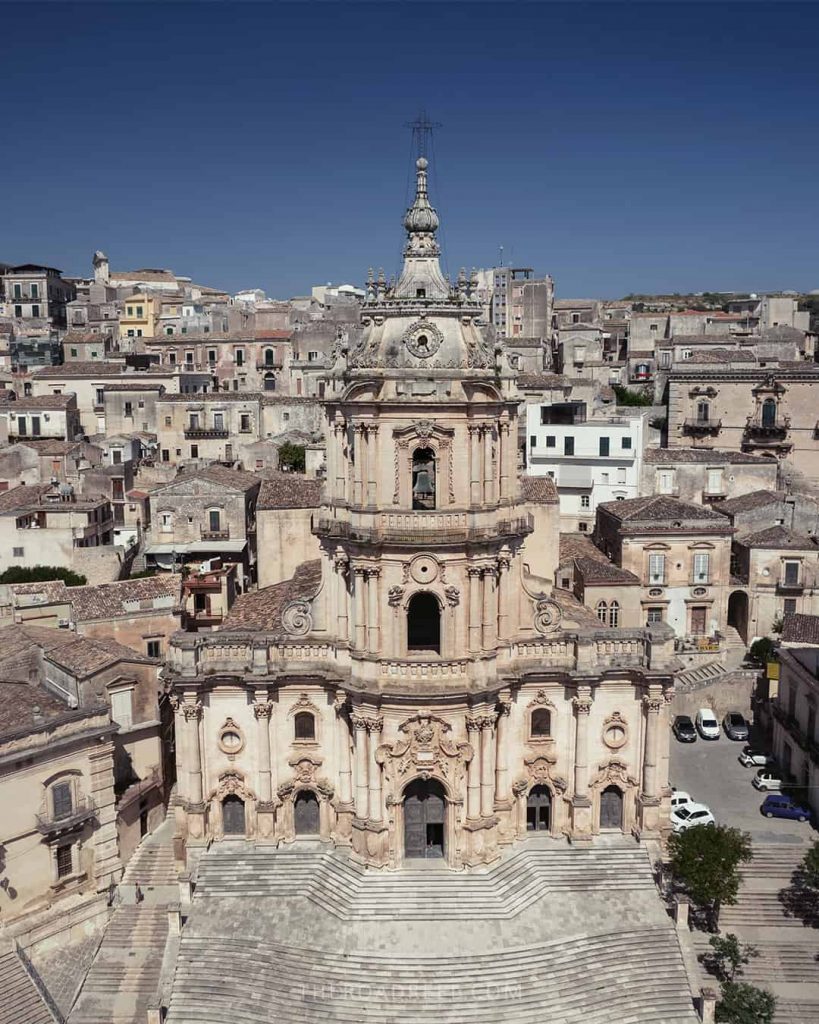 10. Petralia Soprana – the highest stone village in the Madonie mountains
Petralia Soprana is one of the most well-preserved stone villages in the interiors of Sicily. Petralia Soprana (which means upper) is the highest medieval village in the Madonie mountain range in the province of Palermo.
Characteristic narrow cobbled streets winding between monochromatic stone houses lead you to the edges of the settlement with 3 spectacular viewpoints (belvederes)- Loreto, Carmine, and Piazza Duomo from where the breathtaking views overlooking Madonie mountains open up.
Historically, Petralia Soprana was the first town to fall under Roman rule and became the largest provider of wheat to the Roman empire.
Today life in Petralia Soprana stands still. If you come during the day, chances are you will be the only living soul wandering its narrow alleyways, admiring aristocratic palazzi, historical churches, charming courtyards, and little squares. Indeed, when I was visiting Petralia Soprana, it was siesta time during which the village looked more like a ghost town than an inhabited settlement. However, towards the late afternoon, elegantly dressed elderly couples start gathering for an afternoon passeggiata– an Italian tradition of the leisurely walk looking your best.
Getting there: 1-hour drive from Cefalù, 1.5 hrs drive from Palermo. The public bus is also available from Palermo.
Where to stay: Cas'Antica Soprana. Click here for more accommodation options.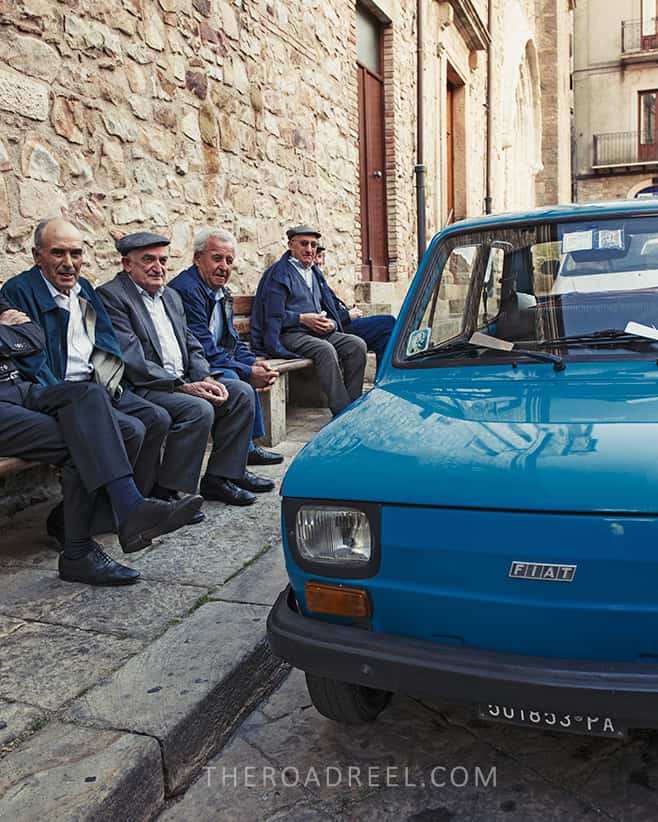 11. Petralia Sotana- an unspoiled stone village of Madonie mountains
Petralia Sottana is a stone's throw away from its sister town Petralia Soprana. Petralia Sottana (means lower) is nestled slightly lower on another hilltop just 6 km away from Petralia Soprana, thus, can be visited on the same day trip. 
Petralia Sottana has also maintained its medieval urban structure exactly as it was back in pre-Roman times. The best way to get the essence of the town is to wander around the narrow cobbled alleyways. The sleepy villages usually come to life late afternoon when local inhabitants gather at Piazza Umberto I- the central part of the town. During my visit, I met happy-spirited seniori who were cracking jokes and were super excited about getting their pictures taken. 
Apart from wonderful exteriors, it is also worth taking a peek into the interiors of historic buildings and particularly churches which are rich in works of art. That being said, an unmissable is the 17th-century Cathedral of Petralia Sottana.
Getting there: 13 minutes from Petralia Soprana, 1-hour drive from Cefalù, 1.5 hrs drive from Palermo. The public bus is also available from Palermo.
Where to stay: Bed And Breakfast Polizzi House. Click here for more accommodation options.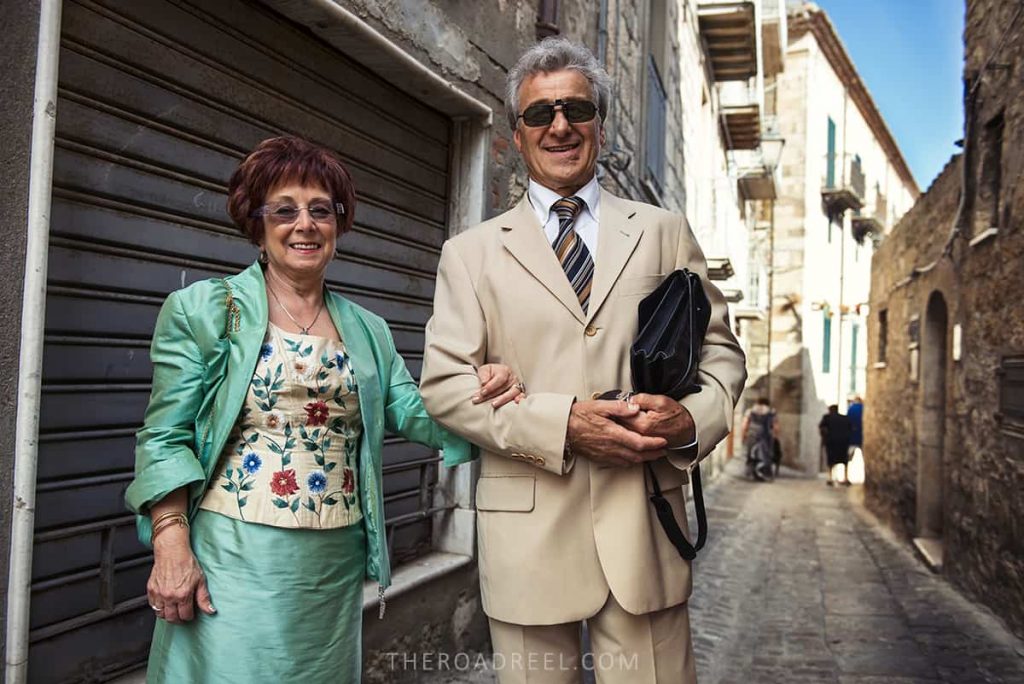 12. Castelbuono- a medieval town with flavours of manna and panettone, and gelato made of Enna's snow
Medieval Castelbuono (which means beautiful castle) town also belongs to the Parque delle Madonie and lies between the sea and the mountains. A scenic 45min ride from the coastal town of Cefalù, brings you to Castelbuono.
As expected from many historic settlements in Italy, the town features a number of medieval churches, piazzas, and beautiful houses developed around the imposing 14th-century castle of Ventimiglia. Meanwhile, the sumptuous Platine Chapel (Cappella Palatina) decorated with white angel figurines against a gold background is impressive and worth a visit as well.
Apart from charming Italian architecture and church interiors, Castelbuono town is known for its gastronomy, specifically panettones and manna plant (used as a sweetener and also known for its health benefits).
Moreover, Fiasconaro bakery is an internationally renowned pasticceria that bakes the famous panettone sweetened with manna following the old method of raising the cake for 36 hours! But what is even more interesting is that the bakery before expanding to a worldwide known sweets producer started off with gelato made out of Enna's snow.
As common to Sicilian mountain villages, if you visit during siesta, expect the town to be dead, but after 4 pm it comes to life with local elderly folks smartly dressed gathering in the main piazza. The most interesting real-life scenes can be witnessed in front of Pope Piux X Catholic Men's Club. 
Getting there: 30 min drive from Cefalu, or 1 hour 20 minutes from Palermo. The public bus is also available from Cefalu and Palermo.
Where to stay: B&B Panorama. Click here for more accommodation options.
13. Erice- the Middle Ages old fairy tale hilltop town in Sicily
Located on mount St Julian on the west coast of Sicily overlooking the coastal city of Trapani, the walled town of Erice seems to be frozen in the times of the Middle Ages. To me, Erice is a town that perfectly fits the mood and the look of the romantic fairy tale scene. 
I visited Erice very early on a foggy morning when the town was still asleep and then came back for the sunset views when the stone buildings start shining in deep orange – both times it was a surreal experience.
The steep winding cobbled streets lead to the opening viewpoints overlooking San Vito Lo Capo and Trapani town in a distance. Meanwhile, the forts and palaces add more credit for Erice being one of the most beautiful hilltop towns in west Sicily.
Tip: Erice is quite a popular tourist destination in West Sicily. Thus, it is best to be visited early morning before tour buses arrive or before sunset when the town is lively yet only filled with locals hanging out.  Also, make sure to visit the famous pastry shop Maria Grammatico offering a variety of mouth-watering sweet delicacies, with Genovese with pistachio filling being the most renowned among all.
How to get there: 23 min drive on the windy road from Trapani, local bus, or funicular ride which brings you to the hilltop.
Where to stay: Appartamenti Liberty. Click here for more accommodation options.
14. Agira-a panoramic hometown of tyrant Agyris
I picked Agira as a base town for visiting Gagliano Castelferrato. However, Agira also made it to the most charming hilltop towns in Sicily list. The town appeared to be just as beautiful and intriguing as other mountain villages in Sicily. 
According to the legend, the village of Agira was founded before the Trojan war by the Greeks in 1194 BC and was originally called Agyrion, with the name derived from the violent Sicilian tyrant Agyris.
To visit Agira prepare for a roller-coaster of characteristically narrow streets running up and down the town. Agira boasts some splendid views of the surrounding mountains and Etna volcano at a far distance. It is also known for a few surprising things:  Arab quarters with significant Middle Eastern art influence, Sicilia Outlet Village of luxury fashion brands, and incredibility yummy Agirian Cassatelle – pastry filled with chocolate and almond mix. 
How to get there: Agira is located one hour drive from Catania. Public bus from Catania.
Where to stay: Casa al Borgo-Agira. Click here for more accommodation options.
15. Grammichele- a hexagonal city of Sicily.
The town of Grammichele is one of the most interesting urban planning examples in Sicily.
After a devastating earthquake in 1963, the old city of Occhiola (ancient Grammichele) was completely destroyed. Prince Carlo Maria Carafa Branciforti, a great polymath and humanitarian, designed a unique new town plan which features a hexagon ("exagonum") layout.
Today this unusual mountain town in Sicily is not only studied by architecture students but is also beloved by aerial photography enthusiasts, including me. I specifically drove to Grammichele to capture a drone shot of the hexagon-shaped city. Since Instagram is already full of Grammichele images from the birds-eye view, I got a little more creative and "planted" a football field in the middle to make it look as if all houses came to watch the game.
How to get there: 1-hour drive from Catania or a 45-minute drive from Ragusa.
Where to stay: A casa di Sciré. Click here for more accommodation options.
16. Monreale- the town of tastiest bread and the most impressive cathedral in Sicily
Just 10 kilometers inland south of Palermo, you will find a pretty little hilltop town of Monreale famous for the tastiest bread in Sicily and for its architectural masterpiece- Monreale Cathedral dating back to the Middle Ages.
Granted UNESCO World Heritage status and considered the finest example of Norman architecture, Monreale Cathedral is adorned with worldwide renowned 130 shimmering Byzantine gold mosaics covering an area of over 6000 square meters. 10 years of scrupulous work of art finished in 1184 depicts the 42 episodes of biblical tales from the creation of man to the Assumption. The mosaics have to be seen to believe- it is incredibly beautiful and you can't wrap your head around it how it is even humanly possible to create something extraordinary like it.
Adjacent to the entrance of the Cathedral equally beautiful is a cloister built in Middle Eastern architectural style. The detailing of the slender 228 columns supporting 26 elegant arches is a fine example of Arab artistry. While a luxuriant garden blooms at the heart of the tranquil courtyard.
While the Cathedral is the main attraction, Monreale town is also very picturesque surrounded by verdant hills, and worth exploring for an hour or two. Make sure to also buy some freshly baked Monreale bread at one of the towns' bakery shops ("panifico")- it is the tastiest bread you will try in Sicily.
How to get there: 25-minute drive down south from Palermo. Public bus 389P runs daily from Palermo Indipendenza Palazzo Reale bus station.
Where to stay: Opera Boutique Rooms. Click here for more accommodation options.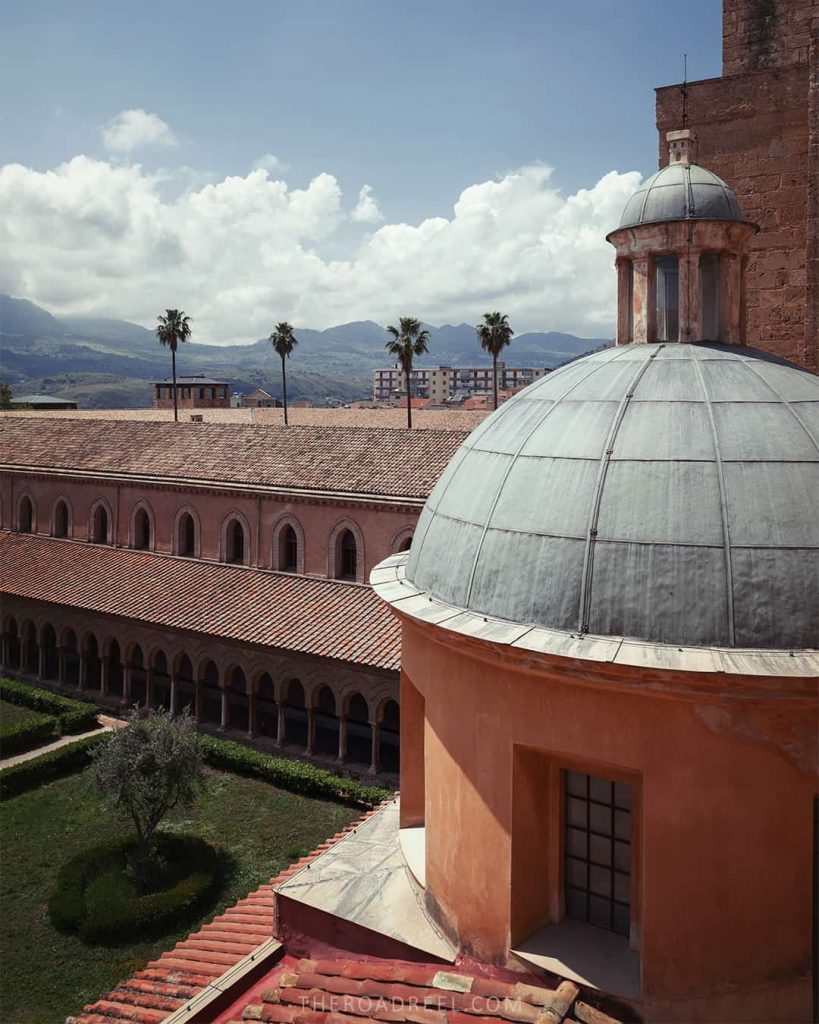 17. Scicli- an underdog of Val di Noto baroque towns
Sharing the same fatal history of the 1963 earthquake and architectural heritage, Scicli is one of the most charming small hilltop villages in Sicily. It is also part of UNESCO-protected Val di Noto baroque towns. Less known than its sister towns Ragusa, Modica, or Noto, but equally beautiful, Scicli is nestled in the gorge surrounded by craggy rock. The town of Scicli features and number of beautiful churches built in exquisite baroque architecture style.
When touring around Val di Noto, make sure to stop at Scicli at least for a couple of hours. I would suggest prioritizing Scicli over Modica as it is more compact and requires a less sweaty uphill walk if visiting on a hot Sicilian afternoon.
How to get there: 40-minute drive from Ragusa, a 50-minute drive from Noto.
Here to stay: Scicli Albergo Diffuso. Click here for more accommodation options.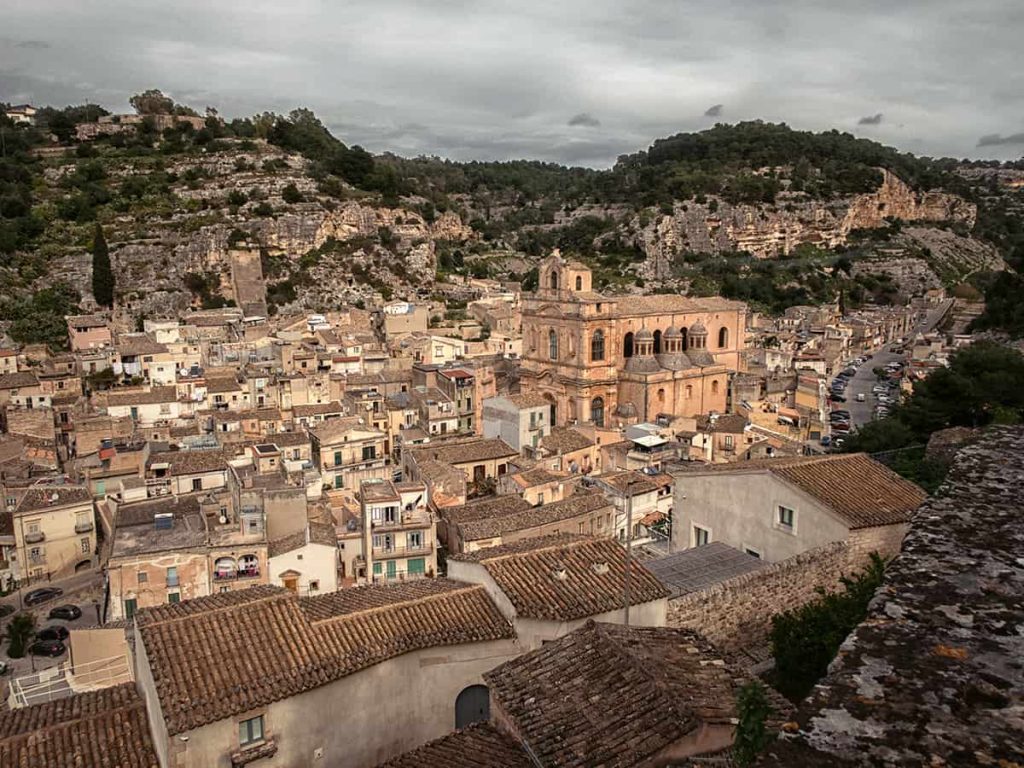 I hope you found some intriguing small mountain towns in Sicily to add to your own itinerary. If you think I should add another beautiful hilltop village in Sicily to this list, please feel free to comment below.
Sicily Travel Essentials
PLAN YOUR SICILY TRIP WITH MY SICILY TRAVEL GUIDES