Are you wondering if it is worth renting a car in Rome to drive to Tuscany? Here I share useful tips on how to rent a car in Rome (airport or city center) for the best prices and my driving in Tuscany experience.
I hired a car in Rome, Italy, and drove from Rome to Tuscany and Umbria several times. My experience of renting a car and driving from Rome to Tuscany was flawless except for that one time when I got a hefty fine for entering a ZTL zone (yes, I learned about it a hard way). Other than that, driving the scenic roads and visiting small villages in the Tuscan countryside was a delight.
That being said, in this practical guide to car rental in Rome, Italy, you will find advice and handy information about where to book cheap car rentals in Rome in advance; where is the best place to pick up your rental car in Rome, what documents you need for driving a rental car in Italy, what is notorious ZTL zone, and other essential trip planning tips to make your journey as smooth as possible.
Disclosure: This post contains affiliate links, which means that I may make a small commission at no extra cost to you if you make a purchase by clicking a link. This helps to keep my blog growing and filling up with detailed honest travel advice for you. 
Renting a car in Rome quick tips and links
For those of you in a rush, here are my main tips for car rental in Rome, Italy
Since you do not need a car to explore Rome, pick up the vehicle only when you are ready to leave Rome and drive to Tuscany (or elsewhere in Italy).
For the best car hire rates, check Discovercars – a car rental comparison website that I personally use to hire a car in Rome and Italy. Make sure to crosscheck with Rentalcars -the biggest car search engine in the market to confirm you are getting the best rate.
You will find the most competitive rates and the largest variety of vehicles at Rome Fiumicino Airport. All major car rental agencies such as Avis, Budget, Europcar, Hertz, SIXT, and Thrifty, as well as popular local companies such as Drivealia and Sicily by Car, have offices there.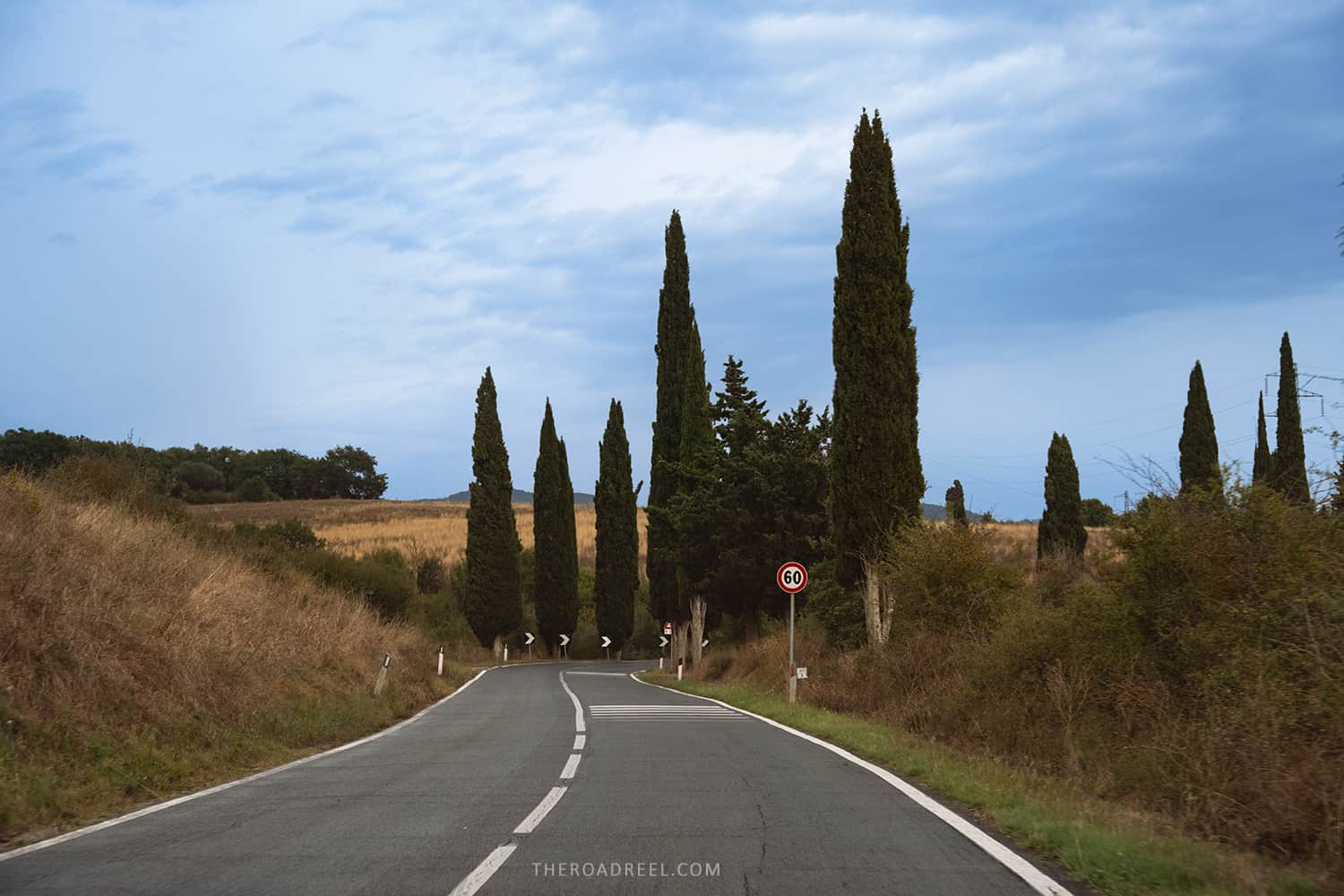 Is it worth renting a car in Rome to drive to Tuscany?
Visiting Tuscany by car is the best way to enjoy the beautiful countryside independently. The freedom of going on a scenic drive through Tuscany, and visiting charming medieval small towns that are not easily accessible by public transportation is priceless.
If you are landing in Italy's capital and not sure if you should rent a car in Rome (or in Tuscany), below are some helpful tips to help you decide.
Should I drive from Rome to Tuscany?
You should rent a car in Rome for your Tuscany road trip if:
you are exploring the countryside and are planning to make stops in smaller towns along the way from Rome to Tuscany. In fact, there are plenty of amazing things to see before you even reach Tuscany (like Viterbo, Vitorichino, Orvieto, Civita di Bagnoregio, to name a few).
You should consider renting a car in Tuscany instead if:
you are heading to Florence first and planning to spend some time there before touring the countryside. Driving in Florence is not recommended, and similarly to Rome, you do not need a car to explore the capital of Tuscany. The same applies to other famous towns of Tuscany such as Pisa and Lucca which are easy to reach by public transport and do not require a car to explore.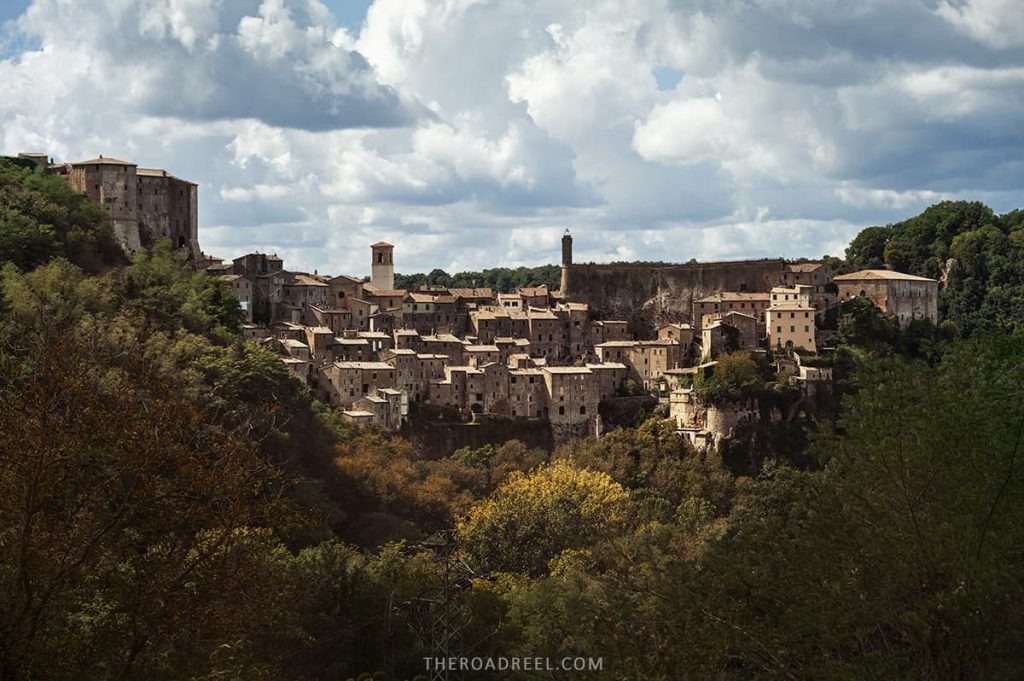 Is it difficult to drive from Rome to Tuscany?
If you are renting a car in Rome Fiumicino Airport, and heading straight to Tuscany, you will not have to drive through the city. This makes driving from Rome to Tuscany easy as you will immediately join a highway. Aim to take the A12 highway after exiting the airport area.
If you are renting a car in Rome Ciampino Airport you will inevitably have to take Roma's ring road A90/E80 (known as GRA-Grande Raccordo Anulare). Be aware that it is known for heavy traffic (until you leave the city).
If you are renting a car in Rome's city center, it might be a slightly different story as the traffic on Roman streets is usually heavy, and you will have to safely find your way out from the city (watch out for ZTL zones, more on that later in the post).
Tip: if you are routed through Roma's ring road and are travelling during peak times (morning 7 AM- 10 AM, afternoon 4 PM- 7 PM), try to either take a slightly longer route that avoids it or allow plenty of time when returning to Roma's airports. The GRA ring road is notorious when it comes to traffic (the highway becomes a parking lot).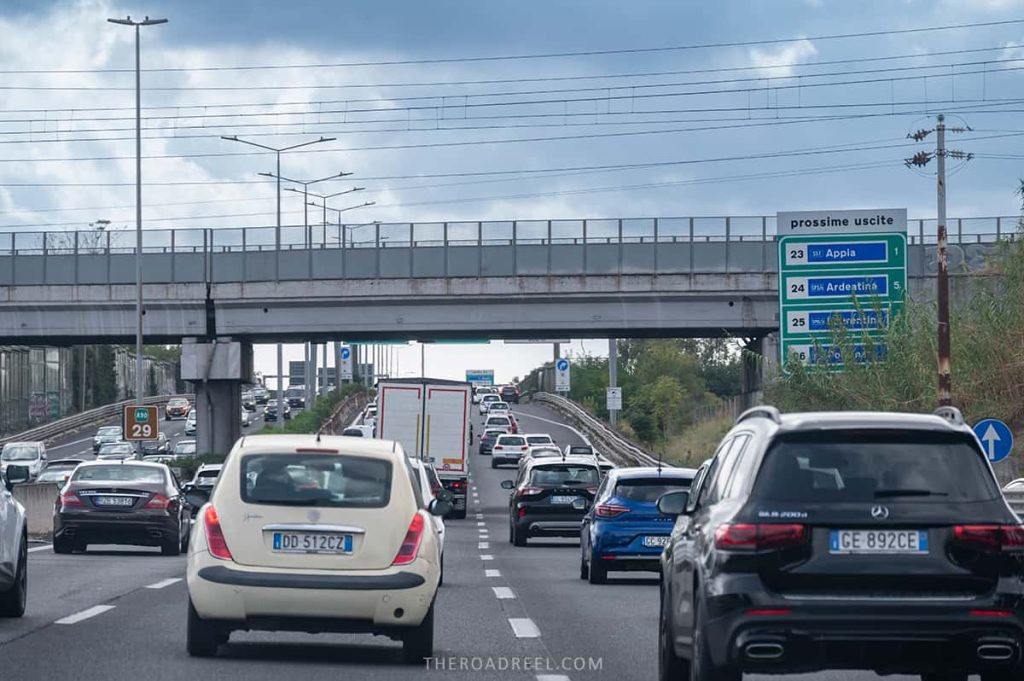 Is driving in Tuscany easy? Is it worth exploring Tuscany by car?
Yes, it is absolutely worth to rent a car to drive in Tuscany's countryside. If you have previously seen those dreamy images of cypress trees lining the Tuscan rolling hills, then you should know that these places are easiest to access by private vehicle.
Moreover, I personally find driving in Tuscany fairly easy. The majority of roads are in good shape, paved, and have two lanes. You will come across some narrow roads that look like one lane although shared with opposite traffic. Nonetheless, those did appear only once or twice on my road trip in Tuscany when Google Maps got confused and took us a bit off the beaten path.
Note, there are winding roads in Tuscany that require more concentration when driving. Nonetheless, those roads are not very steep (they do not come close to anything I have driven in Amalfi Coast or even Calabria).
Furthermore, the traffic on Tuscany countryside roads is light. You may encounter a few trucks every now and then, but not often to make the drive tense or tiring. There were quite many trucks on highways between Rome and Tuscany, but not as many on the regional roads.
Finally, speed limits in the countryside are low (30-60 km/h), and views along scenic Tuscany roads are beautiful. Therefore, allow extra time for your Italian road trip to enjoy the ride slowly.
Where to book your rental car in Rome for your Tuscany road trip?
Although you can hire a car in Rome airport upon arrival from one of the agency desks, or directly in the offices in the city center, the best practice to rent a car at a much better rate is by reserving it through a car comparison website. Also, when booking in advance you are guaranteed to get the vehicle you need and for the best rate available.  
I personally use Discovercars to book rental cars in Italy and Europe. I always find the best deals on this particular car search website.
However, before making a reservation payment, I also crosscheck with Rentalcars to see if I am getting the best deal. Rentalcars is the biggest car search aggregator on the market (yet their prices tend to be higher lately). Rentalscars used to be my go-to website before I started using Discovercars.
Nonetheless, both websites provide a similarly easy booking experience with an intuitive user interface.
Why I like using Discovercars to rent a car not only in Rome but also elsewhere in Italy:
Car rental rates are the lowest in the market with a wide choice of suppliers and vehicles.
You can book a car from well-known international brands such as Hertz, SIXT, Europcar, Budget, Dollar, Avis, Greenmotion, etc., or go with local suppliers that usually have great deals. For example, Drivalia or Sicily by Car are popular agencies.
Car rental prices are always lower when booking through Discovercars than when booking directly through a specific agency.
Free booking cancelation of up to 48 hours to the rental date (refunded in reusable credit, or cash upon request).
Reasonably priced full-insurance (excess insurance) add-on (offered as an option when booking online).
You can also filter out suppliers that do not require a deposit to book a car.
The best place to pick up a rental car in Rome, Italy
Renting a car at Rome Airport
There are two airports in Rome and you are likely to rent a car from one of them- Rome Fiumicino (FCO) (also known as Aeroporto di Roma-Fiumicino "Leonardo da Vinci") or Rome Ciampino (CIA) airport. Renting a car in Rome airports is convenient, especially if you are starting your road trip to Tuscany or elsewhere in Italy immediately.
Also, it is easy to hire a car in either of Rome's airports. However, Rome Fiumicino Airport has the largest number of rental agencies that offer the most competitive rates and the largest variety of vehicles in the city.
A list of popular car hire companies in Rome Fiumicino Airport:
Alamo, Avis, Budget, Centauro, Dollar, Drivalia, Enterprise, Europcar, Goldcar, GreenMotion, Hertz, Italy Car Rent, Locauto, Maggiore, Noleggiare, SIXT, Sicily by Car, Thrifty.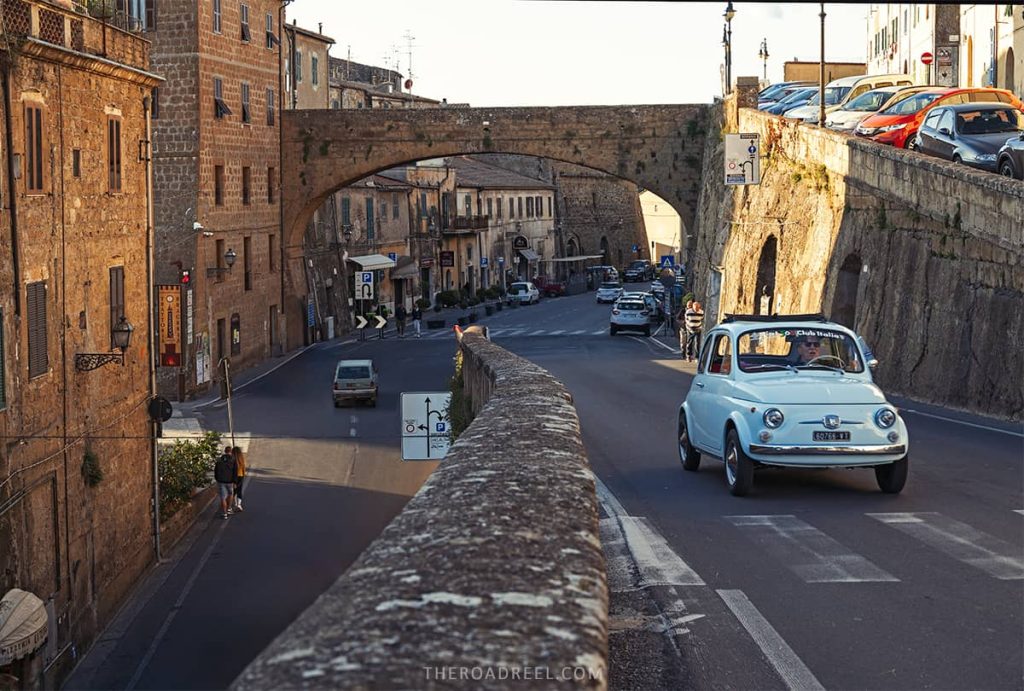 Renting a car in Rome Termini or the city center
You can also pick up your rental car at Rome Termini station (main train and bus station) or Rome Downtown. If you start your Italy trip by exploring Rome first, these locations might be a great option for you as you will not have to travel back to the airport. Yet, make sure to compare car rental prices in Rome Airport versus central Rome to see if the difference in rate is insignificant. Sometimes it might turn out that taking a train to Rome's airport is worth it if the car rental rate is significantly lower.
Good to know: a fast-speed Leonardo express train from Rome Termini to Rome Fiumicino Airport costs 14 EUR per person (the journey takes 32 min), while a slower regional train is 8 EUR per person (the journey takes 50 min). You can book your train tickets in advance with Omio.
You can compare the car hire rates on Discover Cars by choosing Rome Fiumicino Airport, Rome Termini station, or Rome Downtown as a pick-up location.
How much does it cost to rent a car in Rome?
Car rental prices in Rome, Italy are in fact very affordable and some of the lowest in Italy. I found out that renting a car at Rome Fiumicino Airport is significantly cheaper than renting a car at Naples Airport, for example. Moreover, if you are not travelling during the summer months, you can get a bargain deal for car rentals in Rome not only at the airport but also in Rome Downtown (which is often a more expensive location to hire a car at).
The last time I rented a car in Rome's airport, I paid 12 EUR a day for 20 days rental (I got a small FIAT Panda with 5 doors).
Nonetheless, even during the high season – late spring, summer, and early autumn you will find reasonable prices and can expect to pay on average 25 EUR per day for a rental car in Rome when booking a small-size vehicle for at least 7 days.
*Note: in Italy, manual transmission cars are usually around 20% cheaper than automatic transmission cars.
Cheap car rental at Rome Fiumicino airport
As mentioned above, Rome Fiumicino Airport has by far the most competitive rates, and you can find bargain deals as there are so many car hire agencies.
Book early to secure a vehicle you need for the best rate if you are travelling in summer
May to September, with the peak months of June, July, and especially August are the most popular times to travel in Italy. Hence, cars get booked out fast. Make sure to book your car in Rome early. Ideally, at least a month before your trip or even earlier if you already know your plans.
Tip: you do not have to book a half-year ahead. I noticed that car rental prices displayed for periods that are half to one year ahead are usually higher. The prices tend to adjust and decrease a few months before the booking date rather than a year (I do not know the reason for that, it is just observation).
With both Discover Cars and Rentalcars you have 48 hours free cancelation policy in case your plans change.
 Full insurance- is it worth it?
When hiring a car to drive in Italy, I always purchase full insurance (also called excess insurance).
By default, the insurance that is already included in the rental price is called CDW (Collision Damage Waiver). When you only have CDW insurance there is a deductible amount that you would have to pay in case of an accident. The deductible ranges significantly from company to company and starts at around 1000 EUR and can go up to 2000 EUR or even more.
Good to know: CDW only covers the bodywork of the car and DOES NOT cover flat tires, cracked windshields, damaged headlights, lost keys, towing, engine, underbody, and roof.
To be fully protected, you can obtain Full Coverage (Excess Insurance) which waives the deductible amount.
However, I do not recommend buying Excess Insurance over the counter through a car rental company as it is usually very expensive (starting at 20 EUR per day).
You have two options for affordable full insurance:
If you are booking with Discovercars, they have a reasonably priced full coverage which costs around 5-7 EUR per day.
You can also use an independent excess insurance provider such as Worldwideinsure or Rentalcover. I personally use Worldwideinsure and purchase a yearly policy since it comes as the best-priced option for multiple trips. However, I have never had to claim, therefore I cannot comment on how good this third-party insurance is.
If you are a United States citizen, check if your credit card company has rental car excess insurance included.
What documents do I need to rent a car in Rome, Italy
These are the documents you need to hire a car in Rome, Italy:
A valid driving license that has been issued more than a year before the rental date (in rare occasions, a company may require a license that is older than 2 years). If your driving license is recently renewed, carry the old one to prove your driving experience. 
An International Driving Permit (IDP) will be required if: a) the driver's license is issued outside the EU; b) the driver's license is printed in non-Latin alphabet.
IDP MUST be accompanied by the ORIGINAL driving license;
A credit card (or debit card if the supplier accepts it) on the main driver's name (some rental companies require a credit card to be valid 3 months after drop off, make sure to check rental conditions).
Passport or ID card;
Car booking voucher.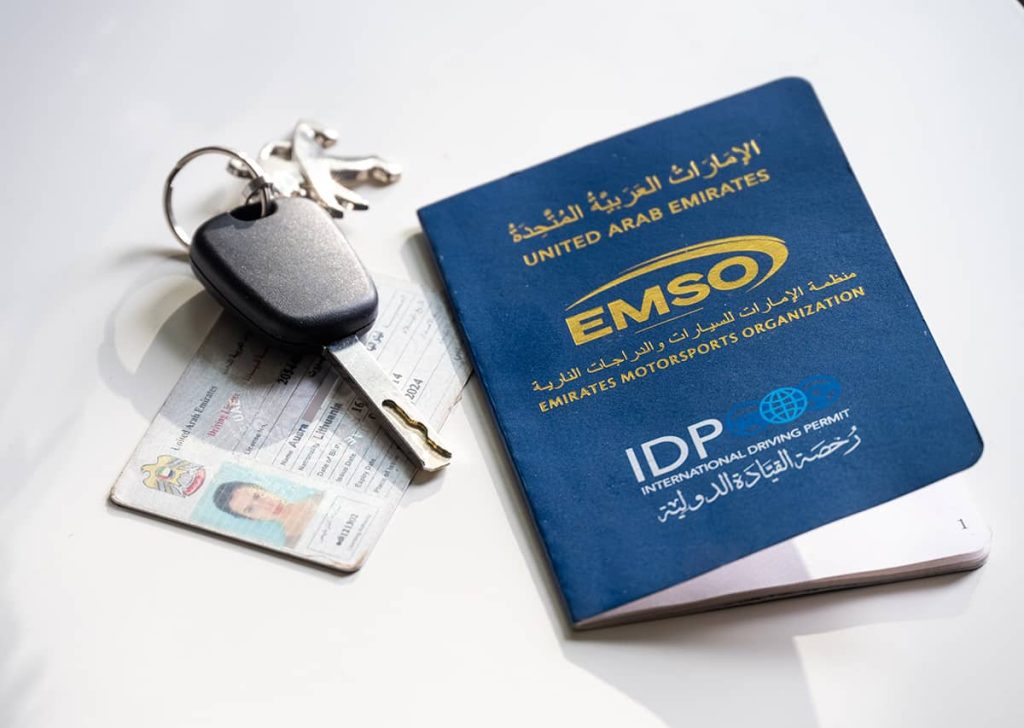 Renting a car in Rome without a credit card (debit cards and zero deposits)
It is possible to hire a car in Rome without a credit card. Although it will be more expensive to rent a car with a debit card, the good news is that in Rome the price difference is not massive.
On Discovercars website filter "Payment card at pick-up" to debit cards. For example, Centauro, Alamo, Locauto, SIXT are a few agencies that accept debit cards.
Another useful feature is "zero deposit" cars. For example, Locauto does not require a deposit to be blocked on your card. Therefore, if you do not have enough limit on your credit card for a refundable deposit (which may be 500 EUR to 1500 EUR), this is a great option when booking a car in Rome.
What type of car to hire in Rome for driving in Tuscany?
The best car for driving in Tuscany and Italy, in general, is a small car that would fit all the passengers and their luggage. Roads in the countryside of Tuscany are not the most narrow I have seen. However, if you venture into old towns, driving becomes slightly trickier. Moreover, parking spaces are usually tight. Therefore, having a smaller vehicle is always more convenient.
A big SUV perhaps is not the best idea for driving in Tuscany and Italy. Once I had to rent a bigger car (a small SUV type of vehicle) that could fit a bike box inside. I have to admit that driving that car on the Tuscan and Umbrian roads was slightly challenging.
Thus, if you do not have bulky luggage, pick a FIAT500, a Fiat Panda, or similar that is perfect for driving Tuscany roads.
Renting a car in Rome, Italy Manual vs Automatic
Manual transmission cars are still more common than automatic cars in Italy. Manual cars also cost around 20% less. If you know how to drive a manual transmission, fantastic. Otherwise, make sure to filter to "automatic" option when searching for a vehicle on a car booking site.
Electric cars
Usage of electric cars in Italy is rapidly increasing. It is highly encouraged even by the rental agencies. You can filter electric cars on Discovercars. Electric vehicles are perfect if you plan short day trips from the city. However, they might not be suitable if you are planning on visiting very remote locations where charging stations are not yet available.
I noticed that in Lazio, the region of Rome, electric cars are more popular than in South Italy, for example. I personally never rented an electric car as I am not familiar with the charging procedure or how convenient it would be but as far as I know, it is more economical than petrol-run cars, and rental rates are also very favorable.
Good to know: electric cars are not only environmentally friendly but also allowed to enter restricted traffic areas in Sicily and Italy- ZTL zones (must double check with specific towns to be sure, as rules vary across municipalities), and can benefit from free parking! Moreover Enel X charging points are completely free.
How to choose a reliable car hire company in Rome, Italy
With so many car rental agencies to choose from, how do you pick the best one? I always see many stories that revolve around renting a car and being charged for the slightest scratch. The other common complaint is that a credit card is not accepted and customers are forced into buying expensive full insurance over the counter (a condition to rent a car without a credit card that many companies apply).
While there is always a slight chance for hiccups when renting a car, the best approach when choosing a car hire company is to go for the highest-rated ones. Also, do a little bit of homework and read reviews on Google for a specific location. For example, if you rent a car in Rome Termini station from Hertz, read what people have to say about their experience in that particular branch.
My experience of renting cars in Rome Fiumicino Airport, Italy
I rented cars in Rome several times. I used Drivalia once and Greenmotion twice so far.
Drivalia is conveniently located inside Rome Fiumicino airport. To be served at the rental desk you have to take the ticket from the ticket machine and wait for your assigned number to be called (similar to a bank). There were only a couple of people before us, so we had to wait for around 10 minutes in a queue for our turn. In the next 10 minutes, our contract was processed and we were ready to pick up the car from the nearby covered garage (also located in the territory of the airport). The overall time it took to collect a rental car was approximately 30-40 minutes (until we were out of the airport). The return was extremely fast, maybe 5 to 10 minutes.
Greenmotion is located outside the Rome Fiumicino Airport. You have to call the car rental agency to send a shuttle bus for you. We waited for the shuttle bus for around 10-15 minutes at Terminal 3. At the rental desk, which is located in the outdoor parking lot, we were served by a friendly lady. She was the only person working at the office desk, but very fast and efficient. Moreover, she was also very kind and made sure all the scratches on the car were marked carefully so we didn't have any issues upon return. In less than one hour we had our car loaded with suitcases and ready to go. Upon return, the same lady received a car and even helped me with putting the luggage inside the shuttle bus. As far as I remember, this was the best customer service received from a car rental agency.
Based on my personal experience, I can recommend both Drivalia and Greenmotion as your car rental agencies when booking a car at Rome Fiumicino airport. I booked my rental car in Rome through Discovercars as the rates offered were better than booking directly through the above-mentioned agencies.
Other important things to pay attention to when renting a car in Rome, Italy
Here is a checklist of the things to pay attention to when renting a car in Rome, Italy.
Refundable security deposit– it varies greatly from company to company. Can be as low as 500 EUR and as high as 1500 EUR (sometimes even more). Make sure you have enough funds on your credit card.
Deductible amount – a maximum amount of $ you would be obliged to pay from your pocket in case of an accident. This amount is usually equal to the security deposit amount.
Check if you are booking a manual transmission or automatic car.
Take note if it is petrol or diesel so you know what to fill up the tank with.
Pick up and drop off the car during the rental desk business hours to avoid additional charges.
Note what is the grace period to pick up and return your car in case you are late. Some companies are quite strict and if you are late to return, they may charge you for another day.
Check the mileage policy- unlimited mileage is preferable. Unlike in Oman and UAE, where they have mileage limits, in Italy and most of Europe it is usually unlimited.
Check fuel policy– do you have to return the full tank or the same amount as you have received when picking up the vehicle?
Young driver's age– check the minimum age and the age brackets of the young driver as all companies charge additional fees for a newbie driver.
Note that on Discovercars website, all those points are listed under the Rental Conditions tab.
Picking up your rental car at Rome Fiumicino Airport
In this section of the article, I share practical tips based on my personal experience on how to pick up a rental car at Rome Fiumicino Airport.
Before booking your car at Rome Fiumicino Airport, you should be aware that some of the agencies are located inside the airport, within walking distance from Terminal 3 (reachable in a few minutes through a covered passageway). Meanwhile, the others have offices outside the Airport, but provide free shuttle bus service. The drive takes around 10 minutes.
I rented cars both in the terminal and outside the terminal. The difference is that cheaper car rental agencies (Greenmotion, Centauro, etc) are located outside the terminal, while pricier ones (big international names like Sixt, Hertz, etc, as well as some well-known Italian brands like Drivalia and Sicily by Car) are in the Airport area.
Picking up your rental car from the terminal
Car rental agencies inside the airport are located in Tower 2 (Torre Uffici 2). When you leave the terminal, follow directions to the "sala autonoleggi" – "rent a car". Rental desks can be reached by crossing a pedestrian bridge (covered passageway) which is located between Terminal 1 and Terminal 3 (within walking distance).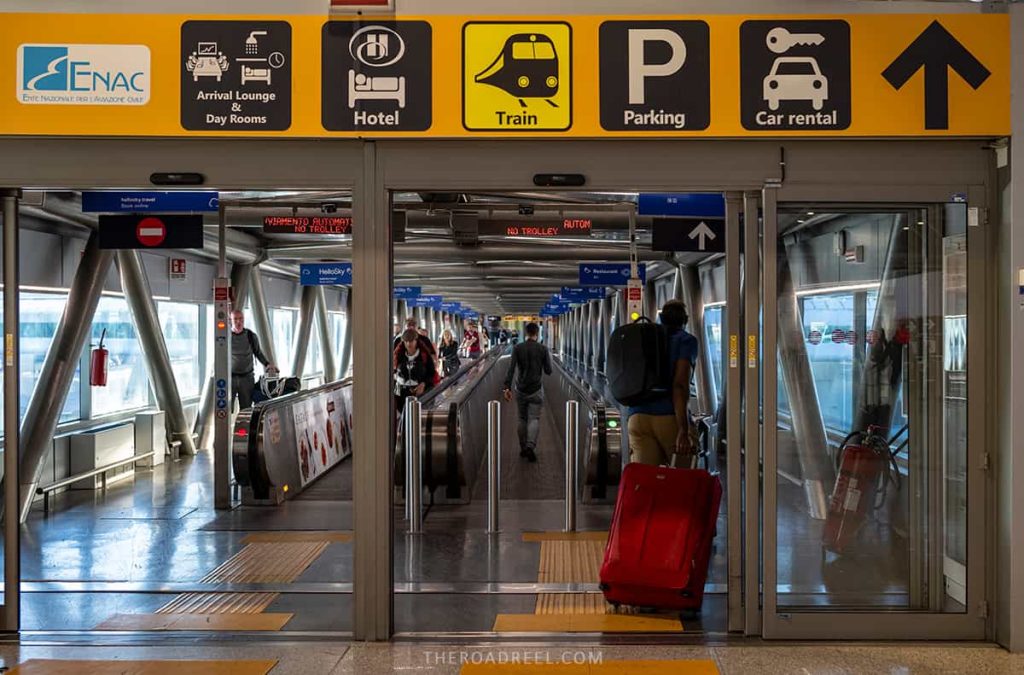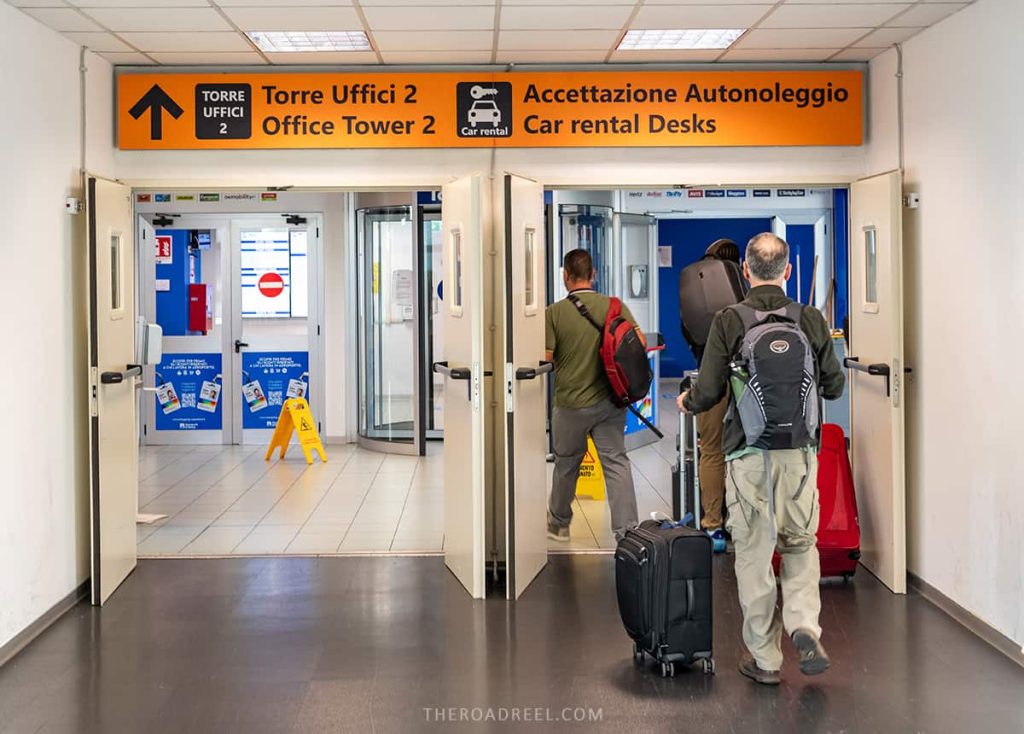 Once you locate your car rental agency (there is one semi-circular hall with all the desks lined up), before joining the line (if there is one), you may have to get a ticket (similar system as in banks) and wait for your number to be called. After processing your booking, the car rental agent will direct you to the car park where you have to collect your rental car from.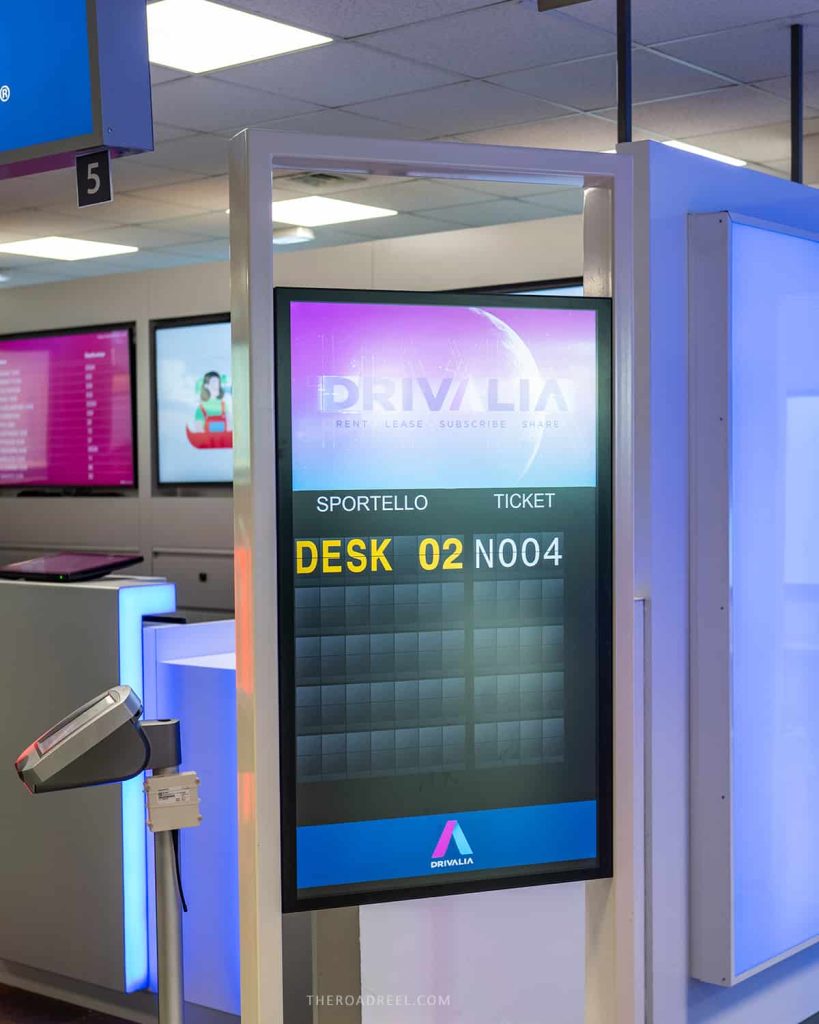 Follow the signs to Parcheggio (Car Park), and pay attention to the car park numbers (there are car parks A, B, C, and D). Inside the covered parking lot, you will find the other small office of your agency. You have to show your car rental agreement and collect the car keys from them. Moreover, you will also be handed paperwork that marks existing scratches on your rental car. Inspect those thoroughly, and if you find some other bigger marks not indicated on the paper, make sure the agent marks them before you head out.
On the way out of the parking, you may have to drive the steep ramps with sharp turns between the floors- something to watch out for if you, like us, rented a bigger car.
Once you get out of the covered parking, follow "uscita" signs and leave the gated area (the gate opens automatically). Set your navigation beforehand to direct you on the correct road. We took a highway A12 from Rome to Tuscany.
You will drive out to the right on Via Francesco Aurelio di Bella, in a few hundred meters you will make a U-turn, then stick to the right to drive on Via Luigi Bleriot which will merge with aurostrada Roma-Fiumicino airport A91. We continued on A12 Civitavechia-Roma highway instead of taking the infamous A90 ring road. It added 10-15 minutes to our driving route but we avoided traffic (which could have been longer).
Picking up your rental car in Rome from outside the terminal
If your car rental agent is located outside the Rome Fiumicino airport, they will provide a free shuttle bus service. On Discovercars voucher you will find clear instructions on where the shuttle bus is located. In some cases, the agency will request you to call, text, or WhatsApp them to inform them that you have arrived and only then they will send a shuttle bus to pick you up. This process can take up to 30 minutes in total until you reach their rental desk. Note that rental desks are located in the outdoor parking lot around 10 minute's drive from the airport.
How do you return a car to Rome Fiumicino airport?
Returning the rental car in Rome to the agency located inside the airport
I thought returning the rental car to Rome Fiumicino airport should be straightforward, however, with many street signs on display and multiple lanes leading to different directions, I overlooked the entrance to car rental parking. Therefore, here are some useful tips for returning the car back to the car rental garage:
You will arrive back at Fiumicino airport on an A91 highway. When exiting the highway, stick to the left lane and look out for the overhead road signs that say the following: "Arrivi/Arrivals", P breve sosta/short stay,  P terminal A B C D, and autonelegio car rental. Do not drive to Departures (that's the mistake I made).
Stick to the left lane and follow signs for autonolegio and short term parking. When you approach the parking area look for you parking garage that you picked the car from (A, B, C or D). There will be clear signs to direct you.
The entrance to the parking is gated, and you have to get a ticket which you will use later to enter your car rental agency's parking lot (make sure you remember which floor the rental agency is located at, otherwise there are signboards indicating that).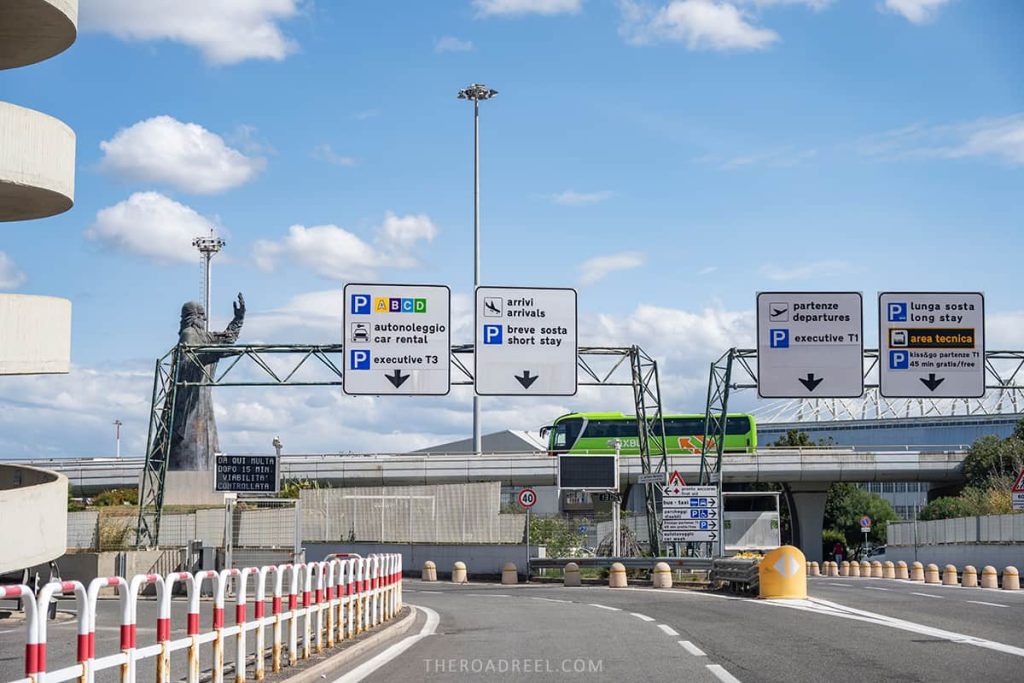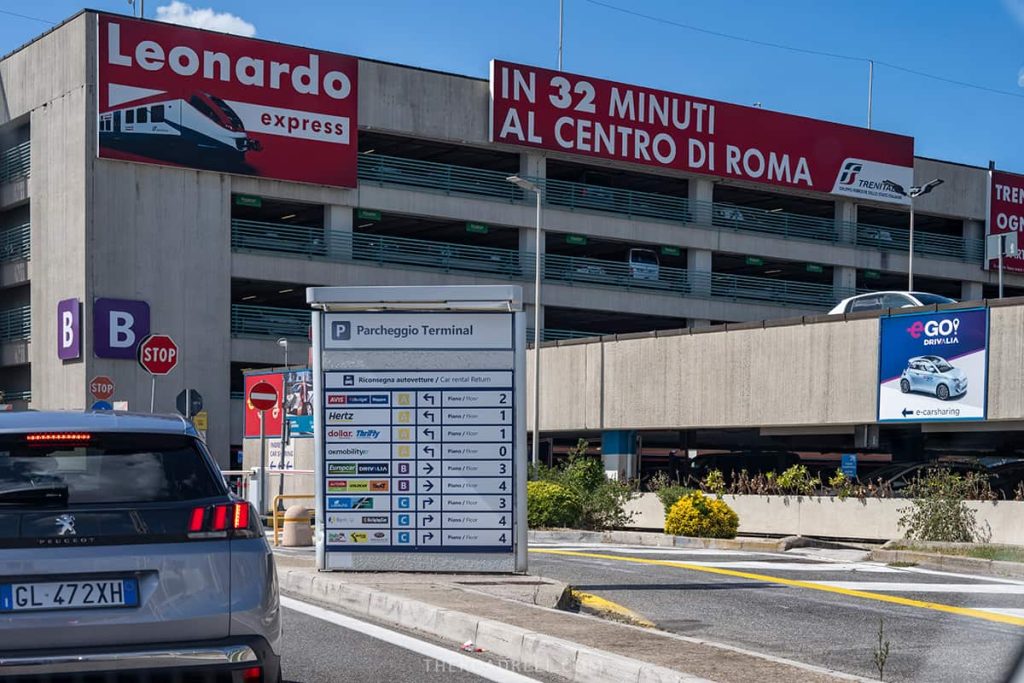 Upon return, the agent will inspect your car and sign off the contract if everything is in order. Keep that paperwork, in case there is any delay in returning your security deposit.
Returning your rental car to the agency located outside the Rome Fiumicino airport
You will have to return your rental car to the same parking lot you picked up your rental car from. Make sure you have your navigation set to the correct address, and preferably have data on your phone. Once I made the mistake of pre-loading maps (not saving them as offline maps) and got lost as Google Maps would not direct me back on track.
Also, make sure to allow enough time to return your car as you still have to take a shuttle bus back to the terminal.
Picking up a rental car in Rome and dropping it off in Florence (or elsewhere) in Italy
You have an option to pick up your rental car in Rome and return it to a different location, for example, Florence. It is a very convenient service for those of you who have flights from different destinations. However, a one-way fee will be applied, the amount of which depends on the distance between pick-up and drop-off locations.
If you are flying in and out of Rome, it is more economical to pick up and return the car to the same place to save on the one-way fees.
FAQ for renting a car in Rome
Can tourists drive in Rome?
Tourists can rent a car and drive in Rome. Make sure you have all the required documents (including An International Driving Permit if you are an American, Canadian, Australian, or non-EU resident holding a license issued by a non-EU country).
Can I rent a car in Italy without international driving license?
You do not need International Driving License (Permit) only if your driving license is issued by one of the EU countries (it means you are either a citizen or a resident in the EU). In other cases you will need an IDP. For example, I am a Lithuanian citizen but my driving license is issued in the United Arab Emirates. Therefore, I am still required to show a valid International Driving Permit alongside my original driving license to rent a car in Italy.
Toll roads in Tuscany
There are quite a few toll roads between Rome and Tuscany. However, those are the highways. When driving in Tuscany, you can select no tolls road on Google Maps. Those are regional roads Strada Statale (SS) or Strada Provinciale (SP).
If you have to use a toll road when driving from Rome to Tuscany (chances are it might be unavoidable for some sections), make sure you have some change in coins. Nonetheless, cards are almost always accepted at automated toll booths. When approaching a toll gate, choose the one that has a sign picturing coins and credit cards. Avoid the ones with a yellow board and a T letter referring to Telepass (a prepaid card used by locals).
What are ZTL zones?
To end our guide for renting a car in Rome to drive in Tuscany, here is some very important information on ZTL (Zona Traffico Limitato- a limited traffic zone), so you do not drive into one of them accidentally.
ZTL zones are restricted traffic areas that can only be entered by permit holders (usually those holders are residents). ZTLs are marked with a road sign of a white circle with a red outline. ZTL zone is often monitored by cameras that record a vehicle plate number when driving into the ZTL zone.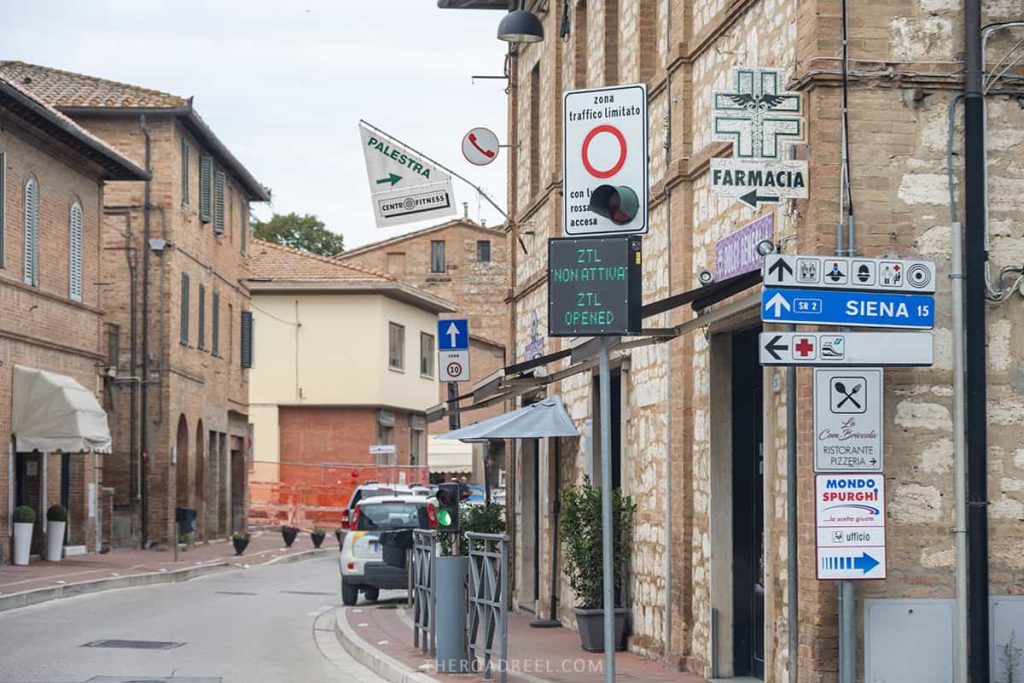 I learned about ZTL the hard way when I drove into the old town of Orvieto (a town in Umbria) twice and received a few hundred euros fine later. That is when I found out about what ZTL is.
ZTLs are typically located in historic centers. These zones are very common in small Italian towns in Tuscany as well as in Rome.
Note that Google Maps will not warn you about the ZTL zones, and you must always look out for ZTL signs. When planning your route in Tuscany, you can double-check for updated ZTL zones here.
Top 5 tips for renting a car in Rome, Italy
Here are the main takeaways and tips for renting a car in Rome to drive in Tuscany:
You do not need a car to visit Rome. Therefore, pick up your rental car when you are ready to drive to Tuscany.
Book and pick up your rental car at Rome Fiumicino Airport – it is cheaper and very convenient if you are landing there and starting your Tuscan road trip immediately.
You can find the best rates to rent a car in Rome on Discovercars website. Also, it is worth cross-checking with Rentalcars.
Driving in Tuscany is pleasant and fairly easy. Also, it is the best way to explore this popular region off-the-beaten path. You will be able to easily visit small medieval towns such as San Gimignano, Sorano, Pitigliano and drive through the beautiful Tuscan countryside.
Make sure to rent a small vehicle to easily drive narrow streets and find suitable parking.
I hope you found these car rental in Rome tips useful! Also, make sure to check my other related posts listed below to help you plan your Rome to Tuscany trip.
I hope you are enjoying my free travel guides & tips. You may support my work by using any of the affiliate links on this post to plan your own trip at no extra cost to you, or just buy me a coffee so I can continue creating more useful content from my favorite coffee shop in town. Thanks!
More Italy Travel Guides
Italy travel resources
Here are links to essential travel resources and services I always use when organizing my trips.