Landing in Sicily, and planning on renting a car in Palermo Airport or the city center for a road trip? Also, wondering what is driving in Palermo like. This post will walk you through all the practical tips on how to rent a car in Palermo, insights on driving, and advice on parking in Palermo.
Renting a car and driving in Sicily is the best way to explore the island. Hence, when I am visiting Sicily, I prefer to hire a car in Palermo, Catania, or Trapani (depending on where I land). Based on my experience of multiple visits to Sicily, I share some handy tips for Palermo car rental.
In this Palermo rental car guide you will find:
Where to find cheap car rental in Palermo, Sicily.
What to be aware of when hiring a car in Palermo (including choosing the best car rental in Palermo, Sicily).
Required documents to hire a car in Palermo.
Car hire in Palermo money-saving tips.
Tips for driving in Palermo and parking in the city, and other useful practicalities.
For those of you in a rush, here are my main 2 tips for car rental in Palermo, Sicily
You do not need a car to visit Palermo. Thus, you may consider picking up your vehicle once you are ready to leave Palermo and head on a road trip.
For the best car hire rates, check Discovercars – a car rental comparison website that I use to hire a car in Sicily and Italy. You will certainly find very competitive rates and a variety of suppliers: from major ones such as Avis, Budget, Europcar, Hertz, SIXT, and Thrifty, as well as very local companies such as Sicily by Car. Make sure to also crosscheck with Rentalcars -the biggest car search engine in the market to confirm you are getting the best rate.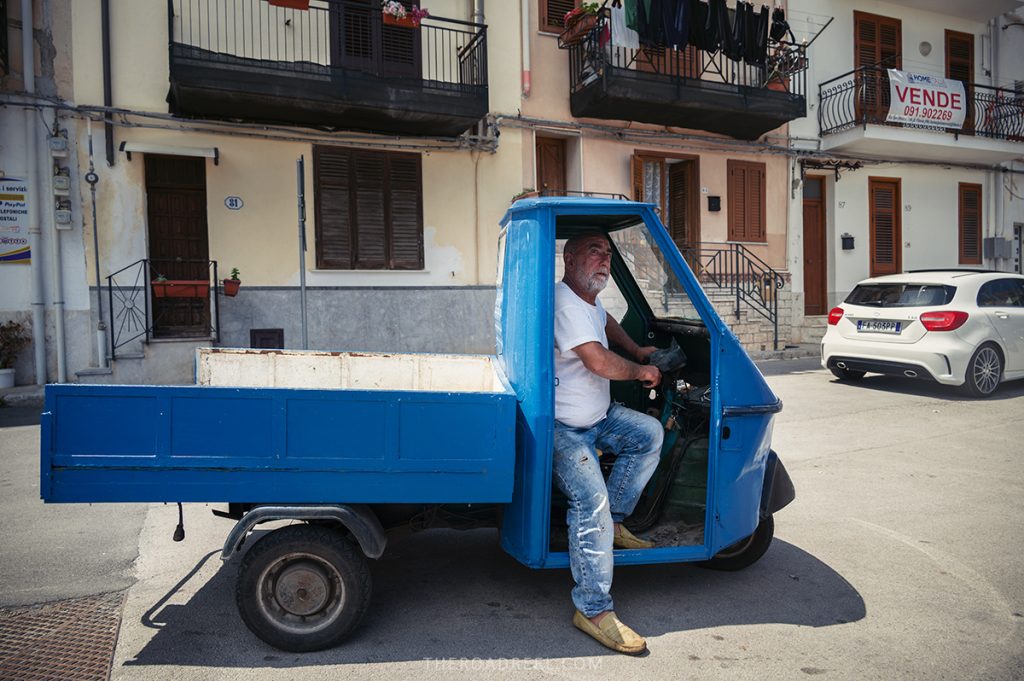 Disclaimer: This Rent a Car in Catania post contains affiliate links, which means that I may earn a commission if you make a purchase by clicking a link (at no extra cost to you). This helps to keep my blog running and growing by creating more awesome free content for you.
Renting a car in Palermo: everything you need to know
1. Should you rent a car in Palermo?
The decision whether or not you should be renting a car in Palermo depends on your travel plans. Below are the tips that will help you decide if you should hire a car in Palermo, Sicily:
Do not rent a car in Palermo if:
You are only visiting the city which is perfectly walkable. You can also use public transport or a taxi to move around the city if needed.
You might not need to drive in Palermo if you are planning on visiting only nearby destinations or towns that are easily accessible by public transport (trains or buses). Those include the popular coastal town Cefalu, Monreale Cathedral, and Mondello Beach, as well as bigger towns Messina, Catania, and Trapani.
You should rent a car in Palermo if:
You are planning to venture to off-the-beaten-path destinations in Sicily. Smaller coastal towns and remote mountain villages are difficult to reach by public transport. You must have unlimited time to move around those places without a car.
Also, if you prefer being independent of fixed public transport schedules (even for more popular towns in Sicily).
If you are traveling in a group of 2 or more, renting a vehicle might be more economical than buying single tickets for each traveler.
If you are planning to explore mainland Italy, it is very easy to jump on a ferry even with a car. Visiting Calabria is also easier when you have your own wheels.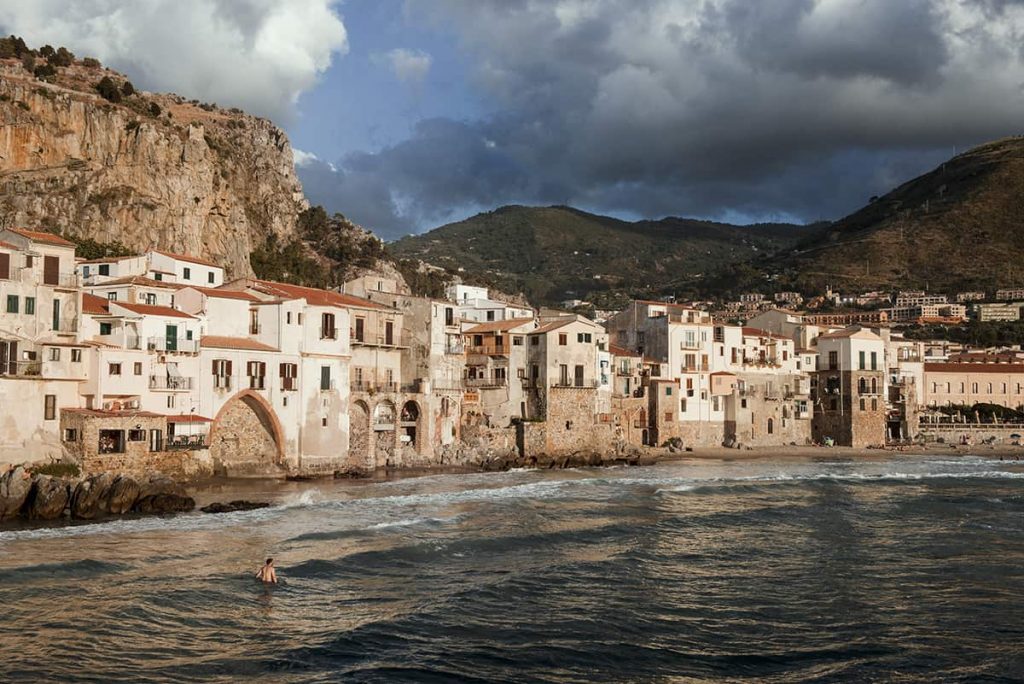 2. Should I be driving in Palermo or not?
Palermo, the capital of Sicily, is the largest city on the island and has a bit of a reputation for having some of the worst traffic in the country. Add a reckless driving style Sicily is known for, and you have an answer to why you should avoid driving in Palermo.
Based on my experience of driving a rental car in Palermo, however, I can say that it is not as bad as it is driving in Naples, or Amalfi Coast (the two worst places I have driven in Italy so far). When I was visiting Palermo, my challenge was not the hectic traffic but a confusing network of roads. Google Maps took me to the wrong places, against the traffic, and some serious narrow unpaved backroads.
Once I figured out how to reach my accommodation in Palermo, I parked my rental car and did not touch it during our two days in Palermo.
That being said, you do not need a car to explore the main attractions of Palermo and might be better off picking up your rental car once you are ready to leave the city. Unless you are also planning to do day trips from Palermo. In this case, driving in Palermo would make sense.
READ MORE: find out what it is like to drive in Sicily– my in-depth guide will give you some confidence and assurance that it is not all that bad, yet some things need to be taken into consideration before hitting the road.
3. Where to pick up your car hire in Palermo, Sicily?
Renting a car at Palermo Airport
It is easy to hire a car at Palermo Airport (PMO), also known as Falcone-Borsellino. It is the most convenient place to rent a car, especially if you are starting your road trip immediately.
Moreover, hiring a car at Palermo airport is cheaper than in the city center (even with airport surcharges applied for rental cars). That said, if you are visiting the city of Palermo, you may find it to be more economical to come back to Palermo Airport and pick up your rental car from there. Especially if you are spending two or more nights in the capital of Sicily, picking up your rental car at Palermo Airport will justify the time of commuting.
Also, Palermo Airport has a wider range of car rental companies to choose from than the downtown.
Tip: You can easily compare the rates by searching All locations in Palermo on Discovercars. You will see the lowest price for car rental in Palermo airport vs non-airport displayed (see image below).
However, if you are only spending a night in Palermo, I would recommend picking up your hire car at Palermo Airport as soon as you land. That means you will have to drive to the city and park. Nonetheless, taking into consideration that you need an hour to get from Palermo to the airport by public transport (unlike only 30 minutes in Catania), driving in Palermo is worth the hassle.
Tip: if you are staying in Palermo with your rental car, make sure to book accommodation that has (free) parking included.
A list of car hire companies in Palermo Airport (not a full list): Alamo, Avis, Budget, Car Motion Italy, Dollar, Drivalia, Easycarhire, Enterprise, Europcar, Goldcar, GreenMotion, Hertz, Italy Car Rent, Locauto, Maggiore, Nolerggiare, SIXT, Sicily by Car, Thrifty, Viaggiare.
How to get from Palermo city center to Palermo airport
Palermo airport is located 35 kilometers from the city center and takes around 40 minutes to 1 hour to get between the two. You have a couple of public transport options:
Train between Palermo Airport and Palermo Centrale station runs twice an hour from 5:20 to 00:25. Journey takes between 40 minutes to 1 hour depending on the number of stops along the way. You can book your train tickets online with Omio, the ticket price is 6 EUR one way for adults.
Bus– Prestia e Comande operates bus services every 30 minutes connecting the airport to the Palermo central station. The journey takes 50 minutes (subject to traffic). Departures from Palermo Central Station start at 3:30 in the morning and finish at 21:30 (last bus). The ticket costs 5 EUR one way and can be also purchased online. If you miss the bus, you can use the other one on the same day.
Taxi– the costliest option- you will pay 35-45 EUR for the journey from Palermo to the airport.
Good to know: Palermo airport is located in the small coastal town of Cinisi.
Renting a car in Palermo city center
You can also pick up your rental car in Palermo city center. The rental cost in downtown Palermo will most likely be higher than in the airport (you can check on Discovercars by choosing Downtown Palermo as a pick-up location).
Also, you will have to do some driving through the city. That said, be aware not to enter ZTL zone (refer to more info about ZTL zone in Palermo at the end of the post).
READ MORE: Plan your road trip itinerary with my 2-week in Sicily road trip itinerary planner.
4. Cheap car rental in Palermo: where to book your ride
Although you can hire a car in Palermo airport upon arrival from one of the agency desks, or in the city center, the best practice to rent a car at a much better rate is by reserving it through a car comparison website. Also, by booking in advance you are guaranteed to get the vehicle you need and for the best rate available.  
I personally use Discovercars to book rental cars in Italy. I always find the best deals on this particular car search website.
Before making a reservation payment, I also crosscheck with Rentalcars to see if I am getting the best deal. Rentalcars is the biggest car search aggregator on the market (yet their prices tend to be higher lately). Rentalscars used to be my go-to website before I started using Discovercars.
Nonetheless, both websites provide a similarly easy booking experience with an intuitive user interface.
Why I like using Discovercars to rent a car not only in Palermo, but also elsewhere in Italy:
Car rental rates are the lowest in the market with a wide choice of suppliers and vehicles.
You can pick a car from well-known international brands such as Hertz, SIXT, Europcar, Budget, Dollar, Avis, etc., or go with a local supplier that usually has great deals. For example, Sicily by Car is a popular choice.
Car rental prices are always better through Discovercars than booking directly through a specific agency.
Free booking cancelation of up to 48 hours to the rental date (refunded in reusable credit, or cash upon request). Full terms and conditions can be found HERE.
Reasonably priced full-insurance add-on (offered as an option when booking online).
You can filter suppliers that do not require a deposit to book a car.
5. How much does it cost to rent a car in Palermo, Sicily: price comparison table
Car rental prices in Palermo, Sicily are very affordable and some of the lowest in Italy. Just like car rental prices in Catania, Palermo has some bargain offers off-season- October to February. You can rent a car as cheap as 6-7 EUR per day when hiring for a week.
Nonetheless, even during the high season – late autumn and summer you will find reasonable deals and can expect to pay 25 EUR per day for a rental car in Palermo when booking the vehicle for 7 days.
Below is a price comparison table for car rental prices in Palermo, Sicily during different times of the year. These are average day rates for different car sizes when hiring a car in Palermo for 7 days. Prices for car hire in Palermo, Sicily were compared using the Discovercars website.
*Note: manual transmission cars are usually cheaper in Sicily, Italy.
6. How to save on your rental car in Palermo, Sicily
Apart from booking a car in Palermo through a car search aggregator such as Discovercars or Rentalcars, the following two tips always confirm to be useful when saving money on a rental car.
Book early to secure a vehicle you need for the best rate when traveling during the high season
May to September, with peak months of June, July, and especially August are the most popular times to travel in Sicily. Hence, cars get booked out quickly as well. Make sure to book your car in Palermo early enough. Ideally, around a month before your trip or earlier if you already know your plans.
With both Discovercars and Rentalcars you have 48 hours free cancelation policy in case your plans change.
Picking up and returning your car to the same location
You have an option to pick up your rental car in Palermo and return it in a different location, for example, Catania, or Trapani. It is a convenient service for those travelers who have flights from different destinations. However, a one-way fee will be applied, the amount of which depends on the distance between the pick-up and drop-off locations.
If you are flying in and out of Palermo, it is more economical to pick up and return the car to the same place to save on the one-way fees.
7. Best car hire company at Palermo Airport- how to choose one
Before booking a car, I recommend spending some time reading the reviews for a particular supplier for car hire at Palermo airport.
Often the bigger brands such as Thrifty, Hertz, Avis, Europcar, SIXT are considered more reliable than the smaller ones. However, globally known car rental companies are usually significantly more expensive to book with (even through search aggregators such as Discovercars or Rentalcars, and even more so directly through the agency).
Nonetheless, once you read reviews online, you soon realize that people have problems not only with small providers but also with big brands. Similarly, travelers leave excellent reviews not only for well-known international companies but also for car rental services provided by smaller local suppliers.
I personally always read the worst reviews for any company I am considering renting a car with (particular supplier that I want to go with through the car booking site). I look if a supplier has been repeatedly reported for any shady tactics of charging people for damages they have not done, or any credit card issues.
Based on online reviews and what I saw in the airport, Sicily by Car (local agent) nowadays is a very popular local supplier in Italy.
However, if you are more comfortable with international names, then you can also check offers by Europcar or SIXT that have many positive reviews. Meanwhile, Maggiore was reported by many people as a company to avoid.
Nonetheless, I recommend use your best judgment on information available online and go with your gut feeling. Also, if you previously rented with a particular agency you were happy with it, it might be a good idea to rent with them again. Yet, the experience in different rental offices might not be exactly the same, but there is hope that it be just as good or better.
My experience with renting cars in Sicily, Italy
In Sicily, I have used B-Rent and Budget car rental agencies. Both companies were efficient and rent was smooth from start to finish.
Good to know: you may find out that bigger name suppliers such as Enterprise, for example, have a local operator under the name of Locauto, or Thrifty is represented by Sicily by Car in Palermo.
8. What type of car to hire for driving in Palermo and Sicily?
The best car for driving in Palermo and Sicily is a small car that would fit all the passengers and luggage. Tiny windy roads in Sicily and tight parking spots are not made for big SUVs. Therefore, you will find driving in Sicily much easier if you have a smaller car. Look for FIAT500 or similar that is perfect for Sicilian roads.
Electric cars
Electric cars in Sicily and in Italy are increasing in popularity. Currently, electric cars are offered by Sicily by Car (you can filter them out on Discovercars). Electric vehicles are perfect if you plan short day trips from the city. However, they might not be suitable if you are planning on visiting remote locations where charging stations are not yet available.
Good to know: electric cars are not only environmentally friendly but also allowed to enter restricted traffic areas in Sicily and Italy- ZTL zones (those rules vary across municipalities), and can benefit from free parking! Moreover, Enel X charging points are completely free.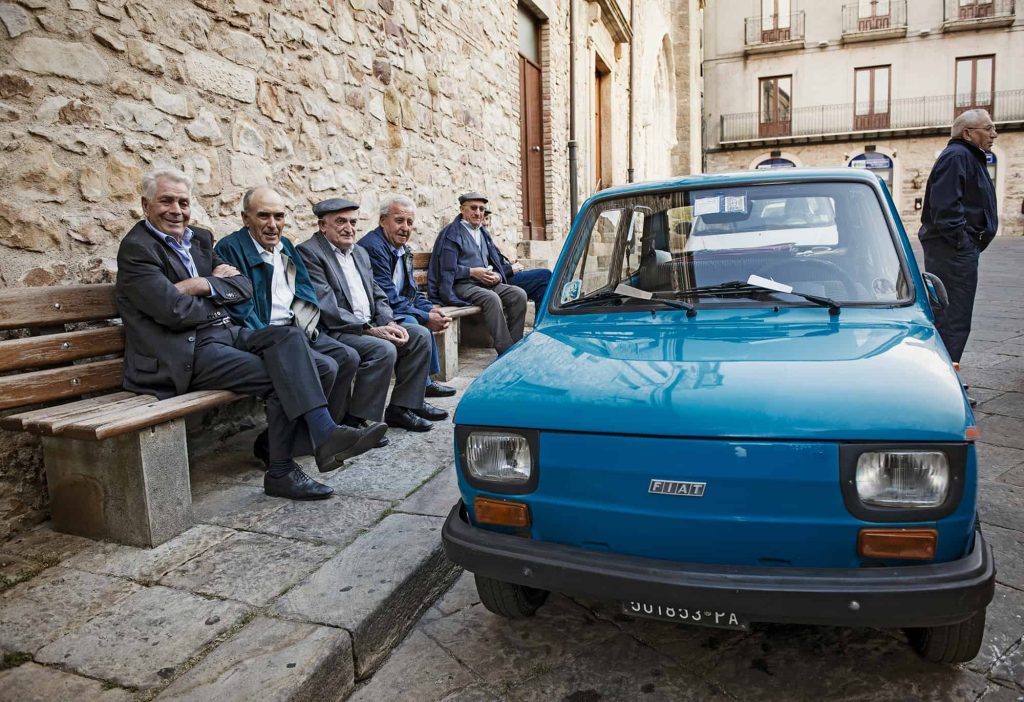 9. Documents needed to rent a car in Palermo, Sicily
These are the documents you need to hire a car in Palermo, Sicily:
A valid driving license that has been issued more than a year ago before the rental date (in rare occasions, a company may require a license that is older than 2 years). If your driving license is new, carry the old one to prove your driving experience. 
International Driving Permit (IDP) will be required if: a) the driver's license is issued outside the EU (American citizens, Canadians, UK residents, Australians, and other non-EU residents need IDP); b) driver's license is printed in non-Latin alphabet.
IDP MUST be accompanied by the ORIGINAL driving license;
A credit card (or debit IF the supplier accepts it) on the main driver's name (some rental companies require a credit card to be valid 3 months after drop off, make sure to check rental conditions).
Passport or ID card;
Car booking voucher.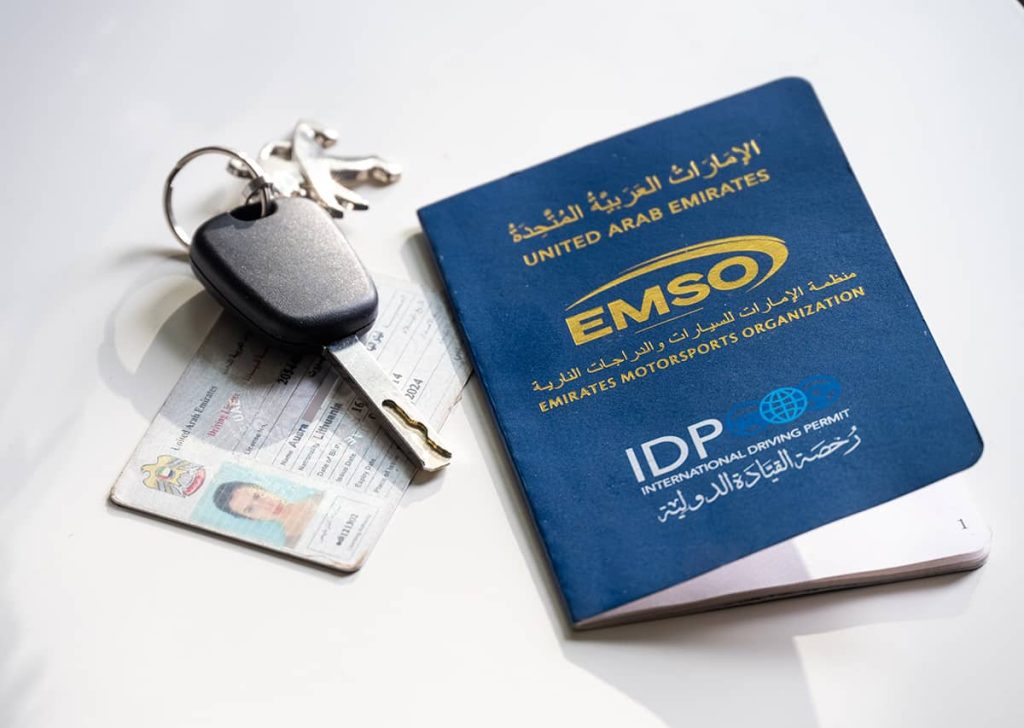 Renting a car in Palermo without a credit card
It is possible to hire a car in Palermo without a credit card. On Discovercars, you can filter zero deposit cars. For example, Locauto does not require a deposit. The shortcoming is that the rental price is higher than when you are asked to leave a deposit.
Another option is to look for companies that allow booking with a debit card (you can also apply Debit Card filter on Discovercars). For example, SIXT, Alamo, Locauto, Sicily by Car are some of the companies that accept debit cards under the main driver's name as long as they have a chip, IBAN and PIN.
However there is a catch: you will either have to buy additional insurance (called excess or full insurance) which might add up to 20-25 EUR per day to your car rental, or the car rental price will be significantly higher.
10. Full insurance- is it worth it?
For complete peace of mind, when hiring a car to drive in Italy, I always buy full insurance.
The insurance that is already included in the rental price is called CDW (Coalition Damage Waiver). A deductible amount that is applied in case of an accident with CDW insurance ranges significantly from company to company and starts at around 1000 EUR and can go up to 2000 EUR or even more.
Good to know: CDW only covers the bodywork of the car and DOES NOT cover flat tires, cracked windshields, damaged headlights, lost keys, towing, engine, underbody, and roof. To be fully protected, you can obtain Full Coverage or Excess Insurance which waives the deductible amount.
However, I do not recommend buying Excess Insurance over the counter through a car rental company as it is usually very expensive (starting at 20 EUR per day).
You have two options for affordable full insurance:
If you are booking with Discovercars, they have a reasonably priced full coverage which costs around 5 EUR per day.
You can also use an independent Excess Insurance provider such as Worldwideinsure or Rentalcover. Purchasing insurance from them costs much less than buying full insurance through a rental agency. I personally use Worldwideinsure and purchase a yearly policy since it comes as the best-priced option for multiple trips.
Tip: If you are a US citizen driving in Italy, check with your credit card company if they offer Excess Insurance coverage.
11. Other important things to pay attention to when hiring a car in Palermo, Sicily
Here is a checklist of the things to pay attention to when renting a car in Palermo or anywhere else in Sicily, Italy. On Discovercars website, all those points are listed under Rental Conditions tab.
Refundable security deposit– it varies greatly from company to company. Can be as low as 500 EUR and as high as 1500 EUR (sometimes even more). Make sure you have enough funds on your credit card.
Deductible amount – a maximum amount of $ you would be obliged to pay from your pocket in case of an accident. This amount is usually equal to the security deposit amount.
Check if you are booking a manual or automatic car.
Take note if it is petrol or diesel so you know what to fill up the tank with.
Pick up and drop off the car during the rental desk business hours to avoid additional charges.
Note what is the grace period to pick up and return your car in case you are late. Some companies are quite strict and if you are late to return, they may charge you for another day.
Check the mileage policy– unlimited mileage is preferable. Unlike in Oman and UAE, where they have mileage limits, in Italy and most of Europe it is usually unlimited.
Check the fuel policy if you have to return the full tank or the same amount as you received when picking up the vehicle.
Young driver's age– check the minimum age and the age brackets of the young driver as all companies charge additional fees for a newbie driver.
12. Picking up and dropping off a rental car in Palermo airport tips
Picking up the rental car at Palermo airport
Some of the rental car agent desks at Palermo airport are located inside the terminal with car garages within walking distance. Those are usually bigger brands, but also some bigger local suppliers such as Sicily by Car.
Whilst, cheaper suppliers have their rental desks and car garages a few kilometers from Palermo airport in Cinisi town. Free shuttle bus service from the airport and back is offered by each agency to easily reach the rental desk (around 7-10 minutes bus ride). The downside is that you depend on the shuttle as offices are not located within walking distance (like in Naples). Waiting time may vary from 10 to 30 minutes in normal cases, longer if they are unusually busy with many customers.
How to find the shuttle bus
Shuttle buses that serve different rental companies usually have logos of a specific company. Different agents may have different shuttle bus stops in the airport. Customer is also sometimes requested to call the rental agent when they land to send the shuttle for them.
For the rental car agencies located inside Palermo airport, you only have to follow the signs pointing to a particular agency (all are signposted clearly).
When booking through Discovercars, you will get clear instructions on where the car supplier is located, where to find a shuttle bus stop, and a map of the car rental office.
IMPORTANT: when collecting your car always spend time marking scratches and damages on the car, take pictures and videos, and make sure the rental agent has marked them too so there is no misunderstanding upon return.
Dropping off your car at Palermo Airport
To return the car if your agency is located inside the terminal is straightforward. All the roads feed into Palermo Aeroporto Punta Raisi highway and GPS will certainly take you the right way. Pass the first big roundabout and when you reach the second roundabout make a U-turn and you will see massive signs indicating "RENT A CAR RETURN" (first white, then orange). After the orange sign, turn right immediately to the parking lot.
Once you get to your rental car agency's dedicated parking spot, make sure the agent is also present to acknowledge that everything is okay with the car. DO NOT just leave the car without it being inspected and approved by the company so you do not get a surprise bill later on for damages you haven't done. I also always request a written form that the company has received a car and has no complaints.
IMPORTANT: allow plenty of time to drop off your rental car at Palermo airport if your rental agency is located outside the terminal. There will be traffic during peak hours, and you still need to take the shuttle back to the airport.
13. Taking your Palermo rental car on a ferry or crossing international border
If you are planning to go to mainland Italy from Sicily or even abroad (Malta, for example), make sure the rental company allows to take the car on a ferry as well as cross the borders to specified countries. Additional fees may apply.
Car rentals in Palermo that allow leaving Sicily and using a ferry are: Locauto, Italy Car Rent, SIXT, Sicily by Car.
Based on my experience, ferry restriction is somewhat vague. I took a car on a ferry between Sicily and Calabria without even knowing that this was not allowed by the agency. The risk is that if something happens to the car during the ferry trip or in mainland Italy, then you might be in trouble. Car insurance will be invalidated. Thus, think twice if you are ready to take it or not.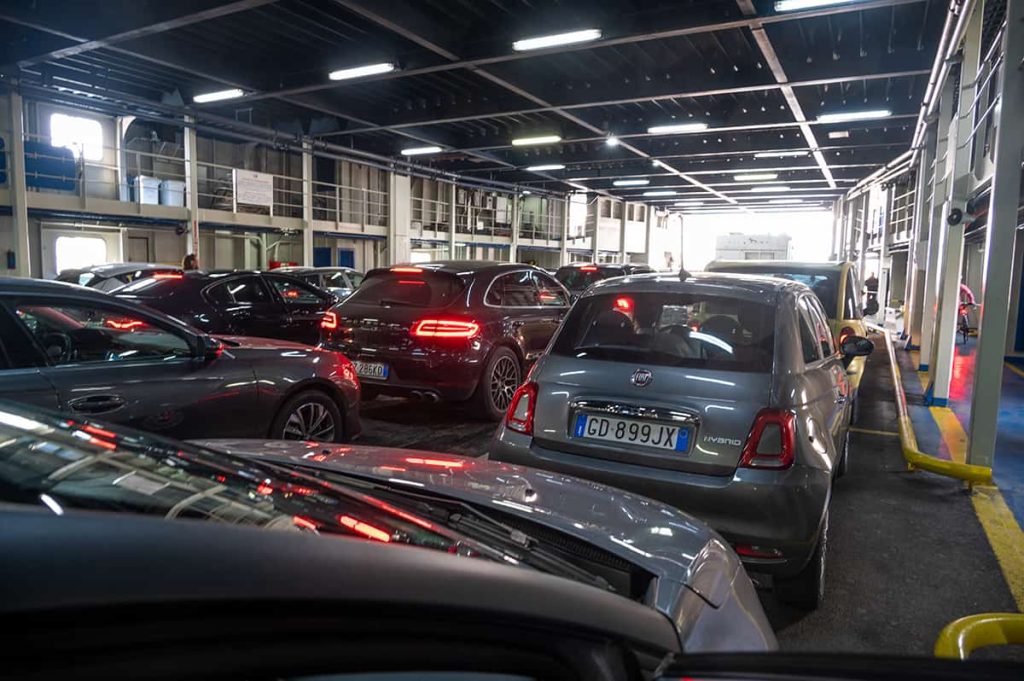 Driving in Palermo: what you need to know
Apart from the fact that driving in Palermo is hectic due to traffic and aggressive driving style that takes time to get used to, I also found the street a bit confusing. You cannot rely fully on Google Maps to take you the correct way. While driving in Palermo, I was often offered my Google Maps to go against the traffic or was taken through some serious backstreets. This happened close to the historical center and outskirts of Palermo.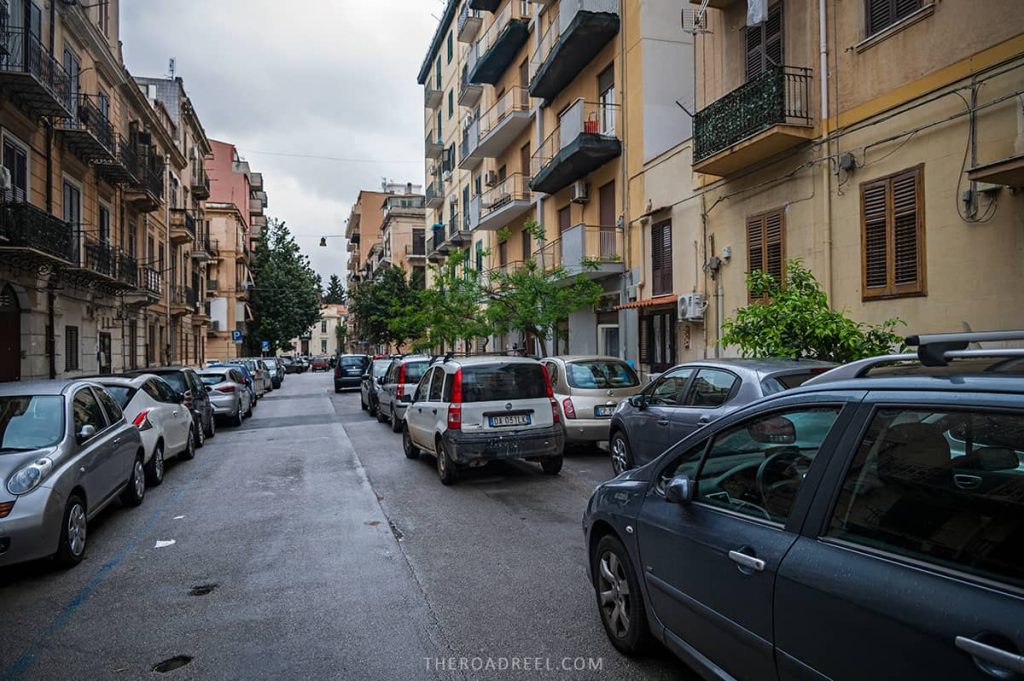 Tip: when driving in Palermo, watch out for scooters- those are the most notorious participants of traffic. They are absolutely unpredictable and tend to jump out of nowhere and often love driving cheek-to-cheek just because they can.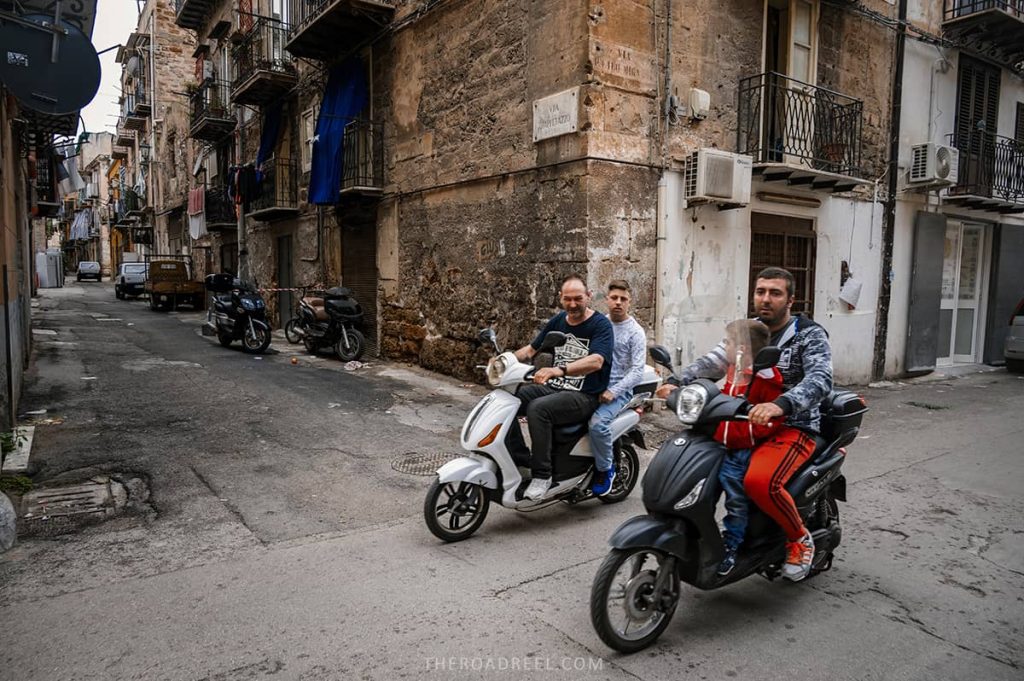 The Palermo Ring Road
Palermo Ring Road (E90) is the main road (highway) running around the outskirts of Palermo and connecting to other roads leading to the city center and also to other towns around Palermo. This road is notorious for hectic traffic, thus driving during rush hours should be avoided.
Particularly times between 7:30 AM to 10 AM, 12:30 PM to 2 PM, and 4:30 PM to 8 PM.
14. Be aware of ZTL zones
One of the worst experience visitor to Palermo can have is accidentally driving into Zona Traffico Limitato (ZTL zone). ZTL zones are restricted traffic areas that can only be entered by permit holders.
I learned about ZTL the hard way when I drove into Orvieto (a town in Umbria) old town twice and got a few hundred euro fine later. That is when I found out about what ZTL is.
ZTLs are located in historic centers, thus you will find one in the old town of Palermo as well.
To give you an indication, ZTL zone in Palermo is enclosed within the borders of  Via Abramo Lincoln, Foro Italico Umberto I, Via della Calla, Via Cavour, Via Volturno, Via Nicolo Turrisi, Via Papireto, Corso Alberto Amedeo, Corso de Ruggero,  Via Antonio Mongitore, Corso Tukory.
Note that Google Maps will not warn you about the ZTL zones, and you must always look out for street signs (white circle with red outline). When planning your route in Palermo, you can double check for updated ZTL zones here.
The good news is that in Palermo you can purchase a daily or monthly ticket to be able to enter ZTL zone without getting a hefty fine. A day ticket costs 5 EUR, while the monthly one is 20 EUR.
READ MORE: Unravelling the secrets of parking Palermo, it includes instructions on how to get a ZTL ticket (published soon).
Good to know: ZTL zones have times when they are active. However, those timings tend to be changed by the municipality. According to the latest info I have, ZTL in Palermo is active Monday to Friday 8 AM to 8 PM, and Saturday 8 AM to 1 PM.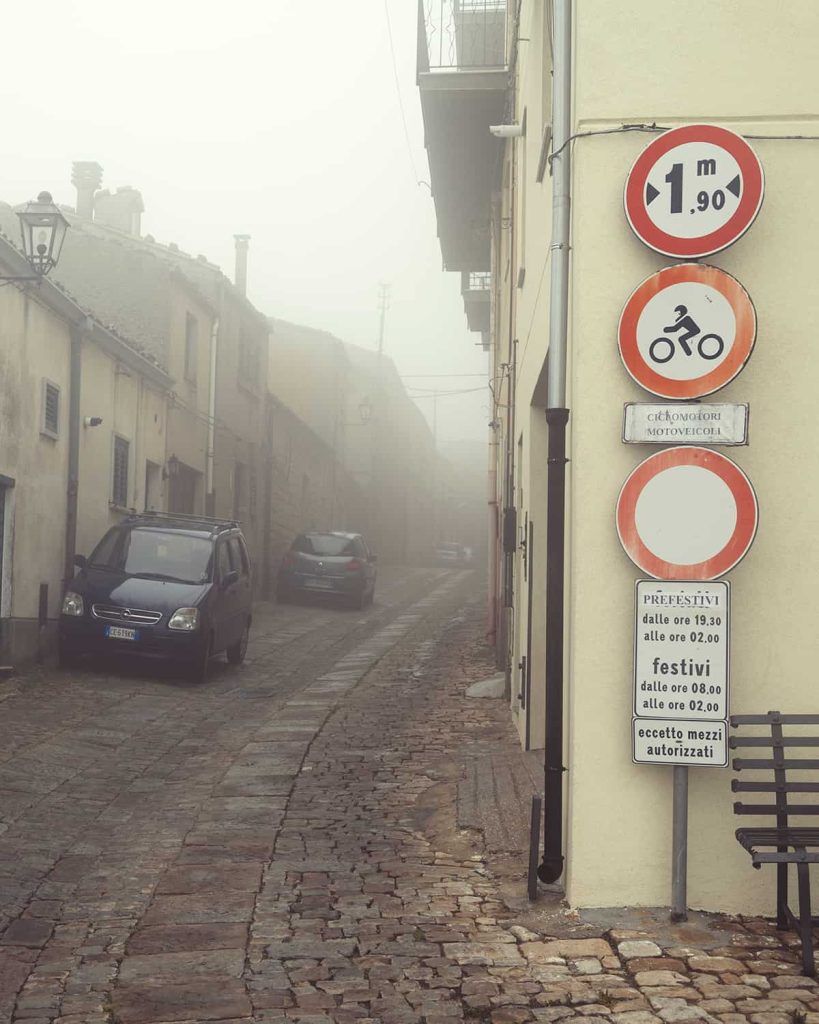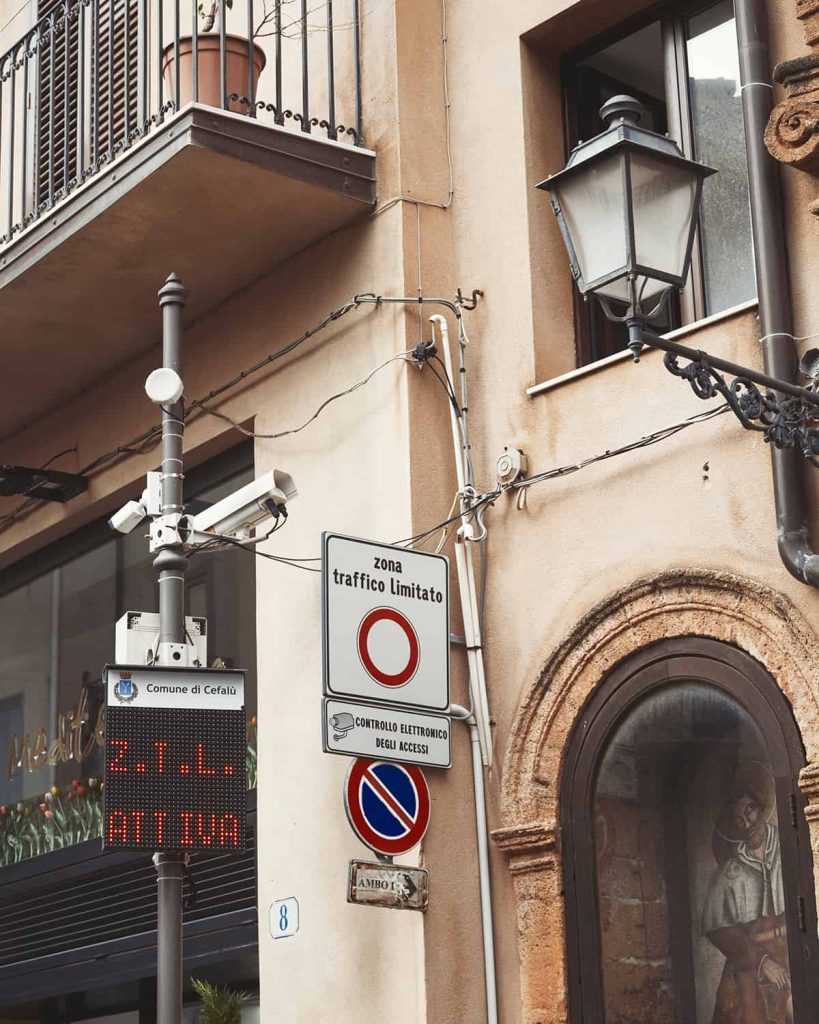 15. Parking in Palermo, Sicily
Parking in Palermo can be challenging, double parking is common, and paying for parking is a mystery. Yet there are ways to get around if you need to park in Palermo.
Street parking in Palermo is marked by white (free parking) and blue (paid parking) lines on the pavement. If you see yellow lines- this parking spot is reserved and you should not park there.
Paid street parking costs 1 EUR per hour. The ticket can be purchased either by using a ticket machine (if you find one, usually they are more common near old town) or in Tobacco store (Tabacchini) or Cafeterias (you will always find one nearby on the street). Note that one ticket is for one hour only, so you have to buy separate tickets for the number of hours you are planning to stay.
The easiest way to pay for parking, however, is through EasyPark app which allows you to pay using your mobile device and stop parking at any time.
The safest option to park in Palermo is inside secured private parking garages. The cost varies, however, a good rate is around 10-15 EUR for 24 hours.
I have marked some parking garages on the map. A couple of them are within a ZTL one, however, you can call owners and ask sorting a ZTL pass for you.
Read my full guide to parking in Palermo where you will find important details on how to park (and yes there are some unusual things about Palermo parking you should know). (published soon)
Top 5 tips for renting a car in Catania
Here are the main takeaways and tips for car hire in Palermo, Sicily:
Driving in the city center of Palermo is not recommended due to heavy traffic. If you are staying in the city for a few days, you are better off picking up the rental car once you are ready to start your road trip in Sicily.
Hire and pick up your rental car at Palermo Airport – it is cheaper and also easy even if you are staying in the city.
You can find the best rates to rent a car in Palermo on Discovercars website. Also, it is worth cross-checking with Rentalcars.
Book a car in Palermo around a month ahead if you are planning your trip in late spring, summer, or early autumn.
Driving in Sicily's countryside is much easier than in the city. But make sure to rent a small vehicle to easily drive narrow streets and find suitable parking.
I hope you found car rental in Palermo tips useful! Also, make sure to check my other related posts listed below to help you plan your Sicily trip.
Fun fact for the end of the article: Naples and Palermo are the most notorious when it comes to traffic and driving. Surprisingly, they are amongst the cities with the least number of deadly car accidents in Italy. Locals say that they always break rules and always expect others to break them too, therefore they have developed the skill to always watch out for other traffic participants and, in fact,  know when is the right time to go slower and when to speed up.
More Sicily Travel Guides
Sicily and Italy Travel Essentials & Useful Links
Here are links to essential travel resources and services I always use when organizing my trips.
I hope you are enjoying my free travel guides & tips. You may support my work by using any of the affiliate links on this post to plan your own trip at no extra cost to you, or just buy me a coffee so I can continue creating more useful content from my favorite coffee shop in town. Thanks!