Planning on renting a car in Portugal? Here is everything you need to know before hiring a car in Lisbon, Porto or Algarve and driving in Portugal.
In this Portugal car hire guide you will find:
Where to hire a car in Portugal and get the best car rental rates (inexpensive car from a reliable agency);
Documents required by car rental companies in Portugal;
Age requirements and additional fees;
Nuances of car insurance policies and potential extra costs;
What to be aware of when choosing a car rental agent and booking a car in Portugal;
The toll system in Portugal explained;
Roads and basic driving rules in Portugal;
Border crossing rules and more.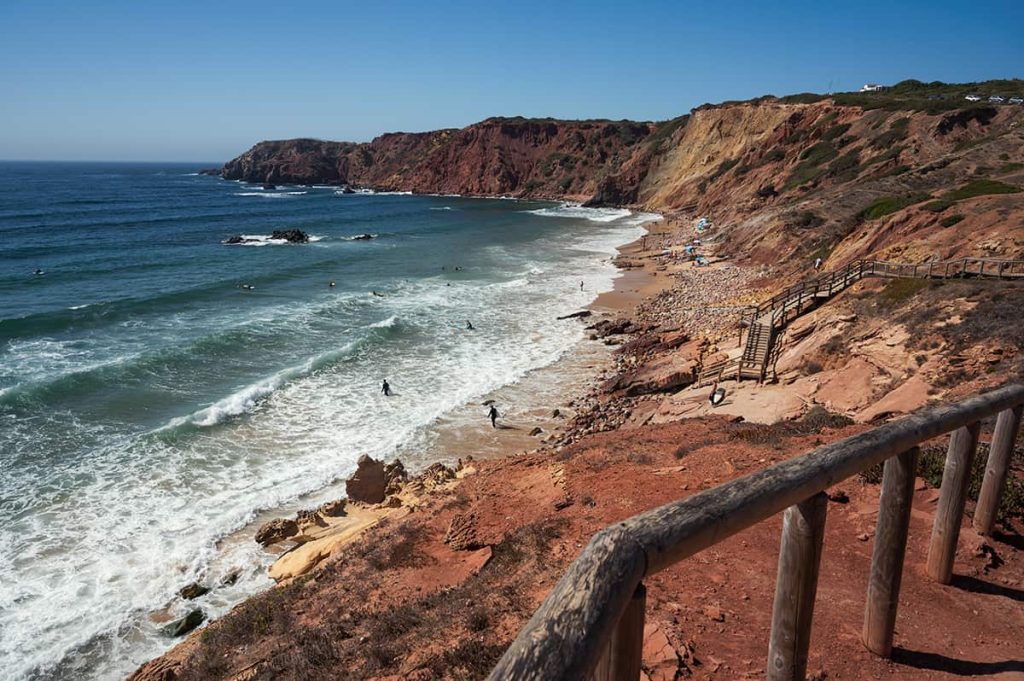 Hiring a car in Portugal is extremely affordable and can be even dirt cheap especially off-season. That said, going on a road trip in Portugal is a no-brainer for many travelers. Moreover, driving in Portugal is easy and you get to visit parts of the country where public transport is limited and would require more time and effort.
I have rented a car in Portugal several times. While I had a great experience driving in Portugal, once I encountered a hiccup when renting a car in Lisbon. I share this experience and which agencies to avoid so you do not fall into the same trap. 
Read on to find out how to rent a car in Portugal.
Disclaimer: This post contains affiliate links, which means that I may earn a commission if you make a purchase by clicking a link (at no extra cost to you). This helps to keep my blog running and growing by creating more awesome free content for you.
Super handy tips for renting a car in Portugal in 2023
From the verdant hills of Douro Valley to the dramatic coasts of Alentejo and the spectacular Algarve, there are so many incredible places you can visit in a rental car in Portugal. If you already made up your mind or still debating whether or not you should drive in Portugal, or looking for handy Portugal driving tips, this post will get you covered. 
Renting a car in Portugal quick links
If you are looking for the best place to book your car in Portugal but are short of time to read the full article, here are the companies I always use for car hire in Lisbon and Europe. Porto and Faro are also popular locations for booking a car.
Discovercars– my favorite car search website that compares prices between well-known international companies and local agencies in Portugal and provides the lowest rates in the market. Easy to use platform with different filters, clear rental terms, and up to 48 hours free cancelation policy.-> CLICK TO COMPARE PRICES
Rentalcars– a popular car search aggregator that has the second-best rates for car rental in Portugal. It is a veteran site for car search online and it has a very similar user interface as Discovercars with clear rental terms, filters, and free 48 hours cancelation policy.-> CLICK TO COMPARE PRICES.
Localrent– provides offers from small local agencies in Portugal. Have favorable rental terms such as a cash security deposit without the need to provide a credit card.-> CLICK TO COMPARE PRICES.
Why rent a car in Portugal? 
Although you can get around the main cities of Lisbon and Porto without a car (in fact you do not need one), accessing smaller towns and exploring wild parts of the country often requires a private vehicle. Going on a road trip to Portugal is by far the best way to see the immense beauty of this diverse country. 
I have visited Portugal more than five times so far and traveled around both by using public transport and a rental car. Based on my experience, here is why you should choose to rent a car in Portugal and go on a road trip:
Driving in Portugal is easy and enjoyable. Roads are of great quality and almost traffic free outside Lisbon or Porto. Also, drivers are polite and accidents are rare. 
Moreover, car rental in Portugal gives you the freedom to move around following your own schedule which is priceless;
Even more, having your own wheels opens up opportunities to visit remote places, wild beaches, and smaller towns where public transport is sparse and inconvenient. This is especially applicable to Alentejo Coast and its untouched beaches, or the northern part of Portugal with Douro Valley, Gerês National Park, and remote mountain villages like Monsanto.
A rental car in Lisbon might also be useful for doing day trips to nearby attractions such as the dreamy seaside town of Azenhas do Mar, Sintra National Park and its beaches and hikes, or the westernmost part of Europe- Cabo do Rocca- these are locations that are easier to access by car than public transport.
Finally, car rent in Portugal is very cheap, if you travel during shoulder season or off-season. Even in summer prices are affordable. Refer to my car rent in Portugal price comparison.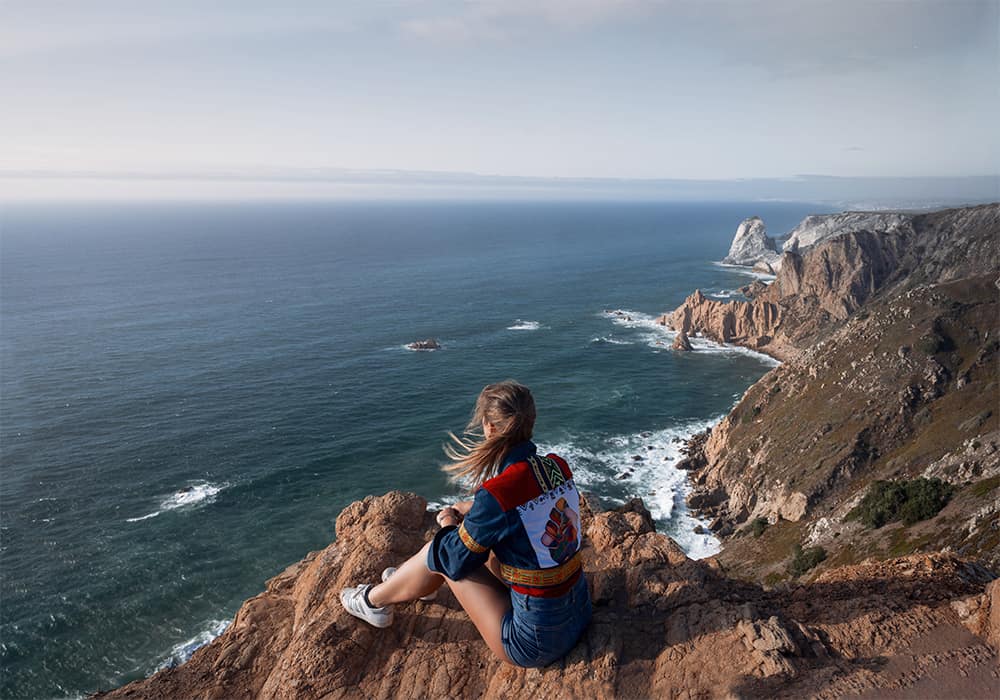 1. Where to book a car in Portugal for the best rates? 
For the past years, I have been using two companies to hire a car in Portugal and Europe- Discovercars and Localrent. Sometimes, I would also cross-check prices on Rentalcars if I cannot find a vehicle I need on the other two.
While Discovercars offers by far the best rates you can find online for a rental car in Portugal, Localrent has the advantage of working with agents that do not require a credit card to rent a car and often have more flexible terms and conditions. Rentalcars remains somewhere in between the two, but much more similar to Discovercars but with slightly rental higher rates.
Advantages of using Discovercars to book your car in Portugal:
The car rental rates in Portugal are the lowest in the market with a wide choice of suppliers and vehicles.
Discovercars provides rental car options across various car rental companies: international big brands like Hertz, Sixt, Europcar, Budget, Dollar, Avis, etc., and also local Portuguese agencies (Drive on Holidays, Turisprime, etc.).
Discovercars negotiate better deals with car suppliers. You are less likely to get the same price if you booked directly through the car rental agency. 
You can cancel your booking up to 48 hours before the pick-up date free of charge.
Discovercars has reasonably priced full insurance which is an optional add-on (much cheaper than excess insurance offered by rental agencies over the counter).
You can modify your booking (change dates).
The website is intuitive and easy to navigate, with different filters to refine your search, rental terms are clearly displayed on a clickable tab under each car offer.
Good to know- cancelation policy on Discovercars:
When booking with Discovercars, you will have to pay a small deposit to reserve the vehicle (a percentage of the total rental cost). In case of the cancelation up to 48 hours before the pick-up time, you will be refunded in a form of reusable credit on Discovercars or you can request a full refund back to your bank card.
You can use the booking credit within 3 years when making other reservations on Discovercars. The booking credit can be split between several reservations and does not have to be used all at once. Read the full terms and conditions here. 
You may even receive bonus credit for your cancelation depending on the circumstances and reasons for the cancelation. I did receive a 25% bonus credit once when I canceled a booking.
If you cancel less than 48 hours prior to your booking, the full amount of rental price will be charged.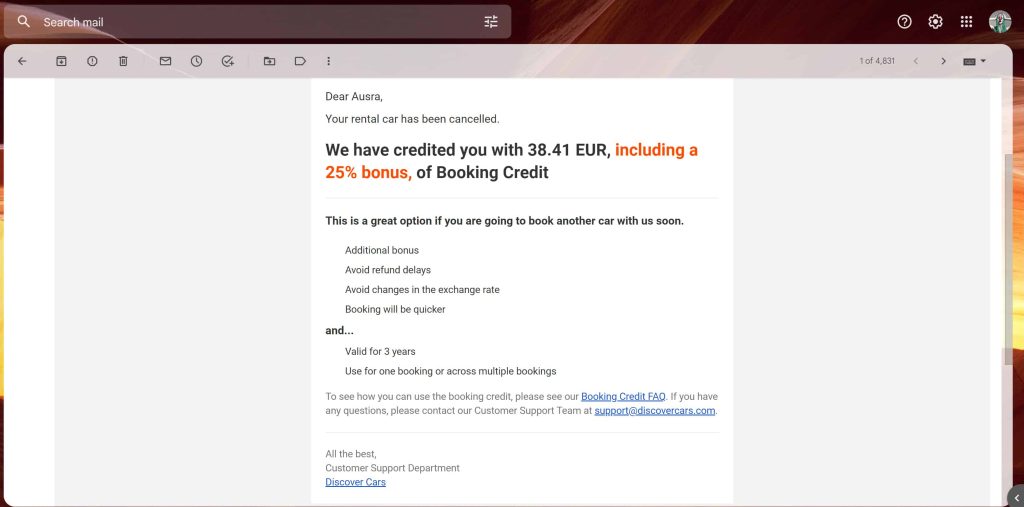 Advantages of using Rentalcars to reserve your car in Portugal:
The car rental rates are very good specifically for Portugal (second best after Discovercars) and the selection of vehicles is plentiful.
Rentalcars provides rental car options across various car rental companies: international big brands like Hertz, Sixt, Europcar, Budget, Dollar, Avis, etc., and also local Portuguese agencies (Drive on Holidays, Turisprime, etc.).
You can cancel your booking up to 48 hours before the pick-up date free of charge.
Offers optional full coverage for the rental car that is cheaper than the one over the counter.
You can modify your booking (change dates).
The website is intuitive and easy to navigate, with different filters to refine your search, rental terms are clearly displayed on a clickable tab under each car offer.
Good to know- cancelation policy on Rentalcars:
Some of the rental companies do not require any deposit to reserve a car (we are talking about reservation deposit, not car security deposit) and cancelation of booking is entirely free up to 48 hours before the scheduled pick-up time.
If you paid a booking deposit when you booked a car, you can still cancel free of charge 48 hours before the date, but you WILL NOT get the booking deposit back- something to have in mind when making a reservation.
If you cancel less than 48 hours prior to your booking date you will get a refund minus the cost of 3 days of your rental – so there won't be any refund if your car was booked for 3 days or less.
Advantages of using Localrent for your car booking in Portugal
While Localrent is absolutely unbeatable for renting a car in Georgia and Montenegro, or even Albania, there is still room to improve when it comes to renting a car in Portugal. Nonetheless, it is a company to keep an eye on. By expanding its list of local suppliers, Localrent may soon become a very competitive car search platform for Portugal car hire.
Localrent compares car hire prices in Portugal between local suppliers as opposed to big international companies. This is a boutique search engine that focuses on working specifically with smaller locally based agencies.
It is possible to find rental agents that accept a security deposit in cash (a great solution in case you do not have one).
It is possible to find rentals with a low-security deposit requirement.
Good to know- cancelation policy with Localrent
Localrent has a standard free cancelation policy of 7 days prior to the scheduled pick-up time for regular cars, and 30 days for luxury cars.
Meanwhile, some listed agencies accept 24-hour free cancelation. Those are marked with a blue "shield" icon next to the booking.
Can I rent a car in Portugal upon arrival?
While it is possible to find a vehicle in Portugal upon arrival at your location, I strongly advise against it because you will definitely pay significantly more for the car, and choices of vehicles might be limited, especially if you are traveling during the high season (summertime). Moreover, it is extremely inconvenient to shop at different car rental agencies physically (if you want to compare the rates).
Instead, using an online search aggregator saves you time, gives much better rental rates and you can easily do your comparisons. I always book ahead using car search aggregators.
Can I rent a car directly through a specific agency?
Out of curiosity, sometimes I compare car rental rates directly through specific agencies to the prices shown by search aggregators. I always find that booking directly through an agency is at least 20-30 percent more expensive than booking using car search websites such as Discovercars or Rentalcars.
Renting a car in Lisbon
Renting a car in Lisbon is easy- there is plenty of car rental agencies in Lisbon. Perhaps the best place to hire a car is at Lisbon Airport. It is for some reason the cheapest and also convenient as you can pick up a rental car upon arrival and head straight on a road trip.
You always find the best deals for car rental at an airport, especially the ones in the capital cities. Nonetheless, you can also choose a different pick-up location, like Lisbon Downtown, for example, however, you will notice that the rental rates are twice as high.
If you are planning to explore Lisbon (without doing any day trips outside the city) at the beginning or at the end of your trip to Portugal, then I recommend picking up your car either later before you are ready to leave the city or dropping it off earlier.
Lisbon International Airport is very well connected and is close to the historic center- only around 8 kilometers and 20-30 minutes by public transport (metro is the best) or by car (taxi, Bolt, private transfers). Thus, going to the airport to pick up the car or drop it off, and then returning to the city without a car is very easy.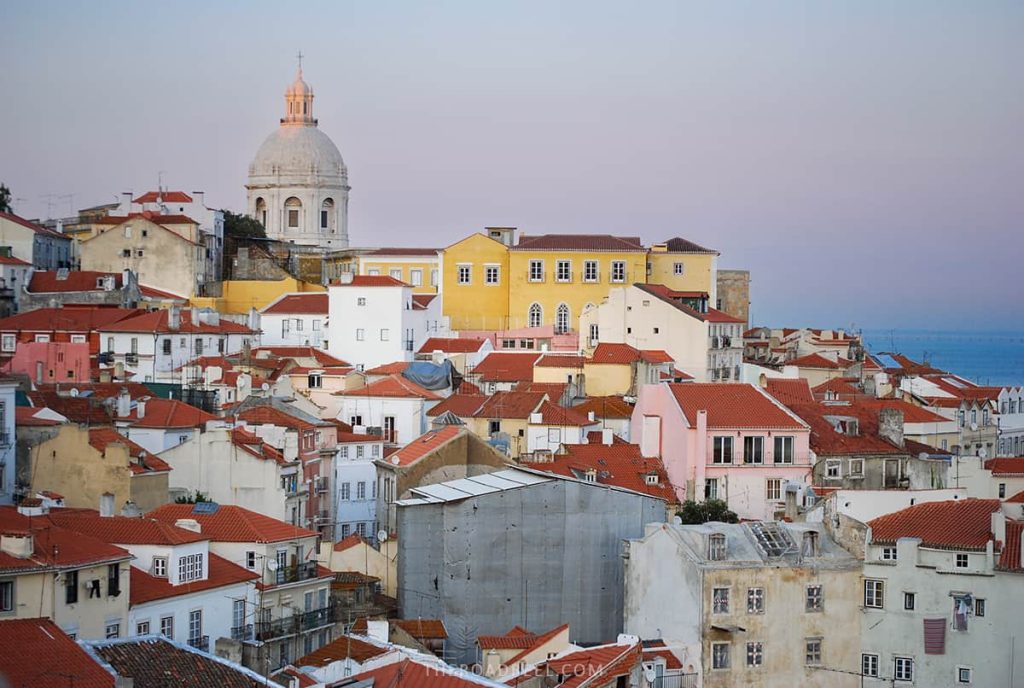 Renting a car in Porto
Porto is a little less popular choice for renting a car in Portugal than the capital city of Lisbon. However, there is no shortage of rental cars in Porto either. Yet the car rental prices in Porto are slightly higher compared to the bargains that you can find in Lisbon where car supply is abundant and competition between agencies is much higher.
Again, just as in Lisbon, renting a car at Porto International Airport is your best bet, for convenience and the best rates.
Renting a car in Algarve (Faro)
If you are visiting the beautiful southern part of Portugal, you can rent a car at Faro Airport. Note though that Algarve is the most expensive place to rent a car in Portugal. Yet, the off-season is a great time to book a cheap car in Faro, Portugal. During the summer, on another hand, you may actually consider starting your road trip in Lisbon to save the costs not only for car hire but also for airfare.
2. How much does it cost to rent a car in Portugal? 
Car rental in Portugal is extremely affordable and it can be dirt cheap off-season. In January-March, you can find deals starting as low as 20 EUR for 7 days (what?!) on Discovercars website (pick up and drop off at Lisbon International Airport).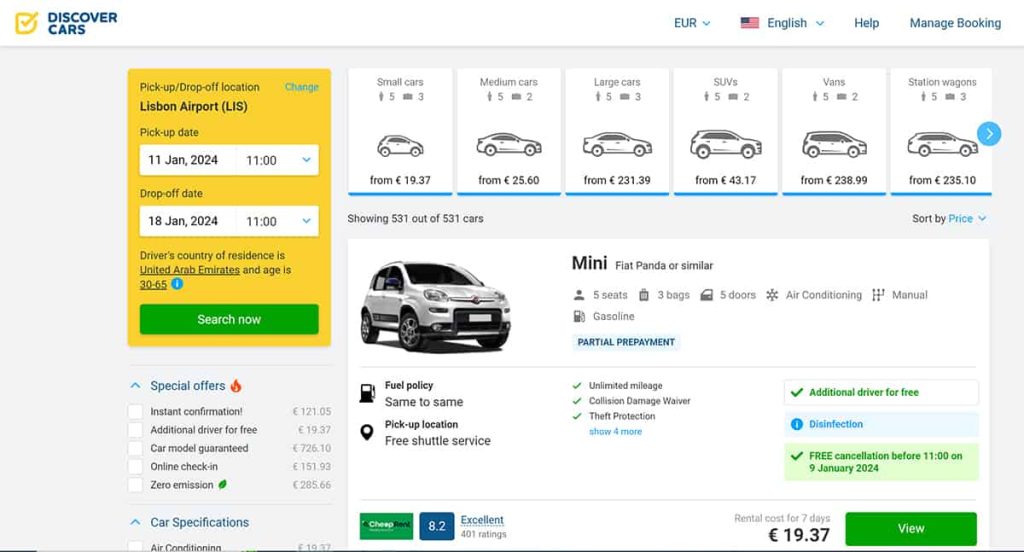 That being said, you can shop for a real bargain when it comes to renting a car in Portugal during the shoulder season and especially off-season (November to April and even May). Hiring a car in Portugal off-season is 5-7 times cheaper than renting a car in summer. In summer car rental rates in Portugal spike to 30+ EUR a day.
Comparison chart of the car rental rates in Portugal (rate per day in euros) [2023]
The above are average day rates for a small economy car when rented for 7 days. Prices for car hire in Portugal were compared using the Discovercars website:
The car rental rate in Portugal (just as in other places in Europe) depends on the season and location you are hiring it from. 
Expect to pay at least 30-45 EUR per day for a small economy car if you are hiring a car in Portugal for a week or longer in July or August. 
Meanwhile, in the off-season November-March, and even April-May the car rental prices are between 3 EUR (!) to 9 EUR per day in Lisbon and just slightly higher in Porto and Faro.
The cheapest place to rent a car in Portugal is Lisbon Airport. The second cheapest is Porto and Faro is the priciest, yet rates are still very affordable off-season.
TOP TIP: if you are planning on traveling to Portugal in the summer, don't snooze, book your rental car early. The supply will be limited and prices will skyrocket if you leave it till the last minute for the summer season trip. While off-season you can get a cheap deal just a day before your trip.
Return the car to the same location to avoid one-way fees
Make sure to return your rental car to the same place to avoid additional fees for different drop-off locations. The fee can literally double your car rental rate even if the two locations are not far away. For example, picking up a rental car in Lisbon Downtown and dropping it off at Lisbon Airport doubles the rental price.
Renting for a week vs for a few days
Note that the longer you rent the car for in Portugal, the cheaper the daily rate becomes. It is interesting to know that a 1-day car rental in Portugal costs the same as a two-day rental, and renting for 7 days might also cost the same as renting for 6 days.
But now is where it gets really interesting and what is good to know if you want to save money on car rental in Portugal
Sometimes, renting a car for 6 days can be almost twice cheaper as renting for 7 days, and, on the other hand, renting for 8 days can be around 30 percent cheaper than renting for 7 days. This weird pricing occurs when browsing car search aggregators like Discovercars. That said, it is worth comparing prices with +1 or -1 day around your planned rental period. If renting for a longer period turns out to be cheaper, you can go for it and return your car earlier (it is free to return earlier, naturally).
Add-ons when renting a car in Portugal
When renting a car in Portugal, you should also consider the additional costs for add on such as:
Child seat (in case you need one).
E-toll device (this device is necessary if you are traveling extensively around Portugal, more on that later).
Winter chains (in case you are traveling in winter to mountainous areas in Portugal).
GPS device(in my opinion, you do not need that, Google Maps will get you around, as long as you have the internet on your smartphone).
Almost all rental companies offer the above and you can see the prices listed either under rental terms or when on the reservation page (you can pick the necessary services).
What type of car to rent in Portugal? 
I always recommend renting the smallest car possible that can fit all the passengers and their luggage. This way you will save both on car rental costs and also petrol, as smaller cars are more fuel consumption friendly.
Moreover, Portuguese towns, similar to Italy, have narrow streets and zigzagging alleyways, as well as smaller parking spots. Thus, driving a small car in Portugal is much easier than dealing with a bulky one.
Manual cars are significantly cheaper than automatic transmission cars in Portugal
Manual cars in Portugal, just like in Italy and many other countries in Europe, are almost twice cheaper as automatic cars. If you know how to drive a manual car you are in luck. If you can only drive an automatic car I also advise you to it book early as the supply is limited compared to the manual cars in Portugal.
3. Driver requirements and documents needed to rent a car in Portugal
These are the documents you have to provide for a car rental agent in Portugal:
A valid driving license that has been issued more than a year ago before the rental date. (on rare occasions, a company may require a license that is older than 2 years).  If your driving license is recently renewed, carry the old one to prove your driving experience. 
International Driving Permit (IDP) will be required if one or all of the below applies (each company has different rules and must be checked before booking): The driver's license is issued outside the EU or UK; or if the driver is not a resident of the EU; or if the driver's license is printed in the non-Latin alphabet.
IDP must be accompanied by the original driving license;
A credit card on the main driver's name (some rental companies require a credit card to be valid 1-3 months after drop off);
Passport or ID card;
Car booking voucher.
Renting a car in Lisbon without a credit card (or elsewhere in Portugal)
Credit cards in the driver's name are primarily used to block a security deposit for the rental period. Until today, most (but not all) car rental companies in Portugal and Europe strongly hold onto this requirement and do not offer flexibility to leave a deposit in cash or block it on a debit card. 
If you do not hold a credit card, you can still rent a car in Portugal. The only disadvantage is that your options become a little bit limited and the final rental price most likely will increase significantly.
These are the ways to book a vehicle in Portugal without a credit card:
Find a company that accepts deposits by credit card or cash. Only a very few rental companies will accept debit cards or cash to book a vehicle.
On Discovercars website, filter Turisprime, Rightcars, or Greenmotion. These agents accept Debit cards in a driver's name.
There is a catch though- some of them (like Greenmotion) will require to purchase full insurance which may cost around 20-25 EUR a day, which is more than a car rental day rate. Meanwhile, others like Rightcars will offer unreasonably high rental prices.
Look for a car on Localrent website. It might be your best bet to book through Localrent because there are local agents that accept cash deposits and still offer reasonable car hire rates.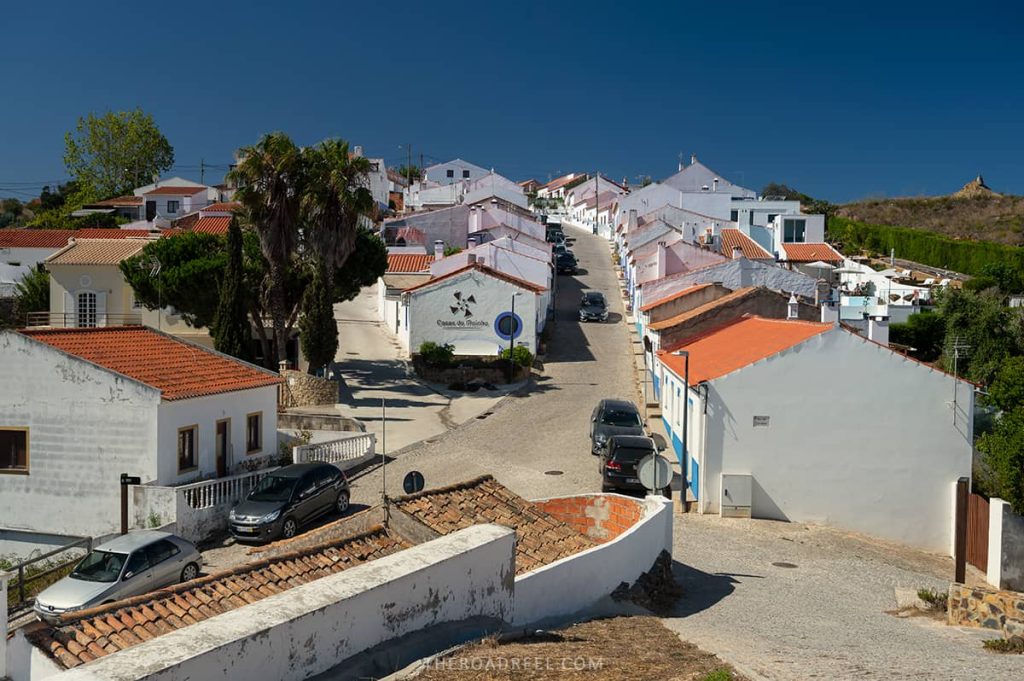 Renting a car in Portugal with a US license
Check the rental terms to make sure your US license is accepted without International Drivers Permit for renting a car in Portugal. It varies from company to company. The maximum rental period with a foreign license is 6 months.
Renting a car in Portugal with a Canadian license
The same applies to Canadian license holders. You must check the rental terms to make sure your license is accepted without International Driver's Permit for renting a car in Portugal. It varies from company to company. The maximum rental period with a foreign license is 6 months.
Renting a car in Portugal with a UK license
UK driver's license is widely accepted for renting a car in Portugal. The rental period has to be less than 6 months.
Age requirements to rent a car in Portugal
Every agency in Portugal has slightly different rules when it comes to age requirements. Nonetheless, the minimum age for hiring a car in Portugal is 18 years, but more often than not you will find that it starts from 19 to 21 years old.
All companies will charge young drivers fees if the driver is younger than 25 years old (or even 30 years old at some agencies). They may also have restrictions on the type of vehicle a young driver is allowed to hire.
Some companies (but not all) also set a maximum driver's age. I have seen it vary from 65 to 98 years (sorry if you are 99+). There are companies that put an age cap for senior drivers and won't rent a car at all if a driver is older than a certain age. Meanwhile, others impose additional senior driver's fees.
The additional fee for the drivers that fall out of the favorable age group is calculated per day and has a cap for the whole rental period.
Cost of an additional driver
Some of the car rental agencies in Portugal charge extra for adding an additional driver to the rental contract. This may sometimes double the rental cost.  However, there are a few agencies that allow one free additional driver.
For example, on Discovercars, I saw the following companies that allow to include an additional driver free of charge: Drive on Holidays, EPI, Rentauto, and CheepRent.
Note: Every additional driver must provide the same documents as listed above except the credit or debit cards. 
4. Car insurance in Portugal -is CDW enough or do you need full coverage? 
CDW (Coalition Damage Waiver) is a third-party liability insurance that is included in car rentals price in Portugal. This waiver limits the customer's responsibility in case of any damages occur to the rental car or if it was stolen to the maximum amount of money they will have to pay called deductible. A deductible amount ranges significantly from company to company and starts at around 1000 EUR and can go up to 2000 EUR or even more.
CDW also includes mandatory coverage for injuries and damage you may cause to others while driving the car.
However, CDW only covers the bodywork of the car and DOES NOT cover flat tires, cracked windshields, damaged headlights, lost keys, towing, engine, underbody, and roof.
That being said, all rental agencies in Portugal will offer you additional insurance as an upsell called Full Coverage or Excess Insurance which is supposed to cover the above-mentioned damages and waive the deductible amount. However, buying Excess Insurance over the counter through a car rental company is usually very expensive (starting at 20 EUR per day).
Yet, to have peace of mind during your trip to Portugal, having full insurance is definitely necessary. I always get one, but not from the counter.
How to save money on full insurance for car rentals in Portugal?
You have two options for affordable full insurance:
If you are booking with Discovercars, they have a reasonably priced full coverage which costs around 5 EUR per day.
You can also use an independent excess insurance provider such as Worldwideinsure or Rentalcover. Purchasing insurance from them costs much less than buying full insurance through a rental agency. I personally use Worldwideinsure and purchase a yearly policy that is the best-priced option for multiple trips.
5. How to choose a car rental agency and avoid falling into a trap when hiring a car in Portugal
After my unpleasant experience with renting a car in Lisbon Airport with Centauro rental car, I am now more cautious about picking the right agency.
I was forced to take out the expensive full insurance from Centauro because supposedly their credit card machine did not accept my credit card. I knew my credit card was working perfectly fine, and the bank was informed about my trip to Portugal, so the usage of my credit card abroad was authorized.
Since my credit card was not accepted by Centauro credit card reader, I had to buy full insurance- it is a term to rent a car, otherwise, you will not get a car.
How do I know it is a scam? On the same day, there were several people that had exact same issue as I did. It was not a coincidence. Later on, I read online, that in fact, it is a tactic some of the cheaper rental companies use in Portugal to get their customers to buy full insurance.
Thus, to avoid having the same issue, always check the car rental rating before booking a car and also read reviews on websites such as Trustpilot to see what issues people have with a specific rental company. Long waiting time might not be a reason to avoid the agency, but strategies like the one described above certainly are.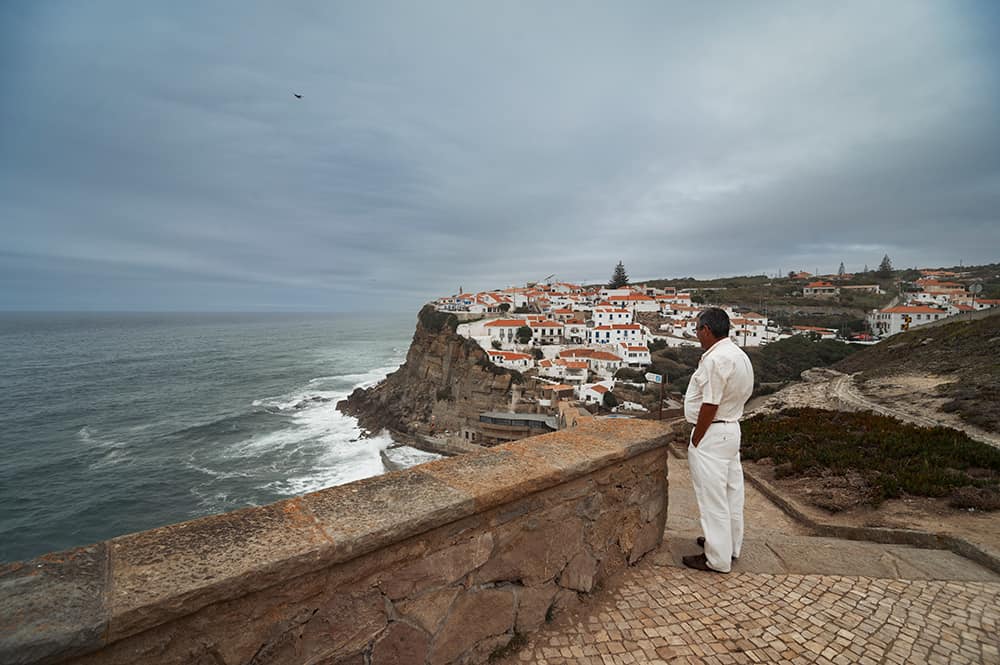 6. Checklist of other important things when hiring a car in Portugal
Here is a checklist of the things to pay attention to when renting a car in Portugal:
Pay attention to the deductible amount
The size of deductibles varies greatly- starting from 900 EUR and going all the way up to 2000 EUR, averaging at around 1200-1500 EUR. I always prefer to rent from a company with a smaller deductible. Nonetheless, if you are getting full insurance, deductibles should not be a concern.
Pay attention to the amount of the security deposit and make sure you have enough balance on your credit card
The security deposit that will be blocked on your credit card for the rental period varies greatly from company to company. The lowest I have seen in Portugal was 250 EUR, but I also saw rental companies requiring 2000 EUR as a security deposit. Thus, make sure there is enough balance on your credit card for the required amount to be blocked. Note that the security deposit amount often equals the amount of the deductible (but not always).
Pay attention to the fuel policy
Usually, rental agencies have a full-to-full fuel policy or require you to return the car with exact same amount (at least no less) of fuel as it was upon pick-up. If you return a car with a significantly lower amount of fuel, you will get charged extra for refueling and it is not cheap. Also, if it is the same-to- same fuel policy, make sure the level of petrol at the pick-up is stated in the contract.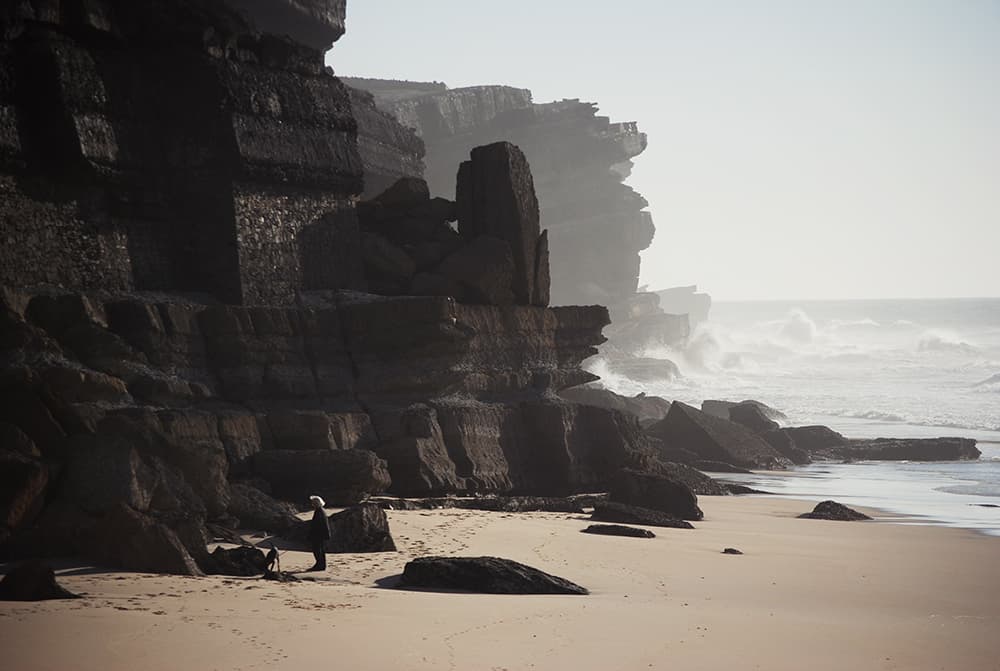 Pay attention if the car has a manual or automatic transmission mode
Make sure you are aware of which type of transmission mode your reserved car is. The majority of the cars in Portugal are manual and are always listed first as they are cheaper. Thus, if you are not familiar with manual transmission, make sure to filter automatic cars.  
Unlike in Oman or UAE, the mileage you can drive is unlimited in Portugal and in Europe. Yet still, take note if it is, so you do not have mileage restrictions on your road trip.
Pay attention if it is petrol or diesel
I know it sounds obvious, but that is what people (both agents and customers) forget the most often- to confirm what kind of fuel the car takes. It is very easy to get carried away once you got into your rental car until it is time to refill the tank. I was in this situation multiple times trying to find the type of fuel on my car rental agreement.
Inspect the rental car before leaving the agency
Before leaving the pick-up point, make sure all the scratches and bends you find on the rental car, take a note, and pointed it out to the agent if they haven't done that first. Also, check the interiors for potential damages left by other renters. Taking a video of the car is also a good idea before hitting the road. Make sure all of the damages are marked on the rental contract.
Make sure to book during business hours to avoid extra charges for pick up or drop off
Car rental agencies in Portugal have quite short working hours. They are open every day but only from 8 AM, or 9 AM (depending on the agency) and close at around 7-8 PM, even at the airport. Only a few agencies work 7 AM- 11 PM. Thus, if you are landing at an ungodly hour, you may have to figure out what works better for you- either stay in a hotel or pay an off-hours fee (which can easily and most likely will double your rental car price).
Check for mandatory safety items
Upon picking up your car make sure it contains mandatory safety items: a spare tire and the tools to replace it, a warning triangle, a first-aid kit, a reflective safety vest, fire extinguisher.
7. Cross-border fees
Most of the Portugal car rental companies will allow you to cross the border with a rental car. Nonetheless, they have different regulations to which countries you can drive to and also different cross-border fees.
Moreover, you must always inform the car rental company if you are planning to drive outside Portugal. Usually, you will be provided with written permission from the supplier. Since Portugal is in the Schengen zone, you can easily cross the borders without being checked. But note if the agency does not permit driving a rental car outside Portugal, or if you go to a country that is not on the allowed countries list then the insurance will be void in case something goes wrong.
On Discovercars, the list of countries and cross-border fees are indicated under the Geographical restrictions section for each company.
I noticed that Greenmotion has one of the largest lists of countries where you can travel with a rental car. Expect to pay a minimum of 50 EUR for crossing to Spain, 100 EUR to France, and 150 EUR for other countries.
Renting a car in Portugal and driving to Spain
Spain is the most common destination people choose to drive to after renting a car in Portugal. Naturally, almost all companies permit taking a rental car to Spain. The cross-border fee varies and starts from 40 EUR.
Tips for driving in Portugal
While driving in Portugal is generally easy and safe, below are some useful tips and must-know things for your Portugal road trip.
Do you need a car in Lisbon, Portugal? 
You do not need a car to visit Lisbon. The city is walkable and public transport is sufficient to get around. However, if you are planning to use Lisbon as a base and go on day trips. Then having a car is useful.
Tip: if you rent a car in Lisbon and stay in the city, make sure your accommodation has free parking. It is very difficult to find accommodation that includes free parking in the historic center. Thus, you may have to base yourself somewhere a little outside the downtown and take a metro to the city. This is exactly what I did when visiting Lisbon.
ALSO READ: How to spend 1-day in Lisbon: easy itinerary + map.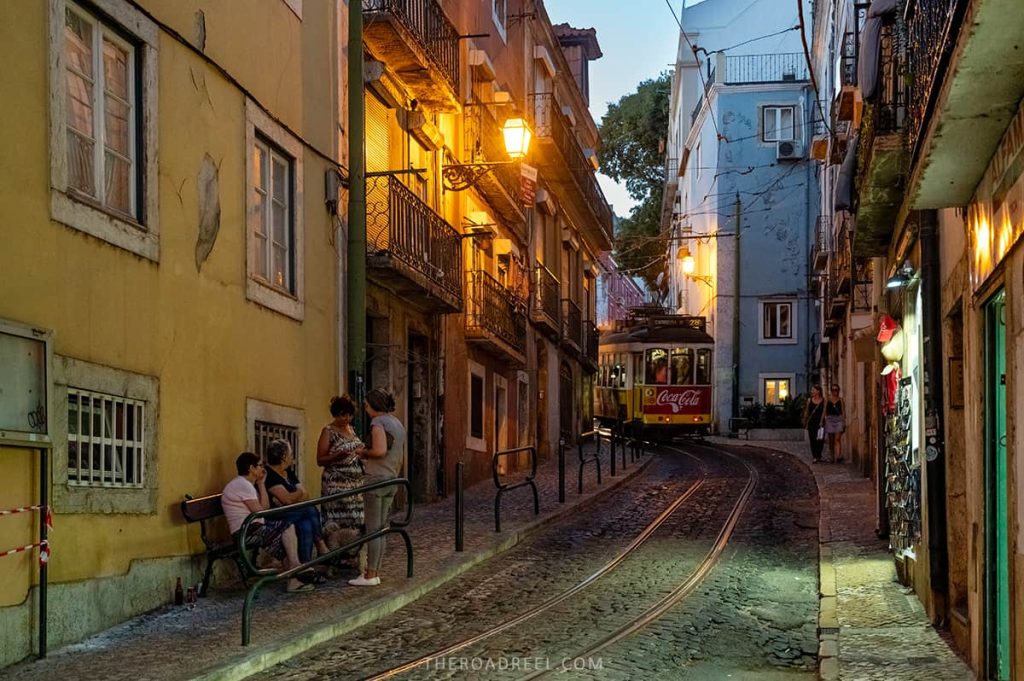 Do you need a car in Porto, Portugal? 
You do not need a car to visit Porto. Thus if you land in Porto, you may first want to explore the city and pick up your rental car once you are ready to embark on a road trip.
1. Roads in Portugal
Along with amazing scenery, road conditions in Portugal are generally great unless you venture to mountainous areas where the roads are windy and a little trickier to navigate. Nonetheless, most of the visitors on a road trip to Portugal stick to the main routes which are easy to drive.
There are three types of roads in Portugal:
The toll roads (A)- highways of excellent quality. They are great to use if you need to get between places quickly. Yet, they are paid roads and not cheap (more on that later). Google Maps almost always indicate if the road is a toll road.
National roads (N) – free roads between cities and towns that are in good condition
Regional roads- smaller roads between villages, and mountainous areas, those may have some potholes but generally they are okay.
2. Tolls roads in Portugal explained (including Via Verde card)
Portugal is a king of toll roads. There is an extensive network of toll roads connecting North to South and Central Portugal.
While car rental in Portugal is very cheap, tolls are where you spend a significant amount of money that can even exceed the car rental rate. Yes, toll roads in Portugal are expensive. For example, we paid around 25 EUR for crossing the A2 highway from Algarve to Lisbon (a 2.5 hours drive, around 270 KM).
The advantage of taking the toll road is the time– it is significantly faster to use a highway than to use national roads. Yet if you do not want to pay for tolls and have plenty of time, you can choose national and regional roads. Note that it will take almost twice as much time to drive backroads, but they are also often much more scenic.
TIP: These websites show if your route includes the toll road and how much it will cost Via Michelin and Via Verde.
Types of toll roads:
Motorways with old toll system marked by green Via Verde sign- to pass these you can pay by cash or card, and also Via Verde transponder device (use the Via Verde green lane if you have one).
Electronic toll roads- a system that has been a pain in the butt for many travelers. It is marked by the sign shown below. You cannot pay by cash or card. You either must have a Via Verde transponder device, sign up for EasyToll, or pay later at the post office (!?).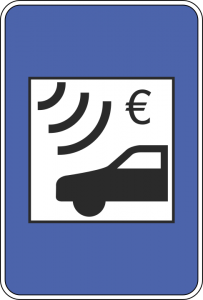 Via Verde transponder- electronic toll road device
You can rent a Via Verde transponder from your car rental agency. It is a device that automatically charges for crossing an electronic toll gate but also can be used on regular toll roads and to pay for parking in some parking garages.
The price of a Via Verde transponder is usually around 1.5 EUR- 2 EUR per day and often has a cap of 18-20 EUR. At the end of the trip, the rental agency will charge your credit for the amount you accumulated while driving through the toll roads.
Paying with EasyToll
Another option that might be even better than a transponder as you save on rental costs is to register with EasyToll. Note that it has a 0.74 EUR registration fee and it also has 0.32 EUR administration fee per journey.
Once you rent a car, you will need to provide the car plate number and your credit card details. The two will be linked and your card will be charged every time you pass an electronic toll gate.
Note, that Easy Toll is only valid for electronic toll gates. You will have to pay in cash or by card on regular toll roads. Also, EasyToll registration is valid for 30 days.
Paying for tolls at a postal office
If you do not have a Via Verde toll device or an EasyToll, you will have to pay for the tolls in one of the post offices in Portugal. And who has time for this? Moreover, it is a massive headache as there are a lot of limitations revolving around covering your toll roads usage:
It takes 2 days for the postal office to see which tolls you have passed and how much you owe.
You have only 5 days to pay the tolls that you passed without a Via Verde device or EasyToll.
You will have a headache finding the nearest open postal office next to your location.
If you fail to pay on time, the rental agency will receive a fine, and you will also not only have to cover the fine but get charged administration fees for the agency handling the fine payment.
3. Parking in Portugal 
Apart from big cities, parking in smaller towns and remote areas in Portugal is easy. On the seaside, locals tend to park along the roadside during the busy summer season.
Parking in the cities
Parking in bigger cities like Lisbon and Porto is usually paid during weekdays and free on weekends, or Sundays and Public holidays only in busier zones.
The most complicated is parking in the historic center of Lisbon or Porto. The spots are limited, streets are narrow and windy, and parking is paid during the day. Thus, if you need to park in Lisbon and Porto, the best bet is to look for parking options outside the historic center. Outskirts are usually easy to park, but not always convenient as you may have to take public transport to the historic center if it is too far to walk.
Parking in Lisbon
Parking in Lisbon is divided into 5 zones, with red and yellow zones covering the historic center, and green zones covering the nearby outskirts.
There are brown and black zones that mark zone that is of extreme demand.
Maximum parking duration in green and yellow zones is 4 hours, while in red, brown, and black it is 2 hours.
Parking prices range from .80 EUR to 3 EUR per hour.
Day parking is available in some residential areas, and places with ample supply of parking and costs 2-3 EUR per day. Those areas often have easy access to the metro or bus.
Paid parking timings are 9 AM to 7 PM on weekdays, and Saturdays in the red zone, and free on weekends and public holidays.
Use Emel Epark app to easily pay for parking in Lisbon (have to top up by 10 EUR to have the balance). Viaverde app also works in Lisbon and other cities around Portugal.
You can also pay by cash or card in the parkometer on the street. Better to always carry coins in case the parking machine does not accept cards or notes.
Note: some parking spaces are for people with disabilities, or reserved for residents only in some parts of historic Lisbon. Parking in those places will result in a hefty fine of several hundred euros and your car may even be towed. And the road police in Portugal are very efficient about it.
Garage parking
Covered garage parking with security guards are are available in Lisbon (Empark, Emel). They are open 24/7 and can be paid for by the hour or per day. Rates vary depending on the zone and start at 0.8 EUR – 2.8 EUR per hour, or 10-30 EUR per day. Cash or card payment is accepted.
If your rental car has a Via Verde transponder, you can use it in some cases. Check if the device has a green button on Via Verde. Press it to access the car park instead of taking the ticket. On the way out, the gate opens automatically and the machine records the payment amount which you will later pay to the car rental agency upon returning your car.
Parking in Porto
Street parking in Porto is divided into 4 zones-red, yellow, green, and blue. The red zone covers the historical center of Porto.
Parking rates depend on the zone and range from 0.40 EUR to 2.4 EUR per hour. Parking can also be paid by a quarter of an hour.
Paid parking times are from 9 AM- 7 PM on weekdays, and 11 AM- 4 PM on Saturdays.
Parking garages are also available around Porto and the cheapest are the ones run by municipality.
If you want to park for free in Porto, look for a spot in Vila Nova de Gaia district on the opposite side of the Douro river. You can park there and cross Dom-Luis bridge to get to downtown Porto.
A note about "Arrumadores" – unofficial car parkers
Arrumadores (equivalent to posteggiatori in Sicily and Italy) are illegal car parking assistants who "help" you park your car and expect a euro or two payment for this service. Those are usually homeless or very poor people, said to be also drug addicts, who are trying to make money this way. Supposedly they also look after your car while you are away, but this is not guaranteed.
Their activity is illegal and you should be aware of it and avoid parking following somebodies indications. Arrumadores usually operate around free parking slots, but not always and if you happen to encounter one and follow their direction, always check if that spot is actually free, or if it is paid or even reserved for residents. Also, in case you parked with the "help" of arrumadore, it is better to give them a coin just for the peace of mind that they do not scratch your car, as you never know.
4. Basic driving rules and regulations in Portugal
Speed limits in Portugal:
120 km/h  (74 mph) – on motorways; the minimum speed limit is 50 km/h (31 mph)
100 km/h (62 mph) – expressways;
90 km/h (55 mph) – national roads;
50 km/h (31 mph) – regional and rural roads, cities.
You will also encounter other speed limits across national roads, like 80 km/h, 70 km/h, or 60 km/h, and so on. Always look out for the speed limit when driving.
Speed cameras in Portugal
There are fixed speed cameras on Portugal roads, usually, they warn you 200 meters to 1 kilometer before the radar. They are marked by a blue sign with a white rectangle and a drawing of a van, car and motorcycle and a beam.
Also, there are mobile speed traps set by the police, who usually hide in a regular car and can catch the speedy driver either by following them from behind or waiting on the hard shoulder. Then the driver is stopped and has to pay the fine on the spot. Card payment machines are used to pay fines for the police.
Speeding fines in Portugal depends on how much above the speed limit you go and ranges between 60 EUR to even 2500 EUR (for super speedy drivers).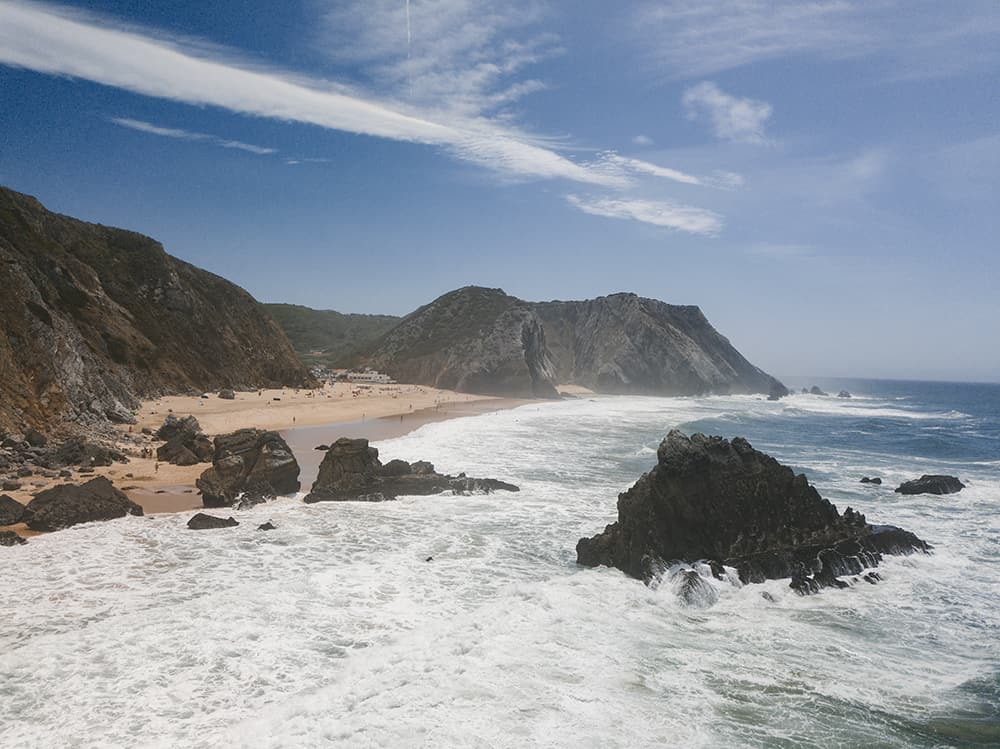 Other basic rules and regulations in Portugal:
Driving in Portugal is on the right-hand side.
Seatbelts are compulsory for both driver and passenger in the front and rear seats.
Minors under 12 years old cannot ride in the front passenger seat.
The use of dipped headlights is compulsory in poor daytime visibility and in tunnels.
Third-party insurance is compulsory (CDW included in car rental in Portugal)
The fine for using the phone while driving is 600 EUR. A hands-free system is permitted. 
The alcohol consumption limit is 50mg per 100 ml of blood (0.05%).
Always carry your driving license while driving. Fine for not having one if you are stopped by police is 60-300 EUR.
112 is an emergency number in Portugal
Road signs in Portugal
Portugal follows the Vienna Convention on Road Signs and Signals, thus the signage of roads complies with standardized system in Europe.
5. Fuel Prices and petrol stations in Portugal
There is plenty of gas stations in Portugal, thus you do not need to worry about driving long distances without none in sight.
Petrol price in Portugal, unfortunately, is one of the highest in Europe (fluctuates on average 1.7 EUR per liter or 6.5 EUR per gallon)
Petrol prices vary from one gas station to the other. You can use the 1-2-3 Fuel app to find the cheapest petrol pump on your route.
Petrol is called "Gasolina" and diesel is called "gasóleo" in Portuguese. Sounds almost the same, so be aware to fill the tank with the correct one. If you forgot to confirm with a rental agency which type of fuel your car uses, look for that information either in your car rental agreement, or sticker placed on the dashboard, even on the car key or fuel door. Worst case, call the agency.
Also, you have to fill up the tank by yourself and go pay inside the petrol station store.
Petrol stations on highways are usually open 24/7. But the ones in small towns and villages close at night.
6. Navigation in Portugal
Google Maps and Waze work just fine in Portugal. They can get confused in smaller towns with windy streets occasionally but overall, it is sufficient to use as navigation. Make sure to get internet or pre-download offline maps.
Renting a car in Portugal – main takeaways
Renting a car in Portugal is inexpensive. But book in advance if you are traveling in the summer.
Search for the best rates and book your rental car in Portugal on Discovercars.
You will need to rent a Via Verde toll device or register for EasyToll to easily pay for electronic tolls (not payable by cash or card).
You do not need a car to explore the cities of Lisbon or Porto, however having one in Lisbon is beneficial if you are planning to go on day trips.
Driving in Portugal is one of the easiest in Europe and it is by far the best way to explore the country independently.
I hope you are enjoying my free travel guides & tips. If yes, please consider supporting my work by buying me a coffee so I can continue creating more useful content from my favorite coffee shop in town. Thanks!
More Portugal travel guides
Portugal Travel Essentials & Useful Links
Here are links to essential travel resources and services I always use when organizing my trips.