Renting a car in Oman and going on a road trip is an ideal way to explore the Sultanate. Here are my 30 tips for driving in Oman: from hiring a car in Muscat (or Salalah), what type of car, 2WD or 4WD to choose and when, to road rules and conditions in Oman, as well as a few things to be aware of to have safe driving experience. 
With immaculate road quality, cheap fuel, and relatively low car rental prices, Oman is a road tripper's and an off-roader's dream come true. I have been to the Sultanate multiple times and I find driving in Oman enjoyable and safe.
If you are planning a road trip in the Land of Frankincense, you may be wondering what is driving in Oman like, looking for the best place to hire a car in Oman, or maybe trying to decide if a sedan car will be sufficient or if you should opt for a four-wheel vehicle for your Oman route. 
Keep on reading this one-stop guide to hiring a car in Oman to find all the answers to the most commonly asked questions and useful Oman driving tips.
Disclaimer: This post contains affiliate links, which means that I may earn a commission if you make a purchase by clicking a link (at no extra cost to you). This helps to keep my blog running and growing by creating more awesome free content for you.
Renting a car and driving in Oman: everything you need to know
FIND THE BEST RATES FOR CAR HIRE IN OMAN
Look for the most affordable deals for your rental car with Discovercars.
1. Is it easy to rent a car and drive in Oman? 
Oman is one of those countries in which renting a car and driving is easy and enjoyable.  Most of the roads are in excellent condition, road signs are in Latin characters and navigation is easy, traffic is generally very light, and the majority of the drivers conduct overall a well-mannered road behavior. They do drive fast though, but it is mostly on the highways where the ones in a rush use the last lane.
Poorly maintained roads could only be found in remote locations, but even those are often easily manageable. Only wadis (gorges), some of the mountain roads, and dirt tracks will require driving a 4×4 car.
Meanwhile, on well-maintained highways, people tend to drive fast. However, the roads are wide and have multiple lanes to accommodate both slow and fast drivers. Also, Omani drivers are fairly chilled compared to the ones on the UAE roads.
2. Why hire a car in Oman?
Hiring a car in Oman is the best way to see the country if you are planning to travel beyond the capital Muscat.  You will have the flexibility and freedom to visit incredible natural and historical places independently and at your own pace. 
Moreover, Oman ticks all the boxes when it comes to road tripping- the petrol is one of the cheapest in the world, car hire rates are very reasonable and the roads are in great condition with incredible scenery along the way.
Public transport in Oman is not that frequent or common and is limited to connections between the main towns only.  Meanwhile, the best sights in Oman, especially natural ones (gorges (wadis), beaches and mountains, desert) are reachable only by private car.
If you do not drive you still have the option to join tours to the popular destinations in Oman or hire a private driver (but this option can be pricey). Tours are available to only the most popular attractions like Wadi Shab, Jebel Akhdar, Nizwa, Jebel Shams, Wadi Bani Khalid, and Wahiba Sands desert, to name a few.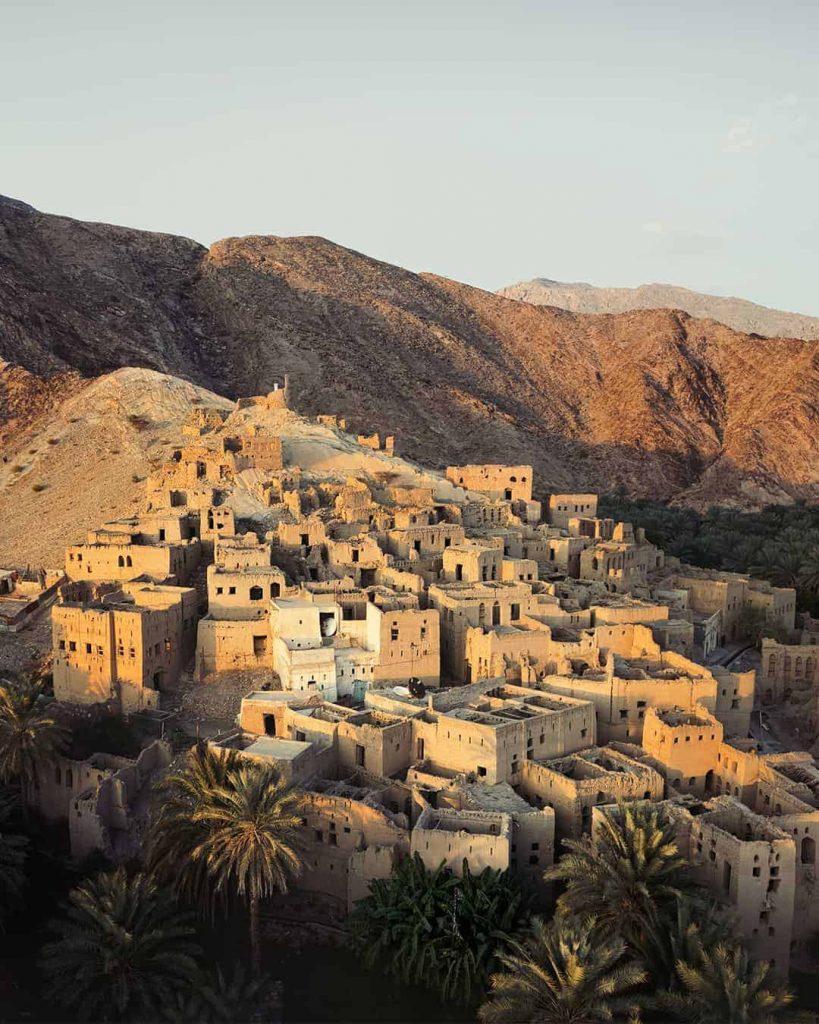 Renting a car in Oman tips
3. Booking your rental car in Oman-where to book
There are several international car rental operators in Oman (and Muscat airport). I usually find the best car rental rates with Discovercars.
Discovercars is a search aggregator which compares prices between international car suppliers. Discovercars always have some of the cheapest deals in the market, and even offer additional discounts on some rentals. 
It also allows filtering out the vehicles according to different criteria (car type, transmission type, price range, etc). The booking process is clear and straightforward, requiring a small deposit which is refundable in a form of credit in case of cancelation up to 48 hours before the rental date. You can check full rental terms & conditions here. 
To make sure that I am getting the best car hire rate, I also cross-check with Rentalcars. It used to be my go-to car rental site before, and, although I use it less nowadays, it may also have good deals. Thus, always worth double-checking.
Note, that Rentalcars does have free cancelation for up to 48 hours policy as well. However, if you are required to leave a deposit for a specific booking, it will not be returned even when canceling 48 hours prior to your rental date. You can check the full terms and conditions here.
4. How much does it cost to rent a car in Oman? 
With Discovercars, when renting a car for one week, you can find daily deals for as low as 20 euros per day for a small vehicle (limited mileage) and 40 EUR for unlimited mileage.  Meanwhile, SUV prices start at 60 EUR per day for limited mileage and around 100 euros per day for unlimited. 4x4s are the most expensive and you should expect to pay at least 80 EUR per day.
Interestingly, unlike in many European countries, the majority of rental cars are automatic (except for some SUVs and 4WDs). This does not increase the car rates as it usually happens with automatic car rentals in Europe. 
5. Book your car in Oman earlier to secure the best rate
It is always advisable to book your vehicle as early as possible to get the best rates, especially if you are planning on driving during the peak season. Moreover, Oman is surprisingly not very touristy, and therefore, the car rental supply is not as large as in, for example, the UAE. 
In Oman, the tourism season starts mid-October and lasts until mid-March. The Winter months of December, January, and February are the peak.  Also, July and August are popular months for traveling to the Dhofar region in the South of Oman,  where the climate changes from hot and dry to subtropical rainy, and misty. Therefore, car demand increases in South Oman during the summer.
6. Do I need 4×4 (4WD) in Oman?
If you need a 2WD or a 4WD in Oman depends on your chosen route and the goal of the road trip. To reach the main tourist sights and even lots of off-the-beaten-path destinations, including the far-away region of Salalah, 2WD is sufficient when you stick to the main roads. 
However, Oman is known as a perfect place for off-roading. If you are planning on camping, the best wild camping spots in Oman most of the time will be accessible driving off-road, where you will definitely need a 4×4 car, or at least a higher clearance SUV.
Also, driving to the famous Jebel Akhdar Mountain, a four-wheel car is essential. You will not be permitted to pass the checkpoint without a proper vehicle.
Moreover, if you know how to drive in the sand dunes, for example, you will definitely benefit from having a 4WD for exploring the desert.
Note: wild camping is legal in Oman, and very popular between locals and travelers. You can pitch your tent almost wherever you want in the mountains or desert, as long as it is safe to do so.
Important: car rental companies do not officially allow you to drive off-road. If something happens in an off-road place, the insurance will not cover it. Nonetheless, there are many off-road places that are safe to drive but you can only attempt it with a higher clearance vehicle (the sedan is too low to pass some terrains, and the likelihood of damaging it is high). Thus many travelers touring around Oman prefer to have an SUV or 4WD to be free to access those wild places.
Note that not all SUVs have a 4WD option. This is something to bear in mind when booking. Some SUV has higher clearance and can still be better than a sedan when driving rugged roads.
7. Make sure to check mileage allowance before reserving the car in Oman
When searching for car hire in Oman, you will notice that car rental companies often either limit the mileage for the rental period and charge extra per each additional kilometer, or charge more for the car rental. If you are planning to drive long distances, which is quite likely for road trips in Oman, the allowance may finish pretty quickly. On average, only around 175-250 km per day is included in the mileage allowance.
Depending on the rental company agreement, every additional kilometer driven will be charged at around 0.04- 0.1 OMR (0.1-0.25 EUR/USD) which is quite expensive considering the distances in Oman are long. The best way to know if you will incur extra costs is to roughly estimate the total distance of your road trip. 
If you are traveling only around the Northeast side of Oman, and aren't planning to go all the way from Muscat to Salalah, which is over 1000 km, the millage allowance might be just right. For example, on my one-week Oman Itinerary, the total driving distance was only 900 KM, which is within the allowance limits for 7 days.
8. Make sure your credit card meets all the requirements when hiring a car in Oman
When booking a car, you are requested to provide a credit card under the driver's name (another person's credit card or even the driver's debit card will not be accepted). The credit card, unless you are purchasing full coverage, will be used to block the security deposit. Therefore, make sure you have enough limit on your credit card for a security deposit to be locked (until you return the car, undamaged). 
In case you are unable to provide a credit card or do not have enough limit for the deposit, you will be obliged to buy full insurance, which in most cases is quite expensive (almost doubling the rental price). 
 9. Make sure to check the security deposit and excess amount before booking
The security deposit amount sometimes varies greatly between the companies. If you are not comfortable with freezing large amounts or do not have enough limit on the credit card, you might have to look up another car agent. 
Also, a larger security deposit means that the rental company has more amount of your money at their disposal. In case of an accident, where it is your fault, up to a full deposit may be utilized to cover the costs. Sadly, the costs charged are way higher than real-life car fixing costs. Even the smaller scratches are may be charged an unreasonable amount.
Moreover, make sure to check the excess amount which is always indicated in the terms & conditions prior to booking. The excess amount often equals your deposit amount (in rare cases it can be smaller). 
Note that the excess amount is attached to the Collision Damage Waiver (CWD) and Theft Protection (TP) only. It means that before the policy covers any damages, you will need to pay a certain amount of excess. The excess amount charged depends on how severe the damage is. 
Also, note that CWD usually excludes windscreens, glass, tires, wheels, personal belongings, undercarriage, interiors, towing charges, and off-road time. 
10. Buying full coverage- is it necessary and how to save on the costs? 
To have peace of mind and protect yourself from paying an excess amount in case of an accident you have the option to purchase full insurance (also called excess insurance or excess waiver). 
You have 3 options:
At the counter when picking up the rental car. This is the most expensive option and I usually do not go for this. So far, I only had one instance in Portugal when my credit card did not work, and I was forced into buying full insurance over the counter which resulted in doubling the overall car rental rate. 
Add excess insurance online, during the time of booking. For example, Discovercars has the option to choose full insurance which covers damages up to a certain amount, and types of damages that are not included in CWD or TP policies. Excess insurance day rates are also lower when adding it along with the booking compared to when buying at a counter (it can be as low as 6 euros per day while at a counter it might be at least 10 euros per day or higher). 
Getting third-party excess insurance is the cheapest option.  However, in case of an accident, you must still pay the rental company, and then get a refund from the third-party insurance company. The refund process might take a few weeks. 
I purchased an annual full coverage at Worldwideinsure for around 120 UK pounds. It allows multiple trips around the world, each of which does not exceed 60 days of car rental in one shot.
If you are UK or US resident, you are in luck to choose from many more insurance providers. For example, icarhire is one of the reliable ones. I used it years ago in Cyprus when they were still covering all European residencies. The car got scratched, so I paid for the rental company. After 2 weeks I got fully refunded by icarhire the exact amount I had to pay for the rental.
11. Age requirements for car hire in Oman
Although you can legally drive in Oman from the age of 18, car hire companies require the driver to be at least 21 years old or no older than 75 and have at least 1 year of driving experience ("on paper"). 
For example, before starting your search on Discovercars, you have to tick the box confirming your age group and country of residence. The whitelist is 30-65 years old. 
If you are below or above this age group rental companies will most likely charge extra fees.
12. Is International Driving Permit required to hire a car in Oman?
An international driving permit (IDP) is required if your license is not in the Latin or Arabic alphabet. You must carry a valid original license to support IDP. 
UK, US, and Canadian licenses are accepted for car hire in Oman. Also, UAE-issued licenses are accepted when renting a car in Oman. 
13. Where to pick up your rental car in Oman?
Most travellers arrive in Oman through Muscat airport which is a common place to pick up a rental car. You also have the option to choose a different pick-up location in Muscat town in case you decide to spend a few days in the capital without a car.
Another popular place to hire a car in Oman in summer is Salalah, Dhofar region, in the South of the Sultanate. Salalah is a small town and also has options to pick up the vehicle at the airport or other locations (often at some city hotel).
14. Do I need a rental car in Muscat, Oman?
Unlike many capitals where traffic is often hectic, driving in Muscat is fairly easy. Also, having a car in Muscat is handy for visiting many points of interest spread out along the city. You could also use taxis to visit certain places of interest like Sultan Qaboos Mosque, the Muttrah Souq, and corniche. However, if you are planning to explore some of the wonderful beaches in the outskirts of Muscat, having your own car is cheaper and more convenient than using taxis.
15. Can you pick up and return your Oman rental car in different locations
You can pick up and drop off the rental car in a different location in Oman at an extra fee. The additional cost depends on how far away the two locations are.
For example, picking up and dropping off the rental car in different places in Muscat might be even free of charge. As I checked on Discovercars, some companies offered exact same rate for different pickup and drop-off locations within the city of Muscat. 
However, a one-way fee may result in quadrupling the regular rental rate if you want to pick up the car in Muscat and drop it off in Salalah, which is 1000 km away from the capital of Oman.
16. Can I drive a rental car from Oman to the UAE? 
Most of the car hire companies permit taking a rental car from Oman to UAE and back.  Prior to making a reservation, double-check if the option of driving to Dubai from Oman is allowed. You must also inform your rental company about your plan to cross the UAE border.  Necessary documentation permitting crossing the border will be issued by the rental company.  
Taking your rental car from Oman to other countries (apart from UAE) 
Driving a rental car from Oman to other countries rather than UAE is not permitted.  You cannot go to Yemen, for example. I have not seen Saudi Arabia either in any of the rental companies' allowed countries lists. 
RELATED READS: Driving from Dubai (UAE) to Oman: everything you need to know.
Car rental in Oman saving tips-main takeaways
Book early in advance to secure the best rate. Click here to check car rental rates with Discovercars.
Cars with limited mileage usually cost less, thus if you are not planning to drive beyond the free mileage allowance, you are in luck to find many cheaper options.
Smaller cars are significantly cheaper than big ones.  If your route does not require an SUV or 4WD, go for a smaller car.
Pick up and return the car in the same location (unless it is within Muscat where some agencies do not charge extra).
Stick to collecting and bringing back the rental car within office working hours if it is not at the airport where desks are usually open 24/7. 
Renting for a longer period is significantly cheaper. The price for a car rental for 3 days and one week sometimes can be very small.
Get third-party excess insurance to save on full insurance costs.
Wash the car before returning- unlike in many other countries, bringing a clean car is one of the requirements in Oman and you will be charged extra for cleaning.
Oman driving tips
17. Oman roads-types and conditions
Ever-expanding Oman road network quality is immaculate. Just like in the UAE, the motorways are smooth, well-maintained, and are some of the highest quality in the world. The main cities and towns are connected by multilane highways with many smaller arterial regional roads leading to various towns and villages.
Even many mountain roads are paved and of the highest quality, making it easy to access wonderful natural places in any type of vehicle.
Apart from brand-new motorways and regional roads, you can also come across these types of roads in Oman:
Paved one-lane narrow roads which can be driven in 2wd leading to small mountain settlements.
Unpaved dirt, rock, and gravel tracks wind through wadis (gorges) and mountains, usually leading to hidden oases (water pools), or very remote mountain villages. Their roads can only be driven in a 4×4 vehicle or higher clearance SUV.
Sandy unpaved desert roads.  Those are usually too soft and not suitable for 2wd and can only be driven in 4x4s. 
Toll roads in Oman
The roads in Oman are currently toll-free. However, toll roads are planned to be introduced in the near future in Oman on some highways.
18. Routes and places in Oman suitable for driving a 2WD car
The majority of tourist attractions in Oman are accessible with a regular sedan. With a 2WD vehicle, you can still see a lot of major natural and historical sites and even access some mountain villages.
Here are the main popular destinations in Oman where you can go in a sedan car:
Main towns: Muscat, Nizwa, Sur, Ras Al Jinz, Salalah, Khasab (Musandam Peninsula), and other bigger towns.
Wadi Shab, Wadi Bani Khaled, Wadi Tiwi, Wadi Damm.
Misfat Al Abriyeen, Al Hamra, Birkat Al Mouz, Ghul mountain villages
Desert camps in Sharqiya (Wahiba) Sands (tour companies offer a pick-up from a nearby town and you can leave your sedan car at their offices).
These places are reachable in 2WD, but extra caution is required:
Al Ayn Beehive Tombs (approach with caution as the road is unpaved and rental car insurance will be void if something happens).
Jebel Shams- people make it up to the mountain in 2WD, but the road gets steep at parts and is already considered an off-road. It is safer to drive there in a 4WD or high-clearance SUV.
RELATED READS: Planing on going from Dubai to Musandam? Here is my detailed Musandam Travel Guide which includes border procedures and the best things to do in Musandam for a day, two, or more. Click HERE to read it.
19. Routes and places in Oman where 4WD is essential
Having a 4-wheel vehicle opens up a whole other world of adventure and opportunities to go off the beaten path in Oman and visit some of the most incredible wild places.
Some of the well-known locations that are only accessible with a 4WD are:
Jebel Akhdar Mountain – although a paved new road leads to the top of this well-known mountain in Oman, you will not be able to pass the checkpoint if you do not have a 4WD. This checkpoint is implemented for safety reasons, as the road is steep, and going downhill can be dangerous because of possible break failure.
Jebel Shams (Grand Canyon of Oman)- although some people managed to get there with 2WD, it is recommended to drive a high-clearance SUV or 4×4 for safety.
Drive on a mountain path from Western Hajar mountains to Wadi Bani Awf, Hatt, and Snake Gorge.
Mountain villages Balad Sayt and Wakan.
Fazyat beach in Salalah.
Wahiba (Sharqiya) Sands and Empty quarter for dune bashing.
Wadi Bih and Jebel Harim mountains in the Musandam Peninsula.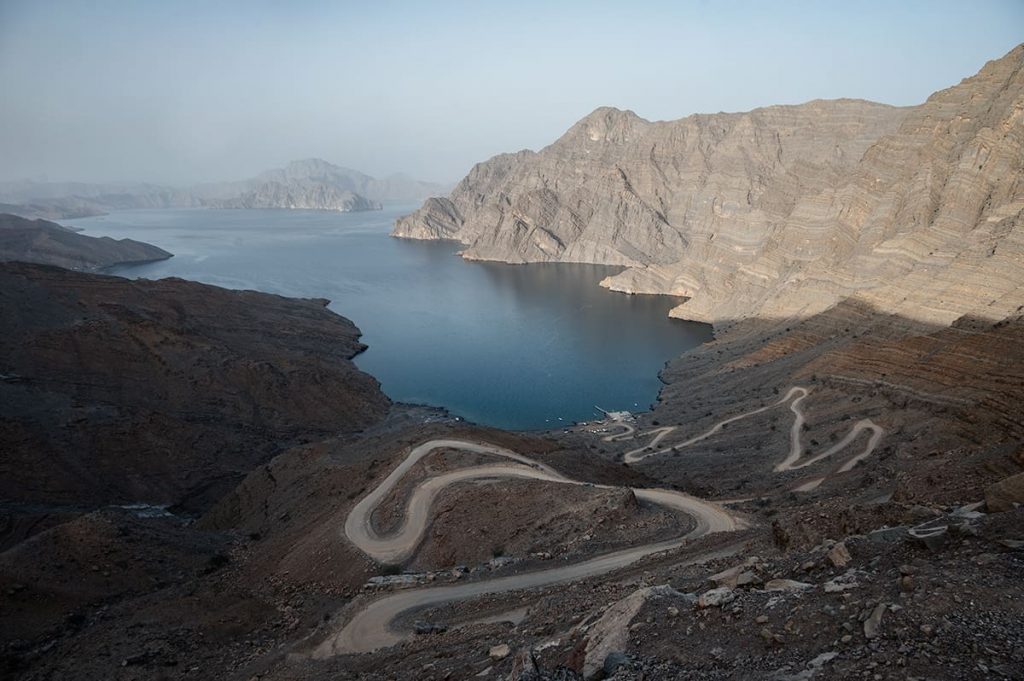 20. Fuel prices and petrol stations in Oman
Although there is no shortage of petrol pumps in Muscat, gas stations in Oman might be sparse outside of bigger towns. 
For example, the new highway between the UAE Hatta Al Wajajah border and Muscat only has one petrol station closer to the UAE border and then there is none until you reach the outskirts of Muscat. 
The same applies when driving from North to South of the country through the desert area- petrol pumps are very limited. Also, along the southern coast of Oman in the Dhofar region, petrol stations are located more or less every 100 – 150 km at best. 
Petrol price in Oman
The good news though is that petrol prices are low compared to the rest of the world. Thus, tackling long distances in Oman comes at a very reasonable cost. 
Expect to pay 0.239 OMR (0.62 EUR/USD) per litter for benzine. Diezel is not common in this region, and most likely you will have a benzine-run car.
Petrol pumps are not self-service in Oman
Differently than in many European countries, there is a petrol station attendant who will fuel up your car's tank for you. Payments are accepted both in cash and cards.
21. Navigation in Oman – GPS vs Google Maps
You do not need to rent a GPS device when hiring a car in Oman. Google Maps will do the job if you are sticking to the main roads between towns and cities. You can also rely on road signs for main destinations. 
If you own a GPS device, this can be useful in remote off-road areas in the mountain where the signal is weak or does not exist.
I always get a local SIM card with data for longer trips or preload maps for shorter ones. For example, for a 2-day Musandam trip, I have saved offline maps to get me to accommodation and other specific spots.
In Oman, Omantel has the best coverage and also offers tourist packs for different durations and data amounts. You can purchase an Omantel package at Muscat airport, or in bigger shopping centers.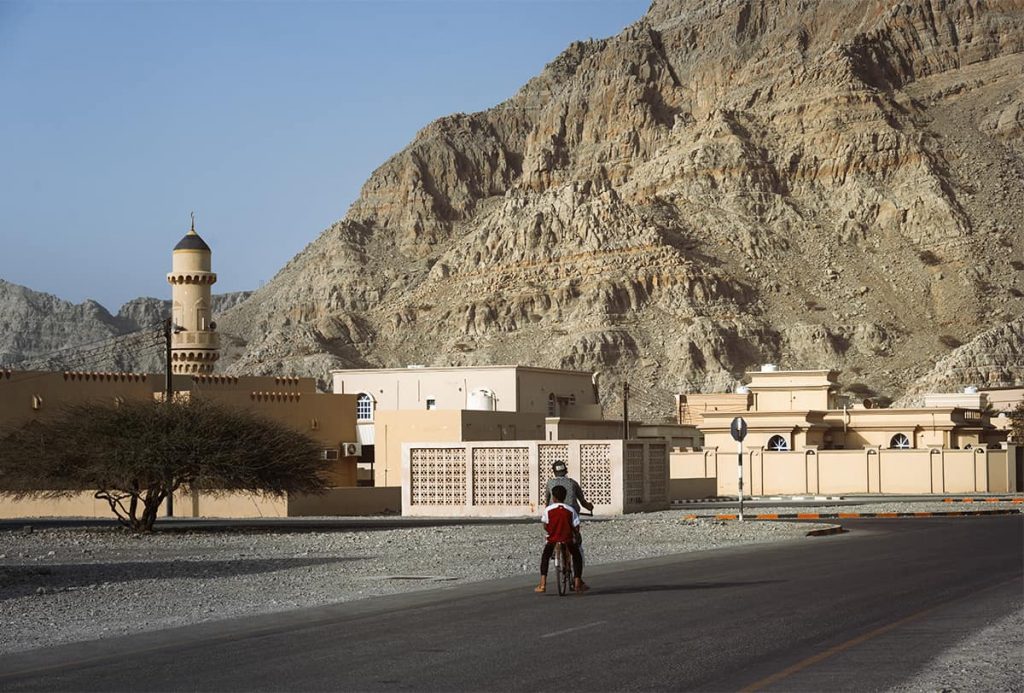 22. Parking in Oman
Parking in Oman should not pose any difficulty. In fact, it is one of the easiest countries to park your car. Even in the capital Muscat there is no shortage of free parking.
Parking in Muscat
There is plenty of free parking available in smaller quieter streets, in front of hotels and apartment blocks, mosques, and shopping malls in Muscat.
The busiest area in Muscat is Mutrah Souq and the corniche area, also the Ruwi quarter, and some commercial areas. Here parking is limited and it is also paid to park. 
Currently, a large signboard indicates paid parking areas in Muscat. Make sure you do not miss one as sometimes the boards are placed somewhere around the corner and not immediately noticeable.
You must pay for parking in Muscat via SMS by sending your car number and car code followed by the amount of time in increments of 30 minutes (which is the minimum you can pay for) to the number 90091.
The parking payment machines are also available but Muscat municipality is planning to remove those and make payment digital only. 
As of now, there is no app to make payments for parking in Muscat
Parking in Muscat costs 110 Bz (1000 Baisas=1 Oman rial) for every 30 minutes and in one shot you can pay for 300 minutes maximum. 
Paid parking hours in Muscat are from 8 am to 1 pm and from 4 pm to 9 pm. 
Parking elsewhere in Oman
Apart from Muttrah Corniche in Muscat, the parking can be slightly tricky around Nizwa castle and Nizwa Souq, especially during busy Friday market mornings. Nonetheless, it is always possible to park a few streets away and just walk to the fort and the market. 
I never encountered any difficulty parking in Oman, except in a couple of places which are Wadi Shab and Misfat Al Abriyeen mountain village. 
Those places are popular attractions in Oman frequented by both locals and tourists. Since they have limited parking spaces, especially Misfat Al Abriyeen, it can be tricky to find a parking spot on weekends, and Oman or UAE national holidays.
Elsewhere in Oman, it is very easy to park,  you can also park on unpaved terrain if necessary as long as it is not obstructing traffic and is safe. 
Oman road rules: the basics
Traffic rules in Oman are enforced by Royal Oman Police (ROP). Here are the main road rules you should be aware of.
23. Speed limits in Oman
These are the speed limits in Oman on different types of roads:
120 km/h on highways
90 km/ on rural roads
Urban dual carriageway 60 km/h or 80 km/h
Urban single-carriageway 40 km/h
Parking areas and service roads 20-25 km/h
24. Speed cameras in Oman
Just like in the UAE, speed cameras in Oman are everywhere, and they do work. Fines can be applied both for exceeding the limits and for disrupting traffic (unreasonably slow driving on a highway). 
The fine depends on how much you speed and ranges between 10 OMR to 50 OMR. 
There is zero tolerance for exceeding the speed limit (the grace allowance of 15km was abolished in 2019).
More info on different types of fines in Oman is here. 
25. Other Oman road rules
Driving is on the right-hand side; overtaking from the left.
Seat belts are compulsory for the driver and passengers both in front and rear seats.
There is 0 alcohol tolerance when driving in Oman; driving intoxicated by alcohol or drugs will incur jail time and a hefty fine.
Avoid using offensive hand gestures, getting involved in arguments, or use offensive words against other drivers in Oman. This behavior is taken seriously, and you can get arrested and get fined for insulting another person.
Using a mobile phone while driving is not permitted, except with a hands-free device.
Note: if you get fined while driving a rental car in Oman, it will be your responsibility to pay the fines. Apart from the fine, you will also encounter an administration fee charged on top by the rental agency. Also, fines might take months to come through.
26. Road signs in Oman
Road signs in Oman are both in Arabic and Latin alphabet which makes navigating easy. Blue signs with white writing indicate towns and cities, while brown signs with white writing point to different attractions like forts, wadis, parks, and other points of interest.
Other road signage follows the (ISO) European system and there is nothing unusual or different about them (except the type of animals to watch out for on the road-like camels and goats instead of cows and gazelles). 
Flash flooding signs in Oman
Flash floods are one of the most dangerous natural occurrences in Oman. Roads often become impassable after heavy rains. Places that are very prone to flooding have red board signs warning about water levels ahead. You can see poles with red markings on the side of the road. If the water level is reaching a red marking, you must stop and not drive further ahead.
27. A word about fast and slow lanes in Oman
On a multiple-lane road, the last lane on the left-hand side is a fast one and the first one on the right-hand side is a slow one.  Fast lanes in Oman highways are really fast. Although the speed limit is only 120 km per hour on a motorway, you will see many locals flying way beyond that. 
If you are not that fast of a driver, you should always stick to other lanes, and use the fast lane only for overtaking. It is an unwritten etiquette not only in Oman but also in the UAE to give the way immediately to the faster car behind you.
Don't be surprised if you get flashed at while driving in a fast lane by someone who is approaching at a higher speed than you. They are just giving you a heads-up to move out of the way. If this happens while you are overtaking, don't panic, just move to the slow lane when it is clear and safe to do so.
28. Try not to miss an exit on a highway
Missing an exit on a highway in Oman and also in the UAE is the most annoying thing ever. It means that you will most likely be doing a U-turn somewhere at least 10 kilometers ahead or looking for the other available exit just as far. This always adds a minimum of 10 minutes and often can be even 20 minutes of extra driving.  So just watch out for those exit signs.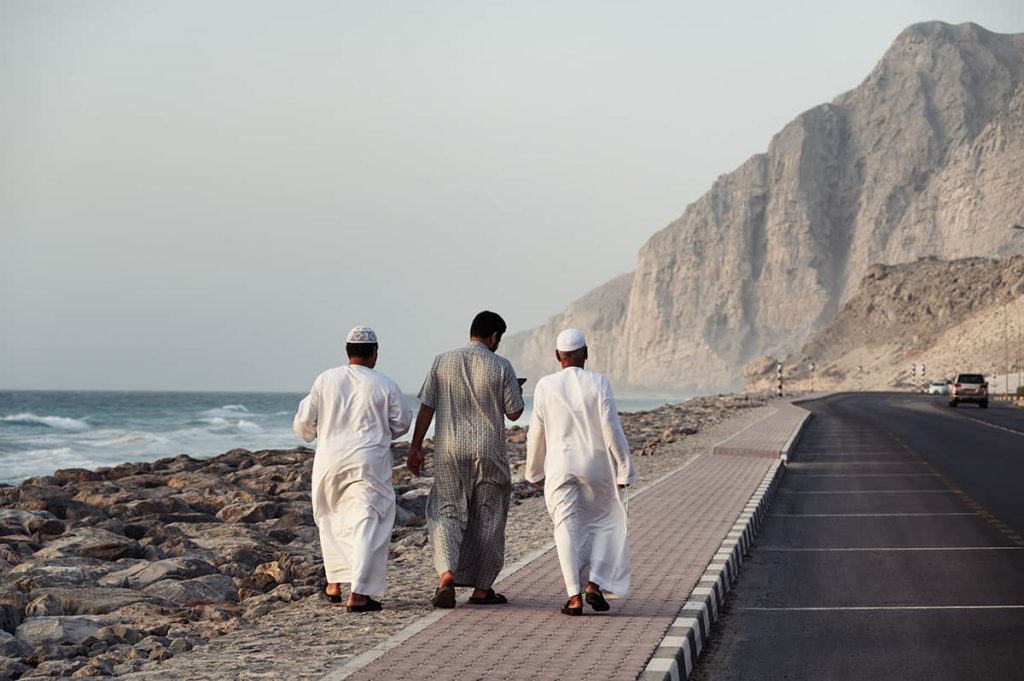 29. Other important things to be aware of when driving in Oman
Flash floods 
As mentioned before, flash floods are one of the real dangers not to mess around with. Flash flooding can happen unexpectedly, especially in wadis (gorges). If it is cloudy, or there are signs showing even the slightest possibility of rain, do not drive into wadis (gorges) and mountains in general. Even regular roads and highways suffer from heavy floods every year in Oman. The consequences of flooding can be devastating, even fatal.
Therefore, always make sure to double-check weather forecasts when driving in Oman, especially if you are planning on going to the mountains. 
Wildlife
Outside the cities, you can encounter camels and goats strolling along the roads.  Especially in the Dhofar region, camels are roaming freely anywhere they feel like. Thus, always watch for the animals while on the road.
Avoid driving at night in Oman
As just mentioned, one of the main dangers on the roads is animals. While you can see them from afar during the day, it is a completely different story when driving at night.
Although many roads in Oman do have street lights, the more remote motorways running through the central and southern parts of the country are not lit. This makes driving at night tiring and very dangerous mainly because of wildlife.
Watch out for the speed bumps
Speed bumps are very common in Oman, they can be annoyingly frequent in towns. Some of them are painted in bright yellow, but some are completely faded and blend with asphalt. It is hard to spot those from far away, so just watch out. 
Be aware of snoozing while driving
Falling asleep by the wheel, especially when driving tired at night or even during the day on a straight monotonous road is a real thing.  Thus, make sure to be well-rested before sitting behind the wheel for a long ride. 
Stay focused and do not get distracted by the beautiful Oman scenery
Last but not least, one of the hardest tasks while driving in Oman is not to look around when the ever-changing beautiful landscapes are inevitably making your head turn. Don't be carried away by the gorgeous scenery of Oman.
30. Emergency Number
I hope nobody of us will ever need it, but in case of emergency, call 9999 or 112. These are the main emergency numbers for car accidents, injuries, crimes fires, and general rescue events in Oman.
In case you are involved in a car accident with your rental car, you must immediately inform your car rental company about it. Depending on how severe the accident is you also might have to call an emergency number or follow the steps your rental company instructs you to take. 
I hope this driving a rental car in Oman guide will be useful to you. If you have any more questions related to driving in Oman, please leave a comment below.
Wishing you a safe road trip in Oman!
Oman travel essentials & useful links
Here are links to essential travel resources and services I always use when organizing my trips.
Other Oman travel resources:
More Oman travel blog posts