Planning on renting a car in Naples, Italy for a road trip. Or maybe wondering if you should drive in Naples (Napoli) at all? In this post, I share my personal experience with car rental at Naples International Airport, as well as driving in Naples and South Italy.
I did rent a car in Naples twice so far for my 2-week south Italy road trip. While saying driving in Naples is hectic is an understatement and should be avoided for the sake of your mental health, visiting South Italy in a car is enjoyable and mostly stress-free. Road tripping is also the best way to explore Campania, Calabria, Basilicata, and Puglia regions, or even venture further afield to Sicily (this is what we did).
In this Naples car rental guide, you will find:
where to hire a car in Naples, and get the best car rental rates (cheap car from a good agent);
documents required by rental car companies in Italy;
what to be aware of when renting a car in Naples, Italy;
taking your rental car on a ferry (yes it is not always allowed, officially..).
taking your rental car across the border.
Moreover, some tips for the road and for driving in Italian towns: get to know about ZTL (!) before it is too late, driving and parking in Naples, and some road basics like tolls, speed limits, speed cameras, etc. to help you prepare and make your experience of traveling in south Italy in a rental car as smooth as possible.
Continue reading to find everything you need to know before renting a car in Naples and driving in South Italy in 2023.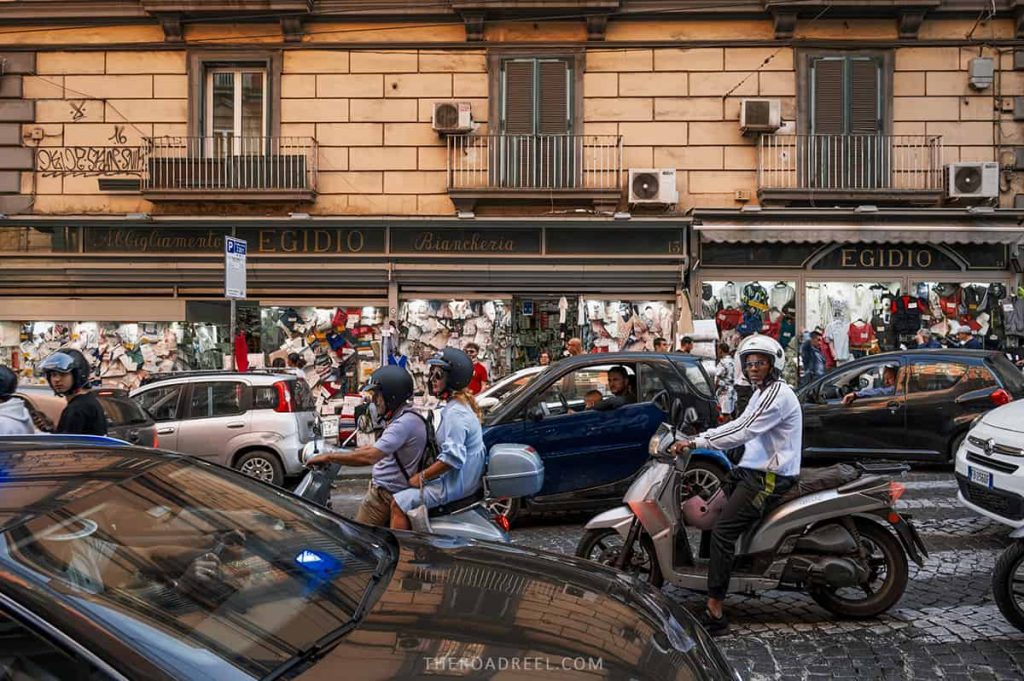 Disclaimer: This post contains affiliate links, which means that I may earn a commission if you make a purchase by clicking a link (at no extra cost to you). This helps to keep my blog running and growing by creating more awesome free content for you.
Everything You Need to Know Before You Rent a Car in Naples and Go Driving in South Italy
Should you rent a car at Naples International Airport as soon as you land? 
Naples is a perfect jump-off point for your South Italy road trip. Renting a car at Naples International Airport (NAP) is very easy and convenient. But before you go booking a car in Naples, here are a few useful tips I would like to give:
hire a car at Naples International Airport as soon as you land only if you are heading on a road trip and leaving Naples immediately;
if you are planning to first explore historic Naples and then continue your road trip in Italy, pick up your rental car once you are ready to leave the city. Unlike other big city airports, Naples Capodichino Airport is only 20 minutes by public bus from the old town and it is very easy to come back for rental car collection later during your trip;
similarly, if you are planning to visit Naples at the end of your trip, drop off the rental car before you venture into the historic center. 
Is it a good idea to drive in Naples? Do I need a car in Naples, Italy? 
The above already implied that driving a rental car in Naples is a bad idea and you do not need a car to get around Naples's historic center. Naples is a walkable city, that can be visited on foot easily.
Also, read my posts to plan How to visit Naples in 1-Day or 2 days in Naples itinerary.
Are you still thinking of driving in Naples?
To put things into perspective, driving in Naples is suicidal. Unless you have nerves of steel and are able to stay cool and adapt instantly to chaotic and aggressive driving behavior, do not drive in Naples.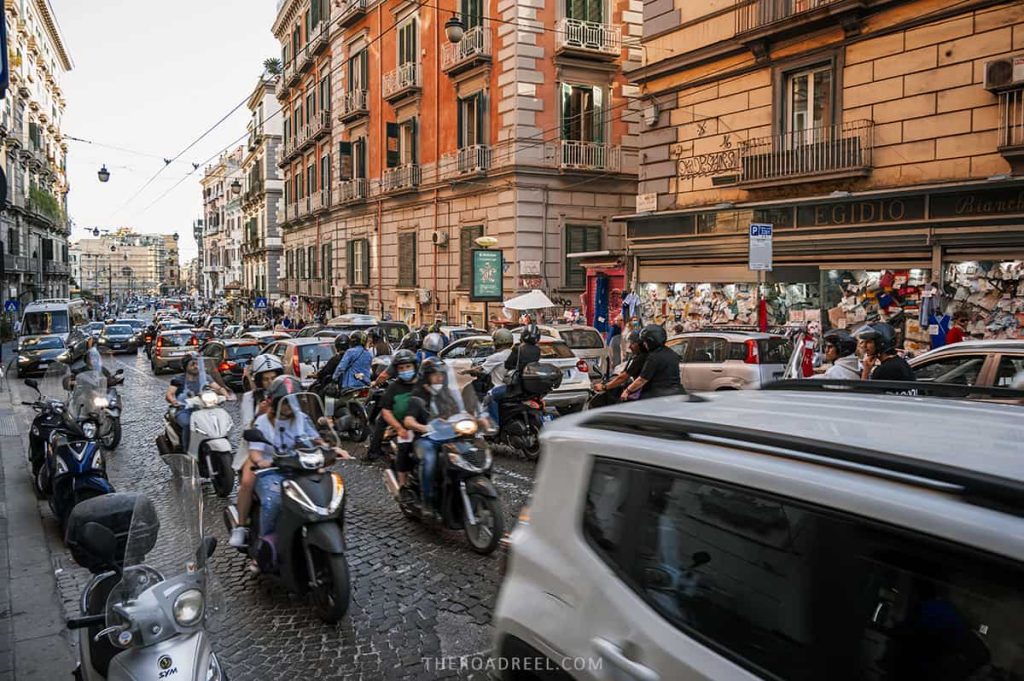 Driving in Naples is hectic and stressful, for real. Bumper-to-bumper chaotic traffic is an absolute nightmare and parking is difficult unless you do not mind paying 20+ EUR per day for a parking garage to safely keep your rental car (more practical info on parking in Naples at the end of this post). Finding accommodation with free parking in central Naples is also a task on its own. (I elaborate more about driving in Naples realities at the end of this post).
What if you want to go on day trips from Naples in a rental car? 
The only time you may be considering actually staying in Naples and keeping a rental car with you is if you are planning on going on day trips from Naples to places like Amalfi Coast, Pompeii, Herculaneum, Vesuvius, or Caserta.
But, before you make such a plan, think twice if you are ready to deal with all the challenges driving in Naples brings: traffic, crazy drivers, and complicated parking (I know I just that in the paragraph above). 
The popular day trips from Naples can be completed by trains (Vesuvius, Herculaneum, Pompeii, Caserta) and ferries (Capri, Procida). trains are your best friends. Having a car in Ischia might be somewhat useful but it goes unsaid that it is cheaper to use public transport than bring the whole car to the island.
Also read my post Where to stay in Naples, Italy: 10 best areas and accommodations.
The only day trip in a rental car from Naples that could make (some) sense (maybe) is Amalfi Coast. Yet, I still find it a bit of a stretch trying to visit the Amalfi Coast as a day trip from Naples. Moreover, driving and parking on Amalfi Coast is a different game, possibly even more challenging than driving in Naples (!).
To summarize what was said above, you only need to hire a car in Naples when you are ready to embark on a road trip to explore further afield in the Campania region or extend your trip to Calabria, Basilicata, or Puglia.
Read on if this is your plan!
BOOKING YOUR RENTAL CAR IN NAPLES, ITALY
1. Where to book a car in Naples for the best rates? 
Although the car in Naples can be booked directly from one of the car rental agencies upon arrival at the airport or in the city proper, I recommend reserving a rental car in advance using a car search aggregator. This way you will secure the best deal and the type of vehicle that you need. That is what I always do as well.
For the past years, my go-to website for booking a car in Italy is DiscoverCars. On this car search website, I always find the cheapest rent for the vehicle I need. 
Advantages of using Discovercars to book your car in Naples:
The car rental rates are the lowest in the market with a wide choice of suppliers and vehicles.
Discovercars provides rental car options across various car rental companies: international big brands like Hertz, Sixt, Europcar, Budget, Dollar, Avis, etc., and also local Italian agencies (Sicily by Car, B-Rent, Drivalia).
Discovercars negotiate better deals with car suppliers. You are less likely to get the same price if you booked directly through the car rental agency. 
You can cancel your booking up to 48 hours before the pick-up date free of charge.
Discovercars has reasonably priced full insurance which is an optional add-on.
Good to know about the cancelation policy on Discovercars:
when booking on Discovercars you will have to pay a small deposit to reserve the vehicle (a percentage of the total rental cost). In case of cancelation, you will be refunded in a form of reusable credit on Discovercars or you can request a full refund back to your bank card.
You can use the booking credit within 3 years when making other reservations on Discovercars. The booking credit can be split between several reservations and does not have to be used all at once. Read the full terms and conditions here. 
The other car search aggregator I use to crosscheck the rates is Rentalcars. It used to be my go-to website before, but nowadays I do not find rates as good as the ones offered by Discovercars. Yet it is always worth comparing the offers in different places to make sure you find the perfect option.
My personal experience when renting a car in Naples Airport through Discovercars
I have rented a car at Naples Airport twice so far. Both times cars were booked through Discovercars. The companies I chose to reserve my rental car with were B-Rent and Drivalia. Both are local suppliers.
The process with B-Rent was smooth and fast, did not have to wait to pick up the car, and the return was fast and easy as well.
The process with Vivarent was also very smooth. They have a very efficient shuttle service to and from the rental office which is located around 15 minutes walk or 5 minutes drive from the airport. Moreover, Vivarent included additional driver for free. And the best part, they were not fussy about tiny scratches on the car which made our driving in south Italy more worry-free.
2. Documents required to rent a car in Naples, Italy
These are the documents you have to provide for a car rental agent in Naples, Italy:
A valid driving license that has been issued more than a year ago before the rental date (in rare occasions, a company may require a license that is older than 2 years). If your driving license is new, carry the old one to prove your driving experience. 
International Driving Permit (IDP) will be required if one or all of the below applies (each company has different rules and must be checked before booking):

The driver's license is issued outside the EU; or if the driver is not a resident of the EU; or if the driver's license is printed in non-Latin alphabet.

IDP must be accompanied by the original driving license;

A credit card on the main driver's name (some rental companies require a credit card to be valid 3 months after drop off);
Passport or ID card;
Car booking voucher.
Good to know: some car rental companies in Italy accept Visa and MasterCard debit cards. However, most of the time you will also have to purchase additional insurance coverage at pick-up which can cost around 20-25 EUR per day (it depends on the supplier and the type of car booked). Also, when you purchase full insurance over the counter, the company should not block a security deposit on your credit card.
Additional driver
Every additional driver must provide the same documents as listed above except the credit or debit cards. Also, in Naples, Italy, you will have to pay extra (fee varies from company to company, and the rate is usually calculated per day) for including an additional driver on the contract. In our case, it added 50% to the total rental cost so we just skipped it.
P.s. we still took turns driving but it is a little risk you take in case something goes wrong while the "unauthorized" driver is by the wheel.
Age requirements for car hire in Naples, Italy
Every agency in Naples, Italy has slightly different rules when it comes to age requirements. Nonetheless, the minimum age for hiring a car in Naples, Italy is 18 years, but more often than not you will find it starts from 21 years.
Most companies will charge young drivers fees if the driver is younger than 25 years old. They may also have restrictions on the type of vehicle a young driver is allowed to hire.
Some companies (but not all) also set a maximum driver's age. I have seen it vary from 70 to 80 years. Nonetheless, I noticed many companies that do not apply the maximum age limit (thank you, road trips are still in my plans even after I am 70).
ALSO READ: Is Naples worth visiting? 23 solid reasons to love Napoli, Italy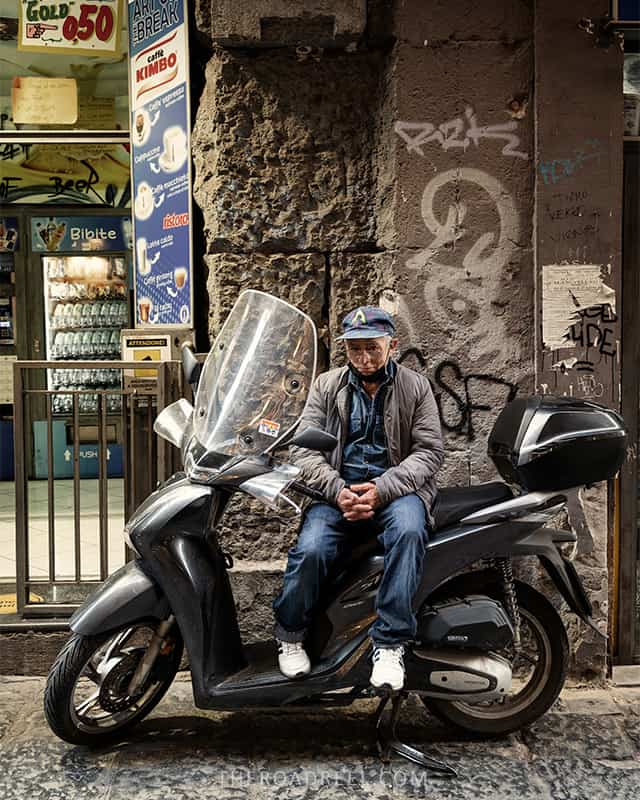 3. How much does it cost to rent a car in Naples? 
Car rental in Naples is affordable. I would not go saying it is very cheap, especially when compared to other places in Europe (such as Portugal or Greece where you can get a car for 5 EUR per day off-season).
However, if you are traveling as a group or at least as a couple, renting a car in Italy is the way to go. During the shoulder season and off-season, you can find some great deals to rent a car in Naples, Italy. Prices in summer (July-August) are naturally the highest as it is the main tourist season not only in Naples but in all of Italy.
I compared Discovercars offerings for a 7-day rental in Naples during different times of the year.  The cheapest months to hire a car in Naples are October-December, and February-April, with small and medium-sized cars costing 20-25 EUR per day. Meanwhile, prices in July-August are the highest with small to medium manual cars costing around 40-50 EUR per day. January is also somewhat more expensive, possibly because of the festive New Year season.
Comparison table of the car rental rates in Naples, Italy (rate per day in euros) [2023]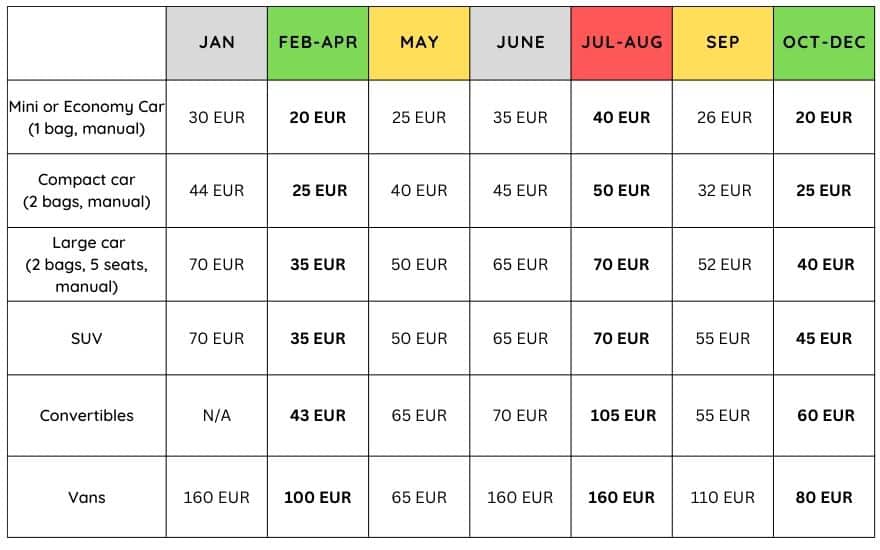 These are average day rates for different car sizes when hiring a car in Naples for 7 days. Prices for car hire in Naples, Italy were compared using the Discovercars website.
*Note: manual transmission cars are cheaper in Italy. The price difference between manual and automatic cars can range anywhere between 10 to 50 percent, depending on availability.
4. CDW or Full Coverage insurance- do you need one?
CDW (Coalition Damage Waiver) is a form of insurance that is included in car rentals price. This waiver limits the customer's responsibility in case of any damages occur to the rental car or if it was stolen to the maximum amount of money they will have to pay called deductible. A deductible amount ranges significantly from company to company and starts at around 1000 EUR and can go up to 2000 EUR or even more.
CDW also includes mandatory coverage for injuries and damage you may cause to others while driving the car.
Also, CDW only covers the bodywork of the car and DOES NOT cover flat tires, cracked windshields, damaged headlights, lost keys, towing, engine, underbody, and roof.
That being said, all rental agencies in Italy will offer you additional insurance called Full Coverage or Excess Insurance which is supposed to cover the above-mentioned damages and waive the deductible amount. However, buying Excess Insurance over the counter through a car rental company is usually very expensive (starting at 20 EUR per day).
Yet, to have peace of mind during your trip to Italy, having full insurance is definitely necessary. I always get one, but not from the counter.
How to save money on full insurance for car rental in Naples, Italy?
You have two options for affordable full insurance:
If you are booking with Discovercars, they have a reasonably priced full coverage which costs around 5 EUR per day.
You can also use an independent Excess Insurance provider such as Worldwideinsure or Rentalcover. Purchasing insurance from them costs much less than buying full insurance through a rental agency. I personally use Worldwideinsure and purchase a yearly policy since it comes as the best-priced option for multiple trips.
5. Book your car in Naples, Italy in advance to secure the best rate
I strongly recommend booking Naples rental car early if you want to save a good amount of money. This particularly applies if you are traveling towards the end of the shoulder season and especially during the high season.
I understand that it is not always possible to plan half a year ahead, but if you do, it is always a good idea to secure your vehicle early.
Based on my experience reserving a car in Naples for the months of April and May, a few months (2-4) ahead is more than enough time to secure a great deal. You may still get good rates even a month ahead or even less when traveling during shoulder season.
TIP: Booking a car in Naples for 1 week will cost less than booking for 6 days. The longer your booking period the better the day rate you get.
6. What type of car should I hire in Naples? What vehicle is the best for driving in Italy?
As a general rule of thumb, for road trips in Italy, the smaller the car the better. Roads in Italy are tiny, and so are parking spots. Thus, driving a small car is much easier. 
Yet make sure you hire a big enough car to fit all passengers and their luggage in. 
Cars like Fiat 500 are good for a couple with one suitcase and a couple of small bags that can be placed in the back seat. 
Moreover, small and economy-class cars will also be more fuel efficient than big ones. Petrol in Italy is some of the most expensive in Europe, thus having a smaller engine car will definitely save you costs on petrol.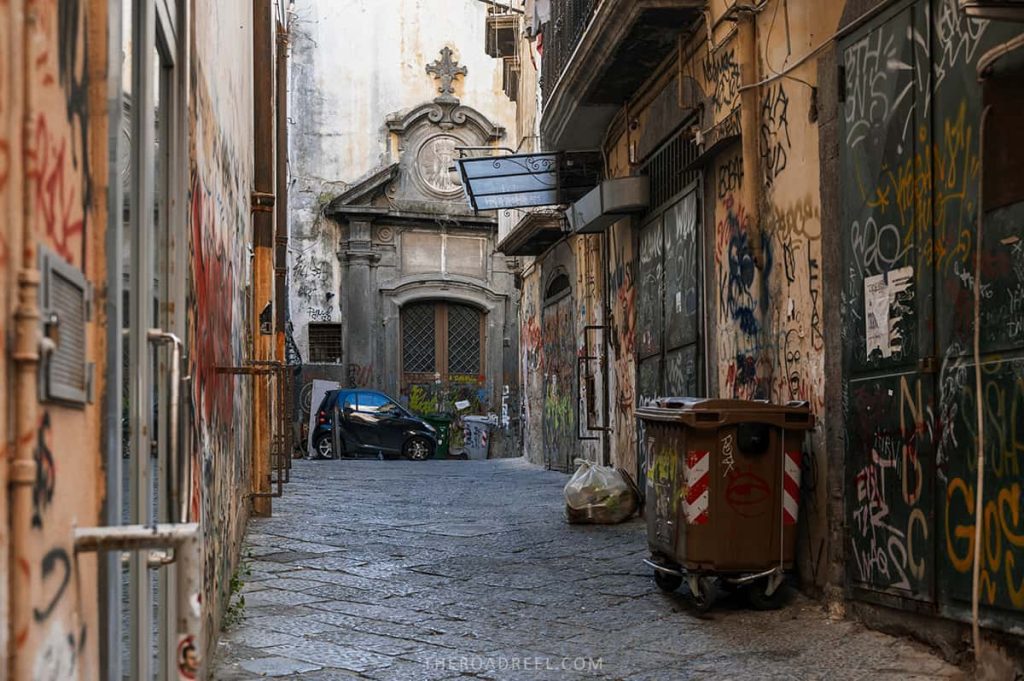 Note: electric cars are also available for rent in Naples, Italy. They are even allowed to enter ZTL zones and park for free in some paid street parking spots (marked with blue lines) in the city (that is what I understood reading this). Yet for a road trip in rural areas, it is probably not the best choice due to lack of the places to recharge the car.
7. Where to pick up your rental car in Naples from?
Naples International Airport (NAP) is by far the most convenient place to pick up your rental car. You can do it as soon as you land and it is convenient to drop the car off before flying back home.
Nonetheless, when booking your rental car online, you can choose a different pick-up and drop-off location. For example, on Discovercars you also have the option to rent at Naples Train Station or Naples Downtown, or some other locations in Naples City. If you choose this option, remember that you will inevitably have to drive through the city- something that is advisable to avoid when possible.
8. How to get to the car rental office from Naples Airport (+map)
Some of the rental car agencies are located at the Naples airport arrivals area.
However, the majority of other car hire agents are situated around 700 meters away from the Naples Airport. A shuttle bus service to the rental desks runs from 7:30 AM to 11:30 PM every 20 minutes. It takes less than 5 minutes to reach the rental area by bus.
After exiting the arrivals hall, you can find the shuttle bus stop on the opposite side of the street. Refer to my map below.
You can also walk to the car rental area if the bus just departed in front of you and you do not want to wait. Note, that there might be many people waiting in line for the shuttle bus. The shuttle is small and can only fit maybe 10 people at a time. We did not fit on the first bus and the queue was quite long so we decided to walk. The walk to the car rental desk took less than 15 minutes (we also carried the suitcases which slowed us down).
Note that different rental companies have different addresses. However, they are all clustered around the same area and reachable with a shuttle bus. Take note of where your rental agent is located (it is indicated on your car booking voucher).
Walking directions to car rental agencies in Naples Airport and other points of interest.
9. Save the costs by picking up and dropping off the rental car in Naples at the same location
The best practice to save money on the rental car, whenever possible, is to pick it up and drop it off in the same place.
You also have a choice to pick up the car in one place and drop it off in a different place. This can be handy if you are planning a one-way road trip (as opposed to the loop). However, you will always have to pay an additional fee depending on how far apart the two locations are.
For example, if you choose to pick up your rental car at Naples Airport and drop it off at Naples Central Train station, you will pay around 30 EUR more. The price will be higher if you choose to return the car to a different city. For example, if you end up on your road trip to Rome, you will pay 100 EUR extra.
10. What to pay attention to when booking your car in Naples, Italy
Here is a checklist of the things to pay attention to when renting a car in Naples or anywhere else in Italy:
Pay attention to the deductible amount
The size of deductibles varies greatly- starting from 1000 EUR and going all the way up to 2000 EUR. I always prefer to rent from a company with a smaller deductible. Nonetheless, if you are getting full insurance, deductibles should not be a concern.
Pay attention to the amount of the security deposit and make sure you have enough balance on your credit card
The security deposit that will be blocked on your credit card for the rental period varies greatly from company to company. The lowest I have seen in Naples, Italy was 500 EUR, but I also saw rental companies requiring 1200 EUR as a security deposit. Thus, make sure there is enough balance on your credit card for the required amount to be blocked.
Pay attention to the fuel policy
Usually, rental agencies have a full-to-full fuel policy or require you to return the car with exact same amount (at least no less) of fuel as it was upon pick-up. If you return a car with a significantly lower amount of fuel, you will get charged extra for refueling and it is not cheap.
Pay attention if the car has a manual or automatic transmission mode
Make sure you are aware of which type of transmission mode your reserved car is. If you know how to drive a manual car, you are in luck as rates for manual cars are usually significantly lower than rates for automatic car hire. Manual cars in Naples, just as in Italy are still very popular. Nonetheless, when I rented a car in Naples, the rental company gave us an automatic car for the price of the manual.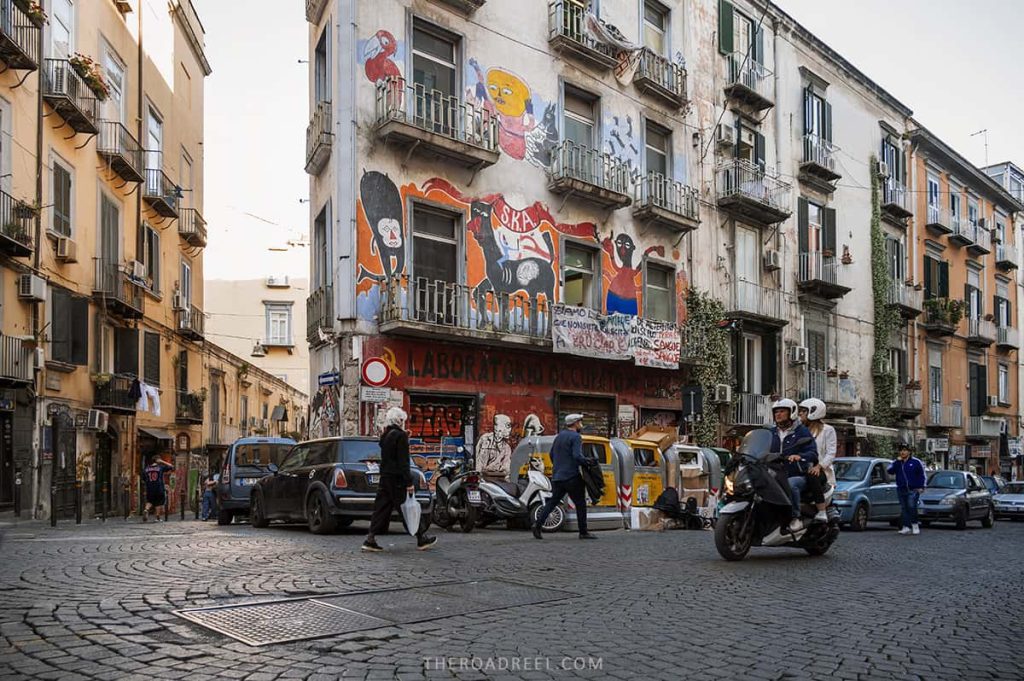 Unlike in Oman or UAE, the mileage you can drive is unlimited in Italy and in Europe. Yet still take note if it is, so you do not have mileage restrictions on your road trip.
Pay attention if it is petrol or diesel
I know it sounds obvious, but that is what people (both agents and customers) forget the most often- to confirm what kind of fuel the car takes. It is very easy to get carried away once you got into your rental car until it is time to refill the tank. I was in this situation multiple times trying to find the type of fuel on my car rental agreement.
Inspect the rental car before leaving the agency
Before leaving the pick-up point, make sure all the scratches and bends you find on the rental car are marked on your contract. Taking a video of the car is also a good idea before hitting the road.
Make sure to book during business hours to avoid extra charges for pick up or drop off
Car rental agencies in Naples are open every day from 7:30 AM, 8 AM, or 8:30 AM (depending on the agency) and close at around 11 PM. Thus, if you are landing at an ungodly hour, you may have to figure out what works better for you- either stay in a hotel or pay an off-hours fee. When I tried to book my car after midnight at Naples airport, the rate of the rent doubled. We chose to stay in Naples for the first two nights and picked up our car later.
Check if you can use a ferry if you are planning to sail to Sicily or other islands
Not all rental car companies permit using a ferry. Yet, you can still take a risk if you dare. When I rented a car with B-Rent, I did not notice that taking a car on a ferry was not allowed. We traveled to Sicily and back to mainland Italy without any problem. In fact, I only got to know recently that taking a car on a ferry might be prohibited by the car rental company.
Check if you are allowed to travel across the border and to which countries before hiring a car in Naples, Italy
Most of the car hire companies in Naples and Italy permit crossing the border in a rental car. They also provide a list of which countries you can drive to. Some companies may charge a cross-border fee, some allow it free of charge. Make sure to inform the car rental company if you are planning to cross the border as they may give you additional documents (a green card or something like it).
Take supplier's rating into consideration
I have noticed that very often lower rated suppliers have cheaper cars not only in Naples but in general in Europe. I was always wondering if there is a catch. Well, sometimes there is but it can also be an absolutely flawless rental experience. The best way to know what kind of company you are dealing with is to read online reviews. I avoid booking with companies that have ratings lower than 8 out of 10.
I did have a bad experience once in Portugal with one of those "unfamiliar name" companies that are also rated low. Thus, I choose the rental agent carefully.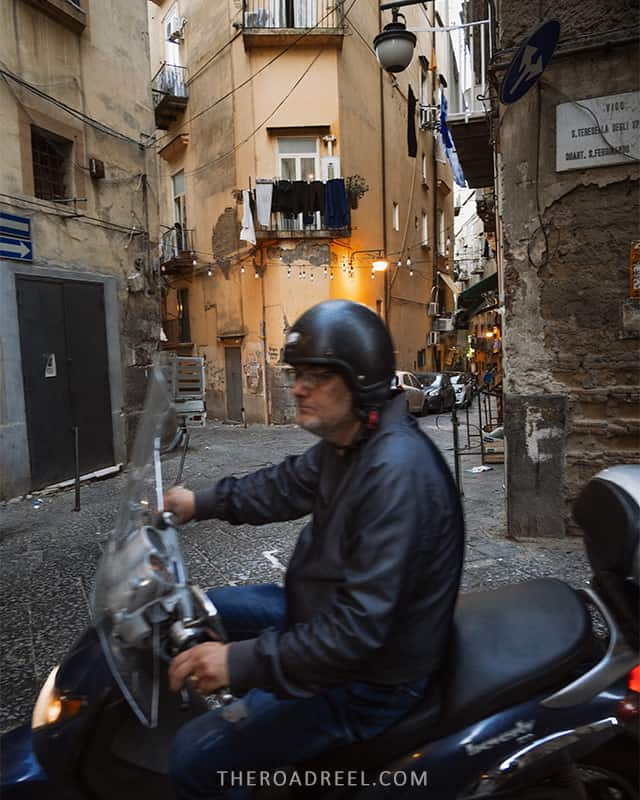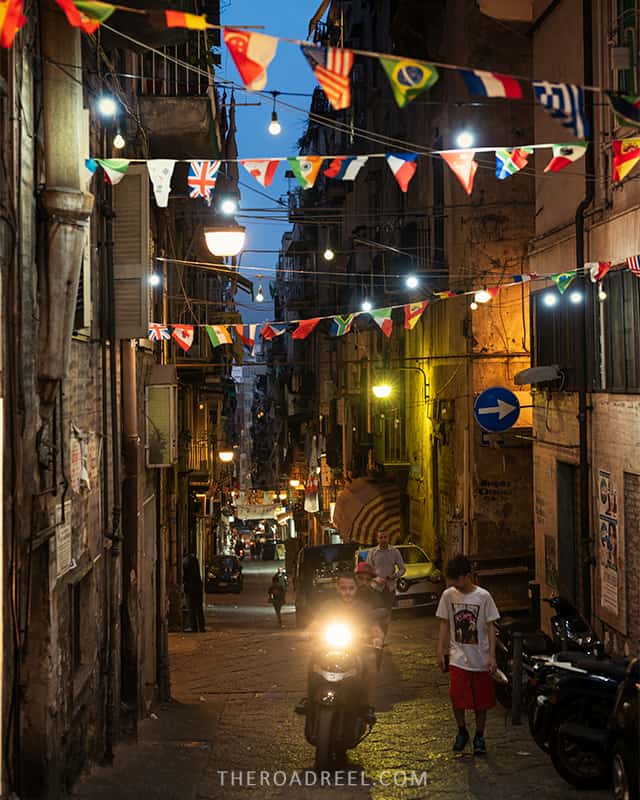 DRIVING IN NAPLES AND SOUTH ITALY: ALL YOU NEED TO KNOW
11. How far is Naples Airport from Naples historic center?
Naples International Airport is located only 5-6 kilometers from Naples's historic center. You can drive to Piazza Garibaldi- one of the main squares where the central train station is just 12 minutes without traffic.
There is also an Alibus shuttle service from Naples Capodicchino Airport to Piazza Garibaldi Central Station (15 min journey) and Molo Beverello (35 min journey). The ticket costs 5 EUR and the Alibus runs every 15-20 minutes starting from 5:30 AM to 12 AM. The ticket can be purchased from the driver.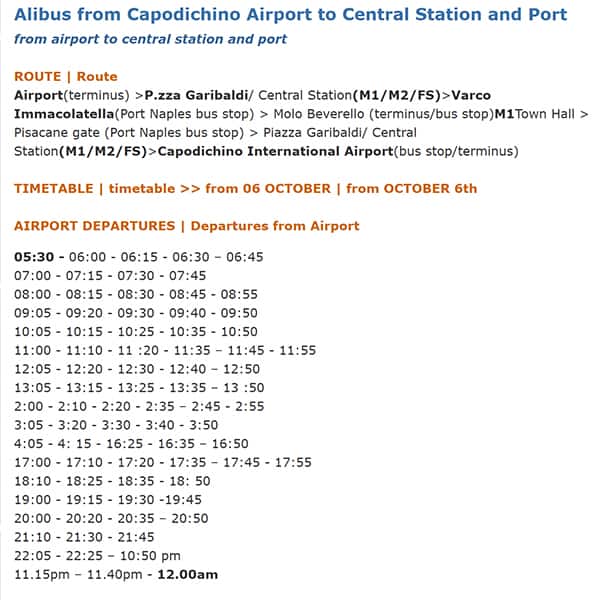 12. What is it like to drive in Naples, Italy?
If did not talk you out of driving in Naples earlier, and you are still planning on playing a survival game on the roads of Naples, here is what you need to know.
As I mentioned at the beginning of the post, driving in Naples is not for the faint-hearted. Naples is considered one of the most difficult places to drive in Italy (I would add Amalfi Coast to the list as well)! And Italy has a reputation as one of the most challenging destinations to drive (although I do not completely agree, maybe because I live in Dubai, where the driving style is way worse than in Europe).
Driving in Naples, Italy realities:
There are a lot of cars, even more scooters, a tram line running on the same streets, and also pedestrians who join the traffic from time to time, most often unexpectedly.
While the tram is the only means of transport that follows its dedicated path, the cars and scooters are moving in a nerve-wracking disorganized manner.
You have to always stay extra alert about what is going on around you. Also, be aware of "your lane is my lane" concept rather than "this is my lane and that is yours". Continuously honking scooters and cars are just crisscrossing each other.  That adds even more agitation to driving in Naples.
The network of streets in historic Naples is a grid interconnected by very narrow but long one-way roads. If you end up in one of those alleyways, game over. At rush hour (which is practically almost all day), the line of cars does not even move, even scooters struggle to squeeze through.
Roundabouts and intersections is a next-level task in Naples driving game. While you need to give way to the traffic coming from your left, you must also be a bit aggressive and courageous just to go for it. Otherwise, you will never enter that scary roundabout or intersection (if it is not regulated by a traffic light) and end up going nowhere and certainly annoy a bunch of impatient local drivers behind you.
The best way to drive in Naples is not to try to avoid other traffic participants but let them avoid you- basically own the road, just like everybody else.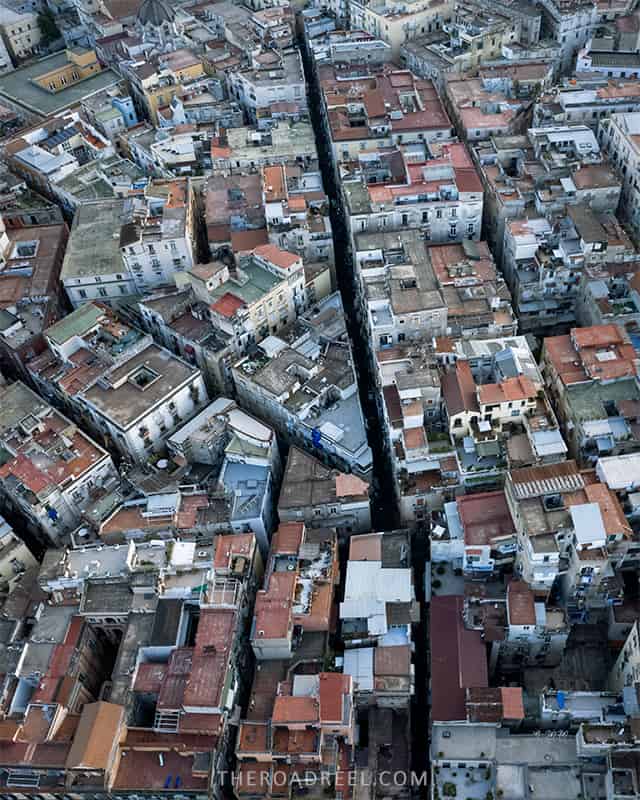 That being said, I was relieved that we decided to return the rental car early and did minimum driving in the city just to drop the suitcases at the hotel and get out. Nonetheless, that short driving experience alone was enough to get an idea of how it feels to be behind the wheel in Naples- "Thank you, but never again".
As a comparison, if you have ever driven in Palermo, Sicily, and found it challenging, you would probably find it a breeze compared to the chaos of driving in Naples, particularly the central part. 
ALSO READ: Everything you need to know about driving in Sicily stress-free.
13. Parking in Naples
Parking in Naples is difficult and that is the other reason not to drive in Naples. However, if you ended up driving and need to park, here are your options.
Park at your hotel. Ideal scenario but it is very difficult to find accommodation with parking. Naturally, luxury hotels will have it, but mid-range ones that are located downtown, probably not.
Guarded parking garages in the city are the safest (yet not the cheapest) option to keep your car. The centrally located car parks and garages cost an average of 25 EUR for 24 hours. Garages in the outskirts are cheaper.
Paid street parking which is marked with blue lines.
Free street parking is marked by white lines- almost impossible to get one, and if you are lucky, park and never move.
Leave the car at one of the guarded parking lots at Naples Airport and take Alibus (5 euros) to the historical center of Naples. Can even pre-book parking online here. Useful if leaving the car for longer than 24 hours, the cost reduces significantly.
Street parking in Lungomare (the road by the sea) near the Villa Comunale and Castel del Ovo (officially "Via Francesco Caracciolo" and "Via Partenope"). It is a central location within walking distance of must-visit places in Naples and also easy to get to and get out of.
ANM parking lots by Naples public transport agency has cheap parking lots for as low as 1.5 euros per day (those are on the outskirts of Naples, make sure not to park in Scampia).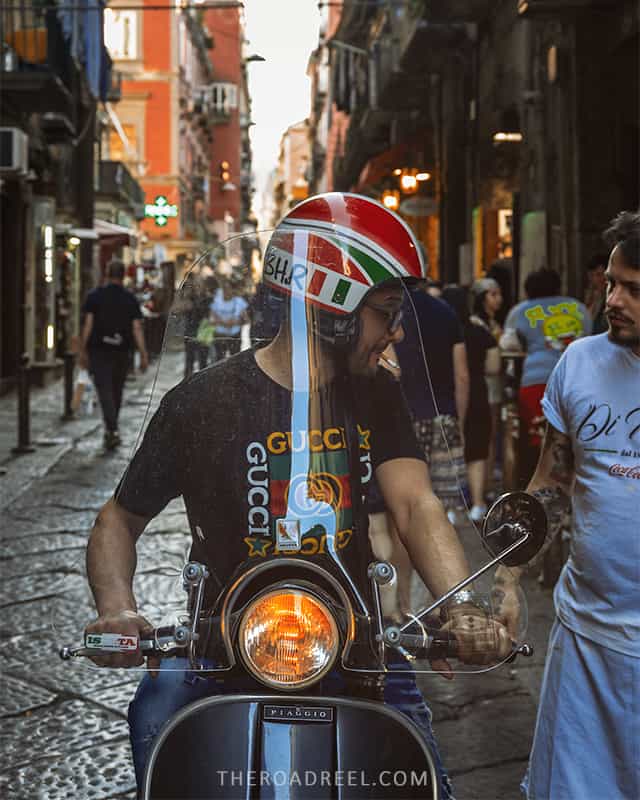 Parking Garages in Naples (parcheggio in Italian) (there are many more, these are just a few suggestions):
Parcheggio Napoli Centrale- strategically located in Piazza Giuseppe Garibaldi, next to the central bus and train stations.
Parcheggio Brin car park (also quite close to the central train station).
Urban Parking Apcoa, near Mollo Beverello Ferry docks.
Parking Plebiscito is next to the Piazza di Plebiscito- the great starting point for a day in Naples.
Super Garage near via Todelo-also very central.
Parking garage in Naples Airport.
A word of warning about parking garages
I have done the research and some reading about parking garages in Naples and there are people reporting scams when it comes to parking rates. Some parking attendants tried to cheat people by increasing the price of parking which is supposed to cost 20-25 euros a day. Thus, always double-check before committing to parking for a long time in a garage.
14. Be aware of notorious ZTL zones 
If it is your first time in Italy, you may have never heard of ZTL zones (Zona Traffico Limitato). Those are restricted areas where only vehicles with permission are allowed to enter. ZTL zones are usually covering historical centers in Italy and they can be found in almost every single city and town.
In Naples, those zones are in the historical center (Centro Storico, Quartieri Spagnioli), Piazza del Gesù, around Chiaia area. Check this article for more info on where ZTL zones in Naples are.
ZTL zones are signposted by a white circular street sign with a red outline around it. Some of them have specific timing when you can enter the area. However, more often than not, you cannot drive inside. Only the residents have special permits to use the streets in ZTL areas.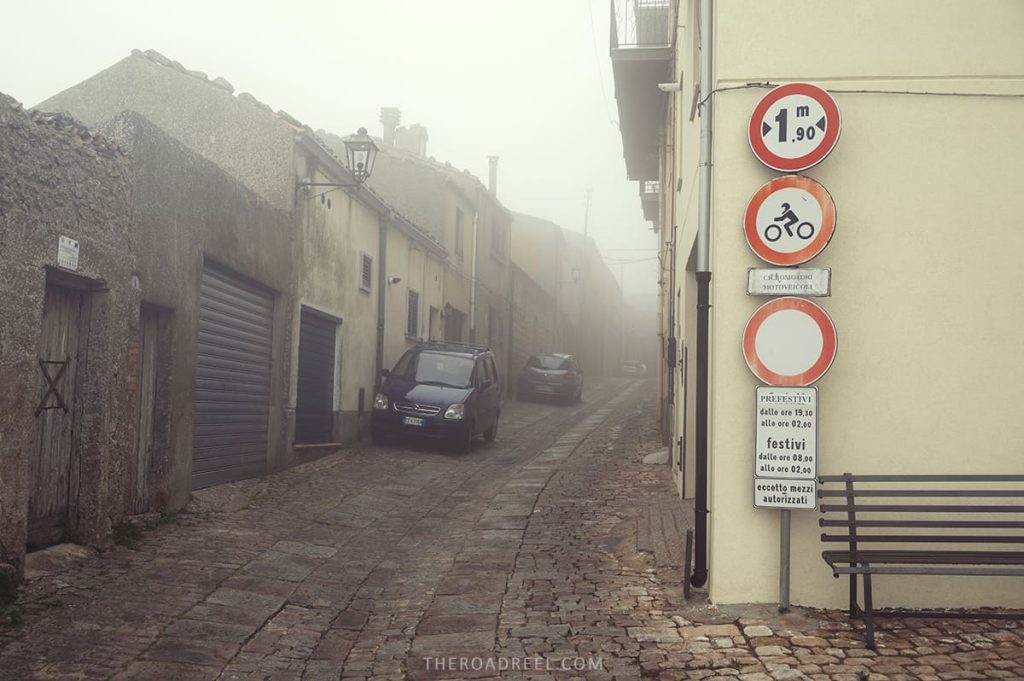 Now, it is very important not to accidentally or willingly enter one of those evil ZTL zones because they are monitored by cameras. If you do, 99% percent guaranteed that you will receive a hefty fine of around 200 euros (might be less or much more, depending on location). And the fine ticket will reach you long after your vacation is finished.
Yep, I got one once, a year after my trip! That is how I got to know what ZTL was. I drove into Orvieto's old town, paid for street parking (lol), and did this twice, so double the fine.
The bill came to my registered mailbox in Lithuania. Being a responsible citizen, and willing to come back to Italy without any issues at the border, I paid the fine (although my Italian friend said I should have just thrown away the paper into the bin). On top of that, my credit card was charged 90 euros administration fee by a car rental company, as it is them who handled the fine payment. Auch…
How to avoid ZTL?
Before going to Naples or any other town in Italy, do some research to get an idea of where those zones are located. The best is to rely on the official city website (if one exists). Nonetheless, while on the road, look out for those signs, as they might be easy to miss, especially driving in crazy places like Naples where other dozen of things are taking your attention.
15. Navigation in Naples and South Italy
To easily navigate in Naples and southern Italy, you can use Google Maps. They do get confused sometimes but most of the time works just fine. Before landing in Naples, preload your hotel location on Google Maps so it is available to use offline before you get a chance to buy a local sim card with the internet.
Where to get a sim card in Naples?
Note that, unlike in many big airports, you cannot buy SIM cards in Naples Airport. There are no mobile stores in Naples Airport, surprisingly.
You can get a SIM card in the city center of Naples. Vodafone and TIM are the best providers to get a tourist pack. Note that activation of the card takes around two hours. Also, many smaller shops are closed on Sundays and from 1 PM to 4 PM during the weekdays. Only the ones in the bigger shopping malls will be open all day.
Alternatively, you can get an eSIM with Airalo and stay connected before you land. This is the most convenient option, as you do not need to worry about being without internet or even removing your home SIM card. The only requirement is that your mobile device works with eSIM (all the newest devices do).
16. Toll roads in Naples
There are a few toll roads connecting Naples to several main destinations in Italy. Toll roads are implemented on the highways:
A1- Milan -Naples Autostrada de Sole (55 euros for the whole distance of 754 km)
A1-Naples-Rome (16 euros, 230 km)
A3 – Napoli-Salerno (5 euros, 60 km)
A16- Napoli-Canosa
A16- Napoli -Bari (19 euros, 266 km)
The price of the toll depends on the distance traveled and the type of vehicle. Only a few roads in North and Central Italy have fixed toll rates, regardless of the distance traveled.
How do you pay tolls in Italy?
You can pay for a toll road in Naples, Italy by cash or by card on the way out of the autostrada. Always carry small change in case the card toll does not work.
If you want to avoid toll roads on your South Italy road trip, choose to drive on state, regional and province roads (marked as SS, SP on Google Maps). Note that it will be a slower route but also much more scenic.
17. Is it difficult to drive in South Italy?
Apart from Naples, Amalfi Coast, and maybe Bari, driving in South Italy is pleasant and easy. Once you are out of the highway, where locals are flying above the speed limit and tend to tailgate if you are on a fast lane and moving slowly, the traffic slows down, and it is quite sparse as well.
Driving on smaller regional and provincial roads is actually a joy. It is quiet and beautiful. The local drivers also seem to be more chilled in the rural parts of the country.
My experience and impressions on driving in the bellow areas in south Italy:
Driving from Napoli to Calabria- easy and enjoyable
Driving in Puglia- easy and enjoyable
Driving in Amalfi Coast- a nightmare
Driving from Naples to Basilicata- great
Driving in Sicily– overall much easier than you have heard
The only challenge that I usually face when driving in Italy is finding parking in busier or more popular towns. Thus, I always try to park a bit further from the central area, and then just walk.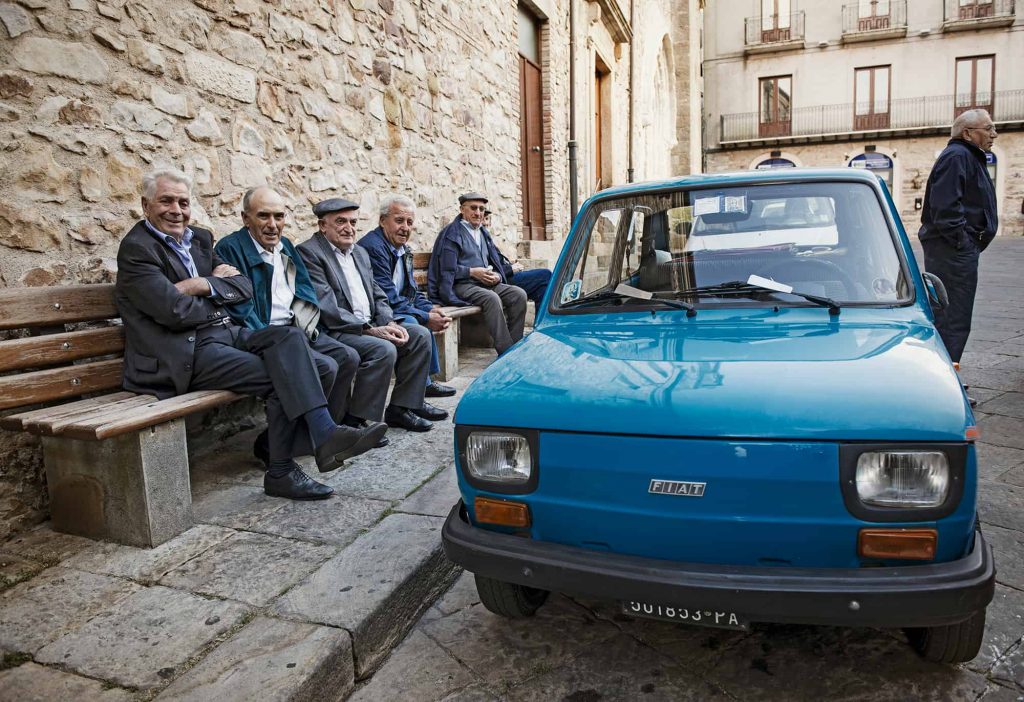 Are local drivers in South Italy that bad?
The terrible reputation Italian drivers earned over the years is not completely made up but is massively exaggerated. Yes, you definitely find the worst of the drivers in big cities like Naples, Palermo, Catania, Rome, etc.
However, in general, Italian drivers are quite well-mannered. I was paying close attention during my road trips to see how many of those crazy drivers I will encounter. To be honest not that many at all. If you compare to Arab drivers or Indian drivers, Italians are the most chilled and civilized drivers on Earth.
ROAD RULES IN ITALY: THE BASICS
Speed limits in South Italy
Built-up and urban areas 50 kph (31 mph). NOTE: some villages and towns have areas with speed limits set at 30 kph (18 mph)
Secondary Roads 90 kph (56 mph) (SS and SP marked roads)
Main Roads 110 kph (68 mph)
Motorways/Freeways/Autostrada 130 kph (81 mph) – limits do change on different sections of this type of road.
Speed cameras in Italy
When driving around south Italy or elsewhere in Italy, you will see a onehanded policeman sign saying "autovelox"- this means that there is a speed camera ahead (or a policeman with a mobile speed camera).
However, not once in my life have I ever seen a policeman with a speed camera on Italy roads. Nonetheless, there are stationary cameras displayed, mostly on the highways. They look quite outdated and out of order but you do not want to test them.
Other road basics
Driving in Italy is on the right-hand side.
The blood alcohol level limit is 0.05%.
Seat belts are mandatory but some Italians tend to ignore them.
Road signs are in Latin characters both in Italian and in English.
TOP 7 TIPS FOR RENTING A CAR IN NAPLES AND DRIVING IN SOUTH ITALY
Here are the main takeaways and tips for car hire in Naples and driving in South Italy:
Driving in Naples is not advisable and should be avoided if possible.
Driving in South Italy is easy and pleasant.
Pick up your rental car at Naples Airport before you are ready to leave the city.
You can find the best rates to rent a car in Naples on Discovercars website.
Book a car in Naples well ahead if you are planning a trip in the summer.
Get full insurance (full coverage) for peace of mind.
Rent the smallest car possible for easy parking.
Have you driven in Naples or South Italy yet? Feel free to share your experience or ask any question related to driving in Italy in the comment section below.
More Italy travel guides
Italy Travel Essentials & Useful Links
Here are links to essential travel resources and services I always use when organizing my trips.