UAE hiking trails // Red Wall hike takes you through a stunning Wadi Naqab in Ras Khaimah Emirate, UAE. If you ever watched Avatar this place will make you feel like you just landed in one of the movie scenes- surreal rock formations, peacefulness, pure nature sounds.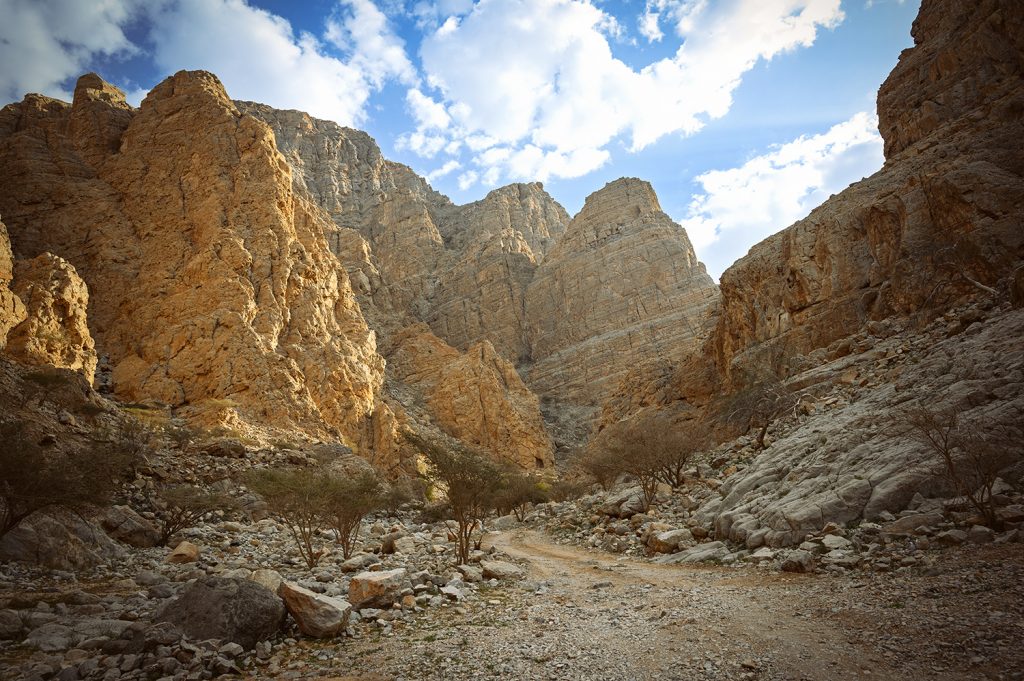 Wadi (it is predominately a dry river bed) Naqab is a hotspot for outdoor enthusiasts. It is a part of the famous Hajar mountains that extend for around 700km through the United Arab Emirates and Oman. This is by far one of my favorite natural destinations that offers a few striking and moderately challenging hiking trails with lots of fantastic spots for photography.
---
RELATED READS: There are many exciting hiking trails in the UAE in the Ras Al Khaimah area. Make sure to check the other fantastic hike to Leopard Canyon which is a little bit more challenging. Or, if you prefer something easy, head to my post about 5 Easy UAE Hiking Trails.
---
Here is all you need to know about the UAE hiking trail to Red Wall in Wadi Naqab
As its name suggests, Red Wall hike leads towards a giant wall-like formation. It has intense orange color that is the most prominent during the sunset.
On this UAE hiking trail expect a reasonable share of walking and bouldering until you reach a before-mentioned rock wall. It was formed by a massive rockfall that left an almost vertical face with a large boulder field below. What comes to the color, I would say it is more vivid orange than red. But will leave it for you to witness and decide.
SUMMARY/ An easy to moderate hike with a fair amount of walking and bouldering and surreal scenery along the way
DISTANCE/ 7-11 km for the Red Wall and 12-16 km for an extended hike
TIME/ 5 HRS (extended 16km version)
MIN ELEVATION/ 165 m
MAX ELEVATION/ 328 m
DIFFICULTY/ Easy to Moderate
CELLULAR AND DATA SERVICE / Week or None
DO YOU NEED A GUIDE/ YES, if you have never hiked before
 NO, if you have some hiking experience
Red Wall hike can be rated as an easy to moderate level in terms of difficulty where no special equipment is required. The distance of the trek ranges between 7km to 11km round trip, depending on what vehicle you arrive in. 4×4 will help you to get closer to the starting point of the hike and "save" 4km of walking. 
You can also extend this hike further to pass the Red Wall by following the path that winds along the face of the mountain. Once you reach the wall it will look like a dead end. However, if there is a will there is a way. In this case, villagers and hikers found and marked a path that leads further into the wadi behind the Red Wall. You won't need any special mountaineering equipment to pass the wall but you would need some courage and confidence walking narrow paths close to the mountain edge.
Directions
The starting point of the hike is approximately 1-hour 30min away from downtown Dubai. Search for "Wadi Naqab" on Google maps. Once you reach the point indicated on Google Maps, continue driving on the road to the right. It will take you further into the wadi.
Use this interactive map which I created to assist in locating parking and hiking points.
The first point indicates parking for sedan cars, while the second one is accessible by 4×4. The green line indicates route up to the Red Wall. The red line marks the way that allows you to pass the Red Wall.
If you arrive by a sedan car, drive until the first parking spot indicated on the map above. Park on the side of the road and follow the gravel path ahead for around 2 kilometers. Annoyingly, the gravel path finishes in just around 300 meters and the road becomes drivable again. Don't risk passing the gravel part if your car is not meant for off-road. I got stuck with mine once, and it took 6 people to push it out.
Picture on the left: You can park your sedan at the end of this wall or continue further if you arrived in 4×4 car.
As soon as you reach the point that marks parking option for 4×4 cars, follow the path up on the right. You will soon pass some bee hives (it's weird I know) and a random tiny house with colorful doors.
From here easy walk finishes and a proper Wadi Naqab hike begins. The gravel road soon becomes inaccessible for cars while the views get better with each step. So be ready to be awed by the impressive Hajar mountains and enjoy climbing some giant boulders along the way.  
Navigation of the remaining trail is fairly easy- continue walking wadi Naqab all the way until the Red Wall for another 3.5 kilometers. NOTE: You don't have to climb the mountains to reach the Wall. Also, you might notice rocks with red dot spray intended to mark the way. There is a section where you have to climb a huge boulder after which on the right side there is a massive rock with red Arabic graffiti. Here you might notice red markings and a yellow arrow pointing to the path on the left which goes up to the mountain. Ignore those and just continue walking in the middle of the wadi. The Red Wall is just around 300 meters away.
Passing through the Red Wall (extended hike)
If you have energy, time, and curiosity to explore more, there is a way to pass the Red Wall and continue hiking further. You will have to come around 300 meters back and look for a huge rock with some Arabic graffiti in red (see picture above). Once you reach it, face towards the Red Wall and look for a path going up the mountain to your left. You might notice red spray mark on the rocks and yellow arrow pointing to the path.
There will be a little bit of scrambling until you reach a wide platform/balcony. Continue until you reach a vertical 2 meters stone wall (also has red mark) which will take you up to the higher balcony. From there, the path, which is quite narrow at some points, will take you around the mountain down to the valley. This mountain path is one of my favorite and you can say thrilling parts of the hike which also have fantastic views of the Red Wall. You might be tempted to stop for pictures, but be careful as the balcony is a bit narrow.
Once you reach the valley, you can continue further as much as your energy and time allow. I have seen images of the pools in the wadi. However, it got too dark to continue and we had to stop for our overnight stay. The next morning we got up at 5 am and headed back to avoid being cough by extreme heats.
Wikoloc map
I have locked this trail on Wikiloc application. If you haven't used it yet, download it to your phone and follow this trail (works off-line too).
When to go on a Red Wall hike?
If you live in the UAE, you are most likely familiar with the notorious summer heat reaching 40 Celsius and above. Therefore, the most pleasant time to go to Wadi Naqab hikes is from November to March.
Nevertheless, if you are a little bit more adventurous and constantly craving for nature escapes just like I do, you can still do it during the summer. But I would not recommend it unless you know you can handle extreme heat well and are able to carry minimum of 6 liters of liquids. Experts advice even more- 1.5-2 liters per one hour of movement, therefore count for 10 Liters if it takes 5 hours of walking. If you can't carry that much, just wait for winter.
Is it possible and how to hike in UAE mountains in summer (June to August)?
From my personal experience, it is possible to hike in the summer when you are well prepared both mentally and physically. Hiking feels exciting at the start and at the end but exhausting at every other step in between. I consider myself as somebody who has good heat tolerance and is fairly fit. Nevertheless, this relatively simple hike is a challenge when done in June.
The worst part for me was climbing up at a faster pace. I felt dizzy a few times and my heart rate jumped through the roof leaving me out if breath while climbing up. I had to take short breaks to recover which is never the case in cooler weather. Note: hiking to Red Wall doesn't require leaving the wadi and climbing up the mountain. Me and my companion did an extended version of this hike where we had to climb up in order to pass the wall.
How much water do you need for a hike in Wadi Naqab during the summer?
We survived this hike with 6 liters of liquids per person (water and electrolyte drinks). We started trekking at 4 pm. Stayed overnight in the wadi on a hot flat rock (it was our best bed option that day), headed back at 5 am and finished just before 9 am.
When we safely finished the trail, I was convinced that I am not going to hike in summer ever again. Even though done during the cooler hours of the day it is still quite extreme. Also, trying to get some sleep on a hot rock deep in the wadi while bats are all up and laud is a hell of an experience.  NOTE: we had inflatable mattresses that helped a little bit while the tent was useless.
Regardless, as time goes on, my desire to be out in nature slowly erases the memory of all the struggle, sweat, thirst, and creepy bats. Therefore, I might be posting more about summer hike adventures in the near future.
WARNING: Please do not attempt this hike in the summer if you can't tolerate heat well or have never been outside at 40 C for an extended period of time. Although hike has shaded areas, it is in the midland and is much hotter than the coastal areas of UAE. If you still keen to go, make sure you carry 2 liters of water per one hour of walking (10 Liters for this hike per person). Hiking in the summer is dangerous and generally not advisable. Be responsible and estimate your physical and mental abilities and then decide if you are able to hike in UAE summer.
How to prepare for The Red Wall Hike in Wadi Naqab?
As mentioned earlier in this post, hikes in the UAE are no joke due to extreme weather conditions. Moreover, the terrain is harsh, hard, and unforgiving for your joints.  Be prepared to constantly balance yourself on a rocky path, climb massive boulders or scramble through some scree slopes. That being said, this "must-have" list will help you prepare for this hike better.
Water (at least 3 liters in winter, at least 6 liters in summer)- Please DON'T COMPROMISE ON WATER!
Electrolyte drinks (Pocari Sweat is a lifesaver, TIP- freeze it before you go)
Sturdy footwear (proper high ankle hiking shoes)
Trekking poles are advisable (especially for those who have knee issues)
Sun protection/ cap/ sunglasses
Breathable clothing, long pants are preferable, t-shirts or shirts, so your shoulders and back is covered from the sun
High energy snacks- protein bars, nuts, dates, bananas
Small first aid kit
A GPS device or Wikiloc App that works offline
Caution: we saw snakes- just look where you step, avoid sitting on the rocks especially under the trees. Be extra careful when using a "bathroom" (yes, this is a no fun part of a hike).
Last but not least– bring your trash back home and keep nature clean. It is sad to see that some people lack responsibility- plastic bottles and chips bags, cans and other sort of human waste is just laying around the most accessible areas. It doesn't take much to pack your litter and take it away.
Already hooked up by hiking? Make sure to check other amazing hikes in the UAE in the posts bellow!