Rainbow valley hike in Fujairah Emirate is one of the must-do UAE trails. Also called Spectrum hike, it features unique multicolored terrain and small seasonal pools. Read on about how to hike Rainbow Valley and what to expect on this extraordinary trail in the UAE.
Located 1.5 hours drive from downtown Dubai, in Wadi Ghub, Fujairah Emirate, the Rainbow Valley hiking trail quickly gained its popularity due to the unusual scenery. As the name suggests, there is some color game going on. Layered rocks are "painted" in gradients and hues of reds, greens, whites, browns, oranges, and burgundies, resembling rainbow patterns.
It is a true piece of artwork created by nature and delightful sight. No wonder why Rainbow Valley is arguably the most "instagrammable" hike in the UAE.
Spectrum hike has something to offer to all levels of hikers-from beginners to experts. In this post I share everything you need to know about the Rainbow hike in the UAE: how to get there, how far are the colorful rocks located, sections according to difficulty levels, and how to prepare for a safe hike.
Disclaimer: This post contains affiliate links, which means that I may earn a commission if you make a purchase by clicking a link (at no extra cost to you). This helps to keep my blog running and grow by creating more awesome free content for you.
Hiking Guide to Rainbow Valley (Spectrum) Trail in Fujairah, UAE
RAINBOW VALLEY HIKE OVERVIEW AND MAP
Summary: picturesque colorful layered rocks, a few small seasonal pools (not suitable for swimming),  a lot of large boulders, scree sections towards the summit, almost no shade throughout all the trail.
Distance: 11 KM (6.8 miles) (total distance in and out the same way, can be shortened, or prolonged into a loop)
Duration: 4 HRS moving at a regular pace (2.8KM per hour), but it took us 6 HRS (as we were moving at a very slow pace- 1.8 KM per hour).
Difficulty Level: beginner plus to difficult (depends if you are doing a full trail or just a part of it).
Minimum and Maximum Elevation: 800 M (2625 ft) and 132 M (433 ft).
Elevation gain and loss: 658 M and 658 M (2160 ft).
Mobile network and Internet connection: no connection inside the wadi, the signal picked up at the summit.
Is a guide needed? optional (advisable for the first-timers).
Minimum water requirement: 3-5 liters.
Kids friendly? the first 2 KM can be done by kids, later small kids would need assistance to pass big boulders.
Dogs friendly? only the first couple of kilometers before large boulders start.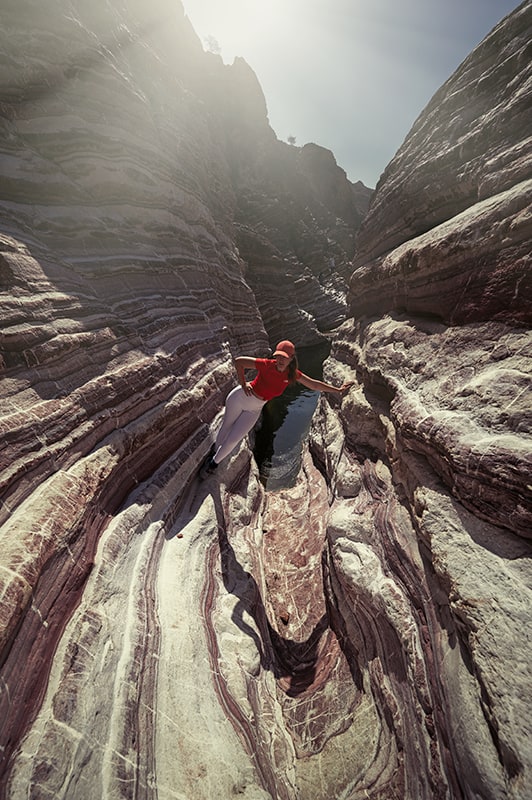 How to get to the Rainbow Valley hike starting point? 
Rainbow valley trail is located in Wadi Ghub, Fujairah emirate, UAE. It takes 1.5 hours to drive from Dubai downtown to the Ghub Village and then around 7 minutes ride on an unpaved road to reach the parking spot. Sedan cars can easily reach the parking. 
When driving from Dubai, take E311 or E611 road and then turn to E87 road towards Dibba, Fujairah. 
Note, that the last time I have visited Rainbow Valley, the place around the parking area was destroyed by heavy rains. We had to park around 400 meters earlier and then pass a few farms before we reached the trailhead. Still, there was enough space on the side of the road to leave the car. It is also likely the road leading to the original parking lot (which is immediately at the starting point of the trail) will be fixed at some point.
Exact coordinates of the hike trailhead: 25.579819, 56.186216 (you can also type into Google maps: "Fujairah Adventures Rainbow Hiking Trail").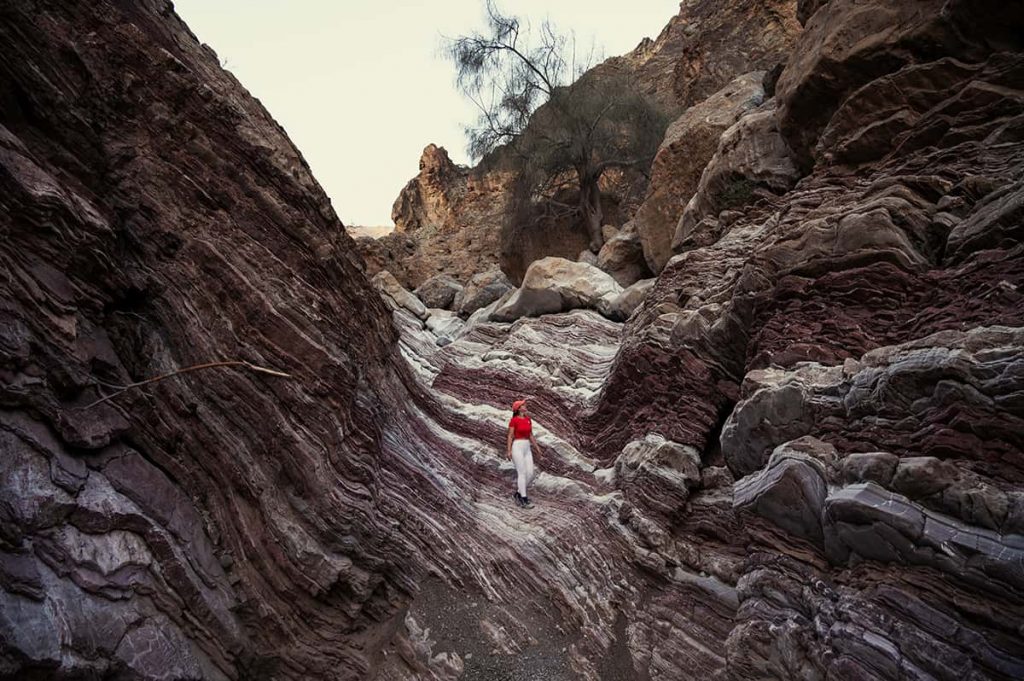 The best time to go hiking Rainbow Valley in Fujairah, UAE
The best time to go hiking Rainbow valley is during the winter months: late November to mid-March. During warmer months (October, early November, late March, and April) it is advisable to hike early morning or late in the afternoon.
I would advise against hiking Rainbow valley during the hottest months-May to September.
Wadi Ghul, where Spectrum trail is located, gets really hot. There is barely any shade on the trail (some trees here and there but 95 percent of the path is exposed to the sun). Even in mid-November, it was quite hot in Rainbow valley. 
During warmer months, there are better alternatives for hiking in the UAE, such as Wadi Naqab where you can enjoy shaded trekking. 
Related Reads: when the weather temperatures rise in the UAE, hike trails that provide more shade. Check my post about the beautiful Wadi Naqab to wadi Koob and Al Sanat Village hike.
Difficulty level and terrain of Rainbow Valley hike 
While Rainbow valley hike is suitable for beginners, the further into the valley you hike the harder the trail becomes. 
The terrain at the start of the hike is mostly gravel and sand paths, a couple of short sections of small-sized boulders. Therefore beginners can easily hike this section. Later on, large boulders and big rocks become the main attribute of the trail and often require hands to climb over them.
Some of the rocks are quite high (2meters plus). That being said, basic climbing skills are necessary. To me, climbing up is usually easy, but it is totally different game when it is time to climb down.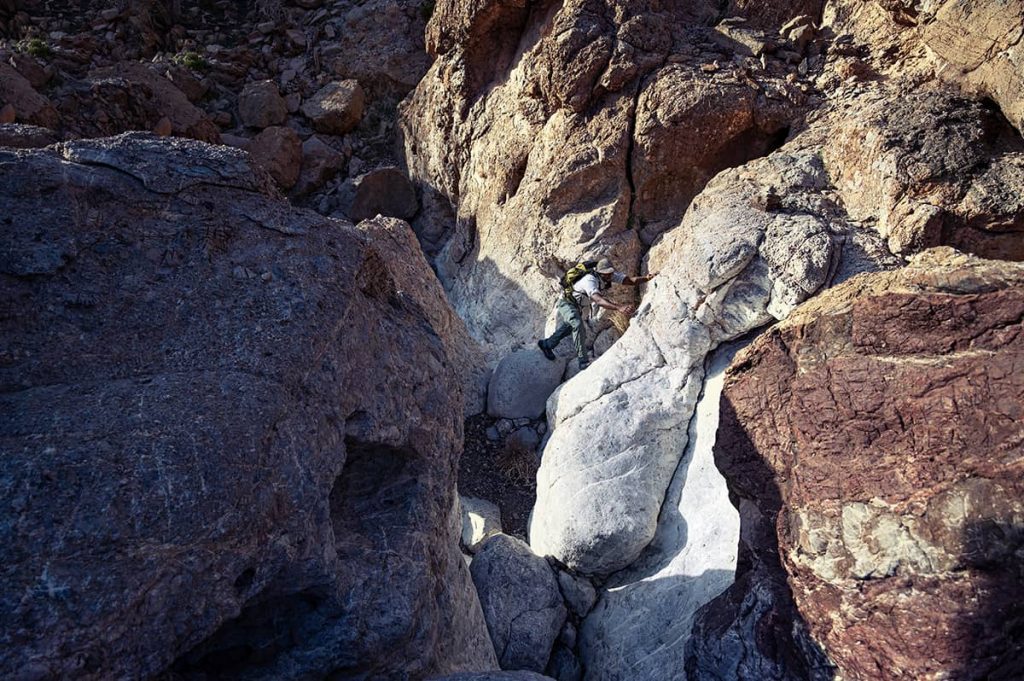 Moreover, the section of the route leading to the summit is mainly loose rocks and scree which require extra caution and the ability to trace unmarked trails. 
Spectrum trail is well marked for the first 4 km but afterward, cairns (stone piles used for marking hiking trails) become more and more sparse. 
Therefore, if you decide to do the full 11km trail up to the summit and back, you can expect hiking to be moderate plus or even difficult, depending on how experienced a hiker you are. You have to be confident in climbing large boulders and steep hills over the loose rocks without a clear path. 
Note: ropes are not needed for the Rainbow valley trail.
Spectrum hike divided into sections
To easily understand the path, I have divided the Rainbow valley trail into 3 sections. Below I describe each of those and provide distances and estimated time needed to complete each of them. 
1. Easy section leading to the start of the colorful rocks
Distance: 2 KM (1.24 miles).
Time: 40 min to 1HR (depends on your speed) 
Difficulty: easy (some may say easy plus due to some loose rocks and big boulders at the end of this section)
Elevation gradually reaches 290 m.
If you are looking for an easy trek where you can also take some cool Instagram-worthy hiking pictures of the colorful rocks, the good news is that they are reachable in less than an hour of light hiking. The only hardship you may face is if it is a very hot day.
At the very beginning of the trail, you will pass a military surveillance camera and a small section of boulder immediately after. The first 2 kilometers are relatively easy. You will be walking in the valley with gravel grounds, sandy mountain paths, with a little bit of elevation gain, and some small-sized boulders here and there. 
Yet at the end of this section, immediately before the colorful rocks, bigger boulders make their presence. You will have to climb them to get close to the rainbow rocks. Something to bear in mind for those with a fear of heights or who are not used to climbing.
As a matter of fact, the spot where rainbow rocks start gets really packed during the weekends. But do not worry, the best is waiting for you ahead, and many people do not bother going much further.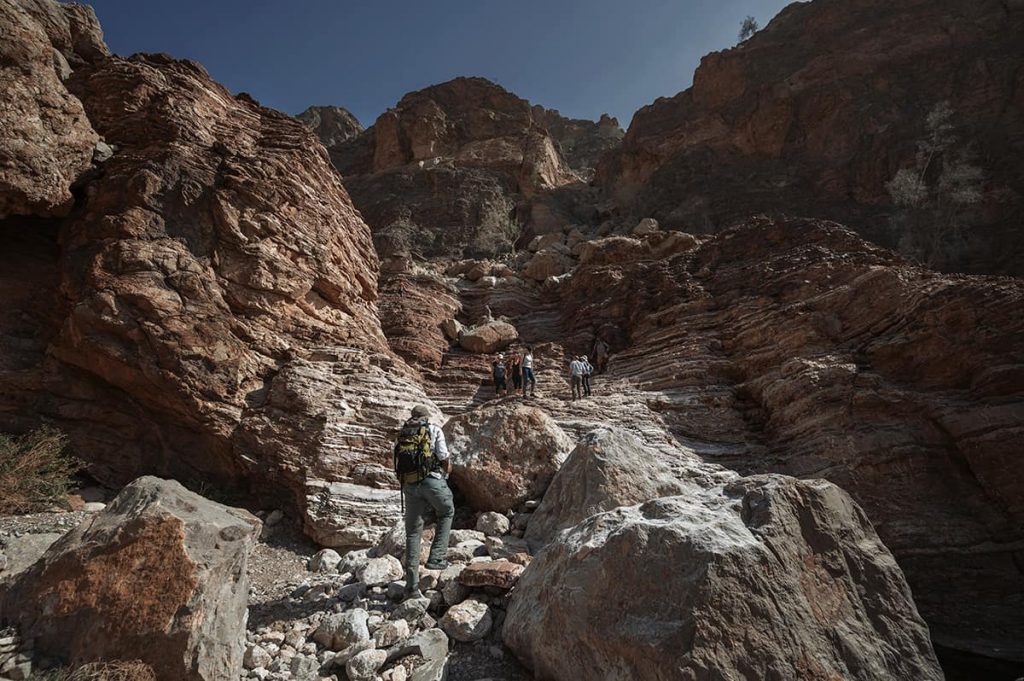 2. Hiking through the rainbow valley will lots of bouldering
Distance: 2 KM (1.24 miles) (from spectrum rock, or 4KM (2.5 miles) from the trailhead). The total from the trailhead round trip is 8km (5 miles).
Time: 1-1.5 HRS (one way from spectrum point). The total time to complete two sections of return (8km) is around 3-4 hours. 
Difficulty: moderate.
Elevation gradually reaches 492 m.
This is my favorite section of the hike because it has the best scenery and lots of fun climbing over the rocks. The terrain is very dynamic and you will always be surprised by the ever-changing views of the layered rocks. 
Most of the hikers stop at section 1 and only a few continue further into the valley. Having fewer people adds to the adventure as the place starts to feel more remote and wild. 
Following the trail is still straightforward as you are walking through the wadi. There are plenty of cairns to help you navigate easily. 
Note: this section has several spots with quite huge boulders. You will need both hands to climb up and down. Some of the rocks have a very good grip which makes climbing easier. However, some are quite smooth and slippery. Therefore, you have to be careful and confident in your ability to climb them. 
Towards the end of this section at around 3.5km (2.2 miles) into the hike, you will reach a very beautiful place that looks like a small canyon with wavy rocks on the right-hand side. There you will also approach a high rock wall (probably around 4-5 meters (15 feet)).
You have to climb it from the right-hand side towards the left. The rock is leaning at an angle and is smooth. It may seem tricky at first but there is some sort of a crack that helps as a grip when climbing. It won't be as hard as it may first seem to be.
Rainbow valley finishes after this rock (it is also the highest bouldering spot in the trail). The terrain then changes- oath doesn't have so many boulders anymore. Instead, there are lots of loose rocks. 
Therefore, you can either finish with the climb and go a little bit forward for different scenery or continue all the way up to the summit. 
3. Summit hike section
Distance: around 1.5 KM (0.9 miles) one way.
Time: 1 HR to reach the summit of 800 meters. The total time to complete a full trail round trip of 11 KM (6.8 miles) will be 5-6 Hrs.
Difficulty: moderate to hard as there is no marked trail and lots of loose rocks and steep incline.
Elevation quickly reaches 800 m (2624 ft) (can be extended to 1000 m (3280 ft)).
The last section of the hike leads to 800 meters summit (can be extended to 1000 meters (3280 ft).
This part of the hike is poorly marked, with only a few cairns here and there left by other hikers. It is completely off the beaten path and recommended only for the more experienced hikers who know how to trace safe paths in the mountains. 
The terrain is mainly loose rocks, with a few small patches of rainbow rocks appearing randomly. Extra care should be taken closer to the summit, as it gets significantly steeper, with lots of scree slopes. Therefore, make sure to choose a safe path. Cairns will completely disappear close to the summit (or at least we were not able to spot any around 200 m (656 ft) to the summit).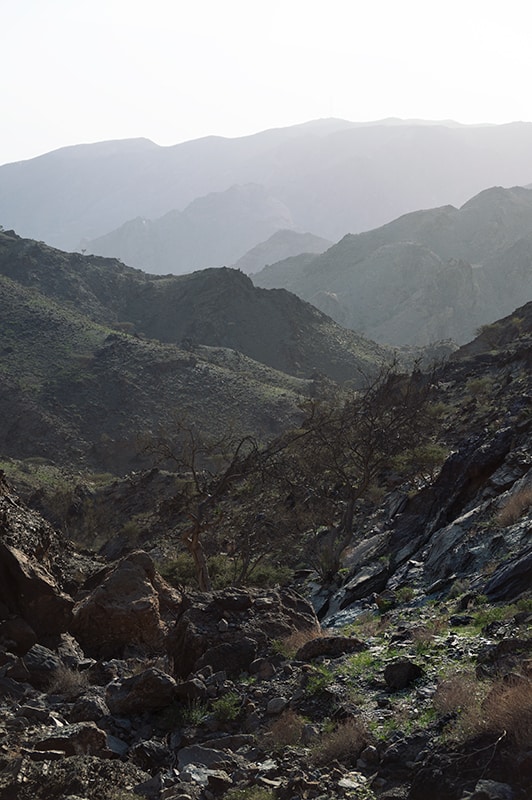 Scenery-wise, it is not as spectacular as the rainbow valley. However, if you are looking for an adventure, a little bit more challenge for the day, and a longer trail, then go for it. 
As mentioned before, you can reach up to 1000 meters in elevation. From the highest point, you will be able to see the mountains of Dibba, Fujairah, and even Musandam peninsula on a clear day. We only went up to 800 meters above sea level and returned the same way because we didn't want to be caught in the dark on our way back. 
There is an option to do the 3rd section in a loop before merging back to the Rainbow valley part. However, it is even more challenging due to lots of scree, ridges and steep decline, and sun. We decided to skip the loop as the views didn't seem to justify the effort and possible risks. If you are keen to do the loop of 15 KM (9.3 miles), the trail was recorded by a fellow hiker on the Wikiloc app.
How to prepare for Rainbow Valley (Spectrum) hike in Fujairah
Hiking in barren UAE mountains always requires being well prepared. The rough terrain and hot climate can be unforgiving, especially during hotter months.
Here is a checklist of what to bring to spectrum hike:
3-5 liters of water which crucial for any hike. For the UAE where the weather is hot all year round, alwyas take extra than you think you may need.
Lightweight power snacks like dates, bananas, protein bars. Also, electrolyte drink aside from water makes wanders during long sweaty hours.
Sturdy footwear with good grip. The terrains are rough and rocky. Therefore, it is very important you are wearing shoes, ideally mid-ankle height, that have good grip. It will prevent you fromslipping and twisting your ankles.
Comfy and functional backpack. For a half-day hike you don't need much supplies to fit in. Still, a backpack with a good back support and, ideally, a space for water bladder, makes a difference. Check out this Osprey backpack chich is great for day hikes.
Get a water bladder if you are planning to make hiking a regular acitivty. Water bladder has a straw. This means you don't have to remove your backpack when you want to drink water. Also, water, when filled in the bladder, is evenly distributed in the backpack. I use my two or three liter camel backs (depending on how long the hike is). You can check prices here on Amazon.
Sunsreen, cap and sun glasses.
Comfy sweat wicking clothes. I usually hike in gym or hiking leggings and t-shirts. For winter months, I also take a lightweight fleece as mornings and evenings can be chilly in the mountains.
Hiking poles. It is not a must but very helpful for the descending part. It can be quite tough for the knees when climbing down. For the light weight foldable trekking poles check this pair at Amazon.
Basic first aid kit. Terrains are rough and sometimes mini injuries can happen. Even as simple as getting a blister. So having plaster for this type of emergency can really make or break your hike.
Power bank to keep your phone charged.
Other things to be aware of when hiking in the UAE
Goats are the most common animals you will see in the mountains of the UAE. They are usually afraid of humans, and only sometimes you may find them approaching you because they are expecting a snack. Although tempting, it is advisable not to feed animals on the hikes so they do not become dependent on people giving them supplies.
Snakes. They usually come out at night and hide in bushes and under the rocks. Snakes won't attack humans unless they cause a threat by accidentally stepping on them. Therefore, always be mindful of your steps. I have seen snakes only a couple of times while hiking, but they are quite common in mountainous areas, as well as in the desert.
You can also see and hear bats if you are spending the night in the mountains.
Donkeys are also common if you are passing functional mountain villages.
Running into darkness while on a hike.
To avoid running out of light, always aim to start your hike early morning. Unless you are planning to camp, estimate your abilities to come back before it gets dark.
Be aware of the sudden rain. In the UAE rain might cause dangerous flash floods, especially in the wadis (gorges). It is not advisable to hike when it is raining also because rocky terrain becomes very slippery, there is a chance of falling rocks as well.
Always take extra water, even if it means carrying a heavier load. UAE climate is extremely hot and chances of dehydration are high if you don't drink a sufficient amount of water.
I hope this guide inspired you to hike beautiful UAE mountains! If you have any questions, please feel free to get in touch.
STAY SAFE ON YOUR HIKE AND KEEP THE NATURE CLEAN!
MY HIKING PHOTOGRAPHY AND VIDEOGRAPHY GEAR
I often get asked about the photography gear I use during my hikes. The reality is, my hiking bag is usually quite heavy because I carry all sorts of equipment in my backpack. Here is what I use to capture my adventures and the beauty of the mountains:
DUBAI, UNITED ARAB EMIRATES TRAVEL RESOURCES
Planning your trip to Dubai, United Arab Emirates soon? Below are some useful links to help organize your trip.