Wondering how to spend one day in Naples Italy? Use this easy but busy detailed 1 day Naples itinerary as a guide for planning your visit to the most controversial and charismatic city in Italy.
Tucked between the port and mount Vesuvius, the ages-old city of many layers, Naples, will take your breath away, literally and metaphorically.
Naples is a shock to the system. It is intense! Its smells, sounds, and dirty overwhelmingly chaotic streets will instantly disturb your senses. Naples is an energetic raw city, with so much movement that it is hard to keep up. But once you get into its rhythm, you don't want to leave. And when you do leave, you want to come back. For pizza, at least. 
There are more than enough great things to do in Naples for a day visit. Therefore, trying to squeeze a fraction of the most interesting places to visit in Naples in just under 24 hours is a bit of a task. 
Based on my experience of visiting Napoli several times, I set out quite intense just as a city itself, yet unforgettable and rewarding Naples in 1 day itinerary. It is packed with the best attractions in Naples and sights not to be missed (including places where to eat the best pizza in Napoli).
To make the most of the city, I included indications of the time needed for visiting each of the recommended sights in Naples. Moreover, practical advice on how to get around, when to visit, and where to stay in Naples as well as a map highlighting the main points of interest in Naples for one day visit are included at the end of this post.
Thus, wake up early and stay late-you are bound to see the best of Naples in one day! 
Disclaimer: This post contains affiliate links, which means that I may earn a commission if you make a purchase by clicking a link (at no extra cost to you). This helps to keep my blog running and growing by creating more awesome free content for you.
Naples 1- Day Itinerary Overview
To understand and get the vibes of the culturally and historically rich city of Napoli in just a day, one must experience different sides of it. In my suggested 1 day Naples sightseeing route, I have included a variety of sights, attractions, and activities that serve as a great introduction to what Naples is about.
From historic and cultural places to wandering the chaotic streets, appreciating street art while soaking up the atmosphere of the city and taking in lofty views, to the best pizzerias, I got you covered. Also, you will find an interactive map of places to see in Naples in a day at the end of this post.
By following this Naples 1 day itinerary you will be visiting places and attractions located in the below-mentioned areas:
Royal Naples – for the most prominent plaza and royal quarters.
Underground Naples– for the hidden Naples.
Spanish Quarter (Quarteri Spanignoli) – the most cinematic neighborhood with tiny characterful streets.
Via Toledo– the pumping vein of commerce.
The historical center of Naples (Centro Storico)- the churches, monuments and artworks, and lively piazzas.
Scappanopoli-Via Tribunali– iconic vibrant streets lined with some of the best pizzerias, restaurants, and small shops.
A slice of the Vomero neighborhood (San'Elmo castle) –for the best views over Naples.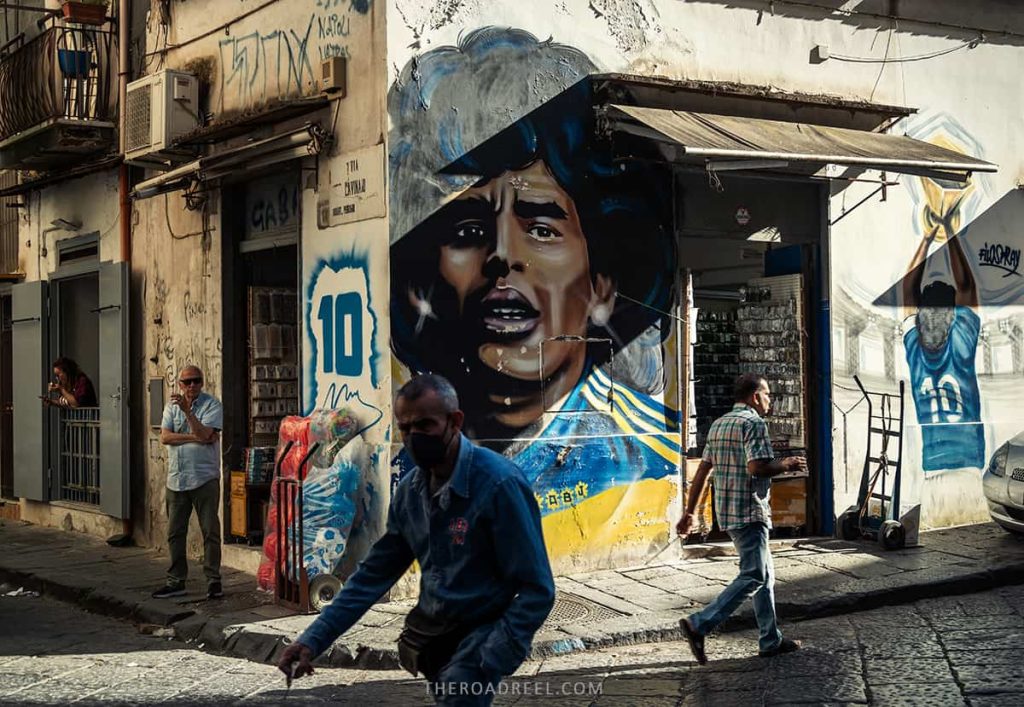 Good to know before you go to Naples
Some of the activities mentioned in this Naples itinerary require advance reservation and get booked out quickly during the high season.
Also, the opening hours of different sights in Naples might differ.  If some of the points of interest are closed on your day trip to Naples, I included enough activities so you will definitely have an alternative attraction in Naples to visit.
That being said, I recommend reading all the details provided in this day in Naples guide to ensure you don't miss a thing and make all necessary bookings.
Top guided tours recommended for 1 day in Naples
Where to stay in Naples, Italy
If you only have a day in Naples, I strongly recommend staying centrally. Naples is a sprawling city when you look at the map, but most of the tourist attractions of Naples are naturally clustered around the historical center. With limited time in mind, Centro Storico would be the best choice to stay steps away from places to visit.
If you are planning to base yourself in Naples for longer so you can visit other places, like Pompei, Vesuvius, or islands near Naples as day trips then staying in close proximity to Naples Central Station (Napoli Centrale) might be a convenient budget-friendly option. For a more upscale and unbeatable sea view, the Chiaia district is to keep an eye on.
IMPORTANT: I also strongly recommend booking accommodation in advance. Naples is an old city and hotels although plentiful, are quite pricey for the quality you get. Booking in advance will ensure you pick the best option for your budget.
Below are my top picks of places to stay in Naples for different budgets:
What to see in Naples in 1 day: A Perfect Naples Itinerary
1. Coffee and breakfast at Gran Café Gambrinus
Why it is special: serves the most delicious "scrambled" coffee "Caffé Gegé.
Opening times: daily from 7 AM- 12 AM (Saturdays until 1 AM).
Time required: 15-30 minutes, depending on how busy it is.
Every great day in Italy starts with an espresso or cappuccino accompanied by mouth-watering fresh pastry (Italian breakfast is always sweet). To kickstart your perfect one day in Naples, head to the iconic and one of the oldest cafes in town- Gran Café Gambrinus.
Once a popular meeting point for intellectuals and artists, including Oscar Wilde and Ernest Hemingway, this elegant historic 19th-century café will amaze with its Belle Epoque interior. But even more special is its artisan coffee, arguably the best coffee in all of the city.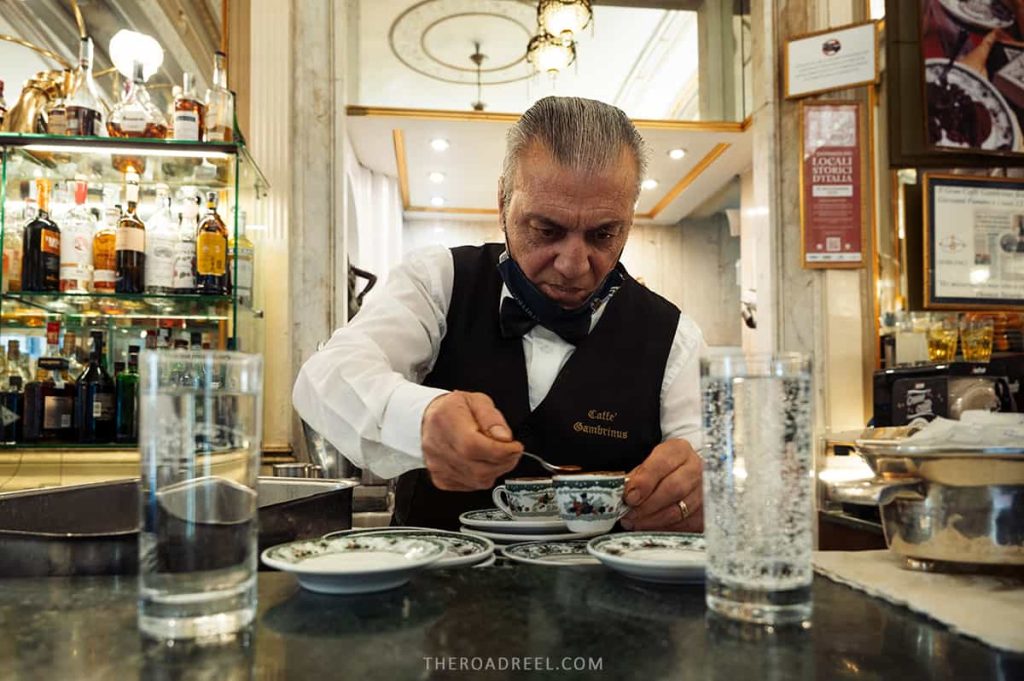 The opulent legendary café went through a turbulent life of its own. After being a pulling point for Europe's brightest minds for many years, Café Gambrinus was shut during Mussolini's dictatorship for promoting anti-fascist ideas. Luckily the Naci regime came to the end, café re-opened and remained one of the most popular yet authentic places in Naples.
Gran Café Gambrinus due to its international fame is a bit pricier than others. Even more, if you choose to sit at a table, it will double the bill. However, it is worth the experience.
Which coffee to order: Caffé Gegé – an espresso shot "scrambled" with cocoa and sugar. A special technique is used to prepare this sweet nutty espresso shot. Thus better have it at a bar so you can see the process. It is one of the best coffees I have ever had in my life!
Make sure to try sfogliatella
When it comes to pastries, specific for Naples and Campania region is sfogliatella– a layered dough shell-shaped pastry filled with soft ricotta cheese- an absolute must-try. 
You can either have it in Gran Café Gambrinus (will pay a bit more than elsewhere), or pick one from the stalls next to Galleria Umberto I (a few steps away).
Other notable places to taste sfogliatella are located in the historical center (which you will visit later today). Namely, Sfogliate e Sfogliatelle and Scaturchio. Nonetheless, there are countless pasticcerias in town, and you can easily be lucky to find great sfogliatellas all around Naples.
2. Piazza del Plebiscito & Basilica of San Francesco di Paolla
Why it is special: beautiful iconic plaza and impressive basilica.
Cost: free.
Opening times of the Basilica: Mon – Fri 8:30 AM – 12:00 PM, 4:00 PM – 7:00 PM, Sun 8:30 AM to 12 PM.
Time required: 15-20 minutes to look around, 30 minutes if visiting the church.
The largest and most impressive traffic-free square in Naples Piazza del Plebiscito is home to city's most emblematic buildings. Just steps away from Gran Café Gambrinus, the main square of the city, Piazza del Plebiscito is one of the most important points of interest in Naples, and a great spot to start your sightseeing.
The impressive piazza is framed by the grandeur colonnade of San Francesco di Paolla, a 19th-century Basilica. The architecture of San Francesco di Paolla Church was inspired by Pantheon in Rome. Hence the façade looks similar, defined by a portico supported by six columns and two Ionic pillars, meanwhile, the 53-meter (173-foot) tall dome crowns a circular nave.
Today Piazza del Plebiscito and the front steps of the 34 Corinthian columns surrounding the Basicila are popular hangout spots for youngsters and street artists. Various cultural events are often taking place on the square as well.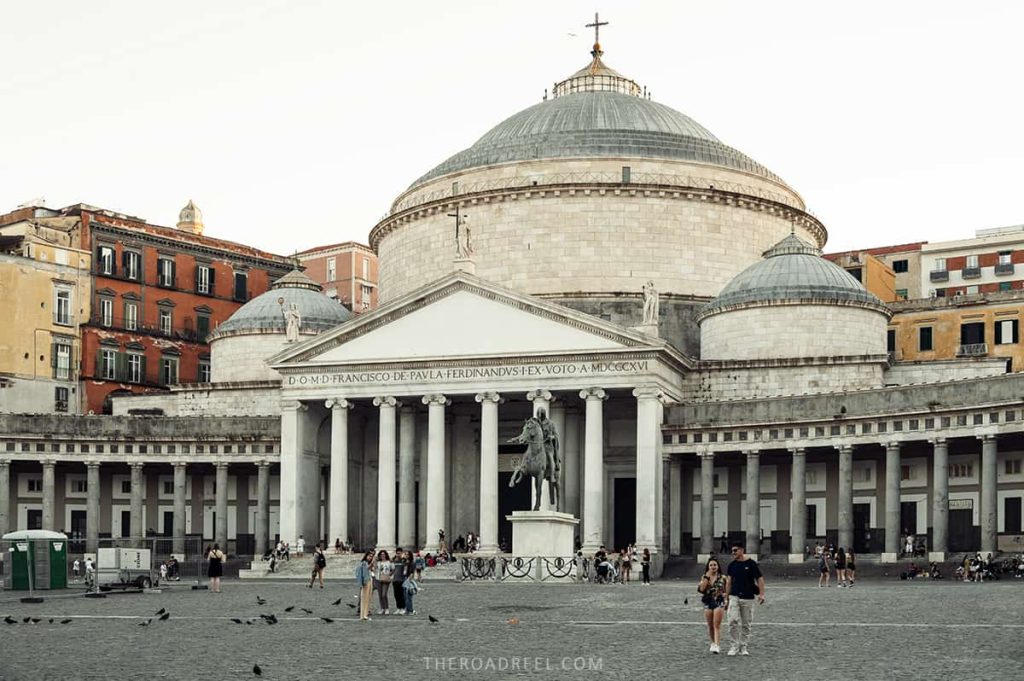 Did you know? The Piazza del Plebiscito was built from the volcanic rock of Vesuvius- the dominating natural landmark, the infamous volcano which destroyed Pompei. Also, Piazza del Plebiscito was once turned into a parking lot. This bizarre misuse of such a beautiful place lasted for over 30 years from 1960 to 1994, until it got restored to its original purpose.
Tip: If you get a chance, revisit Piazza del Plebiscito at dusk when the Basilica is illuminated – a truly magnificent sight and a completely different mood to experience.
Optional:  Royal Palace of Naples
Why it is special: historically important royal establishment with lavish interiors.
Entrance fee: 10 EUR.
Opening times: 9 AM- 8 PM, closed on Wednesdays.
Time required: 1.5-2 hours.
Located opposite Piazza del Plebiscito, The Royal Palace of Naples is a symbol of royalty. It was built during the Spanish rule in the 17th century to host King Phillip III of Spain during his visit to Naples and later continued to be used by Bourbon dynasty Kings.
Not as attractive from the outside, the Palace is splendor from the inside with all the pomposity and lavish décor expected from such an institution. It hosts over 30 immaculately preserved luxurious royal rooms representing the extravagant lifestyle of the Neapolitan royalties back in the 17th-19th century. The Palace is also a ground for Teatrino di Corte, National Library, and Teatro di San Carlo.
Since you only have 1 day in Naples, The Royal Palace might not fit into your schedule. However, if it strikes your interest, then you might have to make your visit to the palace a quick one.
Optional: Teatro di San Carlo
Why it is special: the oldest working theatre in the world.
Cost: 9 EUR.
Opening times: 10:30 to 16:30 Monday to Sunday.
Time required: 30 minutes.
Opened in 1737, Teatro di San Carlo is the oldest working Opera venue in the world and one of the most impressive I have ever seen! It is located on the same grounds as the Royal Palace of Naples, however, it is a separate attraction that can be only visited as part of the guided tour.
A set time frame for a tour is 30 minutes only which makes it an attractive add-on to your Naples 1 day schedule.
You can book the tour in advance HERE. Tours are either in English or Italian. Note that the tour schedule revolves around the schedule of the theatre and might change if the performance or rehearsals are taking place.
3. Galleria Umberto I
Why it is special: beautiful UNESCO-protected centuries-old shopping arcade
Cost: free
Opening times: 24/7 (except for the shops)
Time required: 10 minutes (unless you go shopping)
Before continuing to your next activity in Naples, make sure to pop into Galleria Umberto I, located just a few minutes walk from Piazza del Plebiscito.
Part of the UNESCO listing, Galleria Umberto I is one of the most beautiful shopping arcades in Europe. The grandeur of the space feels almost like stepping into a cathedral dedicated to shoppers.
Galleria Umberto I was built at the end of the 19th century, following a similar architectural style as the famous Galleria Vittorio Emanuele II in Milan (the architect of Emirates Mall in Dubai also took inspiration from these Italian shopping centers). A spacious cross-shaped passage is symmetrically framed by a Neoclassical facade and covered by a glass dome braced by iron ribs.
Named after the King of Italy at the time of construction, Galleria Umberto I has four entrances, 2 of them connecting to key areas of Napoli (Via Toledo, San Carlo Theatre). The shopping gallery used to be a lively social space and a cornerstone during risanamento– the rebuilding of Naples during Italy's unification that lasted until WWI.
Take a peek into the Galleria Umberto I not for shopping (although you might as well) but rather for admiring absolutely gorgeous space and architecture.
4. Castel Nuovo
Why it is special: the storybook-like castle is one of the most important landmarks in Naples.
Entrance fee: 6 EUR.
Opening times: Mon-Sat 8:30 AM-6 PM, Sun 10 AM- 1 PM.
Time required: 15 minutes (longer for visiting inside).
Hard to miss is the towering Castel Nuovo (locally known as Maschio Angioino), located at the seafront in close proximity to Galleria Umberto I. This 13th-century castle, built in the Medieval Renaissance style is one of the most prominent landmarks in Naples. The five imposing towers characterize the fortress. An interesting architectural element is an ornate white marble triumphal arch connecting the western towers.
With only one day in Naples and many more exciting activities ahead, you will probably choose to admire the fortress from the distance or just stroll around its impassable walls.
Nonetheless, if curiosity brings you to explore the interior of the castle, it hosts a museum of a rich collection of paintings by Neapolitan artists, a chapel ornated with historic frescoes painted by Giotto, archaeological excavations of Roman ruins, and a hall of Barons, castle's Throne Room which today is a space for occasional council meetings and cultural events.
5. Napoli Sotteranea- unravel secrets of underground Naples
Why it is special: wander the tunnels and learn the shocking history of life under the ground.
Cost: 12 EUR.
Opening times: tours take place daily in English Monday to Friday 10 AM, 12 PM, and 4:30 PM, Saturday also has a 6 PM slot, and Sundays have additional 11 AM and 6 PM slots.
Time required: 1.5 hours.
Some of the best places to see in Naples lay underground. I was instantly intrigued once I got to know that under the chaotic streets of Naples, there is a hidden underground city. Naples Underground was my favorite guided attraction in Naples, thus I strongly recommend you to do it!
A network of streets, tunnels, catacombs, caverns, and chambers buried 40 meters (120 feet) below the earth hold the most fascinating and unbelievable secrets and stories of life in Naples from its very beginnings from the 4th century BC all the way to WWII.
Greeks dug underground tunnels extracting the tuff rock to build the ancient city of Neapolis. Some centuries later, Romans overtook, expanded, and utilized existing tunnels as aqueducts to supply the city with water. Two and a half millennia later the total subterranean network of streets and tunnels covers some 450 kilometers (280 miles). Rediscovered during WWII when heavily bombed Naples' underground became a shelter to over 200000 citizens.
Good to know: there are several different guided underground tours in Naples that include tunnels, galleries, catacombs, and burial grounds. A couple of the tours share the same name, thus may be confusing. Those are:
Napoli Sotterannea which starts next to Via dei Tribunali calls itself the main one but has massive groups.
La Napoli Sotterannea starting near Piazza del Plebiscito (or Piazza Trieste e Trento to be more specific) is just as interesting and has small groups.
Other tours include visiting The Bourbon Tunnel, the Catacombs of San Gennaro, and San Gaudioso. Each of the tours is different and interesting in its own way.
If it is your first-time visiting Naples, I would suggest joining La Napoli Sotterannea tour starting near Piazza del Plebiscito which is convenient as you have already started your day in Naples here.
La Napoli Sotterannea is a captivating experience and will give you a deeper insight into the city. Also, La Napoli Sotterannea tour has much smaller groups than the "main" one that starts near Via dei Tribunali.
More about La Napoli Sotterannea tour
By descending over 100 steps into the belly of Naples, and wandering through dark tunnels lit with just a dim torch and candles, our guide was telling the most unbelievable things about how people survived living underground. It was difficult to wrap my head around what it was like to live without natural light 40 meters under the ground for at least a couple of years.
The guide told us stories of people living full lives just as above the ground- going about their daily routines, getting married, delivering babies, and dying.
Important: visiting Naples's underground involves walking through some really narrow and dark tunnels. Although there are alternative ways to access certain areas if you are uncomfortable with tight spaces. Note also that there are a lot of steps descending to the underground and then ascending back above ground.
IMPORTANT! Naples Underground tours are one of the most popular activities in Naples, thus get the ticket in advance for the time you prefer to visit.
6. Quartieri Spagnioli neighborhood and Maradona Mural
Why it is special: cinematic Napoli atmosphere, artistic murals including one for Maradona.
Cost: free.
Opening times: 24/7
Time required: 30 minutes, or as much as you want to explore the streets. 
You will finish Naples's underground tour within walking distance to Quartieri Spagnoli (Spanish Quarters). Quartieri Spagnoli is one of the most photogenic atmospheric districts in Naples not to be missed.
A place where the sun struggles to squeeze between narrow streets that cut through the tall buildings interconnected by lanes of laundry fluttering in the breeze. You have most likely seen street photography of what is known as typical Naples- Quartieri Spangoli is where you find this ugly beauty and more.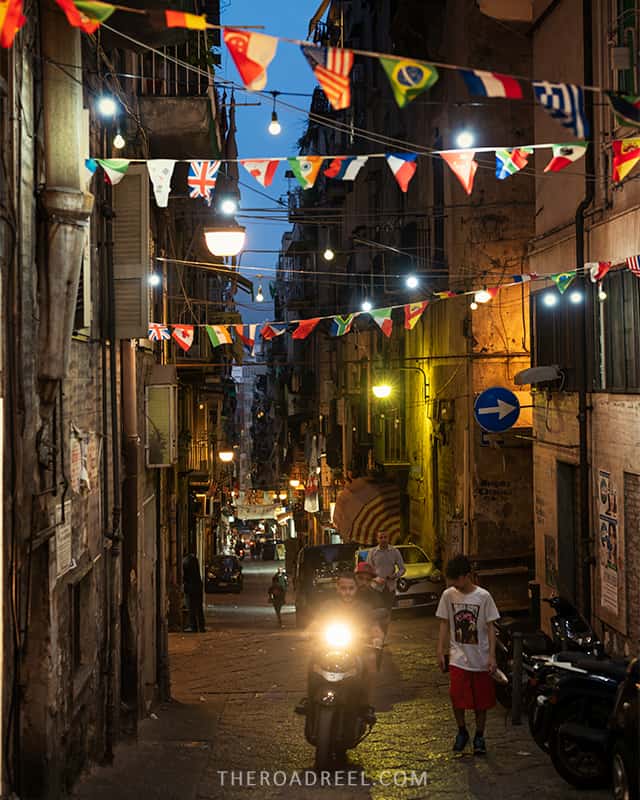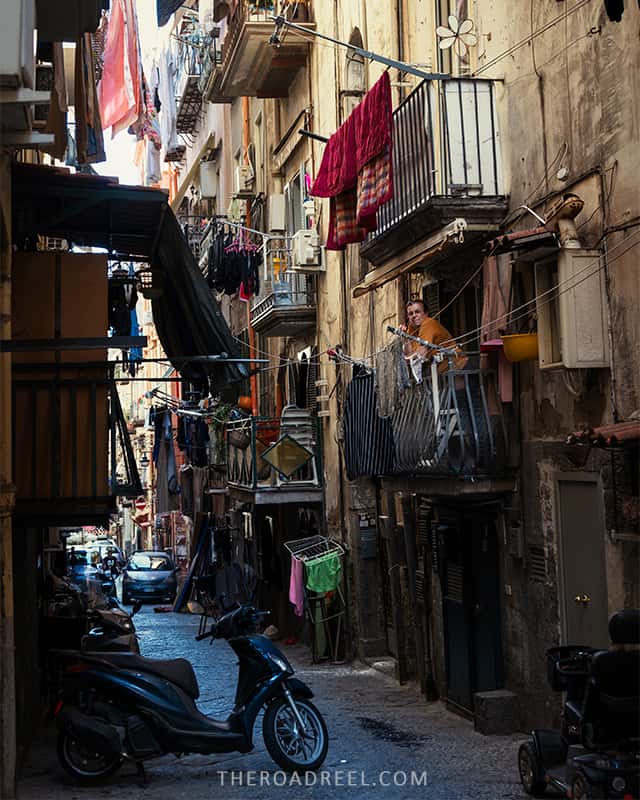 Noisy and full of life, extra chaotic in a chaotic city Spanish Quarters represents the darkest corners of the soul of Naples. It used to be an area to avoid but today it is relatively safe to wander for the outside visitors (avoid walking there after midnight).
The history of the Quartieri Spagnoli stretches back to the Spanish occupation in the 16th century. The quarter used to be a base for Spanish soldiers who lead an unorthodox way of life. Naturally, the area eventually gained a reputation as a hub of prostitution, crime, and drugs.
Today, Spanish Quarters is the most densely populated area where working-class Neapolitans live. You can sense that it is a place of struggle. Unsavory activities are still taking place but not at the scale they used to.
The Quartieri Spagnoli is being re-evaluated and adopted as a trendy spot to go out for a drink and dinner.
The street artists use the crumbling walls of the Spanish Quarter as a canvas for expressive murals. The most notable and must-visit in Naples on your one-day trip is Armando Diego Maradona mural located in Via Emanuele de Deo.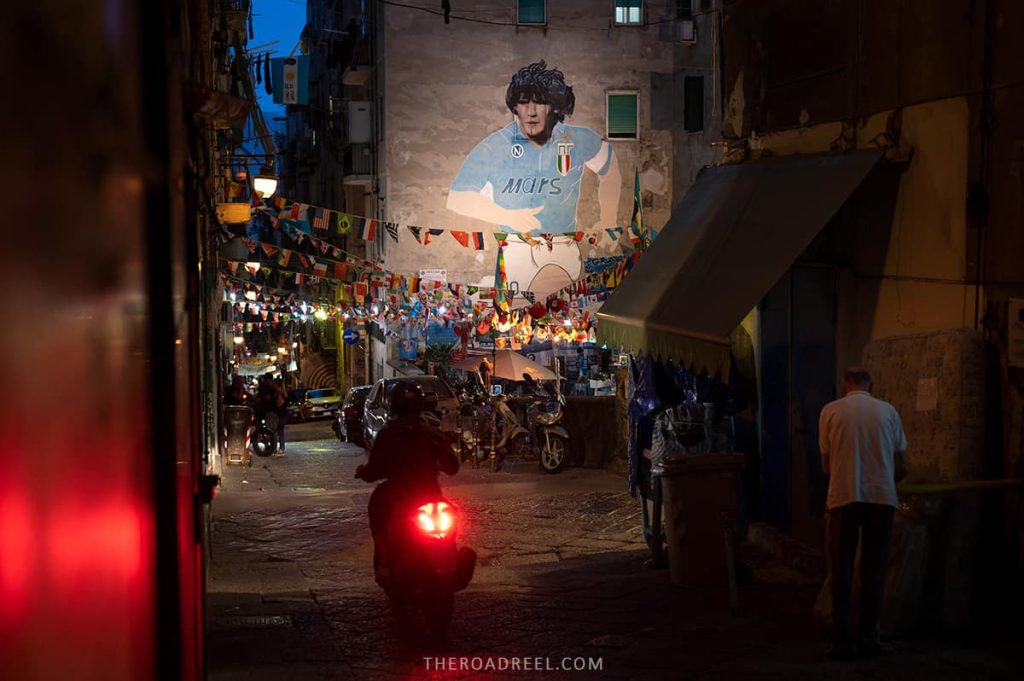 Under the enormous painting occupying the whole wall of the building, you will also find a "shrine" dedicated to the legendary player, a souvenir stall selling Maradona and football-related artifacts (t-shirts, mugs, scarfs, etc.), and a bar to sit down and have a drink.
Moreover, keep an eye out for surrealistic grotesque murals by Cyop&Kaf- my favorite streets arts to hunt while walking around the Quartieri Spagnoli. The mind-bending paintings decorate forgotten gates, balconies & windows, and other unexpected corners of the Spanish Quarter.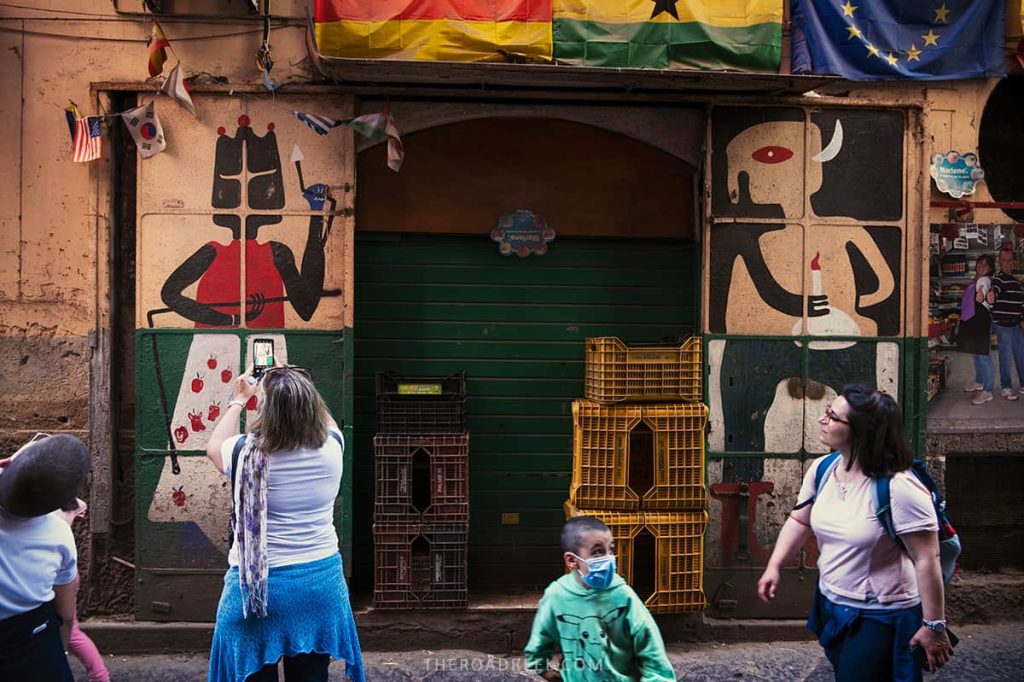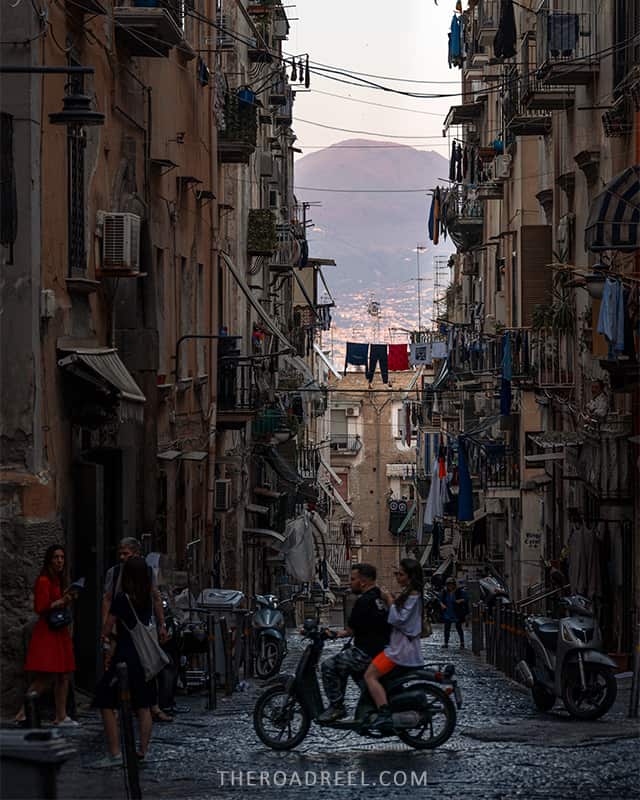 Centro Storico (Historical Center)
During your second part of the day in Naples, you will head for lunch to the oldest pizzeria in Naples and then continue to explore Centro Storico– the historical center of Naples.
Did you know?  The whole Naples historical center is included in UNESCO's World Heritage Site list. In Centro Storico, you will find some of the most important piazzas, and buildings, including the most beautiful churches, historical monuments, palaces, and also iconic street of Via Tribunali as well as a so-called Naples "splitter" Spacanopoli.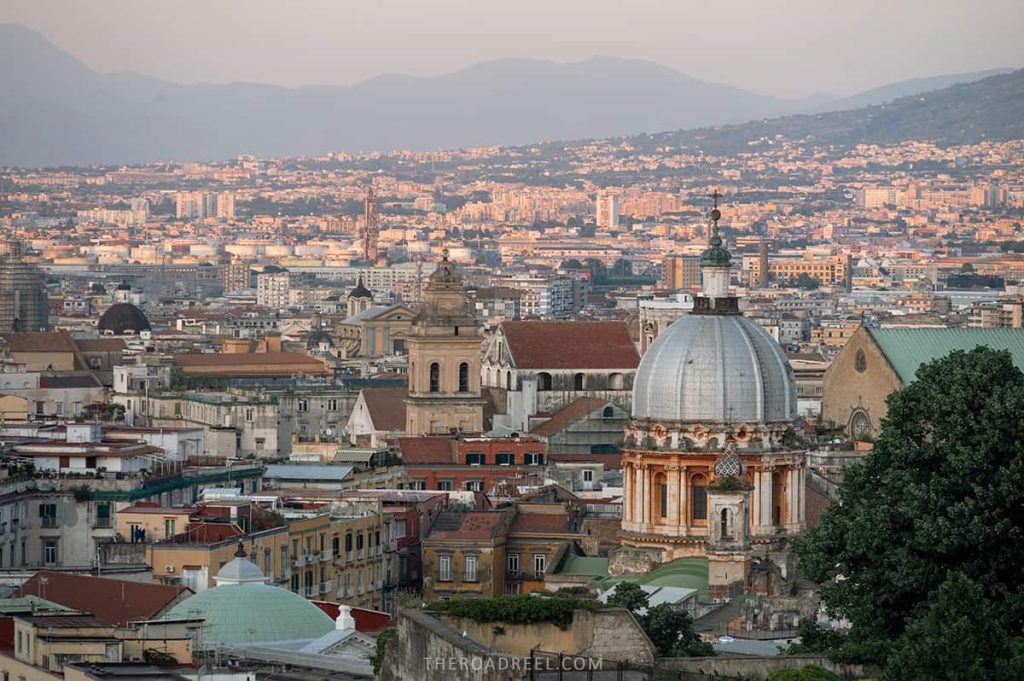 7. Via Toledo
Why it is special: main commercial street, beautiful Toledo metro station.
Opening times: 24/7.
Time required: 10 minutes or longer if you are strolling all length.
From Quartieri Spagnioli head towards Via Toledo- one of the main arteries and the principal commercial street in Naples. You cannot avoid it and must pass on your way to the historic center. It is a street of madness always crowded with people rushing in all directions.
On via Todelo continue walking north towards Dante square which is around 15 minutes away from Spanish Quarter. Or, if you are keen to see one of the most beautiful metro stations in Europe, go down to Toledo metro station which looks like an underwater world. In order to see it, you must purchase a ticket (1.1 EUR). Ride for 1 stop from Toledo to Dante metro station.
Good to know: whilst Google maps currently show the street as Via Toledo to locals it is known as Via Roma.
8. Lunch at the oldest Pizzeria in Naples
Why it is special: one of the best pizzas in Naples at the oldest pizzeria.
Cost: pizzas are priced at 10-12 euros on average.
Opening times: daily 12–4:30 PM, 6:30 PM–12 AM.
Time required: 1 hour if there is no queue for the table (you can also do a takeaway).
From Piazza Dante, which is one of the significant plazas in Naples, symbolizing the former grandeur of the city and holding a large monument for Italy's greatest writer and philosopher Dante Alighieri, continue towards Port' Alba archway. You will pass an atmospheric street of Via Port'Alba known for its many old bookstores.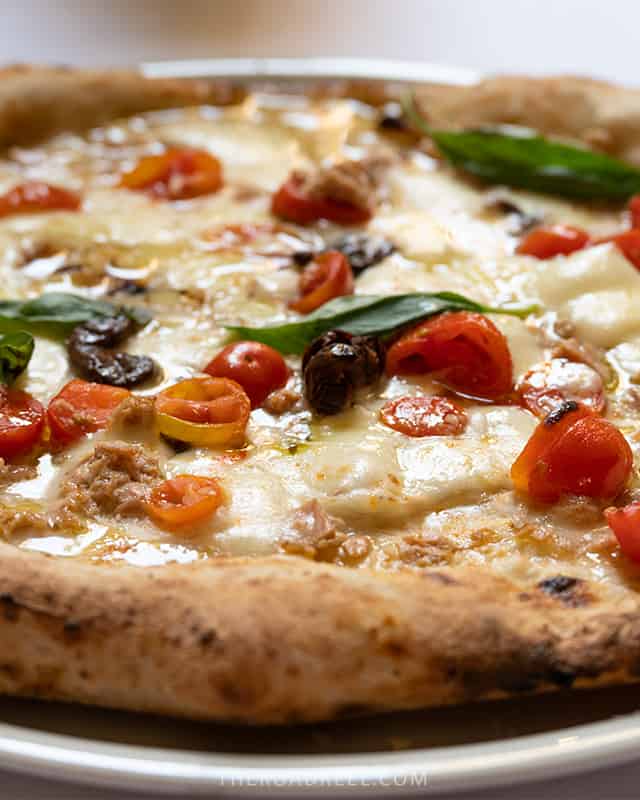 Antica Pizzeria Port Alba, which is widely believed to be the oldest pizzeria not only in Naples but also in the world, will be on your right with some outdoor sitting places on the left, just right under the arch. This pizzeria started as a stand for peddlers in 1738. A century later, in 1830, the pizzeria finally moved under the roof and until today is in operation under the name of Antica Pizzeria Port Alba.
Fun fact: pizzeria used to have a payment system pizza a otto which allowed customers to pay for their order within 8 days- something like an installment plan but without the interest rate. It was not because pizza was expensive back in the day. Quite the opposite, it was one of the cheapest and simplest meals. However, the main customers were students and artists who, as cliché as it sounds, never had enough money.
Opinion: Out of 5 different pizzerias we tried (all were famous names, highly recommended online and by locals), Antica Pizzeria Port Alba pizzeria was our favorite one.
9. Chiesa Gesù Nuovo
Why it is special: one of the most beautiful churches in Naples.
Entrance: free.
Opening times: daily 8 AM- 1 PM, 4 PM- 7:30 PM.
Time required: 15-20 minutes.
Once you have your stomach satisfied with one of the best pizzas in Naples, be ready to discover more wonderful sights on your one day in Naples. The first one on the afternoon list, Chiesa Gesù Nuovo church is located only one minute's walk from the Antica Pizzeria Port Alba.
Chiesa Gesù Nuovo (New Jesus Church) is one of the best places to visit in Naples. Chiesa Gesù Nuovo is located in Piazza Gesù Nuovo- a pretty Baroque square in the heart of Naples.
The facade of Chiesa Gesù Nuovo clearly lacks the opulence common to many Italian churches. Interestingly, if you have ever been to Portugal, the walls dotted with small stone pyramids are reminiscing of the Casa dos Bicos building in Lisbon.
However, what it lacks from the outside, Chiesa Gesù Nuovo church generously compensates with its interiors. The church is known to have some of the largest concentrations of Baroque paintings and sculptures. As expected from the ornate and opulent Baroque style- the detailing of the interiors is taken to the extreme. What makes me fascinated the most is that the overwhelming amount of décor seems absolutely harmonious- all the smallest details here have a dedicated place and nothing is redundant.   
Tip: In your Naples 1 day itinerary, you must visit at least one church. From all of the hundreds of churches in Naples, make sure to take a peek inside this one.
10. Santa Chiara Monastery Complex
Why it is special: famous majolica tiles, frescoes, and shaded escape from the street chaos.
Entrance fee: 6 EUR, discounted to 4.5 EUR for students and seniors 65+.
Opening times: Mon-Sat 9:30 AM-5:30 PM, Sun 10 AM-2:30 PM.
Time required: 30-60 minutes.
Just a few steps away across the street you will continue to Santa Chiara, one of the top things to see in Naples. Santa Chiara religious complex built in the 14th century features a Gothic-style church (in contrast to the predominant Baroque architecture seen all around Naples).
However, what is the most attractive about the monastery complex is the impressive cloisters decorated with beautiful 17th-century frescoes depicting scenes from the Old Testament, and the colorful majolica tiles.
The inner garden filled with lemon trees is photo perfect shaded escape from the noisy Naples streets. Note though, that if you are visiting in the afternoon, the complex might be busy with visitors. Santa Chiara once a hidden gem now is a popular attraction.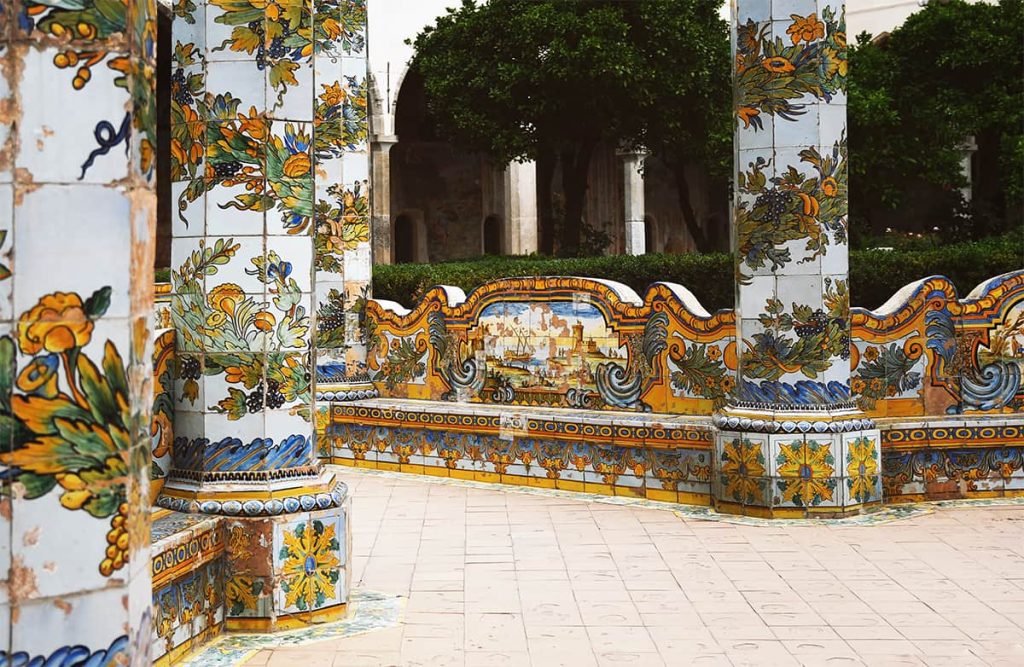 Optional:  The Veiled Christ at Sansevero Chapel
Why it is special: sculpture masterpieces displayed inside an intimate chapel
Cost: 8 euros (+ 2 euros booking fee).
Opening times: daily, except Tuesdays, 9 AM- 7 PM.
Time required: 30 minutes.
If you are an appreciator of art and sculpture, then on your day in Naples you should add a visit to Sansevero Chapel Museum- home to the famous masterpiece of The Veiled Christ sculpted by Giuseppe Sanmartino in 1753.
Depicting the deceased figure of Jesus Chris covered in a transparent death veil, the sculpture is an example of the finest craftsmanship. The delicate fabric carved out of one piece of marble looks hyper-realistic. The folds and creases are so precise, combined with the mysterious lighting make The Veil of Christ a sight to behold.  
The museum is located in a converted space of a petite chapel. Note that Sansevero Chapel is one of the most visited attractions in Naples and can host a limited number of people a day. Thus, pre-booking tickets even a few weeks in advance is strongly recommended.
There is also a highly rated guided tour which is a great opportunity to learn more about the historical center of Naples along with a visit to see The Veiled Christ.
11. Spaccanopoli- the Naples splitter
Why it is special: a set of streets "splitting" Naples downtown into half.
Opening times: 24/7.
Time required: around 15 minutes, but really as much or as little as you wish.
Spaccanopoli is one the city's most famous thoroughfares not to be missed during your one day in Naples. Spaccanopoli is a combination of several narrow streets seamlessly flowing into one another while cutting through the historical center and "splitting" the city of Naples into two. Hence, the name "Naples's splitter".
The total length of Spaccanopoli is about 2 kilometers. Starting from Piazza Gesù Nuovo it stretches as a dead-straight line all the way east until it crosses Via Duomo and continues for a little bit beyond Centro Storico.
Good to know: you won't find Spaccanopoli as a street name on Google Maps (try and see it yourself- it is just a pinpoint). To be precise, Piazza Gesù Nuovo, Via Benedetto Croce, Via Pasquale Scura, Via Maddaloni, via Domenico Capitelli, Piazzetta Nilo, and Via San Biagio Dei Librai, are the "components" of Spaccanopoli.
Spaccanopoli's roots date back to Roman-Greco times. It used to be one of the 3 decumani (one of the main east-west streets) on the ancient Neapolis city grid.
Today's Spaccanopoli is the invisible vein of the city constantly pumping with life. Lined with countless cafes, tavernas, pizzerias, souvenir shops, boutiques, and a number of important historical monuments in between (Sansevero Chapel, Gesù Nuovo Church, and Santa Chiara complex), Spaccanopoli falls on, or better said, makes an ultra-busy tourist route in Naples.
Yet, it is a perfect place to soak in the chaotic Naples' atmosphere and wander in and out of many connecting alleyways.
12. Via San Gregorio Armeno- the street of nativity scenes of Naples
Why it is special: the most characteristic street in the historical center is known for nativity figurines.
Opening times: 24/7 (except shops).
Time required: 10-15 minutes.
Talking about alleyways and side streets branching in and out of Spaccanopoli, Via San Gregorio Armeno is one of the top places to visit in Naples. Also known as Christmass Street, this short quirky lane is dotted with quaint old shops the windows of which along with the street stalls are filled with various figurines of nativity scenes (Presepe or presipio).
The presipio decorations are taken seriously in Italy- it is a more important attribute of Christmas than any lavishly dressed Christmas tree. To understand the craze behind those displays, one must look back to thousands of years of history that lead to a strong Italian tradition.
Via San Gregorio Armenio once used to be home to a temple for Roman Goddess Ceres. As a sign of devotion, the worshipers of the Goddess used to bring small terracotta figurines crafted in local artisan workshops. Eventually, when Christianity came into play, the figurines adopted a Christian appearance and became an important tradition all across Italy, but even more so in Naples.
Did you know that? The best nativity scenes in Italy makers are, in fact, based in Naples. Neapolitans treat presipio as a form of art and are also taking it to another level. Usually, nativity scenes revolve around the Bethlehem theme. However, in Naples, presepe features many elements of daily life.
That being said, in Via San Gregorio Armeno, you will find many different scenes and even figurines of characters of the current era (including celebrities).
Tip: If you got hooked on the nativity scenes and want to dive deeper, take note of the Museo Nazionale di San Martino in Naples which hosts the staggering Cuciniello Nativity- one of the most famous presepi artworks. The museum is located on the grounds of Castel sant'Elmo which you will visit later today.
Sweet tip: one of the above-mentioned famous pastry shops Sfogliate e Sfogliatelle is located in Via San Gregorio Armenio. Thus, do not miss it if you have not tried sfogliatelle yet or want to sample another one while in Naples.
Optional: Cloister of San Gregorio Armeno (Chiostro di San Gregorio Armeno)
Why it is special: off the beaten path serene and beautiful cloister.
Entrance fee: 4 EUR, cash only.
Opening times: 9:30 AM–1 PM, 4–6 PM Mon-Fri, 10 AM–1 PM, 3–7 PM Sat-Sun.
Time required: 30-45 minutes.
I discovered this hidden gem in the middle of the chaos by a lucky coincidence. A smaller alternative to the famous Santa Chiara complex, the cloister of San Gregorio Armeno (Chiostro di San Gregorio Armeno) offers a tranquil escape from the madness of Naples streets.
The 16-th century richly ornamented monastic complex features a cloister of dazzling beauty, a lemon tree garden, and a medieval chapel. You can also visit the functional refectory of abbess Violante Pignatelli.
Tip: The entrance to San Gregorio Armeno cloister is not obvious-look for Vico Giuseppe Mattei street on the map.
13. Via dei Tribunali
Why it is special: iconic street known as pizza street is full of life.
Opening times: 24/7.
Time required: 30 minutes or longer if you stay for another pizza or a drink.
An unmissable on any Naples itinerary, Via dei Tribunali is a decumanus major (east-west oriented main road) following the ancient Greek-Roman axis. Also known as pizza street, Via dei Tribunali is one of the most important avenues in Naples.
It is lined with a number of historical monuments (Naples Cathedral and San Lorenzo Maggiore Basilica amongst them), crumbling houses that once used to be palaces, and a countless number of places to eat and drink.
Running parallel to Spaccanopoli, Via dei Tribunalli can be also reached from Via San Gregorio Armeno.
The lively and never sleeping ages old street, Via dei Tribunali, is where you can see the Napoli of Elena Ferrante (renowned Italian writer of bestselling Neapolitan novels). At a glance narrow-cobbled street handles more than its size has been made for: continuous chaotic movement of not only people but also scooters and even cars (watch out), also street vendors, coffee shops, and restaurants.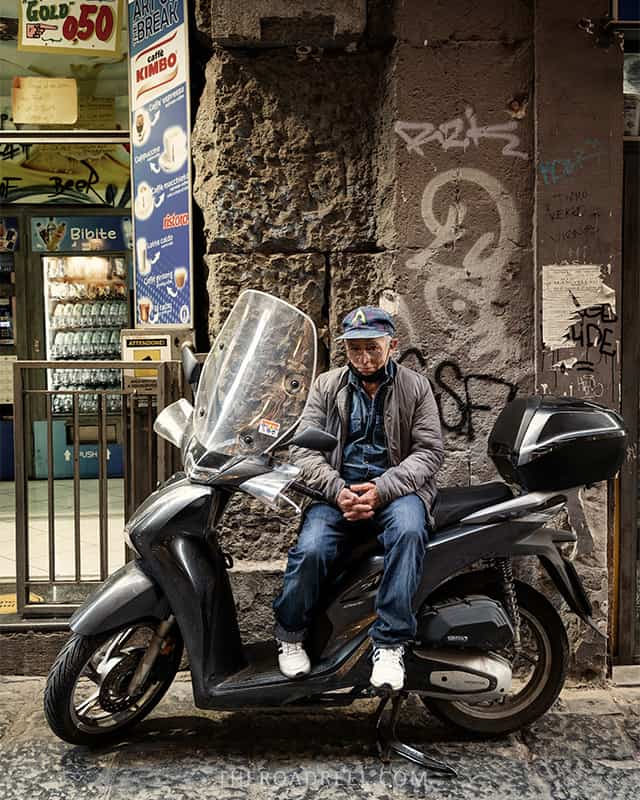 Busto di Pulcinella
Do not miss Busto di Pulcinella- a famous bronze sculpture depicting a classical Neapolitan puppetry character created in commedia dell'arte.
Pulcinella embodies the Neapolitan plebs- an ordinary man who belongs to the lowest social class, always struggling but manages to hustle and sort his problems with a smile.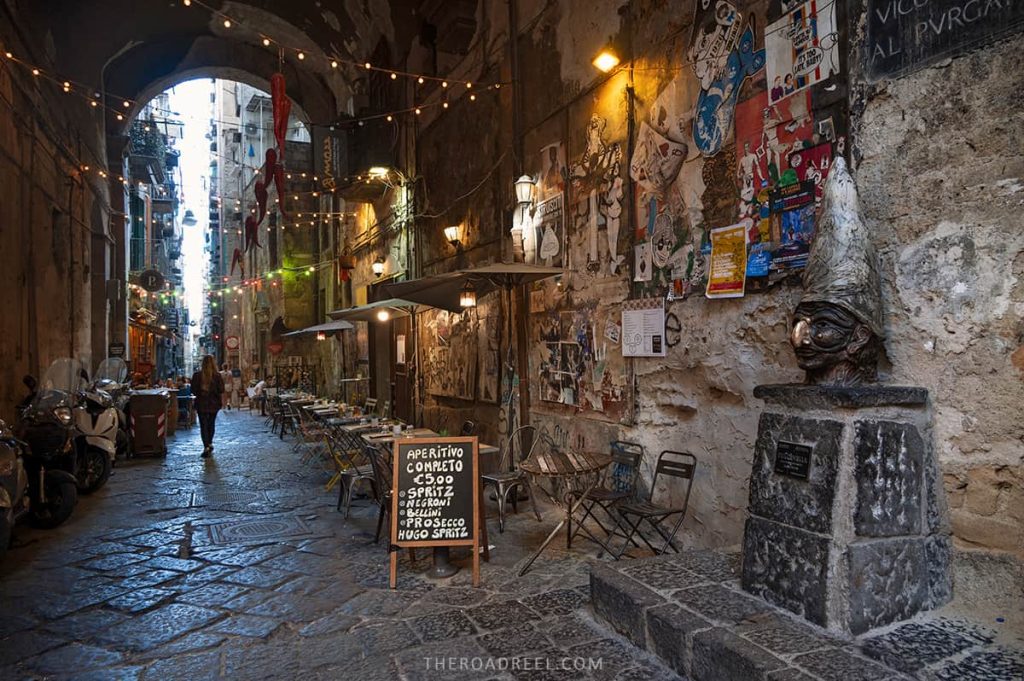 Placed at the corner of Vico del Fico al Purgatorio, the Busto di Pulcinella is locally believed to bring luck if you rub his nose. You can see that rarely anyone will miss their chance to get some extra luck. The nose of the sculpture has been rubbed quite a bit and acquired a golden shade compared to the rest of the face which has bronze patination.
14. Try another pizza at one of the famous pizzerias
In the birthplace of pizza, set your goal to try as many different pizzas as you can. And do not worry, the walking you do on your day in Naples is enough to burn all those carbs. We managed to try pizzas at 4 different pizzerias on the same day!
In Via dei Tribunali, you will find the famous Pizzeria Antonio e Gigi Sorbillo. The waiting time to get a seat can be around 1-1.5 hours. Thus, having only one day in Naples, you may not want to spend your precious time in a long queue and may consider getting a great pizza at another quite well-known Pizzeria dal Presidente (named after Bill Clinton's visit). It is located just a couple of hundred meters down the same Via dei Tribunali street. During the time of our visit, we were lucky to ditch the queue and tried pizzas at both places. To me, Gigi Sorbillo's pizza tasted better.
A must to mention is L'Antica Pizzeria da Michelle, which is 10-minute walk southeast of Via dei Tribunali. This is possibly THE MOST FAMOUS PIZZERIA in Naples because it was a set scene for Juliet Roberts movie "Eat, Pray, Love". Regardless of the fame, prices in L'Antica Pizzeria da Michelle are some of the lowest (pizza costs around 5 euros).
Queues to get a seat inside the restaurant, however, are enormous. Expect to wait up to 2 hours. However, take away is a good time-saver. After waiting for less than 30 minutes, you will get to try one of the best pizzas in Naples. Note that only two types (marinara and margherita) of pizzas are served there, making it an easy choice. Make sure to try both (they are pretty small)!
Optional: Naples Cathedral (and Capella San Gennaro)
Why it is special: the largest and most important church in Naples.
Entrance: free.
Opening times: 8 AM–2:30 PM, 4:30–7:30 PM Mon-Fri, 8 AM–1:30 PM, 4:30–7:30 PM Sat-Sun
Time required: 15-20 minutes.
While strolling Via dei Tribunalli you may pop your head in Naples Cathedral (Cattedrale di Santa Maria Assunta ), also known as Duomo- the largest church and the seat of the Archbishop. The Neo-Gothic exteriors of Naples Cathedral are elegant but rather minimalistic in comparison to more ornate Baroque facades seen around the city. Yet the interior is more awe-inspiring combining styles of three different eras- Gothic, Neo-Gothic, and Baroque.
Did you know? There is a mystery item secured inside the Chapel of San Gennaro- the vial of the blood of Saint Januarius (San Gennaro is the patron saint of Naples). It is said that the blood liquefies during specific festivities which take place 3 times a year. If the blood stays solid during the special day, it means a disastrous time is awaiting Naples.
15. Catch the sunset and the panoramic views of Naples from Castel Sant'Elmo
Why it is special: absolutely stunning panoramic views over Naples Bay and Centro Storico.
Cost: 2.5 euros to enter the castle, but views can be seen free from the Belvedere San Martino viewpoint.
Opening times: 8:30 AM-7:30 PM (last admission 6:30 PM).
Time required: 1 hour to visit the castle and 15-30 minutes to come up (depending if you walk or take a funicular), and a similar time to come back down to the city center. Budget 2 hours for this attraction in Naples.
So far, you have explored two layers of Naples-the underground and the ground level. A highlight on your one-day in Naples itinerary that also makes it complete is observing the city from a high vantage point.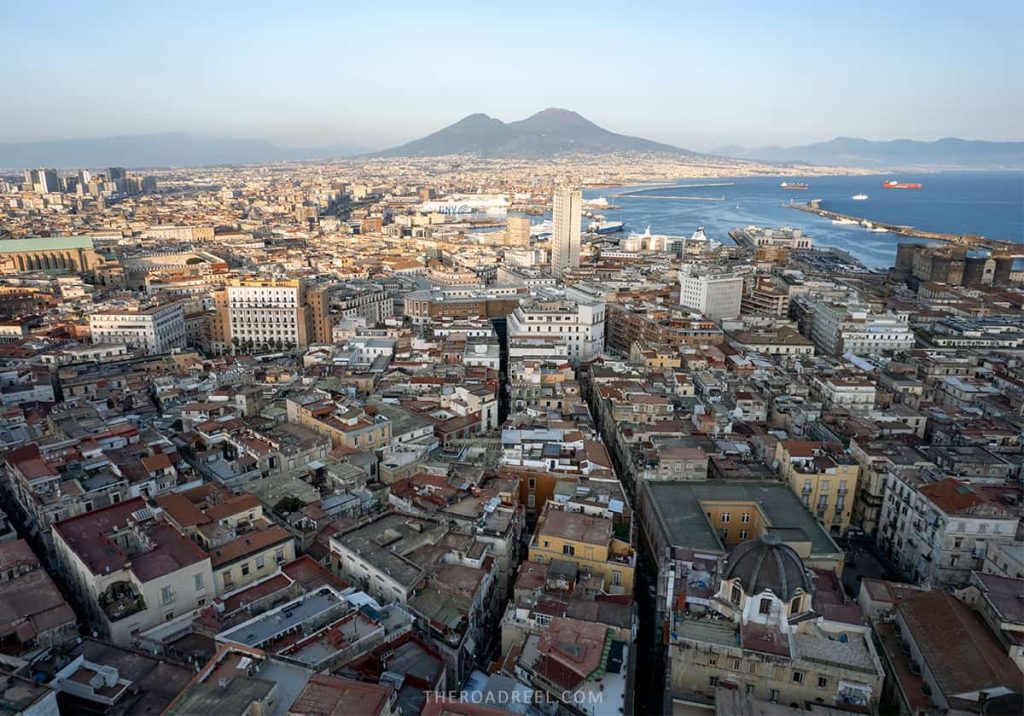 That being said, the best time to see the Naples skyline is during the golden hour following dusk. For that matter, the best place to watch the sunset with the golden light painting over the Napoli cityscape is from Castel Sant'Elmo, a medieval fortress located on top of the Vomero hill in Vomero district.
Holding the commanding position, Castel Sant'Elmo overlooks the Bay of Naples, including the historic center, also Sorrento Peninsula, and its majesty Mount Vesuvius. The utterly splendid 360-degree views over Naples can be observed from the walls of the fortress.
The hexagonal star in shape, Castel San'Elmo fortress is quite impressive due to its enormousness, and apart from being a popular tourist attraction in Naples, it also acts as the headquarters of the museum network of Campania.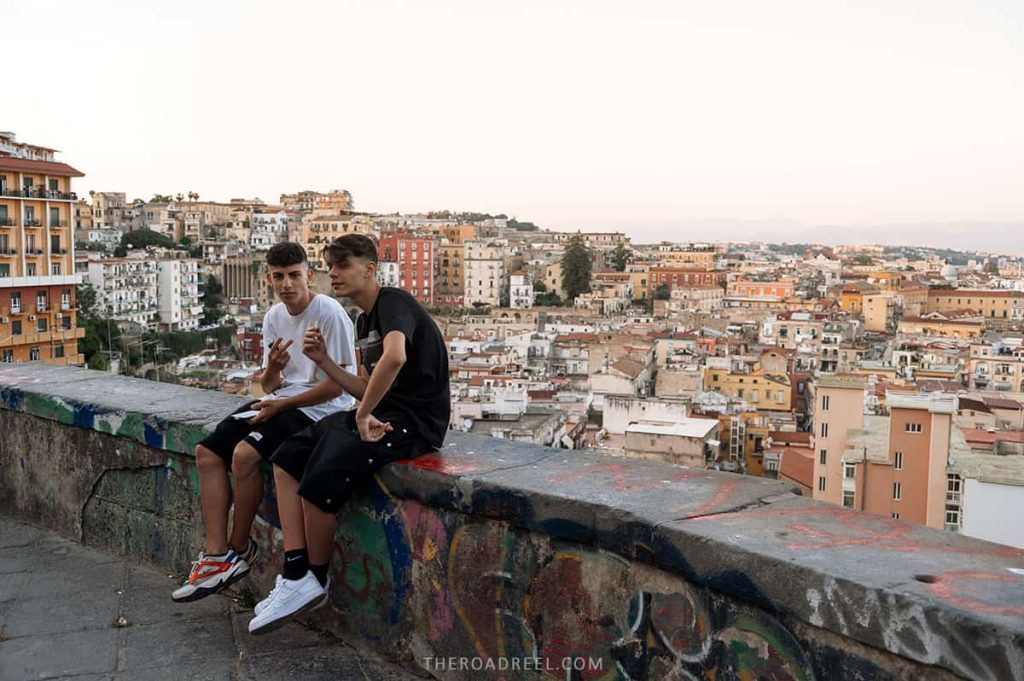 Don't miss: located under the walls of the castle, the Belvedere San Martino viewpoint, although not the highest and not as expansive as the one from the castle, offers an equally impressive panoramic view of the entire Centro Storico and beyond.
How to get to Castelo Sant'Elmo
You have two options to get to Sant'Elmo castle in Naples:
on foot– it is a tough yet rewarding climb from the old town. With every step up, you will see emerging panoramic views opening up. It takes around 20-30 minutes to come up, depending on where you are walking from;
take a funicular from Montesanto station to Morghen station in the upmarket Vomero district. From Piazza Dante to Montesanto Funicular station it is only 6 minutes walk. The funicular ride is less than 10 minutes and once you come out, it is only a few minutes walk to the entrance of the castle.
Optional: San Martino Monastery Complex (only if time permits)
Entry fee: 6 EUR, and 2 EUR reduced rate.
Opening times: Thu – Tue 8:30 AM – 4 PM, closed on Wednesdays.
Adjacent to the castle Sant'Elmo (or just below it), San Martino Monastery Complex  (Certosa di San Martino in Italian) is an amazing place to visit. Yet you should consider the time you have as the museum is huge and may require another hour in your already busy one day in Naples. 
Apart from the museum which hosts numerous paintings and statues, as well earlier mentioned famous Cuciniello Nativity scene, the highlight of the complex are the courtyard gardens and cloister of "Il Chiosto Grande" as well as the beautiful chapel.
Good to know: if you have more time in Naples, the Vomero district is also worth exploring. Piazza Vanvitelli is where the action is happening- a center point of Vomero where many coffee shops, boutiques, and restaurants are located. It is an upscale trendy area perfect to chill out for a couple of hours.
16. Have late night dinner in Spanish Quarters
Some of the best pizzerias and trattorias can be found in Spanish Quarters along with many bars where you can sip Aperol spritz for as little as 2 euros.
Also, at night, Spanish Quarters have a completely different atmosphere. The dodgy side of the infamous quarters gets emphasized through dimmed street lights. Nonetheless, it is a popular hangout spot, and not like back in the day, is perfectly safe for tourists.
Below are my two wonderful recommendations for dinner in Spanish Quarters.
Pizzeria da Atillo, famed for its start shaped pizzas, is a family-run pizzeria that opened in 1938 and is known for its innovative approach to pizza making (hence the star pizzas). Make sure to try pizza Appennini, with ricotta, provolone, and zucchini (vegetarian), or try something meat based if veggies don't count as food to you.
Note: you must put your name on the waiting list. Despite many hungry people waiting, the turnaround during our visit was pretty fast, and you will likely be seated pretty quickly.
Opening times: 12-3:30 PM, 7 PM-11:30 PM, closed on Sundays.
Address: Via Pignasecca, 17, Spanish Quarter, Naples.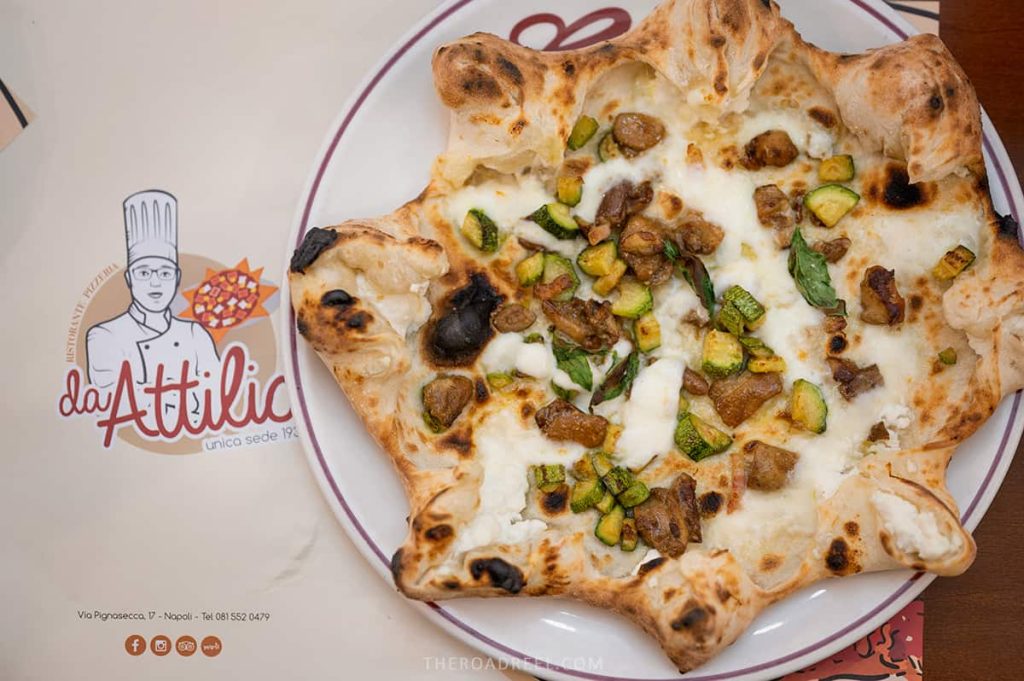 Trattoria da Nennella– authentic restaurant serving local Italian food made from fresh seasonal ingredients. Also, worth coming for a local experience. There is no reservation system, thus, just like in Pizzeria da Atillo, just show up, put your name on the list, and wait to be seated if there is a queue.
Address: Vico Lungo Teatro Nuovo, 103/104/105, 80134 Napoli NA, Italy
Opening times: 12-3 PM, 7-11 PM, closed on Sundays.
This wraps up your busy 1-day Naples itinerary. Below you will find the map of this one day in Naples itinerary with all points of interest and useful practical information about Naples, thus stick around.
If you have any questions or would like to share your experience seeing Naples in a day, feel free to comment at the end of this post.
1-Day Naples Itinerary Map
For your convenience, the best things to do in Napoli in 1 day and areas to explore are indicated on the Naples map below. 
Following this Naples itinerary for one day, be prepared to walk for around 8 km. Most of the walk is leveled, except for the part that takes you to Vomero hill. I suggest taking a funicular for faster and easier commuting. Dedicate a full day in Naples to be able to slowly visit the attractions mentioned in this post.
Naples in one day- practical tips and information
How to get around Naples on a one-day visit
This one-day Naples itinerary is designed for walking (with an optional funicular and metro ride). Unless you have mobility restrictions, which would limit walking as the best option for sightseeing, you can get around Naples on foot.
If you start your day in Central Naples, which is compact, you can reach any of the attractions mentioned in this Naples travel guide within 5 to 30 minutes on foot. The time needed to walk between most of the attractions is around 10-15 minutes. The furthest point of interest from anywhere else in Naples on this itinerary is Sant'Elmo Castle. It takes around 30 minutes of walking from downtown Naples to the Castle.
Public and private transport options for getting around Naples in one day
Metro line, which skips the infamous traffic of Naples, is the fastest way to get around different areas in the city. There are 3 metro lines in Naples (line 1, line 2, and line 6). The one of interest to you is line 1 (which also runs by the famous artsy Toledo station). A single journey costs 1.1 EUR at the time of writing.
Funicular. A handy way to quickly tackle the steep parts of the city. Four funicular lines accommodate the hilly parts of the town. The one you will utilize during your 1 day in Naples is Montesanto to Morgen line for visiting Sant' Elmo castle. This line is also adapted for people with mobility impairment.
Bus. ANM bus system has a wide coverage of over 150 bus lines covering the city. However, to avoid getting stuck in traffic, I do not recommend using buses.
Tram. Three tram lines serve the city. The ones that will bring you to central Naples are line 1 from Garibaldi station and line 4 from S. Giovanni. The ticket costs 1.10 euros when purchased from the newspaper kiosk, or 1.50 euros directly from the driver. Note tram runs on the streets of Naples, and is also prone to be stuck in traffic, thus not an ideal means of transport for you one day in Naples.
Scooter. The agile mean of transport, super popular in Naples, but only for the brave. The horror of pedestrians and even car drivers, and scooters would only suit those with lots of experience on such crazy roads.
Taxi. There are metered taxis available in Naples and can be an option if you prefer a private ride. However, due to heavy traffic, it may take longer than walking.
Unico tickets or TIC tickets provide daily and longer period passes that cover all public transport in Naples and suburban areas. This is useful if you are planning to use public transport more than once.
Do I need a car in Naples, Italy?
You definitely do not want to drive in Naples, Italy. Traffic is hectic and parking is difficult. Yet if you are planning on renting a car in Naples for your southern Italy road trip, I recommend reading my post 17 must-know Tips before hiring a car in Naples.
How to get from Naples airport to central Naples?
Naples International Airport (Capodichino Airport) is located 15 minutes away from the city center. Thus, visiting Naples even on a half-day layover is very much doable.
That being said below are your options to get from Naples Airport to the city:
Alibus airport shuttle. The cheapest option is Alibus which brings you directly to Garibaldi central station (it is within walking distance of Centro Storico). The bus ticket can be purchased from the driver and costs 5 euros. The bus departs every 20 minutes, from early morning to almost midnight.
Taxi. Metered taxis are available at the airport of Naples. The day rate is around 20 euros to central Naples. The exact rate depends on distance and drivers have rate cards inside the taxis.
Private transfer. You can also prearrange a private transfer for hassle-free commuting from the airport to the hotel in Naples. -> BOOK IT HERE
Getting to Naples by train
Cities in Italy are very well connected through an expansive railway system. Thus, getting to Naples from nearby destinations, and even Rome is a straightforward task.
You can check routes and purchase tickets in advance on Omio.
Is it possible to visit Naples in one day from Rome?
As mentioned above, Italy's railway network is very efficient. There are dozens of trains departing Rome to Naples every day with the fastest one connecting two cities in just under one hour. This makes visiting Naples as a day trip from Rome very doable.
You can depart as early as 5: 30 AM from Rome and return taking the latest train from Naples just before midnight. The train stops at Garibaldi Central station which is located within walking distance of the historic center of Naples. Check train schedules and book tickets here
Is one day enough to visit Naples?  
One day in Naples is definitely too short to properly explore and experience all the best things this culturally rich city has to offer.
Naples is filled with head-spinning historical sights, panoramic views, never sleeping streets "decorated" with window-to-window rows of laundry. Let alone an overwhelming number of great pizza places to try (Napoli is known for being the birthplace and capital of pizza).
Nonetheless, if you only have one day to visit Naples, do not be discouraged. The city center is compact enough to get a good first impression of what the place is about as well as to tackle quite a few top highlights of Naples.
With careful planning and scarifying some sleep, you can make the most of it. That is why I strongly suggest starting your day early and staying till dark. This way you will get to experience Naples in 24 hours.
Have more than a day in Naples? Make sure to read my Perfect 3 Days in Naples itinerary which also includes some fantastic day trips from Naples. (coming soon).
When is the best time to visit Naples?
Naples is a great place for a long city break. Blessed with pleasant temperatures for most of the year, Naples can be visited even in winter.
Nonetheless, the best time to visit Naples is shoulder season-early spring and late autumn. I visited at the beginning of May and Naples already seemed to be receiving quite a bit of visitors
Avoid: If you cannot handle the heat, do not visit Naples in summer as it gets pretty unbearable in the city. Let alone the crowds are bigger and prices are much higher. 
Is Naples safe?
The most commonly asked question "is Naples safe to visit as a tourist?" Before making a decision whether to visit Naples or stay away, here are the realities and observations from my personal experience.
Naples is as safe as you choose it to be. It is definitely not the safest city in Italy. However, sticking around touristy areas and visiting historical centers and even the infamous Spanish Quarter is safe. Areas that are considered dangerous are far from the historic center and common tourist paths (the dangerous areas are namely Scampia and Secondigliano).
However, be warned that petty crime is common in Naples and distracted tourists are targeted. In general, you do have to take regular precautions when visiting a big city with thousands of people.
Yet there is no need to be overly paranoid or watch over your shoulder everywhere you go. Just keep your belongings in a safe place, don't flash Rolex and gold chains for no reason, and be aware of your surroundings.
We strolled dark dodgy looking streets around Garibaldi metro station in Naples and had no issues whatsoever. But we did hear something that sounded like gunshots in Spanish Quarter (though we cannot say 100% whether or not it was a gun sound, we just assumed it to add some spice to our experience.
Though, we did receive suspicious looks when wandering around streets outside tourists' radar. We have even been warned by a local boy not to take pictures in one particular street in that same Spanish Quarter.
In general, if you are traveling solo, stick to the more touristy areas with many people and do not wander around in dark narrow streets at night.
Naples final take aways-Top 5 tips for one day in Naples
Book accommodation early. The best hotels in Naples get reserved fast. As an example, I traveled during the shoulder season in May and struggled to find great value vs quality. accommodation when trying to book even 3 weeks before the trip.
Book your tickets. Some of the attractions in Naples are very popular and get booked out early. Thus, I recommended reserving your ticket as mentioned in my guide to make sure you do not miss the activity.
Wear your most comfy shoes. This itinerary is designed for walking. Although Naples is not huge, there is enough ground to be covered for one day. Forget heels, sneakers are the way to go.
Take a funicular. Since you are doing enough walking in one day in Naples, save some valuable time and yourself from the grueling climb uphill, and take a funicular to Sant'Elmo Castle.
Dress code. Although you can wear whatever you like in Naples, note that you must cover your shoulders and knees when entering churches.
You must try at least one pizza in Naples. Period.
Where to stay in Naples Italy
For your one day in Naples, I recommend staying in the historical center or very close to it to make the most of your time. Here are my top picks for the best accommodation in Naples for different budgets.
Grand Hotel Santa Lucia $$$$- overlooking the Bay of Naples, this luxury hotel is set in the early 20th-century property and offers a fusion of luxury and modern amenities. A rich breakfast buffet is included in the rate.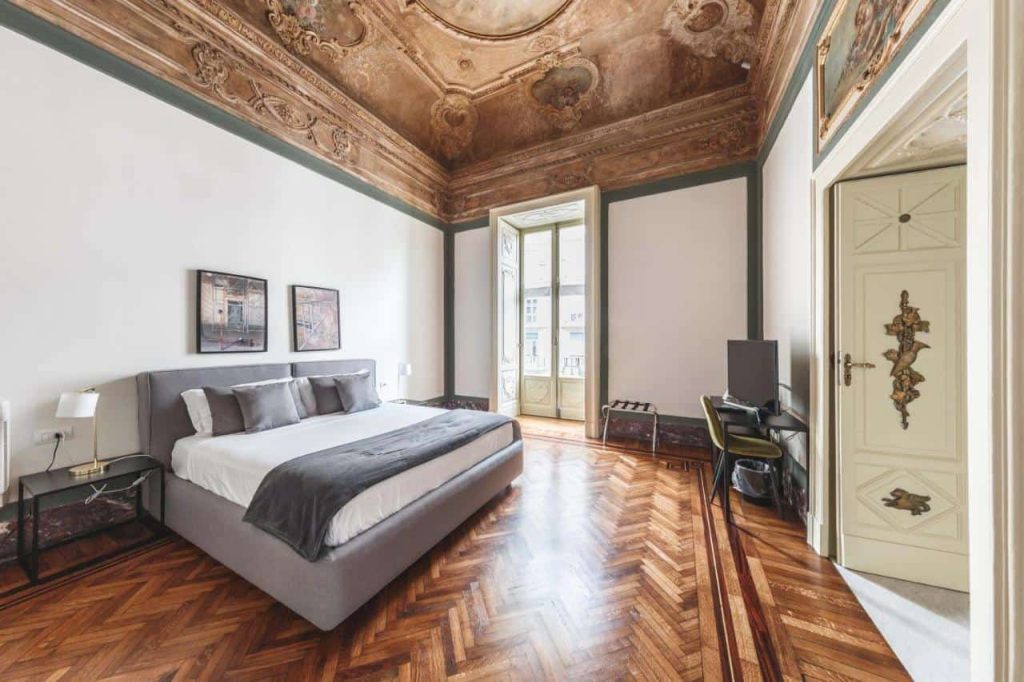 Relais della Porta $$-$$$- centrally located on Via Toledo street, this hotel is within walking distance of many main attractions in Naples. It features a beautiful frescoed ceiling, great breakfast is also included.
La Casa Sul Nilo $$- a complex of apartments of different sizes that can host up to 5 people. Accommodation is located at the very heart of Naples, 300 meters from San Gregorio Armeno street.
Heart of Naples $- a perfect budget option located close to Garibaldi Central station and just a 10-minute walk from central Naples, this minimalistic, newly renovated hotel offers a comfy stay with Netflix, Amazon prime, and delicious Italian breakfast in the nearby café.
Italy Travel Essentials & Useful Links
Here are links to essential travel resources and services I always use when organizing my trips.
More Italy travel guides