Planning a trip to Portugal but can only spend one day in Lisbon? Perfect for first-time visitors, this easy 1 day in Lisbon itinerary shows you what to see in Lisbon in one day.
Whether you have a layover in Lisbon, or just a day trip while traveling in Portugal, prepare to be blown away by the beauty spread across the seven hills. Wonderful viewpoints, tangled streets of Alfama, vibrant pedestrian boulevards, iconic tram rides, historic houses decorated with azulejos (handpainted ceramic tiles), soul-touching Fado music, and mouth-watering Portuguese cuisine- all of these are unmissable elements creating a unique vibe of Lisbon.
Although 24 hours in Lisbon sounds like a short amount of time, given the city's fairly compact size and a little bit of planning ahead, it is possible to visit some of the main attractions of Lisbon in just a day. Is a day in Lisbon enough? To me, it is not, but it is enough to get a little taste of the city, and trust me you will be coming back for more.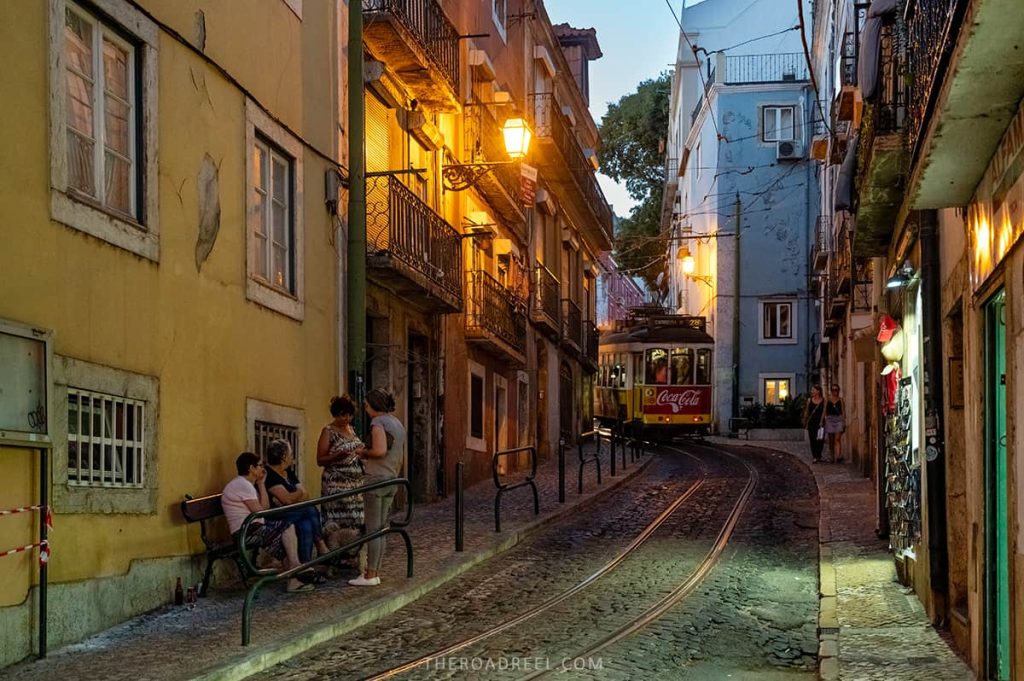 Lisbon is my absolute favorite capital in Europe! I lost count of how many times I have visited Lisbon (more than five, that is certain). Whether it is for a day or longer, I always include Lisbon in my Portugal itinerary, try to explore more, and revisit my favorite spots. I also saw Portugal's capital evolving from one of the most underrated European cities to a bucket-list destination and a digital nomad's haven. 
Based on my travel experience, I narrowed down what to do in Lisbon in one day to ensure that you see the best of the city at an enjoyable pace.
Following my one-day Lisbon travel guide, you will get to visit the main most interesting neighborhoods in Lisbon: Alfama, Graça, Baixa, Chiado, Bairro Alto, and Bica. There you will find not only the highlights of Lisbon but also get a chance to wander off the tourist path and encounter fantastic hidden gems.
Use this detailed Lisbon in 1-day itinerary to help you plan your time efficiently. I also include practical tips for getting around, interesting and fun facts, great local restaurants to eat, and where to hear Fado. Suggestions for the best places to stay in Lisbon as well as the map of all the sights mentioned on this itinerary are also included.
Here is how to visit Lisbon in a day. Let's begin! 
Disclaimer: This post contains affiliate links, which means that I may earn a commission if you make a purchase by clicking a link (at no extra cost to you). This helps to keep my blog running and growing by creating more awesome free content for you.
One Day in Lisbon Itinerary Overview
Ride tram 28 to greet the sun from the highest viewpoint in Lisbon
Get lost in the Moorish Alfama district
Stroll iconic Rua de Augusta boulevard and explore Baixa
Climb up or ride up Chiado district and see more highlights of Lisbon
Hang out in Rossio square and then wander off the tourist path
Munch on pasteis de nata in Fábrica da Nata
Ride like a local in authentic Lisbon funiculars
Soak up more scenic Lisbon views in Bairro Alto
Make your way down to iconic Ascendor da Bica and Pink Street
Immerse in Fado at your dinner table in Lisbon
1-Day in Lisbon – Itinerary and Walking Map
For your convenience, the best things to do in Lisbon in 1 day mentioned in this itinerary along with my suggested sightseeing path are indicated on the below Lisbon walking map. You will find an interactive map that you can also save at the end of this post.
Following this exact path, be prepared to walk for around 8-10 km uphill and downhill. Dedicate a full day in Lisbon to be able to slowly visit all attractions mentioned in this post.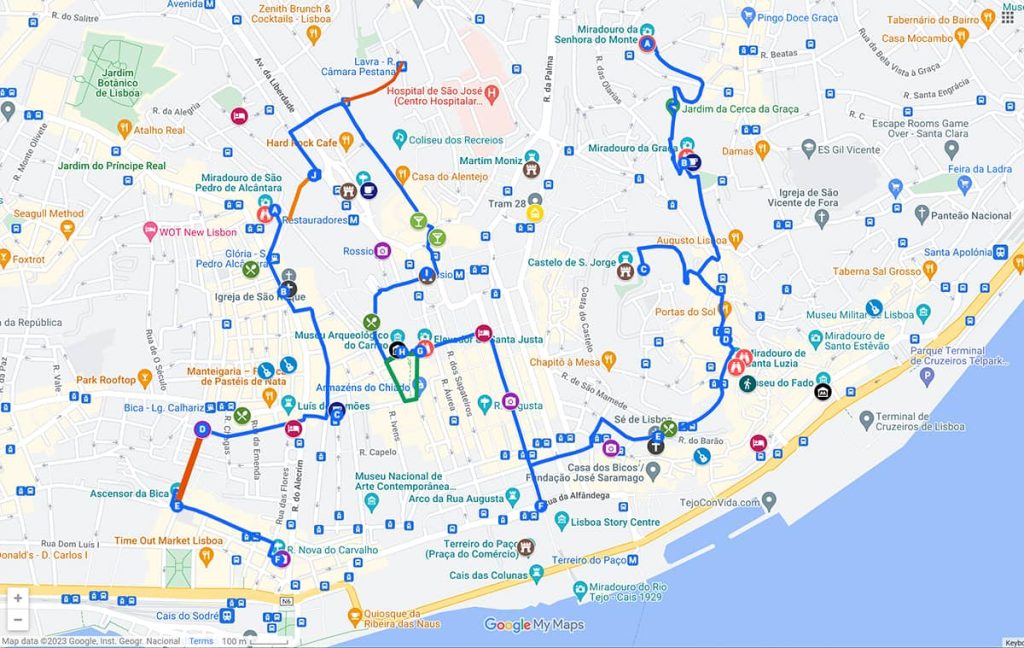 Useful Tip: Make sure to wear your most comfy flat shoes. The surface of the streets is mostly uneven, there are lots of uphill and downhill walks involved. Cobbled pavement has many holes (trouble for heels) and may even be slippery in parts.
Top guided experiences in Lisbon
If planning your own Lisbon itinerary is overwhelming, or maybe you want a mix of self-exploration and a guided experience, consider picking one of the suggested tours to help you see some of the main Lisbon attractions and learn more about the city from a local guide.
Segway tour– a fun thing to do in Lisbon and a unique way to see some of its highlights. This 1.5-hour top-rated Segway Tour takes you through the narrowest streets in Alfama. -> BOOK IT HERE.
Lisbon by tuk-tuk– another fun and original way to explore Lisbon's historical neighborhood and most important landmarks. You will be taken through the narrowest streets where cars and buses cannot go. -> BOOK IT HERE.
Lisbon food and wine walking tour– an activity perfect for foodies and wine lovers. Get a taste of Lisbon while sampling traditional Portuguese foods (street food mostly) and spend a great time with a local guide showing you the hidden gastronomy spots of Lisbon. -> BOOK IT HERE.
Half-day Lisbon guided tour– an introduction to the main sights of Lisbon with a local guide on a 3-hour popular top-rated half-day Lisbon tour. –> BOOK IT HERE.
Full-day Lisbon tour in a small group– an intimate small group tour allows you to have a relaxed guided experience in Lisbon over the duration of 8 hours, which also includes a trip to the Belém district, west of Lisbon. -> BOOK IT HERE.
My top pick for one-day accommodation in Lisbon
Villa Baisa-Lisbon Luxury Apartments $$-$$$- sustainable beautifully decorated accommodations ranging from studio to 1-bedroom apartments, located in the center of Lisbon (Baixa-Chiado).
Alegria a Lisbon Boutique Hotel $$- spacious beautifully decorated hotel with authentic Portuguese décor and lots of attention to detail, located on Alegria Square, just 7 minutes away from the Baixa-Chiado districts.
You will find more Lisbon hotel suggestions for all budgets at the end of this post.
A Perfect 1-Day in Lisbon Itinerary: The Best Things to Do in Lisbon in One Day
Here is what to do if you have one day in Lisbon.
1. Greet the sun at the highest viewpoint in Lisbon-Miradouro da Senhora do Monte and Miradouro da Graça
Draped across the seven hills, Lisbon has more than 30 wonderful viewpoints (miradouro) overlooking the red-roofed colorful-tiled houses and the river Tagus. Greeting the sun rising above the city is a great way to start your day in Lisbon.
For that matter, head to Graça, a residential artsy district of Lisbon where you will find two wonderful viewpoints: Miradouro da Senhora do Monte (the highest viewpoint in Lisbon) and Miradouro da Graça (located at a slightly lower elevation but possibly the most popular in town).
Miradouro da Graça viewpoint is beloved by locals and tourists. It opens up from a splendid terrace shaded by trees. The panoramic views stretch over central Lisbon, St. George's Castle, and the River Tagus crossed by the iconic 25 de Abril Bridge.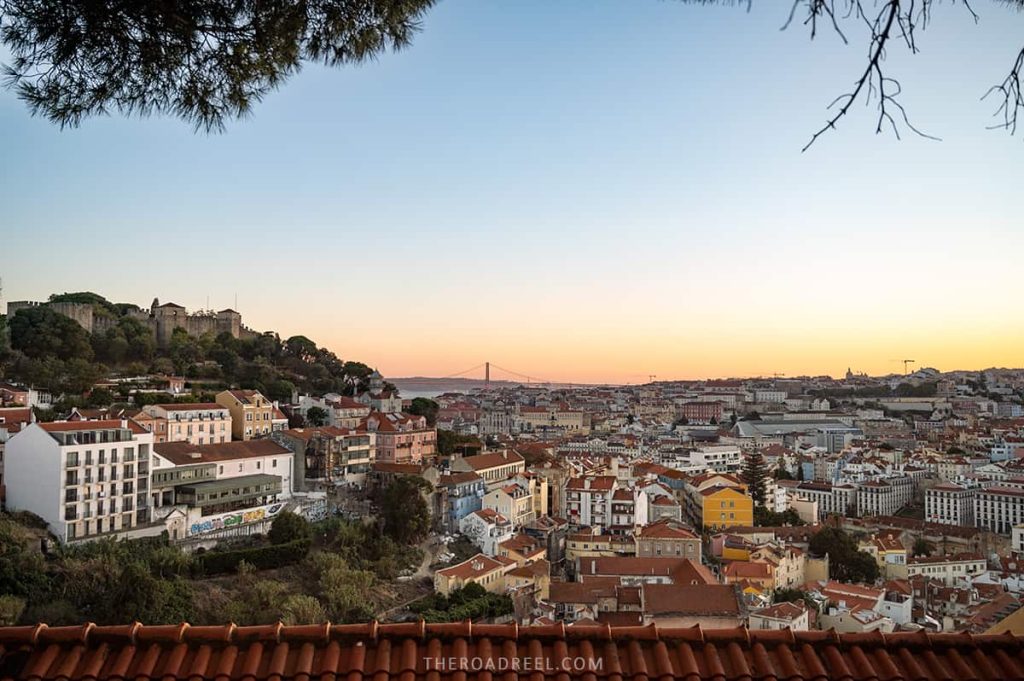 What makes the viewpoint an attractive hangout spot is an open-air cafe The Terrace Bar Esplanada. It offers an ideal outdoor setup for a breakfast coffee with a view (the café-bar opens at 8 AM, and also has some snacks and pastries to pick from).
Tip: when ordering your coffee, ask for "bica"- this is a Portuguese version of a very strong espresso. If you prefer coffee with milk, then ask for "galao"- it is equivalent to café con latte in Italy.
Yet, before grabbing a coffee, stretch your legs even further and walk uphill for another 500 meters to the highest viewpoint in Lisbon- Miradouro da Senhora do Monte ("Our Lady of the Hill Viewpoint") which offers by far the most extensive views of Lisbon.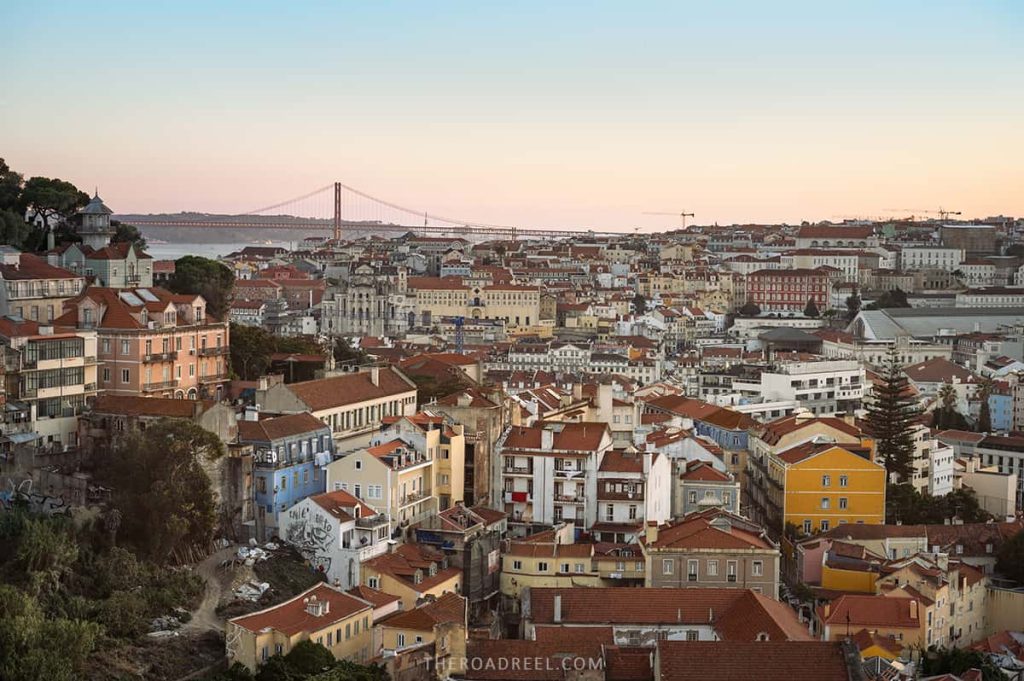 This panoramic spot used to be a secret, beloved by couples. Yet, although popular nowadays, it is still a little bit less visited than Miradouro da Graça.
You may be wondering why not visit Graça viewpoint at sunset. You might as well, however, bear in mind that it is a very popular viewpoint in Lisbon. If you are visiting in summer, it gets very crowded, thus morning will be much more enjoyable.
Also, this one-day in Lisbon itinerary is designed in a way that slowly leads you downhill, while exploring other points of interest in Lisbon. 
How to get to the highest viewpoint in the Graça neighborhood, Lisbon?
Since Miradouro da Senhora do Monte is located in the highest in elevation neighborhood, no matter where you are coming from, uphill is unavoidable. If you want to save energy and some time in your day in Lisbon, consider taking the tram, bus, or taxi.
By Taxi. Bolt and FreNow are the most popular taxi apps in Lisbon you can use to get to the highest point in Lisbon.
By Bus. You need to go to Sapadores and then take a quick walk. There are many buses that go to Sapadores, namely 712, 726, 730, 734, 735, and 797. Routes with maps can be found here.
The above two methods to get to Graça are not as exciting as the following ones.
ALSO READ: Planning a road trip in Portugal and visiting places outside Lisbon? A Guide to Renting a Car in Portugal + Driving Tips
Ride Tram 28- one of the most fun things to do in Lisbon
The clattering mustard yellow Tram 28 (or 28 E) is a symbol of Lisbon. Once used solely by locals to tackle the steep hills of Lisbon, today this old school transport became a major tourist attraction. All year round there are notoriously queues to embark on Tram 28, and, thus it can be really off-putting. Unless you ride it really early.
And you can perfectly do so if you start this Lisbon itinerary super early (we are talking like 6-ish or 7-ish AM). The popular Tram 28E departs from Martim Moniz square and will bring you up to the Graça neighborhood (disembark at R. Graça station and head down to Mirodauro da Senhora do Monte). Since you will be going in the morning, the queue for the tram should not be long (or maybe even none).
This way you will kill two birds with one shot- riding the iconic Tram 28 and getting to see Lisbon from the highest vantage point.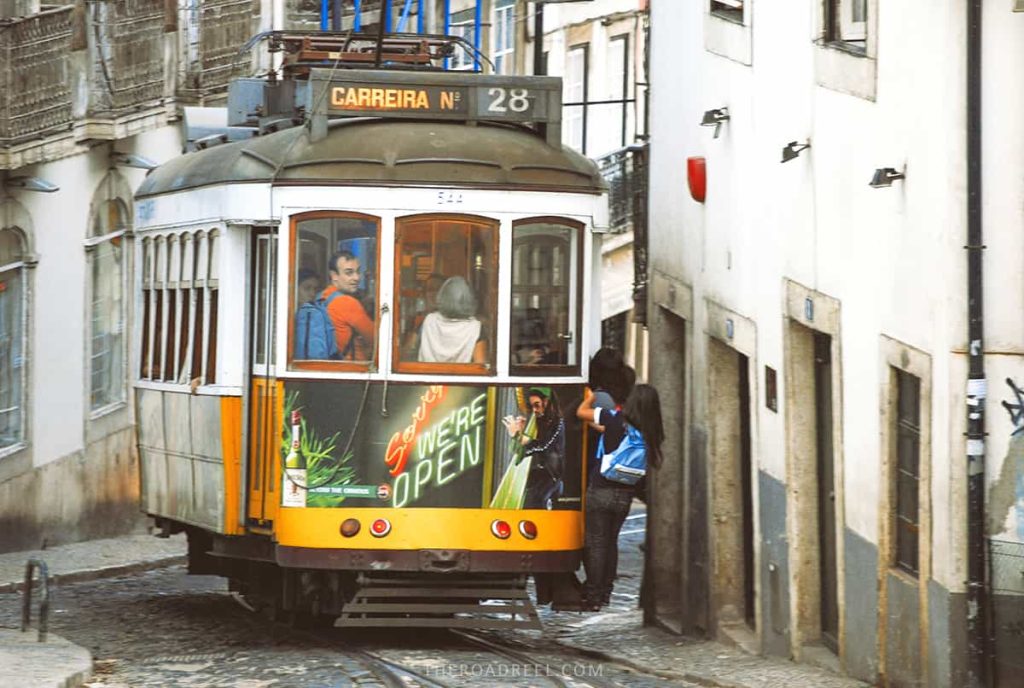 Tip: tickets to the tram cost 3 euros and can be bought on board from the driver. However, it is better to get a Viva Viagem day pass which allows unlimited use of ALL public transport in Lisbon for the span of 24 hours.
Take a Tuk Tuk to Miradouro do Graça and Miradouro da Senhora do Monte
Not only Asia has this three-wheeled compact vehicle that helps to move around the city easily. Yet, in Lisbon, this is more of a tourist attraction introduced in 2020. Although not the cheapest, but a very convenient way to move around if you want to rest your legs and still do some sightseeing in the least accessible places (where normally you can only walk).
Prices of tuk-tuk start at 10 euros per ride and are agreed upon upfront with the driver. Tuk-tuks in Lisbon can usually be found parked on centrally located streets and squares in Lisbon, namely Praça da Figueira, Praça dos Restauradores (near Glória funicular), Rua do Carmo and Largo das Portas do Sol in Alfama.
Thus if any of the locations are nearby, you can get to both viewpoints in Graça by tuk-tuk.
2. Follow the cobbled streets down to Alfama- the most beautiful district in Lisbon
When I think of Lisbon, I always long for wandering the maze of alleyways in Alfama, the former Moorish quarter, and the oldest part of the city. That being said, Alfama is unmissable during your 1 day in Lisbon.
Characterized by bright weathered houses interconnected by narrow steep staircases and cobbled streets filled with life during the day and sounds of Fado during the night, Alfama is my absolute favorite place in Lisbon. This is where I fell in love with the city.
Apart from incredibly photogenic streets and bright architecture, you will find many pastry and coffee shops, mini grocery stores, small cozy squares, great local souvenir shops, pocket-size fado restaurants, oh well, and senhoras selling ginjinha shots (sweet cherry liquor) directly on the alleyways.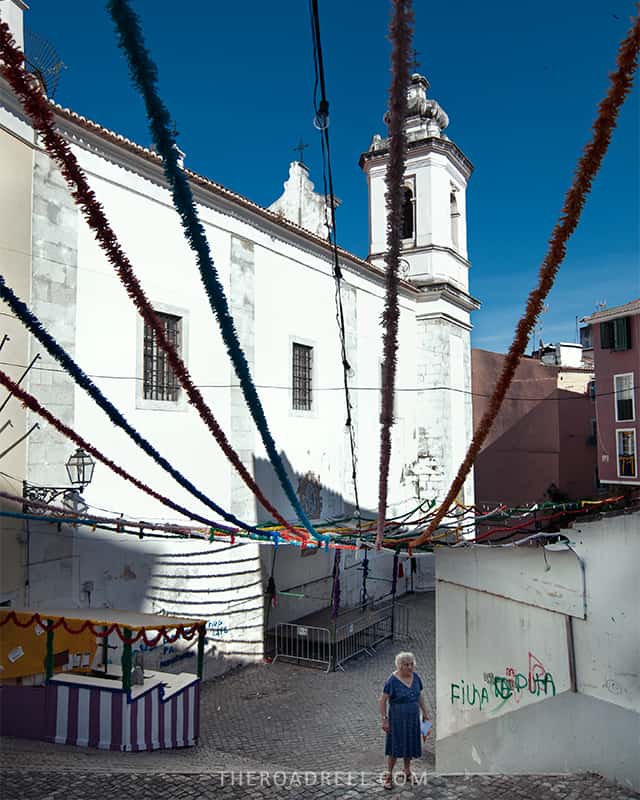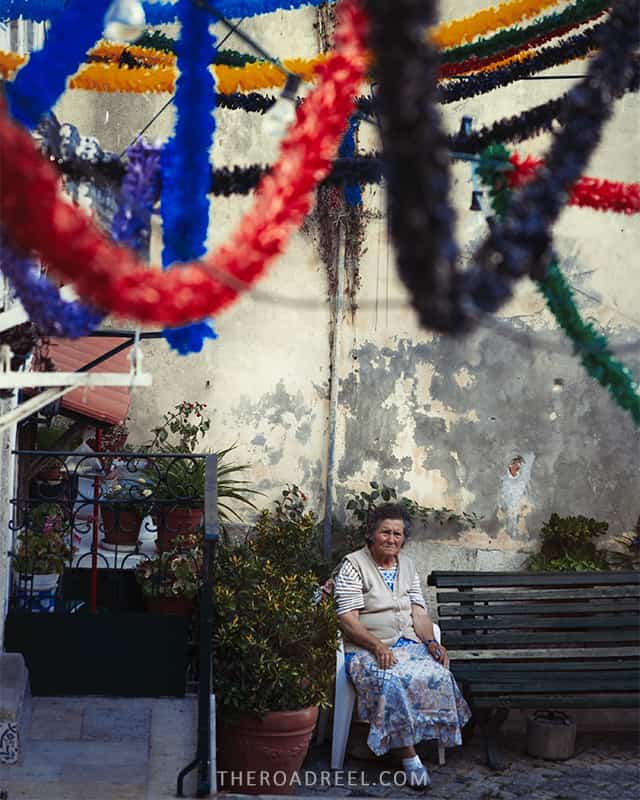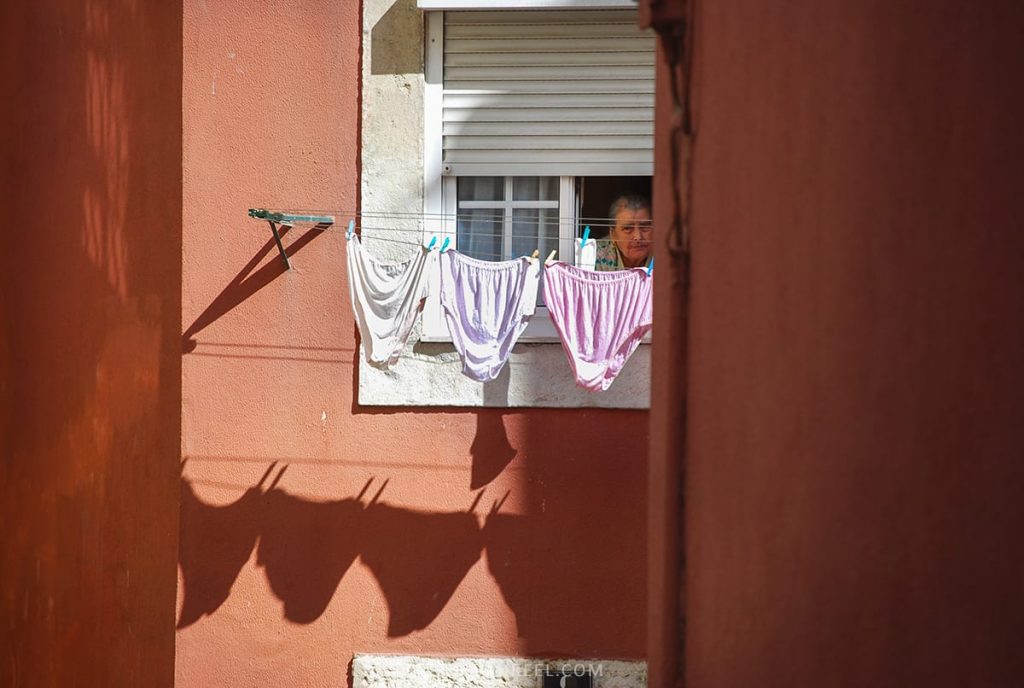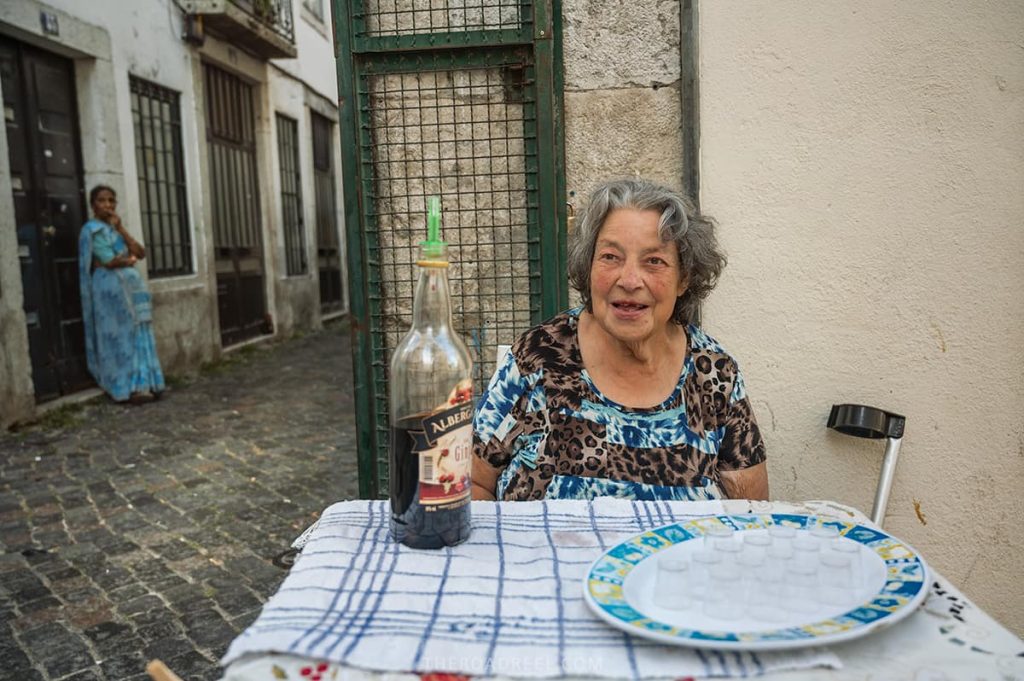 Places to see in Alfama, Lisbon
While you are following your way down from the Graça neighborhood, here are a few important places to visit in Alfama.
Saint George Castle (Castelo de São Jorge)
Located at the top of Alfama, St. George Castle (Castelo de São Jorge ) dominates the skyline of Lisbon and can be seen from everywhere around the city.
This medieval castle with the oldest standing walls dating back to the medieval ages of the 6th century is tightly entwined with Lisbon's early history. Through the millennium the castle saw the Romans fall to the Visigoths, then became a royal Moorish residency for several centuries. Followed fierce conflicts between Arabs and Christians, until it was overtaken by the first King of Portugal, Afonso Henriques, in the 12th century, and was renamed St. George Castle, the saint patron of England.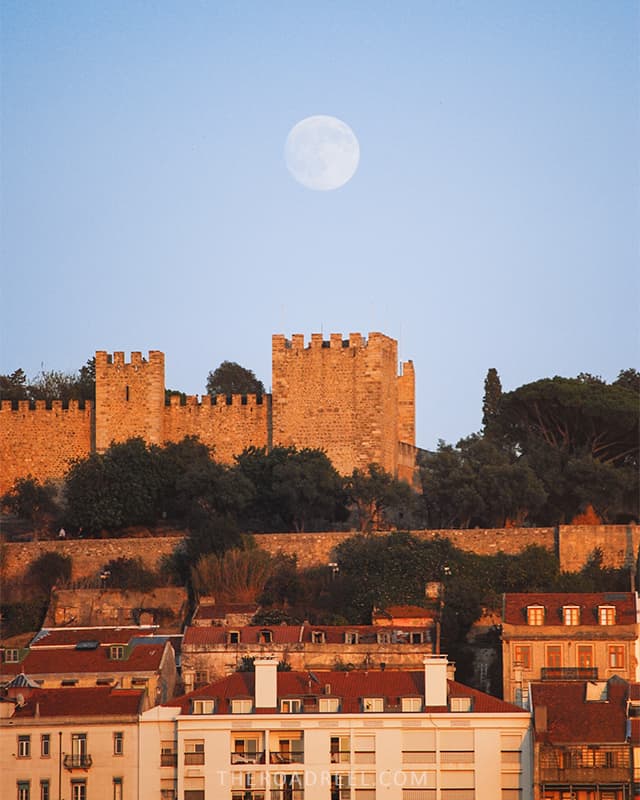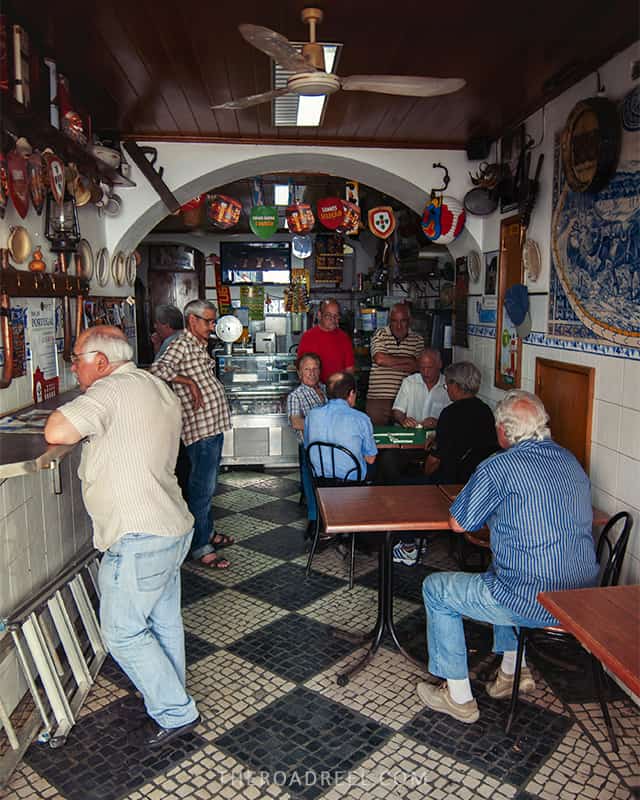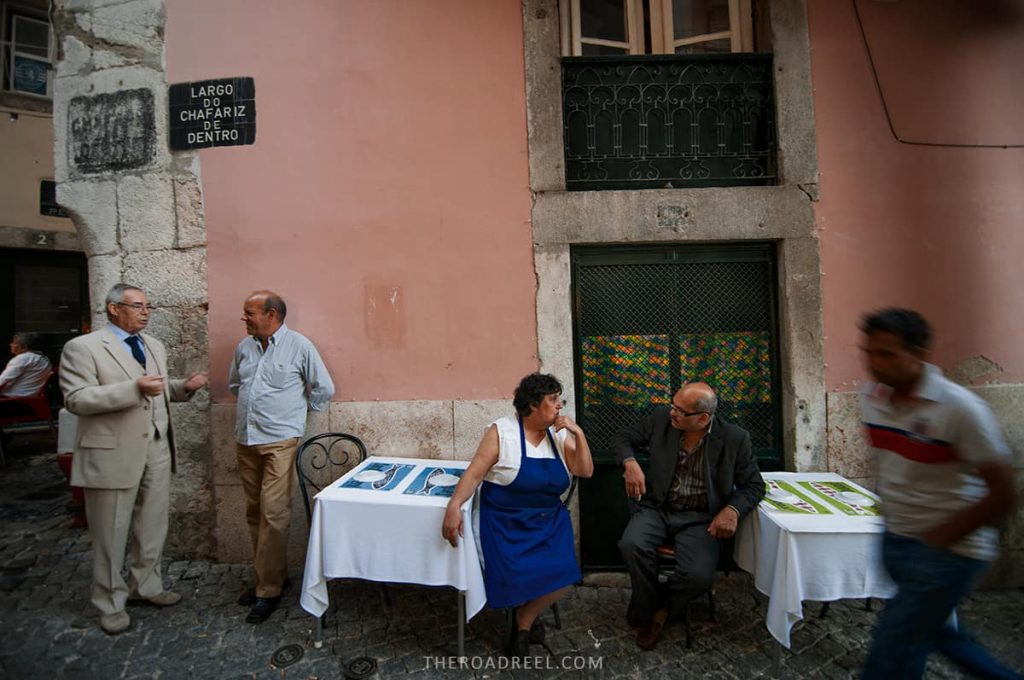 The Castle you see today is not the exact version as it was originally built. Due to continuous conflicts, Castelo de São Jorge was constantly damaged and rebuilt. However, the worst impact it had was from the devastating earthquake in 1755. Like almost all the city, St George Castle was practically completely destroyed. Fully restored in the 20th century, today the castle features heavily fortified battlements, 18 watchtowers, medieval royal quarters, tranquil gardens, and sweeping seaward views which continuously inspired rulers of Portugal rulers to explore overseas.
Today, St. George Castle is one of the top tourist attractions in Lisbon, thus it is known for having long queues during the summer season. If you happen to travel at that time and want to explore the castle, but save time, it might be worth purchasing the skip-the-line ticket which includes a 15-minute guided introduction to the castle. -> BOOK IT HERE.
Opening hours: 9 AM to 7 PM from November to February, or 9 AM to 9 PM from March to October.
Entrance fee: 10 euros. Compared to other must-see places in Lisbon, the entrance fee to the castle is considered quite steep. If you purchased Lisbon Card, you get a 20% discount.
TIP: the streets outside the castle walls and around Rua de Santa Cruz do Castelo are very atmospheric. It is worth exploring them before heading down to the oldest part of Alfama.
Largo dos Portas do Sol viewpoint and Miradouro de Santa Luzia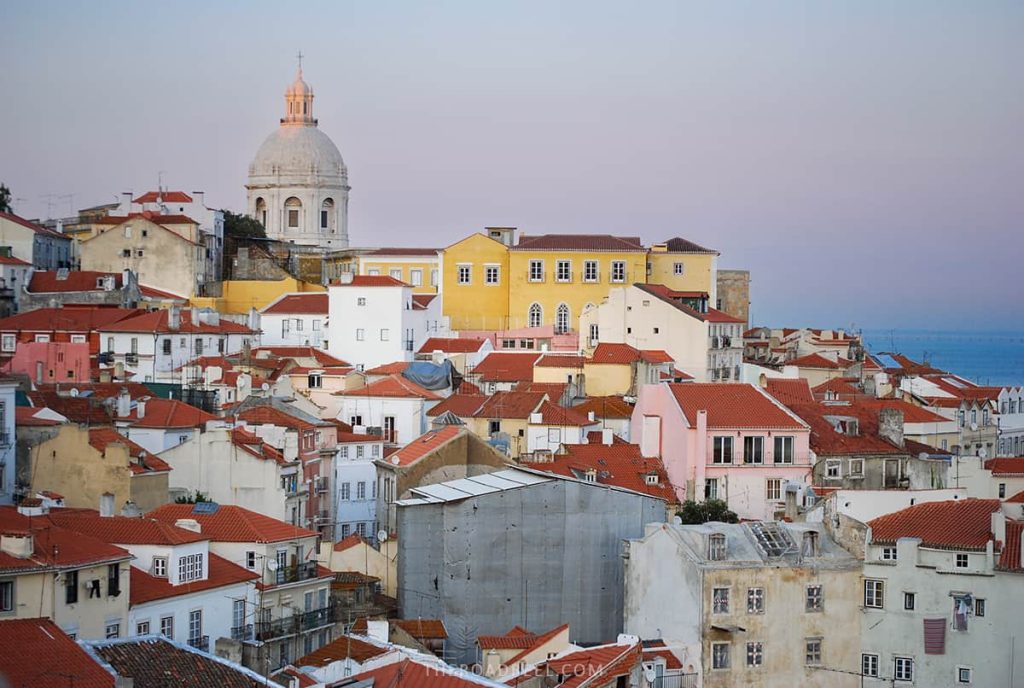 Lisbon is all about the views, and my favorite one and an absolute must in your one-day Lisbon itinerary is Miradouro de Santa Luzia. The evocative views over Lisbon's old town of Alfama, Tejo Estuary, and the river open up from a romantic terrace decorated with traditional Azulejos.  
Less than a minute's walk, Largo dos Portas do Sol overlooks practically the same wonderful panorama. There are a couple of bars where you can have a coffee or a drink before you descend down to the labyrinth of Alfama.
Fado museum in Alfama
The haunting and melancholic music of Fado originated in Alfama, Lisbon. Today it is an inseparable part of Portuguese culture.
Accompanied by traditional Portuguese guitar, Fado is sung by sailors' wives waiting for their loves to safely return from overseas. It is very heartwarming and touching music. The tradition of Fado music has been passed from generation to generation and is deeply routed into Portuguese culture, especially Lisbon.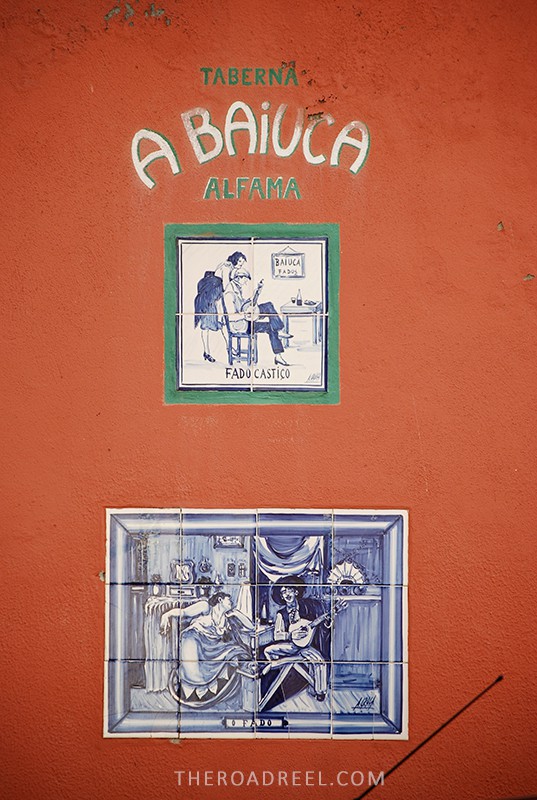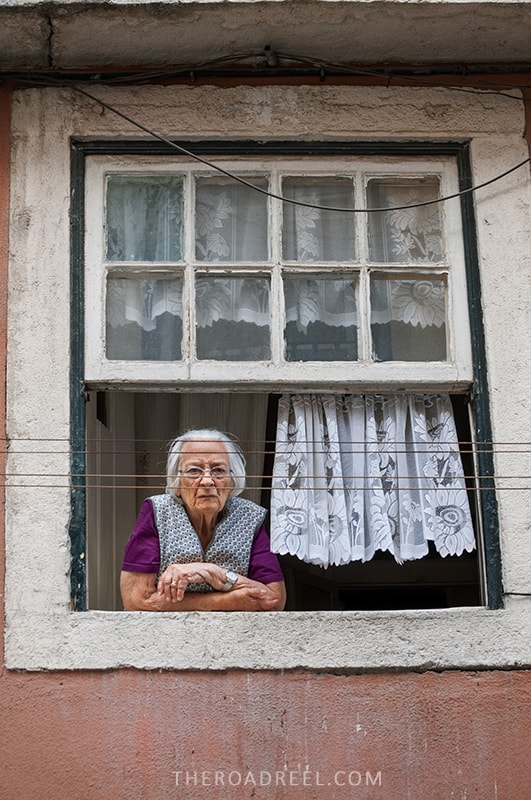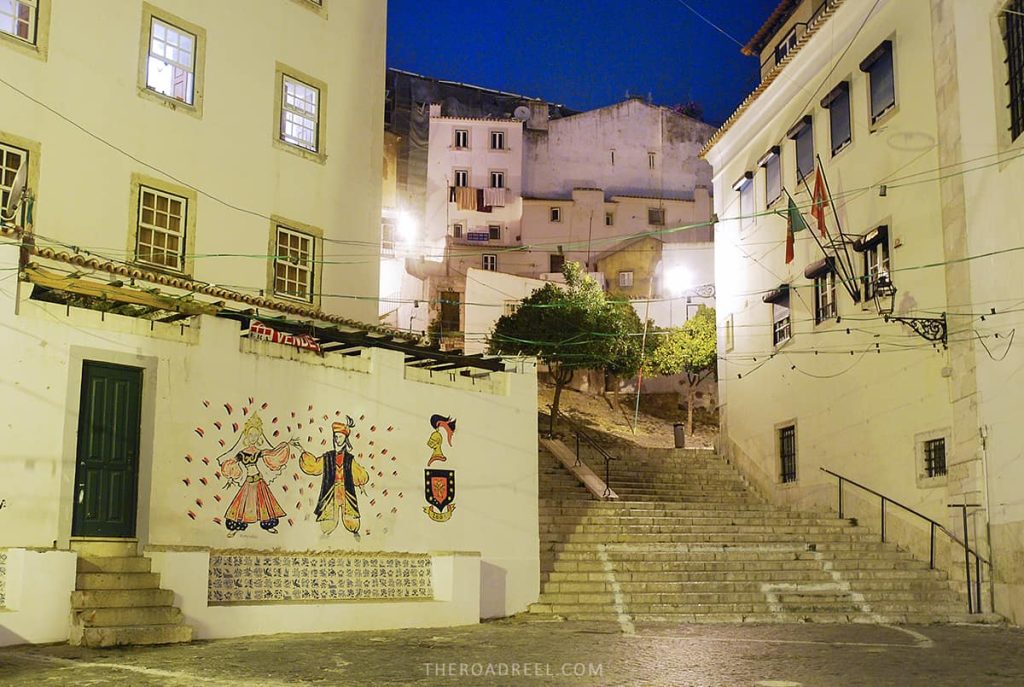 At the very end of this Lisbon itinerary, you will find my suggested places where you can have dinner in one of the traditional fado places and experience one of the most important cultural legacies of Portugal.
But during the day, you can also step into the Fado museum located in Alfama. It is an interactive museum where you can hear recordings of the songs by the greatest fado artists, and explore the history of Fado.
Opening times: From Tuesday to Sunday 10 AM to 6 PM (last admission: 5:30 PM)
Entrance fee: 5 euros (20% discount with Lisbon card).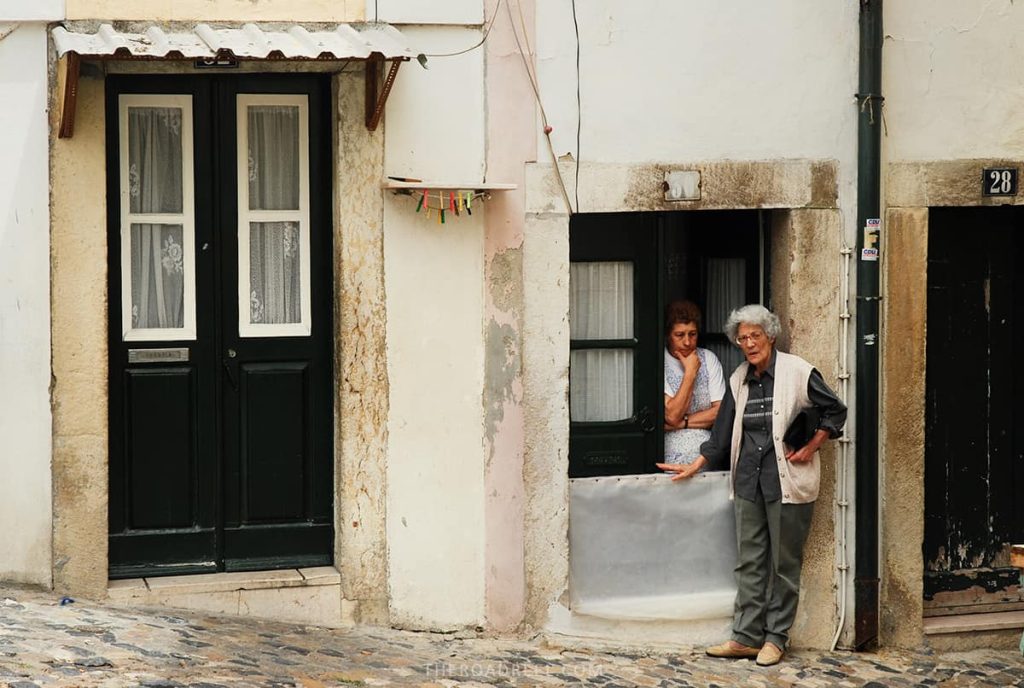 Cathedral of Lisboa ( Sé de Lisboa)
The imposing, almost fort-like 12th-century Cathedral of Lisboa (Sé de Lisboa) is the oldest house of worship in town. Characterized by Gothic and Romanesque architecture, the building features two bell towers and a beautiful rose window. The interiors are quite minimalistic and unadorned but the enormous vaulted ceiling is definitely striking. The entrance to the church is free, but you have to pay 2.5 euros to access the cloister, considered a masterpiece of Gothic architecture.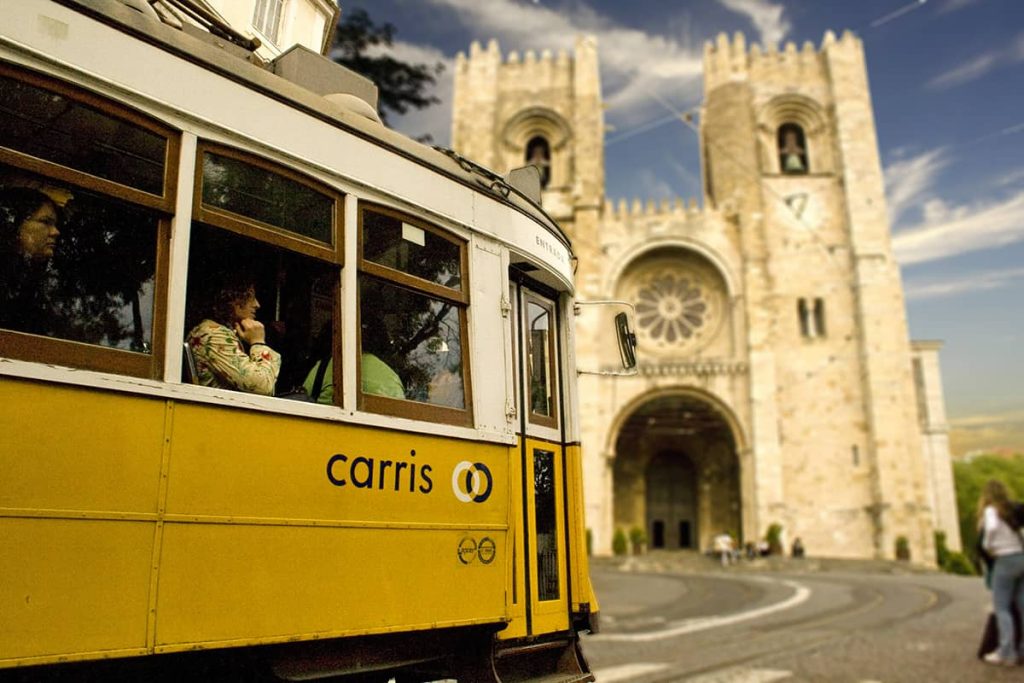 Sé de Lisboa is situated on the postcard location of Lisbon on the Tram 28E route. An icon of the city, the Sé Cathedral is one of the main places to visit in Lisbon in one day, even if you only admire it from the outside.
Opening times: Mon-Fri 9:30 AM-7 PM, Sat 10 AM- 6 PM, closed on Sunday.
Entrance fee: free for the church, but 2.5 euros to enter the cloister.
3. Visit Praça do Comércio and explore the Baixa district
Leaving the cozy streets of Alfama and entering the wide spaces of the other must-see places in Lisbon, The Commerce Square (Praça do Comércio) and Baixa district, gives you a very different feel of the city. The plaza is always filled with movement but at the same time, it never is overcrowded due to its enormous size.
Praça do Comércio is a symbolic gateway from the river Tagus into the city of Lisbon. An impressive square is framed by bright yellow Pombaline-style buildings which today are seats for various government departments.
The focal point of the plaza is a triumphal arch (Arco da Rua Augusta) leading to the central Lisbon, Baixa district. 
Historically, Praça do Comércio was a meeting point for captains and traders returning from their long voyages overseas. It was constructed in the 18th century and is a reflection of Portuguese wealth and ambition to conquer.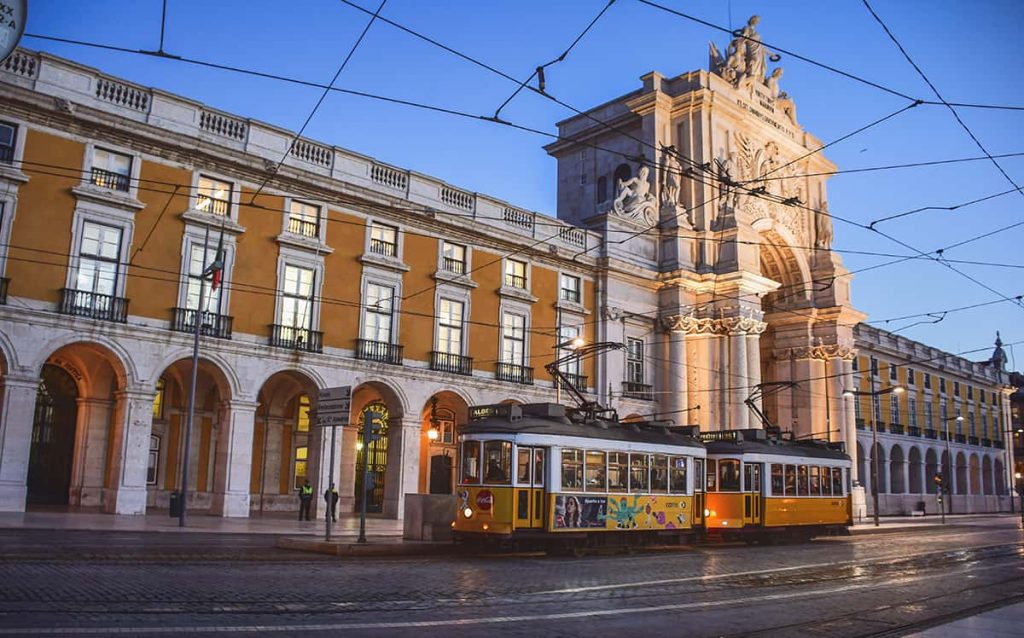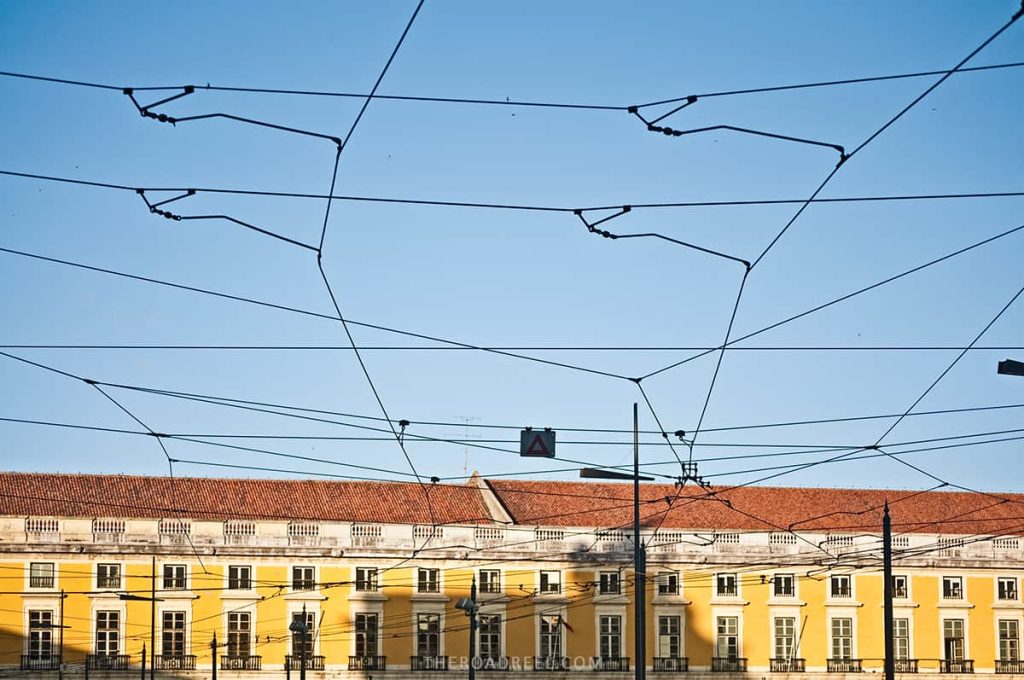 Places to see and things to do in Baixa, Lisbon
There are many things you can do around Praça do Comércio and Baixa district. A few of them are:
observing views from the platform located at the top of Arco da Rua Augusta
visiting Lisboa Story Center
fine dining at the oldest in Lisbon restaurant Martinho da Arcada
wine tasting at Vinhos de Portugal.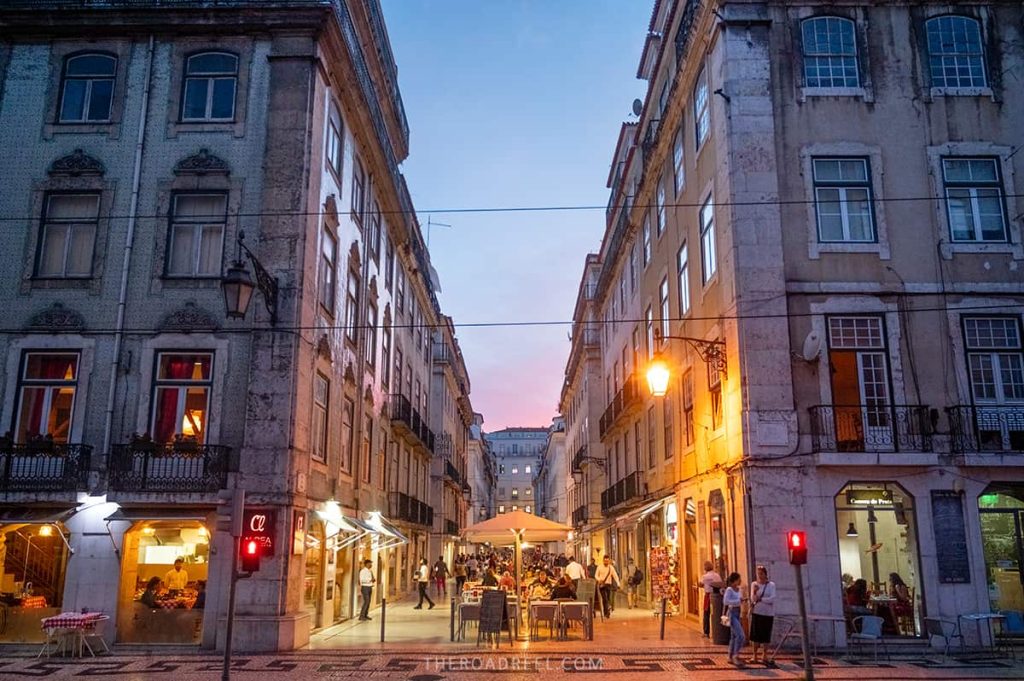 Walk along Rua Augusta pedestrian boulevard
Although the above-mentioned places are wonderful attractions, yet, they require more time and with only 1 day in Lisbon, I suggest proceeding through the Triumphal Arch which is the entrance to Rua Augusta, the largest and busiest pedestrian boulevard in the city. 
Rua Augusta is one of the main arteries of Lisbon lined with shops and boutiques of all sorts, tourist-oriented overpriced restaurants (avoid eating there), and street performers. 
Did you know? Lisbon is called the City of Light due to its extraordinary lighting. Portugal's capital appears to be always glowing. This unique phenomenon is a combination of several factors and favorable conditions: endless sunshine, "right" climate, limestone architecture, and bright reflective pavements on Lisbon's streets, as well as geographical position.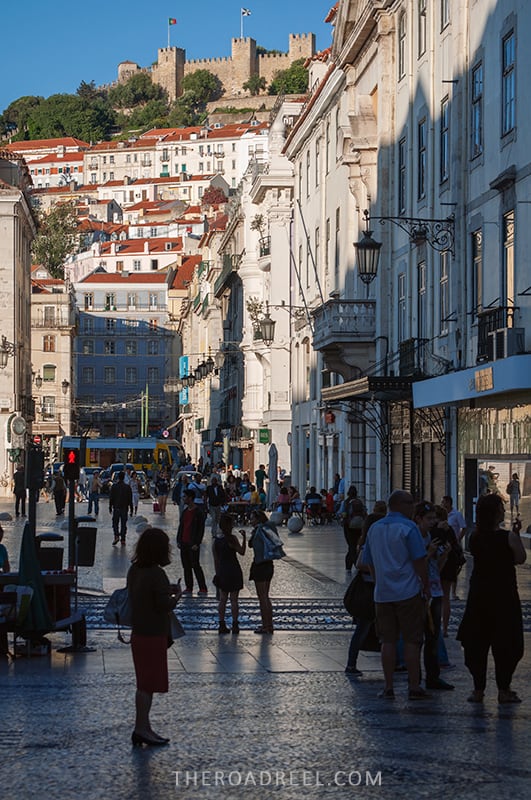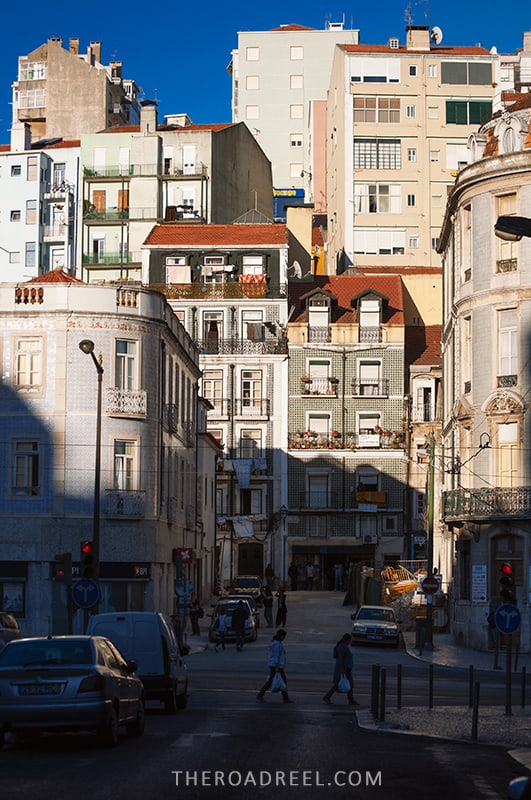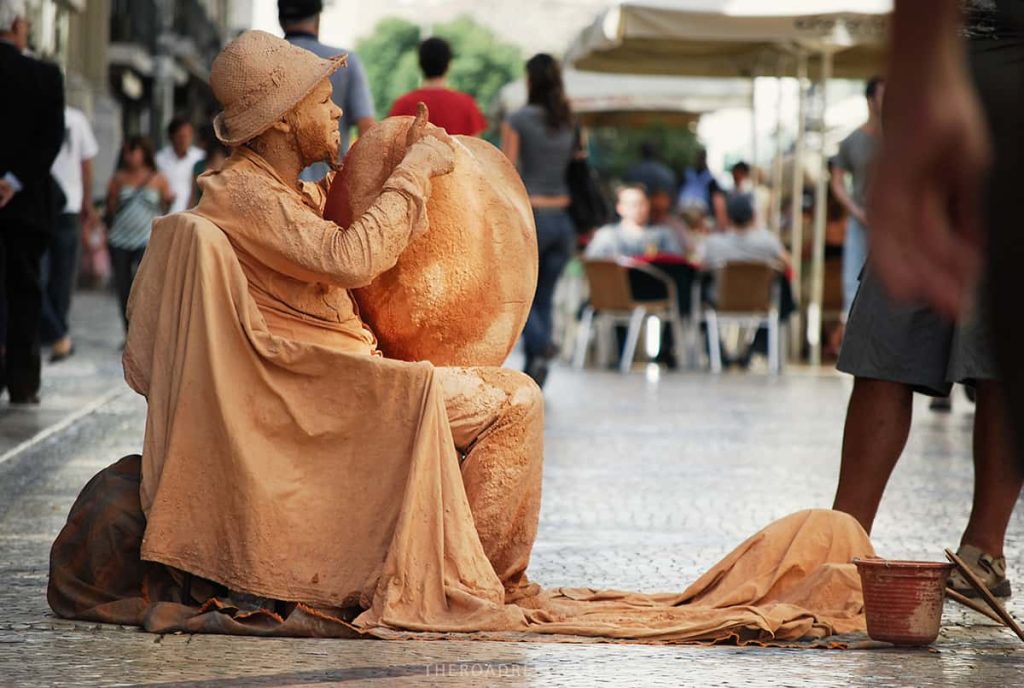 Elevador de Santa Justa and the viewing platform
Strolling north along Rua Augusta you will come across a small intersecting street of Rua de Santa Justa where one of the most famous landmarks in Lisbon-Elevador de Santa Justa (Santa Justa elevator) is located.
Over 100 years old 45 meter (147 ft) tall elevator stands out from the crowd due to its elegant wrought-iron exterior adorned with Neo-Gothic arches. It was designed by the architect who used to be a big fan of Gustave Eiffel (the creator of the Eiffel tower in Paris). Since the same techniques were applied (same as in many elevators in France), there is a lot of similarity in structure.
Originally built as part of the public transport system (just as other many lifts and funiculars in the city) Santa Justa elevator takes you up from Baixa to the Largo do Carmo square in the Chiado district.
The Elevador de Santa Justa ride is considered a must thing to do in Lisbon by many tourists. Naturally, expect enormously long queues. 
During my 5+ times of visiting Lisbon, I was never appealed to wait in a long slow queue just for a half minute crowded ride that also costs over 5 euros. 
Moreover, a true highlight of this attraction is actually not the ride in an elevator but the unrivaled views over the Baixa district. Those unobstructed vistas can be admired from the viewing platform built for that exact purpose on top of the historic lift. Accessing the platform costs a couple of euros, but it is definitely worth it.
The good news is that, if you are only interested in awesome views, and not the ride, you can save time and money during your one day in Lisbon by accessing only the platform. To do so, you will have to walk a few streets up to Carmo Convent in the Chiado district (en route on your itinerary). Since Google Maps does not show the exact walking way, thus I shared directions on the Lisbon map at the end of this post. To access the entrance to the platform, cross over the iron bridge. You can purchase the entry ticket at the kiosk inside.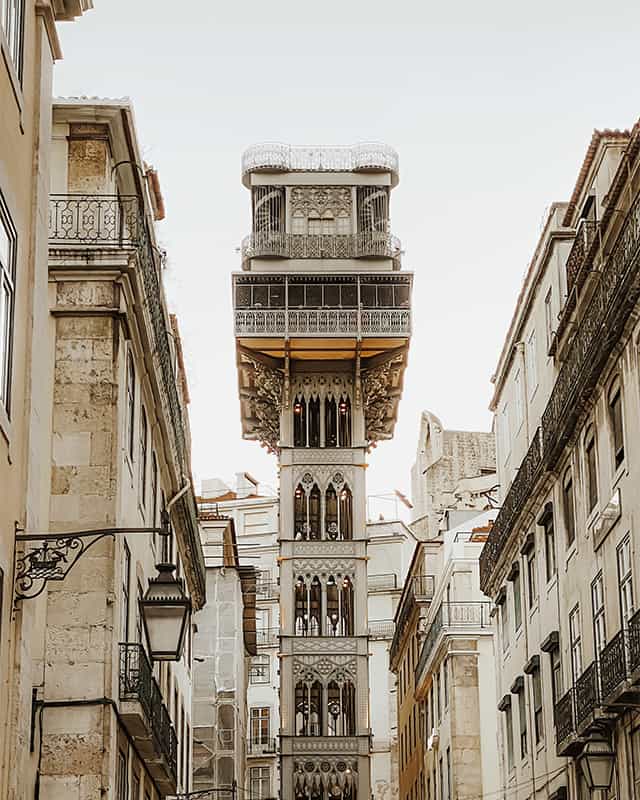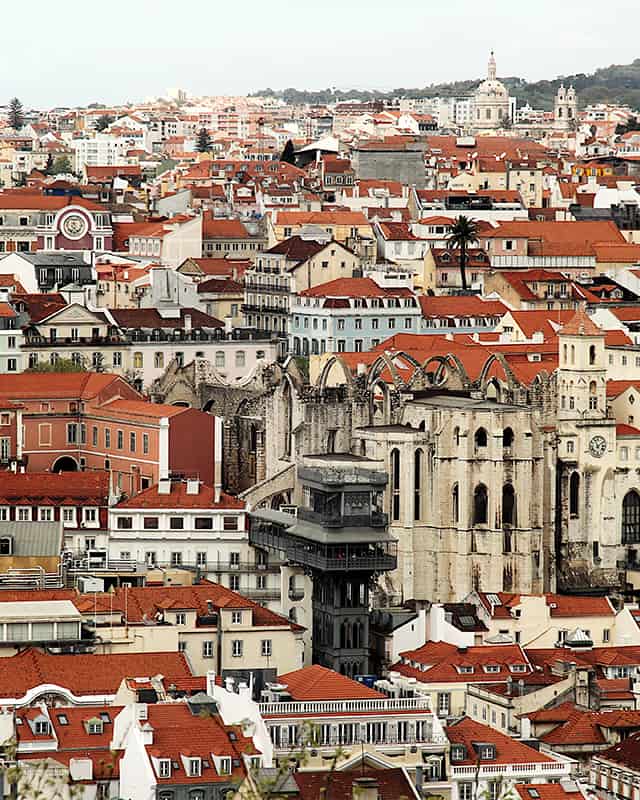 4. Wander around the elegant Chiado district
Chiado is considered the most elegant neighborhood in Lisbon lined with Belle Époque buildings, home to classical theaters, old bookstores, and Michelin-star restaurants. This cosmopolitan neighborhood is a popular meeting point for coffee, lunch, and shopping. Moreover, it is also home to several important historical sites, including the Archeological Museum of Carmo Convent.
Places to see and things to do in Chiado, Lisbon
Carmo Convent
Hauntingly beautiful partially ruined Convento do Carmo is a sight not to be missed on your day visit to Lisbon. Carmo Convent with its roofless nave crossed by a set of fragile arches is an evocative reminder of the devastating earthquake of 1755.
The walls of the convent remained untouched by the earthquake, but the fallen roof was never rebuilt. The architecture of the building dates back to the 14th century, with added Manueline (Portuguese gothic windows) later in the 16th and 18th centuries.  
Today Convento do Carmo space is used for open-air cultural events during the summer. The is also a small archaeological museum, and mummies from South America.
Opening hours: 10 AM -5 PM daily.
Ticket price: 5 EUR (20% discount for Lisbon cardholders).
A Brasileira café- the birthplace of Bica coffee
An iconic café and the birthplace of the strong Portuguese bica espresso shot, A Brasileira is a must-visit place in Lisbon.
Located in the very center of the Baixa-Chiado area, historically A Brasileira café attracted poets, intellectuals, and writers who would meet up to debate over the most sensitive issues of the era. Meanwhile, painters were showcasing their artworks by displaying them on the walls of smoke-laced café, making A Brasileira a melting pot of culture.
The café remained unchanged since its opening in 1905 and boasts a dark eclectic interior worth taking a glimpse at. The outdoor sitting area features a bronze sculpture of the famous poet Fernando Pessoa, as a commemoration of the era of intellectuals.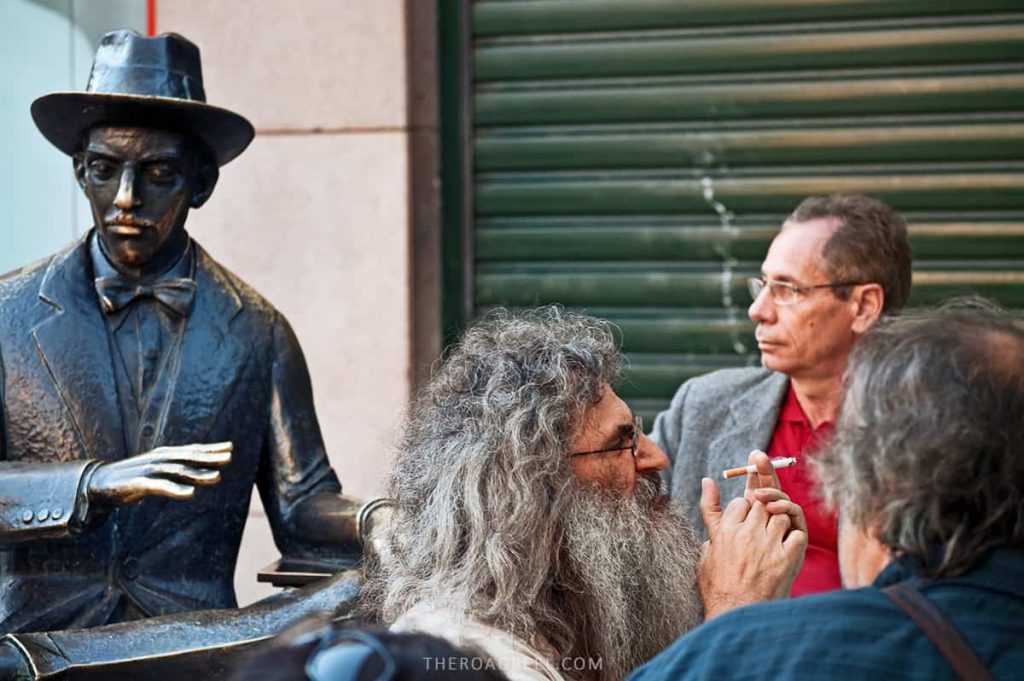 Energizing bica, which tastes and feels the same as hundred years ago, is a must to try to keep you going through the rest of your day in Lisbon.
Note: A Brasileira café is quite touristy, and the prices of coffee are higher but do not let this put you off. You will be getting a historical bica power shot.
5. Hang out in Rossio Square and wander off the tourist path
The nerve center of Lisbon is Praça dom Pedro IV, more often referred to as Rossio Square (Praça do Rossio). 
Known for its optically dizzying tiled pavement of wavy black and white pattern, Rossio Square is one of the liveliest plazas in the heart of Lisbon. Today overflown by outdoor cafes and restaurants, a habitual meeting point and hang-out spot for locals and tourists alike, back in the middle ages, Praça do Rossio used to be the setting of celebrations, bullfights, revolts, and executions.
Did you know? The origins of Portuguese pavements (calçada portuguesa) date back to Roman times and are closely tied to Roman street paving technique, while the ornamentation is reminiscent of Roman mosaics. But it wasn't until the end of the 19th century that the first decorative "carpet" was paved from limestone and black basalt in Lisbon. Everyone fell in love with the dazzling pavements. Years to follow, many more important plazas and pedestrian avenues in Lisbon and Portugal were paved creating beautiful black and white patterns. Paving Portugal's streets is considered an art. It is an actual craftsmanship for which one has to be trained at a dedicated paving school.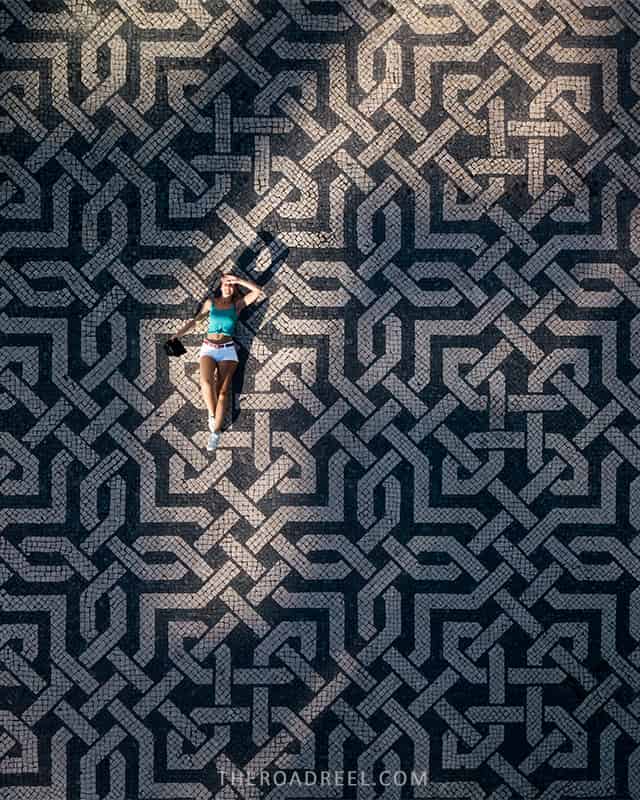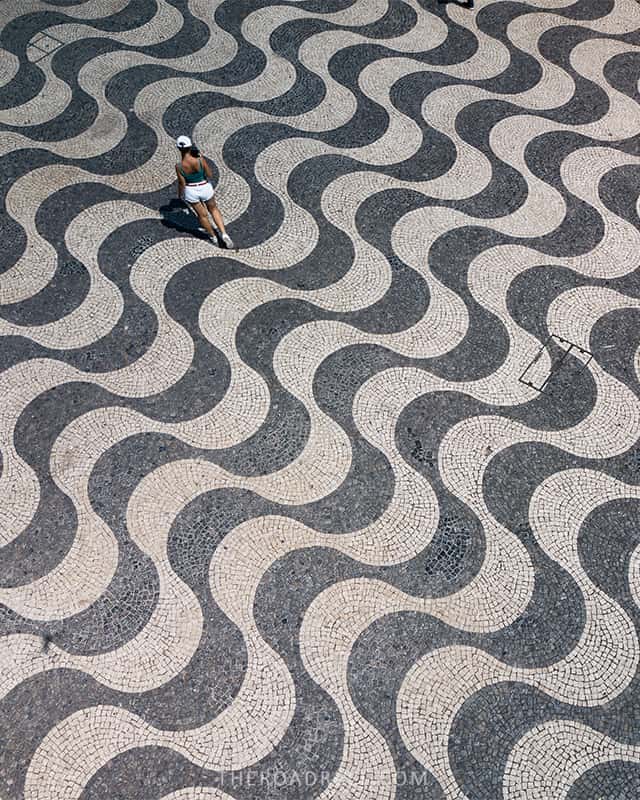 What to see around Rossio Square, Lisbon
Martim Moniz and Mouraria district
Several streets branch out from Rossio Square. Some of them lead towards less touristy areas of Lisbon, and also Martim Moniz Square from where you earlier took Tram 28. Martim Moniz is part of the multicultural Mouraria district which not long time ago was considered unsafe and run down (things are now changing in this central area of Lisbon).
Martim Moniz and its surrounding alleyways have been a hub for south Asian merchants (Indian, Bengali, Pakistani, Nepalese, and Chinese) for many years. Wondering East and North of Martim Moniz you can come across some interesting streets and get a feel of the diversity of the city.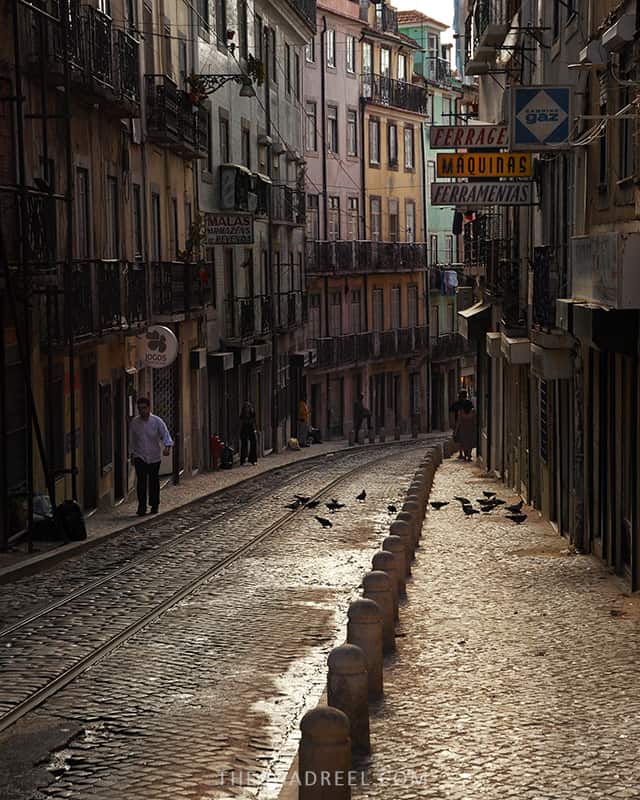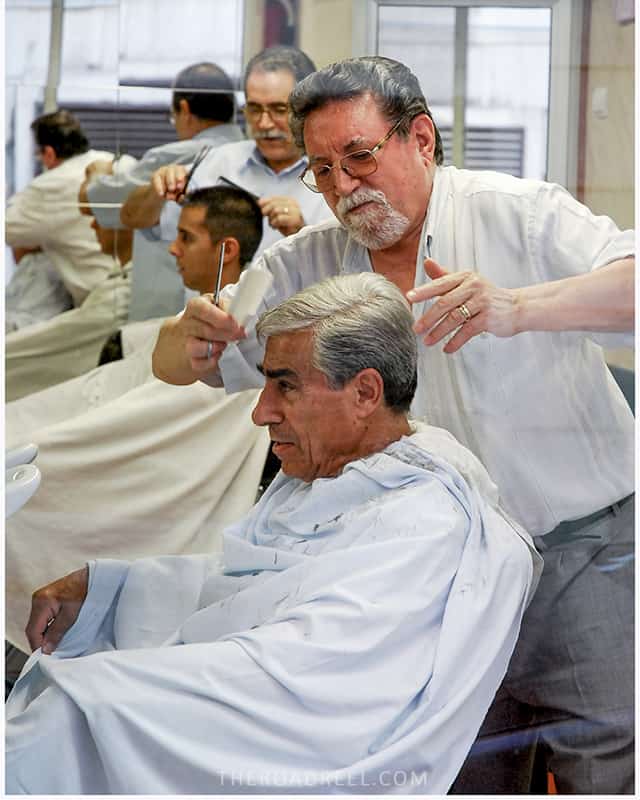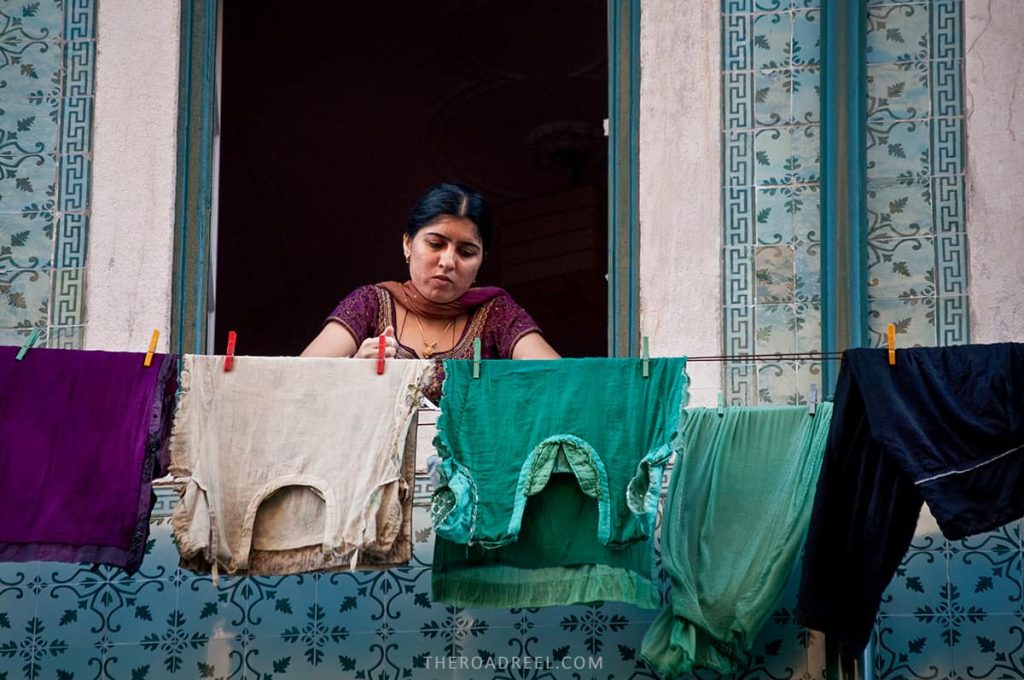 Take a break at A Ginjinha
Up north of the Rossio square on the right-hand side and opposite of the National Theater, you will find a small old liquor store A Ginjinha. It offers 1-euro shots of a typical medium strong sweet Portuguese cherry liquor.
This drink is beloved by the older generation of Portuguese and traditionally was used as a cure for illnesses (quite an addictive sweet medicine). If you liked the drink, make an excuse for the second shot at the "competitor's" store Ginjinha Sem Rival, located opposite side, just 60 meters away. It is also a veteran in producing this traditional drink.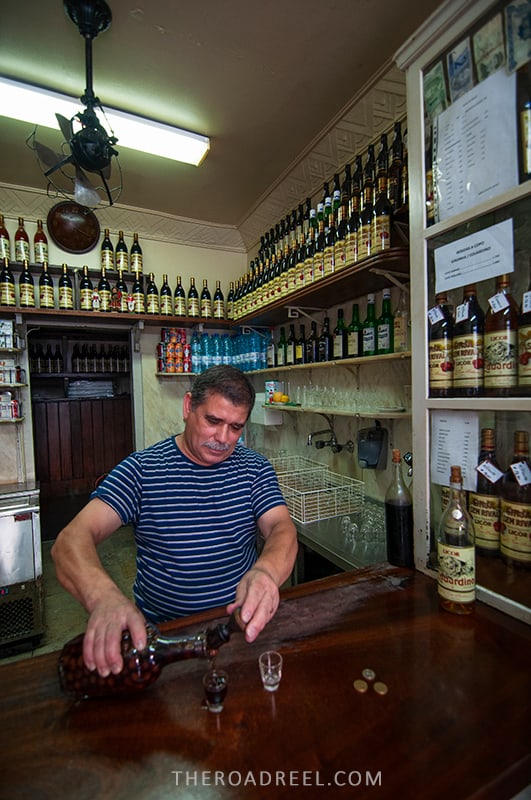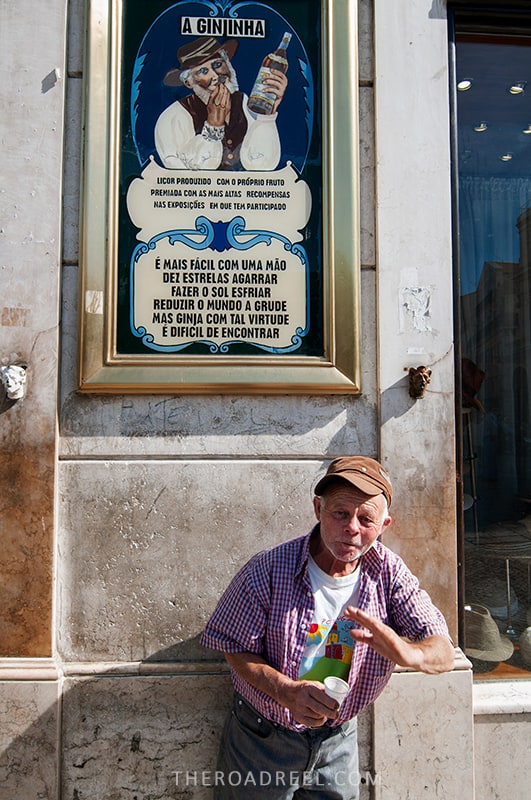 Don't miss the theatrical Rossio Train Station
A local station for trains to Sintra, Rossio will surprise you with its lavishly decorated exterior that looks more like a palace. Two elegant horseshoe-shaped arches are entrances to the train terminal located in a monumental Neo-Manueline style building. Opened at the end of the 19th century, the era when train stations were treated as worship houses of technology, thus so beautiful.
Good to know: do not be surprised when you are carefully approached and offered drugs around Rua August and Rossio Square and around. However, have in mind that so-called "drug dealers" are selling nothing more than crushed seeds mixed with pressed dry basil leaves and paracetamol. For this reason, police cannot really stop them from bothering tourists.
6. Munch on Pastel de Nata in Fábrica da Nata, Restauradores Square
No visit to Lisbon and Portugal can be complete without trying and eventually overdosing on pastéis de nata (or pastel de nata). A bite-size Portuguese custard tart is absolutely irresistible and even became not only a signature pastry in Portugal but also internationally famous.
However, not all recipes are equal. After trying so many of those heavenly tarts, I almost became an expert in distinguishing a good one from an average one (it is hard to find a bad pastel de nata in Portugal).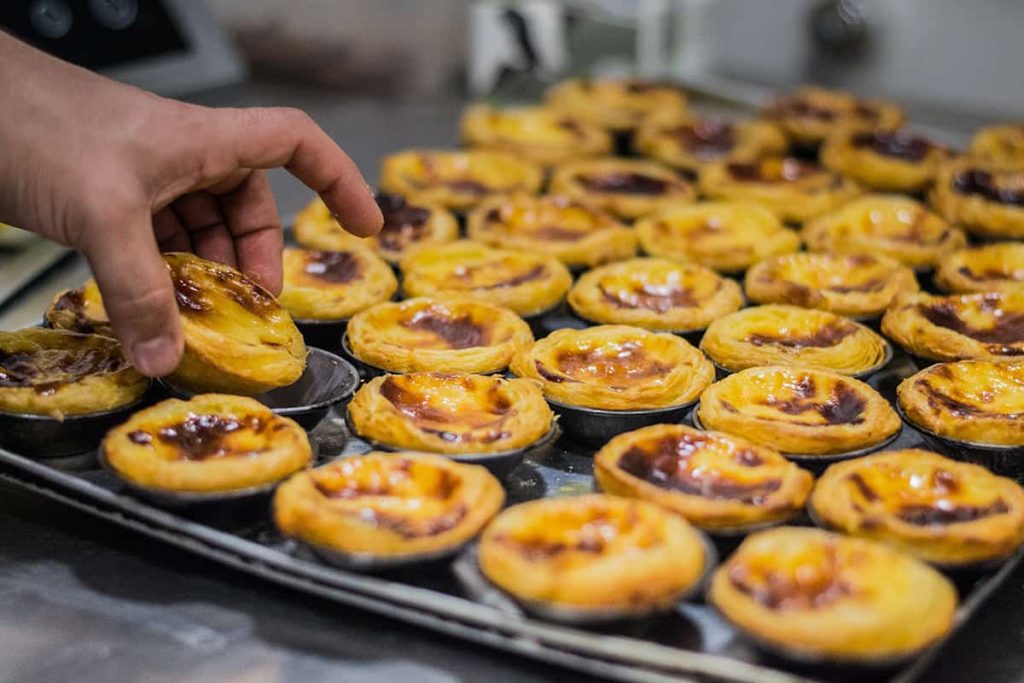 As you make your way to Restauradores Square, pass the Rossio train station, and you will find Fábrica da Nata on the right-hand side. This old pastry shop is one of the best in the city. It features an elegant interior and sometimes has a long queue. But it is worth the wait.
Tip: If you had more than one day in Lisbon, I would direct you straight to Pastéis de Belém- the Godfather house of pastéis de nata located in Belém town, near Lisbon (take a note in case you are heading that direction).
7. Ride like a local by hopping onto funiculars of Lisbon
Elevator de Santa Justa might be the most famous elevator, but for a truly local experience in Lisbon, do not miss riding one of the yellow funiculars (ascensor, sometimes also referred to as elevador or lift).
Those funiculars, just like Tram 28 and Santa Justa lift are part of the national Carris carrier network and are used as means of transportation. A couple of them are located off the main tourist route. They are still used by locals to commute from lower to higher parts of Lisbon or vice versa, as it was originally intended before some of them became major tourist attractions.
The three main ascensors are Bica, Gloria, and Lavra. The latter two are located close to one another near Restauradores Square. Ascensor da Bica, on another hand, is located at the lower part of Bairro Alto in Bica district and is one of the most photographed funiculars in Lisbon, which you definitely must see later.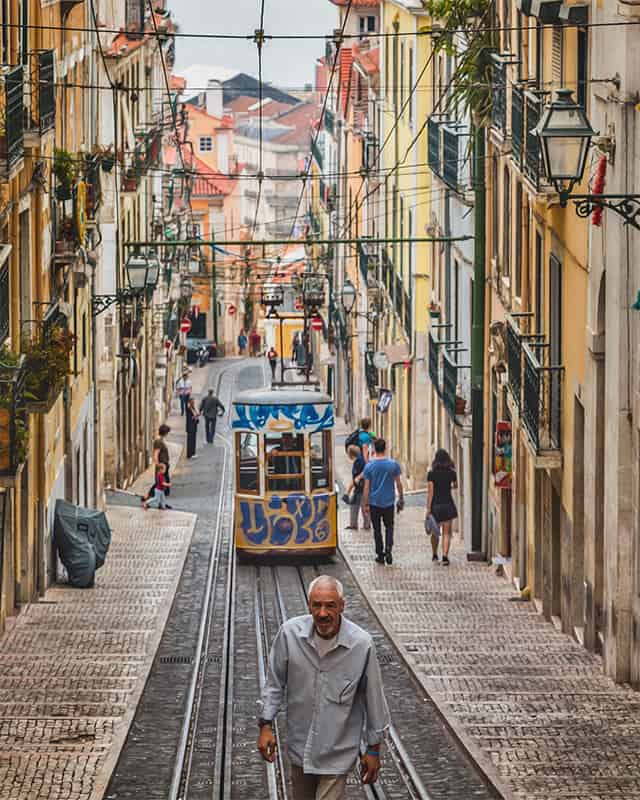 I suggest checking out the Ascensor da Lavra first. It is the most hidden away one and quite photogenic (refer to my map for the exact location).
Then, take Gloria funicular to ascend a steep hill to your next destination- Bairro Alto. Ascensor da Gloria elevator is located at the north-left corner of Restauradores Square.
If you have Lisboa Card or Viva Viagem day card, the ride is included. You can also purchase single tickets on board which costs 3 euros one way.
Did you know? Built in 1892, Lisbon's iconic funiculars built were originally run on water using the counterbalancing system. Purposefully there were two funicular cars installed- one at the top of the hill, the other – at the bottom. The movement was achieved by loading the funicular at the top with water until it was heavy enough to descend the hill and pull up the funicular that was waiting at the bottom of the hill. Today funiculars are powered by electricity and still are the most environmentally-friendly mean of transport in town.
8. Admire more beautiful views of Lisbon and explore Bairro Alto
The buzzing Bairro Alto neighborhood is known as a nightlife hotspot. Therefore, when the sun goes down, and if you are a game, this is a place to come party, bar hopping, and socialize. The most of action in the Bairro Alto district is happening between Rua da Atalaia, Rua do Norte, and Rua do Diário de Notícias.
Nonetheless, there is more to Bairro Alto than just partying.
What to see in Bairro Alto, Lisbon
Miradouro de São pedro de Alcântara
You can never get enough of the views over Lisbon. However, Miradouro Miradouro de São Pedro de Alcântara is known as one of the best viewpoints in Lisbon. Sprawling over two levels with small cute gardens, this miradouro offers unmatched views of central Lisbon with St. George Castle in all its glory. São Pedro de Alcântara viewpoint is a great option to come back later for sunset, as it is particularly picturesque with St. George Castle illuminated by spotlights.
Take a peek into Igreja de São Roque church
Worth a peek is one of the most beautiful Lisbon churches, the 16th-century Ingreja de São Roque. The deceivingly humble façade looks uninviting, but make sure you enter as the interiors are spectacular. Gold leafing and gleaming marble columns, with frescoes and paintings decorating the walls and ceilings- always "over the top" but the somehow harmonious Baroque style decorations are always impressive.  
9. Descend to Pink Street by riding the iconic Ascensor da Bica
The Bica funicular (Ascensor da Bica) is the other postcard child of Lisbon. A yellow 19th-century ascensor helps to effortlessly tackle one of Lisbon's steepest hills between Rua de São Paulo and Largo do Calhariz via Rua da Bica de Duarte Belo- the most photographed street in Lisbon.
There are two funicular cars interchangeably moving up and down the hill via a very picturesque street lined with colorful houses, crisscrossed electric cables, and laundry hanging out of the windows.
I encourage you to take the funicular down to Cais do Sodre area where you will visit one of the most instagrammable places in Lisbon- Pink Street.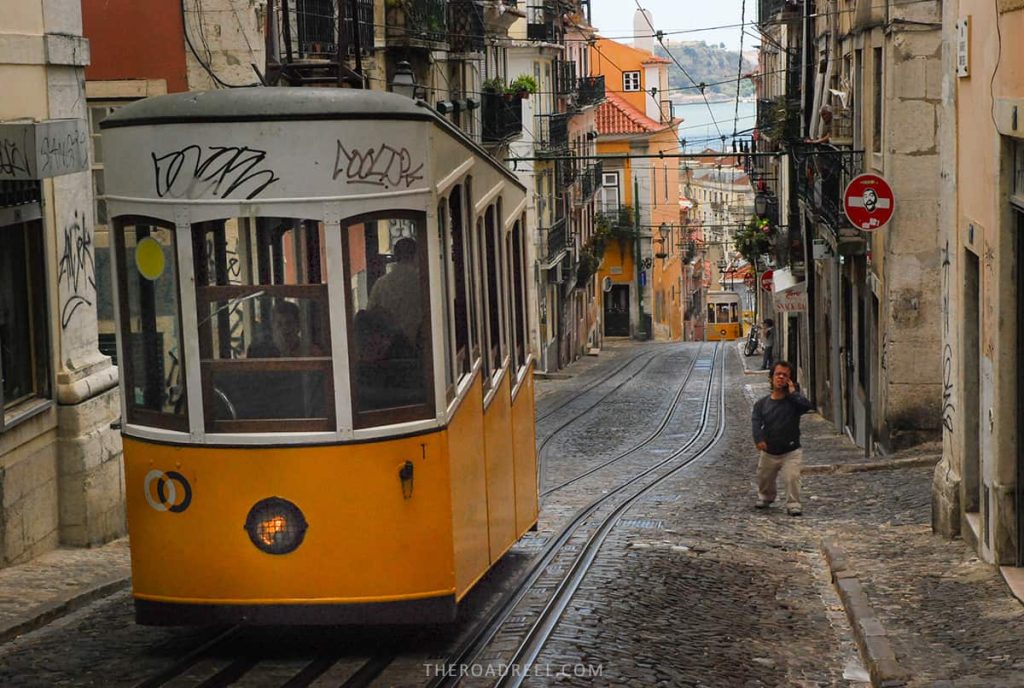 Pink Street of Lisbon
A former "red light district" of Lisbon, located in Rua Nova do Carvalho, Cais do Sodre neighborhood is now known as Pink street (Rua Cor de Rosa). The street is actually painted pink and playfully contrasts a yellow color bridge and blue and yellow houses.
It used to be a dodgy street where all shady business took place (from prostitution to gambling, to drug dealing). It is said that the street was painted pink intentionally to somehow make the area better, and apparently it worked.
Today, it is not only a place all tourists and even locals take pictures to brighten up their Instagram but also a trendy area filled with cool bars.
I remember visiting Pink Street when it was not yet pink. I have accidentally taken images of "working" women. I wasn't aware of the reputation of the area until a magazine discovered my images online (which I shared as part of my travel photography) and contacted me for publication where they were exploring the subject of women leading such an unhonorable lifestyle and the reasons behind it.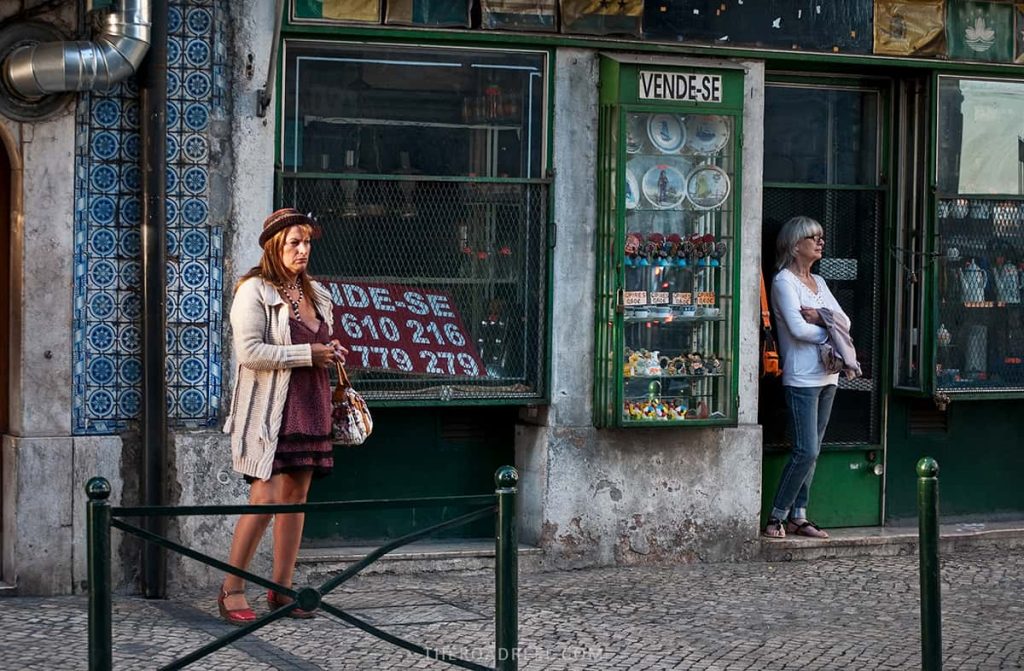 10. Immerse in fado music at your dinner table in Lisbon
Get to know Portugal's soul by immersing in melancholic tunes of fado music at a dinner table. Attending a fado performance is the best way to end your busy day in Lisbon.
Fado melodies can be heard at a distance from many corners around the historic center, especially Alfama. However, experiencing it live inside one of the intimate fado houses will leave a memory for you. Until today, the traditional fado show in the authentic restaurant was one of the best introspective experiences I had in Lisbon, Portugal.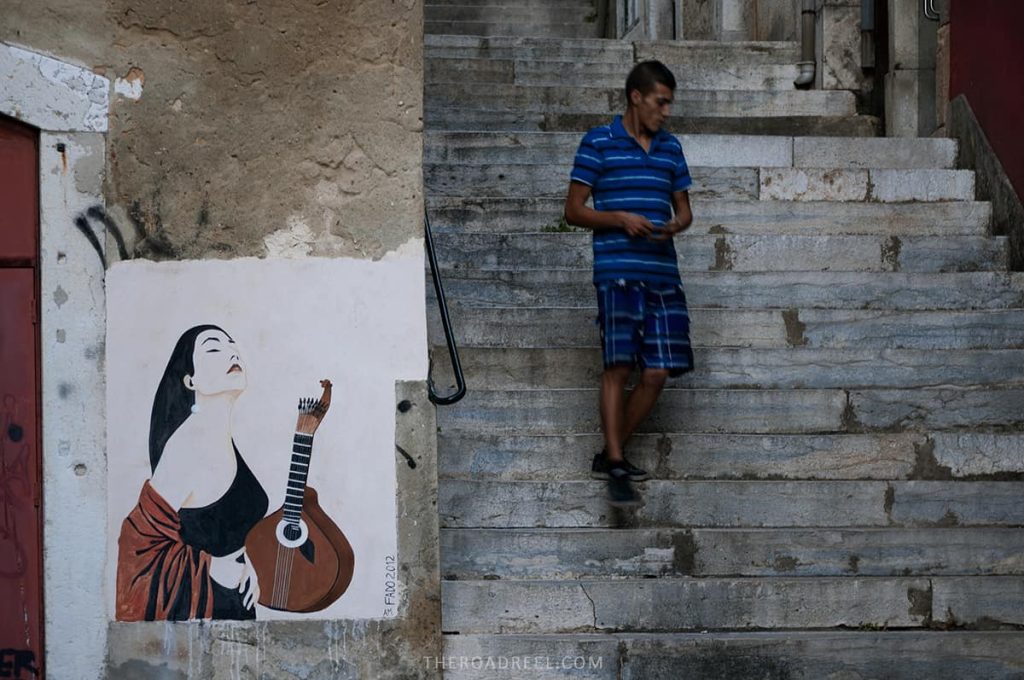 Good to know: Since Fado houses (or casa de fado) are usually small, it is recommended that you arrive early and (when possible) make a reservation. Note that sometimes there is a minimum spend per person and it varies from place to place. Starting from 10 euros and going up to 50 euros, averaging at around 30-40 euros per person. Also, when Fado is performed, everyone is expected to listen in silence (unless you want to be shushed or as a minimum get some angry stares).
Suggested Fado places in Lisbon
Mesa de Frades restaurant hosts fado evening daily in a very unusual set up- the former Nossa Senhora da Conceição chapel of the Dona Rosa Palace. The kitchen is situated in the space which used to be the altar of the chapel. The acoustics are fantastic and the artists perform fado vadio, which stands for popular fado that speaks of daily life and the intimate feelings of the singers.
Third-generation family-run fado house welcomes visitors since 1955. Traditional dimmed set up of candlelight tables, walls decorated with azulejos, and arched ceilings create the perfect fado atmosphere. The restaurant serves traditional Portuguese dishes and fado performances take place every night from 9 PM except Thursdays. The minimum spend is 35 euros per person.
A Tasca do Chico (Bairro Alto and Alfama)
A Tasca do Chico is a laid-back rustic fado house that is very popular among Lisboans. It mostly serves tapas and no minimum spend is required. The concept of the place is very different-anyone can sing fado here. However, professional singers like to make an appearance unexpectedly as well. It is recommended to book in advance as the place is small and very popular. It has two branches- one in Alfama and one in Bairro Alto.
Located next to Lisbon Cathedral, and visited by both tourists and locals, well known Clube de Fado is considered one of the best fado places to hear professional performers. Boasting a mythical atmosphere accompanied by great quality food the minimum spend is set at 50 euros.
Where to eat on your 1 day in Lisbon
Below are my suggestions for where to eat lunch (or dinner) in Lisbon for one day.
Note that restaurants in Lisbon are open from noon. Some of them, just like in Italy, close for a siesta at 3 PM and then reopen at 6 PM or 7 PM for dinner. But there are many that stay open all day until 11 PM-1 AM.
Alpendre (Alfama) $$-located near Se de Lisboa cathedral. My Portuguese friend showed me this restaurant and it was indeed really good. Traditional seafood and fish Portuguese meals, laud and lively but laid back atmosphere. A great option for either lunch or dinner. The restaurant is open from 12 PM to 11 PM, and closed Sundays.
Casa da India (Chiado) $$– it is a very popular restaurant off the tourist path, also recommended by my Portuguese friend. Most of the customers are locals. It is, as accustomed to proper Portuguese restaurants, the place is laud and all in action with great food (both meat and fish options available, Portuguese not Indian as the name may suggest).
Duque (Chiado) $$ – located close to Largo do Carmo and Carmo Convent is a perfect option for lunch. A cozy intimate atmosphere, and great Portuguese food (meat and seafood, fish). The restaurant is small and popular, thus, reservation in advance may be a good idea if you are coming during peak lunch hours.
Estalagem dos Capotes Brancos (Bairro Alto) $- family-run traditional restaurant, serving fish, seafood, and petiscos– Portuguese snacks (analog to Spanish tapas). Off-tourist path and loved by locals.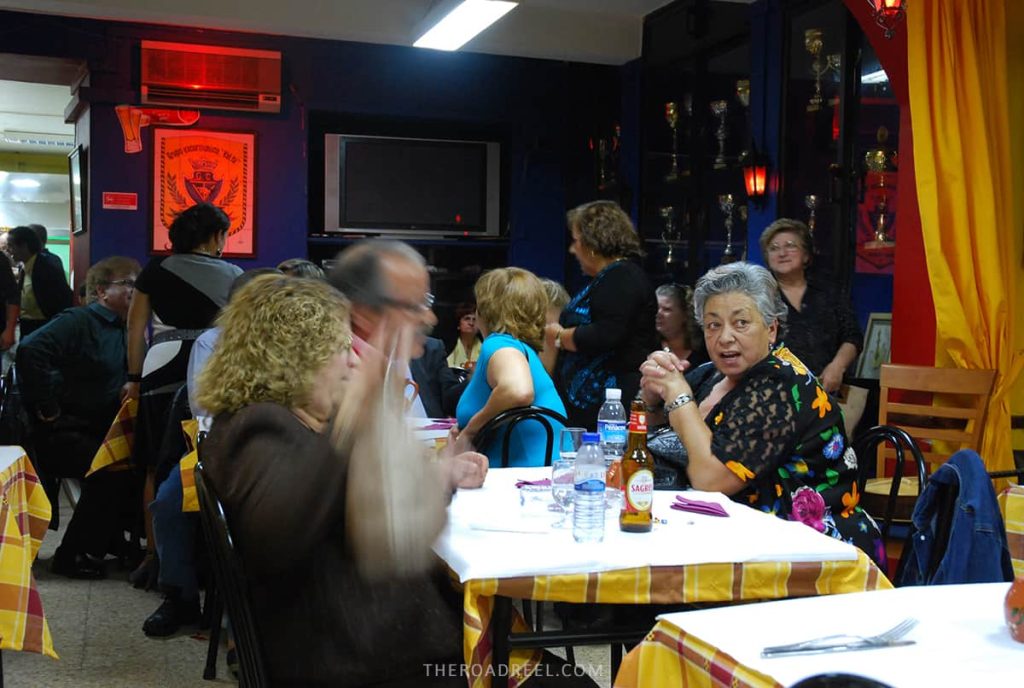 Insider's tip: As a rule of thumb for identifying a good restaurant in Lisbon and Portugal, in general, is if is full and filled with locals. Also, it usually won't look fancy, rather basic and rustic, but the food will always be the best. 
Practical information and FAQ for visiting Lisbon
How many days in Lisbon do you actually need? 
One day in Lisbon is enough to see some of the main highlights. However, the ideal length of time would be 3 days in Lisbon.
Unquestionably, there are many wonderful things to see in Lisbon, as well as day trips from Lisbon you could do. This could keep you busy for days and even weeks. Nonetheless, if you are in Lisbon for one day, stick around the old part and central area, which altogether is not huge (but hilly). This way you will be able to explore a great share of Lisbon highlights. 
How to get to Lisbon from the airport
Lisbon international airport is located only 9 kilometers (5 miles) away from the city center. With many transportation options available and such a short distance, it is possible to visit the historic town even when you have a half-day layover in Lisbon.
By private transfer. The most convenient, safe, and very affordable way (especially if you traveling in a couple or a small group) to quickly get from the airport is to book a private transfer either directly to the city center or to your hotel in Lisbon. -> BOOK IT HERE.
By metro. The Aeroporto – Saldanha metro line will take you into downtown Lisbon in 20 minutes. A one-way ticket costs around €1.5.
By bus. Many local city buses depart from the airport and can be used to reach your destination in Lisbon. A one-way ticket costs around €2.
By Taxi. A quick way to get to the city center, however, is a bit risky as you may get overcharged (this is based on other travelers' experience). The private transfer mentioned above might be a more reliable option and cost the same or even less.
How to get around Lisbon in one day
The best way to visit the historic part of Lisbon is on foot. Despite being hilly, Lisbon is a pedestrian-friendly city and offers so much atmosphere and interesting hidden corners to be explored by walking.
You can complete this Lisbon 1 day itinerary by walking. But you also have options to use trams, historic funiculars, taxis, and even the metro (Metropolitano).
Public transport in Lisbon is well-developed and inexpensive. It is a great idea to get 1 day Viva Viagem travel card which allows you to use any public transport as many times as you wish during 24 hours in Lisbon. It costs around 6.5 euros. To compare, single tickets for the metro, modern tram, and buses start at 1.5 euros and may be as high as 3 euros for funicular rides. Thus, a couple of rides will break it even.
Shall I get Lisbon Card for my one day in Lisbon trip?
The Lisbon Card (Lisboa card) is a universal city pass that allows you to use all public transport free of charge (buses, trams, metro, and regional trains in the nearby areas). It also gives free entrances to over 30 museums and top attractions, and discounts to a large amount of other selected museums, attractions, and tours. There are 24 hours, 48 hours, and 72 hours passes available. Prices start from 21 EUR for an adult (for 24 hours pass), and almost half the price for a child (4-15 years old).
If you are visiting Lisbon for a day or more, it might be a good idea to purchase a Lisbon card. However, it depends on how many paid attractions you are willing to visit, and if you are planning on using public transport a lot.
You can book Lisbon Card on Tiqets.
Where to stay in Lisbon
For your one-day trip to Lisbon, I suggest staying central in Chiado, Baixa or Bairro Alto (apart from the party streets) districts, or slightly up north to have easy access to everywhere central. Alfama, as the most beautiful neighborhood, might sound like an attractive option. However, learn from my experience (I stayed there once) it is not the best if you want to get a quiet sleep. Usually, people are out and about till early morning and there is a loud noise coming from the streets.
Below are my suggestions for great hotels in Lisbon for different budgets.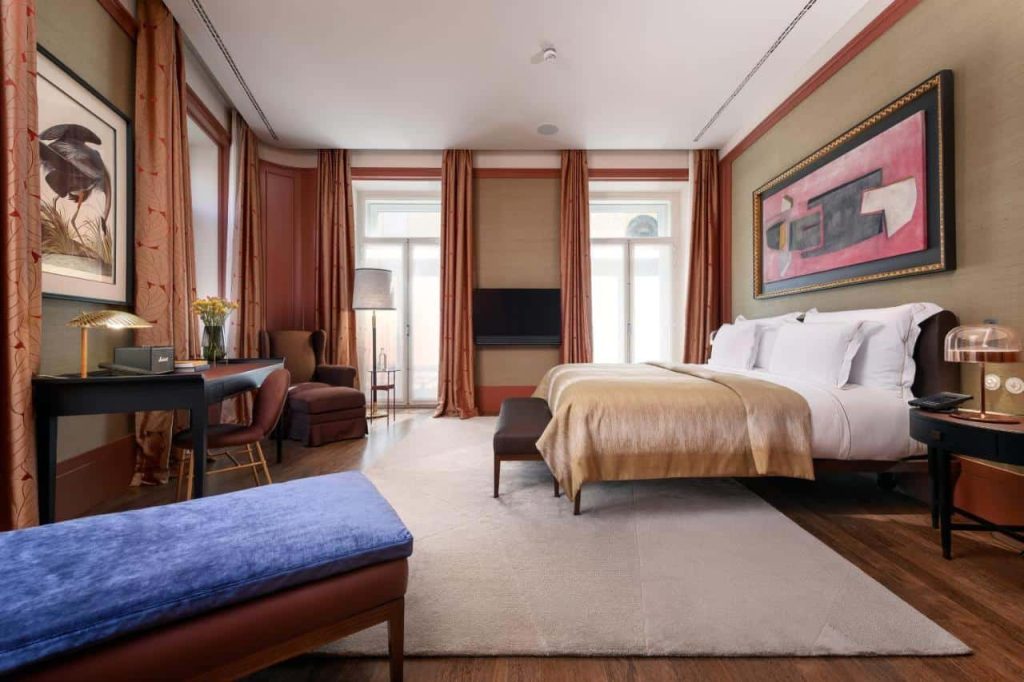 Bairro Alto Hotel $$$$- set in a historic building in the very center of Lisbon (between Bairro Alto and Chiado) this luxurious accommodation offers quiet rooms with views over the Tagus river. The hotel encompasses a restaurant with an award-winning Chef and overlooks the river and Lisbon's Old Town.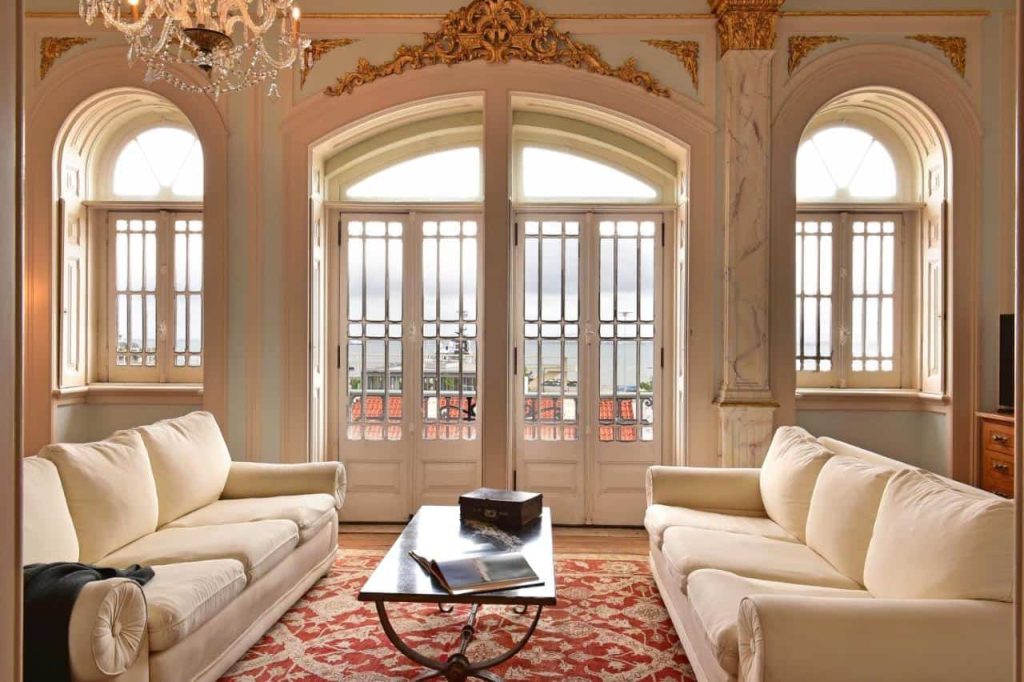 Palacete Chafariz del Rei-by Unlock Hotels $$$-located near Tagus river, steps away from Alfama, in the heart of Lisbon this eclectic hotel was once a 19th-century aristocratic family home. It features stained-glass windows and antique furniture, and a terrace overlooking the Tagus River. You will get a chance to feel like living in a palace.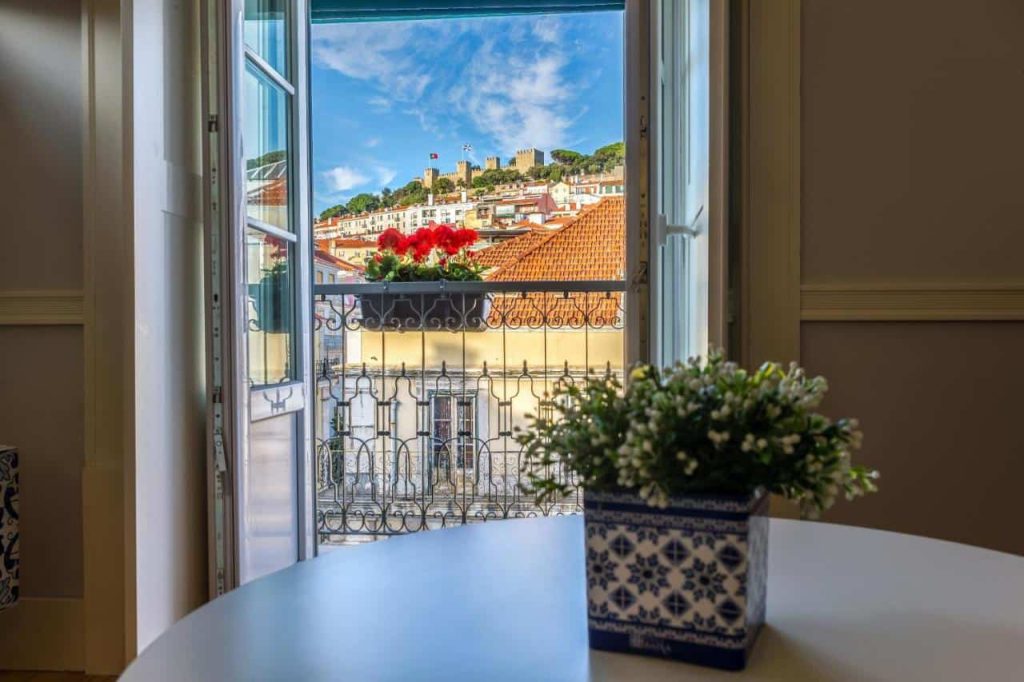 Villa Baixa-Lisbon Luxury Apartments $$-$$$- elegantly decorated in value and white with wooden floors these are sustainable accommodations ranging from studio to 1-bedroom apartments, located in the center of Lisbon (Baixa-Chiado). Free WiFi, fantastic city views, air-conditioned units, a fully-equipped kitchenette, and free toiletries from Real Saboaria are among the many services and features.
Alegria a Lisbon Boutique Hotel $$- spacious beautifully decorated with many authentic Portuguese décors and lots of attention to detail. The hotel features rooms (some with balconies) in a renovated bright yellow historic house located on Alegria Square, just 7 minutes away from the Baixa-Chiado districts.
Live Lisboa Hostel $- Offering beds in spacious dormitories, each bed has curtains for privacy, and towels are available at an extra fee. Hotel is located 4 kilometers North of Alfama district. The nearest metro station is 8 minutes walk away.
Final takeaways: top 6 Lisbon travel tips
The best time to visit Lisbon is autumn and spring when the weather is mild (great for city exploration) and there are fewer visitors, hence the prices of accommodation are also lower.
Get Lisboa Card only if you are planning to visit A LOT of paid attractions. For this particular itinerary (I did the math), you will not need it. However, if you are staying for more than a day in Lisbon, it is worth it.
Get Viva Viagem one-day pass for public transport (unless you already got Lisboa Card). Two rides on a classic tram or a funicular will cover the cost of a day pass which you can use for ALL public transport.
Wear the most comfortable shoes you have. Leave the heels at home, Lisbon is hilly and the pavement is patchy, and sometimes even slippery.
Dine away from tourist hotspots. Don't eat around Rua da Augusta and even Rossio Square as those are the most touristic places, overpriced and the food is not of the highest quality. Look for low-key busy restaurants filled with locals in the backstreets.
Watch your pockets. Lisbon is a safe city in general, but it is known for pickpocketing, especially in the beloved but crammed Tram 28 as well as around busy areas. My friends' handbag got stolen in a second in Rossio square when she left it behind her unattended. Thus be attentive and keep your valuables in sight.
Interactive Map for one day in Lisbon
Click HERE to open and save my Lisbon itinerary for one day map which shows the exact locations of the points of interest mentioned in this Lisbon travel guide.
And that is a wrap of the one day in Lisbon itinerary. I hope you found it useful and if you still have more questions about how to visit Lisbon in one day, please feel free to leave a comment below. Planning a trip to visit more places in Portugal? Make sure to also check my travel guides linked at the end of this post.
I hope you are enjoying my free travel guides & tips. If yes, please consider supporting my work by buying me a coffee so I can continue creating more useful content from my favorite coffee shop in town. Thanks!
Portugal Travel Essentials & Useful Links
Here are links to essential travel resources and services I always use when organizing my trips.
More Portugal travel guides