My one-week Oman itinerary is here to help you plan an unforgettable Oman road trip (no 4WD required).
This self-drive route, which starts and ends in the capital Muscat, covers must-visit places in northeastern Oman as well as some wonderful hidden gems discovered while travelling in Oman. Also, here you will find driving distances and times, places to stay, and the best things you can do in Oman in 7 days. 
Oman is one of my absolute favorite places to travel in the Middle East. Therefore, as soon as Oman's borders opened for tourism and pleasant winter weather finally arrived, I packed for my one-week road trip to Oman from Dubai, UAE.
With roads being some of the best quality in the world, and petrol costs some of the lowest, driving in Oman is undoubtedly the best way to explore the Land of Frankincense. 
Extraordinary scenery featuring endless layers of jagged mountain peaks and water-filled wadis is giving the way to the pristine blue coastline and rolling sand dunes.
Whilst the charming traditional towns, souqs, ancient forts, and mud villages allow you to witness old Omani culture which is still present in today's daily life. And above all, welcoming local people and the safety of the country makes Oman one of the most attractive travel destinations in the Middle East that you should visit at least once in your lifetime. 
If you are wondering what to see in Oman, I've got you covered with this ultimate 7-day Oman itinerary! Moreover, I also added suggestions for shorter 5-Day and extended 10-Day to 14-Day Oman routes.
Thus, I hope that this Oman travel guide will be inspiring and useful to you when planning your own Oman road trip itinerary. 
RELATED REEDS: Renting a car and driving in Oman: everything you need to know.
Disclosure: This post contains affiliate links, which means that I may make a small commission at no extra cost to you if you make a purchase by clicking a link. This helps to keep my blog growing and filling up with detailed honest travel advice for you. 
5 to 7 Days in Oman Itinerary: Oman Road Trip Overview 
Here is a summary of the One Week Oman Road Trip Itinerary:
Day 1: Muscat
Day 2: Muscat-Bimmah sinkhole-Wadi Shab-Sur
Day 3: Sur-Bani Wadi Khalid-Wahiba Sand Dunes and Dessert Camping
Day 4: Wahiba Sands-Al Hamra-Misfat
Day 5: Misfat-Jibreen Castle-Birkat Al Mouz-Nizwa
Day 6: Nizwa- Muscat (optional stop at Nakhla Fort)
Day 7: Muscat (with optional day trip to Daymaniyat Islands)
Total distance: approx. 900 km.
Time on the road: approx. 12hrs.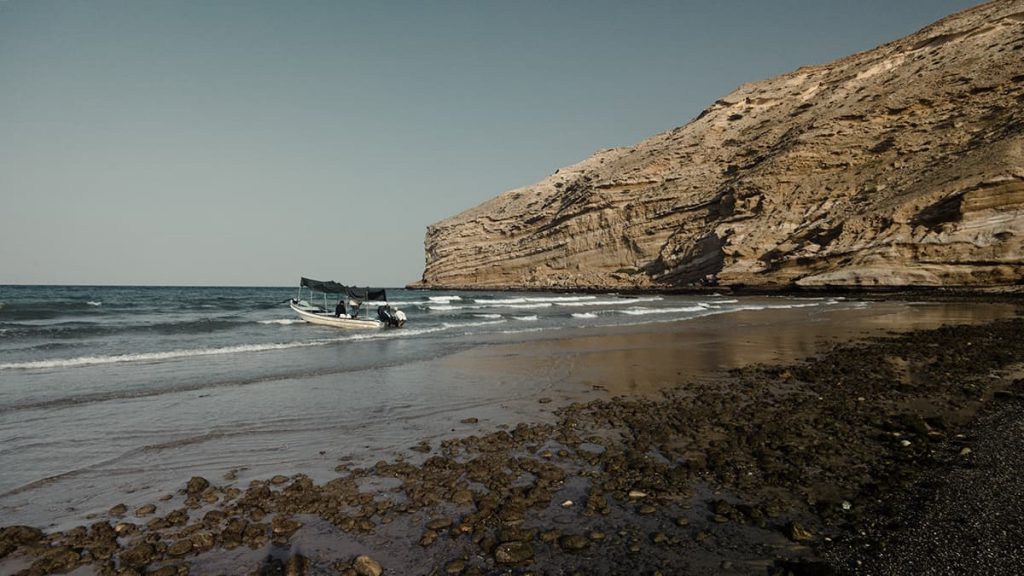 How to prepare for this Oman road trip- Quick Useful Tips
Before we jump to the fun stuff, here are the essentials for organizing your Oman road trip.
This road trip is planned as a circular route starting and finishing in the capital Muscat. On a side note, all the locations on this road trip could be done as day trips from Muscat. Most of them are within a 1.5-2.5 hour drive from Muscat.
We only had 5 days to spare for this Oman road trip. Therefore, we had to leave Bani Wadi Khalid and Wahiba Sand Dunes for our next visit to Oman. However, those are the top attractions in Oman that you can visit if you have 7 days in the country.
Nakhla fort wasn't included in our 5 days trip either, but I have visited it back in 2017, and it is well worth a stop if you are travelling in Oman for a week, and if you love castles.
However, if you are short on time, you could either skip Day 3 (Wadi Bani Khalid and the desert), or trim down the Nizwa part. Unless you are really keen to see the desert, I would recommend definitely making your way up North of Oman and visiting the ancient mountain villages of Misfat al Abriyeen, and Birkat Al Mouz.
Our 5 Day Oman Road Trip looked like this:
Muscat-Bimmah Sinkhole-Wadi Shab-Sur-Al Hamra-Misfat-Jibreen Castle-Birkat al Mouz-Nizwa-Muscat
Total distance: approx. 815 KM
Total time on the road: approx. 10 HRS
What we would have done differently on this road trip?
The Oman road trip itinerary presented here is perfect for travelers flying in and out of Muscat airport.
However, if you are, like us, driving from Dubai, or elsewhere in UAE, you could choose to start your Oman route in Muscat entering via the Hatta border, and then end your trip in Nizwa, returning back through the Al Ain border. That being said, you could first spend 2 days in Muscat, and finish exploring the Northern part of Oman in Nizwa.
Oman Road Trip Route Map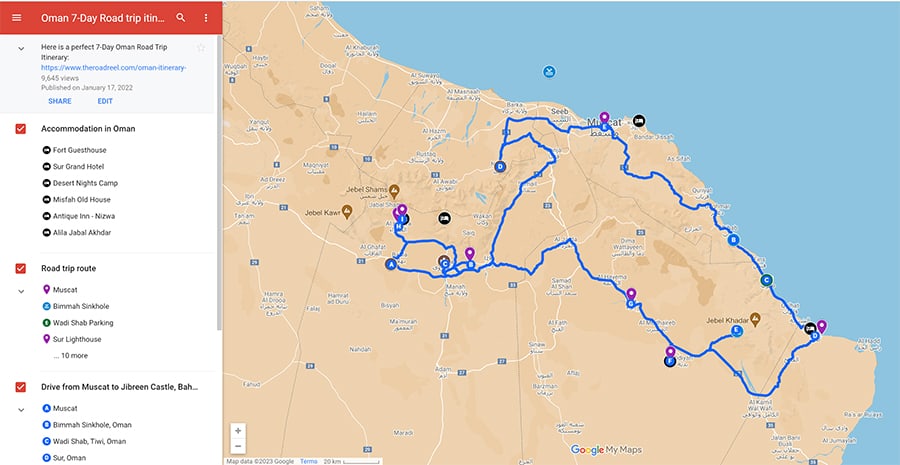 Click here to open and save my Oman itinerary map which shows the exact locations of the points of interest mentioned in this Oman guide.
How many days in Oman do you actually need? 
One week in Oman is the bare minimum you should allocate if you want to cover the highlights of the northeastern part of the country. However, one week in Oman would be only scratching the surface of what this beautiful country has to offer. 
Ideally at least 10 to 14 days would be a sufficient time. Having a couple of weeks in Oman would allow you to either slowly explore the northeastern part of Oman, or travel at a faster pace adding Dhofar governorate and/or Musandam peninsula to your itinerary.
I will go more into detail on the add-ons and extended routes at the end of this post.
The best time to visit Oman
The best time to visit Oman is from October to March. This time of the year is recommended for visiting the northern and the eastern parts of the country's mainland as well as the Musandam Peninsula. While travel season for Salalah (the South of Oman) is during the summer months of June, July, August, and early September due to the completely different milder climates, greenery, and rainy season that is always awaited by local people and GCC residents to escape the summer heat. 
Renting a car in Oman
Deciding on what type of car to rent in Oman depends on your travel route. You will find that many blogs recommend renting 4WD in order to reach remote areas and high mountain passes. 
Our route DID NOT require 4WD as it covers places with easy access by well-paved roads. Indeed, you will still be able to see a lot by driving a regular car. 
However, if you decide to go to Jebel Shams or Jebel Akhdar (two very famous mountains), 4WD is a must. It will also be useful if you want to drive in the desert (considering that you know how to do it) or visit remote mountain villages that do not have paved road access. For example, we had to skip above mentioned mountains and some interesting villages because we didn't have 4WD. 
As per my research, Discover Cars has some of the most competitive rates for renting both SUVs and sedans.
The best rates for renting a car in Oman
I often use Discover Cars to find the best car rental deals.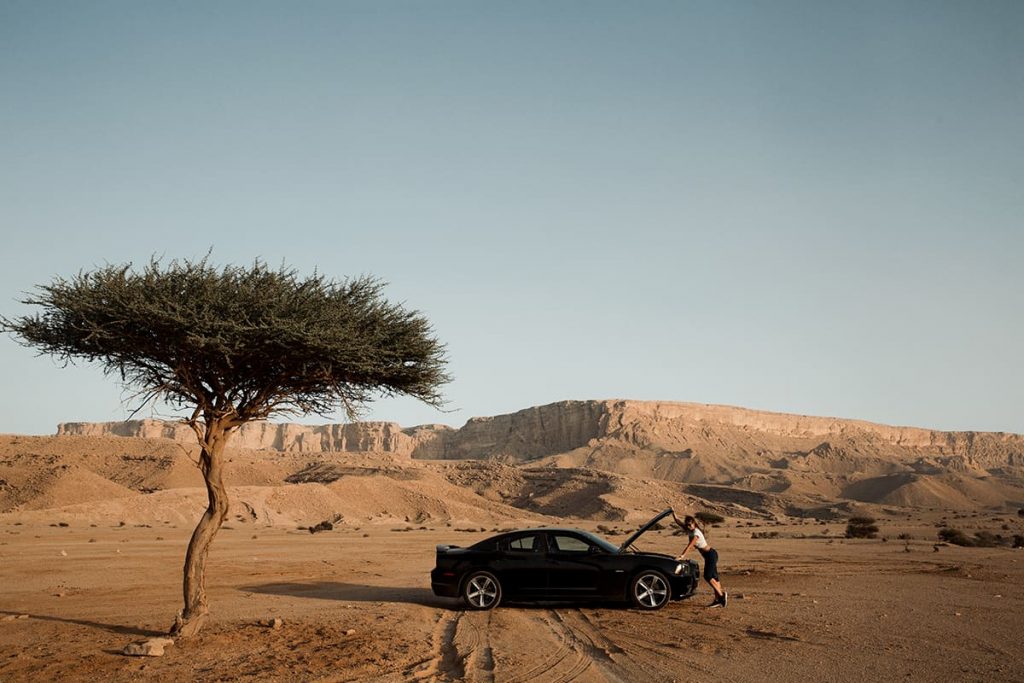 7-Day Oman Road Trip Itinerary: Daily Breakdown
Here are my recommended 7 days in Oman Itinerary breakdown day by day. It covers must-visit places in Oman at each destination, things to do, and accommodation recommendations. I also provide travel distances and required time for each section of this Oman road trip route.
DAY 1: MUSCAT (overnight in Muscat)
Capital Muscat mostly likely will be your first stop in Oman. Low-rise white-washed houses sprinkled between dark craggy peaks on the shores of the Gulf of Oman define the city landscape.
Although the biggest city and bustling trade hub, Muscat is a soulful capital with a unique character and well-preserved old traditions.
Muscat is one of the most beautiful cozy capitals in the world, and you must visit for at least a day or two. 
Top Tip: Muscat is very spread out with limited transport options. Therefore, having your own car will be the fastest and most likely the cheapest way to move around Muscat. It will also allow you to see some great places on the outskirts of the capital. Parking in Muscat is also easy, which makes self-drive even more attractive.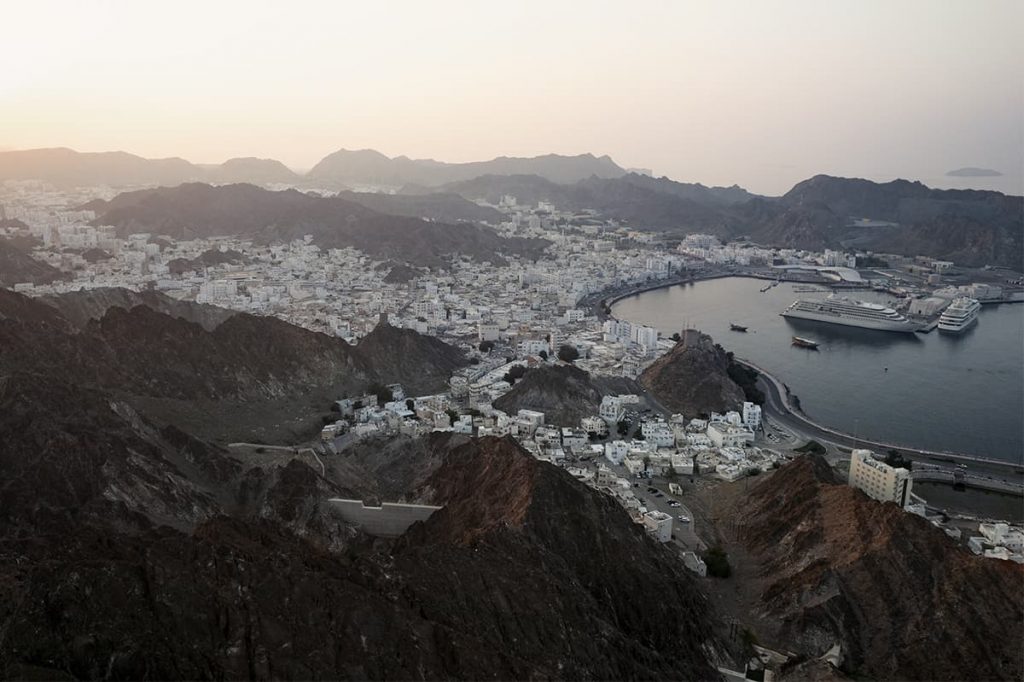 The Best Things to Do in Muscat
Here is my list of must-visit places in Muscat. You may need 2 days to cover them all at a relaxed pace. We did some of the activities on the first and some on the last day of our Oman road trip.
Also read: To plan your time in the capital of Oman, refer to my detailed post about The best things to do in Muscat: 1-3 days itinerary
1. Admire Sultan Qaboos Grand Mosque
Sultan Qaboos Grand Mosque is an absolute must-visit place in Oman for those of you who admire architecture and love photography. It is the largest mosque in Oman with remarkable modern Islamic architecture.
Defined by perfectly symmetric arrays of arches, elaborate latticework, intricate mosaics and ornate carvings of flowers, Sultan Qaboos mosque is one of the most impressive modern mosques I have ever visited.
Moreover, one of its 5 minarets (together they represent the 5 pillars of Islam) is 90 meters tall, making the mosque country's tallest structure. On a side note, it is amazing that Oman stays away from glass-encrusted skyscrapers and preserves its low-rise urban landscape.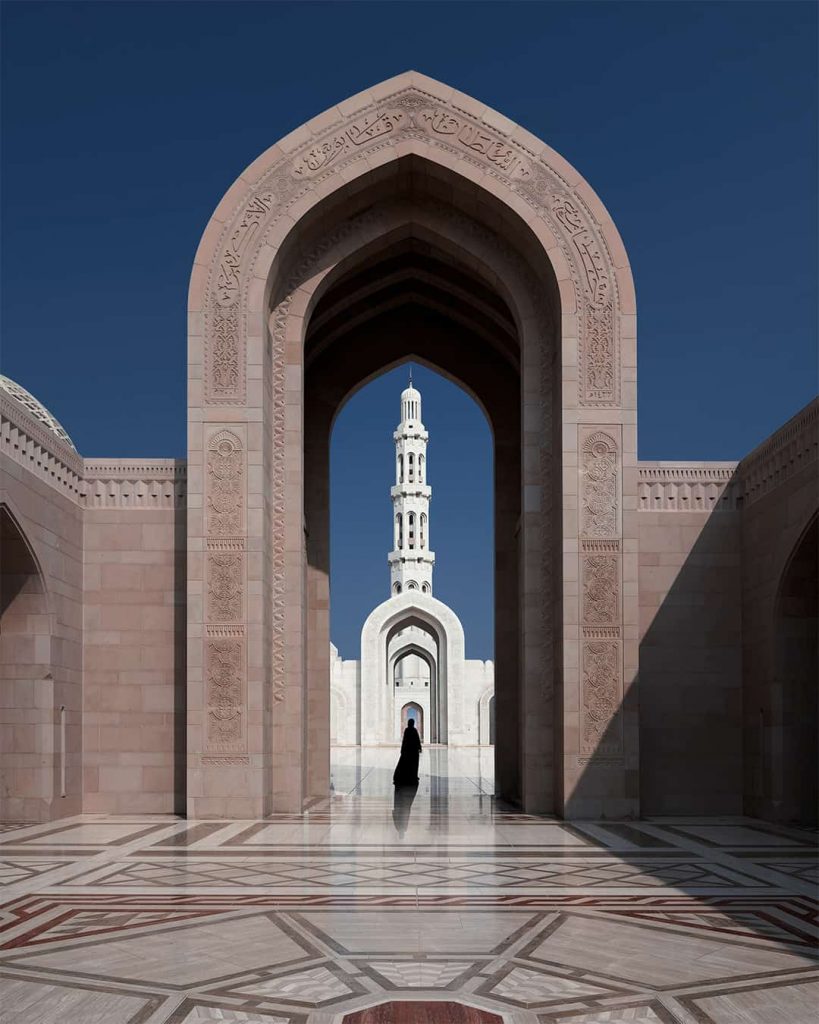 Interesting facts about Sultan Qaboos Grand Mosque
It took 6 years to complete the mosque and it can host up to 20000 worshipers. The 24-karat gold-plated chandelier inside the men's prayer hall holds 600,000 Swarovski crystals and is surrounded by 34 smaller versions found across the mosque.
Equally impressive is the hand-made prayer carpet weighing 21 tons. It took 600 Iranian artisans to complete it for a duration of 4 years. The only prayer carpet that is even larger belongs to Sheikh Zayed Grand Mosque in Abu Dhabi, UAE.
Things to know before visiting Sultan Qaboos Mosque in Muscat
Opening hours for non-Muslim visitors and photography are from 8 AM- 11 AM every day except Friday.
Entrance fee: FREE
How long should I spend here? 1 hr minimum, but you can easily spend 2-3 hrs.
Dress Code: ladies must cover head to toe (including wearing a head scarf), men are not required to wear head cover, but must also wear long pants and long sleeve shirts.
Etiquette: leave your shoes at the door when stepping into the prayer halls.
The mosque is huge. Therefore, you can easily spend there 2-3 hours wandering around its beautiful allays and prayer rooms. Try to arrive as early as 8:30 AM before all the tours come. This way you can enjoy the mosque quietly. We came late at around 10 AM, and we haven't even noticed the time fly by, meaning there was not enough time to explore it properly.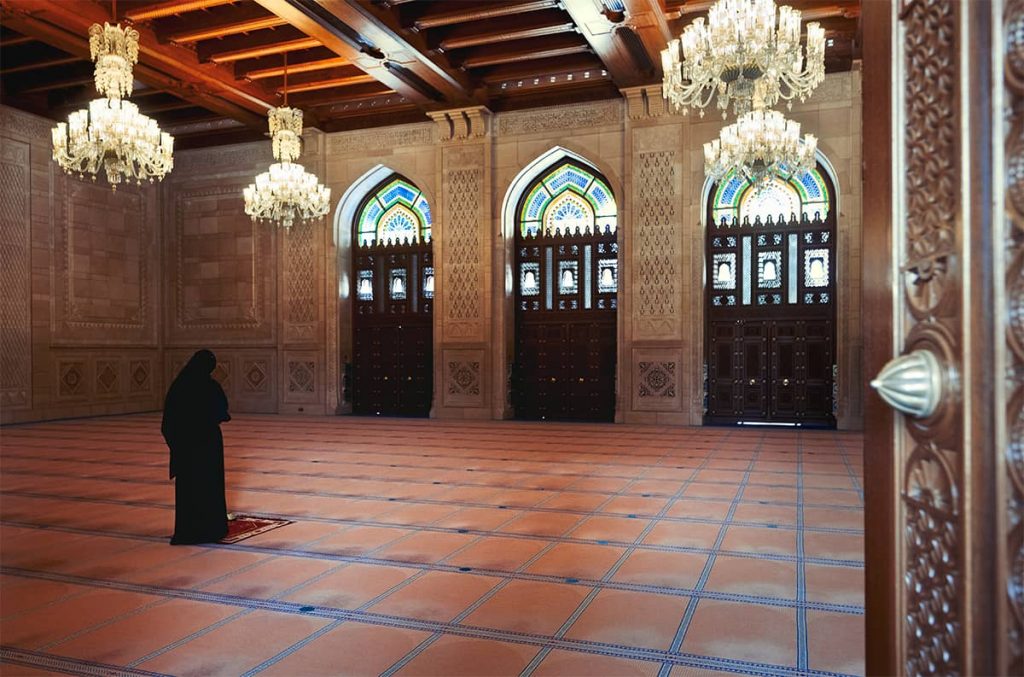 2. Stop by at Yiti street viewpoint overlooking the Ruwi area
Muscat is built between the hills. Thus, climbing higher up will reward you with fantastic viewpoints. One of the less explored spots I have discovered on my Oman road trip is a Ruwi area with a fantastic viewpoint opening up from Yiti street.
You won't find this spot in any guidebooks, but I must say it was one of the Muscats highlights that I recommend adding to your route.
The exact coordinates for the viewpoint are 23.573747, 58.549943.
3. Stroll along vibrant Mutrah Corniche and Climb Mutrah's Fort
One of Muscat's most vibrant areas, also known as an Old Town, Mutrah (or Muttrah) is one of my favorite places to spend time in Oman. Characterized by 19th-century latticed merchants' houses and colorful minarets, Mutrah's sweeping waterfront is the city's old commercial center.
The romantic curved waterside promenade offers beautiful views of Muscat's historical center backed by rugged mountain peaks on one side, and calming sea on the other. But for even better perspectives of the old town climb Mutrah's Fort.
Built by the Portuguese in the 16th century, Mutrah Fort stands atop a rocky hill. From here you can see fantastic panoramic views overlooking Muttrah corniche.
Opening hours: Saturdays to Thursdays 9 AM-6:30 PM/ Fridays 9-11 AM, 2-6:30 PM.
Entrance fee: FREE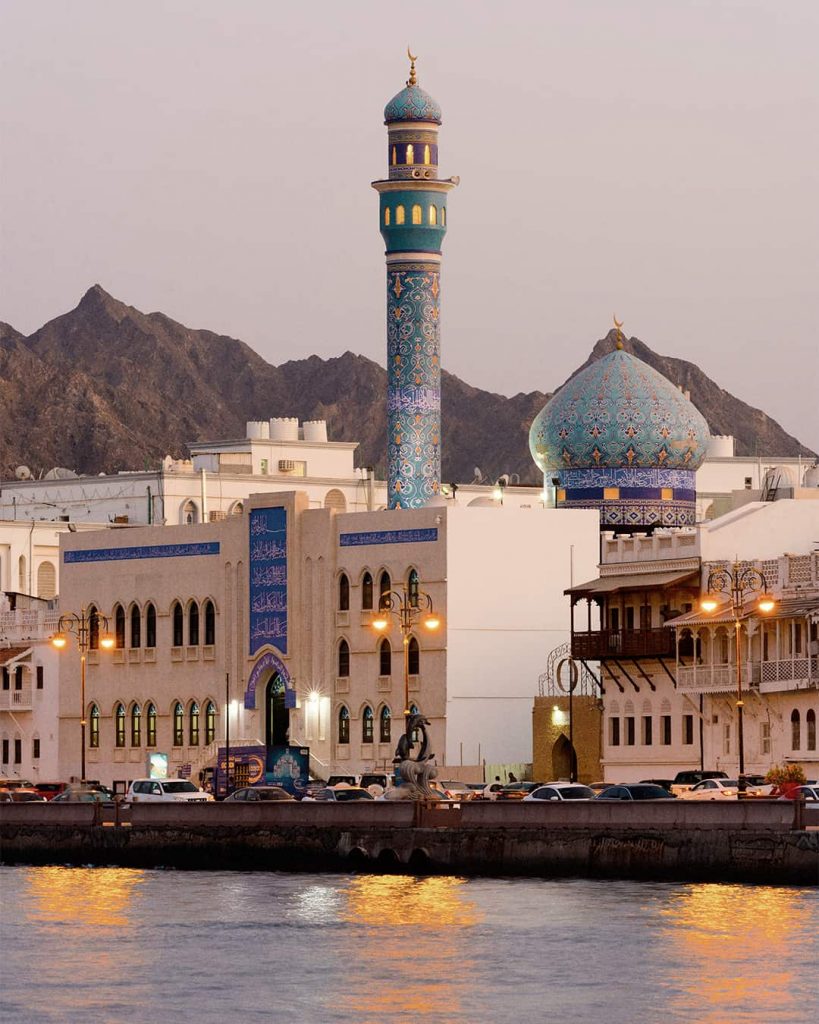 4. Go on a hike in Muscat- Mutrah to Riyam Park Trail
If you love hiking, Muscat got you covered. There are a few short easy to moderate-level city trails. One of the most picturesque routes is the C38 circular trail starting at Riyam Park in the old part of Muscat.
The hike starts with a short steep climb, gaining a quick elevation of around 100 meters. You can see the famous incense burner in Riyam park. Then the trail winds through the craggy peaks. You have to climb one of the higher peaks to enjoy the panoramic views of Mutrah corniche.
As the route descends, it passes through a water-filled wadi. The water stream is not deep but if you don't want your shoes to get soaked, you might have to scramble and jump around some boulders to avoid getting into the water. The trail eventually leads back to the town through some old graveyard. The last 2 KM are just a city walk along Mutrah corniche back to Riyam Park.
Things to know about hiking Mutrah to Riyam Park trail
Trail distance: 3.7 KM
Hike duration: 1.5 hrs
Difficulty level: easy to moderate
The trail is well-marked with yellow white and red line flags
Proper hiking boots are recommended as the rocks are very slippery
Kids-friendly (we saw families with young kids doing it).
Trailhead coordinates: type in Google [C38 Mutrah to Riyam Park Hike] to get to the start of the trail. The starting point is behind one of the houses. You will see a stone staircase on the left-hand side going uphill-follow it to begin the hike.
5. Shop for Omani souvenirs at traditional Mutrah Souq
At the heart of Mutrah, hidden between the winding old streets, you will find one of the oldest markets in the world-Mutrah Souq. Covered in the fog of frankincense, the bustling souq will make your head spin. Mutrah Souq is a maze of hundreds of shops selling everything from small souvenirs to hand-made carpets, kummas (traditional embroidered Omani hats), colorful lanterns and magic lamps, to hand-crafted silver khajars (Omani knives/swards), jewelry, oriental perfume and what not.
It is a fun experience to wander around Mutrah Souq even if you are not buying anything. Most likely you will end up purchasing something from one of the friendly local sellers. Or at least will end up overdosing on Omani coffee which is offered as a gesture of hospitality at nearly every single shop.
Opening hours: 9 AM-1 PM/4 PM- 9 PM daily.
6. Swim at Qantab Stone Beach and take a boat ride to Qantab natural arch
The beach at Qantab fishing village, 30 minutes away drive south of Muscat, was one of the unexpected discoveries during this Oman road trip. I was initially mapping out some interesting photography locations on Google maps, and Qantab caught my attention as a potential spot that offered great mountain village views.
Even the drive from Muscat to Qantab was filled with pleasant views. Once we reached it, we were pleasantly surprised by the quiet beach featuring beautiful rock formations. It was one of those wild-type beaches with just a few local fishermen hanging around. I would have easily spent half a day reading a book and chilling on the sand.
As we walked towards the sea, we were approached by an elder Omani sailor named Solomon. He offered us to go on a private sunset boat ride. We agreed. And it was a pleasant 30 minutes ride in a traditional motorized boat. We had a chance to see a natural stone arch and admire the beautiful coastline.
The private boat ride cost us 10 OMR.
7. Go on a half-day trip to Daymaniyat Islands
Ad Daymaniyat is a Nature Reserve formed of nine pristine islands located 20km off the shores of Barka- a coastal city up north of Muscat. Islands are known for their crystal clear waters and as a great spot for snorkeling with their bright-colored fish and sea turtles.
From May to October visiting Daymaniyat islands is prohibited due to marine life protection.
Since a special permit is required to enter the islands, the easiest way to visit Daymaniyat is by joining a day tour. Tour operators will handle all the logistics, permits, and food on your behalf.
Daymaniyat snorkeling cruise from Muscat is rated 5/5 on Get Your Guide, and alternatively, this day tour offers snorkeling and dolphin watching.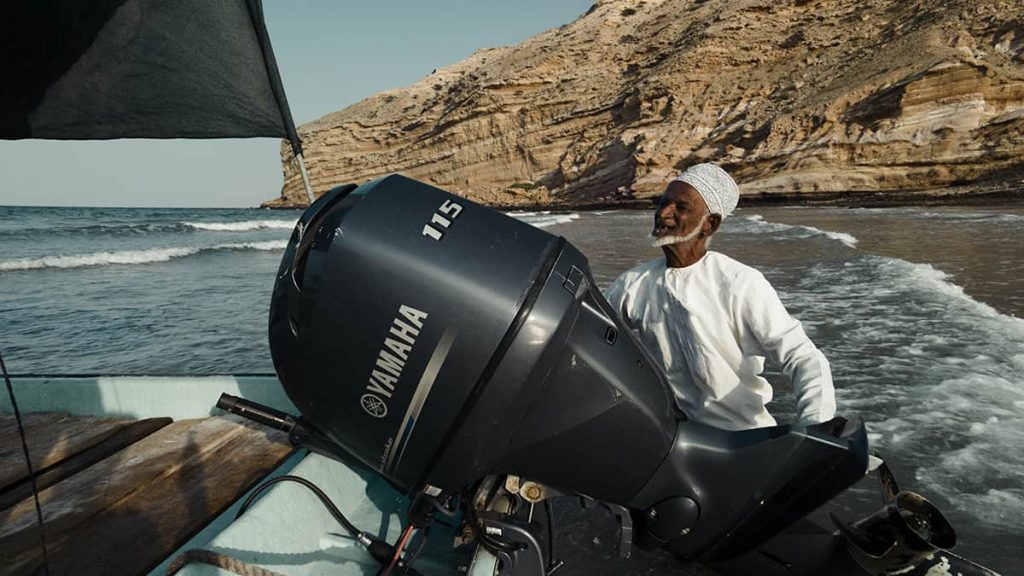 The Best Places to Stay in Muscat
Muscat has a range of accommodations to meet almost any type of traveler: from budget to mid-range to the finest luxury resorts with fantastic mountain scenery. Here are my top pics for each category.
Al Bustan Palace -stunning coastline set against Hajar mountains, dreamy pools, and a stretch of private beach- great for romantic getaways and the best beachfront views.
Chedi Muscat– one of the most beautiful hotels in Muscat featuring modern Arabic architecture, beachfront, 100-meter long pool, yoga, and pilates classes- a perfect place for relaxation.
Grand Millenium Muscat -a home away from home, located close to Sultan Qaboos Grand Mosque.
Fort Guesthouse– superb location at the beachfront of Muttrah corniche and Fort, features a lovely terrace and humble Omani-style accommodation.
DAY 2: Muscat to Bimmah Sinkhole, Wadi Shab, and Sur (overnight in Sur)
Driving distance: approx. 200 KM
Total driving time: approx. 2.5 HRS
Midway stops: Bimmah Sinkhole and Wadi Shab
After exploring the fascinating city of Muscat, it is time to continue our road trip along the East coast with a couple of stops at some of the best-known and probably most visited nature attractions in Oman- Bimmah Sinkhole and Wadi Shab. The final destination of the day will be the atmospheric port town of Sur. On day 2, I recommend waking up early to slowly enjoy your nature stops and allow yourself enough time to reach Sur before sunset.
Dip your toes and swim in Bimmah Sinkhole
Located 1 HR 30 Min drive from Muscat, Bimmah Sinkhole (Hawaiyat Najm) is a natural pool phenomenon that is mystified by a legend. It says that the sinkhole was formed after a meteorite struck the Earth. In reality, it is a water-filled depression in the limestone.
Bimmah Sinkhole is easily accessible from the main highway. Therefore, it is one of the most popular natural spots loved by locals and tourists.
I had second thoughts on whether I should include Bimmah Sinkhole in our Oman itinerary. Honestly speaking, it didn't look that appealing from the photos (plus how busy it can get).
However, Bimmah Sinkhole was religiously recommended in every single blog as one of the must-visit places in Oman. Since it was on the way to our main attraction of the day- Wadi Shab- I decided to pay Bimmah Sinkhole a short visit and see what all the fuss is about.
Although a little busy even on a Thursday morning, Bimmah Sinkhole ended up being a pleasant surprise. In terms of photography, I do not find this place impressive, but the experience is what makes it worth the stop. Swimming in refreshing clear waters was indeed amazing and fun during the hot day.
Also, you can get a free "pedicure" from the fish that inhabits those waters. If you sink your feet in the water and stay still, soon you feel a ticklish sensation- dozens of small fish will come to eat the dead skin off your feet.
Opening Hours: from 8AM to 8PM- Bimmah Sinkhole is enclosed within a gated park.
Entrance fee: FREE
Dress Code: to respect local culture, avoid swimming in bikinis and trunks. Most of the people swim in T-shirts, legging or long shorts.
Wadi Shab hike and swim in its natural pools
Less than 30 MIN drive away from Bimmah Sinkhole we head to the famous Wadi Shab (Wadi Ash Shab)- a highlight of the day. For those of you who do not know what "wadi" means, it is an Arabic word widely used here in the Middle East to refer to the dry gorge, which occasionally may have a water stream running through it.
Wadi Shab is arguably the most visited gorge with water-filled natural pools in Oman. It doesn't come as a surprise considering the beauty of the place and the refreshing swimming attraction it has to offer.
Moreover, Wadi Shab is easily accessible within 2 hours drive from Muscat. Getting to Wadi Shab is straightforward. Just type "Wadi Shab Parking" in Google maps and it will take you to the parking spot.
Related reads: check my blog post about Wadi Shab hike to pools in Oman for all the details on how to visit Wadi Shab.
Things to know about visiting Wadi Shab
To enter wadi Shab you must take a 2-minute boat ride for 1 OMR per person. The boats operate daily from 8 AM to 5 PM. You can easily locate them under the huge bridge where the parking lot is. Make sure you get back on time, otherwise you will have to swim back to the parking lot.
You must hike for around 40 minutes to get to the first pool. The hike is easy and very scenic featuring high canyons, boulders, green small farms, and water streams along the way.
Note, that there is lots of water along the way. Thus, wear footwear suitable for passing through the water streams. Don't wear slippers as it wouldn't be safe to hike over the slippery rocks. Light sneakers or swimming shoes with rubber soles are the best.
There are 4 pools in total. The first one is shallow and suitable for non-swimmers while the rest require decent swimming skills in order to be able to stay in the water a long time (you can't reach the ground).
There is also a hidden waterfall in the secret cave- you should attempt getting there if you are a good and confident swimmer who can keep yourself afloat for at least 15 MIN!
Wadi Shab is extremely popular and gets quite crowded. The best time to visit Wadi Shab to avoid crowds is early in the morning on a weekday. However, don't get put off by the number of visitors as the experience is fantastic.
 Once you are at the first pool, you can access the 2nd and 3rd pools by swimming, while the 4th pool is hidden above the so-called hidden waterfall. Note that to get to the hidden waterfall you will have to swim through a narrow crack in the rock. There is only enough space to pass your head above the water. Even people who do not suffer from claustrophobia find it slightly intimidating at first.
After an adventurous day at Wadi Shab, we continue our journey to the sleepy port town of Sur. It takes approximately 40 minutes to drive from Wadi Shab to Sur. Since we reached it after sunset, we are going to wake up early to spend some time exploring this atmospheric little town.
Places to stay in Sur
The closest accommodation to Wadi Shab (unless you are camping), is located 40 min drive in port town Sur. It only has a limited number of hotels. Here are my top picks:
Sur Grand Hotel– The best-rated in the area, 6 KM from the center of Sur featuring nice beach views directly from the window!
Sur Plaza Hotel- we stayed here-another decent option for the area with old-school film vibes and clean and spacious rooms. The hotel is located inland but has a pool for those who want to refresh on a hot day. The food served at the restaurant was average though.
DAY 3: Morning in Sur- Wadi Bani Khalid- Wahiba Sands (overnight at desert camp)
Driving distance: approx. 170 KM
Total driving time: approx. 2 HRS 30
Midway stops: Wadi Bani Khalid
If you are travelling for a week, before heading up North of Oman, I recommend stopping by at Wadi Bani Khalid and definitely spending some time in the desert and staying overnight at a desert camp in Sharqiya (Wahiba) Sands.
Wake up for sunrise in the peaceful town of Sur
Sur is an atmospheric small port town on the East Coast of Oman. Once an important trade hub, and fishing harbor, Sur is home to Oman's only surviving dhow boats factory.
I loved this chilled tucked-away town. Sur is characterized by an array of white and pastel hue architecture lined up over the quiet seafront promenade. Al Ayjah Lighthouse is the main landmark beautifully set against the Gulf of Oman on one side and white-washed houses with a misty mountain backdrop on the other. If you have little time, make sure at least to pay a short visit to the lighthouse and enjoy the calming morning views.
If you have more time to spare, climb the Al Ayjah watchtower for incredible elevated Sur views. Finally, stroll along the peaceful corniche or beach together with locals. It is indeed a very relaxing place to start a day before hitting the road.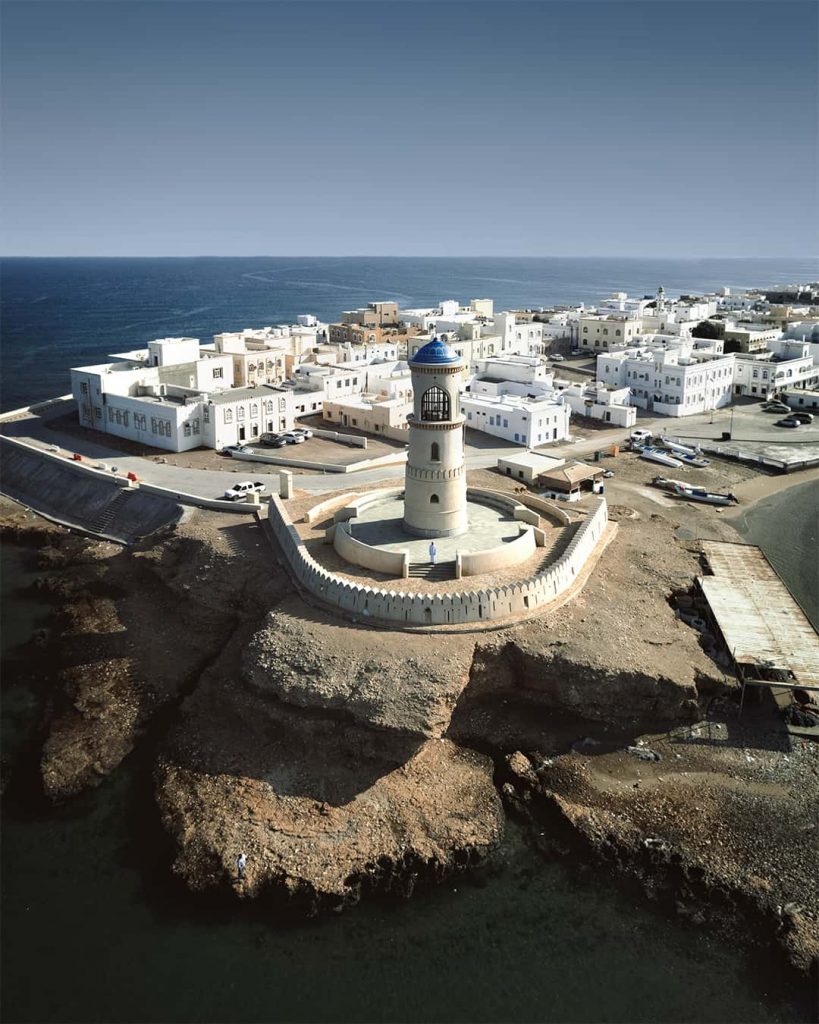 Splash waters at Wadi Bani Khalid
1.5 HRS (130 KM) drive from Sur, Wadi Bani Khalid is another spectacular oasis and a must-visit place in Oman. Mostly popular among locals, Wadi Bani Khalid offers some beautiful natural pools to take a dip and cool down on a hot day.
At the entrance to the Wadi Bani Khalid, you will find a few manmade pools, where most of the locals with families like to splash around. But don't stop here as there are better swimming options- natural pools- tucked away deeper into the wadi. To find them, continue further following Muqal Cave signs until you reach more isolated ravines with also fewer people.
Ride the dunes of Wahiba Sands
Located approximately 1-hour drive from Wadi Bani Khalid, Sharqiyah Sands (or the Wahiba Sands) are known to be the most accessible desert area in Oman. The rolling dunes of Wahiba define the edge of the vast desert of the Arabian Empty Quarter (parts of which belong to UAE and Saudi Arabia).
If you have never been to the desert, make sure to spend some time in this magical place.
Camp under the stars in the Arabian desert
To enter the desert, you must have a 4WD and know how to drive in loose sands. Therefore, an easier way is to spend a night in one of the Wahiba Sands desert camps that provide 4WD pickup and offer an array of other fun desert activities.
One of the best places for spending a night in a luxurious One Thousand Nights way is at Desert Nights Camp, which also offers a complimentary sunset ride over the dunes.
Best things to do at Wahiba Sands Desert
Immersing in the vastness of the desert is one of the most magical experiences. From watching the sun rising over the rolling dunes to adrenalin-fueled dune bashing and counting down billions of stars lighting up the pitch-black sky- all these are classics of the desert experiences not to be missed.
I recommend exploring the sand dunes on foot and just letting the warm sand fill up your shoes. Especially if you love photography, you may want to take your time chasing that perfect sand wave to be captured. Be mindful though when walking in the desert. Although less likely during the day, but there is a chance of seeing a desert snake or a scorpion.
DAY 4: Wahiba Sands- Al Hamra- Misfat Al Abriyeen (overnight in Misfat)
Total driving distance: approx. 250 KM
Total driving time: approx. 3 HRS 20 MIN
Midway stops: Ibra, abandoned Al Hamra village
The next leg of the road trip is a long drive into Al Hajar mountains and some of the most charming historical parts of Oman. Getting lost in the maze of old streets of ancient mud villages and conquering some of the majestic Omani forts and castles is what we going to do for the next couple of days.
A short stop at Ibra
Getting to the Northern part of Oman will be quite a long drive. Therefore, if you want to break your trip, a short detour would be stopping at the Old Quarter of Ibra town. There you will find ruins of historic buildings, which for some may be a fascinating sight.
Another quite interesting landmark of Ibra is the 50-domes mosque Jami Al-Hamoda Mosque. Its unique architecture is almost exactly the same as the 4-dome oldest mosque in the UAE, Fujeirah. The only difference is the Omani one is 12 times bigger. I couldn't help it comparing the dome rooftop with one of those whipped cream tarts- it is just so unusual and adorable.
Explore abandoned mud-village of Al Hamra
On the way to our final destination for the day- Misfat al Abriyeen, we shortly stopped at the old part of Al Hamra town. A district of partially abandoned mud-houses is settled at the foot of the mountains and tucked away behind the lush palm tree oasis.
Surprisingly, some of these houses are still inhabited by people while many of them are also completely abandoned. Al Hamra reminded me of Yemeni village- mysterious little streets and multistorey clay buildings with colorful doors. Some of the houses are in better shape than others. In general, the ruins of Al Hamra village are around 700-1000 years old.
Wandering around this mysterious place is easily one of the best unique things to do in Oman!
If you have extra time, make sure to visit Bait al Safah- a living Omani history museum. I read about it online, and it seems to be an interesting place to learn more about traditional Omani life (will have to come back for it next time).
Photography Tip: As the sun is about to set, the village glows in the golden light- this is by far the best time to photograph Al Hamra's abandoned village.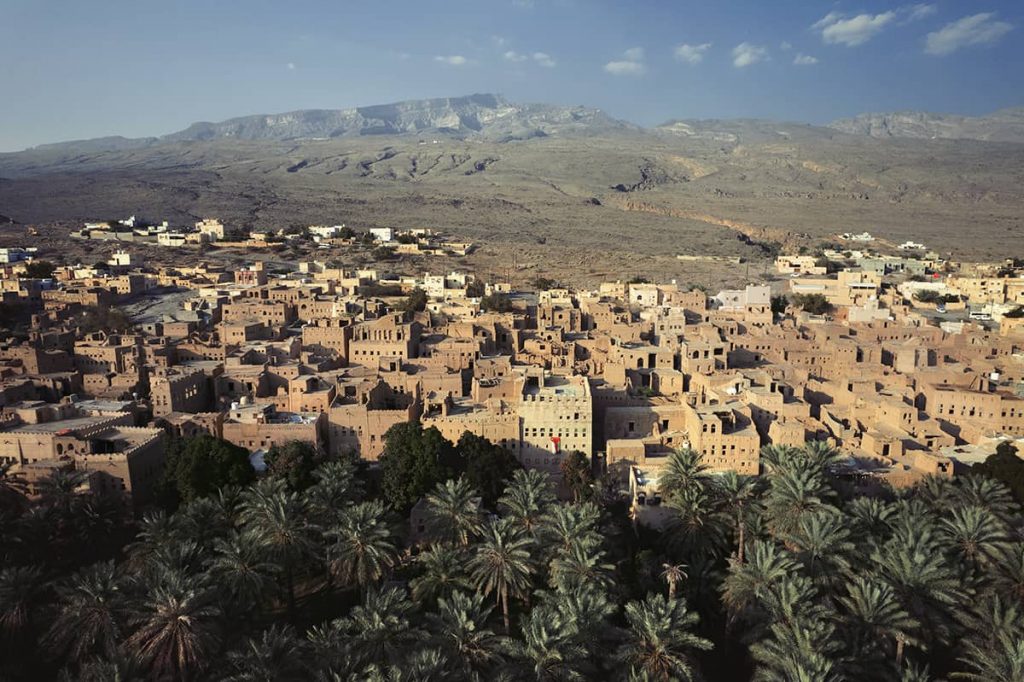 Important Note: Be careful when going inside abandoned houses, especially climbing staircases and rooftops as those are crumbling down and may be dangerous.
GPS location: The Ruins In Al Hamra Oman  N23º 07' 14.542" E57º 16' 59.048".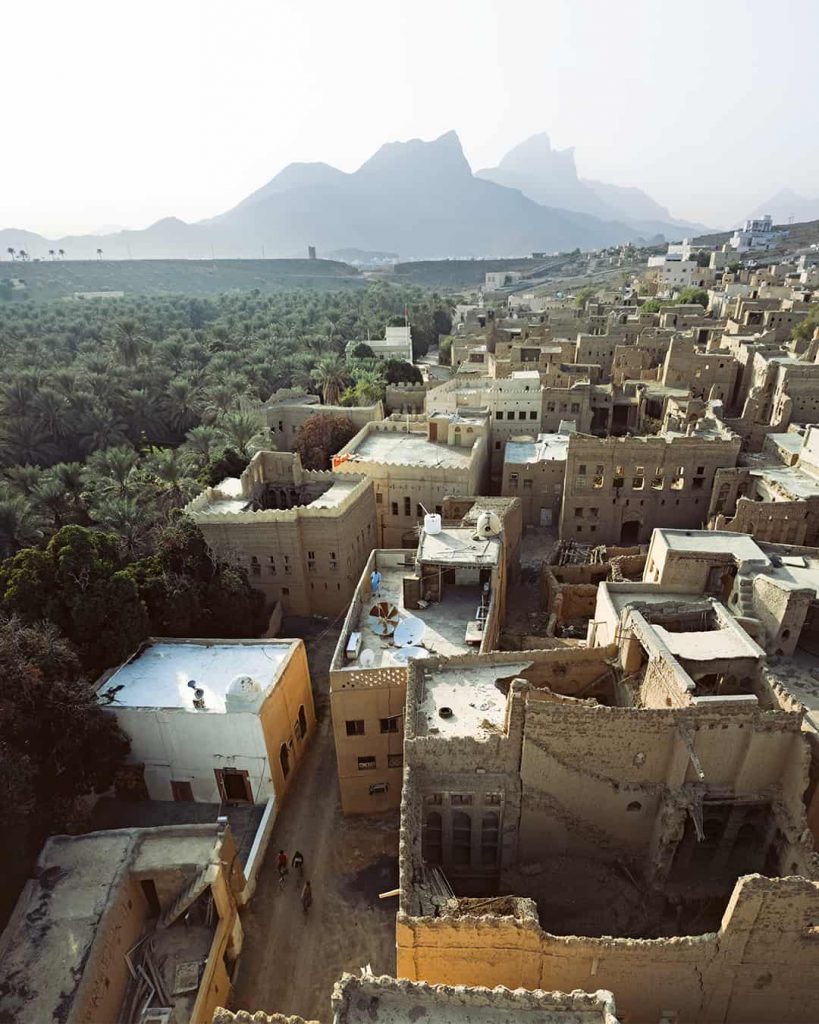 Travel back in time to the mountain mud village of Misfat Al Abriyeen
Set at 1000 meters above sea level atop of massive rocks of Al Hajar mountains, Misfat Al Abriyeen, is said to be one of the most beautiful ancient villages in Oman.
Seamlessly blending into the backdrop of the mountain, Misfat offers a quiet hideaway and unparalleled authentic experience. By far, this was my favorite overnight stop!
If you wondering where did we stay, Misfat's community is currently welcoming visitors for overnight stays in several traditional Omani mud-houses.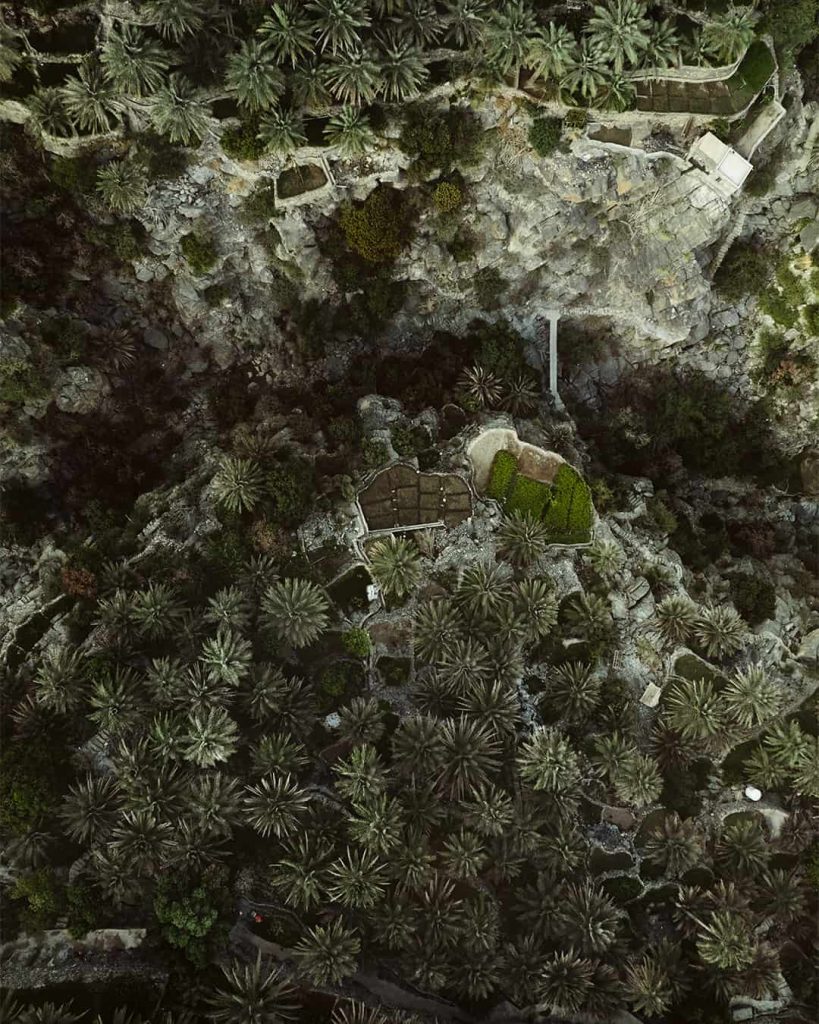 Things to do in Misfat Al Abriyeen
1. Explore the maze of alleys of Misfat village
Since Misfat is a pedestrian-only village, it is a perfect place to slowly explore its shaded old streets and hidden corners. Once at the heart of the village, you will feel as if you have traveled back in time.
2. Follow Falaj- and the ancient irrigation system
Explore the green terraces at the bottom of the village by following Falaj. There are signs of yellow red and white flags marking the walking routes around the terraces that you can follow. Even if you do not stick to the marking, the area is small enough, and surely you will manage to find your way around and back to the village.
3. Drink specialty coffee at the terrace of Halwa Coffee shop.
Misfat has perfectly adapted to tourism and even introduced a fantastic quality coffee for its visitors. There are a couple of specialty coffee shops that serve delicious hot and cold coffee (including traditional Omani qahwa). One place that really stands out due to its fantastic location is Halwa Coffee. Situated in an old building atop a high rock, Halwa Coffee shop has an amazing terrace with views overlooking part of the new and old Misfat and green mountain terraces.
4. Go on a hike following the marked trails in the area
Misfat is a great base for a few moderate hikes into the Hajar mountains. You can find trail maps at the visitor's center. One of the popular routes that you can take is the W9 trail, which will lead you along the wadi. All the trails are marked with red white and yellow flag labels.
Parking and Logistics Tip: Misfat is a tiny pedestrian-only village. Therefore, leave your car at the designated parking area for visitors, and explore the town on foot. Note that if you are spending a night in Misfat, you can't drive to the homestay doors. You will have to leave heavy suitcases in your car and pack only essentials for the day.
Where to stay in Misfat
I have followed recommendations by other travelers and chose to stay at Misfah Old House– a traditional homestay with welcoming Omani owners. Now I am joining the tribe and highly recommend staying at this place as well.
Not only did we have a chance to stay in an authentic Omani room, but also had a fantastic dinner and breakfast served on a delightful terrace overlooking the oasis and mountains. The food in Misfat Old House was a homemade mix of meat, fish, and vegetarian options. It was by far one of the best places we ate in Oman (on a side note, on this trip we struggled to find good places to eat).
DAY 5: Morning in Misfat- Jibreen Castle-Birkat Al Mouz– Nizwa (overnight in Nizwa)
Total driving distance: approx. 120 KM
Total driving time: approx. 1 HR 50 MIN
Recommended stops: Bahla Fort, Jabreen Castle, Birkat Al Mouz
Waking up to the ripple of Falaj in a centuries-old Omani house, then having a heartful breakfast in an airy terrace, followed by a slow stroll across the lush terraces and wandering the maze of shaded narrow streets of  Misfat town was a perfect start to the day.
The next exciting stop was ancient forts and castles which are plentiful in Oman. Each of them is impressive in its own way. Therefore, you can spend hours wandering around the courtyards and maze of rooms.
Stop at Bahla Military Fort
30 minutes drive from Misfat Al Abriyeen, UNESCO-listed Bahla Fort is a worthy stop that is also out of tourist radar compared to the more famous neighbor – Nizwa Fort. Dating back to the Middle Ages, it is one of the oldest and biggest military forts in Oman.
We admired Bahla Fort from the outside, as we had time to visit only one fort for the day. We chose to explore even less visited Jibreen Castle, which is 15 minutes drive from Bahla Fort.
Get acquainted with royalty living by visiting Jibreen Castle
Built in 1675 by Imam Bil-Arab Bin Sultan, Jibreen (Jabrin) Castle is one of the best-preserved whimsical battlements. Formerly an important learning center of astrology, medicine, and Islamic law, today Jibreen is welcoming curious travelers to wander its impressive exteriors and interiors.
We spent around 2-3 hours admiring the ever-changing shadow and light combinations casting over the beautiful castle's architecture. We were enjoying ourselves taking pictures and checking out some of the 50 rooms inside the castle.
The minimalistic yet rich interiors with elaborately painted ceilings, old date store, and beautiful bird-eye views opening up from the latticed window courtyard on the rooftop of the castle- are some of the interesting features of this historical structure.
Opening Times: Daily, 7:30 AM- 10 PM.
Entrance Fee: 3 OMR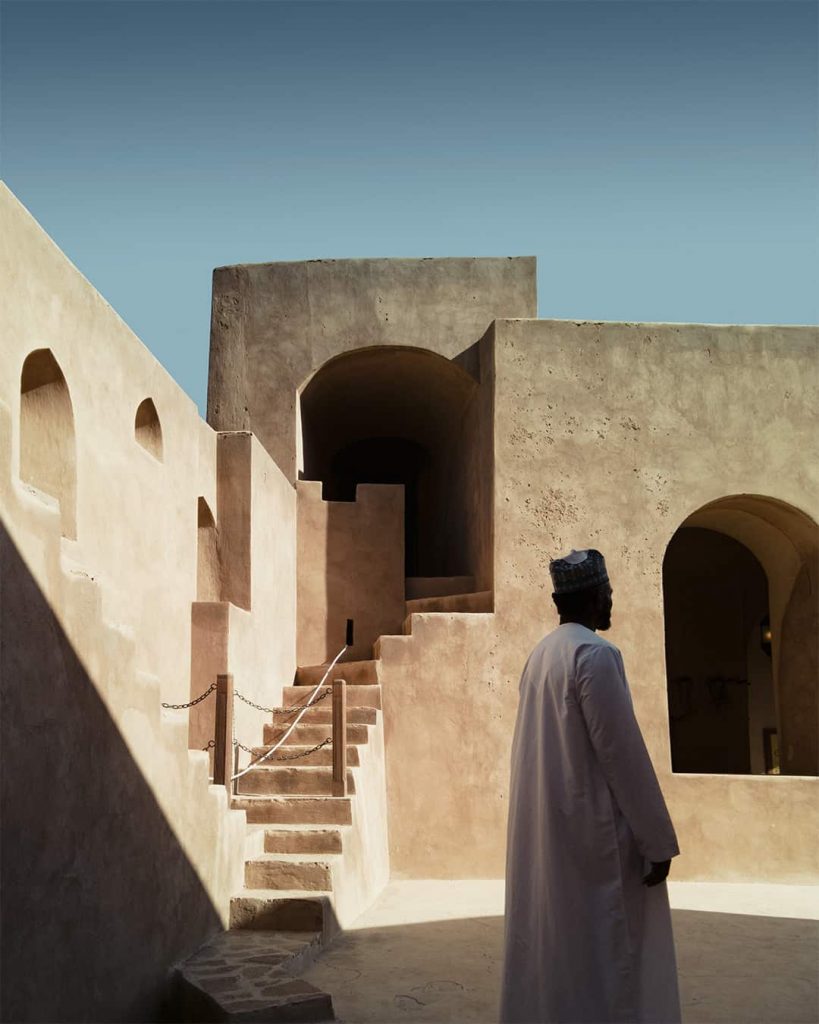 Watch the sunset at Birkat Al Mouz's abandoned watchtower
You may think that you had enough of the mud houses for the past couple of days, but I am so glad we made our way to Birkat Al Mouz- another fantastic completely off-the-beaten path abandoned village. Birkat Al Mouz ruins although often overlooked by tourists were one of my favorite spots on our Oman road trip.
It takes only 30 minutes to drive to Birkat al Mouz from Jibreen castle. We reached the mud village just before sunset. With not much time left to explore we rushed up to the ruins of an old watchtower. Panoramic views opening up from the top of the abandoned villages were incredible during sunset time. Since the positioning of Birkat Al Mouz is similar to Al Hamra, we got the best light painting of the settlement in rich orange hues.
Top Tip: There are 2 interesting old places to explore in Birkat Al Mouz. One of them is marked on Google Maps as Birkat Al Mouz Ruin and the other Harat Burj Al Maqaseer. The distance between them is only 300 meters. However, we arrived late and only had time to explore the ruins. Make sure to leave more time to check them both out.
Bait Al Sabah Heritage Inn & Cafe– set between the ruins of ages-old Birkat Al Mouz mud village, this is a renovated cozy hotel with a fantastic coffee shop and a beautiful terrace overlooking the mysterious abandoned town.
DAY 6: Nizwa- Nakhal Fort- Muscat (overnight in Muscat)
Total driving distance: approx. 275 KM
Total driving time: approx. 3 HRS 15 MIN
Recommended stops: Nakhal Fort (or full Rustaq Loop).
Today is the time to explore the most famous fort in the country- Nozwa Fort and then head back to Muscat. Depending on your energy and appetite for visiting more forts, on the way to Muscat, I recommend a detour to Nakhal fort. If you have a serious thing for forts, you can even do a Rustaq Loop (more on that later).
Nizwa, Oman
Nizwa town is known to be one of the most popular places to visit in Northern Oman. Backed by craggy Hajar mountains, its prominent landmarks and highlights are a cylindrical-shaped Nizwa Fort with adjoining vibrant Souq.
Although quite well-known, Nizwa ended up being a nice addition to our Oman road trip route. It wasn't as busy as expected from a popular location, which made our experience very pleasant.
Conquer Nizwa Fort- the most famous fortification in Oman
Nizwa Fort- the country's most famous fort-was built back in the 17th century. Its main function back in the day was to protect Nizwa's position on a major trade route.
You can easily spend a few hours wandering inside the Fort and enjoying its architecture. Thus, set aside enough time- at least 2 hours.
A common perk of each castle and fort, with no exception for Nizwa Fort, is beautiful bird-eye views of the surrounding town and mountains.
Opening hours: Saturdays to Thursdays: 8 am – 8 pm / Fridays: 8 am – 11:30 am, 1:30 pm – 8:00 pm.
Entrace fees: 5 OMR ($13 USD) for adults / 3 OMR ($8 USD) for children.
Wander Oman's oldest market- Nizwa Souq
Just outside Nizwa Fort, you will find a vibrant marketplace filled with all sorts of handicrafts, antiques, and textiles with traditional pottery being the main sales item. There is also a section selling a variety of dates, and even livestock of goats every Friday. Nizwa Souq is Oman's oldest market and is a fantastic place for buying souvenirs or just taking fun travel pictures.
Tip for souvenirs and takeaways: I recommend trying Omani halwa- my absolute Omani sweet made from dates. Also, if you love the smell of Oman- this is a perfect place to buy some frankincense. Make sure you also pick up an incense burner.
Opening hours: Saturdays to Thursdays: 6 am – 1 pm, 4 pm – 10 pm / Fridays: 5 am – 11 am
Nakhal Fort and Rustaq Loop
On the way back to Muscat, if you are still craving more impressive Oman forts, make a detour to Nakhal Fort.
Nakhal Fort is less known than Nizwa but it is just as stunning. It also offers excellent views of Al Batinah Plains from the ramparts. Spare around an hour for visiting Nakhal fort.
Opening hours: Saturday to Thursday (9 am to 4 pm) and Friday (8 am to 11 am).
You can also extend your forts list and complete Rustaq Loop by adding two more of Oman's finest forts. One is Rustaq Fort which is 50 minutes west of Nakhla Fort in Rustaq town. Rustaq fort is one of the biggest and oldest fortifications in Oman. Needless to say, architecture is as always impressive.
Only 20 min east of Rustaq stands firm a military castle called Al-Hazm. Not as impressive from exteriors as its more photogenic neighbors, Al-Hazm is said to have one of the best expositions.
Top Tip: It could be a challenge to knock out 3 or 4 forts on a day trip (but it is possible). Budget at least 1-2 hours for each of them.
Where to Stay In Nizwa
DAY 7: MUSCAT
If you are flying out from Muscat, adding a relaxed day in the capital to finish your Oman trip is the best way to go.
Depending on your flight time, finish up your trip with some of the activities listed on Day 1.
Also read: To plan your time in the capital of Oman, refer to my detailed post about The best things to do in Muscat: 1-3 days itinerary
This was my suggested one-week Oman itinerary. I hope you will love it and will end up being just as awestruck and in love with Oman as I am!
Have more than a week for Oman? Fantastic! Below are my suggested extended routes for your Oman trip.
Extended Oman Road Trip Routes: Alternative 10-Day and 14-Day Itineraries for traveling in Oman
If you have some extra time on your sleeve, here are suggested itineraries to prolong your stay in Oman. Also, some of the must-visit places mentioned below require 4WD. Therefore, I would strongly recommend either hiring a 4-wheel ride either for the whole trip (note that car rentals are available in Muscat), or getting a driver from Nizwa for visiting those remote locations.
10-DAY Oman Itinerary
Here are 2 options for the suggested 10 days in Oman itinerary.
DAY 1-6: Same as above (day 6- overnight in Al Hamra, possibly skip Nakhal)
DAY 7: JEBEL SHAMS BALCONY HIKE (4WD required)
DAY 8: JEBEL AKDHAR (4WD required)
DAY 9: BALD AL SAYT AND WAKAN MOUNTAIN VILLAGES (4WD required)
DAY 10: MUSCAT
DAY 1-6: Same as above (overnight in Nakhal)
DAY 7: BALD AL SAYD AND WAKAN MOUNTAIN VILLAGES (overnight in Nakhal)
DAY 8-9: MUSANDAM (6 HRS drive from Muscat includes UAE border crossing, or 1 HR flight from Muscat)
DAY 10: MUSCAT
14-DAY Oman Itinerary Suggestion
DAY 1-6: Same as above (day 6- overnight in Al Hamra, possibly skip Nakhal)
DAY 7: JEBEL SHAMS BALCONY HIKE (4WD required)
DAY 8: BALD SAYT and WAKAN MOUNTAIN VILLAGES (4WD required)-NAKHAL
DAY 9-10: NAKHAL-JEBEL AKHDAR
DAY 11-13: JEBEL AKHDAR- MUSANDAM (6.5 HRS drive from Jebel Akhdar includes UAE border crossing or 1 HR flight from Muscat)
DAY 14: MUSCAT
DAY 1-6: Same as above (overnight in Nakhal)
DAY 7: JEBEL AKHDAR (4WD required)
DAY 8-11: MUSCAT- SALALAH -MUSCAT (1 HR flight from Muscat or 9 HRS drive from Muscat/11 HRS drive from Jebel Akhdar, 4WD required)
DAY 12-13: MUSCAT-MUSANDAM (6 HRS drive from Muscat includes UAE border crossing or 1 HR flight from Muscat)
DAY 14: MUSCAT
More about suggested alternative road trip locations in Oman
Jebel Shams Balcony Hike- Visit the Grand Canyon of Oman
Jebel Shams is the highest mountain peak in Oman reaching 3000 meters above sea level, located north of Al Hamra town. It is a fantastic place to experience nature and go on a hike scaling some of the highest altitudes in the country. The most well know easy-level hike suitable for beginners is Balcony Walk marked as a W6 trail.
The Jebel Shams Balcony walk is a 4km hike with elevation gain and loss of 200 meters, starting at 1700m and reaching up to 1900 m. Note that this one-way (return same way -total 8km) hike requires around 3-4 hours to complete. This hike offers beautiful views of the so-called Oman Grand Canyons.
Jebel Akhdar- the Green Mountain of Oman
The green mountain- Al Jebel Al Akhdar peaking at 2900 meters above sea level is part of the mighty Hajar mountain range. To drive the winding mountain road leading to the peak you must have a 4WD as it is not safe going in a regular car. Moreover, you will be stopped at the checkpoint at the bottom of the mountain to ensure you have the right car, otherwise, the security won't let you pass.
Jebel Akhdar features some of the most stunning mountain views in the country and is also home to a few finest luxury hotels if you want to treat yourself to an extraordinary staycation. Here are some of the most impressive ones:
Alila Jabal Akhdar: This 5-star luxury resort lies at the heart of the Al Hajar mountain range. Needless to say- it offers luxury at its highest level.
Anantara Al Jabal Al Akhdar Resort: The famous Anantara never disappoints. This is one of their most impressive resorts with mindblowing mountain views. If you are ready to splurge on a hotel – one of these two might be the best ones in all of Oman to do so!
Sahab Resort and Spa, Jabal Al Akhdar: A lower-priced but still high-end mountaintop hotel.
Top Tip 1: If you are staying at one of the luxury resorts in Jebel Al Alhdar, the hotel can organize your pick-up. This way you can visit green mountain without renting a 4WD!
Top Tip 2: Bring warm clothes- it gets quite chilly in the mountains even during the hotter months in Oman.
Mountain Villages: Bald Sayt and Wakan, Oman
Bald Sayt and Wakan are remote mountain villages located not far away from Misfat Al Abriyeen. Those traditional Omani villages are perfect for those of you craving a true off the beaten path experience.
Bald Sayt (Bilad Sayd) is even referred to as a Burano of Oman due to its colorful houses. While Wakan is famous for blooming apricot flowers (seasonal) which makes it adds a nice additional experience when visiting this village.
Note that none of the mountain villages have guesthouses. Thus, you would have to visit them on a day trip from Nakhal/AlRustaq area, or Al Hamra.
Important Note: Again, you will require a 4WD to reach the villages because roads are unpaved and bumpy. Moreover, those are narrow and steep mountain roads. Therefore, good driving skills are required. It is also possible to hire a driver from Nizwa, Al Hamra, or Nakhal.
Musandam Peninsula- The Fjords of the Middle East
Musandam is an exclave governorate of Oman located up North of the United Arab Emirates border. That being said, the Musandam Peninsula is completely separated from Oman's mainland by the UAE.
Khasab– the capital town of Musandam governorate is known to be one of the most beautiful places In Oman. The spectacular landscape of Musandam is often referred to as the Norway of the Middle East.
To reach Khasab town takes 6 hours drive from Muscat via UAE, or around 3 hours drive from Dubai, UAE. Alternatively, there are daily 1 HR flights from Muscat to Musandam.
RELATED READS: Planing on going from Dubai to Musandam? Here is my detailed Musandam Travel Guide which includes border procedures and the best things to do in Musandam for a day, two, or more. Click HERE to read it.
Salalah- The Tropics of the Middle East
Capital of the southern Dhofar province, Salalah is located at the Oman-Yemen border around 1,000km from Muscat. Salalah is a different world on its own best known for its monsoon (Khareef) season which totally transforms dry desert landscape into a green subtropical paradise.
Monsoons in Salalah start around June and last until late August. This time is considered to be the best for visiting Dhofar province. Therefore, if you happen to be traveling to Oman during the summer months, you must include Salalah in your itinerary.
The fastest way to get to Salalah is to jump into 1 HR flight from Muscat. Otherwise, driving from the capital takes around 9 HRS, and even longer if you are coming from the UAE.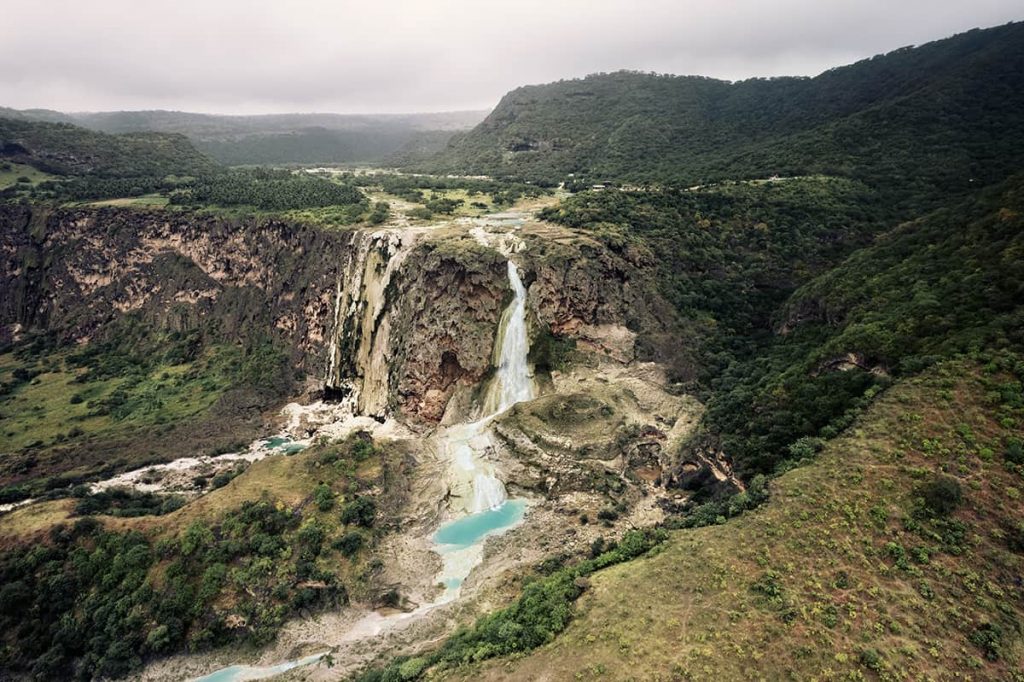 I hope you are enjoying my free travel guides & tips. If yes, please consider supporting my work by buying me a coffee so I can continue creating more useful content from my favorite coffee shop in town. Thanks!
Oman travel essentials & useful links
Here are links to essential travel resources and services I always use when organizing my trips.
Other Oman travel resources:
MY 7-DAY OMAN PHOTOGRAPHY GEAR