This 10 days South Italy itinerary starts in Naples and takes you to the Amalfi Coast, a slice of the Basilicata region, and then all the way down to Calabria along the Tyrrhenian coast. Following my Naples to Calabria road trip itinerary you will get to see some of the most intriguing and beautiful places in the south of Italy: breathtaking coasts, quaint seaside villages, and mountain towns, as well as the charismatic city of Naples. 
The South Italy road trip route I share in this post was a part of the combined 3-week Sicily and Calabria itinerary. That being said, I have lined up this particular South Italy 10 days itinerary as a loop drive starting and ending in Naples. Note that you can easily add a few more days and make it a two-week South Italy itinerary, or even longer (I give some tips on that too).
Moreover, I broke down our road trip in South Italy day-by-day and provided driving distances and times, what to see along the way in Basilicata, Calabria, and Campania, where to stay in each region, as well as Naples to Calabria itinerary map and other handy travel tips.
Disclaimer: This post contains affiliate links, which means that I may earn a commission if you make a purchase by clicking a link (at no extra cost to you). This helps to keep my blog running and growing by creating more awesome free content for you.
10-days Southern Italy Itinerary Overview
DAY 1: Naples Airport- Amalfi Coast
DAY 2-3: Amalfi Coast (including the Path of the Gods hike)
Day 4: Castelmezzano & Pietrapertosa (or Matera)
DAY 5: Scilla
DAY 6-7: Tropea (with side trips to Pizzo and Grotto dell Arcomagno)
DAY 8-10: Naples (with a day trip to Procida Island)
Total distance: 1150 KM.
Total time on the road: 14 HRS 15 MIN
Picked up a rental car at Naples Airport.
When we traveled: end of April-beginning of May.
Depending on the time you have for your southern Italy trip, you may add or remove some of the destinations:
If you have two weeks in South Italy after visiting Castelmezzano, you can easily add a day or two in Matera in Basilicata.
If you have been to Amalfi Coast before, you can swap it with a two-day stop in the coastal town of Maratea.
If you have three weeks in the South of Italy, you may either take a ferry to Sicily (that is precisely what we did) or add a week in Puglia region.
Check my 2-week in Sicily road trip itinerary.
Quick links to plan your southern Italy road trip
Book a car for a South of Italy road trip
Best places to stay on this Naples-Calabria itinerary
Book a ferry on Amalfi Coast
Top-rated guided tours for this South Italy itinerary
Renting a car for your Naples to Calabria road trip in Southern Italy
I have booked the rental car at Naples International Airport (NAP) using the Discovercars search aggregator. For the past few years, I have been finding the best car rental rates with Discovercars, although I also crosscheck with the Rentalcars before reserving my ride.
Read more in my post about the process and tips for Renting a car at Naples Airport and driving in Southern Italy.
Tip for returning the rental car: for this particular southern Italy itinerary, I suggest dropping off your rental car earlier once you reach Naples and are ready to explore the city. You do not need a car in the city of Naples. Returning the vehicle to the rental agent at Naples Airport is easy. To get to the city from the airport, you can take an Alibus shuttle for 5 euros per person. Alibus will bring you back to the center of Naples in Piazza Garibaldi in less than 20 minutes.
Naples to Calabria road trip: Southern Italy itinerary day-by-day
DAY 1-3: Naples to Amalfi Coast (3 nights in Amalfi Coast)
Driving distance: 50 KM.
Driving time: 1 hour
Stay: Agerola.
We kickstarted our Southern Italy road trip by picking up a rental car at Naples airport and immediately hitting the windy roads to the Amalfi Coast.
With only 3 nights and 2 full days on Amalfi Coast, I'd recommend picking accommodation in one place and doing sightseeing from there.
Moreover, do not aim to see all the towns on the Amalfi coast in 3 days. That being said, pick a couple of places to explore slowly and minimize the time of commuting. Traffic on Amalfi Coast is hectic, roads are windy and difficult to drive. In fact, you may want to park your car and use public transport instead but this also depends on where you stay and where and how early or late you go. Parking is a huge headache on Amalfi Coast, and usually, the earlier you come to a town, the bigger your chances are to find a parking spot.
Things to do on Amalfi Coast for 2 full days
Our main goal when visiting Amalfi Coast on this 10-day South Italy road trip was to hike the Path of Gods (Sentiero degli Dei in Italian), and then explore a couple of the seaside towns- Amalfi, Atrani, Positano, and a hilltop town of Ravello. This combination made the most sense logistically.
We visited Amalfi Coast at the end of April and it was already very busy, making me realize that in Amalfi the tourist season starts much earlier than elsewhere in Italy. However, the water in the sea on the Amalfi Coast at the end of April was still quite chilly. Thus beaches were empty and we were the only people who swam at that time.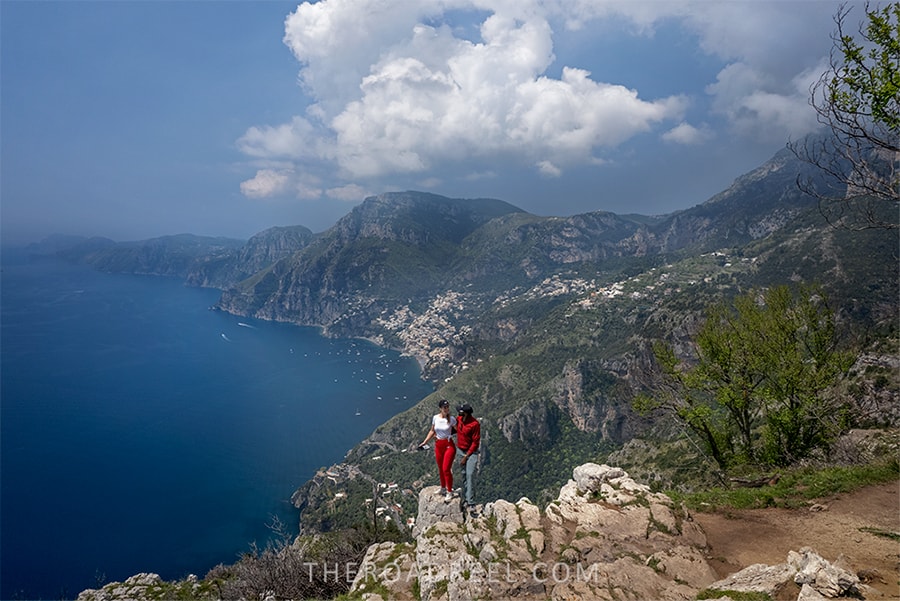 Hiking the Path of the Gods (Sentiero degli Dei) on the Amalfi Coast
One of the best things to do on the Amalfi Coast for active travelers who love untouched nature is to hike the gorgeous trails that crisscross the Lattari mountain range. If you are a hiking enthusiast, make sure to add the Path of the Gods trail to your southern Italy itinerary.
Although it is the most well-known hike on the Amalfi Coast, the Path of Gods was a perfect activity that did not involve crowds (we hiked on a weekday at the end of April). The Sentiero degli Dei hike is a relatively easy and extremely rewarding trek with stunning views over the Amalfi Coast, Sorento Peninsula, as well as Positano, and Praiano towns seen in the distance. Logistics to get to the trailhead, however, requires a bit of planning.
That being said, I have written a very detailed guide on How to hike the Path of Gods on the Amalfi Coast.
Read my guide to plan your Sentiero degli Dei hike on the Amalfi Coast. (published soon)  
Visiting Positano
A great way to shoot two birds with one bullet (metaphorically speaking) is to combine the Path of the Gods hike with a visit to Positano- the postcard child of the Amalfi Coast. Since the Path of the Gods trail can be extended (or ended by taking a bus) all the way down to Positano, it makes perfect sense to combine a visit to this mega-popular seaside town for a few hours immediately after the hike.
To me personally, Positano was disappointing. The postcard pictures I have seen before did not live up to reality, and I did not get the hype. Positano was way too touristy for my liking. My impression of Positano ended up with the conclusion that it is much more beautiful from afar than it is in person.
If you are not dying to take all the possible Instagrammable pictures in Positano or tan on a crowded Positano beach, then seeing this famous coastal town for two to three hours perhaps will be enough.
Top tip: for a better experience, I recommend taking a ferry to your next destination. It is reasonably priced (10 EUR from Positano to Amalfi) and allows one to see the beautiful Amalfi Coast from a sea perspective.
Visiting Amalfi and Atrani
On the second day on Amalfi Coast, I suggest visiting the seaside towns of Amalfi and Atrani which are situated 10 minutes by walk from one another. You can also drive or take a bus up (recommended) to Ravello situated in the hills above Artrani.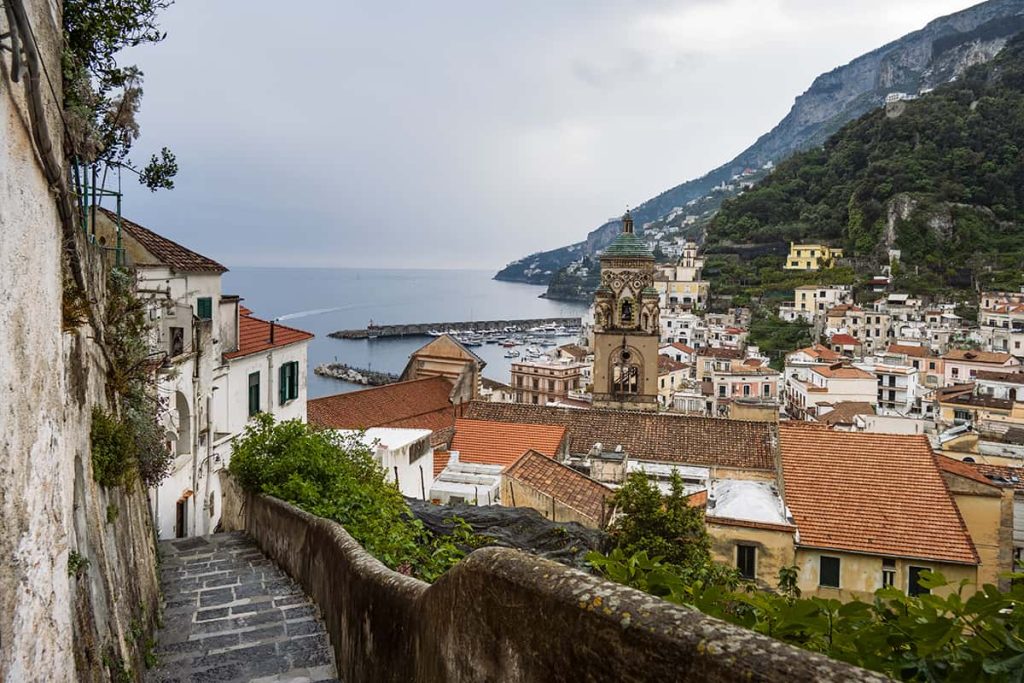 Amalfi sharing the same name as the coast is the other very famous and touristy town. Naturally, the central piazza where the beautiful Duomo Cattedrale di Sant'Andrea is located is packed with visitors from 10 AM till late. To escape the crowds, arrive early and then venture behind the Duomo and explore the labyrinth of very narrow alleyways. You will be surprised how many wonderful corners and even hidden viewpoints you will come across in Amalfi town.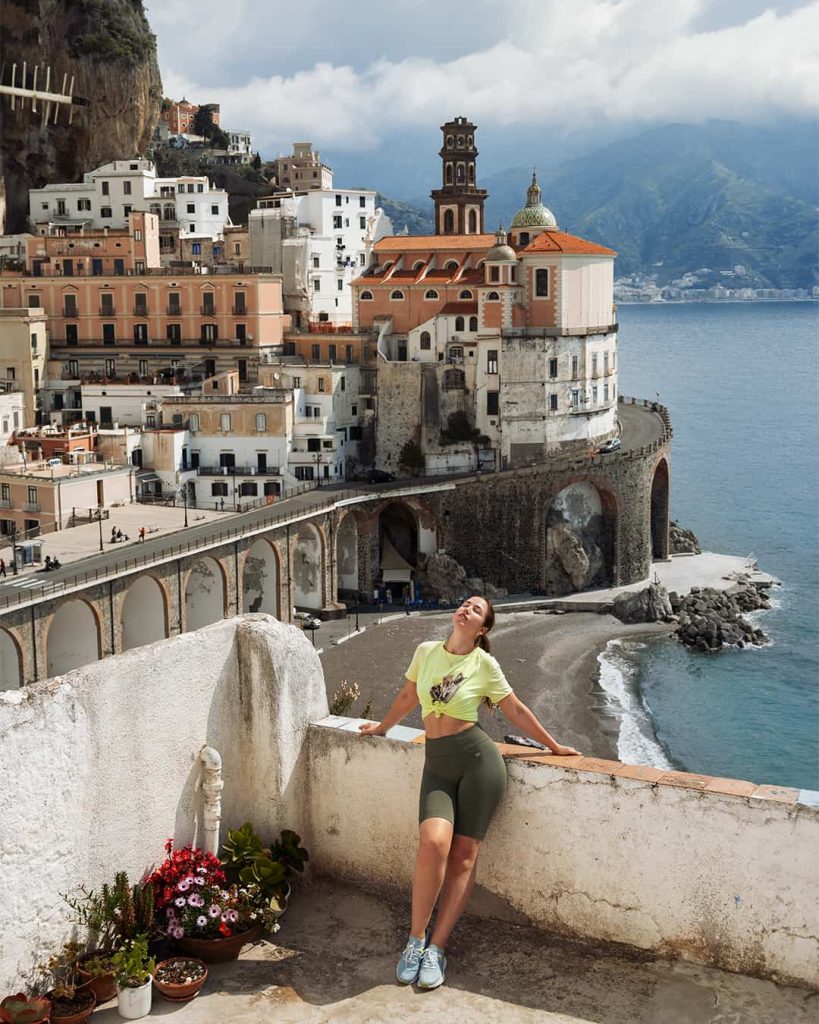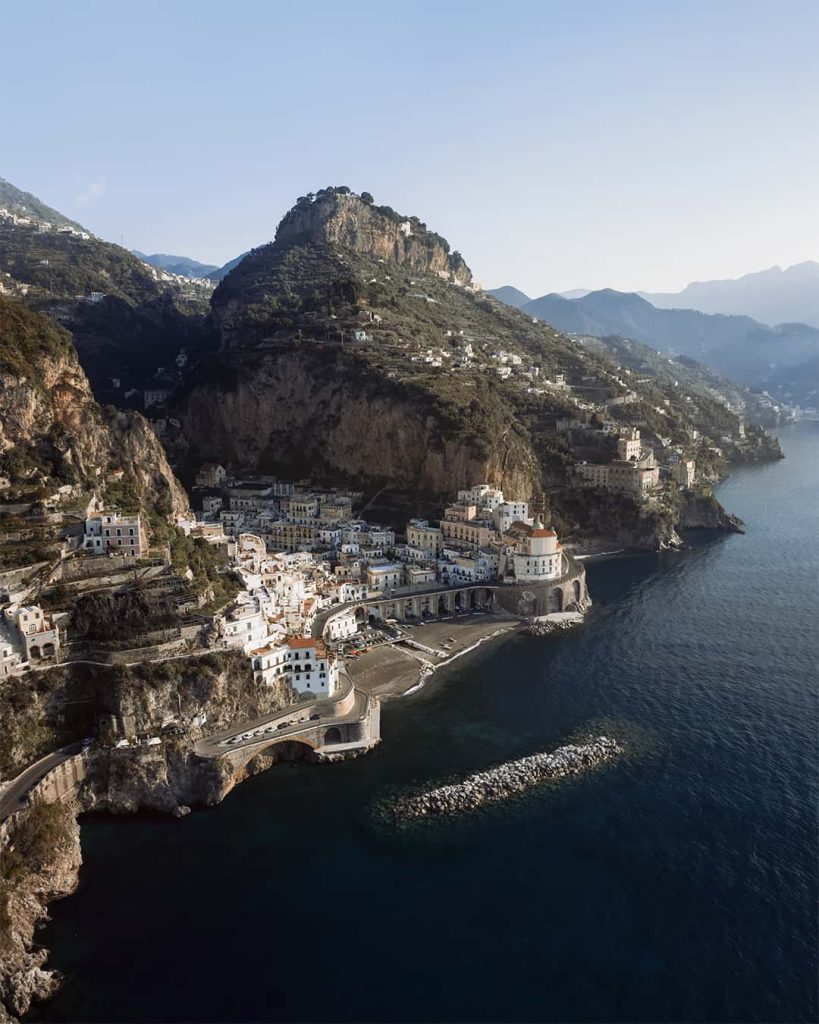 And yet, it is the tiny town of Atrani that conquered my heart. Located just a 10-minute walk through the tunnel that links it to Amalfi, this atmospheric pastel-colored seaside town nestled between the cliffs and the sea somehow managed to escape the crowds. If only I had more time than 2 days on the Amalfi Coast, I would not have minded spending there the whole day letting the time pass by doing nothing.
Plan your visit with my Quick Guide to Atrani- the most beautiful town on Amalfi Coast (published soon).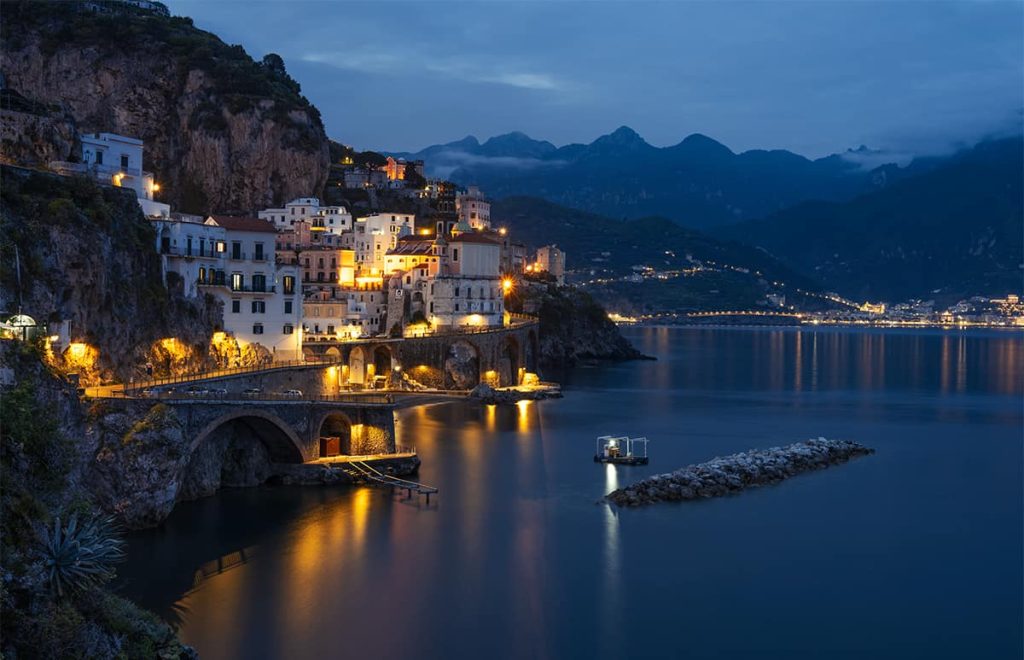 Visiting Ravello
Ravello is a picturesque hilltop town famous for the sweeping views over the Amalfi Coast that open up from the impressive 13th-century Villa Rufolo as well as the magnificent terraced gardens of Villa Cimbrione. Ravello is also renowned for its music festivals and is thus nicknamed "the town of music".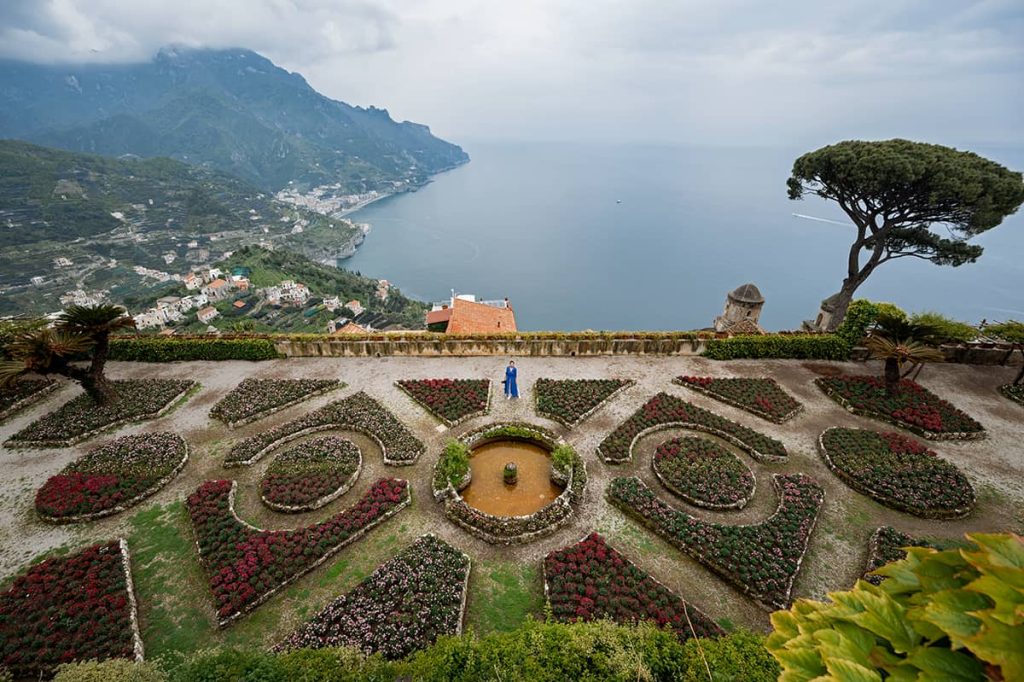 Note that Ravello is the other postcard child of the Amalfi Coast and, hence a very popular tourist destination. That being said, prepare for the crowds if you are visiting during midday day. Ravello is situated on the hill close to Atrani. Thus visiting Ravello makes a sensible addition to your second day on Amalfi Coast. You can even hike up to Ravello from Atrani (or vice versa). Note that the path is steep and it will take at least an hour.
Parking tip: we drove to Amalfi and parked in a covered parking Atrani (Parcheggio Luna Rossa). It costs 5 EUR per hour and 35 euros overnight.
Where to stay on Amalfi Coast
We chose to stay in Agerola mountain village as it was a perfect base for our hike. Also, the town is situated 30 minutes from Amalfi town by car and it was convenient for us to visit. If you do not want to drive the windy roads, a SITA bus from Agerola to Amalfi runs on a regular basis.
Below are my recommendations on where to stay in Amalfi Coast for different budgets:
Note that accommodation on the coast, especially in Positano and Amalfi, is significantly more expensive. However, some of the smaller towns like Atrani, Minori, Maiori, and Cetara could be a great budget-friendly (relatively speaking) option if you prefer to stay close to the sea. Otherwise, Agerola is a perfect location to stay in on Amalfi Coast without breaking the bank. Agerola is a very quiet village high in the hills with fantastic views over the coast and also has several great well-priced family-run restaurants.
Where to eat in Agerola
DAY 4 of South Italy itinerary: CASTELMEZZANO & PIETRAPERTOSA
I almost feel guilty writing about Castelmezzano and Pietrapertosa which are true hidden gems in Italy. But the truth is, these two magical twin mountain towns deserve to be visited on any South Italy road trip.
Castelmezzano & Pietrapertosa are located in Lucanian Dolomites in the Basilicata region of Italy, 2.5 hours drive inland from Naples. The pastel-shaded red-roofed stone houses glued on the slopes of the craggy peaks look absolutely surreal. When you see Castelmezzano and Pietrapertosa you may think you are dreaming.
And if the stunning beauty of the two towns is not enough to be admired from the ground, you can also zipline between Castelmezzano and Pietrapertosa on the Flight of the Angel (il Volo dell'Angelo).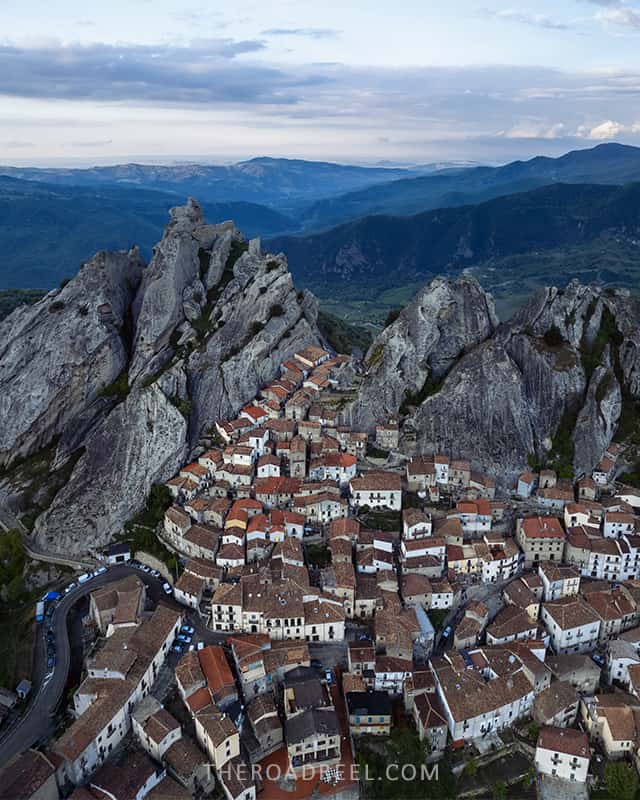 Where to stay in Castelmezzano or Pietrapertosa
We stayed in Casa delle Stelle $$- cozy studio apartment in Castelmezzano. And I promise it has the best views of the town looking straight at those magical houses clinging to the slopes of the rock.
Hotel Dolomiti $$- a modern and stylish hotel in Castelmezzano also offers a spa. Their packages include options to book a room with breakfast, breakfast, and dinner, or a full board with breakfast, lunch, and dinner. An onsite bar is available, and pets are allowed too.
B&B L'Arenaria $$- A beautiful stone house in Pietrapertossa perched on top of the Lucanian Dolomites. The beautiful garden with the view is the selling point. The host is accommodations and breakfast is also included.
Read my Complete guide to visiting Castelmezzano & Pietrapertosa in Basilicata, Italy
Matera- an optional stop on this South Italy itinerary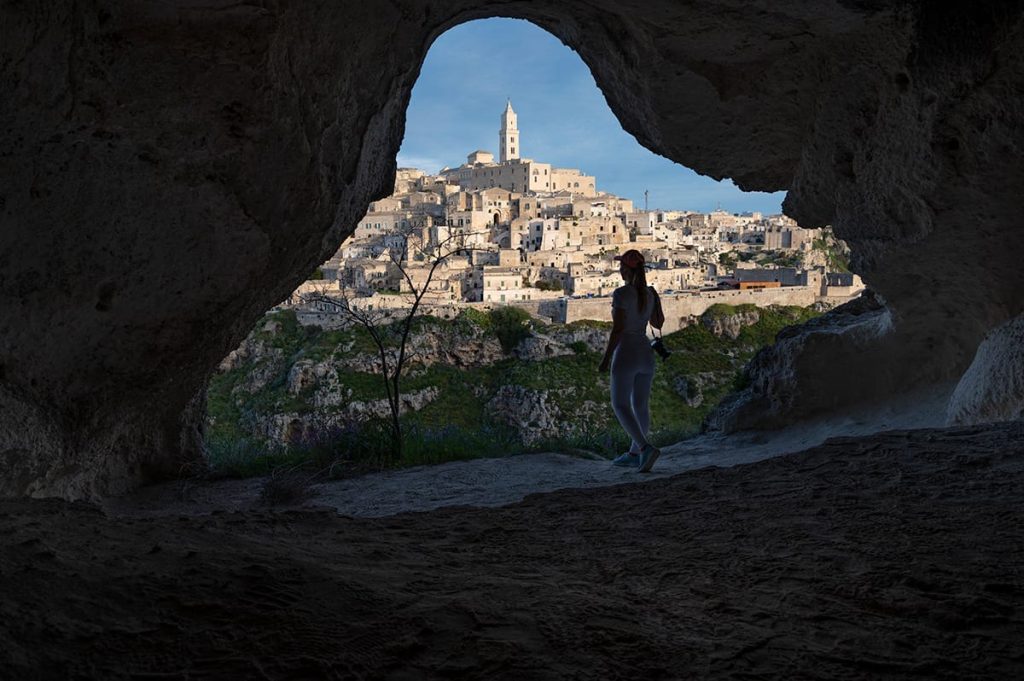 If time permits, you should add Matera to your southern Italy road trip itinerary. Matera is located only 1 hour and 15 minutes drive from Castelmezzano.
A capital of culture of 2019, Matera is one of the oldest inhabited settlements in the country. Ironically, it used to be one of the poorest towns in Italy. It was even called a shame of Italy because of its Sassi di Matera- the cave dwellings that used to be inhabited by people who shared their homes with animals and lived under very unsanitary conditions.
The situation changed in the 1950s however, and now Matera has completely transformed, preserving the ancient cave dwellings many of which transformed into boutique accommodations. The town of Matera is beautiful and increasingly growing in popularity. Yet Matera is a worthy addition if you have more than 10 days on your South Italy road trip.
Read my full guide to visiting Sassi di Matera: the cave city in Basilicata (published soon).
Where to stay in Matera
Umbra Idris Holiday Home $$- we stayed in this historical cave house at the very heart of Matera Caveoso, in front of one of the main Rupestrian churches. The accommodation is gorgeous, fully equipped for a comfortable stay, has a small garden where you can have breakfast or vine in the evening, and is also very well priced for such a key location.
Travel Tip: if you have to pick, I suggest visiting Castelmezzano and Pietrapertosa. The twin towns are so unique, you won't see anything like them anywhere in Italy. Also, Castelmezzano and Pietrapertosa are still hidden gems that you want to visit before they become famous like Matera.
DAY 5 of Southern Italy itinerary: SCILLA, Calabria
Driving distance: 417 KM.
Driving time: 4 HRS 30 MIN.
Stay in U Catoiu.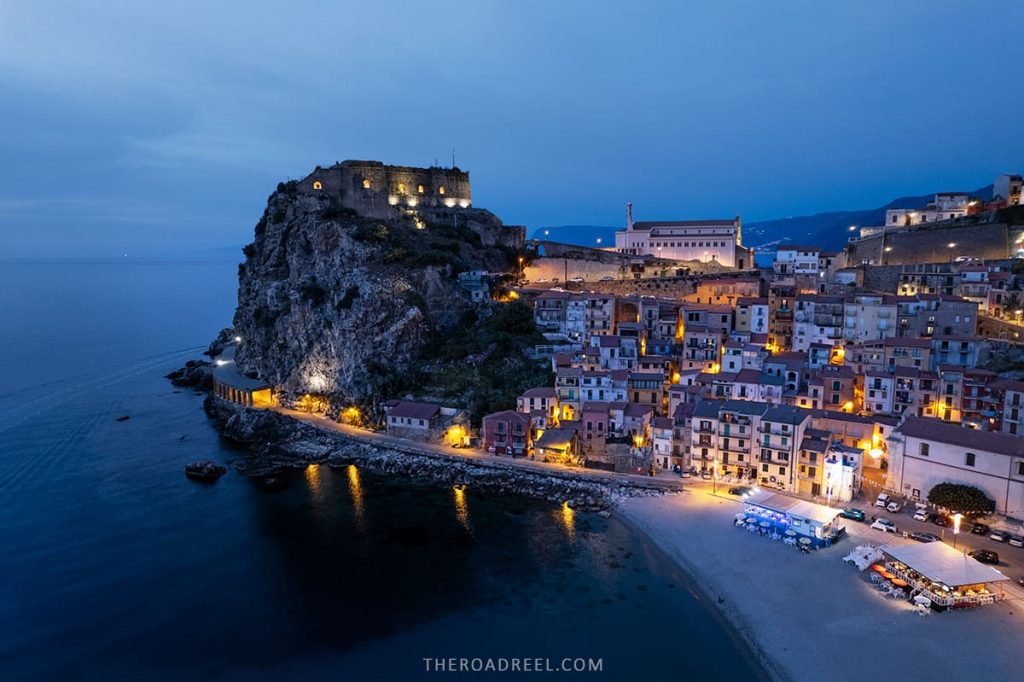 Continue your South Italy road trip to the less-explored Calabria region. The long drive brings you all the way down to the magical seaside town of Scilla located at the tip of the toe of Italy's boot.
Scilla with its ancient fishing harbor Chianalea was a highlight on our Naples to Calabria itinerary. Located on gorgeous Costa Viola (the Violet coast), Scilla is called "the Venice of the South", although not exactly like the actual Venice but unique in its own way.
The painter's brush-worthy Chianalea di Scilla district characterized by pastel houses springing out of the shimmering waters dotted with blue wooden gozzo boats, is a perfect place to contemplate (just like the locals do). Meanwhile, separated from Chianalea by the Castelo Ruffo perched atop of rocky promontory, the Spiaggia di Scilla is a wonderful beach to spend the afternoon in the sun.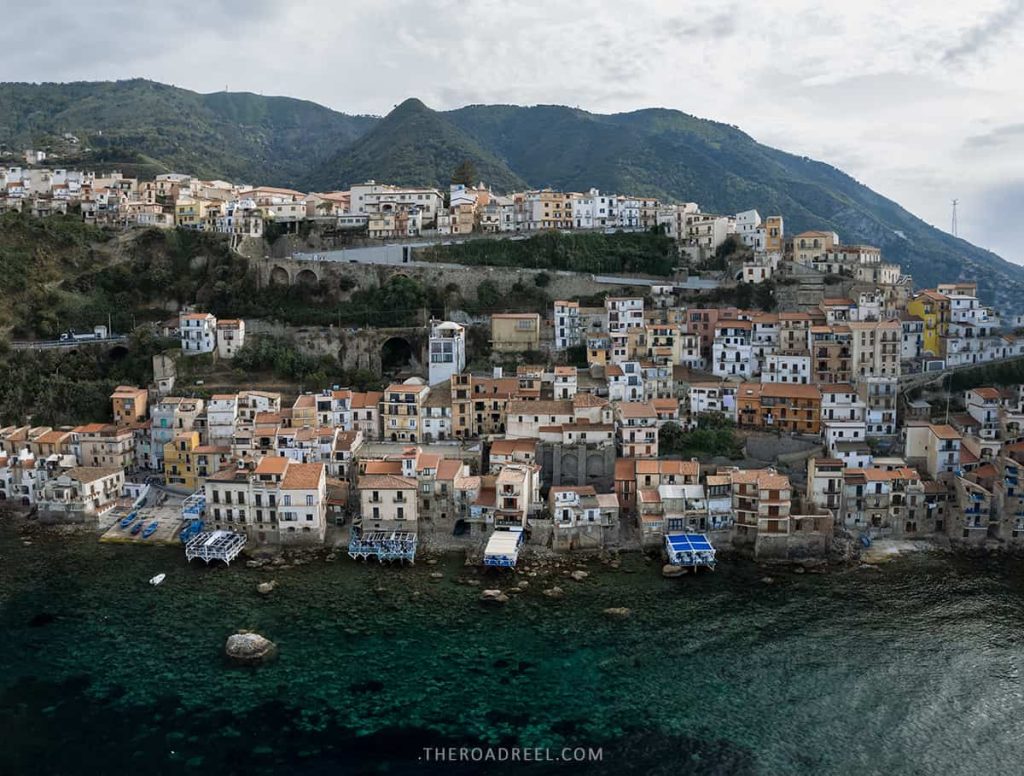 Millenium-old sword fishing tradition is still alive in Scilla. That being said, swordfish panini is a specialty you cannot miss if you are a pescatarian.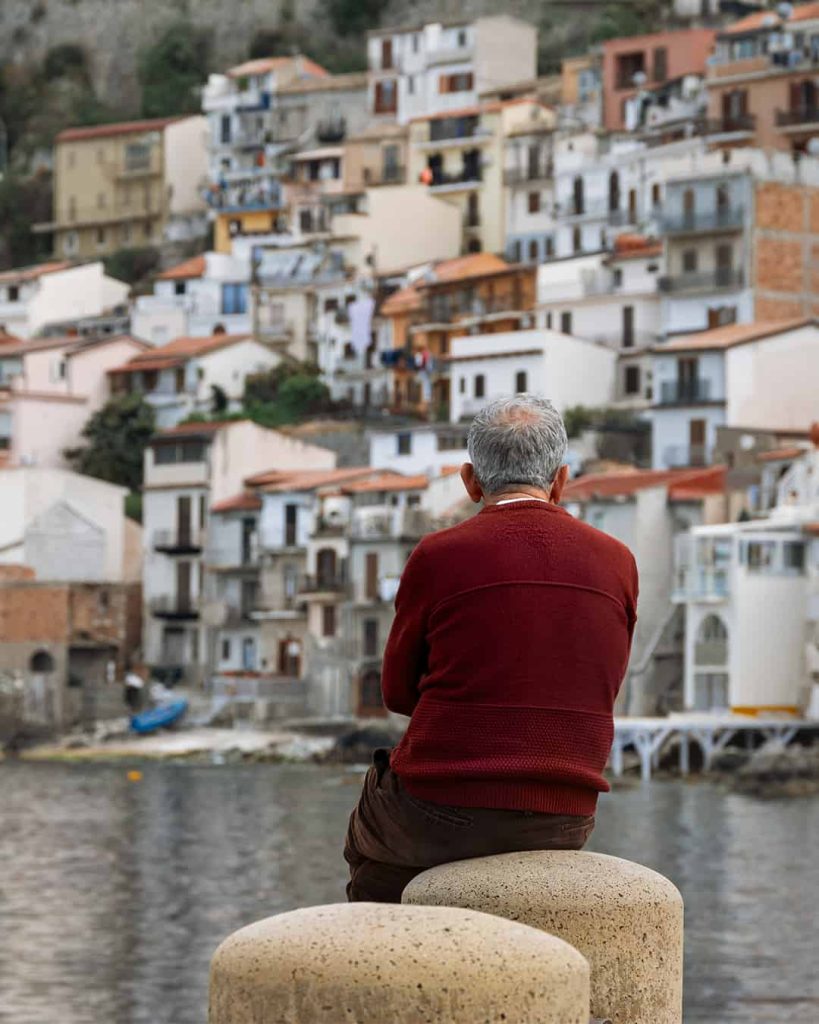 Where to stay in Scilla
For the most romantic option choose Chianalea and stay in one of the houses above the water. Yet, for easy parking, the Marina Grande district might be a more convenient choice. Here are my top picks for Scilla hotels and holiday homes:
U Catoiu $$- my favorite choice- located in the Chianalea fishing district this is a very atmospheric and unique fully equipped apartment in a historical stone house with a balcony right above the water in Chianalea. It also offers free canoes and parking on site
B&B La Filanda $$- we stayed here. Located steps away from Spiaggia di Scilla, this bed, and breakfast offers some rooms with a terrace (we got one), a filling Italian breakfast, and convenient free parking.
Loft Costa Viola Scilla $$- secluded right on the shores of Costa Viola, this two-bedroom loft type of house is perfect for an escape vacation. (must have a car to reach it)
Where to eat in Scilla
Street Good-a low-key family-run eatery in the Marina Grande district serves amazing swordfish sandwiches. They only have a few places to sit on the street but you can also do takeaway.
Find out why you should add the seaside town of Scilla to your Calabria itinerary by reading my Guide to visiting Scilla and Chianalea in Calabria, Italy.
Also read my Super handy trips for traveling in Calabria, Italy
DAY 6-7 of South Italy itinerary: TROPEA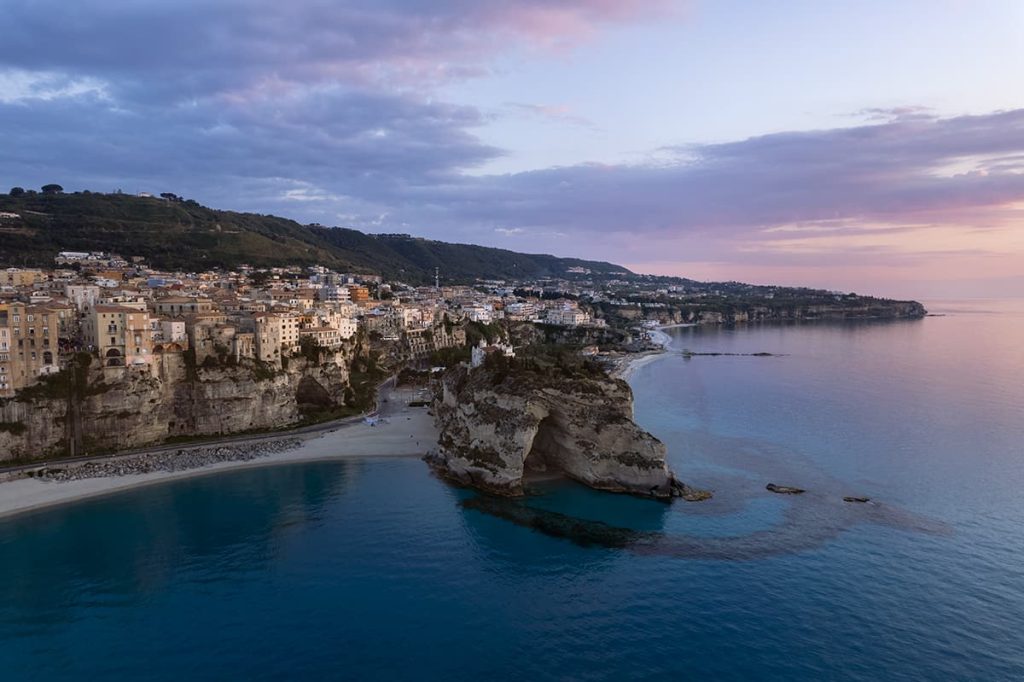 Tropea is an unmissable coastal town on your Calabria itinerary. Nicknamed the Pearl of Calabria, Tropea got my attention primarily because of its weathered colorful houses "growing" out of the rock. Turns out Tropea is the ultimate summer holiday destination for many locals in the Calabria region.
Situated on the Coast of the Gods (Costa degli Dei)- a magnificent stretch of the 55 km coastline along the Tyrrhenian Sea, Tropea boasts a fantastic white sand beach bathed by crystal clear turquoise waters. I am inclined to say that it is much better than the beaches on the more popular Amalfi Coast.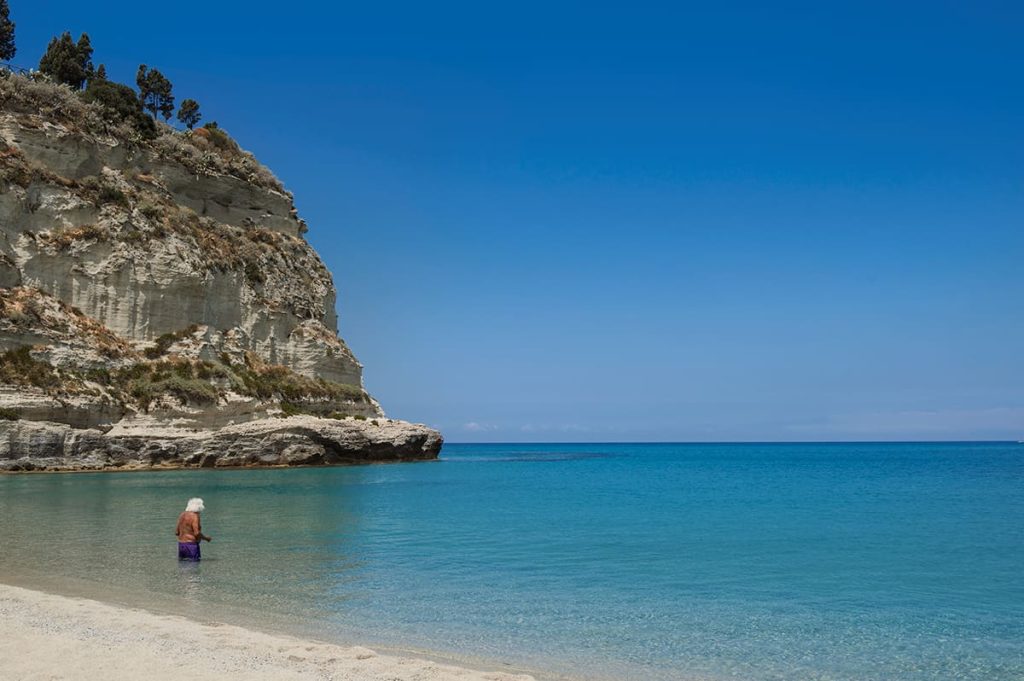 Moreover, Tropea is also a great base for at least two days (preferably longer) to visit the nearby Capo Vaticano-a natural wonder of a rugged 7km coastline where you can escape civilization by scrambling down to one of the secluded bays.
I visited Tropea at the beginning of May and it was perfect. There were very few early holidaymakers, thus the Tropea's Rotonda beach was half empty. The water although slightly chilly, was already suitable to swim on a sunny day in Calabria.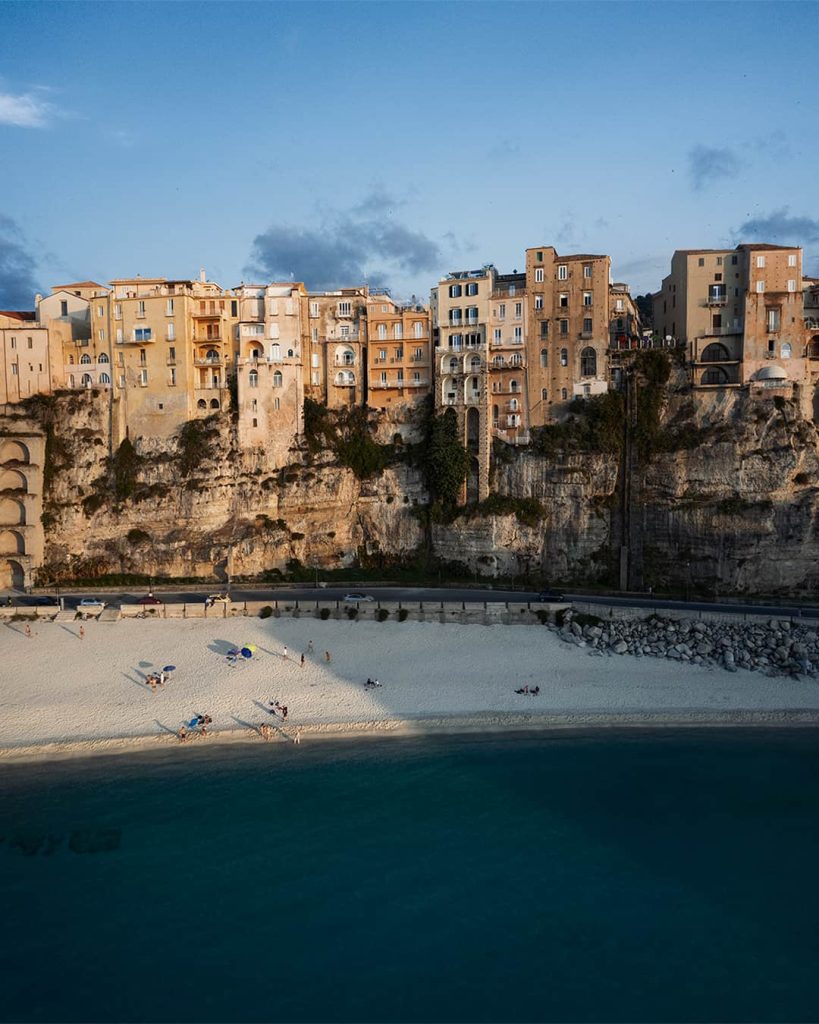 Where to stay in Tropea, Calabria
La Dolce Vita a Tropea $$$- in the heart of the old town this accommodation offers rooms with terraces or balconies overlooking the beautiful Tropea beaches. Perfect for a romantic stay. Private parking and superb breakfast are also included.
La Terrazze $$-set in a historic 18th-century building, this B&B in the centro storico of Tropea features a nice rooftop terrace. Rooms, 1-bedroom or 2-bedroom apartments are available for rent.
Rosa dei Venti Accommodation $– a studio apartment with a spacious balcony is located outside Tropea city center but is perfect for the ones who drive as you do not need to worry about parking. We stayed here for a couple of nights and it took under 10 minutes to drive to Tropea old town. The train station is also only a 5-minute walk.
Where to eat in Tropea
Ristorante Pizzeria Il Convivo– tucked away from the main tourist track this family-run restaurant serves amazing local dishes and wonderful pizzas. If you are pescatarian, tuna pizza with red onion or pasta with shrimp and pistachio are great choices.
To find out more about Tropea, read my guide to 10 best things to do in Tropea: the Pearl of Calabria.
DAY 8-10 of South Italy itinerary: NAPLES & PROCIDA ISLAND
The final part of your Naples to Calabria road trip is dedicated to visiting the wonderful city of Napoli, Italy.
While driving from Tropea to Naples is a long affair, the trip can be broken down by adding a couple of short stops in Pizzo near Tropea and/or Grotto dell'Arcomagno on the northern coast of Calabria region.
Stop in Pizzo, Calabria, Italy
Pizzo is a coastal town located a 30-minute drive up north of Tropea and is a great pit stop for an hour or two, even if it is solely for indulging a heavenly tartufo ("trufle") dessert.
Tartufo di Pizzo is an incredibly delicious ice cream ball filled with melting chocolate and coated with a layer of cocoa powder or dark chocolate. Pizzo in Calabria is known as the birthplace of the tartufo di Pizzo dessert. Aside from sweets, Pizzo is a pretty historical coastal town where you can spend a few relaxed hours.
Stop at Grotto dell'Arcomagno
The other worthy stop on this Calabria road trip is Grotto dell'Arcomagno. It is a natural wonder located on the northern coast of Calabria. A beautiful arched grotto is hidden near the seaside town of Saint Nicola Archella, which is situated a little bit more than halfway between Tropea and Naples. It is only 30 minutes extra drive if you add a detour to Grotto dell'Arcomagno on your way from Calabria to Naples.
Note that from Spiaggia di Saint Nichola Archella beach you will have to follow a short but rocky path down to reach the arch. It is also now paid to access the hidden beach (3 euros per person)- the reason is to maintain the place. Grotto dell'Arcomagno is beautiful but it does get crowded during the busy summer months when locals flock to the seaside.
Visiting Naples, Italy
With a reputation of being dirty, laud and chaotic Naples is a charismatic city that is often misunderstood. But spend a day or two in this raw capital of Campania and I promise that you will fall in love.
Napoli is a soulful city with a peculiar feel, unlike any other city in Italy. The uniqueness of Naples lies within its contrasts and contradictions that can be revealed layer by layer through daily life, and the intriguing traces of the past that date back to antiquity.
That said, Napoli is not only known as the birthplace of pizza, but it is also a culturally rich city with its historic center listed as UNESCO World Heritage Site. Filled with baroque churches, imposing palazzi and castles, as well as some of the best museums and vibrant old streets, great affordable restaurants, and pizzerias, it is not hard to see why Naples should be on any south Italy itinerary.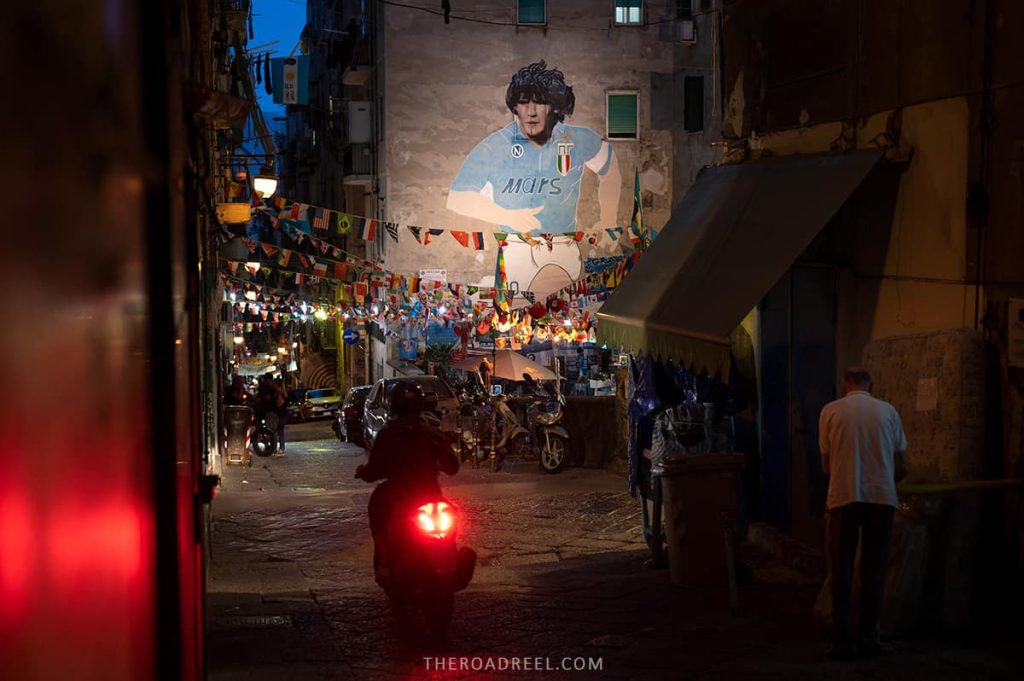 I have been to Naples several times and the city slowly grows on me becoming more familiar and cosier. I am not a big city lover but Naples just has something magnetic that always brings me back. I encourage you to dedicate at least 2 full days in Naples to your South Italy itinerary. 
If you also want to take a day trip to one of the famous historical sites such as Pompei or Heracleum, or hike the crater of Vesuvius you can easily do so. 
TIP: The day is packed and things to do in Naples may be allocated between 1.5 half days, while the remaining half-day could be dedicated to a side trip outside Naples.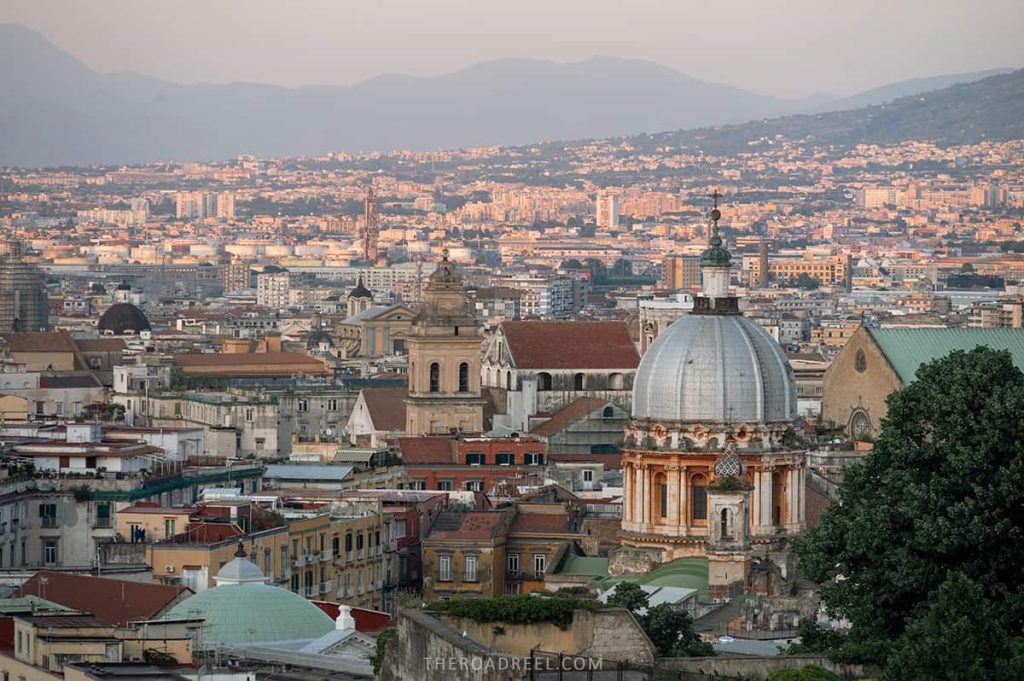 A half-day trip to Procida island, Italy
If the fast-paced Naples gets a little too hectic you can always jump on the hydrofoil (a fast ferry) and in less than one hour escapes the city to the nearby Procida Island for at least half a day. Procida with its candy-colored Marina Corricella harbour is an extremely photogenic and unique island on the Bay of Naples. Selected as a capital of culture in 2022, the colorful petite island of Procida became known internationally, yet it is still a little less visited with its famous sister islands of Ischia and Capri.
 Find out more about how to visit Pocida from Naples in my Procida travel guide.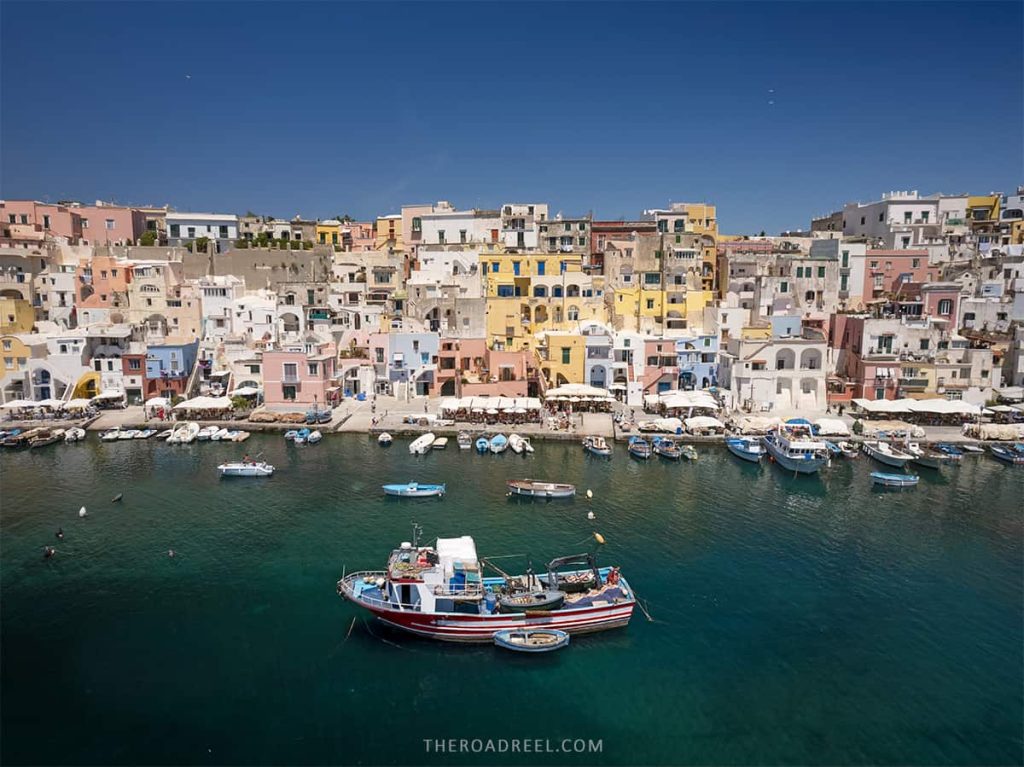 Where to stay in Naples
If you only have a day in Naples, I strongly recommend staying centrally. Naples is a sprawling city when you look at the map, but most of the tourist attractions of Naples are clustered around the historical center. With limited time in mind, Centro Storico would be the best choice to stay steps away from places to visit.
Grand Hotel Santa Lucia $$$$- overlooking the Bay of Naples, this luxury hotel is set in the early 20th-century property and offers a fusion of luxury and modern amenities. A rich breakfast buffet is included in the rate.
Relais della Porta $$-$$$- centrally located on Via Toledo Street, this hotel is within walking distance of many main attractions in Naples. It features a beautiful frescoed ceiling, great breakfast is also included.
La Casa Sul Nilo $$- a complex of apartments of different sizes that can host up to 5 people. Accommodation is located at the very heart of Naples, 300 meters from San Gregorio Armeno Street.
Heart of Naples $- a perfect budget option located close to Garibaldi Central station and just a 10-minute walk from central Naples, this minimalistic, newly renovated hotel offers a comfy stay with Netflix, Amazon Prime, and delicious Italian breakfast in the nearby café.
Also check my post Where to stay in Naples Italy: 10 best areas and hotels where I overview the best Napoli neighborhoods and those to avoid.
Where to eat in Naples
Antica Pizzeria Port Alba– the oldest pizzeria in Naples located in the historic center of Naples. More options and food tips are in my Naples guide (refer to the links below).
Suggested add-ons to this South Italy itinerary
If you have more days to spend in the south of Italy or would like to make some changes to the itinerary, my further recommendations are the following:
Maratea– a beautiful coastal town and the only one that belongs to the Basilicata region. Impossible to miss is a huge marble statue of Jesus Christ situated at the highest point overlooking the village. Maratea is relatively unknown to foreign visitors and seems to stay suspended in time. It is worth a night or two to relax at its rocky beaches, or get active hiking the surrounding hills.
Cilento Coast– an overlooked brother of Amalfi Coast with equal natural beauty that can be an even better choice due to few crowds, fraction of the cost, and much better beaches, many of which are awarded by FEE due to the quality of water. Cilento is situated on the southern side of the province of Salerno, Campania region. The most populated, yet still tiny, town is Agropoli known for its archaeological treasures and Aragonese castle. Paestum may interest those who like exploring Greek ruins. While the other pretty coastal town to take note of is Santa Maria di Castellabate– home to a Marine Protected area and numerous unique beaches. Finally, Cilento National Park (Parco Nazionale del Cilento e Vallo di Diano) will strike your attention if you love hiking.
Driving in South Italy
Apart from Naples and Amalfi coast, driving in the South of Italy is straightforward and easy. There is not too much traffic on the remote roads and the quality of the roads is mostly good. Note, that I did not venture to the mountain towns of Calabria on this trip. The latter is known for being windy and not in the best shape. Still, if you are traveling in spring, summer, or autumn, there is no concern about snowfall which could make roads in mountainous areas difficult to drive.
Read more about How to rent a car in Naples and tips for driving in Naples and southern Italy.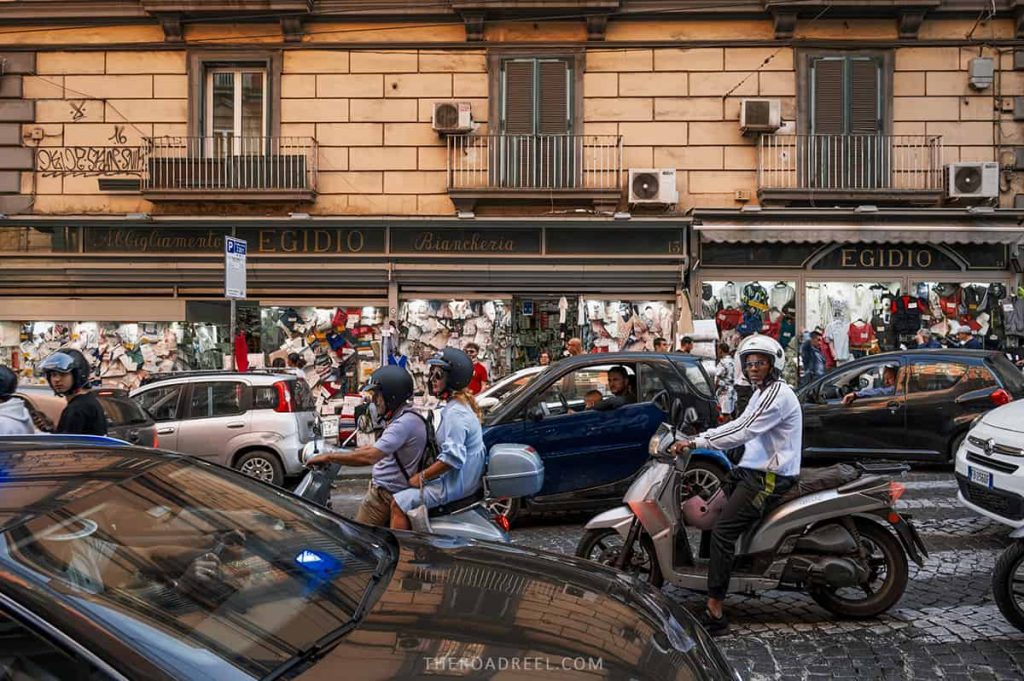 Parking in the South of Italy
Parking in south Italy, and generally in Italy can be a little bit of a challenge. Amalfi coast and Naples must be mentioned as the places with particularly complicated parking.
Yet I always managed to find free parking wherever I visited in south Italy (except for the coastal towns on the Amalfi coast where free parking is inexistent). On other occasions, I would leave the car at the accommodation and walk- this is the best option when you are visiting a small town where everything is close by.
Make sure that the B&B or homestay provides free parking, or ask to suggest the best parking options around.
Important to know is that practically all historic town centers in Italy are ZTL zones that are reserved for residents only and entering them will result in a hefty fine. Thus, when looking for where to park in Italy, avoid centro storico (historic center) and look out for ZTL zones (read more about the notorious ZTLs).
Good to know: free parking in Italy is marked with white lines, paid parking is marked with blue lines and reserved parking is marked with yellow lines painted on the road.
TIP: Always carry coins to pay for parking, or download Easypark app to pay online.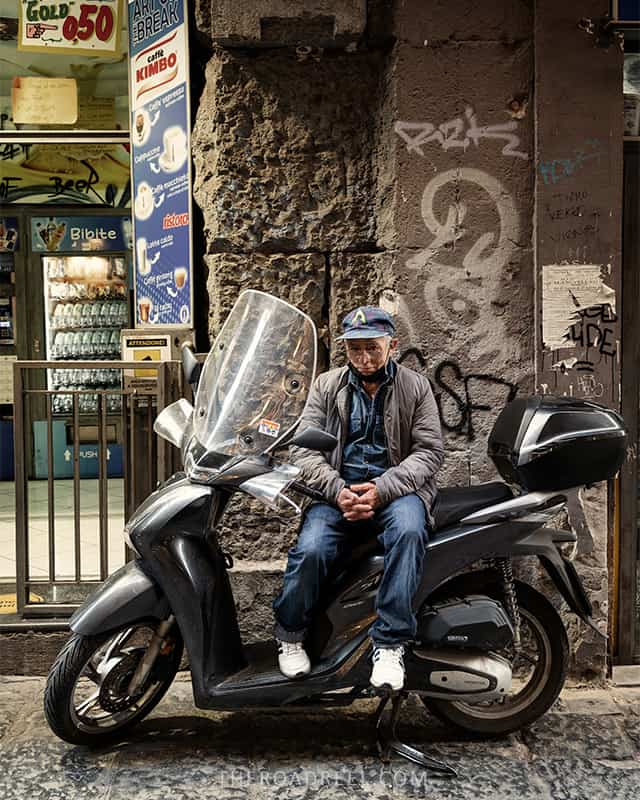 Can I follow this southern Italy itinerary using public transport?
Most of the places on this Naples-Calabria road trip itinerary in South Italy can be reached either by train or bus. However, the commuting time will be significantly longer, and you would need more days to visit all places mentioned on this road trip itinerary.
The most difficult to get to by public transport would be Castelmezzano & Pietrapertosa and Matera. Also getting to Scilla from Matera or Castelmezzano would not be very easy and would require several changes.
The train runs along the Tyrrhenian coast, thus visiting Scilla and Tropea even from Naples is possible.
The best time to go on this Naples to Calabria road trip in South Italy
The ideal time to follow this southern Italy itinerary would be late spring (mid-April-May) and autumn (mid-September-mid-October). The weather temperatures will be pleasant around 20-25 degrees Celsius (68-77 Fahrenheit), water is also suitable for swimming, and you can easily get a nice Mediterranean tan.
Late autumn and winter can be rainy and it can even snow in the mountains of Calabria, and Basilicata regions in Italy. Yet it is usually not particularly cold with weather temperatures ranging from 3-15 degrees Celsius (37-59 Fahrenheit). If you do not mind skipping the swimming and tanning, late autumn, winter, and early spring is the time with the least crowds and the lowest prices for traveling in South Italy.
Note that the Amalfi coast would be the most budget-friendly and crowd-free, particularly in winter. Springtime is already very busy.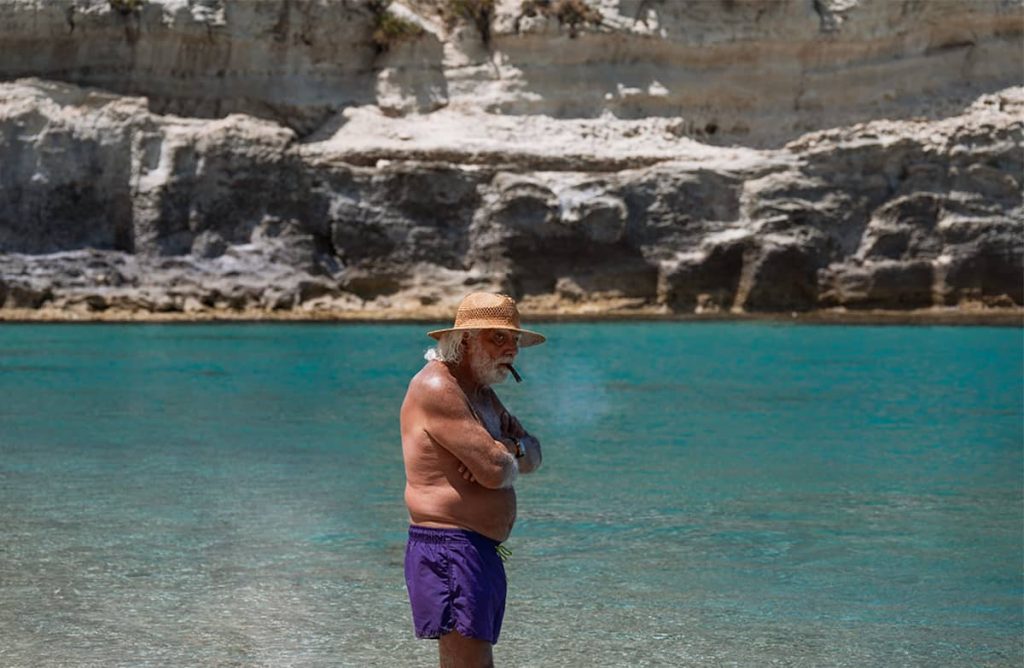 Naples to Calabria Itinerary Map
Use this Naples to Calabria itinerary map to locate all the places mentioned on this South Italy road trip. You can also save this map on your Google Maps.
How much does it cost to travel in South Italy – 10-day road trip cost breakdown
These are the main expenses for traveling around South Italy (Naples, Amalfi Coast, Basilicata, and Calabria regions). The estimates are based on this 10 days Southern Italy road trip route, taking into account the cost of car rental, petrol, accommodation, food, and attractions.
Petrol cost for 10 days road trip – 165 EUR- based on the estimated distance of this route and petrol consumption of 8 L per 100 KM, with petrol price averaging at 2 EUR/L. (average Italy petrol prices at the time of travel were 1.8 EUR per liter).
Accommodation cost – 50 EUR-150 EUR per night for 2 people.
Car rental cost – 20 EUR per day (but can be double or even more if booked last minute in summer).
Dinner (eating out)- 20-30 EUR per person with starter and main, and one drink.
Pizza (any time of the day)- 5-12 EUR per pizza.
Coffee- 1EUR for an espresso, 1.5EUR-2 EUR for a cappuccino or latte macchiato.
Dolce (pastries)- 1EUR-3EUR per pastry.
Soft drinks- 2 EUR for sparkling water or soft drinks like Coca-Cola at a bar/restaurant.
Alcohol – 3-7 EUR for a glass of wine or an Aperol spritz.
Museums/Churches and tours– 3EUR-12EUR per entrance (the maximum we paid on this trip was 12 EUR per person for the underground tour in Naples).
The estimated average daily spending per person (based on a trip for 2 people) is around 110 EUR per day. Definitely, the cost can be higher or lower. The factor that can hugely influence the budget is accommodation and daily meals. The cost of petrol is more or less fixed, car rental is whatever the best deal you can get.
The most expensive location on this south Italy road trip was Amalfi Coast- everything from accommodation to parking, to meals was significantly higher than elsewhere on this trip.
Southern Italy road trip final thoughts and handy tips
Renting a car and driving is the best way to explore the south of Italy. I booked my car in Naples using Discovercars search aggregator where I always find the best rates on the market. Try to get a small car for easier parking and driving on narrow roads.
Make sure you have IDP (International driving license) if your driver's license is not issued in the EU. I got asked for one as I have a UAE license (although it is in English).
You do not need a car in Naples, thus you can drop it off earlier at the end of your trip (or pick it up later if you are first spending time in Naples);
Book your accommodation early in advance if you are visiting Amalfi Coast (even end of April-May). Check booking.com to find your best stay.
Basilicata and even more so Calabria are the most unexplored, extremely beautiful, and authentic regions in Italy that you should visit as soon as possible.
Calabria was the cheapest region to visit.
You can extend your trip from Calabria to Sicily, or add the Puglia region if you have at least 3 weeks in South Italy.
Check what are The most beautiful places to visit in Sicily.
Do you have more questions about planning your South Italy road trip through Calabria, Campania, and Basilicata? Or maybe you are planning to continue your trip to Sicily or Puglia. Feel free to ask South Italy road trip questions in the comments below.
I hope you are enjoying my free travel guides & tips. You may say "thank you" by supporting my work by using any of the affiliate links on this post to plan your own trip at no extra cost to you, or just buying me a coffee so I can continue creating more useful content from my favorite coffee shop in town. Thanks!
More Italy travel guides
Planning to extend your trip to Sicily? Check my Sicily travel guides:
Italy Travel Essentials & Useful Links
Here are links to essential travel resources and services I always use when organizing my trips.