Lithuania is an awesome small evergreen country in Eastern Europe with many beautiful and rather unexpected natural and cultural sights worth visiting. Here I will walk you through a list of my favorite must-visit places in Lithuania.
My home country Lithuania is probably the least-known place in Europe. Many people are aware of our sister country Latvia and its capital Riga, but only a few know about the capital Vilnius or Lithuania. Nonetheless, this small Baltic jewel scores points with fantastic nature, majestic churches, medieval castles, charming capital Vilnius, unique old villages, and even some spooky places like the Hill of Crosses in Siauliai. That being said, Lithuania is a true definition of an off-the-beaten-path destination in Europe.
If you landed on this post you are most likely looking for things to do in Lithuania. In this insider's guide to places to visit in Lithuania, you will find a mix of wonderful cultural, historical, and natural attractions. I also share some useful tips for each location.
Disclaimer: This post contains affiliate links, which means that I may earn a commission if you make a purchase by clicking a link (at no extra cost to you). This helps to keep my blog running and growing by creating more awesome free content for you.
The best 10 places to visit in Lithuania
1. Curonian Spit (Kuršių Nerija)
Let's start with my absolute favorite and the most beautiful natural must-visit place in Lithuania- a UNESCO-listed natural wonder called Curonian Spit (Kuršių Nerija in Lithuanian). It is like the desert of Lithuania half of which is covered in forests.
What is Curonian Spit exactly?
Curonian Spit is a 0.4-3.8 km width sand dune peninsula stretching for almost 100 KM from Klaipeda county in Lithuania to Russian Federation.  It is surrounded by the Baltic Sea from one side and Curonian Lagoon from the other making it a magnificent natural formation. Half of the peninsula belongs to Lithuania and has a status of a Natural Park.
It has always been this magical paradise-like piece of land that has been threatened by unforgiving natural forces- never-ending strong winds and furious Baltic Sea waves. Only continuous stabilization and reforestation projects led by restless nature-loving people helped to combat the erosion.
Curonian spit has an incredibly unique but vulnerable nature like nowhere else in the country. It is also home to very old fishermen's settlements dating back to the 10th-11th century. Therefore, the cultural value of the area is of high importance as well. Harmonious coexistence between humans and nature makes this place beyond special. Being at threat of extinction both due to natural forces and human intervention, Curonian Spit has been saved since massive protection works began in the 19th century. Now the lands and cultural heritage are very well maintained and protected by the Government of Lithuania.
Nowadays, many ancient fishermen's villages have been turned into small guest houses and are welcoming visitors during the summertime. Nida is the most popular resort town attracting thousands of visitors during the summer months not only from Lithuania but also from Germany and other neighboring countries.
How to get to Curonian Spit?
You can reach Curonian Spit by ferry from Klaipeda town in West Lithuania. There are two ferry stations in Klaipeda- an old one and a new one.
Passenger ferries depart from the old ferry terminal in Klaipeda port just north of the city center. They go to Smiltyne and are quite frequent. You can check the schedule for the old ferry online.
If you arrive by car, you must make your way to the new terminal, which is a bit further south of the city of Klaipeda. The schedule as well as location information is available here on the terminal website.
Note: there is an ecological fee for entering Curonian Spit national park by car. You have to pay it if you are willing to drive beyond Juodkrante village which is around 14 km away from the ferry. It is 30 EUR per car during the high season (beginning of June- end of August) and 5 EUR per car during the low season.
2. Vilnius Old Town
If you are traveling to Lithuania, its capital Vilniuswith a petite historical old town is definitely a place to visit in Lithuania.
"Vilnius is the G-spot of Europe- nobody knows where it is but when you find it, it is amazing." That is a line from the tourism campaign that made the capital of Lithuania famous around the globe. And it is well worth the limelight. Being an underdog European capital for many years, Vilnius finally steps its game up in the tourism sector.
Having one of the largest UNESCO-listed old towns in Northern Europe, Vilnius invites you to the maze of cozy cobblestone streets lined up with outdoor cafes. A cocktail of the best old architecture is mixed with Baroque, Gothic, Renaissance, and even Medieval ingredients that will leave you dizzy (in a good way). Green parks can be found all around the old center and are perfect spots to relax.
The best way to explore Vilnius's old town is on foot. Many people choose cycling around the city as an alternative faster way to get from place to place. Beware of pedestrians if you decide to jump on a bike as many streets are narrow. You can also rent one of those street pay-as-you-go bicycles available to pick up in Old Town.
I would suggest starting your walking or cycling tour around Vilnius's old town at the very heart of it- Cathedral Basilica in Cathedral Square. Although you can walk the old town part in as little as a couple of hours, spare yourself a good half a day at least to enjoy Vilnius at a slow pace.
3. Trakai and its island castle
Trakai is a small historical town built on lakes with its gorgeous island castle. Only 28 km from Vilnius city center, it is a perfect half-day nature escape with a fair amount of cultural sights and outdoor activities.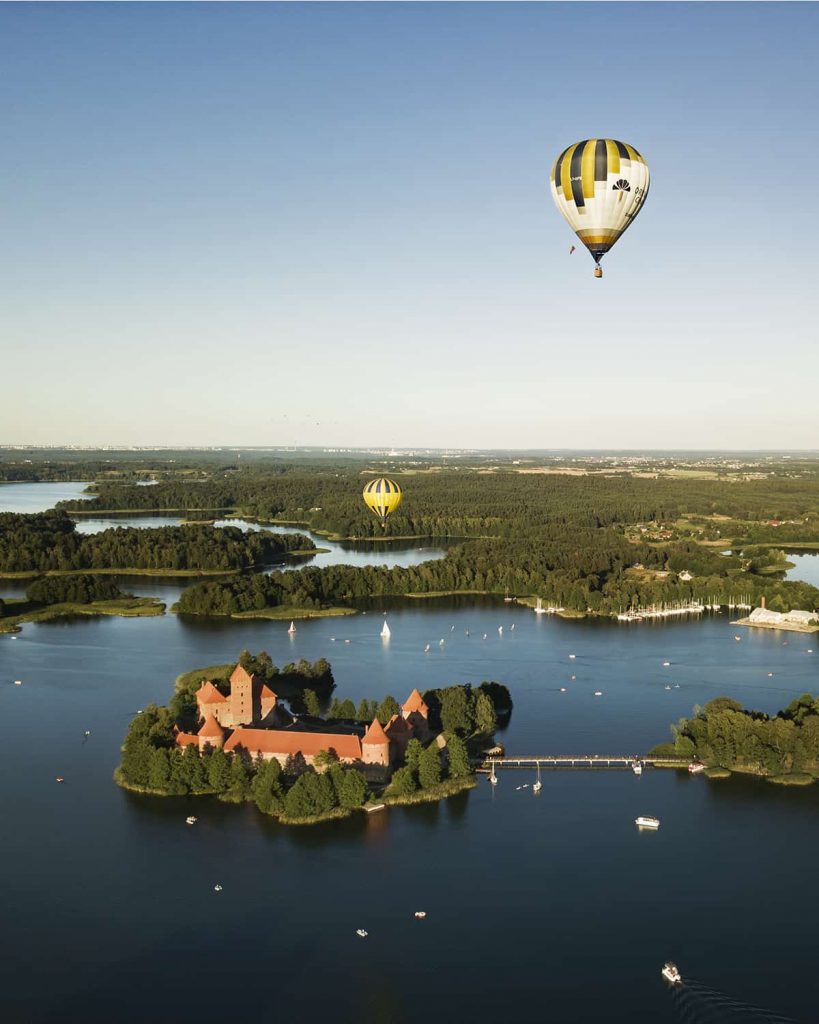 Trakai is an absolutely majestic place that is a must-visit when traveling in Lithuania. Here is a list of a few exciting things to do in Trakai:
Visit the spectacular medieval castle built on the island at the heart of Trakai town.
Go kayaking, stand up paddling, or take a boat tour around Galve lake to enjoy 360 degrees views of Trakai castle.
Swim in the lake. With over 200 hundred super clean water lakes to choose from, Trakai is a perfect beach day out in summer.
Get on an air balloon- one of the most beautiful views you would ever see from above. Tip- go at a sunset for the best experience or at sunrise to catch misty views.
Taste traditional pastry "kibinai" with homemade kvass- this is a very specific food for Trakai town. I suggest Senoji Kibinine or one of the homemade spots that you will come across in the town for an authentic experience.
4. Kernave- The First Capital of Lithuania
Kernave is referred to as the Lithuanian Troy. It is one of the most beautiful spots in the region often overlooked by foreign travelers. This UNESCO inscribed little town is the medieval capital of The Grand Duchy of Lithuania.  It has an archeological site that holds a history of thousands of years- a real treasure-trove for Lithuanian archeologists.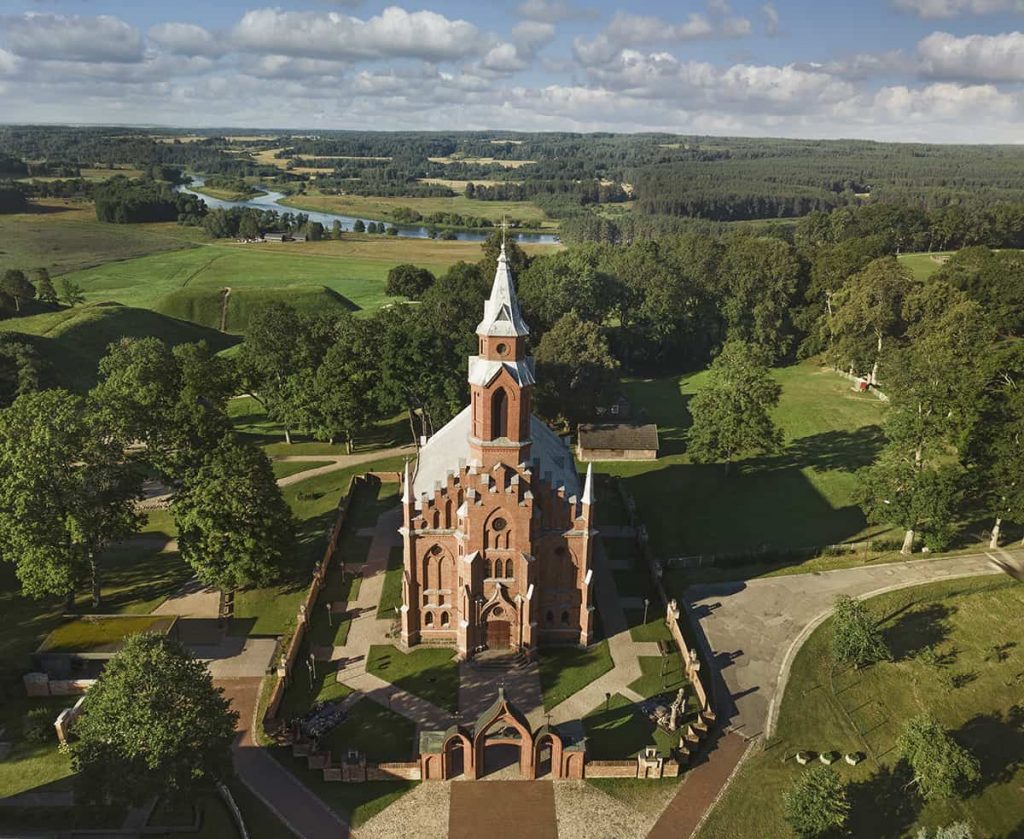 Kernave invites you to discover Lithuanian ancestry. It is a very mysterious place, especially during the misty mornings. The highlight of the scenery is five hill-fort mounds on the legendary Pajauta Valley near the banks of river Neris. Those picturesque mounds guard the remains of the last European pagan capital.
Although ancient settlements were destroyed back in 14th century, a replica of the 13th century housing complex was re-created for educational purposes.
One of the most important political and economic centers during the history of pagan Lithuania, Kernave is a symbol of statehood. With its many legends and stories, the town of Kernave has a very special aura around it.
How to get to Kernave?
Situated around 35km north of present capital Vilnius, Kernave is easily reachable either by public bus or a car.
By car from Vilnius, take the A1 or A2 motorways, and then the 108 or 116 roads. By bus, go to the station's platforms 10 or 11. Busses to Kernave run about six times a day. 
Things to do in Kernave
Apart from exploring the mounds at Pajauta Valley and enjoying the glorious nature, there are a few other things you could do in the area. For those of you into history, there is a museum dedicated to this special place. Also, the before mentioned open-air museum of the old settlements of Kernave.
If you are more into something adventurous, you can even go on a 1 or 2-day kayak tour from Vilnius to Kernave. Or sign-up for annual ultra-marathon run for 84km from Vilnius to Kernave.
I would highly recommend visiting Kernave early in the morning while the town is still sleeping. If you are lucky, you might also catch the fog which adds up to the overall atmosphere.
If you are short on time and keen on informative local tours, I would recommend checking out those highly rated guided activities in Vilnius, Trakai, and Kernave. They can be easily booked online through GetYourGuide website links below.
5. Baltic Sea Coast & Dutchman's Cap
You will love Lithuania's Baltic sea coast for its unique scenery and wilderness. Imagine the sea meeting the forest at a 20 meters cliff. It makes a kind of unusual coastal view, doesn't it?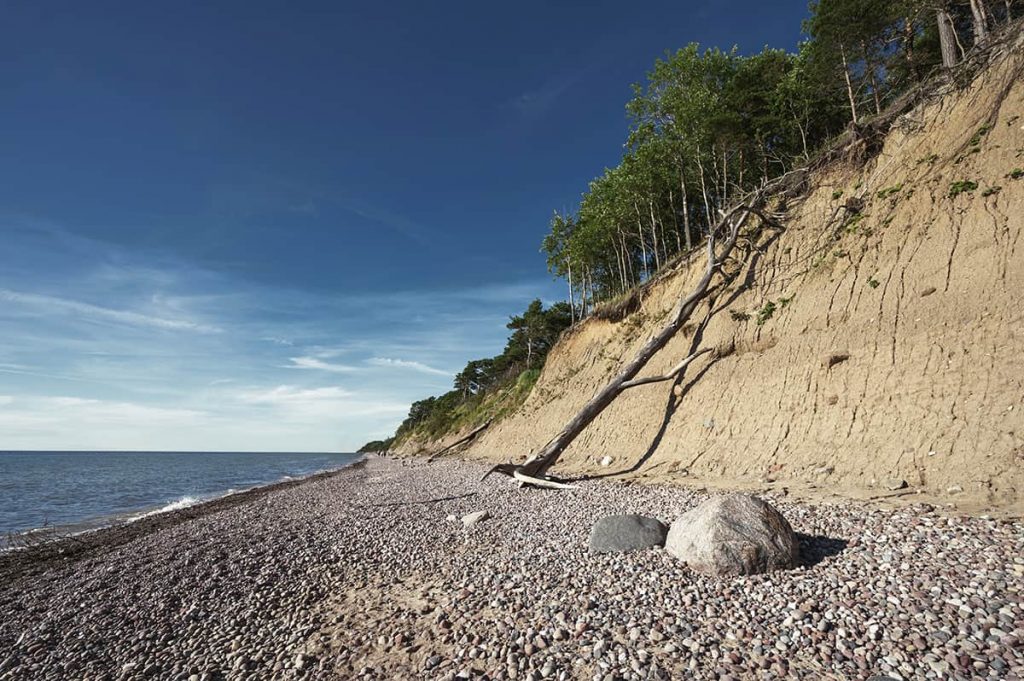 Baltic Sea coast is rated as one of the best in Europe. Some of the most amazing natural spots are located in the Seaside Regional Park of Lithuania, with Dutchman's Cap and beaches between Karkle and Giruliai villages being the highlights of the area.
Karkle village is the administrative center of the Seaside Regional park and ethnocultural reservation. It is one of the oldest and biggest historical coastal settlements dating back to the 15th century. Around 3km south of Karkle you will find the cliff of the Dutchman's Cap– an impressive parabolic dune emerged 24.4 meters from the sea. Sadly, it gets eroded by the beat of the waves.
The Dutchman's Cap is overgrown by the oak and pine forest. It creates a contrast to the sandplain, which is stretched around. The hill used to serve as a guide for seamen and fishermen.
Today, there is a wooden path leading towards an observation deck built for visitors to enjoy the panorama from the cliff. You can also admire the view of the bluff from the sea level.
During the summer months you can relax at the unspoiled wild beach and swim in the Baltic Sea. It doesn't get particularly warm but is very refreshing on a hot day.
How to get to the best beach spot on Lithuanian Baltic Coast?
Ideally, you would arrive in your own car. There are plenty of paid parking spots from which you can easily reach all the fantastic Seaside Park locations including the beach.
Public transport is also available from the nearby city of Klaipeda. There is a bus number 24 stopping at Dutchman's Cap. You can find the bus schedule and a convenient stop on Klaipeda's public transport website here.
As advised by locals, the best swimming and sunbathing locations are at a former Zuvedra (Seagull) recreational camp, Karkle, and Nemirseta villages. However, those places get pretty crowded to my own liking during the hot summer days. Therefore, I would suggest choosing the spot between Dutchman's Hat and WWII bunker called Battery Memel Nord (this is currently a tourist attraction located on the beach).
I have marked the best part of the beach on the map bellow. You might find yourself completely alone on summer weekday.
Things to do at the Baltic Sea Coast of Lithuania
Easy hiking: soak up the fresh air and enjoy the coastal views from the 15 meters height while taking footpaths through one of the most beautiful forests in Lithuania
Marked hiking trails were opened in 2020. After completing a section of the trail each time you will be motivated to move forward by the fun statements. "3km – you have burned one croissant, 6km- one burger, 12km – family size pizza" says illustrative information board on the trail.
Those are the 3 new hiking trails in the Seaside Regional Park starting in Karkle, passing Dutchman's Cap, WWII fortifications in Giruliai, and finishing at lake Kalote. The total length of the trails is 12 km, with each section being 3.5-4.5 km lenght. You are welcome to choose any or all of the sections or mix them up as you go. There are red, blue, and yellow marked routes. Navigation is very easy.
I have done a part of the red section from Karkle to Dutchman's Cap and then continued following the yellow trail (which is also a part of the Litorna route) up until the Memel-Nord battery (another spot of interest for visitors who are interested in post-war relicts). The total calories burned unknown but the beauty of the coastal nature is what keeps you wanting to explore further.
Cycling from Palanga to Kaipeda
The bike path connecting two seaside towns Klaipeda and Palanga is a great way to actively spend a day in nature. With small detours from the main path, you can access many of the beautiful spots along the coast by cycling.
Reward yourself with a filling late lunch
After a long day outside, there is nothing better than a wholesome Lithuanian meal. My place to go in the area is Žvejo Sodyba (Fishermen's homestead) in Karkle village. It is a restaurant offering traditional Lithuanian cuisine in an old-style wooden fishermen's house and a beautiful courtyard. Portions are huge and super delicious.
Watch the sunset over the Baltic Sea
This is the most romantic and magical time at the West Coast in Lithuania offering one of the most beautiful sunset views you might ever see.
6. The Hill of Crosses near Siauliai town
The Hill of Crosses is a stoic mound holding the weight of over 300 000 crosses. I bet you have not seen anything like this before. Imagine an earthen hill in the middle of nowhere fully covered with various sizes of crosses and rosaries clinking against metal and wooden crucifixes, filling the air with eerie chimes. Sounds mysterious, doesn't it?
Currently serving as a pilgrimage and historical sight in Northern Lithuania, the Hill of Crosses is in fact surrounded by legends, haunting stories and mystery.
The precise origin of the custom of leaving crosses is unknown, but it is believed to have started at the beginning of the 19th century. The hill has been getting covered with crosses of different sizes and styles, rosaries and religious icons.
Historically, this place went through a lot: it survived medieval sieges by German crusaders, 19-th century uprisings by Lithuanians against Russian Tsar and finally the furious aggressor- Soviet Union. In the 1960-70s, atheist Soviets attempted to level the hill with the ground by bulldozing it and burning the crosses. Those multiple attempts failed just as did the Soviet Union, andThe Hill of Crosses is still standing embodying the peaceful resistance to Soviet occupation.   
For some, it is a very sacred place that attracts pilgrims from all around the world, while others find it spooky.  Whichever it may be, the Hill of Cross certainly does not leave anyone indifferent.
Is the Hill of Crosses worth visiting? Absolutely yes!
Due to its remote location, the Hill of Crosses is not on every traveler's radar. It is 12km away from Siauliai town in Northern Lithuania and around 3 hours drive from the capital Vilnius.
To manage your expectations, the Hill of Crosses itself is just as big as a football field. Therefore, it won't take long to explore it compared to the journey length. Not to put you off, it is a sight to never forget- the atmosphere there is very special. I believe that winter/autumn is the best time for visiting the Hill of Crosses because the absence of greenery adds up to the mysterious atmosphere. Foggy autumn mornings would do a great job of getting you a bit spooked out.
How to get to the Hill of Crosses?
The easiest way is to drive (I highly recommend renting a car in Lithuania, makes moving around much easier). Not a driver? No problem, public transport is also available, just takes longer. First, you would have to get to Siauliai town. Then, you will be able to find a local bus at Siauliai coach station that will bring you to the Hill of Crosses. Alternatively, you can take a taxi but obviously it will be a more costly option.
I would recommend including the Hill of Crosses as a stop when going to or from the Lithuanian seaside- it is a bit of a detour but you will see some pretty cool countryside on this road trip. It will be more engaging than flying at 130 km/h on a Vilnius- Klaipeda highway.
7. Lake Plateliai in Zemaitija National Park
A lake of seven islands – Plateliai is the most picturesque lake and an ultimate attraction in Zemaitija National Park. Located around 80 km away from the Baltic Coast, the lake makes it an awesome detour to North-West Lithuania. On the way, you will be surprised by the changing scenery of rolling hills as a contrast to mostly flat Lithuanian landscape.
Plateliai is the biggest lake in Zemaitija (Samogitia) region and 9th biggest in Lithuania. Covering 12 square kilometers and reaching up to 49m in depth makes it is a perfect base for diving and underwater archeology. Therefore, the lake is not only a natural treasure but also an important cultural sight.
On the west bank of the lake, you will find a charming historical town Plateliai (the same name as the lake). This town of only 1000 inhabitants comes to life during the summer season when many locals arrive to enjoy water activities and relax in the nature.
Cycling around Plateliai
The major summer attraction around the lake is one of the most impressive cycling trails that starts and finishes at Plateliai town. It is an incredibly beautiful and well-maintained marked cycling trail that is both family-friendly and is also suitable for beginners.
Total length of the trail is around 25 km. There are plenty of possible stops on the way and points of interest to explore: Cold War Museum, Plateliai Manor Park, several viewpoints, small villages, Uzpelkiu mound, Litvaku memorial garden to name a few.
I highly recommend renting a bike for a few hours or even a day once in Plateliai town. Bike rental prices are very affordable in Lithuania (1 EUR per hour) and it's one of the best ways to move around. Going at a slow pace, you will enjoy beautiful nature and fresh air. Don't forget to stop for a swim in the clean and refreshing waters of Plateliai lake.
Also, you can find the tourist information center in Plateliai town where you can receive all the information about places of interest. All of them are reachableby cycling around the lake.
Alternatively, walking is also a great option to enjoy your stay at Plateliai. 4 km Seires educational trail is a perfect way to get familiar with the breathtaking landscape of Plateliai reserve. Part of the trail is suitable for people with mobility restrictions. The starting point coordinates of the trail are 21.827357, 56.048411.
As mentioned before, there are plenty of water sports activities: standup paddling, kayaking, yacht sailing, diving, water cycling. The best place to go for rentals would be Plateliai Yacht club.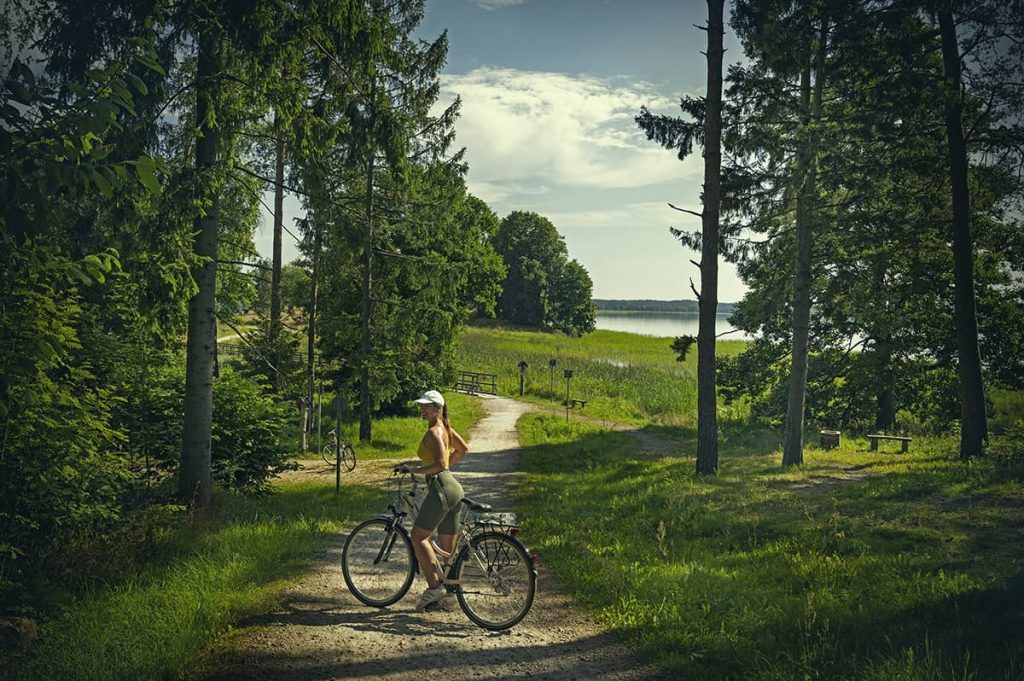 Where to stay in Plateliai?
Only 8 km from Plateliai town, there is an incredible rural tourism homestead called Iesnale featuring an amazing garden with apple trees, a water pond and even its own lake. The hosts are very welcoming and are happy to help to make your stay as comfortable as possible. They also have bicycles for rent. I have stayed there for a couple of nights, highly recommend it!
8. Moletai Astronomical Observatory
Moletai is a small town surrounded by lakes only an hour away North-East from Vilnius which makes it a great day trip with quite a few fun things to do.
Recently, Moletai Tourism Center prepared lots of activities to attract more visitors to this off-beaten path destination. From recreational trails, lake escapes to unique virtual tours through time introducing the history of Moletai and Astronomical Observatory surrounded by lakes- this place has something to everyone.
The Museum of Ethnocosmology
The museum of Ethnocosmology in Moletai is an astronomical observatory that looks like a sci-fi movie building placed in the natural lush green surroundings. It is quite an unusual sight on its own. Working 24 hours, the museum offers educational tours conducted in English as well. Also, on a clear night, the observatory is open for observations of distant celestial objects through a telescope- quite cool!
9. Aukštaitija National Park
It is said that Lithuanians' love for nature arose in the territories of the present-day Aukštaitija (owk-shtai-ti-ya) National Park. It is no surprise that once-pagan country was bewitched by those deep green forests and dark blue lakes.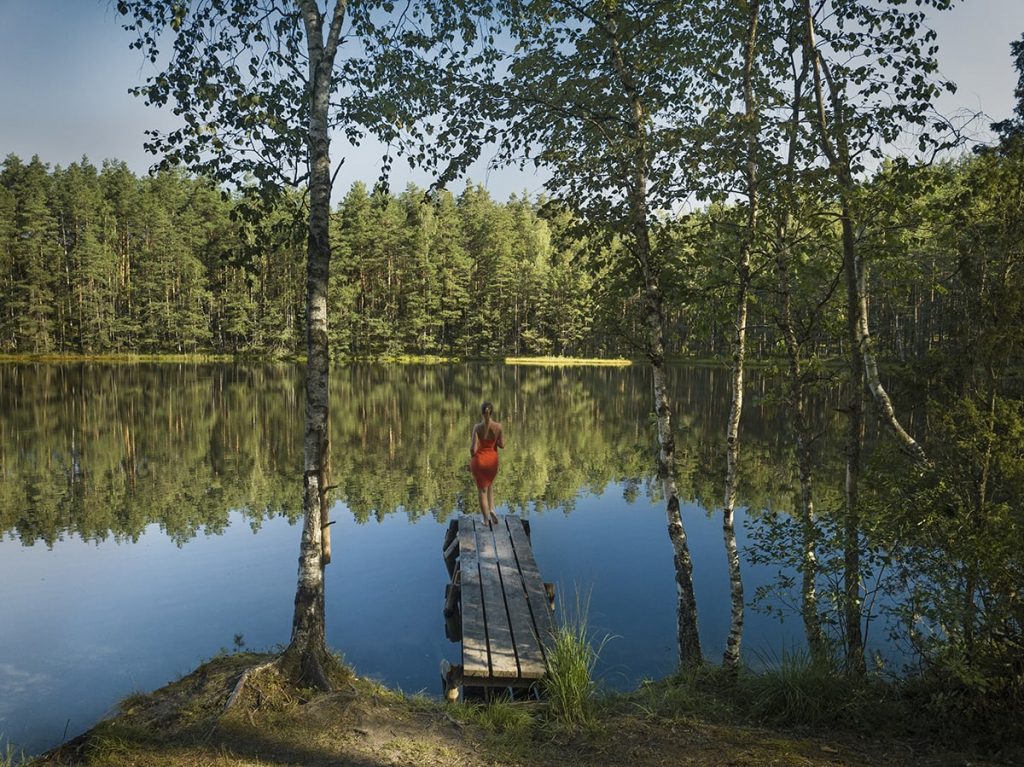 30 rivers and 126 lakes of different sizes and shapes are sprinkled around the pine woods covering 410.56 km² of the national park territory. Wildlife is also present in this area – you can find boar, deer and elk.
Aukštaitija National Park is the oldest of five national parks in Lithuania. It is around 100 km North-East of capital Vilnius.
Things to do in Aukštatija National Park
Explore breathtaking Ladakalnis (Ice Hill)- a former fortification mound from where a panorama of seven lakes unfolds. You can wonder around and follow some nature trails to explore the area and take a dip into the lakes.
Go kayaking in Zeimena river or other surrounding rivers. This is by far of my favorites activities in the area. You will experience beautiful and easy but at times tricky routes since there are natural obstacles along the way. You have to maneuver around them. Sometimes you might even come across a tree that fell into the river and completely blocked the way. Therefore, you will have to carry your kayak over the tree which makes it a little bit of an adventure.
There are plenty of kayak rental spots in the area. You can check "Superbaidares". They have information in English with all short and long routes, even overnight routes available to choose from.
How to get to Aukštaitija National Park
The main jumping-off point and a base to stay for the park is a sleepy town Ignalina. There are buses several times a day leaving from Vilnius intercity bus station, you can check timetables here.
However, the most convenient way to reach the park is by car. This way you will have more flexibility to move around the park and stop wherever you like.
10. Kirkilai Lakes and Observation Tower in Biržai Regional Park
Lithuanians are obsessed with observation towers. They are one of the sites which attract the highest number of visitors in Lithuania. There are over 30 registered view towers varying in height and shape scattered across the country. Those towers offer visitors panoramic vistas of some of the most beautiful natural surroundings.
Since it would take a good week or two visit them all, I would like to highlight the absolute must visit- Kirkilai Observation Tower. It is located in Biržai regional park, North Lithuania.
You might wonder what is so special about this particular tower. The answer is – a unique shape and unusual landscape.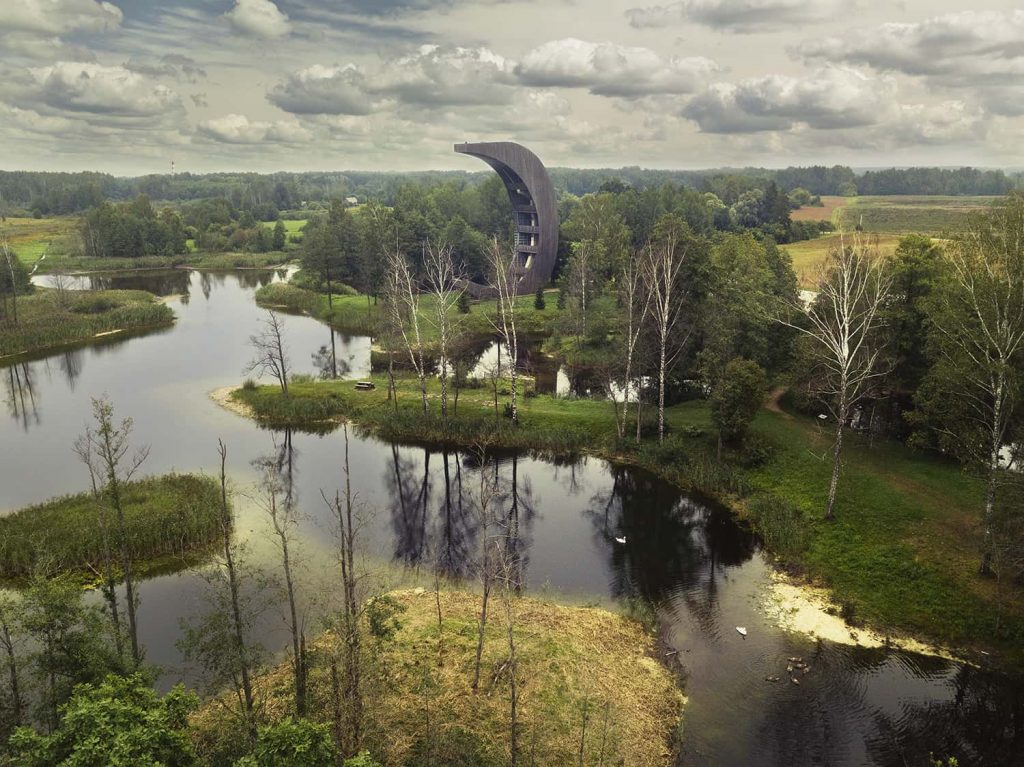 30 meters height Kirkilai observation tower resembles a canoe which also looks like a Moon from the side. The surrounding landscape features a unique terrain of 30 water-filled sinkholes that were formed due to karstic processes. From the top of the tower, you will see wonderful views of those karstic lakes which, on a sunny Summer day, vary in color.
How to get to Kirkilai Lakes and Observation tower
The tower is a bit off-the-beaten-path 10 km away from Biržai town and 2,5 hours drive from the capital Vilnius. Yet it is a stop worth to be included in your road trip route, especially if you heading up North. You can combine a trip to the Hill of Crosses by visiting the Kirkilai view tower.
Location: 56.247821, 24.690785 (or simply type Kirkilai lakes and observations tower into Google Maps)
---
This is my list of the top 10 must-visit places in Lithuania. If you have any questions related to traveling in Lithuania, please let me know by commenting below or sending me a private message- I will be happy to help you out. Also, do not forget to pin this post to your Pinterest, so you can come back to it later.
Make sure to check useful quick tips and main information about traveling in Lithuania at my Guide to Lithuania page. There you will also find all the related posts that will help you plan your trip to my beautiful country.
Love it? Pin it!
Enjoy your journey and hit me up to let me know how it went!