Dubai Expo 2020 is definitely the hottest event in the UAE right now. Here I share a list of the most stunning must visit pavilions at Dubai expo 2020.
Dubai Expo is finally open and will be welcoming visitors from all around the world until March 2022. The exhibition is huge- 200 pavilions, 191 of which are of participating countries. This makes it really hard to decide on which pavilions to include in the must-visit list and which ones skip. Especially if you are visiting Dubai for a short period of time.
I have been to Expo 2020 several times so far, and I haven't managed to see it all yet. If you are sparing only a day or two for this exhibition out of your trip to Dubai, there is no way you can cover everything.
In general, there is so much happening at Expo 2020, it can become overwhelming if you try squeezing as many sites as possible in one day. After running through dozens of the pavilions, things start to look the same- flashy LED screens, CGI, technologies, robots, sounds, images, and information displays. All this cacophony will eventually make you dizzy and burned out. 
Some of the picture-perfect pavilions might not be as exciting when visited inside, or vice versa. Thus, it is good to know which ones are worth queuing for, and which ones are just to admire from the outside. Of course, there are a few amazing exhibitions that have both, a killer architectural design and a fantastic exposition. Visiting those will definitely make you feel inspired.
Therefore, to help you make the most out of your visit, I have shortlisted my top 10 favorite pavilions that I recommend seeing at Dubai Expo 2020.
Also, I share my quick insights and some of the captures of the coolest pavilions at Expo 2020. For those of you who enjoy photography, you can also treat this post as a guide to the most picture-perfect, and Instagramable places at Expo 2020. 
---
Note: This post contains affiliate links, which means that I may make a small commission at no extra cost to you if you make a purchase by clicking a link. This helps to keep my blog growing and filling up with detailed honest travel advice for you. 
The Best 10 Pavilions you Must Visit at Dubai Expo 2020
Dubai Expo 2020 is the largest at scale and the most remarkable in terms of innovation out of all expos to date. It will undoubtedly have something to impress all kinds of visitors.
With so many best world architects, designers and artists involved in this project, you can now admire their creations.
During a couple of weeks, I visited as many exhibitions as possible (I also got kind of hooked on collecting passport stamps). Hence, here is the list of my favorite pavilions either for their spectacular architecture or interesting content, or both.
1. Japan Pavilion, Expo 2020 Dubai
If you had to choose to visit only one pavilion, I would suggest it be Japan. With its origami-inspired architecture that looks humble and minimalistic compared to many other grandiose and color-loaded pavilions, the Japan exhibition will simply blow your mind away. In fact, it is not the look of the pavilion that I vouch for but the experience of the tour. Something that many other countries could look up to. Japan exhibition was the one that made us talk about the most.
Everything from the politeness of the staff to presentation of the culture and innovation, to evoking the emotions, all this left a huge impression. Attention to detail in every single step during one hour tour was outstanding. And needless to say, Japan has definitely jumped to the top of my countries to visit bucket list. 
Not to spoil the surprise, I can only mention that the tour is very interactive, and designed to evoke emotion and thought. You will be able to get a glimpse of Japanese culture, their innovative thinking, and have an amazing sensory experience.
The time needed to visit the Japan pavilion: the tour is 1 hour, waiting time can be anything from 30 minutes to 3 hours. Come before 10 AM to be the first on the queue.
2. UAE pavilion, Dubai Expo 2020
UAE being the host of the Dubai Expo 2020 certainly made sure their pavilion will stand out from the crowd. And, of course, it is one of the must-see ones that you should add to your list.
My favorite part was a beautiful animation representing UAE culture. A short film is shown in the cinema room.
FUN FACT: Designed as falcon wings, that can be opened and closed within 3 minutes! UAE exhibition brings you through the journey from its past to the future.
3. Republic of South Korea Pavilion, Expo 2020 Dubai
Those of you who have already watched Squid Game will immediately find the connection between the show and the pavilion design.
Based in the Mobility district, over 1500 colorful spinning cubes are illuminated at night. They will instantly catch your attention. The interactive exhibition inside walks you through the narrow corridors/balconies and finishes with a vertical cinema (you lay down on the massive pillow watching a Korean short film). The whole exhibition is based on a hyper-connected society theme and explores future mobility prospects.
A contradictory message at the end of the short film says "you don't actually need to move to visit the world" (or something like it). Not a fan of virtual travel, or staying glued to the seat, I'd much rather physically visit places.
Nonetheless, I enjoyed the Korean pavilion, especially for photography. In general, it was a unique experience and quite different from the majority of other exhibitions.
4. Pakistan Pavilion, Expo 2020 Dubai
A completely unexpected and pleasant surprise is the Pakistan pavilion. It is also one of the most visited ones. No wonder, its colorful exterior immediately catches the eye and invites you to check it out.
After visiting the exhibition, I realized how undersold this country as a tourism destination is. Living in the UAE, with a large number expats from Pakistan, you barely hear much about how rich and vibrant its culture and history are.
Pakistan did a great job in Expo 2020 showcasing the beauty of their country. The multistorey pavilion will allow you to get a glimpse of Pakistan's best-kept secrets-cultural diversity and stunning nature. It is definitely an undiscovered destination!
5. United Kingdom Pavilion, Expo 2020 Dubai
One of the most outstanding and beautifully designed, in my humble opinion, is a cone-shaped cross-laminated timber pavilion of UK.
The presentation idea is also intriguing.
The face of the building displays LED illuminated blocks of words which actually are an AI-generated poem. It consists of the words submitted by exhibition visitors. "AI uses an advanced machine learning algorithm to generate the cumulative collective poem which illuminates its twenty-meter diameter facade."
As I was told by UK pavilion staff, the poems and couplets will be sent to space using AI technology in hopes to reach other possibly inhabited planets (google translate might be needed if they don't speak English or Arabic).
 Moreover, the design of the building aims to draw our attention to the growing importance of algorithms. Oh well, if used for good purposes, fine, otherwise, watch out for mental coding.
Seeing this, raises a question- technology and human collaboration, or technology over human creativity? Nonetheless, AI has a long way to go as an artistic tool, and I doubt it can ever surpass real human creativity.
I have submitted a few random words (50% of the words AI is not familiar with, by the way), and the couplets were kind of funny. I have to still give credit to it, of the poems made a little bit of sense.
What goes for the interiors of the pavilion, don't get surprised- there is no exhibition- it is just a giant curved void. Amphitheater-style seats to rest and contemplate over your poem words that you can submit to the artificial poem.
6. Saudi Arabia Pavilion, Expo 2020 Dubai
Another country, which is at its early stage of tourism, is Saudi Arabia. For many years it was closed for visitors and, I have to admit, I did not imagine what kind of treasures are hidden in this secretive Middle Eastern country.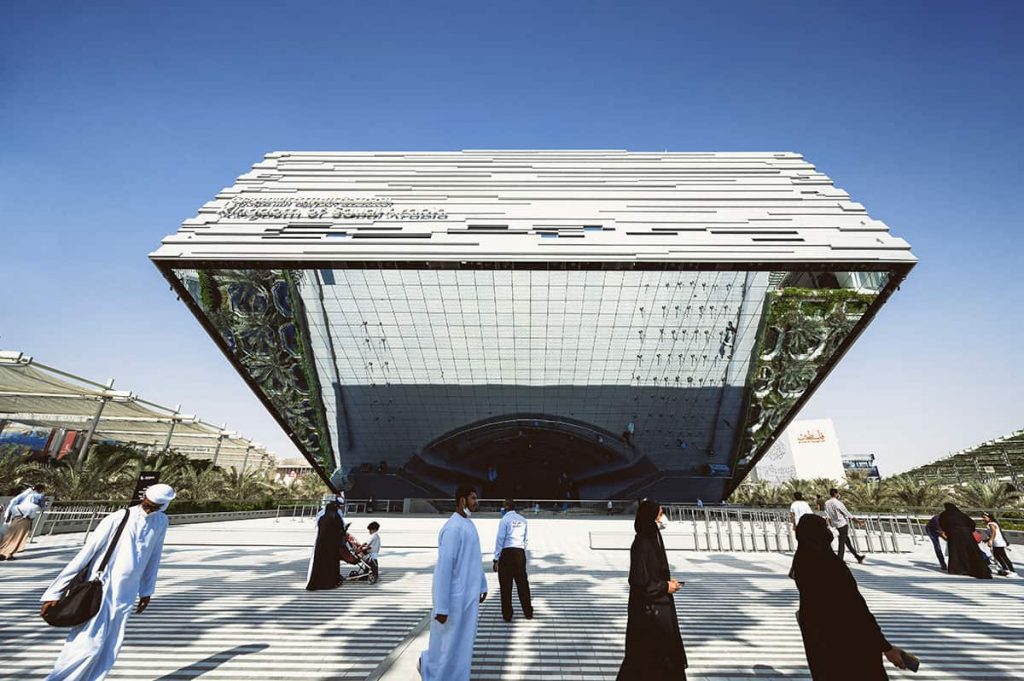 The exterior of the Saudi Arabia pavilion features the largest in the world interactive mirror screen with around 8000 LED floor lights that illuminate into different multi-colored patterns. Those are reflected in the mirror. This impressive sight can be witnessed at night after dusk.
Called "the window to the world", prism-like Saudi Arabia's pavilion invites visitors to get acquainted with the country's rich past, breathtaking natural wonders and promising future. Indeed, from the outside, the building looks like it is seeking the skies, and it does imply Saudi Arabia's limitless ambitions. The exhibition hall features lots of impressive installations as well. My favorite part was a massive curved LED screen that showcases different regions of the country.
Fun Fact: Saudi Arabia's pavilion takes up an area of the size of two football fields and is the second largest after the UAE pavilion.
RELATED REEDS: Looking for more interesting things to do in the UAE? I recommend going exploring the mountainous part of the country and doing some awesome hikes in Hajar mountains. Check my post about The Best Easy Hiking Trails in UAE to find your next adventure outside Dubai!
7. Russia Pavilion, Expo 2020 Dubai
One of the pavilions that can't go unnoticed is the multicolored dome-shaped Russian pavilion. To me, it looks like a spinning rainbow-colored Saturn. According to the architect himself, the two hemispheres that form the building actually embody planet Russia (ironic, but Russia is a kind of a different planet). Moreover, one dome sits inside the other which is a representation, well done if you guessed it, of traditional Russian Matryoshka (a chubby wooden doll which comes in a different size but looks exactly the same, and you can put them all inside each other).
The building looks very cheerful and dynamic, though. Indeed, it is meant to represent constant movement and progressing development. At night, when all the lights come on, it looks like it is spinning.
FUN FACT: the structure of the pavilion is made out of colorful aluminum tubes which are bent to form the body of the building. The total length of the "threads" used is 46 KM! And the 6-color paint is added after to prevent aluminum from burning in the sun! these exact colors, no more and no less were available to buy as felt-tip pencils back in Soviet days- just a side note from my childhood memories.
The exhibition is also very educational- all about our big brain. If you missed biology class at school, the exposition is interactively explaining everything you need to know about how our brain works.
8. Jamaica Pavilion, Expo 2020 Dubai
Bright-colored Jamaican pavilion welcomes you with chilled tunes of reggae. It is – probably one of the coolest kids on the block when it comes to Expo 2020 expositions. Surely you will hear Bob Marley's "no woman no cry" and other beautiful reggae songs. As music sets the mood, you will soon find yourself immersed in Caribbean vibes. No wonder, the overall pavilion theme is "The riddim that moves and connects the world". And it certainly does.
The bold yellow, green and red colors are painted over the blocks of the shipping containers. Those are smartly used to create interior space with a funky streety vibe.
At the exposition, you get to know some of the most famous country's musicians and sportsmen, and historical heroes, listen to Caribbean music in the studio room, try some original Jamaican coffee (ask if they have condensed milk- that's how Jamaican usually do it).
Although not large in size, it is definitely one of the most distinctive pavilions with a strong representation of the country's culture.
9. Switzerland
Switzerland is up there when it comes to presentation. The reflective façade of the pavilion with a massive white cross on the red backdrop can be seen from afar.
At the entrance, guests are handed red umbrellas with country-related white logotypes and letters. And while visitors are passing through the huge rectangular red carpet, their reflection in the huge mirror above looks like a sea of umbrellas.
The main focus of the exhibition is to showcase the beauty of the country's landscapes, inventiveness and openness.
In one of the rooms, guests have to walk through the fog that gives a sensation as you are walking through the misty Swiss Alps.
10. Alif pavilion
Alif mobility pavilion is one of the main 3 thematic pavilions at Expo 2020. It is like an extension to the UAE pavilion which also introduces important mobility-related discoveries in the Arab World as well as future inventions.
The pavilion is focusing on movement in general, starting from the past, and going fast forward to the future of travel, exploring smart cities, innovation, travel to space opportunities.
The ribbed and curved shape architecture evokes a sense of mobility. To me, it looks like a giant aircraft propeller made of stainless steel. The pavilion is especially beautiful to look at during the night time when the whole façade is illuminated by ever-changing colors.
Overall, the whole exposition is very interesting and inspiring.
It starts with a hyper-realistic-looking lady sitting in the middle of a circular room, which is actually is a giant elevator. It lifts visitors to the upper floor.
Later you go on a time machine journey. Starting with getting to know more about the greatest explorers in human history. The historical figures are photo-realistic 9-meter sculptures. Seeing them you will for sure say "waw". Giant in size, they are representing extraordinary minds of the time. Those guys figured it out how to navigate the world before Google maps and GPS, using what is available in the universe. Their discoveries certainly played an important role in moving forward to today's technology.
Later on, you go fast forward through the future of smart cities, innovations and AI possibilities. Culminating your journey to space with a cool selfie in cosmonaut costume.
TIME NEEDED TO VISIT ALIF PAVILION: It is one of the biggest pavilions. Thus, give it around 1-1.5 hours.
Honorable Mentions- other pavilions to check out
The above pavilions were my favorites. However, the list can be expanded further by adding more great experiences at other bigger and also smaller pavilions. Here are some of my favorites.
11. Germany Pavilion Expo 2020 Dubai, UAE
Study and play (or vice versa) at Campus Germany. Based in the Sustainability District, Germany pavilion is "edutainment"-based large-scale exhibition focusing on German innovations and solutions in the sustainability area.
Germany pavilion is by far one of the most interactive ones where you can spend hours of learning about the latest innovations, play educational games, "swim" in a pit of 100 000 yellow balls pool, and finally, graduate from a little university on swings.
The overall exhibition is very well thought of, and the experience is personalized. It doesn't come as a surprise that this pavilion is also one of the most popular. To get to the German pavilion you will have to queue for quite a bit. But the wait is worth it because even in the waiting line you will be kept busy with many informational boards and videos about different regions of Germany.
Top Tip: Come as early as 9:30 AM to be the first in the queue. The later in the day you come, the longer the waiting times. As mentioned above, Germany is one of the most visited pavilions at Expo 2020. Smart Queue reservations are not available for this pavilion.
12. India Pavilion Expo 2020, Dubai
4 floor massive pavilion of India invites you to get familiar with country's culture, heritage, technology and space-related achievements. Those are the 4 main pillars of the exhibition.
The exposition is quite interactive and fun, with my favorite part being a massive LED room showcasing Indian culture and heritage via highlight videos. I spent there at least 30 minutes admiring colorful and dynamic scenes captured in different regions of India. The grandness of the screens and kaleidoscopic projections are simply mesmerizing.
Lithuania Pavilion Expo 2020 Dubai, UAE
It may sound a little bit biased as Lithuania is my home country but I am proud to say the pavilion is nicely designed with an informative exhibition showcasing both culture and innovation of this small Baltic nation.
The pavilion welcomes its visitors through a shaded wooden terrace decorated with colorful traditional Lithuanian shutters. I have to admit that I admire the idea of exteriors which represent Lithuanian heritage quite well.
"Unseen Lithuania" is the central highlight of the exhibition. Large LED screens showcase beautiful Lithuanian lakes. Meanwhile, the rest of the exposition focuses on presenting Lithuania as an innovative and modern country with a strong historical heritage.
You can also see or buy amber- so-called Lithuanian gold. Finally, if you dare, try some cold pink soup- the national dish of Lithuania- you either will love it or hate it, no in-between. The coffee shop/restaurant also offers a nice shaded seating area outside, next to the entrance to the pavilion.
---
RELATED REEDS: Must-visit places in Lithuania- Europe's best-kept secret.
Montenegro Pavilion Expo 2020 Dubai, UAE
Montenegro is one of my favorite countries in Europe. Therefore, I wanted to check out how they represent themselves in Expo 2020. The theme "Montenegro-blessed by nature" focuses on showcasing the 5 elements of the country- sea, mountain, rivers, lakes, and biodiversity which are presented through interactive exposition.
---
RELATED REEDS: Check my Two-Week Montenegro Road Trip Itinerary. I promise it will inspire you to add this country to your travel bucket list.
Pavilions to Skip
If you are short on time, there are a few bigger pavilions that to me were a bit of a disappointment. Therefore, if I had limited time at Expo 2020, I'd rather skip those:
China Pavilion at Expo 2020 Dubai, UAE
After visiting outstanding pavilions of Japan and Korea, I had shortlisted China with my big expectation to see something very impressive. A giant Chinese lantern-shaped pavilion definitely stands out from the crowd and looks promising. Sadly, it was a bit of disappointment from inside.
China is renowned for its architectural visualizations, innovations as well as rich culture. However, after visiting China's pavlion, I did not feel like it represented the country at its best. Even the materials used to build the interiors, low-quality CGI, and overall exposition did not present the country as well as they could.
Also, the staff was noticeably indifferent to the visitors compared to all other exhibitions I have been to (and Expo staff is usually extremely welcoming and friendly).
Regardless of my impression, by no means, go ahead and see it yourself (if you have time to spare).
Brazil Pavilion at Expo 2020, UAE
Brazil was mentioned as one of the top pavilions in some of the online articles. Also, it is one of the most beautiful countries in the World. Again, I probably set my expectations too high.
But when I saw it, I was not convinced. The huge water pond inside didn't leave much of an impression on me. Moreover, if you come during busy times, all the noise and crowds can be quite irritating. I spent there literally 2 minutes and left. On a side note, a few more people said the same thing.
Italy Pavilion at Expo 2020, UAE
Italy is my favorite country in Europe, a place where I would love to retire (as I always say). With all its beauty and architectural wonders, I was looking forward to seeing what Italians are going to show at Expo.
I wish the pavilion was among my favorites but it just wasn't up there with the others mentioned in the top 10 list. Maybe because I just see Italy as one of the most visually appealing countries when it comes to its architecture and nature. Having this picture in my head, I expected the pavilion to be a beautiful masterpiece inside out as well.
Nonetheless, once I got to know more about why the pavilion is looking the way it does, I understood it actually does justice to the sustainability aspect.
The thought behind this is that materials used to build temporary structures such as Expo pavilions should not go to a wasteland after. Therefore, most of the materials we can see there will be later recycled in one way or another. Even the rooftops will be reused as boats. 
Moreover, the pavilion features a natural cooling solution achieved by using ropes that cover the façade of the building.
Still, I thought some of the cultural expositions were a bit tacky- like this real-size copy of Michelangelo David's sculpture placed in the golden room. But, it is my personal impression, and by no means it should stop you from having a look at it yourself if there aren't any queues.
FUN FACT: Ropes are manufactured from recycled plastic.  The total length of this rope curtain is no less than 70 KM.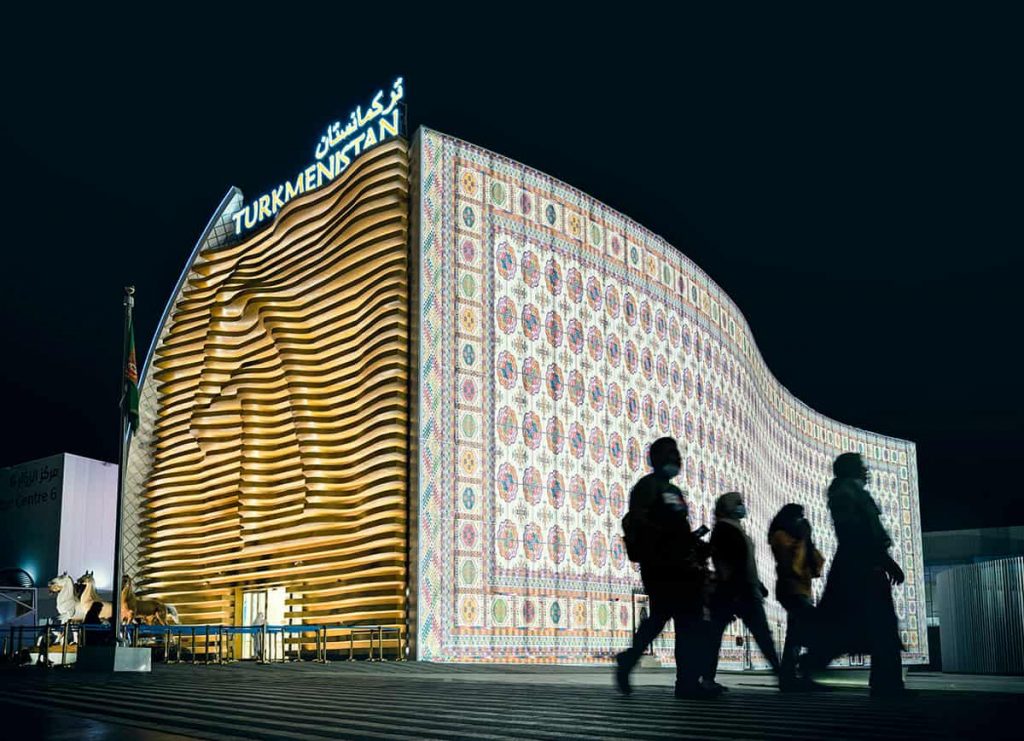 5 Useful Tips for Visiting Expo 2020 in Dubai
Here are some quick useful tips for visiting Dubai Expo 2020 in the UAE:
Use Smart Queue on Expo 2020 app to book the time slot for the more popular pavilions. If you are visiting on weekend or evening when it is very busy, prebook your vsitis to the biggest pavilions. This especially goes for Alif, Russia, Egypt, Singapore, Morocco, UAE and other larger pavilions. Having smart queue booking will save you tons of time as you will be able to skip the queues.
Some of the pavilions are not allowing to book your time slot using Smart Queue service. Those are Japan, Germany, Netherlands, UK. The first three have notorious queues. Therefore, if you planning visiting any of them, come before 10 AM to avoid waiting for hours.
Use metro – it will bring you to the main gate. You might be better of not driving if you are staying close to the metro station. Metro will bring you next to the entrance. Therefore, you won't have to take the Expo bus or walk extra miles.
If you are driving- park at opportunity parking. It is possible to walk from opportunity parking to the expo site in under 10 minutes. This may be useful if you are not willing to use expo buses (those are free and frequent, but might be crowded during busy times).
Bring a refillable bottle for water. Refill stations are available all around the expo site. The downside during the hot day is that water is not really cold.
---
I hope you will find my must-visit pavilions list useful and please share your own experience in the comment section below. Which of the Dubai Expo 2020 pavilions did you like the most? I will keep this post updated as soon as I discover other exciting things to see at Expo 2020!
My photography gear that I used to take the above shots
If you are curious about what I used to capture the images above, here is a list of my gear and editing software.
DUBAI, UNITED ARAB EMIRATES TRAVEL RESOURCES
Planning your trip to Dubai, United Arab Emirates soon? Below are some useful links to help organize your trip.
More UAE travel blog posts
SUBSCRIBE
Sign up to receive the latest inspiring posts, guides, and useful travel and photography resources straight to your inbox. *
*Your privacy is respected. Unsubscribe at any time.