Colorful fishermen's boats resting at the shores of an idyllic seaside, narrow alleyways between romantically crumbling waterfront houses, and friendly locals slowly going about their daily routines- visiting small coastal towns in Sicily will offer you a wonderful travel experience. Here I share a list of my top 15 charming seaside towns and fishing villages in Sicily, Italy.
Sicily's coast is dotted with dozens of incredibly photogenic small beach towns and fishing harbors. Therefore, on my road trip to this unique Mediterranean island, I made sure to visit a handful of the most intriguing seaside towns in Sicily. 
If you are looking for the most beautiful small coastal towns in Sicily to add to your itinerary, you have landed at the right place. This guide will take you through the most scenic beach towns in Sicily, some of which are well-known while others are absolute hidden gems. I also share a location map and a few practical tips, including accommodation suggestions for each of them.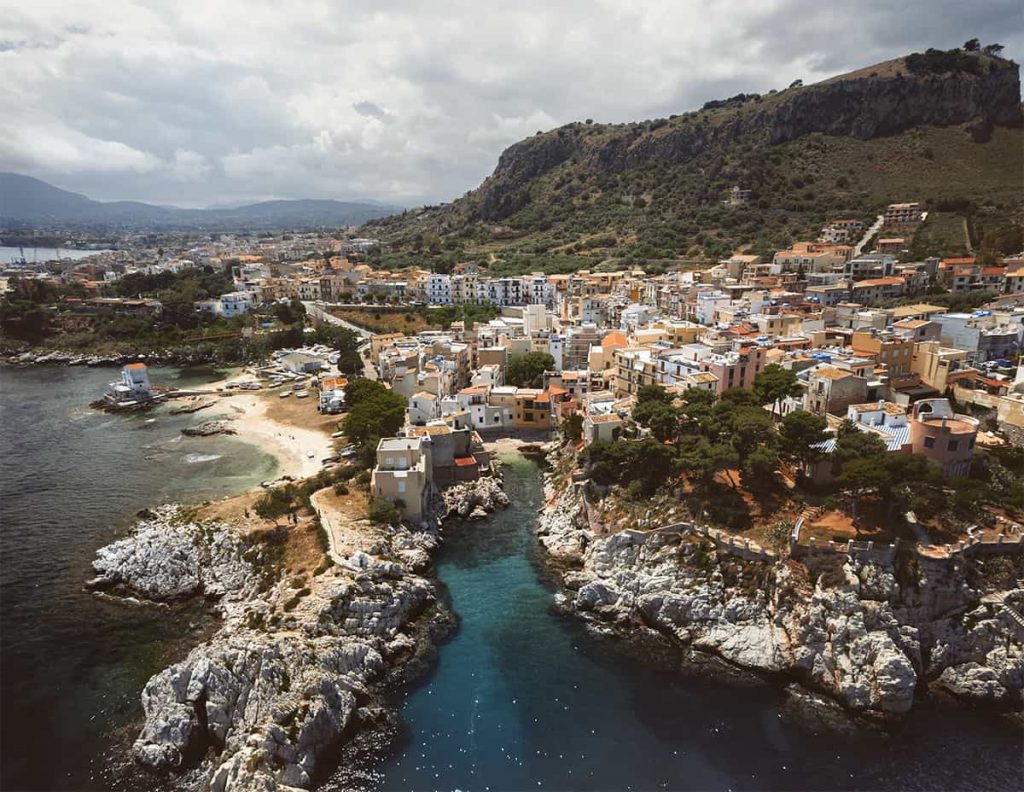 Disclaimer: This post contains affiliate links, which means that I may earn a commission if you make a purchase by clicking a link (at no extra cost to you). This helps to keep my blog running and growing by creating more awesome free content for you.
How to visit these Sicily coastal towns and fishing villages
Some of the more popular Sicily coastal towns mentioned here can be accessed by public transport (bus or ferry- I left brief notes under each one) while for visiting hidden gems you will definitely need a car.
I have visited the majority of the seaside villages and towns listed here with a rental car during my 2-week Sicily Road trip. It gave me the freedom to move around easily and according to my own schedule. Therefore, if you are planning your Sicily trip, I highly recommend hiring a car and driving around to be entirely independent.
For my trip to Sicily and other places in Italy, I used the Discovercars search aggregator which provided me with the best car rental offers. Click here to browse their car hire offers with pick-up locations available in major towns of Sicily (Palermo, Catania, Trapani).
READ MORE: 21 Tips for driving in Sicily Stress-Free.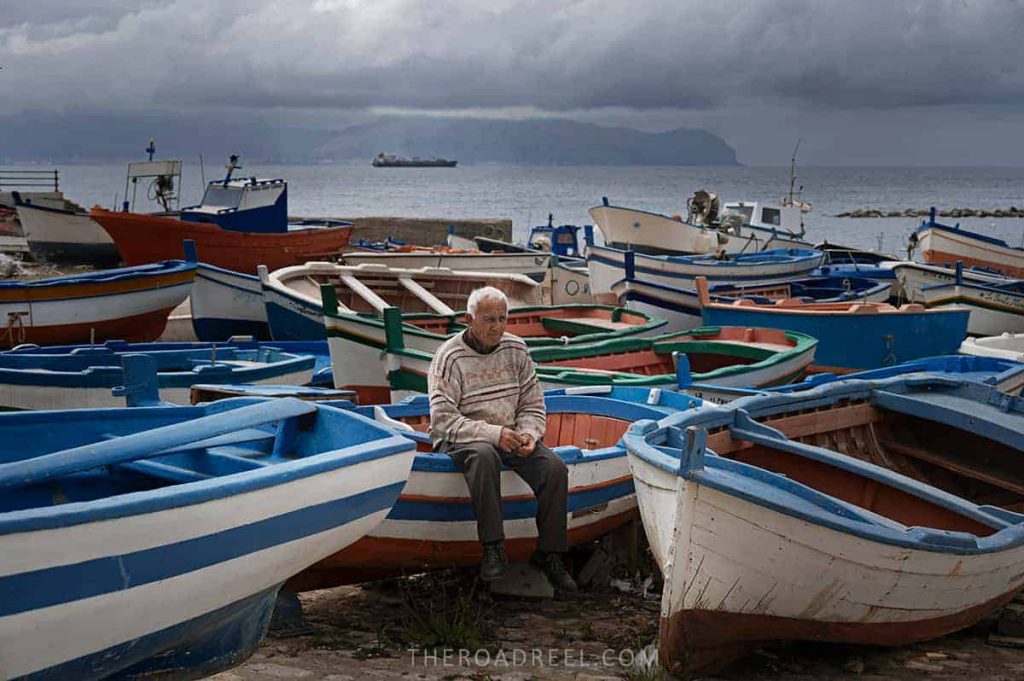 15 the most beautiful seaside towns and small fishing villages in Sicily
1. Cefalù
Cefalù is possibly the most well-known and one of the most beautiful out of all the small seaside towns in Sicily. Set at the foothills of an imposing rock, caressed by the velvety waters of the Tyrrhenian sea, Cefalù (pronounced "shef-a-loo") is an ancient fishing port. The postcard-perfect tiny beach set against the old town walls is what mesmerizes many visitors (including myself).
Once a sleepy fishing village, now Cefalù is a flourishing travel destination in Sicily, especially popular during the summer months. Although it is a little too touristy to my liking, Cefalù is still undeniably one of the most beautiful coastal towns in Sicily. If you are looking to add some spectacular photos to your albums, Cefalù is an unmissable coastal town in Sicily for doing just that.
My top tip is to visit Cefalù during the shoulder season (May or September) when you will be able to enjoy it with fewer crowds. Arrive late autumn through early spring, and chances are you will have Cefalù all to yourself.
How to get there: located a 1-hour drive from Palermo, Cefalù is reachable by car, bus or train.
Where to stay: Villa Margherita, more accommodation options here.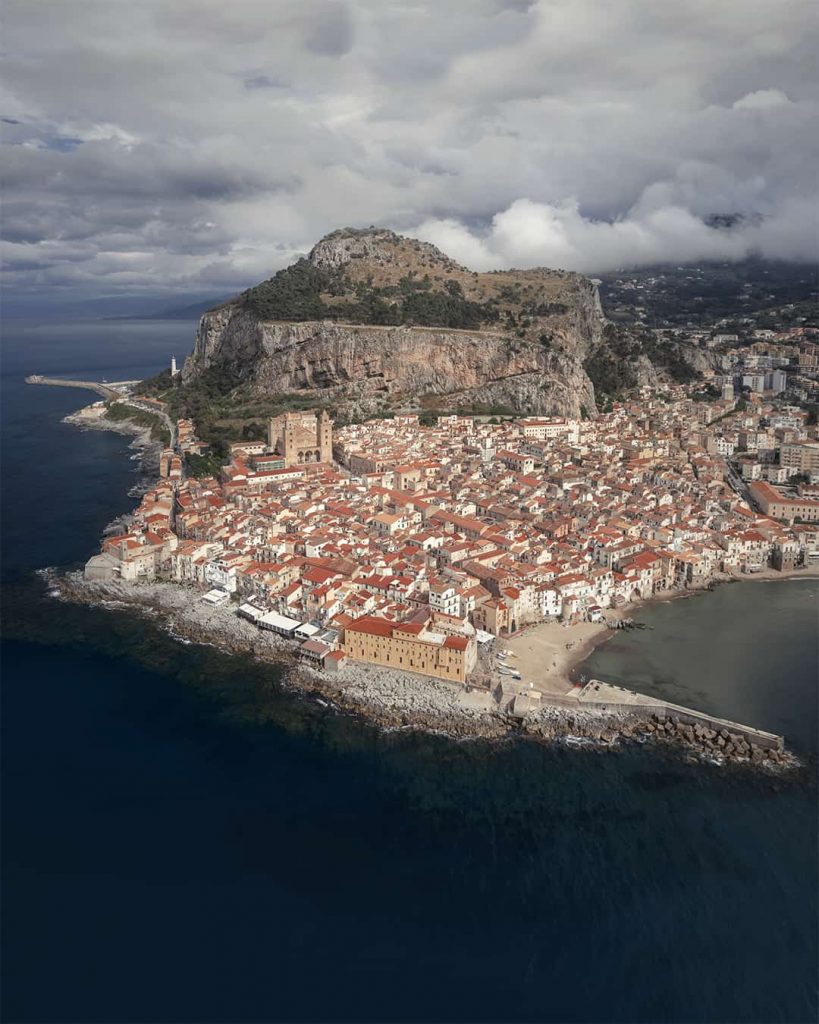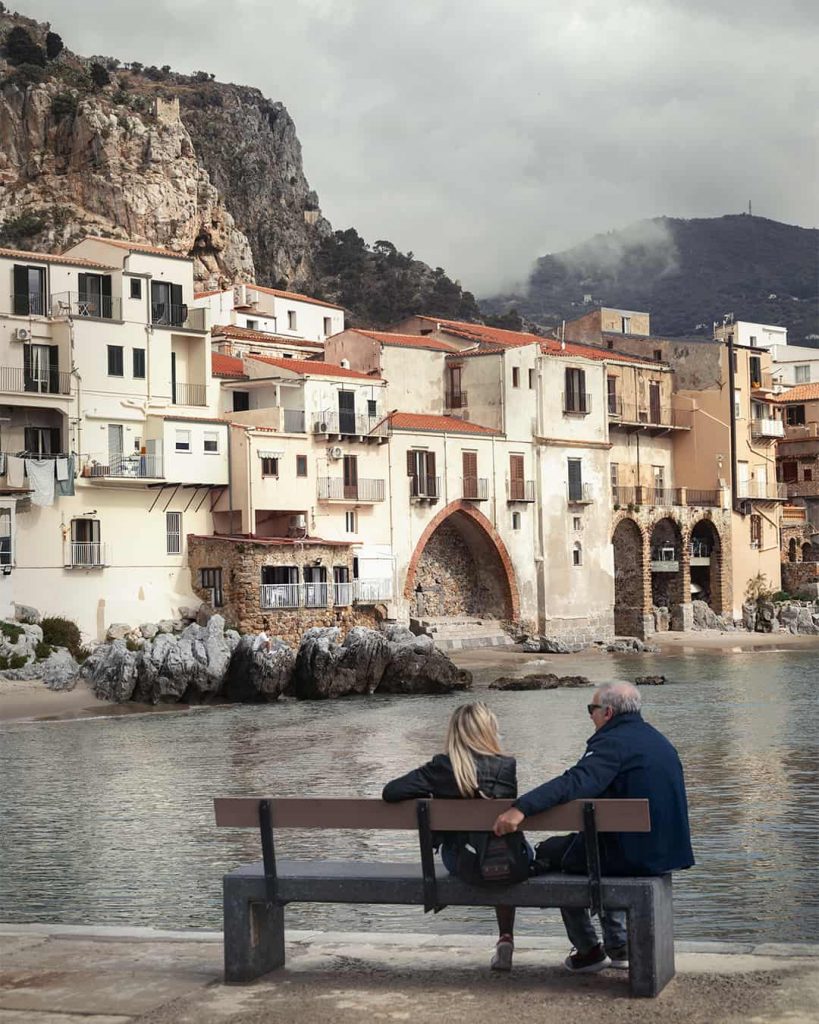 2. Castellammare del Golfo
Castellammare del Golfo is a fantastic less visited coastal town in the northwest of Sicily, mostly known among locals. Located just 40 minutes drive from Palermo, Castellammare is a perfect beach town for a relaxing vacation as well as a great base to visit Lo Zingaro Nature Reserve nearby. The town itself is pretty as well. Set at the foothills of the mountain, featuring a 9th-century castle of Arab origins and an old harbor dotted with fishing boats and small yachts, Castellamare offers several great beaches to lay your towel at.
Just a 10min drive away to the west, you can also find a few hidden coves that are quiet even during the peak season. As expected from a fishing town, there are plenty of fresh seafood restaurants to have a romantic dinner at. 
How to get there: 40-minute drive from Palermo by car, or taking a public bus.
Where to stay: Le Sette Meraviglie, more accommodation options here.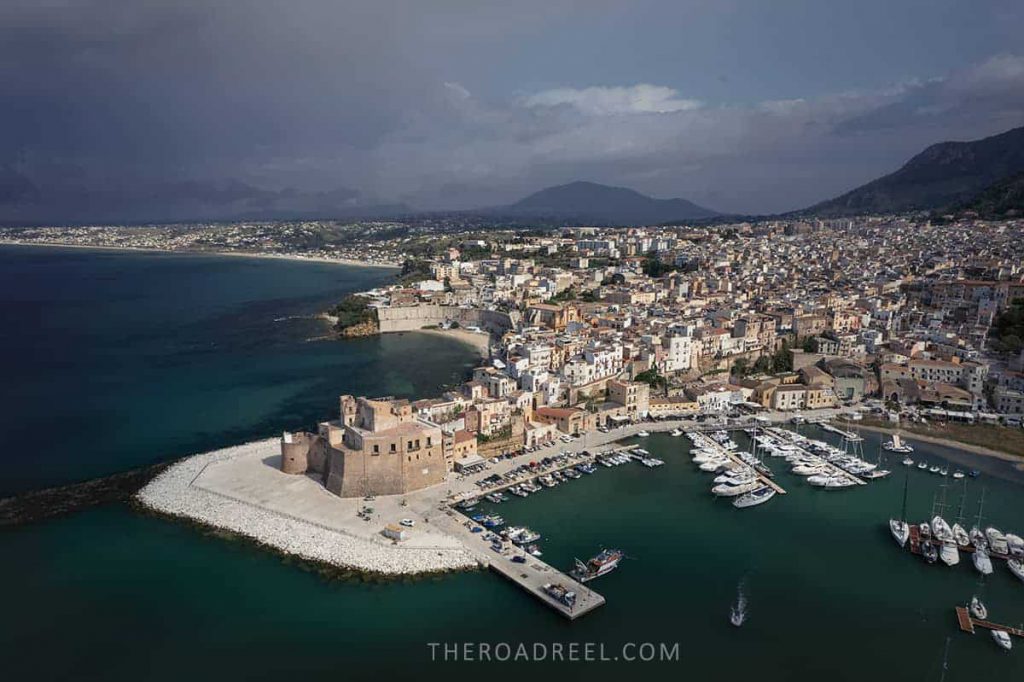 3. Scopello
Situated North West of Sicily in the province of Castellamare del Golfo, between Palermo and Trapani, Scopello is a delightful hamlet with a population of only around 80 people. Many consider Scopello Sicily's most beautiful coastal town. Scopello town is perched atop a hill however the most photographed part is its Tonnara di Scopello. Set at very scenic shores of crystalline sea with craggy rocks sprouting out of the water, Tonnara di Scopello is an old tuna fishery, which today is a museum. A few of the surrounding establishments are turned into tourist accommodations where you can actually rent a place to stay.
Tonnara di Scopello became known internationally after it appeared in Hollywood's Ocean 12. But there is a catch- the waterfront of Tonnara is no longer free for visitors. In fact, you will be asked to pay 10 EUR for the entrance, which is absolutely unreasonable when you have the whole Zingaro Nature Reserve just 2km away. Nonetheless, you can still admire and take some nice shots of the coastal part of Tonara di Scoppelo from the road above it. Also, make sure to visit the small historic center of Scopello town and its open-air church. 
How to get there: 20 min by car or 30 min by bus from Castellammare del Golfo seaside town. You can check bus schedules here.
Where to stay: Torre di Scopello, more accommodation options here.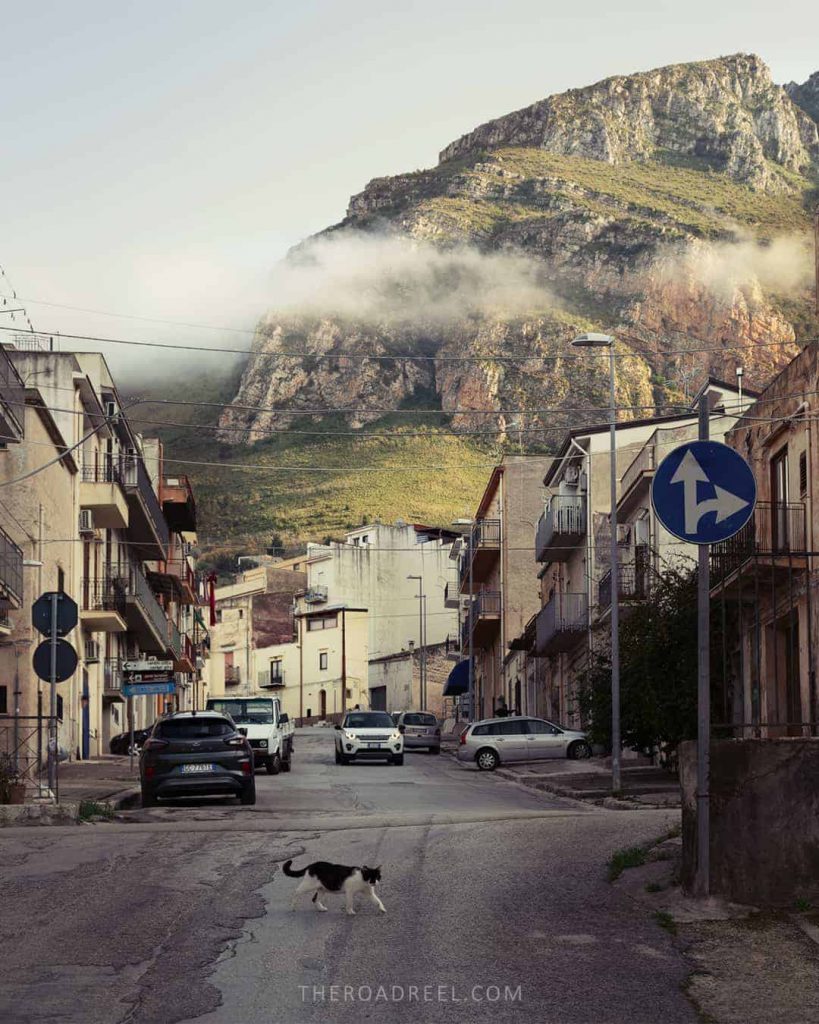 4. Aspra
Aspra is an authentic fishing town in Sicily dotted with dozens of colorful wooden boats, making it a photographer's playground. Located only 20 minutes' drive away from Palermo, this quiet port town is surprisingly not frequented by international visitors. Therefore, Aspra is as local as it gets.
We stopped in Aspra seaside town for a few shots of the colorful boats but ended up spending an hour chatting with friendly locals in our still basic Italian combined with hand language. I left the town with many beautiful shots and even more heart-warming memories of our cheeky interaction with the fishermen and a lady who was kind enough to offer us fresh coconut.
Tip: If you are visiting Aspra, buy some yummy nuts and dry fruits from the stall next to the colorful boats.
How to get there: 20 min by car from Palermo. Local buses and trains from Palermo are also available.
Where to stay: B&B Marina d'Aspra, more accommodation options here.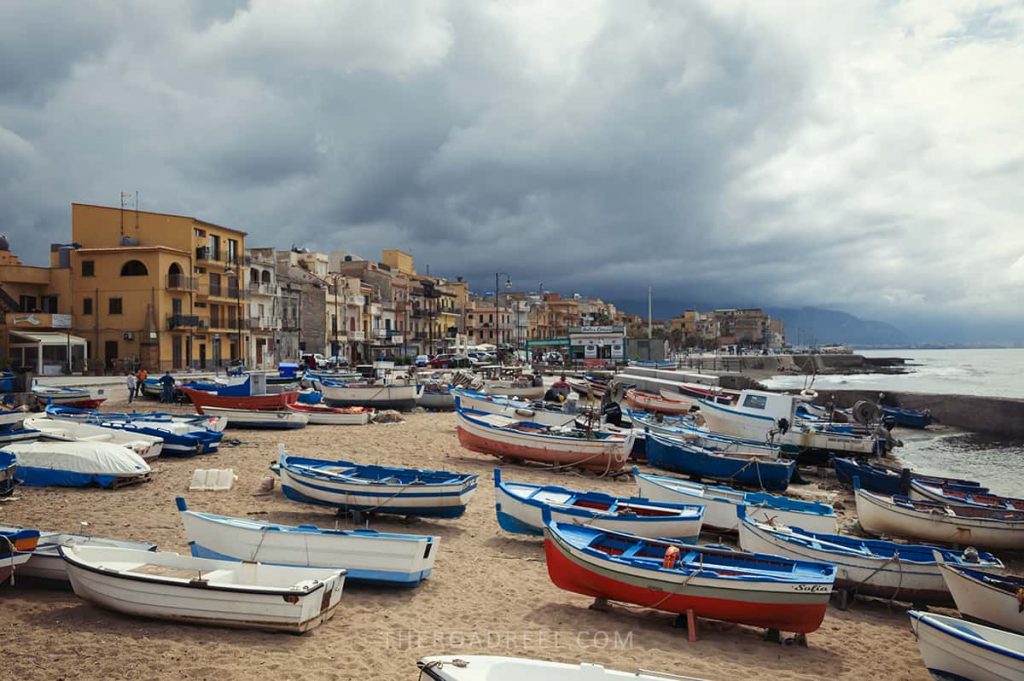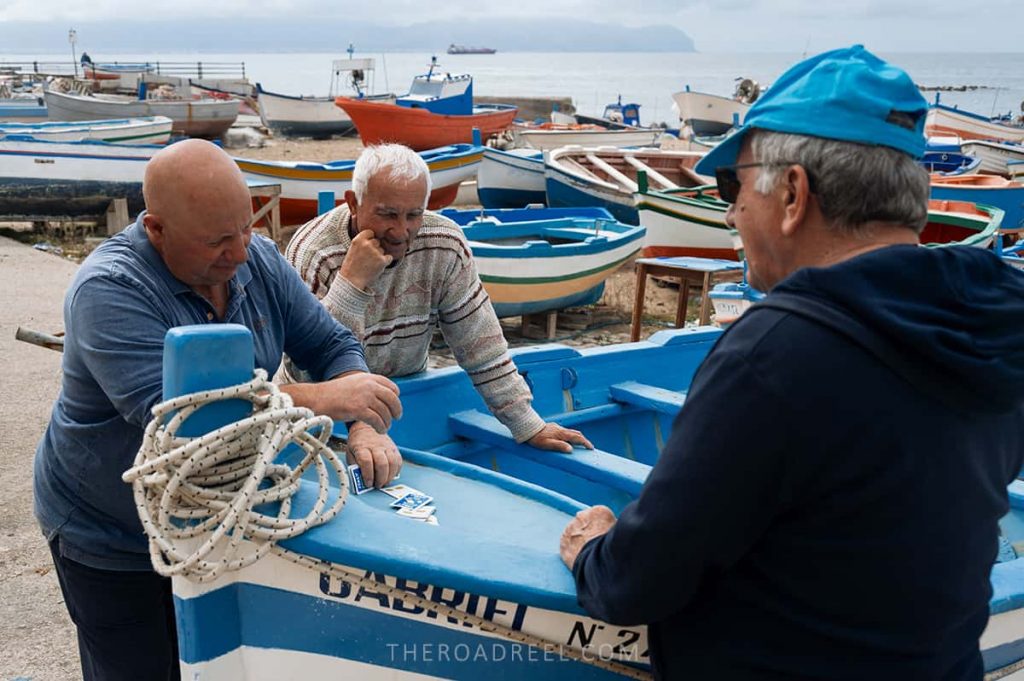 5. Santa Flavia (and Punta Sant'Elia)
Not sure how picturesque Santa Flavia has managed to stay undercover but I have a feeling it will soon become an up-and-coming destination in Sicily's beach town scene. Currently frequented by locals, and especially popular for wedding photoshoots on sunny Sundays, Santa Flavia is one of the prettiest coastal towns in Sicily I have visited.
The jewel on the crown is Punta Sant' Elia– a narrow inlet of crystal clear water enveloped by colorful Sicilian houses.
Santa Flavia coastal town is a true hidden gem on the west coast of Sicily on the way between Cefalù and Palermo. Although it was only a pit stop on our Sicily road trip, I would have loved to spend a couple of slow days sunbathing on the rocky shores of Sant'Elia's beach. 
How to get there: 25 min by car from Palermo. Local bus from Palermo.
Where to stay: La Caletta, more accommodation options here.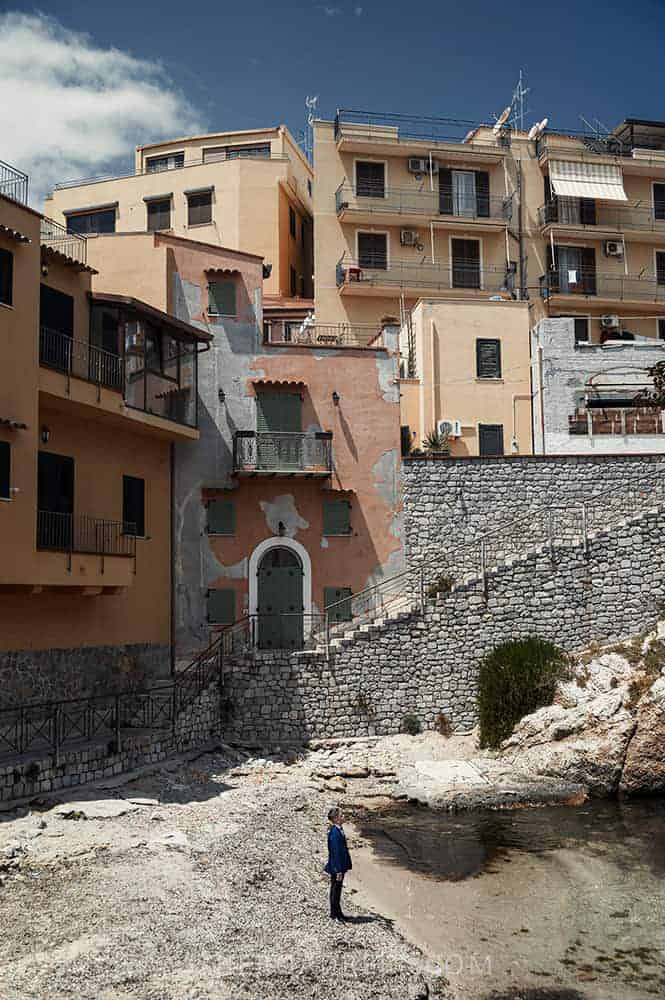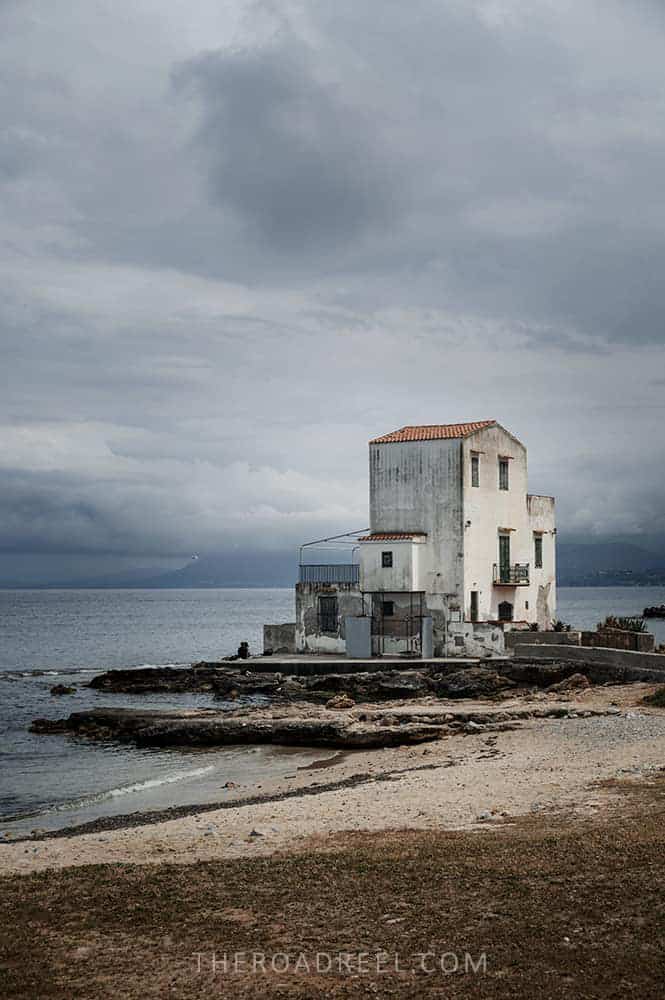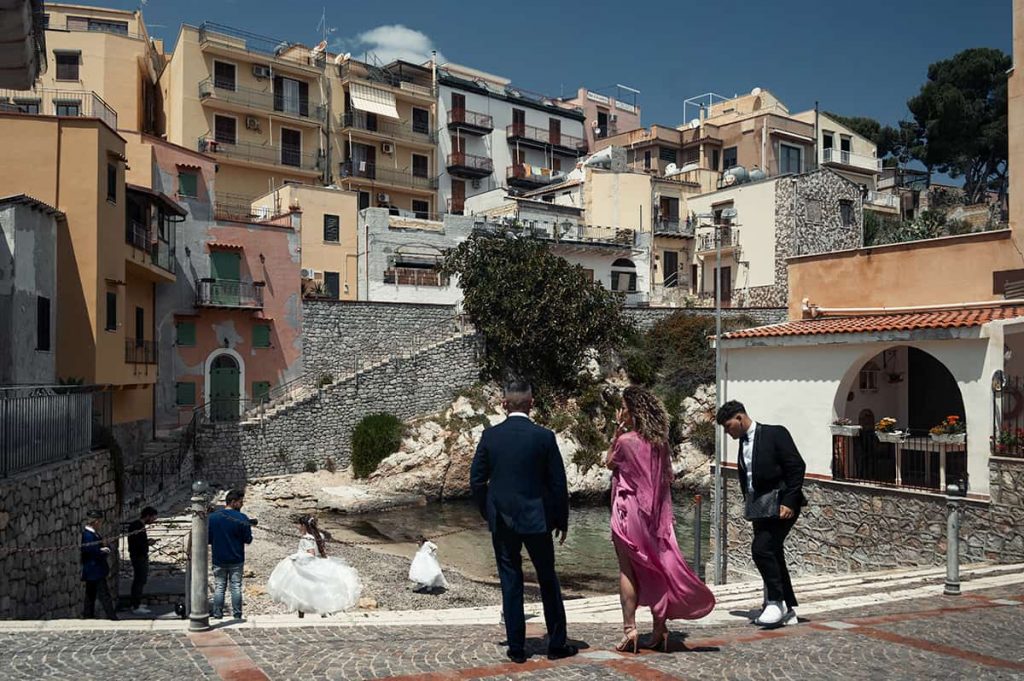 6. San Vito Lo Capo
San Vito Lo Capo is a popular and vibrant beach town in Sicily featuring one of the finest coastlines you can find on the island. A long stretch of sandy shores is dotted with colorful umbrellas, tanned bodies, and an array of bars and restaurants. The beautiful mountainous landscape with a nature reserve nearby puts San Vito Lo Capo on one of the most beautiful small coastal towns in Sicily list. Note that the town itself is made up of 2-story vacation houses which don't hold any particular historical value. However, it is the beautiful landscape and plenty of activities that makes San Vito Lo Capo a beloved summer destination.
How to get there: 50 minutes drive from Castellammare del Golfo or Trapani. Public bus connection available from Trapani and Castellammare del Golfo, timetables for the latter you can check here.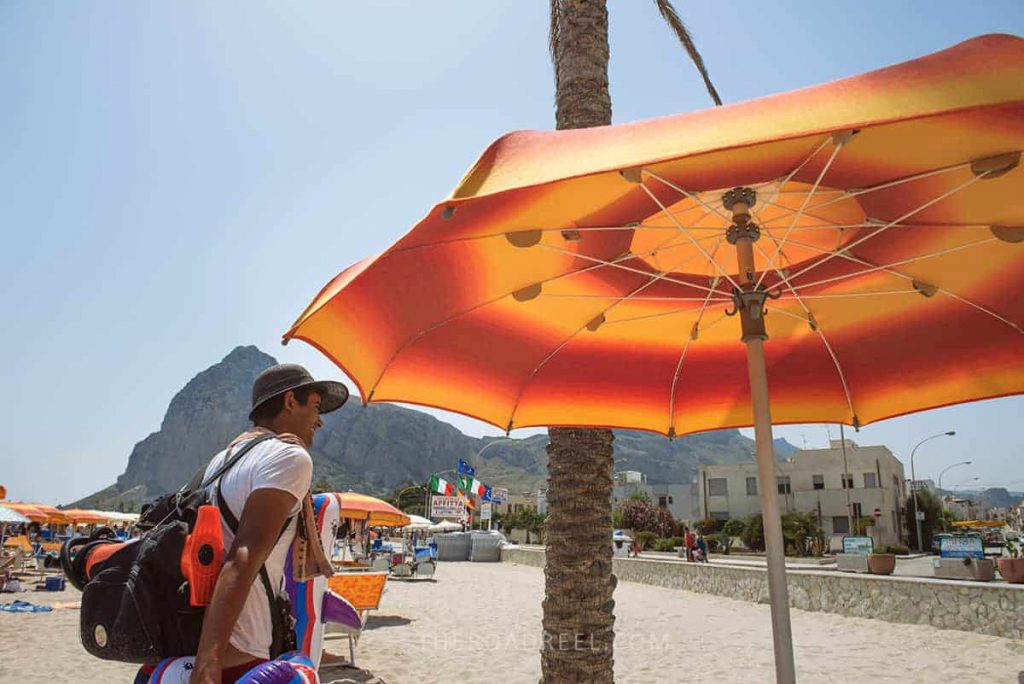 7. Favignana
Low key Favignana fishing town is set on the shores of the butterfly-shaped rugged island of the same name. Reachable within 30 minutes by hydrofoil from Trapani off the west coast of Sicily, Favignana seaside town in Sicily is one of the best places to visit for a slow-paced island vacation. With impossibly blue sea and secluded coves, Favignana island is beloved by sunseekers. The laid-back Favignana town has a small historical town where you will find many gelaterias, cafes, and restaurants, and also have the best tuna burger in Sicily. Rent a bicycle and peddle around the island – it is the best way to see Favignana and its beaches. 
ALSO READ: Guide to visiting Favignana and Egadi islands in Sicily.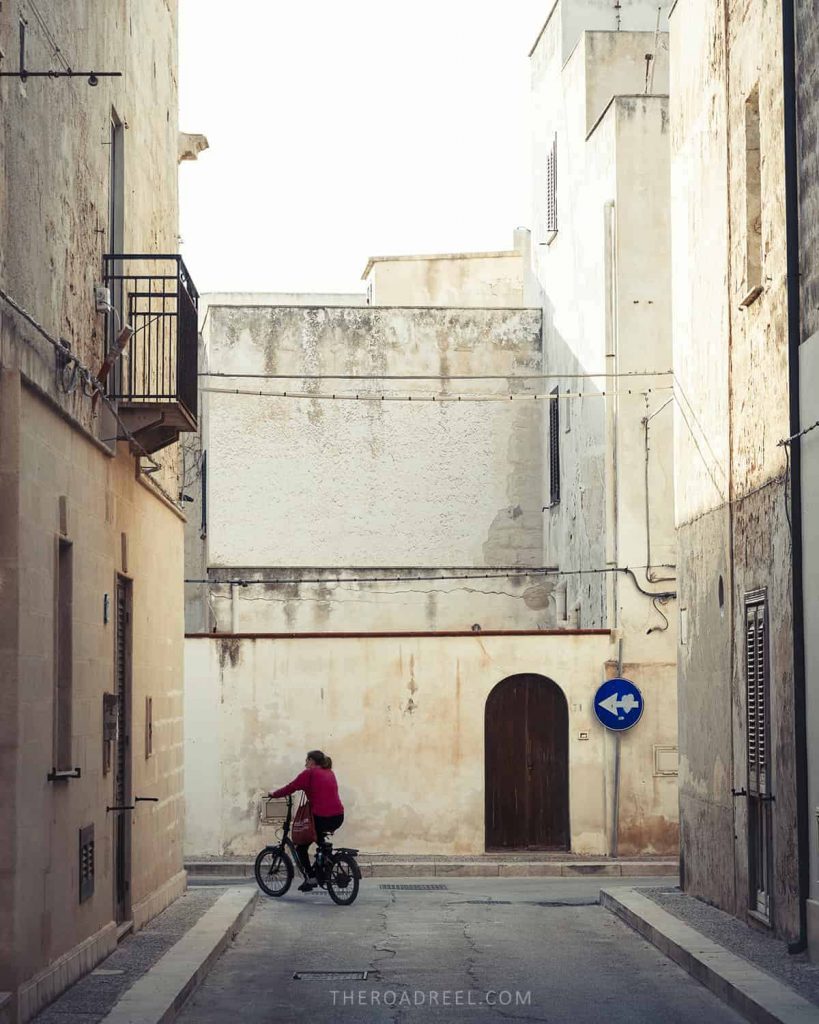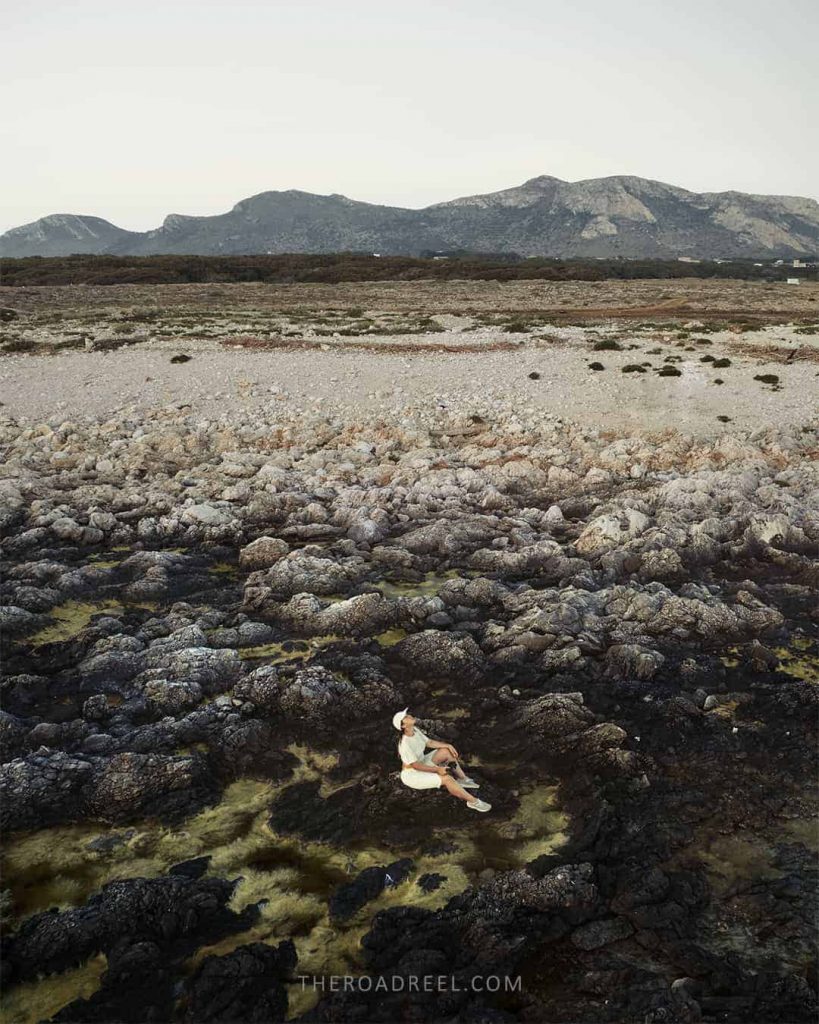 8. Levanzo and Marettimo
The other 2 island towns in the Egadi archipelago, Levanzo and Marettimo are characterized by Mediterranean white-washed waterfront houses contrasting with the incredibly blue sea at their doorsteps. These towns, although popular among locals, are quieter than their biggest sister Favignana. If you are seeking complete wilderness, Marettimo will offer exactly that.
Both coastal villages can be visited on a day trip from Trapani town in Sicily mainland, or from Favignana port town. They are also perfect for a longer stay far from civilization.
How to get there: by ferry from Trapani or Favignana island. Ferry tickets and timetables for Levanzo here and for Marettimo here.
Where to stay in Levanzo: Casa Vacanze Levanzo, more accommodation options here.
Where to stay in Marettimo: La Casa del Viaggiatore, more accommodation options here.
ALSO READ: Guide to visiting Favignana and Egadi islands in Sicily.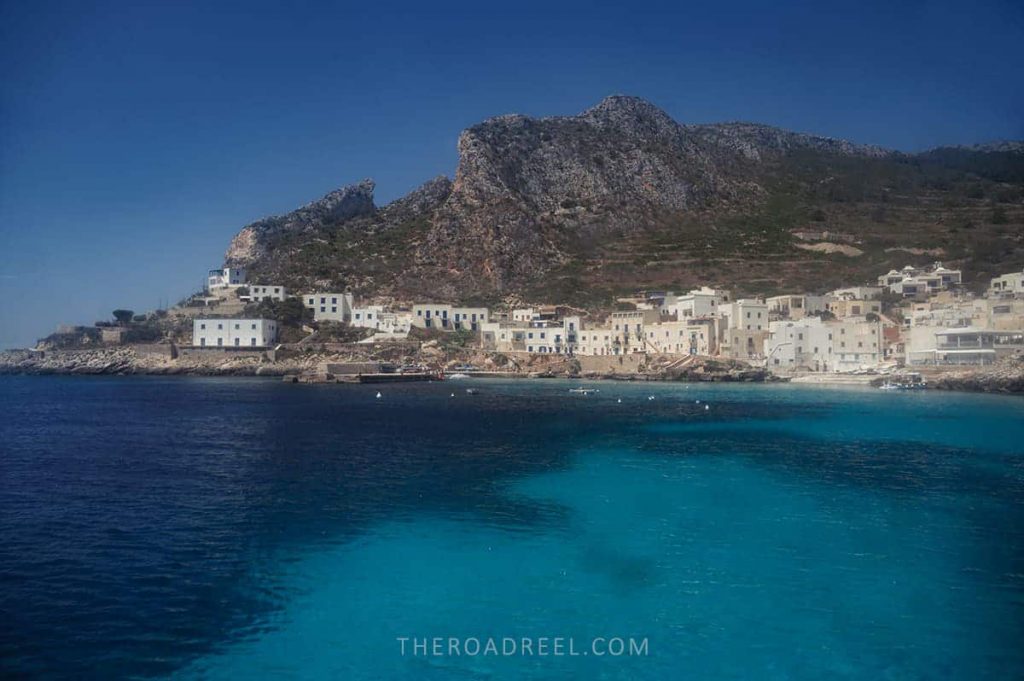 9. Punta Bianca
Not exactly a fishing town, but more of a lonely abandoned house perched on a surreal white rock, Punta Bianca is a unique place to visit in Sicily. It will suit more adventurous travelers as it requires driving slightly offroad and a mini 10-minute hike down to the beach with an abandoned house. Nonetheless, the place is absolutely magnificent for photography.
Location: SouthSicily, near Agrigento. Follow the road leading to the landmark called Il Paradiso Punta Bianca (it is a vacation villa). You can park the car nearby if you are driving a sedan and then walk down the dirt road for about 500 meters to the abandoned house on the white rock beach.
How to get there: 40 min by car from Agrigento.
Where to stay: B&B Villa San Marco in Agrigento, more accommodation options here.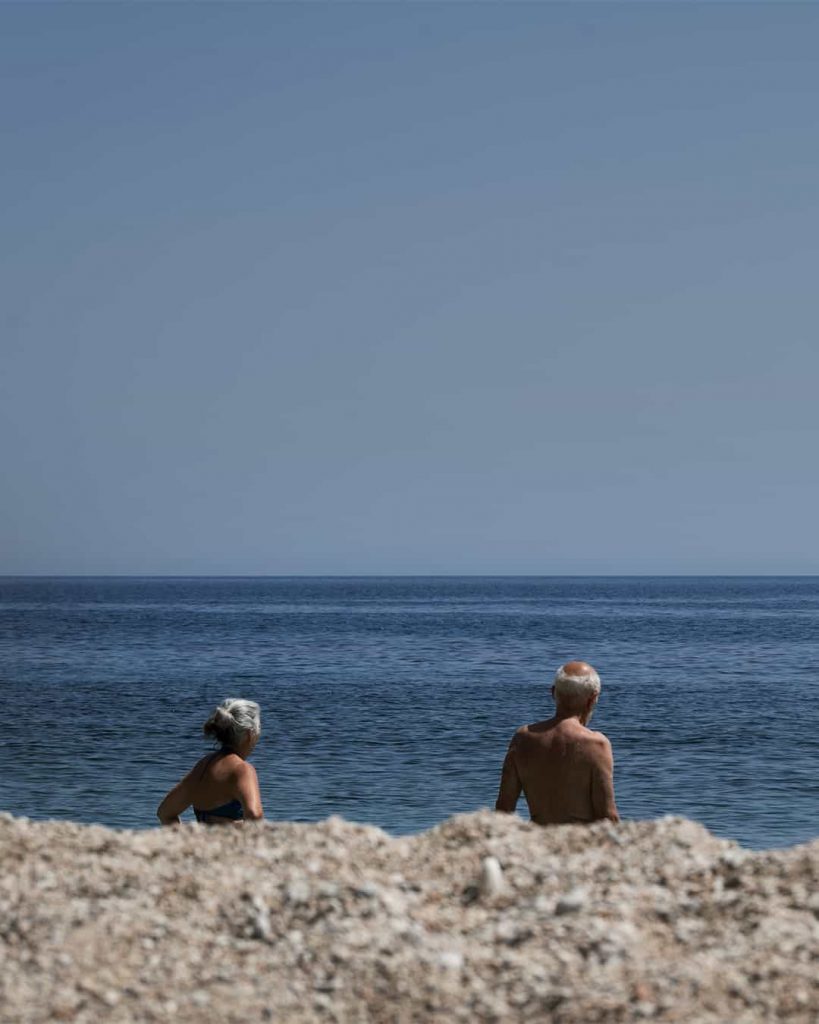 10. Mondello
Set at the foothills of a soaring 700-meters in height Montepellegrino mountain, Mondello beach town definitely has a distinct character. Dotted with colorful umbrellas 1.5 km stretch of fine sandy beach combined with an array of restaurants and bars, makes Mondello an ultimate beachgoers destination.
The turquoise waters of Mondello are reachable within 30 minutes drive or a public bus ride from Palermo. Due to easy access from the capital, Mondello beach gets extremely crowded on a hot summer day. Nonetheless, Mondello coastal town offers an ultimate fun-filled escape from dusty Palermo streets.
Mondello town is a hangout spot and a bonding place for Sicilian teens and youngsters. As you may have already guessed you are not likely to find peace and quiet here. However, if you are in the area, Mondello is a perfect place to see the active and buzzing side of local Sicily.
How to get there: 30 minutes by car or bus 806 from Palermo takes 30-50min depending on traffic.
Where to stay: Casa Lighea Mondello, more accommodation options here.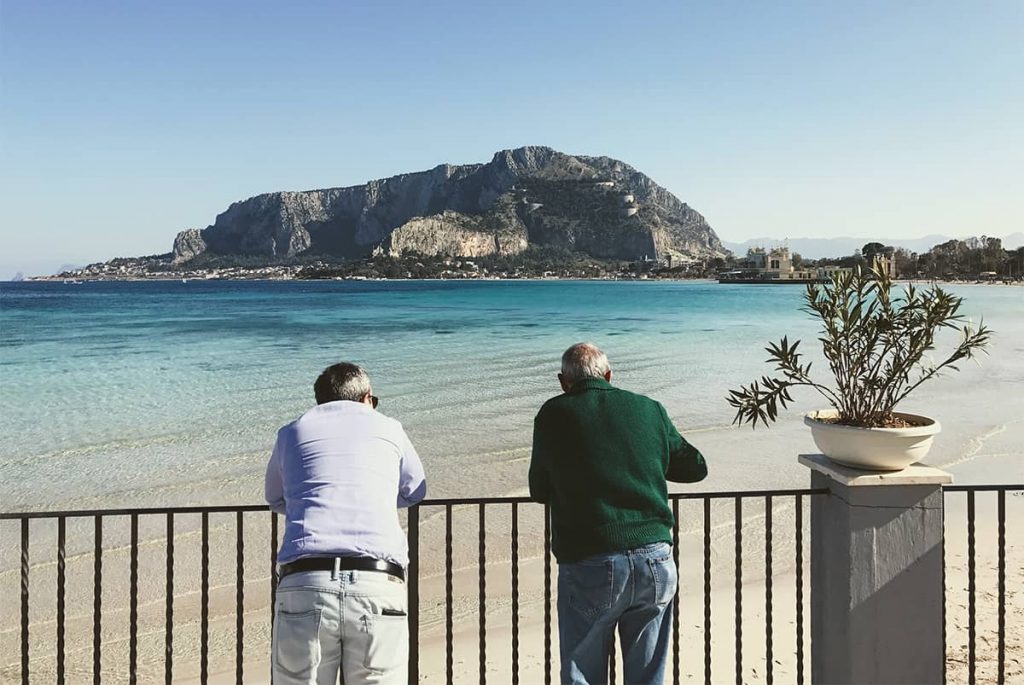 11. Ortygia (Ortigia)
An architectural gem, the beating heart of Syracuse- 1km long and 500-meter wide pedestrian-only Ortygia island is considered one of the most beautiful small coastal towns in Sicily. Ortigia (Ortygia) holds a wealth of over 3000 years of history and a remarkable Greek heritage which entitled the town to be included in UNESCO heritage lists. Surrounded by a crystalline sea and characterized by elegant piazzas, breathtaking churches, a labyrinth of alleyways, lively outdoor markets, and romantic lungomare, Ortygia is bound to captivate your heart.  
Definitely a popular and well-known seaside town in Sicily, but due to its cultural and historical value, Ortygia is a must when visiting the east side of the island. This beach town in Sicily is also a good base to explore other baroque towns in the area- Noto and Ragusa.
How to get there: 1-hour drive from Catania in East of Sicily. By bus from Catania to Syracuse.
Visit with a tour: on a day trip from Catania.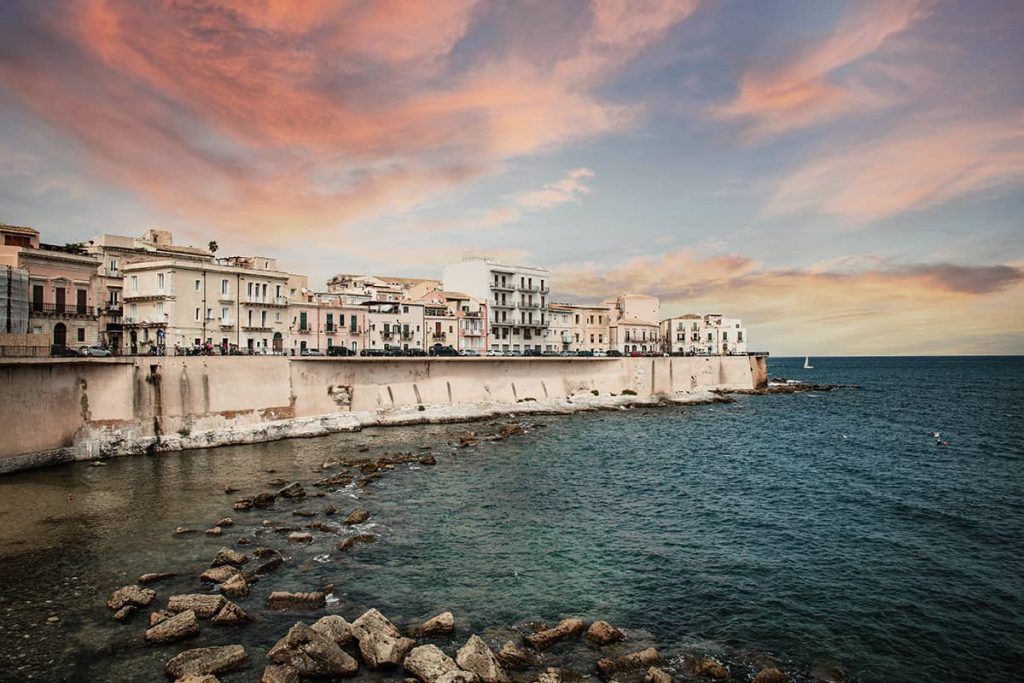 12. Sciacca
Sciacca (pronounced "Shack-a") is a functional historic fishing harbor also known for its thermal springs, beautiful ceramics, and Castello Incantato (Enchanted Castle). Located on the southern coast of Sicily, between two Greek archeological sites Selinunte and Agrigento, Sciacca is by far not a polished tourist destination but more of a place to see Sicilians at work, mainly fishermen.
Although the modern part of the town is unattractive, the port with ages old colorful buildings is very characteristic. The daily catch of the day can be tasted at one of the tempting waterfront restaurants. The small historic center of Sciacca with a number of beautiful 16th-century churches is worth a stroll. Also, the town's main square Piazza Scandaliato is where you can go for a passeggiata (a leisurely evening walk).
Sciacca can serve as a convenient overnight base when traveling along the southern coast. With far fewer tourists, it is yet another wonderful fishing town offering to see more of local Sicily.
Getting there:  1hr by car from Agrigento or 1.5 hrs from Trapani.
Where to stay in Sciacca: La Finestra sul Cortile, more accommodation options here.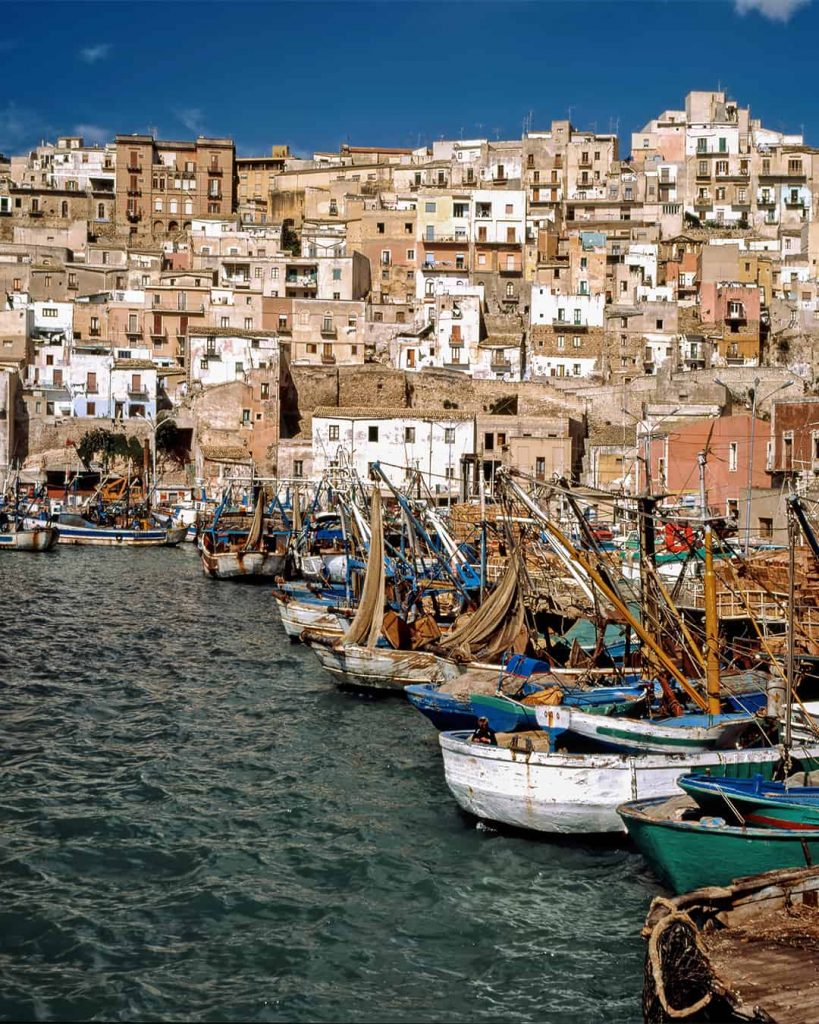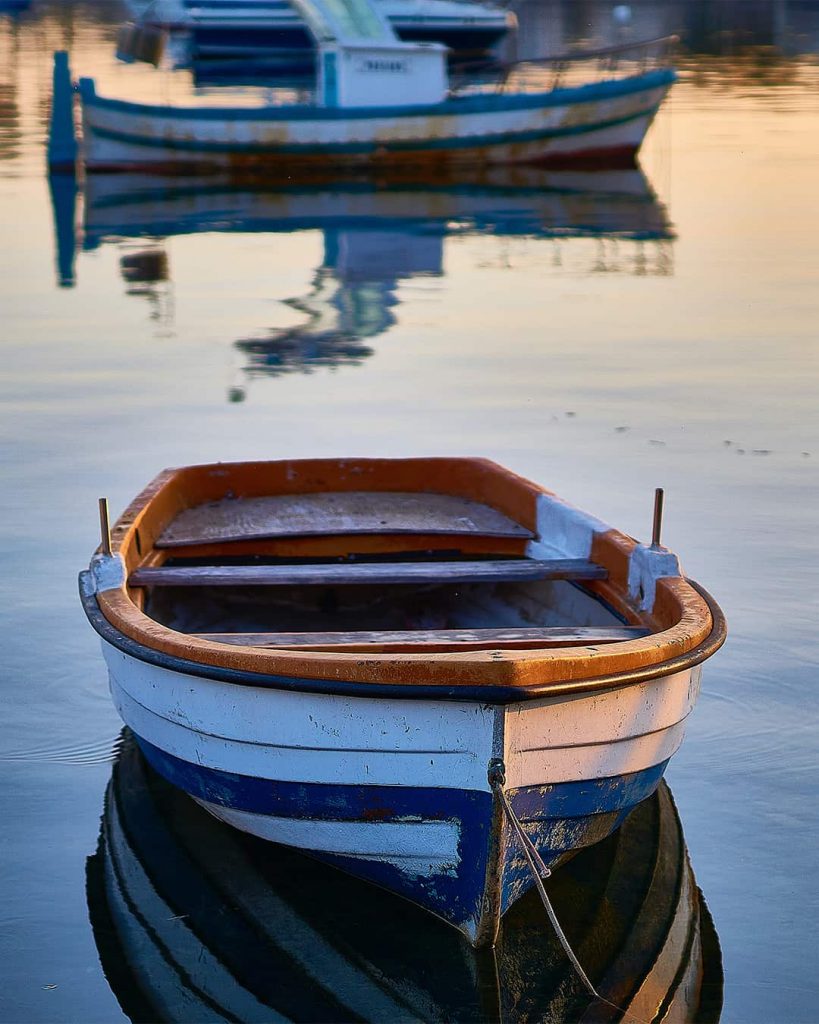 13. Marzamemi
The enchanting miniature seaside town Marzamemi is located in the province of Syracuse, southeast coast of Sicily. Marzamemi is beloved for the Mediterranean feel that best unfolds at Piazza Regina Margherita- a central town square. Dating back to the 10-11th centuries of Arab times, Piazza is surrounded by characteristic stone-block ancient buildings hosting charming tavernas overgrown by green hanging gardens. Meanwhile, the blue and white tables and chairs fill up the entire space of the square, with decorative Sicilian vases and ripe oranges dropping out of the wooden barrels. This signature picture of Marzamemi quickly spread across Instagram making the tiny fishing hamlet one of the most popular yet unique places to visit in Sicily.
How to get there: 50 minutes drive from Syracuse, or 30 min by car from Noto.
Where to stay: Casa vacanze "Le Gebbie", more accommodation options here.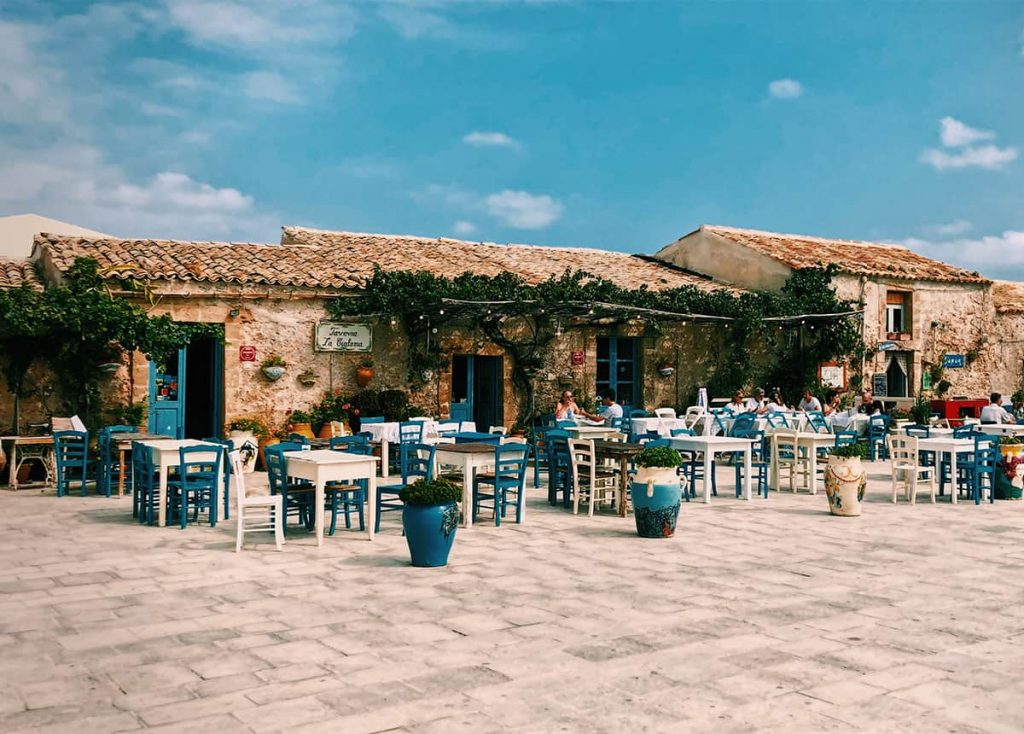 14. Macari
Situated on the Tyrrhenian coast, within the province of Trapani and just steps away from laud beach town San Vito Lo Capo, Macari is a humble and simple seaside town in West Sicily. The visitor to this quiet tiny town will enjoy exceptional views of the gulf bearing its name. Macari was one of the little highlights on our Sicily road trip where we stopped for a quick swim at its gorgeous beach washed by crystal clear waters. If you are in the area, next door you will also find Monte Cofano Nature Reserve which in its own right is spectacular and worth to be explored.
How to get there: 10 minutes by car from San Vito Lo Capo, 45 minutes drive from Trapani. Local bus from Trapani or San Vito Lo Capo.
Where to stay: Gocce di Mare, more accommodation options here.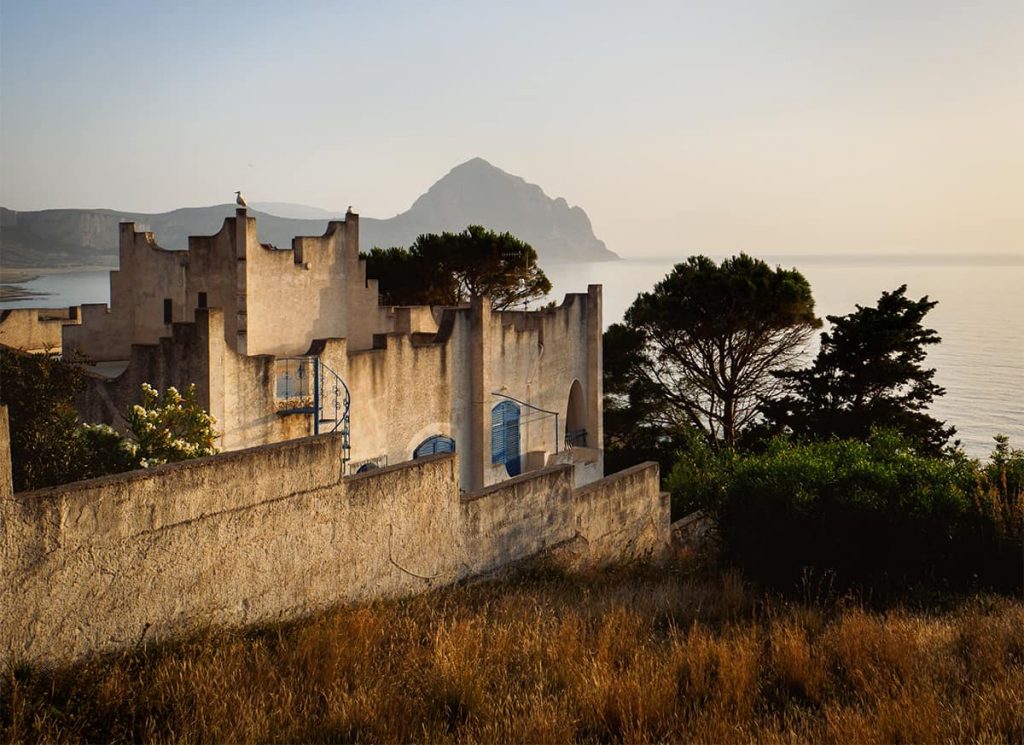 15. Grotta Mangiapane
Grotta Mangiapane- Sicily's lost-in-time cave village is one of the most surreal places on the island. Located 18 kilometers up north from Trapani on the grounds of Monte Cofano Natural Reserve, Grotta Mangiapane dates back to Palaeolithic times. The tiny hamlet is literally set inside the cave steps away from Baia di Cornino beach. It was a functional village until the 1950s, and today it is an open-air museum that accepts visitors free of charge. However, donations of your choice will be highly appreciated.
Inside the cave village of Mangiapane, you can see the living spaces (bedrooms, kitchen, storage rooms) as they used to be back in the day. Grotta Mangiapane is one of the most impressive small coastal villages in Sicily and I highly encourage you to go visit it.
How to get there: 30 minutes drive from Trapani and 30 minutes from Sanvito Lo Capo.
Where to stay: Casa Simago, more accommodation options here.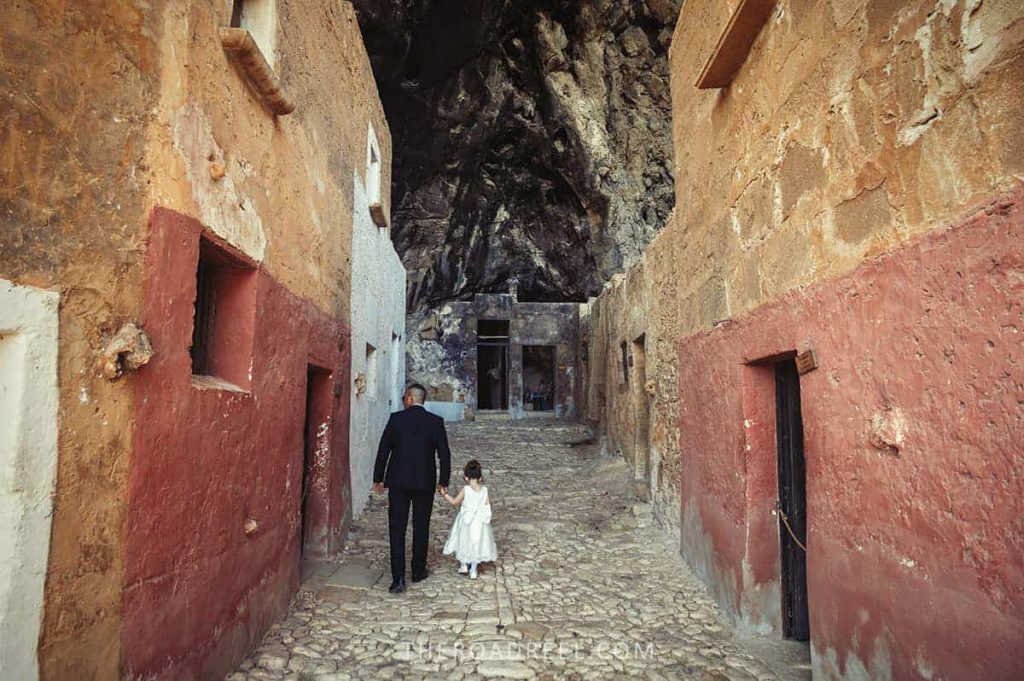 The Most Beautiful Beach Towns in Sicily Map
I hope you find some intriguing small coastal towns in Sicily to add to your own itinerary. If you think I should add some other beautiful seaside town in Sicily to this list, please feel free to comment below.
Sicily Travel Essentials
PLAN YOUR SICILY TRIP WITH MY SICILY TRAVEL GUIDES