Planning a trip to Montenegro and looking at what places to visit in this incredible Balkan country? Here I share a list of the most beautiful places in Montenegro.
Montenegro (Crna Gora) is ridiculously picturesque.  Although small in land size compared to other European countries, the variety of awe-inspiring natural sights and historical must-see places in Montenegro is endless.
A country with a population of barely over 600 000 is blessed with 5 National Parks, one of the cleanest seasides in Europe, picture-perfect historical coastal towns like Perast and Kotor, dreamy islets like Sveti Stefan, snowcapped mountain peaks, hundreds of hiking trails, emerald glacier lakes, deepest in Europe canyons carved by gushing rivers and even skiing resorts, to name a few.
In my case, it was only that one panoramic image of Kotor Bay that convinced me to book tickets for a week trip to Montenegro. I fell head over heels with the country and a few years later came back to explore more of Montenegro for a 2-week road trip. There are just too many beautiful must-visit places in Montenegro that you can spend months exploring this Balkan gem.
Therefore, based on my previous traveling in Montenegro experience, I am excited to share the best places to visit in Montenegro that you should add to your itinerary.
Disclaimer: This post contains affiliate links, which means that I may earn a commission if you make a purchase by clicking a link (at no extra cost to you). This helps to keep my blog running and grow by creating more awesome free content for you.
The 21 Best Places to Visit in Montenegro
The Best Way to Visit Montenegro
Before getting to the list of the beautiful places to go in Montenegro, it is worth noting that I have visited them by driving a rental car.
Montenegro due to its compact size is a perfect road trip destination. Distances between most of Montenegro's highlights are relatively short. You can literally drive from the sunny seaside to the misty mountain peak in just one hour.
I did two road trips in this country so far and I cannot recommend enough to hire a car and explore it at your own pace. This way you will be able to access not only popular places but also explore the country's hidden corners.
From my experience, booking a car at least one month in advance for the summer months will guarantee you the best prices.
For the most competitive rates, check Localrent or Discovercars websites. Both search engines offer competitive rates. But the great thing about Localrent is that often there is no deposit required when booking your vehicle! 
Here are the top 21 best places in Montenegro you have to visit. I have listed my absolute favorites as top 10 places in Montenegro, but the remaining 11 are also incredible and undoubtedly worthy to be on your itinerary, especially if you have more than one week to spend in the country.
1. Kotor Bay – an absolute must-visit place in Montenegro
If you ever heard of Montenegro before, chances are that Kotor Bay (or Boka Bay) came up as one of the top places to see in Montenegro. Indeed, it was just that one image of the panoramic view of the Kotor Bay dotted with red-roofed houses that convinced me to go to Montenegro. Indeed, Kotor Bay is one of the most beautiful places in Montenegro.
Kotor Bay is an inlet of the Adriatic Sea and boasts unapparelled natural beauty. Characteristic Venetian waterfront houses are sprinkled across the shores of the Boka Bay and backed by dramatic high cliffs. For this reason, at turns, Boka Kotorksa  (in Montenegrin language) is reminiscent of Norway Fjords and northern Italian Lakes. Lined with ancient, picturesque towns including Kotor, Risan, Perast, Prčanj, and Herceg Novi, the winding Kotor Bay is unmissable and one of the prettiest places in Montenegro.
2. Kotor Old Town
Sharing the same name with the Bay, Kotor is a historical coastal town and the most popular destination not only in Boka Bay but also in all of Montenegro. Dating back to the 3rd century BC, a fortified atmospheric old town is a UNESCO World Heritage site.
Characterized by Venetian palaces, medieval Roman churches, and Byzantine towers, Kotor brings you back in time. Being occupied by different empires through the centuries, the town has many secrets and interesting corners to be discovered.
The best way to experience Kotor's old town is to explore its narrow cozy streets and lanes strung with laundry.
Come early in the morning before the crowds and you will find yourself sharing the old town of Kotor only with its resident cats.
Here follows one important insight- Kotor (means "cat") has been given its name to honor the purring friends who back in the day were brought in by sailors and helped keep the town free of rats and snakes. Until today you can see many cats roaming around Kotor town while all the souvenir shops are celebrating this curious animal by selling all sorts of Cat related artifacts. 
For the best views of Kotor Old Town, climb San Giovanni (Saint John's) fortress. Conquering 1350 leading up to the fortress in one of the most popular things to do in Kotor, Montenegro. Make sure to come early to avoid crowds and the heat. Alternatively, choose a more tough but less busy route- Ladder of Kotor hike which features equally amazing views.
Entrance Fee: there is an 8 EUR fee to climb the stairs of St John's, however, when you come as early as 6-7 AM, there is nobody at the entrance to collect the fee, so the climb is free. It is at your discretion if you want to pay later on your back down. Due to a large number of tourists, chances are nobody will ask you to.
If you had to only pick one thing to see in this country, then Kotor is an absolute must-visit place in Montenegro and in the entire Balkan Peninsula.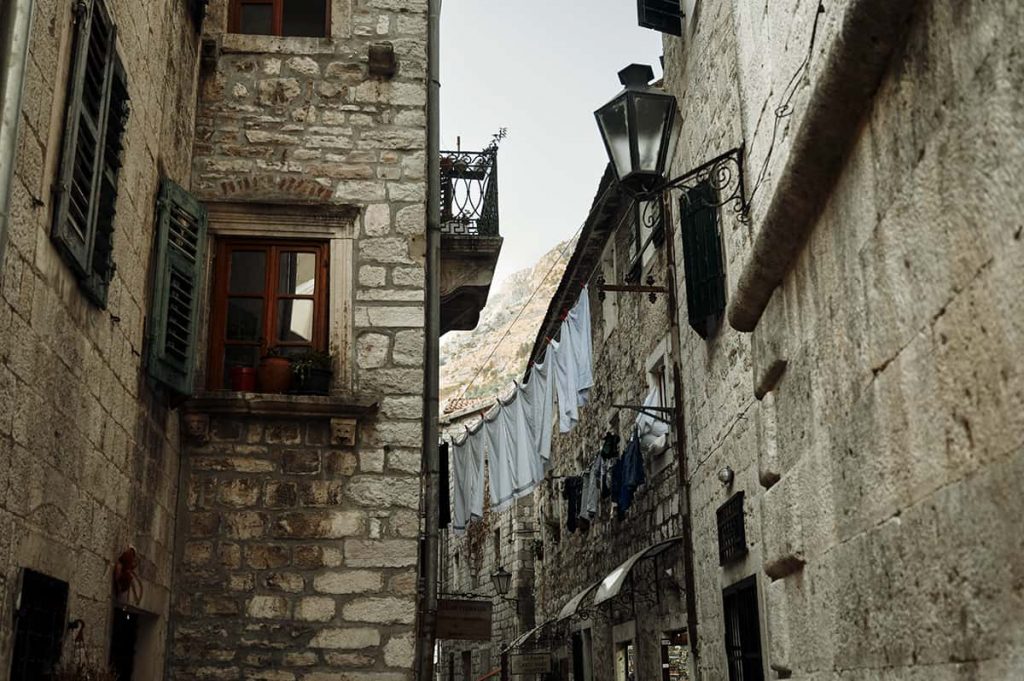 3. Perast- the most romantic waterfront town in Boka Bay
One of the most romantic places in Montenegro is the picture-perfect tiny harbor town Perast which is often referred to as a mini-Venice. It is arguably the most beautiful waterfront town in Montenegro and also, my favorite on the Kotor Bay.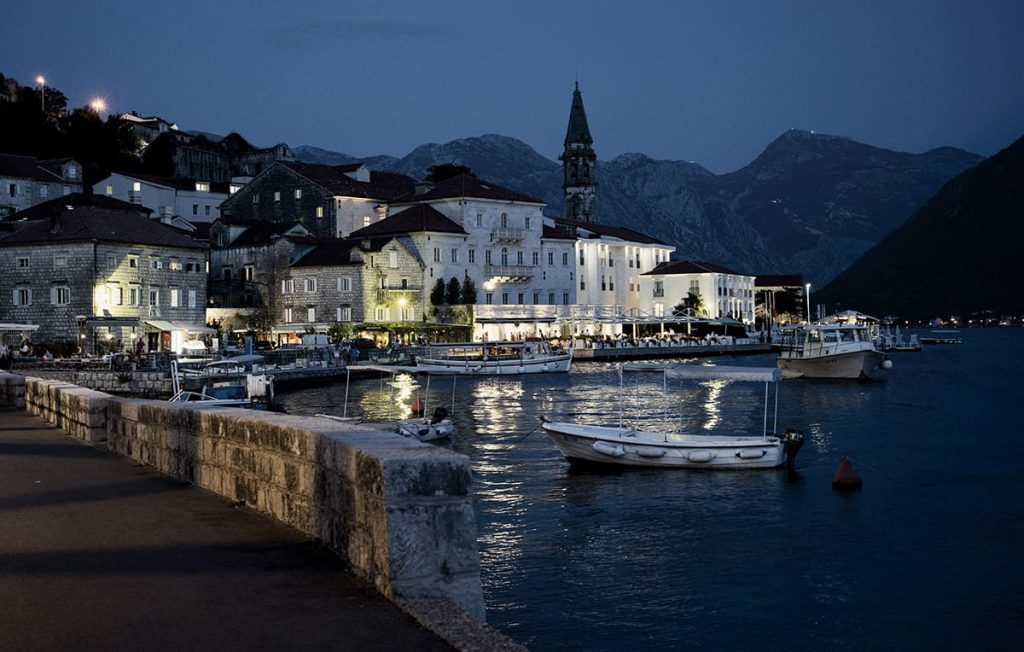 The single main street of Perast is "decorated" with pretty Venetian-times architecture, and counting 18 Baroque and Renaissance palaces.
Once a thriving port, today Perast is beloved by locals and a few curious travelers. Located only 12 KM away from Kotor, Perast is a perfect getaway from seasonal crowds.
The main attraction in Perast is taking a ferry to Our Lady of the Rocks- one of the two tiny artificial islets you can see as soon as you approach the town.
If you come at dawn, you can admire glassy reflections of Our Lady of the Rocks and St. George islands and witness the town waking up.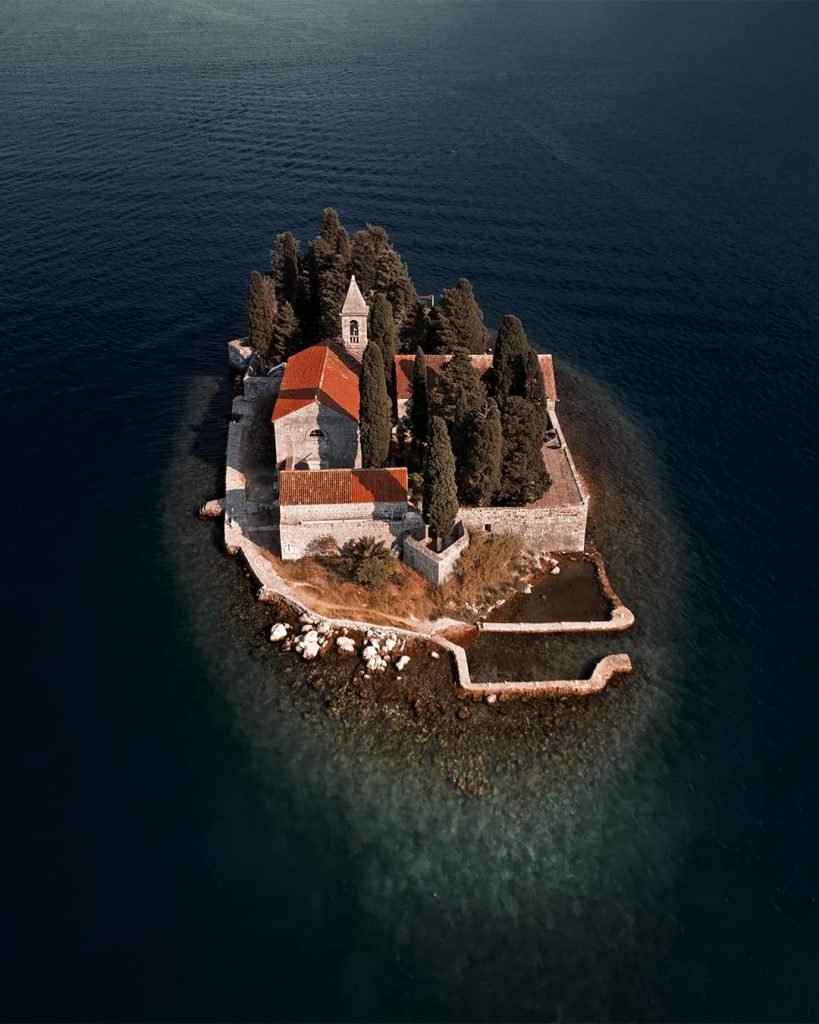 I would recommend spending a whole day relaxing at one of the concrete waterfronts like locals do and splashing soothing waters of Boka Bay.
Sunset and the blue hour is the best time to pull your camera out for the atmospheric travel pictures and also finish your day with a romantic dinner at one of the many waterfront restaurants.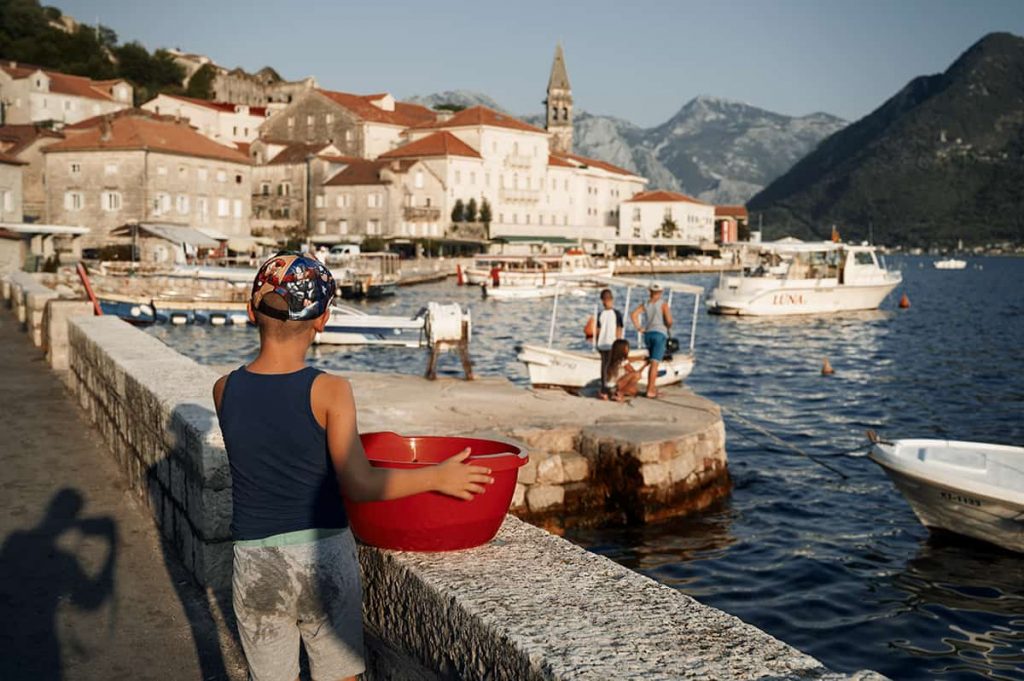 4. Durmitor National Park – the best nature place in Montenegro for mountains and hiking
One of the 5 National Parks-Durmitor National Park established in 1952, is included in the UNESCO World Heritage List and is one of the most spectacular places to visit in Montenegro.
To me, Durmitor stands up there with Kotor Bay, and if I had to choose only one place to visit in Montenegro, the choice would be extremely tough to make.
Durmitor National Park sits at the plateau 1500 meters above sea level. It is home to dozens of glacier lakes, 48 snow-capped peaks reaching above 2000 meters. The highest peak in Montenegro- Bobotov Kuk (2523 M) also belongs to Durmitor National Park, and hiking its summit is one of the best things you can do in Montenegro.
RELATED READS: If you love hiking and the great outdoors, you must definitely check my post about how to hike Bobotov Kuk- the highest peak in Montenegro from the Sedlo Pass.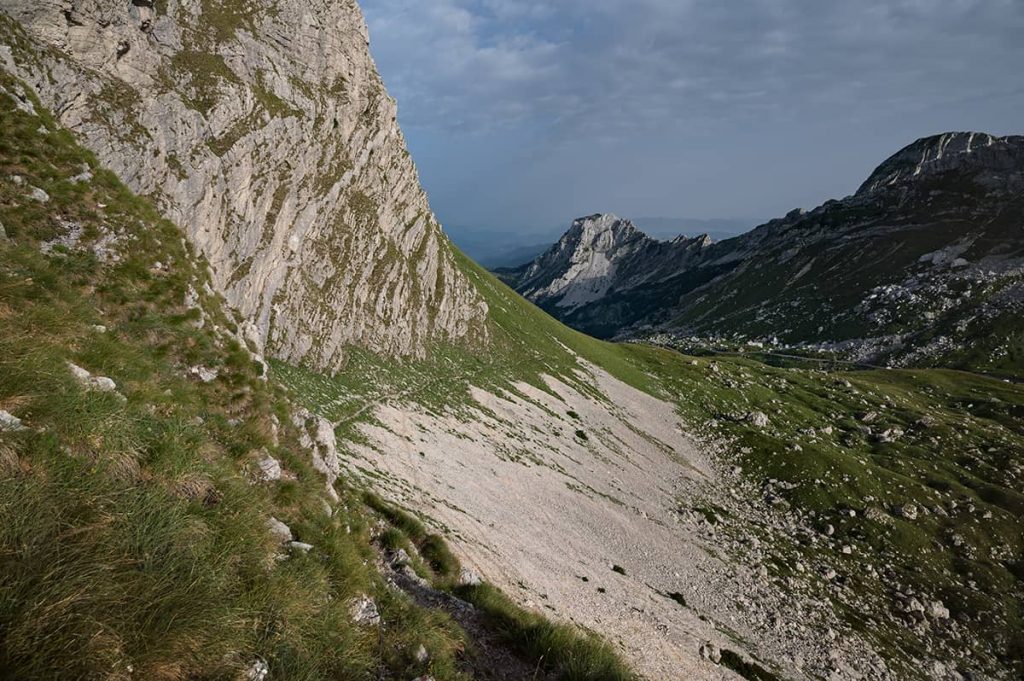 In winter, when the snow blanket covers mountain slopes, Durmitor becomes a host for the main ski resort in Montenegro, with the jump-off base at Žabljak town.
Getting to Durmitor National Park by P14 Panoramic Route
One of the best ways to explore Durmitor National Park is to drive the panoramic P14 route (also called the Durmitor ring). Taking this circular 73 KM route will reward you with ever-changing fairy-tale like views of rolling hills, endless flower fields, lush forests, and fluffy cloud blankets hugging the jagged mountain peaks. 
If you are driving from Kotor, you will be passing Piva canyon and Plužine town. Look for the hidden turn to the P14 route that starts with entering one of the small rock-carved tunnels. The exact coordinates on Google Maps are 43.168849, 18.85792.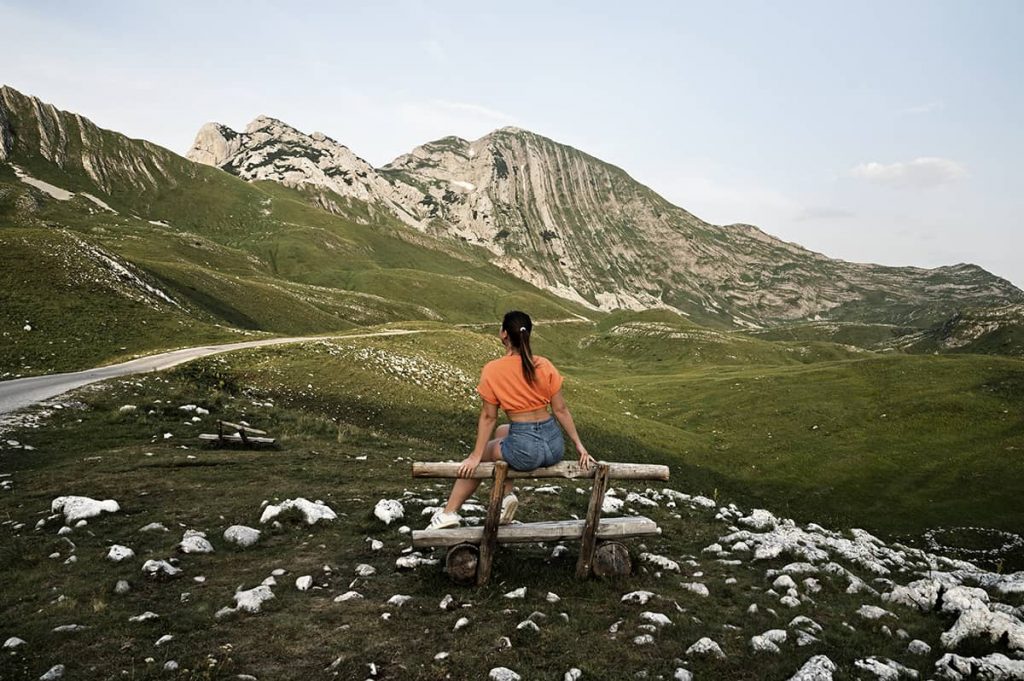 5. Black Lake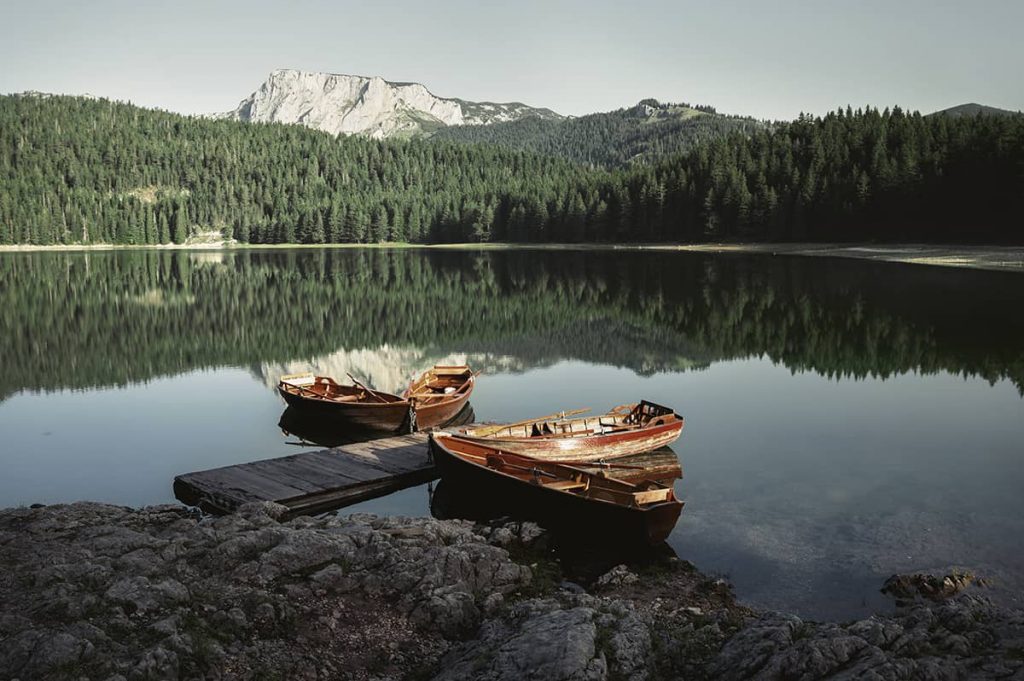 When visiting Durmitor National Park, make sure to go see Black Lake (Crno Jezero). Located 3 kilometers outside the Žabljak town center, Black Lake is one of the most beautiful and well-known glacier lakes in Montenegro.
50 meters deep, the lake is more emerald green in color than it is black. Surrounded by a thick forest of pine trees, Black Lake is a serene place. One of the best ways to enjoy it is to go for a 3.5 km stroll around its perimeter.
For the best photography opportunities, I recommend arriving early morning when the lake is the calmest and has beautiful mirror reflections of the surrounding pine tree forest and the mountains.
Black Lake is also a starting point for a variety of trails in the area. There is an informational board displayed at the entrance, indicating routes, distances, and times required.
Entrance fee and budget tip: there is an entrance fee of 3 EUR per person to visit Black Lake. If you are planning on hiking to Bobotov Kuk or any other trail in the area, get a 3-day pass for 6 EUR which allows you to explore unlimited locations in the Durmitor National Park.
6. Tara River Canyon
One of the most significant places in Montenegro is Tara River Canyon known as the largest deepest canyon in Europe and the second deepest in the World! 1300 meters (4300 feet) at its deepest part, Tara canyon stretches for 82 kilometers (51 miles) and forms a natural border between Montenegro and Bosnia & Hercegovina.
The most scenic part of the canyon is the high rocks of the Ljubišnja mountain range which is part of Durmitor National Park in Montenegro. A popular and easy to access place for admiring the vastness and depth of Tara Canyon is from the iconic Durdevica bridge.
Located just 25 minutes drive from Žabljak town center, Durdevica bridge is a popular tourist place in Montenegro and an impressive engineering masterpiece. The beautiful 5 arches 172 meters tall bridge connects the two shores of the Tara river canyon.
Tara Canyon and Durdevica bridge is a must-see place when visiting Durmitor national park, even if it is just for half an hour- you must make a stop there.
Walk across the bridge to enjoy Tara river views or have a coffee with the Tre Lecce cake at one of the restaurants overlooking the Durdevica bridge.
Adventure lovers will be thrilled to know that they can go white water rafting on the rapids of Tara river or zip line between two shores of the canyon at the Durdevica bridge.
7. Sveti Stefan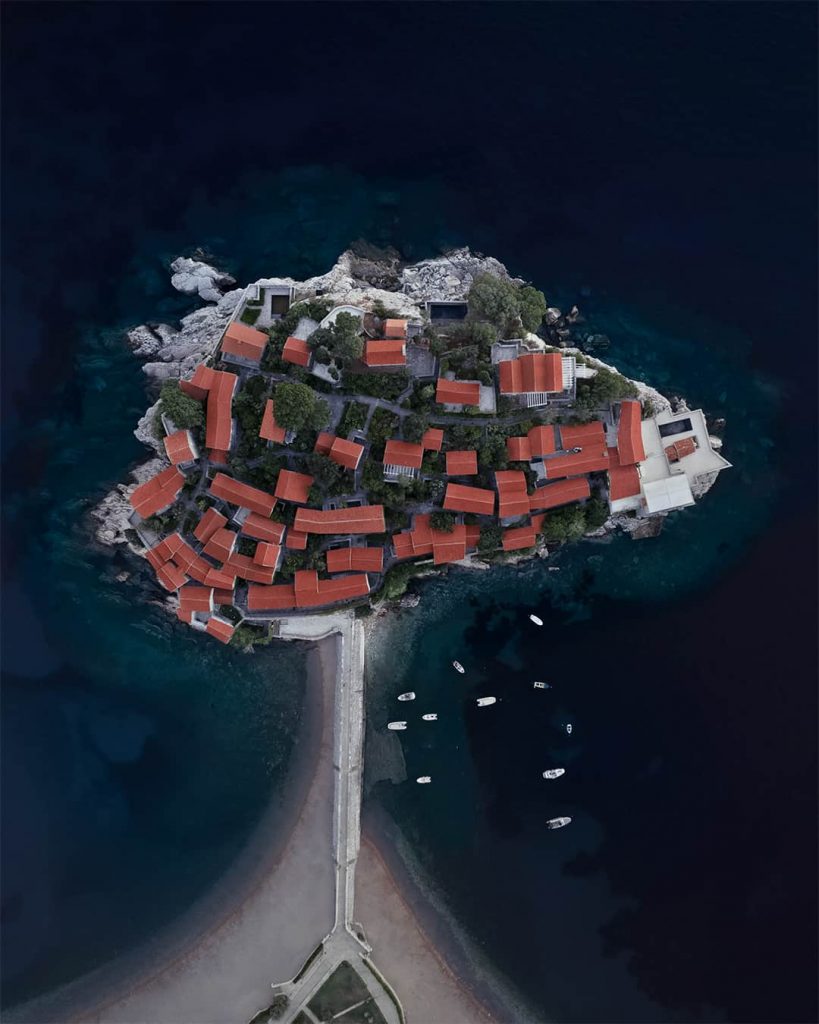 Almost every postcard of Montenegro features a small islet populated with red-roofed stone houses. Situated off the coast of the Adriatic Sea and connected to the mainland by a narrow tombolo, Sveti Stefan is one of the highlights of Montenegro. It is located south of Kotor Bay and Budva town.
What used to be a fortified fishermen's village founded in the 15th century, now is a luxury hotel. Sad news for some, though, you can only visit Sveti Stefan island if you have a booking in the hotel. The good news, on the other hand, is that the sight of the island is much more beautiful from the distance.
Ways to enjoy the best views of Sveti Stefan island
Take a scenic stroll along the coastal trail at Milocer Park. A shaded path up north from the causeway connecting Sveti Stefan to the beach offers nice sneak peaks to the island in between the pine trees.
Alternatively, drive up the steep hill above the coast to church St. Sava to see Sveti Stefan from above. I would recommend coming up there in the morning for the best lighting conditions. During sunset, the light will be casting straight into your lens and it won't look nice in the photographs.
8. Lake Skadar National Park with Pavlova Strana view point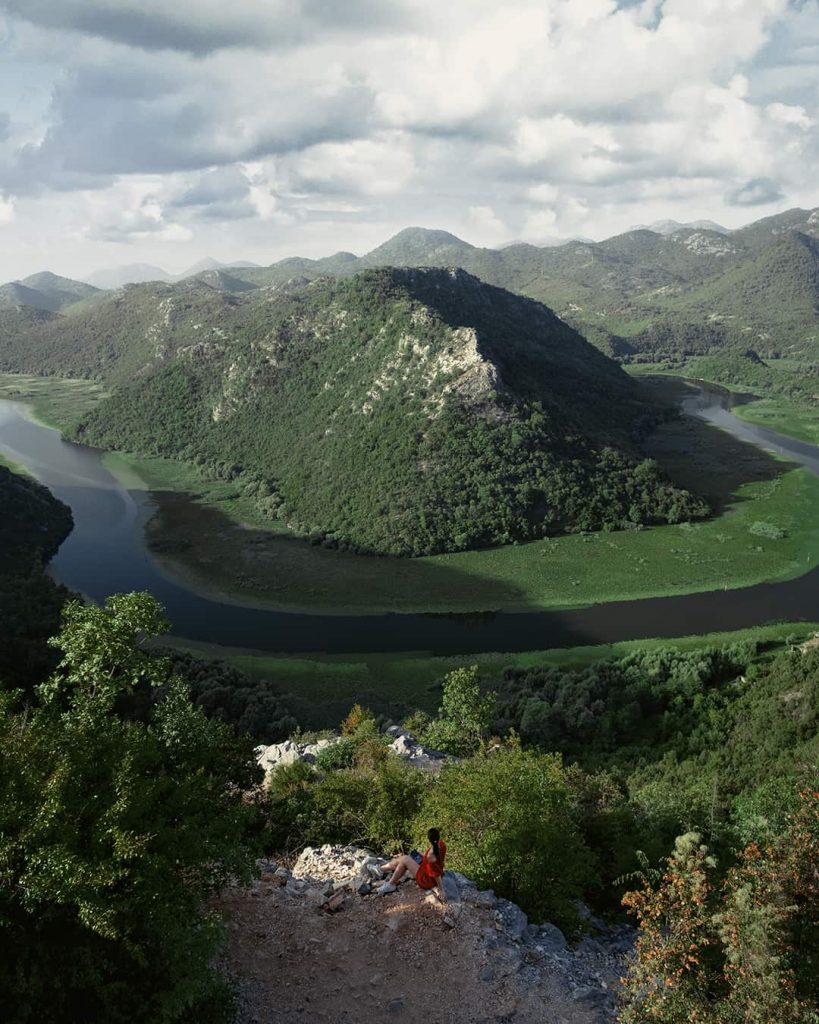 Shared between Albania and Montenegro, Lake Skadar is the largest lake on the Balkan Peninsula covering an area of more than 500 square kilometers. It almost looks like a calm sea rather than a lake. The larger and the most impressive part of this beautiful lake lies in Crna Gora making it one of the most incredible places to see in Montenegro.
Surprisingly, Lake Skadar is still an off the beaten path destination compared to its nearby attractions in Montenegro like Kotor Bay or Adriatic Sea Coast, but it is just as impressive.
Lake Skadar belongs to Skadar National Park and is a nesting ground for hundreds of bird's speeches in Europe.
However, it is Lake Skadar's mind-blowing scenery from the Pavlova Strana viewpoint that took my breath away.
I recommend taking the M3.2 road- a classic one-lane Montenegrin rural road that winds above the lake and offers the best views, including the above-mentioned stop at Pavlova Strana. Pavlova Strana features a sight of a horseshoe bend of Rijeka Crnojevića waterway with many small hills popping out of the lake in the distance.
At the shores of Lake Skadar, make sure to take one of the tours in the classic fishing boats. Gliding lake Skadar waters through the marches of lilies as well as jumping out for a swim is one of the best things you can do in Lake Skadar.
9. Njegoš Mausoleum at Lovcen National Park
Scaling the heights and ticking off the panoramic views in Montenegro is easy. Lovcen National Park, although smaller than Durmitor, offers sights of some incredible layered mountain ranges less than an hour drive away from Kotor Bay.
On a clear day, you can see the view of the whole Kotor Bay. It is said that the best sunsets in the whole of Montenegro can be witnessed from the Lovcen mountains.
The highlight of the trip to Lovcen National Park is the Mausoleum of Petar II Petrovic-Njegos. A national hero of Montenegro has been buried atop Mount Lovcen peak.
The Mausoleum is accessed through a tunnel with a set of hundreds of steps. The architecture and interiors of the mausoleum are controversial. Nonetheless, the best part of the burial place is behind the mausoleum where you will find a circular viewing platform overlooking the mountainous panorama of the Dinaric Alps.
You can reach Lovcen Mausoleum in two ways:
From the highway of old capital Cetinje; or
Drive the nerve-wracking but unbelievably scenic Kotor Serpentine raod (I would choose this anytime as the views of Koto Bay are unbeatable).
10. Piva River Canyon
Piva Canyon is another less known but absolutely amazing and unique place to visit in Montenegro. A turquoise-colored Piva river is gushing through the narrow canyon at the northern part of Montenegro close to the Bosnia and Hercegovina border.
If you are driving to Durmitor National Park, make sure to take road E762 towards Plužine town. You will have an adrenaline-filled journey driving through around 65 small tunnels carved through the rock. A chain of picturesque tunnels starts immediately after passing Plužine town. Here you can also stop for a petrol refill and a quick lunch break at an artificial turquoise lake- another cool place in Montenegro.
On my Montenegro road trip, I drove through the tunnels until the Mratinje dam and back to the Piva lake in Plužine. From here I took an exit to the scenic P14 road leading to Durmitor National Park. Just a heart-stopping switchbacks up the road, and you will get a special treat- a fantastic viewing point of Piva lake from above.
11. Grebaje Valley in Accursed Mountains
Not every visitor makes it that far in Montenegro, but if you are traveling for more than a week in a rental car, make sure to get out of the beaten path and explore Montenegro's best-kept secret- Accursed (Prokletje) National Park.
Tucked away in the far eastern corner of Montenegro, Grabaje valley is a hidden gem and stunning base for some of the most breathtaking hikes in the Accursed mountains range which extends into Albania on the other side. Accursed Mountains are also often called Albanian Alps, and is definitely one of the most spectacular hidden places in Montenegro. I would put it in the top 10 places to see in Montenegro if it was a little easier to access.
If you love hiking, then you must add Prokletje National Park to your Montenegro itinerary. One of the easiest trails but still on a moderate plus level due to immediate elevation gain is a hike to Volušnica peak overlooking spectacular Karanfili massif.
Entrance fee: entering Grebaje Valley costs 1 EUR per day. Even if you stay at one of the mountain huts in the area, you still must pay the entrance fee.
Another place to stop by when on the way to Grebaje valley is the Arabic/Turkish influenced town of Gusinje. It reminded me of Albania a lot with its mosques and only men-dominated coffee shops. Some of the best things to do in this small local town of eastern Montenegro is to just stroll the streets and have a cup of the best coffee in the country at one of the bustling coffee shops. Just to note, if you are a female traveler, you can expect lots of curious stares. I picked the quietest of all the coffee shops, around the corner off the main street.
12. Komovi Mountains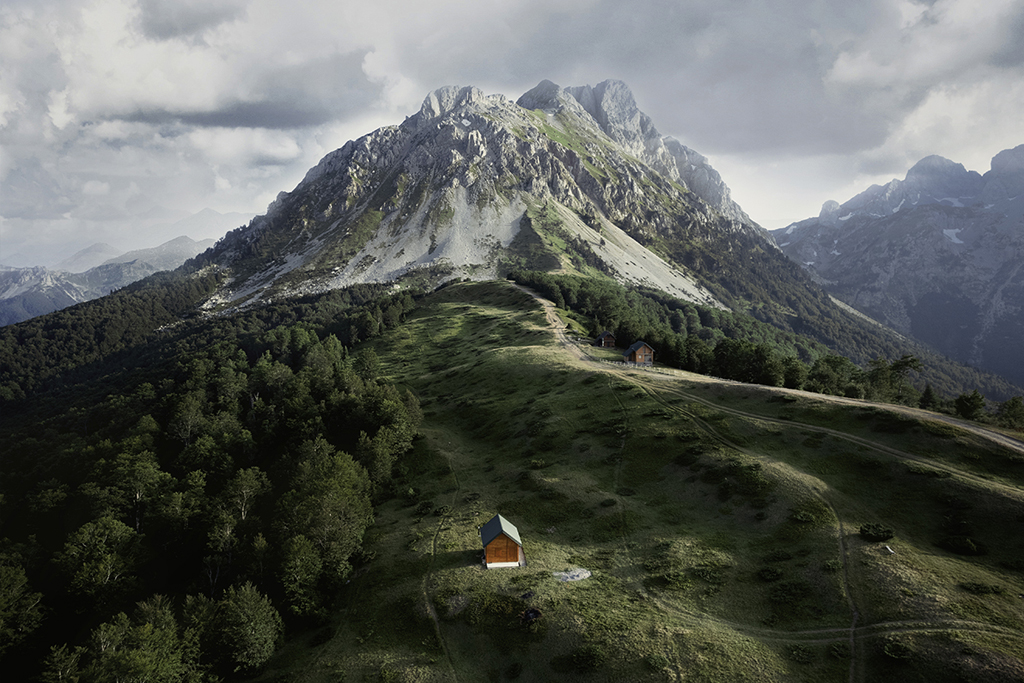 The other hidden gem in Montenegro is Komovi Mountains. If you love hiking and are ready to explore deeper and further than Durmitor National Park, then you will definitely find some mighty peaks to scale in Komovi.
Located sort of on the way to Prokletije National Park, in Andrijevica Municipality, Eastern part of Montenegro, Komovi mountains feature idyllic meadows and ominous barren peaks.
Several marked mountain trails start from Stavna Plateau, with 5 peaks above 2000 meters you can choose from for summiting.
The most well-known in the area is Kom Vasojevički (2461m). Although it won't be crowded as some of the best-known hikes in Montenegro like Bobotov Kuk In Durmitor.
The best base for hiking in the Komovi mountains would be Eko Katun Štavna- a pioneer of ecotourism in Montenegro. Located in the beautiful Stavna Plateau, this accommodation offers 2-floor bungalows that can fit a group of up to 6 people.
13. Stari Bar
Situated south of Montenegro, slightly above the Adriatic coast, not far from the Albanian border, Stari Bar (Old Bar) is a charismatic Ottoman-influenced town and an underdog compared to its more famous counterparts- Kotor or Budva.
Nestled in the hills, Stari Bar is mostly known for its aqueduct and an ancient castle dating back to the early Middle Ages. Stari Bar has a sad history of being devastated by the earthquake in 1979. The destruction of the aqueduct left residents without water and made them move closer to the coast where the new not-so-charming town of Bar is currently located.
Today, the remaining of the old town of Stari Bar is filled with quirky souvenir and coffee shops, and slow food restaurants which attract some curious travelers. Stari Bar is a beautiful less touristy place in Montenegro. It is great for a midday afternoon lunch break and exploring its historic castle and aqueduct.
14. Petrovac Na Moru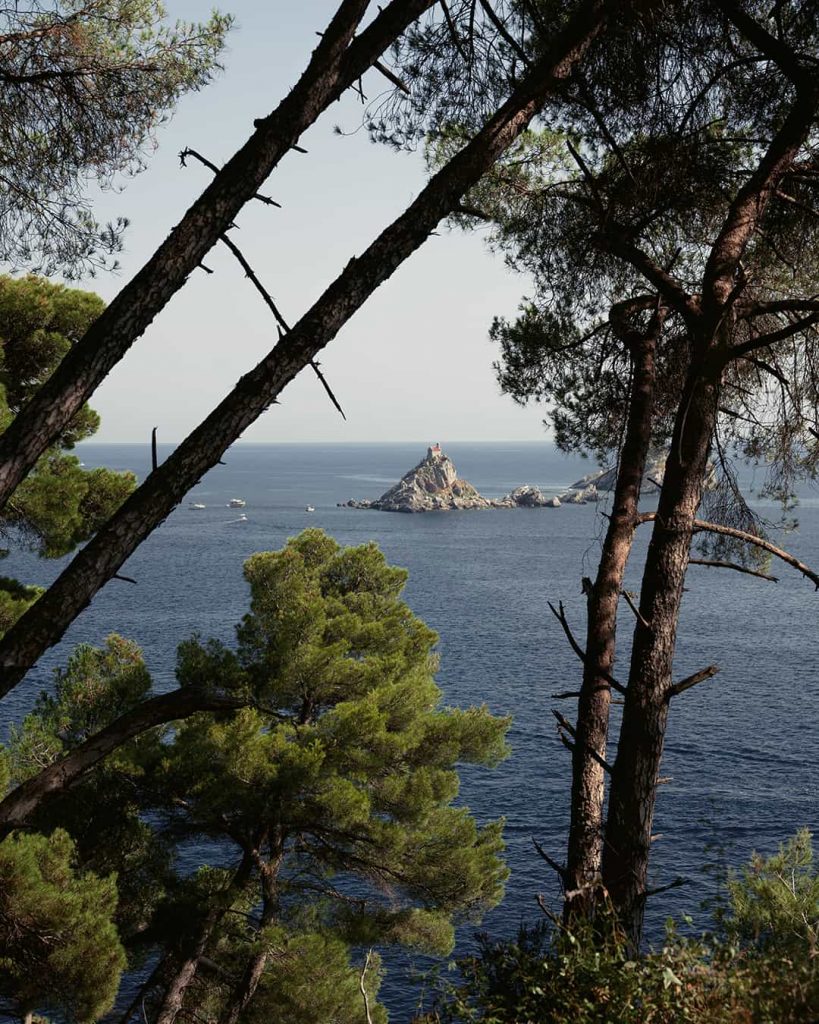 Petrovac Na Moru is a seaside town that is most popular amongst locals as a summer seaside destination. It is an unconventional place to visit in Montenegro featuring a coastline lined up with impressive layered cliffs, 16th-century Venetian fortress guarding Petrovac harbor, and a pretty pine tree-shaded promenade leading to a few secluded beaches on the northern part of the town.
Moreover, situated midway on the Adriatic coast, Petrovac serves as a convenient base if you want to quickly drive to the nearby attractions like Sveti Stefan, Stari Bar, or even Ulcinj.
Things to do in Petrovac
Stroll pine tree-shaded promenade of Pešačka staza Petrovac – Reževići. The elevated pathway starts above the fortress at the main Petrovac beach and takes about 30 minutes to complete. You will get a wonderful view of the Kastio castle below and the beach beyond as well as sneak peaks of tiny island chapel Sveti Nedjelja.
Swim in Perazica Do beach which you reach by walking to the end of the Pešačka staza Petrovac – Reževići promenade.
Take a boat taxi to secluded Fenix beach. Accessible only by boat, this tiny beach looked like a small piece of paradise with only few people enjoying it to themselves. I spotted it when I was walking the promenade just to realize to my big regret that the only acces is by water. The boat taxis can be hired at the main beach in Petrovac.
Climb up to Kastio castle– a tiny Venetian fortress peaking out into the water off Petrovac's harbor.
Have lunch or dinner at one of the waterfront restaurants on vibrant Petrovac main beach.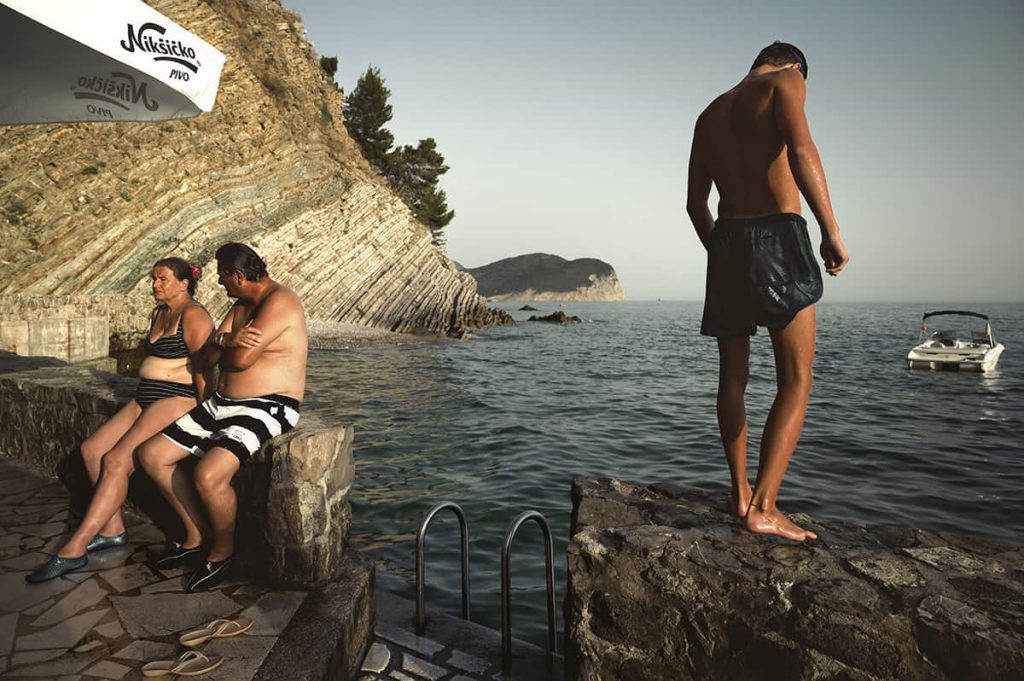 15. Herceg Novi
At the west-north end of Montenegro, close to the Croatian and Bosnian border, sits Herceg Novi, a fortified town acting as a gatekeeper for the entrance to the Kotor Bay. Founded in the 15th century and translated as a "New Castle", Herceg Novi is known for its many forts.
Surviving the turbulent history of conquest the most notable fortress in town is Kula built during the rulership of the Ottoman Empire. The other two battlements that are worth checking out are Sea Fortress built by Bosnians and Spanish Fortress.
Herceg Novi is a much quieter coastal town compared to Kotor and usually serves as a pit stop on a road trip to Dubrovnik, Croatia.
Yet, once popular among Yugoslavians, this harbor town is worth exploring. You will find many buzzing cafes, restaurants and bars giving life to the Stari Grad's (old town's) enchanting churches and centuries-aged fortresses.
On a hot day, cool down in the pristine waters of the pebble bay of Herceg Novi. While towards the sunset make sure to stroll the beautiful Pet Danica promenade that runs the entire length of the seafront.
16. Ulcinj
The southernmost coastal town of Montenegro, next to the Albanian border, is culturally confused Ulcinj. An ancient seaport is once known as the pirate capital of the Adriatic Sea, Ulcinj is influenced by Ottomans and feels more like Albania than Montenegro.
The sight of minarets rising from mosques in this largely Muslim town, kebab shops with titles all in Albanian, and laid back vibe gives a completely different Montenegro travel experience compared to visiting other more famous places like Kotor.
Today, Ulcinj is most famous for its well-preserved castle, a small old town built on the cliff above the Adriatic Sea, and its many beautiful beaches. In fact, Long Beach is the longest sandy beach you can find in Montenegro. In general, Ulcinj is the place to go for the wild beach scenery in Montenegro.
If you are traveling by road from Shkoder, Albania, chances are you may be passing by Ulcinj as well. It is worth stopping for a day or two to enjoy its unique atmosphere.
17. Morača Canyon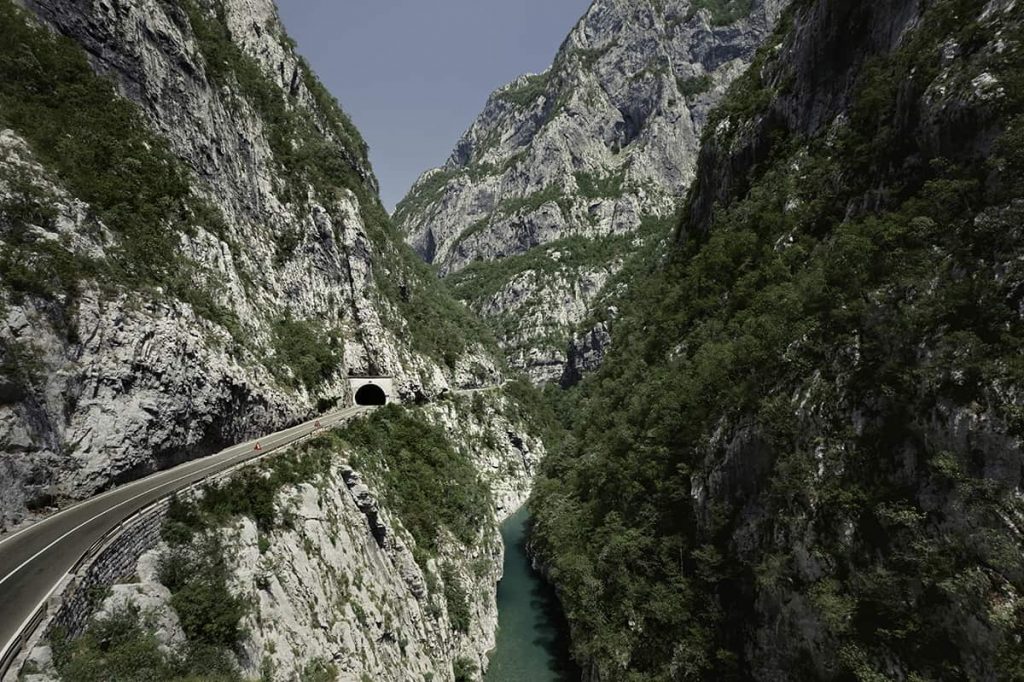 A less known Morača Canyon is the second largest river canyon in Montenegro. Originating in northern Montenegro under Rzača mountain and stretching between municipalities of Podgorica and Kolašin, the canyon is up to 1000 meters high at its deepest point of Tisov Vrh.
Characterized by steep watersides, to me, Moraca canyon is even more breathtaking than the famous Tara canyon and a worthy place to see in Montenegro. After seeing a few images online, I made sure to include a drive-through Moraca in my two-week road trip in Montenegro and it did not disappoint. I couldn't stop turning my head at the awe-inspiring scenery of high cliffs while passing numerous rock-carved tunnels.
Following the thrilling E65 highway up North of the capital Podgorica lookout for the panoramic spot to pull over your car and enjoy the views. One of the panoramic spots is marked on Google Maps as "Platije- Panorama Kanjon Rijeke Moraca".
18. Our Lady of Angels Church
One of the most instagramable places in Montenegro as it later turned out while doing my places to visit research is a petite Our Lady of Angels Church.
Located in Kotor Bay, on the opposite side of Perast with Our Lady of The Rocks and Saint George islands on the horizon, the church dates back to the 16th century. Among locals, the chapel bears the name Our Lady of Oriz which has Italian language origins and translates as "a smile".
Our Lady of Angels keeps the sentiment of the past when sailors used to come back from long journeys with a smile on their faces while the first sight they used to encounter was the little church.
The pretty church is a true treat for eyes and a fantastic hidden gem that you can find when looping around Kotor Bay from Kotor Old town to the direction of Lepetani.
19. Biogradska Gora
Located in the eastern part of Montenegro, Biogradska Gora is the least known out of all 5 National parks. It encloses the mountainous area, several glacial lakes, the most famous being Lake Biograd, and one of the last 3 Europe's virgin forests. Biogradska Gora is a perfect insight into Montenegro's untouched beauty.
Biogradska Gora is a true nature retreat and is perfect for families and those who love active vacations. Some of the things you can do in Biogradska Gora are hiking well-marked trails that range from an easy stroll around Lake Biograd to more challenging ones which will bring you to the higher lookout points and mountains peaks.
Biogradksa Gora is a perfect place for camping or staying in one of the forest huts. Along with all the camping utensils, make sure to also bring mosquitoes' repellant.  
At Lake Biograd, you can also rent a bicycle, boat, kayak, and swim.
Entrance fee: you must pay 3 euros to enter Biogradska Gora National Park.
There are two main ways to get to Biogradska Gora National park:
From Durmitor National Park side, take a P4 road- one of the scenic Montenegro Crown panoramic roads that follows the Tara River Canyon
From Podgorica, take E80 which then becomes E65 and goes between dramatic cliffs of Moraca Canyon.
20. Tivat
Tivat is a rich and famous playground of Montenegro featuring a modern marina lined up with spectacular superyachts.
Located in Montenegro crown's jewel Kotor Bay, Tivat is a fancy town compared to the old Venetian towns that dominate the rest of the bay.
Some years back it was a laid-back town, but now it is a base for a small international Tivat airport and a cruise ship port.
Still, if you are landing in Tivat airport, it is worth a sneak peek at Monaco of Montenegro. You can stroll the promenade, take a glimpse at the glamorous yachts from close up, and dine in one of many fine restaurants overlooking beautiful sunsets.
Moreover, Tivat can still serve as a good optional base for exploring the surrounding areas of Kotor Bay.  On my first trip to Montenegro, Tivat was a convenient jump-off spot to explore Kotor Bay, take a shortcut to Herceg Novi on a Lepetane-Kamenari ferry, and even for doing a day trip to Lovcen.
21. Budva
Located on the Adriatic coast Budva is the most touristic place in Montenegro, even more than Kotor. Simply it is a tourist hotspot and a must-visit place in Montenegro for the majority. No coincidence I have placed Budva at the end of the list because I avoid crowded touristy places. However, it would be unfair if I completely ignored it, as Budva can be enjoyable when visited off-season, without the crowds.
Known for its small old town, beaches, and sleepless party scene, Budva attracts hundreds of thousands of tourists and locals every summer. If busy bustling places, beach parties and never sleeping town is your cup of tea, then you will love it.
Still, on my second trip to Montenegro, when I had more time to spare, I braved myself and visited Budva early in the morning for a couple of hours (in July). The popular Mogren beach was crowded as early as 7:30 AM, and sadly full of trash. That is why I wouldn't recommend going to Budva in summer if you love peace and quiet.
However, if you come to visit Budva off-season (autumn/winter), you may find a completely different vibe and actually be able to enjoy the scenery.
Stone alleys and cobblestone narrow streets of Stari Grad (Old Town) of Budva are charming just as any old town of this sort. It is worth noting that Budva old town is much smaller than Kotor old town and can be walked around in probably under one hour.
Also, the famous Mogren beach boasts spectacular scenery which I believe could only be fully appreciated in late autumn and winter when all the beach bums and plastic bed-chairs are gone.
——————————–
I hope this list of the most beautiful places in Montenegro inspired you to visit this underrated Balkan country. If it is already in your plans, then I also hope that it will help when putting together an itinerary for the must-visit places in Montenegro.
Essential Montenegro Travel Resources for Your Perfect Trip
testting how it works if i type fjhgdndf,mbfd.,nb.d,mbn