Montenegro (Crna Gora) is a perfect place to go on a road trip in Europe. This detailed two weeks Montenegro road trip itinerary covers the best places in the country that you can visit in 10-14 days.
Montenegro is a small Balkan country with surprisingly a lot to see! Panoramic roads wind through scenic coastal towns, serene lakes, deep canyons, and breathtaking mountain passes. Therefore, going on a Montenegro road trip is by far the best way to explore this former Yugoslavian country.
With your own wheels, you will be able to conveniently explore the best places in Montenegro. Although some sights in Montenegro can be reached by public transport or using organized tours, many of the most amazing places are only accessible by car.
What to expect in Montenegro?
In Montenegro, you will be treated to pristine beaches on the Adriatic coast, romantic sunsets at Kotor Bay, a number of charming fishing villages such as Perast, and the atmospheric Venetian-style old town of Kotor. You will also be challenged at white water rafting in Tara Canyon, test your stamina on well-marked hiking trails in the breathtaking mountains of Durmitor, Lovcen, and Proklatje National Parks, and then relax while gliding the waters of the scenic Skadar Lake on a traditional Montenegrin fishing boat. All this and more is waiting for you in this only recently discovered former Yugoslavian country.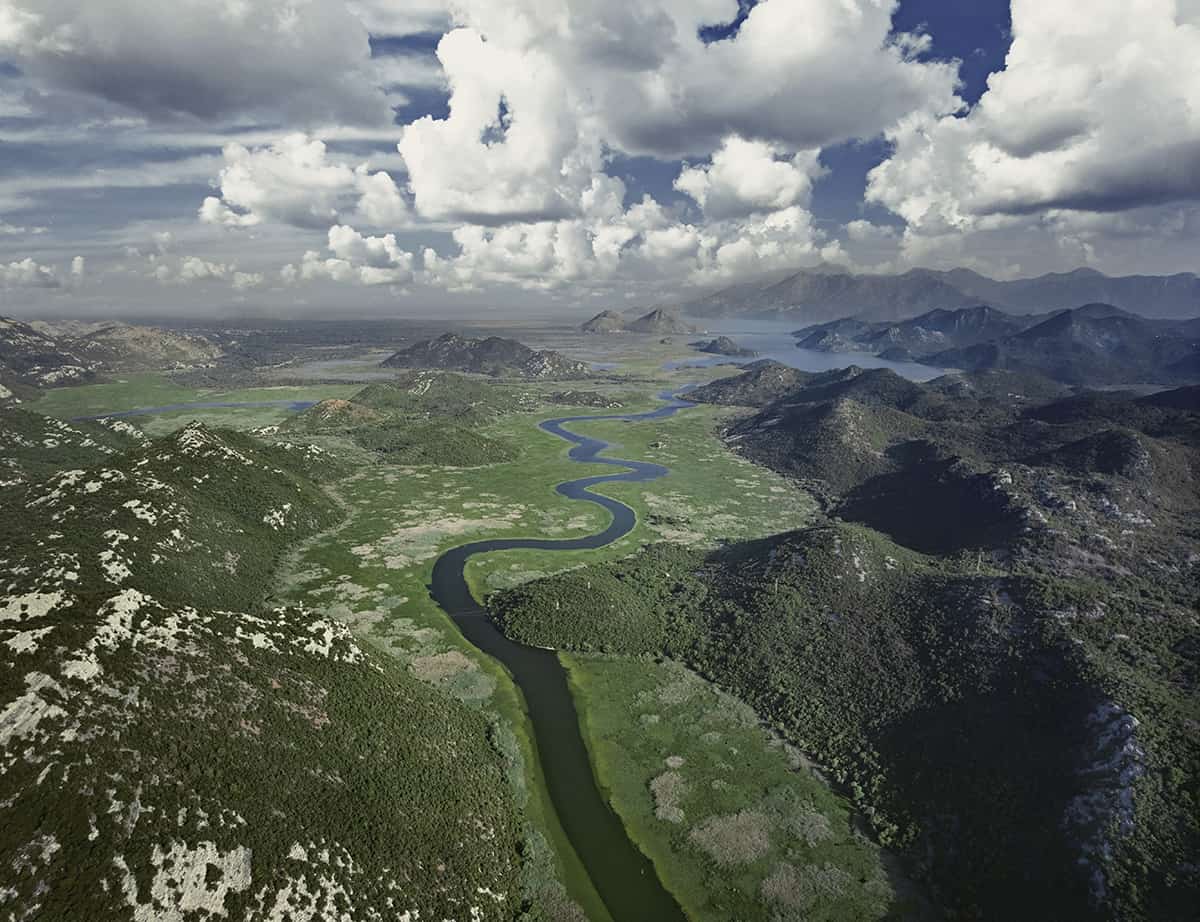 How many days do you need in Montenegro?
Based on my experience from several visits to the country, if you want to explore almost all of the best sights, two weeks in Montenegro is sufficient time to do so. Even in one week, you can tackle quite a few highlights of The Black Mountain.
I put together this comprehensive 2-week Montenegro road trip itinerary covering both the Adriatic coast, the most impressive lakes, and mountains. It also indicates the distance traveled, provides an interactive map, and suggests places to stay in Montenegro.
In this post, I also highlight absolute must-see places in Montenegro for those of you who have less time to spare. Moreover, I mention places that I have skipped and which I wish I would have skipped.
Note: if you fly in and out of Podgorica, you can still easily alter this itinerary accordingly. The same applies to those travelers who are arriving by land from neighboring Balkan countries.
Discloser: This post contains affiliate links, which means that I may make a small commission at no extra cost to you if you make a purchase by clicking a link. This helps to keep my blog growing and filling up with detailed honest travel advice for you. 
Two Weeks Montenegro Road Trip Itinerary
Summary of my Montenegro road trip route:
Day 1-2: Kotor Bay, Old Kotor and Perast
Day 3: Lovcen National Park, Njegushi, Cetinje, Kotor Serpentine
Day 4: Piva Canyon, scenic P14 Route, Durmitor National Park
Day 5: Hike the Mighty Bobotov Kuk in Durmitor National Park
Day 6: Black Lake- Tara Canyon- Biogradska Gora- Komovi
Day 7: Komovi- Prokletje National Park and Grebaje Valley
Day 8: Gusinje- Moraca Canyon- Skadar Lake
Day 9: Skadar Lake and Between Two Magical Coast route
Day 10: Petrovac- Sveti Stefan
Day 11: Stari Bar- Ulcinj
Day 12: Budva-Kotor Bay- Herceg Novi
Day 13: Kotor Bay Loop: Muo, Prcanj, Donij Stoliv, Lepetani-Kamenari Ferry, Lipci, Risan, Orachovast, Dobrota.
Day 14: Tivat
If I had One Week in Montenegro, my itinerary would include Kotor Bay- Lovcen National Park- Piva Canyon- Durmitor National Park with P14 route- Lake Skadar- Sveti Stefan.
If I had 10 Days in Montenegro, my itinerary would include Kotor Bay- Lovcen National Park- Piva Canyon- Durmitor National Park with P14 route- Prokletije National Park- Moraca Canyon drive-Lake Skadar- Sveti Stefan.
RELATED READS: 25 useful tips for travelling in Montenegro– what you should know before you go.
When to visit Montenegro?
The shoulder season in Montenegro is in June and September. It is by far the best time to enjoy Montenegro if you are keen to spend more time at the beaches. During the high season of July and August, the Montenegrin coast attracts crowds of beach bums. Therefore, finding a secluded spot by the sea might be a bit of a challenge.
However, July and August are perfect months for hiking in Durmitor or Prokletje National Parks or other mountainous areas across Montenegro.
Driving in Montenegro
Driving is an ideal way to explore beautiful Montenegro. Having your own ride will allow you to access every highlight and the most remote places in the country easily. No need to mention, you will be able to stick to your own schedule.
Moreover, Montenegro is so small in size that distances between places of interest are usually relatively short. The only catch when driving in Montenegro is the narrow roads. This makes traveling around the country slower than expected. For example, it might take 1 hour to complete 30 KM when driving winding mountain roads. Luckily, conditions of the most of the roads are good.
Another thing to consider when driving in Montenegro is that, more often than not, the width of the road is enough for only one car. Therefore, you have to take it slowly when approaching sharp turns. This could be nerve-wracking for less experienced drivers, especially when locals are jumping out of the blind turns at a full speed. But before you freak out, traffic in the countryside is sparse- sometimes you won't meet a single car for quite a while.
Renting a Car in Montenegro
Major car rental companies are based in Podgorica and Tivat Airports. However, I would suggest checking either Localrent or DiscoverCars.com. Those car search websites usually offer lower rates compared to many other popular car search engines. Localrent offers competitive rates between local suppliers and often does not even require a deposit.
Also read: Everything you need to know before hiring a car and driving in Montenegro.
Where to stay during the Montenegro road trip
On every trip, including this road trip in Montenegro, I try finding privately owned accommodation, usually studio flats or one-bedroom apartments rather than going to the hotel. This way, especially when staying for a few consecutive nights, I have the convenience of eating, washing my clothes, and basically feeling more at home.
When looking for accommodation in Montenegro with a rental car crucial criterion is parking space. Each place that I booked during my stay in Montenegro has private or at least easy parking on the street.
Here is a quick summary of the places I stayed at during my road trip:
I booked all my Montenegro accommodation through Booking.com. You can find more detailed comments on each of the places I stayed at later in this post, at the end of each day section, or read more reviews on Booking.com.
Budgeting for your road trip in Montenegro
Montenegro is still cheaper than most European countries. However, it is slowly but steadily catching up (I have noticed that prices have increased since my first visit in 2017). A rough breakdown of expected costs when traveling in Montenegro for the major need is:
Accommodation: €30-€50/night for a nice studio or 1 bed apartment
Dine out: €20-€40/day depending on where and what you eat and drink
Car Rental: €10-30/day for a car booked in advance depending on the season
Fuel: €1.21/Liter for Diesel (2021 prices)
Montenegro Itinerary Map
2-Weeks in Montenegro
Montenegro 2-Week Road Trip Itinerary Day by Day
For those of you who want to have a good grasp on what the Black Mountain country has to offer, here is my day-by-day breakdown of the route I took during my two-week road trip in Montenegro.
Day 1-2: Kotor Bay-Old Kotor and Perast
Distance covered: 36 KM
Total drive time: 50 MIN (without traffic)
Overnight in: Dobrota (Kotor Bay) for 3 consecutive nights
If you have landed in Tivat, the best way to start your journey is to head directly to Kotor Bay (Boka Kotorska). I promise that you will be instantly charmed by the beauty of this Montenegrin gem. It is a place like no other: rocky coastline dotted with old Mediterranean waterside towns surrounded by towering rugged cliffs. Kotor Bay is so beautiful that it is even called Europe's southernmost fjord. Actually, it is a river valley made up of four connected bays.
KOTOR
The most famous town in Boka Kotorska is a walled Venetian-style old town of Kotor. It is packed with so much history and culture, that it was made UNESCO World Heritage Site. The town was dominated by Italians for four centuries, hence a clear influence on its architecture.
Things to do in Kotor Old Town
Get an aerial view of Kotor Bay by climbing to St Giovanni Fortress.
Climbing 1350 steps to St Giovanni Fortress is a must-do activity when visiting the old town of Kotor. Trust me, it is well worth your effort- you will get unparalleled views of the triangled-shaped red-roofed old town of Kotor. There will be plenty of awesome photography spots along the way as well, including the photogenic tower of the Church of Our Lady of Remedy.
USEFUL TIP: go extra early to completely avoid the heat and the crowd. I started my climb at around 6 AM. Later, at around 8 AM, when other keen climbers are still at the bottom, I was already on my way down. Sun started to illuminate the mountains and the old town. I got the first morning light which allowed for some amazing shots of the Kotor Bay scenery.
The entrance fee to the St Giovanni Fortress is 8 EUR (used to be 3 EUR). However, the guard comes only at 8 AM, therefore if you show up early, you get to climb for free. You can still choose to pay on the way back, though. However, nobody will stop you as due to the large number of climbers they simply wouldn't remember who has passed the entrance before (I didn't tell you that).
Wander the cobblestone streets of Kotor old town.
Getting lost in the maze of the meandering cobblestone streets is a fun experience on its own. Each turn is different- then try to find your way back.
USEFUL TIP: During the busy season, come as early as 7-8 AM to enjoy empty streets. From around 9 AM tourists start to flock to the old town of Kotor. It gets even worse when the Titanic size cruise ship parks in the bay for a day.
Hang out with and feed many of Kotor cats
As soon as you step into Kotor's old town, you will immediately notice an unusually large population of cats. Cat-o-holics will melt away while all the cat haters, you better stay away.  
Cats are considered to be the good luck of the town Kotor. It is said, that back in the day, sailors used to bring cats along with them from all over the world. Later the purring friends helped to keep the town clean from rats and snakes.  Today, cats are a symbol of Kotor town. Here, on every corner, you will find cat-dedicated souvenir shops where the best seller is a cat artifact- from fridge magnets to cups, plates, statues, aprons, and so on.
On a serious note, even though cats in Kotor are being looked after by the locals and often fed by the tourists, I saw that quite a few of them still lack proper care. There is a dedicated Facebook group where you can support Kotor cats by liking the page or even make a bigger difference by donating to the organization.
PERAST
Just a short 20-minute drive from Kotor, there is the idyllic waterside town of Perast, which is sometimes referred to as mini Venice. It truly feels like you are at one of the Italian lakes. At a glance, you can tell it used to be a prosperous sailor's and merchants' town. The marvelous baroque architecture, a dozen of churches, and a romantic pedestrian-only promenade dominate the landscape of the little town. Two dreamy islets My Lady of Rocks (Gospa od Škrpjela) and St. George Island (Sveti Dorde) seen from the shores of Perast are probably the most photographed landmarks in Boka Kotorska.
Perast is one of my favorite old towns in Kotor Bay. Surprisingly it is still relatively less touristy than the old town of Kotor, although I would say it's even prettier and much more laid back. Perast is tiny, so it can take you just a couple of hours to see it all, but I bet you will want to spend much more time there.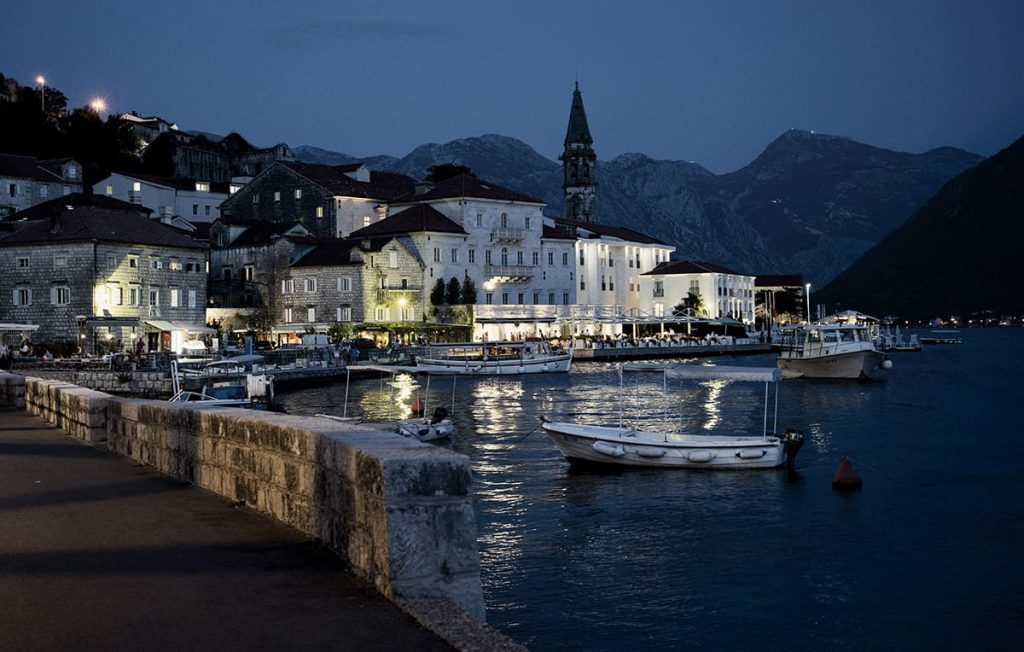 Things to do in Perast
Sunbathe on the shores of Perast
If you are visiting in summer, pack some swimwear- you can easily take a dip in the bay waters by jumping in from one of the paved shores. Locals love to sunbathe or just chill under the pine trees- you are most welcome to join them for this relaxing therapy.
Take a boat trip to My Lady of the Rocks Island
St George and Our Lady of the Rocks, both are pilgrimage sites, but only the latter is open for public access. There are plenty of local boat companies offering a ride to the island for as little as 5 EUR (with 45 minutes on the island). Also, you can find boat rides directly from Kotor on Get Your Guide.
Go for a romantic sunset stroll on the promenade of Perast
Last but not least, go for a romantic walk along the promenade, slowly soaking up the beautiful views. I would suggest you stay in Perast until late evening and watch the sunset from one of the waterfront restaurant patios.
PARKING TIP: Parking close to Perast can be a challenge, especially in the afternoon. Look out for spaces on the side of the road just before and after Perast. You will notice people parking on the pavement, and it seems to be totally okay to do so.
Where to stay in Kotor Bay?
I suggest staying in a nearby town Dobrota as opposed to the more popular old town of Kotor. Dobrota, which is much quieter and only 5 min drive away, or around 40min walk to Kotor Old town. With your own transport, you will also be able to reach the nearby town of Perast much faster.
I stayed in Mileva Apartments in Dobrota, and couldn't recommend it more- it was a small detached cozy one-bedroom apartment overlooking Kotor Bay. The host Elena is the most helpful host I have ever met when booking through Booking.com. In other words, look no further!
---
Book your stay at Mileva Apartments.
---
You could possibly choose to stay in Kotor Old Town off-season. But during peak times, avoid it by all means as there are so many people wandering and hanging out late into the night that you won't find peaceful accommodation inside the walls of the old town.
Also, good options for those who drive are Perast, Orahvoac, Moa, and Prcanj- those are all pretty nearby towns along the bay which are way quieter than old town Kotor.
Day 3: Day trip to Lovcen National Park, Njeguši, Cetinje via Kotor Serpentine
Distance covered: 100 KM
Total drive time:  2 HRS 45 MIN (return)
Overnight in: Dobrota
KOTOR SERPENTINE
Taking a thrilling drive with mind-blowing views along the old serpentine road from Kotor leading to gorgeous Lovcen National Park is definitely one of the top things to do on your Montenegro trip. I loved Kotor serpentine regardless of it being a bit nerve-wracking. I even drove it twice! There are a total of 25 hairpin bends leading to the mountain village of Njeguši settled on Lovcen mountain.   
When driving Kotor serpentine I was tempted to stop at nearly every turn to take pictures of the opening views of Boka Bay. But the best of the best was waiting at the very top.
USEFUL TIP: Make sure you stop at a bar called "Horizont". From here, the unparalleled birds-eye views of Kotor Bay open up.  Note that you can only enter the platform with tables if you are willing to buy a drink or a snack at the bar. But, hey, who wouldn't want to have some cold Kokta (local Coca-Cola, but better) or a cup of coffee with this type of view- by far some of the best I have ever seen!
KOTOR SERPENTINE DRIVING TIP: Leave early, this way you will avoid serpentine traffic and most importantly big tourist buses which take up the whole width of the road. Making a way for a big bus can be a real test of your driving skills if you have to go in reverse on a dead-drop cliff.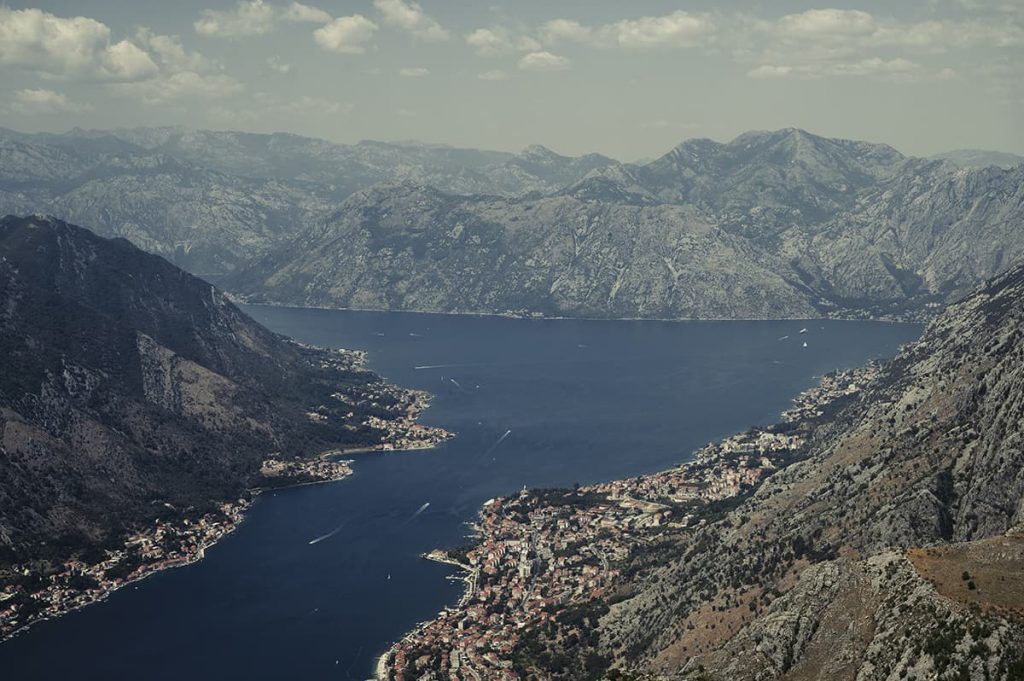 LOVCEN NATIONAL PARK MAUSOLEUM
Discover the beauty of the black mountain by visiting the tallest mausoleum in the world!
Built back in the 70s, Njegoš Mausoleum in Lovcen National Park is one of the top destinations to visit in Montenegro. It is considered a masterpiece that combines architecture and art created by sculptor Ivan Meštrović. It is also the tallest mausoleum in the world where Montenegrin's beloved bishop prince Petar Petrovic II Njegos is resting eternally.
With the rolling peaks and Adriatic coast far on the horizon, the views from the Lovcen mausoleum are one of the best in the country. You can also admire them during the sunset which I believe should be magical.
Drive after tackling the serpentine road further to Lovcen is a breeze. The road is newly built and has two wide lanes.
I reached Njegoš Mausoleum quite early at 8 am – an hour before the official opening time. I intended to fly a drone but the angry guard started shouting ordering me to land it. I did not understand why am I not allowed to take images of the mountain range or the mausoleum. The guard, satisfied that his order was followed, explained in a friendly manner, that there is a military base somewhere around and that I would need a permit from Cetinje municipality for flying.
Nonetheless, coming early paid off, as the guard let me in earlier than opening time and I got to take some nice shots on a regular camera before the tourist buses arrived.
For those of you who have more time to spare, Lovcen National Park is home to many hiking trails. During this trip, I didn't have a chance to hike in Lovcen, but it is definitely on my list.  
Although self-driving is the best way to explore Lovcen, if you don't have your own ride, this 12-hour tour to Lovcen National Park on Get Your Guide is a good option.
CETINJE
I was advised by our host in Kotor that Cetinje- the first capital of Montenegro- is a place worth a visit. I would say that for those of you who are into history and want to see slightly different scenery of a more casual life in Montenegro, it definitely is. Cetinje, being the first capital of Montenegro, had a huge significance in shaping what Montenegro is today. Although not as popular as beautiful Kotor or a tourist haven Budva, Cetinje is a hub for some important historical museums, and many embassies and Cetinje Monastery is the main attraction.
To me, though, the town didn't leave much impression and seemed to be quite dull compared to the many other beautiful sights around Montenegro. It had this small forgotten post soviet town vibe where people show up on the streets only during the summer. The main pedestrian street (Ulica Njegoševa) although filled with restaurants and shops, was quite empty, but the main square had some action going on with local families hanging around.
When deciding whether or not you should visit Cetinje, please take my opinion with a pinch of salt because I am rarely keen on visiting museums. Instead, I am more attracted to scenic nature views or very old medieval towns where time has stopped centuries ago.
NJEGUSI
On the way back, make a stop at Njegusi village and get some homemade cheese or honey. This is a place you can see real Montenegrin village life. I only stopped to buy some honey, but I loved the atmosphere and how tidy the houses dotting the rolling hills looked. This scenic mountain village is definitely worth exploring more.
Day 4: Piva Canyon and Scenic P14 Route to Durmitor National Park
Distance covered: 230 KM
Total drive time: 4 HRS 45MIN
Overnight in: Žabljak (2 consecutive nights)
After a short intro to Montenegrin mountains at Lovcen, the next day I woke up at 4 AM. It will for the longest drive in the whole trip- almost 5 hours. I will be heading north to Piva Canyon followed by an epic P14 route in Durmitor National Park. You don't have to start your day this early unless, like me, you are planning to make multiple photo stops along the way (which you most likely will, and trust me the day passes by very quickly).
PIVA CANYON
Driving Piva Canyon Road through 65 tunnels
The Piva Canyon is around 35 km long and reaches up to 1200 meters in depth at some parts with a turquoise color river winding at its base. The color of the Piva river is so bright and saturated that it even looks like it is coming straight out of the over-photoshopped image.
The main attraction is a scenic adrenaline-pumping journey on Piva Canyon Road through 65 small tunnels that are carved through the rock. The road passes the highest in the world Piva Reservoir at 675 meters above sea level!
When arriving from Kotor Bay, take the E762 road towards Plužine town. From here, continue until the Mratinje Dam to enjoy the winding and fun tunnel ride. Then come back the same way for the next leg of the journey on the P14 route.
USEFUL TIP: Make a stop at Plužine town where you can grab a coffee or have a snack with a view of Piva lake. Go ziplining over the Piva river if you fancy seeing a different perspective of it. Refill a car tank before heading to Durmitor as there won't be any gas stations on P14 road until Žabljak (a base town in the mountains).
DURMITOR NATIONAL PARK
Durmitor National Park is a UNESCO World Heritage Site featuring dozens of glacial lakes, deep canyons, dense pine forests, and craggy mountain peaks where clouds and fogs are rolling over at a reach of a hand. In the winter months, people go to Durmitor for skiing and snowboarding while summer is perfect for sightseeing and hiking. 
Drive an Epic P14 Road: Pluzine -Trsa- Žabljak Route in Durmitor National Park
If I had to choose only one thing I want to see in Montenegro, which would be an enormously difficult decision to make, Durmitor Panoramic Route (known as P14 route or Durmitor Ring) would most likely beat even the Kotor Bay. Yes, it is an unbelievably amazing road to drive, with the scenery so beautiful that it feels like you are in a fairy-tale. I must confess that I traveled to Montenegro the second time mainly because I was dreaming to see the magical Durmitor National Park again and explore it a bit more by hiking.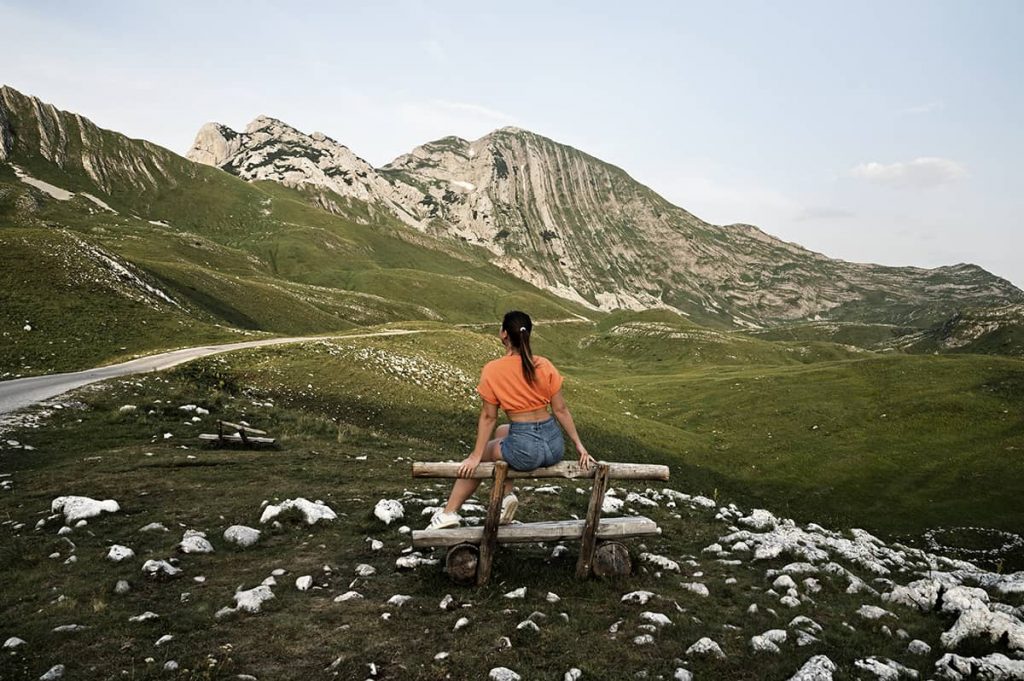 Directions: You will start your drive from Plužine. The turn to P14 is easy to miss (but also easy to locate on Google Maps 43.168849, 18.85792). A dark tunnel entrance welcomes you to begin a new adventure. From here you will have to tackle 7 steep switchbacks and pass a few more of the rock tunnels. In this section keep an eye out for the fantastic views of Piva Canyon. Stop for some classic Piva lake pictures from above.
Then, continue on P14 via Trsa village. You will be driving through the heart of Durmitor National Park. The best part is around 15-20 km to Žabljak known as Sedlo Pass. The heart-expanding views will simply blow your mind away. Enjoy!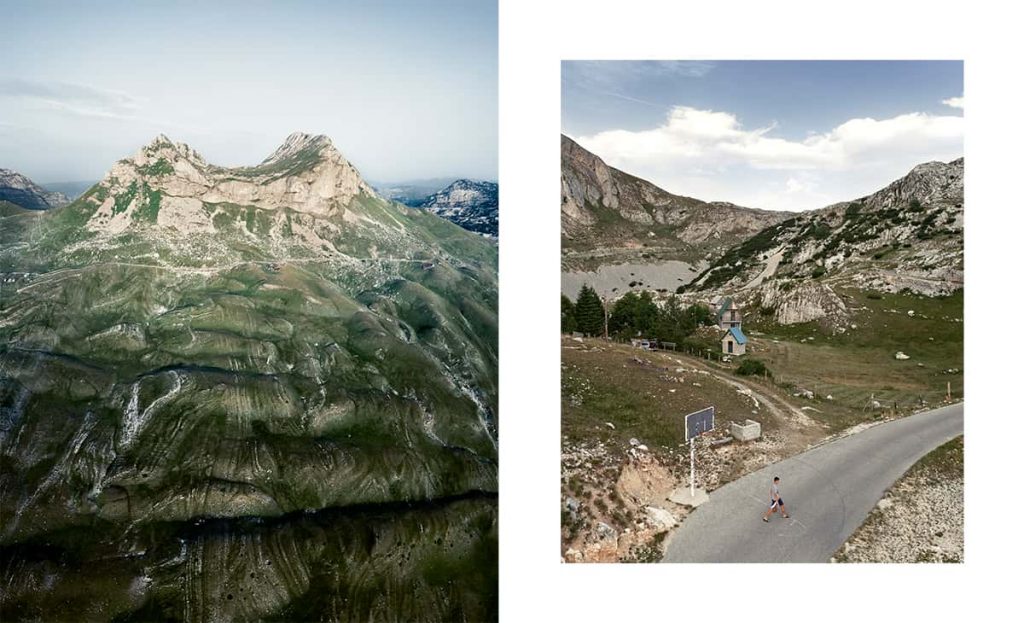 Day 5: Hike the Mighty Bobotov Kuk in Durmitor National Park
Distance covered: 28 KM
Total drive time: 40 MIN (driving to trailhead and back)
Overnight in: Žabljak
Being part of the Dinaric Alps, Durmitor National Park is an ideal destination for some of the most scenic hikes in Europe. One of the well-known is the mighty Bobotov Kuk summit trail.
Starting at Sedlo Pass on the same P14 Road 14 KM from Žabljak town, this gorgeous hiking route will test your endurance at a 12 KM strenuous trail. The last steepest part towards the summit is only 1 KM long but it takes 2 hours to climb! The very last 100 meters is not for the faint-hearted or those suffering from vertigo. There are metal ropes attached to help pass the very narrow path with almost a vertical drop. But if you have done things like this before, go carefully and you will be totally fine.
RELATED READS: Read my full guide to Bobotov Kuk hike in Montenegro.
Where to stay in Durmitor National Park?
A perfect base in Durmitor National Park is Žabljak town, which is the largest settlement in the area. From here you can easily access most of the hikes in Durmitor National Park, drive the Durmitor Ring route, and visit nearby Tara Bridge. In winter, Žabljak serves as a base camp for skiing enthusiasts.
I stayed in Apartment M– at the very center of Žabljak with easy access to restaurants and Voli supermarket, yet still quiet. It was a comfortable 2-bedroom apartment with a garden and, as usual for Montenegro, very hospitable hosts.
---
Book your stay at Apartment M through Booking.com
---
Day 6: Black Lake, Tara Canyon, Biogradska Gora Lake and Komovi Mountains
Distance covered: 140 KM
Total drive time: 3 HRS 15 MIN
Overnight in: Etno Selo Stava in Komovi mountains
BLACK LAKE (CRNO JEZERO)
The next day after the hike, despite sore legs, I woke up at 6 AM to catch early morning mirror views at the Black Lake (known as mountain eyes). Despite the name, this glacial lake gleams in emerald green reflecting mysterious pine forests and craggy peaks. Black Lake is the largest and the most well-known in Durmitor Park, therefore, coming there early is by far the best time. An easy 3 KM hiking trail around the lake can be a great way to start a day if you fancy light trekking activities that do not kill.
Black Lake is located just a few kilometers from Žabljak town center. The entrance fee is 3 EUR, unless you come early morning when there is no living soul around.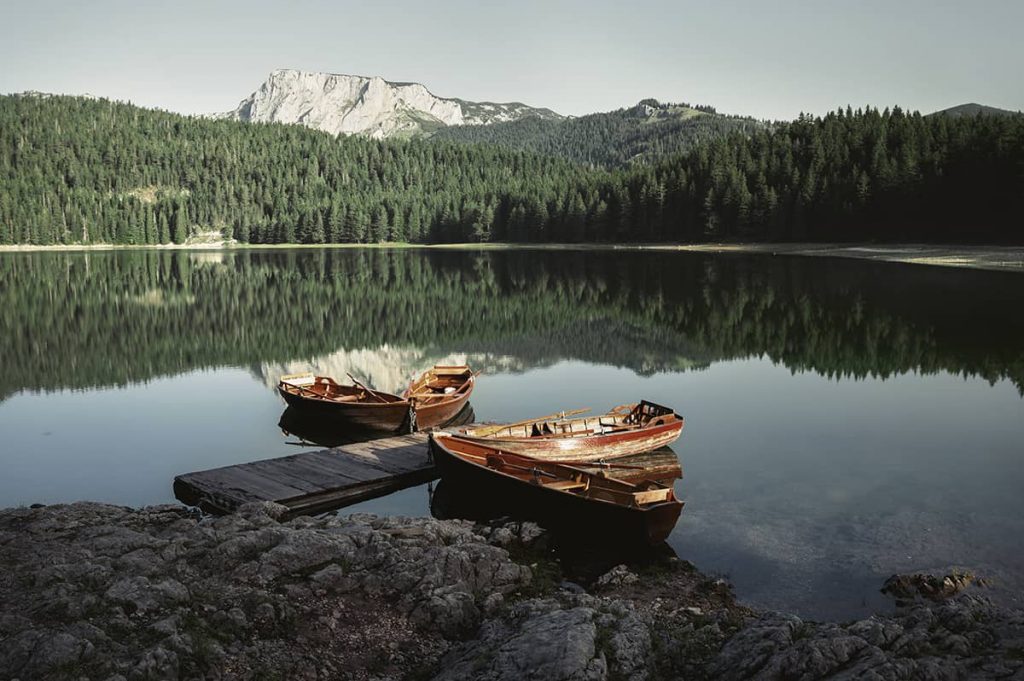 TARA RIVER CANYON
Tara River Canyon is the deepest in Europe (up to over 1300 meters) and the second deepest in the whole World (after Grand Canyon in the USA), and it is also a UNESCO Heritage site! Part of Tara river runs through Durmitor National Park and is a spectacular sight to see.
Go on a short hike to Ćurevac viewpoint
If you have more time to spare, while still in Žabljak, I suggest going to Ćurevac viewpoint (43.201465, 19.092986). You will need to park at a dedicated parking spot and trek for around 1 hour to reach it. At a steep rise of 1650 meters above sea level, Ćurevac is graciously called an "eternal guardian" of the Tara river. From here, fantastic views of the Canyon open up.
Admire Tara River Canyon Views from The Đurđevića Bridge
This is a less demanding way to see Tara Canyon. An iconic 5-arches Tara Bridge which was blown up and then rebuilt during World War II is one of the tourist hot spots in Durmitor National Park. The Djurdjevica bridge not only played an important infrastructural role but also appeared in movies and novels.
The bridge is an impressive picture-perfect concrete structure standing 172 meters above the river. Enjoy the views of Djurdjevica with a cup of coffee at one of the "konobas" or walk over it to admire Tara Canyon.
For adrenaline lovers, ziplining over the two shores of Tara river will offer ever-changing birds-eye view.
Go white water rafting in the deepest canyon in Europe.
Finally, white water rafting is another very popular activity in the area. I have done white water rafting in Piva Canyon back in 2017. It is a guided adventure, perfectly safe for beginners. This should usually be booked in advance. Check this Get Your Guide white water rafting tour with pick-up options from the coastal side of Montenegro.
BIOGRADSKA GORA LAKE
After a short stop at Tara Bridge, I continue my road trip South East on P4 towards Biogradska Gora National Park. P4 road is a part of the Montenegro Crown panoramic route. The ride is pleasant and picturesque featuring signature rock-carved tunnels along the way. After one hour of riding the winding country roads, I reached another nature gateway- Lake Biograd. I just took a short glimpse there and I think that it is worth coming only if you are planning to spend a longer time hiking around, swimming in a boat or lake. As a sight, the lake is beautiful, and reminded me of many forest lakes of Lithuanian. If you had to choose to stop at Biogradska Lake or Black Lake, the latter is definitely more impressive.
Stop for traditional layered cheese in Kolašin
On the way to Komovi mountains, after exploring Lake Biograd, I suggest stopping for lunch in Kolasin. It is a bigger town in the area known as a winter skiing resort. Here you can try traditional layered LISNATI cheese which is typical in this area. It can be obtained only in a few Northern regions of Montenegro due to the climate factors and pasture characteristics.
KOMOVI MOUNTAINS
One of the great experiences in a rural part of Montenegro is staying at a katun– a traditional temporary herdsmen settlement/hut. Katun in Montenegro is the essence of the mountain lifestyle and culture. During the summer month, when the snow melts and the grass starts to sprout, locals would take their livestock from the villages at the bottom to higher up the mountain. At this time animals would graze on highland grasses among the katun areas until the early fall.
Overnight at Etno Selo Štavna in Komovi Mountains
My road trip schedule required an overnight stop before I reach the Easter part of Montenegro. I looked for the option in the Komovi mountains which are less known than Durmitor National Park but also super beautiful. After a quick search on Google Maps, I spotted Etno Selo Štavna , which turned out to be available to reserve through booking.com. This modern-day Katun-type bungalow complex is based at an altitude of 1800 meters at the spacious plateau Štavna. Here you can enjoy breathtaking backdrops of magnificent mountain peaks just outside the doorstep of the bungalow. Most of the people who reach this gorgeous off-beaten path destination are mostly hikers, alpinists, and mountain bikers.
Since I planned my next hike in the Accursed (Prokletije) mountains, I chose just to take an overnight break with a picture-perfect view.
Etno Selo Štavna is a family-run business and one of the first of its kind in the area offering sustainable accommodation and promoting eco-tourism in Andrijevica municipality. The prices are very affordable (45 EUR including breakfast), especially for bigger groups as the bungalows are massive and can host up to 6 people. If plan to hike in Komovi, it's a perfect base as most of the trailheads are close to Štavna.
---
Book your stay at Etno Selo Štavna through Booking.com
---
Day 7: Prokletije National Park, Grebaje Valley, Volušnica hike
Distance covered: 65 KM
Total drive time: 1 HR 30 MIN
Overnight in: Grebaje Valley
The next morning starts with a heartful breakfast at Komovi mountain accommodation. Perfect before heading all the way to the furthest spot of the journey and the best-kept secret of Montenegro- Prokletije National Park.
Prokletije is one of the 5 national parks in Montenegro and the most remote one, hence less visited but dramatically beautiful. The Park encompasses the Accursed (Prokletije) mountain range which is shared as a natural border with Albania and Kosovo. Accursed mountains are often referred to as Albanian Alps, and it features many quite well-marked hiking trails which could be accessed both from Montenegro and Albanian side, the former having the easiest access for those who drive.
Conquering Volušnica Peak in Accursed Mountains
The goal of the afternoon is to hike to Volušnica peak in the Accursed mountains. A moderate-level trek will reward you with spectacular Karanfili peak views, which are said to be the most photogenic massif in the Accursed mountain range.
This hike took me 2 hours of steep hike to reach the peak of Volušnica and 45 min to run down the whole trail before sunset.
Useful Tip: Hiking late afternoon is the best time to catch the perfect light and get the best pictures of Kranfili peaks.
Stay in Grebaje Valley – a perfect base for hikes with unparalleled Prekletije mountain range views
I have based myself in one of the few available accommodations- small but cozy Bungalows Katun Maja Karanfil. The area, including the restaurant, has unobstructed views of the mountain valley.  Also, several hiking trails in Prokletije mountains start just a few steps away from Maja Karanfil making it a very convenient base. I've heard that the owner is very knowledgeable about all the routes, but I have not met him on my trip, since he wasn't around by the time I left for the hike.
Note: There is a 1 EUR per person entrance fee to Grebaje Valley. You have to pay for it even if you have your accommodation booked.
Food Tip: Katun Maja Karanfil restaurant was amazing- try trout fish with cabbage salad for dinner!
---
Book your stay at Bungalows Katun Maja Karanfil
---
Day 8: Gusinje, Morača Canyon and Lake Skadar
Distance covered: 200 KM
Total drive time: 4 HRS 40 MIN
Recommended route: P9, M9, E65, E80, M2.3
Overnight in: Rijeka Crnojevića Skadar Lake
GUSINJE
Stop for a coffee in Gusinje
On day 8 I had the second-longest drive on my road trip all the way from East to South of Montenegro. After leaving Grebaje Valley, I stopped at a totally off-the-beaten-path Gusinje town (which means Goose town).
It is an Albanian/Turkish-influenced little town with several mosques, men-only coffee shops, and, sadly, at least a dozen covered women with babies begging for money.
The town atmosphere felt stuck back in time. Locals were pleasantly surprised to see a female tourist wandering around the streets on her own. Yet it felt a bit awkward sometimes as I could sense all eyes on me. Still, it was fun taking pictures of keen locals. Then, I found a cozy coffee shop on one of the small streets with fewer staring eyes. A great strong morning café macchiato and people-watching was a fun way to start the long journey to the biggest lake in the Balkans- Lake Skadar.
Drive underrated head-turning Morača Canyon
One of the highlights of this long route is driving the less known but equally spectacular Morača Canyon which originates in northern Montenegro under Rzača mountain. The most impressive stretch is somewhere midway going down south from Kolašin town to the capital Podgorica on E65 road. The panoramic spot is marked on the map as "Platije- Panorama Kanjon Rijeke Moraca".
Again, rock-carved tunnels and countless cliff-side bends will keep your hands tight on the wheel but you will find yourself constantly wanting to look around. The height of surrounding cliffs reaches 1000 meters in some parts. To me, Morača Canyon road was even more impressive than the well-known Tara Canyon road I took earlier.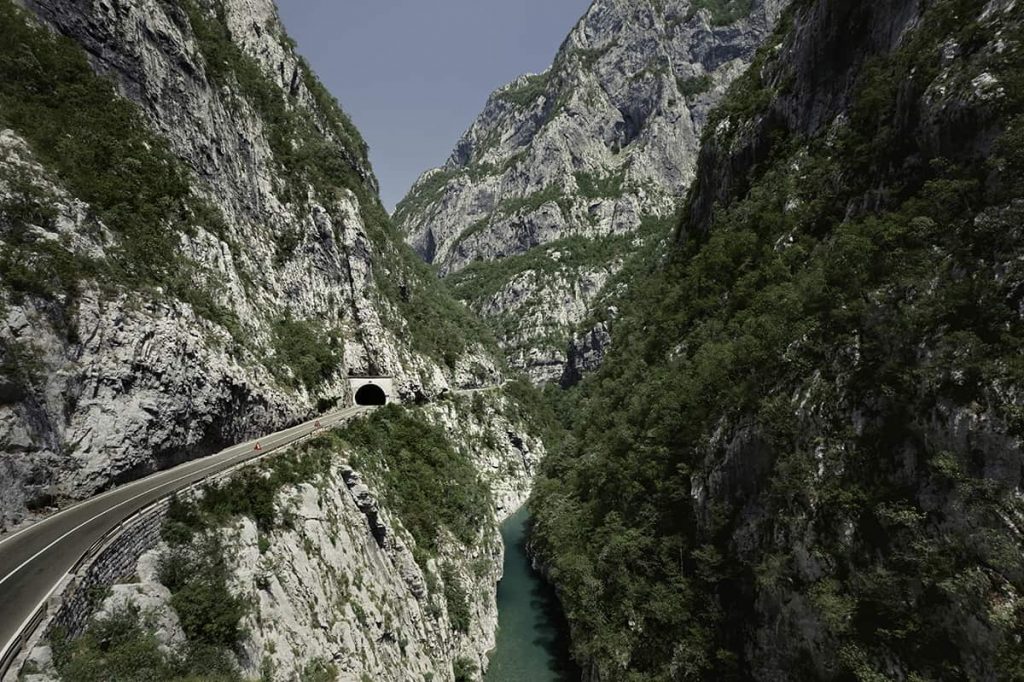 SKADAR LAKE NATIONAL PARK
Skadar Lake, regardless of its blissfully beautiful surroundings, is still relatively out of the tourist's radar. The lake is largest in the Balkans where two-thirds of it belongs to Montenegro, while a smaller part is in Albania. Lake Skadar has national park status and is featuring unspoiled natural beauty-clear waters with floating meadows of lilies are surrounded by rocky grassy hills. Moreover, hundreds of speeches of birds made lake Skadar their seasonal home, and hence it is one of the largest bird habitats in Europe.
Lake Skadar is also a place to experience authentic Montenegrin culture: island monasteries, small timeless villages producing organic foods and wines, are sprinkled on the shores. Here you can truly experience a slow-paced simple lifestyle and completely escape the crowds seen at the Adriatic coast during the summer.
What to see and do in Lake Skadar National Park?
Admire Lake Skadar views from Pavlova Strana viewpoint
The most famous panoramic spot in Lake Skadar National Park is Pavlova Strana viewpoint overlooking a "horseshoe bend" of Rijeka Crnojevića (river Crnojevića). It is accessible via M 3.2 route – a classic one-lane Montenegrin rural road. By now, you should be either totally fed up with never-ending turns and narrow winds, or so used to it that it will be just another slightly crazy drive. Take it slowly though, surroundings are too beautiful to be rushed through.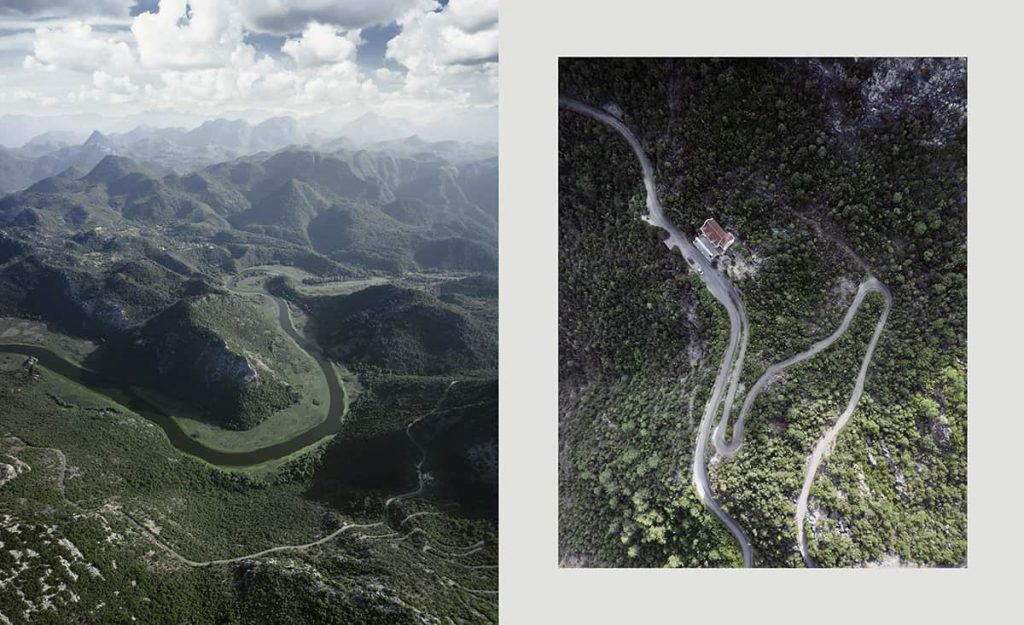 Visit Rijeka Crnojevića – Montenegrin Nice
Just 10 min drive west of Pavlova Strana, it is worth stopping at Rijeka Crnojevića – a tranquil medieval town often referred to as Montenegrin Nice or a Little Venice. Before you paint a glamorous image of the Venetian canals in your head, I should adjust your expectations. The town which used to be the strongest trading center in Montenegro has not been renovated. There are lots of crumbling buildings that only remind us about Rijeka Crnojevića days of glory. Nevertheless, this still gives the town a special atmosphere and is well worth spending some time in its natural rural surroundings, maybe even staying overnight.
Take a boat tour around Lake Skadar
Gliding through the waters of Lake Skadar in a traditional boat is definitely a must-do thing.  You can see island monasteries, watch birds passing by, swim in the serene waters of Lake Skadar, and the scenery looks different when in the water. The most popular place to join a tour or hire a private boat is from the biggest town and tourism center Virpazar.
During the summer boat tours are extremely popular. When I arrived, there were no tours available on the spot, so I had to hire a private boat- came out much more expensive but it was a fantastic time in the water! Therefore, to guarantee a spot on a boat, it is worth booking it in advance. On Get Your Guide there are different options for private and group boat tours for good rates.
Visit tucked away fishing village of Karuč in Skadar Lake
A small fishing village of Karuč on the banks of the western side of Skadar Lake used to be a lonely hippie for quite some time. Not for long or not anymore, I believe. I found just a few images through social media of this abandoned-looking picturesque tiny lake village and decided to take a detour to check it out.
When arrived, I was quite surprised to hear dance music playing loud on the shore at some outdoor bar. It was hidden further away so I couldn't even see it clearly. After a few moments, a group of at least 20 people arrived to catch a taxi boat (they were probably going to that same little party hub which seemed to be accessible only by water). I, on another hand, only had another cup of homemade Montenegrin coffee and took a few drone shots of this back in the day undisturbed place. Seems like it gets more and more popular (even Booking.com has accommodation there for still very cheap rates).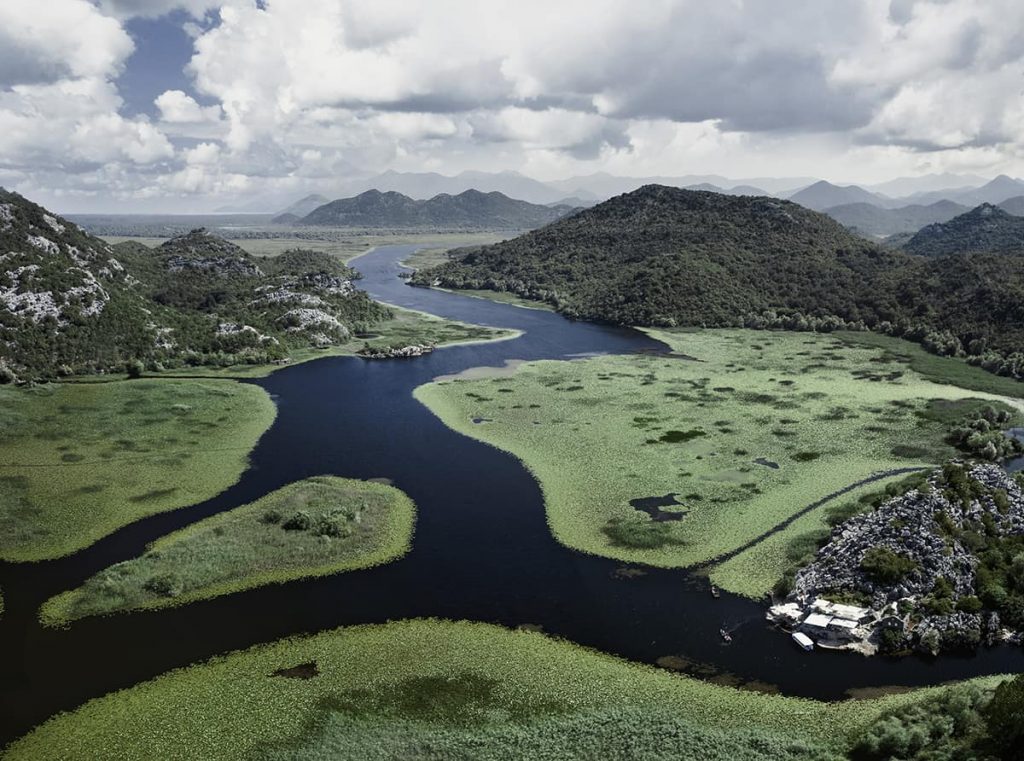 Stay in one of the rural homestays around Lake Skadar
Spend a night or two in one of the homestays around Lake Skadar. I have chosen to stay in Estate and Winery San Duyevo – a newly refurbished but authentic studio flat with stone walls and wooden floors. It was only 15 min drive from Pavlova Strana viewpoint which I managed to visit twice- before sunset and just after sunrise.
Staying at Mrs San Duyevo's studio apartment was a fantastic experience filled with genuine Montenegrin hospitality, a tasty dinner during the beautiful sunset, and a quiet gateway in the surroundings of Skadar Lake National Park.
---
Book your stay at Estate and Winery San Duyevo on Booking.com
---
Day 9: Skadar Lake and Between Two Magical Shores Route
Distance covered: 32 KM
Total drive time: 1 HR 11 MIN
Overnight in: Apartments Pajovic Skadar Lake, near Godinje village
Continuing my relaxed time in Skadar Lake National Park, I drove further south past Virpazar to my next homestay where I settled for the next night. My plan was to drive a part of a panoramic route called "Between Two Magical Shores" which technically is a loop covering the west coast of Lake Skadar, traversing through some narrow mountain roads and villages before reaching the Adriatic coast and again coming back through Stari Bar to where it started.
Most people start from either Bar (a town on the Adriatic coast or Virpazar at Lake Skadar). Since "Between Two Magical Shores" is a 115 KM route, it could easily take 3 hours of driving on the narrow Montenegrin roads. Therefore, I only chose a small bit of it (well, I was a bit tired from intense non-stop driving a day before, so decided to have a chill day, sort of).
I started at Gornje Seoca (where my homestay was) and went to Livari Viewpoint (Vidikovac Livari) with a stop at Murici Beach in between. The road all the way was magnificent! But, it's not for those with week nerves. I think this was one of the toughest routes out of many others I have driven in Montenegro. The road was in a little bit worse condition than others, super narrow, with many turns and goes around the steep cliff. However, I would drive it again and again- it is simply beautiful.
Going to Murici Beach is only worth it if you have time to spare or really need to refresh on a hot day as I had. Again, you will have to deal with steep narrow roads, and the pebble beach itself is pleasant, with not many people around.
Stay at Old House Pajovic apartments
Old House Pajovic was like winning a lottery. I booked the whole apartment for 28 EUR breakfast included and little did I know how beautiful it will be. A huge apartment with gorgeous views from the balcony: Lake Skadar and even the Albanian Alps could be seen far in the background. The place is family-owned, where you can expect to receive the best service and care possible. I could have easily spent there few more days just chilling, and working on my laptop either from the balcony or the terrace restaurant, which I definitely encourage you to eat at. Nothing like fresh cough grilled fish from Lake Skadar! Wine lovers will find a fantastic selection of family-homemade Montenegrin wines and probably stronger drinks. You can book Old House Pajovic at Booking.com.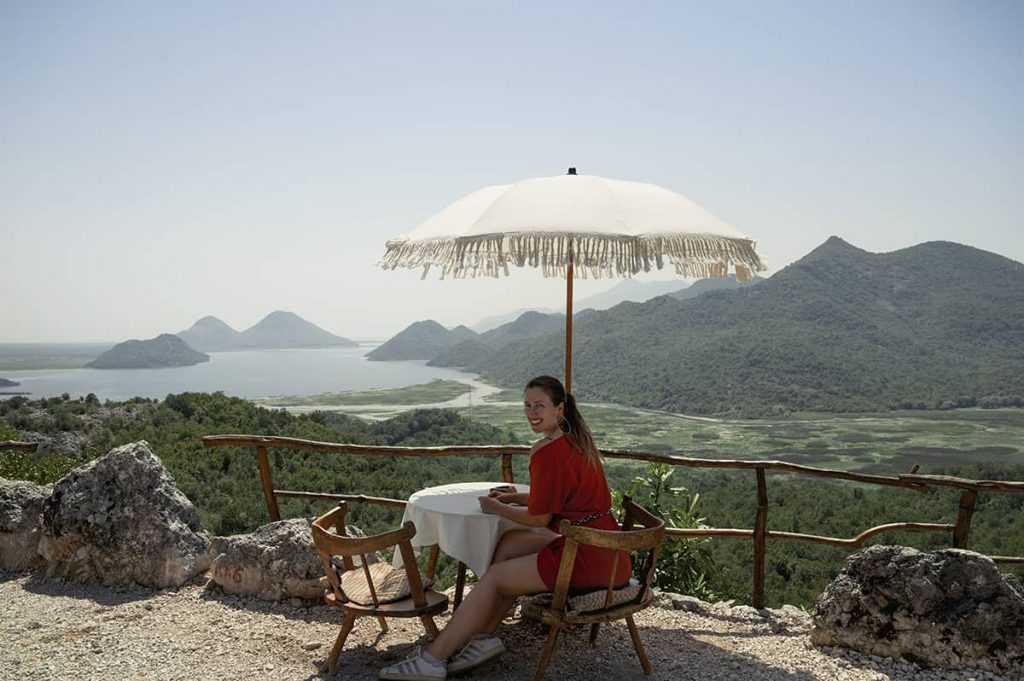 BONUS TIP: Somewhere on midway to Virpazar when driving from Pavlova Strana Viewpoint, there is a road coffee shop/bar called Macalov Brijeg– you can't miss it anyway. This place has one of the best views of Lake Skadar and I bet it is a perfect spot to watch sunsets as well.
Day 10: Petrovac and Sveti Stefan with detour to Žabljak Crnojevića
Distance covered: 93 KM
Total drive time: 2 HRS
Overnight in: Petrovac (2 consecutive nights)
Detour to Žabljak Crnojevića fortified fishing village
Before saying goodbye to the amazing Lake Skadar and heading all the way to the golden shores of the Adriatic coast, I decided to take a gamble by detouring to a place that I found on Google maps. Žabljak Crnojevića is a small fishing village, completely out of tourist radar, and has something completely unexpected to offer- an abandoned 10th-century fortress. The fortress, although crumbling down, still stood time and is a proud symbol of rich Montenegrin history. 
There is not much information online about this strange place, but apparently, Žabljak Crnojevića used to be a strategic point in the heartlands of Montenegro. Therefore, the fortress had to survive lots of battles.
Currently, it is an almost forgotten historical monument in a very weird little town. You can climb up to the fortress, and explore the remains of the medieval town, and admire the beautiful views of Lake Skadar.
It took me 20 min to drive to Žabljak Crnojevića from Virpazar town. Also, the route included crossing Skadar Lake bridge, from where you can enjoy panoramic views as well.
PETROVAC NA MORU
Petrovac (known also as Petrovac Na Moru) will be my base for the next two nights. I have chosen this seaside town strategically so I can reach my other points of interest-Stari Bar, Ulcinj, and Sveti Stefan- in a short drive.
Petrovac, although less known than its neighbor party king Budva, was still packed with locals and Russian tourists in August 2021. However, those guys tan their bums at the main beach, and only a few make their way to the best spots in Petrovac- fortress and the pedestrian promenade.
Things to do in Petrovac
Visit the most prominent historical landmark- 16-th century Venetian fortress perched on the waters of tiny Petrovac harbor, at the right end of the main beach. This picturesque little fortress can be explored by clambering its stone steps or admired from above when walking on the elevated promenade (more about it below).
Walk Pešačka staza Petrovac – Reževići. It is a pleasant elevated pine-tree shaded promenade of around 1.8 km in length. From here you can then enjoy beautiful rocky seaside scenery, capture some great shots of the Venetian fortress in between the trees, admire tiny islands of Sveta Nedelja and Katic, and last but not least breathe in the fantastic aroma of the lush Mediterranean vegetation.
Go swimming at Perzica do Beach. This less crowded beach is a good option if you are already walking on a promenade. After passing a few rock-carved tunnels (attraction on its own), you will end up on this small pebble beach. One thing that is very disappointing about this beautiful place is the skeleton of a monster-size hotel. Its construction probably stopped but the view of the mountainside of the beach was completely ruined.
Hire a taxi boat and spend a few hours on a secluded Fenix Beach. I have mapped out this tiny gateway and was excited about an escape plan which sadly didn't work out. The beach is visible from the pathway after crossing one or two tunnels. However, I was almost heartbroken to find out it is only accessible by boat. No wonder it looked so unspoiled. I saw people being picked up by a taxi boat coming from the main Petrovac beach. It is a great option if you want to enjoy the quietest and probably the most beautiful beach available in Petrovac.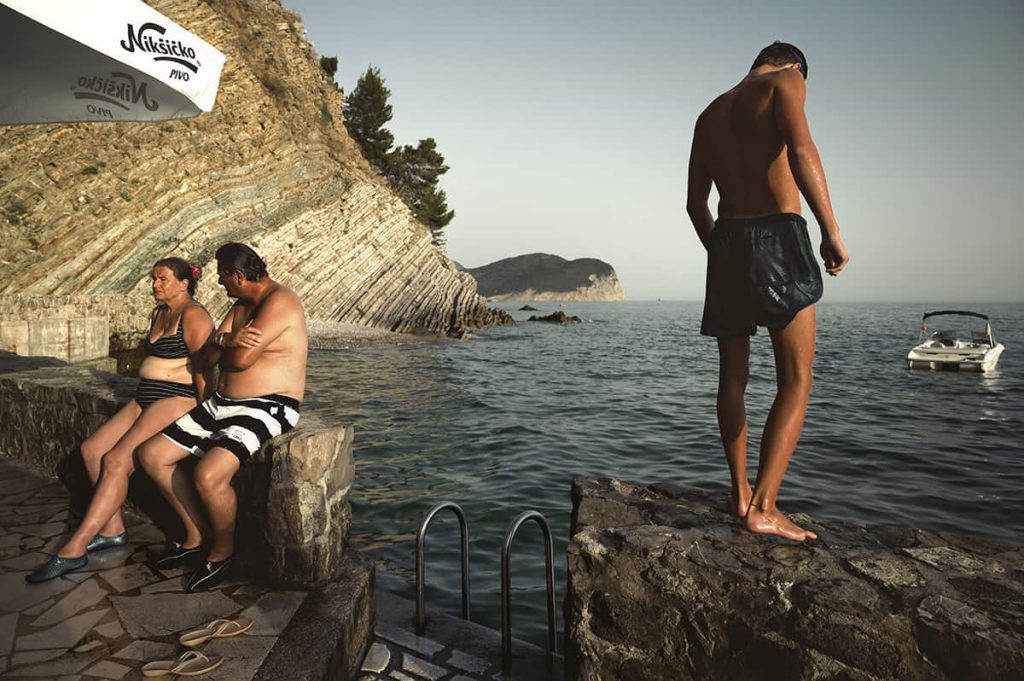 SVETI STEFAN
You might have already seen a postcard-perfect fortified islet town called Sveti Stefan. Connected to the mainland by a narrow causeway, a former fishing village, Sveti Stefan is now a private property- 5 star Aman resort. What a loss! Those who aren't staying there, or eating at one of the fancy restaurants, aren't allowed to visit the island. To chill on a private beach you will have to pay 100 EUR for access and a sunbed only.
However, there are other ways to admire this iconic destination on the Adriatic coast of Montenegro. Some of the best ways to spend time in Sveti Stefan:
Drive up to church St. Sava– also another very Instagramable place in Montenegro. For a good reason though- views from there are magnificent. I advise going in the morning or during the day, as the late afternoon sun blocks the view and makes everything look gloomy and dark.
Take a stroll through the coastal trail at Mirocel Park. This is a beautiful shaded path with great views of the Sveti Stefan islet.
If you are planning to come from Budva, you may want to consider walking all the way to Sveti Stefan on the 7 Bay Trail connecting those two towns.
Parking Tip: Parking in Sveti Stefan town can be a big headache during the busy season. I simply parked on the side of the main road just above the town and walked down. Many people do that and it is also free. Just be careful crossing the highway- it is a bit manic.
Where to Stay in Petrovac?
I have rented a two-bedroom apartment a few steps away from the main beach. The location was superb, surrounded by pine trees, a nearby Voli supermarket, and lots of restaurants. Note that prices in the summer shoot up, and since I left my booking for the last minute, I probably paid a much higher rate than when you booked a bit in advance.
---
Book your stay at Apartments Petrovac na Moru.
---
Day 11: Stari Bar and Ulcinj
Distance covered: 100 KM
Total drive time: 1 HR 16 MIN (round trip)
Overnight in: Petrovac
A day trip from Petrovac included two stops at less explored historical towns of Stari Bar and southmost Ulcinj.
STARI BAR (Old Bar)
Stari Bar (which is not a bar but a name of a historical city) is often overshadowed by other more popular places along the Adriatic coast. However, it is very worth your time. You might even want to spend anywhere from a few hours to a whole day in this little charming old town and its beautiful fortress.
Situated on top of Londsa hill, a foothill of mount Rumija, Stari Bar has been troubled with wars and fights over the centuries. It has been taken over by Venetians, Serbians, Hungarians, and Ottomans until it was finally reclaimed back by Montenegro in 1877. The sad fact is that hardship didn't end here and the fortified town was hit by an earthquake 100 years later, making locals move down to the coast.
The fortress now is mainly ruined. However, there are churches and a bell tower remaining untouched. You are free to wander inside the walls of the fortress for a 2 EUR fee.
A small old town at the base of the fortress is pretty and filled with quirky souvenirs and coffee shops proudly advertising their slow food. It is a great place to try authentic Montenegrin food, or just have some Turkish coffee with a traditional "tre lece" cake.
ULCINJ
The southernmost Ulcinj town lies next to the Albanian border. Hence the majority of the population here are Albanians. That means it is also a great place to get a taste of Albanian culture without crossing the border. As soon as you reach Ulcinj, you can tell immediately it feels different from the rest of Montenegro. You will be noticing signs written in Albanian language, dozens of mosques, hectic driving, different architecture, and people advertising holiday apartments directly from their old Volga's.
It was an extremely hot day when I arrived at Ulcinj. My main goal was to roam around the old fortified town which looks like a shark when photographed from the sky.
Because of the heat, I ended up spending a couple of hours having lunch with a sea view at one of the homely restaurants called Konoba Barutana. Its owner showed fantastic hospitality, and of course, prepared an amazing fish.
In general, the old town of Ulcinj is small but charming with its strongest card being fantastic sea views. Take a short hour wandering its cobbled streets and crannies.
Moreover, in Ulcinj, there are plenty of beach options. This little town has a long (if not the longest in the whole of Montenegro) 14KM sand beach called Velika Pliaza. The other great option to catch some sun and dip into clean Adriatic waters is Valdanos beach featuring around 18000 olive tree groves.
Day 12: Budva, Kotor Bay and Herceg Novi
Distance covered: 100 KM
Total drive time: 2 HRS 50 MIN
Overnight in: Dobrota (Kotor Bay)- 2 consecutive nights
As I am counting down the last kilometers on my epic road trip in Montenegro, it is time to come back to the one and only Kotor Bay. Here I plan to spend a few days exploring its less-explored corners.
BUDVA
I wake up early at 5 am and get ready to take off for my trip back to Kotor Bay (excited to go back!). On the way, I decided to make a short stop at the most famous coastal town in Montenegro- Budva. Being skeptical about this infamous party place and a tourist trap, I still have hopes to see its atmospheric Roman-era old town empty and quiet before the town wakes up. Back in 2017 I completely skipped visiting Budva as soon as I saw how busy it was during the day.
This time I reach at around 7 AM and leave my rental car in the parking lot next to Restoran Vista Vidikovac. From here, it takes around 10 minutes to walk down to the old town.
Before exploring the walled old town of Budva, I head to Mogren beach which is just a 2 min walk. Not for tanning, but for a photo of a cave with a bridge. Believe it or not, people started coming to the beach as early as 7:30. All available sunbeds and empty spots on the sands started to fill up real quick. The heat and humidity that day were unmanageable, so after a quick cave shot, I rushed to the old town.
A few words about Mogren beach: it would be an amazingly beautiful beach backed by gorgeous orange cliffs, but it is overcrowded and dirty. Ironically, being in the center of Budva it has all the facilities you could expect from a modern-day city beach- lockers, changing rooms, sunbeds, restaurant and bar, and whatnot. And, sadly, litter, lots of litter. It was heartbreaking to see how a beautiful place like Mogren beach is carelessly used and abused. So if you find on any blog mentioning Mogren beach as being one of the best in Montenegro- check the date, maybe 30 years back it used to be true.
Budva Old Town
Budva Old town also referred to as a miniature version of Dubrovnik was already filled up with tourists when I arrived at 8 AM. Funny enough, although being an architectural masterpiece, Dubrovnik left one of the worst experiences when I visited it back in 2017.  Although, a little less crowded than Dubrovnik, Budva Stari Grad (old town), wasn't too different in terms of crowds. Therefore, due to its enormous popularity, I feel like this little historic town, actually very similar to many of its kind, didn't leave much of an impression. I find the old town of Kotor more interesting and exciting.
HERCEG NOVI
After returning to Kotor Bay and basing myself at the same comfortable Mileva Apartment in Dobrota, I left for a half-day for a visit to Herceg Novi- the northernmost Adriatic town in Montenegro close to the Croatian border.
Herceg Novi, not as well-known as Kotor, is a beautiful coastal town. You can wander its cobbled streets with hidden flowered courtyards. Also, walking 7 kilometers long promenade from Igalo to Meljine is a great way to enjoy Herceg Novi. This pathway stretches through paved swimming areas and pebble beaches. It also passes numerous seafront restaurants. Furthermore, there are water activities like kayaking and boat trips to Blue Cave and Mamula Island that would allow exploring further to Luštica Peninsula.
USEFUL TIP: If you are coming from Tivat, you can, instead of driving around via Kotor, take a ferry from Lepetani (free for pedestrians and 4 EUR for the car)- it will save you around 1 hour of driving!
Day 13: Kotor Bay Loop: Muo, Prcanj, Donij Stoliv, Lepetane-Kamenari Ferry, Risan
Distance covered: 44 KM
Total drive time: 1 HR 40 MIN (full loop starting from Dobrota)
Overnight in: Dobrota (Kotor Bay)
A day before the last day, I suggest slowly exploring the other side of Kotor Bay that you can see when driving from Kotor Old town to Perast and Herceg Novi.
I did a loop type of route that covered driving through cute waterfront villages and taking a ferry to the other shore. Starting off with Muo, followed by Prcanj and Donij Stoliv fishing towns, new perspectives of the Kotor Bay open up. You can pick the spot you like and stop for swimming or lunch with a view at one of the konobas.
After passing Donij Stoliv village, you will soon reach the beautiful Our Lady of Angles Church built on the shore of the bay. Stop to admire marvelous views with Perast and two of its islets on the horizon.
NOTE: The road winding around the above-mentioned photogenic villages is good for one car only. I nearly had an accident with a crazy public bus that jumped out of the turn. The driver seemed to be annoyed that it had to slow down, while I was trying to squeeze through. Therefore, take it slowly, because the public bus is always in a rush.
Soon after Our Lady of Angles church, you will reach Lepetane fishing village- it is also home to a small harbor from where ferries are transporting cars and passengers between two sides of the bay. For only 4.5 EUR per car and FREE for pedestrians, Lepetane-Kamenari ferry will bring you to the other side of the bay in under 10 minutes. The ferry waiting time is no longer than 15 min. This way you will save a good hour of driving around Boka Kotorska. It seems like there were 6 ferries operating between the two shores making the crossing very fast, smooth, and scenic.
Once in Kamenari, I continued driving back in the direction of Dobrota. Along this route, there is a trendy restaurant Verige 65 with stunning views of Boka Bay. I only stopped for a short glimpse and decided to skip on the popular eatery- just too modern, a bit too flashy for a natural place like this, and not exactly the vibe I would go for. Along the bay, you can find more down-to-earth homey waterfront restaurants.
Therefore, I continued driving and enjoying the passing views of the towering mountain peaks of Kotor Bay. On this route, you will pass a number of other small fishing villages, where you can stop and explore at your own pace. The more known one, aside from Perast, is probably Risan which is mostly famous for its Roman Floor Mosaics.
Day 14: Tivat
Distance covered: 12 KM
Total drive time: 20 MIN
Wrapping up the two-week journey around Montenegro, before my flight to Lithuania, I dedicated spending the last half a day in the port of Tivat. Called the Monaco of Montenegro, Tivat is a bit of a flashy town with luxury superyachts parked in its port. Being a resident of UAE, I see enough glamor, glitz, and shine, boats, and yachts, therefore, I could actually skip Tivat completely. For those of you, who are keen to see a different, more "rich" side of Montenegro, you might enjoy Porto Montenegro's luxe vibes. The coastline is still very beautiful and sunsets in Tivat are also gorgeous, so why not.
What I skipped and what I would suggest skipping when planning your trip to Montenegro
Podgorica- after reading a number of blog posts, I was convinced that the capital of Montenegro, compared to all the goodness available in the country, is not worth spending time at.
Ostrog Monastery- I was debating on this one as it is a top sight on every Montenegro travel guide. After talking to those who have been there, even the drive up the hill alone is super dangerous and not really worth risking your life over a building in the wall. Also, this pilgrimage site attracts not only religious followers but lots of tour buses are constantly making their way to this tiny place. This would make the trip even more hectic. So I decided to give it a pass.
Budva- a tourist hot spot, nightlife, and party center. Although it features an old historical town on the Adriatic coast and beautiful beaches- I would have not lost anything if I completely skipped it (I visited early morning for a couple of hours only).
Tivat- if it is not on your way, and if you saw Monaco or Dubai, or any other luxury super yacht harbor before, it will not surprise you.
Cetinje- to me it was quite a dull and boring place compared to the rest of what I saw around Montenegro.
Lake Biograd- I would only go there if I had more time to spend around the lake, otherwise it is not worth going for only 30 min, as you also had to pay a 3 EUR per person entrance fee to the Biogradsko National Park.
KEY RESOURCES FOR YOUR PERFECT TRIP TO MONTENEGRO
Planning your trip to Montenegro soon? Below are some useful links to the website to help you organize the perfect road trip.
More Montenegro Travel Guides
---
YOU MAY ALSO LIKE: Hiking Albanian Alps– Everything you need to know about the legendary Valbona Theth trail and how to prepare for it.
---