Mleiha mostly known for the Fossil Rock is arguably one of the most fascinating natural sights in the United Arab Emirates. Its proximity to the bustling city of Dubai makes it a perfect day trip and nature escape both for residents and visitors of the UAE. In this ultimate Mleiha guide, I share the best things you can do in Mleiha.
Mleiha belongs to Sharjah Emirate and is a UNESCO world heritage site that offers an unforgettable desert experience. Besides otherwordly scenery of cragged fossil rocks peeking out of saturated orange dunes, there is an array of thrilling desert activities for curious explorers and adventure seekers.
Starting from the classic Fossil Rock hike, Al Faya mountain range, dune-bashing and offroading, some of the best desert safaris in the UAE, camping, and glamping, to archeological treasures and Buhais geology center which looks like a space station. In short, Mleiha is an absolute must-see place when traveling to Dubai, UAE.
In this guide, I have listed the best sights and experiences in Mleiha. Most of the activities are completely free, while some come at a price for those of you who are looking for an organized hassle-free, or more luxurious time out in the UAE desert.
Disclaimer: This post contains affiliate links, which means that I may earn a commission if you make a purchase by clicking a link (at no extra cost to you). This helps to keep my blog running and grow by creating more awesome free content for you.
10 Things to Do in Mleiha, UAE- Your Ultimate Guide
This Mleiha guide covers everything from adventure to cultural activities, as well as places to stay should you choose to spend a night in this magical place. If you are visiting Dubai, I strongly recommend adding Mleiha to your day out of the city schedule. Popular among locals and residents, but less known to tourists, Mleiha makes it a perfect getaway in the wilderness of the UAE. You will be surprised by how many awesome things you can do in this relatively small area. Therefore, you can easily tick off many of the must-see sights in Mleiha in just one day.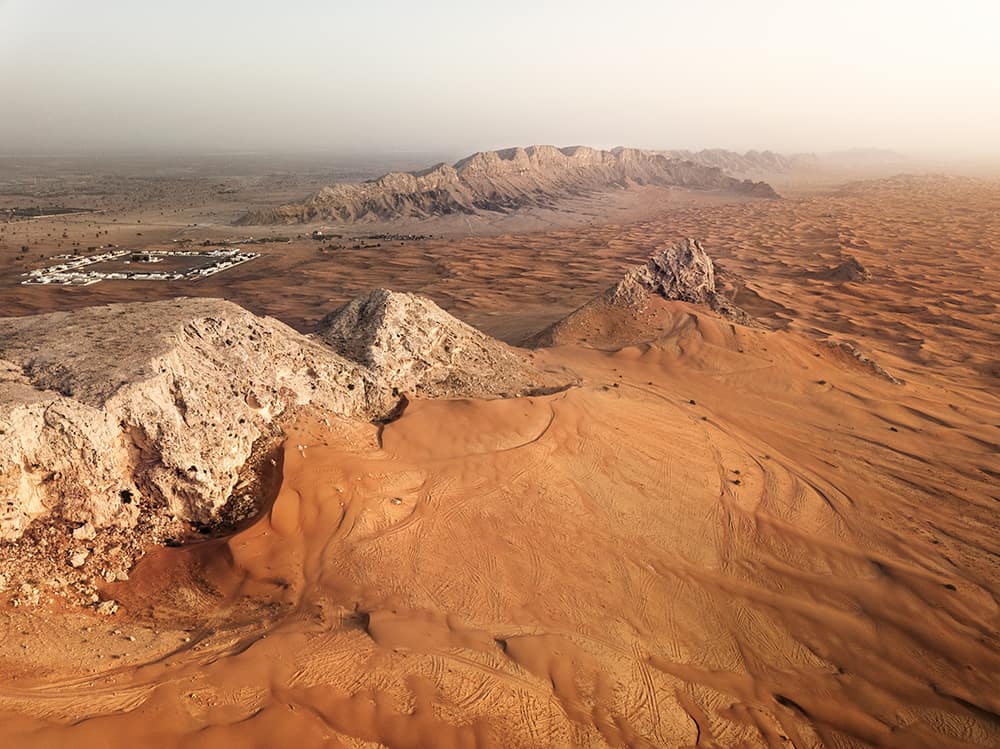 Here is a list of the best activities and sights in Mleiha, Sharjah, UAE. Pick your favorite or tackle them all. Keep on reading to find all the useful information about each activity to help you prepare for your Mleiha adventure.
---
Where is Mleiha? 
Mleiha (also spelled as Maleha, or Mileiha) is situated in the central region of the Sharjah Emirate, around 2km south of the inland Sharjah town of Dhaid. Within a 50 minute drive from downtown Dubai, following Emirates road and E102 Sharjah- Kalba road, you will reach the breathtaking landscapes of Mleiha.
How to get to Mleiha?
The easiest, fastest, and cheapest way to get to Mleiha is by driving. If you are a visitor to the UAE, it is well worth renting a car, even if it is for a day only. This way you will be free to visit places at your schedule.
If you know how to drive in the desert, look no further and get yourself a 4×4. This will come in handy if you decide to go camping or just simply ride the gorgeous orange dunes of Mleiha.
Renting a Car in Dubai, UAE
The easiest way to move around in the UAE is by driving your car. If you are a visitor, I highly recommend using Discover Cars to find your best ride. This car search engine compares prices across many car rental companies both local and international.
Discover Cars offer the best car rental deals by comparing car rental prices across many rental companies both local and international. You can filter by the preferred features like transmission type, and car type, which allows you to choose a full price range, and pick among your favorite car rental suppliers, payment type, and more. To sum up, you will be able to find the best value for money. Visit Discover Cars and check your dates to find the best options available.
FOR THOSE WHO ARE TIGHT IN TIME: Alternatively, you can join a tour company which will take care of everything, and also offers a pick-up in Dubai from your location. It will include a comprehensive program covering most of the main Mleiha's must-see sights, including a dune ride. I have done some research for you and found this Sharjah Mleiha Desert Half-Day Tour which has great reviews, includes the most important sights, and also offers a pick up from your location in Dubai.
I won't advise taking a taxi to Mleiha (it should be your last resort) because it is expensive (~200 AED or 55 USD one way), and it limits you to just one place. If you want to move around, you will have to look for another taxi in the area of Mleiha, which can be quite tricky. Also, coming back to Dubai becomes more complicated as most of the very few taxis (which you have to be lucky to find) will be from Sharjah Emirate and they might not even be willing to drive you all the way to Dubai.
RELATED READS:
Importance of Mleiha and why it is a must-visit destination in the UAE?
Do you enjoy camping, dune bashing, hiking, paragliding, archeology, and history, or just love chilling in one of the comfy desert retreats (also called "glamping")? You will find all that and more in one relatively small area.    
That being said, Mleiha is rapidly growing in popularity among adventure enthusiasts, nature lovers, archaeological buffs, and adrenalin seekers. It is a unique natural place that combines desert terrain filled with ancient history and an array of thrilling activities. Mleiha is an exceptional destination that has something exciting for everyone.
Mleiha is a UNESCO World Heritage site that holds several significant archeological findings and geological treasures. A unique assembly of desert and mountain ranges is home to rich ancient history. As a curious traveler, you will be welcomed on a journey back in time. Many early Bedouin lifestyle secrets were revealed in Mleiha area.
Sharjah Commerce and Tourism Development Authority established Mleiha as an ultimate tourist destination that encourages to explore deeper. Many first-timers in the country often have limited knowledge of UAE history. Often associated only with skyscrapers of Dubai, UAE reveals its hidden gem of Mleiha. It appears to be full of unexpected findings that will lead you through a fulfilling exploration journey into the worlds of the past.
Therefore, let's not wait any longer and explore all the best things to do in Mleiha, Sharjah, UAE!
---
Sign up HERE to receive a FREE downloadable quick guide to The Best Hiking Trails in The UAE.
1. Fossil Rock (Jebel Mleiha) Hike in Maleha, UAE
One of the best ways to fully experience the magic of Mleiha is to hike to the classic Fossil Rock. It is a great adventure during which you will be able to immerse into the wilderness on the iconic trail that leads all the way to the tabletop-like summit of mount Mleiha.
What is Fossil Rock?
Fossil rock, as the name suggests, is an astonishing geological wonder abundant in marine fossils that can be found on its slopes. Shells and small sea creatures were imprinted into the rock millions of years back when water was covering the lands of the UAE. You will be able to see the imprints of fossils by pouring a glass of water onto the rock. This way the shells that have solidified becomes clearly visible.
Fossil Rock Hike Overview
Fossil Rock hiking trail in the UAE is a moderate level hike across the valley of Mount Mleiha towards the plateau. It involves light bouldering; a bit of scrambling and one 10 feet wall climb. The total distance of the trail is 6km return with an elevation gain of approximately 300 meters. It should take you 2-3 hours to complete the hike.
The Fossil Rock trail is not marked except for some cairns here and there along the way. However, if you follow directions on Wikiloc app, it will be easy for you to find the way to the summit.
The views at the top of Mount Mleiha are simply outstanding: rolling deep orange color dunes with the beautiful backdrop of rugged Al Faya mountain range. If you are lucky to hike on an early foggy morning, you will be witnessing surreal scene of the fog blanket covering Mleiha desert.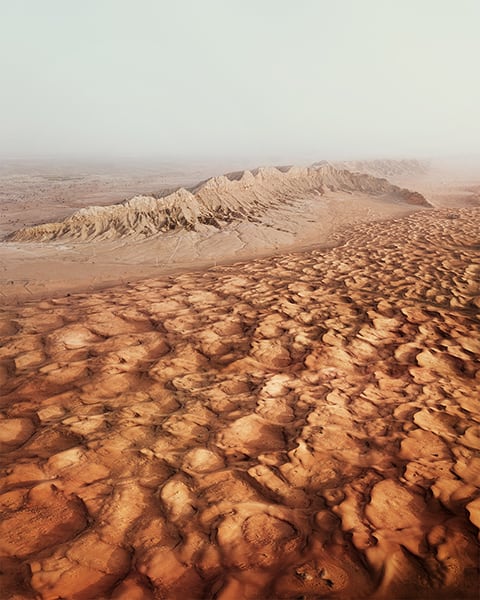 As mentioned before, there is a 10 feet wall climb waiting for you halfway through the hike. This might be tricky if you don't have any hiking or climbing experience. You might need a hand to help you out climbing it, but no ropes are needed for it. Also, climbing down is trickier than climbing up. I was struggling to climb down (up was easy to me). just It is not very straightforward where to hold on the rock, and you have to look for a strong stable rock to hold to. Therefore, take this part with caution.
The good news is that you can come around this part from the right-hand (left on the way down) side- this way you won't need to climb the vertical wall. I would skip the climb down and would find my way back from the left side.
Once at the top you will be at a flat plateau with 360 views of the desert. Go until the very end until you approach the Fossil Rock itself. If you are adventurous, you can climb down (must be experienced and be very careful as it is quite steep) and come back through the desert. Take the left side (the one with Al Faya mountain in the background). Alternatively, come back the same way as you came- a safer option.
General safety note: watch out for the fossil rocks- their structure is very thin in some places. Look for the thicker surfaces before stepping on them. Stay away from edges (again they might be prone to breaking) on the top of the mountain, the vertical drop is deadly.
How to get to starting point of Fossil Rock hike?
If you are coming from Dubai, take Emirates road and then turn to Sharjah-Kalbah highway E102 before the Sharjah mosque. By driving E102 Sharjah-Kalba road you will soon see a massive rock appearing out of nowhere in the middle of the desert. This breathtaking vista is mount Mleiha (also known as Fossil Rock) and is visible from the distance of 25km.
The starting point of the hike is here: 25.167306, 55.841608. There is plenty of space to safely park your car. You will have to jump the fence and to start your hike.
When to hike to Fossil Rock?
The best time to hike Fossil Rock is during the winter months at sunrise or sunset. Note that it is fully exposed to the sun and gets extremely hot in the midday. I would avoid hiking in the summer (I did that once and it was 10 times harder due to the heat).
Make sure you take 2-3 liters of water for this hike.
---
Sign up HERE to receive a FREE downloadable quick guide to The Best Hiking Trails in The UAE.
2. How to visit Camel Rock
Continue exploring Mleiha's geological wanders and best vistas by visiting iconic Camel Rock. This unique rock rising from the sand dunes is shaped as a double-humped camelback, hence the name. On the Eastside, Camel rock is backed by the impressive mountain range of Al Faya, while the Westside is a vantage point for sunset gazing.
It is a very photogenic sight beloved by many photography enthusiasts. No wonder why as the landscape here is exceptional with its vast deep orange color dunes hugging fossil rock formations. To me, those erupting rocks remind buried skeleton of a dinosaur when looked at from above.
How to get to Camel Rock?
Camel Rock is located down south of Mleiha mount in the dunes next to the Al Faya mountain range. Google coordinates are 25.117389, 55.826824.
The most common way to get to the Camel Rock is driving sloping dunes in an SUV car. You can either do it yourself taken you know how to drive in the desert, join a tour, or hike to it.
Hiking to Camel Rock
It took me nearly 7 years of living in Dubai to finally go and check the Camel Rock out. I used to have this idea that Camel Rock was tucked away somewhere very deep in the desert where only option to reach it was by a car. After checking Google Earth, it turned out that it was just a few steps away from the dirt road that is accessible by a regular car.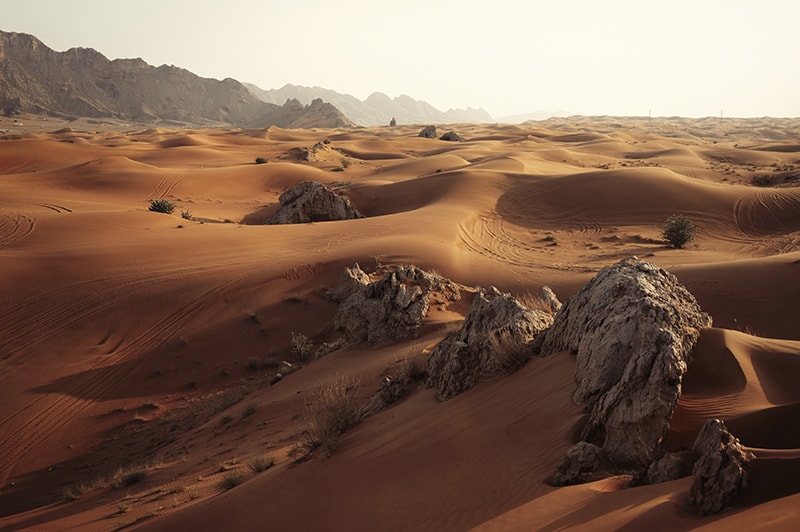 Therefore, one beautiful winter afternoon, my hiking partner and I packed few liters of water and head out for a mini exploration adventure- a sandy dune hike to the Camel Rock.
We parked and started from here 25.127412, 55.838749, and headed up West following the off-road track, keeping the Fossil Rock on our right. At around 25.129522, 55.828241, after passing the fossil rocks (yes there are many of them) peeking out of the sands, we turned left, leaving Mount Mleiha behind.
It was around a 2km walk to Camel Rock from the place we parked. At that time we missed the dirt road at the foothills of Al Faya mountain. If you follow that road (bumpy but suitable for all cars), you can get much closer to Camel Rock in Mleiha. You can drive any car up to 25.113718, 55.827396 (also called Eye of Mleiha, another photogenic geological rock and sand formation next to Camel Rock).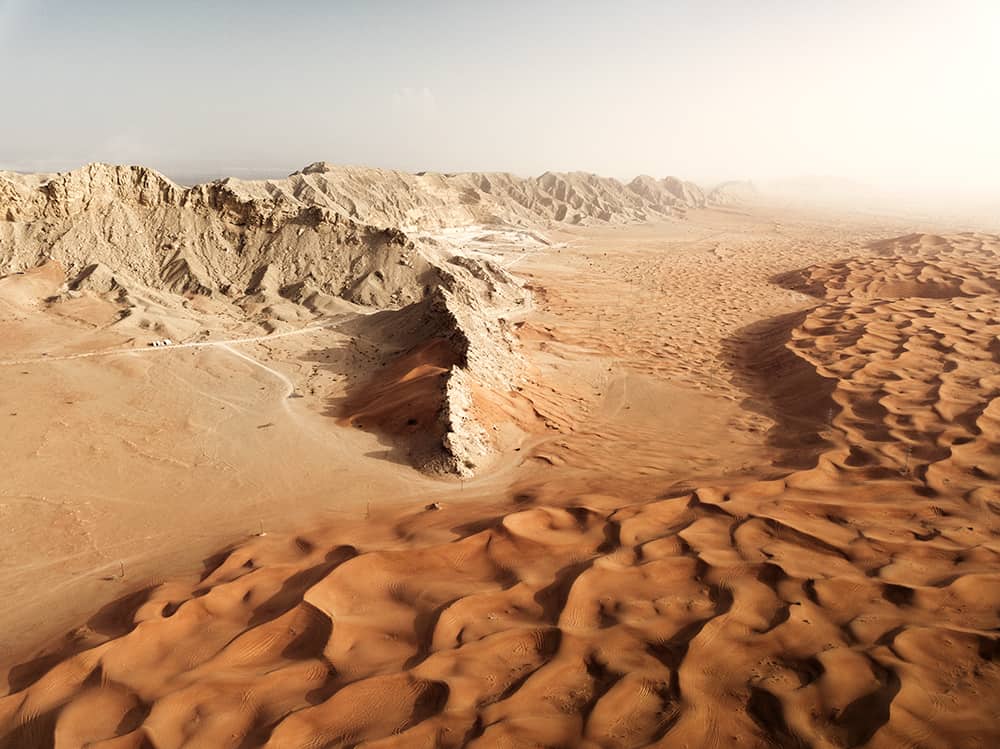 I know we could have made it faster and easier, but we do not regret a single sand grain that filled our shoes. It was a very different and fun dune bashing on foot experience with fantastic views of multicolored hues of the ochre-shaded desert with Al Faya mountain at its full beauty in the background.
Note you can come back following the dirt road and make a nice 5km loop of this self-exploration hike.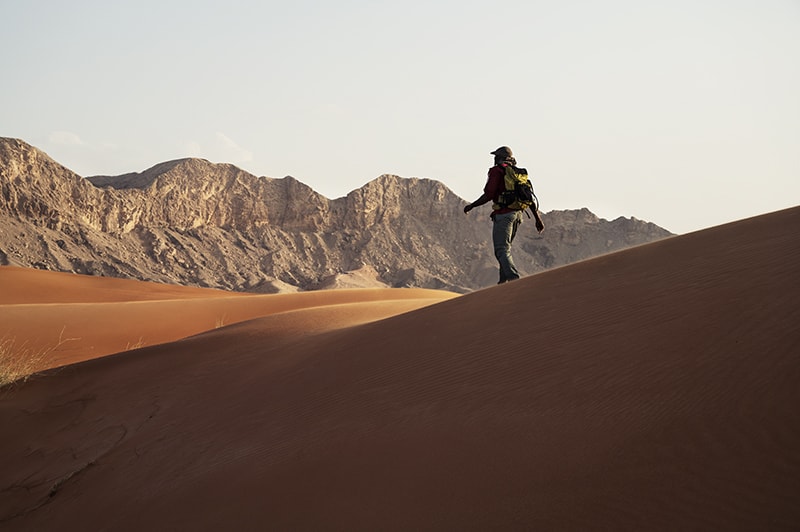 The Best Time to visit Camel Rock
For the best views and the most appealing images, sunrise or sunset is the best timing for visiting Camel Rock when the deep orange color of the sand dunes intensifies creating a majestic setup. Also, consider going on a weekday, or at least avoid Fridays which is the busiest day of the week attracting many people to this signature spot of Maleiha. Also note, that as the thermometer hits 40 degrees Celsius in the UAE, Mleiha area becomes even hotter as it is inland.
---
RELATED REEDS: If you love hiking, make sure to check this post about Easy Hiking Routes in the UAE. For those of you who are craving for a more challenging trek, head to one of the iconic Wadi Naqab and Al Sanat Village.
---
3. Hike Jebel Al Faya – Reel Jeepers mountain and Valley of Caves
Jebel Al Faya, shaped like a dragon's back, is another one of the Maleiha's must-see places, is an impressive limestone mountain outlier stretching for over a dozen kilometers along the Al Faya desert. You can admire it from afar when hiking the classic Fossil Rock, dune bashing Mleiha desert, or just driving past it on Maleiha road.
However, this picturesque sight is worth a closer look. It not only has a few enjoyable hiking trails but also has lots of archeological findings providing insights into the prehistoric lifestyle of ancient settlers in the region. 
Valley of Cave Hike in Mleiha, UAE
If you Google Valley of Caves, you will quickly be able to locate a pin pointing to North-Eastern part of Al Faya mountain range. Here you can go on a marked archeological hiking trail that holds memories of the past.
Valley of caves invites you to glimpse at the remains of prehistoric times. This is a Neolithic site where human graves dating back to 9000 to 6000 BCE were discovered. By following the marked path, you will visit 4 caves that have unearthed various artifacts which helped to understand the prehistoric lifestyle better. Findings of stone tools made by humans allowed implying that the age of the site can be around 125000 years old.
If you are not into digging the Earth and archeology, but more into the present moment of some adventurous endeavors, there is an option for you to continue hiking Al Faya mountain beyond the marked trail. This, though, is recommended only for experienced hikers who are confident in their ability of tackling UAE terrains. There is quite a bit of scrambling involved and a walk along a narrow ridge of Al Faya mountain.  
Al Faya Mountain Hike to Real Jeepers Summit in Mleiha, UAE
Real Jeepers mountain trek is another exciting and relatively easy hiking trail starting at an old quarry base. The distance is only 2.5km trekking up an old dirt road (elevation gain is around 200 meters). This particular hiking spot is marked on Google Maps as Real Jeapers Mountain Camping. The views from the top are simply surreal. You feel as if you are standing in the middle of a dragon's back surrounded by the endless desert of Mleiha. It gets even more mysterious if you manage to catch a fog early in the morning. You won't be able to see very far, and it gives this impression of nothingness and being somewhere thousands of miles away from civilization.
If I had to compare the classic Fossil Rock trail to a less known Al Faya Mountain hike to Real Jeepers summit, I feel like a comparably effortless climb to the latter provides more out-of-this-world sensations once you reach the top. However, here is a catch- again you should hike to Al Faya on a weekday, as weekends may see quite a bit of action at the quarry base which was recently transformed into an off-road adventure park.
BE READY FOR YOUR HIKE: these items are essential for your safe and comfortable hiking experience in the UAE
1.Probably one of the most important things when going on a hike is comfortable footwear. I hike in Colombia hiking boots.
2.For a day hike, carry a small to medium size hiking bag to keep it lightweight and compact. Check this Osprey 20L hiking back with the compartment for water bladder.
3.Water Bladder is my favorite item for an uninterrupted and hydrated trek. I use Camelbak 3 L water bladder for my hikes. This water bladder size is enough even for longer treks.
4.Trekking poles- will support your knees and save them from pain. Hiking poles are strongly advisable on hikes with high elevation gain and long distances.
---
MORE HIKES IN THE UAE: Check a challenging but rewarding Wadi Shah near Jebel Jais (intermediate level) or go closer to Dubai for a light trek and splash some water pools on the Shawka Dam to Pools trail.
4. Overnight camping in Mleiha- how to enjoy it safely and peacefully
Would you like to get a little taste of a Bedouin life while gazing at millions of stars? Overnight camping in the desert of the UAE is a memory to hold. You can either self-camp (adventurous, requires more effort), or book an organized overnight camping experience in Mleiha (hassle and worry free for those who want to be able to relax in the wilderness, includes visiting main sights of Mleiha desert as well).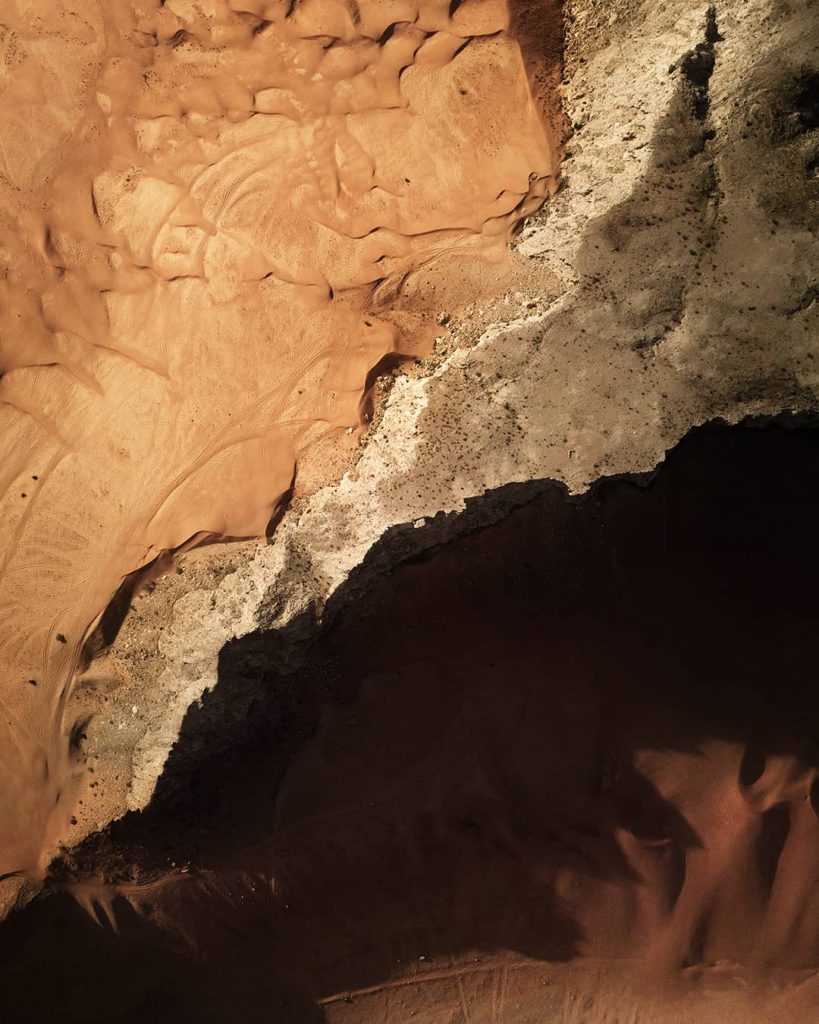 Self-camping in Mleiha
If you decide to head out for camping in Mleiha on your own (taken that you know how to drive the rolling dunes), there are a few things to take into consideration. Being one of the most beautiful desert locations that is also so close to Dubai, Mleiha attracts dozens of people. Mleiha dunes get especially busy during weekends (Thursday night, with the peak on a Friday afternoon and night).
Since Arabs love hanging out at nigh, don't expect a deep sleep if you set up your tent in the hotspot of the midnight action. That specifically being dune bashing with laud SUV monsters. It makes camping in Mleiha not only noisy due to ongoing revving of powerful engines but also might be dangerous if the camping spot is close to the off-road trails.
Moreover, Local families love to gather around mount Mleiha, so if you are looking to escape the crowds and immerse into the complete silence, you should by all means avoid popular gathering spots. These are the easily accessible ones that are close to E102 highway at the foothills of fossil rock and al faya mountain around Camel Rock.
You might be thinking by now that camping in Mleiha is a life-threatening experience. And is camping surrounded by the so called magical Mleiha landscapes worth the hassle?
Good news are that when there is a will, there is a way. When you know where and when to go, you will have an amazing time soaking up into the dessert scenery in Mleiha. 
When is the best time to camp in Mleiha?
Your best bet is to go camping in Mleiha on a weekday (Sunday to Wednesday). It is likely you will have the whole desert for yourself. This will give you lots of options to camp wherever you like at peace.
As I have mentioned before, Mleiha is a very popular area for outdoor lovers of all sorts. Which makes it packed with people on weekends (Thursday evening all over to Saturday), especially during the winter months.
The best camping spots in the area, when is it not busy, are around the foothills Fossil Rock and the Camel Rock area. You won't have to drive too deep into the desert to pitch your tent and will be protected from the wild desert winds.
Google coordinates 25.109231, 55.825776
Where to camp in Mleiha desert on a weekend? 
If you happen to come on a weekend, you can still have an amazing time in Mleiha. However, if you want a little bit more peace and privacy, get ready to hike for it.
1. Camp on the Fossil Rock mountain- this a safe place from crazy SUV drivers. The views from the top are brilliant. Also, you might wake up to the fog blanket rolling over the dunes (mainly in the winter months). It can get very windy uphill, therefore, bring some extra layers. Note that the terrain on top of mount Mleiha is deceiving. Its flat surface is full of smaller and bigger stones that would be impossible to sleep on. Luckily, the perfect spot to camp is at the tip of the mountain with the best views as well. Still you will need a mattress to make your sleep soft and comfortable.
2. Camp far from the main off-road trails that circle around the Camel Rock and the Fossil Rock.
3. Camp on Al Faya mountain (Reel Jeapers summit) – alternative spot to enjoy more mountainous vistas of Mleiha.   
Go for overnight camping in Mleiha with all-inclusive hassle free organized tour
If self-camping in Mleiha sounds a bit too adventurous for you, then your best bet is to join an organized camping tour. One of the best in the area is the organized Mleiha Archeological center. You can prebook their tour online via Viator with 24 hours free cancelation. It includes guided tours, meals, and tents. This your has great reviews as well, which you can check on Tripadvisor's website.
5. Glamping at Al Faya Retreat in Mleiha
If you are looking for a luxurious desert nomad getaway in the middle of the enchanting dunes of Mleiha, then Mysk Al Faya Retreat is where you should stay. 
This unique desert hotel is offering a boutique experience like no other. Situated at the foothills of Al Faya mountain ridge and overlooking the sweeping orange dunes, the retreat offers the best views of Mleiha with the comfort of unique modern and stylish all-inclusive desert accommodation. It is featuring all the facilities you would expect from any top-notch luxury hotel in the UAE, including a big swimming pool, spa, rooftop terrace, restaurant, and bbq area. It is not very common to find unique boutique hotels in the UAE (dominated mainly by enormous 5-star hotels). Therefore, Al Faya Retreat offers a very different high-end experience of a cozy small hotel (they only have 5 rooms). 
Plug-in your dates in the search box bellow to check availability and make a booking at this one of a kind resort in the middle of the desert.
Moreover, next to the Al Faya Retreat, a funky sunset-watching pop-up has recently been opened. It is called Not a Space and apparently is a new hotspot popular between stylish locals who gather to chill at and enjoy the views. Snacks are offered at trendy food trucks.
6. Dune bashing and off-roading in Mleiha
Dune bashing in an SUV or in a dune buggy is an absolute must-do if you are traveling to Dubai, UAE. This fun adrenaline-filled activity is second nature to locals who learn riding the dunes at an early age. It takes lots of training and an alert mind to master driving on a fast-changing and unpredictable sandy terrains. That being said, UAE is one of the best places to take on this thrilling experience. Moreover, Dune bashing in Mleiha desert is one of the most scenic ones in the country. 
You will be enjoying stunning views of an ever-changing landscapes of unusual deep orange color dunes while trying to hold yourself tight in the roller coaster ride. 
It is likely that you will be asked if you are willing to go for the dune bashing hardcore or on a slower softer pace. If you want your senses fully awakened, don't hesitate and opt in for a full-on hardcore experience. For most adventure enthusiasts, the hardcore version of dune bashing won't seem as dangerous as it may be expected. Just make sure not to eat too much before the dune bashing as your stomach may not take it lightly. 
By joining one of the tours, you will also be able to explore the highlights of Mleiha desert-Camel rock and Fossil rocks. Check this highly rated tour on Get Your Guide.
7. Dig deep into the prehistoric times at Mleiha Archeological Center
If you are a history buff dying to know everything about the ancient Bedouin culture and old Emirati lifestyle, Mleiha Archeological Center is a place to go to. It shares a great deal of intriguing information about the evolution of the prehistoric area of the UAE. Exposition at the Archeological Center invites to take a glimpse to the life during five distinct historical timelines: Paleolithic Age, Neolithic Age, Bronze Age, Iron Age, Pre-Islamic Era.
Nowhere else in the UAE you will be introduced with such rich insights into the lifestyle of ancestors of the country as in Mleiha Archeological Center. Unearthed prehistoric artifacts in Mleiha area and precise studies helped to reveal a lot of different aspects of the culture and daily life. You can learn about ancient traditions, hardships, rituals, pottery and arts to trade and commerce, and more. 
The architecture of Mleiha Archeological Center
If you are, like me, more of an outdoor explorer, then architecture of the Mleiha Archeological Center alone is worth a visit. The building, when looked at from the bird's eye view, resembles a shape of a shell. Which is a great representation of the Mleiha's frozen in time marine life that can be found on the slopes of the fossil rocks.
The main visitor attraction of Archeological Center features an impressive Bronze age Umm al -Nar tomb. It was constructed around 2300 BCE and is one of the most important funeral sites in Mleiha that uncovered the past life of people in this area. 
The Archeological Center building is a modern sandstone structure that wraps itself around the Umm al-Nar tomb and looks as if it is partially buried in the sand. You can climb up to the rooftop promenade to enjoy theatrical views of the famous tomb placed at the center of the arena and backed by impressive al Fayah mountain range. 
After touring around the Archeological Center and/or visiting an exhibition, grab a cup of hot drink or a snack at a cozy café. 
Tickets to Mleiha Archeological Center
The inside exhibition is paid and you can purchase the tickets on-site at 25 AED per adult for a self-guided tour.
I would highly recommend going on a tour if you want to dive deep and fill your knowledge tank with everything about the area. An English- or Arabic-speaking guide is included in all the options. More information about the center here.
Opening hours of Mleiha Archeological Center
Saturday to Wednesday from 9 am – 7 pm; Thursday and Friday from 9 am – 9 pm.
Other exciting activities offered by Mleiha Archeological Center
Besides the archeological exhibition, The Mleiha Archaeological Centre offers a host of other thrilling activities that include extreme off-road adventures like dune bashing and buggy-self drive, horse riding, survival camp, and more laid-back tours covering majestic landscapes of Mleiha. These include sunrise, sunset dessert safaris, stargazing and overnight camping. The choice is yours!
As you may already have noticed, Mleiha Archeological Center got you covered for the majority of the activities you would want to do around Mleiha area. It is also an official entity under the Maliha Archaeological and Eco-Tourism Project for all things Mleiha.
Therefore, if you are traveling to the UAE and want to have an all-rounded hassle-free all-inclusive experience, you don't have to look any further. For the best experience, just book yourself one of the great tours organized by the Mleiha Archeological Center. Most of the tours will include the hotel pick-up in Dubai, so you won't need to worry about how to get to Mleiha.
Worth noting, that the Center has received a Certificate of Excellence & Traveler's Choice from Tripadvisor multiple times and has a number of great reviews. 
Check some of the best tours organized by Mleiha Archeological Center on Viator (24 hours free cancelation policy is offered as well).
8. Fill up Your Adrenaline Tank at XQuarry Adventure Park
For the adrenaline junkies, a recently opened first UAE's off-road adventure park will be a perfect playground.
Tucked a little further away when driving from Mleiha archeological center along with the Al Faya mountain range, past the camel rock, an abandoned quarry was brought to its second life. It was transformed to a 15km area with custom-made obstacles where off-road enthusiasts and pros can practice and gain skills of extreme driving.
You can either come in your car or get a full day off-road driving course.
Prices start from 50 AED for the entrance to the park. Check more on the xquarry.com website. 
9. Paragliding over Mleiha Desert
For those of you who are seeking new heights as well as another level of thrill, paragliding over the Mleiha dunes is a perfect choice. Indulge into the spectacular scenery while slowly gliding down with a professional paraglider pilot. Check this website if you would like to go on an aviation adventure.
10. Buhais Geology Park
Last but not least, in fact, one of the most interesting sights in Mleiha is the architectural masterpiece of Buhais Geology park. The park is an impressive complex of space station-like interconnected pods situated on a former seabed and surrounded by Jebel Buhais and Jebel Aqabah mountains. The pods are made of steel of different brown hues to match the landscape and resemble million years old marine fossils common for the area.
Buhais Geology Center serves as a treasure trove for geologists and enthusiasts who are welcomed to explore more at the indoor exhibitions. Also, the park has an outdoor trail linking the pods with the geological site. Following the pathway, you can enjoy the views of the Buhais Center from afar, witness various unusual rock formations and see Bronze Age Wadi Suq tombs. Once at the highest point of the trail, you will be able to admire  Al Faya and Aqabah mountain as well as the plains of the Hajar mountains.
Other available facilities are café with panoramic views, theatre and a gift shop.
When to visit Buhais Geology Center?
The best time to enjoy your visit would be before the sunset when temperatures a lower and the scenery is enhanced with orange hues. Buhais Geology Park is a fantastic sight not to miss when you are in Mleiha.
Where is Buhais Geology Park?
Buhais Geology Park is just another 10 minutes drive from Mleiha Archeological Center on road E55. You can easily locate it by entering "Buhais Geology Park" into the Google Maps search box.
Buhais Geology Park Opening Hours:
Sunday to Thursday: 9am to 7.30 pm, Friday: 2pm to 7.30 pm, Closed on Tuesdays.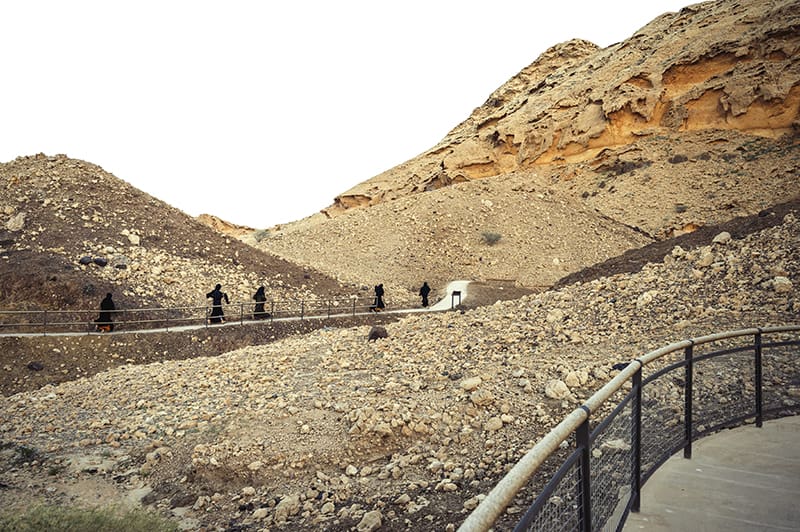 MY HIKING PHOTOGRAPHY AND VIDEOGRAPHY GEAR
Here is the gear that I use to capture and edit my adventures:
DUBAI, UNITED ARAB EMIRATES TRAVEL RESOURCES
Planning your trip to Dubai, United Arab Emirates soon? Below are some useful links to help organize your trip.
Where next in the UAE? Check my other blog posts below to discover more unusual destinations in the United Arab Emirates and Dubai!