Explore United Arab Emirates: Ultimate UAE Travel Guide
Unseen UAE: where the desert meets mountains.
Famous for the never-ending sunshine, lux and glam of Dubai, United Arab Emirates has a pleasant surprise for adventurous travelers as well. Here I show how to visit UAE off-the-beaten path.
Dubai day trips, hikes and road trips, my UAE travel guide covers not only must-see destinations but also less explored natural and cultural places of the 7 Emirates. UAE and Dubai travel essentials such as visa, accommodation, transportation, and more tips, are also provided below on this page.
The headline-grabbing Dubai city is arguably the most well-known place in the Middle East. In fact, it is often confused to be a country itself, or the UAE capital at best (fyi, Abu Dhabi is the capital of the United Arab Emirates). Indeed Dubai attracts millions of visitors to the UAE, who are here for the glitz and shine.
However, many curious travelers, are soon awed by the contrast between the seven Emirates in terms of culture, landscapes, size, and even wealth. As a resident of the UAE, I am lucky to be able to explore it beyond the tourist hotspots. Therefore, I regularly update this UAE travel blog with awesome places to see outside Dubai.
Whether you are looking for a day road trip from Dubai, the best hiking trails in UAE, weekend getaways for beautiful desert landscapes, cultural experiences, or in general, less conventional places to visit in and outside of Dubai, I have you covered.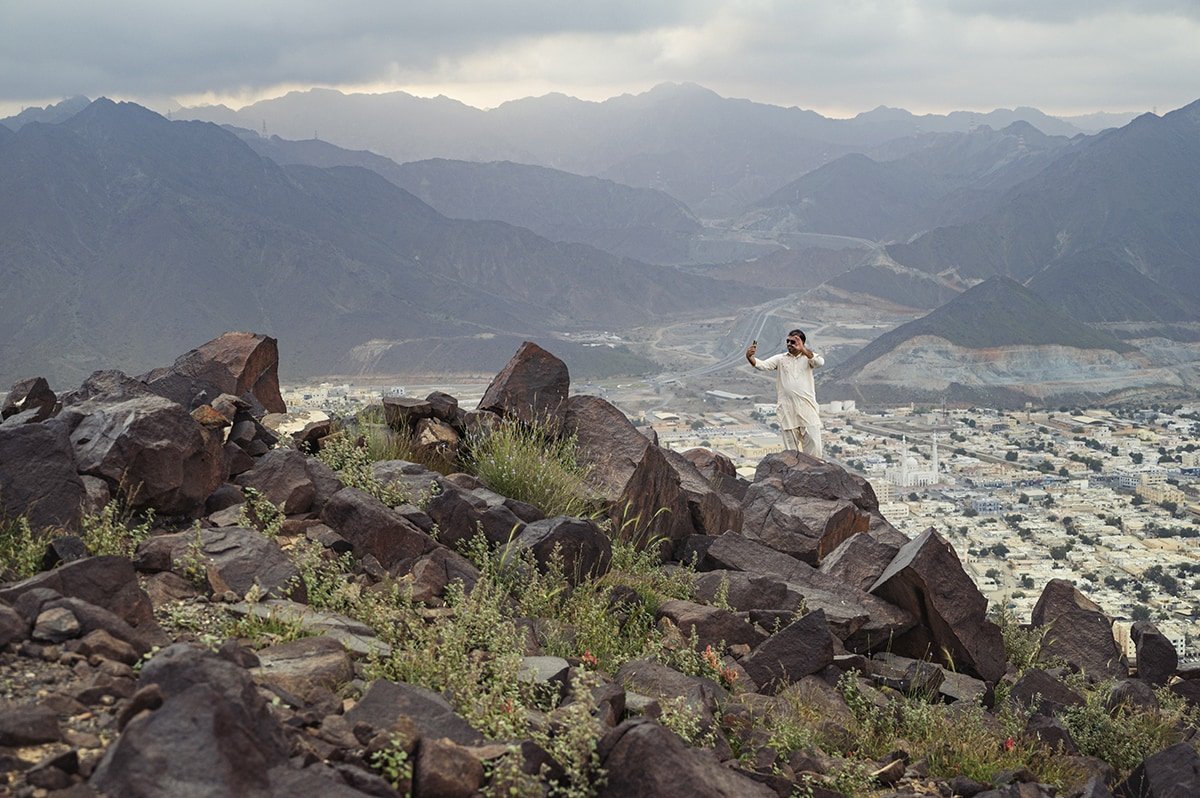 Disclaimer: This page is packed with useful free information to help you plan your trip and it contains affiliate links. If you make a purchase after clicking one of these links, I earn a small commission at no extra cost to you.
UAE and Dubai Travel Essentials
BEST TIME TO GO
November-March (high season, pleasant temperatures 20-30 °C (68-86 °F), April/May/October (shoulder season, hotter weather)
UAE DAILY BUDGET
160-210 USD average (midrange hotel, food at a regular restaurant, car rental and petrol.
Accommodation, eating out and alcohol are the main cost accelerators.
GETTING TO UAE
Fly to Dubai (DXB airport-most popular), Abu Dhabi (AUH), Sharjah (SHJ), Ras Al Khaimah (RKT). Drive from Muscat (Oman).
TRANSPORTATION
If you are planning to travel around UAE independently, renting a car is a must!

ACCOMMODATION
Hotels, rooms in shared apartments, Air BNB, glamping (desert/mountain luxury camping).

TRAVEL SAFE
Travel insurance is a must for stressless trips. Choose insurance that also covers COVID-19.

Watch my UAE highlights video
Dubai, United Arab Emirates Travel Basics
Visiting UAE for the first time? Here are a few more useful tips and resources
'Hello' and 'Thank You': 'as-salam alaykum' and 'shukran'. Other popular word is 'habibi' which means 'darling' or 'dear'.
Currency: UAE Dirham (click here for current conversion rates)
Language: Arabic, English (almost everyone speaks it), Hindu.
Visa: Free on arrival to selected countries. Tourist visa validity depends on nationality. Lithuanians get 3 months tourist visa on arrival, for example. Find out your visa requirements here.
Safety rating: Ranked 41 on the Global Peace Index in 2020 with Abu Dhabi and Dubai being among the top 10 safest cities in the World!
Best SIM cards: Etisalat has larger coverage across the country (currently has packages with free Expo 2020 pass offer) and Du. Vigin Mobile also offers packages with higher amounts of data. Tourist Sim cards are available at the airport and in most of the shopping malls. Prices start at 14 USD for the smallest package. You need to show your passport before buying a sim card.
UAE dress code: Modest attire is expected when visiting UAE. Although shorts and bikinis are common at the public beaches in Dubai as well as resorts, visitors and ex-pats are advised to dress modestly when going to public places such as shopping malls, and especially to more conservative areas. Basically, shoulders and knees should be covered. Women travelers are not expected to cover heads or wear abayas (except when visiting mosques).
Don'ts: avoid using hand gestures, especially while driving, as it is considered very offensive and can get you into trouble (even jail).
UAE TRAVEL GUIDE
From jagged peaks of Hajar mountains to orange-hues of Mleiha desert to the serene coastline of Khorfakkan, Fujairah's ancient forts, and mosques, to the picturesque Hatta dam and the highest peak of Jebel Jais in Ras Al Khaimah, with more rocky trails of Shawka and lush Al Ain Oasis, as well as Sheikh Zayed Grand Mosque of Abu Dhabi, all the way to endless rolling sand dunes of Liwa and Empty Quarter-these are just a few highlights awaiting for you.
Read my blog posts about the many fantastic things you can do in the UAE. I hope it will inspire and help you plan a memorable visit to the Emirates. If you are a resident of the UAE, you may also find some new places within an hour or two drive from Dubai.