LEOPARD CANYON, Ras al Khaimah | Feeling an adventure rush? The neighborhood of the UAE'S famous Jebel Jais mountain in Ras al Khaimah Emirate has plenty of outdoor activities to choose from. One of them is a moderately challenging and scenic Leopard Canyon hike in Wadi Al Nimr. This trail will set your quads and calves on fire while looping 8.5km through the rough Hajar mountains.
A great feature of the Leopard Canyon trail is the possibility to break it into sections, with the first one suitable for newbies. You can explore this trail according to your physical abilities and time frame. Therefore, Wadi Al Nimr has something exciting for both beginners and experienced hikers. You can choose to hike for as long as you feel like and either return exactly the same way or make a loop crossing the village at the summit just as we did.
Keep on reading to find all the details about hiking the Leopard Canyon. I have shared my experience to help you prepare well before you head out for your next adventure in Ras Al Khaimah mountains.
Here is all you need to know about hiking Leopard Canyon in Ras Al Khaimah, UAE
I have put together all the information that might be useful to you before you take off for this hike. Below is the summary of the route I have taken before. Trail can be shorter or longer, depends how far you are willing to trek into the canyon.
Leopard Canyon Hike Overview
SUMMARY / A moderately challenging trail (depending on your fitness level) with lots of boulder hopping, some screes, few plateaus, some higher rock climbing. The trail leads to a unique balcony with hanging gardens and a beautiful canyon above it. The extended trail goes to an ancient village on top of the mountain with return using steep, not clear donkey trail.
DISTANCE / ~8.5 KM for a loop if you park at the starting point of the hike
TIME/ ~5 hours for a loop (longer if you park earlier)
MAX ELEVATION / 849 M
MIN ELEVATION / 233 M
DIFFICULTY / Moderate to Difficult
CELLULAR AND DATA SERVICE / Unavailable in the wadi, available on the summit.
This route can be rated as moderate-medium level with some possibly difficult parts. There are some higher boulders and one vertical 3-4meters wall to climb at a later stage of the hike which some people might find challenging. However, no special equipment is required to pass those.
In general, this is a great route to test both your physical endurance and mental strength especially before attempting for a longer and even more demanding hikes in the region.
The views of the canyon and on the top of the mountain are fantastic, especially during sunset time. On the way, you will reach hanging gardens and meet some curious but scared goats. Following the route further will become even more fun as it will require some strategic decisions on how to pass higher boulders. Also, you will be rewarded with great scenery that looks like a movie set. Finally, once you reach the top of the mountain, there is an abandoned village. Sounds spooky, huh? Just keep in mind that if you end up on the summit just before the sun sets, you will be facing the real challenge of getting back down in the dark- we did it, and it wasn't fun. So, start your hike early enough to have time to be back with the light.
Are there any leopards in Leopard Canyon?
The name "Leopard Canyon" refers to a story of a last Arabian leopard that was spotted in the Wadi Al Nimr. Therefore, you can stay calm as chances to actually hiking into a leopard are none.
The Best time To Go on Leopard Canyon Hike
The best to hike in Ras Al Khaimah is during the cooler months. We did this hike in the mid October, and I would say it is a perfect time to open the hiking season in the UAE until the next Arabian summer kicks in. Therefore, mid-October to mid-March would be the months with the most bearable weather, with December, January and February being an ideal time for the more challenging hikes including Leopard Canyon.
If you attempt to do this hike during the hotter months of the year, make sure to start before sunrise, and take it easy. You must take plenty of water as dehydration is a real deal. It takes hikers' lives away if they go unprepared (a sad fact). Therefore, prepare very well before you head out to any of the UAE's remote hikes.
Do I need a guide to hike Leopard Canyon?
There is no marked path leading to Leopard Canyon. Only information available is the ones hikers like me publish on the web.  You might see some cairns along the way that will give you some confidence that you are on a right track.
If you follow this guide and download Wikiloc app, you should be good to go. Only attempt the beginners' part of this hike if you have little experience in UAE hikes.
Go with the guide if you have never hiked before. It is still a moderately challenging hike without clear path markings.
Directions to Leopard Canyon, Ras Al Khaimah, UAE
Once you are all set to head out for this adventure, here are directions and notes on how to reach Leopard Canyon hike starting point.
The starting point of the hike is about two hours drive from Downtown Dubai at Sal village. Head towards Jebel Jais in Ras Al Khaimah. Once on the Jabel Jais road, there will be a right turn towards the gravel road and a banner sign of some adventure company. The exact coordinates are N25 47 06.89 E56 04 28.37.
You are better off coming by 4×4 car to be able to reach the starting point as the path leading to Sal village is a rough bumpy gravel road with many loose parts. We came by a sedan car and had to stop 3.5 km earlier because the road ahead didn't look passable for a two wheels drive. It added up 7km to the total distance of our hike.
Therefore, if you are in your jeep, you can reach up to Wadi Ghail (exact coordinates N25 45 11.45 E56 08 01.75) and park your car there next to the thing that looks like a camera (not sure of this, but it might be some border control camera). In case you come in a sedan, the exact coordinates for where we parked are 25.75594, 56.12263.
Navigating Leopard Canyon trail in Ras Al Khaimah, UAE
The trail I have chosen to follow can be broken down into 4 sections: wadi walk to hanging gardens, canyon hike to the vertical wall, shortcut hike up to the summit and hike down via former donkey trail.
Wadi Al Nimr Walk to Hanging Gardens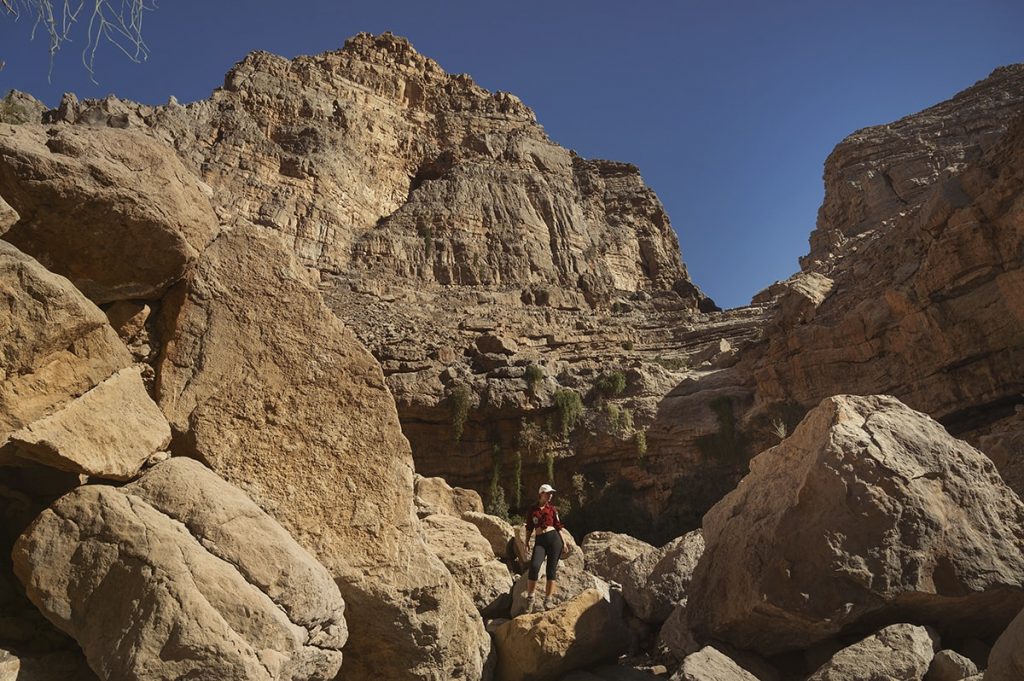 This is the easiest section of the Leopard Canyon trail and can be attempted by beginners who are moderately fit. It will still give a good taste of rough wadi terrain and involve some boulder hopping but no extreme obstacles along the way. If you park your car at the starting point of the hike as opposed to where we did (check the map above), it should take you around an hour to reach the balcony with hanging gardens and it is only ~2.5 km of a wadi walk. Note that on your way you will reach a point where the wadi splits into two ways, you must choose the right path with a massive tree as a clear landmark. Also, along the way you will pass this cute shelter built from stones, woods and palm leaves. It will be a bit higher up on the left-hand side.
Leopard Canyon Hike to the Vertical Wall
This is where the fun begins. The actual Leopard Canyon, to my understanding, starts above the hanging gardens balcony. Therefore, you have to climb up and appear on the top of the hanging gardens. You will have to find your way up through the left-hand side scree slope. It is better than it looks and isn't difficult to scramble up, just be mindful of loose sands and rocks and choose parts that have larger more stable ones. It will be just a short climb up. At this point you are already at around 570 meters elevation on a first plateau. It is a perfect spot for a short break and some cool photography.
Beginners can still make it to this point.
Continuing further up the narrow valley, it becomes more challenging as there are loads of massive boulders. Some of them are quite high to climb and we needed both hands to push ourselves up. I am 173 cm in height but I still needed a hand at one or two spots to pass through. Regardless, if you are adventurous and fit enough, it is well worth exploring as there are some beautiful terraced fields.
Exploring further you will see beautiful terraced fields, stunning dry walls, and even some small pools during the wet season.
This section ends up at the vertical wall which at a glance might look like a dead-end but is actually passable without ropes. I would advise attempt further only for more experienced hikers who aren't afraid of heights and know rock climbing. I am not a professional rock climber, therefore, it was quite challenging for me to pass the further section as I needed my companions' help to get up on high rocks.
The most technical part of the hike is the above mentioned vertical wall. Please make sure you are a fit and experienced climber before attempting climbing it up. There are some man-made steps, but for a shorter and/or less physically strong person it might be not doable. Note also that climbing up is always easier than climbing down. If you manage to get up there and for any reason decide to return back the same way, make sure you are confident to do it.
As I have already mentioned before, my height is 173cm, and I struggled climbing up this wall. The first high rock is smooth and doesn't have any grip I could reach. Although I could do a push-jump, it was too risky to attempt it on my own due to lack of space and the gap between rocks of around 2 meters in depth on the right side. So, I just asked my partner to give me a hand and pull me up.  Further up is a bit easier though, still have to take all the caution and be very careful, especially if you have heavy bag. P.s., there were some annoying huge bugs flying around that high wall area, so you might want to just ignore them, and focus on climbing.
Shortcut Hike Up to the Summit and Abandoned village
Once upon the terrace, keep to your right. You will also see the valley continuing further which may be an option to follow before you go up to the village. We were running out of daylight, therefore, had to do a shortcut and immediately climb straight up the mountain. It is fairly easy to climb up. Be mindful of scree on your way up. Soon enough you will reach the summit with an abandoned village. The sunset on top of the mountain is just breathtaking. Also, you can see the wadi path and sea on the horizon with city lights coming up as it gets darker.
Note: only aim for sunset on the summit if you have a thing for extreme hikes at night or are planning to camp (it is a very nice spot for camping, although abandoned village might seem kind of spooky). We started our hike late at 1 pm. With all the photography stops, it was already 5:30 pm when we reached the top. And with the sun setting at 6 pm in Autumn, we have left no choice but to find our way down in complete darkness. We did have torch lights to light up the way, otherwise, it would have been impossible to navigate.
Hike Down Using the Former Donkey Trail
After crossing the village there is a the track down which is a former donkey path. We followed somebodies' trail recorded on Wikiloc and it helped us to find our way down but it was difficult, stressful and I have to admit a bit scary. We lost the path a couple of times, and had to climb up back to retrace the steps. The way down was very steep and it felt like we were balancing at the very edge of the cliff. Although, there were no deep drops or ravines, the darkness made it very tricky to stick to that so-called donkey path. There were some cairns and purposely placed half empty plastic bottles that marked the way. Funny enough trash left behind gave us some sense of comfort as it indicated that somebody has been walking here recently. Finally, after good 4 hours of struggle and constant debates about stopping and waiting for the daylight, we reached the wadi safely. It was a hell of an adventure that makes me think of this hike as an extreme one. I am sure that it would have been much easier if we hiked during the day.
Please learn from us and don't put yourself in this situation unless you have good experience in adventure racing and have some adrenaline rush.
Download and follow this trail on your Wikiloc app
If you are not yet using Wikiloc app, it is very helpful as the trails can be followed offline. I have shared this trail below. You can save it, download it, see the viewpoints and comments to help you navigate easily. NOTE: if the map below doesn't load, you can follow this link: Wadi Shah Trail on Wikiloc.
To Sum Up: Leopard Canyon Trail Highlights
Overall an amazing adventure and a great hiking experience that luckily left good memories and a bunch of blisters on the feet. I would say one of the best UAE hikes I ever done. Over 15km of intense walking, bouldering, rock climbing and finding the way around. The highlights of the trail are:
Spectacular scenery
Hanging gardens
Beautiful plateaus and terraces
Sunset at the summit
Abandoned settlements at the top of the mountain
Seasonal pools in the canyon
As always friendly goats who are true masters of hiking and were keeping us company along the way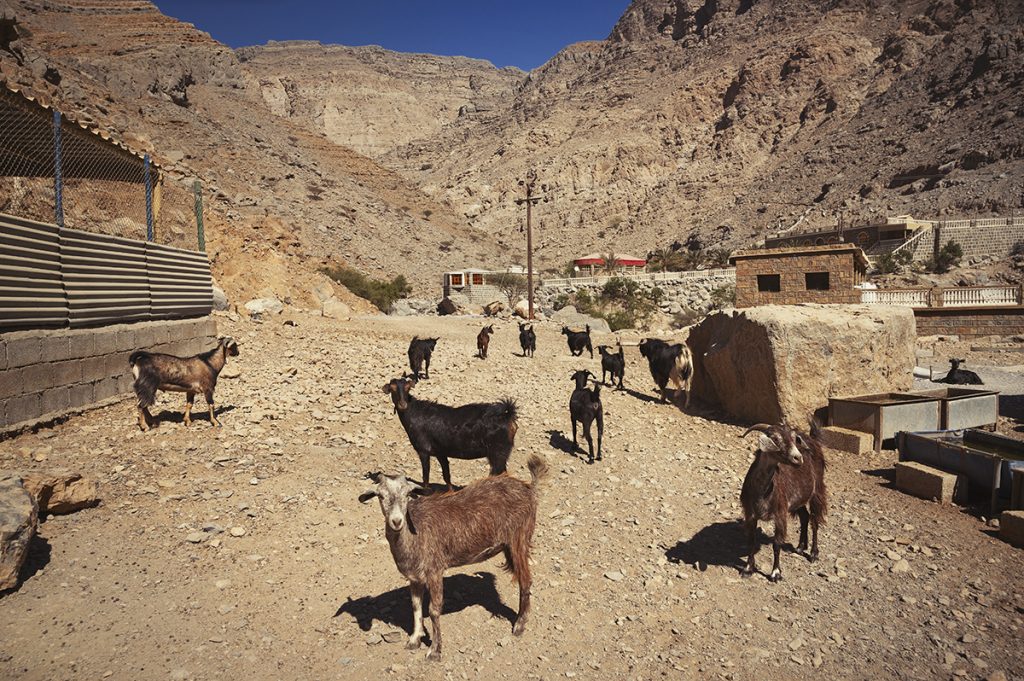 How to Prepare for the Leopard Canyon Hike in Ras Al Khaimah, UAE?
The key factors you must consider when preparing for this hike are weather conditions, timing, terrain, your experience hiking in similar environment.
As mentioned above, summers are really hot in the UAE, so only go if you can tolerate that notorious heat. It is much hotter inland than it is in Dubai by the sea during the summer. Be aware of the rainy season too- crazy floods are common, so don't hike when it's raining, it can be fatal.
Moreover, give yourself plenty of time to finish the hike before the sunset. Especially if you are planning to do a full loop that involves climbing down steep mountain and following almost non-existing path.  
If you have little to none experience in hiking, go with somebody who did it before and who knows how to navigate sometimes tricky trails. Also, be aware of snakes, as they do live in the mountains and are more active at night. Just watch out where you step.  
Finally, the terrain in the UAE mountains is harsh and unforgiving for your feet, knees, and footwear. Even on a relatively easy hike like Shawka Dam to Pools, you will find your legs constantly struggling to balance the ground full of rocks, it is rarely a smooth path. For this hike, expect a good leg workout, as there will be lots of bouldering and steep climbing on the way up, and even steeper (poor knees) on the way down.
Therefore, for a perfect and safe hiking experience, we must be following trekking experts' advice on how to be prepared for. I can confirm from personal experience that it does make a huge difference.
Here is my checklist of what you would need to make this hike more enjoyable
Water and Food for the hike
Lot's of water, for this hike I would suggest taking minimum 4 liters. Ideally, get yourself a Camel Bak- it is a water reservoir that keeps water cool for a long time and has a readily accessible straw, so you can hydrate while walking. It also keeps water evenly distributed inside the backpack as opposed to bulky plastic bottles.
Power snacks and hydration drinks (electrolyte, sports drink or hydration tablets). From my personal experience the best are protein bars, some salty crackers, dates, nuts, snickers chocolate (not so healthy though), bananas, Pocari Sweat and Gatorade works wanders to kill the hunger and give yourself an energy boost.
Pro Tip: freeze your Pocari Sweat (or any hydration drink of choice) a night before you go. Add some ice cubes into your Camel Bak. This will help to keep water cooler for even longer time.
What to wear for the hike
Proper hiking shoes/boots with a good grip. It is arguably the most important part of your hiking attire. The best are mid-ankle boots. It will keep your foot more stable than low-ankle ones and gives more movement flexibility than high-ankle. Please don't hike in sneakers through Leopard canyon- bad idea, as your ankles might get twisted, and it can be slippery on smooth surface rocks.
Comfortable hiking bag. Your shoulders and lower back will be tired from carrying a few liters of water and snacks. And suppose you are a photographer like me with dozen lenses, a couple of cameras, tripods, and a drone. In that case, you might want to get a backpack with lots of pockets that will both adjust to your body and sit properly on your back and also have some extra space to keep your gear separated from the rest of hiking items.
Hiking clothes of breathable material will make your hike much more enjoyable. All that quick-dry stuff feels much nicer than a regular cotton t-shirt that gets soaked in sweat in no time and stinks like hell. Consider wearing something with longer sleeves for better sun protection. And do yourself a favor- leave jeans for a city walk. Long hiking pants are advisable. Although, I often go wearing gym leggings.
Sunglasses and a cap– there are some shaded areas along the way, but there is a load of sunny ones too. Save yourself from sunstroke by wearing a cap.
SPF 50 sun cream, especially for your face and any areas of your body that aren't covered. Don't forget your ears- poor thing gets burned quite often.
Fleece sweater for winter months as it gets really cold in the evenings.
Slippers for after hike– your feet will thank you.
Must have and optional items for a safer hike
Trekking Polls are highly recommended by professional hikers to ease the load on your joints, especially when descending. For this particular hike I wouldn't see myself using them though except for the descending part. But there are foldable polls that are lightweight and fit into the hiking bag easily in case you need both of your hands free.
Torch light or a head-light in case you hike into the darkness. Don't compromise on a good torch light- it can literally save your life.
Personal first AID kit (Advil, band aid, antiseptic, hand sanitizer, wet wipes, etc.)
Power bank for your phone
GPS device or a Wikiloc app where you can find an accurate trail recording which will help you navigate.
Last but not least- let someone of your family or friends know that you are heading out for a hike. Give them the location details. Also inform them when you are starting the hike and when you expect to return.
Are you thrilled about your next hike yet? PIN this post for your future reference. And make sure to subscribe to receive more detailed guides to other fantastic hikes in the UAE!
ENJOY YOUR HIKE!