Positano is a postcard child of Amalfi Coast, Italy. It is a dream of Italian "dolce vita" that thousands of travelers are seeking. But is Positano worth visiting? Based on my travel experiences, I shed some light on why Positano might not live up to your expectations as well as things you should know before visiting Positano, Italy. 
A highly saturated image of sun-bleached colorful houses cascading down into the azure Mediterranean sea dazzles you with the idea that Positano is the ultimate seaside destination in Italy. However, here I share not only the pretty pictures taken at a good angle but also some real-life not very instagrammable shots of Positano without "faceapp" that reveal a different side of this popular holiday town.
After my several visits to Positano, I listed down the reasons why Positano is not worth the hype. If you are keen on visiting it anyway, I give some practical Positano travel tips on how you could possibly appreciate the most famous town on the Amalfi Coast. 
I hope this article will be a handy guide for you to decide if visiting Positano is worth your time, especially if you only have a couple of days in Amalfi Coast. 
Disclosure: This post contains affiliate links, which means that I may make a small commission at no extra cost for you if you make a purchase by clicking a link. It helps to keep my blog growing and filling up with detailed honest travel advice for you.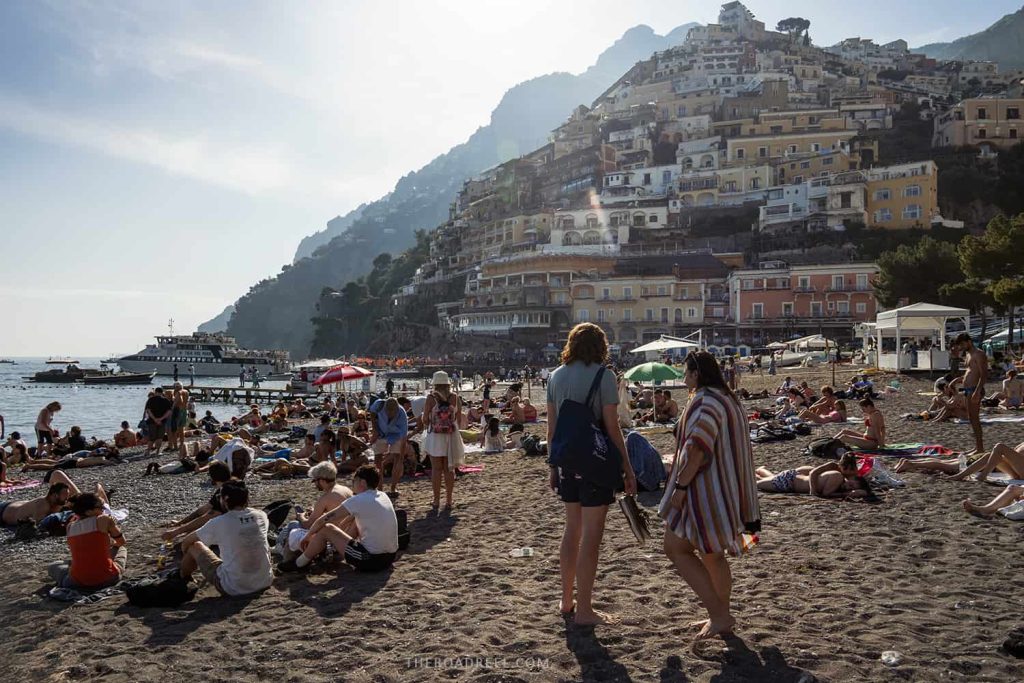 Is Positano worth visiting?
Unless your goal is to tick off the bucket list, get those Instagram shots, or you just love the buzz, perhaps NO, Positano is not worth it. I believe, that there are better places to visit on the Amalfi Coast that are less crowded, more affordable, and equally or even more beautiful, and still retain that authentic Italian charm (like Atrani, or Vietri sul Mare).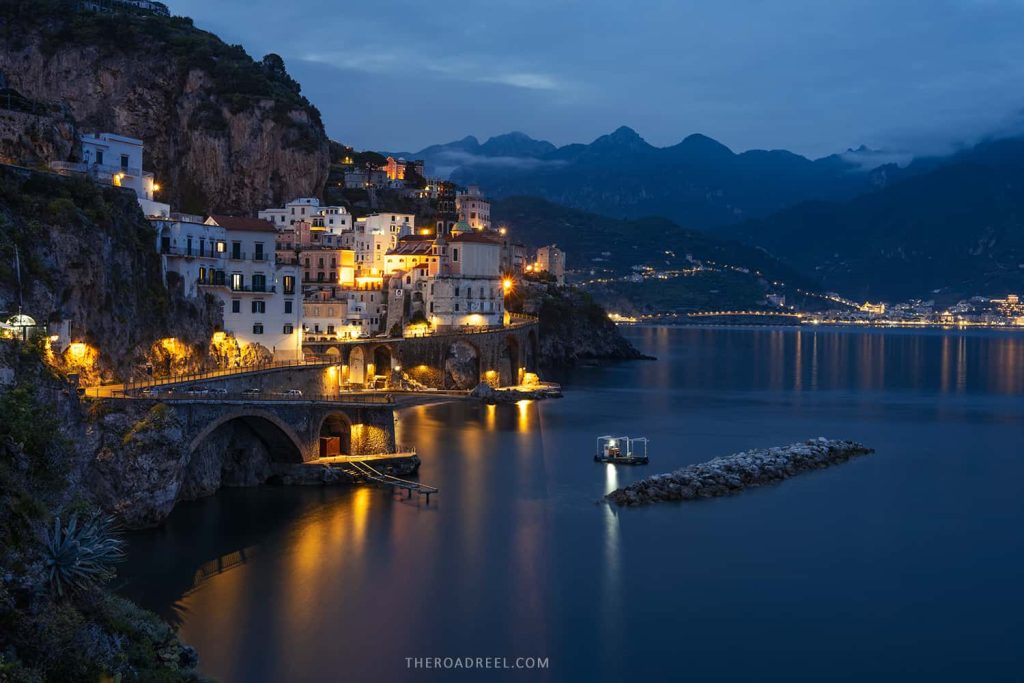 Nonetheless, if for any reason you are passing by Positano, and have an extra hour or two to spare, then by no means, go see it for yourself. 
I visited Positano a few times just because it was on the way when returning from the Path of the Gods hike, and also because I wanted to fly a drone to get some aerial shots of the coast and the cascading houses (which, indeed, do look good on a camera).
Hence, each one of us might still have a good reason to visit Positano. Whether you will feel the vibe of the place or not, it is a different story. That said, continue reading to find out if Positano is your type of place.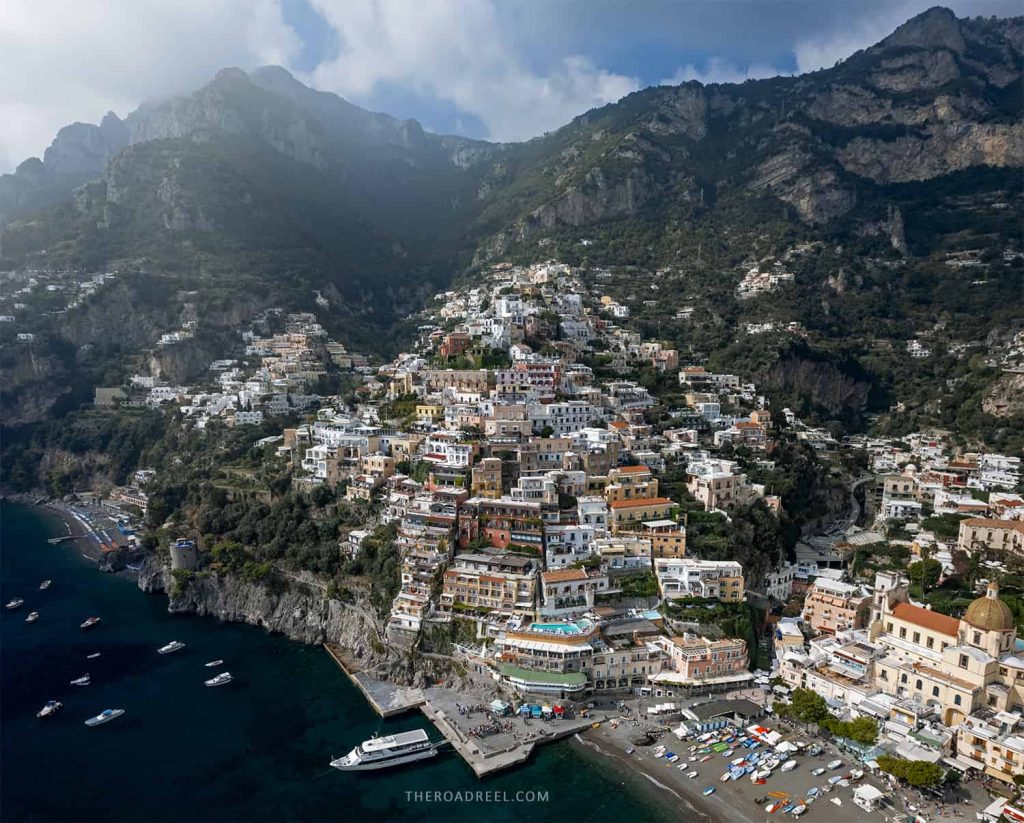 7 things you need to know before visiting Positano
Positano looks better from afar than in person
I visited Positano four times, each time giving it another chance with hopes of understanding why so many people are crazy about this place. Yet I came to the realization that Positano is like that dreamy painting of Claude Monet that is best appreciated from a distance. If you come too close, you lose a clear picture as everything dissolves into a dab of color.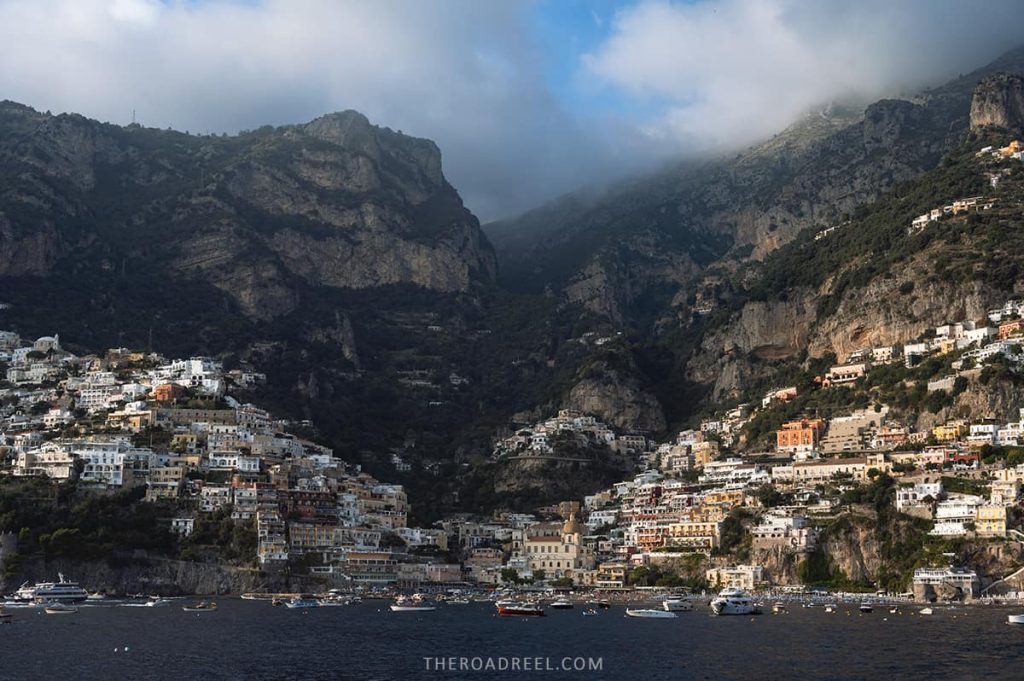 The same is true with Positano. When you look at Positano from afar, the view is mesmerizing. However, when you approach it close, the magic disappears. There is a lot of color, tiny streets, and quirky details, but I just did not feel the vibe. Neither did I find that charm that I usually appreciate in many other small historic Italian towns. With thousands of people and dozens of colorful souvenir shops on every corner, Positano is just too much to handle for somebody like myself, who loves peace and quiet.
That is the reason you see more of the panoramic images of Positano that lurk you into coming. But wandering around its streets won't leave as big an impression as when you look at it from the boat, drone, or while hiking high above.
Related article: How to spend 2 days in Amalfi Coast perfect itinerary.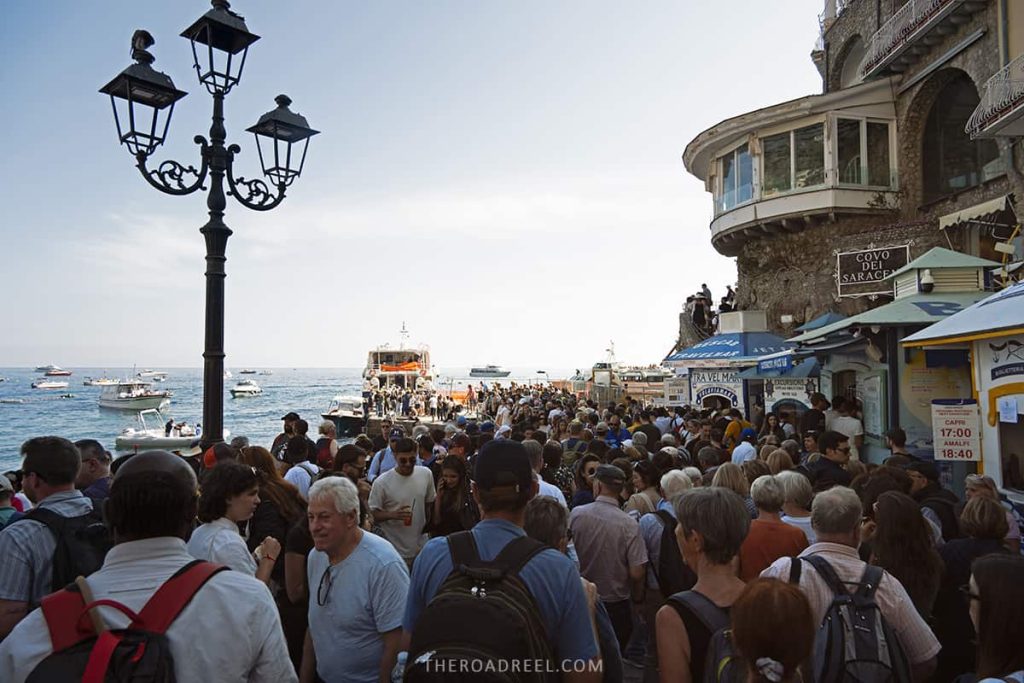 Positano is overwhelmingly crowded
That brings us to the second point, but perhaps the main one on why Positano is a headache. And that is over tourism. Positano is heavily overrun with tourists. 
Once a laid-back fishing village, Positano fell on the map of international tourism in the early 1950s. Slowly but steadily transforming into a fancy holiday destination that only the rich and famous could afford back in the day, Positano's popularity grew exponentially in the past decade.
Thanks to the celebrities and movie makers of Under the Tuscan Sun, social media, and finally affordable flights to Italy, everyone now wants a slice of Positano. 
I visited Positano at the end of April, the beginning of May, and mid-October- presumably during shoulder seasons. At all of those times, it was always unbearably crowded like in a concert of a pop star. I cannot imagine what happens during the summer when it is high season.
Just to draw a mental picture of what Positano's crowds look like. It is a merry mix of sun-kissed tourists and a few chic locals, all vying for the best spot to capture that quintessential Amalfi Coast selfie. Following the same route, they navigate the labyrinth of steep streets in a bustling parade of linen pants and wide-brimmed hats, where every corner turned is a potential fashion runway between the colorful ceramic and limoncello shops.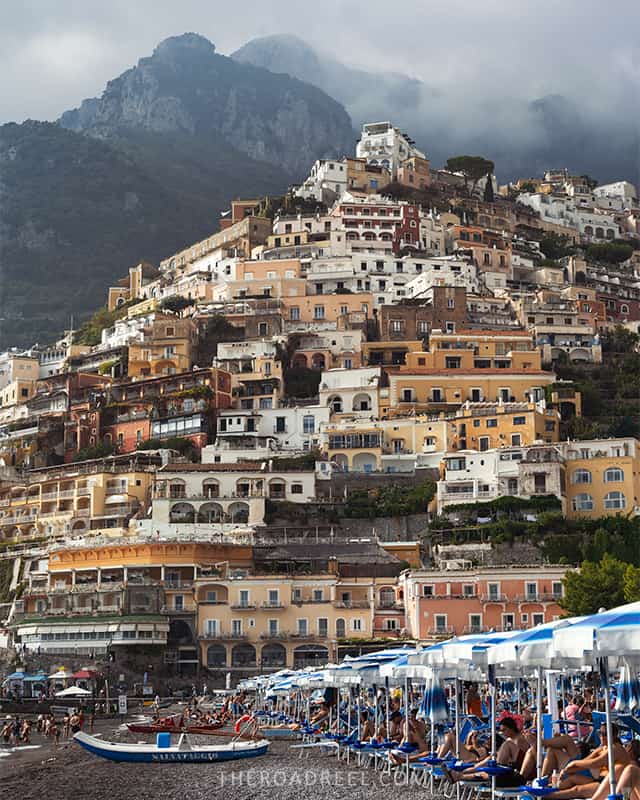 Meanwhile, the famous Marina Grande, Positano's main beach, is always packed. Both the public beach section and paid part, turn into a patchwork quilt of bright umbrellas and towels lined with sunseekers like sardines in a can. 
And if you are in Positano for the instagrammable pictures, you will have to wait in a queue of influencers taking bazillion images each. This can be a spectacle to watch though. While we were patiently waiting for 3 girls to finish their one-hour-long photoshoot in one of the popular spots, an elderly Italian lost it. He literally jumped in between them mimicking their insta-perfect poses. The performance was hilarious, I wish I had recorded that spectacle.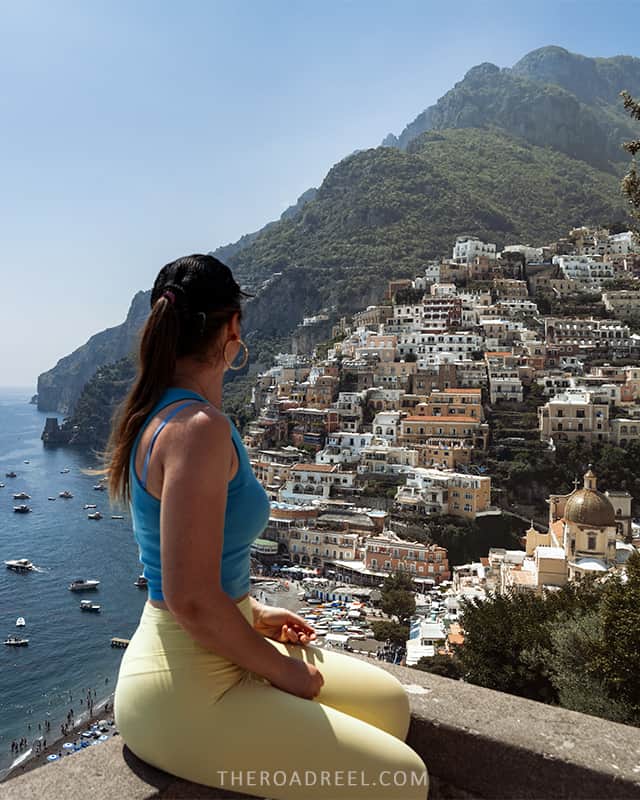 That said, you have to arrive in Positano armed with patience otherwise you will be joining that above-mentioned Italian nonno.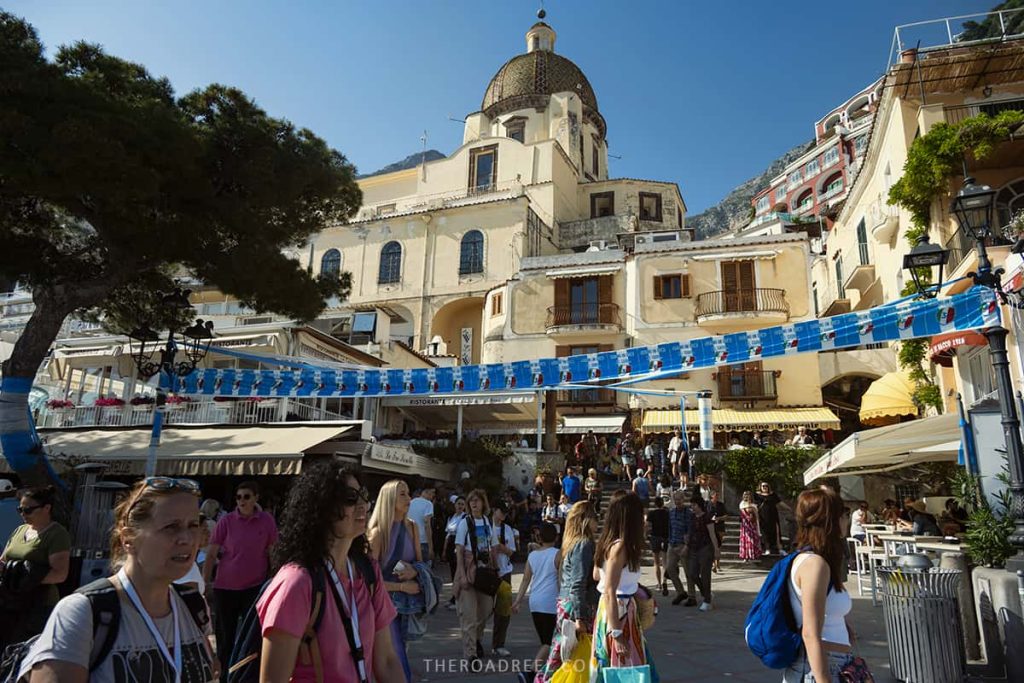 There are 3 times more tourists than locals in Positano
That being said, there are perhaps 3 times more tourists visiting Positano on a daily basis than there are locals. There are almost 4000 residents (according to the latest statistics) who live in the area of Positano, while this small town receives around 12000 visitors during its high season every single day.
I was even wondering what is it like to live in Positano as a local. Perhaps if you are in the tourism business it is fantastic, but otherwise, it might be a bit of a nightmare.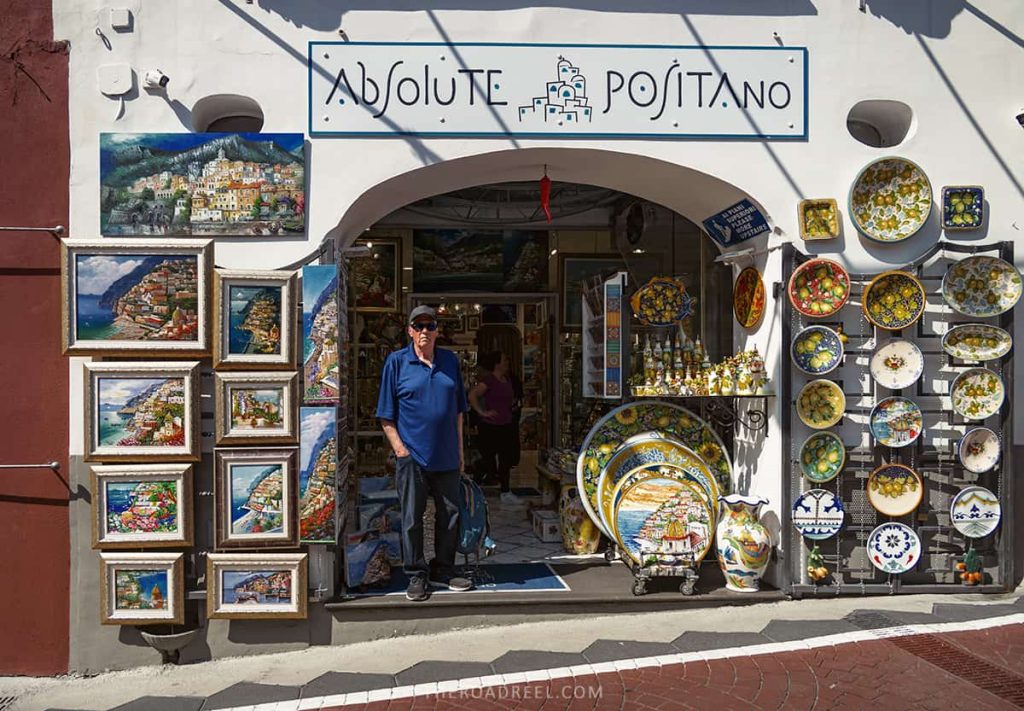 Positano no longer represents real southern Italy 
Positano as a coastal town is undeniably beautiful and impressive. The Mediterranean houses plunging into the water from a steep craggy cliff is a unique sight that made the Amalfi Coast famous. 
However, Positano's charms are in the past. It is no longer the perfect place it used to be back in the 50s. A quaint fishing village with locals going about their daily routines. 
Today Positano is one of those mega-famous sought-after seaside destinations where everything is catered to a tourist (some may like that though). Hence, you won't find that charming south Italian vibe that is so vivid in less explored places, like Calabria, for example. 
That being said, the beauty of the town became its curse, unfortunately, and if you are looking for a real local Italian experience, you will not find that in Positano. 
The sea is NOT crystal clear in Positano beach
The main Positano beach (Spiaggia di Marina Grande) is perhaps the worst part of the town (yet the most interesting to capture if you like real-life photography ). If you read another couple of dozens of articles describing the water in Positano beach as crystal clear, well it is very far from the truth.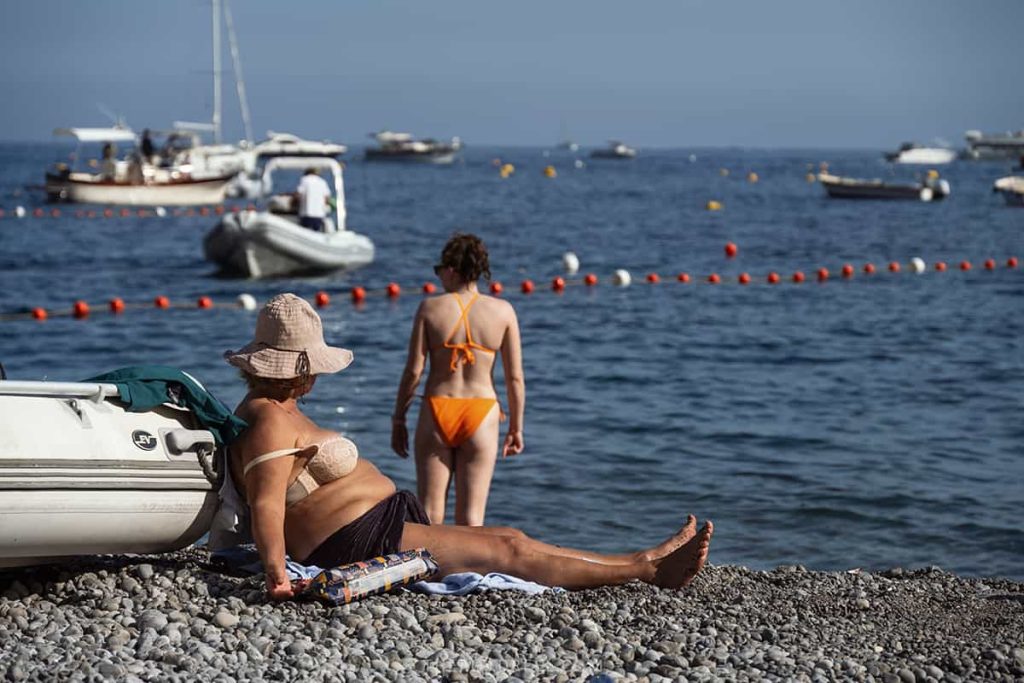 With such a large number of people visiting Positano, including all the yachts that dock at the port so close to the beach, it feels like you are swimming in a painter's jar where he rinses the oily brushes.
As soon as you step into the jam-packed Marina Grande (Spiaggia Grande) beach you get the instant feeling that it is not a clean beach. The same applies to a slightly quieter Fornillo beach located 10 10-minute walk from the main Positano beach.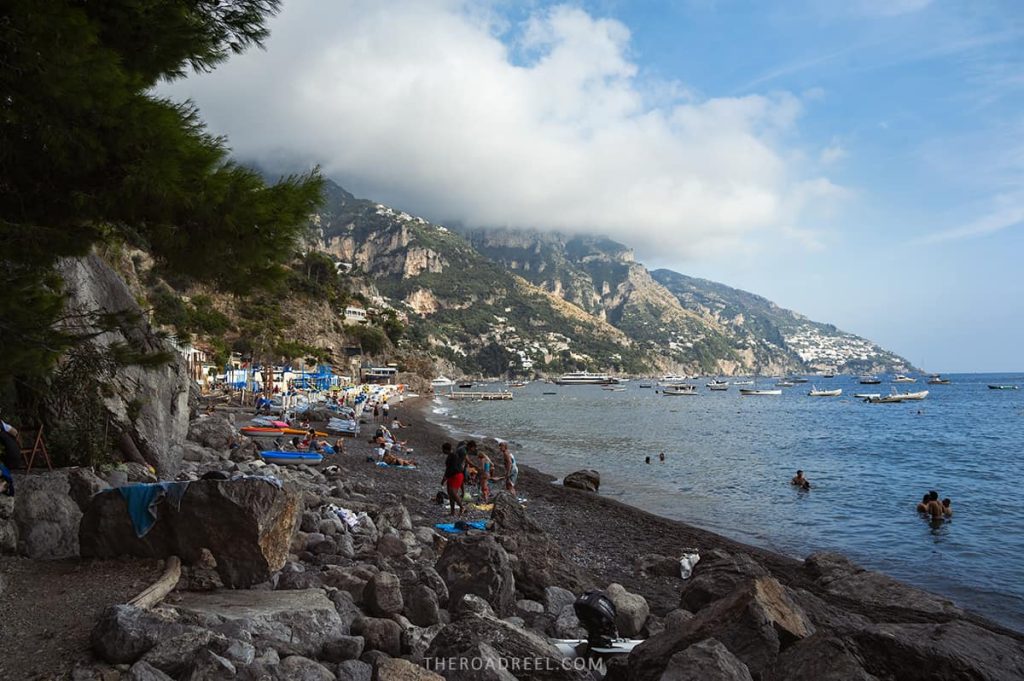 I went to take a dip in Fornillo beach after hiking Sentiero degli Dei, but could not stay in the water for longer than a  couple of minutes. It was really dirty. After visiting incredible coasts near Maratea and in Calabria where the water is very clean and is actually crystal clear, swimming in Positano was the worst beach experience I ever had in Italy.
Hence, if you are looking for a nice beach holiday destination with azure crystalline waters, the public beaches in Positano won't offer you that. You might find something better in one of the private beach clubs located slightly further away from the main beach, but it will cost you at least 90 EUR to enter.
How expensive is Positano?
That brings us to the next negative of Positano- inflated prices. It is no secret that Positano is expensive. It is definitely not a budget-friendly destination, especially if you are staying in Positano for a few nights and want to experience all the best it could possibly offer.
While budget might not be the reason to skip Positano for some, many travelers who care where their hard-earned bucks go, might want to take prices into consideration.
Just to give you an idea of what things cost in Positano, here are some examples:
3 EUR for a cup of espresso;
5 EUR for a scoop of gelato;
10 EUR/h for parking (50 EUR per day becomes reasonable if you are spending a full day);
50 EUR for a sunbed on Spiaggia Marina Grande (perhaps the worst beach on Amalfi Coast);
90+ EUR access to a private better quality beach (prices can easily go up to 200 EUR per day);
200+ EUR renting a boat for a couple of hours;
"sky is the limit" when it comes to accommodation rates in Positano with average hotel prices per night of 600 EUR.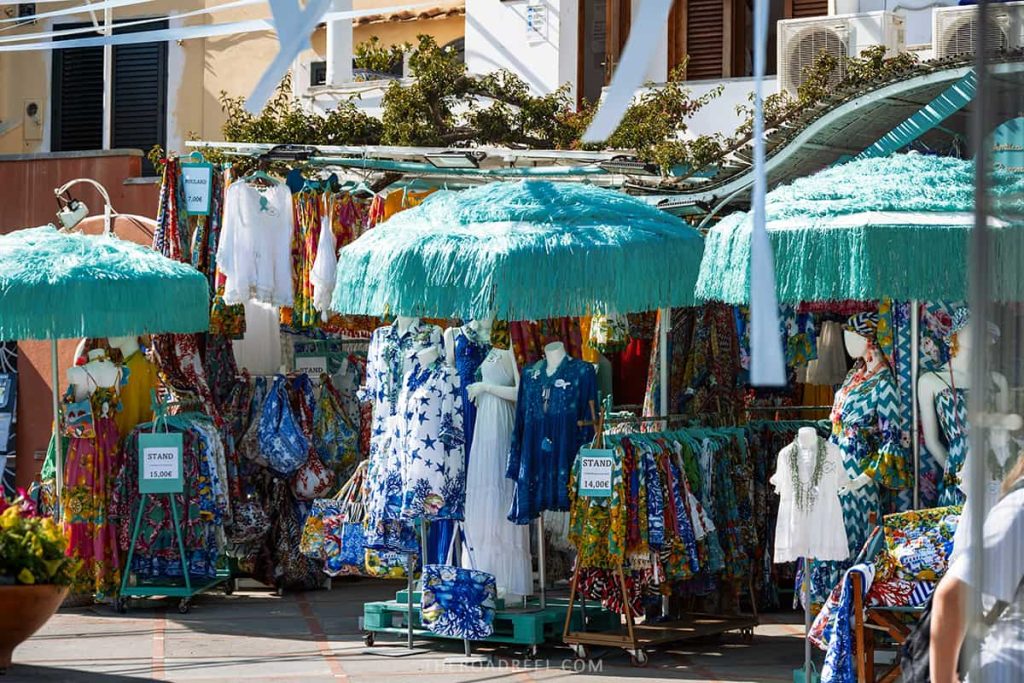 In short, Positano is overpriced, especially food, accommodation, and lidos (paid beach clubs that are so popular in Italy). However, given Positano's popularity, you cannot expect it to be otherwise. Therefore, unless you are just spending a few hours in Positano and are not engaging in any paid activities, plan to splurge. 
Positano is exhausting
Finally, I found visiting Positano exhausting. It is a place that just drains your energy even if you stay still. From the hot sun reflecting on bright buildings, and steep alleyways you have to tackle, to dazzling amount of souvenir shops, and of course, the amount of people. And you get to deal with all this at once.
That being said, after every visit, which was less than one day in Positano (perhaps 4 hours at max), I felt anxious and disappointed with myself for wasting time in this overrated place. After the last trip, I swear to never ever come back to Positano again. Even staying in a fancy hotel in Positano does not fancy me.
Yet, there is one peaceful place in Positano where you can hide from the buzz. It is the interior of the Church of Santa Maria Assunta. This is the same most photographed church, with a colorful Majolica dome, which became a symbol of Positano architecture. Ironically, the church located in the heart of the town, which is the most photographed building in town, somehow manages to escape the flok of tourists.
Therefore, if you are looking for a quiet and peaceful holiday destination, Positano is not for you. 
Why do people love Positano? What type of traveler is it for? 
As much as I struggled to find many positives about Positano, I understand why some people love Positano and might not see the above-mentioned things as drawbacks. So what is so special about Positano?
You should by no means visit and even stay in Positano if any of the following aspects appeal or apply to you.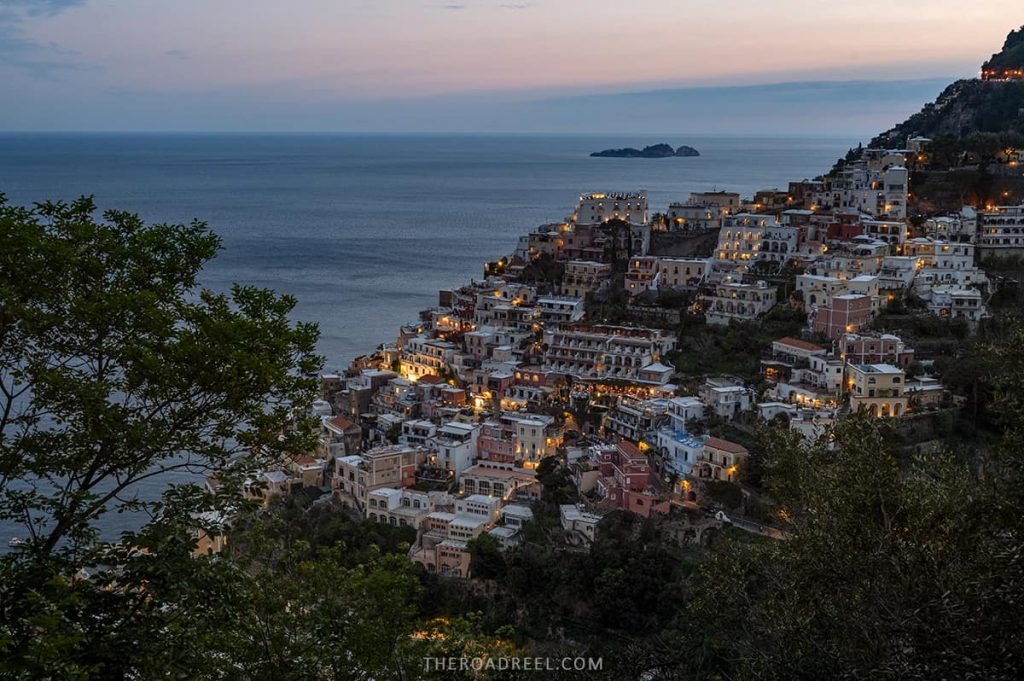 Positano is worth it if you love to party
Positano is a Miami of Italy- if you love to party you will find very active nightlife here.
If you love to party you will find a buzzing nightlife scene in Positano that takes place in many stylish bars offering specular night views over the town. Imagine sipping limoncello under the stars on an open-air terrace overlooking the twinkling lights of Positano while the sea serenades you with its waves. 
Where to find the above? Look no further than to Insta-famous Aldo's Cocktails Bar or Franco's Bar, located in the iconic Le Sirenuse hotel, beloved by celebrities Instagrammers. If you have some smooth like olive oil dance moves, you can show them off at Music on the Rocks.
Positano is a place to dress up and people watch
Positano is the best place on the Amalfi Coast to dress to impress. Holidaymakers here are looking great in their stylish outfits. It is almost like a fashion show. 
Make sure to follow the dress code. The Mediterranean flair infused flowy dresses, and wide-brimmed sun hats, for the ladies, and 'casually dapper' with a hint of 'I just stepped off a yacht', for the gentlemen. The local palette screams 'sunset party'—with every shade designed to outshine the Amalfi Coast's lemons.
Your Instagram feed has FOMO
Positano is one of the top instagrammable destinations in the world. I remember at a certain period of time all you could see on Instagram besides Bali swings, air balloons of Capadoccia, and infinity pools in Dubai, were the girls in bikinis or couples kissing on the yacht with a blurry backdrop of the colorful houses of Positano. 
Indeed Positano is deceivingly photogenic, and that is one of the top reasons why it attracts so many visitors, especially influencers. You just cannot be the one without having been to Positano.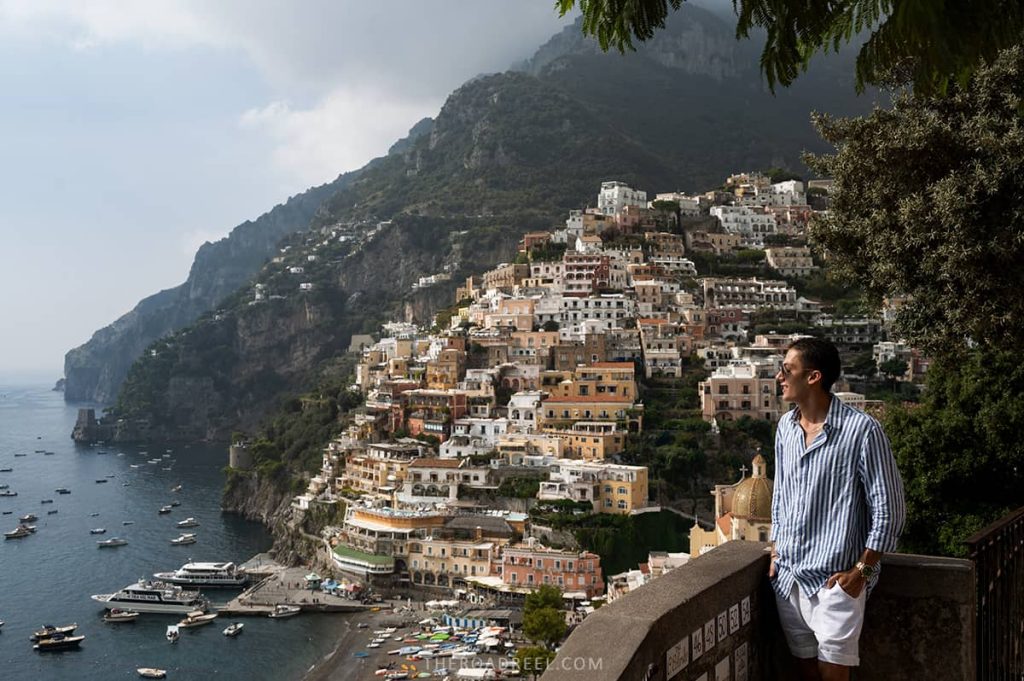 Your budget is an open tap
With an unlimited budget, you most likely can have the best experience in Positano. From Michelin-starred restaurants to staying in luxury hotels or a private villa with the most stunning views, infinity pool, complete privacy, silence, and maybe even a private chef, is an ideal scenario for those of you who are ready to meet the price tag.
Good to know: when tavelling during high season (in summer, especially July and Auust), book hotel in Positano early in advance, as regardless the price, accommodation gets booked out early.
Spend a day on a private yacht away from the busy harbor- and you have an ultimate Positano vacation that is likely to meet the most demanding expectations. And I agree, this is perhaps the actual way to really appreciate the luxuries that this celebrity-beloved town has to offer.
Tips for visiting Positano: how to have a better experience
If you want to get the best out of visiting Positano, below are a few travel tips to show you how. 
Visit Positano late shoulder season or off-season
If you travel in late autumn, early spring, or winter which is the least popular time (except from Christmas and New Year), you might be able to appreciate Positano without the crowds and also for much cheaper.
Moreover, you will likely see more locals than tourists at those times. Note though, that the beach clubs and many bars will be shut as well. If those do not matter to you, then traveling to Positano during non-popular times might be your best bet and you may have a completely different impression of this iconic town on the Amalfi Coast.
Arrive early in the morning
If you are traveling during the shoulder season or peak season, then the best time to visit Positano is at dawn and sunrise. Waking up at an ungodly hour when most of the holidaymakers are still in the dreamland, will reward you with empty Positano that you can enjoy almost alone, free from crowds and ferries buzzing around.
The Marina Grande beach will likely be empty with parasols closed and you will get a chance to snap that instagrammable shot of yourself against the pastel houses of Positano climbing on a cone-shaped hill.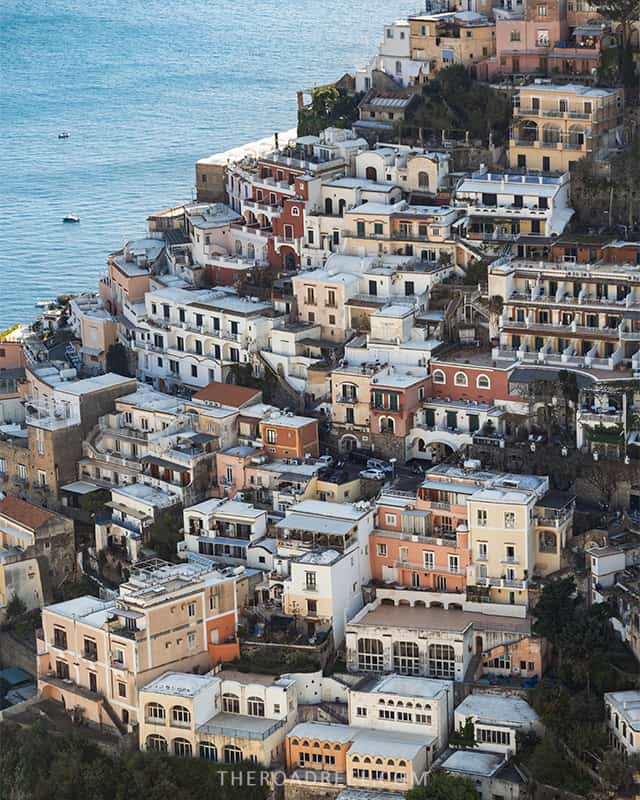 Go on a hike to observe Positano from above
As mentioned earlier, Positano looks the best from the distance. You can appreciate the beauty of its Mediterranean architecture and the surrounding nature by climbing steep steps towards Montepertuso or Santa Maria del Castelo. Also, if you hike Path of the Gods from Bomerano to Nocelle, you take the steps down to Arienzo village. This way, you will also see some beautiful views of Positano at a distance.
Go on a boat trip or hop on a ferry
Luxury yachts are not only for the rich and famous. In fact, if you want to see Positano at its best, going on a boat ride is one of the best things to do. You can either rent a small yacht for a few hours (it is still a pricey experience but might be worth it) or join a boat tour.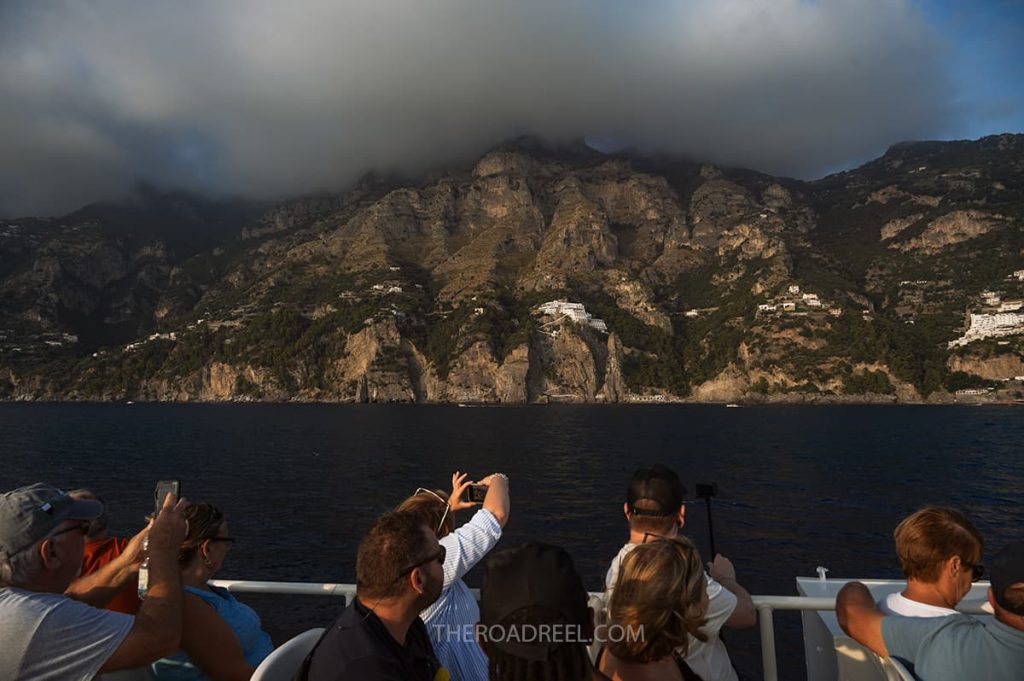 For those of you on a tighter budget, I strongly suggest taking a regular ferry, operated by Travelmar, or any other company on the coast, from Amalfi to Positano, or from Positano to Amalfi. It is also a better way to commute between the towns on the Amalfi Coast than taking a slow and crowded SITA public bus. The ride costs 10 EUR and is totally worth it. You will get to see Positano and Amalfi Coast from the perspective of the sea and it is beautiful.
Alternative places to Positano. What you should visit instead?
Amalfi Coast is a sought-after destination for a reason. The coast is gorgeous with dramatic cliffs rising high above the clouds, and the Tyrrhenian sea offering many opportunities to dip your toes in.  There are 13 well-known picturesque towns on the Amalfi Coast (perhaps even more, if counting less-known tiny villages). That being said, Positano is just one of them.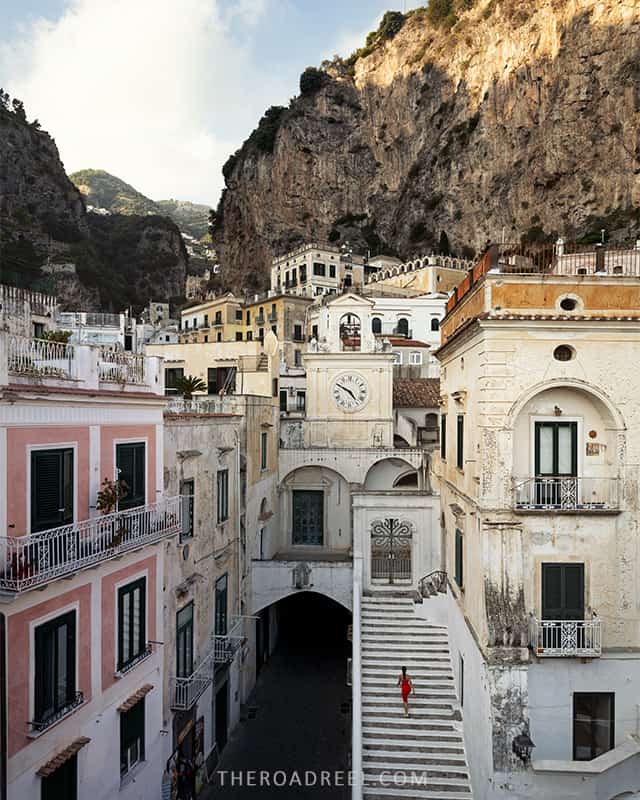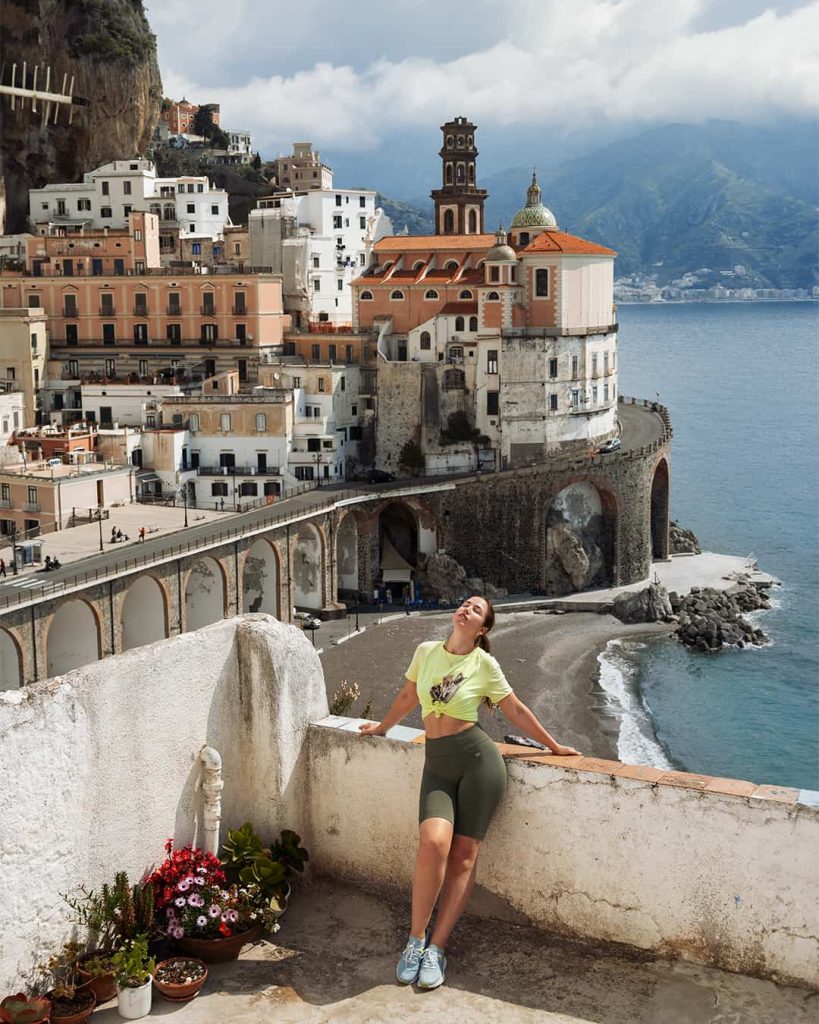 If you are looking for a much better alternative, I strongly recommend visiting Atrani. I even feel bad telling about Atrani, as it is one of those hidden gems in Italy that surprisingly managed to avoid the crowds.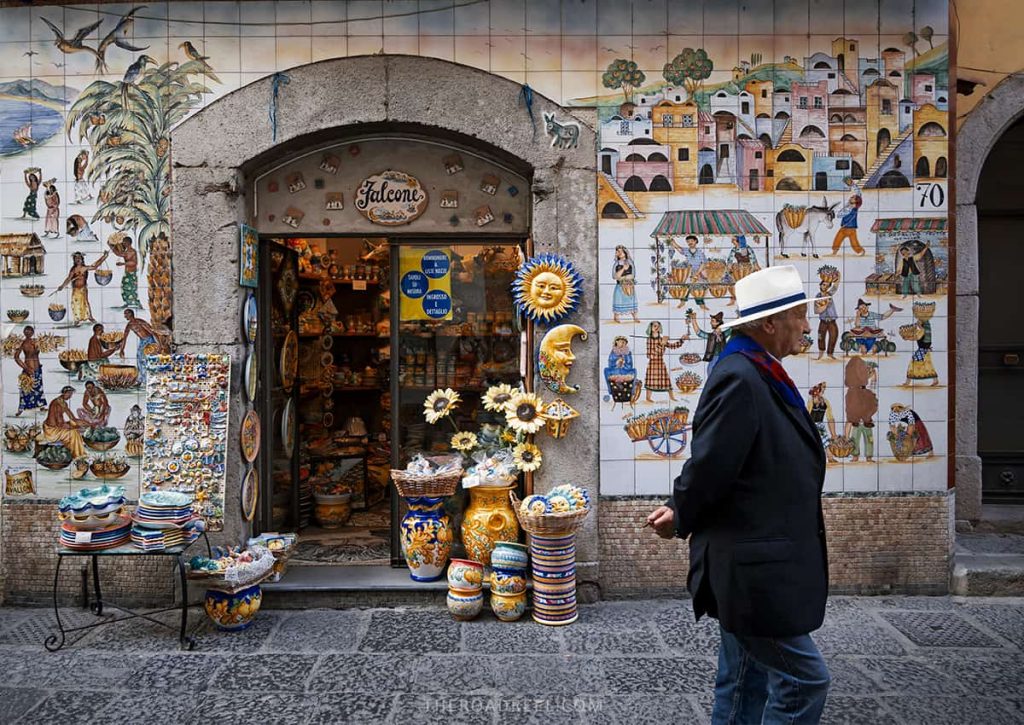 Also, worth exploring is Vietri Sul Mare, the colorful town of ceramics. Then, Minori and Minori are more humble options to stop by and see a local side of the Amalfi Coast. To get the essence of what fishing villages used to be like on the Amalfi Coast, visit Cetara.
Finally, go up and explore the mountains that offer a perfect escape from the crowds. There are many hiking trails crisscrossing the Lattari mountains. Sentiero Degli Dei (Path of Gods) is one of the best yet also the most popular ones. Thus, make sure to read my detailed guide on How to hike Sentiero degli Dei trail to plan well.
Or you can even do a hike to Fiordo di Furore if you are staying in Agerola. This alternative hiking trail brings you to one of the secluded bays of Fiordo di Furore where you can swim and enjoy some time by the blue sea. Read my complete guide to how to reach Fiordo di Furore.
As you can see, there are plenty of other Amalfi Coast towns that are perhaps much better than Positano.
Should you visit Positano? Pros and Cons
Let's put positives and negatives of Positano side by side.
PROS:
Beautiful backdrop for pictures
Vibrant nightlife
Some of the best luxury resorts like La Siranusa
You can buy some beautiful ceramics (cheaper in Vietri sul Mare)
CONS:
Crowded
Expensive
Dirty beach and sea
Tiring
Very hot even in shoulder season
Lost authenticity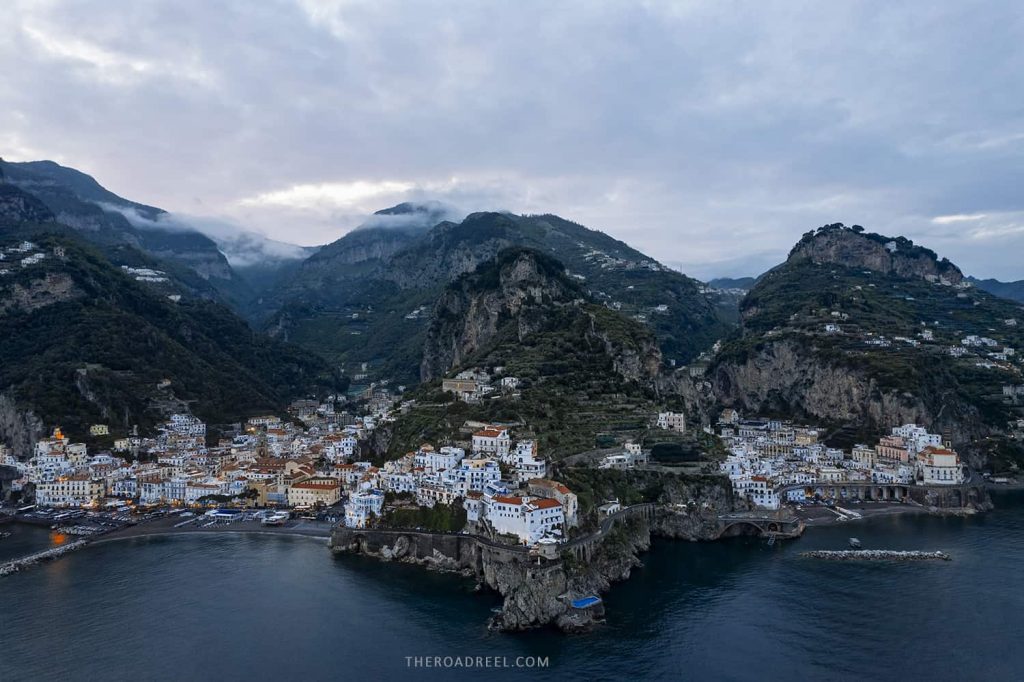 Visiting Positano FAQ
Why is Positano so expensive?
Positano has been known as celebrity holiday destination for decades. The popularity of this seaside town on the Amalfi Coast largely contributed to the prices being significantly steeper than in other places on Amalfi Coast.
Is Positano a walkable town?
Best way to explore Positano is on foot as many of the narrow streets and alleyways are pedestrian only. However, the town is built vertically, which means there are a lot of steep steps to be tackled. Bear this in mind, and wear comfortable shoes.
How much is a taxi from Amalfi to Positano?
Taxi from Amalfi to Positano may cost around 70 EUR.
How do you spend a day in Positano?
There are a few things you can keep yourself busy with when visiting Poistano for one day. From water activities, to hiking, or partying. I have written a blog post about how to spend one day in Positano which you can use to plan your time.
How many days do you need to visit Positano?
A few hours are enough to get an idea. Many people visit Positano as a day trip. If you really like the vibe then you can spend a couple of days longer, making Positano a base for your day trips around Amalfi Coast.
Is it better to go to Positano or Amalfi?
Amalfi, the namesake of the Amalfi coast is also a very popular town. Yet to me, it is better than Positano, especially because you can easily reach quiet Atrani if you get tired of crowds.
How to get to Positano?
The closest airport is Naples Airport (NAP). You can get to Positano from Naples either by private car or public transportation (bus, train+bus, ferry, bus+ferry). I wrote a complete guide on how to get from Naples to the Amalfi Coast, including Positano.
Is Positano worth it? Wrapping it up
Positano as a town is beautiful, however as a travel destination it is not for everyone. Is Positano worth it? Ultimately, it has its own audience that would completely disagree with what I wrote above. However, if you are the type of traveler who does not like crowds and overhyped places, then choose visiting other places on the Amalfi Coast and in Italy that offer more authenticity and better beaches.
Make sure to also check my other Italy travel guides (road trip itineraries, city guides, driving guides, and more).
More Amalfi Coast travel guides
More South Italy articles
General Italy guides
I hope you are enjoying my free travel guides & tips. You may support my work by using any of the affiliate links on this post to plan your own trip at no extra cost to you, or just buy me a coffee so I can continue creating more useful content from my favorite coffee shop in town. Thanks!
Italy travel resources
Here are links to essential travel resources and services I always use when organizing my trips.