Is Naples worth visiting? If you are still wondering if you should visit Naples, here you will find over two dozen great reasons (and photos) to visit the capital of Campagna, Italy.
An intensely interesting city, Naples (Napoli) is where you will experience the real, rough yet soulful side of Italy. Naples, Italy might not be love at first sight, but I can bet that you will miss it after your first visit. Dark gritty Napoli has its ways to seduce. Even if you do not like big cities, Naples' intoxicating energy is addictive and you end up craving more (at least for more pizza, guaranteed).
Thus, before you venture to the more glamorous places in South Italy (I am referring to the popular Amalfi Coast), I encourage you to take your time experiencing the unfiltered life of the authentic city of Naples, Italy. 
I have been to Napoli several times and it stole my heart. In this post, I share my love for this unique Italian city and show you why is Naples a good place to visit on your trip to South Italy. Nonetheless, I do not sugarcoat that the city is a perfection. Far from it. Thus, I also share some points on why Naples might not be for you.
From pizzas to piazzas, here are 23 solid reasons why it is worth visiting Naples, Italy.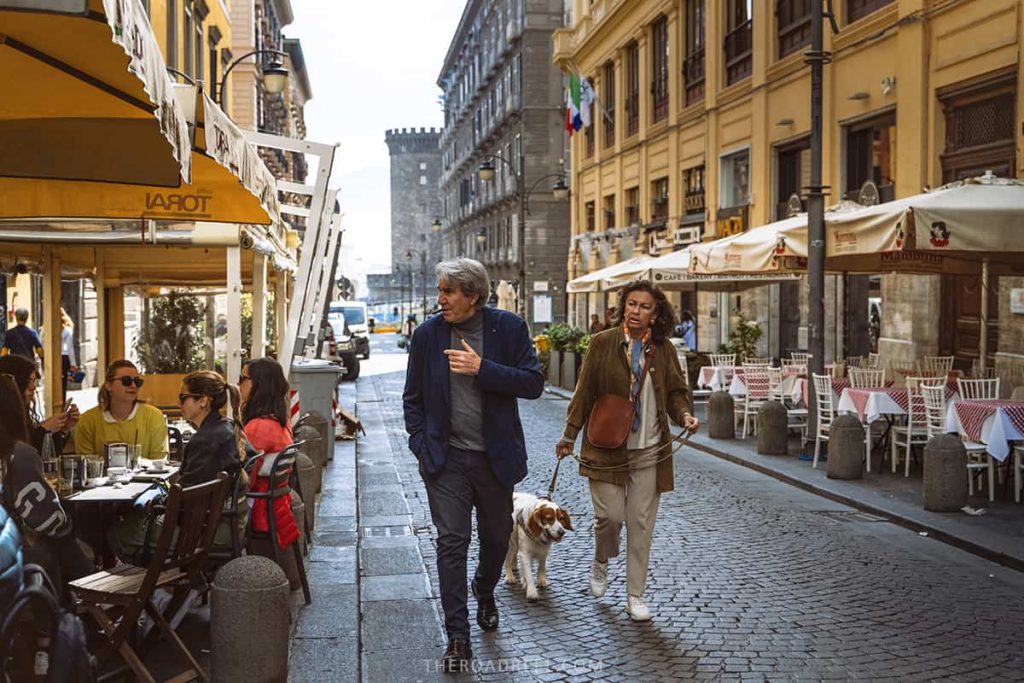 Disclaimer: This post contains affiliate links, which means that I may earn a commission if you make a purchase by clicking a link at no extra cost to you. This helps to keep my blog running and growing by creating more awesome free content for you.
Is Naples worth visiting?
Assolutamente sì (definitely, yes)! Naples is worth a visit because it is one of a kind city that packs a punch: rich culture, beautiful landscape, great food, friendly people, historical significance, and affordability, to name just a few fantastic reasons. Keep reading to find out more intriguing details about why Napoli is awesome.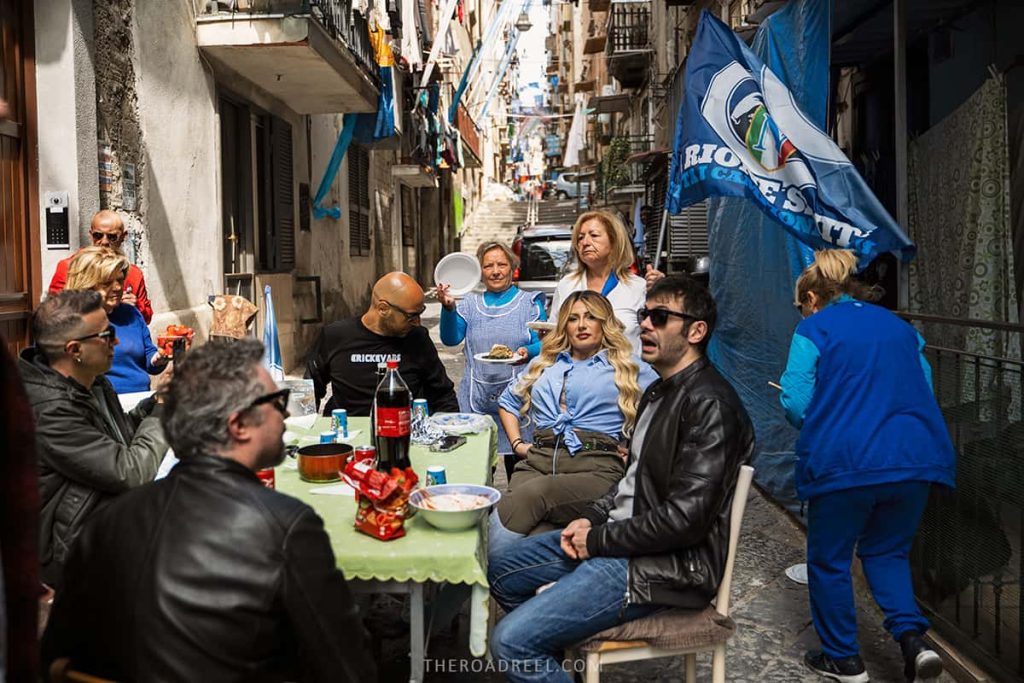 Why is Naples, Italy worth visiting: 23 solid reasons to visit Naples
1. Naples is the soul of Italy
There is a popular saying that Rome is the heart of Italy but Naples is its soul. A deep complex soul with its darkest corners, yet humble and touching. One of the reasons why visit Naples, Italy is to explore the essence of the city layer by layer.
Naples has its highs and lows, and getting to know its different sides some of which are hidden beyond the rough surface is a rewarding travel experience, and quite different to the one you receive while relaxing on sparkling Italian coasts (although Naples has that too!).
The soul of Italy, Naples reveals itself through a dizzying mix of shockingly contrasting elements: beautiful historical buildings and glorious piazzas with piles of trash on the corner, ancient archeological findings under and above the ground, opulent churches sprayed with graffiti, surreal murals bringing dark walls to life, chaotic narrow streets clearly not made to handle hundreds of people, buzzing scooters and cars crisscrossing simultaneously.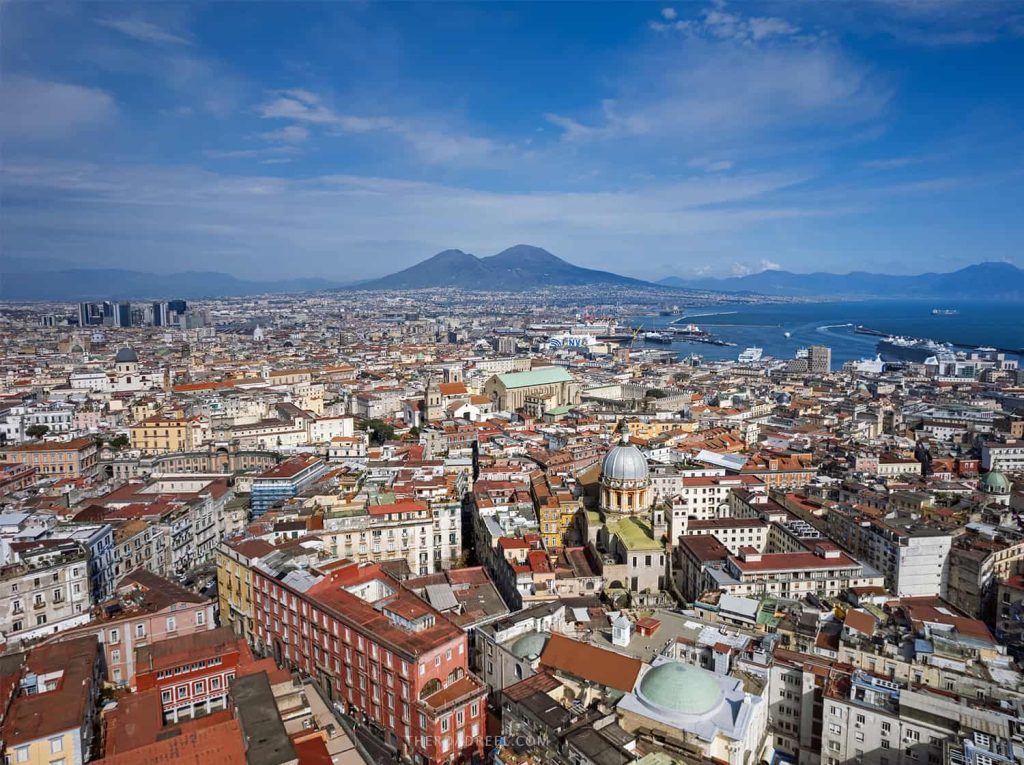 Then we have tiny yet important details such as melting cheese on perfectly soft pizza dough, endless espresso shots, quirky shops, old bookstores, and laundry fluttering in the wind above the "i bassi" apartments. And the more major ones such as golden sunset views of mighty Vesuvius dominating the horizon of the Gulf of Naples, or, Neapolitan music, and the dialect impossible to understand even if you speak a fair share of Italian.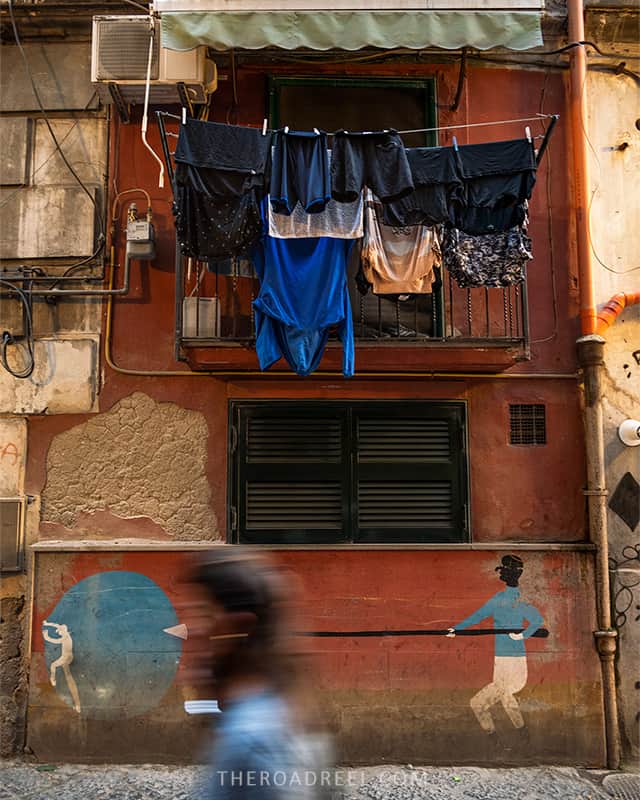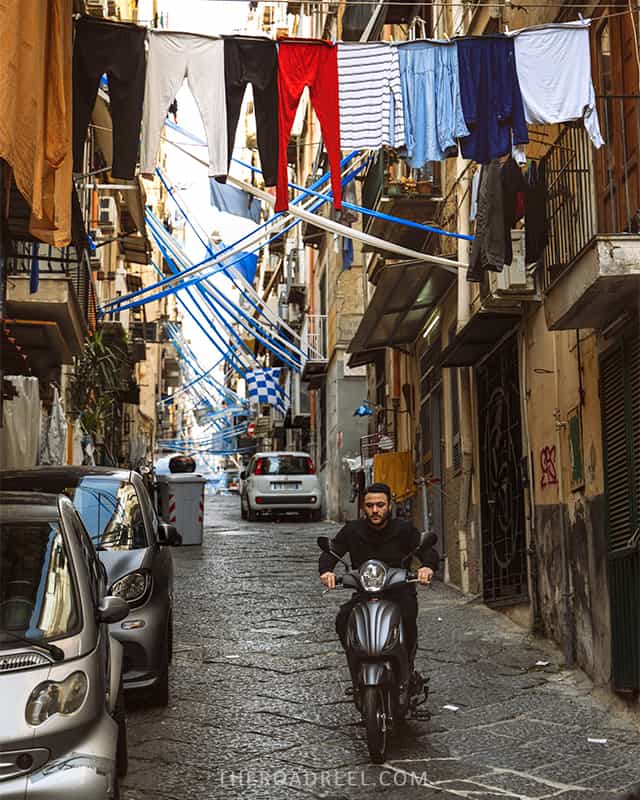 Finally, the secret dark side of Naples, related to crime, poverty, and struggle so expressively described in Elena Ferrante's novels, remains a bit of a mystery to a regular visitor but it is an undeniable part of the city you won't be able to avoid noticing.
Plan your visit: How to spend one day in Naples, Italy.
2. Naples is a struggling charismatic city with an impulsive unique character
Nestled under the threatening figure of Vesuvius, Naples is just as boiling as the volcano.
It is one of the poorest cities in Italy, densely populated, noisy, chaotic, yet undeniably charming. Often called dirty and dangerous, Naples is a city of contrasts and contradictions. Hated or loved, ugly or beautiful, Naples does not leave anyone indifferent. 
The first-time visitor to Naples might easily come to the impression that it is a loud and dodgy town, very chaotic and rude. It is just like that type of person, who is not attractive at first sight. However, once you get to know them, you start to appreciate them and even see them as beautiful and charming.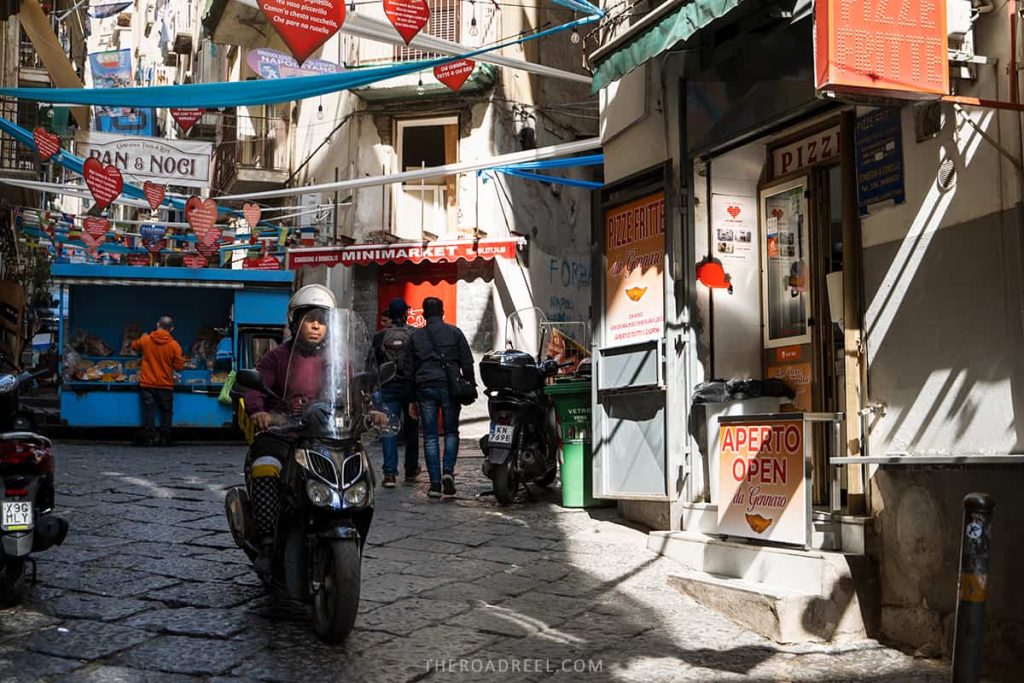 Naples takes time to get used to. The raw, unpolished, and often misunderstood Napoli is undeniably charismatic. It is a city like no other in Italy, yet very much Italian. Its charm is rough, and you won't find anything like it anywhere in mainland Italy. The only similarity in terms of beauty and grittiness in one I could think of is Palermo, the capital of Sicily.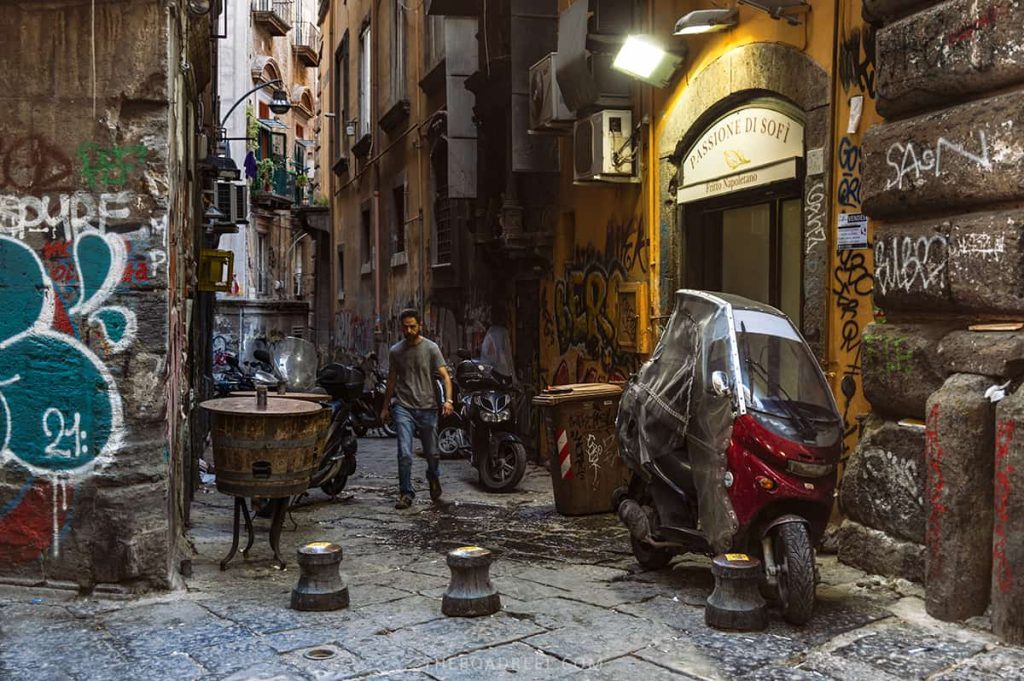 Read more: 2 days in Naples- a perfect Naples itinerary.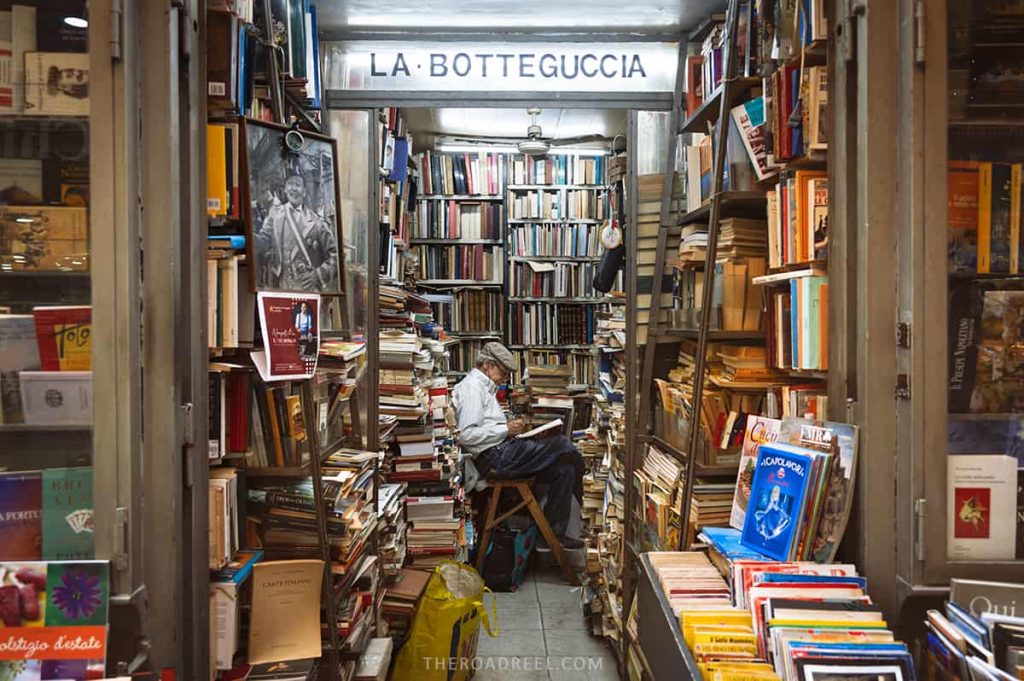 3. Naples is ancient
One of the answers to "Why is it worth visiting Naples?" is that the city is one of the oldest continuously inhabited urban areas in the world. Naples Italy has an age's long history. That said, history buffs and archeology lovers will go crazy in Naples.
Napoli dates back to the antiquity of Greco-Roman times and was first established as a Greek colony in the 1st millennium BC, but the area was inhabited for at least 4000 years. Ever since Napoli (Neapolis) was erected by Greeks in the 6th century BC, the city went through the hands of Romans, then ruled by Goths, Byzantines, Lombards, Normans, and Spanish.
For nearly 600 years Naples served as the capital of The Kingdom of Naples (also known as the Kingdom of Sicily) which was an independent state comprising the territory of South Italy and Sicily.
During the Spanish rule, quickly growing Naples reached its peak and became the largest city in Europe.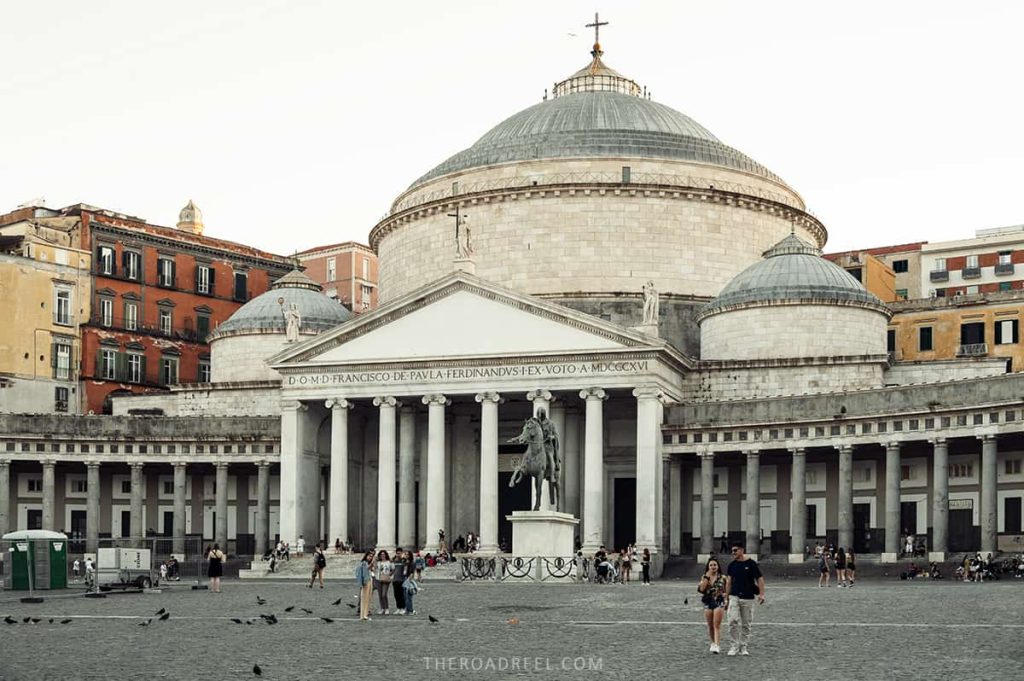 However, the modern days of Naples, despite industrialization, were not as successful. The two World Wars hit the city greatly, resulting in unemployment, corruption, and high crime rates. These problems followed the third-largest Italian city all the way to the 21st century.
Nowadays, Naples is trying to rebuild its reputation, improve its social and economic problems and celebrate its rich history and diverse culture shaped by different civilizations.
If you want to dig deeper, do not miss The Archeology Museum of Naples (National Archaeological Museum (MANN)-Museo Archeologico Nazionale di Napoli) considered one of the best of its kind in Europe.
Also read: The best areas to stay in Naples, Italy.
4. Naples historical center is UNESCO protected
If you are obsessed with historical towns, here is another solid for visiting Napoli. The largest in Italy, and one of the largest in Europe, Naples historical center is UNESCO listed since 1995.
It is praised for being a center point of culture and arts with many impressive architectural sites such as the Royal Palace of Naples, Santa Chiara Monastery Complex, Castel Nuovo, Duomo di San Genaro, and Piazza del Plebiscito to name just a few.
The area that falls under a UNESCO World Heritage Site covers 10 square kilometers (3.86 square miles). The Centro Storico neighborhood holds the highest concentration of historical monuments that you can easily explore on foot.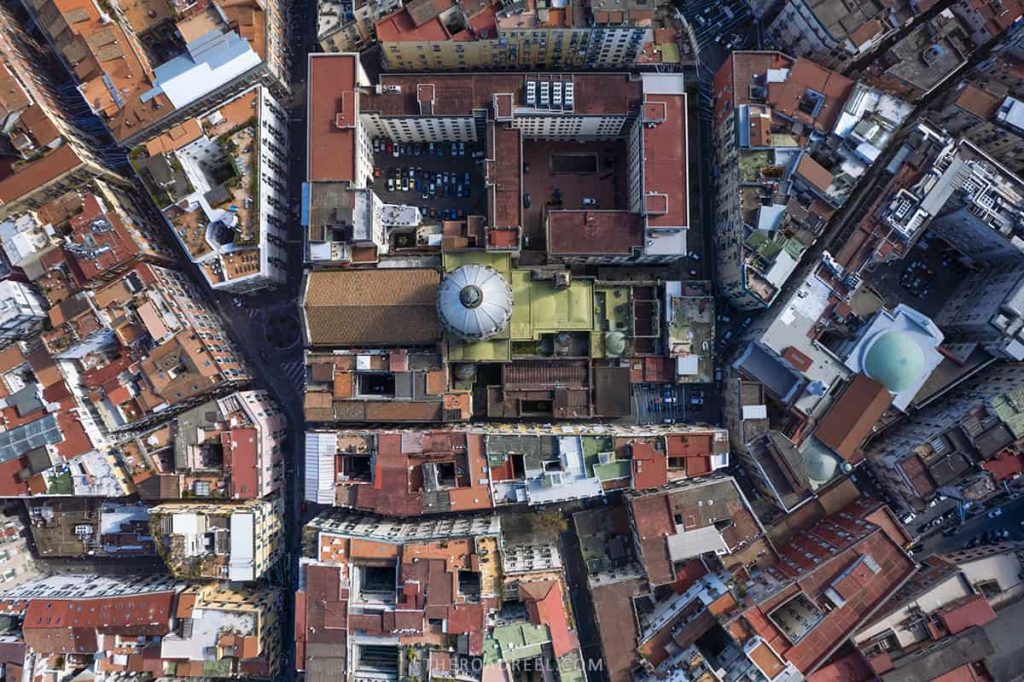 5. Naples is artistic- from ancient frescoes to surreal murals
If you love art, it is yet another reason for visiting Napoli. Naples is known for its art scene which ranges from ancient to contemporary.
Continuous excavations unearth incredible tombs decorated with frescoes and mosaics dating back to Greek times.
Moreover, Naples takes pride in being home to the classic artworks of old-world masters such as Caravaggio, with his altarpiece of "The Seven Works of Mercy" that can be seen in the church of Pio Monte della Misericordia. Also, the Veiled Christ is the highlight of the sculpture masterpiece carved out of marble by Giussepe San Martino currently hosted in San Severo Chapel.
And if that is not enough, visit the impressive Capodimonte Palace, which is now a museum displaying a wealth of classics and contemporary artwork (works of Caravaggio and Andy Warhol are under one roof).
Finally, the street art scene covers a significant part of the city. If you, just like me, love murals, you will be delighted to go on a street art hunt. The best findings are located in the neighborhoods of Rione Sanità and Spanish Quarters where you can find the famous Diego Maradona mural.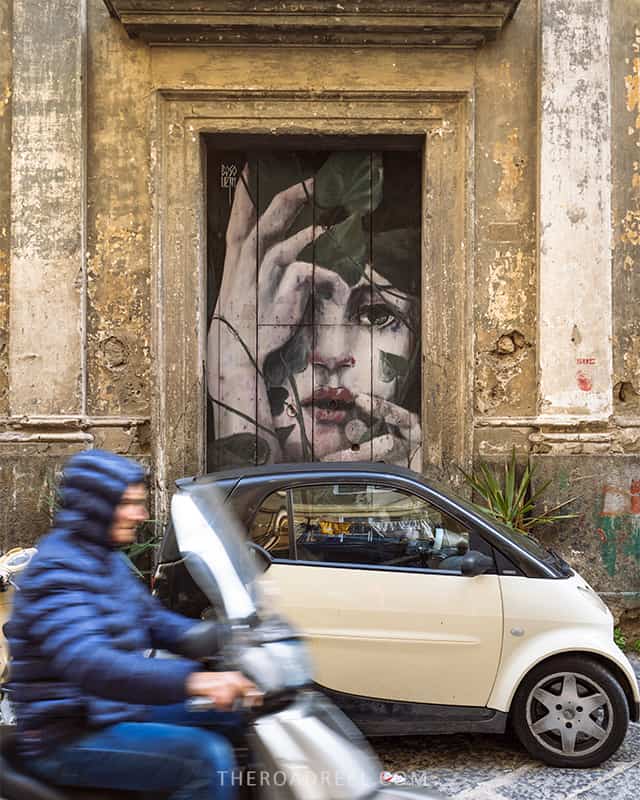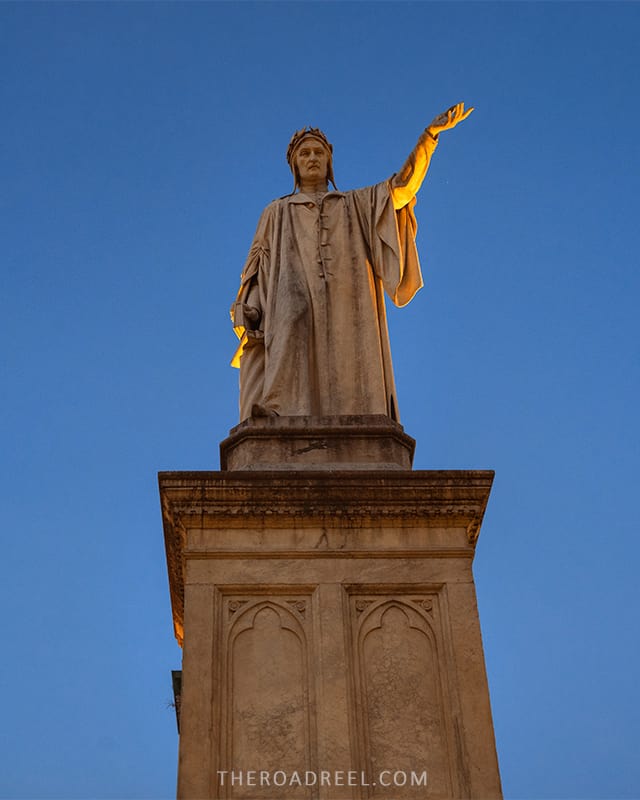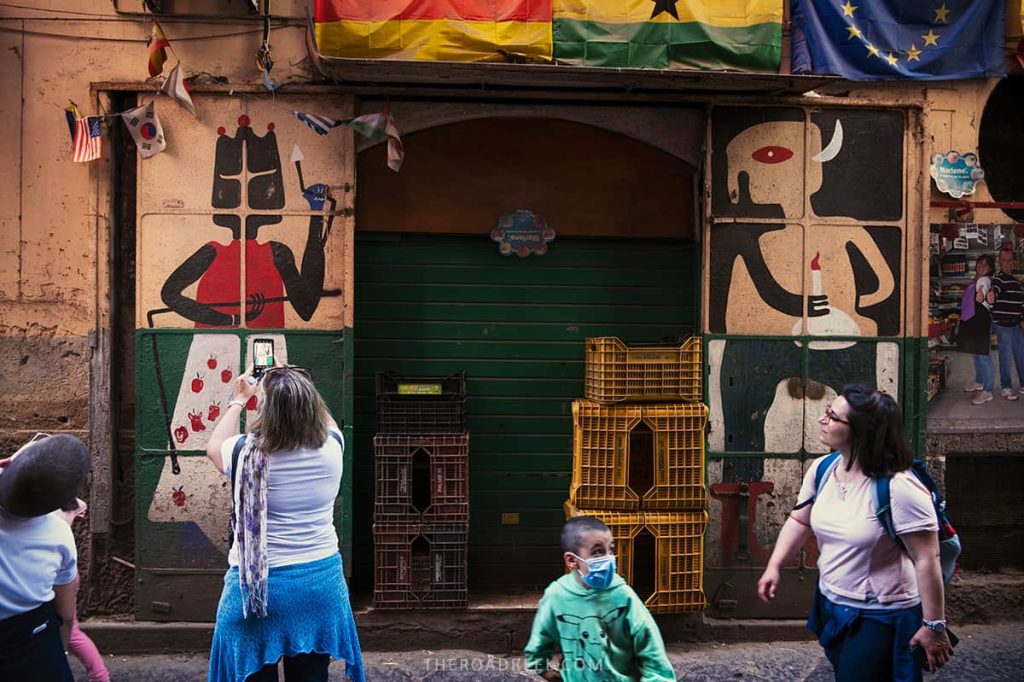 6. Visit Naples for splendid panoramic views
If you love good city views and stunning panoramas, then you are in luck. Naples Italy is blessed with a perfect location. The city overlooks the sparkling Bay of Naples with mighty Mount Vesuvius on the horizon.
The most popular place to enjoy the views is while walking (or cycling) along the Lungomare Caracciolo with Castel dell'Ovo as its centerpiece. Meanwhile, climbing higher up the hills to the neighborhoods of Vomero or Capodimonte allows for the awe-inspiring panorama with the historical center of Naples under your feet.
For the most striking vistas and atmospheric feel head to Sant'Elmo Castle (Castel Sant'Elmo). Here you can enjoy a splendid bird's eye view of Naples' historic centre and Mount Vesuvius. Sunset is a perfect time.
Plan your South Italy trip: Tips for renting a car and driving in Naples
7. There is another city of Naples hidden under the ground
Naples is indeed a city of layers, hiding some of the best-kept secrets under the ground. Therefore, when visiting Naples, you can also explore the ancient underground Napoli.
Greeks were the first to dig tuff (a soft volcanic type of rock) to build Neapolis (ancient Naples). Later Romans continue using existing tunnels as aqueducts to supply the city with water. Centuries passed, and the mind-blowing subterranean 450 kilometers (280 miles) network of streets, catacombs, caverns, and chambers was discovered. During World War II those secret tunnels served as shelter for 2 years where over 200000 citizens of Naples were hiding from bombings.
Today you can join many intriguing underground tours in Naples where you will get a chance to glimpse at life under the ground.
Check out the following underground tours in Naples: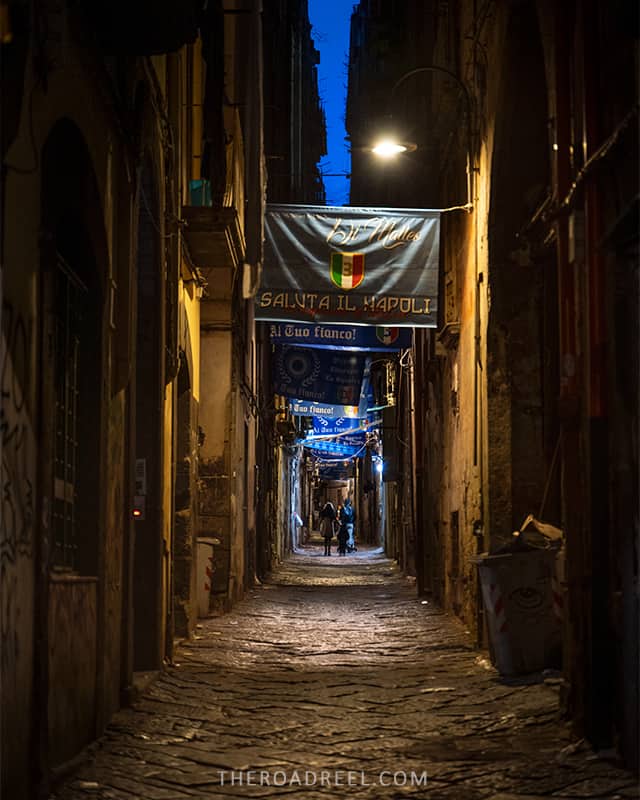 8. Naples neighborhoods are distinct and intriguing
Naples, Italy is known for its characteristic neighborhoods that are steps away from one another. One moment you can admire enchanting churches squeezed on a busy street of Via Tribunali in Centro Storico of Napoli. The next moment you are dodging the scooter in a busy Pigneseca Market in the Spanish Quarter. While finding your way through the narrow alleyways "decorated" with colorful laundry stretched between the balconies, you enjoy an open-air gallery of murals, including the one of Diego Maradona.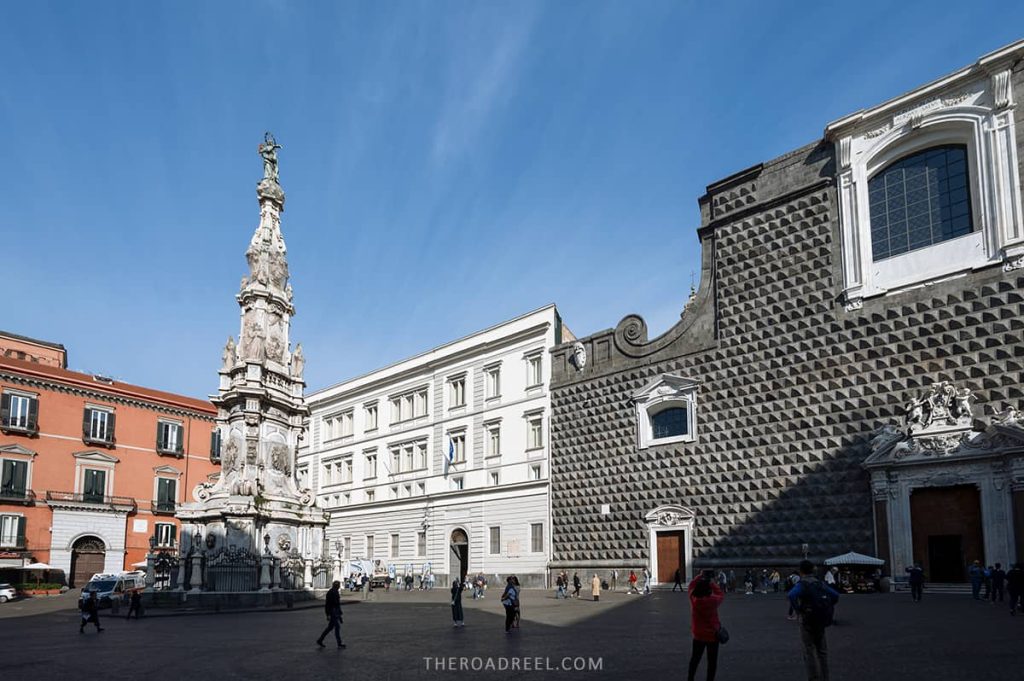 And then, in just 10 minutes you are in an open space of the emblematic square of Piazza del Plebiscito. Walk across to the south and you will reach the relaxed Lungomare di Caracciolo waterfront beloved by locals and visitors alike for strolls along the Bay of Naples.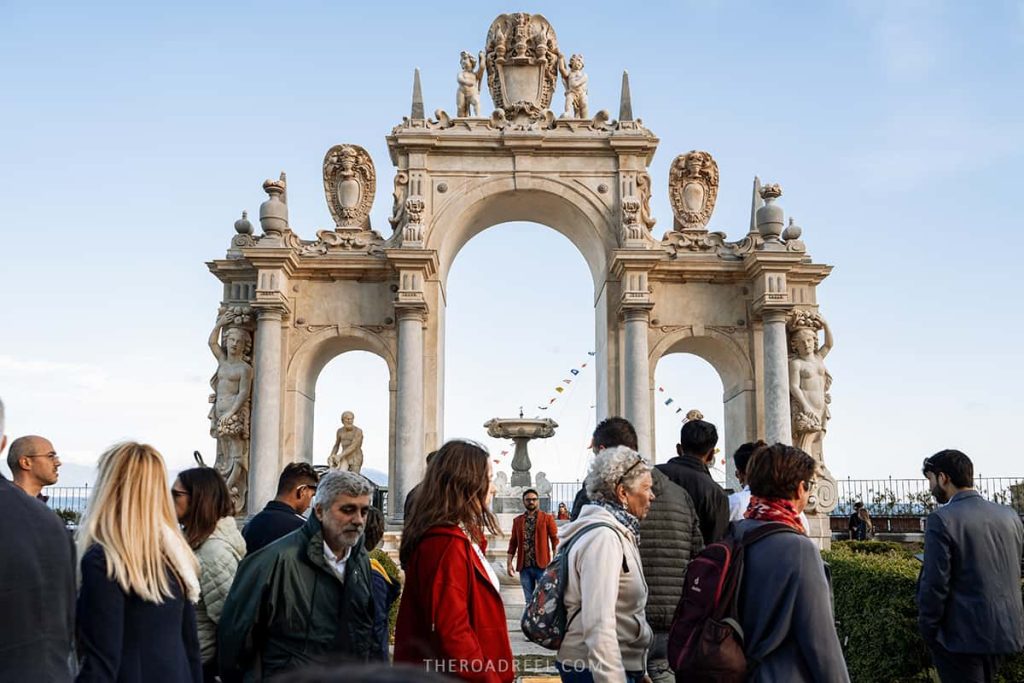 And let's not forget the fancy shopping experience in upscale Chiaia, magic sunset views opening up from the hill of Vomero, and the off-the-beaten-path Rione Sanità – the most contradictory neighborhood of Naples.
READ MORE: Find out more about the neighborhoods and where is the best area to stay in Naples, Italy.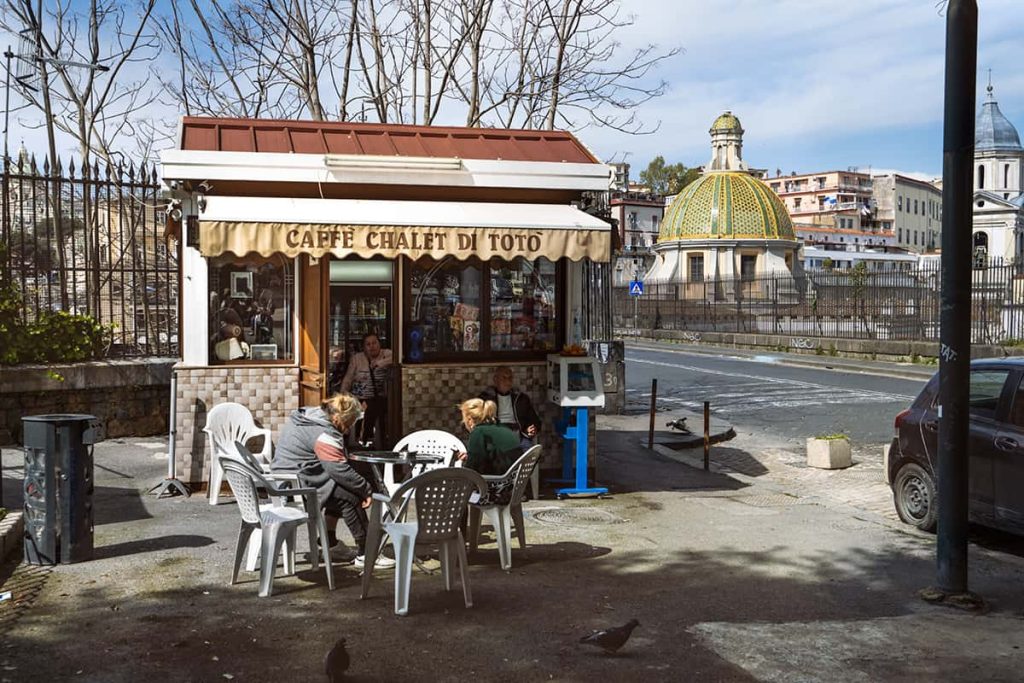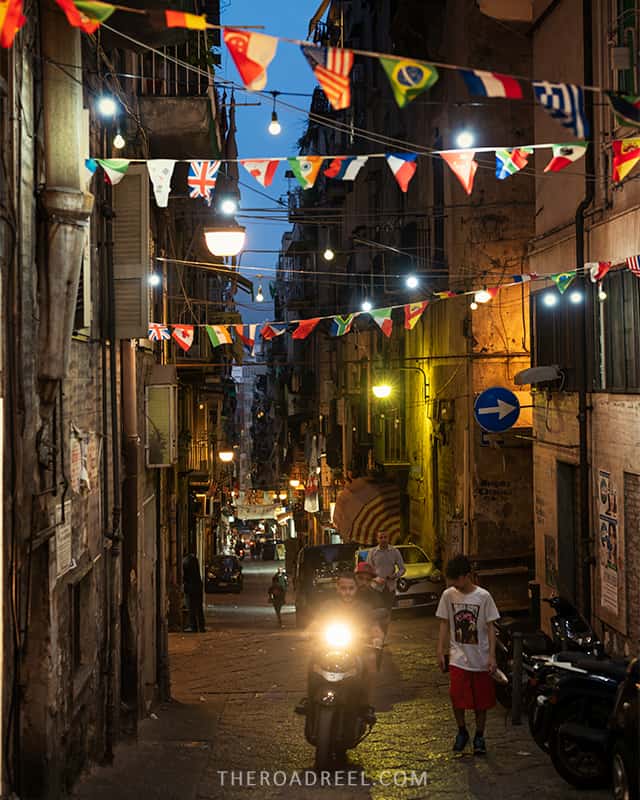 9. Naples is a street photographer's playground
Naples is one of the best cities in Italy for street photography. Whether you love photographing architecture, urban landscapes, portraits, or quirky details, you will find your subject in Naples.
There is so much character just on every corner of Naples. The streets of Naples are full of action, textures, colors, and personalities. Every moment offers something exciting and different to be photographed, just keep your camera ready. To me personally, street photography of Napoli is the number one reason for visiting Naples.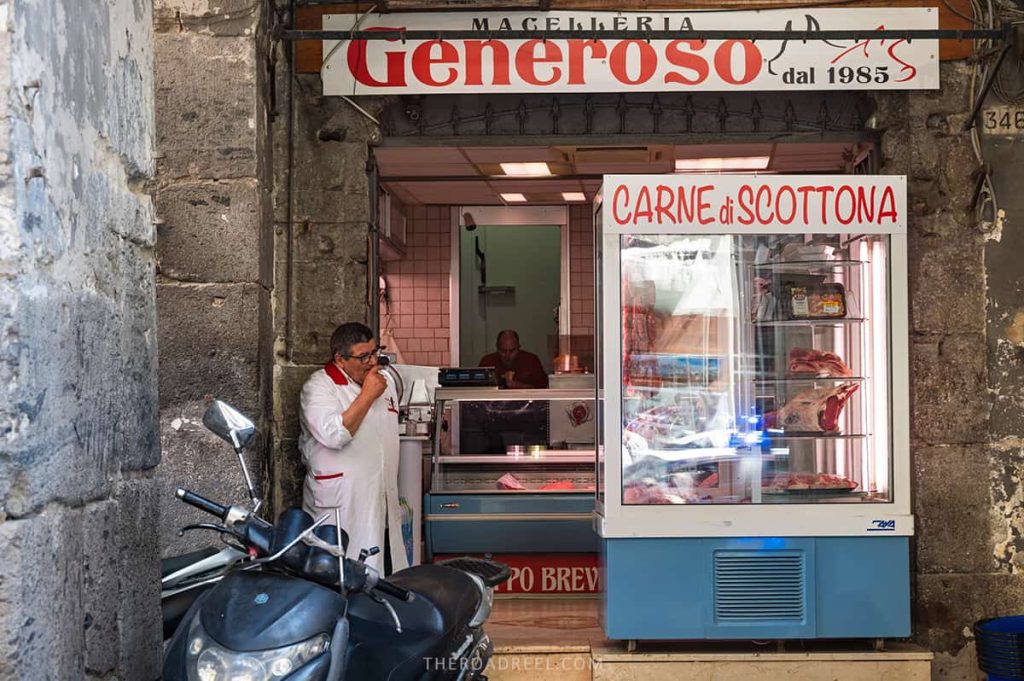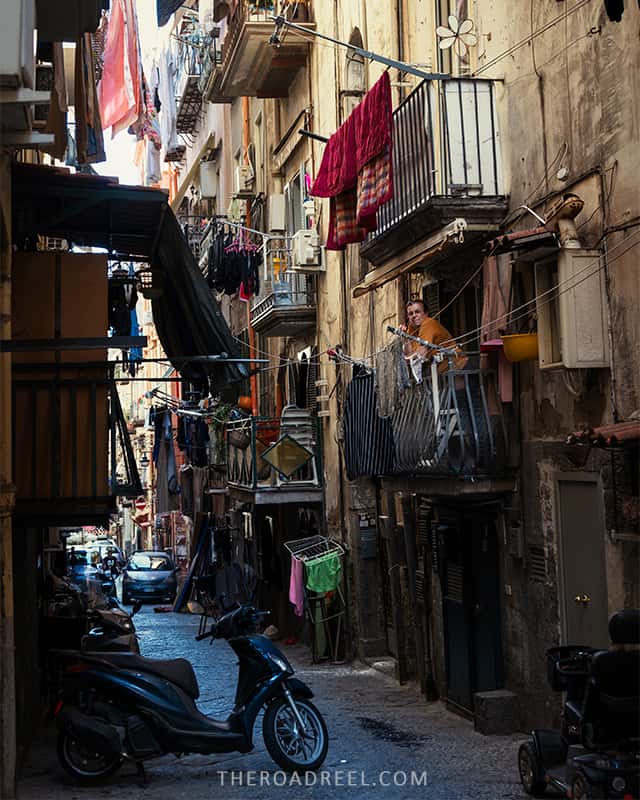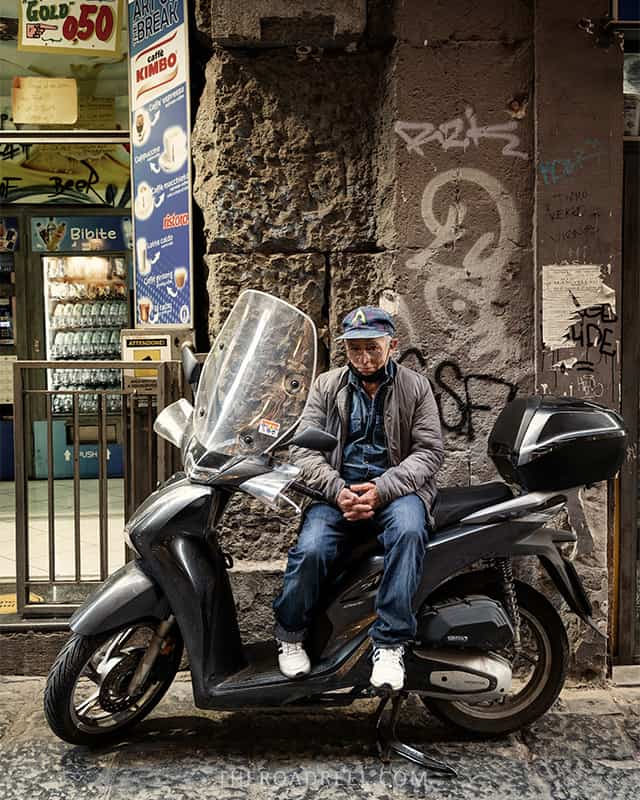 And if you are wondering if it is safe to carry around your professional digital camera in the streets of Naples, then you might want to read my post about Safety in Naples, Italy (published soon). But in short, yes, it is safe, as long as you are aware of your surroundings and do not put the camera in the face of a person who does not want to be photographed (most of them do not mind).
10. Naples is less expensive than other Italian cities
Is Naples expensive? You may wonder. If you are looking for an affordable city break, Naples, Italy is a perfect choice. The third largest city in Italy, Naples is significantly cheaper than the capital Rome, Milan, or Florence. In general, south Italy tends to be cheaper than the northern part (except for Amalfi Coast and perhaps some places in Puglia).
In Naples, you can find fantastic accommodation for every budget, and you will be staying within walking distance of the main attractions in town.
Read more: Where to stay in Naples: best areas and accommodations for every budget.
Food is also quite cheap, especially street food. You can fill your stomach with delicious fried pizza just for a couple of euros. Visitors, who love to have a glass of wine alongside their meal or are obsessed with Aperol Spritz (a popular bittersweet drink in Italy), will also be happy to know that it costs just a few euros in Naples, compared to much higher prices in other places in Italy.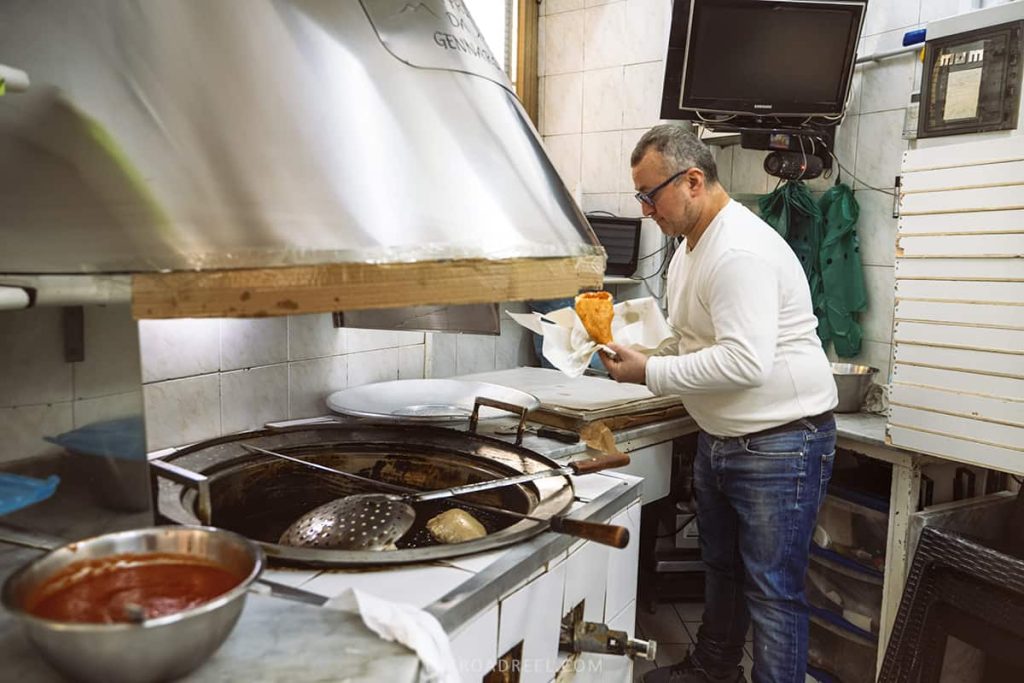 11. You can stay in the palace (B&B Palazzo Dello Spagnolo)
Talking about the affordability of Naples, you can even rent accommodation in a palace (the Palazzo). While the most famous in the city Palazzo Reale di Napoli is an example of royal luxury, you will be delighted to find out that Palazzo dello Spagnolo offers a stay in a bed and breakfast that does not break the bank.
Located in the Rione Sanità neighborhood, Palazzo dello Spagnolo is a fine example of late-baroque style architecture, the palace is known for its elaborate staircase. Palazzo Dello Spagnolo is one of the main sightseeing attractions in Rione Sanità. But more interestingly, it is also a lived-in palace where some of the gorgeous apartments are available for rent which makes it a truly unique experience when staying in Naples.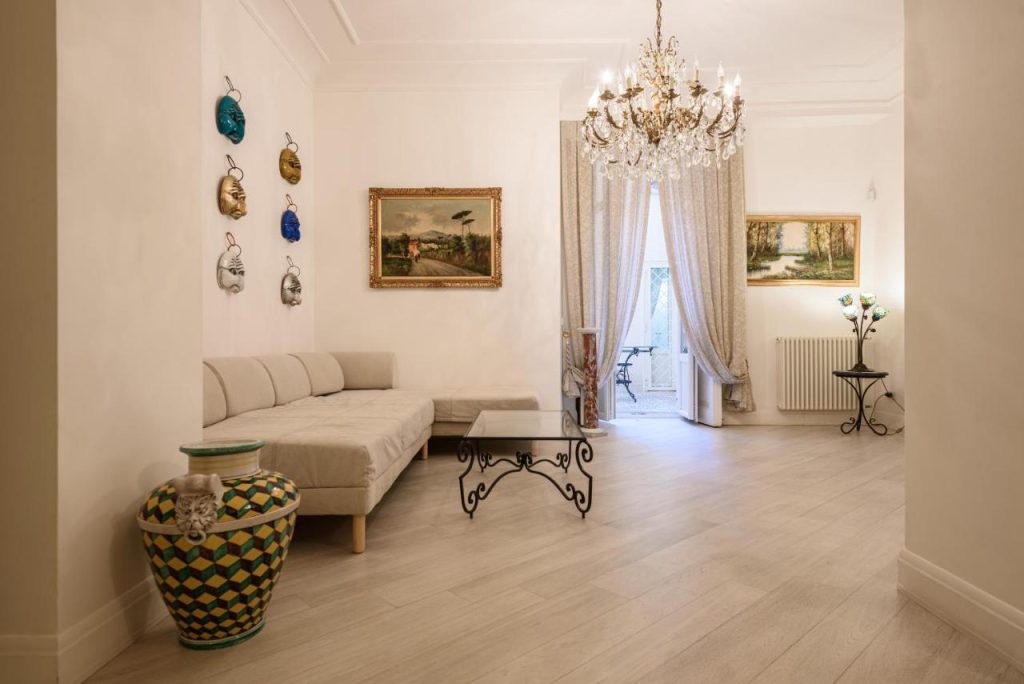 Palazzo dello Spagnolo – a three-bedroom apartment with a terrace located in the historical palazzo, rooms are air-conditioned, and free private parking (a rarity in Naples!) is also offered by the property
12. Wonderful islands and beach towns are within an hour's reach
If you want to escape the madness of the city, you can easily jump on a ferry and sail to the nearby islands of Ischia, Procida, and the world-famous Capri. Within an hour you can completely change the scenery from dark busy streets to colorful fishermen's boats. Located in the Gulf of Naples, Procida is my personal favorite. This candy-colored island is less crowded than Ishcia and especially Capri, but no less beautiful.
Moreover, the Amalfi Coast is also within easy access from Naples, either by boat or by road. Although visiting Amalfi as a day trip is a bit of a stretch, you can certainly sail, drive or hop on to the Circumvesuviana train to Sorrento- the most easily accessible coastal town on Amalfi.
Read More: How to visit Procida island from Naples, Italy.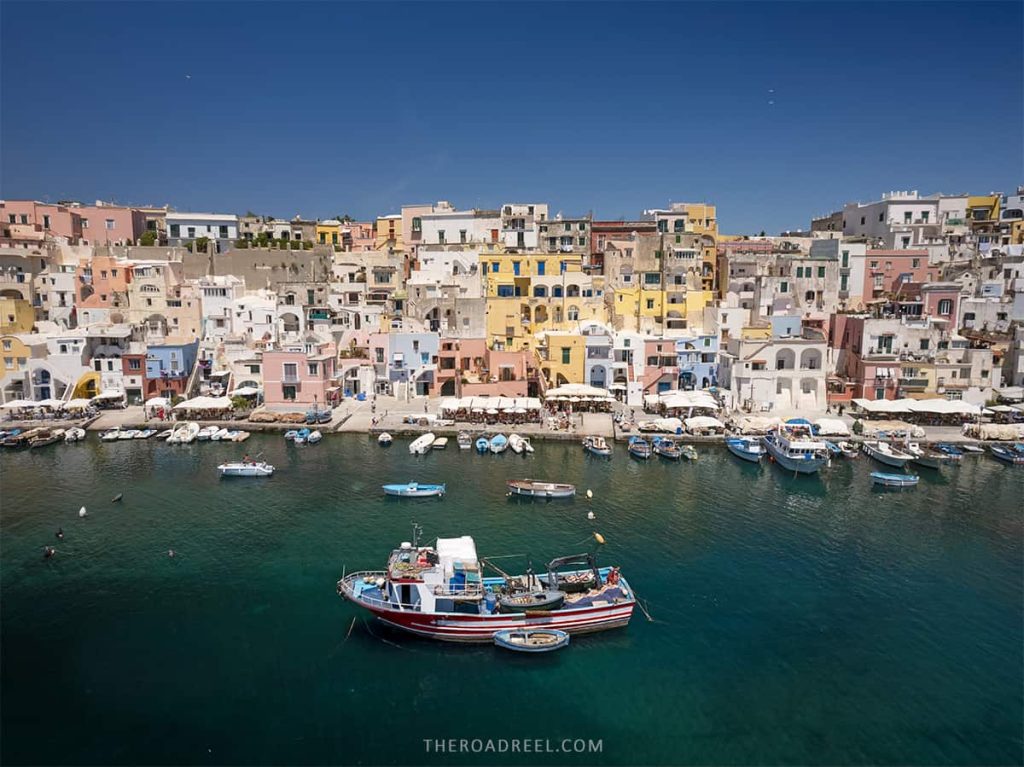 13. Hiking on Vesuvius
Visiting Naples will appeal if you are an active traveler who doesn't miss a chance to squeeze in a hike or too into your itinerary. The most prominent natural landmark of Naples is the mighty volcano of Vesuvius which rises above the Bay of Naples. Hiking around the Vesuvius crater is one of the more adventurous reasons to visit Naples. The great news is that the hike is easy and does not require any special trekking skills.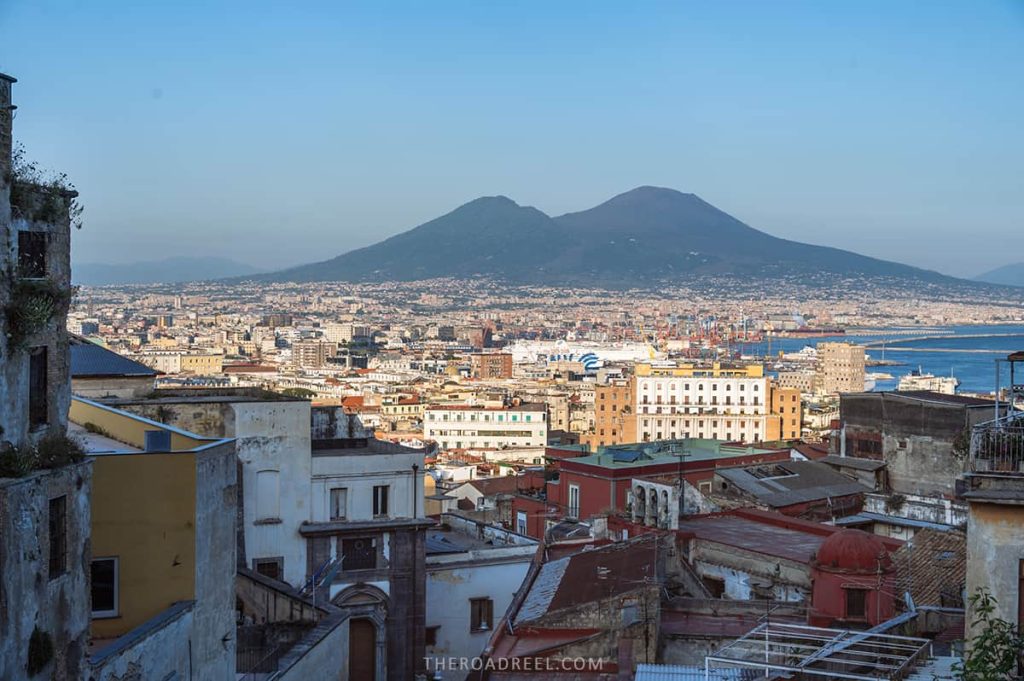 14. Naples is a stone through away from the Pompeii
The mighty volcano of Vesuvius, as beautiful as it is to look at from afar, is a dangerous landmark to live close to. The most evident proof is the Roman city of Pompeii which was destroyed by one of the strongest eruptions of Vesuvius in AD 79. The remains of the ancient city were unearthed and now you can easily visit them as a half-day trip from Naples.
Pompeii is perhaps one of the most famous historical sights in Italy and one of the best day trips from Naples. It should not be missed if you are travelling to the Campagnia region for the first time.
Great to know: entry to Pompei Archeological Site is free on the first Sunday of every month. 
Check these top-rated tours to Pompeii
15. Visit Naples for the diverse culinary experience
From the street food to the Micheline star dining experience, Naples has it all to be a foodies paradise. Widely known as the capital (or birthplace) of pizza, Naples has very old culinary traditions. Through the long years of history, Neapolitan cuisine has been influenced by different cultures (Romans, Spanish, French, Arabs) and enriched with both popular specialties and more elaborate ones, with a unique blend of savory and sweet flavors.
When visiting Naples, you will appreciate the street food just as much as the fancier dishes in the restaurant.
Talking about street food, make sure you try the traditional Neapolitan pizza, fried pizza, and pizza a portafloglio (wallet pizza). In the restaurants, you will definitely find Neapolitan ragu, locally popular pasta dishes such as linguini alla vongole, eggplant parmigiana, and much more yummy stuff.
The big names in the pastry section are sfogliatella (sea-shell-shaped pastry made of layered crunchy dough filled with ricotta cheese) and baba (a fluffy cake studded with dried fruit and soaked in hot rum syrup). You can find those pastries on every corner in Naples, some better than others (after trying so many you soon become an expert to understand the difference).
For a perfect snack on a south Italy road trip, pick up some taralli crackers- ring-shaped baked crackers that are made in many flavors (olives, cheese, onion, or just salty ones).
16. Pizza alone makes Naples worth a visit, for real
Pizza alone is a solid reason for visiting Napoli, Italy.
Around the 18th  to 19th century, Naples was already an overpopulated metropolis with many poor laborers who were in need of inexpensive quick food while at work. Therefore, pizza was sold on the streets of Napoli, and in unofficial restaurants.
Although there is a lot of debate about where and when pizza was actually invented, there is no doubt that Naples took the making of pizza to the next level. The flatbread with toppings was known since ancient Egypt, Roman, and Greek times, but the creation of modern days pizza is definitely credited to Naples.
According to the legend, at the end of the 19th century, King Umberto I and Queen Margherita were visiting Naples and decided to go for something more exotic than their usual royal menu. They sampled pizzas at Pizzeria Brandi. The Queen's favorite flavor was the one with melty mozzarella. That was the birthday of the most famous classic pizza Margherita.
Today, you can find countless pizzerias in Naples, and many of them are even world famous today. When visiting Naples do not miss Pizzeria Antica Port'Alba (considered the oldest pizzeria in the world), Pizzeria da Michelle (where Eat, Pray, Love with Julia Roberts was filmed), Pizzeria de Atillo (for its star-shaped pizzas), just to name a very few great pizza makers.
Trust me, that after trying Neapolitan pizza, it will be hard to settle for a non-Neapolitan one.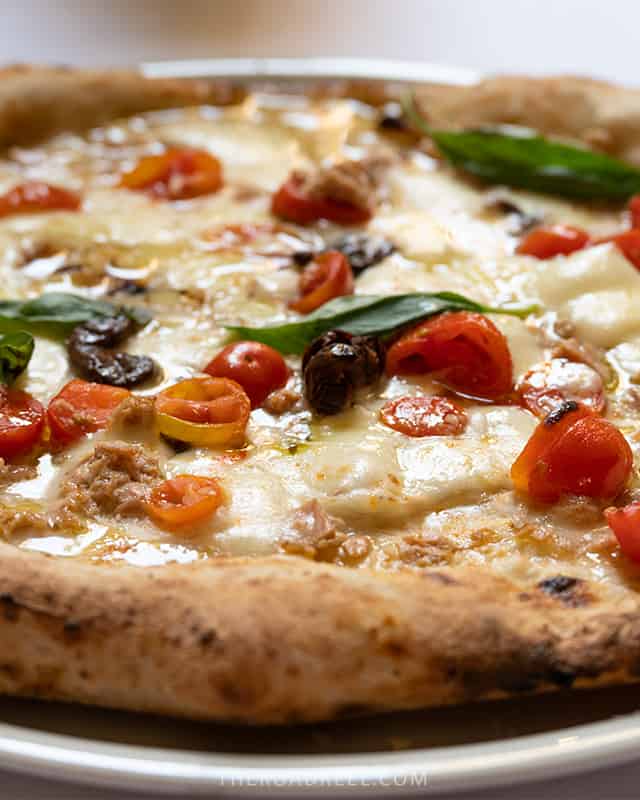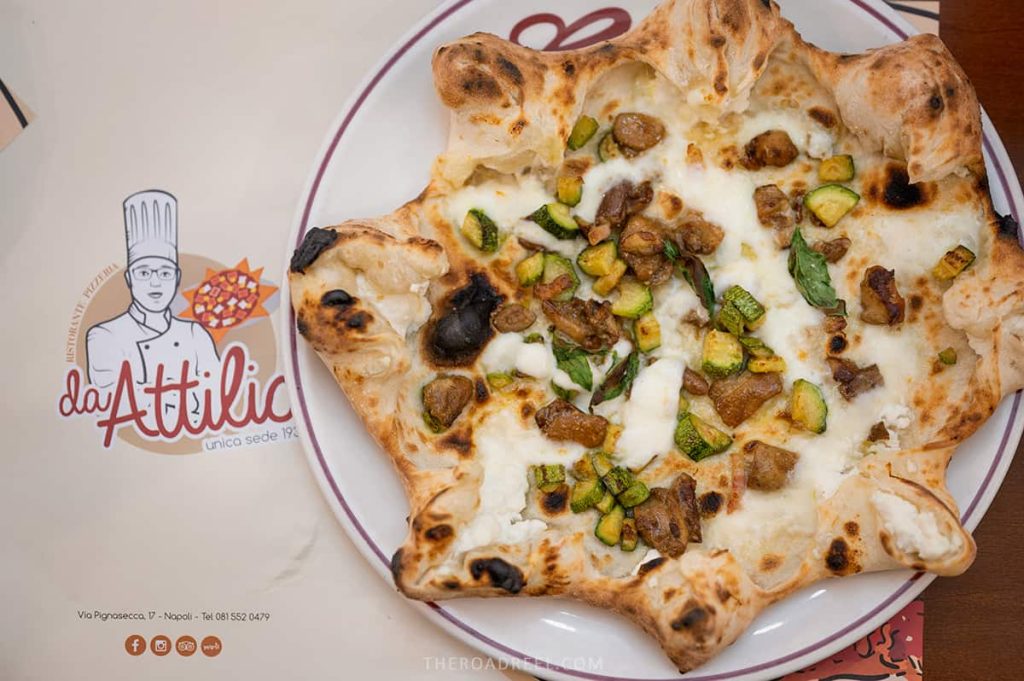 17. Gran Café Gambrinus makes the coffee you won't forget
A no less important reason to visit Naples is the fantastic coffee, the fuel of the nation. Italy is famous for great coffee, but some of the best cafeterias can be found specifically in Napoli. One of the many reasons I am always keen to revisit Naples is the Gran Café Gambrinus.
Located a few steps away from Piazza del Plebiscito, this historic Belle Epoque 19th-century café serves artisan coffee and you might have to wait in a long queue before you order your unforgettable espresso shot. Go for Caffé Gegé – sweet "scrambled" espresso shot. If you prefer something more milky, apart from classic cappuccino, there is an array of other intriguing coffee cocktails. Ah, and did I mention a head-spinning amount of deserts?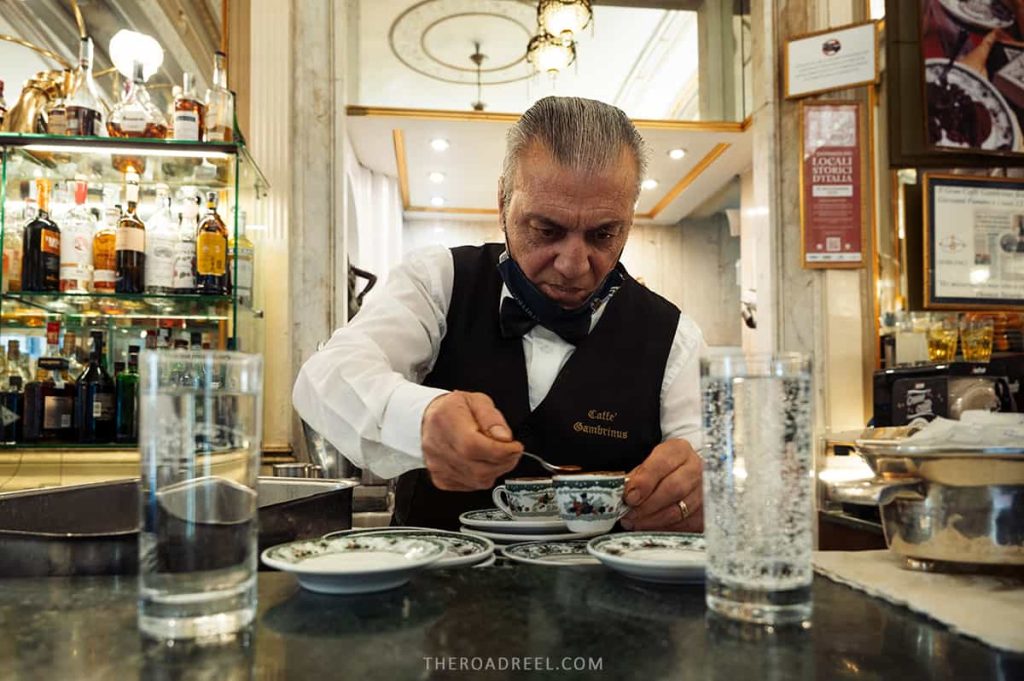 18. Pasticeria Popella and heavenly Fioco di Neve
When talking about deserts in Naples, there are a few classic ones I already mentioned. However, it is only Fioco di Neve (a snowflake) that will make your knees bend from pleasure. Made by the one and only Pasticeria Popella, this puffy thin dough pastry is filled with absolutely light and decadent ricotta cream.
Pasticeria Popella is a historical pastry shop operating since the 1920s. There are 3 branches in Naples, but the one with less crowd is located in the Rione Sanita district, in Via Arena della Sanita.
The heavenly Fioco di Neve of such exquisite quality can only be found in Naples at Pasticeria Popella. I must admit that is by far the best pastry I have tried in Italy (and I have extensive pastry sampling experience).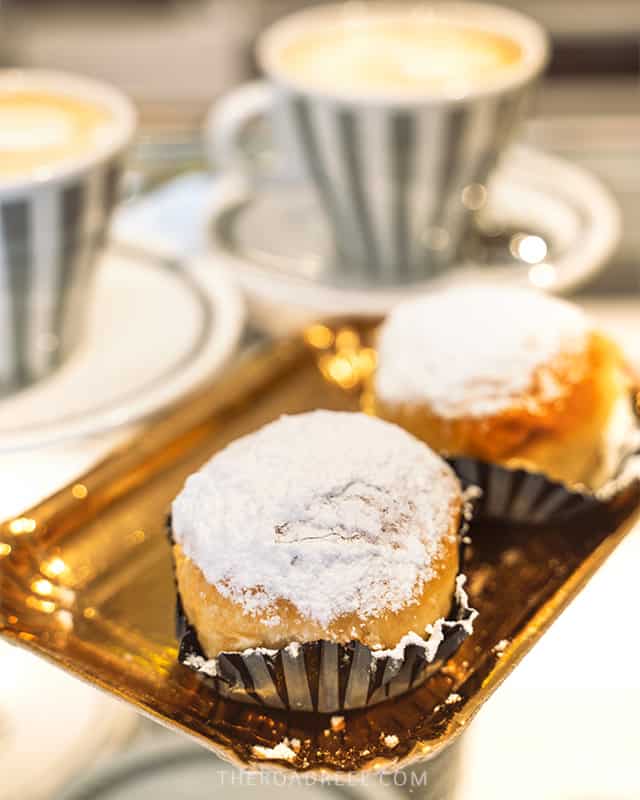 19. Naples has great weather all year round
Naples is located in the south of Italy and has perfect weather all year round. Well, almost perfect. It gets pretty hot in summer (above 30 degrees Celsius), but the rest of the year temperatures are great for being out and about on the streets. The coldest month of January only gets as "cold" as 10 degrees Celsius. That said, you can visit Naples and explore comfortably at least 9 months out of 12 a year.
20. Expressive Neapolitan people
One of the most important components to experience the local culture and get a sense of the city is interaction with its people. Neapolitans are passionate, laud, and proud of their identity, yet friendly and down to earth. They know how to enjoy life despite the hardships that they have to cope with everyday living in this busy chaotic city.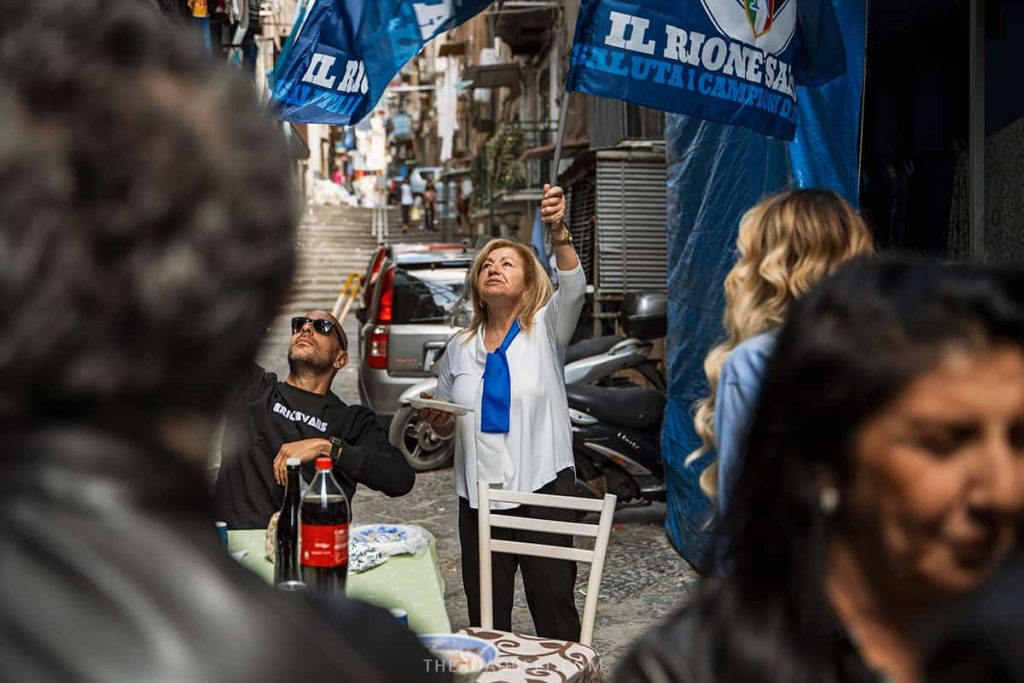 Neapolitans share typical Italian mannerisms just on a more heightened side. They are very expressive and straightforward. People from Napoli seem to be open to all races and colors (as an example, their most celebrated football player Victor Osimhen in 2023 is originally Nigerian).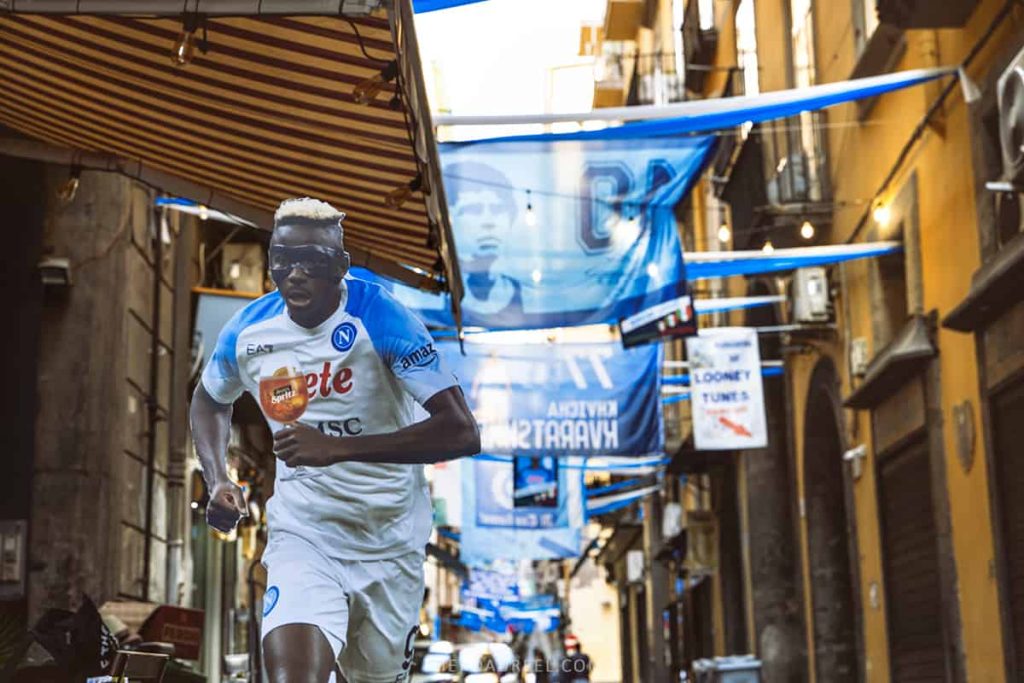 Before visiting Naples, I read mixed reviews of what people are like in Napoli. Many stories about tourists being ripped off in a taxi or rude waiters at restaurants. That might be true to some extent (just like in any other big city), however, you cannot generalize every single person in Naples as a scammer or rude.
On the contrary, the impression I got about Neapolitans during my multiple visits is that they are very friendly. As a photographer, I encounter different people face to face. Most of the time, people were open to me taking pictures of them. While dining at restaurants or pizzerias, waiters were passionate about recommending their best foods, cheerful, and easy to talk to.
21. Music of Naples is worldwide famous
Dubbed "a capital of world music", Naples has played a vital role in developing a music style that is recognized today. From the mid-18th century to the 19th century, Napoli was a flourishing metropolis where arts and creativity were also at their peak. Music was always an integral part of city life, from the chorus of the church to street and folk music, and opera. In fact, opera-buffa (a comic opera genre) originated in Naples in the 18th century.
Did you know that the most famous Italian classic romance song "O Sole Mio" was written in Neapolitan lyrics in 1898 by Giovanni Capurro. Decades later Luciano Pavarotti immortalized the opera version of this song and won a Grammy award for best classic vocal performance.
And there are many more famous songs that originated in Napoli. For example, "Funiculi Funicula" was famously performed by Andrea Bocelli.
Characterized by emotional romantic themes, Canzone Napoletana is a traditional Neapolitan music born in the 19th century. It had an impact on the Italian music scene and is widely performed today.
Meanwhile, Neapolitan Tarantella is a popular upbeat folk music genre accompanied by traditional dances.
22. Naples is crazy about football
If you are a football fanatic, Naples is a place to be to meet like-minded folks. Football (il calcio) is like an unofficial religion in Napoli with Diego Maradona treated like a god of the ball. D10S Umano, the "human God", is how the legendary player is referred to. Indeed the Argentinian-born (but Neapolitan by roots) Maradona won the most trophies for the club in the history of its existence.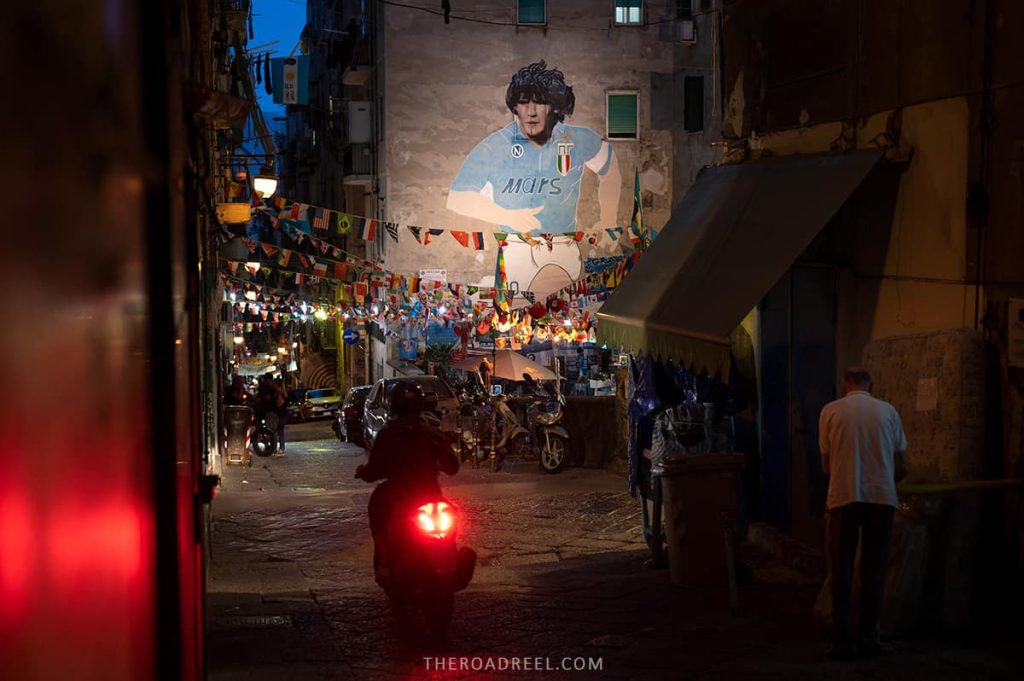 Neapolitans are seriously football-mad. The city's football club SSC Napoli is not just a football team, it's a cult. It does not take long to notice the level of devotion Neapolitans have towards football. It is a state of mind, an inseparable part of their everyday life.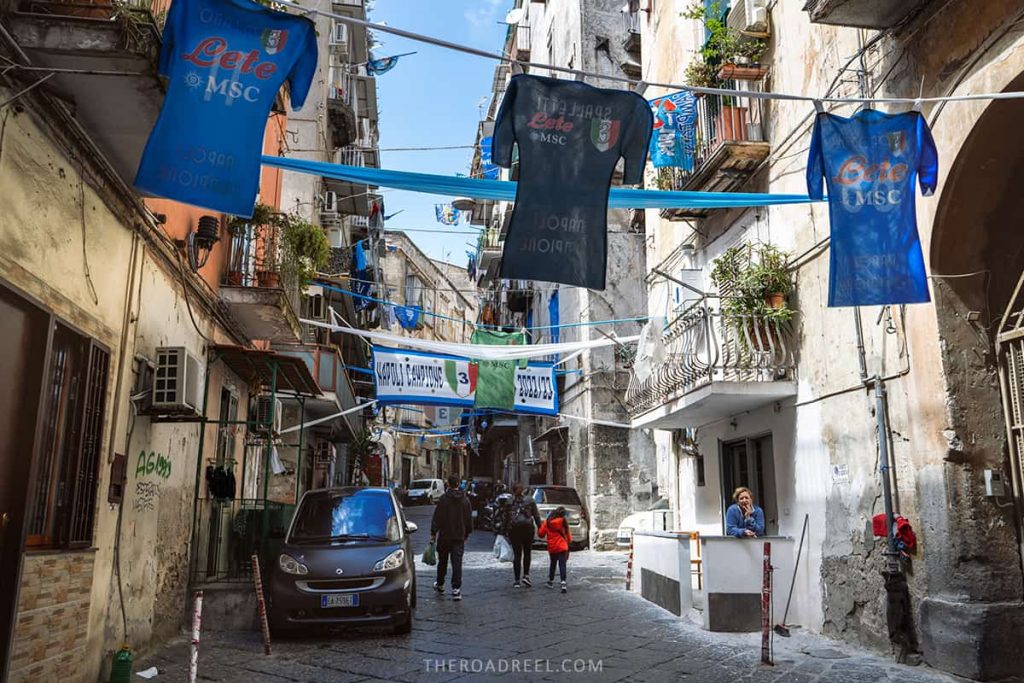 You will find all sorts of football-related attributes all around the city. Most of which is homage to Maradona found around the city. Make sure to visit the famous Diego Maradona mural and a shrine-like setup in Quertieri Spagnoli.
During my recent visit, the city was celebrating the big win in 33 years as the first Italian football league. Napoli streets were covered in football team color and bright blue flags, stretched between the balconies. It was a next-level celebration, not sure if any other city could compare.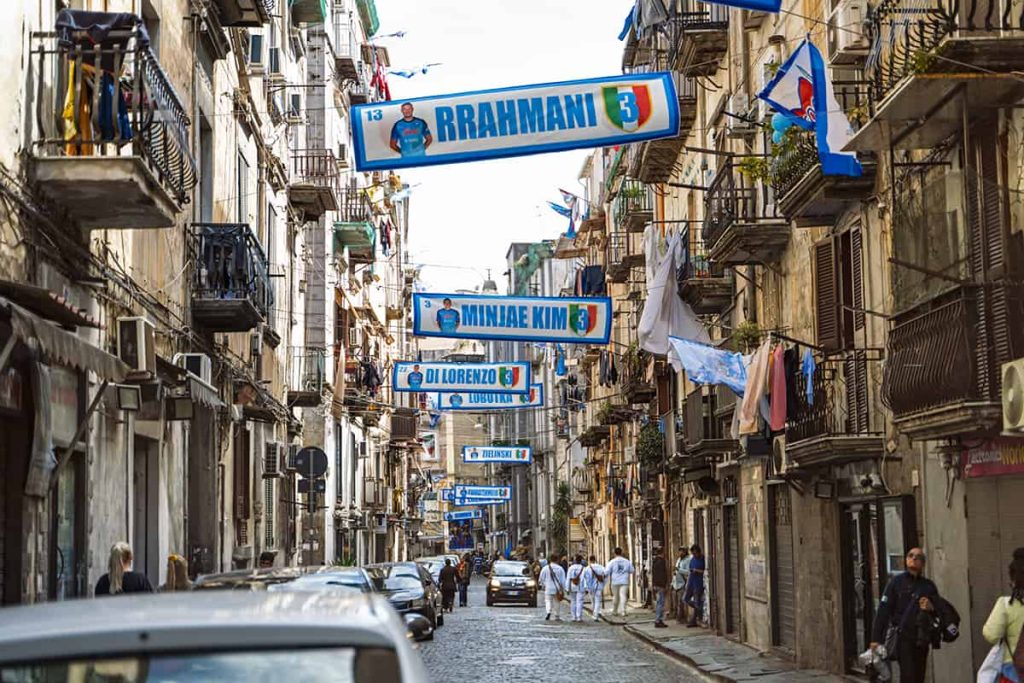 23. Naples is an overlooked city in Italy
The third largest city in Italy, Napoli almost feels like the off-the-beaten-path destination. Yes, there are tourists visiting the city but not to the extent like Rome, Florence, or Venice. Naples, due to its reputation as being dangerous and dirty, is often skipped by travelers to southern Italy. Undoubtedly, Naples is overlooked and only treated as a jump-off point to the famous Amalfi Coast.
However, I find it as a positive thing, because Naples remains a real living city. Hence, when visiting Naples, you have a sense of being part of this city life, instead of just one of the many tourists roaming around famous landmarks like it is in Rome.
Thus if you are seeking for off-the-beaten-path city in Italy, Naples is the one to visit.
Why you should NOT visit Naples? The bad and ugly side of the city
Naples might not be for everyone. And there are usually two teams of people- those who love Naples and those who absolutely hate it. There is hardly in between. And that is understandable. The following are a few points that make Naples a place to avoid when traveling in South Italy:
Unfortunately, Naples is not a clean city. At some point, the trash situation was so bad that it was known as the dirtiest city in Europe. The problem still exists, and you can see piles of trash on the streets. There is still a long way to go to fix this issue.
It is loud, busy and tiring
Naples is a densely populated city, very crowded, loud, and noisy. You might get tired easily after spending a day on the streets of Naples. I personally do not like big cities as they drag my energy down. Thus, I can easily see why Naples for someone who prefers smaller towns or nature, is not the right choice for vacation. However, to me, Naples is an exception (just like Palermo in Sicily). Ironically, visiting Napoli even felt like a breath of fresh air, and an energy boost after road-tripping around peaceful and often too quiet south Italian villages.
Is Naples safe? yes and no
Naples is not the safest city in Italy. It is the hometown of one of the deadliest criminal organizations in Italy known under the name of Camorra (like Mafia in Sicily). However, those gangs are not interested in tourists. Yet, petty crime like pickpocketing is common in Naples, and distracted tourists are often the targets. Thus, you cannot be completely relaxed when walking on the streets of Naples. The city is so populated that you must be alert to your surroundings. I would say that Naples might not be a good idea for solo traveling for some people. Nonetheless, I personally find Naples safe to visit as a tourist.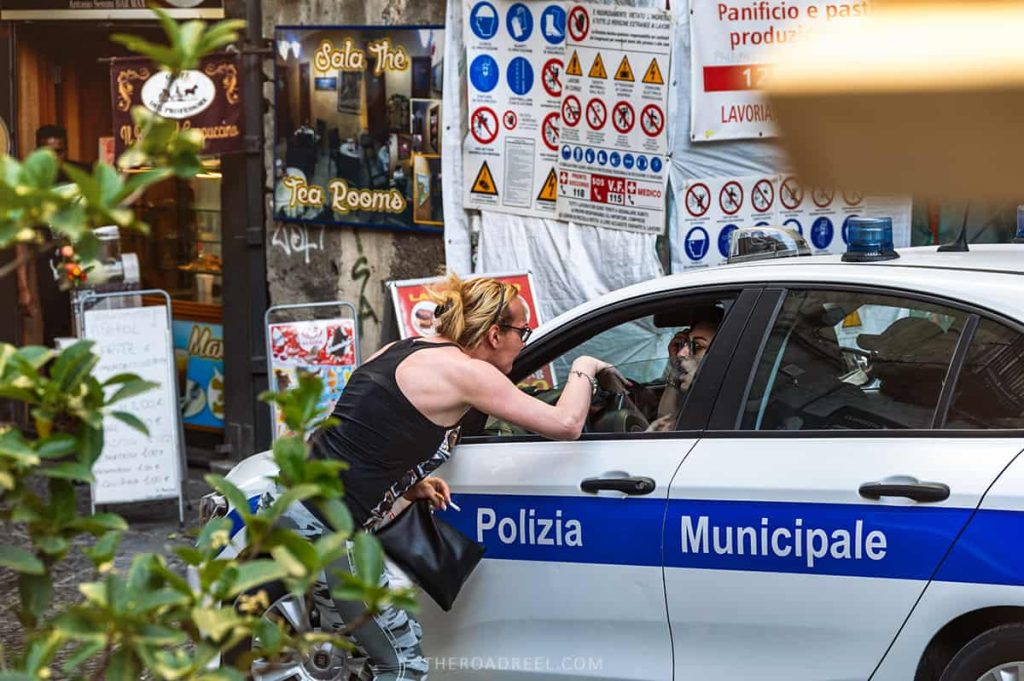 Pros and Cons of Visiting Naples, Italy
Based on personal experience and additional research, here are the pros and cons of visiting Naples as a tourist.
| PROS | CONS |
| --- | --- |
| One of the most unique cities in Italy | Dirty |
| The best pizza and amazing food | Very crowded in some central areas |
| Less expensive than other cities in Italy | Laud and tiring if you are not used to busy cities |
| Art, culture, and history are abundant | Safety- pickpocketing |
| Great base for day trips to visit Pompeii and Vesuvius | Gets very hot in summer |
| Island hopping: Capria, Ischia, Procida | |
| Less touristy than Rome or Florence | |
Pros and cons of visiting Naples Italy
Top 5 reasons for visiting Naples Italy
To wrap up here are my top 5 reasons why is Naples Italy worth visiting.
Naples is the soul of Italy and one of the most unique and authentic cities in the boot-shaped country.
Naples is the cradle of history and art which will fascinate a culture-savvy traveler.
Naples is a foodies paradise– the best pizza is not the only specialty you can enjoy eating in Naples. Naples's cuisine is rich and filled with flavors influenced by different cultures.
Naples is a perfect city for dynamic and unexpected street photography.
Naples is one of the most affordable cities in Italy with friendly locals.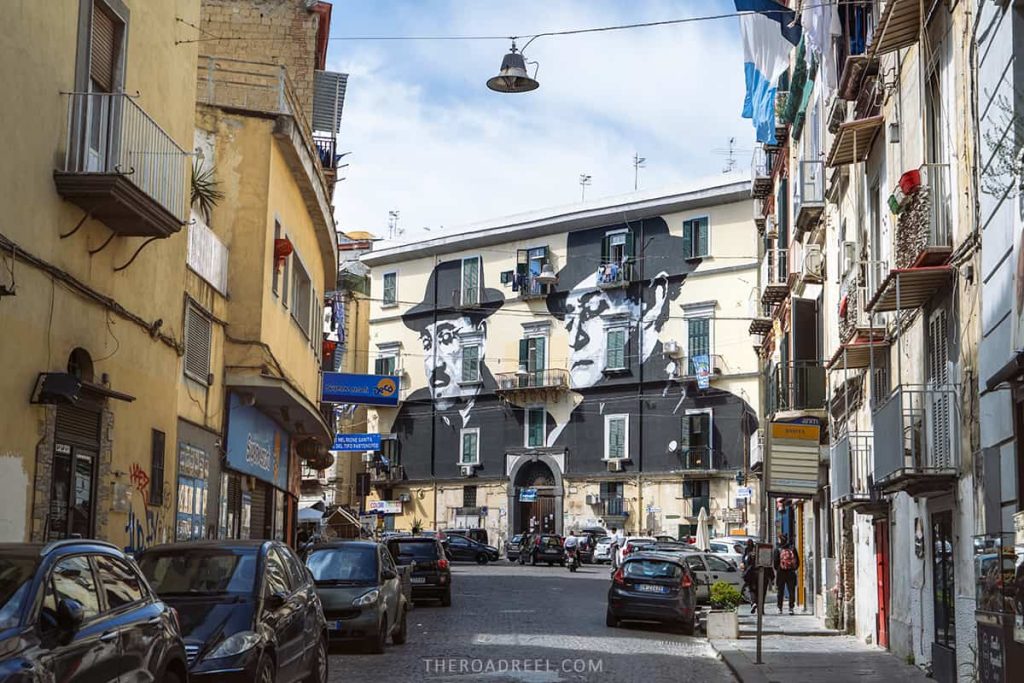 Quick links to plan your visit to Naples, Italy
Recommended places to stay in Naples, Italy
Top-rated recommended tours in Naples
More Italy travel guides
I hope you are enjoying my free travel guides & tips. You may support my work by using any of the affiliate links on this post to plan your own trip at no extra cost to you, or just buy me a coffee so I can continue creating more useful content from my favorite coffee shop in town. Thanks!