Some of the most popular and well-marked hiking trails in UAE can be found in the craggy mountains of Hajar, Fujairah Emirate. In this post, I share a new kid on the block- Wa'eeb Al Henna, Wadi Dahir (also called Sulphur) hike- an easy scenic alternative to more well-known trekking routes in the UAE.
Located in wadi Dahir, Fujeirah, also called Al Henna-Sulphur hike got its name due to the flora and geology of the area. Crystal clear and milky blue pools and salt clusters are the highlights of the trail. The abundance of water in the Dahir area makes the land fertile. Henna trees, palms, citrus, mangoes are cultivated in this area.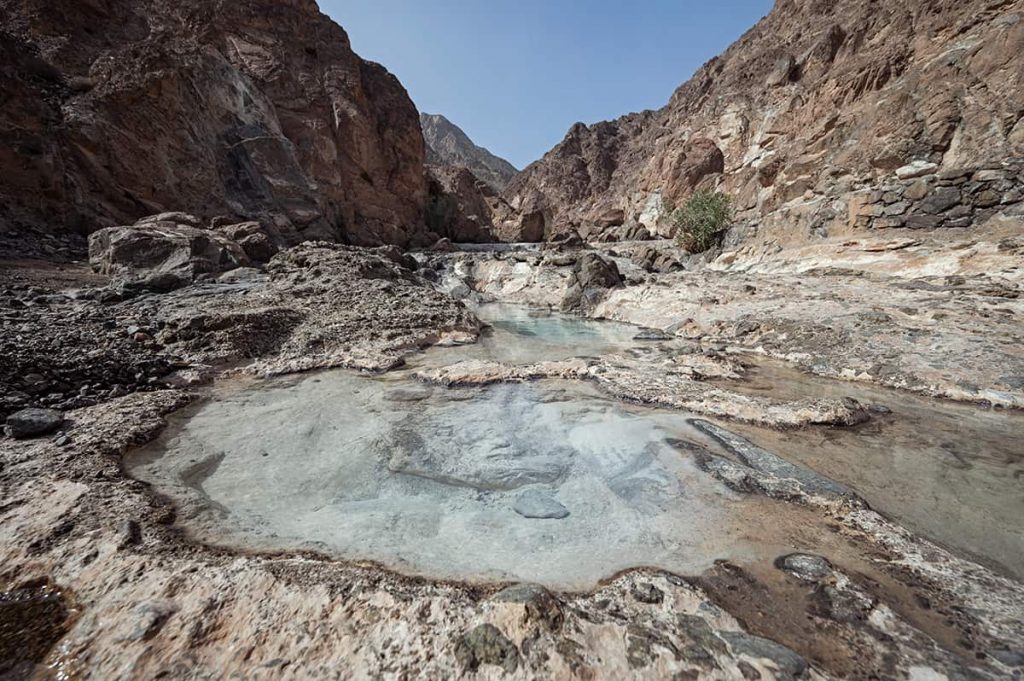 If you come after the rain, you will find even more water ponds and small pools sprinkled along the loop- something that is so rare here in the UAE mountains. However, there is even more to this trail than the sulfur ponds. I was pleasantly surprised by how diverse this relatively easy route is.
Well-marked by Fujairah adventures, the Sulphur hike is a hidden gem compared to its more famous neighbors- Rainbow Valley or Wadi Abadillah. 
That being said, while the most famous trails can get pretty crowded on a pleasant UAE winter weekend, the Al Henna-Sulphur hike is much quieter, although the word is spreading quickly. Therefore, if you are looking for a relaxed, easy, and panoramic hike with water pools, then the Henna-Sulphur trail in Fujairah emirate is a perfect one. Continue reading to find out everything you need to know about Wadi Dahir (Sulphur) trail in Fujeirah, UAE.
Disclaimer: This post contains affiliate links, which means that I may earn a commission if you make a purchase by clicking a link (at no extra cost to you). This helps to keep my blog running and grow by creating more awesome free content for you.
How to Hike Al Henna-Sulphur Trail in Fujairah, UAE
Sulphur Hike Overview
Summary: a dynamic hike through the wadi with many water ponds and small pools after the rains, sulfur pools, a hidden man-made dam, some elevated views of the Hajar mountain range, green vegetation, and frogs.
Distance: 8.4 KM (5.2 miles) loop.
Duration: 4 HRS moving at a regular pace (2.8KM per hour), but it took us 6 HRS (as we were moving at a very slow pace- 1.8 KM per hour).
Difficulty Level: beginner plus.
Minimum and Maximum Elevation: 180 M (590 ft) and 400 M (1312 ft).
Elevation gain and loss: 269 M and 269 M (882 ft).
Mobile network and Internet connection: no connection inside the wadi, the signal picked up at the higher elevation.
Is a guide needed? optional (advisable for the first-timers).
Minimum water requirement: 3 liters.
Kids friendly? yes.
Can I bring my dog? yes.
RELATED READS: Looking for more easy hikes in the UAE? Check my post where I list the best easy to easy plus hiking trails in the Emirates and Dubai: Easy Hiking Trail In the UAE.
What to expect at Al Henna-Dahir (Sulphur) trail in Fujeirah, UAE
The Sulphur hiking trail is a loop of 8.4 KM. Also, you can do just a couple of kilometers in and out. However, I would encourage doing the full trail, as there is plenty to explore and some of the most rewarding views are waiting at the last bits of the trail. 
The trail is known for the sulfur pools. Those small to medium size crystal clear water ponds can be found at the beginning of the wadi as well as at the very end of the trail.
For the majority of the route, you will be walking in the wadi. And even though it may sound like a piece of cake, come after the rain, and you will find lots of water pools to jump around. Some of them are obstructing the way, so you will have to do some bouldering and climb around on the rocks, often using both hands if you want to avoid dipping your toes in the water.
The pools are not very deep (like ankle to knee-deep mostly), therefore, if you don't feel comfortable climbing rocks, you can always pass through the water. 
Three quarters into the hike you probably will not expect anything more than another bend in the wadi. However, the last couple of kilometers will be full of surprises.
You will come across some gorgeous views of the mountain range, a man-made dam with a few trees majestically rising out of the water, and a few short steep climbs on the rolling hills. If you reach the higher elevation spots at sunset time, the views are magical when the mountains are bathed in the golden light.
The trail is very well marked with cairns (stone piles) and yellow spray arrows. There are only 2 parts not to miss.
The first one is when you are at around 5.6 km into the hike. The wadi continues towards the right, but you must lookout for a short climb uphill on your left. A huge pile of rocks and a yellow arrow is pointing towards the opening between the rocks- that is where you are supposed to go. This part is easy to be missed when you are so used to just following the gorge. In case you miss it, you will end up at a dead drop at the wadi. In this case, you will have to retrace your steps back (it will add you a couple of kilometers to the total hike distance).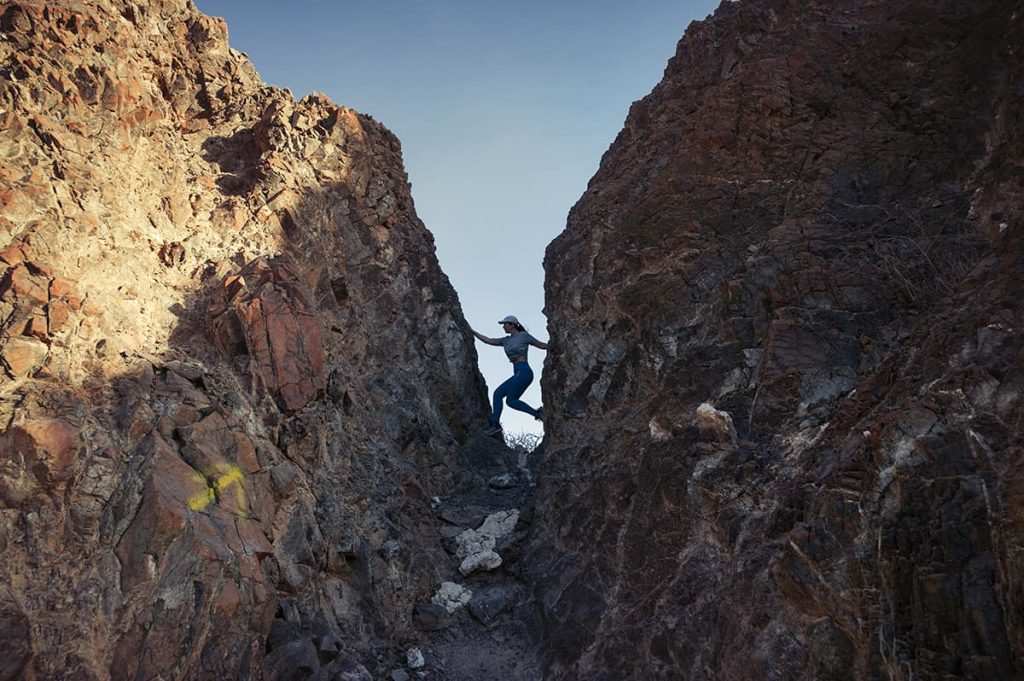 The other easy to miss turn is after the dam. As you are crossing a concrete bridge, you may instinctively want to continue straight and towards the left. But you should actually take cement steps down to the wadi which is on the right hand-side. It may seem like a "no go" at first because the cement steps aren't obvious. Therefore, once you pass the dam, look carefully and you will soon notice them.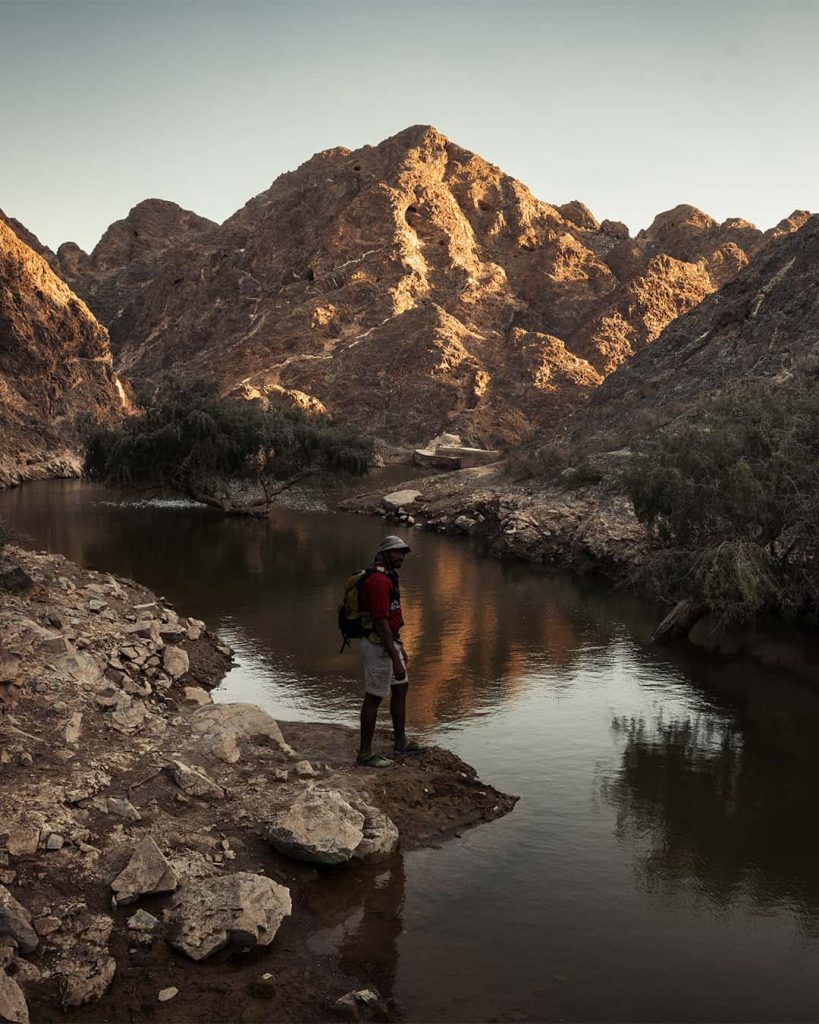 The best time to go on Al Henna-Dahir (Sulphur) hike in Fujairah, UAE
The best time to go for the Sulphur hike is during the winter months from late November to early March. If you are planning on hiking during hotter months, do it very early in the morning or towards the sunset. 
During the day, there is no shade whatsoever. Towards the evening, when the sun hides behind the rocks, you will find shaded areas and the walk becomes much more enjoyable.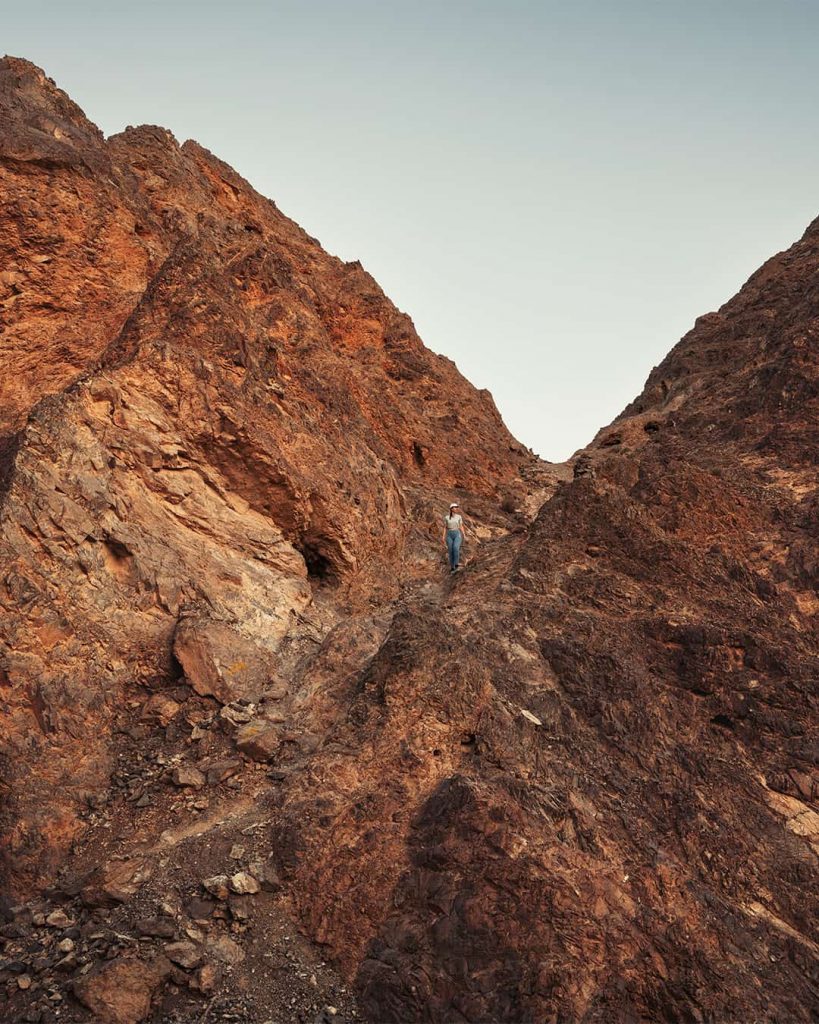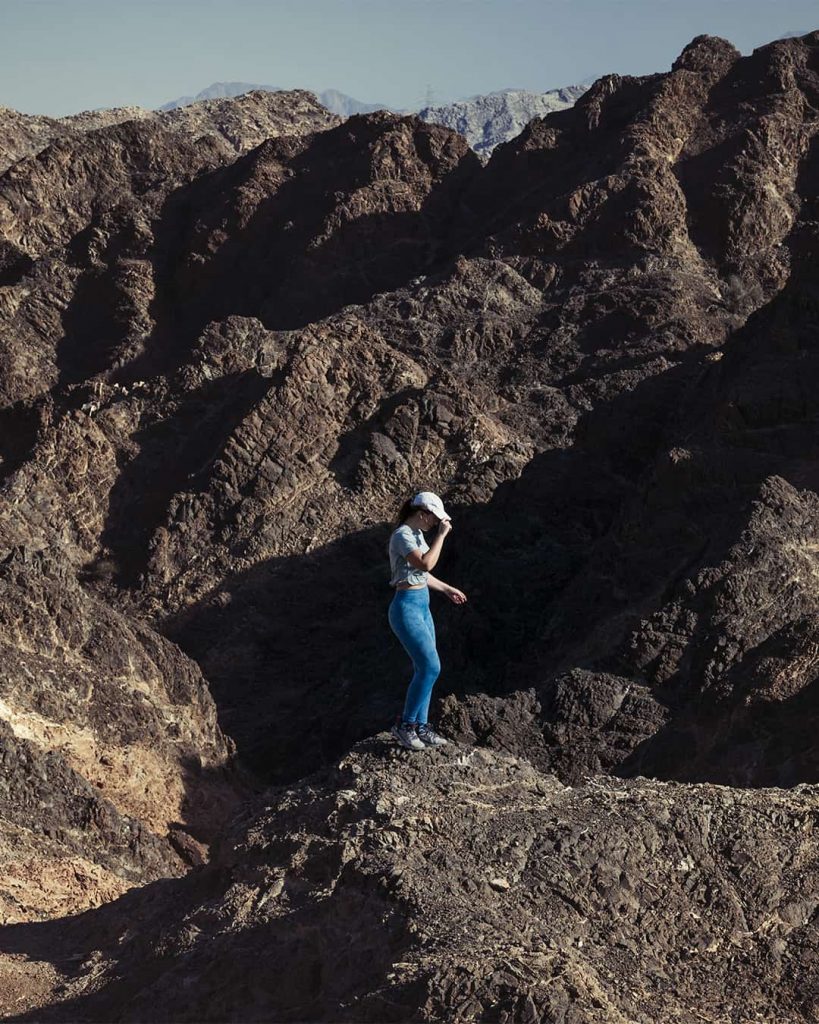 How to get to Sulphur hike trailhead (Al Henna trail location and parking)
The Sulphur trailhead is located in Dahir, (close by to rainbow valley, wadi Ghub) just off the E87 highway to Fujairah-Dibba. When coming from Dubai, it will be on the left-hand side. Therefore, you will have to make a U-turn to reach the parking spot.
Convenient parking is available up the hill close to the highway. The exact coordinates for the parking spot are: 25.541858, 56.160186. You can also find the parking spot by simply typing in Google maps "Fujairah Adventures Al Dahir Hiking Trails".
To start the hike, head towards the left-hand side (Dubai direction). You will pass one green farm on you right across a narrow mountain path leading to the first sulfur pools.
I would recommend hiking the trail in a clockwise direction, leaving the best parts for the last. 
How to prepare for the Dahir-Sulphur hike
Hiking barren UAE mountains always require being well prepared. The rough terrain and hot climate can be unforgiving, especially during hotter months.
Here is a checklist of what to bring to the Sulphur hike:
3 liters of water. In the UAE weather is hot all year round, always take more water than you think you may need.
Lightweight power snacks like dates, bananas, protein bars. Also, electrolyte drink aside from water makes wanders during long sweaty hours.
Sturdy footwear with good grip. The terrains are rough and rocky. Therefore, it is very important you are wearing shoes, ideally mid-ankle height, that have good grip. It will prevent you fromslipping and twisting your ankles.
Comfy and functional backpack. For a half-day hike you don't need much supplies to fit in. Still, a backpack with a good back support and, ideally, a space for water bladder, makes a difference. Check out this Osprey backpack chich is great for day hikes.
Get a water bladder if you are planning to make hiking a regular acitivty. Water bladder has a straw. This means you don't have to remove your backpack when you want to drink water. Also, water, when filled in the bladder, is evenly distributed in the backpack. I use my two or three liter camel backs (depending on how long the hike is). You can check prices here on Amazon.
Sunsreen, cap and sun glasses.
Comfy sweat wicking clothes. I usually hike in gym or hiking leggings and t-shirts. For winter months, I also take a lightweight fleece as mornings and evenings can be chilly in the mountains.
Hiking poles. It is not a must but very helpful for the descending part. It can be quite tough for the knees when climbing down. For the light weight foldable trekking poles check this pair at Amazon.
Basic first aid kit. Terrains are rough and sometimes mini injuries can happen. Even as simple as getting a blister. So having plaster for this type of emergency can really make or break your hike.
Power bank to keep your phone charged.
I hope this guide inspired you to hike beautiful UAE mountains! If you have any questions, please feel free to get in touch.
STAY SAFE ON YOUR HIKE AND KEEP THE NATURE CLEAN!
MY HIKING PHOTOGRAPHY AND VIDEOGRAPHY GEAR
I often get asked about the photography gear I use during my hikes. The reality is, my hiking bag is usually quite heavy because I carry all sorts of equipment in my backpack. Here is what I use to capture my adventures and the beauty of the mountains:
DUBAI, UNITED ARAB EMIRATES TRAVEL RESOURCES
Planning your trip to Dubai, United Arab Emirates soon? Below are some useful links to help organize your trip.