Planning on visiting Ragusa, the Baroque hilltop town in Sicily? In my easy guide to Ragusa, you will find the best things to do in Ragusa Ibla and around, recommended accommodations, great places to eat, and useful tips for getting to and around the town. 
Rising on the Hyblaenian Mountains in the heart of Val di Noto, Ragusa is one of the most picturesque towns in southeast Sicily. Beige hue buildings line up narrow steep alleys while towering baroque churches and sumptuous palazzi pamper Ragusa's skyline which can be admired from several elevated viewpoints. 
Holding UNESCO heritage status, elegant Ragusa was raised like Phoenix from ashes after the devastating earthquake in 1693 destroyed many towns in the area. 
This is when a split into Ragusa Superiore (Upper) and Ragusa Ibla (lower) happened and shaped two completely different faces of the city. 
The modern and more practical residential part of Ragusa Superiore was built on a higher plateau of the mountain. However, not all the residents wanted to leave their former homes. Instead, they rolled the sleeves up and rebuilt Ragusa Ibla atop the network of medieval streets in a decorative Baroque style. Indeed they did not imagine today's Ragusa Ibla will be praised as an architectural masterpiece visited by tourists from around the world and even featured in the well-known TV series Inspector Montalbano. 
Illustrated with many photos, this guide will help you easily plan your visit to Ragusa in Sicily.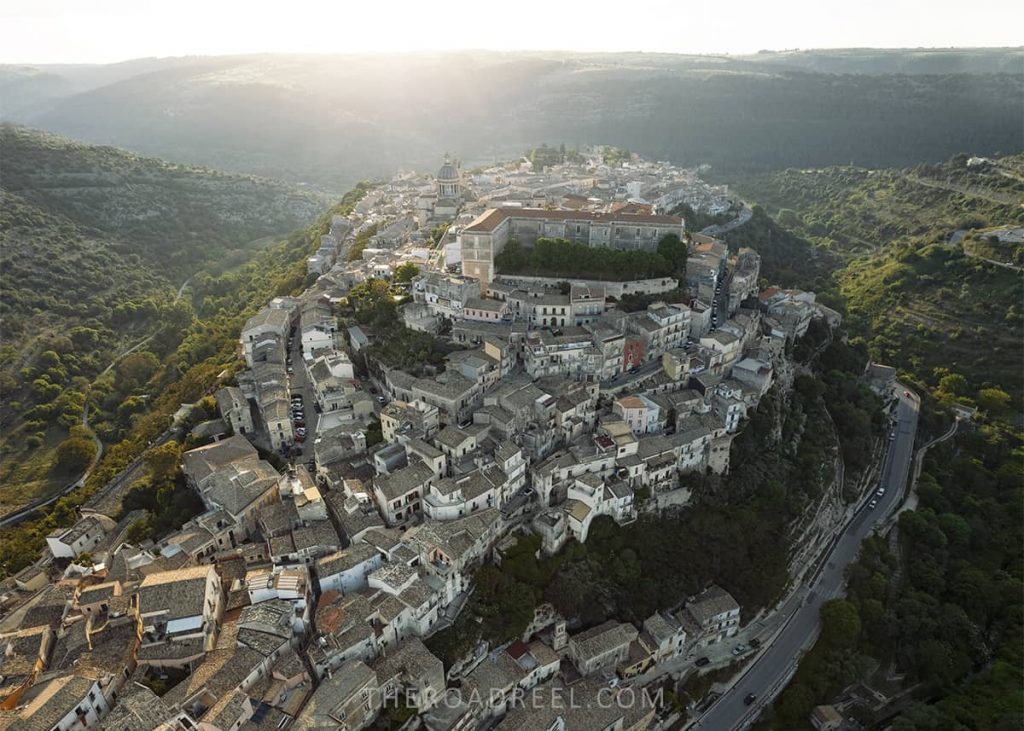 Disclaimer: This post contains affiliate links, which means that I may earn a commission if you make a purchase by clicking a link (at no extra cost to you). This helps to keep my blog running and growing by creating more awesome free content for you.
How to visit Ragusa in Sicily
Ragusa quick links
Why visit Ragusa? 
Sophisticated Ragusa Ibla pulsates with the old world's charm and is a must-visit place in Sicily if you love romantic small towns characterized by a maze of narrow streets and beautiful architecture. 
To me, Ragusa was one of the highlights of our Sicily road trip. From stunning viewpoints of Ragusa, waking up to the ringing bells of ages-old churches, watching elegant gentlemen stepping out from their palazzi for a morning catch-up over a cup of coffee, to recording timelapse of the street lights coming up, and discovering how surprisingly different are the two faces of Ragusa.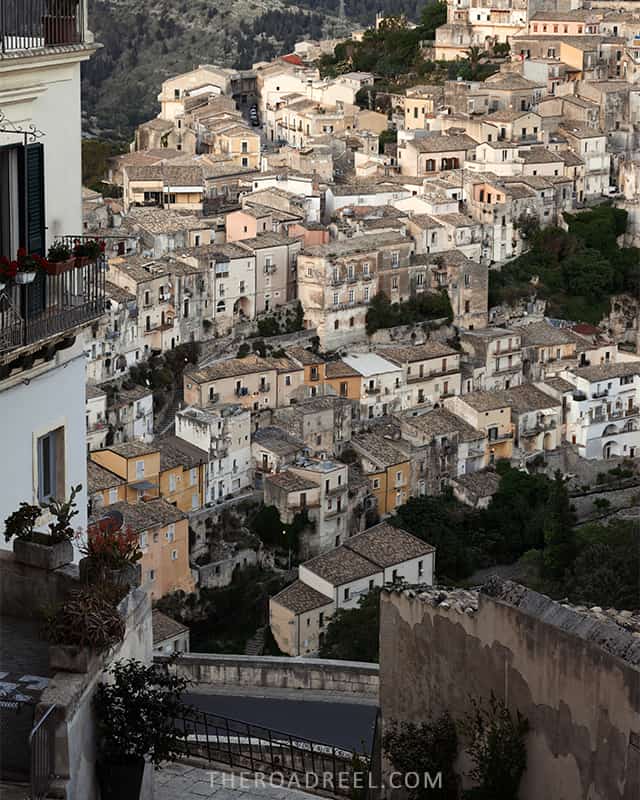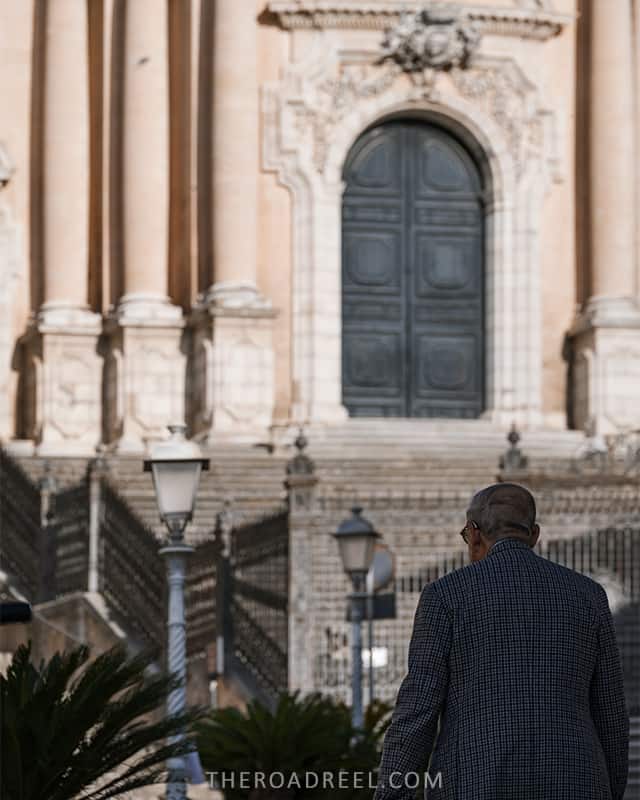 The best time to visit Ragusa in Sicily
You can visit Ragusa any time of the year. However, you may want to take a few notes when choosing the time to go.
Best time/shoulder season: For the most pleasant temperatures, early-mid autumn, and mid-spring is perfect.
For the least crowds but colder weather: Although Ragusa is not particularly crowded with tourists, to have the town completely to yourself, come in winter. 
Avoid: It gets particularly hot in summer (June, July, and August) with temperatures soaring over 30 degrees celsius, which feels way worse inland. I visited Ragusa in mid-May and even then the temperatures already started hitting 30 degrees celsius at midday.
Should you stay in Ragusa Ibla or Superiore?
On my 2-week road trip in Sicily, I picked Ragusa as a base for a couple of nights. If you are wondering which Val di Noto town you should stay at, then I strongly recommend staying in Ragusa Ibla (the old lower part). The old Ragusa is filled with amazing guesthouses, elegant hotels, and cozy self-contained apartments in the old atmospheric buildings. Many of them have balconies or terraces with superb views over the town.
My top picks for accommodation in Ragusa Ibla:
Top Tip: if you are driving in Sicily, before booking your accommodation in Ragusa Ibla make sure that it provides free parking as it can be tricky to find a spot. 
If you don't want to deal with parking drama in the old town, you can always choose to stay in a less romantic Ragusa Superiore, where it is easier to drive around and park. You can always walk down to Ragusa Ibla. Remember though, that most of the attractions lay within Ragusa Ibla, where you must likely spend most of your time. To get to and back from Superiore to Ibla, you will have to tackle lots of steep steps connecting the two faces of the city.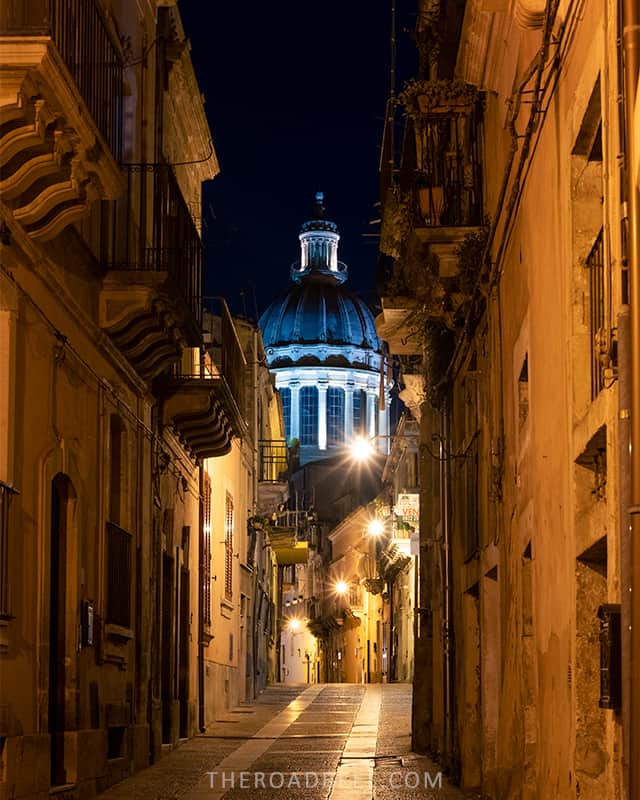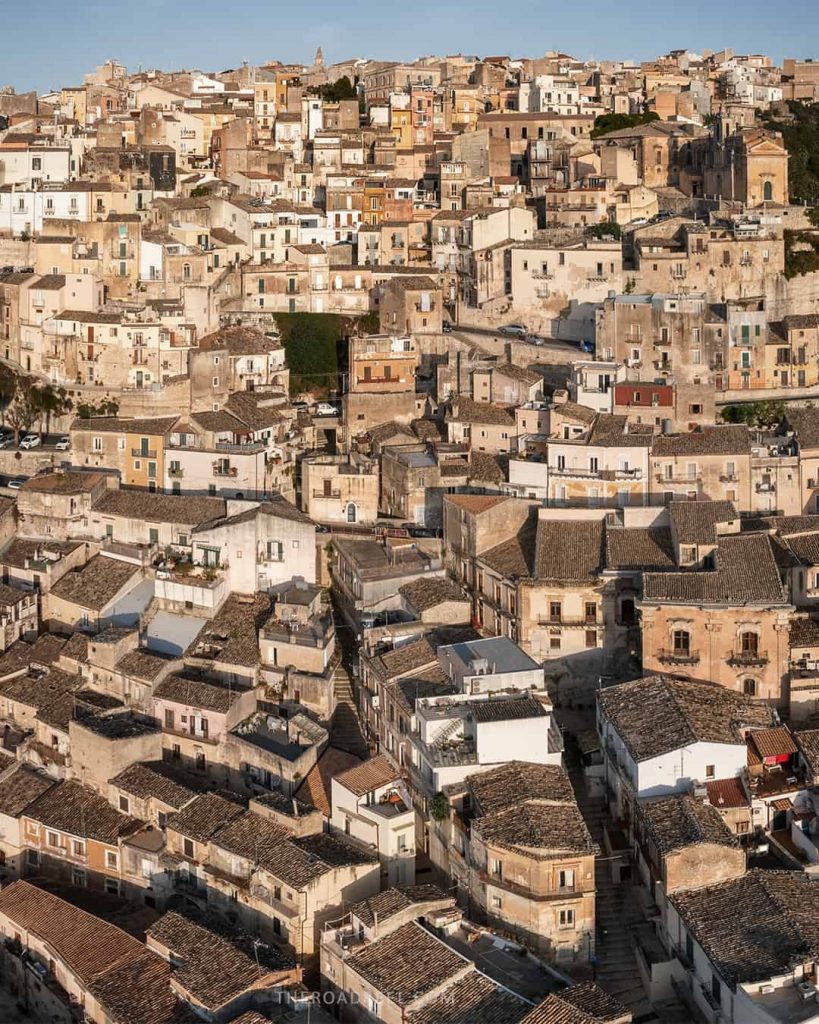 Parking in Ragusa
Ragusa Ibla has narrow streets and also ZTL zones which you as a visitor, should not enter with a car by any means if you don't want to receive a hefty fine. If you booked accommodation in the old town, make sure to ask your hosts to advise you about parking and the ZTL situation.
Our host showed us a ZTL-free street to park our car (although it was a tough search even for him). Alternatively, there is a small free parking lot at the bottom of Ragusa Ibla called "Via Avvocato Giovanni Ottaviano Parking" (type it on Google Maps and it will show up). There aren't many spots, but you can get lucky (we did when we came back from our day trip to Modica). You can leave your car there and if you are just staying in town, walk everywhere instead as it doesn't make sense driving the confusing narrow alleyways of Ragusa Ibla.
Also read: 21 tips for renting a car and driving in Sicily stress-free. Here you will find more details about ZTL and parking rules in Sicily. 
If you are looking for a great deal to rent a car in Sicily, I recommend checking Discovercars. This search engine gives some of the best rates in the market, and that's where we got our ride from. You can also cross-check with Rentalscars-one of the largest car search aggregators in the market. 
Compare the best car rental rates in Sicily with international car hire companies at Discovercars.
I also recommend cross-checking the offers with the biggest car search engine Rentalcars.
If you are staying in Ragusa Superiore, the parking should be much easier. The only challenge (or maybe an excuse to get a workout) you will have is to walk up and down to the old town.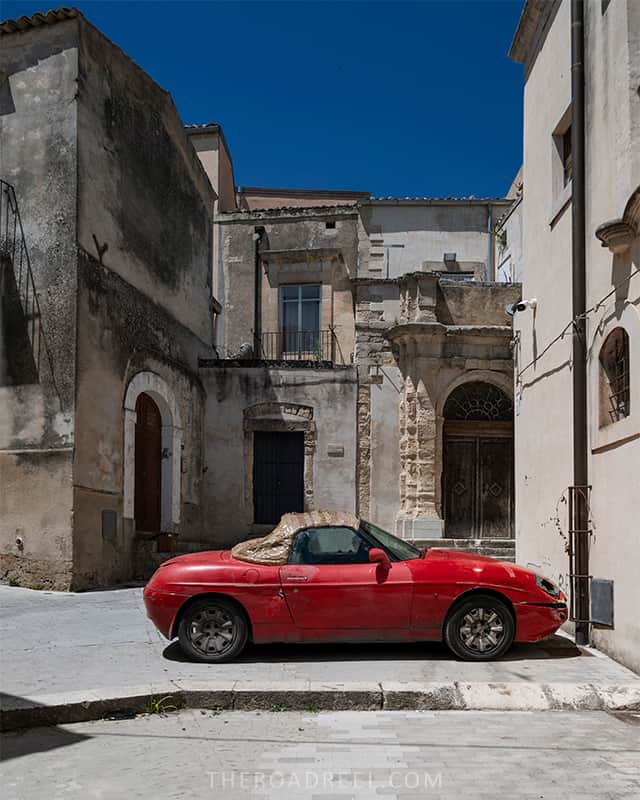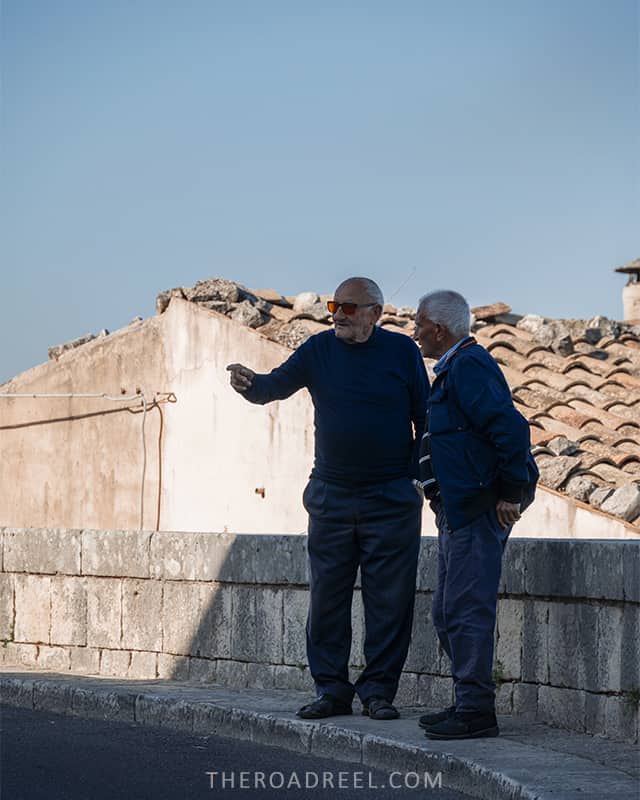 13 amazing things to do in Ragusa, Sicily 
1. Admire panoramic viewpoints of Ragusa Ibla
One of the reasons I chose to visit Ragusa was the magical views I have seen in the pictures on the Internet. Indeed Ragusa is a photographer's dream! The panoramic views over the rooftops of the Ragusa Ibla are one of the best you will find in the whole of Sicily. Sunset and dusk are ideal times to enjoy the iconic elevated view over Ragusa Ibla. 
There are two viewpoints of Ragusa you should not miss:
Church of Saint Mary of the Stairs (Chiesa di Santa Maria delle Scale) viewpoint. A staircase of 243 steep stone steps connects Ragusa Ibla to Ragusa Superiore. Following them from the old town of Ragusa, you will reach the Saint Mary church at the top. Your effort will be rewarded with the perfect postcard view of Ragusa's rooftops framed by the Saint Mary church bell tower.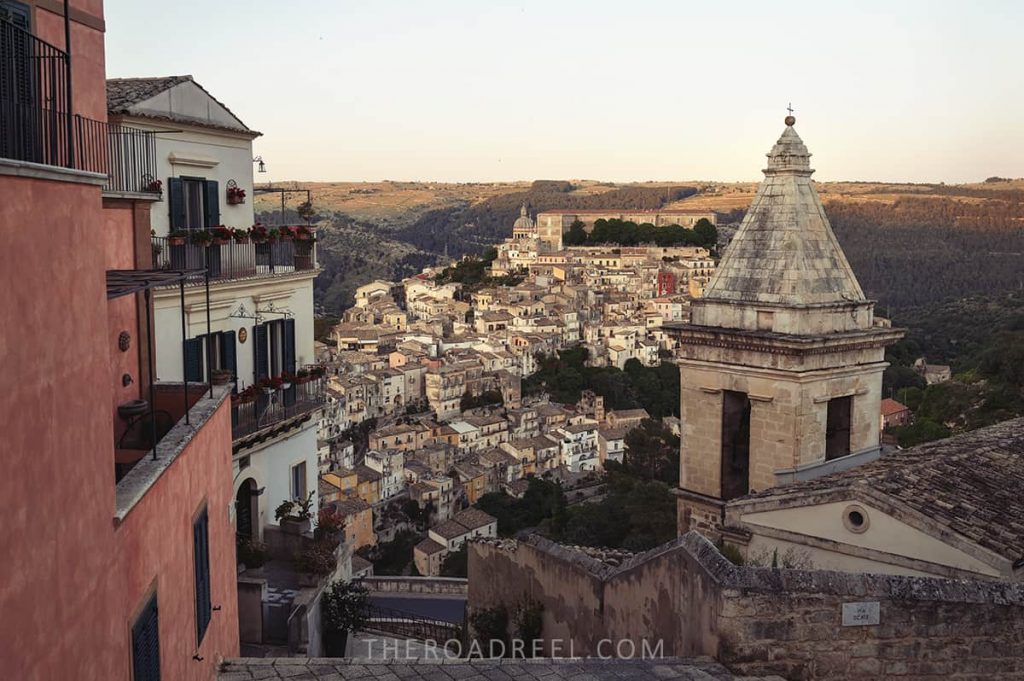 Chiesa di Santa Maria dell'Itria viewpoint. Just 200 meters down from Chiesa delle Scalle following Corso Mazzini street you will reach a small viewing platform with an unobstructed view over Ragusa Ibla. The beautiful little blue dome of Chiesa di Santa Maria dell'Itria stands out among the honey-hued buildings. This is the other iconic place to photograph Ragusa Ibla from.
Top Tip: Some of the best views of Ragusa Ibla are during the blue hour (at dusk) when the street and building lights come up. Thus once the sun sets, stick around to witness the beauty of illuminated Ragusa Ibla.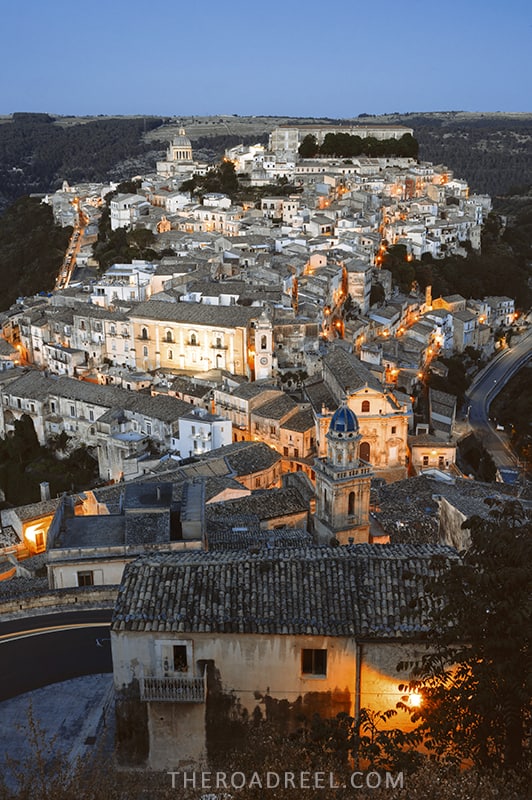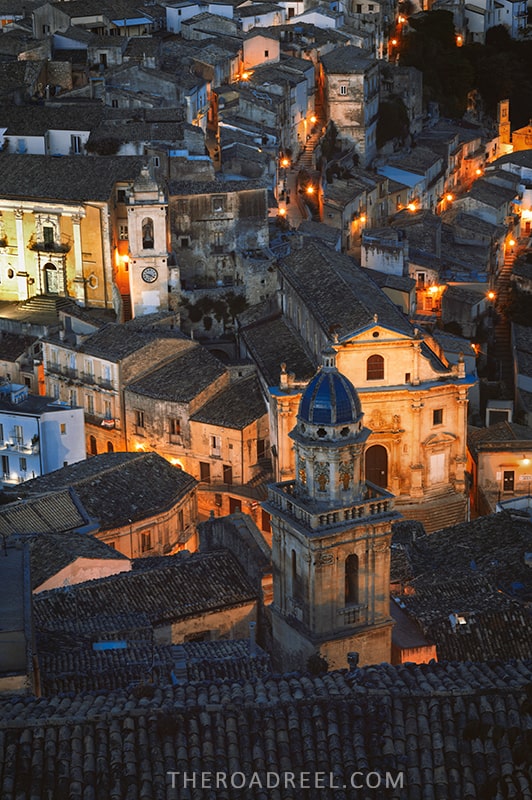 2. Soak up the atmosphere of Ragusa Ibla by wandering the maze of tangled alleyways
Ragusa Ibla is one of those cozy historic old towns with many intertwining narrow streets. Aimlessly follow the maze of cobblestone alleyways to discover pretty corners, courtyards, and yet more different viewpoints and perspectives of Ragusa Ibla.
Ragusa Ibla is a type of place where you find your way around by getting lost. Notice intricate details on the balconies and building. Baroque architecture is extremely decorative and elaborate. Therefore, you will find yourself busy spotting many surprising elements.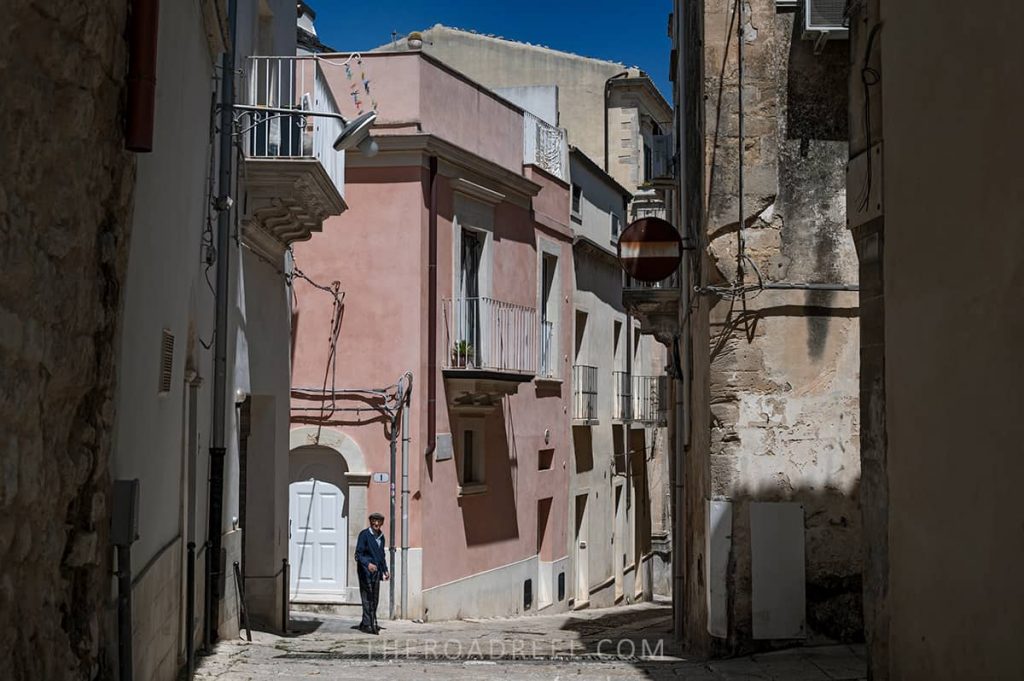 3. Appreciate Baroque architecture at Piazza del Duomo di San Giorgio- the beating heart of Ragusa Ibla
As accustomed to every historic town in Sicily and Italy, there is a central square (piazza del duomo) where the main Cathedral building is located. Moreover, most of the action in town is usually happening around it.
Duomo di San Giorgio Cathedral is the central piece of the finest Baroque architecture examples not only in Ragusa but also in all of Sicily. Located on a sloped hill with a flight of over 200 stairs leading to its facade, 18th century San Giorgio Church took 40 years to complete. An impressive neoclassical dome was added later in 1820. The credit for the creation of this imposing building goes to Rosario Gagliardi, a Sicilian architect, who had a significant impact on the further development of the Baroque architectural style in Sicily.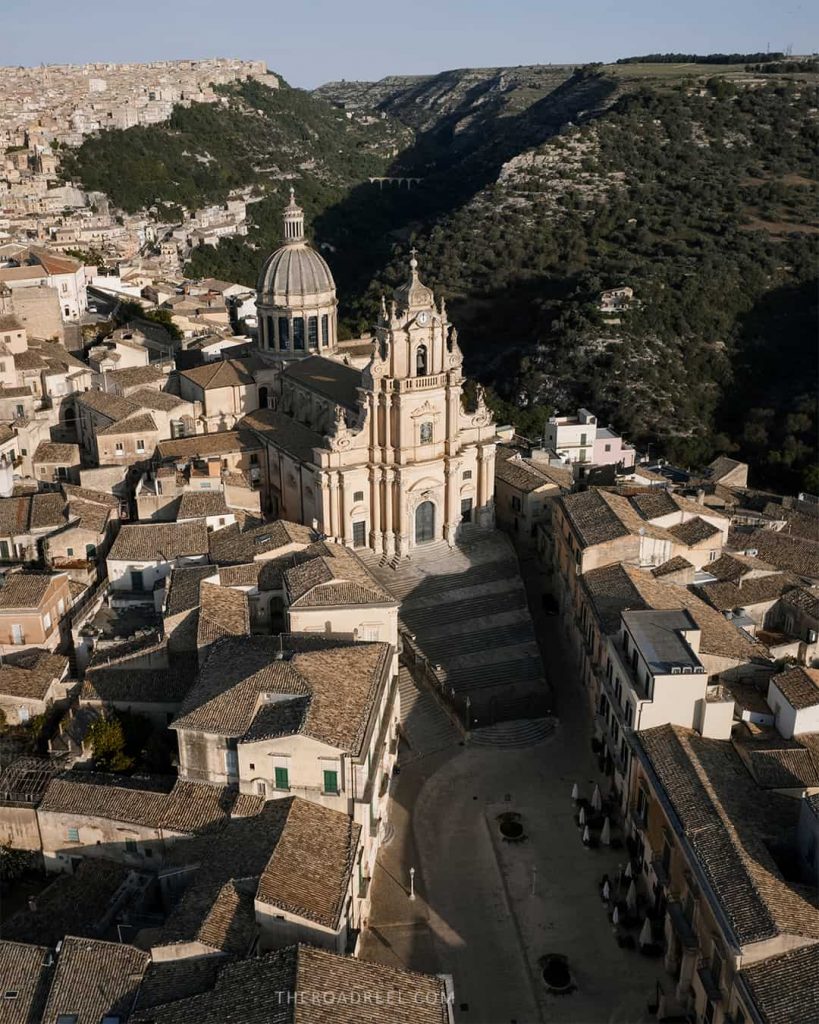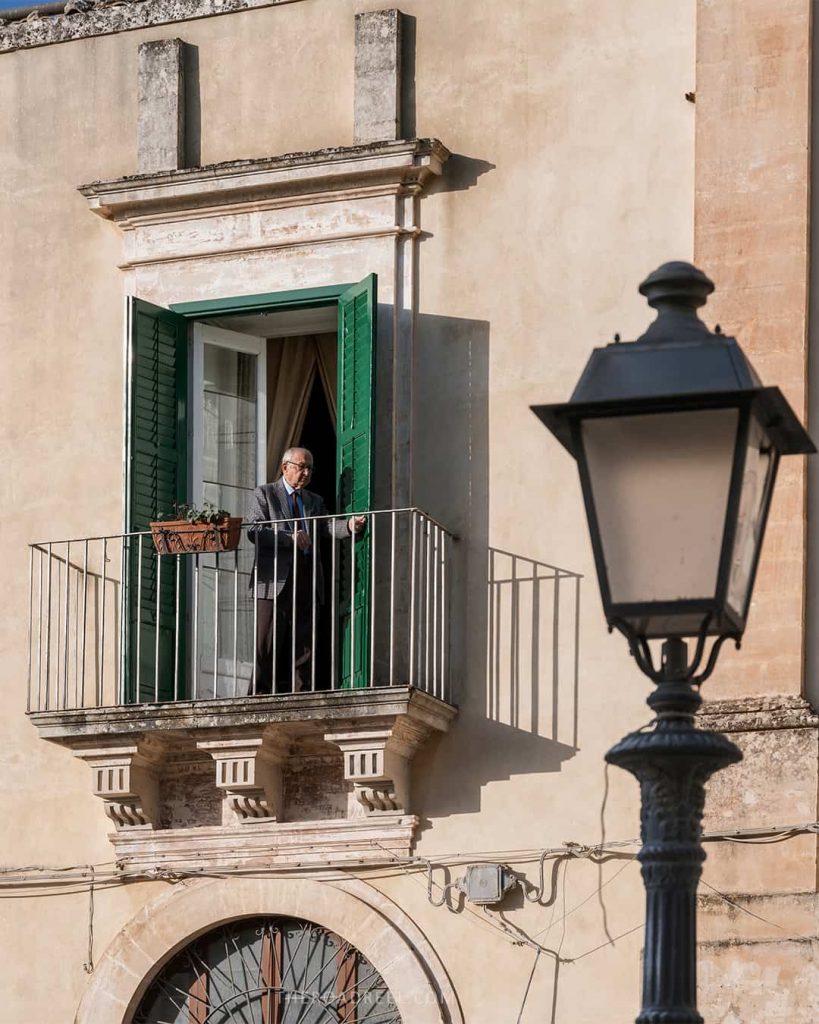 Make sure to also visit Duomo di San Giorgio after dusk (late evening). The church illuminated with lights looks even more magical and mysterious. Meanwhile, the piazza del duomo comes to life at night with people gathering in lively Sicilian tavernas, restaurants, and bars.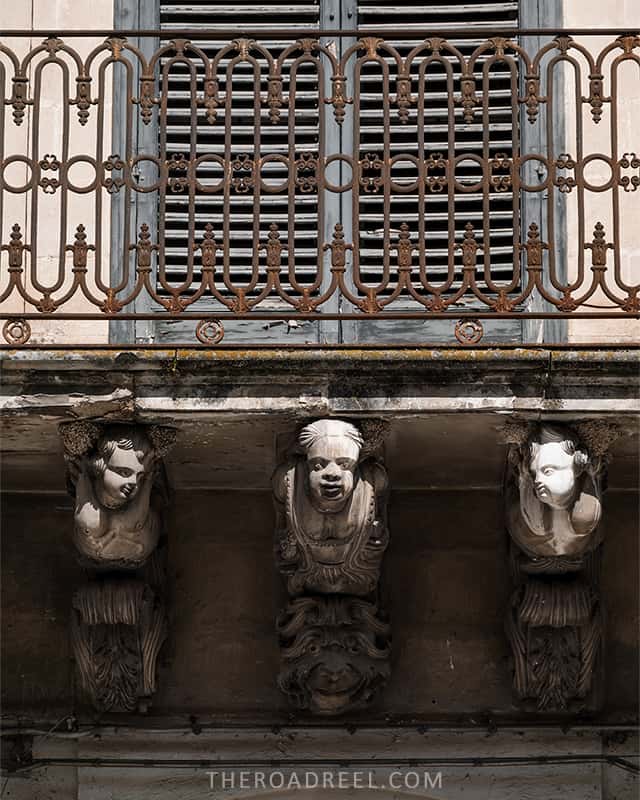 4. Discover more of the wonderful Baroque churches
There are at least 50 baroque churches in Ragusa, and you must be really obsessed with churches to visit them all in a day or two. Nonetheless, since most travelers have limited time, here are a few other important beautiful baroque churches of Ragusa:
Chiesa di San Giuseppe. Located just a hundred meters downhill from piazza del Duomo, this 18th-century church is known for its elegant Baroque facade and a beautiful fresco of the internal cupola. 
Chiesa di Santa Maria dell'Itria. Characterized by the Maiolica roofed blue bell tower- one of the most distinctive elements of Ragusa's skyline. You will notice the blue dome immediately from the viewpoint mentioned above. Situated in the former Jewish quarter of Ibla, this church dates back to the 14th century. Surviving the earthquake with minor damage, it was modified to match the baroque style of the 18th century.
Chiesa della Santissime Anime del Purgatorio. Located in the Piazza della Repubblica this church was practically untouched by the devastating 1693 earthquake. The church is dedicated to all the souls in Purgatory and is known for Francesco Manno's painting, Anime in Purgatorio.
The Cathedral of San Giovani Battista. Located in Ragusa Superiore, this evocative cathedral rich in elaborate details and sculptures is the central house of worship in "modern" Ragusa. Created by the same superstar architect Rosario Gagliardi, the Baroque facade of the cathedral is characterized by asymmetrical design. 
TIP: If you are hungry for more wonderful views over Ragusa, you can climb to the campanile of the Cathedral of San Giovani Battista. Tackling 129 steps will cost you 2 euros.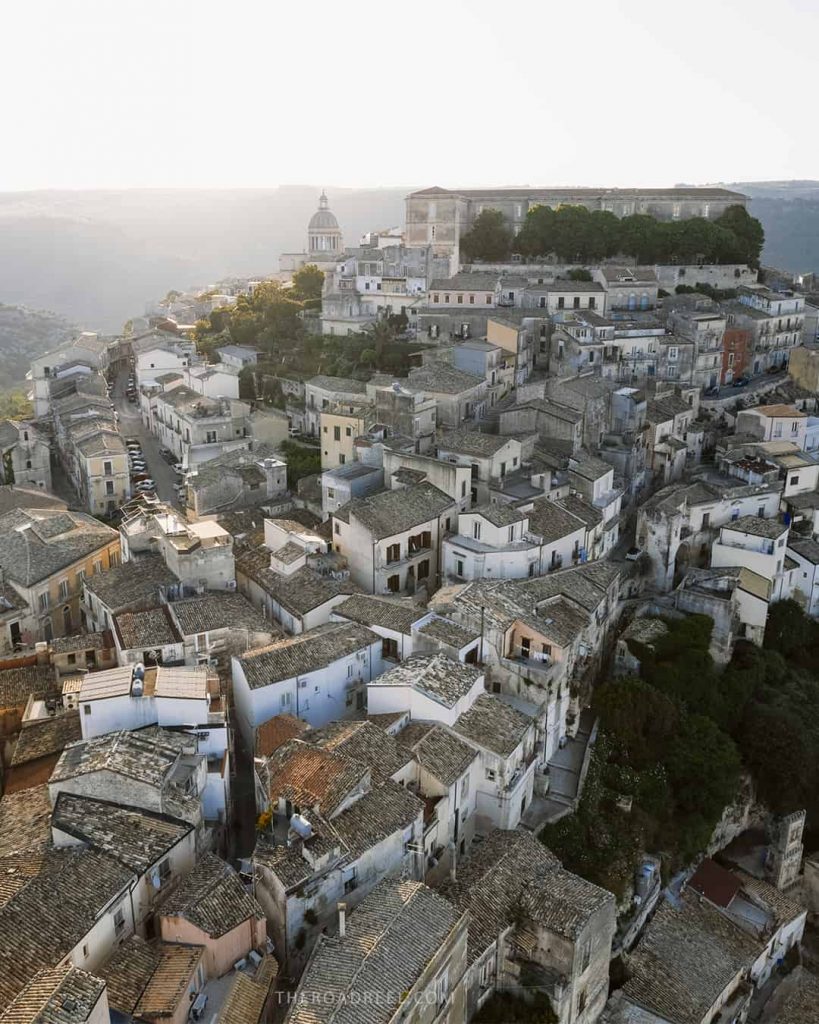 5. Spot street art in Ragusa Ibla and Superiore
Ragusa Ibla doesn't leave any of its corners blank. While strolling along one of the main streets, we stumbled upon a mural, creatively decorating a boring gray wall that would otherwise have looked like a blank empty spot. Instead, a colorful mural fills up the grey space and adds more character and a modern twist to the old city. 
There is more street art scattered between the upper and lower parts of Ragusa. In fact, these murals are the result of the famous street art event The FestiWall. During the event, Ragusa's walls were used as a canvas by famous international artists, such as Guido Van Helten (look for Una Madre Siciliana mural) and Sebastián Velasco.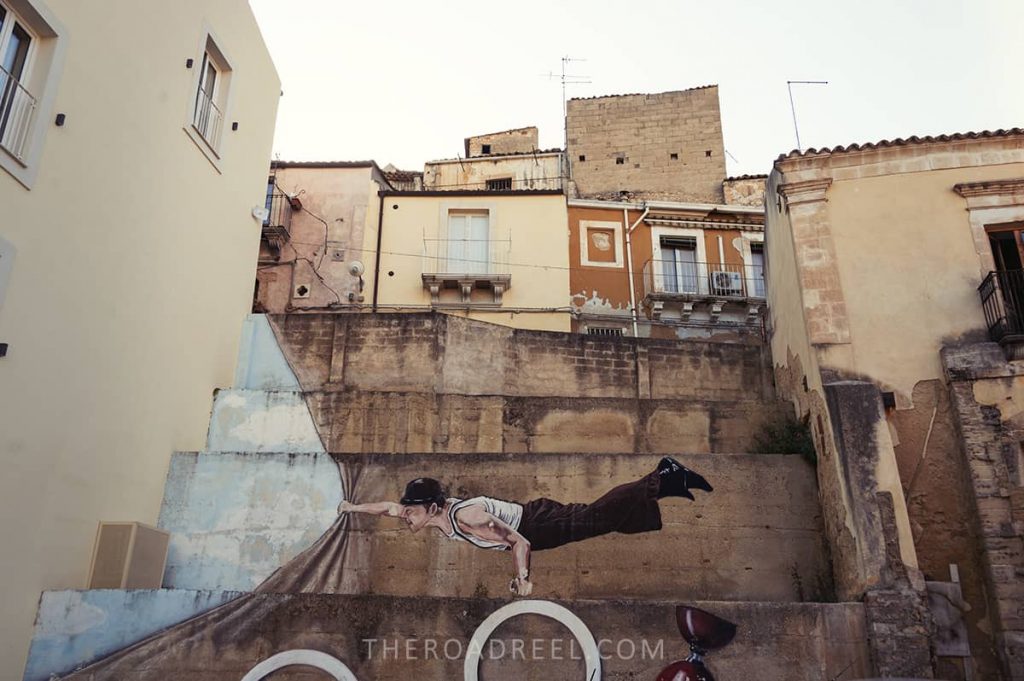 6. Find a shade in Ibleo Gardens-green heart of Ragusa Ibla
Following Corso XXV Aprile you will reach the green space of Ragusa- an elaborate garden Giardino Ibleo lined with elegant palm trees and filled with various Mediterranean plants. This beautiful natural corner established in 1858, offers relief in the shade on a hot summer day and a refreshing escape from the stone-paved streets and buildings. Yet, in the garden, you will still find three baroque churches (San Domenico, San Giacomo, and the Capuchin Church) and an archeological excavation with some important findings from the ancient times of Ragusa Ibla. 
Once in the garden, make sure to stroll until the far end for some wonderful views of the surrounding countryside. 
Do not miss the gothic portal of Portale San Giorgio Vecchio–  the only remaining element of the destroyed cathedral. It is located in the small street on the right-hand side of the Ibleo Garden entrance. 
The Gardenio Ibleo opening hours are 8 AM – 8 PM. The entrance is free.
7. Explore the gritty corners of Ragusa Superiore
Ragusa Superiore, although considered a modern part of the town, is not that new or modern after all. In fact, it is still quite old, granted it was established immediately after the 1693 earthquake. Superiore doesn't lack interesting architectural elements, and decorative details, just buildings here are somewhat taller and less manicured than in Ibla. 
Yet the atmosphere of the upper part of the town is far from dreamy and romantic. 
Continuing up, past the viewpoint at Church of Saint Marry of the Stairs, you will immediately encounter a different face of Ragusa- gritty, rough around its corners, and I would dare to say tired working-class city, vibing more with Palermo or Catania than a tranquil mountain town. 
The audience of locals instantly changes from elegantly dressed elderly aristocrats to let's admit suspiciously looking groups of mid-aged men in tracksuits. 
Gathering at the piazza San Giovani, the main square of Ragusa Superiore, those dudes were staring at us as if they have never seen foreign visitors before.
Meanwhile, we were admiring the Grand Cathedral of San Giovani– the above-mentioned baroque church you shouldn't miss. Apart from it, and a few other old churches, there aren't as many historically acclaimed attractions. Nonetheless, Ragusa Superiore is a place to be experienced rather than visited with the aim of ticking off the list of famous buildings.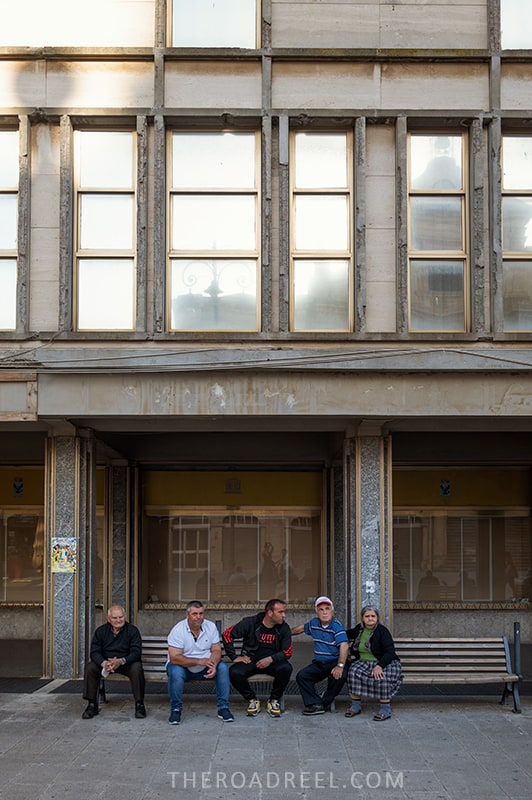 After a few more leg muscle-killing inclines, before turning downhill to Ragusa Ibla, we grabbed some great takeaway pizza. The pizzeria that I found on Google Maps turned out to be featured in several publications because of its skilled Pizzaro who proudly displayed his certificates of excellence on the pizzeria's tiny walls.
While walking in Ragusa Superiore, I noticed quite a few funky bars based on the ground floors of characteristic old buildings. Something that you do not see in a more sophisticated Ragusa Ibla. 
When visiting Ragusa, definitely make sure to visit the upper part ("new" part) to fully comprehend what this town of two faces is about. 
8. Cross the bridges in Ragusa Superiore
Ragusa Superiore is also called "the city of the bridges". Three picturesque arched bridges are crossing a green valley. 
Those are Ponte Vecchio, Ponte Nuovo, and Ponte Giovanni XXIII (or Ponte San Vito), overlooking Cava di Santa Domenica, the valley beneath. It is a place we missed out on but it looks pretty cool from a photography perspective.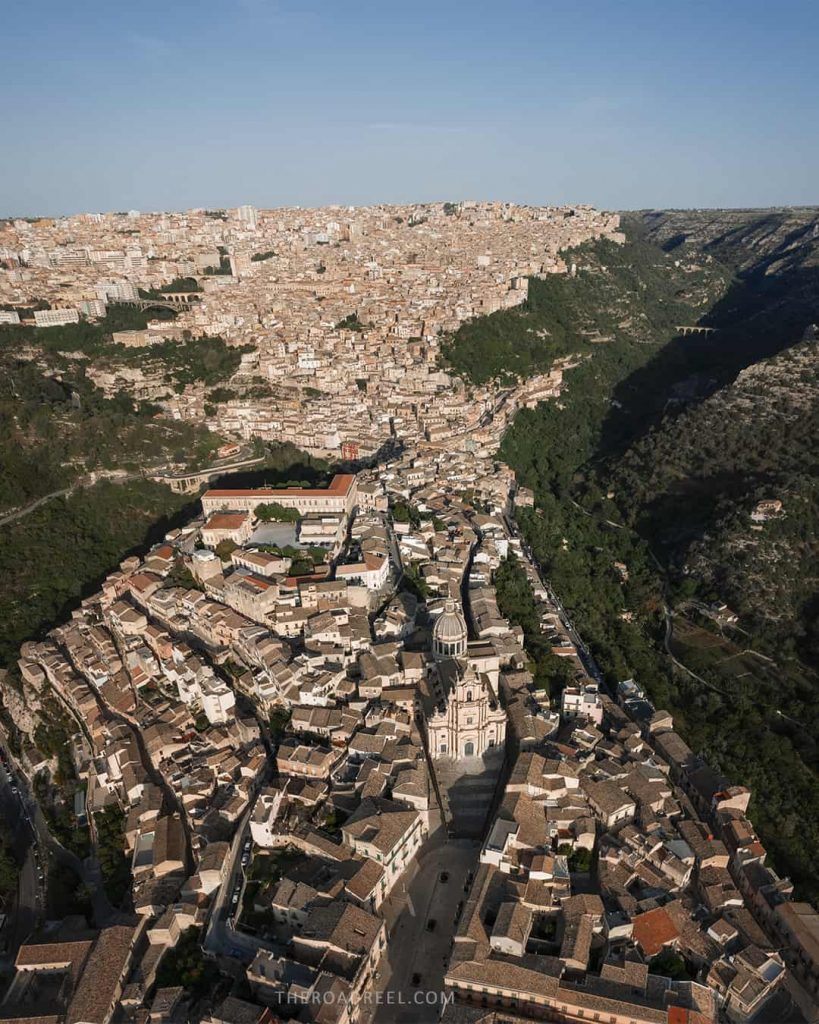 9. Try the local cuisine of Ragusa
Sicily is definitely a destination you come to not only for architecture and natural vistas but also for great food. Each town, however, has its own specialties and so does Ragusa. 
Here is a list of local dishes that are typical of Ragusa:
Scacce-stuffed flatbread, vegetarian friendly and a great snack for lunch, available in most of the bakeries around the town. 
Caciocavallo Ragusano-typical cow milk cheese which differs in flavor depending on aging. Look for it in specialty cheese shops. I found Casa del Formaggio (house of cheese) family-run cheese shop which also offers tastings so you know what you buying. 
Pastieri– pastry stuffed with minced lamb, offal, and cheese (available in pastry shops). 
Ragusa Ibla is a foodie's dream come true. And if budget permits, then you should know that the small historic town is proud of being home to three Michelin-starred restaurants:
Duomo -rewarded with 2 stars this Michelin restaurant prides itself on chef Ciccio Sultano's ability to creatively experiment with different cultural influences and still stay true to Sicilian roots when creating his signature dishes. Reservations are strongly recommended. 
La Locanda di Don Serafino-located in the old palazzo which is turned into the luxurious hotel of the same name, this restaurant offers atmospheric candlelight dinner for a slightly lower budget than Duomo. 
La Fenice– located outside the old town of Ragusa in a 19th-century farmhouse this restaurant is highly rated for the very skilled chef who makes some magic in the kitchen using the top quality ingredients. 
Are you obsessed with Sicilian food yet? Why not try to learn to make some dishes before you return home? Ragusa has some amazing cooking classes held at local's houses (bummer, I only found out about it later after the trip).
10. Take a day trip to Modica and Scicli (or Noto) 
Ragusa is a great base for visiting other Val di Noto towns ((Caltagirone, Militello, Catania, Modica, Noto, Palazzolo Acreide, and Scicli). The closest ones, however, if you only have one day to spare for a side trip, are Modica and Scicli. They are also close to each other, thus it would be viable to combine them both in a one-day trip. 
Modica, apart from baroque architecture, is famous for its unique granulated chocolate. If you are like me, obsessed with chocolate, you can even visit a factory of chocolate and totally overdose on various flavors. Add some chocolate granitas available in every gelateria and bar, these special flavor granitas are exclusive to Modica. 
Meanwhile, Scicli is much smaller than Modica and Ragusa, making it easy to navigate. Set at the foothills of the craggy rock, Scicli is an atmospheric baroque town that you can easily explore in a couple of hours. 
If you have more days in Ragusa, you can definitely go on a day trip to Noto (the main Baroque town in Sicily), or venture to Caltagirone-the town of Ceramics famous for its colorful tiled staircase. 
Read more: 17 Most beautiful mountain towns in Sicily.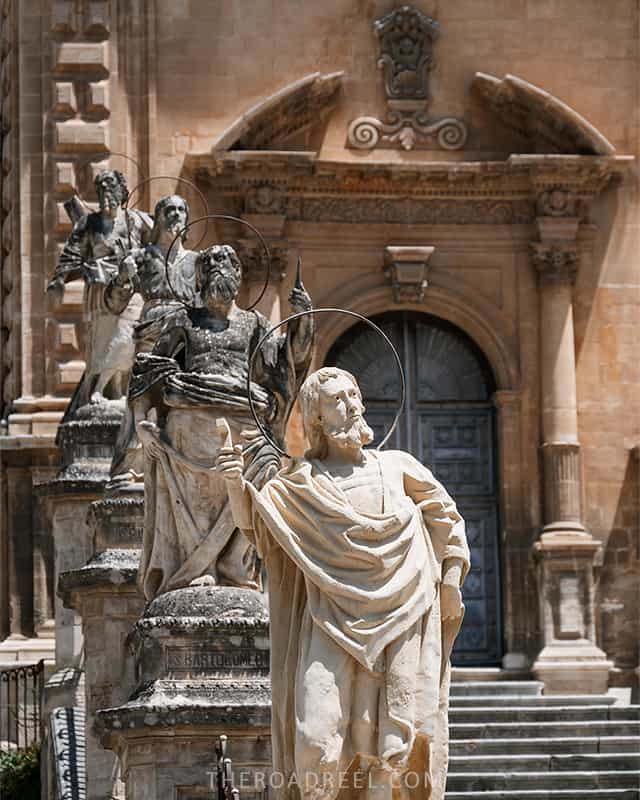 11. Swim at Ragusa beach
Ragusa, although a hilltop town and doesn't have direct access to the beach, managed to claim its own beach resort Marina di Ragusa which is located 20 kilometers south of the town. It is a public beach (not a paid resort) filled with facilities and is very popular during the summer month,s, especially among young people who come here to have a great time and party in the evening. Also called Mazarelli this sandy beach can be reached by car or a public bus. 
Other beaches to check are Polazzo and San Maria del Focallo. 
Public transport from Ragusa to Marina di Ragusa: there are frequent buses available with TUMINO. All buses leave from the Ragusa bus terminal.
12. Take a cooking lesson in Ragusa
If you love cooking and want to learn some Sicilian cuise secrets, there is no better way than to be taught by a local. GetYourGuide offers this unique experience of a Cooking class at a local's home in Ragusa.
13. Unfold tragic love story hidden behind the walls of Donnafugata Castle
20 kilometers from Ragusa, the Donnafugata Castle is a pseudo Venetian-Gothic 19th century mansion with an exquisite garden rich in Mediterranean and exotic plants. The fans of Inspector Montalbano will definitely recognize this setting. But there is more to it- the walls of high life hide some tragic love story (a legend to be precise) which you can find out about if you visit the castle. 
How to get to Ragusa in Sicily
Flying to Sicily-the closest airport to Ragusa
The closest international airport to Ragusa is Catania Airport in east Sicily (110 km away from Ragusa). 
Alternatively, there is a small Comiso Airport around 15 kilometers away from Ragusa. This airport serves mostly domestic flights in Italy and a few European destinations. 
Once in Sicily, the easiest way to get around is by car. If you are renting a car for a road trip around Sicily, which is a great idea if you want to easily explore smaller towns, then reaching Ragusa will be straightforward, just follow Google maps directions. 
Although not as convenient as driving your own vehicle, it is possible to visit Ragusa by public bus.
From Catania you will have to catch a bus from Catania airport to Catania city center and from there take a bus to Ragusa. Catania (via Catania airport) with ETNA Trasporti.
TIP: Search "Catania – Via Archimede – Autostazione" to "Ragusa – Via Zama – Autostazione" to find the latest timetables. 
From Syracuse, Noto, Modica, and Agrigento (via Gela) connections to Ragusa are available with AST, or ETNA Trasporti.
Train connections are available between Ragusa and Noto, Syracuse, Modica, Vittoria, and Gela. 
For timetables, as well as the option to book tickets in advance, see Trenitalia. 
TIP: The train station is located in Ragusa Superiore, from which you can jump on one of the local AST buses to Ragusa Ibla. 
Note: public transport in Sicily is known to be not very reliable. Thus allow yourself plenty of time for commuting. Also, on Sundays buses might not be running (it is a day off for everyone). 
Definitely the costliest option, but if you opt for it, then Getatransfer is a great private transfer provider which you can pre-book online. Getatransfer can virtually organize pick-up from anywhere in Sicily (the transfer price depends on the destination and distance). 
Places to eat in Ragusa
For those of you who do not fancy the fancy Michelin-starred restaurants and prefer something more reasonably priced yet local, you are no short of options:
That's A Moro. Known for great pasta and good wine, this is a popular restaurant around the corner from the main piazza del Duomo in Ragusa Ibla. The outdoor dining area is extremely popular during dinner time (7-8 pm), thus book in advance or show up early so you don't have to wait forever as we did on our first night in Ragusa.
Terrazza dell'Orologio. This rooftop restaurant boasts sweeping views across Ragusa. A great option for lunch. 
Trattoria Agli Archi. Trattoria is a term for a family-run restaurant, and just what it is, Agli Archi offers some delicious antipasti, or if you are up for something more serious, you can also have mains. This trattoria is located at the bottom part of Ragusa Ibla. 
Gelati DiVini. No Sicily and Italy trip is complete without at least one gelato a day. Gelati DVini (divine ice cream) is beloved by locals which is a sign of good stuff. Located in the main piazza in Ragusa Ibla this gelateria offers some of the best gelatos in town. If you feel more experimental or craving more carbs- go for brioche with gelato-it is Sicilian specialty-an ice cream in a bun. Note it is very filling.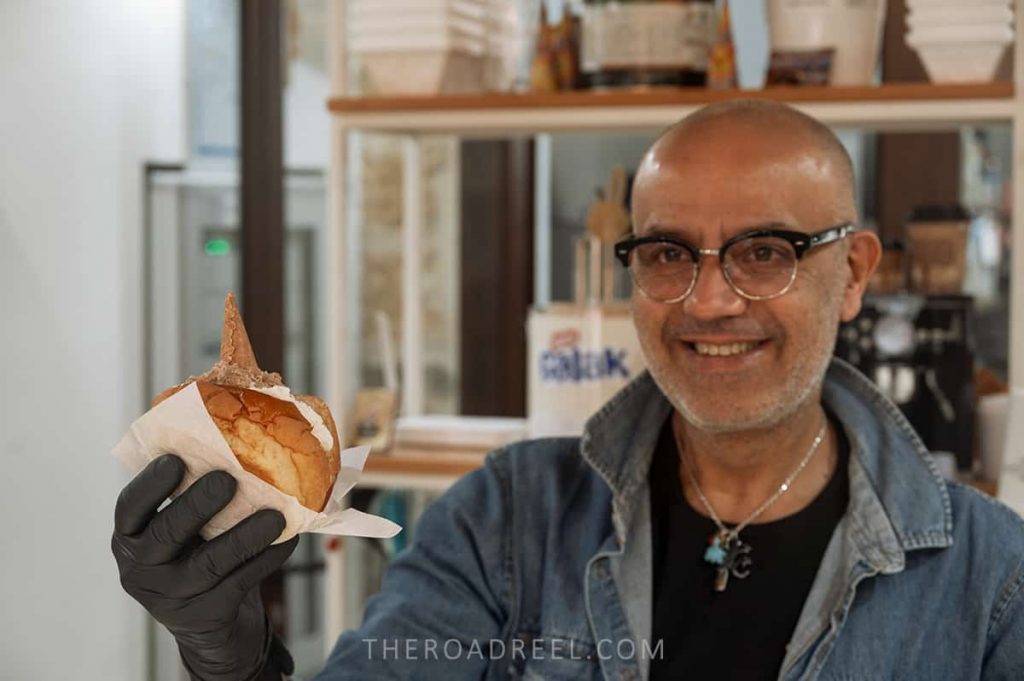 Where to stay in Ragusa-my best accommodation picks
Here are my top picks for staying in Ragusa Ibla (old town), Sicily:
Amaca Iblea $. A cozy one-bedroom apartment in a historic building featuring fantastic views of Ragusa Ibla. We stayed here and it was one of my favorite places in Sicily. Parking is free but not easy to find in the old town, however, the host will help to sort this out.
Terrazza dei Sogni $$. At the heart of the historical center, this hotel is proud of its terrace with gorgeous 360 views over the old town and valley. Rooms are also bright and tastefully furnished, and superb breakfast is served on the terrace.
Itria Palace $$. Located at a lower part of Ragusa Ibla, this hotel has nicely decorated rooms featuring stone walls, a private bar, free parking, and superb breakfast included in the rate.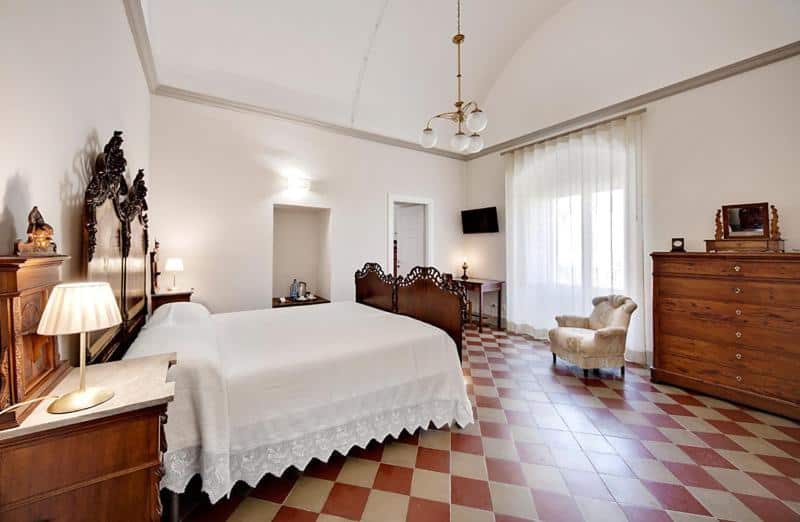 Epoca $$$.  Enchanting rooms in the heart of Ragusa Ibla, have a beautiful terrace, and breakfast is included, free parking is also available. 
Giardino Sul Duomo $$$.  Modern rooms with wood-beamed ceilings in a guesthouse offering a garden and a pool, a great view of Ragusa Ibla, and some rooms overlooking the Cathedral.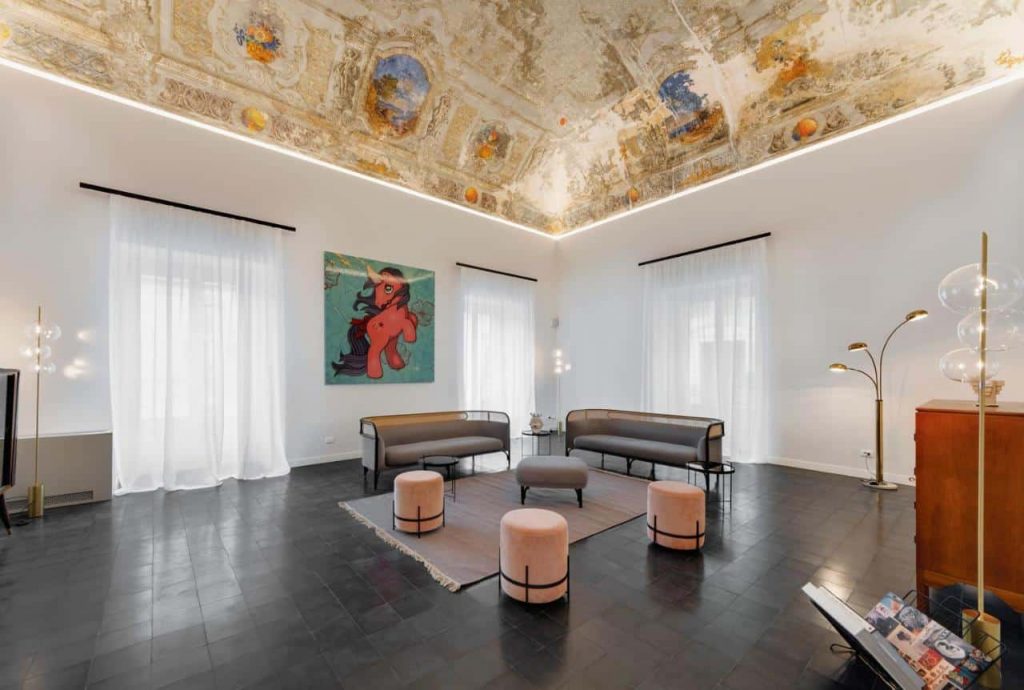 A.D. 1768 Boutique Hotel $$$.  The gorgeous boutique hotel perfectly combines art, contemporary design, and classic Baroque architecture. Each room is also different. Located at the very heart of Ragusa Ibla.
Sicily travel essentials & useful links
Here are links to essential travel resources and services I always use when organizing my trips.
PLAN YOUR SICILY TRIP WITH MY SICILY TRAVEL GUIDES