Here is everything you need to know about visiting Procida, an island in the Gulf of Naples, Italy. Discover the best things to do in Procida, Italy, and how to visit Procida from Naples (or Ischia, Capri, Sorrento).
Lined with candy-colored houses, a dreamy Procida island is one of the most unique and beautiful places to visit in Italy. It is also one of the most memorable destinations I have ever visited while traveling around southern Italy.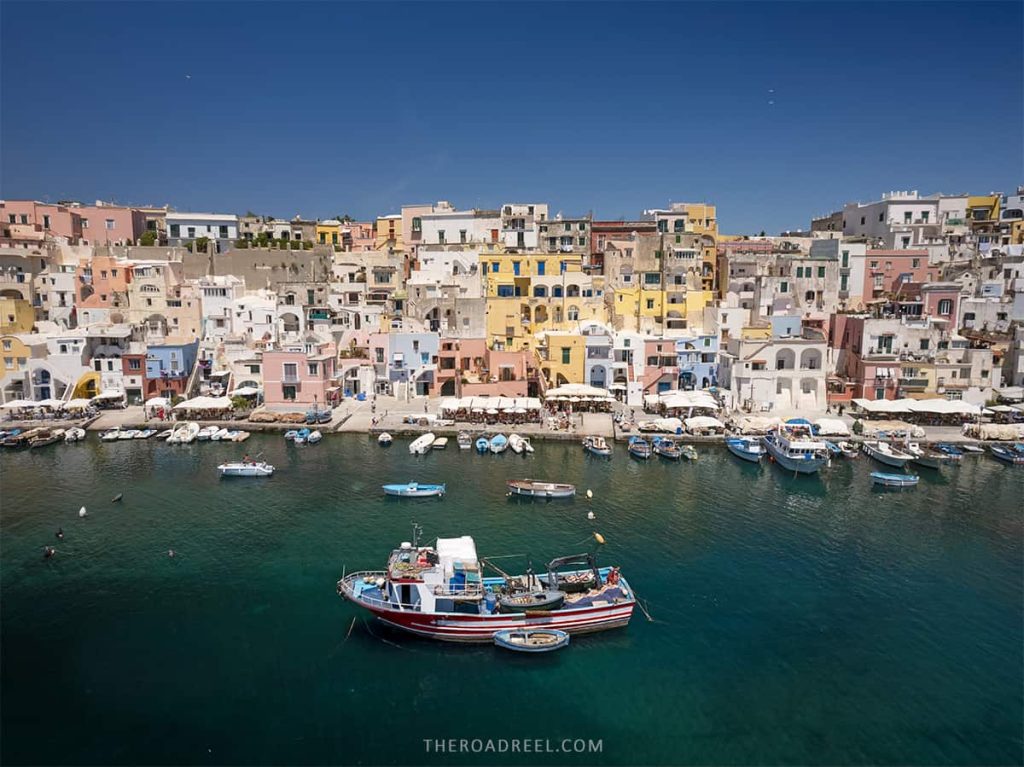 The great news is that the petite island of Procida can be easily reached in less than an hour by ferry either from Naples, Ischia, or even Sorrento on Amalfi Coast.
Once a hidden gem, and often overshadowed by its sister islands of Ischia and the famous Capri, Procida was selected as the Capital of Culture in Italy in 2022. This nomination certainly gave a boost not only for local tourism but also put the pretty Procida on an international traveler's Italy bucket list. 
Find out what to do in Procida, including the best views of Procida and its pretty hidden corners off the tourist radar, where to find the best beaches in Procida, where to eat, and fantastic places to stay. Whether you are visiting Procida as a day trip from Naples or staying for longer, use this Procida travel guide to plan your time on the most colorful island in Italy's Campanian Archipelago.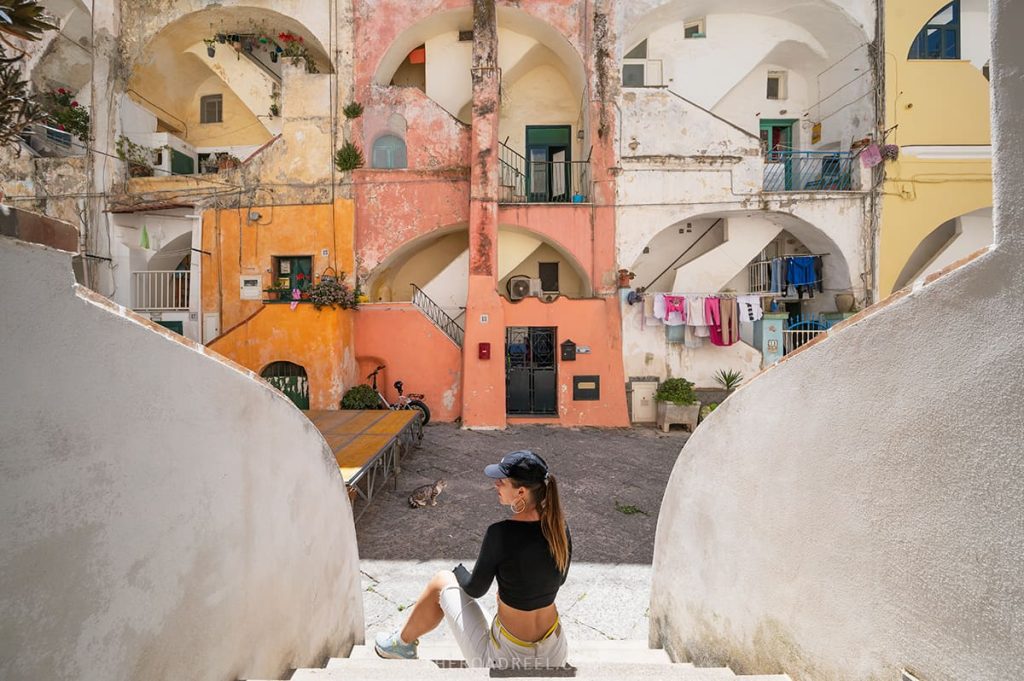 Disclaimer: This post contains affiliate links, which means that I may earn a commission if you make a purchase by clicking a link at no extra cost to you. This helps to keep my blog running and growing by creating more awesome free content for you.
A Travel Guide to Pocida- the Most Colorful Island in Italy near Naples
Quick links to plan your trip to Procida
Book ferry tickets to Procida
Best places to stay in Procida
Top-rated Procida tours
Why is it worth visiting Procida, Italy?  
Procida is an incredibly beautiful and easy-to-visit destination as a day trip from Naples or even for a few days to experience the island nice and slow. It is one of the most romantic places in Italy I have ever visited, a perfect destination for couples but also families, photographers, and those who are obsessed with color. 
Indeed, Procida is bright pastel-colored beauty, bathed by the serene Tyrrhenian Sea and a wonderfully easy escape from the madness of Naples. 
Although Procida is not a hidden gem it used to be back in 2015 when I first visited, it is still for some reason overlooked in favor of Ischia or overcrowded Capri. Procida remains an authentic fishing island that is not overrun by mass tourism like the mega-famous Positano on Amalfi Coast. In fact, Procida is what Amalfi Coast and Positano used to be several decades ago- the best-kept secret that offers a taste of the dolce vita. 
Although do not expect complete tranquility in Procida's main streets and squares. The island is active with local people going about their daily routines. Also, it receives a fair amount of day trippers and gets pretty busy during the day from May till September. Yet there are enough quiet corners and things to do on Procida Island that do not involve the crowds. 
Thus, I encourage you to plan your visit to Procida soon, before it becomes too famous.
Also read: Naples to Calabria: 10 days in South Italy itinerary.
Interesting facts and things to know about Procida, Island:
Procida Island is of volcanic origin and together with adjacent uninhabited Vivara Island, was formed by the eruption of the 4 volcanoes now dormant and submerged underwater.
Procida is only 4 square kilometers (1.6 square miles) in size and has only around 10000 residents.
Historically Procida is an ancient island. Dating back to the 16th century BC, it was at first inhabited by Mycenaeans, then Greeks and Romans.
The soil of Procida is very fertile and the island is famous for its large sweet lemons.
Procida Island is wrapped in myths and legends and historians cannot agree on the origin of its name.
The first underwater aqueduct in Europe was built in Procida in 1957. It linked the mainland to the island and supplied it with fresh water. 
Procida Island is home to different small villages. The island is divided into 9 districts called grancìe: Terra Murata (the oldest fortified village), Corricella (the famous colorful fishing harbor), Sent'cò with the commercial port of Marina Grande, San Leonardo, Santissima Annunziata, Sant'Antuono, Sant'Antonio and Chiaiolella (the port on the southern part of the island), and Semmarezio.
Did you know? Procida was a set for many Italian and international movies. Its unique colorful backgrounds and rocky seaside shores were featured in at least a couple of dozen films. Some of the best-known are Il Postino, Cleopatra, and The Talented Mr. Ripley.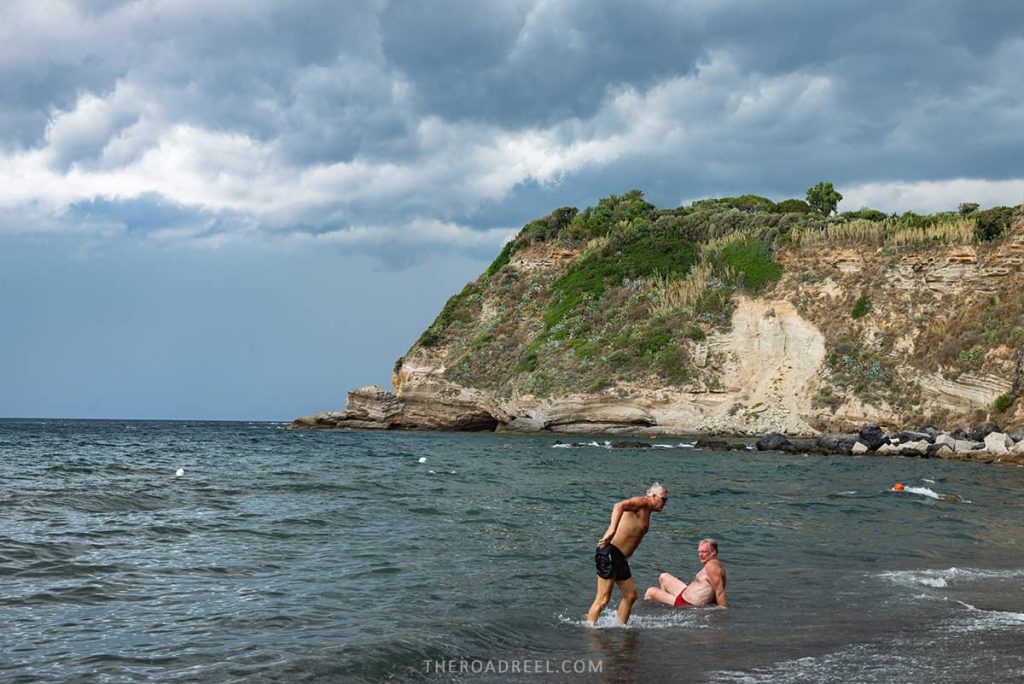 How much time do you need to visit Procida? 
Procida is miniature. It takes up only 4 square kilometers of volcanic land. It can be easily visited in a day. You can even tackle the main spots in Procida in half a day if the time is not on your side. 
Yet, do not underestimate the size of the island, it is big enough to keep you busy even for a few days. 
That being said if you desire to get a complete sense of Procida, consider spending a night or two to experience the island at its quietest times after all the daytrippers have departed. Catch spectacular sunset, have a romantic dinner under the starry skies, and wake up to the calming sound of waves caressing the dark sand shores. 
Tip: If you are visiting as a day trip in autumn or winter when the days are shorter, definitely try to take the latest ferry back to Naples. Sunsets are around 5 pm, and you can witness the town transitioning from a bright day to a beautiful night. 
Also read: how to plan your 2 days in Naples itinerary.
10 Wonderful Things to Do in Procida Island
Here is a list of the best things to do on Procida Island, Italy.
1. Marina di Corricella viewpoint -a must visit place in Procida
If you only have a few hours in Procida, then visiting the viewpoint overlooking Marina di Corricella is a must.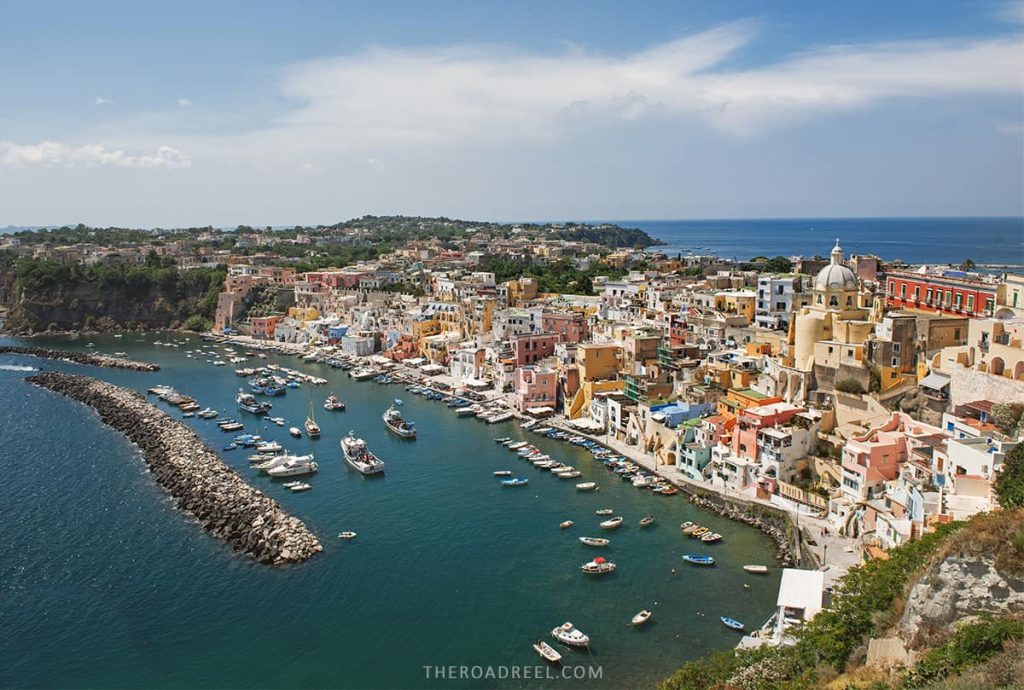 Marina Corricella is an old, traffic-free fishing village in Procida and a postcard child of the island. Immortalized in the dozens of movie sets, the waterfront of Marina Corricella is characterized by candy-colored houses cascading down to the shimmering sea.
The cheerful tones of Marina di Corricela will brighten the darkest day and lift up the saddest mood. The playful palette of blues, yellows, purples, whites, and oranges enchants the 17th-century harbor which is admired not only for its colorful facades but also for the dynamic architecture of unique building complex featuring a mixture of arches, windows, domes, staircases, and loggias. Meanwhile, the crystal clear water lulls the colorful wooden boats and washes the fishing nets scattered around the natural amphitheater. 
To observe the magnificent beauty of Marina Corricella as a whole, you must either fly a drone or climb up to the highest point on the island where the historic fortified village of Terra Murata is located.
How to get to Marina di Corricella's viewpoint 
By walking: to get to the famous Marina di Corricella viewpoint from the ferry port, you have to cross to the other side of the island. It takes around 15-20 minutes of walking gradually uphill through the windy streets toward Terra Murata. When you disembark the ferry, follow the street of Via Roma to your left, then turn right to Via Vittorio Emanuele, left to Via Principe Umberto until you reach Piazza dei Martiri (stop for the viewpoint there) and then continue all the way up on Salita Castello street where the panoramic view of Corricella is located. 
By bus: if it is a hot day, from Procida's main port you can catch a bus Line C2 of the EAVBUS which will take you to Via S. Rocco close to Piazza dei Martiri. 
Taxis or mini taxis are also available if you fancy a private ride.
2. Explore the walled streets of Terra Murata- best things to do in Procida
One of the best things to do in Procida is wandering the perimeter of Terra Murata-a walled village and the fortress. Translated literally as a 'walled land' Terra Murata is a hamlet situated on a rocky crag at the highest point of the island. Terra Murata is also the oldest of 9 historic settlements in Procida. 
High vantage points offer sweeping views over the Gulf of Naples and from the tip of Punta dei Monaci stretches as far as the island of Capri. 
To explore the interiors of Terra Murata, from the Marina di Corricella viewpoint continue following Via Salita Castello. On my two visits, I somehow managed to miss this little walled old town, bummer! Make sure you do not make the same mistake.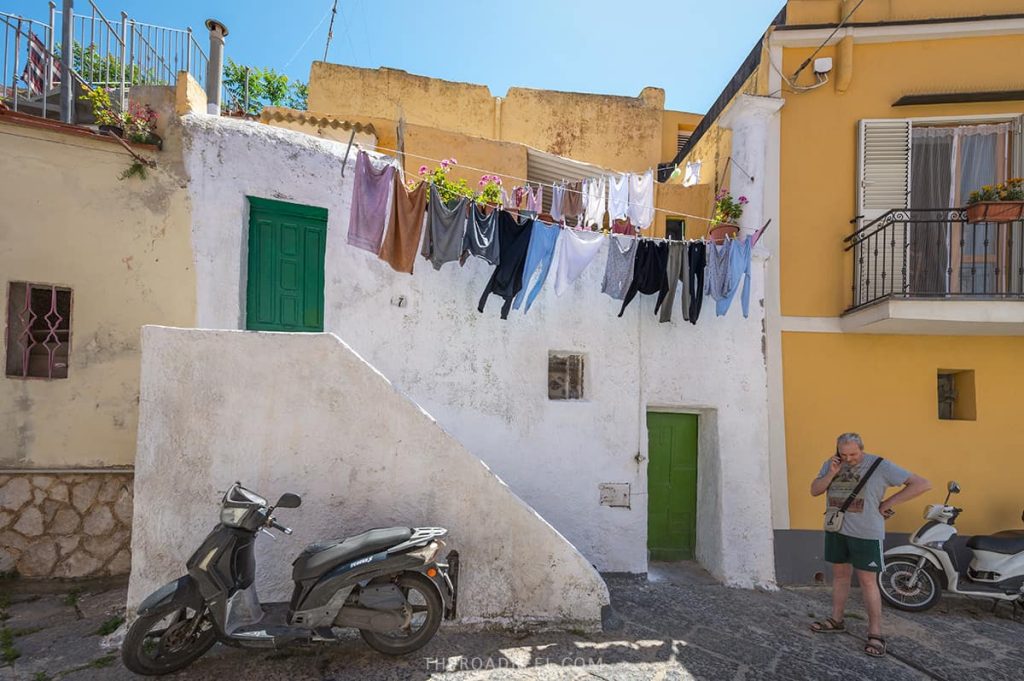 A couple of culturally and historically significant architectural structures in Terra Murata:
The grandest building that is hard to miss is the 16th-century Palazzo d'Avalos. It used to serve as a defense fort, then became a Royal Palace, and then got a role of a prison which was functional from the 19th to the 20th century until its closure in 1988. 
The Abbey of San Michele (XVI century) is the other important establishment that hosts numerous works of art. A painting depicting St. Michael defeating Satan is of particular significance. Also, you can go on an underground tour of the ancient burial place. You can visit the interiors of the former prison with a guided tour.
Finally, make sure to stop at a typical 3-story old house dug in the tuff-a soft volcanic rock found in the Gulf of Naples and widely used since Roman times. The tuff house is located in Via del Borgo. 
La Casa di Graziella- etnographic museum of Procida. It also has terrace with fantastic views over Procida island.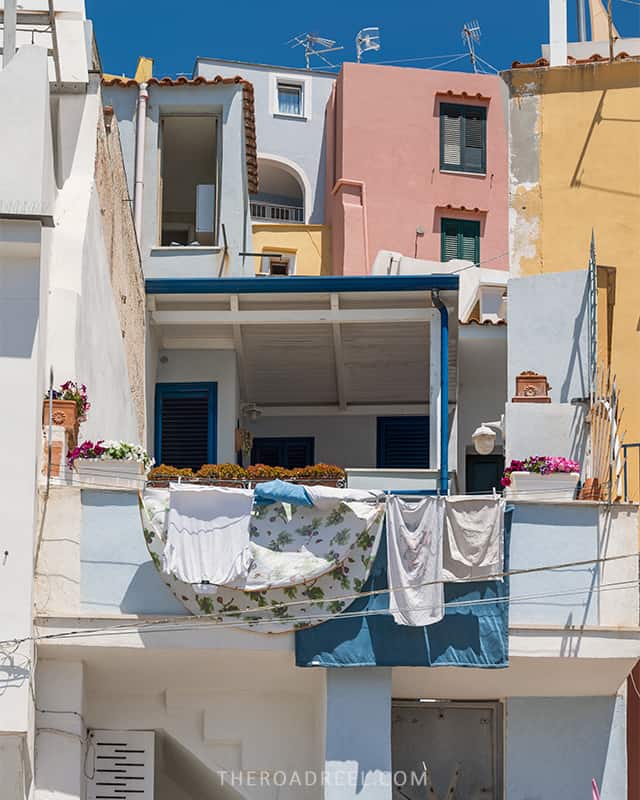 3. Stroll along the candy-colored Marina di Corricella
Make your way back to Marina di Corricella which is wonderful not only to be admired from afar but also to be enjoyed up close. You can stroll the length of the harbor and watch the fishermen and other locals going about their daily routines, wander up the narrow staircases leading to colorful houses (be careful not to invade someone's property by mistake), or even choose to stop for lunch at one of the waterfront restaurants.
Note though that the restaurants in Marina di Corricella are the most expensive on the island due to the desirable location. If you are looking for a budget-friendly option, Marina Grande is a place to go to. Also, you can grab a takeaway bite at some of the small food kiosks, bars, or pizzerias tucked away in the streets of the interior of the island (La Cucina di Assafa is particularly well-rated for its amazing prawn sandwiches).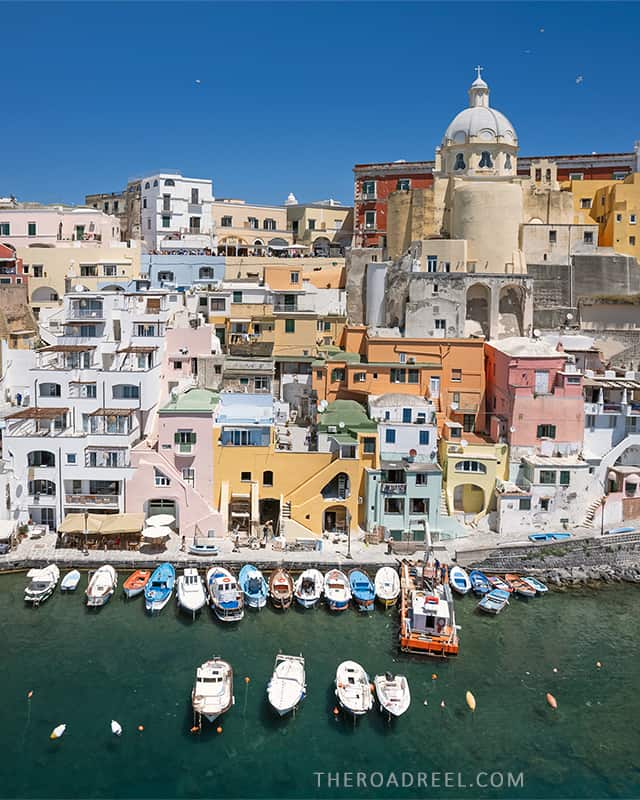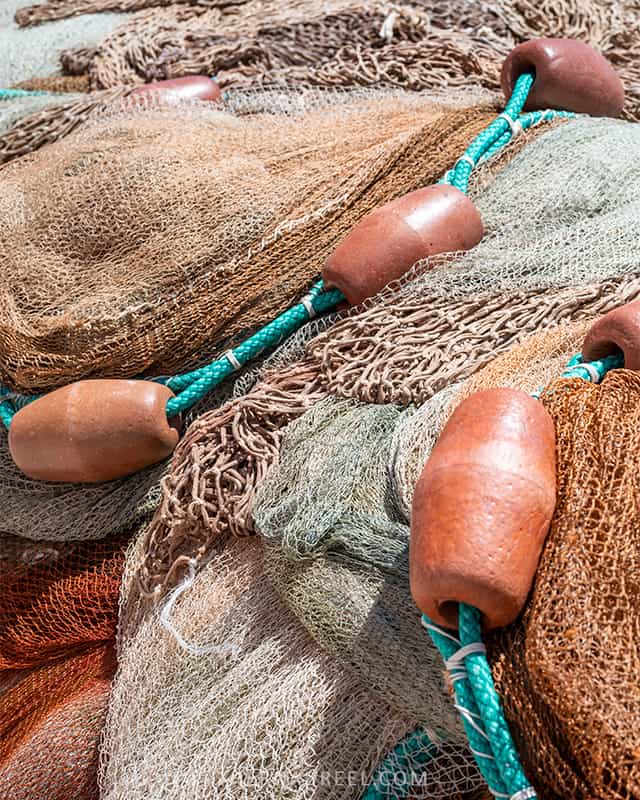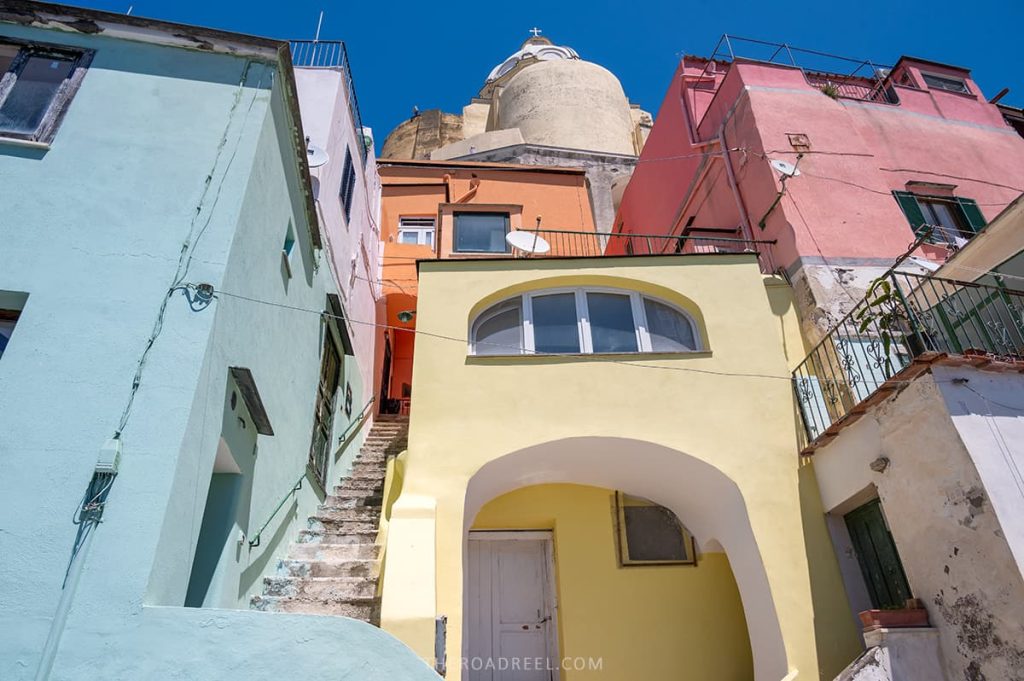 Gradinatas of Marina di Corricella
Since Marina di Corricella is traffic free, it can only be accessed either by boat or via 4 different stairways (gradinatas). 
When descending the street of Salita Castello from the Terra Murata, look out for a hidden very narrow, and steep staircase on your left-hand side. It leads down to the port and along the way also has a small Belvedere Corricela viewpoint. 
If you miss the first hidden stairway, the other staircase is located just a few steps next to Santuario S. Maria delle Grazie Incoronata (the yellow church that dominates the Marina di Corricella skyline).
The most well-known stairway, also called Gradinata del Pennino is located in front of San Roco church on Via S. Rocco. The narrow pathway is actually a Discesa Graziella street that winds between the colorful houses.
The fourth stairway is located at the west end of Marina di Corricella on Via M. Scotti.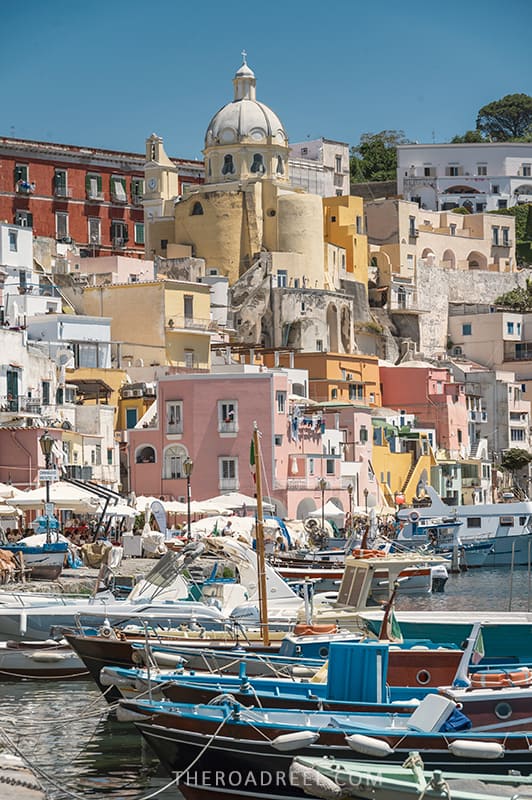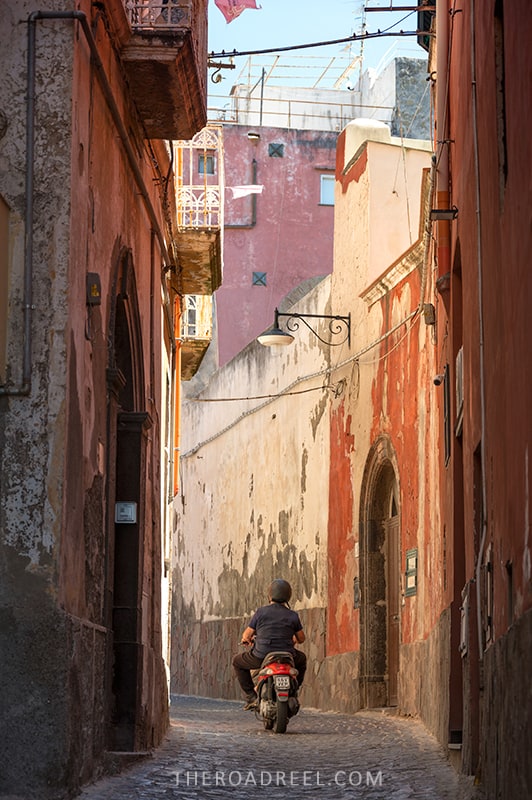 4. Discover the hidden courtyard of Casale Vascello- the highlight of Procida
I found getting lost in the maze of streets and exploring the hidden courtyards as one of the best things to do in Procida. By wandering off the main tourist streets into the archways you can discover some real hidden gems- photogenic colorful inner yards that only locals know about.
Nonetheless, one of the housing complexes is so unique that it did not stay a secret for long and became a must-visit place in Procida.
I am talking about Casale Vascello which is the highlight and one of the best places to visit in Procida. It is in fact another tiny fortified village on Procida Island. A characteristic 17th-century apartment complex of glued-together colorful buildings encloses a central courtyard that is big enough to host a small theater in the summertime.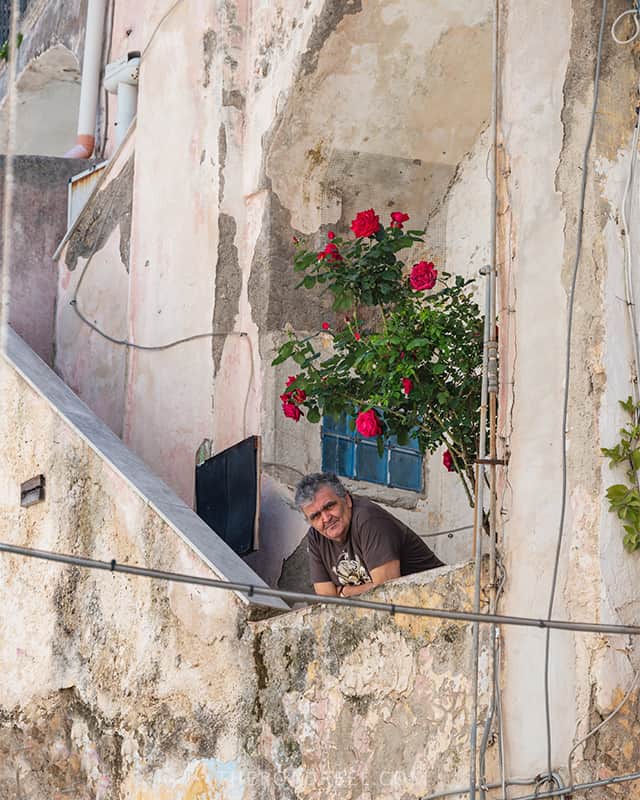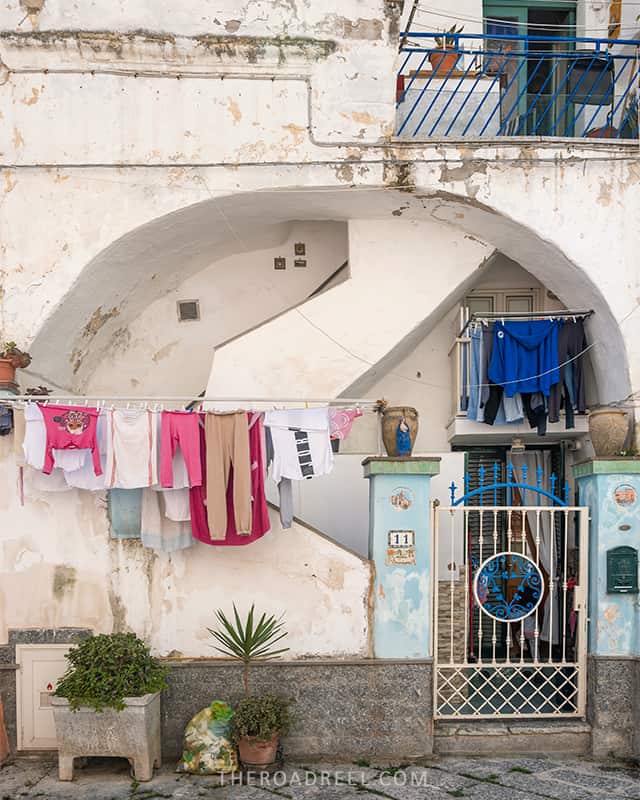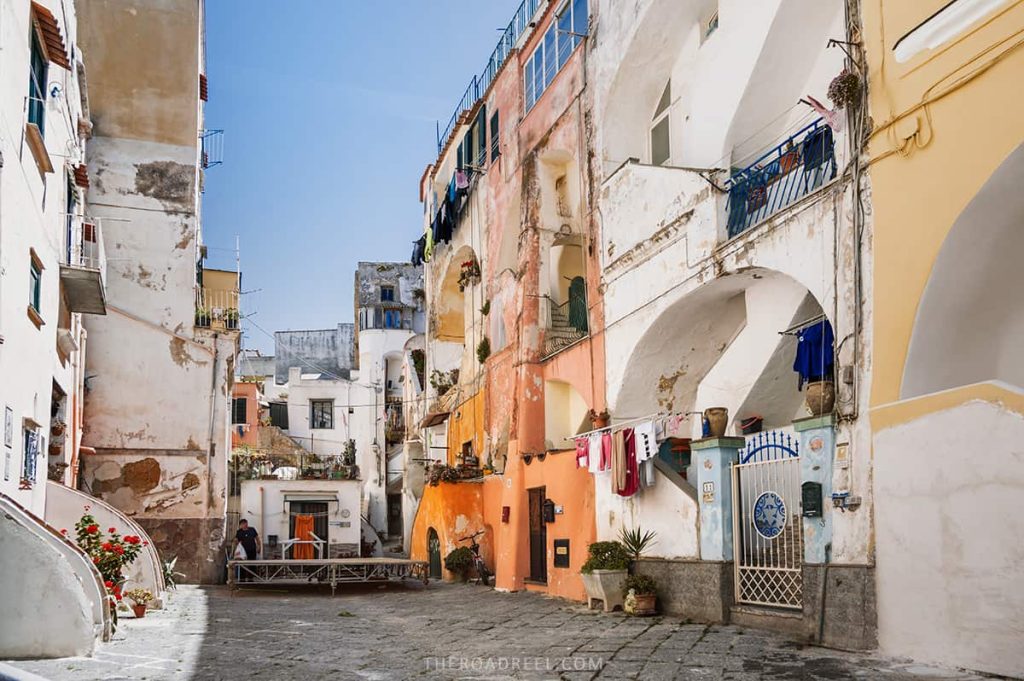 A distinct architectural element is a vefio– a balcony covered by an arch giving the place a bit of an Arabic feel. Cadale Vascello is accessible through a low archway from Via Principe Margherita Street or through the entrance in Via Salita Castello. I stumbled upon this wonderful place accidentally, and it was one of the most photogenic and mysterious hidden corners in Procida.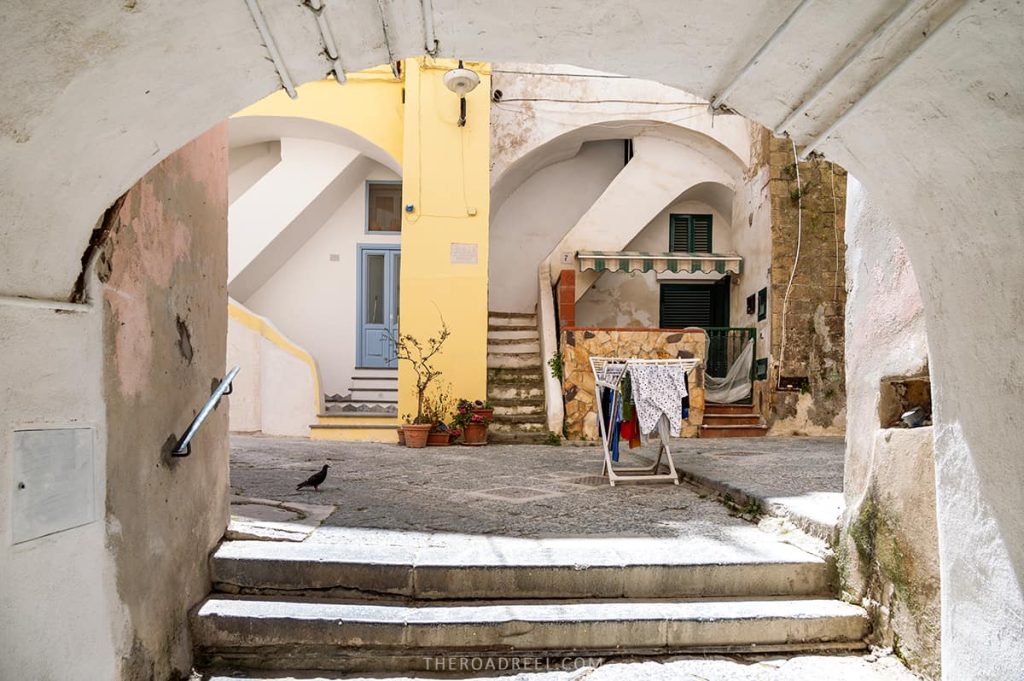 Only later on I found out that Cadale Vascello is quite well known as a tourist attraction and big groups of tourists make their way to it. Note that it is a residential area and people live there, thus when visiting do not disturb their peace. I can only assume that big and noisy group tours would make the residents frustrated.
However, Cadale Vascello is not the only charming courtyard in Procida. I came across a few others that were completely free of tourists. It is hidden between Via Principe Umberto and Primo Vico Principe Umberto streets, on the right-hand side when coming from the ferry port.
5. Embrace the pace of Marina Grande
Although not as famous as Marina di Corricella, but equally charming, Marina Grande will be your first point of contact with Procida island. Ferries and hydrofoils dock at Marina Grande which greets you with the first pop of color from afar.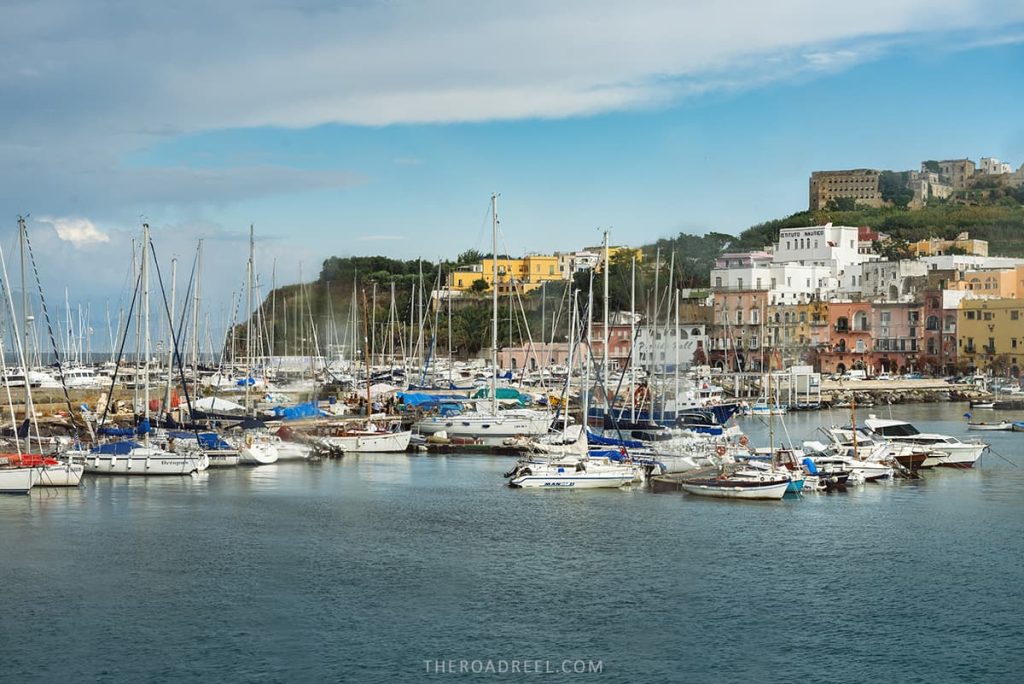 Many visitors jump off the ferry and rush through Marina Grande to the other side in search of the infamous Marina di Corricella. However, Marina Grande is also a wonderful place with a strong local feel where you can observe the lively side of the island. Marina Grande is a center of the Island's social life, where locals sell fish straight from the boats, local artisans showcase their crafts, and many restaurants, bars, and pizzerias offer more affordable meals than the fancier and more touristy ones on Marina di Corricella.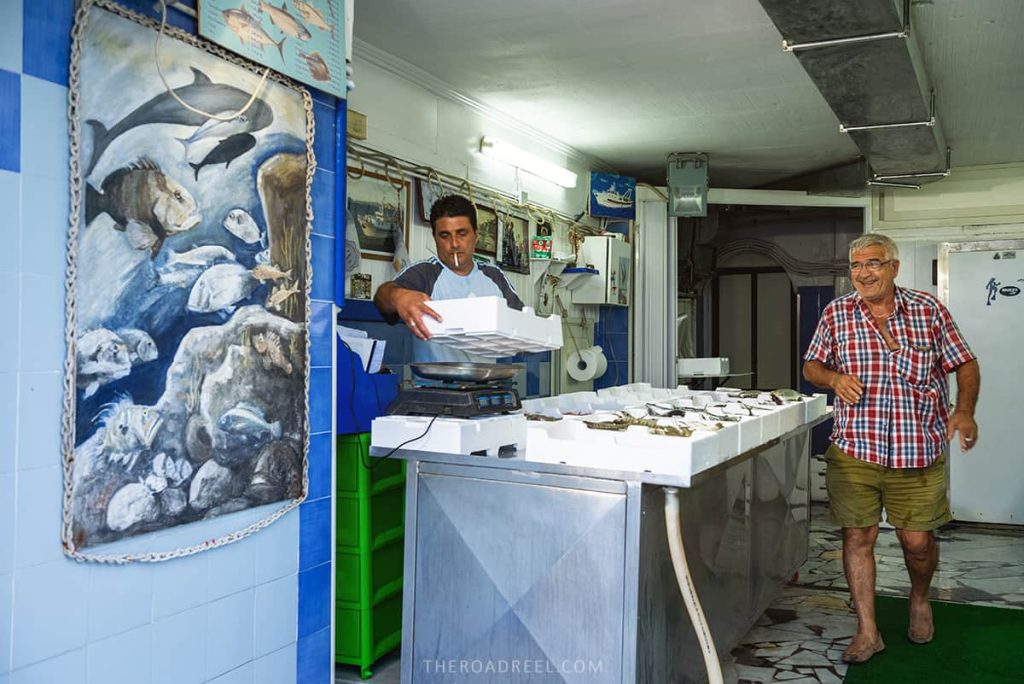 6. Relax at the dark sand beaches in Procida 
People often ask if there is a beach on Procida Island. Yes, in fact, there are several beaches in Procida where you can lay your towel, enjoy the sunshine, and swim. If you are visiting during the summer season, more popular beaches in Procida also have sun beds and parasols for rent.
Note that due to the volcanic nature of the island, the beaches in Procida are dark grey rather than yellow or white sand. Some are pebbly, thus bringing water shoes is a good idea. Yet the waters of the Tyrrhenian Sea are wonderful for swimming. 
I have to admit though, that beaches are not the strongest feature of Procida. They aren't nearly as beautiful as the ones on Amalfi Coast, yet still pleasant to spend some time at.
Which are the best beaches in Procida:
Cala del Pozzo Vecchio (Spiaggia del Postino) – my favorite – a cove that was used as a backdrop for Il Postino film. The beach is located on the northwest side of the island. Situated under tall cliffs, it has a sense of wilderness. I visited on a stormy afternoon, and it was very atmospheric. During the high season, you can rent an umbrella and a sunbed in a small Lido, overpriced bar selling is also open in summer. Nonetheless, there is also a free section on the beach. If you visit outside June-August, you may enjoy the beach on your own. Note that the sun reaches the shores of Spiaggia del Postino late morning. You can reach Pozzo Vecchio by Line C1 bus from the ferry port  (step out at the cemetery), or walk from the port for 25 minutes (approx. 2km).
Spiaggia di Chiaia beach – located on the west side of Marina Corricela offers nice views of the colorful buildings and Terra Murata in the distance. It is a long but narrow sandy beach accessible via a steep staircase. There is also a nice restaurant next to the staircases where you can have lunch or a drink with a sea view, sunbeds are also available for rent. Note, that if you are planning to get a tan, the beach gets the sunshine only from morning till afternoon. 
Spiaggia di Chiaiolella (also called Ciracciello) is the best beach to watch the sunset in Procida while having a drink at one of the beach bars. The beach has all the amenities, including sunbeds for rent and a free section where you can just stretch your towel. The area is also a great option to have a meal at one of the many restaurants nearby. Sun shines over the beach all day. The beach is located at the southwestern point of the Island and can be reached by bus that stops close by. 
Spiaggia di Ciraccio – located on the west side of the island, a few hundred meters up north from Spiaggia di Chiaiolella, this is a long dark sand beach. There are beautiful rock formations sticking out of the water (Faraglioni di Procida) – the perfect background for photography. The beach is blessed with the sun all day long, thus perfect for tanning any time of the day. 
Spiaggia di Punta Ottimo– it is the wildest beach of all thanks to not-so-straightforward access through the rocks. Located close to Cala del Pozzo Vecchio just slightly up north, it is preferred by hikers and those who are looking for a quiet spot during the busy summer season.
The below two beaches are not my favorite but they might be a convenient choice for those of you who are looking just for a quick dip close by to Marina Grande port.
Spiaggia Silurenza– a sandy beach located steps away to the west of Marina Grande port. It is an ideal spot to take a dip into the water if you do not have time to explore the beaches further away. Also, there are plenty of restaurants around.
Spiaggia Lingua-located on the eastern side of the island, also close by the main port, is a pebbly beach known for nice sunrise views over Vesuvius.
7. Engage in water activities- one of the best adventurous things to do in Procida
If you are staying on Procida Island for a couple of days you have some great water activities to choose from.
Sailing, scuba diving, snorkeling, kayaking, paddling the water bike, or exploring the seabed in a semi-submersible- you have plenty of options to explore Procida from the perspective of water other than just swimming.
One of the most fun things to do in Procida is to kayak around the island.  ASD Kayaks organize various excursions in kayaks and canoes.
Scuba diving- If you have a basic diving license you can go explore the Marine Park "Reigno di Nettuno".
8. Island hop to Ischia
The more famous sister island of Ischia is located just 15-20 minutes by ferry from Procida. Thus, you can easily combine visiting both islands in one trip. Yet I would recommend island hopping only if you stay more than a day in Procida.
9. Vivara island -Ponte di Vivara and Tibetian bridge
Vivara island is a crescent-shaped volcanic ridge, an appendix of Procida connected by one of the longest Tibetian bridges in Europe. Formed by a volcanic crater, Vivara is a protected nature reserve rich in flora and fauna.
Wild and unspoiled, the island does not have beaches as its rocky shores are high. However, there are trails that can be followed but only on a guided tour due to the sensitive nature of the area.
10. Savor the local cuisine- specialties and restaurants in Procida
Procida as a fishing island is naturally well-renowned for its fish and seafood dishes. There are plenty of restaurants around Marina Grande, Marina di Corricella,  Marina Chiaiolella harbors, and also inside the interiors of the island. For the more budget-friendly options, the latter is perfect. Also, Marina Grade is a great mid-range option to have a meal, while Marina di Corricella is the most expensive place to dine because of its glamorous location.
Below are my few recommendations for where to eat in Procida:
La Cucina di Assafa- is an ideal place to get a quick bite near Marina Corricella without breaking the bank. This is not a restaurant but rather a kiosk in the wall where you can get delicious seafood sandwiches and pasta dishes. The prawn carpaccio sandwich is a must-try! Assafa also has a food truck at Terra Muratta next to the famous Marina Corricella viewpoint.
Il Casotto Procida– another great cheap takeaway kiosk located at the beach of Spiaggia Chiaiolella. It serves amazing sandwiches.  
Restorante La Pergola– this restaurant has a special atmosphere featuring a garden covered by the lemon pergola. The food is authentic Italian and reasonably priced. The restaurant is open only from 8 PM to 11 PM, thus it is for those of you staying overnight. It is a bit tucked away, located inland on Via Salette, and is off-tourist radar.
Il Gazebo– a rustic restaurant close to Marina Grande is open for lunch and dinner, and serves great food. Prices are not the cheapest but fantastic service and nice food are worth it. It is a popular place, thus if you are visiting during the season, it is worth making a reservation.
Procida specialties
Lingua di Bue (or Lingua di Procida) translated as "ox tongue" is a typical pastry on Procida Island. The oval-shaped puff pastry is filled with lemon-flavored cream. Lemons are known to be sweet and juicy, thus used a lot in Procida's cuisine.  
You can find Lingua di Bue all around the island, but Bar Roma Pasticceria is considered the best pastry shop to try Lingua di Bue. Since I am not a fan of lemon-flavored pastries or lemony sweets and drinks, I am not the best person to judge. But those who tried it, say it is really good.
Cuzzetiello di Procida– a sandwich stuffed with grilled vegetables and sauces is also a specialty in Procida. You may find one in those takeaway places.
How to get to Procida Island, Italy
Procida Island is situated between Naples Bay and Ischia. Procida Island can be easily reached from Naples, Ischia, and Sorrento by ferry or a hydrofoil (type of fast boat). It takes 15 minutes to 1.5 hours to get to Procida, depending on the departure point and type of boat.
Ferry from Naples to Procida
There are three marine stations in Naples from where you can take a ferry or hydrofoil to Procida:
Molo Beverello and Calata di Massa. Both are situated 1 kilometer apart from each other and within walking distance from central Naples (historical center and Spanish Quarter).
The third port that serves Procida island is Porto di Pozuolli, which is located on the western side of the outskirts of Naples, 15 kilometers from the historic center (a 30-40 minutes drive).
Ferry and hydrofoil one-way ticket prices from Naples to Procida range from 8 EUR to 23 EUR. The cheaper ferries depart from Pozzuoli. The distance between the ports of Procida and Porto di Pozuolli is significantly shorter than from Naples to Procida, hence the lower price.
How long does it take to reach Procida from Naples from each port:
From Porto di Pozuolli it takes 20 minutes to reach Procida by hydrofoil and 25-40 minutes by ferry.
From Molo Beverello it takes 40 minutes to reach Procida by a hydrofoil.
From Porto di Massa it takes 1 hour to reach Procida by ferry.
Companies that provide ferry services from Naples to Procida:
Molo Beverello is served by hydrofoils of Caremar (7 sailings a day) and Snav (4 sailings a day).
Porto di Massa is served by ferries of Caremar (7 sailings a day).
Porto di Pozuolli is served by Caremar hydrofoil and ferry (4 sailings a day), Medmar ferry (5 sailings a day), and Gestour slow ferry (5 sailings a day).
Booking Naples Procida ferry tickets
You can book your tickets to Procida either at the ports on your day of travel which is completely fine to do during the off-season or the shoulder season. However, if you are traveling in the summer, especially on a weekend, you should book a few days in advance to make sure you get the tickets.
To book online, you can use the ferry company's website, or a ferry search aggregator (slightly more expensive but provides all options in one search). Follow the links below for booking your ferry tickets online: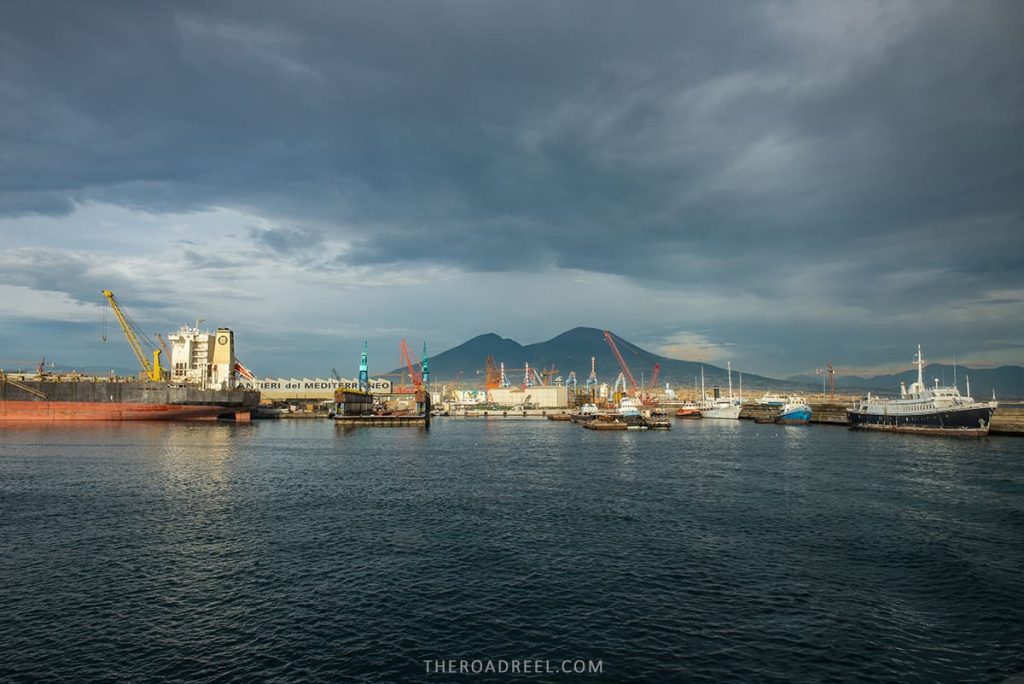 Ferry from Ischia to Procida
Procida and Ischia are well connected by both hydrofoils and ferries and the journey between the two islands takes around 15-30 minutes depending on the boat type. One-way ticket prices range from 7 EUR to 14 EUR.
Caremar has 11 sailings per day in hydrofoil or ferry.
Casamicciola (operated by Snav and Caremar) has 6 sailingss per day.
Alilauro Gruson hydrofoils operate 3 times a week Mon, Wed, Fri from April to September, and every day from July to August, and has 1 sailing per day.
Ferry from Sorrento to Procida and Capri to Procida
From April to September, it is possible to jump on a ferry from Sorrento or Capri to Procida. Alilauro Gruson is the company that operates between Capri, Sorrento, and Procida.
Daily sailings from both islands to Procida are available only from July 15 to August 15, while the rest of the time between April and the end of September there are sailings 3 times a week.
The journey between Capri and Procida takes 1 hour and 50 minutes – 1 sailing per day, ticket costs 11.30 EUR.
The journey between Sorrento and Procida takes 50 minutes to 1 hour and 50 minutes (ferry stops in Capri)- 2 sailings per day, an adult ticket costs 24 EUR.
Did you know? Part of the Flegrean island group, Procida is the second closest island to the city of Naples. The first closest is Nisida which lies next to Cape Possilipo and is connected to Naples mainland by a stone bridge.
How to get around Procida Island
Procida is a tiny volcanic island of a size of only 4 square kilometers (1.6 square miles). It is easy to get around Procida on foot. Most of the attractions are within 15-30 minutes of walking. For example, it takes only 20 minutes to walk between the main port of Marina Grande to the colorful Marina Coriccella.
By bus
There are 4 routes operated by Eav bus, all of which depart from the main Port of Marina Grande. If you are not keen on walking to the very far southwest side of the island, L1 or L2 lines come in handy. Eav bus lines:
L1: Porto, Chiaiolella, Porto.
L2: Porto, Chiaiolella, Solchiaro, Porto.
C1: Porto, Pozzo Vecchio, Porto.
C2: Porto, Terra Murata, Corricella, Porto.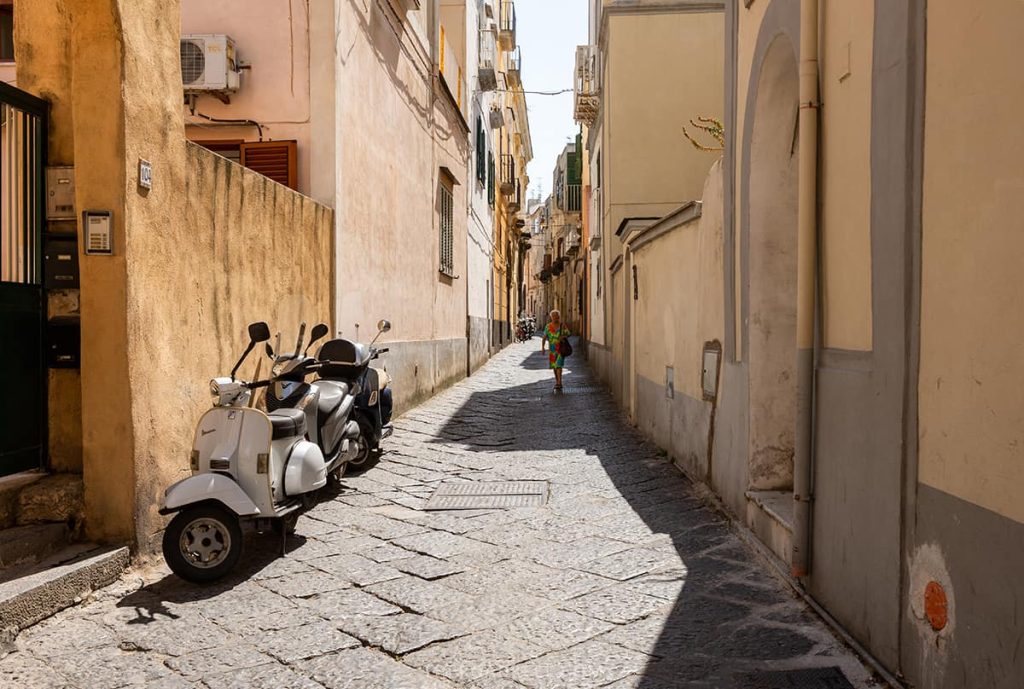 By Taxi
Taxies and mini taxis (Apecars) are available from the main port. Yet note that those are quite expensive. If you are staying overnight in Procida, you may have to use a regular taxi to get to your accommodation if it is too far to walk with luggage from the port.
By scooter or electric bike
If you know how to ride a scooter, it might be the fastest way to get around the island. Scooters and also electric bikes are available for rent at the main port of Procida.
Can you bring a car to Procida Island?
First and foremost, it is illegal to bring a non-resident car to Procida from March 1 to December 31. Even if it was, you do not need a car in Procida as it is easy to get around on foot or to take a bus if necessary.
When is the best time to visit Procida?
The ideal time to visit Procida Island is spring and autumn. Specifically, March, April, and the end of September, October, and the beginning of November are fantastic times with the least crowds.
Yet if you are looking forward to swimming, May and especially September would be your best bet for visiting Procida. At that time weather temperatures are pleasant 20-25 °C/ 68-77 °F and the waters are warm enough for swimming (September more so than May which can still be a little chilly).
I would advise avoiding traveling in July and August as it is the high season in Italy when all the locals and international tourists are vacationing. Although Procida is not as crowded as Ischia or especially Capri, traveling during the summertime can be overwhelming due to the larger number of visitors and highest weather temperatures (around 30+ C°/86+ °F).
Winters in Procida are windy, stormy, and cold. If you suffer from seasickness but still want to sail to Procida, make sure to hop on a ferry that is much bigger and more stable than a hydrofoil.
Tip: if you happen to only have time for visiting Procida during the summer months, make sure to book your ferry tickets and accommodation in advance. This is particularly important if your trip falls on the weekend when everyone is rushing to escape the heat of the city. If you are planning on dining, reserving restaurants is also a good idea.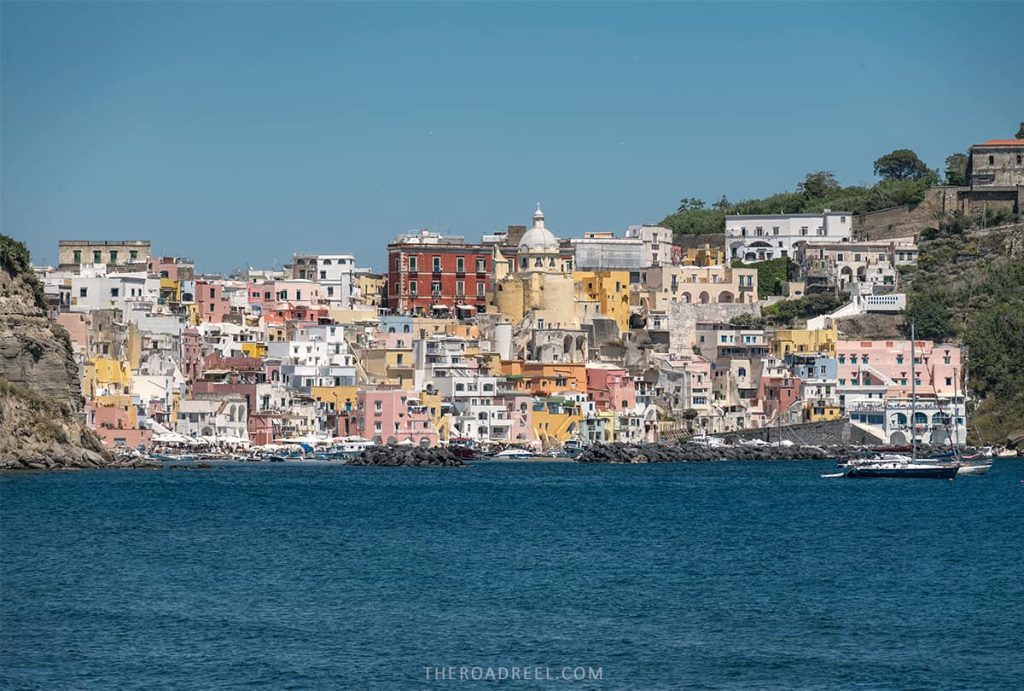 Where to stay in Procida Island
There are plenty of hotels, B&Bs, and holiday homes to choose from in Procida either for one night or longer stay. I have picked a few great accommodation options in Procida for different budgets and needs: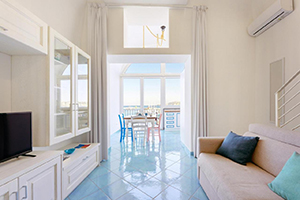 Torretta Corricella-Punta Miseno $$$- a large spacious beautifully decorated apartment with a sea view that can host up to four people is located close to the main port of Procida.
Hotel La Corricella $$- located in Marina di Corricella, this hotel has perhaps the best shared terrace overlooking the iconic colorful houses. Some of the minimalistic yet cozy rooms also have private balconies.
B&B Mediterraneo $- located 800 meters from Pozzo Vecchio beach this B&B offers rooms and studio apartments inland of Procida, there is a nice garden and a terrace, some units have balcony, exceptional breakfast is also included in the rate.
Vento di Mare $- a B&B located just 1 minute walk from the ferry- convenient and nice place to stay for one night.
Map of Procida
Use this map to find all the points of interest mentioned in this Procida travel guide. Click HERE to open it and save it to your Google Maps.
More Italy travel guides
Italy Travel Essentials & Useful Links
Here are links to essential travel resources and services I always use when organizing my trips.
I hope you are enjoying my free travel guides & tips. If yes, please consider supporting my work by buying me a coffee so I can continue creating more useful content from my favorite coffee shop in town. Thanks!