Wondering how to visit Meteora independently? Here is my easy guide to visiting Meteora monasteries in Greece. 
This practical Meteora travel blog includes information on the best time to go, how to get to and around Meteora, which monasteries are worth seeing, where to stay, places to eat, and other handy tips and interesting facts. 
"The beauty of Meteora is intense". These were the words of my Greek friend who traveled with me to visit the mysterious monasteries perched atop narrow pillars of rock. The otherworldly 60 million years old rock formations with ages-old buildings perched on top looks like a surreal drawing or a CGI of a fantasy movie. 
Indeed, you have to see Meteora to believe it exists. Yet it is hard to comprehend how on earth the monks back in the medieval ages came up with an idea and actually managed to build sacred homes atop hundreds of meters tall vertical rocks. The nature and human work involved are no less than mind-blowing. 
Read this Meteora guide for everything you need to know to efficiently plan your time in one of the most spectacular places on Earth.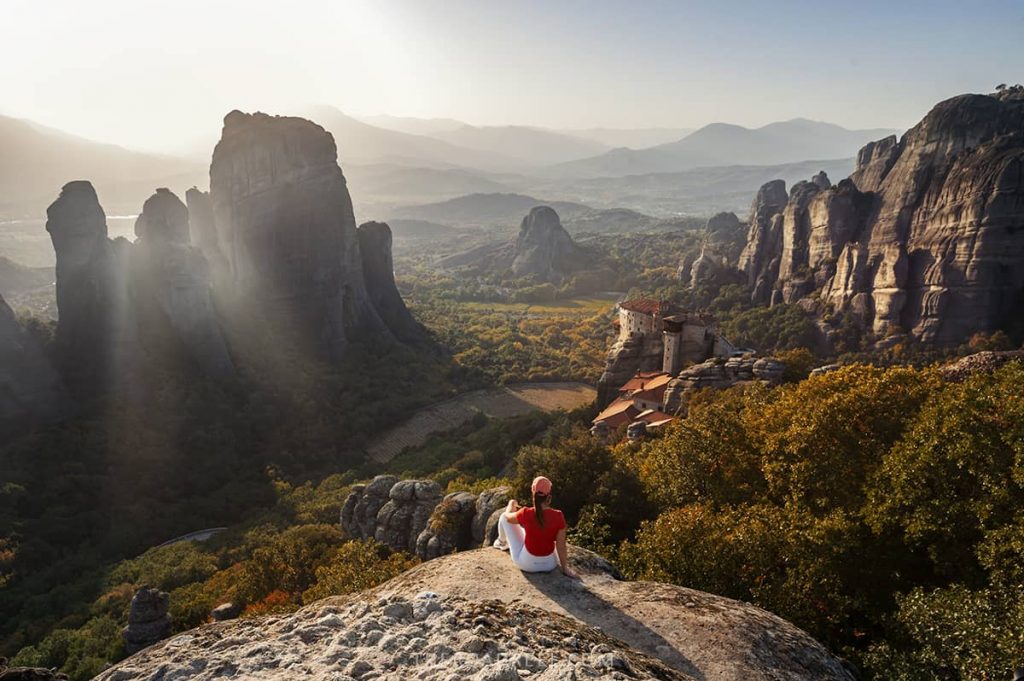 Disclaimer: This post contains affiliate links, which means that I may earn a commission if you make a purchase by clicking a link (at no extra cost to you). This helps to keep my blog running and growing by creating more awesome free content for you.
Everything you need to know before visiting Meteora monasteries in Greece
Meteora quick links
Tips and FAQ for visiting Meteora
These Meteora travel tips will give you an overall idea of what to expect during your visit:
There are 6 functional Greek Orthodox monasteries in Meteora that you can visit during their opening times (provided below in this post). 
The entrance fee to each of the monasteries is 3 EUR per person. Budget 18 EUR if you want to visit them all. Greek nationals enter for free. 
Each of the 6 monasteries in Meteora is closed on one day during the weekday in the summer season, and some of them a few days a week during the winter season. All of them are open during the weekend (Saturday and Sunday) all year round. 
Mind the dress code when visiting Meteora monasteries: you must cover your shoulders and knees to enter monasteries. Ladies must wear a long skirt covering the knees (pants are not allowed for ladies and they are strict about it). All of the monasteries (except Varlaam) provide skirts free of charge at the entrances. 
Meteora's popularity grew exponentially during the past few years. Thus, expect lots of independent visitors and even more tour buses all year round from sunrise to sunset. Visit during winter months for the least amount of people. 
Parking is available at each of the monasteries. When it gets full, people park alongside the main road, which is normal.
Snacks, water, and soft drinks are available to buy at the entrances to the largest monasteries- Great Meteoron, Varlaam, and Saint Stephen. Yet, bring your own bottle of water if you are planning on visiting smaller monasteries or venturing off the beaten path.
It is possible to visit all monasteries in one day on a weekend. However, it may feel exhausting and rushed. 
If you can, spend at least one night in Meteora to experience the sunset and the sunrise– the most magical times for photography.
It is possible to get around Meteora and visit monasteries by walking if you are game (and fit enough to handle at least 16km uphill and downhill). 
5 out of 6 monasteries are accessible via a number of steep stone stairs (minimum 140 to over 200, depending on the monastery). This should be taken into consideration if a visitor has mobility restrictions. Only St. Stephen nunnery has a flat path with no staircase making it easily accessible to everyone. 
Frescoes inside the monasteries are beyond impressive. However, photography is not allowed inside churches (they will spot you through cameras if you try to snap a shot). Yet, there are a few places in a couple of monasteries, where you can take a picture of the beautifully ornated room.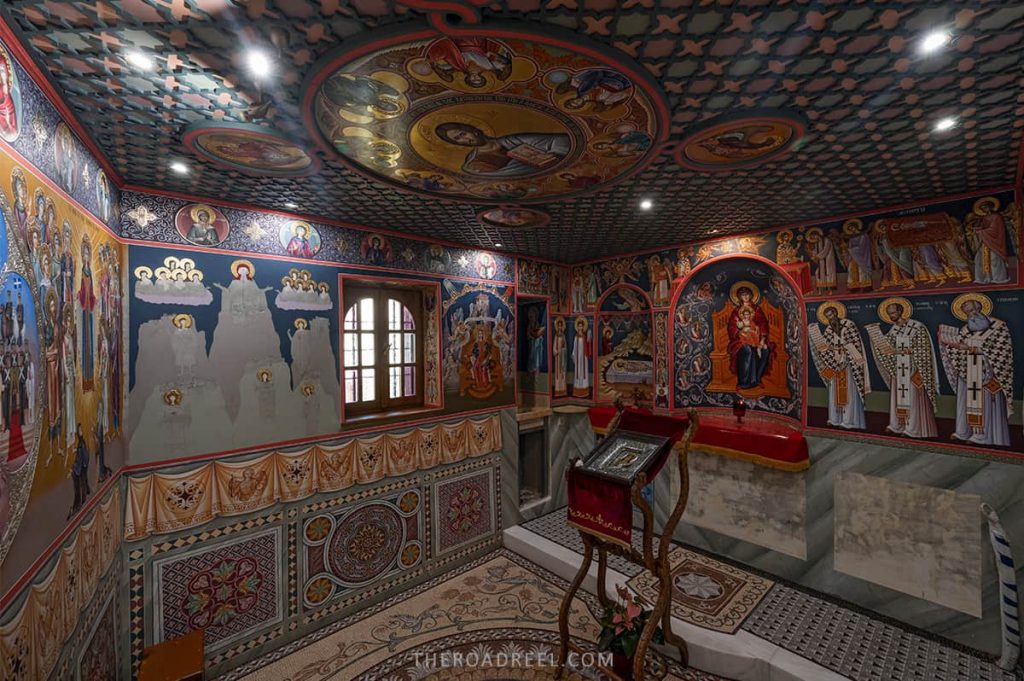 Located in Thessaly, the central region of mainland Greece, Meteora is reachable both from Athens and Thessaloniki by car, bus, train, or tour.
Choose Kastraki over Kalambaka for a more peaceful stay. I found staying in Kastraki a better choice as this town is smaller and quieter than the popular and busy Kalambaka. Also, parking and driving around Kastraki were always easy. Meanwhile, access to monasteries by car is equally convenient.
Guided tours from Athens and Thessaloniki are a great option if you are not willing or cannot travel independently. There are one-day, two-day, and even 3-day tours available from both cities.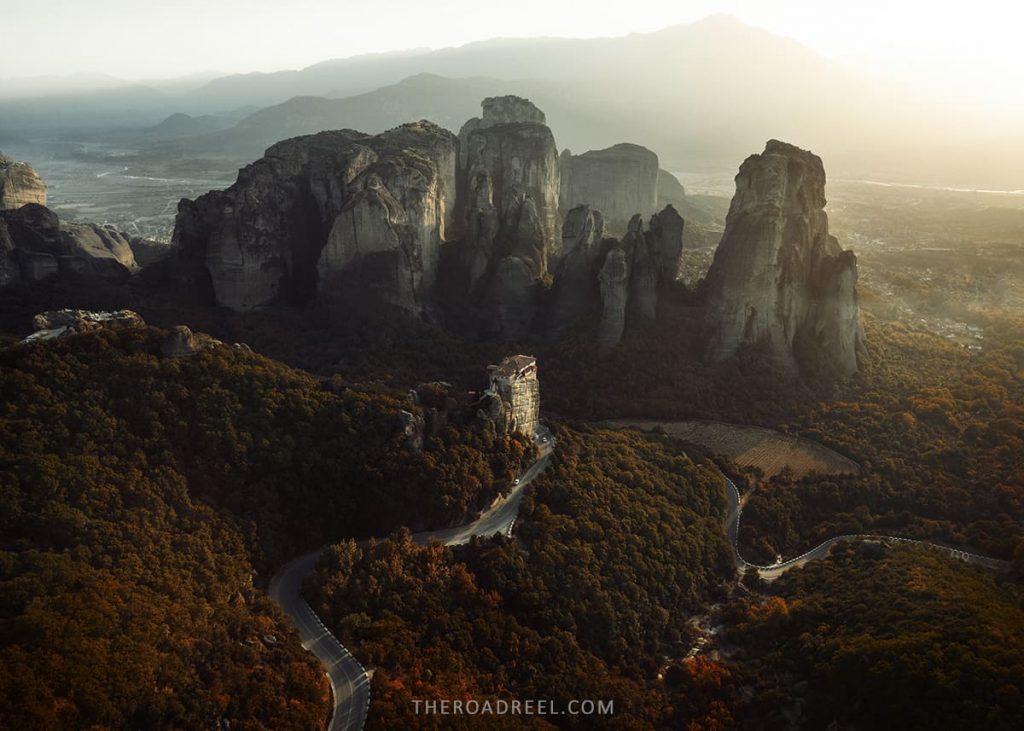 Just to give you a heads up, Meteora is one of the absolute best places to visit in Greece. After seeing Meteora every other location looks well, just ordinary. That being said, it might be worth leaving the best for the last on your Greece itinerary. 
Also Read: 10 Epic Photo Locations in Meteora.
A brief overview of Meteora and its "suspended in the air" monasteries
Translating as "suspended in air", the uniqueness of Meteora is simply unmatched. It is hard to find a place on Earth that packs it all- unparalleled natural beauty intertwined with cultural and historical significance. No surprise that Meteora is a UNESCO-protected site since 1988.
The distinct rocks which you can see in Meteora today are a result of the tectonic shift process which took place over 60 million years ago. The clustered smooth soaring peaks of Meteora reach up to 550 meters and are all different in shape making the typography one of a kind.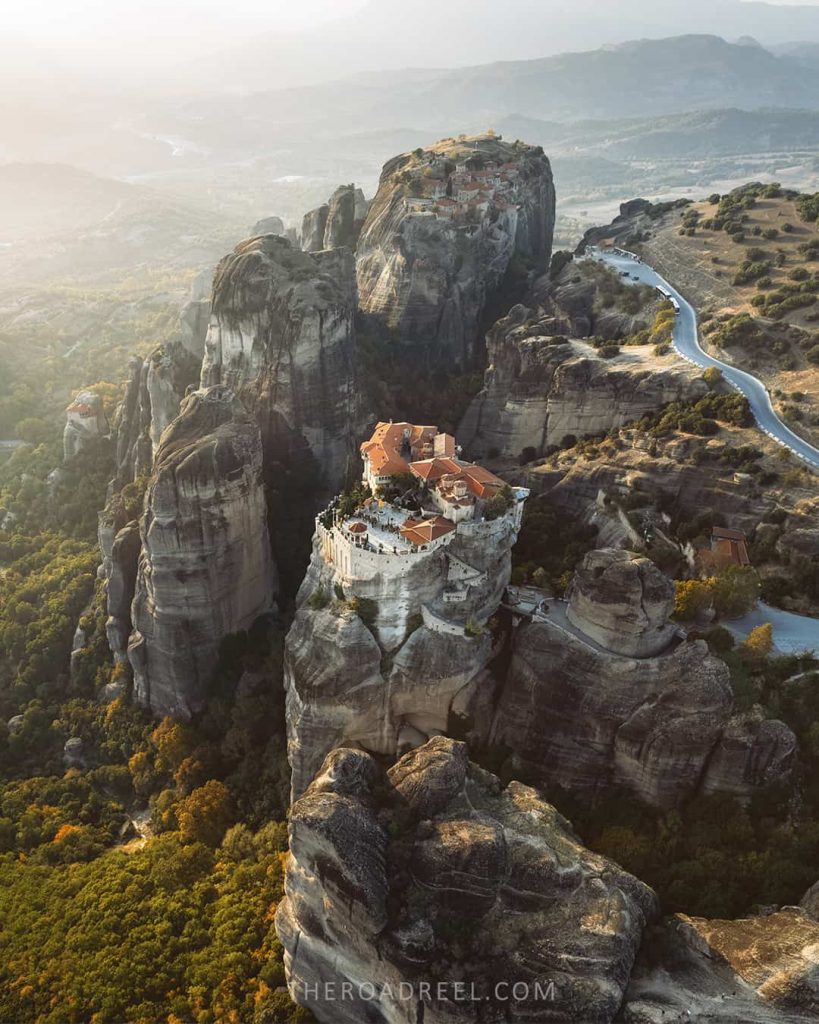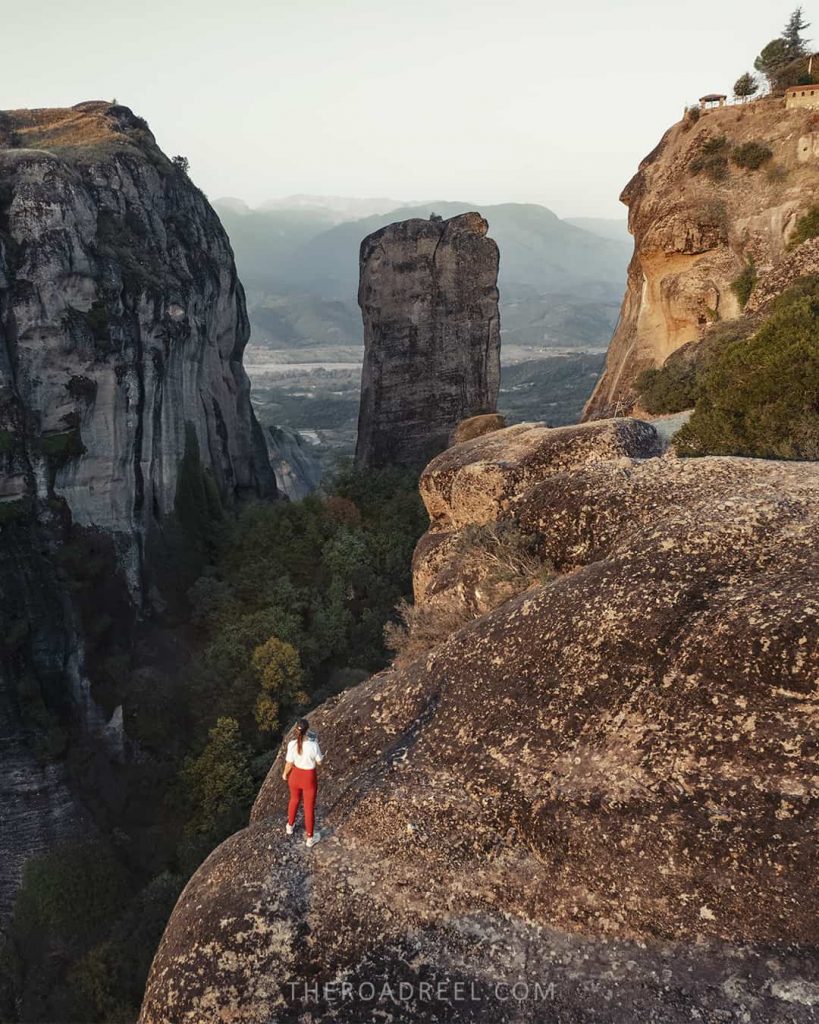 The cultural and religious aspect comes into play from the 9th century AD when the first monks moved to the area and sought solitude in the caves of Meteora rocks. Historical sources confirm that the first sacred houses atop the steep pillars of rock started to be built by monks in the 11th century.
The technology used back in the Middle Ages required years of scrupulous and hard work to finish each monastery. By the 16th century, there were two dozen Greek Orthodox monasteries. Today only 6 of them remain and are fully functional (2 nunneries and 4 male monasteries). 
Today bridges, staircases, and even funiculars (used by monks for transporting goods) allow easier access to each of the monasteries. Meanwhile back in the day ropes and baskets were the only means available to enter the sacred homes.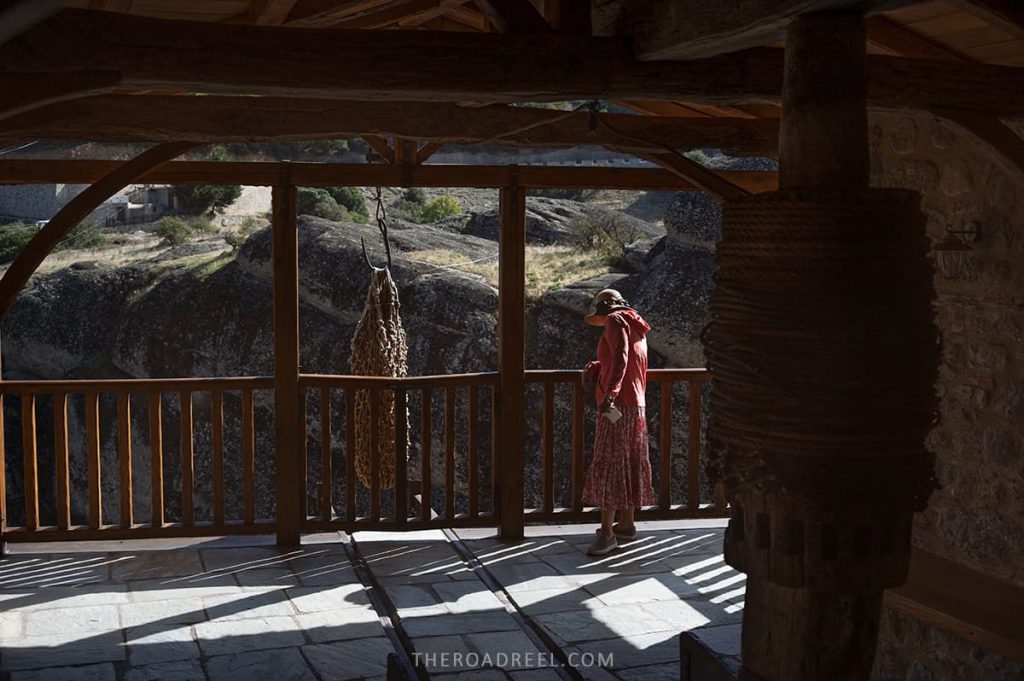 Did you know that:
In Orthodox Christian belief the body remains the temple of the Holy Spirit. Thus, relics of saints are venerated. In every Greek Orthodox church, you will see earthy remains (bone of feet or hand, or part of a scull) embedded in altar tables. 
Orthodox Christians were widely persecuted during the Ottoman Empire. This cruel historical fact is reflected in detailed paintings of the frescoes inside the churches. 
Fun facts about Meteora:
James Bond's movie "For Your Eyes Only" was filmed in Meteora and The Holy Trinity appeared in some of the scenes making it the most photographed monastery.
Linking Park's album "Meteora" was named after Meteora in Greece way before it was discovered by many travelers. 
Game of Thrones fans may recognize the scenery of the fictional city of Eyrie backdrop of which was inspired again by the same Meteora in Greece.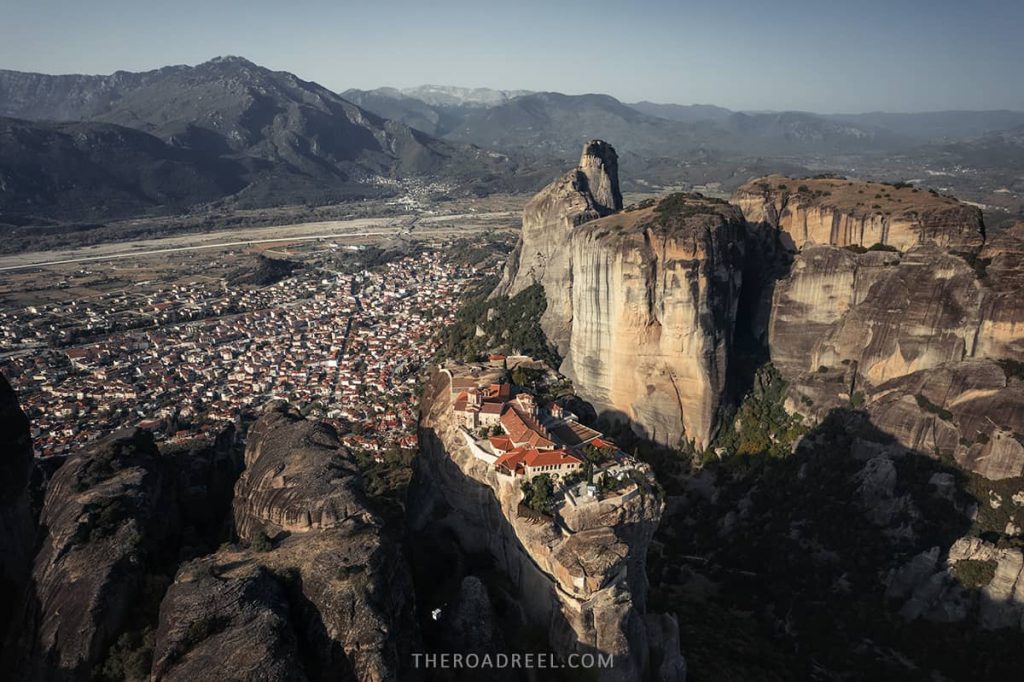 How to get to Meteora
Positioned in central Greece, Meteora is not the easiest or quickest place to reach. The most convenient way to travel to Meteora is by car. Yet public transport (buses and trains), as well as tours, are also available:
Trains offer the fastest connections from Athens and Thessaloniki.
Tours offer a hassle-free journey but also limited flexibility.
Buses are the most inconvenient way to travel to Meteora.
The closest airports to Meteora are Athens International Airport and Thessaloniki International Airport. 
Visiting Meteora by car
Once in Greece, the most convenient way to visit Meteora is by (rental) car. It gives you full control over your own schedule and also eases moving around the Meteora area. 
It takes 4 hours 20 minutes to drive to Meteora from Athens and 2.5-3 hours to drive from Thessaloniki to Meteora. 
Also read: Renting a car in Greece: 30+ Key Things to Know before Driving in Greece.
Good to know: there are many tolls on the way from Athens to Meteora and you can pay by card or cash at the toll gate. One way we paid around 20 EUR for the tolls between Athens and Meteora. If you are traveling from Thessaloniki to Meteora, expect to pay some tolls as well.
Are you looking for great deals to hire a car in Greece? I use the websites below to shop for the best car hire rates:
Browse Greece rental car offers between local providers at Localrent.
Compare the best car rental rates in Greece with international car hire companies at Discovercars.
I also recommend cross-checking the offers with the biggest car search engine Rentalcars.
Visiting Meteora by train
The following train connections are available from Athens and Thessaloniki to Kalambaka (one of the two base towns for visiting Meteora).
Train from Athens to Kalambaka (or Kalampaka)
Once a day direct intercity train from Athens (Larissa station) to Kalambaka, departing at 7:57 AM and arriving at 12:03, trip duration 4:06 hours.
Four times a day intercity and regional trains are available with change in Palaeofarsalos
Train from Kalambaka to Athens
Once a day direct intercity train is available from Kalambaka train station, departing at 18:22 and arriving in Athens at 22:26.
Three times a day intercity and regional trains are available with change in Palaeofarsalos
Athens-Kalambaka one-way ticket price is around 36 EUR, return of 57 EUR.
Train from Thessaloniki to Kalambaka
There are 6 times a day intercity and slow regional trains with interchange in Palaeofarsalos town departing from Thessaloniki (Neos Sidirodromikos Stathmos) to Kalambaka. The journey takes between 3 to 6 hours depending on the time of the day.
Train from Kalambaka to Thessaloniki
There are 5 times a day intercity and slow regional trains with an interchange in Palaeofarsalos town departing from Kalambaka to Thessaloniki. The journey takes between 3 to 5 hours depending on the time of the day.
Thessaloniki-Kalambaka one-way ticket price is around 27 EUR, return is 34 EUR.
For up-to-date train schedules, ticket prices, and booking tickets to Meteora (Kalambaka) online, visit the national railway website.
Visiting Meteora by Bus (from Athens and Thessaloniki) 
The least convenient, and the most time-consuming option is taking a bus. 
From Athens "Liossion" bus station you can catch a bus to Trikala town and then another bus to Kalambaka. This trip due to less convenient schedules can take up to 8 hours. 
From Thessaloniki "Macedonia" bus station catch a bus to Trikala and then another bus to Kalambaka. Allow enough time to change buses.
Visiting Meteora by tour
If you do not have your own means of transport and prefer having a knowledgeable guide, and all the logistics sorted, joining a Meteora tour either from Athens, Thessaloniki or Kalambaka is a good idea. Even with limited time, it is feasible to join a day tour and experience the magic of this truly incredible place.
If I was to choose a tour to Meteora, these would be my top picks (based on the ratings and reviews of other travelers):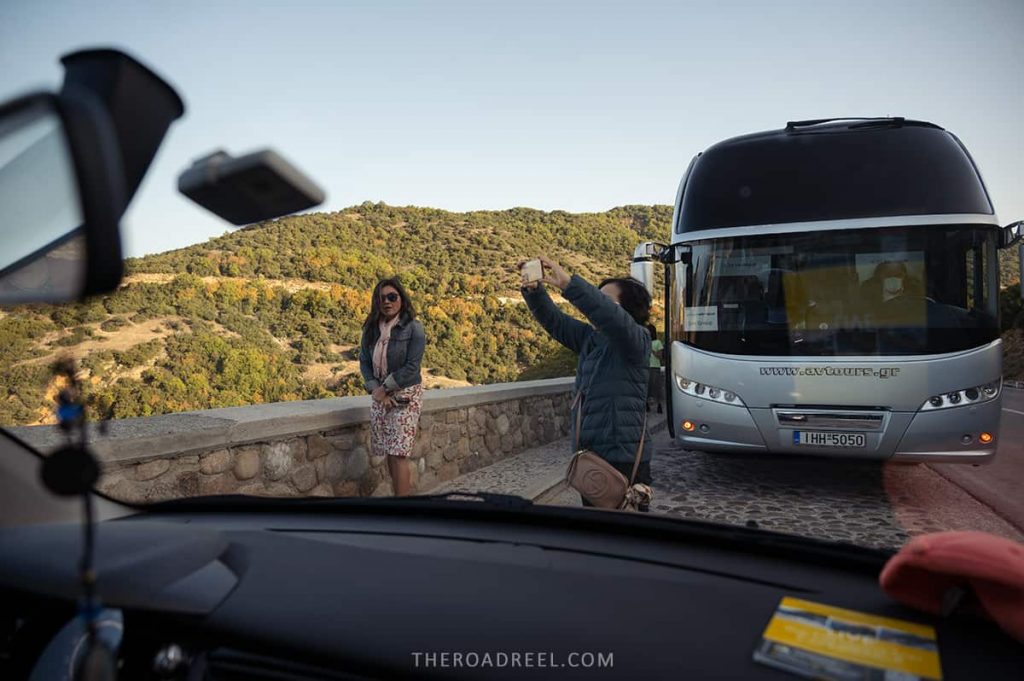 How to get around Meteora
There are multiple ways to get around Meteora: car, scooter, taxi, electric bicycle, tour, and walking (or even hiking). 
When I was planning my trip to Meteora I couldn't get a grasp of how big or small the area actually is. The logistics of getting between the monasteries was a mystery as the place itself.
It all became very clear, however,  when I got there and drove one loop from Kastraki over the main road (Epar. Od. Meteoron-Kallitheas) leading to monasteries and then back down to Kalambaka. Although Meteora is quite expensive, it is small enough to get around either by car, taxi, or even cycling and walking. 
Map of Meteora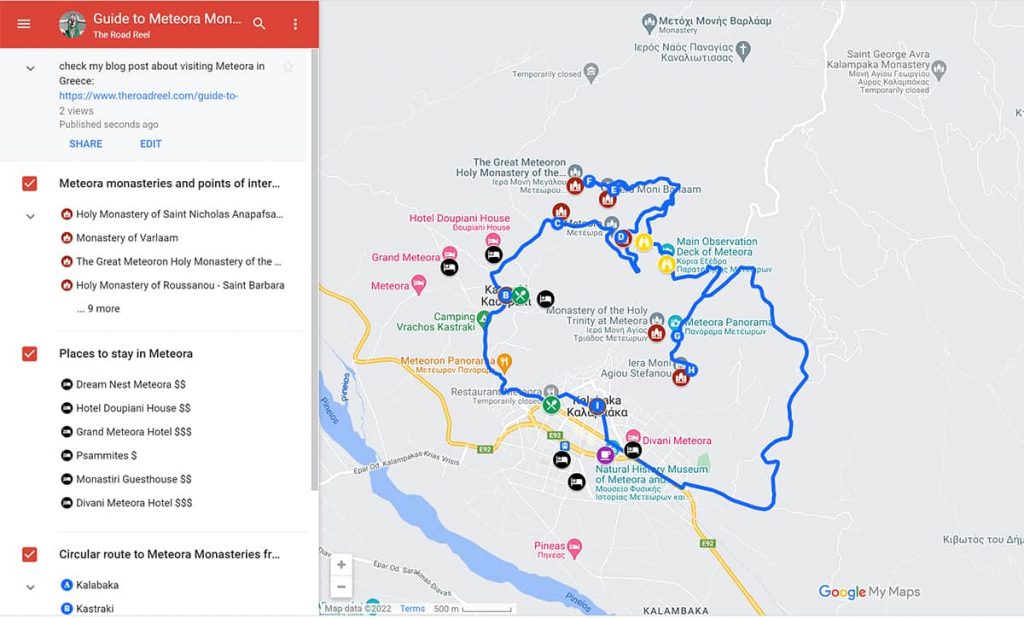 Click here to open and save my Meteora map which shows the exact locations of each monastery and other points of interest mentioned in this Meteora guide.
Getting around Meteora by car. The easiest way is to drive around Meteora on your own or in a rental car. There is only one main road with a couple of side roads winding above Meteora rocks and monasteries. Getting lost is impossible. The distances between monasteries are short thus you can drive between them in minutes. Parking is available at each of the monasteries as well as at several lookout points.
Getting around Meteora by scooter. You can rent a scooter in Kalambaka and drive around monasteries easily(taken you are comfortable riding windy and hilly roads). Expect to pay around 18-30 EUR per day for a scooter. 
Getting around Meteora by taxi. If you do not have your own transport, the other quick way to get to the monasteries and between them is to hire a taxi. One trip costs 5-7 EUR depending on where you are going. If you don't mind and enjoy walking, you can limit your taxi rides to one or two. Ask the driver to get you to the Great Meteora monastery at the far end on the west side and then visit the remaining on foot. Call the taxi to bring you back to town (Kalambaka or Kastraki, depending on where you stay). Alternatively, return by walking downhill. 
Getting around Meteora by e-bike. Another great transport option available for rent in Kalambaka is an e-bike. Rents are available for a duration of a few hours, half-day, to a full day (around 25 euros for a full day). 
Getting around Meteora by walking or hiking– the distances between monasteries are relatively small, thus many people choose to walk along the main road or hike the foresty paths between monasteries. Nonetheless, it is around 16 kilometers distance if you do a circular route starting your walk/hike from Kalambaka or Kastraki. Thus, account for a full day if you aim to visit monasteries on walking.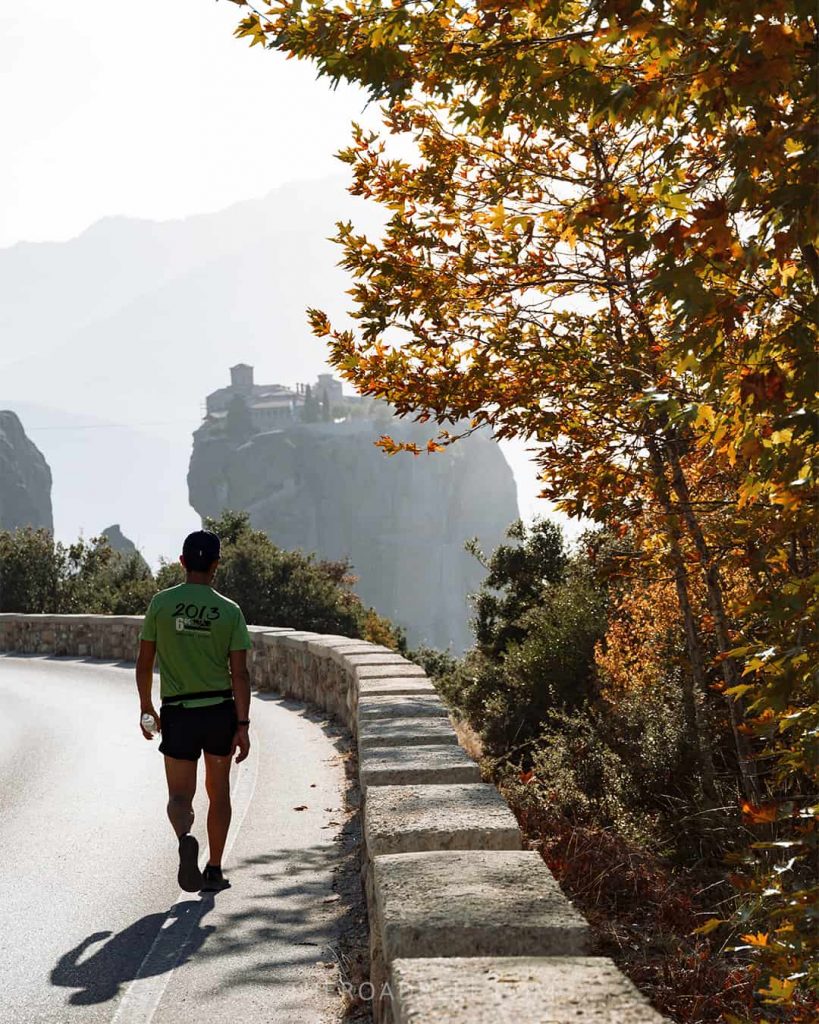 Cycling around Meteora. It is also possible to cycle around Meteora but you must be quite fit to tackle all the uphills. Walking is much easier than peddling steep inclines. In fact, apart of one group of mountain bike cyclists venturing the verdant hills above Meteora, we didn't see many people cycling around. 
Getting around Meteora with a tour. For those of you who have limited time, require guidance, and/or aren't keen on walking, there are plenty of tours available to book in Kalambaka (Meteora). For example, this Meteora sunset tour from Kalambaka is top-rated by travelers.
The best time to visit Meteora
For best weather: the best time to visit Meteora is autumn (mid-September to November) and spring (mid-March to May) when the day temperatures are the most pleasant (15-25 °C/83-59 °F).
However, do not expect to be the only visitor. I traveled to Meteora on the last week of October hoping it to be empty, and it was far from that, especially on the weekend. Tour buses were unavoidable, arriving at the most popular viewing points for sunset and sunrise on the dot and then heading directly to the monasteries (which open quite late at 9 am).
For the least crowds: the best time to go to Meteora is in winter (December-February). Yet, you can expect snow (it does freeze at night) and quite cold during the day (6-12 °C/42-53 °F)
Avoid: summer is possibly the worst time to visit Meteora due to the heat and thousands of tourists. In June-August temperatures during the clear day are an average of 27-33 °C/80-91 °F. It can be way more on clear midday under the sun.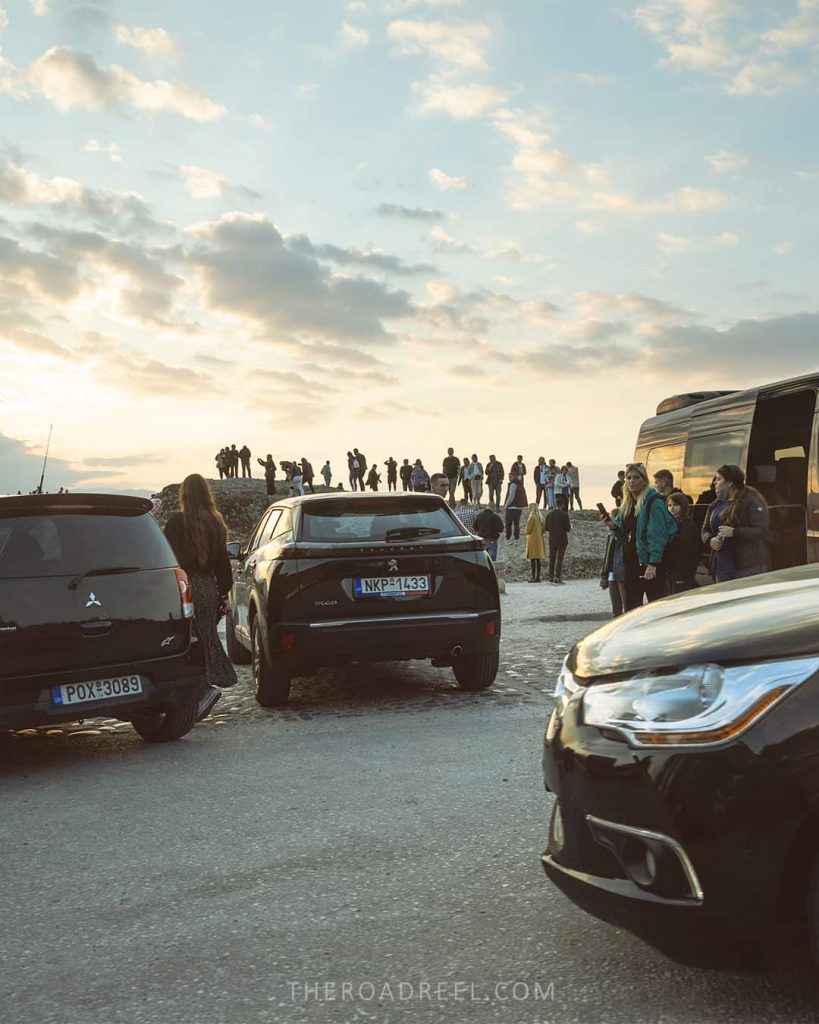 How many days in Meteora? 
I would recommend spending a minimum of 1 night in Meteora allowing yourself to experience sunrise and sunset over the Meteora valley. Those are magical times of the day not to be missed.
However, if you are planning on doing some serious photography and want to capture each monastery at its best light, or in general, spend more time properly exploring the area at a slower pace, plan at least 2-3 nights in Meteora.
You could easily spend more as the place is so beautiful and can keep you busy not only with visiting monasteries, but also hiking Meteora, and exploring the surrounding areas if you drive.
Visiting Meteora in one day is also possible but it is tiring and rushed. Even if you are arriving on a tour, try to include at least spending one night in Meteora.
Make sure to also read my post about 10 Epic Photo Locations in Meteora.
Meteora monasteries opening times
Meteora monasteries have longer opening times in summer (April 1st to October 31st) and shorter in winter (November 1st to March 31st). Refer to the monasteries' opening times and hours both for summer and winter below.
Meteora monasteries opening days and hours in summer (April 1st to October 31st):
Great Meteoron Monastery: 9 AM – 3 PM, closed on Tuesdays;
Varlaam Monastery: 9 AM – 4 PM, closed on Fridays;
Roussanou Monastery: 10 AM- 4 PM, closed on Wednesdays;
Holy Trinity Monastery: 10 AM -4 PM, closed on Thursdays;
St. Stephens Nunnery: 9 AM-1:30 PM and 3:30 PM-5:30 PM, closed on Mondays;
Agios Nikolaos Anapafsas Monastery: 9 AM – 5 PM, open every day.
Meteora monasteries opening days and hours in winter (November 1st to March 31st):
Great Meteoron Monastery: 9:30 AM – 2 PM, closed on Tuesdays, Wednesdays, and Thursdays;
Varlaam Monastery: 9 AM – 3 PM, closed on Thursdays and Fridays;
Roussanou Monastery: 10 AM- 2 PM, closed on Wednesdays
Holy Trinity Monastery: 10 AM -4 PM, closed on Thursdays
St. Stephens Nunnery: 9:30 AM-1 PM and 3 PM-5 PM, closed on Mondays
Agios Nikolaos Anapafsas Monastery: 9 AM – 4 PM, and 9:30 AM – 4 PM on Sundays, open every day.
Which Meteora monasteries to visit?
Which of Meteora monasteries you shouldn't miss and which ones should you skip? 
Great Meteoron and Varlaam are the largest monasteries, while St. Stephano nunnery is the easiest to access as it doesn't have steep staircases. All three monasteries are very popular and most of the tour buses head to those.
After reading different opinions and then visiting the monasteries myself, below I share a short overview of each of the monasteries to help you get an idea and make your pick if you can't visit them all.
Legend: *** my favorite, **  good to visit, * if you have time.
Note that it is based on my personal opinion and you may agree or disagree with me at the end of your trip. Nonetheless, I hope it will still be helpful should you need to choose which monastery to go to and which one just to admire from afar. 
St. Nikolas of Anapafsas (14th century) Monastery Meteora ***
Rising up from a lonely pillar, at a lower elevation than others, St Nicholas Monastery is the smallest of all six. It is the first monastery you will come across when driving (or walking) a circular route from Kastraki. Or it will be the last when coming down the road from Kalampaka side towards Kastraki. 
Good to know: 
St. Nikolas is the least visited monastery. Tour buses tend to skip it, which means it is quieter and less busy than other monasteries.
There is a beautiful chapel with some of the best in Meteora 16th-century frescoes depicting Biblical scenes. 
There are several viewpoints, with an amazing rooftop terrace.
St. Nikolas has the steepest and longest climb out of all Meteora monasteries. Another reason why people tend to skip it.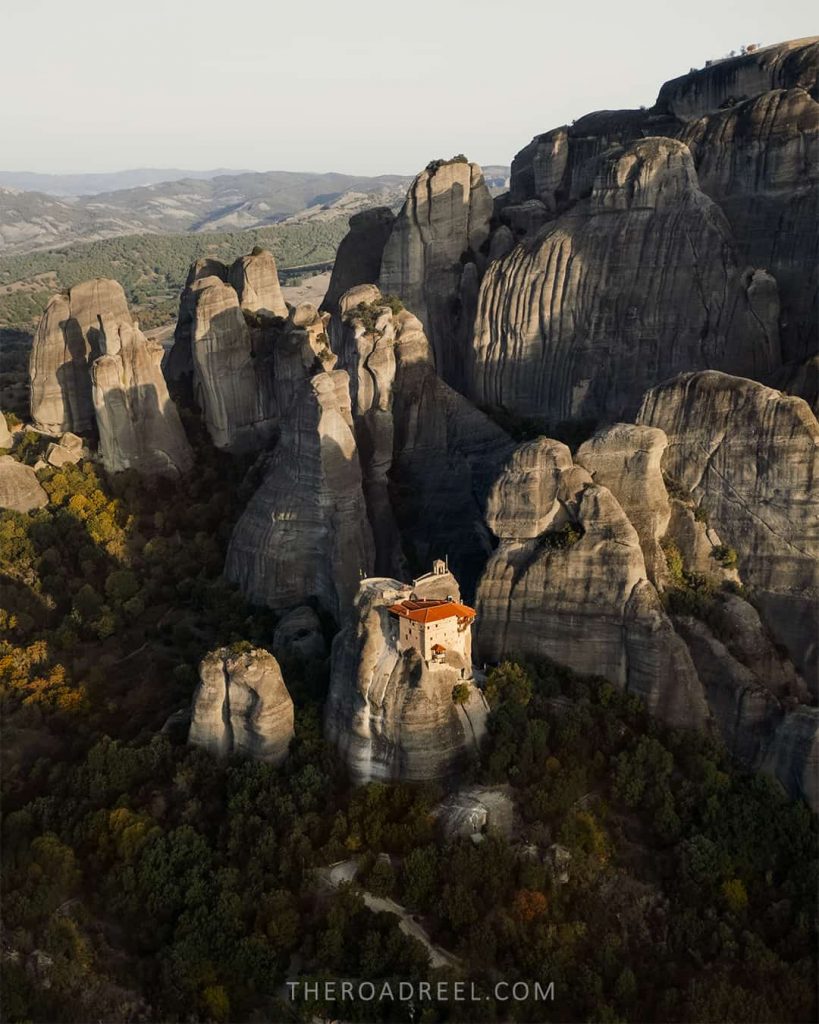 St. Nikolas of Anapafsas was the monastery I was going to skip and ended up visiting twice! Yep, I did love it that much. While other people seem to neglect it for not being impressive enough, which I completely disagree with, I felt like Agios Nikolas monastery was the least commercialized and the most secluded. Even my Greek friend felt the same way.
Indeed, the climb to reach the monastery is quite steep with possibly the largest number of steps to tackle. For this reason, many tourists don't bother climbing, and tour buses carrying big groups skip it. 
To me, the miniature, yet 3-floor monastery felt very homey. The katholikon (the church of the monastery where monks pray) has a special energy, while the rooftop terrace is open to fascinating close-up views of the rocks of Meteora, Kastraki town below, Russsonou, and Varlaam monasteries at a distance.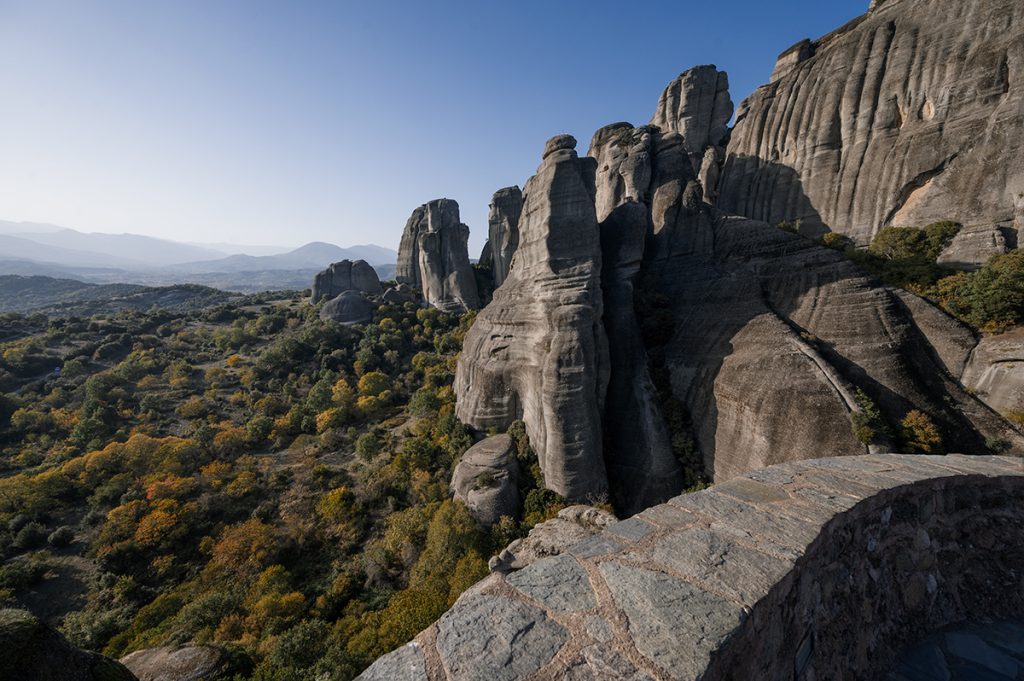 Roussanou (1529) monastery in Meteora Greece***
Situated within a green forest, beautiful inside out, Roussanou is a nunnery dedicated to Saint Barbara. According to the ancient story, for accepting and promoting Christianity, Agia Varvara (st. Barbara) was beheaded by her pagan father.
Today, 13 nuns inhabit Rousannou which is the second smallest monastery among surviving six. Although to reach Russanou you will have to tackle a few steep steps, it is one of the easiest to access. Nonetheless, many tour buses still skip it because due to its smaller size it cannot accommodate large groups of tourists. This makes Russanou a little less visited and it was my second favorite monastery out of six.
And did I mention that Roussannou is one of the most photographed monasteries as it is extremely photogenic and has a variety of wonderful angles to capture it from?
Make sure to also read my guide to The 10 best locations to photograph Meteora and its hanging monasteries.
Holly Trinity (Agia Triada, 1362) Monastery in Meteora***
Boasting captivating views over Kalambaka and surrounding Meteora rocks and valleys, Holly Trinity is a gorgeous byzantine monastery accessible through a sheer stairway cut into the cliff.
A windy stone path leads to the foot of the imposing lonely rock which made a base for the 14th century Agia Triada. Being featured in a popular James Bond film, today Holy Trinity is the other most photographed monastery in Meteora, especially by aerial photographers. 
Do not shy away from 145 steep steps and make sure to visit Holy Trinity. To me, Holy Trinity is unmissable, especially for the views over the Meteora valley.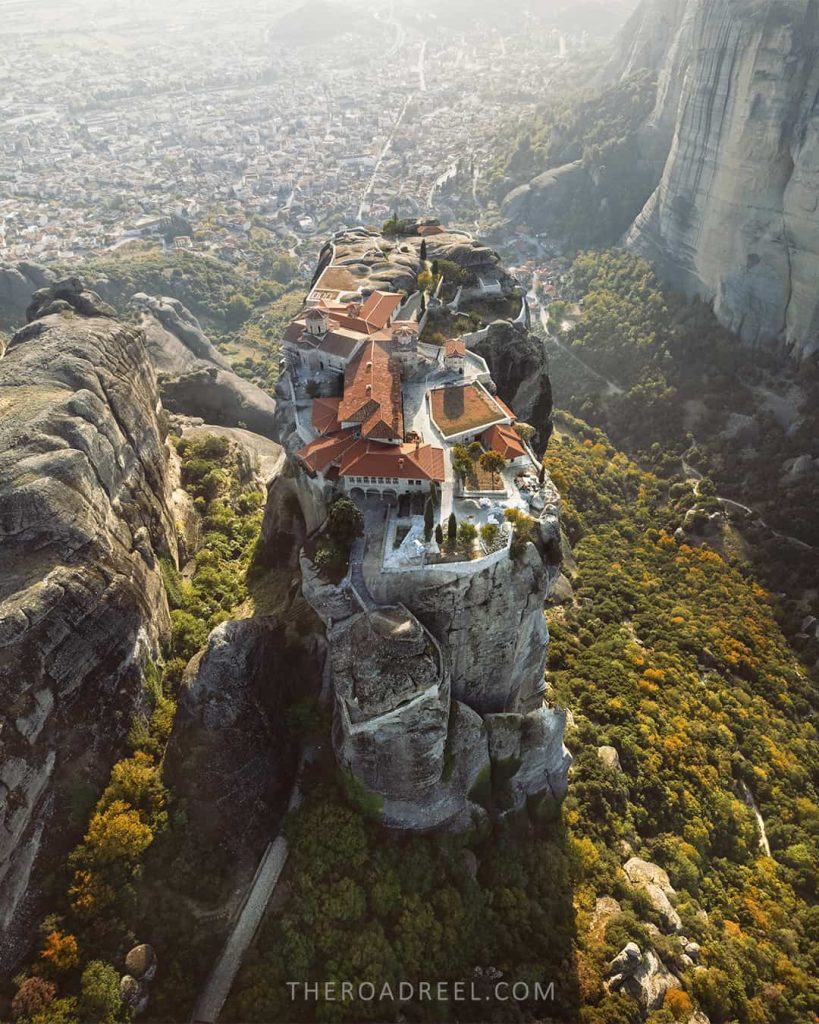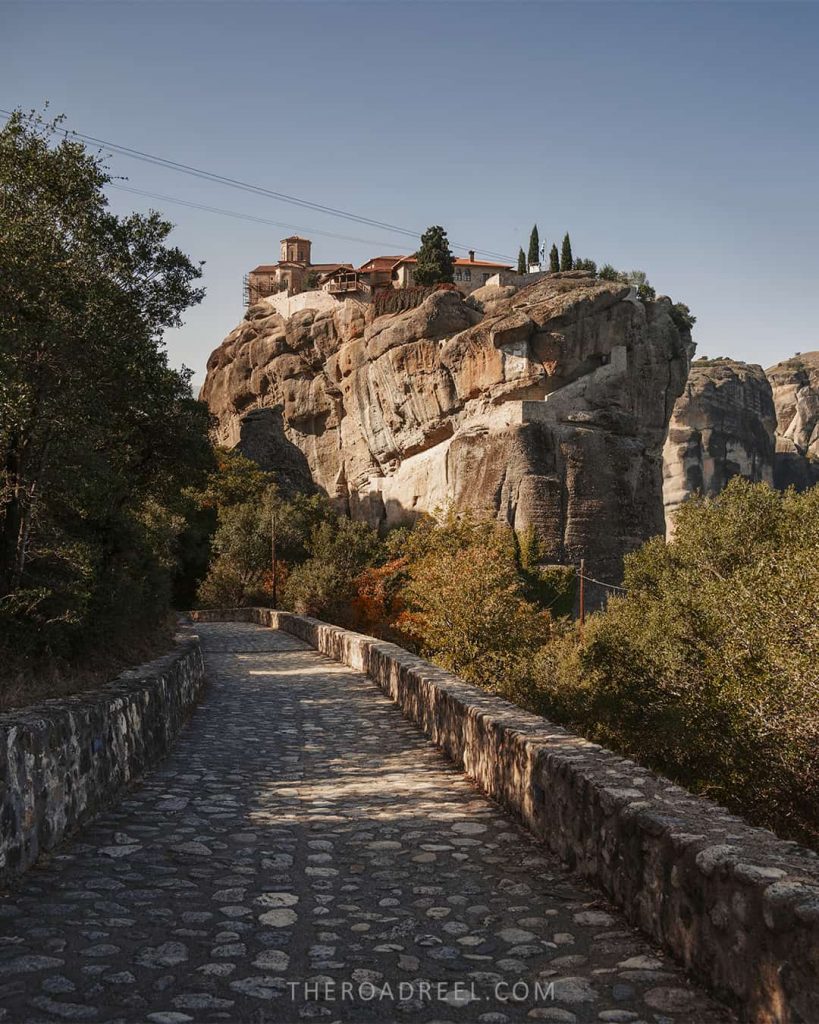 Great Meteoron monastery (14th century)***
Established in the mid-14th century, the largest and one of the oldest, Great Meteoron Monastery holds a commanding position on the highest cliff. Due to its many red-roofed buildings, the monastery can be mistaken for a small fortified town rather than a holy place.
Visiting the Great Meteoron monastery and its museums will provide you with good insight into the story of the area and the life of the monastic community. Meanwhile one of the most interesting and rather spooky parts inside Great Meteoron is the sacristy where you can see hundreds of skulls of the monks who have lived there over the years. 
Tip: Great Meteoron monastery is one of the most popular hence it gets very busy during the day. Parking can be packed as well. Thus, it is a good idea to plan to visit the Great Meteoron monastery as soon as it opens. 
Varlaam Monastery in Meteora (1350) **
Located on a slightly lower elevation, just a few steps away from the Great Meteoron, Varlaam is the second-largest monastery in Meteora.
Varlaam has several great lookout points, including a beautiful courtyard overlooking Meteora valley with Roussanou in the distance. There is also a small museum that briefly introduces the history of the area and some interesting facts about monastic life in the old days.
Thus, if you cannot visit Great Meteoron, Varlaam is a good alternative to visit. 
To me, Varlaam, although undeniably beautiful, felt too commercialized (the same applies to Great Meteoron and even Saint Stephan).  The souvenir stalls at the entrance are a bit of a vibe killer. Let alone there are masses of people visiting.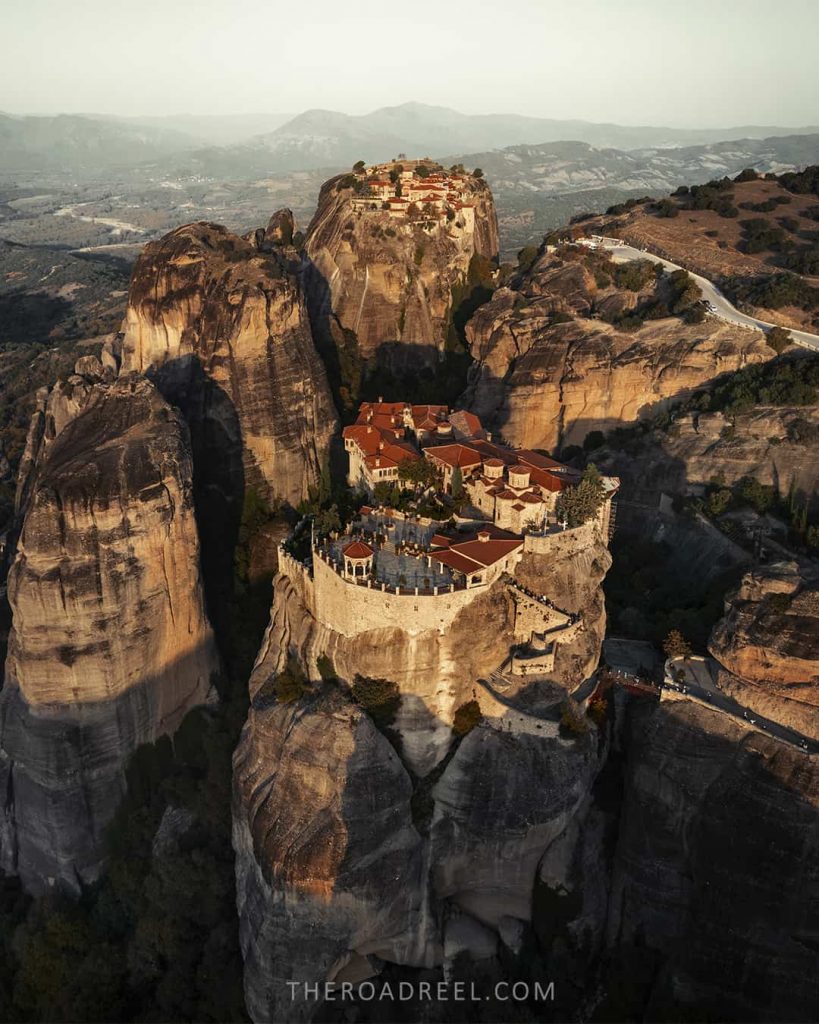 Thus, in my humble option, it is enough to see one of the two biggest monasteries and spend some more time exploring the above-mentioned smaller ones. 
Good to know: Varlaam monastery does not provide free skirts for ladies. Thus, make sure to bring your own, or purchase one for 3 euros at the entrance (this is separate from the 3 euros entrance fee). 
Saint Stephen Nunnery (14-19th century)*
At the southern edge of the Meteora cluster, and just a minute's drive from Holly Trinity monastery, Saint Stephen's nunnery was first inhabited by ascetic Jeremiah, in the early twelve century. Evolving through centuries, the whole complex was completed in the 19th century.
Due to the easy access over the small bridge, St. Stephen's monastery is one of the most frequented and can get uncomfortably busy. For this reason, it was my least favorite, yet is worth visiting for its impressive frescoes.
The best lookout points in Meteora for sunset and sunrise
There are plenty of wonderful viewpoints of the monasteries available when following the main road. That being said, a couple of the spots for Meteora photography for sunrise and sunset watching are:
Psaropetra lookout/ Sunset Rock (perfect for sunset)
Main Observation Deck of Meteora (great for sunrise and sunset)
These two spots are amazing but also very popular. If you want to find out more of the best Meteora photo locations (including fewer known ones), make sure to read my post about the 10 best spots for Meteora photography.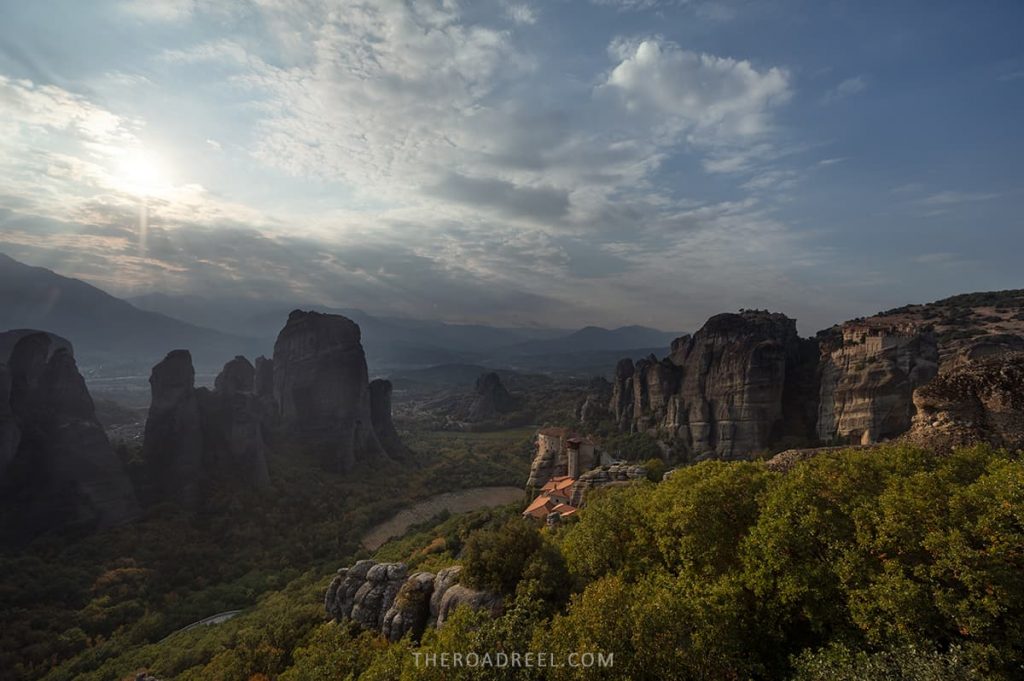 Recommended places to eat in Meteora
Meteora Restaurant in Kalambaka– yep, the name is simple and clear- this is a family-run taverna since 1925. The traditional slow-cooked Greek food was delicious (we ate there twice), service is excellent, and you get to choose between sitting in a garden with the views of the rocks during the day or dining inside the dining room excessively decorated with souvenirs and almost a centuries' old remembrances.
Taverna Gardenia in Kastraki– this is a popular and beloved dining spot in Kastraki serving traditional Greek foods.
Recommended coffee shop in Meteora
For the best coffee head to 14oz in Kalambaka. Set on the main road at the entrance to Kalambaka, 14oz had the best coffee I managed to find during my Greece road trip. I love my good coffee and I am very picky with it. I have to admit I struggled with finding great coffee during my fairly short visit, but this coffee shop in Kalambaka did not disappoint. If you love it a little bit chocolaty, try their hot Mochaccino. Don't miss the homemade granola bar dipped in dark chocolate, yum.
What are the top foods to try in Kalambaka and Meteora?
Moussaka for meat lovers, saganaki for cheese lovers, and stuffed eggplants or stuffed peppers and tomatoes for vegetarians. Also, big white beans are one of the best vegetarian traditional dishes found all over Greece, also available in Meteora's restaurants.
Where to stay in Meteora
There are two towns you can stay in Meteora:
Kalambaka-a bigger, more popular town with plenty of restaurants, bars, pastries, and souvenir shops. It would be a more convenient place to stay for those of you who arrive by train or bus as the stations are located in Kalambaka. 
Kastraki – a smaller, quieter, cozier, town which is easy to park at and also has a few fantastic places to eat, a great choice for those who drive.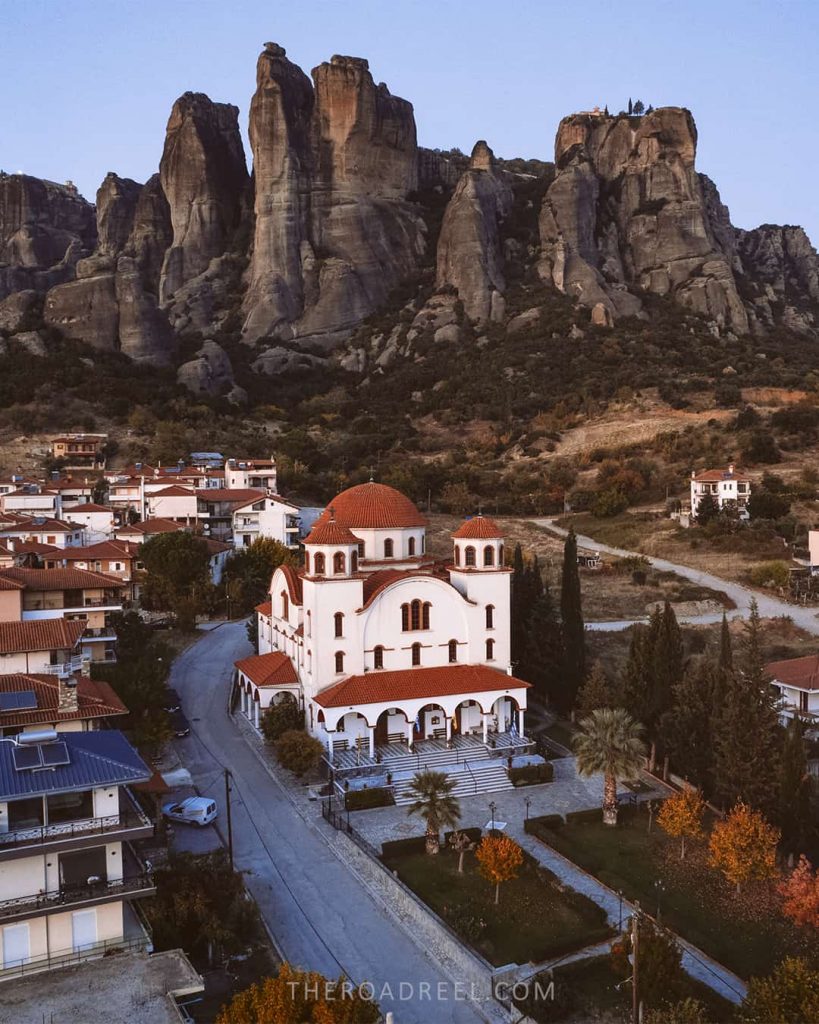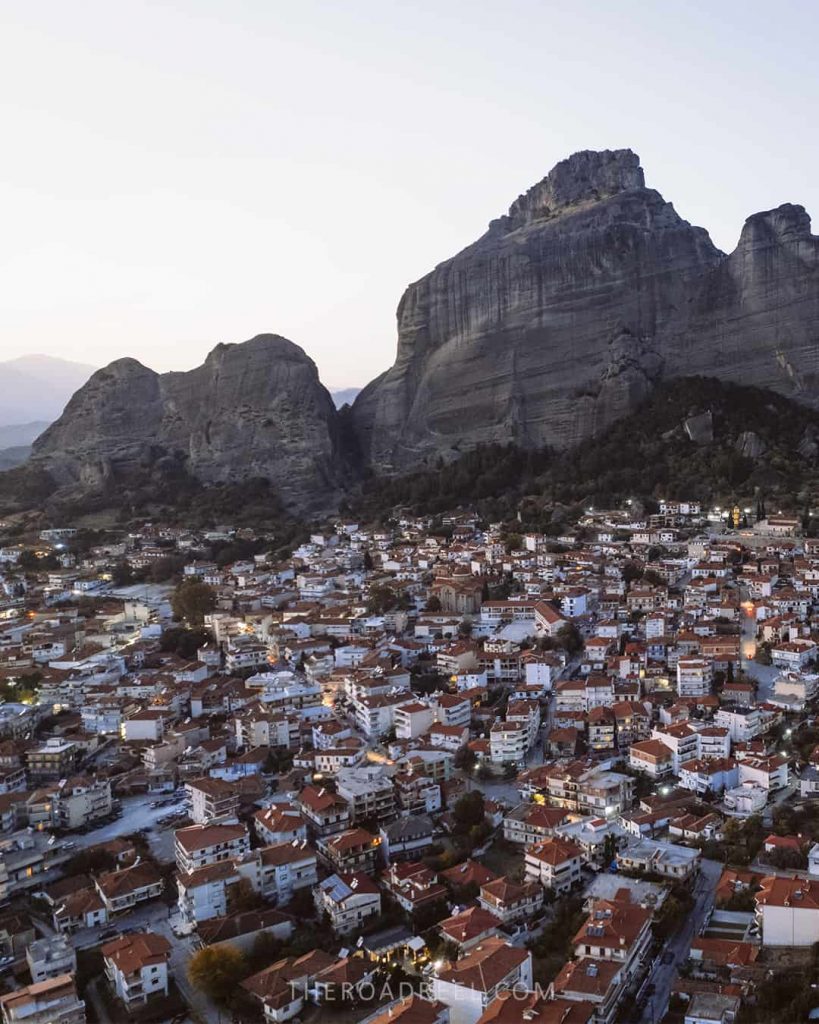 Nonetheless, both towns offer some great accommodation options and are equally convenient for reaching the Meteora complex in a matter of minutes (when driving). Also, Kastraki and Kalambaka are steps away from each other. Thus, if you drive, you can get between the towns quickly. 
Check my top picks of Meteora accommodation below.
Suggested accommodation in Kastraki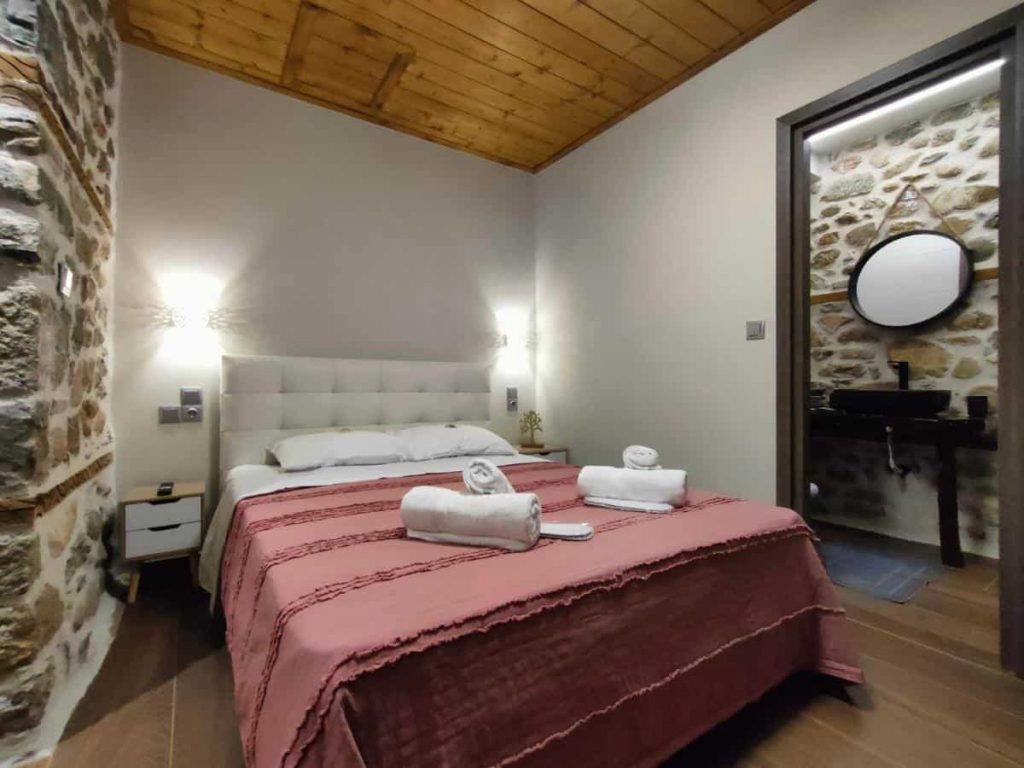 Dream Nest Meteora $$. We stayed in this cozy immaculately clean and tastefully furnished one-bedroom apartment. This family accommodation has two apartments located in beautiful surroundings at the foothills of Meteora. The host was kind enough to refund one night's stay on my non-refundable booking when my flight got delayed for a day.
Hotel Doupiani House $$. Well-furnished rooms with balconies opening to fantastic views over Meteora, as well as a common terrace area to have excellent breakfast and a drink at an on-set bar in the evening. Saint Nikolas Anapafsas Monastery is located steps away.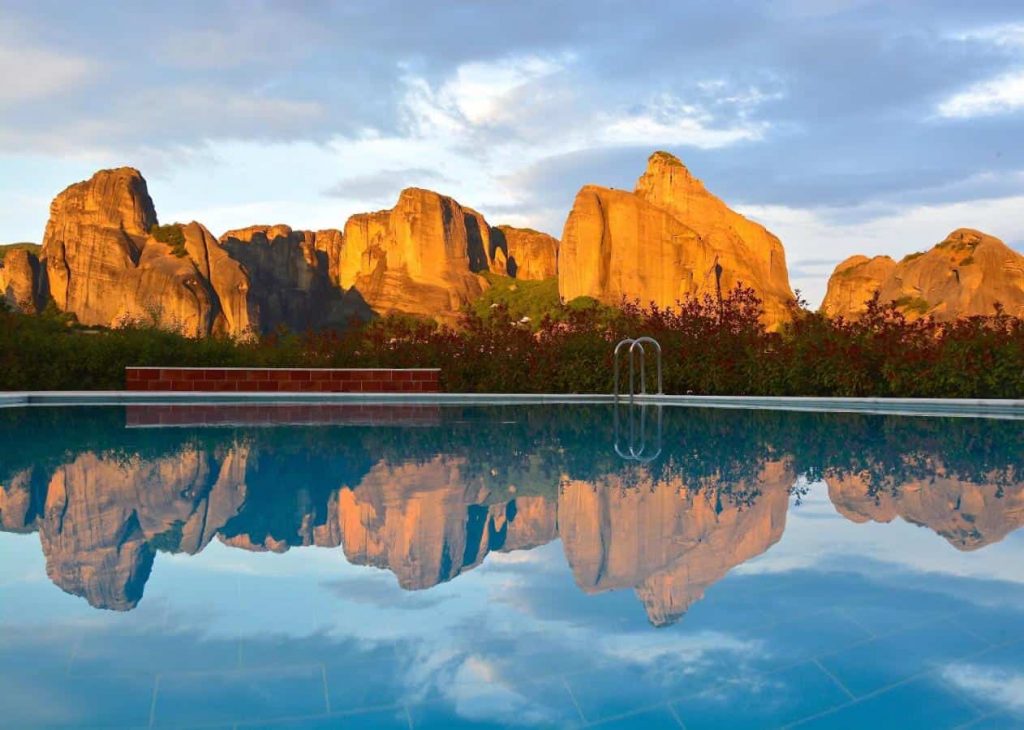 Hotel Meteora at Kastraki $$$. Set at a higher point of Kastraki this hotel has killer views over Meteora and a large pool to cool off during a hot day. The rooms are clean and simple, but the views are what makes the biggest appeal. Fabulous breakfast is also included.
Suggested accommodation in Kalambaka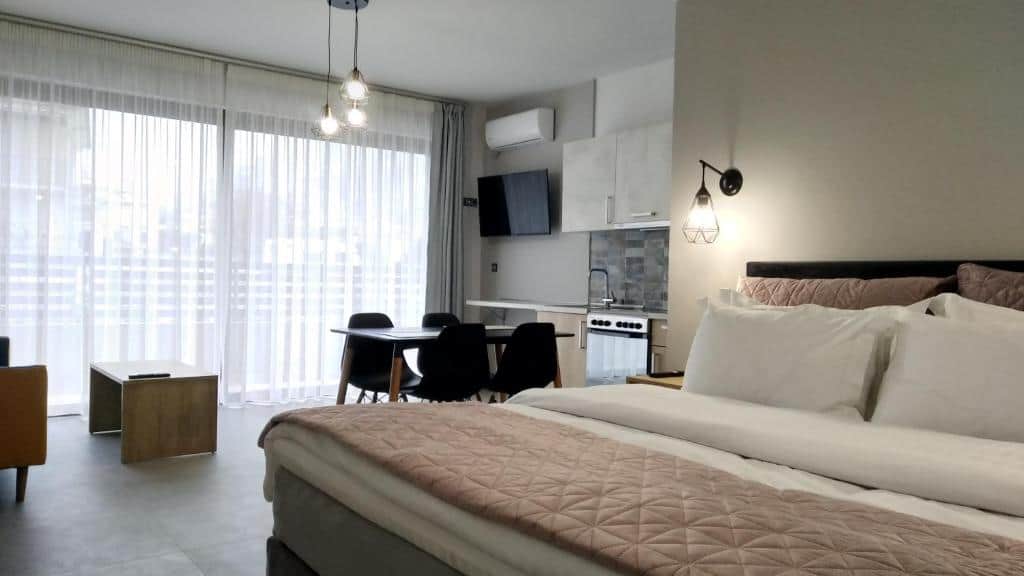 Psammites $. This affordable and brand-new minimalistic studio apartment offers a comfortable stay in the quiet surroundings of Kalambaka. It also has a patio, a terrace with a seating area, and a garden.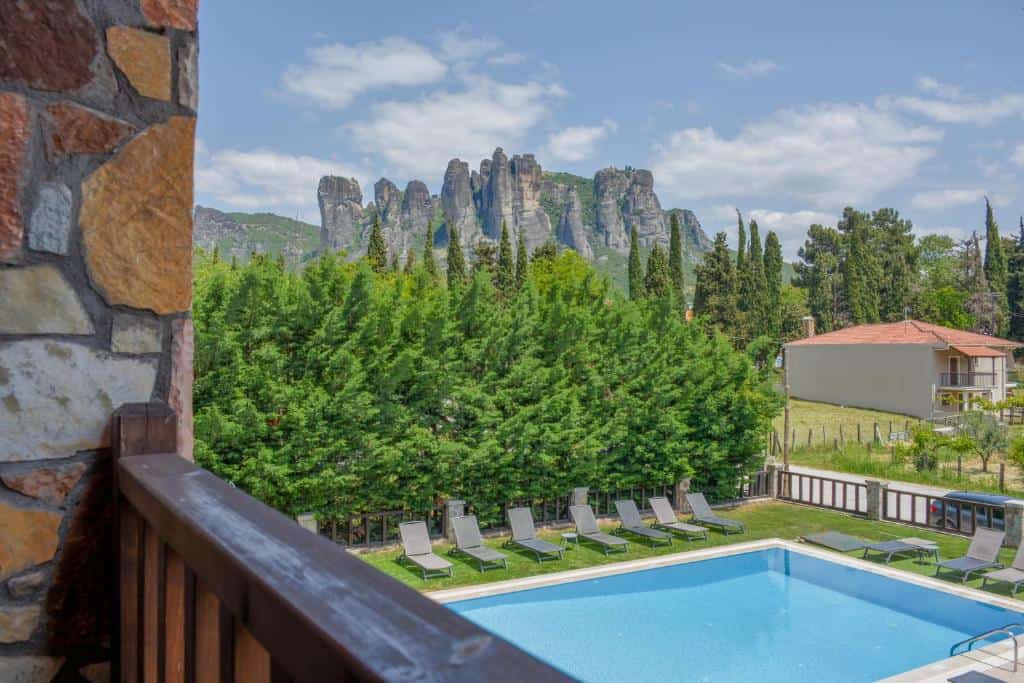 Monastiri Guesthouse $$. Located 200 meters away from Kalambaka town center and close to the train station, this guesthouse has a variety of expressively decorated rooms with frescoes and wooden floors, a big garden with a pool open to Meteora views. Great breakfast is also included, and room service is available upon request.
Divani Meteora Hotel $$$. This hotel offers a sophisticated 4-star stay experience: spacious rooms decorated by award-winning interior designer feature oak-wood furnishings and wooden floorings, and some rooms have large verandas. The recreational area includes an indoor and huge outdoor pool, sauna, and spa. Breakfast included in the room's price is very good.
I hope you found this Meteora travel blog useful and that it has helped you to easily plan your visit to Meteora monasteries. If you are planning your trip to Greece, make sure to check out my Greece travel resources as well as browse other posts about Greece on my travel blog (scroll down).
Greece travel essentials & useful links
Here are links to essential travel resources and services I always use when organizing my trips.
More articles on my Greece travel blog