In this easy step-by-step guide to flight delay compensation, I share my personal experience of claiming a refund by using flight cancelation refund services such as AirHelp and Skycop. Read on to know when and how you can get paid for your delayed or canceled flight when flying from or to Europe, or using European airlines.
If you ever experienced a flight delay, you would know how it can mess up your vacation schedule and cause additional expenses and losses.
But did you know that you can get up to EUR 600 in compensation for a delayed or canceled flight? Even more, if you had a delayed or canceled flight up to 1-10 years ago, you can still claim the compensation (unless extraordinary circumstances apply).
I was traveling to Greece from the UAE with Wizzair Airlines when my flight was delayed for 22 hours. As a result, I had to rearrange my route in Greece to adapt to the long delay. Luckily, I did not have any internal flights or ferries booked the next day in Greece. Yet I lost one full day of my already short vacation.
I was aware of the possibility to get compensated for delayed flights either directly through the airline (slim chances) or using a compensation claim service like Skycop or Airhelp (those guys get the dirty job done for you for a fixed commission rate).
However, not many people are aware of their rights when it comes to flight delays, cancelations, denied boardings, missed connections, and overbookings. After I spoke to a few passengers who were on the same delayed flight, none of them knew they may be entitled to compensation for the flight delay, let alone how to claim it.  
Thus, I created this post where I share all the information on when you can get compensation for flight cancellation or delay and how to easily claim for it.
Disclaimer: This post contains affiliate links, which means that I may earn a commission if you make a purchase by clicking a link (at no extra cost to you). This helps to keep my blog running and growing by creating more awesome free content for you.
How to claim and get paid up to EUR 600 for a delayed or canceled flight
Important!  The flight delay and cancelation compensation policies explained in this blog post apply to the flights which fall under EU Regulation 261/2004 and UK law. This regulation was established by the European Union to protect travelers and ensure their right to care in case of a delayed, canceled, or missed connection due to a delay, overbooked, or downgraded flight. Great Britain also adopted the same law after Brexit.
If your delayed flight falls under this regulation, you will be able to successfully claim compensation. All the other flights, unfortunately, will not be covered.
When are you entitled to delayed or canceled flight compensation?
There are several circumstances under which you may be entitled to compensation due to flight delay or cancelation. I say "may" because regardless of the listed key points below, there are situations under which the airline can "escape" from refunding you (extraordinary circumstances, listed later in his post).
The flights and airlines that are obliged to follow EU Regulation 261/2004 are:
Your flight is within the European Union (EU) and is operated by either an EU or a non-EU airline;
Your flight lands in the EU from outside the EU and is operated by an EU airline;
Your flight departs from the EU to a non-EU country operated by an EU or a non-EU airline.
For example, in my case, WizzAir is a Hungarian airline departing from UAE (non-EU) and landing in Greece (EU). Therefore, it meets one of the above criteria and must follow EU Regulation 261/2004.
How long a flight has to be delayed to claim compensation? What if my flight has been canceled?
If your flight was delayed more than 3 hours or canceled less than 14 days before departure you can claim and may be entitled to compensation under EU Regulation 261/2004.
Also, the flight is considered delayed if it arrives at its final destination 3 hours later than its originally scheduled time. Thus, even if it departed on time, but arrived more than 3 hours late, you can still claim compensation.
For missed connection, if it was part of your reservation when the delay is over 3 hours, you can also claim compensation.
What is the amount of compensation for the delayed or canceled flight?
The amount you can receive for delayed or canceled flight compensation is EUR 250 – EUR 600. It depends on your flight distance:
250 EUR for flights shorter than 1500 km
400 EUR for flights between 1500-3500 km*
600 EUR for flights longer than 3500 km**.
*You will receive 400 euros in compensation even for a longer than 3500 km flight in case your flight departed and arrived within the EU.
** The compensation may be reduced by half if the delay was 3-4 hours only (regardless that your flight was over 3500 km.
Extraordinary circumstances
There are certain conditions that prevent airlines from giving you compensation if the delay happened due to extraordinary circumstances. Extraordinary circumstances for flight delay or cancelation are:
Bad weather (i.e.: snowstorms, windstorms, low visibility).
Strikes of the airport personnel and union strikes.
Bird strikes.
Air traffic control restrictions (including runway closures).
Political and civil unrest,
Security risks/ threats at the airport. 
Note: some airlines may list technical problems as a reason for not compensating you. They would blame the aircraft manufacturer for the mechanical issue. However, this is not considered an extraordinary circumstance, as the maintenance of the plane is the airline's obligation.  Yet, some airlines will take this chance as an excuse- exactly what happened to my delayed flight.
What should I do if my flight is delayed, canceled, missed connection, overbooked, or I was denied boarding?
Make sure to keep all the documentation and communication related to your flight- emails confirmed booking confirmation with reference number, save your boarding pass, and any other documents issued by the airline. All this will serve as proof.
Ask for the reason for the delay and try to get written or visual proof of it. Pictures of the departures board or any communications from the staff in writing will serve as proof as well. 
Note that if the delay is longer than 3 hours, the airline must also offer meals and refreshments in a reasonable relation to the waiting time. If they did not provide vouchers, keep the receipts for any food or drinks you have while waiting. 
If the delay results in you having to stay overnight, the airline must provide accommodation and cover transport expenses from and back to the airport. If you are flying from your own city, you can choose to go back home. Yet, you should still be reimbursed for the transport. 
Note your arrival time once you finally reach the destination.
Where and how do I claim my flight delay compensation?
Now, this is where things may seem complicated- how do you claim exactly for a delayed flight? Where do you go, whom do you approach, and what form do you fill out in order to get compensation?
Here are the two easiest options you have to make a claim for your delayed flight compensation. Apart from those two listed below, others include approaching various authorities and going to court which might be much more time-consuming, require additional knowledge of the law, and can even get expensive.
1. Complain to the airline
IMPORTANT! This step is essential before you try the other method listed below. Once you have a delayed or canceled flight, you must first approach an airline you fly with to issue a complaint and request compensation. Each airline must have a form to fill in on their website specifically for claiming compensation for a delayed or canceled flight. That form includes straightforward questions about your flight (like booking reference number, your name, surname, attaching personal ID, etc.).
When my Wizzair flight was delayed, I went through their terms and conditions of what happens when the flight is delayed. The airline clearly states that a passenger must first approach them for compensation. In case they reject (which most likely they will), or you do not receive an answer within 2 months, then you can move forward to the next step.
That being said, I first filled out a claim form on Wizzair's website on the same day I knew my flight was delayed by 22 hours. It took me just a few minutes. I received an answer- refusal to compensate- within a couple of days.
The airline said it was due to extraordinary circumstances. The airline did not indicate what exactly it was, later on, they said that it was a technical issue. You would think this is the airline's fault, but it tried to make an excuse saying that an issue was from the aircraft manufacturers' side.
Seeing that trying to win against the airline on my own won't bring much success, I moved to the next option.
2. Use flight claim compensation service
Flight claim compensation services such as Skycop or AirHelp are the second easiest and fastest options to claim compensation. These companies come in handy when complaining directly to the airline does not bring desired results (refusal to compensate or even non-response).
I have personally used Skycop as they have a high success rate (according to my online research) and lower commission rate than the more well-known but also great flight compensation service provider AirHelp.
AirHelp and Skycop are companies that represent passengers in claims against airlines under EC 261 / 2004, the European Union's Air Passenger Rights law.
Naturally, there is a commission involved. Skycop charges 25 % of the amount compensated, while Airhelp charges 35% of the amount received in compensation. Application for compensation is free of charge and you only pay if the case is successful.
Steps of using claim compensation services
The steps are described below using Skycop as an example. AirHelp website has very similar functionality and is also just as easy to use when claiming.
Step 1- Eligibility Check
Before submitting a claim, you will be asked to fill in the form with your delayed flight details (date, flight number), answering a few questions, like was the flight was delayed or canceled, and how long was the delay.
A separate section for comments is provided if you want to share any additional information related to your disrupted flight. Before, proceeding with your claim the system will check if you are potentially eligible for compensation.
You will also be shown an amount you can expect to receive in case of a successful claim. If you are not entitled to compensation, the system will indicate so as well.
This whole step takes like 3 minutes or less.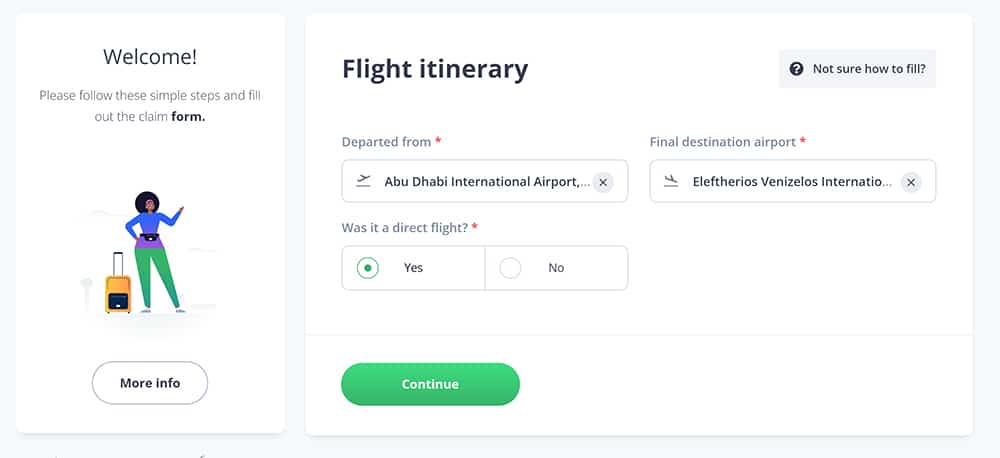 Step 2- submit your details and documentation related to your flight
The next step will be submitting your flight booking confirmation details along with your ID (passport) copy. Make sure to keep all the email communication with your airline, and also boarding passes ready to submit. You may be asked for the following
Booking confirmation;
or Passport copy;
or e-ticket;
or Boarding pass;
passport copy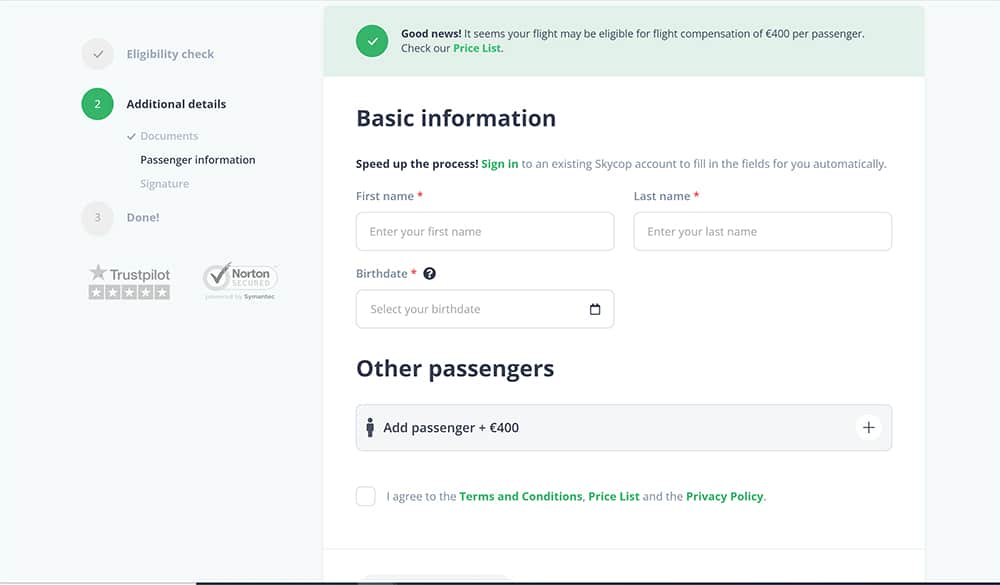 This process is very easy and straightforward. Just have those few documents ready to upload and the process will take you another 2 minutes or so.
Once all contact information and required documents are attached, you will be asked to sign an electronic document authorizing AirHelp or Skycop to act on your behalf when claiming compensation.
Step 3- sit back and wait until the service provider works on your case
Once signed and submitted the claim form, the flight compensation service provider will get back to you to let you know if your claim has been approved for further investigation. If yes, then all you need to do is to wait for the results. Sometimes you may be asked to provide additional documents or information.
The service provider like AirHelp or Skycop will deal with the airline directly, and if necessary will go to court. In this case, the commission rate might be higher as it involves court fees. Nonetheless, you don't have to waste your precious time trying to fight big company as an individual which in many cases is just too complicated and not worth the energy.
In a nutshell, after the claim was submitted with Skycop the process is as follows:
Once the claim has been approved, Skycop approaches a respective airline to demand compensation on behalf of the client;
The passenger is updated via emails/calls about all the steps of their claim. If some documents are missing, Skycop will ask you to provide them via the claim. The client also has an access to his/her claim to monitor the process;
If the airline validates the claim, a passenger is paid his compensation with a deduction of Skycop's commission (25%, the lowest at the market!);
Step 4- receive your compensation
Once a service provider like Skycop wins your claim, you will receive compensation to your indicated bank account.
With Skycop, in case of a successful claim, you will be offered 2 options to receive your payment:
a) Fast Payout – to get 50% of your compensation during 3 working days (means it is a much higher commission rate if you need the money fast).
b) to wait up to 12 weeks for the standard claim (you get all your compensation minus 25% of the commission paid to Skycop);
NOTE: In case the airline rejects paying, Skycop prepares the documents for court. In this case, the entire process may take up to 6-8 months and the charge is 50% commission for such a claim as it requires a legal team to invest a lot of time in the court case.
How long does it take to receive delayed/canceled flight compensation?
It can take anything from a few weeks to several months or even longer in more complicated cases to receive the compensation in case of success. Thus, be patient.
My experience with AirHelp and Skycop?
After doing a little bit of research on the best flight claim compensation companies, I narrowed them down to AirHelp and Skycop which were rated as the top 2. Both companies have a high percentage of positive online reviews. AirHelp is more well known in the market as of the moment of writing. However, the advantage of Skycop is its significantly lower commission rate.
Note: both with AirHelp and Skycop you only pay the commission when the case is successful. Application and case investigation is free of charge.
Thus, I ended up submitting my claim through Skycop which assisted me in investigating my case of the flight delay and possible compensation. The team responded within the same day.
Unfortunately, as they have explained, in my case, I was not able to receive compensation because Wizzair Abu Dhabi is a franchise of Wizzair and is apparently not an EU-registered airline.
Moreover, my flight originated in a non-EU country (the UAE). Thus, I could not win the case. If the delay happened in Athens, Greece, which is part of the European Union, then I would have had a successful case.
Regardless of the unsuccessful case with Wizzair, I again contacted Skycop and asked them additional questions on the overall procedure of the claims and the process throughout. Also, I had read great reviews about the company and thus wanted to find out more about what makes Skycop stand out from other companies. Hence the pros and cons are gathered below.
Pros of using Skycop
Skycop's commission rate for a successful claim is 25 %-one of the lowest in the market. You pay only if the case is successful.
Legal in-house team.
Fast payouts (available within 72 hours for an increased commission rate- 50% instead of 25%).
Skycop has a very easy-to-use claim application form on a secure website.
Skycop handles all the paperwork related to the claim and even goes to court if necessary.
The staff at Skycop are very responsive.
Cons of using Skycop
Commission cut in case of successful application.
Alternatively, AirHelp is a reputable company and possibly the largest in the industry. They have been reviewed by over 70000 customers and manage to maintain ratings above 9 out of 10. Clearly, a knowledgeable and responsible company to work with. As mentioned above, I did not submit a claim with them because of a higher commission rate.
Pros of using AirHelp
Easy to use the claim application form on a secure website.
Does not charge any fees for submitting a claim. The commission of 35% is only charged in case of success.
AirHelp is one of the best-known companies in the market and known for its great customer service and high success rate in claims.
AirHelp offers services in 16 languages.
Cons of using AirHelp
AirHelp charges a 35% success fee which is higher than the industry average.
Fligh disruption compensation companies like AirHelp and Skycop can help when:
your flight was delayed or canceled, the airline overbooked the flight, baggage got delayed, denied boarding, missed connection due to delay (when you have connecting tickets);
if you want to save time on dealing with lots of paperwork yourself.
You do not have to use AirHelp or Skycop if:
You have skills and knowledge as well as time to claim against the airline yourself.
What is the time limit for claiming flight delay compensation?
Last but not least question is the time limit you have to claim for disrupted flight compensation. Interestingly, there is no uniformity in the time frame. You can claim compensation within 1 to 10 years after your delayed or canceled flight.
The time frame within which you can claim compensation for a delayed or canceled flight varies in different EU states. It also depends on the origin of the air carrier, the departure, and the arrival of your flight. You can use those variables to your advantage when exploring your opportunity to claim for a delayed flight. More on it in a bit.
These are the time frames you have to claim for a disrupted flight, depending on the country:
1 year– Belgium, Poland;
2 years– Croatia, Iceland, Slovakia, Slovenia, Switzerland, and The Netherlands;
2 years 4 months– Italy;
3 years– Austria, Check Republic, Denmark, Estonia, Finland, Germany, Lithuania, Norway, Portugal, Romania, Sweden;
5 years– Bulgaria, France, Greece, Hungary, Spain, and Scotland;
6 years– Cyprus, Ireland, United Kingdom (except Scotland);
10 years– Luxemburg;
No Limit– Malta.
If several years passed since your disrupted flight, it can be confusing whether you can claim compensation or not when your flight originated in countries that have different time frames for claiming compensation.
However, you can always use those time frames to your advantage by making a claim in the country where the compensation claim period is the longest.
Example 1: You want to make a claim after 2 years of your delayed flight. For instance, you traveled from Lithuania to Belgium, and the flight was delayed by more than 3 hours. In Belgium time frame to make a claim is only 1 year, but in Lithuania, it is 3 years. In this case, you should claim in Lithuania.
Example 2: Let us say you want to claim compensation for your delayed flight after 5 years. Your departure country was Italy and your arrival was in Sweden, operated by British Airways. Since the time has passed for claiming in Italy (2 years 4 months) or Sweden (3 years), you can still claim in the UK. This is because the airline is registered in Great Britain and UK rules would apply in this case.
Thus, if you only read this post after many years after your canceled or delayed flight, the great news is that you can still receive compensation for the inconvenience caused.
The fastest way to know if you can still receive compensation is by using the above-mentioned companies AirHelp or Skycop. I encourage you to spend a few minutes and try one of them, as you may be lucky.
I hope you found this flight delay compensation guide useful. Wishing you smooth flights in the future!
Other Useful Travel Resources
Here are links to essential travel resources and services I always use when organizing my trips.
Plan your trip with my travel blogs