Extending over the Madonie mountains, the mysterious medieval town of Gangi is one of the most interesting and unique places to visit in Sicily. In my complete guide to visiting Gangi, you will find the best things to do in Gangi, how to get to this charming hilltop town in Sicily, recommended places to stay, and restaurants to eat at. 
Officially titled one of the most beautiful towns in Italy (Borgo piu bello d'Italia) in 2014, Gangi first made it to international headlines after joining the famous 1-euro houses project. Despite being put under the foreign visitor's radar, the magical Gangi still stays off the beaten path and true to its roots compared to other popular tourist attractions in Sicily (like Taormina, for example). 
Tucked away from modern-day civilization deep in the hinterlands of Sicily, the fog-wrapped Gangi pulsates with old-world charm. Defined by characteristic stone architecture, rich culture, and vibrant history, Gangi is an ancient Sicilian village in the province of Palermo and is part of the Madonie National Park (Parco delle Madonie). Gangi mountain village is perched atop steep slopes of Mount Barone, 1000 meters above sea level, and on a clear day boasts splendid views of Etna volcano on the horizon. 
I discovered the wonderful town of Gangi through Instagram. Mind-blowing drone shots of a remote Sicilian town featuring houses stacked in layers like a Lego game literally made me book the tickets to Sicily, Italy.
Although it was my second road trip through the Madonie mountains in Sicily, I realized only later that I had visited other nearby villages but completely missed stopping in Gangi on my first trip. Thus, if you are visiting Madonie National Park, I strongly encourage you to add Gangi to your Sicily itinerary. 
Keep on reading my travel guide for the best things to do and see in Gangi. This blog post is illustrated with plenty of beautiful images which hopefully will inspire you to visit Gangi in Sicily.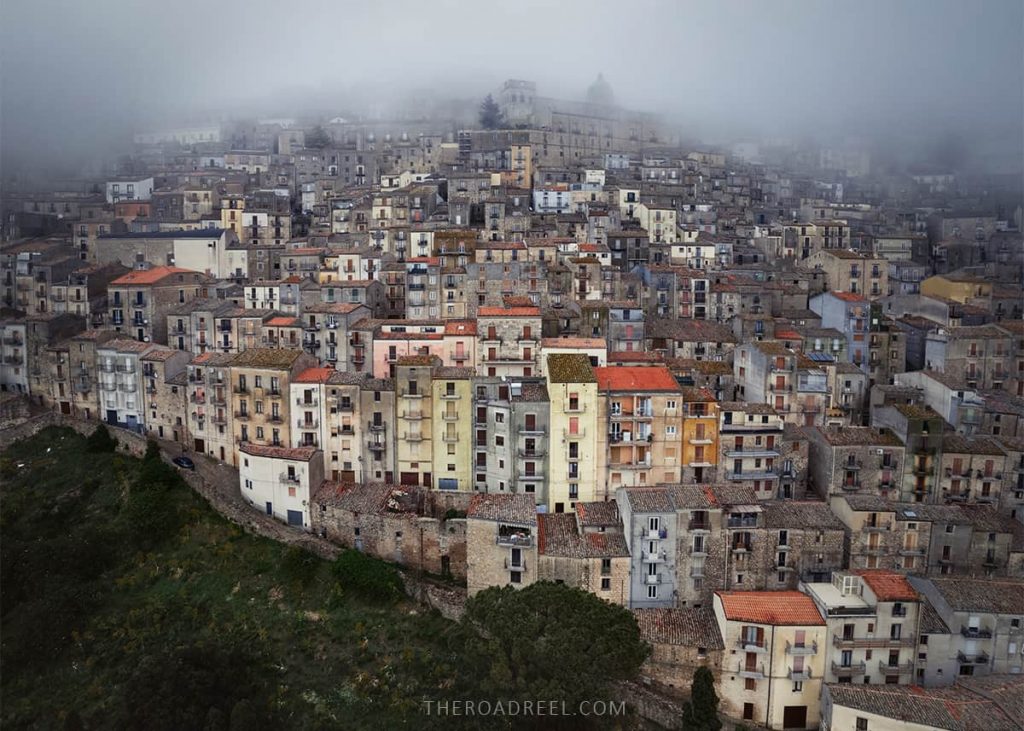 Disclaimer: This post contains affiliate links, which means that I may earn a commission if you make a purchase by clicking a link (at no extra cost to you). This helps to keep my blog running and growing by creating more awesome free content for you.
A complete travel guide to visiting Gangi in Sicily
Why is Gangi worth visiting? 
Gangi is one of the best places to visit in Sicily, Italy for those of you who love spending time in untouched nature combined with a hint of old-day civilization. Gangi is a place to experience true traditional Sicilian culture and lifestyle not modified for tourists' eyes. 
Travelers who are eager on going off the beaten path will love the peaceful frozen in time town of Gangi. Surrounded by the green rolling hills of the Madonie mountains, Gangi serves as an ultimate retreat from the busy streets of the bustling towns of Palermo or Catania. It is also a perfect alternative to often crowded Sicilian coastal towns like Cefalu, Ortigia, or Taormina. 
What is Gangi known for? 
Gangi is one of the most important towns in Sicily holding historical value intertwined with mythology. Known as Engyon in ancient times, the legend assigns Gangi's foundation to Cretan warriors back in 1200 BC. Followed by Roman intervention and much later in the Middle Ages, by Vesper's war which wiped the town off the ground in 1299, Gangi was entirely rebuilt in the 1300s. The solid history of Gangi begins with Ventimiglia's family rulership. Ventimiglia Castle and a Watch Tower of Norman-Gothic style (still proudly standing) were built in the heart of the town atop the Monte Marone. With religious order getting stronger during the Middle Ages many churches were built in Gangi. Later in the 18th century, some of the prominent Italian artists and writers moved to Gangi enriching its cultural value. In the 19th century, before the decline of the aristocracy, a couple of more grand palaces were constructed in town. 
However, in modern-day's history, Gangi stands out as the town which fought hardest against the Sicilian Mafia. The incisive battle led by Prefect Cesare Mori resulted in many mobsters being imprisoned meanwhile others flee US and Argentina.
Gangi was one of the towns which suffered from mafia-led activities the most. Following the economic crisis and lack of job opportunities, many people were forced to leave Gangi in search of a better life at the end of the 20th century. Emigration resulted in a decline in the town's population from 16000 to a mere 6000 inhabitants.
Only recently the initiative was taken to revitalize this beautiful but historically scarred settlement. One of the ways to bring Gangi back to life was before mentioned 1 euro houses project. Slowly but steady interest in this remote mountain village in Sicily is increasing and more foreign tourists are coming to visit, some of them even relocating. 
How many days to spend in Gangi? 
You could see all the most important attractions in Gangi in less than half a day. However, I would recommend spending at least one night to fully immerse into Gangi's mysterious atmosphere. Also, Gangi can serve as a base for visiting other surrounding Madonie mountain villages and even going on day hikes in the area. Thus, you could easily stay in Gangi for even 3 nights occupying yourself with different cultural and natural activities.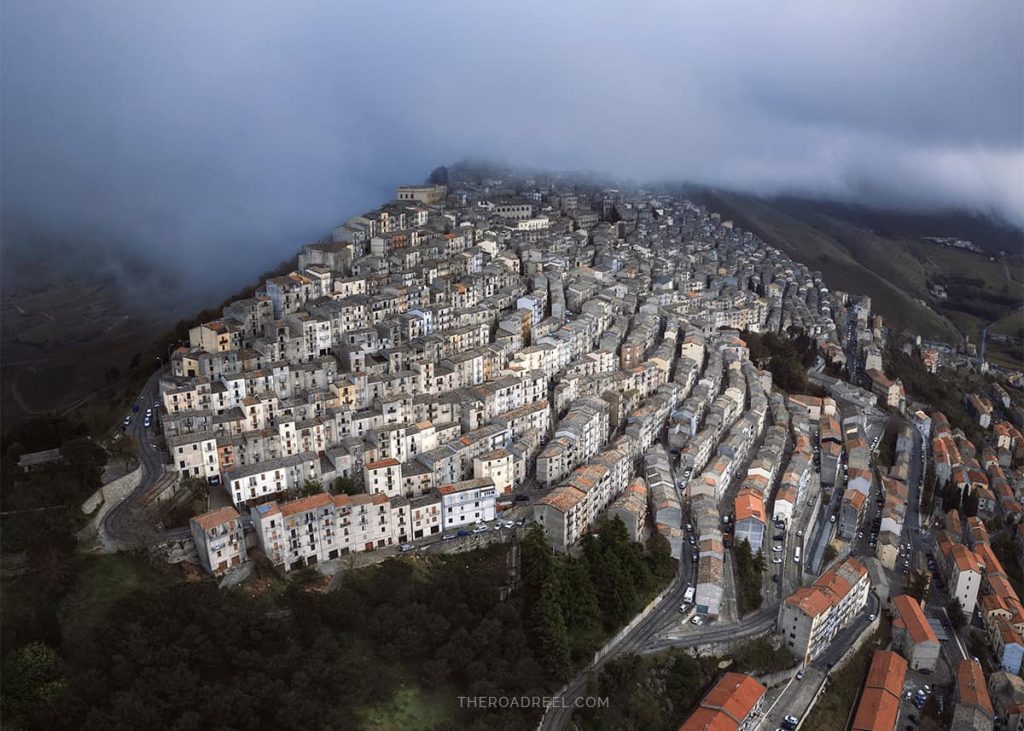 Where to stay in Gangi
Gangi, although a small town, has a few great accommodation options. From cozy rooms in homestays to self-contained modern apartments tastefully set inside ages-old buildings. The pick is yours, and here are my suggestions for the best choices in town as well as nearby: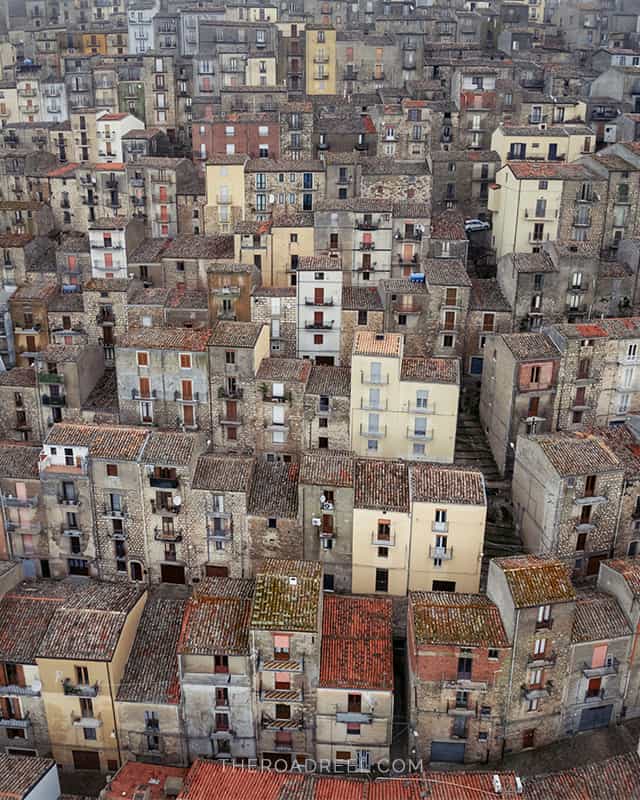 How to get to Gangi
Gangi is located around 120 km southeast of the capital Palermo and 125 km west north of Catania.
Getting to Gangi by car
The easiest and the best way to get to Gangi is by car. Therefore, if you are road-tripping around Sicily in a rental car, it will be pretty straightforward to follow Google Maps to Gangi. It will take you around 1.5 hours drive from Palermo or 2 hours from Catania.
If you are looking for the best car rental prices in Sicily, check DiscoverCars.
By Bus
It is possible to reach Gangi by direct public bus from Palermo, or from Catania with an interchange in the nearby town of Nicosia.
From Palermo to Gangi and vice versa: there are 3 departures a day on weekdays & Sundays, and 2 departures per day on Saturdays from Palermo Central Station. The trip takes 2 hrs 20 min. The ticket costs 11.3 EUR one way (solo andata), and 9 EUR per ticket (18 EUR total) for a return option (andata e retorno):
Palermo-Gangi departure times on weekdays: 12:20, 14:15, 18:30.
Palermo-Gangi departure times on Saturdays: 14:15, 18:30.
Palermo-Gangi departure times on Sundays: 9:30, 17:00, 18:30.
Gangi- Palermo departure times on weekdays: 5:05, 7:05, 15:00.
Gangi- Palermo departure times on Saturdays: 07:05, 15:00.
Gangi- Palermo departure times on Sundays: 08:40, 14:30, 17:40.
You can check timetables online on the Autolinee SAIS website here. Tickets are available to be purchased at ticketing offices in the town of departure or directly from the driver.
Note: You can also get a bus to Gangi from the coastal town of Cefalu.
From Catania to Gangi: you have to first take an Interbus line bus from Catania Airport, or from Catania bus station in Via Archimede to Nicosia and then catch a regional bus with the SAIS line from Nicosia to Gangi. The journey takes 1 hr 50 min. A ticket to Nicosia from Catania costs 9.6 EUR one way (no discounted return option). Meanwhile, the ticket from Nicosia to Gangi is 3.6 EUR.
Catania Airport-Nicosia departure times on weekdays: 11:55, 14:55, 17:55.
Catania Airport-Nicosia departure times on Saturdays: 14:55, 17:55.
Catania Airport- Nicosia departure time on Sunday: 10:55.
Nicosia-Catania Airport departure times on weekdays: 5:30, 7:00, 8:30, 14:00.
Nicosia-Catania Airport departure times on Saturday: 5:30, 7:00.
Nicosia-Catania Airport departure time on Sunday: 16:00.
You can stay up to date with timetables and book tickets online with Interbus here.
Nicosia-Gangi departure times on weekdays and Saturdays (no bus on Sundays): 6:30, 13:45.
Gangi-Nicosia departure times on weekdays and Saturdays (no bus on Sundays: 07:25, 16:40.
By private transfer
If you do not drive and cannot/do not want to use a public bus, you can hire a private transfer from many different places across Sicily at your time of convenience using GetTransfer services.
Gangi Map
Use this map to locate all the places mentioned in my Gangi travel guide. Click the tab in the top left-hand corner to open the layers (points of interest, accommodation, driving routes, etc.). You can save this map on your Google Maps account by clicking on the small star icon next to the name of the map. To open the saved map on your phone or laptop, open Google Maps, then click the menu button, go to "Your Places", and click maps where you will see this map saved on your list.
RELATED READS: Not sure if you should drive in Sicily? Check my in-depth post about Renting a car and driving in Sicily, Italy.
The best time to visit Gangi, Sicily
Not being overly touristy as other famous towns of Sicily, Gangi can be visited any time of the year. The best months for milder weather when it is neither too hot nor too cold are from September to November, and March to mid-June. 
Although located higher up in the mountains, Gangi still faces Sicilian summer heat in July and August. Meanwhile in winter, Gangi gets covered in snow and these weather conditions might pose some driving difficulties. 
When I arrived in Gangi at the beginning of May, I found the town sinking in the fog with mild showers appearing every now and then. That meant I could not photograph the classic postcard of the town with Etna on the horizon. However, the foggy weather turned out to be a blessing in disguise, creating an even more magical atmosphere in Gangi, and adding more mystery to both my drone and street photography.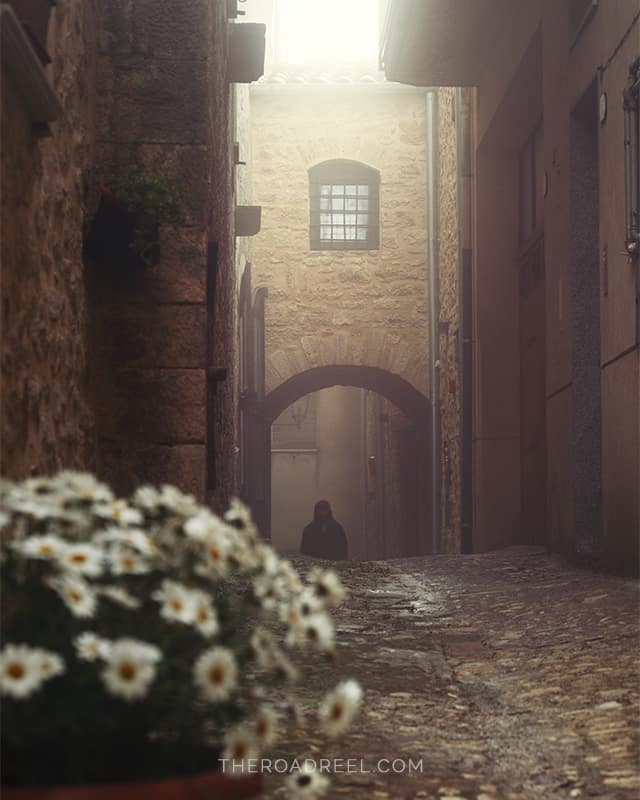 I believe this foggy weather phenomenon occurs even more often during late autumn and early spring. Therefore, if you don't mind a little bit of rain and moodiness it might be a perfect time to go, especially for surreal photography. 
IMPORTANT: avoid driving in the Madonie mountains at night. Roads do not have a light which can make the drive very difficult. Also, be mindful of foggy weather which also makes driving conditions more challenging.
1 euro houses project in Gangi
Back to the infamous 1-euro houses project. As mentioned before in my post, many people flee the town in search of a better life. A number of houses were left abandoned, or even crumbling down. Owners of old houses are still obliged to pay property taxes for their unused ruins. Therefore, the Italian government came up with the idea of boosting investment and offering some of these dying houses for as little as 1euro. Nonetheless, the buyer had to sign a contract obliging them to renovate the property by investing no less than 35000 euros and completing the renovation within 5 years. In reality, many 1-euro houses are in ruins, and it would probably require way more capital to rebuild them from scratch. Despite that, the project was some sort of success and some properties were restored.
The best things to do in Gangi, Sicily
    1. Explore the maize of Gangi alleyways
Along ticking off the notable architectural monuments, walking the narrow medieval streets, observing the slow street life of the village, and soaking up the mysterious atmosphere were one of my favorite things to do in Gangi, Sicily. There isn't much action on a casual day in Gangi, and the daily activity you can observe is elderly locals going for prayer in Chiesa Madre (the main church in town).
Gangi town in Sicily is characterized by the maze of narrow alleyways steeply winding up and down between the bordering 2-3-story stone houses.  As it is true for many old towns of its sort, Gangi is the best to be explored on foot (forget about driving those narrow alleys). With so many steep inclines and declines, strolling around Gangi will guarantee you an undercover leg day. 
The most charming ages old streets of Gangi are in the upper part of town. Wander around to discover many of its intriguing corners and suddenly opening viewpoints.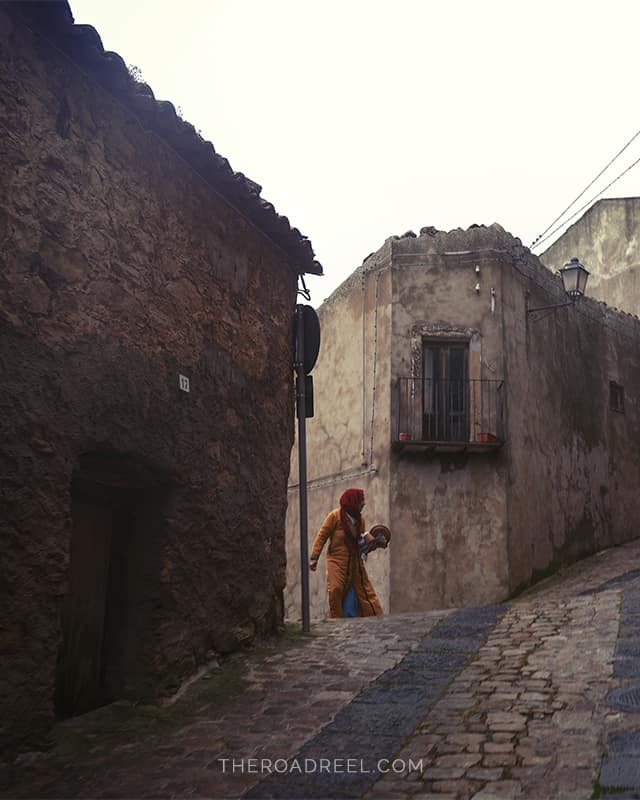 2. Head to Popolo Square – the focal point of the town
Popolo Square (Piazza del Popolo) is a town hall and the heart of Gangi. Built following the Neo-Gothic architectural style, Popolo square also hosts a viewing platform from where you can see beautiful views of the rooftops of the medieval houses, mount Alburchia and the valley below.
The viewing platform next to Popolo square is called Belvedere del Duomo and is located in Piazza Vittime della Mafia, accessible by walking through the gothic arch of Torre Ventimiglia.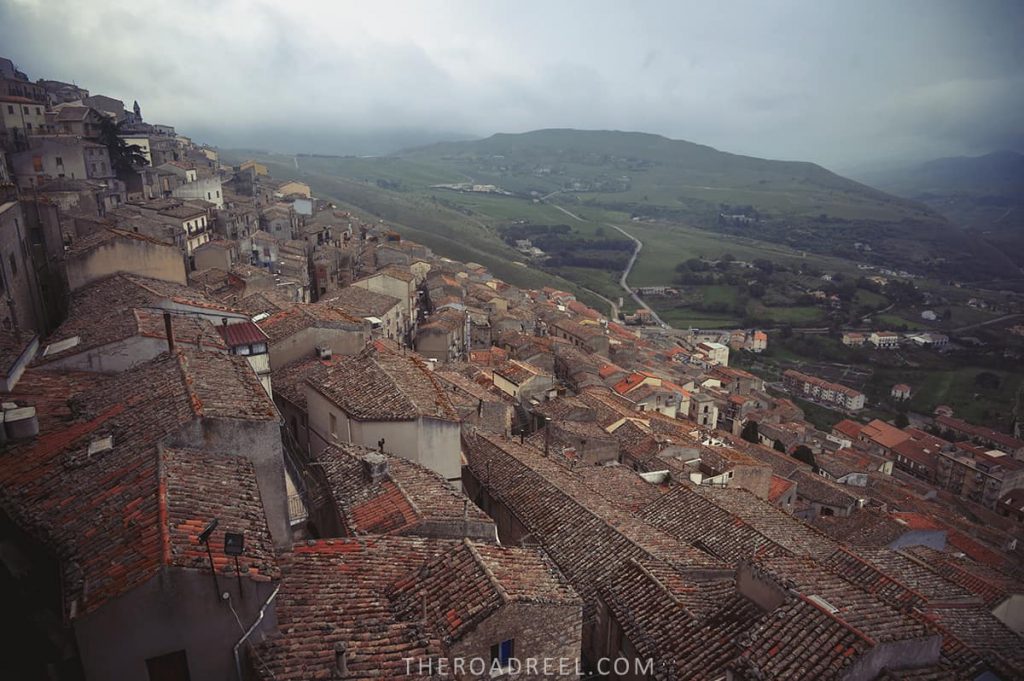 3. Mother Church (Church of Saint Niccolo) and Ventimiglia watch tower
17th century Mother Church dedicated to Saint Nicolo di Bari is the main house of worship in the town of Gangi, located in Popolo Square.
Make sure to step inside to admire an unmissable masterpiece of the Final Judgment by Giuseppe Salerno. It is considered second only to the Final Judgment of the Sistine Chapel in Rome. Other notable art pieces include several statues by the local sculptor Filippo Quattrocchi. 
Adjacent to the Mother Church is the ancient civic tower of Ventimiglia built in the 13th century, which has been transformed into a bell tower. It is one of the most important landmarks in town marking the rulership of the Ventimiglia family. Today the gothic arches of the tower are beloved by wedding photographers.
    4. Ventimiglia castle (Castello dei Ventimiglia) 
The town of Gangi is inseparable from by Ventimiglia castle, built in the XIV century on the will of Francesco I Ventimiglia. Standing at 1000 meters in height, the main facade overlooks Valguarnera square, guarded by two ancient towers with a classical medieval doorway. 
    5. Visit the crypt of mummified priests
One of the most bizarre attractions in the town of Gangi and not for the faint-hearted is the crypts of mummified priests. Located on the lower floor of Mother Church, "the tomb of dead priests" (a fossa di parrini) is based in two large rooms containing corpses of mummified priests. There is also a drying room, where the corpses were left to dry and then treated with wax. The body of the corpse is covered in sacerdotal garments and only the heads and arms are visible making it quite a creepy sight that might remain with you for a while. 
This mummifying procedure is different from the usual embalming as it instead uses covering the faces with wax. The unique technique, not seen anywhere else, even attracted the attention of National Geographic.
The entrance to the crypts welcomes you with a reminder:
"scendete o vivi a visitar la morte, pria che la morte a visitar voi scenda. Fu sempre bene prevenir la sorte"
i.e.
Come down alive people to visit death, before death comes to find you. It was always good to prevent fate
More information on guided tours here.
    6. Palazzo Bongiorno and Palazzo Sgadari
The last grand buildings marking the sunset of aristocracy in Gangi are 'Palazzo Bongiorno' and 'Palazzo Sgadari'. Built during the 18th century by wealthy families, the palaces house elegant frescoes depicting landscapes and other objects from the era. Currently, palaces are seats of the municipality and a civic museum respectively.
7. Go up for the views
Gangi has no shortage of fantastic viewpoints. Apart from the Belvedere point mentioned above, there are a couple more great panoramas you can see.
Gangi's highest point of view opens up to magnificent Etna– the biggest active volcano in Europe. If you are lucky, you may even witness an eruption that happens every year. Head all the way up to Via Sole where at 1000 meters elevation you can enjoy unobstructed views of Madonie and the mighty Etna on a clear day.
Climb up Via delle Rimembranze for some more sophisticated views. Yet another wonderful viewpoint opens up from Via delle Rimembranze (remembrance street in Gangi) next to medieval churches Chiesa San Paolo and Chiesa della Badia.
    8. Visit other small medieval towns in the Madonie mountains
Madonie mountains are home to over a dozen of well-preserved small medieval towns which still lead traditional Sicilian lifestyles (including Gangi). Many of those towns are of Arab Saracen origin and evolved under the influence of Normans. Thus, you can expect to find many fascinating historical sights- castles and churches.
Quite a few of the towns are located within a short driving distance (30 to 45 min) from Gangi, which makes it a perfect scenario for a mini road trip.
On my first trip to Sicily, I visited the charming sleepy villages of Petralia Sottana and its sister town Petralia Soprana and Polizzi Generosa. They are located less than an hour away from Gangi.
While on the second trip to Sicily, on the way to Gangi, I stopped to explore Sperlinga which is distinct from the rest of Madonie mountain villages for its ancient houses carved off the stone and a prominent rock castle. 
If you are heading from/to Cefalù coastal town (the most famous "village" which still belongs to Madonie National Park), you should stop at Castelbuono, a historical town also known for the gelato (icecream) made of Etna's snow.
If you are looking for a great car rental deal in Sicily, check Discovercars. I usually find the best deals with them, meanwhile, if Discovercars runs out of supply, my second go-to search engine is Rentalcars.
    9. Go hiking in Madonie National Park
UNESCO-protected Madonie National park boasts an extensive mountain range with ever-changing scenery of verdant hills and green forests. It is only natural, that you can expect to find some great trekking opportunities.
That being said, Madonie is home to Pizzo Carbonara (Carbonara Peak)- the second highest peak in Sicily after Mount Etna. Reaching the peak makes it the most distinctive hike in the area. Challenge yourself with a medium difficulty 8km loop trail which starts at Piano Battaglia village (a 50min drive from Gangi). For more information, and a trail map, click here.
10. Attend Gangi's cultural festivals
Gangi has no shortage of various festivals, celebrations, and holy events happening at different times of the year. If your travel dates collide with one of the festivities, you are in luck to experience an authentic Sicilian celebration. 
Some of the notable Gangi festivals and celebrations are:
Sagra della Spiga folkloristic event which evokes old rural culture and traditions overlapped with pagan mythology. It is one of the bigger celebrations which involves the entire province. It happens every year, starts on the second Sunday of August, and lasts for a few days. Here you can find more info about the celebration.
Cravaccata- Gangi carnival is celebrated on Shrove Tuesday. It features a parade of masked knights that run through the streets of the historic center until reaches Piazza del Popolo, where the awarding of the winners takes place.
Vivere in Assisi cultural festival. Taking place every two years during the last days of September, Vivere in Assisi (Living in Assisi) is considered one of the most beautiful historical events in Sicily revolving around a medieval theme. It celebrates the life of and delivers the message of St. Francis of Assisi through a unique combination of theatre, art, and music. The evocative setting of Gangi is purposefully chosen for this art-filled celebration. For up-to-date information about the event, visit this website.
11. Admire Gangi town panoramic views with Etna in the background while driving regional roads
If you google Gangi, you would probably see a bunch of postcard-perfect images of the cone-shaped town backed by the peak of mighty Etna. Those images are most likely taken with a super zoom lens, making Etna volcano appear bigger than it is when looking at it with the naked eye. Nonetheless, in reality, the panoramic view of Gangi from afar is no less spectacular.
Look out for this iconic setup on SS120 road (marked on the map above) while driving from Petralia Soprana to Gangi. On my trip, the Madonie mountains were fully covered in fog, so I missed this view, but hopefully, next time will get to see it. 
Where to park in Gangi
Parking in Gangi can be a challenge if you are trying to find a spot in the heart of the town. Instead of getting stuck on one of the steep alleyways, you can park free of charge on the main street of Via Rimembranze circumventing around the town. Drive higher up towards Chiesa San Paolo and look out for a spot on the way. The suggested parking spot is marked on the map. 
Alternatively, if your accommodation offers free parking, you can leave your car there. Just make sure the drive to the parking spot is worth the hustle as some of them can be quite tricky and it might be better to leave the car on the main street.
Where to eat in Gangi, Sicily
Gangi is one of those towns where I would come back not only for its mysterious atmosphere but also for some of the best food and pastries I had in Sicily.  The delicious local cuisine can be savored at family-run restaurants. The slow-cooked food coincides with a slow-paced mountain village life. Thus take your time to nourish your taste buds, spirit, and soul in one of the local trattorias. 
Baglio Tramontana– I randomly picked this pizzeria-trattoria on Google Maps and it was a successful choice. A modern restaurant set up in the traditional Gangi house with 360 degrees panoramic views from the terrace. The quality of the food matches the beautiful settings. We tried "tagliatelle with porcini mushrooms" which was out of this world. The pizzas were equally amazing. The restaurant is located on the tourist route in Via Castello 137, just 200 meters away from Ventimiglia Castle.
Trattoria Sant'Anna– recommended by our host in Gangi, this is a traditional homemade food restaurant close to Palazzo Bongiorno. We have not eaten there but travelers whom we met in Gangi confirmed that the food is great. It is more suitable for meat lovers as the restaurant's menu is mainly meat-based.
Capricci di Gola pasticceria-for pastries and coffee go all the way downhill to the local pasticceria Capricci di Gola. Even our host was getting breakfast goodies from that shop. Apparently, it is one of the locals' beloved pastry shops in town. Once you see the variety (as it is common in Sicily), it will be hard to make up what to pick. Luckily most of the pastries are bite size so you can try quite a few. Instead of driving down to the coffee shop, leave your car parked high up so you can walk back up to the historical center and make up for the guilty pleasure you just had. Capricci di Gola is located at the very bottom of Gangi on Via Nazionale SS120 (marked on my maps).
I hope you found this Gangi travel guide useful and got inspired to visit one of the most amazing mountain towns in Sicily. If you have any questions about visiting Gangi please feel free to leave a comment below. Also, make sure to check other Sicily travel posts following the links at the end of this post.
Sicily Travel Essentials
MORE SICILY TRAVEL RESOURCES