Wild and beautiful butterfly-shaped Favignana is situated off the west coast of Sicily. Part of Egadi islands, Favignana makes it an easy day trip (or longer) from Trapani. Here I share all the information about how to visit and what to do in Favignana and the other two Egadi islands (Levanzo and Marretimo). 
Just a short 30 minutes ferry ride from the coastal town of Trapani, Favignana island is all about azure waters, slow bicycle rides along the rugged coastline, and sky burning orange sunsets matched with the color of the aperitif at a rustic beach bar. 
Whether you are coming for a day trip or staying longer, Favignana is a place to experience slow travel, and (re)learn how to slow down and just be. 
I have spent one night and almost two days on this dreamy island which definitely was one of the highlights of our 2-week Sicily road trip. Hopefully, I can inspire you to visit Favignana as well.
In this handy guide to visiting Favignana island you will find all the necessary information about taking a ferry from Trapani and back, how to get around the islands, the best things to do in a day or more, including the nicest beaches, places to stay, what to pack and more than enough images to prove that Favignana is wonderful and a must-visit place in Sicily. 
Disclaimer: This post contains affiliate links, which means that I may earn a commission if you make a purchase by clicking a link (at no extra cost to you). This helps to keep my blog running and growing by creating more awesome free content for you.
A super useful guide to Favignana: a perfect (multi) day trip from Trapani, Sicily
Favignana was a highlight on our 2-week Sicily road trip itinerary. It was also a perfect downtime in between all the drives.
Egadi Archipelago formed of 3 islands- Favignana, Levanzo, Marretimo, and two small islets Formica and Maraone, is the largest protected marine area in Europe.
The largest and the most popular of the three islands, Favignana is known for tuna fish, craggy coves, irresistible waters of all shades of blue, and tuff caves formed of white calcarenite stone.  Its serrated coastline is beloved by Italians and is being discovered by a rapidly increasing number of foreign sunseekers.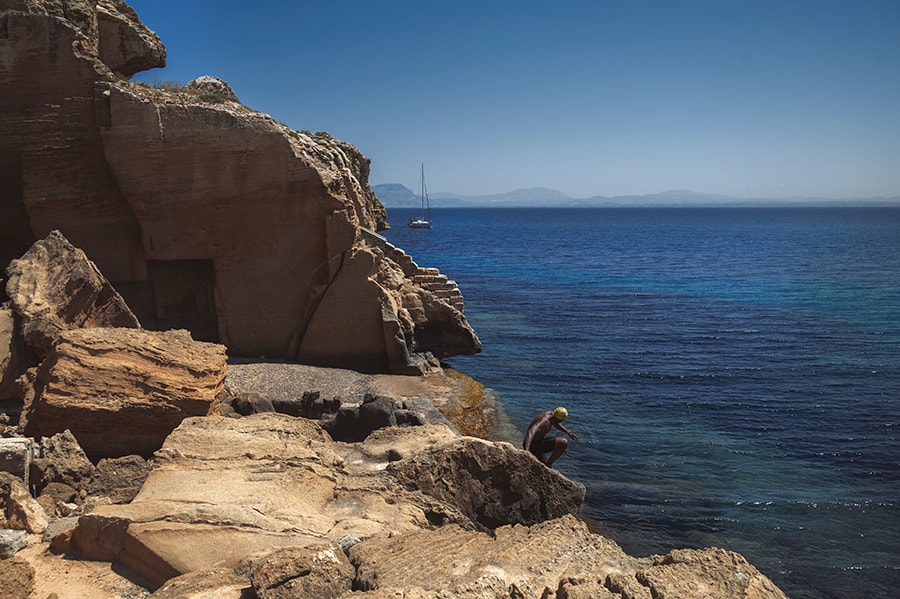 Favignana is like a mini version of Cyprus which is divided into Greek and Turkish sides, where the former receives way more tourists than the latter. And although there is no country division in Favignana, the East side is busier and more visited (like the Greek side in Cyprus) while the West side seems completely untouched and only a few curious explorers make it there (like the Akamas peninsula on the Turkish side of Cyprus). 
Levanzo, just 10 minutes boat ride from Favignana is a one-street island dotted with picture-perfect white beach houses. Meanwhile, Marretimo is the wildest out of all three and the farthest as well, attracting the most adventurous off-the-beaten path travellers and nature lovers.
How to get to Favignana and other Egadi islands (Levanzo and Marretimo)
Getting to Favignana island (as well as Levanzo and Marretimo) from west Sicily is straightforward. Liberty Lines and Siremar are two ferry companies operating between Trapani town and Egadi islands and are offering frequent services on a daily basis.
Liberty Lines has a fast passenger-only hydrofoil, while Siremar transports both passengers and vehicles in slow open deck ferries. 
During the summer Liberty Lines has around 15 departures per day from Trapani to Favignana and Levanzo islands and 8 departures to Marettimo. Ferries also operate between all three Egadi islands. Therefore, it is possible to visit Levanzo and Marettimo when you are in Favignana, or if you are in Levanzo you can go to Marettimo and vice versa.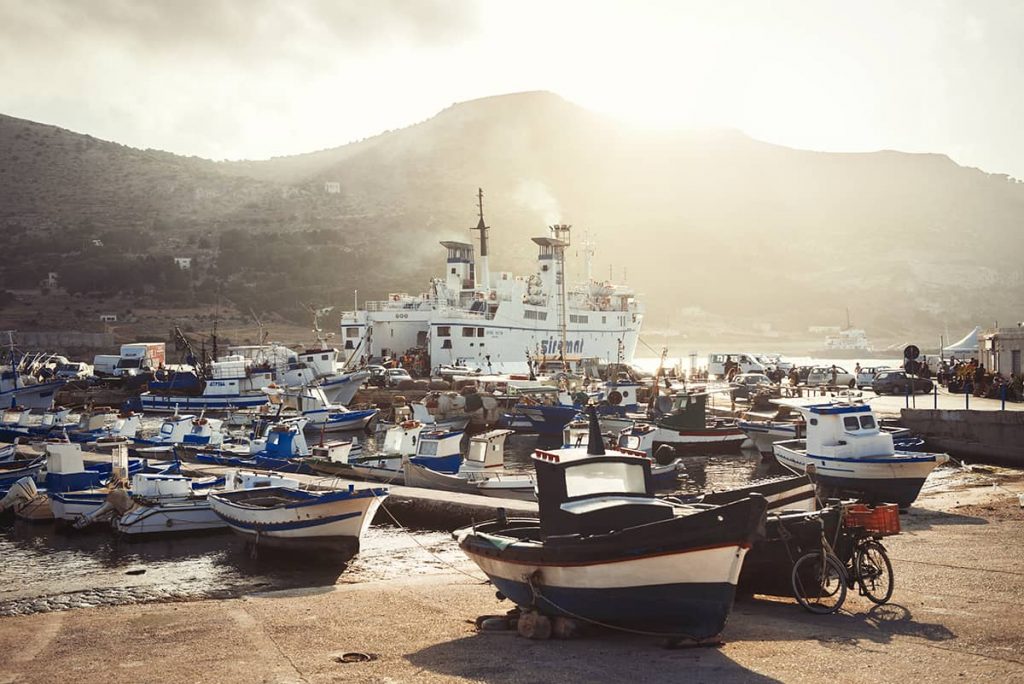 Meanwhile, Siremar has only 3 departures a day from Trapani to Favignana and Levanzo, and also a once a day return trip from Trapani to Marretimo.
The journey from Trapani to Favignana with Siremar lasts 55 min, while Liberty Lines reaches the island in 30 minutes which makes it an obvious choice if you are travelling without a car (advisable- read further where to park your rental vehicle in Trapani).
RELATED READS: 21 Useful Tips for driving and renting a car in Sicily
Where and how much in advance to purchase tickets to Favignana, Egadi islands? 
Egadi islands are in high demand during the summer with travelers embarking both for day trips and longer stays. That being said, ferries are most of the time operating at full capacity from June to August.
If you are planning on going to Favignana in the summer, make sure to arrive at the port early enough to join the queue (at least an hour prior to your planned departure time).
Ferry and ticket office location: Via Ammiraglio Staiti, Trapani. Type "Trapani port" into Google Maps and it will take you to the ferry ticket office and docks' gates location.
NOTE: You also have to pay for the big suitcase if you have one. And it costs an extra 3 EUR per bag one way. 
Time Saving Tip: to save time and avoid hassle at a ticket office, you can purchase tickets online at Direct Ferries website (recommended during the summer). 
Ticket cost (per passenger) and travel duration (one way) to all the Egadi islands
Below are all the routes between Trapani and Egadi islands with durations and starting ticket prices (which vary depending on the ferry type and season):
Where can I leave the suitcase if I don't want to take it to Favignana (Egadi islands)?
If you are not willing to take large suitcases to the islands, there is a baggage storage room just across the road opposite the port ticketing building in Trapani. 
Where to park the rental car in Trapani when going to Favignana (Egadi islands)?
If you are planning to visit Favignana for a day or two, and have to leave the rental car on Sicily mainland, then you can safely park it in Piazza Vittorio Emanuele square in Trapani. Parking costs 20 euro cents per hour and the maximum you can pay at a time is 5 euros.
You only pay for the parking from 8 am to 8 pm, overnight and on Sundays it is free. If you need to extend the parking but are still on the islands, then you should check Easy parking app which is widely used in Sicily. It will allow paying for street parking online.
Note: Vittorio Emanuele parking is located 10 to 15 minutes of walking to the port. There is parking around the port area, however, the hourly rate there starts at 70 euro cents per hour.
Looking for a great deal to rent a car in Sicily? Compare prices at Discovercars for the best deals (I rented my ride here too).
The best time to visit Favignana
To dodge the crowds and catch the best weather, the best time to visit Favignana and other Egadi islands is in May and September. These are shoulder months with perfect temperatures for swimming and sunbathing. We visited in mid-May and it was perfect.
June, July, and especially August are peak months. At this time majority of Italians are on holiday plus lots of tourists choose to come during the summer as well. As expected, the beaches are packed with people like sardines in a can. Thus, figuring out where to stretch your beach towel may require some creativity.
Accommodation prices in summer are also significantly higher than in May or September.
Visiting Favignana in winter is not the best idea either due to strong winds. The islands sometimes shut down from the rest of the world for days due to turbulent sea conditions.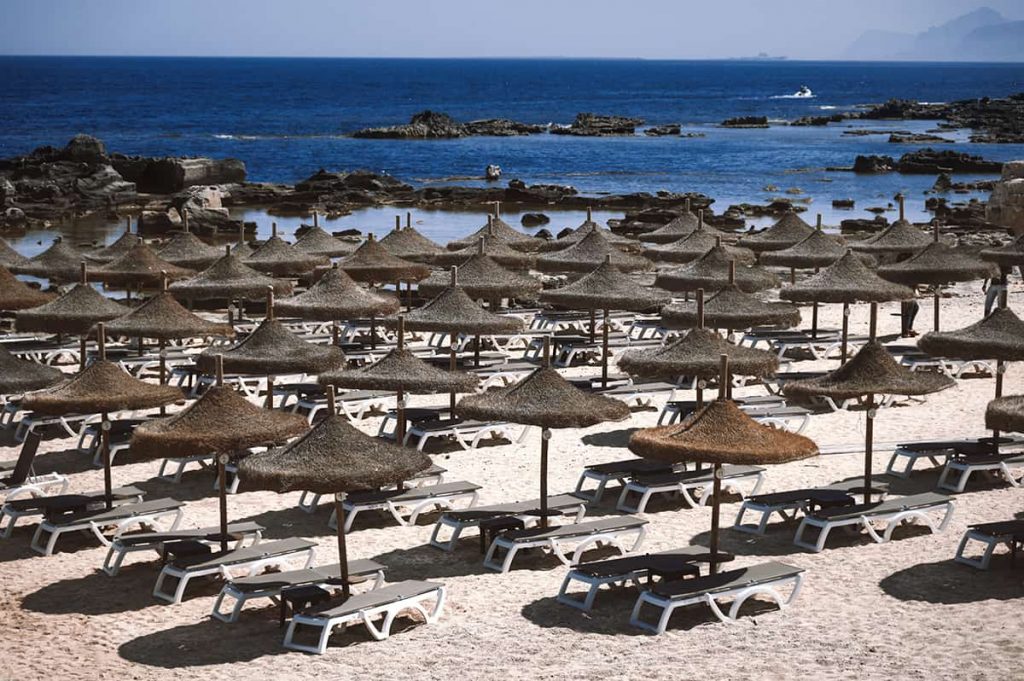 How many days in Favignana and Egadi islands?
Although many tourists come to Favignana for only a day, you can spend weeks in Egadi islands watching the time pass by.
I would say 3 days and 2 nights is a good amount of time to explore Favignana, with side trips to Levanzo and/or Marritemo. If you have more days in your budget, stay 3 nights and 4 days or even longer.
Favignana is a place to take things slowly and immerse into idyllic island life.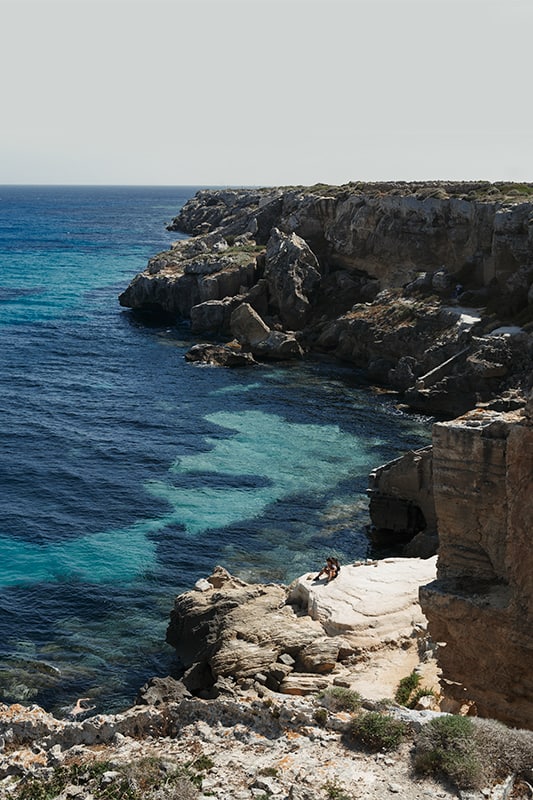 How to get around Favignana island
Favignana is only 9km in length from the east to the west side (the total land area is 37 square km). Also, both the paved and unpaved roads are mostly flat (elevation gain of 6 meters). 
Therefore, the best, and most fun way to get around Favignana island is on a bicycle. Peddling the bumpy roads leading to many wild beaches on the island is also an eco-friendly travel method. Plus, you get to burn one or two cannoli. 
You can rent a bicycle at one of the many Negozio di bici e motorini (bike and scooter rent shops). In fact, as soon as you step out of the ferry in Favignana, you will be approached by vendors offering to rent a ride. 
Note that you can rent a bicycle for 24 hours for only 5 EUR – it is a pretty standard rate (might be higher in summer though). 
Other methods to get around Favignana are scooters or electric bicycles-those are costlier but faster means of transportation in case you are in a rush or not willing to do any leg work. 
We opted for old-school bicycles with cute baskets attached to the steering wheel. The ride was dusty and bumpy sometimes, but absolutely amazing.
Paved roads are mostly quiet, and there isn't too much car traffic, while unpaved paths are mostly used by cyclists and mopeds. 
Favignana with a tour
Favignana island can be easily visited on a self-guided tour and explored on a bicycle.
However, there are some fantastic options to spend a day aboard by joining day yacht cruises from Trapani to Favignana and Levanzo. There are many affordable options you can book online, like this small group cruise, or this full-day cruise with lunch, and both include time at different coves in both islands as well as a stop at Favignana town.
The unmissable 4 beaches on Favignana island – plan your beach hopping route
The coast of Favignana island is rocky and so are most of the beaches, except a few popular ones which have some sandy stretches. 
When we arrived at Favignana, our host Armando pointed out all the hot spots on the island, including the best beaches. 
He also explained how to pick one according to the wind. If the wind blows from the north, head to the south side and vice versa. It was the beginning of May, so this advice came in handy as indeed it was very windy and quite chilly to swim. 
The most popular beaches, coves, and swimming spots in Favignana are dotted around the east coast, while the western part of the island is much less visited and is perfect for unbeatable sunsets. 
ALSO READ: Find The most beautiful small coastal towns and fishing villages in Sicily.
Since we had almost two days to spend on an island, we decided to tour all around it and check out all the recommended beaches. Soon we realized that beach hopping in Favignana can be easily done in one day as the distances between them are really short. 
Thus, if you are on the island just for a day, you can cycle the island clockwise and stop at the following top 4 beaches in Favignana. This round trip will take you just over an hour of total cycling time (starting at the port and back).
Make sure to arrive early on the island and calculate the time needed to get back to the port before the last ferry departs back to Trapani (in summer it is usually around 8 PM).
You can also refer to my map where I pointed out all the beaches and other places of interest in Favignana.
Navigation tip: we used Google maps and it worked fine for directions. You can also grab one of the easily available tourist maps for reference to where the main beaches are.  Along the way, you will find street signs pointing to the most popular beaches. If confused, just ask a local. In general, it is not difficult to get orientated around Favignana.
Cala Rossa beach in Favignana
If you are in Favignana for a day, you will probably start cycling from the port. You can either head to the left and cycle the road that runs around the coast or cross the town center and head northeast. The coastal road would be easier to follow if you aren't familiar with the island yet.
Cala Rosa is a large cove sheltering expansive crystal-clear waters.
The calm waters are perfect for swimming even on a windy day but it comes at a price of a razor-sharp coral to watch out for. To enter the water, you must scale some sharp rocks. Therefore, make sure to bring water shoes- this is an absolute must to protect your feet.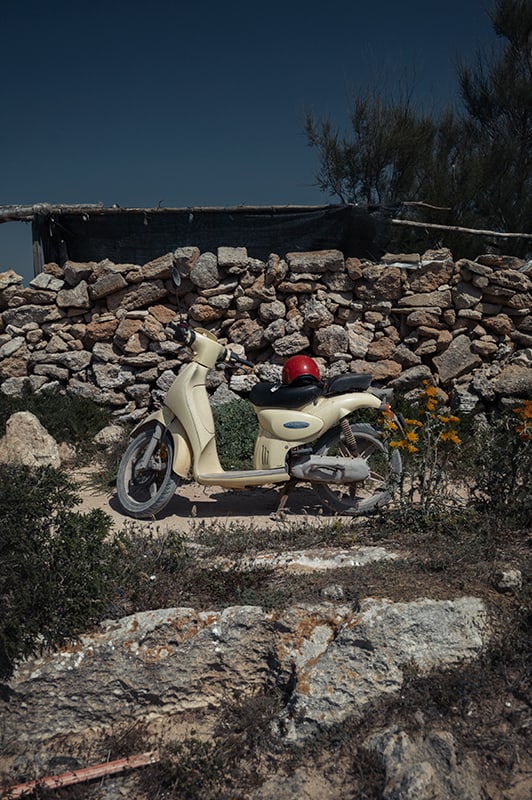 The beach is made mostly of rugged rock. Pick the smoothest stone to lay your towel on if you decide to spend some time there.
Cala Rosa is around 14 min cycling from the town center (4km) and therefore it is quite popular during the summer months among day-trippers, and locals. It is advisable to reach it early so you have a prime spot on the smoothest rock and some quiet time to enjoy before it gets too crowded. And once it does, you can continue cycling to the next beach on this list.
Top tip: along with water shoes make sure to bring some snacks and water as there are no restaurants or food shops anywhere near.
Bue Marino
Bue Marino (or grotto di Bue Marino) – the strangest beach I have ever been to and it was our favorite in Favignana. Bue Marino is set against an old quarry with infinite underground tunnels, entrances to which look like massive ancient temples. Interestingly those tunnels are open and you can enter them if you dare. The orange-hued towering rocks dominate the beach landscape with strong Indiana Jones vibes. 
Once you arrive at Bue Marino, you will be immediately stunned by the beauty of impossibly blue waters, but the biggest waw moment awaits when you make your way down to the quarry beach (which is not immediately visible from above). 
Secure your bicycles next to the food kiosks above the beach and go down to explore. 
Bue Marino used to be home to monk seals for centuries, but then they abandoned the place because of human interference. Yet, one or two specimens are back from time to time.
Today, Bue Marino is a sunseekers' and divers' playground. You can stretch your towel on a smooth rock, and jump into irresistible waters.
Note that Bue Marino is more suitable for good swimmers as there is no gradual access to the water. To get into the sea you must jump off the lower rocks. The water is deep and will be above your head with no place to stand. Thus, not suitable for small kids. 
The beach gets busy in the late afternoon during the siesta time. Space to lay down is limited. Thus, if you want to get a bronze tan like a local, make sure to arrive a little earlier. 
Photography tip: this place is extremely picturesque. Morning is the best for sun casting directly onto the rocks, while towards the evening you can get some nice backlight.
Food: a sandwich truck and a kiosk selling granitas are above the beach in case you get hungry.
Cala Azzurra
Cala Azzurra with its deceiving photos on Google seduced us to move from Bue Marino a little bit too early. The sandy beach images didn't match the reality of the shore completely covered in seagrass. Thus, we didn't stick around.
As we later found out, Cala Azzurra gets cleaned up for the summer season (it was still mid-May) and that is why it was so highly recommended by our host as one of the best beaches.
I can see why it could be a perfect beach to spend a day. Gradual sandy access to the water is easy, therefore suitable for families with kids. And, like all Favignana beaches, it shares the same azure waters.
Top tip: there is a dedicated area to tie your bicycle and a road bar, where you can buy drinks and snacks.
Cala Rotonda
Away from all the major sunseekers' hotspots, on the West side of Favignana, Cala Rotonda offers a much more relaxed experience during the busy summer months. But above all, it is an ultimate sunset destination in Favignana.
Cala Rotonda is a cove with a pebbly beach and has completely different scenery to the other side of the island. As mentioned before, with its mountainous backdrop, the western side of Favignana reminded me of the Turkish side of Cyprus.
We visited at sunset, and apart from one lonely bicycle and a car, there was nothing else but pure nature. I was hoping the "Pura Vida" bar will be open for an aperitif, but it was still off-season in Favignana, so to my slight disappointment, it was still closed.
Top tip: To get to Cala Rotonda you will have to take a tunnel- there is a dedicated path both ways for pedestrians and cyclists. We were advised by our host not to take the currently closed path that winds on the left-hand side around the mountain. Also, note, if you have to catch a boat, it takes 20min by bicycle to get back to Favignana port.
Other popular beaches in Favignana
Lido Burrone
When getting to our accommodation in Favignana, Armando, our helpful host, pointed to Lido Burrane which is directly accessible from the road and is located on the southeast side of the island (halfway around Favignana).
Lido Burrone is the largest stretch of the sand, typical Italian lido, and is particularly popular with families during hot summer months. Parking the car next to the beach is nearly impossible in summer, and traffic is simply mad.
View wise I didn't find it appealing (except that the waters are still amazingly blue). Therefore, perfect for a quick dip if you will, but not worth spending much time on (especially if you only have one day in Favignana).
Nonetheless, since it is the most popular beach, it has several restaurants and bars available for lunch. It might be the best spot to stop for a snack before continuing to Cala Rotonda.
Places to eat in the Lido Burrone area
La Costa Sunset Bar | On the way from Cala Azzurra to Lido Burrone, La Costa is a medium $$ priced seaside bar with a seafood and cocktail menu. The atmosphere does look inviting.
Bar Restaurant Lido Burrone | Great option in Lido Burrone, affordable prices, different food options available, but gets very busy during the summer.
Spiaggia di Marasolo
Just before the tunnel leading to Cala Rotonda, Marasolo beach is a nice and quiet alternative to Lido Burrone. Do not expect the same sandy beach but shallow water access is convenient featuring wonderful mountain views.
There is a snack bar in the area where you can get some panini.
Things to do in Favignana (that are not beaches)
Hang out in the old town of Favignana
The delightful old town of Favignana features just two main squares Piazza Europa and Piazza Madrice connected by the shortest I've heard of (50m) main street of Via Vittorio Emanuele. All the restaurants, gelaterias, pasticcerias and souvenir shops are nestled within this small area. Strolling around the backstreets of the old town and admiring quirky summer houses is also a fun thing to do, especially for picture purposes.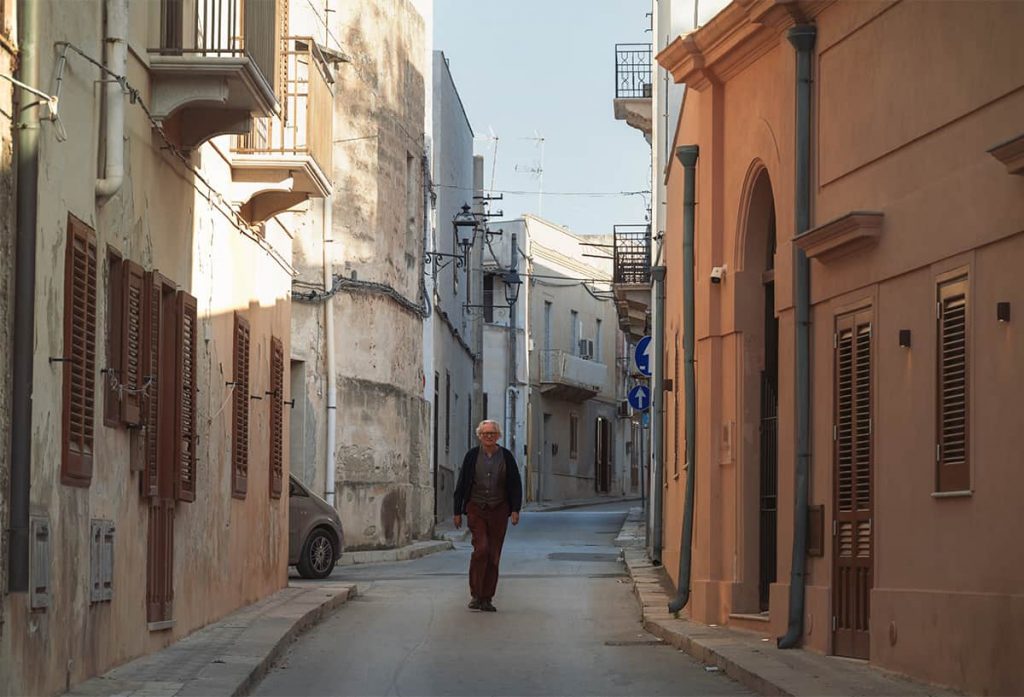 Visit the morning fish market
I love visiting local markets, and I was happy to find out that Favignana also has one every morning from around 8 AM to 11 AM next to the ferry port. It is a small fish-only market where you can buy the catch of the day, or, snap some authentic travel photos of fishermen fixing their nets.
Hike to Castello di Santa Caterina
For fantastic elevated 360-degree views over Egadi islands and the West Sicily coast, hike a beaten path to Santa Caterina Castle which you can spot on top of the mountain as soon as you arrive at the port. It is around 45 min climb to 310 meters elevation. Half of it you can reach by bike as well. If weather and time permit it is a great active day alternative compared to more chilled time spent on the beach. It is also an incredibly romantic place to watch a spectacular sunset.
Rent a boat and enjoy the island views from a sea perspective
You can circumnavigate Favignana island in a boat either independently (small boats don't need a license and you can quickly learn to drive them yourself), or on a tour.
Some independent companies like Sea Taxi Company or Acqua Ri Puzzo are renting small boats which you can ride yourself. Make sure to take a snorkeling mask as well.
For the organized tours, you can check this very affordable 4-hour Favignana boat tour with lunch included. It will take you around the island with stops at the popular coves- also a great alternative if you are not willing to peddle around the island. Click HERE to check availability.
Visit an old tuna factory (ex stabilimento florio)
If you have a few days to spare in Favignana or need some shade during the midday, visiting an old tuna factory is a great educational pastime. Understanding the "tonnara" will give you an insight into the island's past and economical development. The old factory is one of the biggest tonnaras in the Mediterranean sea and holds significant historical importance for Favignana island. The entrance fee is 6 EUR. More details can be found here.
Visit tuff caves
While cycling around Favignana, you will see many stone excavations dropping into the ground. Favignana is known for calcarenite limestone which, due to its high concentration of calcium, has appealing white color. As explained by locals, this stone is valuable and has been formerly extracted for export. Today, many of the tuff caves are abandoned, and only some are smartly used by locals to create gardens and even B&B's (we stayed at one of them). The old quarries can be found around Bue Marino, Cala Rossa, Punta Fanfalo, and Lido Burrone beaches.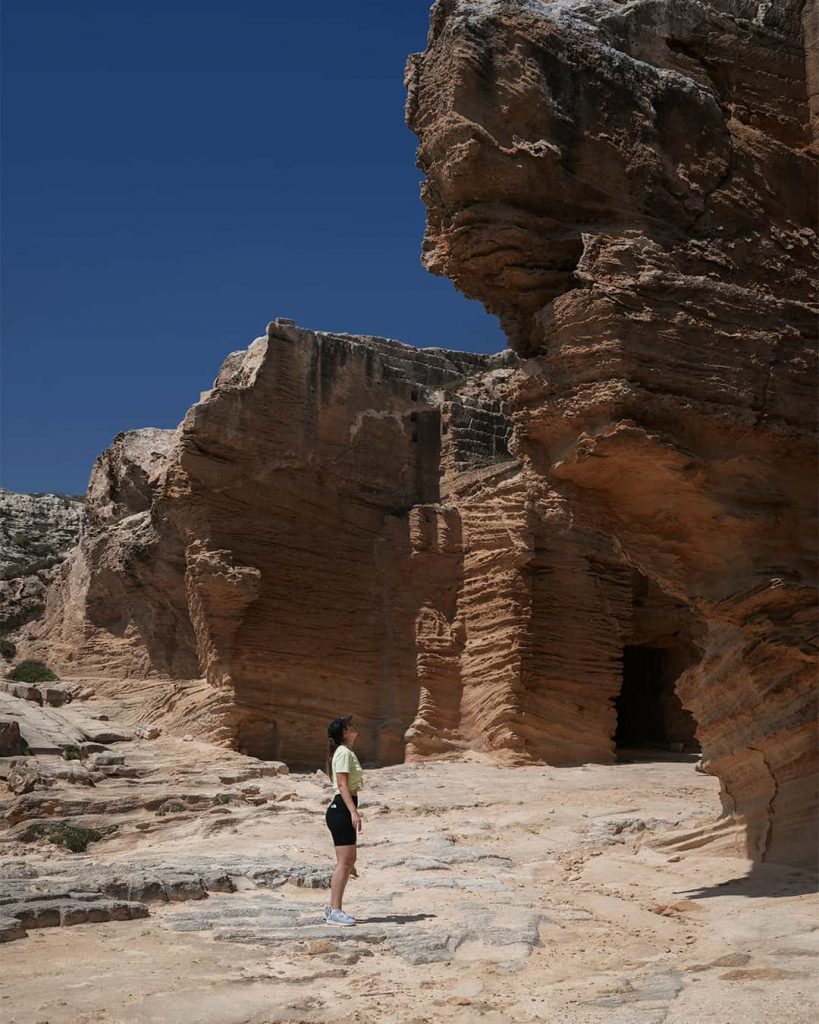 Try island cuisine
Favignana is famous for tuna fish. If you aren't vegetarian you will soon find out that it can easily be the best fresh tuna fish you ever tried. I am not big on tuna but I have to admit, tuna burgers were one of the best specialties I have tried in Sicily (and those are only available in Favignana). Our place to go for tuna was Pescheria Florio.
Go scuba diving
Favignana offers some great spots both for beginners and experienced divers. Some of the honorable mentions are Galeotta for the easy dive. It is a small island that offers the opportunity to spot a busy underwater life. Meanwhile, for more challenging dive (experienced divers only) head to Scoglio Corrente. Make sure you also have your waterproof dive watch on. For more information or to book a tour head to Egadiscubadiving.
Visit Levanzo and Marretimo islands
If you are staying in Favignana for longer than a couple of days, it is well worth visiting the nearby islands of Levanzo and Marretemo. Read more about them at the end of this post.
Where to stay in Favignana
Favignana has only a little bit more than 4000 inhabitants. However, it certainly doesn't lack places to stay at – there are over 300 B&B's and hotels in Favignana. But don't snooze for too long- places get booked out super fast for the summer.
Where to eat in Favignana
Favignana is an island of tuna fish, therefore you will find some of the best tuna dishes, including the before-mentioned burgers.
Pescheria Florio | Located in Piazza Europa, it was our place to go for tuna burgers. Quick and delicious tuna burgers with different variations of fillings and sauces, friendly staff. You can have them taken away or sit outside at the barrel table.
Caffe Mazzini | Has some decent granitas, deserts, coffee and aperitif. Also, a great spot to just sit and people-watch in Piazza Europa.
Pizzeria Napule | If you are craving pizza, you can find this down-to-earth pizzeria in the backstreets of the main square Piazza Madrice (on Via G. Matteotti to be precise). They have a great selection of various pizzas made in a traditional Italian oven, the family-sized pizza is massive, so just order a regular size if you are not starving.
Ristorante A'Cialoma | On the right-hand side of Chiesa Madrice church this homemade food restaurant offers an authentic experience of delicious flavors, aromas, and sensations.
What to pack to Favignana
Favignana is hot in summer but can be chilly and windy in spring and fall. Islanders dug gardens below the ground for a reason- to protect the plans from harsh winds. Therefore, you should definitely through in a fleece and a windbreaker for cooler evenings.
The other super important thing to take is water shoes- as explained before the beaches are rocky and entrances to the water have sharp rocks or pebbles.
Convenient footwear, like sneakers or strapped sandals when riding your old school bicycle. If you are planning on hiking, then definitely pack some comfy hiking shoes.
Other than that, just regular beach stuff- sunglasses, plenty of sunscreen, a cap, and il costume (swimwear).
Levanzo island
Levanzo is the smallest out of the 3 Egadi islands and looks like a miniature painting of idyllic white houses dotted at the shore of the transparent blue sea.
Levanzo town revolves around literally one main street with only a few guest houses available to book for a getaway vacation.
In close proximity to the town (walking distance) you can reach Cala Fredda on the east side and Caletta del Faraglione on the west side. Those are the nearest wild beaches you can enjoy some sunshine at.
Good news for passionate divers- Levanzo is home to an archeological underwater route winding 27 meters deep. There you can find a Roman shipwreck.
Meanwhile, Grotta del Genovese dating back to the Paleolithic hosts some of the most interesting prehistoric rock carvings depicting everyday life.
You can reach Levanzo from Favignana in 10 minutes by hydrofoil. Spending a few hours on this picture-perfect island was an unfulfilled goal on my Sicily-road trip. And became one of many reasons to come back.
Accommodation options in Levanzo
There is a very limited number of guesthouses in Levanzo (probably not even 10 properties). Also, most of the places seem to have a requirement of minimum booking for at least 2, 3 or 4 nights stay. If I was to stay in Levanzo next time, the following place got my attention:
Levanzo House | Two-bedroom house on the shore of the sea in Levanzo town. Featuring a romantic terrace, it is a perfect place for an idyllic island vacation for a few days. Click HERE to check availability and rates (those vary according to the season but on average it is 150 EUR /157 USD per night).
Marretimo island
Broken away from the mainland several millennia before the other two islands, Marretimo is the wildest one out of the three Egadi islands. Similarly, like Levanzo, it has an idyllic cluster of white houses forming a peaceful fishing village perched between the turquoise sea and lush-green hill.
Marretimo is a perfect place for those seeking wild hiking adventures. There are several hiking trails you can follow to completely immerse yourself in nature. The highest point you can reach is Pizzo Falcone at 700 meters above sea level. As the name suggests, from here you can admire peregrine falcons flying around.
Diving enthusiasts won't get disappointed either. Marretimo out of 3 islands is recommended as the best spot for this activity.
Accommodation options in Marretimo
There are quite a few fantastic options to stay far from civilization in quintessential Marretimo town. Nonetheless, just as summer arrives, all of them get fully booked. Therefore, if you planning on staying over in Marretimo, make sure to book your stay well in advance.
La Terraza del Sole Apartments | This cozy 2-bedroom apartment got my attention. It features a fantastic terrace with a sea view and you can book it for only one night as opposed to several nights required by most accommodations on the island. Check their availability and seasonal rates HERE (average 140 EUR/145 USD per night for 2 people)
I hope you enjoyed reading this guide to Favignana and Egadi islands, and soon you will be booking a ferry to one of or all of them as well. If you have any questions regarding visiting Favignana, or Sicily, feel free to leave a comment below.
Sicily Travel Essentials
PLAN YOUR SICILY TRIP WITH MY SICILY TRAVEL GUIDES: