UAE hikes // UAE is home to the mighty Hajar mountain range, spectacular wadis, and mysterious valleys. That being said, there are plenty of hiking trails in the UAE to choose from ranging from easy to very difficult. Whether you are traveling to Dubai or live in the Emirates, you must try at least a couple of those fantastic trekking routes. Some of them are well-marked and easy to follow even for a beginner hiker. Trekking in the UAE will allow you to explore breathtaking nature and get a glimpse of the rural lifestyle of the countryside. 
Here I have listed some of the best easy hikes in the UAE. I have tried them all myself and I am sure you will love them too. All the UAE hikes listed below are suitable for beginners. Keep on reading to find out all the details about each of them to help you choose your next outdoor adventure in the UAE:
---
Sign up HERE to receive a FREE downloadable quick guide to The Best Hiking Trails in The UAE.
Top 8 Easy UAE Hiking Trails
1. Ghaf Summit hiking trail in Jebel Jais, Ras Al Khaimah
Let's start with the UAE hiking trail at Jebel Jais- a mountain with the highest peak in the United Arab Emirates that is accessible to the public. It is also arguably the most famous natural landmark in the country located in Ras Khaimah Emirate.
The starting point of Ghaf Summit hike in Jebel Jais is conveniently accessible by driving smooth twisting roads all the way up to 1300 meters height.
This beautiful and fairly easy UAE hiking trail is 4km one-way. It is a well-marked and easy to follow route with unraveled 180 degrees Hajar mountain range views opening up at the peak.
The highest elevation point is at 1640 meters and is called South Summit- Highest Public Point in the UAE.
The total time needed to complete the hike one way is around 2 hours walking at a medium to slow pace. There are some steep climbs at the start of the trail. However, you will be following a well-laid path and staircases which makes it very convenient. Although rated as one of the easy hikes in the UAE, the Ghaf Summit trail requires a little bit of effort climbing those few steeper steps. Not to discourage you, it is very doable and suitable for beginners.
To sum up, Ghaf Summit is a great introductory hike for those who are new to trekking in the UAE. Hiking this mountain trail in Ras Al Khaimah makes you feel away from civilization without actually being too far from it. Seeing Jebel Jais road winding below the trail gives a sense of comfort. At the same, you will be enjoying glorious views of Hajar mountains.
It will definitely inspire you to explore deeper and go for a more challenging hikes in the area such as Wadi Shah hike.
Directions to Jebel Jais, Ghaf Summit hike starting point
Ghaf Summit hike starting point distance from Dubai is approximately 175 km. To access the starting point of the Ghaf Summit hike in Jebel Jais, simply follow Google Maps to Jebel Jais Viewing Deck Park.
It will take you around 2 hours to reach the Viewing Deck point when driving from Dubai Downtown. The last 40km drive up the Jebel Jais is slow but joyful as the well-built road zigzags through the mountain revealing amazing views.
Once you have parked your car, head to Viewing Deck Park- Ghaf Summit hike starts there.
The best time to hike Ghaf Summit in Jebel Jais, UAE
If you choose hiking Jebel Jais on the weekend, I would advise to start early morning, catch the sunrise and avoid the crowds. This trail is quite popular as it is very accessible, therefore you can expect to meet lots of other hikers having fun there on the weekend, especially towards the sunset time.
If you have a luxury to go on a weekday, then any time of the day from November to March is good to hike Ghaf Summit. There are very few people at Jebel Jais in the middle of the week. Be aware that midday might be sunny and hot even in winter, and there is no shade on the trail. Only shade is under a few sheltered resting points which you will pass on the trail. Also, it can get quite cold during the winter months, especially considering the high elevation, so bring a jacket.
I hiked Ghaff Summit trail in the middle of the week during the sunset time. It was awesome to see the sun setting over the sea and painting Jebel Jais mountain in orange shades. Check a shot teaser video below I have compiled from this hike.
Pss… we haven't finished the whole trail because we were so hyped up taking pictures and videos that we simply ran out of light and had to head back. So be aware and don't get carried away if you start later in the day but still want to reach the highest point at South Summit. If you find yourself caught up in dark, don't worry, you can always return following the road instead.
---
Sign up HERE to receive a FREE downloadable quick guide to The Best Hiking Trails in The UAE.
2. Al Rabi Tower Hiking Trail
Al Rabi Tower Hike is by far the best well-marked beginner hike in the UAE. It is also one of the most scenic hikes that is located above the city of Khor Fakkan, near Fujeirah.
Al Rabi trail offers fantastic 360 degrees views of rugged Hajar mountains backing Khor Fakkan city on one side, and blue waters of Gulf of Oman on the other.
The highest point of the Al Rabi hike is at 393 meters (1290 feet). The total length of the trail is 6 kilometers (going up and returning the same way). Expect to spend there at least 3 hours- not because it takes that long, but because of how beautiful it is.
Al Rabi tower trail is very easy to follow. Therefore, it is suitable for absolute beginners of various age groups. It is kid's friendly hike that the whole family can do.
Directions to Al Rabi Hiking Trail in the UAE
Starting point distance of Al Rabi trail when driving from Dubai is approximately 145 km.
Al Rabi Hike starts at Al Rabi Tower and is easily accessible by following google maps. It will take you 1.5 hours to reach the starting point of the hike when driving from Dubai. Convenient parking is available.
---
READ MORE: make sure to check this detailed guide to Al Rabi Hike in Khor Fakkan: The Best Beginner's Trail in the UAE.
---
3. Wadi Shawka Dam to Pools loop
The other great beginner-friendly UAE hiking trail is winding through the Wadi Shawka area. Starting at Shawka Dam, an immediate climb up the well-built staircases takes you to the summit. Here, the Moon-like Hajar mountain landscape opens up.
Wadi Shawka trails may be explored in an approximately 8km loop. There are several mountain bike trails crossing through the Shawka area, therefore you can come up with your own route or choose to follow one of the routes I did and recorded on the Wikiloc App.
---
READ MORE: check my detailed post about Hiking Shawka Dam to Pools Loop.
---
This hike in Eastern Ras Al Khaimah is fairly easy to accomplish. The only tougher part is the staircases at the beginning of the trail. Good leg workout though. The later stages are just a little bit of scrambling from the top down the mountain and easy walks following mountain bike trails.
By following them, you will reach the valley. Following the valley and keeping right, you will be reaching wadi Shawka and pools that are filled with water all year long.
Directions to Wadi Shawka Dam to Pools Loop Trail
Shawka Dam to Pools hike is one nearest UAE hiking trails you can do when coming from Dubai. It is only approximately 105 km. It will take you approximately one hour to reach the starting point of the Shawka Dam to Pools hike when driving from downtown Dubai. Follow Google Maps and park at the parking lot by the dam.
You have to then go to the upper part of the dam where the staircases are. Your adventure starts there. Be ready- views on top of the mountain are breathtaking!
---
Make sure to check FULL GUIDE TO SHAWKA DAM TO POOLS HIKE.
---
4. Hatta Hub hiking trails
Hatta is the best known for its gorgeous Dam. However, this beautiful exclave town (Hatta is a part of Dubai Emirate) recently became a hotspot for adventure lovers.
That being said, you will find quite a few hiking trails winding through the foothills of Hajar mountains, near the Oman border. Several marked trekking routes were introduced in 2019. Those are suitable for hikers of different fitness levels. Color-coded in green, blue, red, and black, from easy to difficult, Hatta hiking trails span a total of 32.6 km. The complete beginners should start with the green trails that are a leveled walk mostly.
Directions to Hatta Hub hiking trails
Marked trails in Hatta, UAE, start at the Hatta Hub. Driving distance from Dubai is approximately 145 km. It will take you around 1 hour and 40 minutes to reach those easy trails in the UAE.
I have explored a combination of the above-mentioned marked routes, as they all intersect with each other. My goal was to reach the HATTA mountain sign and get a cool drone shot of it.
If you want to follow my route, download the Wikiloc app and save this trail I have recorded. Note: it is a 6-7 km hike (app says 11 km as there was some recording issue that drew a straight line on the map and counted into the total distance).
---
RELATED READS: If you are feeling more adventurous and want to try a less known and even more amazing fairly easy hike in Hatta, then check out my post about THE SECRET CANYON HIKE IN HATTA. It is a truly hidden gem. Not so popular as other UAE hikes in Hatta because it is not well-marked. Nevertheless, by reading my post, you will find out that it is not difficult to follow that trail.
---
5. Wadi Tayyibah – The Hidden Gem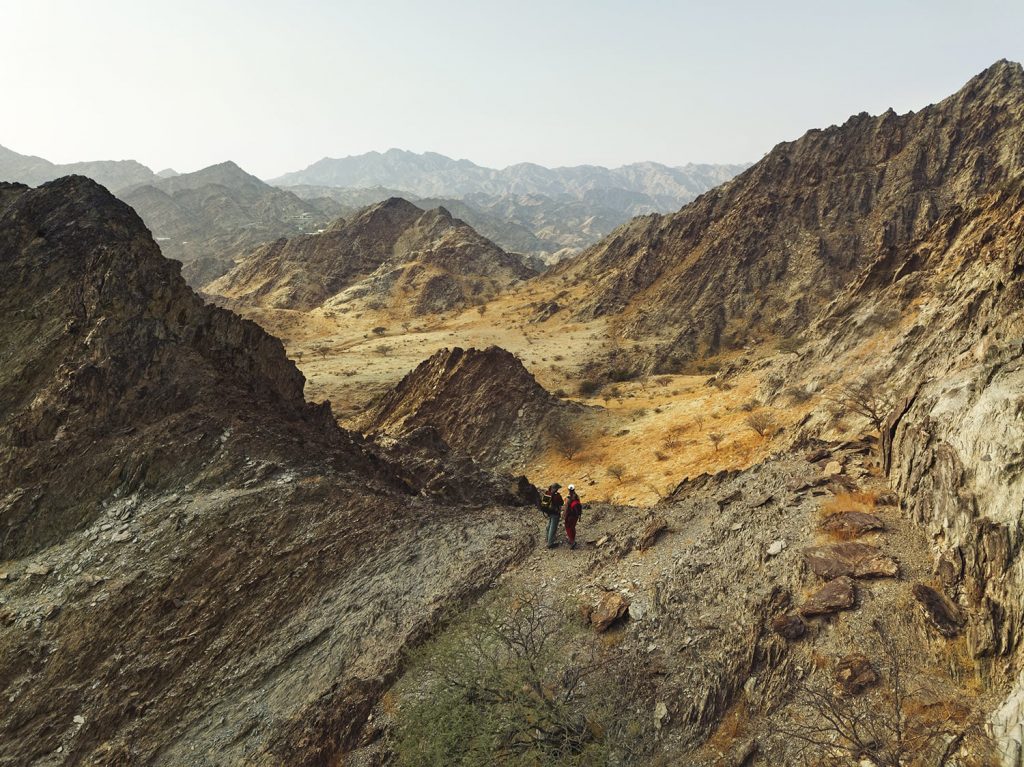 Last but not least is the less explored Wadi Tayyibah area with unbelievably great scenery. If you are looking for a relaxed walk that won't make your body sore the next day, you should head to Wadi Tayyibah. Winding through Hajar mountains on the eastern part of the United Arab Emirates, it is also a part of Fujeirah. It is a great weekend gate away from busy Dubai life and a perfect contrast to the usual desert scenery.
Wadi Tayyibah area becomes very green during the winter season, fills up with beautiful natural pools, and running springs. You will also witness fascinating traditional irrigation systems, some graveyards, and the remains of old houses.
Start your hike at Al Tayyibah Heritage Museum. There are some hiking signposts along the way, marking the trail. It will lead you to the beautiful valley.
We did not stick to the marked trail completely. Instead, we headed up to the hills and did some "off-road hiking". This adventure leads to some jaw-dropping views as a reward. I have recorded our exploration trail on Wikiloc (not advisable for complete beginners though):
NOTE: Climbing the hills is not technically difficult, but there is no trail whatsoever. If you decide to go ahead, bare in mind that you need a bit of physical fitness and some experience of walking through rocky terrain. Therefore, complete beginners should stick to wadi, valleys and the marked trail.  
In general, this hiking area has lots of ground to create your own exploration trails. You can wander Wadi Tayyibah and find your way around it based on your adventure preferences. This East Coast area is simply stunning! And despite its lower elevation level (compared to other parts of Hajar mountains), it can be a great playground for curious hikers that love go beyond the marked trails.
There are lots of small entrances to secluded spots from both sides of the valley of Wadi Tayyibah. You will find yourself completely alone. Make sure to bring some food as there is a lot of ground for a nice picnic.
If you are confident in your ability, climb higher up one of the many hills to admire views of the Hajar mountains landscape. It reminds me of a sci-fi movie scene. More like what we image planet Mars should look like.
Finally, don't shy away if you meet locals on the way. They will most likely stop to ask you if you need any help. On our hike in Wadi Tayyibah, we received advise from a friendly local, pointing us a shortcut through the fence over his father's farm. Also, we got to try some fresh honey. It just shows the hospitality of the Emirati people- they simply offer you whatever they have the best at the moment you meet them.
Directions to Wadi Taayibah
Wadi Tayyibah hiking trail starts from Al Taiba Heritage Museum which is around 135 km away from Dubai and will take around 1.5 hours to reach it.
Wadi Tayyibah is also great for off-road drives. The total length of Wadi Tayyibah is around 20km. It starts at around the village of Al Uyaynah (25°27'04.0″N 56°09'56.7"E) and ends at Asimah village 25°24'59.2″N 56°10'01.3"E. It used to be a route connecting Dibba to Masafi. Now its just an old East Coast Road mainly used by the locals.
---
Sign up HERE to receive a FREE downloadable quick guide to The Best Hiking Trails in The UAE.
6. Ain Al Sheria Geological Trail in Fujeirah, UAE
Have you ever hiked colorful mountains in the UAE before? If not yet, you must try Ain Al Sheria geological trail in Fujeirah emirate. It is an 8km loop that features a very dynamic scenery of the multicolored mountains, green farms and a giant rock with an ancient petroglyph dating back 3000 years!
Ain Alsheria route was laid by Fujeirah Adventures. It is a very easy to follow trek which may be a bit physically demanding due to a slightly longer distance and a short but rapid incline at the beginning of the trail.
However, there are no extreme drops or crazy climbs to be worried about. The trail covers a little bit of light bouldering when going through the wadi. It has a couple of steeper hill climbs through a clearly marked mountain path. The rest of the trail is mostly leveled walk with breathtaking scenery of Yibir/Mebrah mountain range. Therefore, this colorful and diverse hiking route in the UAE is suitable for families with kids, and even dogs. You can expect to complete the full loop in 3 hours at a slow to moderate pace.
Note, that most of the route is exposed to the sun. That being said, carry enough water (at least 3 liters per person), and cover yourself in lots of sunscreen even in winter. 
How to get to Ain Alsheria trail?
The Geological Trail starts in Ain Al Sheria, near Jebel Yibir mountain. If you type in Google Maps "Fujeirah Adevntures Ain Alsheria Hiking Trail", it will take you to the starting point. GPS coordinates are: 25.60571135, 56.15256689.
What possibly keeps crowds away from this incredible hike is its accessibility. It takes around 2 hours of driving from Dubai to reach it. Moreover, the road towards Jebels Yibir is damaged at some sections. Therefore, be careful when driving as you will see crumbled two-lane road suddenly narrowing into one lane way.
It is possible to reach the trail head by a sedan car going at a slow pace, but 4×4 would be a more convenient way.
Once you reach the base of the Yibir mountain, a steep off-road path that leads to Sidaqah village on the right-hand side has to be taken. You will pass through some villages on the way until you reach a limited parking lot just 50 meters away from the start if the hike.   
Also, you can find parking around 500 meters before the starting point, at around here: 25.606475, 56.153405. Make sure to park in a way that you are not blocking the narrow roads leading to the villages.
Alternatively, bigger parking is available on the other side of the mountain. The GPS coordinates are 25.59706635, 56.14465174. You could park and hike from here, however, you will have to find the trail path as it goes through the Farm. 
---
RELATED READS: Make sure to also check one of the intermediate level hikes to the iconic Fossil Rock in Mleiha, Sharjah, which is only 50 minutes away from Dubai.
7. Wadi Abadilah hiking trail, Fujeirah,UAE
Wadi Abadilah is a beginner-level hike that has grown in its popularity and filled Instagram feeds with images of lush green palm trees "trapped" in between the cracked earth. This is actually a farm in the narrow valley (ravine) bounded by steep banks. The ravine stretches for around one kilometer and features palm trees, lots of other green plants, and natural water streams with hundreds of frogs.
It is another route laid by Fujeirah Adventures. The total distance of the trail is 3-4 km one way. Therefore, you will be taking the same way forward and back. Also, it is up to you how far you want to continue.
This relaxed hiking route is suitable for families with kids. It does have a couple of trickier parts, which, with a little bit caution, can be easily passed.
The first kilometer of the trail takes you through the green farm. It is very exciting, especially for kids, as you follow the narrow jungle-style paths with shallow water running in the middle of the farm. It is a very refreshing bit of the trail.
As soon as you pass the greenery, the scenery immediately changes into a dry river bed. Look out for a cement staircase on your left-hand side. Climb up and stick to your right. You will be tempted going left, but the actual trail continues through a narrow path on the right-hand side and takes you back into the wadi.
You can follow the dry river bed for a few kilometers and then turn back. There will be a couple of trickier parts where you bump into bigger boulders. Therefore, some scrambling may be needed, but those parts are all passable with extra care and are not complicated. Watch out for the slippery parts at the seasonal pools along the way.
Note 1: Wadi Abadilah trail is a very popular weekend adventure spot. Therefore, if you can, avoid going on Fridays. Trail is very narrow at the green farm part, therefore, it might not be enjoyable hiking if it gets crowded. We went on a weekday in the afternoon. It was perfect- there was nobody around. We felt as if we landed in Indiana Jones movie.
Note 2: Avoid hiking during the rainy days. The ravine may get flash flooded during strong rains.
How to get to Wadi Abadilah hike?
The trail is located in Abadilah, Fujairah emirate nearby Masafi. It takes 1.5 hours driving from Dubai.
On the way to Dibba from Masafi, you have to look out for an offroad path  (25.43829074015991, 56.19656353977591). The easiest way is to search on Google maps "Wadi Abadilah entry point". Once you enter the dirt road, turn left and follow the road going up. There is dedicated parking at the starting point (25.440730169054376, 56.19691414399228). Sedan cars can easily reach the starting point of the Wadi Abadilah hike. The hike starts with the nicely build staircases that will take you down to the farm.
8. Wadi Kub- a gorge of surreal rocks in Fujeirah
This is yet another hidden gem in Fujeirah emirate which I have discovered accidentally by browsing random trails on Wikiloc app. A couple of images capturing surreal low raise jagged peaks and flaky-surface rocks caught my attention.
Don't mix up the names- this is not a Wadi Koob in Ras Al Khaimah. It is a one and only Wadi Kub which looks like no other wadi I have ever seen before. The hills here are burgundy and greenish in color. The rocks have a prominent banding pattern. Not being geologists, I can't point out what it is but it looks like gneiss- a metamorphic rock with a banded or foliated structure.
This is a beginner-level hike that can be extended into a longer intermediate-level trail. The first couple of kilometers are only a walk through this surreal wadi and valleys surrounded by weirdly shaped rocks. There are orange dots sprayed on the rocks to guide the way. Following them, you can reach a mountain top at around 450 meters elevation. It will make a total distance of ~4.6 KM one way.
It is also a perfect place to take your dogs out- we met quite a few people walking their four-legged friends.
How to get to Wadi Kub?
It takes around 1 hour and 20 min to drive from Dubai to Wadi Kub. The GPS coordinates for starting point of the wadi are: 25.496446, 56.098514. Sedan cars can reach it as well. We parked as soon as we turned into the dirt road (make sure you are not blocking the way) and walked. 4×4's can go all the way into the wadi, but the distance is only couple of kilometers until the dead end.
---
Sign up HERE to receive a FREE downloadable quick guide to The Best Hiking Trails in The UAE.
How to Prepare for the Hike in the UAE?
The best time to start hiking in the UAE is early mornings or afternoons for shorter hikes. This way you will avoid the midday heat. Winter months are the most pleasant to go on a hike in the UAE. Also, choose the trail according to your experience and fitness level. Start with easy hikes to familiarize yourself with the environment.  Later you will be able to attempt more challenging treks. Be aware of wildlife. There are snakes in the mountains. Although it is not so common to spot them during the day, still watch where you step.
Here is my checklist of what you would need to bring when hiking in the UAE mountains
Lots of water, I suggest taking at least 3-4 liters on a hot day. Ideally, get yourself a Camel Bak water reservoir that keeps water cool for a long time and has a readily accessible straw, so you can hydrate while walking. It also keeps water evenly distributed inside the backpack as opposed to bulky plastic bottles. I use a 3LT water reservoir by CamelBak on all of my hikes.
Power snacks and hydration drinks (electrolytes, sports drinks or hydration tablets). From my personal experience, the best are protein bars, some salty crackers, dates, nuts, snickers chocolate (not so healthy though), bananas, Pocari Sweat and Gatorade work wonders to kill the hunger and give yourself an energy boost.
Pro Tip: freeze your Pocari Sweat (or any hydration drink of choice) a night before you go. Add some ice cubes into your Camel Bak. This will help to keep water cooler for even longer time.
What to wear for the hike
Hiking shoes with a good grip. It is arguably the most critical part of your hiking attire. The best are mid-ankle boots. It will keep your foot more stable than low-ankle ones and gives more movement flexibility than high-ankle. I have bought a second pair of these Columbia Hiking Shoes that proved themselves on UAE hikes as being comfortable and long-lasting.
Comfortable hiking bag with adjustable straps around the waist and chest. Your shoulders and lower back will get tired from carrying lots of water, snacks, a sweater, a camera, a drone, etc. (that is what I have in my backpack). Therefore, you should have a bag that is designed to adjust to your body and sit properly on your back so the weight load is distributed equally. On one day hikes, I only take a medium-sized backpack that also has a compartment for my water blader separated from the main section. The bag I own is similar to Osprey 22L backpack in size and design.
Hiking clothes with breathable material will make your hike much more enjoyable. All that quick-dry stuff feels much nicer than a regular cotton t-shirt that gets soaked in sweat in no time and stinks like hell. Consider wearing something with longer sleeves for better sun protection. And do yourself a favor- leave jeans for a city walk. Long hiking pants are advisable. Although, I often go wearing gym leggings.
Sunglasses and a cap– there are some shaded areas along the way, but there is a load of sunny ones too. Save yourself from sunstroke by wearing a cap.
SPF 50 sun cream- don't forget your ears- they get burned quite often.
Fleece sweater for winter months as it gets really cold in the evenings. I love my lightweight and super warm Columbia Fleece.
Slippers for after hike– your feet will thank you.
Other Important Items For A Safer Hike
Collapsible Trekking Poles are recommended to significantly reduce the load and impact on your hips, knees, and ankles, especially when descending. The best are foldable lightweight (~300-600grams, varies per brand/model) polls that can fit into the hiking bag easily in case you need both of your hands to be free.
Torchlight or a head-light in case you hike into the darkness. Choose a good long-lasting torchlight- it can literally save your life.
Personal first AID kit (Advil, band-aid, antiseptic, hand sanitizer, wet wipes, etc.)
Power bank for your phone
GPS devise or a Wikiloc app where you can find an accurate trail recording which will help you navigate.
Compass (if all electronic devices completely fail, knowing how to use it is very helpful).
Last but not least- let someone of your family or friends know that you are heading out for a hike. Give them the location details. Also inform them when you are starting the hike and when you expect to return.
Are you thrilled about your next hike yet? PIN this post for your future reference. And make sure to subscribe to receive more detailed guides to other fantastic hikes in the UAE!
---
READ MORE: Have you tried the hikes described above and willing to go on a more challenging adventure? Below are links to the posts that will guide you to some incredible intermediate level hiking trails in the UAE:
How to Hike Wadi Shah in Ras Al Khaimah. Detailed guide to one of iconic and diverse hikes in Jebel Jais area.
Wadi Naqab hike to the Red Wall. Detailed guide to the most beautiful wadi in the UAE.
Leopard Canyon Hike in Ras Al Khaimah. Detailed guide to a beautiful and moderately challenging hiking trail in the UAE.
---
Disclosure: Please note that some of the links above may be affiliate links, and at no additional cost to you, I earn a commission if you make a purchase. I recommend only products and companies I use and the income goes to keeping this site growing.
---