This is your practical guide to visiting Salalah from Dubai (UAE) by road. You can also use this Dubai to Salalah road trip planner if you are driving to the Dhofar region from other UAE Emirates or Muscat, Oman.
Salalah, the coastal capital of Oman's Dhofar region is the most remote destination in the Sultanate. Yet, its unparallel natural beauty often compared to the tropics of the Middle East attracts thousands of visitors, especially during the monsoon (khareef) season which lasts through the months of June till August or even late September. 
If you are planning on visiting Salalah by road from the UAE or Muscat, you are bound for a very long but definitely rewarding drive.
Here I am sharing my handy tips for driving to Salalah from Dubai based on my experience: driving distances, road conditions, which roads to take, 2WD vs 4WD cars, overnight stops, border crossings, as well as road safety tips. 
For the best things to see in Salalah read my Ultimate Salalah Itinerary: best things to do in Dhofar region, Oman.
Disclosure: This post contains affiliate links, which means that I may make a small commission at no extra cost to you if you make a purchase by clicking a link. This helps to keep my blog growing and filling up with detailed honest travel advice for you. 
Dhofar region and Salalah by road: a guide to driving from Dubai to Salalah by car
During my Dubai to Salalah road trip, I drove in a loop first crossing the desert lands and then returning via Greater Dhofar's coastal road. A total of 4000 kilometers driven. It was the longest road trip I have ever done within one week.
I have planned this UAE-Salalah drive based on information I found online. Yet I wish I knew a few more things before putting together my Salalah itinerary. Thus, I hope that this Salalah from Dubai by road guide will help you plan your drive efficiently.
Driving to Salalah from Dubai (UAE) by road: which route to take? 
There are two routes you can choose to follow when driving to Salalah from Dubai (UAE) or Muscat (Oman):
A shorter boring route– inland through the deadlands (literal nothingness). 
A longer scenic route– driving from the east coast to the south coast of Oman (a more scenic route). 
    1. The shorter route from Dubai to Salalah
The shorter route from Dubai to Salalah is approximately 1220 km and takes around 12.5 hours of continuous driving. This does not include the time required to cross the UAE-Oman border which varies depending on the traffic. If you are driving from other Emirates you will have to add an hour or two depending on where you are starting your journey from. 
This "faster" route can be divided into sections between a few major towns along the way:
Dubai to Al Ain Hafeet (Mezyad) border – 160 KM, 1 hour 50 minutes
Al Ain- Nizwa- 260 KM, 2 hours 40 minutes
Nizwa-Haima – 380 KM, 3 hours 20 minutes
Haima-Salalah city – 400 KM, 4 hours 50 minutes
The "short" route to Salalah from UAE runs through the hinterlands of Oman. Only around 250 kilometers between the Oman-UAE border and Nizwa offers a truly scenic drive through the mountains. The remaining 800 kilometers in Oman belong to road 31. Almost all this stretch till you reach the entrance of Salalah is an empty flat desert with no tourist attractions around. 
If you are traveling from Muscat to Salalah, you will drive 1000 km for approximately 9.5 hours. You will face a similar scenario: the 150 km drive from Muscat to Nizwa is nice and scenic, then you will continue on the same boring route 31.
I have never driven through such nothingness before. 
Nonetheless, one thing that I found fascinating on this long Dubai to Salalah driving experience was an almost instant change of scenery from the dry, grey flat desert to green rolling hills covered by the blanket of clouds. You would think that you appeared on another completely different continent. Only the gazing camels will remind you that you are still in the Middle East.
    2. The long coastal road to Salalah
The long route to Salalah from Dubai totals almost 1900 Km and takes 20.5 hours of continuous driving to complete it. The road follows Oman's east coast along Arabian Gulf all the way to the south coast of Oman next to the Arabian sea. Although the coastal parts of the drive are beautiful, there are sections on this route that are winding inland through the desert and have a similar deadland feel as the above-mentioned route 31.
The coastal route can be divided into the following sections:
Dubai to Muscat – 450 Km, 4.5 hours
Muscat to Sur – 200 KM, 2 hours 20 Minutes
Sur to Duqm – 520 KM, 6 hrs
Duqm to Salalah – 670 KM, 7 hours 20 minutes
Looking for car hire in the UAE? You can get the best rates for renting a car in the UAE with Localrent
Is it worth taking a coastal road from Dubai or Muscat to Salalah? 
Yes and no. When planning my Salalah road trip, I read online that the coastal road is amazing and I was so fixated on driving it on the way back from Salalah to Dubai. However, it was way too much effort for very little reward. We budgeted 3 overnight stops along the way for this 20-hour long drive. 
I would advise taking the coastal road to Salalah only if you have plans to visit Masirah Island or, sugar dunes (4WD only). Otherwise, it is not worth the effort. 
The coastal road section between Mirbat fishing village and Sinaq Canyon (Wadi Sinaq) is truly scenic, though. Thus, if you want to explore it, I would recommend it as a day trip from Mirbat. 
The stretch between Wadi Sinaq and Duqm is more or less a deadland just like route 31. While the road from Duqm to Sur is nice but not exciting enough to add 6 hours to your journey. 
Dubai (UAE) to Salalah (Oman) border crossings
If you are heading directly to Salalah from Dubai, or from other emirates in UAE, for the shorter route you should take the Mezyat border in Al Ain (also known as the Hafeet border).
If you are also planning to visit Muscat on the way, then you should cross the Al Wajajah border in Hatta. 
Note: UAE-Oman borders get busy during weekends and public holidays. Therefore, if you are driving on one of those days make sure to start your journey early, or account for an extra hour or two for border crossing. 
ALSO READ: You can find detailed information about UAE-Oman border crossing procedures in my Dubai (UAE) to Oman by road post.
Oman visit visa for your Salalah road trip from Dubai (UAE)
As a GCC (and UAE) resident you no longer need a visa to enter Oman, as long as your residency is valid for a minimum 3 months before the trip. As a tourist in the UAE, you will have to apply for Oman visit visa. 
You can do it online yourself via the Royal Oman Police website, or get it on arrival at the border (subject to nationality). Alternatively, you can use ivisa services. Those guys will get the Oman visa sorted for you for an extra fee. 
ALSO READ: You can find detailed information about UAE-Oman visa types and requirements in my Dubai (UAE) to Oman by road post.
Splitting the UAE-Salalah journey – where to spend the night?
The drive from UAE to Salalah is very long and travelers usually choose to break the journey with one overnight stop when taking the "shorter" (12 hours route) or 2-3 stops for a longer coastal route. 
For the inland (shorter) route to Salalah, you have two options for an overnight stop:
Nizwa (or any nearby village, like Birkat Al Mouz, Bahla);
Haima on road 31.
Staying in Nizwa
I would recommend spending a night in Nizwa town or another nearby village because you can book a nice hotel via booking.com, and also do some nice sightseeing in the afternoon/evening before the long journey the next day. 
On the way to Salalah from Dubai, we stayed in Birkat al Mouz- a mysterious abandoned mud village 30 minutes away from Nizwa. It was one of the best experiences on our Salalah road trip.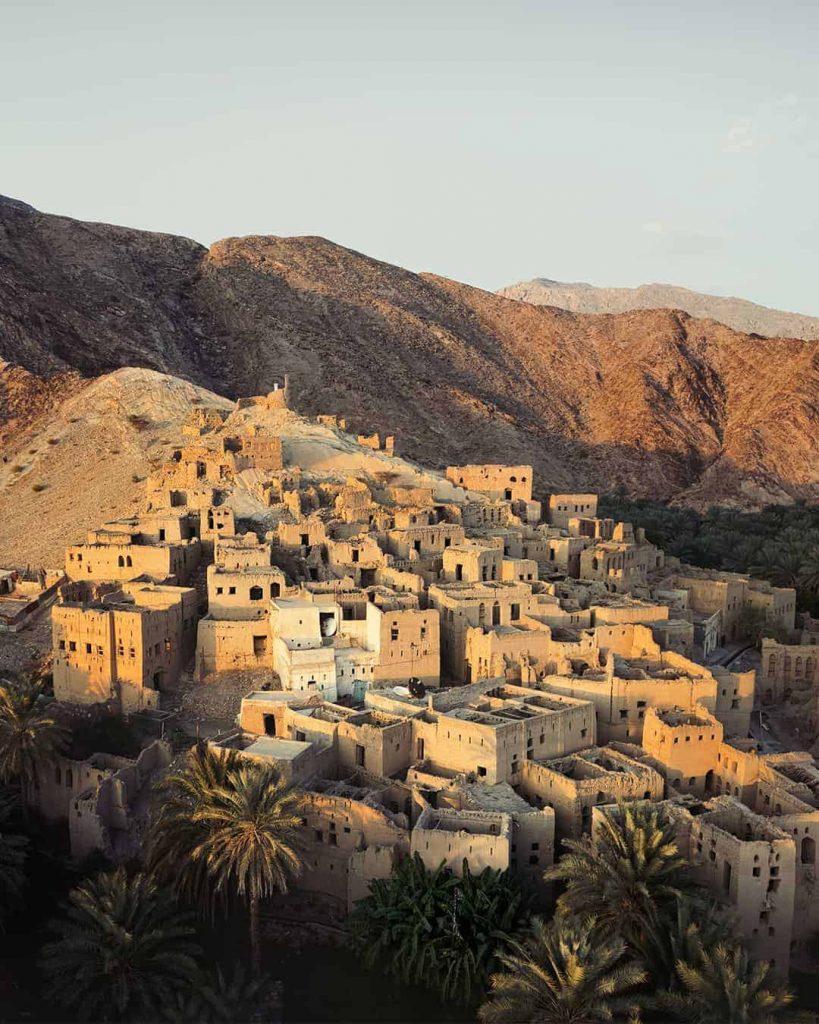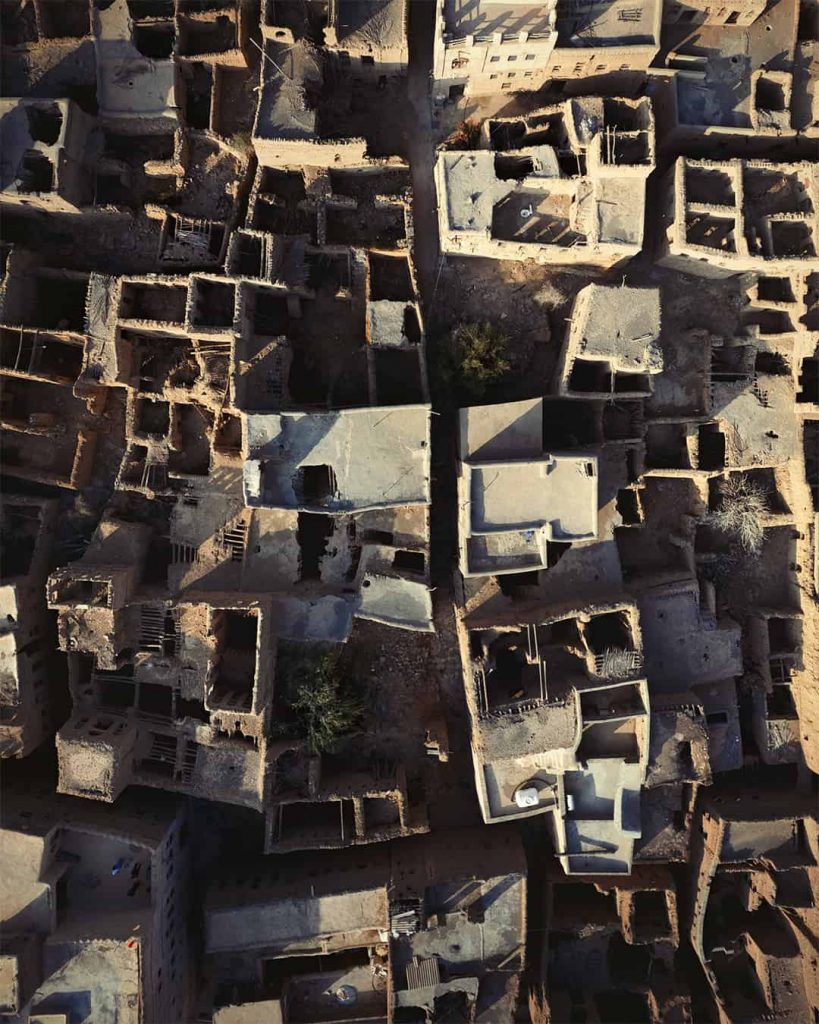 You can also stay in Nizwa which is a bigger tourist town and naturally has more accommodation options than Birkat Al Mouz. You will also get a chance to visit the wonderful Nizwa fort and Souq-a great cultural attraction on your road trip.
If you choose to stay in Nizwa, your first leg of the journey will take around 5 hours including time for border crossing (taken there is no queue). That being said, you will still have 8 hours left to drive through the deadlands the next day before you reach Salalah. 
Bait Al Sabah Heritage Inn & Cafe– set between the ruins of ages-old Birkat Al Mouz mud village, this is a renovated cozy hotel with a fantastic coffee shop and a beautiful terrace overlooking the mysterious abandoned town. Price range: $$.
Staying in Haima
If you aim to stay in Haima you will cover more distance on the first part of the trip. However, there is no way to book accommodation online in Haima. You have to just show up and take whatever is available.
There are around only 3 roadside motels in the area to choose from. Pretty basic and quite pricey for what they offer (over 15-20 OMR). 
Haima itself has nothing exciting in terms of scenery or sightseeing. It is just a small town in the middle of nowhere. 
The hotels we passed by reminded me of Tarantino's movie From Dusk Till Dawn. If you have seen it too, you know the drill. Thus I am glad we chose to stay in Nizwa and not Haima. 
Where to break your trip when driving the coastal road to Salalah?
When taking the coastal road to Salalah, depending on your travel plans, you can break the journey into 3 parts with 2 overnight stops, or even more if you are exploring Masirah island, or even camping along the way. 
On our Salalah road trip, we took the coastal route on the way back and had 3 overnight stops: in Duqm, Sur, and in Nizwa.
If you are passing Muscat, then it would be a great option to stop overnight and explore the capital of Oman. This could be an alternative to stopping in Sur unless you want to do some sightseeing around Sur (like Wadi Shab, or Wadi Tiwi, or Bimmah sinkhole on the way).
ALSO READ: Looking for more things to do in Oman? Check my Oman road trip itinerary covering the Northeastern part of Oman.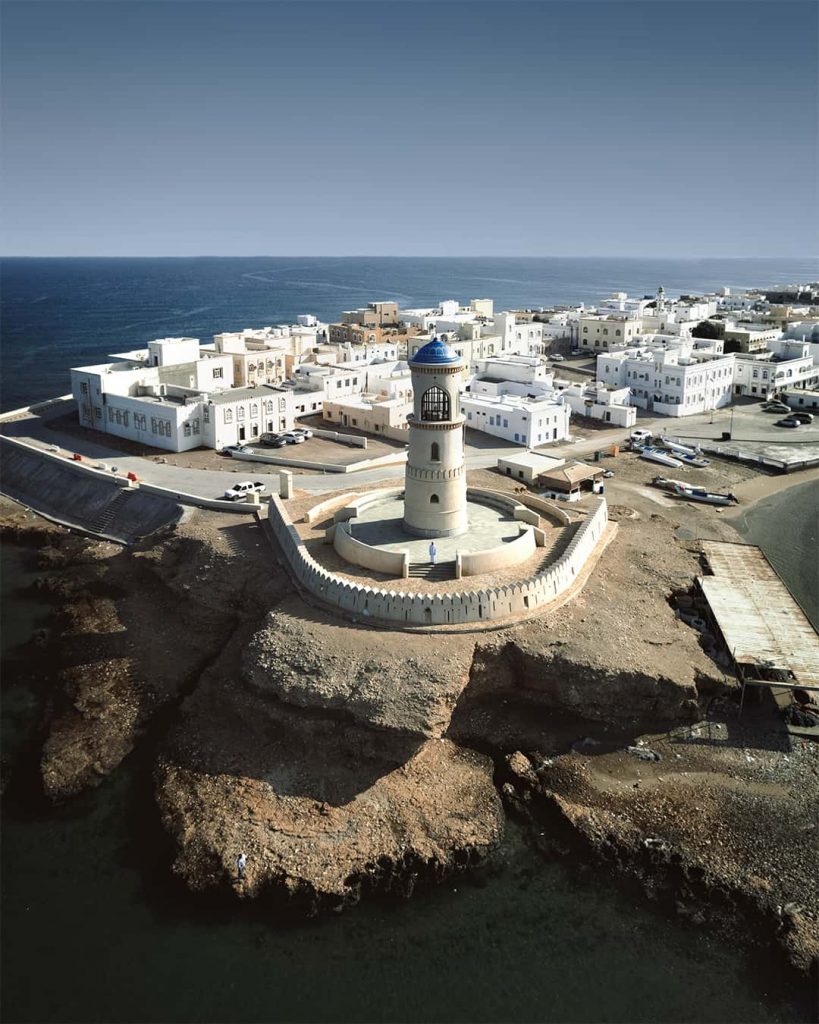 Where to stay on the coastal road from Dubai to Salalah road
Staying in Muscat
There are plenty of accommodation options to stay in the capital. Below are my suggestions for some great choices for different budgets:
Staying in Sur
Sur is a small characteristic port town that makes a great stopover on the way to Salalah. There aren't as many hotels as in Muscat but enough to make it a comfortable night over. Here are my top picks for Sur:
Sur Grand Hotel– The best-rated in the area, 6 KM from the center of Sur featuring nice beach views directly from the window! Price range: $
Sur Plaza Hotel– we stayed here-another decent option for the area with old-school film vibes and clean and spacious rooms. The hotel is located inland but has a pool for those who want to refresh on a hot day. The food served at the restaurant was average though. Price range: $-$$.
Staying in Duqm
Duqm is an industrial coastal town midway from Muscat to Salalah. There is nothing particularly interesting apart from Duqm cliff which you could visit at sunset if you stay in Duqm. Interestingly, Duqm has some high-end hotels by the sea, which means this town attracts its own audience.
Grand Orchid Hotel Apartment– brand new hotel with great modern rooms and huge bathrooms. People working at the hotel are also very polite and helpful. Price range: $$
Crown Plaza Duqm, an IHG Hotel – set on the shores of the Arabian Sea, this upscale hotel offers modern rooms inspired by Omani architecture. It is situated in the best location in town where you can enjoy Duqm cliff views. Price range: $$$
Park Inn by Radisson Hotel– this hotel also has a beachfront, bar and a pool. $$$
Where to stay in Salalah
In Salalah, you will have various accommodation options to choose from- budget, midrange to luxury seaside resorts.
Here are my top pick for different categories:
Grand Flora Hotel– Located in the busy part of Salalah city this hotel offers a reasonable rate to have a clean simple room to sleep in. They also have a cafe and restaurant which is good value for money and an easy choice instead of looking where to eat in the city. Price range: $
Belad Bont Resort– located on the West side of Salalah, this resort offers a terrace, swimming pool, modern rooms, and a restaurant with a well-rated breakfast. Price range: $$
Al Balled Resort by Anantara– Located at the beachfront oasis, this is Salalah's first villa luxury resort which will provide you with a full-on luxury experience and is the perfect place to stay if you plan just to relax. Price range: $$$
Do I need 4WD to drive to Salalah? 
Before my road trip to Salalah, I always believed that we absolutely need a 4WD to get around the Dhofar region in Oman. The great news is that after doing some research and taking the road trip in 2WD myself, I can now confirm that many beautiful sights around Salalah are still accessible with a small sedan car. Thus, it is not a must to have a 4×4 if you want to visit Salalah. 
Nonetheless, 4WD, or at least a higher clearance vehicle would be very useful and convenient as it opens up more opportunities to explore the area offroad. Also, it might be more comfortable for a long-distance drive.
This particularly is important for those travelers who are planning on wild camping. There are plenty of wonderful wild places which are only accessible with an off-road vehicle. 
During our trip, for example, we had to skip a couple of wild beaches because we did not have a suitable car to reach them.
Looking for a great rental car deal? I use those websites to shop for the best car hire rates:
Check for the best car rental rates in Oman and UAE at Discovercars.
Also, browse UAE rental car offers with local providers at Localrent.
I also recommend cross-checking the offers with the biggest car search engine Rentalcars.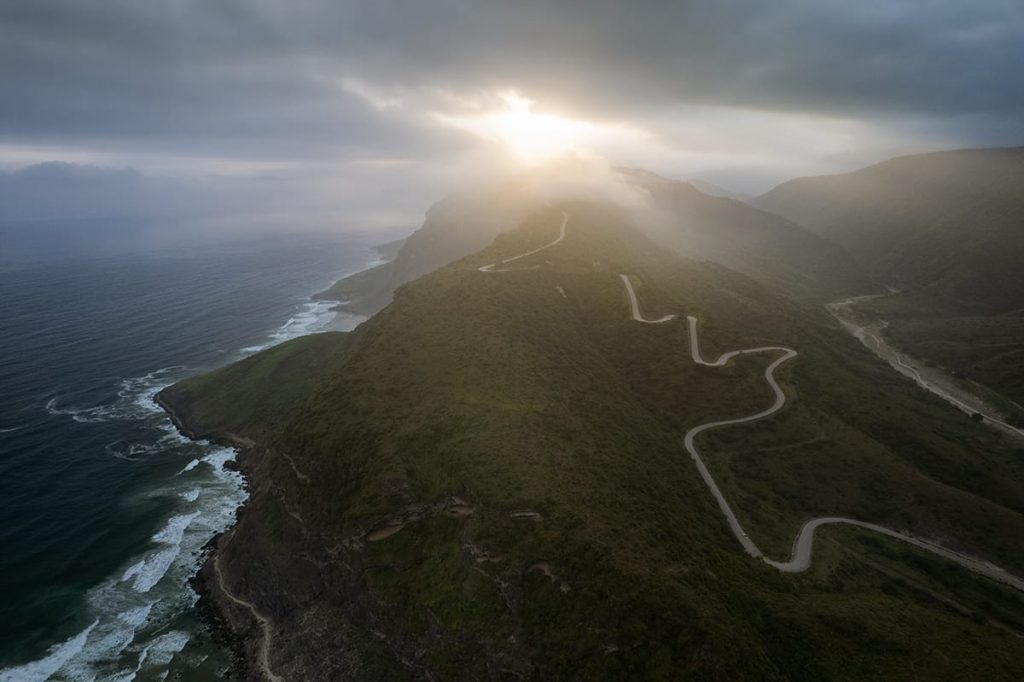 Dubai to Salalah Gas Stations
The frequency of petrol stations on the way from Dubai to Salalah depends on the area.
Make sure to fill up the full tank in Nizwa before heading down south of Oman on route 31. Refill in Haima and you should be able to reach Salalah unless you are driving Lamborghini. In any case, after Haima, there will be 3 or 4 stations before you reach Thumrait- another small town just before Salalah.
On the coastal road, you can find gas stations every 100-150 km or so. As a rule of thumb, you will always find petrol in every town you pass. 
Tip: search for "petrol stations" on Google Maps and you will get them mapped out for you, so you can plan accordingly. 
Petrol price in Oman
It seems like petrol prices in Oman did not get a memo about the global petrol price surge and remained one of the lowest in the world. Which is great news for us, travelers. At the time of our visit, one liter of petrol was 0.621 USD (0.63 EUR).
Safety tips for driving from Dubai to Salalah
Avoid driving to Salalah at night
Some of you may be considering the option of covering 12 hours' drive in one shot without overnight stops. While you could do it, I strongly advise against driving at night in Oman, unless you absolutely have no choice. 
Most of the roads you will have to drive through do not have street lights. The presence of animals makes it dangerous. Also, the monotonous road 31 can easily make a driver fall asleep (even during the day, let alone at night).
If you absolutely have to drive at night, calculate the time wisely and leave Dubai extremely early, like 4 am or even earlier. UAE roads have lights almost everywhere, so it will be much safer to drive at night in the Emirates than in Oman. This way you can reach Salalah in the evening before sunset. 
Having a couple of drivers take turns could be helpful, though. Still, I do not recommend driving at night.
ALDO READ: Renting a Car and Driving in Oman Tips
Be aware of sandstorm alerts
As you will be driving through the desert, be aware of sandstorm possibility. There are warning signs all along route 31 indicating shifting sands. On an extremely windy day roads might get covered in sand which might make roads slippery, and worst case scenario even impassable for a regular 2wd (but this would be quite an extreme scenario). 
Make sure you get your car checked before taking it for a long-distance road trip
It is strongly advisable to get your car checked and serviced before you go for such a long drive. In case of a breakdown (and I have heard this is quite common on Salalah road trips), it will be hard to get road assistance as you will be in the middle of nowhere. Thus, don't take chances and only drive a well-maintained car. 
Road conditions on the way to Salalah
Roads in Oman in general are well maintained. They are some of the highest-quality roads I have ever driven. Roads in Oman are also well-signposted in both Arabic and English. 
On your way from Dubai to Salalah, you will have a mix of one-lane, two-lane and on a rarer occasion, 3 lanes paved roads. 
On the long route from Nizwa to Haima, the road is a 2-lane highway which makes it very easy to drive it. 
Just before Haima town, the two-lane highway 31 becomes a one-lane road that you share with upcoming traffic. Every 10 kilometers or so there is a lay bay if you need to stop safely. 
Although route 31 is virtually traffic free, most of the passing cars are big trucks. 
Some of them are notoriously slow driving below 60 km/h, thus watch out when approaching from the back at a high speed and overtaking. 
Around 100 km from Thumrait town to Salalah the road again is 2 lane-highway. 
Meanwhile, the coastal road is mostly one lane road. However, Sur -Muscat highway 17 is dual-lane. 
Roads in Salalah and other provinces (wilayats) in Dhofar Governorate
Paved roads in Salalah like the rest of Oman are in great condition and connect all the main towns in the area. Also, many attractions are accessible via paved roads.
Nonetheless, the west side of the Dhofar region is mountainous and the roads here are steep and windy. 
You will also be sharing them with hundreds of camels who are the bosses in the area and roam freely anywhere they feel like. Thus, be attentive, especially if driving after sunset. 
We had to drive at night in the Salalah area (west and east of Dhofar) a couple of times. It was only for an hour or two, and it was no fun. Camels, cows, and goats continuously appear in the middle of the road which keeps you constantly on the edge. Also, roads have no lights in most places, unless you are close to the town. 
Take extra care when driving in foggy conditions
The climate in Salalah during the Khareef season is similar to the tropics. Fog is one of the fascinating features of the Dhofar area in Oman. But it also makes driving more difficult, especially at night. Add camels and cows to the equation and it becomes extra thrilling. 
Military checkpoints on the Salalah route
Dhofar region and Salalah are close to the Yemen border. Despite the unstable situation in Yemen, the south of Oman is safe to travel to. 
There are, however, a couple of military checkpoints along the west side of Salalah on road 49. One of them is just before Shaat mountain, and the other one is near Dhalkut, the last village before the Yemeni border. 
On the east side of Salalah, there is one military checkpoint near Hasik village on road 49.
When traveling, make sure you have your passports and car registration documents as well as your driving license. The checkpoint crossing procedure is hassle-free. You will be asked where you are going or where you are coming from and that is it.
I must admit, however, that seeing soldiers with guns and tanks parked on the side of the road does look intimidating and uncomfortable. Nonetheless, people guarding these checkpoints were polite and friendly.
Oman SIM card 
For longer trips, I always buy an Oman SIM card so I can easily use Google Maps to navigate around. 
You can purchase an Omantel sim card at the Al Wajajah border. I am not sure if it is available at the Mazayat border in Al Ain, but chances are it is. If not, you can get one in Nizwa Mall. 
What should you carry for your Dubai Salalah Road trip:
Power banks and cables to charge your phone.
Enough water supply and snacks for the long empty sections.
Spare tire.
Cash (Omani Rials) as some remote shops and petrol stations might not accept cards.
Preload google maps if you do not have internet (although getting between main towns is easy by following road signs).
READ NEXT: Salalah Itinerary for 1-4 days: best things to do in Dhofar, Oman.
Dubai to Salalah by road: driving map
How to use the map: Click on the map image above to open my maps in a new window. Click the tab in the top left-hand corner to open the layers (points of interest, accommodation options, and driving routes). You can save this map on your Google Maps account by clicking on the small star icon next to the name of the map. To open the saved map on your phone or laptop, open Google Maps, then click the menu button, go to "Your Places", and click maps where you will see this map saved on your list.
I hope you are enjoying my free travel guides & tips. If yes, please consider supporting my work by buying me a coffee so I can continue creating more useful content from my favorite coffee shop in town. Thanks!
Oman travel essentials
Other Oman travel planning resources