To drive or not to drive in Sicily? If you are planning to visit the biggest Italian island and are not sure if driving in Sicily is worth the drama, then read on. Here is everything you need to know about renting a car in Sicily and possible driving challenges, useful tips, and practical advice about hiring a car. 
Visiting Sicily by car is by far the best way to explore the island. However, driving a rental car in Sicily does require some skills and nerves of steel, especially if you are used to the "civilized" western Europe style of driving. 
Sicilian drivers have a reputation for being impatient and short-tempered. And just as anything in this passion-filled island of Italy, the atmosphere can sometimes get pretty tense on the roads as well.
After having driven from east to west and south to north on my 2 week-long road trip in Sicily, I am here to shed some light and give plenty of useful insights on what driving around the biggest Italian island is like. Read on to find practical tips on things to look out for and avoid on the road, unwritten driving rules in Sicily, parking and road signs to pay attention to, as well as saving money when renting a car in Sicily (and zero deductible car insurance).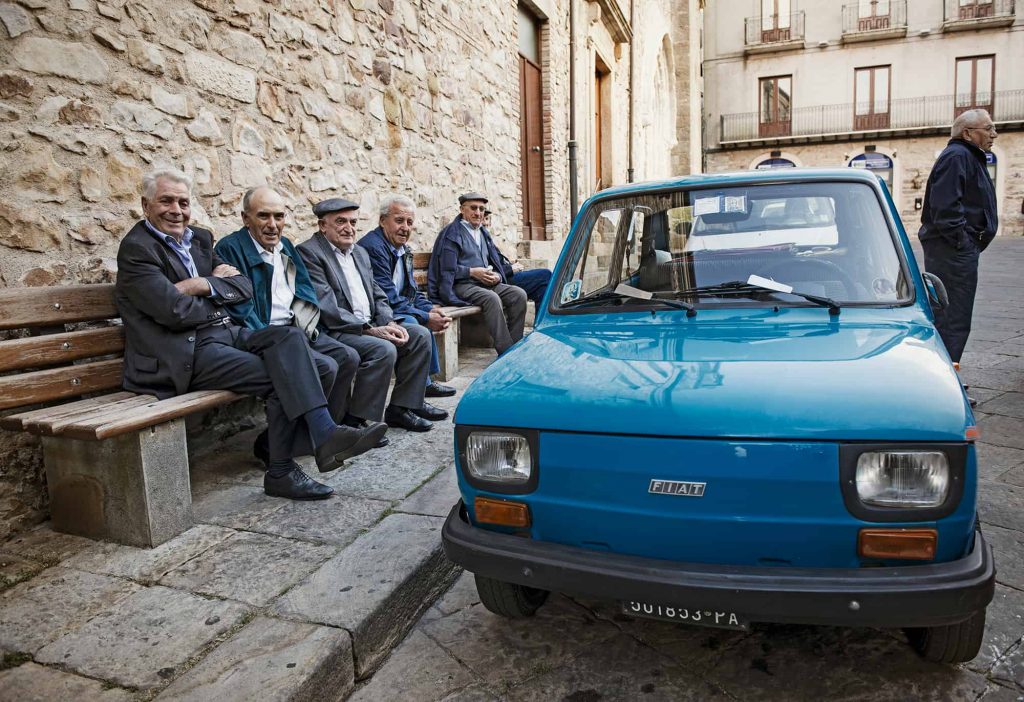 Disclaimer: This post contains affiliate links, which means that I may earn a commission if you make a purchase by clicking a link (at no extra cost to you). This helps to keep my blog running and growing by creating more awesome free content for you.
Everything You Need to Know about Driving in Sicily: 21 Practical Tips and The Most Common Questions Answered
FIND THE BEST RATES FOR CAR HIRE IN SICILY
Look for the most affordable deals for your rental car with Discovercars.
1. Is Driving in Sicily difficult?
Driving in Sicily can be hectic but it is much easier than you may expect.
Let me start by comforting you that all those talks saying that driving in Sicily is a complete madness are exaggerated. Yes, it can get frustrating to deal with traffic in the biggest towns like Catania and Palermo, or nerve-wracking on narrow mountain village roads and hairpin bends, but in many other scenarios, you will be driving in way more relaxed conditions. Especially on the quiet countryside roads.
In general, the best way to approach driving around Sicily is to keep your cool and go with the flow. 
Driving straight into the chaos of Sicilian streets will be less daunting when you are mentally prepared for it. In general, Sicilian driving is not completely disorganized, or always chaotic, especially outside the big towns. 
Therefore, if you are wondering if you should rent a car and drive in Sicily, I would strongly recommend giving it a go.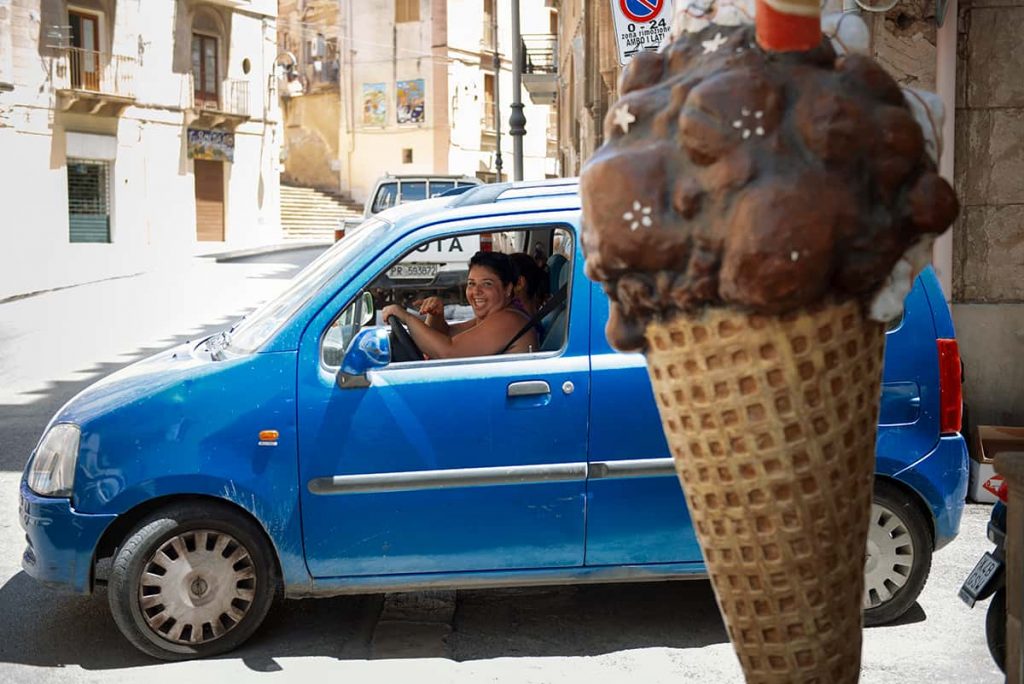 2. Do you really need a car in Sicily? 
If you are still not convinced that driving in Sicily is a good idea, I will play the devil's advocate here by saying that you absolutely need to rent a car in Sicily for two main reasons:
Firstly, having your own vehicle will give you the freedom to move around independently without relying on public transport and its timetables. In fact, public transport in Sicily, just like many other things, does not always follow the scheduled timings.
Secondly, some of the hidden gems like mountain towns and nature reserves can only be reached by car. 
Looking for car hire in Sicily? I recommend Discovercars for the best car rental rates (I checked many car rental websites and Discovercars had the best offers so far). More about car rental tips are at the end of this post.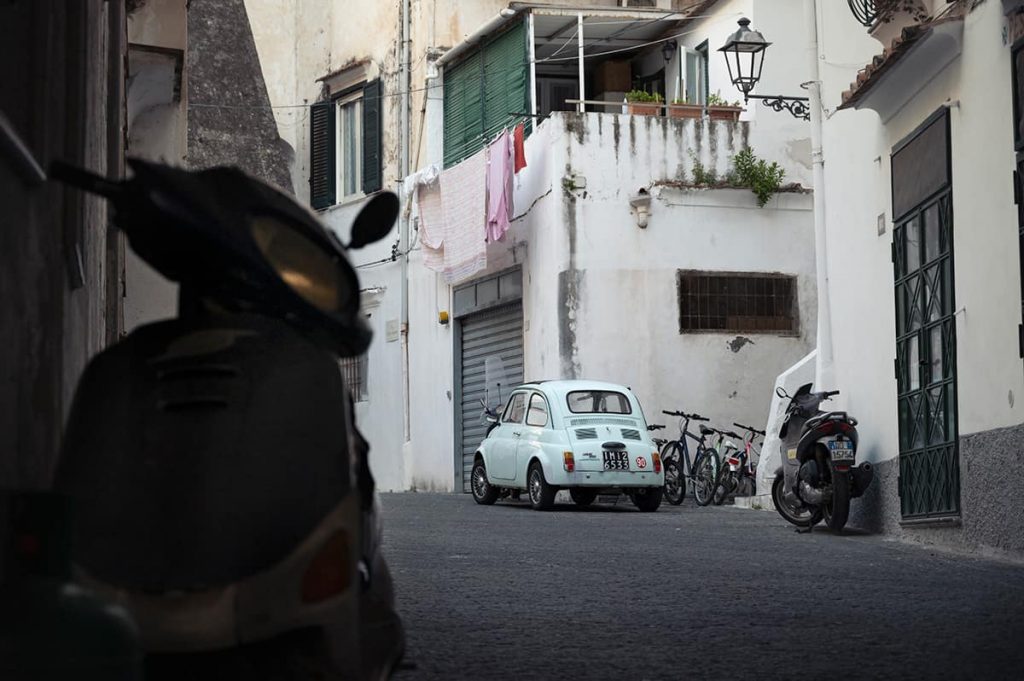 RELATED READS: Planning Sicily road trip? Here is my detailed 2-weeks in Sicily Itinerary.
3. Avoid driving in the biggest cities in Sicily
You don't need a car to get around the cities of Palermo and Catania (the two biggest towns in Sicily). 
If you are landing in one of those towns, it is much easier to first explore them by using public transport, taxis, or just walking (both are walkable). That being said, you can pick up your rental car a few days later once you are ready to explore other parts of Sicily. 
If your road trip includes a mid-stop at one of the busy towns, the best bet is to keep your car safely parked and explore the city on foot.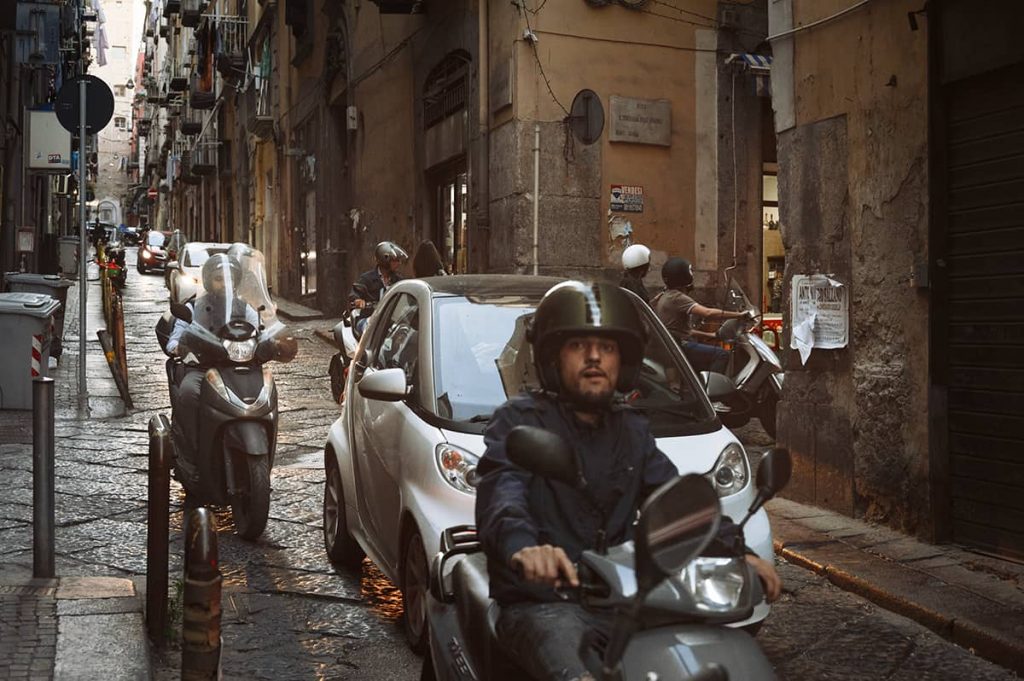 Note: if you are landing in Trapani, I would still recommend getting a rental car immediately. There are a lot of short trips you can do in the area from the base of Trapani. Trapani itself is very small and doesn't require as much time to explore as Palermo or Catania. Alternatively, if you are planning on visiting Favignana (one of the Egadian islands 30 min by ferry from Trapani), you are as well better off picking up your car after as you won't need it on the island.
ALSO READ: 17 tips for renting a car in Naples and driving in South Italy.
Learn the unwritten rules of driving in Sicily
Apart from official written black-on-white rules of driving in Sicily, there is unofficial street etiquette passed from generation to generation.
Many times, the behavior on the road will not make much sense or follow any pattern. It may take a day, or two, or maybe a week for a more cautious driver to get used to the Sicilian driving style. Take your time, be calm and patient, and observe the organized chaos. Soon you will be driving like a local. 
That being said, there are several things about driving behavior in Sicily that you will encounter. Read on below to be prepared!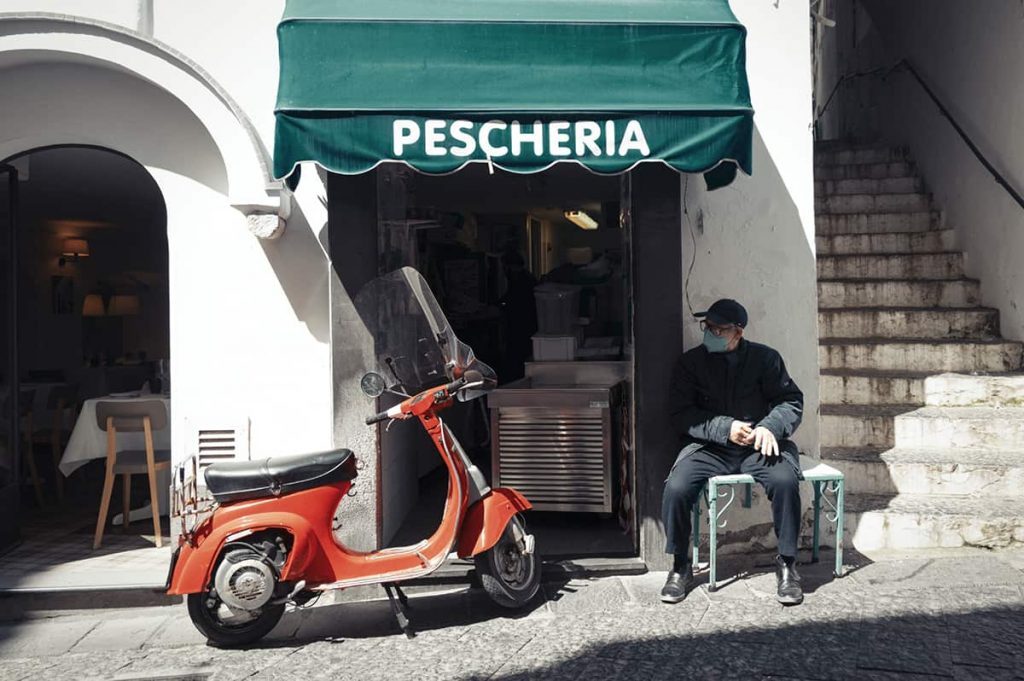 4. There is no safe distance when driving in Sicily
Keeping a safe distance while driving in Sicily only happens if you are a single driver on the road. Sicilians, as common in Italy, like to get close and personal. Motorcycles brushing the side mirrors of your car is nothing to get surprised about. Also, tailgating and overtaking as close as a few inches is very common and nobody sweats about it except for the terrified visitors like myself. 
If you drive too slowly (just at the speed limit), soon you will have another car attached to your car's back. And sometimes it really feels like local drivers are constantly breaking into your personal driving space and breathing up your neck. 
On a narrow road, you may even find yourself "pushed" to the side just to make more space for overtaking. If you see the other car flashing or beeping, know that it is the way of asking you to move your slow ass to the side of the road and let the fast and furious pass. Don't try to be macho, and let them go if you can't keep up to the local (not necessarily official) driving speeds.
5. Sharing is caring- so let's share a lane
If you are used to sticking to "your lane" and expect others to stick to "their lane", you will have to re-adjust and learn to share "your lane" with other road participants (cars, scooters, pedestrians).  White dotted lines painted on the road do not define possession of the lane. In Sicily (Italy), the road belongs to everybody.
The general rule of thumb is to drive wherever your car can pass through. Of course, respect the opposite traffic, and don't drive against it for no reason. The only reason would be if you need to overtake someone slower than you.
If you need to turn right or left and find yourself in a "wrong" lane, don't worry, you can still take the turn from far left to right or far right to left. Watch out for the other cars around you and just do it once the road is clear.
Rest assured, there is no need to plan 1 km ahead to be on the correct lane in order not to miss the turn.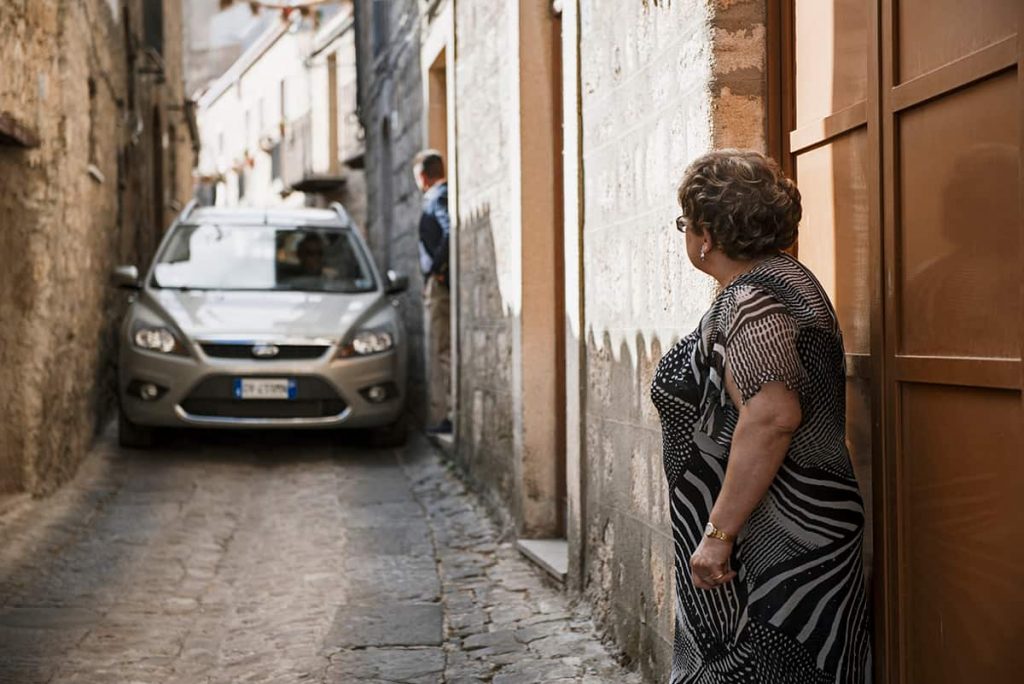 6. Red light sometimes is green to Sicilians
Occasionally, traffic lights in Sicily do not seem to hold the usual red light-green light meaning (you can't win Sicilian Squid Game if you follow the rules).
For many Sicilians, the traffic light is always green, even when it is clearly red. This mostly applies to scooter drivers and pedestrians. Car drivers are more responsible when it comes to traffic signals.
If you are driving, watch out for people crossing the streets. If you are a pedestrian, don't expect scooters to stop for you at a green light (their red light). We saw Vespas often crossing intersections through red lights as long as there are no cars in their way (and they don't care much about pedestrians having the priority).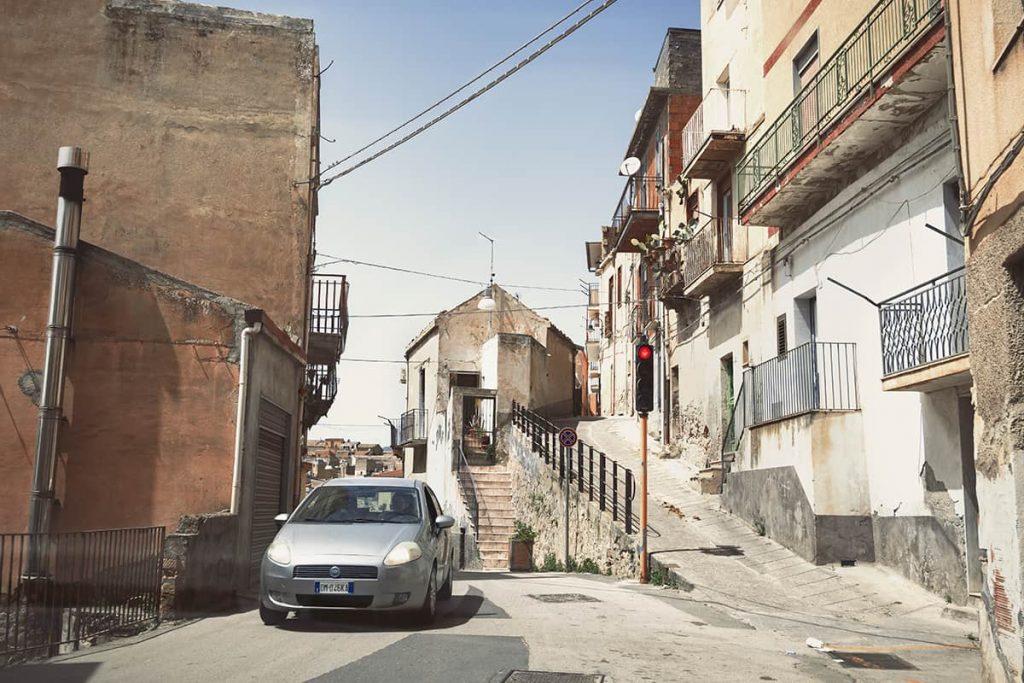 Be mindful that some car drivers may disobey red lights as well. On a rare occasion, you may get forced into crossing one as well. If you stop at a red light when there is no reason to (aka quiet road without traffic), you might get furiously honked at by the column of the cars behind you. If the road is clearly free, why wait. But don't worry, this doesn't happen that often.
All jokes aside, for your own safety, just drive when it is a green light, and stop when it is a red light.
7. Indicators are the least used feature in the car
In Sicily, locals do not indicate, only tourists do. If you want to know that the driver is about to swap the lanes, you have to trust your intuition and have the ability to predict unpredictable moves. 
To me, a lack of indication is not a big deal. Here in UAE, similarly to Sicily, the majority of drivers do not bother indicating. Therefore, I developed a 6th sense for predicting the other drivers' moves. 
However, if you are used to driving on very civilized and well-organized roads, it can get really annoying when somebody just jumps in front of your nose without any sort of warning. But don't worry, you will get used to it in no time. 
8. Roundabout battle- claim your way in and out
Standard rules of giving the way when entering a roundabout and having the priority once inside it, do not apply in Sicily. In fact, roundabouts are completely unregulated, the most chaotic, lawless driving battleground, or at least that is how it may appear at first.
I have to admit, that even regulated roundabouts always give me anxiety. There is always somebody not abiding by the rules, and ready to cross over in front of you just because they need to. 
Note that you will come across two types of roundabouts in Sicily:
joining traffic has to give the way for the drivers already on the roundabout
drivers inside the roundabout must give the way for joining traffic.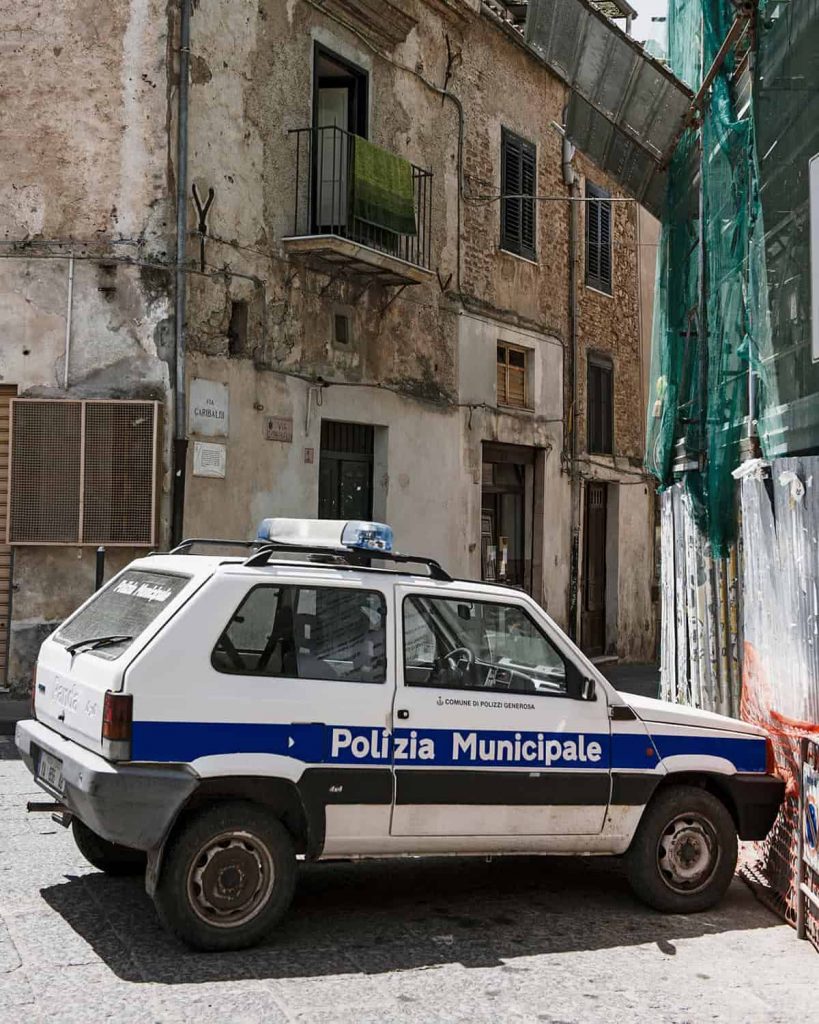 You will see markings painted on the road which indicate if you have to stop (the clear stop sign or row of triangles).
Still, it's just an indication. As mentioned before, if you strictly follow those rules, good luck making it through the roundabout. On a busy roundabout, you have to be bold, go for it, and pray for the best.
It will take crossing a few of those circles of madness until you start to see the chaotic flow in a more harmonious light. Local drivers in Sicily are quite good to adjust to the situation and other drivers' maneuvers. They see what you do, and the only thing that can agitate Sicilian drivers is you being all too civilized trying to follow some strict rules and stopping the flow of traffic.
9. Scooters are the biggest hazard to watch out for
The biggest love of all for Sicilians is their Vespas. Everyone has one at least. Italians in general start driving scooters while still in their diapers.
Scooters are an inseparable part of every Sicilian life. Scooter drivers are skillful to squeeze through any free inch on a road. They sometimes go with the flow of the traffic but more often against it causing a panic attack for foreigners.
In busy urban places, they are like irritating flies buzzing around your head, squeezing your car from all sides, appearing out of nowhere when you least expect it, and always keeping you on edge while you are worried about not knocking one of them out.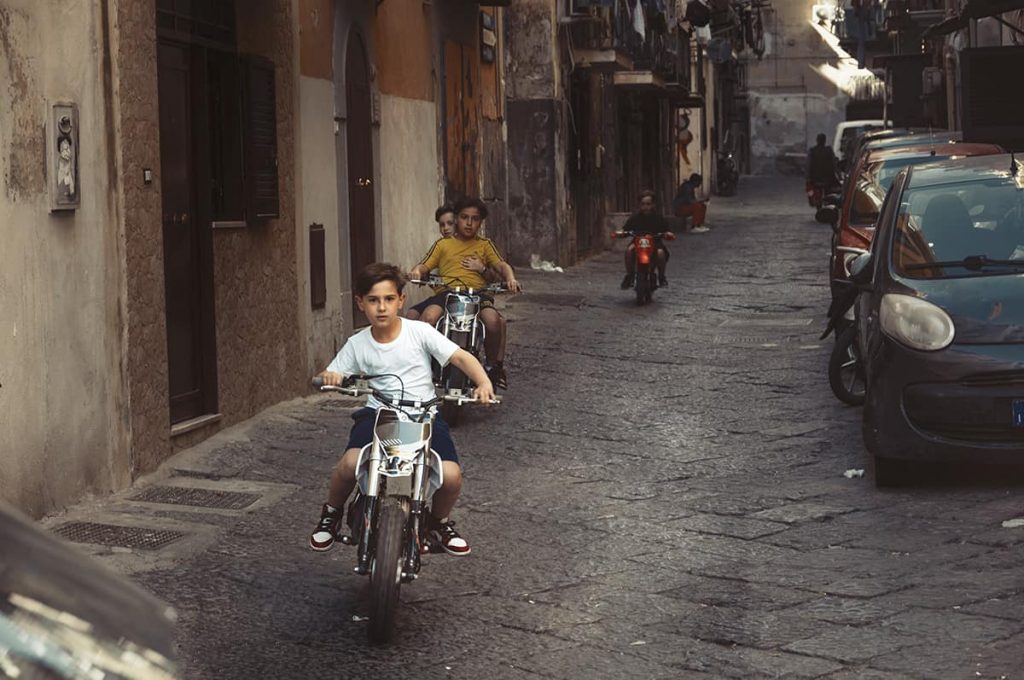 Just be mindful, as scooters often break usual traffic rules as they go where they can pass. However, don't worry about them too much either because those local drivers are also very good at navigating their way around you. 
The only time when you should take extra care is when you are turning. More often than not, scooter drivers may be driving between your car and a sidewalk. Therefore, don't forget to check the side mirrors before turning (as you already normally do, I hope).
10. Honking is surprisingly NOT a thing in Sicily
When I first arrived in Sicily, I expected endless beeping just like in Naples.
To my surprise, it seems that Sicilians use honk very occasionally. Seems like terrified foreigners use signals more often than locals.
You may get honked at if you "fall asleep" at a traffic light, or if you are driving too slow and the driver behind wants you to move to the side. Definitely in Palermo, Catania, or Messina, you will come across more noise caused by honking as those are busy places. However, the honking noise was not as severe as I had expected.
11. Racing blind curves is a thrilling national pastime in Sicily
Many Sicilians first learn how to drive scooters. And then when they start driving cars, or buses and trucks. And they do it as if they still are on their scooters. That being said, Sicilians do not hesitate on zooming through the sharp blind curves at a crazy speed. It seems as if they are playing Russian roulette taking chances to see if they can make it alive. 
Therefore, we had to take extra care on curving roads and often beep a few times before entering the bend. I have to admit, these blind curves are probably the most terrifying part of the whole Sicilian driving experience. Luckily, there isn't as much traffic on the windy countryside roads as there is on the Amalfi coast (that was possibly my worst driving experience in Italy).
Traffic signs, Parking, and Sicilian Roads
12. Watch out for notorious ZTL's – Zona Traffico Limitato
Passing through Zona Traffico Limitato (ZLT) (limited traffic zone) is a guarantee for a traffic fine in Italy. 
Driving through Zona Traffico Limitato (ZLT) is only permitted for the vehicles which belong to the residents of that area. Most of the historic centers in Sicily (and Italy in general) are marked by ZLTs. The traffic sign indicating ZTL zone is a white circle with a red outline. Sometimes it says "zona traffico limitato" but not always. 
It is extremely easy to miss this sign if not paying attention or not knowing what it means (although most of us learned about this traffic sign at a driving school, we might have forgotten).
A result of driving through ZLT is a hefty few hundred Euros fine which you won't receive immediately but rather after a year or so after your trip. On top of that, you will also have to pay a high administration fee of nearly the same amount as a fine to your car rental company.
This exact thing happened to me when I came back from my road trip to Tuscany, Italy. I have received a fine as a physical letter to my home address in Lithuania after one year! Being a responsible citizen, I did pay it. Although a local Italian friend advised just to throw the fine letter in the bin. Not sure if not paying the fine can be avoided as rental companies have credit card details.
If you are wondering about how you can get caught crossing ZTLs-there are cameras that monitor the traffic in limited access areas.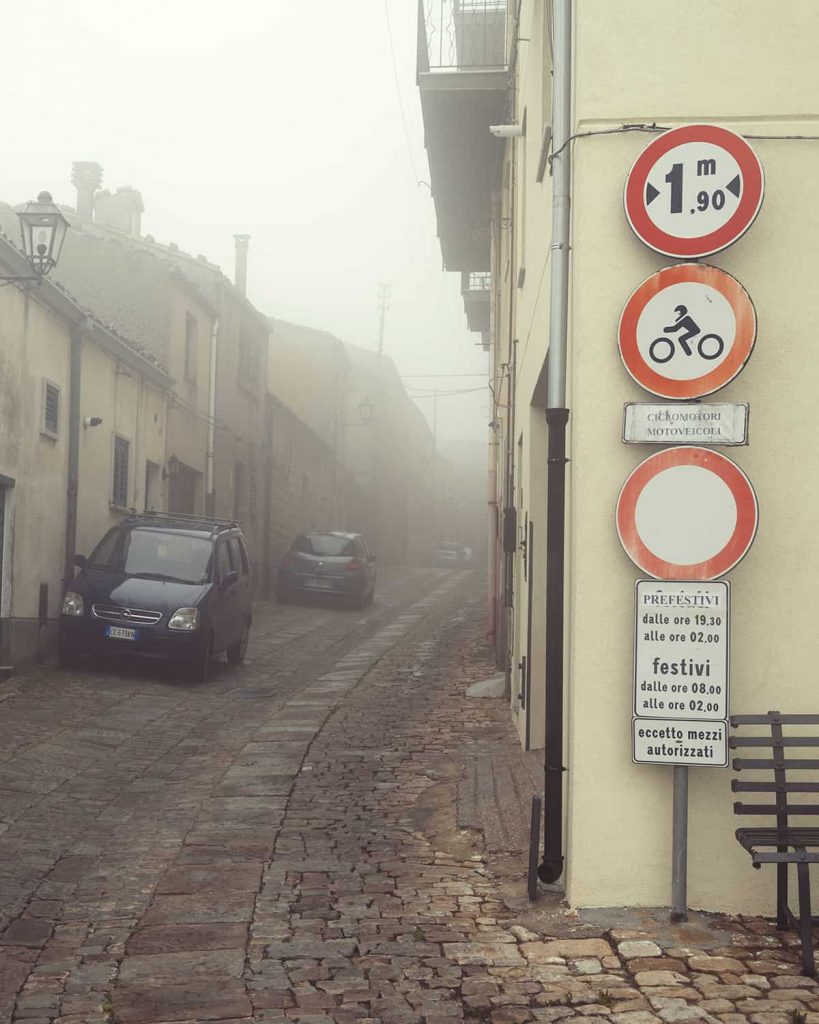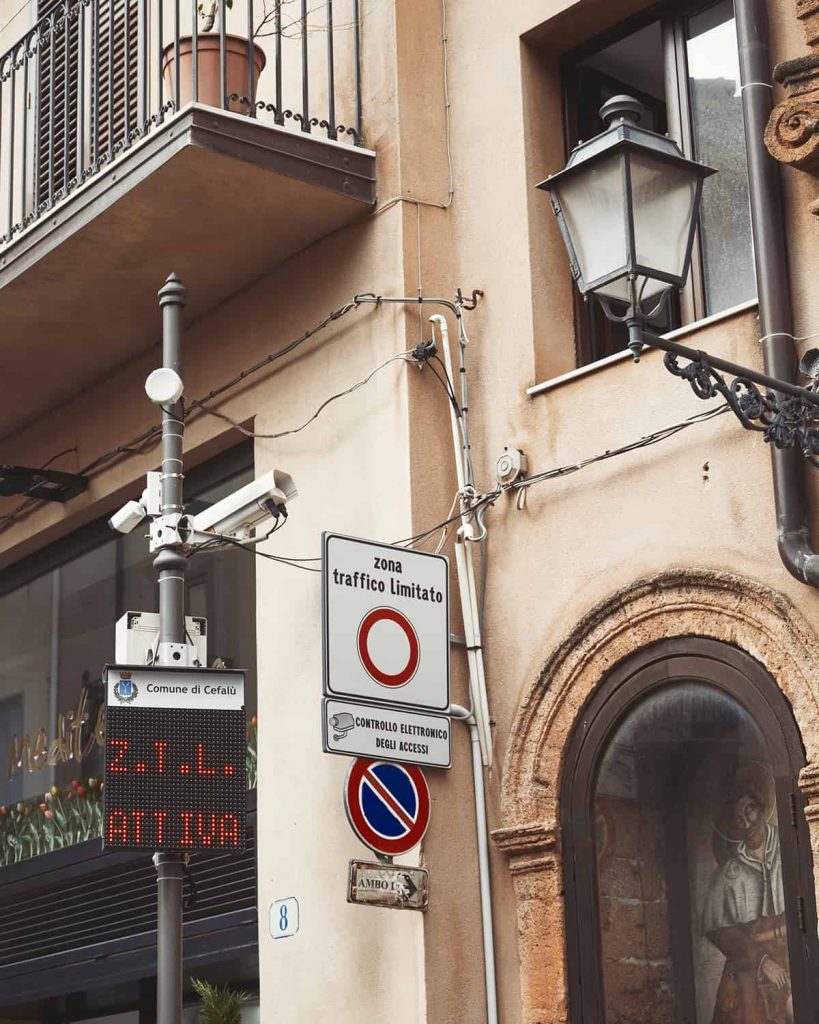 As a general rule of thumb, every town in Italy has "centro storico " which in most cases is a ZTL zone. Unfortunately, there is no unified app that would show those zones and it seems that those zones are being changed from time to time.
Usually, the local city website would point ZTLs out. You could possibly check in advance where those zones are exactly and pre-plan your driving route to avoid them.
But who really has the time for that when there are many other important things (like sightseeing) to be planned on a road trip?
The best way to go is always to look out for the ZTL sign.
For those of you still willing to pre-plan, the best resource I came across for ZTLs is Accessibilita Centri Storici – a local website that provides rough maps of ZTL zones for the bigger towns across Italy.
But what to do if my accommodation is in the ZTL zone?
If you are staying in ZTL zone, you will either have to park outside it, or contact your host and let them know you are arriving by a rental car. Sometimes host of accommodation will be able to activate a daily pass for you (but we haven't tried this, so not sure how often that works).
13. Roads in Sicily: types and conditions, and tollgates
Roads in Sicily are varied with many of them being quite challenging mostly because they are often narrow and windy.
There are 5 main motorways (Autostrada) marked with letter A (or E): Catania-Palermo (A19), Messina-Catania (A18), Palermo-Mazara (A29), and Messina-Palermo (A20), Catania-Syracusa-Gela (aut.CT-SR). Those are the closest to what you can expect the divided highway to be. They are made of 4 lanes (2 lanes for each way safely separated from opposing traffic).
Then there are SS (Strada Statale) – two-way (one lane each) roads. Those are crossing relaxed countryside and impossibly scenic coasts.
Meanwhile, treacherously curvy mountain roads are usually just slightly wider than one lane and are marked as SP (Strada Provinciale).
However, the most notorious "roads" you can find in old towns. Those are crazy narrow alleyways only good enough for one small car to squeeze through. And only a real Sicilian can do it with a breeze.
If you manage to pass an alleyway without any help, you may have some Sicilian blood running through your veins. In general, avoid tiny medieval streets by all means.
Trying to navigate our way through old towns, we got accidentally stuck a couple of times in one of those narrow lanes. Once, only with the direction of 3 locals did we manage to maneuver our way out of a ridiculously narrow alleyway (uphill in reverse on top of all the fun).
When planning your driving route, just by looking at the markings on Google maps, you will know what kind of road you will be driving.
Highways are usually the fastest way to knock down longer distances between main destinations. However, bear in mind that there might be some road works going on which slow down the traffic. Usually, a two-lane highway road becomes one lane for a while. Therefore, always anticipate that you might need a little bit of extra time to get to your destination.
Most of the time, though, you will be driving SS roads. However, there will most certainly be an SP (one-lane road) on your route if you go somewhere off the beaten path or a smaller village.
The most exhausting is navigating curvy, windy, and especially hilly mountain roads with blind bends. Don't get overconfident in racing the turns as you never know when a car can appear from the opposite side.
In general, road conditions in Sicily are fairly good. Surely, they are not in mint shape as the highways in the middle east, like UAE or Oman. However, apart from a few bumpy pathways leading to remote beaches, roads in Sicily are okay. Even the one-lane SP roads are in quite good shape.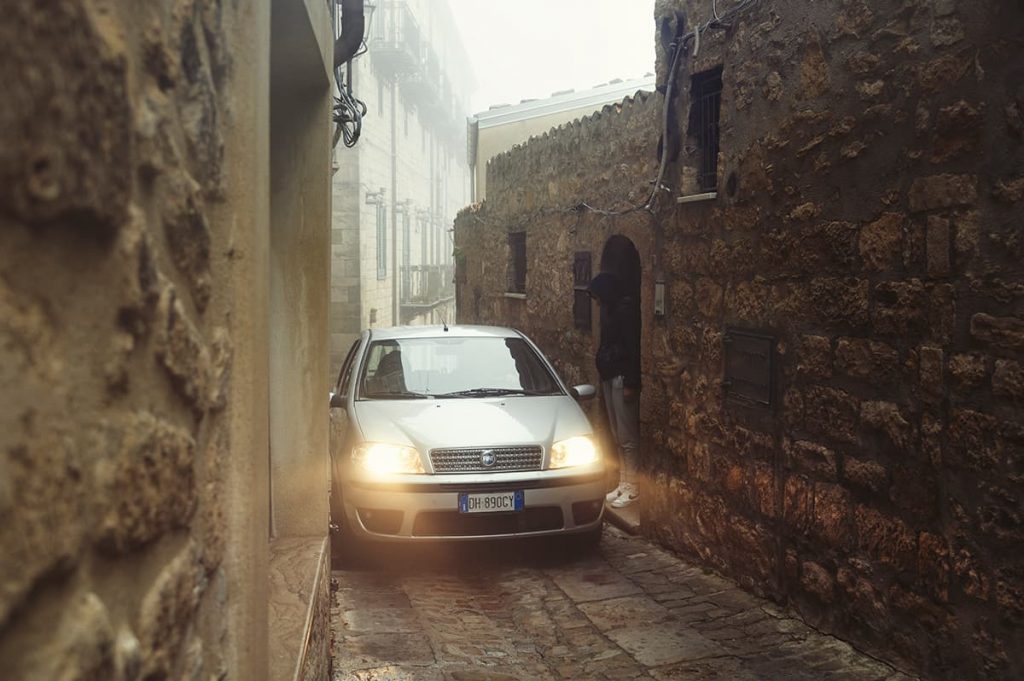 Tolls system in Sicily
There are only two toll roads in Sicily: A18 and A20. The system works as follows: you pick up the ticket at the first gate booth and pay at a second one once exiting the highway. 
Payment is in cash or by card. I did not try paying by card, but there are toll booths marked as card payments only.
Note: a few toll booths are reserved for the automatic "Telepass" system, so make sure you are on the correct lane. This will be obvious, as "Telepass" lanes are clearly marked and can be seen from afar.
The prices of tolls in Sicily are fairly low ranging between 1 EUR-10 EUR, depending on the distance driven. The most expensive stretch is between Messina and Palermo (10 EUR).
Top tip: Some of the booths are automated, and might not give change. Therefore, always carry some euro coins to pay for your wait out off the highway. More info about the toll system in Sicily can be found here (Italian only).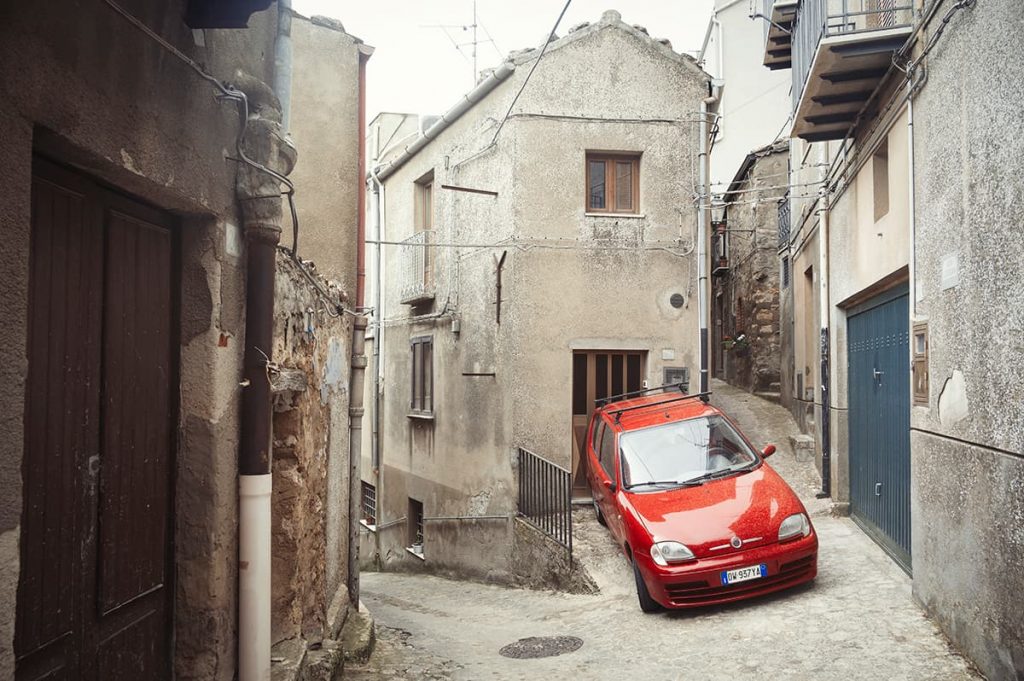 14. Where to park in Sicily (and where not to) 
When it comes to parking in Sicily, you will come across 3 colors painted on the ground to mark different types of parking spots.
–Yellow color paint indicates that parking is reserved for residents only, or loading/unloading.
–Blue color is paid parking for everyone. Once parked, must look for the meter (parcometro) to pay for the ticket for the duration of your stay. If you cannot find one nearby, then you must go to the tabaccini (a small shop that sells newspapers, cigarettes and also parking tickets). Or download an EasyPark app and pay online. The parking rate varies from area to area. On average it is 1 euro per hour. But can be 20 or50 euro cents, or go as high as 5 euros per hour (although I haven't seen this rate in Sicily, only in Amalfi).
– White color is a free parking
–No lines– look for standing signs around
–No lines and no sign– unofficial parking where you can park for free. The best to judge is to look at what locals do and if it is safe to leave the car there (usually it is as long as you are not blocking the traffic).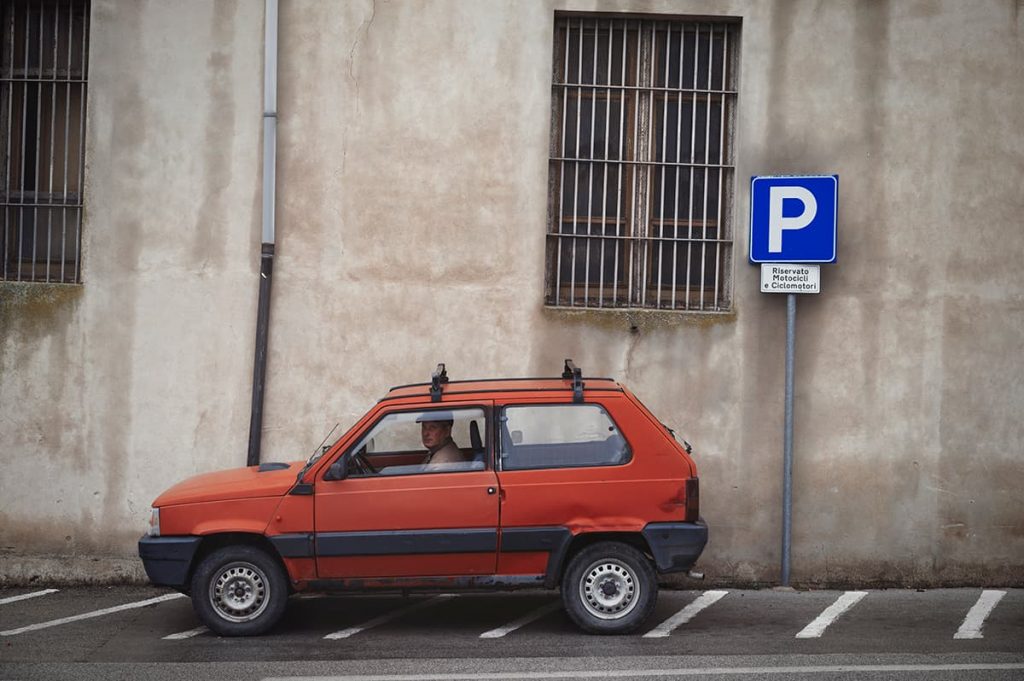 In general, parking can be a headache in Sicily (and Italy overall) in busy and touristy places. In Sicily those would be Cefalu, Taormina, Syracusa, Palermo, Trapani, Catania. For this reason, sometimes the best solution is to park in big car parking lots that may be available outside the historical centers or in private parking garages. Those usually have ample spots (different story when you are in Amalfi though) and you can pay a daily rate. Also, it is very secure.
You can find parking lots and garages in towns like Cefalu, Palermo, Catania, Trapani.
Unofficial car parkers (posteggiatori abusivi)- illegal parking control mafia
Quite common not only in Sicily but also in Portugal, is to encounter a parking "helper" – an unofficial car park attendant called posteggiator who "shows" you where to park. This mostly happens in unmetered free parking lots. The car parker doesn't physically park your car, he just shows the spot and gives directions (which you don't really need).
For those "services" "helper" usually expects you to pay them a couple of euros. And it is better to do so if you don't want any scratches on your car to appear out of nowhere. It may seem like a funny travel experience, but in reality, this activity is illegal and run by local parking "bosses", divided into territories, and apparently is pretty profitable. This parking "service" is well known to everyone in Sicily but nothing much is being done about stopping it. 
15. Do not underestimate driving distances and traffic in Sicily
Sicily is bigger than it appears. It could be the whole another country on its own. Driving from East to West can take up to 5 hours! When I was planning my Sicily road trip, I aimed for way too much. One-third of the places I wanted to visit had to leave for the next time. After a couple of days into our trip, I realized that it would take too much time spent in a car instead of actual sightseeing.
The distances may seem to appear not that long (like 200 km from Palermo to Catania does not seem that much). But it takes 2 to 3 hours to get there because even on a highway you will certainly come across the never-ending road works, and heavier traffic closer to the towns and inside the towns.
Also, take into account coffee and bathroom breaks in petrol stations. Those are the sneaky ones, believe me. Every time we stopped at a gas station, it would always add 20 min to our arrival time no matter how quick we were trying to be, and we couldn't understand why.
Therefore, whatever time you see on Google Maps, your best bet is to add 20-40 min on top of that to be realistic with timings.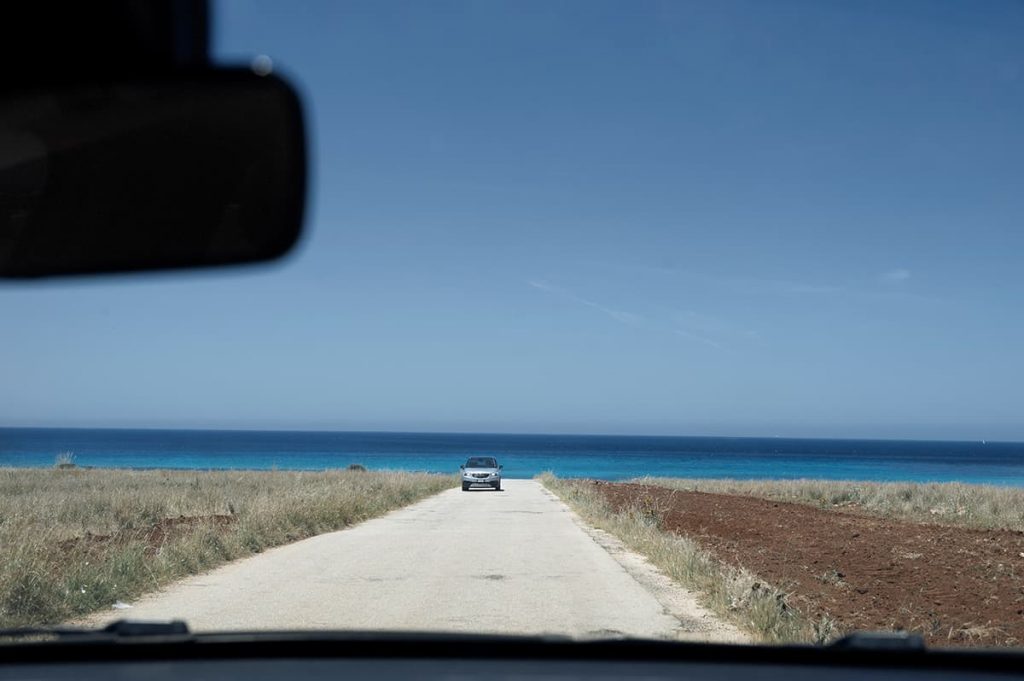 Top tip: don't try to drive the whole island in one week- the only thing you will be doing is driving. Trust me, we were in Sicily for 15 days, and we drove all around the island. We saw a lot, but it was only scratching the surface of what this island has to offer. We still had to drop out a few interest points in Sicily. Thus, if you have less time than 2 weeks in Sicily, you are better off sticking either to the Western or Eastern side. This way you won't have to continuously drive but rather slowly explore the places that are clustered in one area.
16. Speed limits in Sicily don't exist (but what about speed cameras?) 
There is no such thing as a speed limit in Sicily. Interestingly though, half of the time we had to overtake old Fiats driving at a turtle speed while half of the time we were flashed at by fast and furious going way above the official speed limits. 
That being said, there is no middle ground when it comes to driving speed in Sicily.
However, on paper these are the most common official speed limits you will see:
–Autostrada 110- 130 KM per hour (68-80 miles per hour)
–Outside cities two-lane SS road 90 KM per hour (56 miles per hour)
–Cities and small towns 50 KM per hour (30 miles per hour)
We haven't seen a single-speed camera in Sicily except for the signs warning about them. However, I have read about occasional mobile speed cameras placed and monitored by police officers. So, speed with caution if you dare at all on those windy roads.
17. Even Google Maps gets lost in Sicily
Google Maps are usually my reliable copilot anywhere I go. Although it does mess up occasionally, in Sicily it can be completely lost quite often. There were quite a few occasions when while trying to get from point A to point B we were taking ridiculous detours over the backyard alleys because Google Maps got completely confused. 
Also, trying to follow street signs can as well lead to more confusion than not following any signs at all.
If you are completely lost, try to ask a local for directions. Having an old-school map may help if you know how to use it in this digital era. 
Another note- indicated driving times on Google maps might not match the reality due to road closures, slower traffic, and possible detours. Therefore, always allow a bit of extra time when planning your route. 
18. Navigator must be as good as a driver in Sicily
In Sicily, you must be able to multitask while driving- change the gear, follow the road signs, deal with impatient drivers around you, watch out for scooters when turning- all this plus simultaneously checking the map to make sure you are taking the correct way. The driving process can become very tiring.
Ideally, to make your road trip in Sicily easier, there should be one person driving and the other navigating. On my first road trip to Sicily, I did both, and I was exhausted (and I am used to following the maps and driving at the same time).
The second time, we split the roles – one person was driving while the other was navigating, checking for possible stops and making sure we were taking the correct way. This made the trip so much more relaxed and smooth.
Renting a car in Sicily Tips
Looking for car hire in Sicily? I recommend Discovercars for the best car rental rates (I checked many car rental websites and Discovercars had the best offers so far).
19. Get the smallest car you can (that will still fit your luggage) with excess insurance (but not from the car rental company) 
As you already know, roads in Sicily and Italy are narrow, often one lane only. Parking spots are also tiny. Therefore, it only makes sense to drive a small car which will make your life so much easier.
The smallest option you can rent is probably a Smart or Fiat mini, but it won't fit your luggage. For two people, for example, Fiat Panda or similar is perfect. Anything bigger than that means you will often have parking drama and more stress on narrow winding roads.
Another very important tip is getting Excess insurance (coalition damage waiver) which covers the cost of any damage you have done to your car (not only the damages to the third party). Without excess insurance, in case of an accident done by you, you may have to pay a massive deductible (1000 euros or more) for the damage done to your rental car.
Moreover, excess insurance coverage protects you in case of lost keys, or even a stolen car. It also prevents you from paying ridiculous excess fees in case the car gets small scratches and dents. And this particular "accident" is very common in Sicily where people drive cheek to cheek. 
There are a few ways for you to get excess insurance:
-through your car rental company at the time of booking online (expensive)
-over the counter at the time of picking up the rental car (even more expensive), or
–through an independent insurance company that offers coalition damage waivers at much more reasonable rates (recommended).
If you are not a British or American national, you may find it difficult to find excess insurance that applies to your residency. The only company I found that offers insurance for any country of residence was Worldwideinsure. I used it for my South Italy and Sicily road trip.
However, if you hold British residency/citizenship, you have ample options. Insurance4carhire offers some of the best policy rates I've seen. You can take advantage of it if you are a resident of the UK. 
20. Book in advance for the cheapest rental prices for your ride
Booking a vehicle in advance applies to probably almost any destination. However, for Sicily, even in shoulder season I noticed a surge in rates closer to the travel date.
I have scrolled through many car rental websites and so far the cheapest rates that I came across were on Discovercars (which I used for my Sicily and South Italy road trip). 
I booked our ride 2.5 months before the trip and when I check (out of curiosity) for the rates a month before the trip-all the cheapest deals were gone. There were still mini cars available but that option was not suitable for two people with 2 big suitcases. The remaining options were 3 times more expensive than the deal we got with our early booking. 
We paid 20 euros per day for our rental car which is still not the cheapest you can get but that was the only option available 2 months prior to the trip. Thus, book your car well in advance if you can. 
You can compare car rental rates on Discovercars website HERE.
21. Car crime safety tips in Sicily
Living in UAE, I do not hesitate to leave my camera equipment in the back seat. However, in Sicily, I was not sure if that would be a good idea so I always took it with me when leaving the car.
Apparently breaking into the vehicle is a quite common thing in Sicily- at least that is what we have heard. I imagine this is particularly applicable to bigger towns. Smaller villages seemed to be quite safe.
However, not to take chances, we almost never left our belongings even in the boot, let alone in the back seat. The only time when we would leave suitcases is when we were in transit from one accommodation to another. But our stops mainly included small towns which as I mentioned before seemed to be very safe.
When planning our road trip, we made sure that we have our luggage placed safely in the apartment before touring around the towns.
My most important 5 tips for driving in Sicily
1. Get the smallest car possible that will still fit your luggage. It will make your life so much easier when driving the narrow, windy mountain and countryside roads and tiny streets of Sicily. Purchase excess insurance for complete peace of mind.
2. Be aware of ZTL-the easiest way for getting a fine is by accidentally (or purposely) entering a limited traffic zone
3. Sicilians drive aggressively with the tendency to break one or two rules when it comes to giving the way, and it is particularly common in high-traffic areas, with scooters being the biggest hazard. To avoid stressful experiences and battles on the roads, try to minimize driving in bigger cities like Palermo and Catania. This will save you time and nerves. 
4. Don not leave your valuables in the car and get excess insurance just in case because getting minor dents are quite likely when driving in Sicily.
5. Roads in Sicily are bendy and curvy- always watch out for the fast and furious drivers flying into the blind curves as well as give the way to big buses as they need space to make the turn.
Other than those 5 driving tips- always try to stay cool! You got this!
Additional useful information about driving in Italy (and Sicily)
Driving in Italy is on the ride side of the road (as opposed to left-hand side driving in the UK, or Cyprus, for example)
The minimum age to legally drive a car is 17 years old. The minimum age to rent a car is 18 years old.
It is compulsory to wear a seat belt in Italy by law. I recommend always wearing a seat belt.
You must have short lights switched on when driving on highways in Italy during the day.
Mobile phone usage while driving is prohibited. Using a hands-free device is permitted.
Italy has a national law requiring the use of helmets when on motorcycles or scooters. This applies to both the driver and passengers. Child passengers under the age of 5 are not allowed but we saw parents carrying very small kids in front of them.
Legal Blood Alcohol Content Level: 0.05%. Regardless, do not drink and drive.
Fun Fact for the ending of the article: Naples and Palermo are the most notorious when it comes to traffic and driving. Surprisingly, they are amongst the cities with the least number of deadly car accidents in Italy. Locals say that they always break rules and always expect others to break them too, therefore they have developed the skill to always watch out for other traffic participants and, in fact,  know when is the right time to go slower and when to speed up.
I hope these Sicily driving tips were helpful and did not put you off from going on a road trip to Sicily. Being prepared in advance and knowing what to expect is always helpful when driving in a foreign country. Thus, I am wishing you a smooth Sicilian road trip. 
Sicily Travel Essentials
PLAN YOUR SICILY TRIP WITH MY SICILY TRAVEL GUIDES