Your up-to-date guide to driving in Albania. Here you will find handy tips for renting a car in Albania, as well as the latest information on what it is like to drive around Albania including current road conditions, safety, rules, and local driving behavior to look out for. 
I have visited Albania twice so far. On my first trip to Albania, I completely ruled out the option of hiring a car and self-driving. However, the second time, I wanted to make the most of my 2 weeks in Albania and the best way to do so was to rent a car and go on a road trip.
Taking buses in Albania is possible, however, it would limit sightseeing opportunities as well as it would take significantly longer to commute between destinations. 
Having driven in places known for crazy drivers, and windy and steep roads, such as Cyprus, Montenegro, Italy, and Sicily, I consider myself quite an experienced driver. However, having heard that it is very tough to drive in Albania because roads are in terrible condition and drivers can be reckless, the idea of getting behind the wheel made me feel a little uneasy.
The information I found online was fairly old and mixed up. Thus, I couldn't get a clear picture of what Albanian roads are like today, or what it is like to drive as a foreigner.
After completing my road trip, I can confirm that driving in Albania was one of the easiest out of all the foreign countries I have gone to before! 
Nonetheless, there are a few trickier places like chaotic Tirana, zigzagging Llogara pass, steep mountain roads leading to Theth village, and some bumpy paths in South Albania. Yet even those sections can be tackled fairly easily, especially when you know what to expect. 
In this post, you will find all the things you should know about driving in Albania, and answers to commonly asked questions about hiring a car in Tirana (or elsewhere in Albania).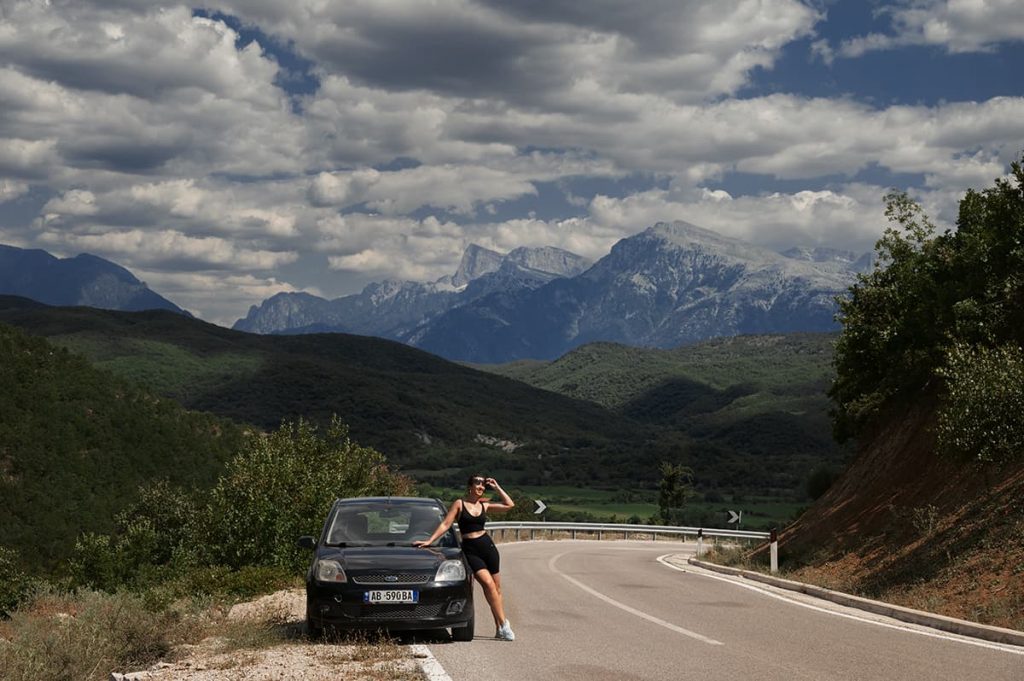 Disclaimer: This post contains affiliate links, which means that I may earn a commission if you make a purchase by clicking a link (at no extra cost to you). This helps to keep my blog running and growing by creating more awesome free content for you.
Driving in Albania: Everything You Need to Know Before Renting A Car in Albania [2023]
FIND THE BEST RATES FOR CAR HIRE IN ALBANIA
Look for the most affordable deals for your rental car with Localrent.
Is it easy to drive in Albania? 
Is driving in Albania safe, and is it easy are the main questions everyone asks before considering hiring a car. The short answer is yes, it is easy and safe to drive in Albania. Reading further I elaborate on the above and you will see that driving in Albania is actually much easier compared to other places in Europe.
What are the roads like in Albania?
Road quality in Albania pleasantly surprised me. Most of the roads in Albania are in much better shape than I have anticipated after reading online information about them being horrific and impossible to pass. Interestingly many of them are even better than the roads I have driven in neighboring Montenegro.
Not maintained gravel and dirt tracks definitely exist but only in remote areas where you definitely would need a 4×4 car (if you decide to wander completely off-the-beaten path).
Meanwhile, the main roads are in great condition. Those are the roads that connect bigger cities and towns such as Tirana, Shkodër, Berat, Gjirokastër, Përmet, Pogradec, and Albanian Riviera towns. Some smaller villages are also connected by well-paved roads.
Quite a few of the Albanian roads have been repaired recently. They still have a fresh look: a dark color of newly laid asphalt. For example, Theth village in Albanian Alps used to be inaccessible without 4×4 car, but now there is a new road that can be driven by a sedan. Also, a formerly infamous road from Përmet to Leskovic village is brand new as well and now it is a breeze to drive.
Finally, at the time of my travel, a new Skërfica tunnel and Kardhiq-Delvina road connecting Sarandë to Gjirokastër were opened. This connection shortened the commute time between Albanian Riviera's most popular city to the Unesco heritage town by 45 minutes.
This just goes to show that Albanian infrastructure is continuously improving and you can only expect it to be better in the future.
The only poorly maintained section on my 2-week road trip in Albania was between Leskovic and Korca (Korçë) town. This section of SH75 road is still old, narrow, and has many potholes. Still, it was suitable for a small-engine car, and going slowly didn't cause any difficulties.
RELATED READS: Plan your Albania road trip with my 2-week Albania itinerary.
What are the biggest challenges of driving in Albania you can expect?
The main challenge of driving in Albania I can foresee for some foreign drivers is windy and sometimes steep mountain roads. Not everyone is confident driving places like Llogara Pass on Albanian Riviera. This famous and extremely scenic SH8 highway runs high up the cliff over the Ceraunian mountains. Regardless, it is a two-lane road that also has barriers around the edge. Compared to some really nerve-wracking roads like Kotor Serpentine in Montenegro, you can close your eyes when driving Llogara Pass.
Apart from windy mountain roads, the real difficulty somebody may encounter (unless they have plenty of experience) is driving steep narrow alleyways inside the old towns of Berat and Gjirokastër. I would advise against driving the historical parts of these two towns.
If it is completely unavoidable, and you are not confident enough to handle narrow extremely steep streets, ask your host to drive the car and park for you at the hotel. Locals are very skilled in navigating those tiny notorious streets.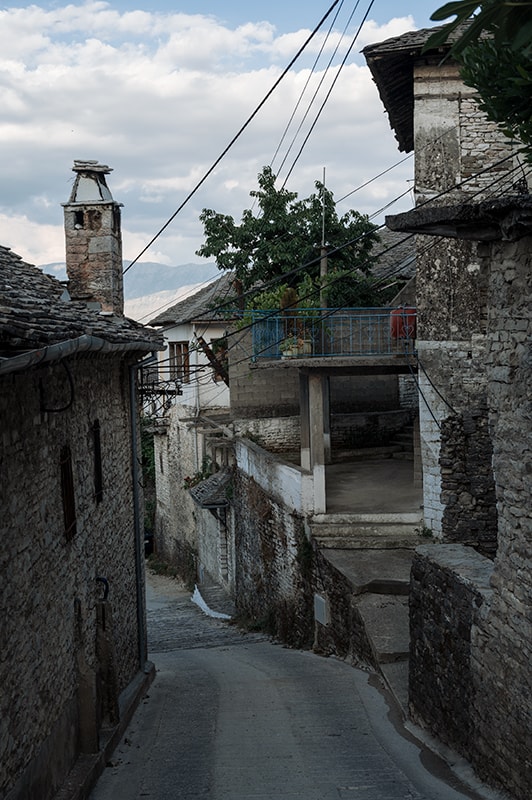 Driving behavior and road safety in Albania
Drivers in Albania are much more well-behaved than they are often painted on many internet resources and travel blogs. While on the road trip driving around Albania, I was observing the driving behavior in Albania. Thus, I now disagree with many things said online about Albania driving.
Most of the drivers in Albania are NOT flying at limitless speeds, neither they are notoriously aggressive.
During my road trip in Albania, I noticed that majority of the drivers were driving within speed limits and below. I had to often overtake them, and I am not driving fast in places I am not familiar with.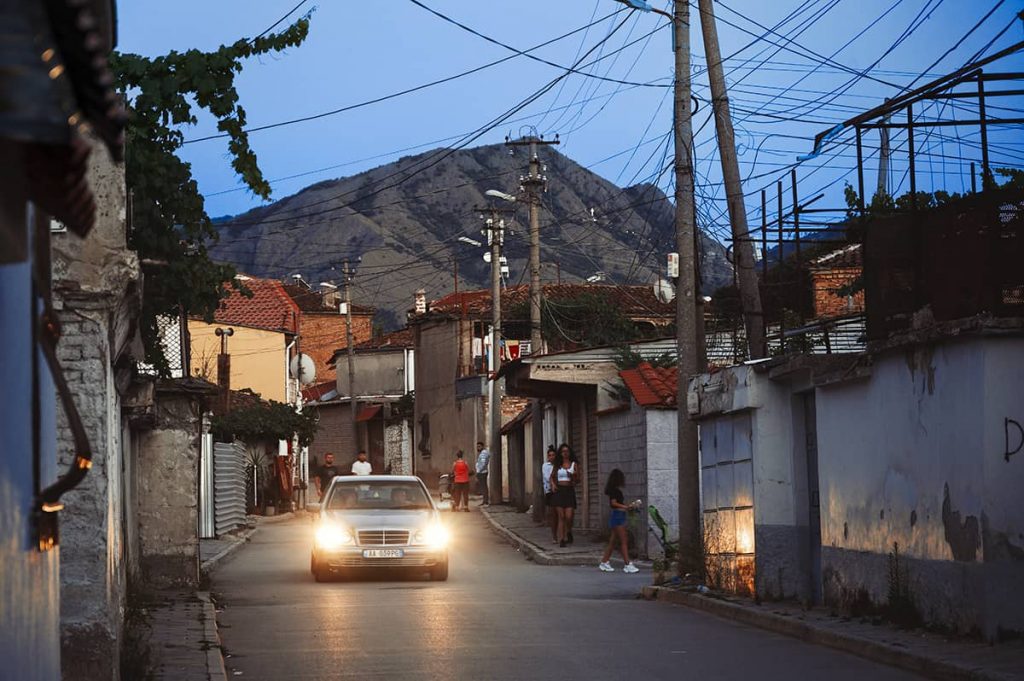 Nonetheless, it is possible that you may come across some drivers suffering from road rage, especially in the capital Tirana as not everyone can patiently handle the traffic.
Outrageous behavior may be spotted among local drivers who like to get into arguments over silly situations. But this doesn't happen that often to cause any concern for us, visitors.
Also, when walking around Tirana, I have noticed, that drivers are most of the time attentive to pedestrians crossing the road. Cars do give the way to people on zebra crossings (cannot say the same about UAE, for example).
Sadly, there is no giving the way to ambulance etiquette in Albania. Not sure why drivers do not react to ambulances approaching with sirens. I was latterly the only one squeezing to the side of the road when I heard an ambulance with sirens approaching. And this happened several times.
To sum up, the general atmosphere of the driving environment in Albania in most of the places outside bigger cities is pretty chilled. Seems like nobody is in a rush (apart from the airport and Tirana). Countryside roads are fairly empty which makes driving them easy and pleasant.
Is it worth renting a car and driving in Albania? 
Do you really need to hire a car in Albania? Is it worth driving in Albania, or shall you stick to using only public transport? From my personal perspective and experience, the short answer is, yes, it is absolutely worth hiring a car and driving around Albania.
Albania is a relatively small country with a fairly well-developed public bus system and private furgons (minibusses). There are no trains in Albania (there are a few old railways, but passenger trains are currently not in operation). You can get around the main points of interest using only buses, however, this way of traveling will be slow.
To help you understand what would work best for you, below I explain why it is worth hiring a car in Albania and also when it is better to use public buses and furgons (minibusses).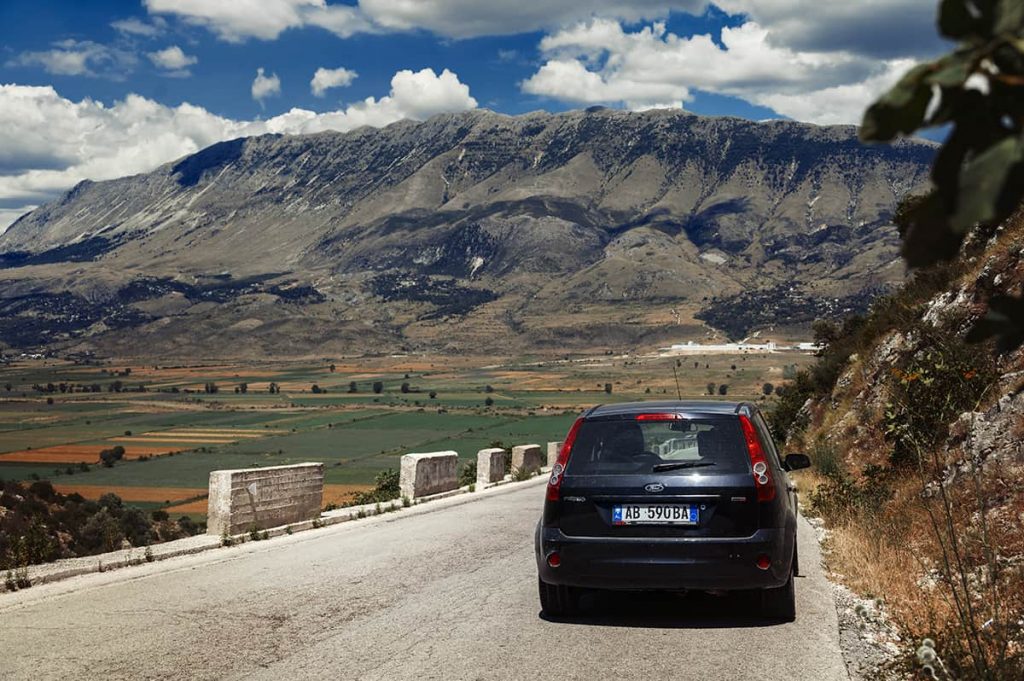 It is worth and advisable to rent a car in Albania if:
You want to travel at your own pace and according to your own schedule. Sticking to bus timetables can be challenging if you are used to planning your own time. Some of the routes have only one or two departures per day, and you can't afford to miss them if you are constrained by time. Meanwhile, with your own wheels, you can plan your time, start as early or as late as you want, and also stop as many times as you wish. You can travel faster or slower- time is in your hands.  
You will be able to see more. Having your own vehicle, you can make stops and detours to places where public buses won't stop as they only go from point A to point B. Trust me you will be happy to be able to pull over whenever you like as the scenery in Albania is nothing less than gorgeous.
Driving scenic roads of Albania is part of the experience which will not be as enjoyable if you are stuck on the full and often hot bus (unfortunately some of them have no ac).
Your accommodation options expand to lovely homestays located off the main roads or in the middle of nature. Places like these are only reachable by private car.
To be more specific, if you are planning on visiting Albanian Riviera and/or less touristy places in the Southern, Central, or Northern side of the country, having your own car will open the opportunity to easily travel to off-the-tourist-radar locations.
In Albanian Riviera, having your own car will give you the freedom to visit secluded beaches, and pick accommodation that is located in quieter and often nicer spots. For example, I stayed in an old part of Himarë, which is perched atop a hill, boasts gorgeous views of the Riviera, and is very peaceful compared to the new easily accessible but at the same time very busy part of the town.
Looking for car hire in Albania? Check Localrent which offers the best rates and conditions for renting a car in Albania!
But do I always need a car in Albania?
You won't always need a car in Albania. In fact, if your trip goal is to only visit main tourist attractions and main towns with good public transport connections, you can definitely do so.
On my first trip to Albania, I didn't hire a car because I realized that my route didn't require one. I also did not have enough time for detours, thus I only used public transport to get to places.
I would also advise you not to drive in Tirana if you can. There is always a lot of traffic in the city center which is small enough to get around by foot or by city bus.
Also, if you are planning on doing the Valbona-Theth hike without any detours to other parts of Northern Albania, then you are also better off just using public transportation.
RELATED READS: If you are planning on hiking in Albania, read my detailed post on how to hike from Valbona to Theth in Albanian Alps, including all logistics.
Other places which you can visit using buses or fourgons are Krujë, Shkodër, Berat or Gjirokastër.
Finally, you will not need a car if you are planning a beach vacation that doesn't include visiting any hidden coves or less accessible bays. All the main seaside resorts on the Albanian Riviera (Saranda, Vlorë, new part of Himara) have bus connections available from Tirana and in between.
Note that, although the main towns are well connected, the commute between them by buses is fairly slow, schedules are not frequent for more remote places and timetables are not always reliable. Therefore, I advise you to carefully calculate the time needed to move from place to place when planning your Albania itinerary.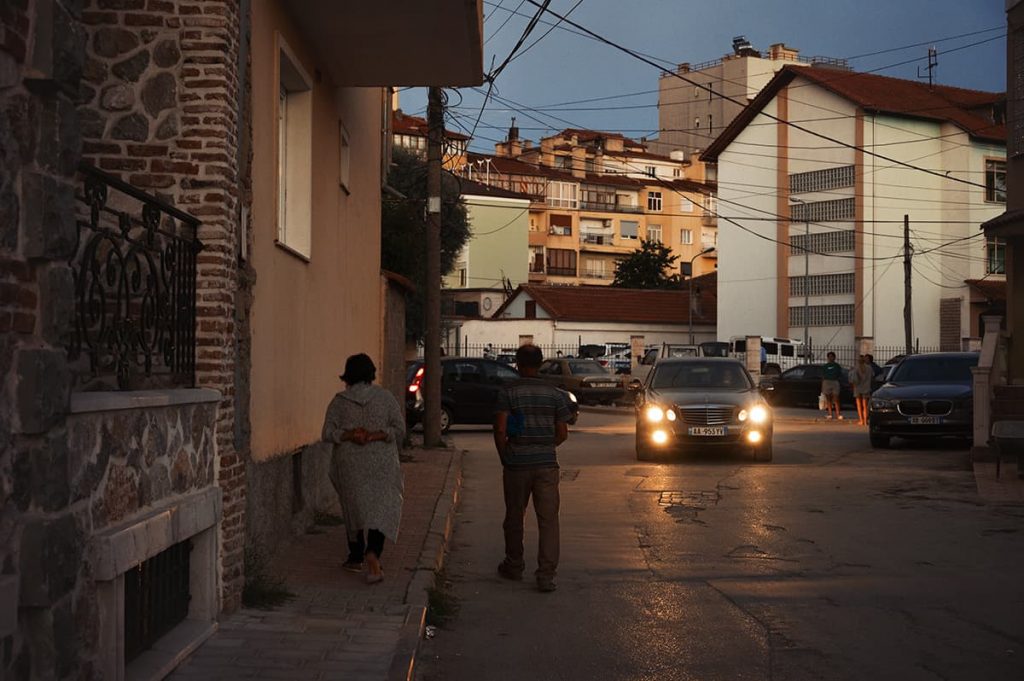 Tips and useful things to know before renting a car in Albania
Rent a car from a local agent for the best prices and flexibility
There is no shortage of international car rental companies in Albania like Sixt, Hertz, Europecar, and others. However, if you are looking for the best price and favorable car rental terms and conditions, I would suggest going for a local agent's services.
Over the past years, I have been using the Localrent search aggregator for certain destinations, including my trip to Albania.
Localrent offers by far the most competitive rates I have seen online. The reason is that they compare prices between locally registered car rental agencies or individual owners. The booking system is also very intuitive. Also, Localrent, has much better terms and conditions for renting a car than bigger popular aggregators such as Rentalcars (which used to be my go-to search engine years ago but not anymore).
What I like the most about Localrent, besides a great daily rental rate, is that the deposits can be as low as 50 EUR, sometimes even none! Also, you don't need to have a credit card to book a vehicle.
An alternative option to Localrent (in case all good deals are taken), is Discovercars.
This is my other go-to rental company which I have used in Italy to find affordable rates when all other search aggregators were returning twice as high rental offers.
However, Discovercars aggregator only has a database for international car suppliers. This means that rental terms and conditions will be more demanding when it comes to deposits and documents.
If you ever rented a car from an international company, you know that you must have a credit card under the driver's name. The credit card is used to freeze usually quite a large deposit (on average 1000 EUR, sometimes more, depending on the company). Prepaid credit and debit cards are not accepted. Moreover, if for any reason the credit card doesn't work, you are stuck with two options- not taking the car or paying for expensive full insurance (more on excess insurance later).
Also, in an unfortunate event of an accident (if it is your fault), you may lose a big chunk or even all of your deposit.
How much does it cost to rent a car in Albania? 
The rental car in Albania day rate varies greatly depending on the company, time of the year, car type, how long you are renting for, and how much time in advance you are booking. Rates start as low as 18 EUR per day and can go all the way up to 100 EUR or even more during high season (even for a regular sedan).
On average, expect to pay 20-30 EUR per day for the rental car in Albania.
Try booking early to secure the best deal if you are planning on travelling in summer, especially in July and August. Otherwise, expect to pay around 50-60EUR per day during the summer months.
Automatic cars are usually more expensive than manual. However, when booking on Localrent, I noticed that the price difference between manual and automatic wasn't as high as I usually see elsewhere (around 10-15 percent).
The priciest cars are 4x4s and luxury cars.
As mentioned above, I found the best rates for hiring a car in Albania with Localrent, click HERE to compare the rates.
The second-best option was searching via Discovercars.
Should I pick up my rental car in Tirana, Albania? Pick up and drop off options for your hired car in Albania
Since the main entrance point for most travellers to Albania is Tirana International Airport, it is often the most convenient place to pick up your car from.
However, depending on when you are booking, it is not always the cheapest option. Before travelling to Albania, I have done my research and I actually found out that renting a car and picking it up from Durres (30min by bus from Tirana) was significantly cheaper.
I travelled to Albania during the peak season in mid-July, and I was quite late to book the car. It is likely that it was also a reason why I couldn't find a good deal in Tirana anymore (prices were 45 EUR and up per day when hiring from Tirana Airport).
However, I found a deal for 30 EUR a day when booking from an agent via Localrent in Durres.
I also picked the car up later, on the fifth day of my trip. I did not need a car in Tirana where I spent the first couple of nights and in Berat. To get there I took a bus from Tirana, and then to Durres.
RELATED READS: Make sure to also check my 2-week Albania Road Trip Itinerary for useful information and inspiration.
Can I pick up and drop off the rental car in Albania at different locations?
Usually, the most economical way to rent a car is to pick up and drop it off in the same location.
However, if you are not doing a loop type of trip, you may consider returning the car to a different location. This will, however, incur additional charges.
Usually, the fee is quite high when hiring a car from an international agent. However, I noticed that Localrent had quite low extra costs for choosing different drop-off locations in Albania compared to what I normally see. The fees started from as low as 15 EUR. The rate depends on how far apart are pick-up and drop-off places.
The possibility to deliver or drop off a car abroad also exists. On my car hire contract, the local agent was offering car transfer services to different locations in Albania and outside the borders. The rate depended on the distance and delivery time and was determined as follows:
Car transfer costs within working hours (08:00-20:00): 50 km or less- 15 EUR; 50-300 km – 40 EUR. Outside of working hours and weekends and outside the border: 50 km or less- 20 EUR, 50-300 km- 60 EUR, over 300 KM – 80 EUR.
Do I need to buy full (excess) insurance?
Third-party insurance is always included in the car rental prices (both when hiring from international and local suppliers). The difference is in the amount of the deductible- a minimum amount that you will be charged in case of an accident.
The third-party insurance will only cover the damage done to the other car but not yours (when an accident is your fault, otherwise you won't be charged).
However, if your rental car is also damaged, then you would have to pay for it separately from your deposit. Or, according to some contracts, the renter will be held responsible for paying for all the damages plus the daily car rental fee while the car is in the garage.
To avoid that, you can purchase full insurance. In Albania, they call it Kasko (also, Casco) insurance.
However, the full-coverage policies offered over the counter by international rental companies are usually very expensive.
It is often better to get excess insurance coverage from an independent insurance broker. For example, I used worldwideinsure.com in Italy and Albania. Luckily no accidents happened, so I cannot share any experience regarding claims.
Nonetheless, this company, unlike many others I found online, provides insurance to residents from almost anywhere in the world. However, if you hold British residency/citizenship, you have ample options. Insurance4carhire offers some of the best policy rates I've seen.
Also, most of those independent companies offer a yearly insurance policy which turns out to be cheaper if you are travelling around a lot.
Note that in case of an accident, you will still have to pay for the rental company on the spot and then claim the money back from the insurance company which may take a few weeks to sort out.
Localrent also has the option to add full insurance on some bookings when reserving a car online. It costs less than the excess insurance offered by international companies but still more than via independent insurance broker.
In general, whichever insurance provider you decide to choose, I recommend taking out full insurance for peace of mind.   
What type of car should I rent for driving in Albania?
The type of car you will need to hire for your road trip in Albania depends on your selected route. For traveling between main towns via paved roads you will be completely fine with a small sedan car.
Yet, Albania is 70 percent covered with mountains. Thus, roads are hilly and steep. I would advise picking a car that has at least 1.2 l (for new models) and no less than 1.5 l engine for older models.
I had a 1.5 liter 2008 Ford Fiesta-an economic small car. To make it to the steep hill, I constantly had to switch between the first and second gear, the car was struggling but made it through the whole 2 weeks trip in Albania.
If you are planning on going to very remote areas which are marked as white lines on Google maps (yellow lines- are paved roads), 4×4 car will be essential. However, it is only if you have mapped out a very off-the-beaten-path route. Usually, first-time visitors opt for a route that involves paved roads without any crazy detours.
Photograph the entire car before departing from the rental office
I know it comes almost untold but make sure to photograph the car and request the agent to mark all the dents and scratches of the vehicle before driving away from the agency.
I took a video of my rental car which was full of scratches and small bends. I also made sure that the agent had made the record of the cosmetic damages the car had, so there is no blame game to be played upon return.
Do I need an international driving license/permit (IDP) to drive in Albania?
You will need an international driving permit (IDP) in Albania if you do not have European Union, USA, or Canada license.
International Driving Permit should always be accompanied by an original license.
How old should you be to be able to rent a car in Albania?
You must be at least 18 years old to legally drive in Albania and also be able to rent a vehicle. Some of the rental companies are stricter and only allow to rent a car from the age of 21. Also, most of rental companies have an age limit of up to 70 years old.
Drivers under 25 years old are only allowed to rent and drive vehicles that fall under A-Mini and B-economic categories.
Can you take a rental car from Albania abroad (like Macedonia, Montenegro, Kosovo, or other)?
Combining road trips from Albania to neighboring Macedonia, Kosovo or Montenegro is very common.
Most of the rental companies in Albania will allow taking a rental car abroad. However, you must notify your rental company in advance to issue an authorization letter.
Some companies may charge an extra cross-border fee, some may not. Additional International Motor Insurance (Green Card) is bought separately, usually at the border. It costs approximately 50 EUR per border for a period of couple of weeks, or around 70 EUR if you are crossing for a month.
Please let me know if you come across Green Card price changes, so I can keep this post up to date for other tarvellers.
Note: If you are planning on travelling in a rental to Greece from Albania, you might face some difficulties as not many rental companies permit taking the car to Greece. The same applies in reverse. If you rent a car in Greece, most likely you won't be allowed to take it to Albania.
Navigation- do you need a GPS device to get around Albania? Or Google Maps is enough?
While on my road trip in Albania I always used Google Maps and it got me to all the places without any ridiculous detours.
You should not face any issues when travelling between most of the towns. The only places where Google Maps went little nuts were the old towns of Gjirokastra and Himara.  
A net of old streets was too confusing for Google Maps to get directions right. Those were more suitable indications for walking than driving as Google Maps wouldn't know which road had a dead end, for example. Therefore, if you end up driving in one of those old towns, make sure to ask the locals for the correct way. I was quite lost in a maze of Gjirokaster's old town streets when following Google Maps. I ended up calling our host who came and picked us up as Google Maps was constantly redirecting us to a new dead end.
Note: if there is a new road recently opened for public use, it also may not appear on Google Maps. For example, the new tunnel between Saranda and Gjirokaster opened at the beginning of July 2022. I was trying to map it out but Google Maps was not updated at that time. I ended up taking the older but very scenic road.
Petrol stations in Albania- always carry some cash
Petrol stations in Albania are abundant. You can find gas stations dotted every hundred meters or so along the main roads. Okay, maybe not exactly that often but often enough that you wouldn't need to plan far in advance when to refill your car's tank.
Also, you will see all sorts of companies running the gas station business- eventually, I lost a count of them (more than 20 different names for sure). The major one and most memorable was Kastrati, which also accepts debit/credit card payments.
Talking about payment methods- always have cash ready (euros or lek). Not every petrol station accepts cards. In fact, the majority of them do not. However, the situation is improving and having such a large amount of petrol shells along the roads, you will definitely find one which accepts card payments. They usually indicate with large signs that cards are accepted.
Petrol prices in Albania
Petrol price in Albania is approximately 207 ALL ~ 1.78 EUR (1.82 USD) per 1 Litre; or 783.5 ALL ~ 6.72 EUR (6.9 USD) per Gallon.
The price will vary slightly from station to station. You might see some fancy diesel almost double the price of a regular one. Just make sure you request the regular one.
Note that there is no self-service in petrol stations in Albania. Just like in the UAE, you will have a person working at a gas station to fill your tank up.
Albania driving rules- the basics
Driving rules in Albania are very similar to the ones in Europe. Here is a quick checklist of the common road rules and driving facts in Albania:
In Albania, you have to drive on the right-hand side of the road.
Seatbelts are compulsory in Albania for the driver and passengers in the front and rear seats. 
You must be at least 18 years of age to legally drive in Albania.
Mobile phones can only be used whilst driving with a hands-free set.
Third-party car insurance is compulsory. For rental cars, it must be included in the rental price.
Driving when drunk is prohibited in Albania and the acceptable blood alcohol level is 0.01 mg/ml. 
The standard legal speed limits in Albania (may be varied by signs) for private vehicles are as follows: Residential areas – 50 km/h (31 mph); Outside residential areas – 90 km/h (56 mph); On motorways – 110 km/h (68 mph).
Other things to be aware of when driving in Albania
Avoid driving at night in Albania
When planning your road trip around Albania, try to avoid any trips during the night, especially in the rural. Roads outside major cities are not well lit if at all. Albania is mountainous and the windy roads even during the day require extra care. If you happen to be driving a poorly maintained road, seeing possible obstacles well ahead of time can be very tricky. Thus, try to always drive in Albania during the natural light hours.
Driving in Albania in winter
Driving mountainous areas of Albania in winter will most likely require not only winter tires but also chains. More remote roads are not cleared from snow and can be even inaccessible, let alone dangerous. I have seen plenty of winter chain road signs when passing rural areas of Albania.
Attempt winter driving in Albania only if you have good experience driving in extreme conditions.
Be aware of flash floods when driving in Albania
It rains a lot in Albania. And when it rains it pours, I have seen it myself. Flash floods appear in minutes. If you happen to be driving during the heavy rain, slow down.
It can be extremely dangerous, as those flash floods also create wide potholes, especially on the old roads in rural areas.
On my first trip to Albania, we were in a taxi during a massive storm and the driver suddenly drove into one of those potholes. Instantly a wall of water surrounded the car making it very unstable. Our driver didn't even blink or stopped to wipe the front window, while our hearts dropped for a moment until we realized we managed to drive out safely.
Make sure to always carry your license and rental car documents as police in Albania are surprisingly present on the roads
While driving in Albania I was surprised by how many police officers are on the roads. They are randomly (or maybe not) stopping cars. To avoid any problems, make sure to always have your driving license and all rental car documents with you.
I have also read online that local police tend to target cars with foreign plate numbers. It is not a secret that police scams happen. Not to give any excuse for being stopped, but also to adhere to speed limits.
Speed limit signs in Albania change often and sometimes they are ridiculously low
Apart from the above-mentioned standard speed limits, you will come across ridiculously low ones. 30 KM per hour speed limit sign may suddenly appear on a seemingly fast well paved road. Most of the time you will feel like ignoring it and continue driving at a regular speed. However, if you are close to some villages and smaller towns watch out for road police.
Quite a few times while driving on some of those super slow sections I noticed that local drivers slow down to stay within speed limits. Guess what, several hundred meters ahead there were police patrols stopping the fast and furious. Thus, watch out for what other drivers do, and if they all of a sudden are going unreasonably slow, be patient, there is actually a reason.
In case of a car accident, you must wait for the police to file a report
It is obligatory to wait for the police to attend the place of an accident. If you are involved in one, do not try to solve it without the police being present. In your car rental agreement, this rule is clearly stated. You cannot also claim any insurance coverage if you do not have a legal police report.
Be attentive when driving at the roundabouts
This is the most mysterious road structure in Albania. You have to watch out if the priority to enter the roundabout is yours or you have to give the way before driving into a roundabout. Usually, you would have to wait before entering the roundabout. However, I have encountered quite a few of them where people inside the roundabout were giving way to me. There is a chain of white triangles painted on the ground to indicate a side road. This means you must stop in front of that sign and let vehicles pass even when if you are inside the roundabout.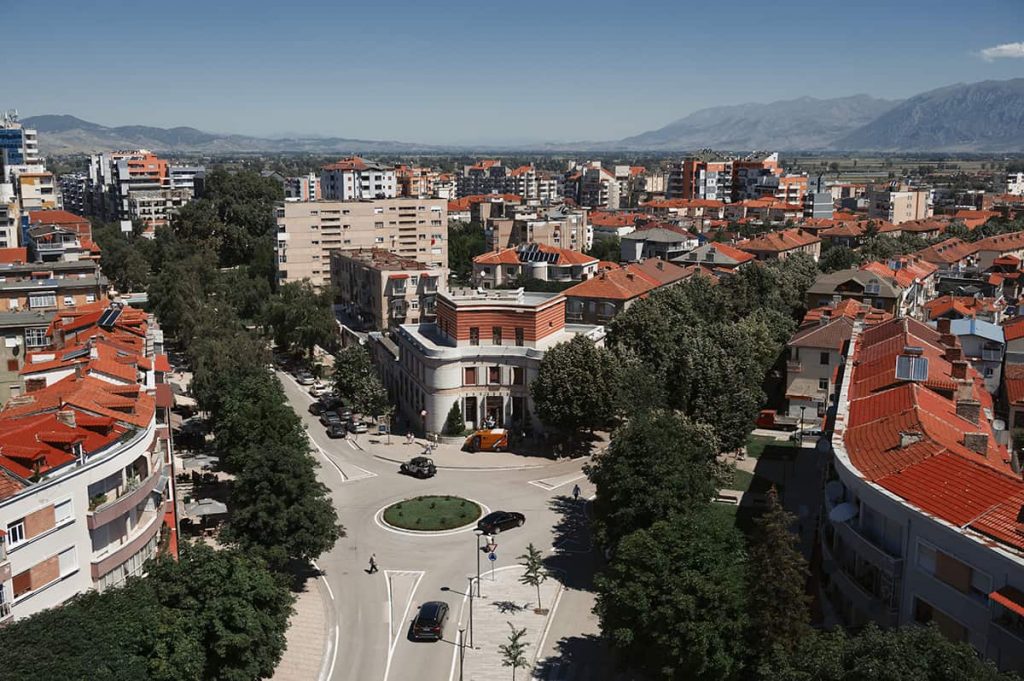 Parking in Albania
I personally did not have any trouble with parking in Albania- to me, it was probably some of the easiest countries to park a car. I have never paid for parking except for 300 LEK for full day at the Gjipe beach parking lot in Albanian Riviera.
Paid parking in towns and cities of Albania is usually marked with blue lines, while free parking is marked with white lines.
If no signs prohibiting parking are present, or no parking signs at all, then you can park free of charge. Of course, make sure that the car is not obstructing the traffic and that it is a safe and sensible spot to park. If not sure, observe the surroundings and if you see locals parking comfortably in the area, means that you can do so too.
Some busier towns with heavy traffic do have parking challenges and you can only find paid parking options on the main streets.
The payment system for parking in Albania is rather vague. You are likely not to find ticket machines, or if your do, figuring them out might be tricky, or they won't work.
Some parkings allow payment via SMS. In case that method works, you must have credit on your mobile phone. In some places, there will be an official person collecting parking payments. Finally, some areas, such as, for example, Himara in Albanian Riviera do not have an hourly payment system, so you must pay for the whole day even if you only park for an hour or two.
Probably one of the toughest places to park the car is Albanian Riviera seaside towns like the new part of Himara and the city center of Saranda.
Parking in Tirana
Meanwhile, the city center of the capital Tirana is also known to be notorious not only when it comes to traffic but also parking. The streets are relatively narrow and very busy. Thus, to find a parking spot on the street you might have to circle around for a bit.
Luckily there is a solution to parking in Tirana- underground parking lots which are located in the city center. There are 4 municipality underground parking lots in Tirana. Those are safe, secure, and relatively cheap. The official website for Tirana parking with more information is here (in Albanian only).
Another great option is to park at Toptani Shopping Center, which is a bit more expensive than municipality parking lots. However, if you spend a certain amount of money in the shopping mall, then parking for a few hours will be free.
I found this website indicating parking lots and their occupancy in Tirana. It could be a useful indication of where to park in Tirana.
Fun Facts about Albanian driving culture
To finish up my Albania driving guide, here are some quirky and fun facts about Albanian driving culture.
Albanians were forbidden to drive during communist regime.
Only politicians and a selected few were allowed to drive in Albania. By the time communism collapsed in 1990's, there were only around 7000 cars in Albania. Albanians are considered new drivers because they have driven only for the past few decades. For that reason, they are looked at as inexperienced and terrible ones. However, I wouldn't agree, a few decades is enough time to practice driving skills. And I have seen pretty dam good drivers maneuvering those narrow cobbled stone streets in Gjirokaster, Berat, and the tiny village of Lin.
Albanians used to drive without licenses.
It took some time for Albanians to understand why on earth they need a driving license. Back in the day, nobody had a driving license, simply because nobody was issuing them. Only after communism collapsed, driving licenses were slowly introduced.
At least one-third of the cars in Albania are Mercedes (it used to be two-thirds in the 2000s).
"Fancy", you may think. The reason behind this goes far in history to the end of the 1930s when Albanian King Zog was gifted a Mercedes by Hitler as a wedding present. Later on, during the communist regime, Mercedes was practically the only car brand driven by politicians, which also was a symbol of status.
Once communism collapsed, the image of Mercedes as a VIP car was engraved in the Albanian mindset and whoever could afford one, would go for it. However, not all Mercedes in Albania are the latest models. The majority you see on the roads today are very old. However, even if there were no doors and no windows (and sometimes there aren't), as long as it is Mercedes, Albanians will drive it.
Finally, according to our tour guide in Tirana, the roads in Albania used to be in terrible condition back in the day. Mercedes as a German car is considered high quality and tough car which can handle any kind of road, including mountainous ones. Also, it is somehow cheap to fix. Mechanics know the make of the car the best-this is what they deal with the most, so it only makes sense to drive something that can also last forever.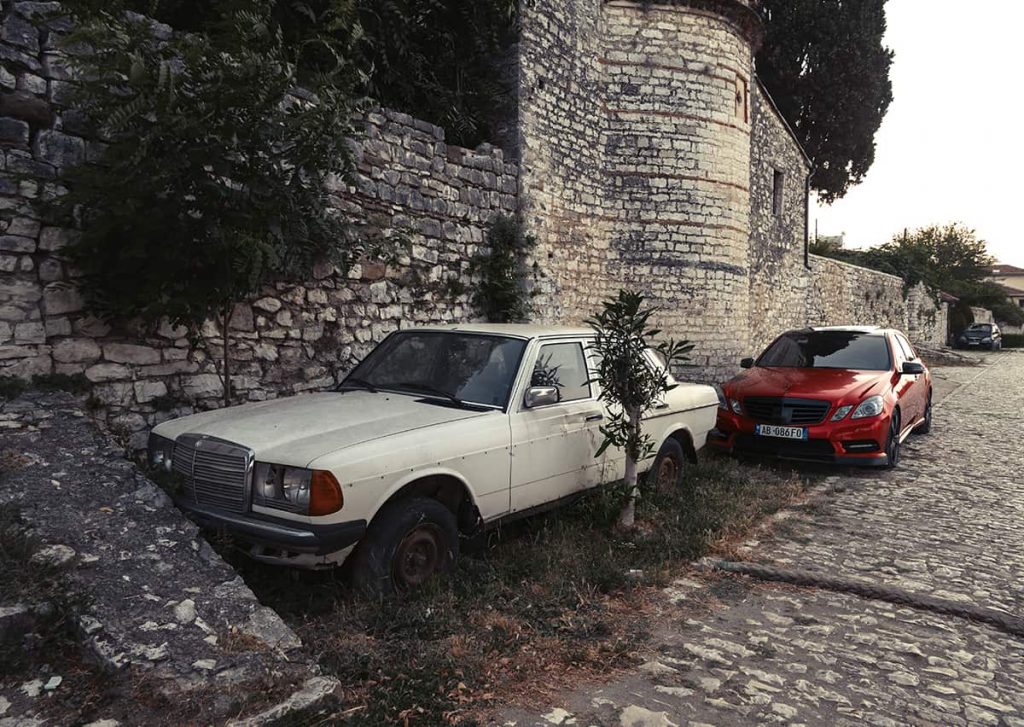 I hope this guide to renting a car in Albania and driving Europe's most underrated country was useful to you. If you have any questions or comments, please share.
Safe drives in Albania!
ALBANIA TRAVEL ESSENTIALS
Planning your trip to Albania soon? Below are some useful links to help organize your trip.
More Albania Travel Resouces