Planning on renting a car in Montenegro? Here is everything you need to know before hiring a car and driving in Montenegro.
In this guide to Montenegro car hire you will find:
Why you should rent a car and drive in Montenegro and is it safe to drive in Montenegro;
Where to hire a car in Montenegro and get the best car rental rates (inexpensive car from a reliable agency and great rental terms);
Documents required by car rental agencies in Montenegro;
Age requirements and additional fees;
Nuances of car insurance policies and potential extra costs;
Roads and basic driving rules in Montenegro;
Border crossing rules and more.
My driving experience in Montenegro counts for two amazing road trips so far. One of them was an extensive 2-week road trip driving around Montenegro including must-visit places in Montenegro and fantastic hidden gems. We drove along the Adriatic sea coast, Bay of Kotor, scaling the heights of Lovcen, touring the shores of Lake Skadar, taking Durmitor's panoramic route, and even exploring Prokletije National Park.
All the above would have been impossible without hiring a car in Montenegro- a number one travel tip for your Montenegro trip.
Just like Cyprus, Oman, UAE, and Sicily, Montenegro is one of those places that is perfect for road-tripping. Also, car hire procedures are more relaxed than anywhere else I have ever seen making the process of car rental in Montenegro stress-free.
Yet, there are a few things you should know about what is it like to drive in Montenegro just so you are prepared to tackle some of the most beautiful yet slightly challenging roads of this gorgeous Balkan country.
Read on to find out how to rent a car in Montenegro and what to expect while driving.
Disclaimer: This post contains affiliate links, which means that I may earn a commission if you make a purchase by clicking a link (at no extra cost to you). This helps to keep my blog running and growing by creating more awesome free content for you.
Renting a Car and Driving in Montenegro: Everything You Need to Know
Renting a car in Montenegro quick links
If you are looking for the best place to book your car in Montenegro but are short of time to read the full article, here are the companies I always use for car hire in Montenegro and Europe.
Localrent is my favorite car search website for renting a car in Montenegro. It provides very affordable offers from small local agencies in Montenegro and even individuals. Have easy rental terms such as a very small security deposit (sometimes even none!) that can be left in cash which means you do not need to have a credit card.-> CLICK TO COMPARE PRICES.
Discovercars– is one of the best car search engines that always offers some of the lowest car rental rates. I often use it to rent cars in Italy and Montenegro. It compares prices between well-known international companies and local agencies in Montenegro and provides the lowest rates in the market. Easy to use platform with different filters, clear rental terms, and up to 48 hours free cancelation policy.-> CLICK TO COMPARE PRICES
Why you should rent a car in Montenegro?
Based on my experience, here is why you should choose to rent a car in Montenegro and go on a road trip:
Public transport in Montenegro is limited to the capital Podgorica, and main tourist towns such as Kotor, Tivat, Budva, Sveti Stefan. If you are visiting only the before mentioned places, you might be just fine getting around by bus. However, if you are planning to explore more of this diverse country you should know that the most incredible places in Montenegro, especially the mountainous side, are only easily accessible by private transport and you definitely need to hire a car in Montenegro to visit them.
That said, renting a car and driving in Montenegro is hands down the best way to explore this Balkan gem independently. Having your own wheels will give you the freedom to go on an epic journey along the panoramic coastline of Kotor Bay and stop at smaller waterfront towns like Perast, continue all the way to the Piva Canyon, and then to misty peaks of Durmitor National Park, tour around Lovcen and drive down to Lake Skadar, or even venture further afield to Accursed Mountains (Prokletje National Park) – a hidden gem in the easternmost part of Montenegro.
You can rent a car in Montenegro at very relaxed rental terms if you hire from local providers. I share my experience of renting a car in Podgorica and Tivat later in this post.
Rental agencies in Montenegro have offices all around the main spots. So you can hire a car in Podgorica, Tivat, or Budva, and even request it to be delivered to Ulcinj (a town bordering Albania)-in case you are doing a multi-country trip.
Roads, although windy, are usually very quiet in remote areas in Montenegro (not along the Kotor Bay though).
Finally, Montenegro is so incredibly beautiful, you will find yourself wanting to stop for pictures at every turn (that is the reason I was always late to reach final destinations).
Is it difficult to drive in Montenegro? 
In my experience, driving in Montenegro is fairly easy but it can be tiring in some parts. That said, there are a few things to take into consideration about driving in Montenegro:
the most frightening task for many visitors is driving narrow windy mountain and cliffside roads, thus some people might find driving in Montenegro slightly challenging;
One of the most nerve-wracking sections in all of Montenegro is the (in)famous Kotor Serpentine road with over 25 hairpin bends leading to Lovcen National Park. If you can handle that, driving other roads in Montenegro will be a almost breeze.
Rural parts of the country most often have only one-lane roads fitting one car at a time. And occasionally you have to share the road with oncoming cars. Good news though, traffic in those remote places like Skadar Lake, for example, is very light if any at all. Therefore, it is likely that you will come across only a few other cars when driving along those roads.
Indeed, driving twisty roads can be energy-consuming. However, as a reward, you get to enjoy the fantastic ever-changing Montenegro scenery.
Other than bendy back roads, driving between the main cities on the highways is straightforward. 
1. Where to rent a car in Montenegro for the best rates?
I hired a rental car in Montenegro twice. Once I rented a car in Tivat and the other time I hired a car in Podgorica, the capital of Montenegro. In my experience, Montenegro is the easiest and the least stressful place to hire a car out of all the countries where I have rented a car before (I will tell you all about it in a bit).
That said, the best place to hire a car in Montenegro is from local suppliers. As mentioned above, Localrent is the company I used for my car rental in Montenegro (as well as in Albania). Discovercars is also great if you prefer hiring from international brands (or if Localrent runs out of the best supply).
Advantages of using Localrent to book your car in Montenegro:
Localrent compares car hire prices between local suppliers. Many of them are either small agencies or individuals (rather than big international car rental companies). Therefore, the rates are very competitive compared to what you can find on other sites.
We are talking about 25% to even 40% cheaper car rentals! It depends on how early you book to grab your best deal, but it is almost always a better deal to book with Localrent than anybody else.
Security deposits are very low (50-100 EUR) or even none! To compare, international car hire companies require 500-1200 EUR to be blocked on a credit card which also must be on the driver's name and have a sufficient limit to block the deposit for the whole rental period.
Security deposits are often accepted in cash, thus you do not need to have a credit card.
Offers reasonably priced full car insurance called Super CDW.
The additional driver is most of the time free of charge.
You can even get an automatic transmission car for the same price as a manual when renting at Localrent (usually automatic cars are significantly more expensive when booking elsewhere).
Good to know- cancelation policy with Localrent
Localrent has a standard free cancelation policy of 7 days prior to the scheduled pick-up time for regular cars, and 30 days for luxury cars.
Meanwhile, some listed agencies accept 24-hour free cancelation. Those are marked with a blue "shield" icon next to the booking.
As mentioned above, if Localrent runs out of supply, the other website that I also prefer using is Discovercars. This aggregator compares prices and offers some reasonable deals through international car hire companies (although at standard terms and conditions when it comes to deposits).
Advantages of using Discovercars to book your car in Montenegro:
The car rental rates in Montenegro are some of the lowest in the market with a wide choice of suppliers and vehicles.
Discovercars provides rental car options across various car rental companies: international big brands like Hertz, Sixt, Europcar, Budget, Dollar, Avis, etc., and also local Portuguese agencies (Drive on Holidays, Turisprime, etc.).
Discovercars negotiate better deals with car suppliers. You are less likely to get the same price if you booked directly through the car rental agency. 
You can cancel your booking up to 48 hours before the pick-up date free of charge.
Discovercars has reasonably priced full insurance which is an optional add-on (much cheaper than excess insurance offered by rental agencies over the counter).
You can modify your booking (change dates).
The website is intuitive and easy to navigate, with different filters to refine your search, rental terms are clearly displayed on a clickable tab under each car offer.
Good to know- cancelation policy on Discovercars:
When booking with Discovercars, you will have to pay a small deposit to reserve the vehicle (a percentage of the total rental cost). In case of the cancelation up to 48 hours before the pick-up time, you will be refunded in a form of reusable credit on Discovercars or you can request a full refund back to your bank card.
You can use the booking credit within 3 years when making other reservations on Discovercars. The booking credit can be split between several reservations and does not have to be used all at once. Read the full terms and conditions here. 
You may even receive bonus credit for your cancelation depending on the circumstances and reasons for the cancelation. I did receive a 25% bonus credit once when I canceled a booking.
If you cancel less than 48 hours prior to your booking, the full amount of rental price will be charged.
2. How much does it cost to rent a car in Montenegro?
The car rental price in Montenegro depends on how early you book, what type of car, which agency you book from, and also on the travel season. The highest demand for hiring a car in Montenegro is during July and August. It is a high season for traveling in Montenegro.
You can expect prices to double or even triple if you book last minute for the summer season.
Also, the longer the rental period, the lower the daily car hire rate.
To give you an idea of what to expect, a day rate for hiring a car in Montenegro for a week in high season is around 37 EUR per day, while off-season it is only 20 EUR per day or even less if you hire for one week or longer.
If you need a car just for 1 day, you will pay around 55 EUR per day in summer.
If you take a car for the whole month, the price will drop to around 28 EUR per day in summer.*
*I did this price comparison using Localrent website. As per my research, prices are much higher on other websites.
2.1. Book your car well in advance if you are travelling in the summer
Can't stress this enough, but booking a car well in advance (2-3 months) can save you big bucks. If you are planning your holiday in Montenegro in July and August, try to get your car booked as soon as you decide on your travel dates.
By booking a few months ahead, I managed to hire a car for only 18 EUR per day for my 2-week Montenegro road trip in July using a local supplier.
If you are travelling in winter, you won't have any issues finding a well-priced ride in Montenegro.
2.2. What type of car to rent for driving in Montenegro?
The best car for driving in Montenegro is a small sedan. However, do not pick the smallest car with a tiny engine as you will need some horsepower to bring your vehicle uphill.
It is recommended to have a car with no less than a 1.2 L engine. This tip is particularly important if you are planning to drive in the mountains. Having enough power will give you more confidence in going uphill, even in case of overtaking.
I drove 1.6 l manual car in Montenegro and it felt just right on the mountainous roads. For comparison, I had a small 2008 manual 1.5 liters Ford in Albania and it struggled to climb the hills (had to constantly switch between the first and second gear to "push" it up).
Nonetheless, newer cars even with smaller engines perform better. Thus, also make sure to check the year of production before hiring a car.
Moreover, a smaller size car is more convenient when you have to park tightly in Kotor Bay, Budva, or Ulcinj, or sometimes even on a side of the rural road. Also, most of the panoramic mountain or countryside roads are narrow. Therefore, if you rent a campervan, you won't be able to drive there. For example, Durmitor ring- a must-drive scenic route- is not suitable for large trucks or campervans.
Unless you are planning to drive some serious offroad, you do not need a 4×4 car to get around Montenegro.
2.3 Which city/town is the best to pick up your rental car in Montenegro?
A great advantage of car hire in Montenegro is that you can pick the vehicle up from almost anywhere in the country. Some of the most popular places to rent a car in Montenegro are the capital Podgorica, Kotor, Budva, Tivat.
Usually, renting a car at the airport of the capital or other major popular city would make the most sense in terms of budget. However, the pick-up point doesn't matter that much in Montenegro. Prices for renting a car in Podgorica, or a smaller coastal town like Perast are not drastically different (we are talking a few euros per day).
Therefore, if you are landing in Podgorica, pick up your car there. If you are landing in Tivat (on the Kotor Bay), that is where you can collect your rental car. You can also find a lot of places to rent a car along Adriatic coast. Thus if you prefer renting a car just for a day or two from Budva or Bar, for example, you can easily do so.
You can even hire a car in the mountain towns of Žabljak or Kolašin.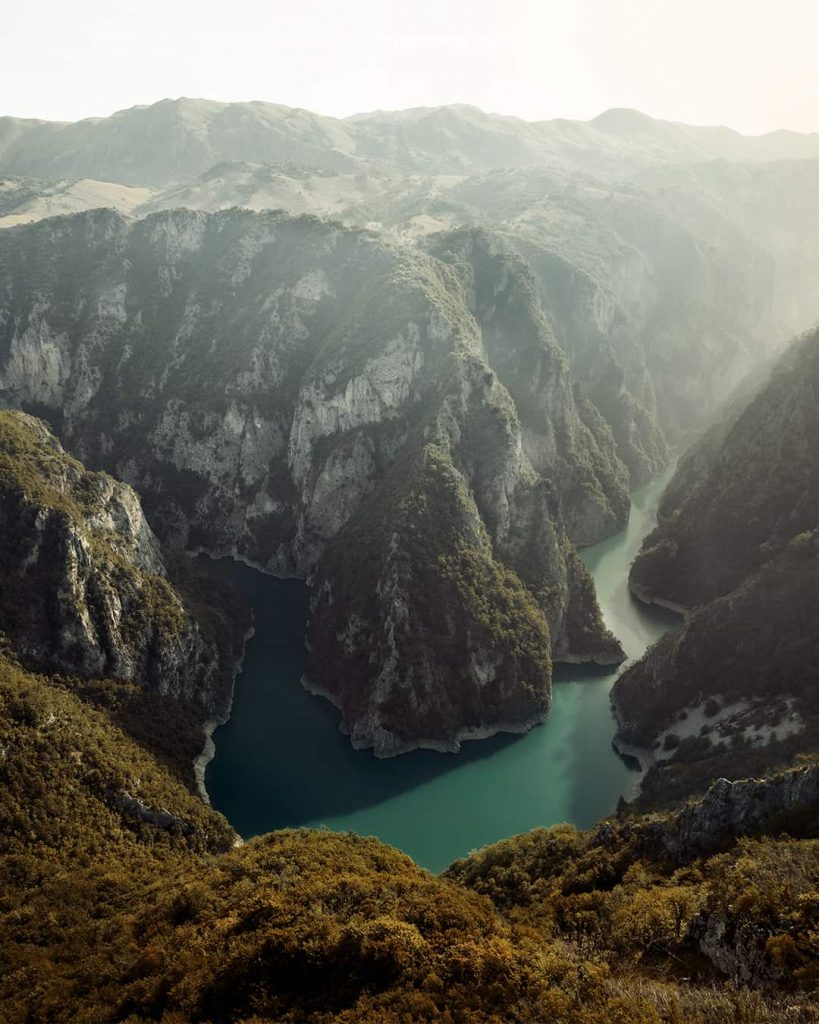 2.4 Do you have to choose the same pick-up and drop-off spot when renting a car in Montenegro?
In most scenarios, the best money-saving practice is to choose the same pick-up and drop-off spot to avoid additional delivery charges.
But again, it is not always the case in Montenegro. The country is so small that local suppliers are very flexible when it comes to picking up the car in one town and dropping it off in the other. Unless you are renting a car for only one day, or in a remote location, most of the time you won't be charged for the delivery.**
An example of how flexible local car rent agents in Montenegro are
On my last road trip, I was supposed to pick up my rental car in Kotor. I was travelling by bus from Albania to Montenegro (Shkoder to Kotor). Without me even asking, the car rental company offered to deliver the vehicle to Podgorica bus station instead as it was a more convenient location (both for them and for me.) When I finished my road trip, they came and collected the car from Dobrota (a small town on Kotor Bay next to Kotor town).
Note: as mentioned before, if you are renting a car in more remote places like Žabljak or Kolašin (up north in the mountains) but prefer dropping it off in Kotor (for example), additional delivery charges will most likely apply. But even those extra costs are relatively low (50-80 EUR).
**This information is based on the Localrent car hire terms and conditions. The same flexibility may not apply if you are renting through international companies.
3. Driver requirements and documents needed to rent a car in Montenegro
These are the documents you have to provide for a car rental agent in Montenegro:
A valid driving license that has been issued more than a year or two ago before the rental date. If your driving license is recently renewed, carry the old one to prove your driving experience. 
International Driving Permit (IDP) will be required if one or all of the below applies (each company has different rules and must be checked before booking): The driver's license is issued outside the EU or UK; or if the driver is not a resident of the EU; or if the driver's license is printed in the non-Latin alphabet.
IDP must be accompanied by the original driving license;
A credit card on the main driver's name (some rental companies require a credit card to be valid 1-3 months after drop off);
Passport or ID card;
Car booking voucher.
As mentioned earlier, some of the requirements are much more relaxed when renting with local supplier in Montenegro. You might not need IDP in many cases (unless it is not in the Roman alphabet, then a legal translation of your driving license might be sufficient), and also credit card might not be required either.
3.1 Age requirements to rent a car in Montenegro
To hire a car in Montenegro you have to be 21-75 years old. This requirement is applied by most of the rental companies in Montenegro.
There is an additional fee for renting a car if you are a young driver (21-25) or a senior driver (70-75). The exact rate varies from company to company and is based on the age group you fall under.
4. Car insurance in Montenegro -is CDW enough or do you need full coverage? 
CDW (Coalition Damage Waiver) is a third-party liability insurance that is usually (but not always!) included in car rentals price in Montenegro. This waiver limits the customer's responsibility in case of any damages occur to the rental car or if it was stolen to the maximum amount of money they will have to pay called deductible. A deductible amount ranges significantly from company to company and starts at around 1000 EUR and can go up to 2000 EUR or even more.
CDW also includes mandatory coverage for injuries and damage you may cause to others while driving the car.
However, CDW only covers the bodywork of the car and DOES NOT cover flat tires, cracked windshields, damaged headlights, lost keys, towing, engine, underbody, and roof.
To have peace of mind and avoid losing the deposit, you have the option to purchase excess insurance that also fully covers damages done to your car- from minor scratches to major accidents. However, excess insurance most of the time doubles the car rental rate when you are getting it directly from the rental company (if it is an international brand).
4.1 How to save money on full insurance for car rentals in Montenegro?
You have the following options for affordable full car insurance:
If you are booking with Localrent it offers a full insurance option called Super CDW which you can add during your booking online. The rate varies from 5-10 EUR per day, depending on the supplier. Sometimes it can be more expensive and getting insurance from independent provider (see the last bullet point) might make more sense.
If you are booking with Discovercars, they have a reasonably priced full coverage which costs around 5 EUR per day.
You can also use an independent excess insurance provider such as Worldwideinsure or Rentalcover. Purchasing insurance from them costs much less than buying full insurance through a rental agency. I personally use Worldwideinsure and purchase a yearly policy that is the best-priced option for multiple trips.
Top Tip: When you are renting a car in Montenegro, the best is to skip the international rental companies and hire your ride from a local supplier like Localrent. As discussed earlier, you will be able not only to save on the rental cost but also pay a significantly smaller deposit, if any at all, often accepted in cash (50-300 EUR), and even get full insurance at a lower cost.
5. Checklist of other important things when hiring a car in Montenegro
Here is a checklist of the things to pay attention to when renting a car in Montenegro:
Pay attention to the deductible amount
The size of deductibles varies greatly- starting from 900 EUR and going all the way up to 2000 EUR, averaging at around 1200-1500 EUR. I always prefer to rent from a company with a smaller deductible. Nonetheless, if you are getting full insurance, deductibles should not be a concern.
Pay attention to the amount of the security deposit and make sure you have enough balance on your credit card
The security deposit that will be blocked on your credit card for the rental period varies greatly from company to company. The lowest I have seen in Montenegro was 350 EUR, but I also saw rental companies requiring 2000 EUR as a security deposit. Thus, make sure there is enough balance on your credit card for the required amount to be blocked. Note that the security deposit amount often equals the amount of the deductible (but not always). Or choose a local supplier to avoid high security deposits.
Pay attention to the fuel policy
Usually, rental agencies have a full-to-full fuel policy or require you to return the car with exact same amount (at least no less) of fuel as it was upon pick-up. If you return a car with a significantly lower amount of fuel, you will get charged extra for refueling and it is not cheap. Also, if it is the same-to- same fuel policy, make sure the level of petrol at the pick-up is stated in the contract.
Pay attention if the car has a manual or automatic transmission mode
Make sure you are aware of which type of transmission mode your reserved car is. Thus, if you are not familiar with manual transmission, make sure to filter automatic cars.  
Unlike in Oman or UAE, the mileage you can drive is unlimited in Montenegro and in Europe. Yet still, take note if it is, so you do not have mileage restrictions on your road trip.
Pay attention if it is petrol or diesel
I know it sounds obvious, but that is what people (both agents and customers) forget the most often- to confirm what kind of fuel the car takes. It is very easy to get carried away once you got into your rental car until it is time to refill the tank. I was in this situation multiple times trying to find the type of fuel on my car rental agreement.
Inspect the rental car before leaving the agency
Before leaving the pick-up point, make sure all the scratches and bends you find on the rental car, take a note, and pointed it out to the agent if they haven't done that first. Also, check the interiors for potential damages left by other renters. Taking a video of the car is also a good idea before hitting the road. Make sure all of the damages are marked on the rental contract.
Make sure to book during business hours to avoid extra charges for pick up or drop off
Check the business hours of the car agency before booking. Picking up a car outside business hours may most likely incur extra costs.
Check for mandatory safety items
Upon picking up your car make sure it contains mandatory safety items: a spare tire and the tools to replace it, a warning triangle, a first-aid kit, a reflective safety vest, fire extinguisher.
6. Crossing the borders- can you hire a car in Montenegro and drive to Croatia or other Balkan countries?
When hiring a car in Montenegro, you might also want to visit neighboring countries like Croatia, Albania, Bosnia & Herzegovina, and Serbia. On my first road trip to Montenegro, I have driven a rental car to Croatia through the border of Montenegro-Bosnia-Croatia.
Most of the time you will be allowed to take a rental car across the border. However, before doing so, you must inform the car hire company and obtain a so-called Green Paper or Green Card. Sometimes Green Card is already included in the agreement, but not always. Therefore, it is advisable to request for it to be issued in advance. This is usually possible during the booking process.
An additional fee for Green Card will be charged (but not all the time). The fee varies on average between 14-25 EUR as a fixed one-time payment. Moreover, you must also inform the car rental company which countries you are planning to travel to.
There might be restrictions on where you can take your car when driving from Montenegro. For example, some companies are hesitant to allow driving to Albania or Kosovo. Therefore, make sure to check this beforehand and have your country of visit indicated on the agreement.
Last but not least, if Green Card is included in your rental agreement by default, make sure to check the validity date, so there is no surprise of being turned back at the border in case the card has expired.
Tips for driving in Montenegro
1. Roads in Montenegro
The majority of the roads in Montenegro are paved and in good condition. Although mostly single-lane, even remote countryside roads are maintained fairly well.
The easiest ones to drive are highways that connect bigger towns like Podgorica and Niksic, for example. Those are brand new sealed 2-lane highways with one lane for overtaking that opens and closes periodically along the way.
Mountain roads though might be a little older and rougher than highways but they are in a fairly good state. Some potholes may appear here and there but not excessively.
The popular Kotor Bay road winds along the cliff with cement barriers on the waterside. Some parts of Boka Bay roads are quite narrow. Particularly the stretch between Muo and Lepetani waterfront towns (the street is officially called Jadranska Magistrala) gets quite narrow in parts and has no barriers at the waterside. However, there are openings to accommodate a takeover.
Be aware that roads in the mountains and countryside usually are very narrow. Most of them are suitable for one car only. Often there is no hard shoulder or extra space to pull over. This can be a bit of a problem if you meet with an oncoming car, especially on a bend.
While driving along the narrow panoramic cliff road above Lake Skadar, I had to stop and reverse up into the bend to let the oncoming cars pass. It was definitely a good test for my driving skills and an add-on to the overall experience.
2. Is it safe to drive in Montenegro? What are the challenges of driving Montenegro roads?
Driving in Montenegro is safe as long as you adhere to the speed limits and are attentive on bendy roads.
In general, Montenegro is full of bendy roads and hairpins. You probably won't find a road that goes in a straight course for longer than a minute.
Wherever you go, even on highways you will encounter many turns. You will definitely have to tackle countless bends and twists when driving in rural areas. Take extra caution and don't rush, or overtake other drivers when approaching a sharp turn.
Locals tend to jump out of blind curves unexpectedly, but this is because they know the road by heart and are confident in their driving skills. As a visitor, it is better to go slowly but surely. You can honk before the blind turn to inform other drivers. That is what I always do to be on the safe side.
IMPORTANT: Try to schedule your commuting timings during daylight and avoid driving at night in Montenegro. Many mountain roads and also tunnels have no street lights. This makes driving at night very exhausting and a bit dangerous. Take into consideration wildlife as well, as animals tend to run into the light- this is the scariest part to me.
Driving in Montenegro in winter
Although not many visitors decide to come to Montenegro in winter if you do so, then you will have some perks as well as may face some difficulties.
Coastal roads will be traffic-free in winter and the conditions driving them are usually good. However, if you want to drive up North to the mountains, road closures might be a problem. For example, the scenic Durmitor Ring is often covered in a thick layer of snow and is inaccessible.
Driving in winter can get even more complicated. You will not only need winter tires but also snow chains to be able to pass those roads. Snow chains are usually available for hire for around 30EUR at the car rental supplier. You must check with the rental company to advise you on a suitable vehicle if you are willing to go to the mountains in winter.
Good to know: According to statistics, the car theft rate in Montenegro is 4.9 cases per 100000 population in 2018. This is a very low rate compared to other countries, like Italy, for example, scoring at 232 cases per 100000 population).
Safety tip: although getting your car stolen in Montenegro is not likely, always remember to lock the doors and don't leave valuables on display inside the car. These general car safety precautions apply anywhere in Europe.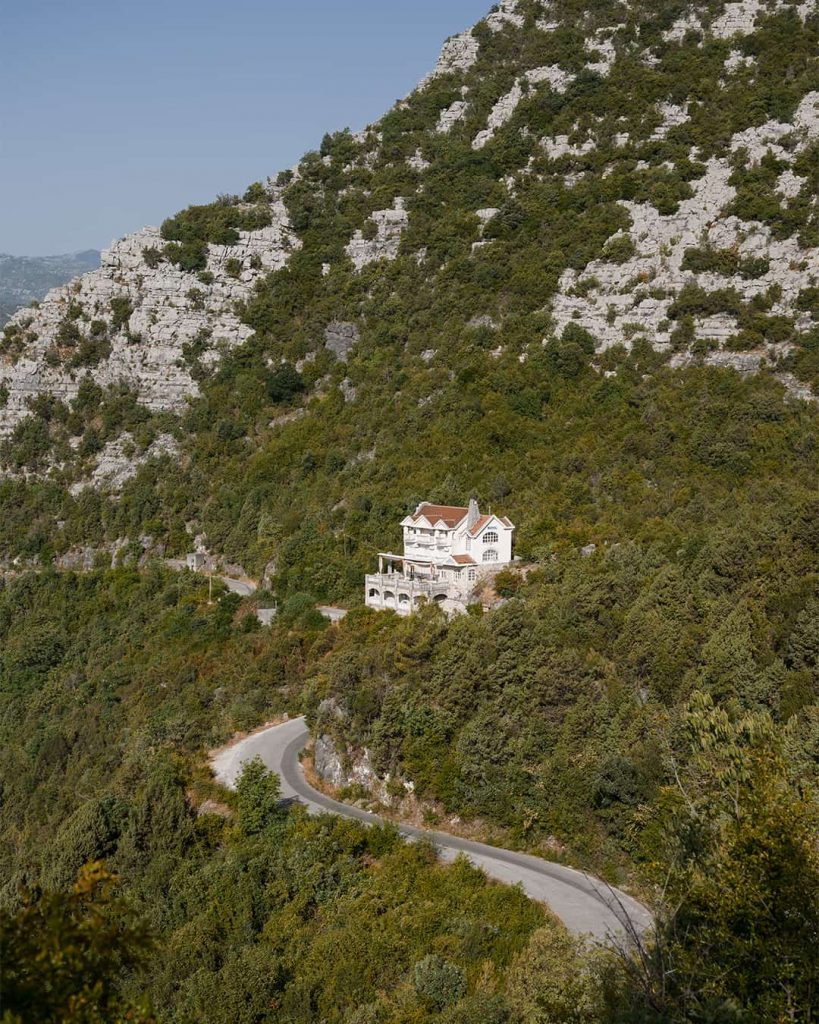 Counting the tunnels of Montenegro 
Tunnels in Montenegro deserve a separate paragraph in this blog post. There are countless tunnels that you will come across when driving around Montenegro. Most of them are located along the canyons. There is a famous stretch of a drive along Piva Canyon that counts to over 65 small tunnels carved in the rocks.
When driving through the tunnels, make sure to have car lights on (although it is a requirement even during the daytime). Also, rock falls might be a potential hazard. Thus, stay alert when passing close to the cliffsides.
3. Basic driving rules and regulations in Montenegro
Montenegro adheres to similar traffic rules and road signage as most of Europe. Slight variations may apply.
Speed limits in Montenegro:
50 km/h (30 mph) in towns;
80 km/h (50 mph) on highways or 100 km/h (60 mph) on faster sections
Note: Speed limits can quickly change together with the upcoming bend and suddenly drop from 80 km/h to 30 km/h.
Speed fines in Montenegro range from 30 EUR to 2000 EUR (depending on how much you exceed the speed limit). You can get fined if you exceed the speed limit by more than 10 km/h (6 mph).
Other basic rules of driving in Montenegro:
In Montenegro, you drive on the right-hand side of the road.
You must switch car lights on during the day when driving in Montenegro. This rule is common in Europe. By law, you are obliged to drive with dipped lights on even during the daytime. Whether it is sunny or rainy, always switch the headlamps on.
Seat belts are compulsory both for the driver and the passengers (also in the backseat). The fine for not adhering to this rule is 40 EUR to 100 EUR.
In Montenegro, vehicles entering the roundabout must give way for cars inside the roundabout.
The acceptable alcohol in blood level is 0.2 permille. Fine if caught drunk by the wheel is between 70 EUR to 2000 EUR or arrest.
Toll roads in Montenegro 
Technically there are no toll roads in Montenegro except for one tollway passing through a 4 km long Sozin tunnel. It is located between Lake Skadar and the coast, north of the town of Sutomore, on E80 motorway.
The toll fee is 2.5 EUR one way for a regular car. Tickets can be purchased on the North side of the tunnel (Podgorica side) at any of the 6 toll booths that can be used in both directions.
This tollway is easily avoidable by taking the panoramic M2 road between Virpazar and Petrovac towns.
4. Navigating in Montenegro (do you need a GPS)?
Google Maps works perfectly in Montenegro and there is no need to hire a GPS device. Pick up an MTEL tourist SIM card for 15 EUR with a generous 500 GB of data (yes you can have Youtube running 24/7) and you are good to go.
5. Driving distances in Montenegro
Montenegro is a small country. Therefore, you can cover most of the highlights of Montenegro within 7 to 10 days at a slow pace.
Distances in Montenegro are relatively short. For example, in just under one hour you can get from Kotor Bay to Lovcen mountains, and in around 2.5 hours you can reach remote areas like Durmitor National Park.
Nonetheless, although distances in Montenegro are quite short, they can also be deceiving. The time required to drive some sections of Montenegro is much longer than you may expect. Thus, if you intend to go off the beaten path, for example to the Prokletje mountains-the easternmost point of the country, you will need 3.5 hours to tackle a mere 150 km when driving from Podgorica.
This is because the only way to get there is by following slow (yet very scenic) roads winding through canyons and mountains. 
6. Parking in Montenegro
Parking in Montenegro is mostly easy except for Kotor Bay, Budva and Sveti Stefan. The streets are narrow and parking spots are limited. In Kotor's old town, they fill up extremely quickly, especially in summer. The same applies to Budva.
Parking in Montenegro is often free and you can park almost everywhere on the streets unless there is a restriction sign. If the road doesn't have a designated parking area, you can still park on the side of the road as long as it is safe and your car is not blocking the traffic.
Parking in Kotor old town
If you want to visit Kotor's old town, your best bet is to park a little further away from the old town. I have found a parking spot on this street, and become our place to go when visiting Kotor.
Parking in Budva
In Budva, we parked in this parking lot just above the old town (had to walk down for around 15 minutes). Note that in summer, even at 7 AM it can be very difficult to find free parking close to Budva's old town.
Parking in Sveti Stefan
In Sveti Stefan (one of the must-see places in Montenegro) we had to leave our car on the side of the highway (locals do that too) as it was simply impossible to find anything in town at sunset hour.
Paying for parking in Montenegro
Some street parking is paid in Montenegro. You can find paid parking spots in Budva, Ulcinj, Herceg Novi, and Kotor Old town. However, it is not always straightforward to figure out how to make a payment.
You may not find a ticket machine on the road as expected.
In an easy case scenario, there will be a parking attendant who will collect the parking fee (mostly in larger gated parking lots).
However, I had a very strange parking experience in Herceg Novi. As there was no ticket machine around, I asked a local where to pay for parking. They explained that I must get those ticket(s) in a shop (mini-market of some sort) nearby parking lot and display them under the window.
The funniest thing was that I had to purchase a bunch of tickets, each of which was valid for 30 min. Before putting them on display, I had to write down some information (cannot even remember what it was exactly, maybe exact timings). In total, I filled in 6 of those tickets to cover my 3 hours of parking in town.
 7. What is the traffic like in Montenegro?
If you are traveling in summer (June, July, and August), expect heavy traffic on the Adriatic Sea coastal road and Kotor Bay road. The heaviest traffic we experienced was between Budva and Kotor, as well as between Kotor and Tivat.
Unlike the coast, mountain roads in Durmitor, Prokletije, Skadar Lake, and Biogradska national parks are completely free of traffic which is fantastic as you can drive the twisty roads stress-free.
Important tip: whether you are driving a car or taking a bus or a taxi from Kotor Old Town to Tivat airport, be aware of rush hour. It is usually anywhere between 12 pm and 5 pm. Normally it takes 15min to drive between Tivat and Kotor. However, it can easily extend to one hour when there is traffic. The worst is that there is no escape route. Even if you take the road from Muo waterfront town on Kotor Bay to Tivat (avoiding the tunnel which is a shorter route), you will still end up spending one hour as it is a much longer way and also has traffic (this happened to us).
8. Practical tips for renting a car and driving in Montenegro
Choose accommodation with parking when staying in Kotor Bay and along the Adriatic Sea coast
If you are planning to spend some time in Kotor Bay or in Budva, Petrovac na Moru, or Sveti Stefan, make sure to book accommodation that includes parking.
The old town of Kotor is especially notorious when it comes to parking (as we already discussed). Therefore, since you are driving, it is even smarter to book accommodation in a nearby waterfront town in Kotor Bay. We stayed in Dobrota for 3 nights which is only 4 km from the Old Town of Kotor. It gave us the freedom to walk if we didn't want to bother driving. It also made it easier to visit other small towns along the Bay as we didn't have to deal with Old Kotor traffic.
You don't have to be concerned about parking in the rural areas. Finding where to leave your car won't be a problem.
Save time on Kotor Bay road by taking Lapetani Ferry
If you are driving from Tivat or Budva, or another town on the Adriatic coast to Herceg Novi (the westernmost town in Kotor Bay), you can save time by taking a ferry at Veriga Strait between the villages of Kamenari and Lepetani.
You can cut at least 30 to 40 minutes of driving time that you would otherwise spend on Kotor Bay coastal road. The ferry is free for pedestrians and it costs 4.5 EUR one way for a regular car. The distance between the banks is 900 meters and takes only 10 minutes to cross it.
9. Petrol prices in Montenegro
Petrol in Montenegro is not the cheapest yet not as expensive as in the rest of Europe. Diesel is cheaper than petrol in Montenegro. Montenegro petrol price per liter is on average 1.6 EUR (6 USD per gallon). Diesel is slightly cheaper at 1.43 EUR per liter (5.4 USD per gallon).
Luckily distances in Montenegro are short, so it won't be as expensive to drive around as in bigger European countries.
Top 5 most important tips for hiring a car and driving in Montenegro
Rent a car in Montenegro, even if it is for a day. Montenegro is a country where going on a road trip is something not to be missed. Even if you hire a car for a few days, you will be able to see some unbelievable scenery which usually cannot be accessed by bus.
Search for the best car rental rates at Localrent– a website that provides car price comparisons between local suppliers.
Drive at your own pace. Although locals tend to fly into blind curves, you don't have to follow their lead. Go slowly, but steadily. You can honk before the blind bends– to warn of any possible oncoming cars.
Count in some extra time needed to drive between different destinations in Montenegro. Distances are short but it takes longer to drive them due to lower speed limits on narrow and windy roads. Also, account for some more time for all the photo stops you will most certainly make.
Avoid driving at night, especially in the mountains. Roads don't have lights, thus to avoid this tiring experience, plan your time on the road during the day hours.
I hope that I have answered all possible questions about driving in Montenegro and provided some useful insights for your future road trip. If you still have anything else to ask, do not hesitate to leave your questions in the comments section below, and I will get back to you.
I hope you are enjoying my free travel guides & tips. If yes, please consider supporting my work by buying me a coffee so I can continue creating more useful content from my favorite coffee shop in town. Thanks!
More Montenegro Travel Guides
Essential Montenegro Travel Resources for Your Perfect Trip